Aer Lunar Pack (Ministry of Supply Collab) Review
The Aer Lunar Pack carries comfortably and has spacious pockets, though we wish it had smaller organization for tech items.
Our Verdict
Unlock the Pro Summary
Save time. Get access to brief summaries of our reviews so you can browse and make decisions more efficiently.
Pros
Densely padded shoulder straps and handles
Pockets have good volume
Clamshell opening makes organizing easy
Cons
Top handle is tricky to hang on small hooks
Lacking in small gear organization
Top and side pockets eat into main compartment space
Technical Details
Capacity

22l

Weight (lb)

2.38 lb (1.1 kg)

Denier

1200D

Dimensions

18 in x 12.5 in x 6.3 in (45.7 x 31.8 x 16 cm)

Notable Materials

CORDURA® Nylon, YKK Zippers, Duraflex Hardware

Manufacturing Country

China

Laptop Compartment Size

16"

Warranty Information
Full Review
Get up to 10% off the Travel Collection Aer with our Deals Vault • Join Pack Hacker Pro.
Collabs have a way of bringing the best out of one another. Take the expertise of two, work it into a package, and presto! It will turn heads. It's like when the United States and the USSR docked their Apollo and Soyuz space craft together back in the 1970s or when McDonald's does themed food with BTS or Pokémon; two things that don't usually meet come together and stir up a great story. So, when we heard that Ministry of Supply and Aer were doing a collab for a bag, we sat up in our seats with curiosity.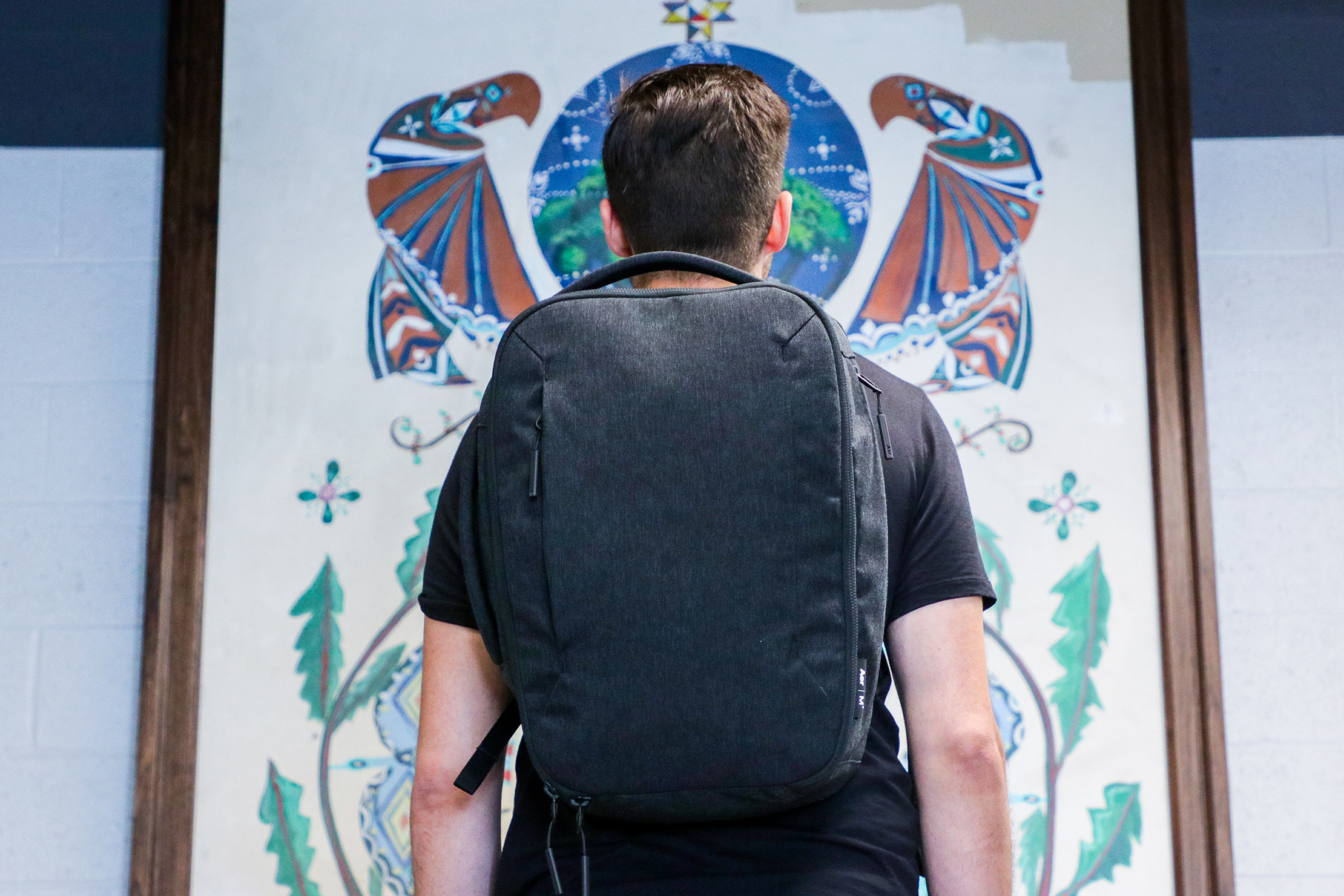 For the uninitiated, Ministry of Supply's specialty is in clothing backed by science. We've reviewed some of their apparel, such as the Kinetic Suit and the Momentum Chino, and they're a bit more technical than they first appear. Then there's Aer, whose bags we've come to know as well-built, well-designed, and rich in practical features inside. Put those traits together, and it could be one treat of a bag; call it a "Lunar Pack," and it piques interests even more. But why is this 22-liter backpack called the Lunar Pack? Let's find out.
Materials & Aesthetic
A quick read-through of Ministry of Supply's page reveals the inspiration behind this pack. It's based on the Primary Life Support System—or PLSS—found on NASA astronauts' space suits, which is the backpack-like attachment they have strapped to their backs. Apart from the colorway being Black or Navy (both available at the time of writing), we do see the resemblance with the system—we even kinda wish Aer and Ministry Supply named this the "Aer-Supply Lunar Pack" to really drive home the point 🚀🌕.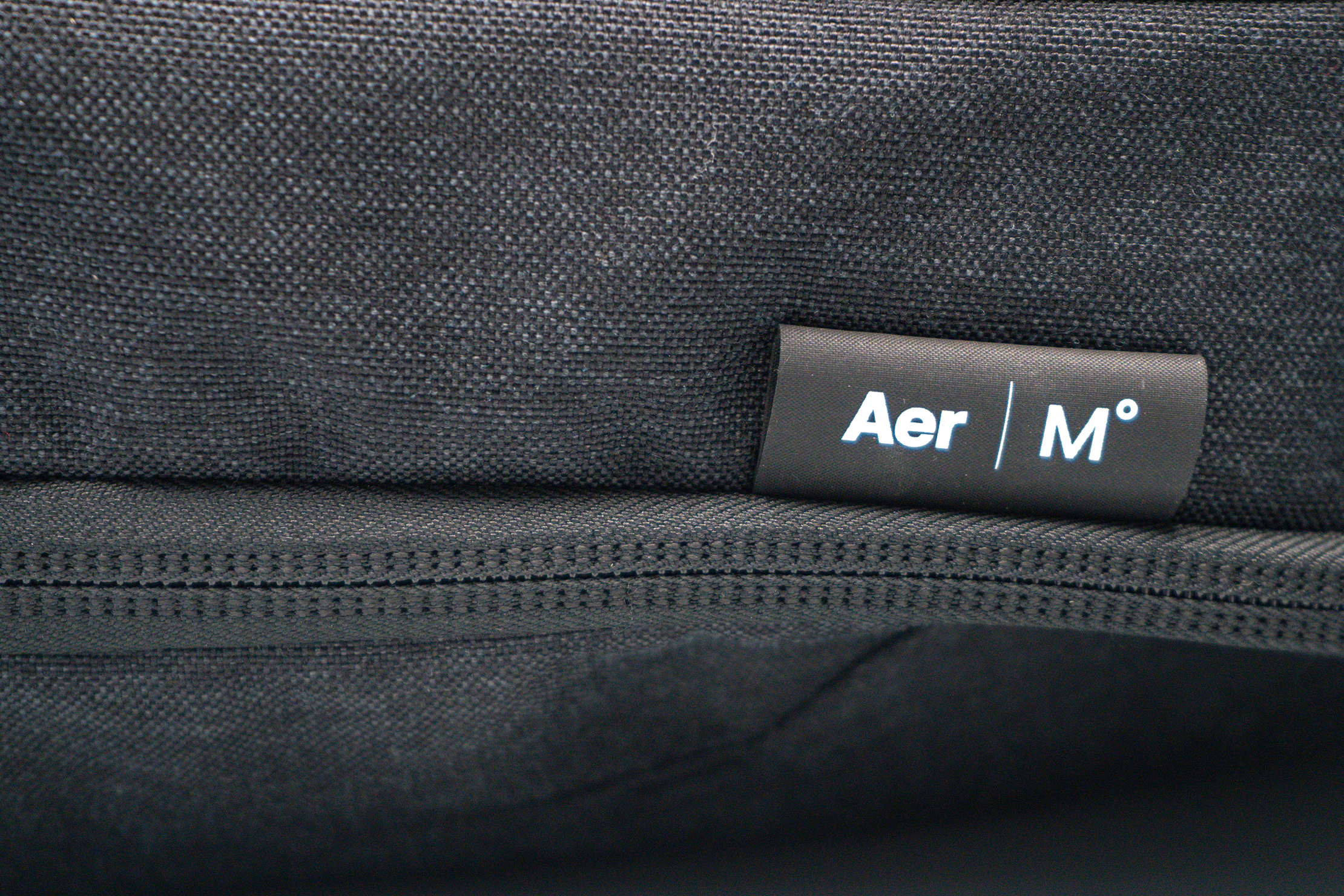 The overall shape is squarish with rounded corners, but more than that, it's also a relatively clean design. The 1200D CORDURA Nylon exterior isn't the usual 1680D we're used to seeing on most of Aer's bags, but it has a smooth and fine appearance that goes well with the space theme. The front looks particularly well-executed to the theme because the lines of the front pocket don't stick out and break the aesthetic. Even the branding is minimal; just a small logo on a Hypalon tab around the edge and another on one of the shoulder straps.
Worth noticing are the main compartment's zippers, which are reverse coil YKKs, so the teeth of the zipper elements are inside. We also appreciate the elastic strap keepers on the shoulder and sternum straps that keep the slack from hanging loose.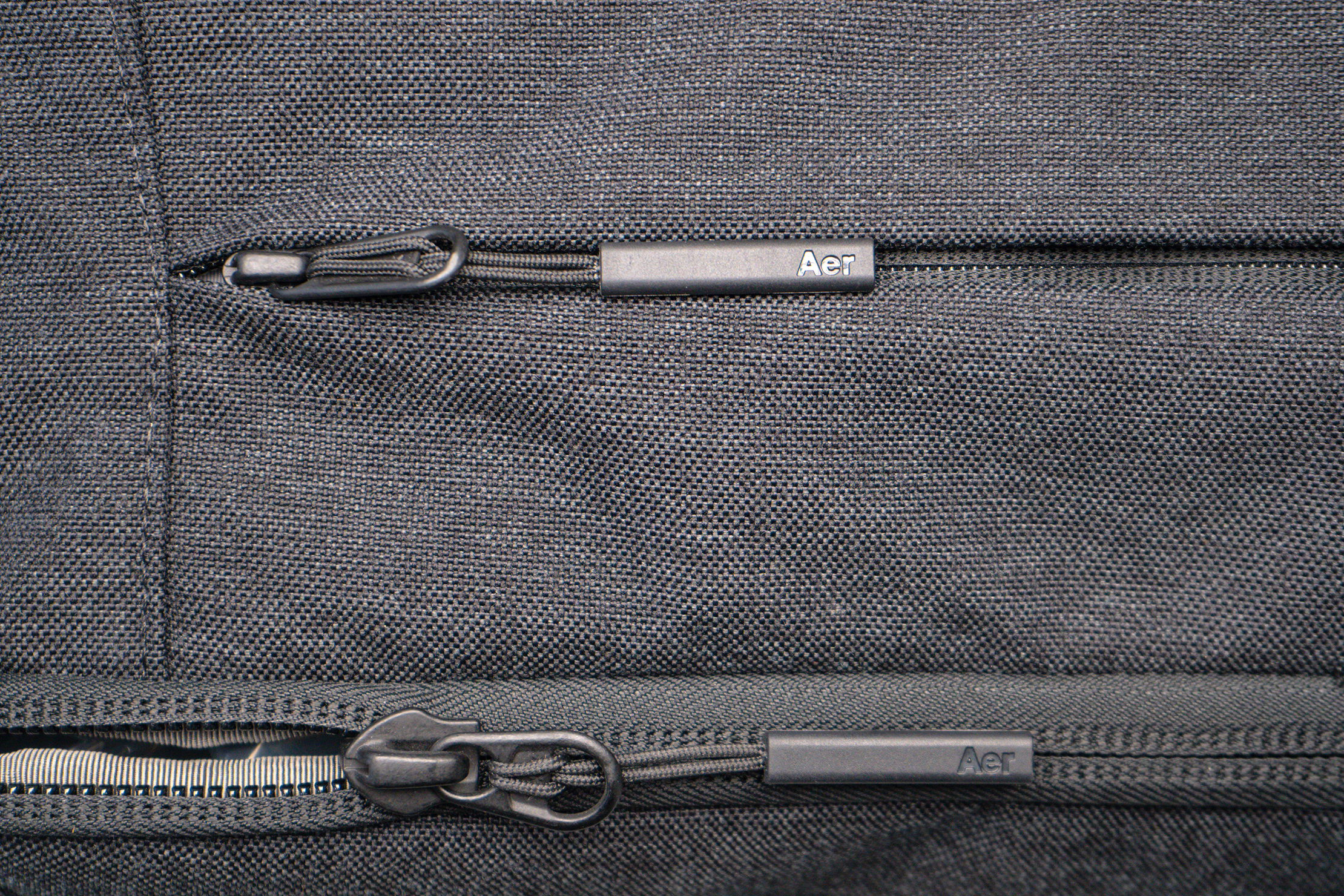 It's the attention to the smallest detail that, in our opinion, really completes the styling of the Lunar Pack. It doesn't have the flashiest or busiest aesthetic, only a few subtle touches that complete the minimalist look. To put it in fewer words, it's a case of quality rather than quantity.
There's no gravity when you're in space, but if there's even a nitpick we have with the Lunar Pack, the zipper pulls have some jingly-ness to them. However, the noise they make isn't as bad as with Aer's previous gear like the City Sling, and the zippers don't bunch up and create chime-like bundles that bounce around. Moreover, the zippers work really well; they slide without issue around corners, and that more than offsets any jingle the pulls make.
External Components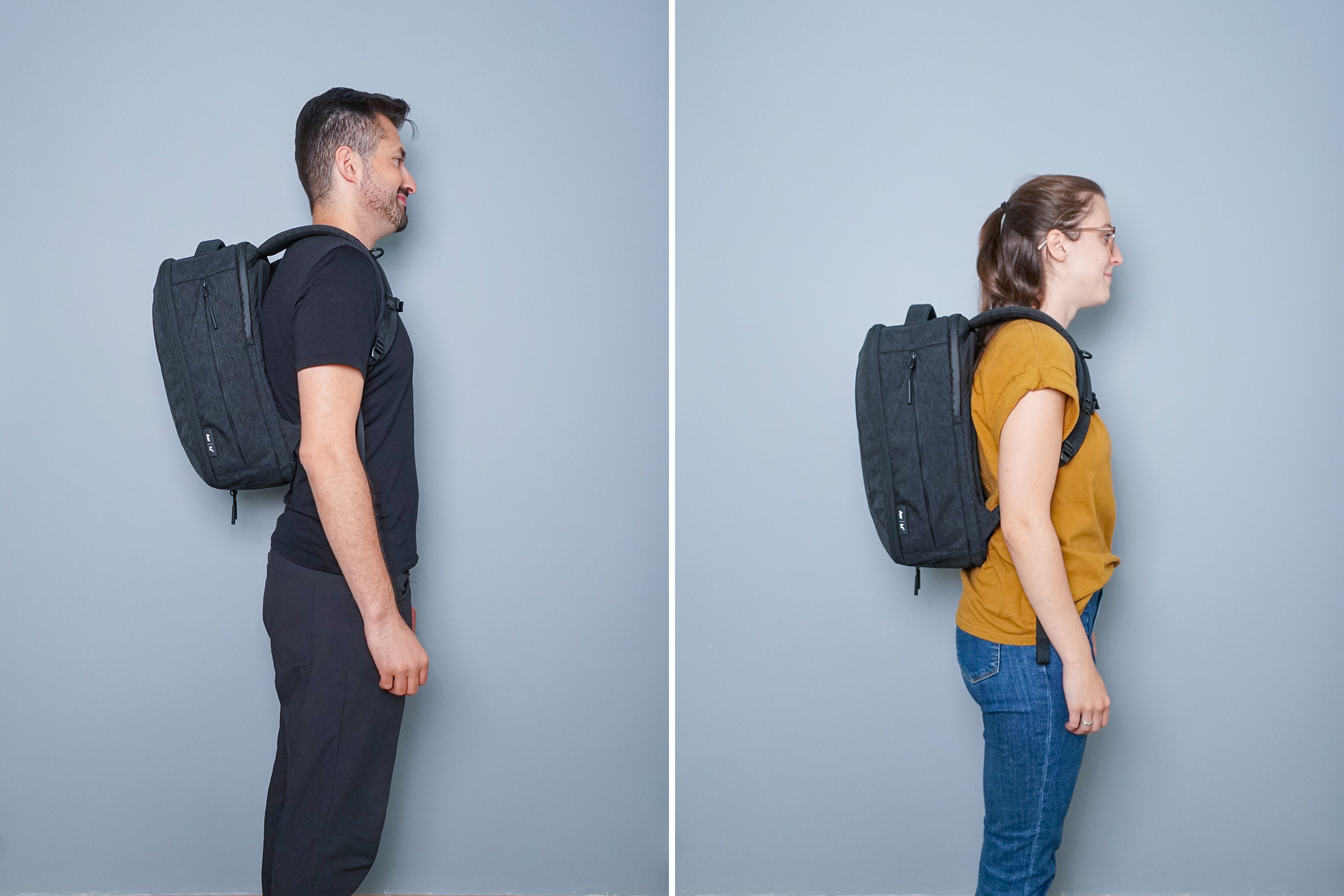 Because of the rounded box design of the Lunar Pack, there's almost a suitcase-like vibe going on, especially when you look at the top and side handles. These handles are thick, well-padded, and have a wide stance that makes them really comfortable to hold. However, we wish there were aluminum stays beneath the handles to prevent bowing or sagging. We also struggled to hang the bag during everyday use because the top handle is positioned in the middle, where it's out of reach of small and shallow hooks. It's something worth keeping in mind if you're the type to hang your bag behind bathroom stalls as opposed to placing it on the floor.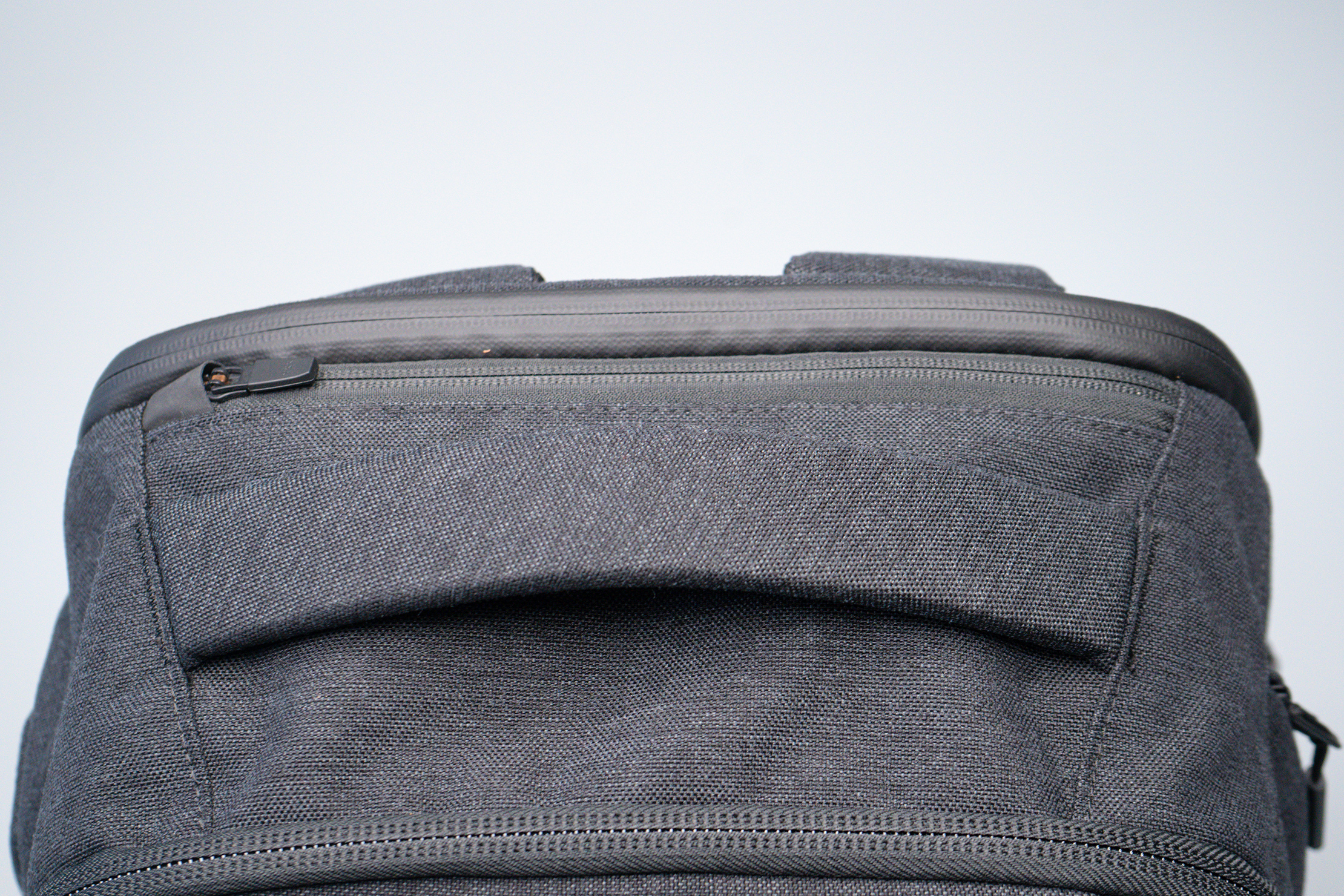 Engineering a comfortable harness system is a complicated process, but Aer makes it look simple. Densely pack the shoulder straps with padding, cover them with mesh, and do the same for the back panel. Simple, but it totally works for the 22-liter Lunar Pack. There are two Duraflex D-rings, one on each of the shoulder straps, for accessories. Then there's the sternum strap, mounted on a rail where it can slide to your preferred position. It's a bit tight to slide for our liking, but we'd rather have it tight and locked in than so loose that it readjusts by itself.
One thing we didn't like about the sternum strap is the magnetic buckle. Magnets are magic when they work, and the tactility they give makes everything feel a lot more satisfying to use. For a sternum strap, though, it's a bit uncomfortable to overlap and hook the magnets on an already tight strap compared to sliding a side-release buckle together. It's a subtle but definitely noticeable aspect of the harness system.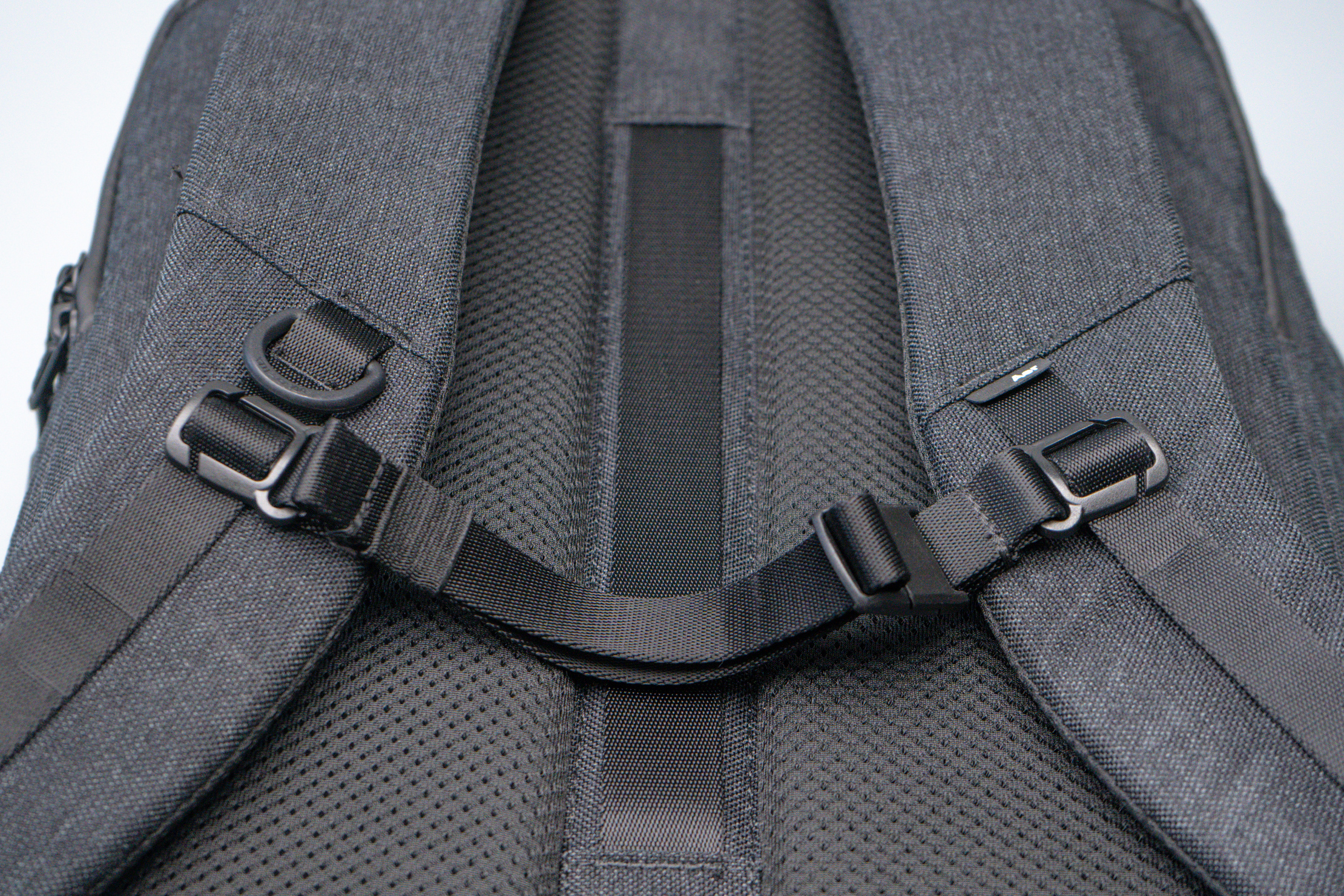 On the whole, though, the 22-liter Lunar Pack carries comfortably thanks to the densely padded and breathable shoulder straps and back panel. Though we've already mentioned it, we also can't take for granted the elastic strap keepers that keep things distraction-free while you're power-walking across a busy airport. Speaking of which, if you are taking the Lunar Pack alongside rolling luggage as your travel daypack, there's also a vertical nylon strap so you can slide it on the handle.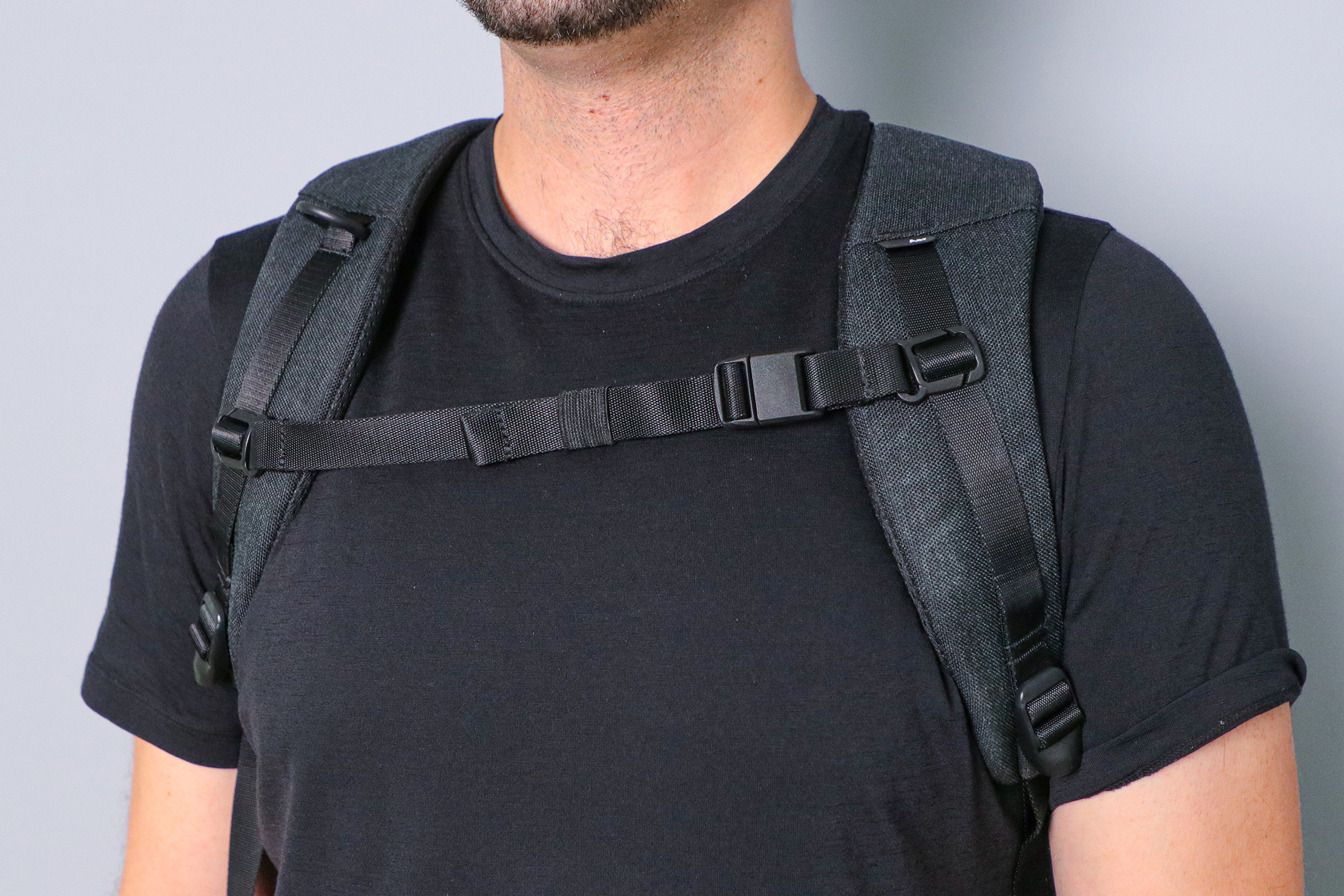 While there's a nice and wide handle on the left, the right side of the Lunar Pack is dedicated entirely to a water bottle pocket. The zippered opening of this side pocket runs almost the entire length of the backpack, and yes, it's the embedded type of side pocket. This type of side pocket has its pros and cons, being that it preserves the streamlined profile of a bag at the cost of eating up space from the main compartment. For the Lunar Pack's theme, though, we understand the aesthetic considerations Aer and Ministry of Supply are going for here. We're pretty sure Neil Armstrong didn't have a water bottle outside his PLSS (he wouldn't be able to drink from it with his helmet on anyway).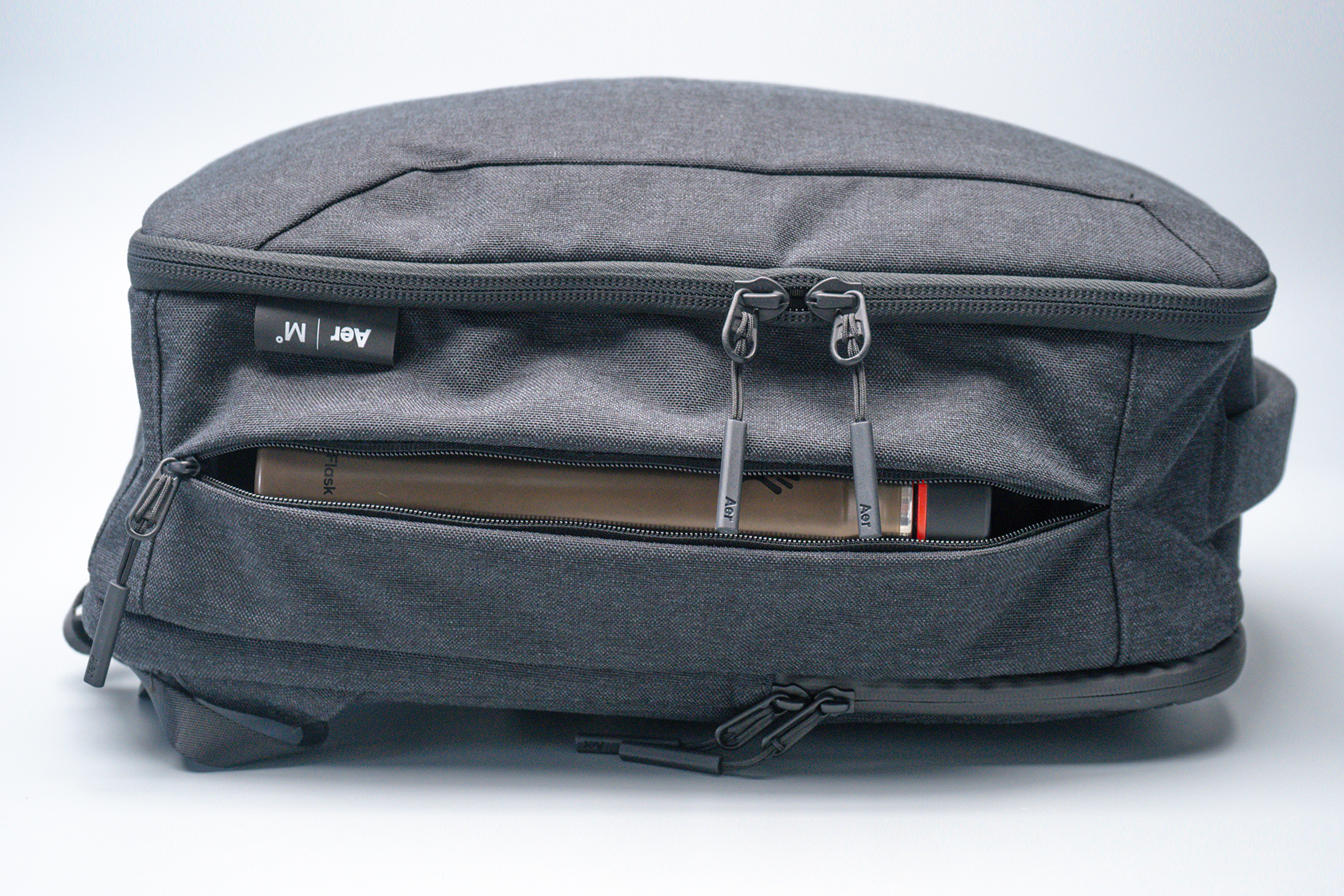 In terms of practicality, there's also a ton of room inside this pocket. Our 18-ounce YETI Rambler has more than enough space to fit, and even our Hydro Flask 32 oz Lightweight Wide Mouth Trail Series Water Bottle has enough clearance to get inside. The pocket's roominess makes it ideal for use as a secondary quick-grab pocket for bulkier items like a large capacity power bank or a tech pouch, which is one advantage of a side pocket that's built into the bag versus a cup holder-style one.
Inside The Pack
The side pocket's volume makes it good for everyday carry items, but the quick-grab duties primarily go to the pocket on top. The interior lining for this pocket is soft, fairly thick, and cushioned for protection. It has an almost spongy consistency, which is ideal for easily scratched items like sunglasses or smartphones. It's not deprived in terms of volume, either, though like the side pocket, it also eats into the main compartment.

A self-locking YKK zipper guards the top pocket's opening, so you can route a charging cable through if you have a power bank inside or perhaps a portable hard drive you can connect your tablet or laptop to. The zipper makes a pretty good seal when it's fully closed, thanks to a small zipper garage at the end.
Next up is the front pocket, and unlike the top and side pocket, this one's for more flatter items like a travel notebook or a pair of gloves you'd want to keep easily accessible. That said, there's a fair amount of dimensionality to this pocket, thanks to gussets on the side. Keys also have a home here, hanging off a fairly lengthy key leash that can realistically reach a doorknob when you swing the backpack around.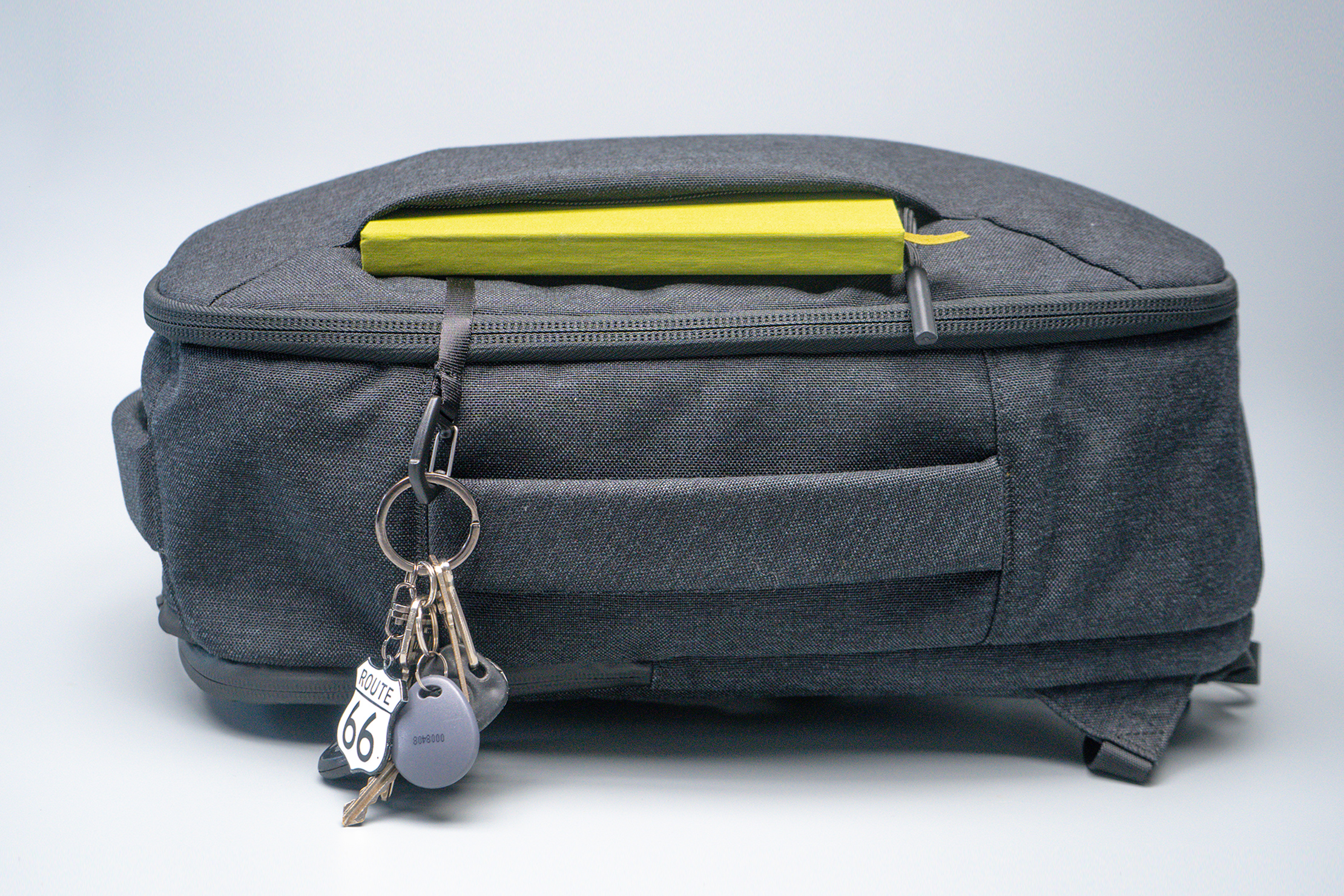 The main compartment opens up fully clamshell-style, with the zippers going all the way down to about an inch inwards of the bottom side. The space inside is nothing short of cavernous, and most of the 22-liter capacity is laid before you, ready to be packed. The sides are well-structured, so they don't sag the moment you take your eyes off them. For our setup, we were able to get two packing cubes and a tech pouch inside.
The interior space is very packing cube-friendly, which is another way of saying it's a big open space with no partitions or separation. At the back, there is a sleeve for flip-flops or travel documents that need to be somewhere more secure. Then on the front panel, there's a zippered compartment for stacks of underwear or socks. Above that is a stretchy mesh pocket ideal for small tech items or toiletry items if you're not carrying a separate Dopp kit.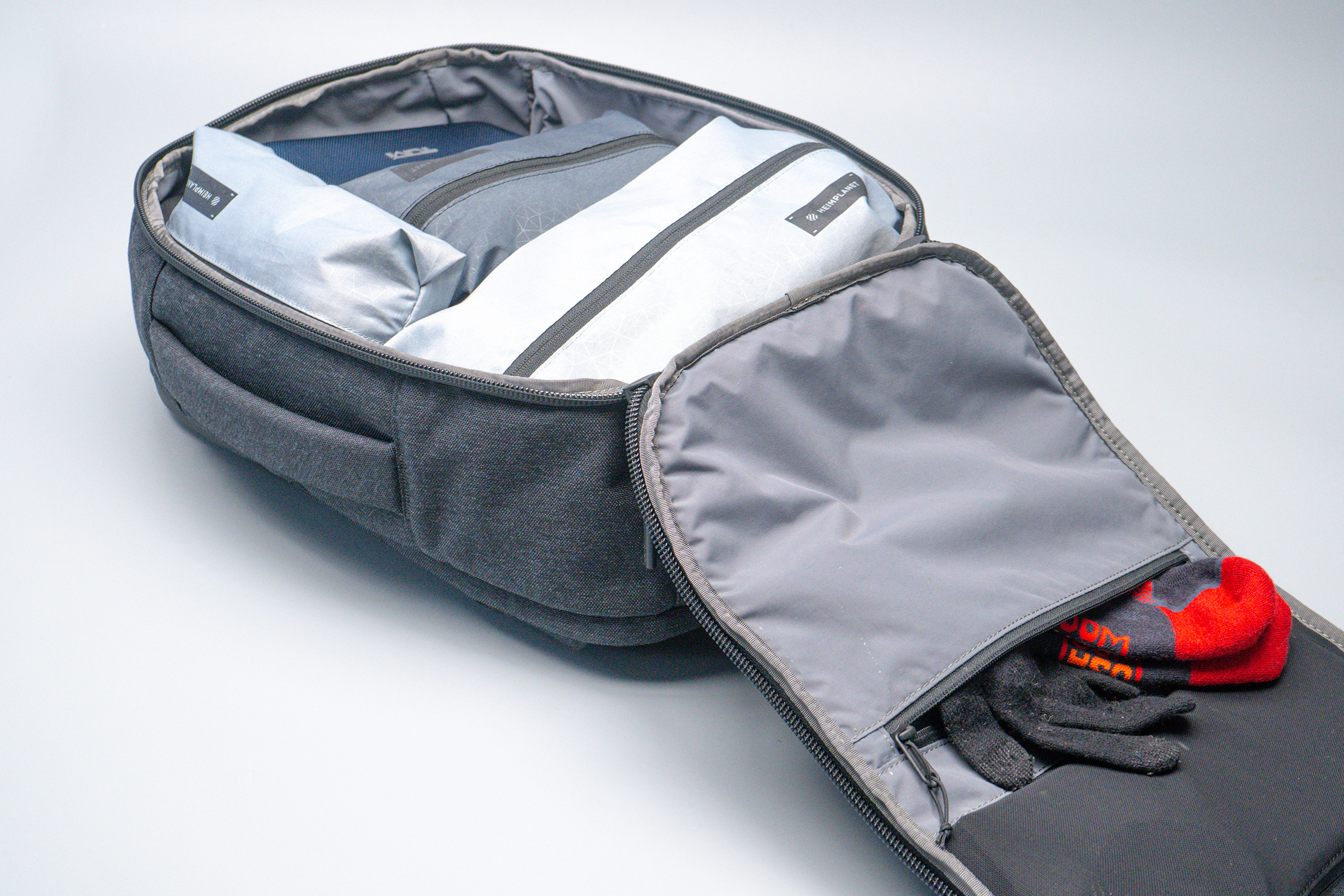 As mentioned previously, the top pocket and side pocket, spacious as they are, eat into the main compartment's space. It's something to watch out for when you're packing the Lunar Pack. If you have a fully packed top and side pocket, you kind of have to maneuver around them when placing packing cubes inside. Conversely, when the main compartment is full, it affects how much the top and side pocket can expand.
Last but not least, there's a separate 15-inch laptop compartment located behind the back panel. The compartment has twin zippers that go about a third of the way down either side in a horseshoe-style opening. One hiccup we encountered was that this pair of zippers often got caught inside the top pocket. The two pockets are practically next to each other, so this happened frequently. Fortunately, we quickly mitigated this by having the laptop compartment's zippers zipped towards the sides at all times.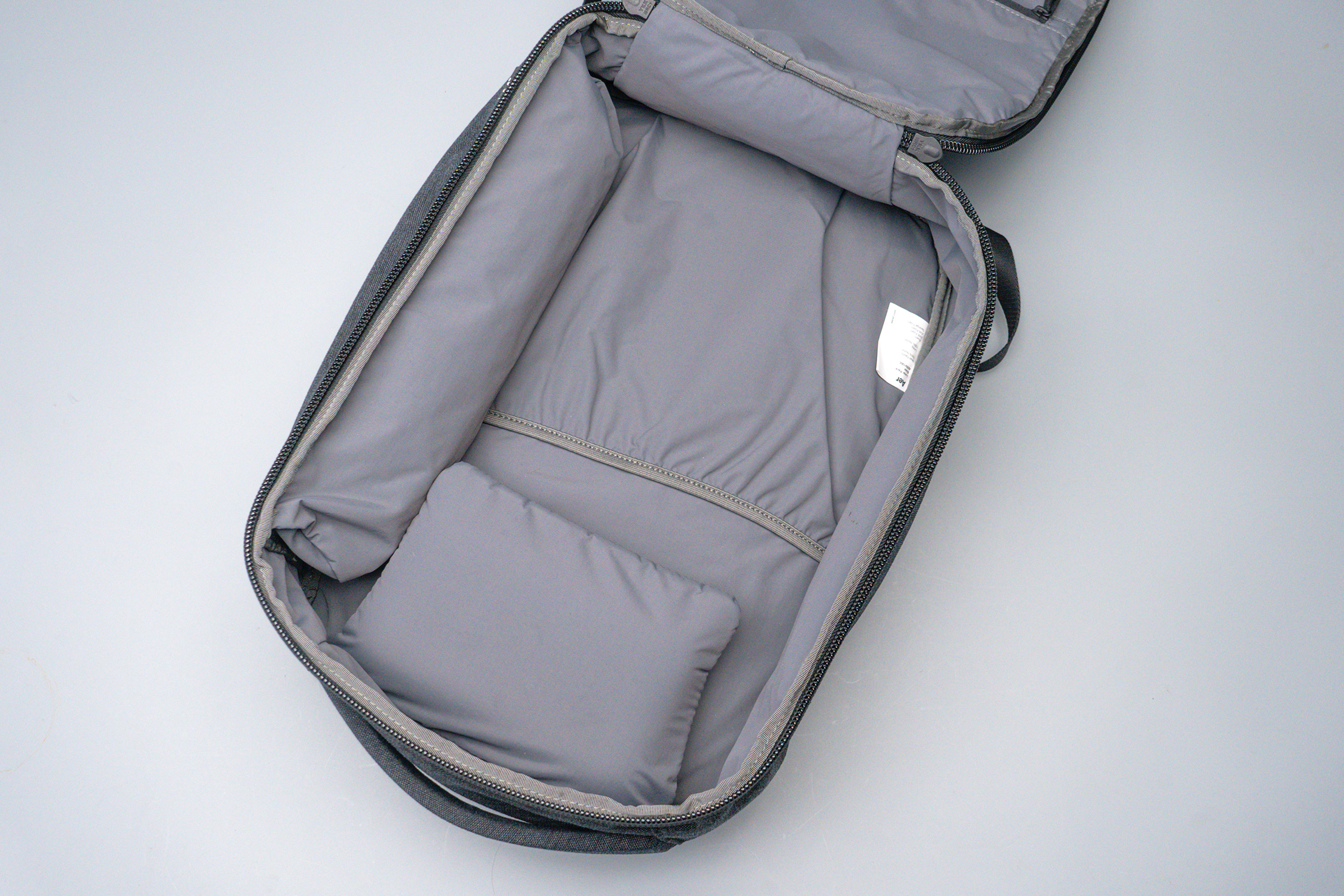 Peeking into it, it's the tried-and-tested design by Aer, complete with their signature black foam panel that's nice and thick. In front, there's a separate sleeve for a tablet or for documents, plus there's a fair amount of open space in general which can be used for accessories like a slim laptop cooling pad. To note, we tested the laptop compartment with our 16-inch MacBook Pro, and it fits despite the official 15-inch spec.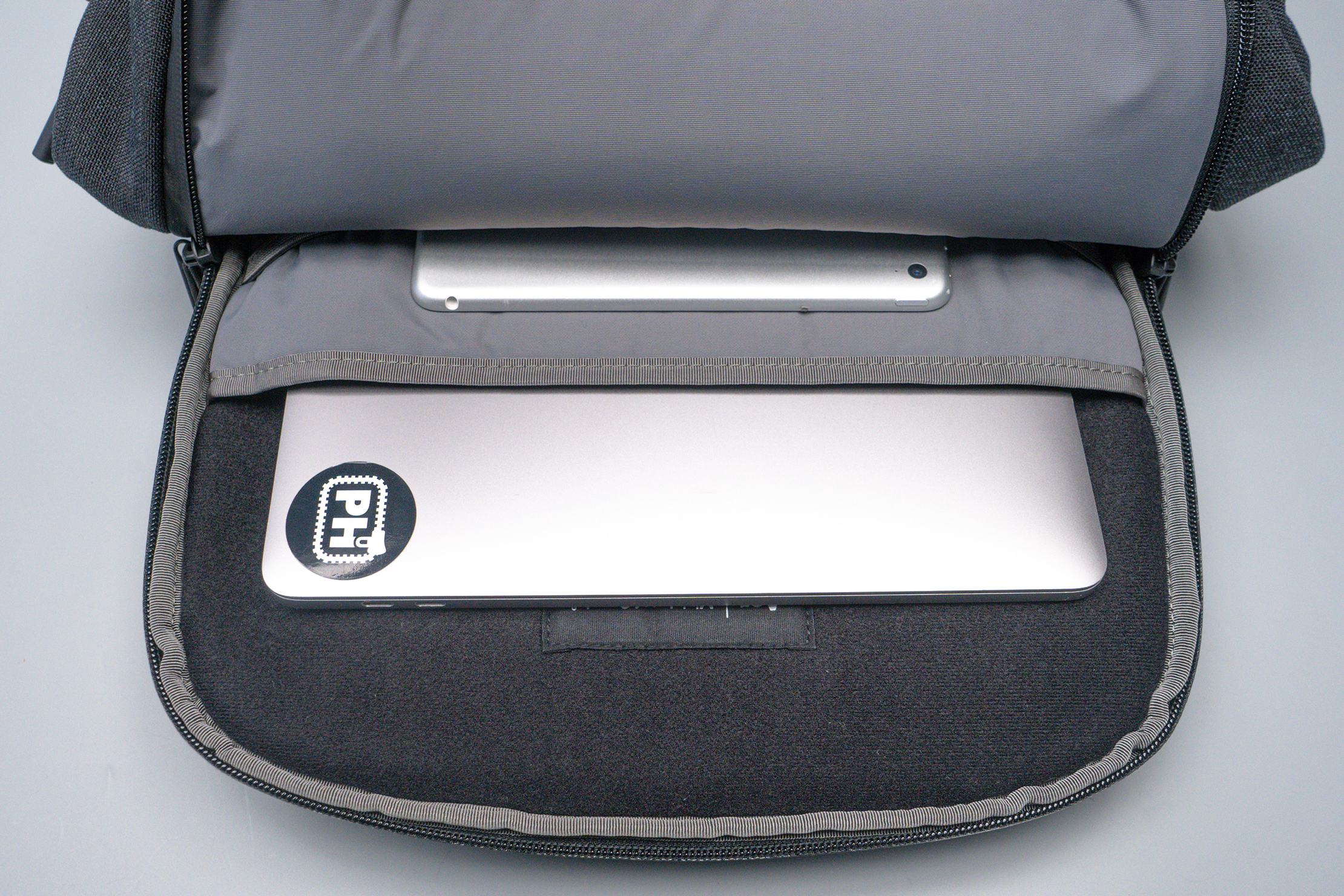 The most noteworthy downside of the Lunar Pack is its lack of a more granular organization for tech items. Among the large pockets inside and outside, plus the wide sleeve pockets, we were looking for smaller pockets for items like cables, mice, chargers, and adapters. Aer's other bags like the Day Pack 2 and Travel Pack 2 have these in spades, so we wish the Lunar Pack had them as well. That said, that doesn't take away the good points of the Lunar Pack; it's still a well-designed backpack, especially for those who take advantage of packing cubes and tech pouches.
Usage Timeline
Initial Usage
Condition: Excellent
Solid-feeling build quality all over
Interior liner fabric is bright and reflective
Good suitcase-like structure
2 Weeks of Use
Condition: Excellent
Digging the simple design overall—there's not a lot of built-in organization, but things work with a couple of pouches and packing cubes
The 1200D Nylon feels robust, yet soft in the hand
The side water bottle pocket is large
The harness system makes for a comfortable carry
Access the Pro Community Discussion
Get your questions about the Aer Lunar Pack (Ministry of Supply Collab) answered from our team and the Pro Community right here on the page. Plus, join discussions with other members about gear, guides, and more.
Other Bags & Luggage Reviews