Ministry of Supply Kinetic Suit (Blazer & Pants) Review
Wrinkle-resistant, water-repellent, and stretchy, the Ministry of Supply Kinetic suit separates make a solid travel suit—and they're easy to care for.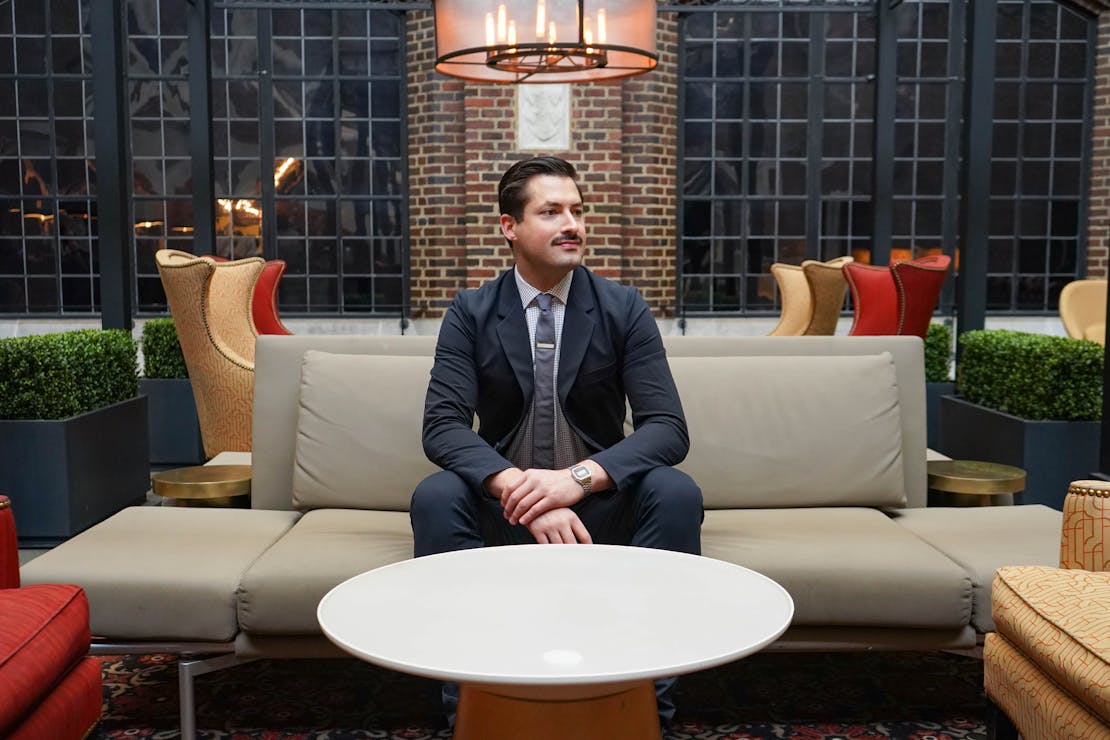 Our Verdict
Unlock the Pro Summary
Save time. Get access to brief summaries of our reviews so you can browse and make decisions more efficiently.
Pros
Requires less maintenance than a traditional suit
4-way stretch, soft fabric, and moisture-wicking properties make this suit very comfortable
Sophisticated, slim fit
Cons
Looks a little more technical than traditional suits
The blazer is only available in one style of fit at the time of this review
It is wrinkle-resistant, but not impervious to wrinkles
Recent Pack Hacker Video
Technical Details
Notable Materials

DWR Coating, Primeflex® Polyester

Manufacturing Country

China

Warranty Information
Full Review
If you enjoy looking classy, but don't want to put in the work taking care of a traditional suit then you will love the Ministry of Supply Kinetic Pants and Kinetic Blazer.
This suit is full of the same features you'll find on in a pair of travel pants, but in a sophisticated suit you can wear to business meetings, weddings, or whatever formal occasion you have planned. Yeah, we love living in the future too.

While sold separately, the Kinetic Pants and Blazer are built to be worn together. So that's how we're going to review them. Pair these with a great dress shirt—like the Ministry of Supply Aero— and you've got a complete suit for travel.
Let's take a look.
Fit, Fabric, & Features
At the time of this review, the Kinetic Pants are available in four colorways—Navy, Black, Charcoal Heather, and Grey Heather. The Blazer is available in those same colorways except Black.
If you're familiar with us here at Pack Hacker then you know we're a huge fan of all-black monochromatic looks, but there's something about a dark Navy suit that works for almost any occasion (without being too funeraly). And that versatility is hard to pass up.
That said, you can't really go wrong with any of the other colorways, which all have that classic suit vibe going for them.

Speaking of classic suit vibe—this suit has all of the things you've come to expect with formal menswear. Clean lines. Solid buttons. And the standard number of pockets. The blazer has three exterior pockets and three interior pockets, while the pants have two front and two back pockets. No complaints there.
One of the major benefits of this suit is how well it fits, although that, of course, depends on your body type. The Kinetic suit has a sharp, slim fit—which we're partial to—but the folks at Ministry of Supply have designed both the Blazer and Pants to be easily modified by a tailor. We haven't needed to take that extra step—a testament to how well the suit fits—but we appreciate that the option is there so you can make this thing fit you just right.

The blazer is only available in one style of fit—we would love more styles to be available in the future—but the pants are available in both standard and slim, so you can decide how tapered you want the cut to be.

Unlike a traditional slim-fitting suit, you don't have any restricted mobility. The fabric has four-way stretch. Additionally, the blazer is unlined. So you can actually move your arms and legs (!). You could even strike a yoga pose or two if you'd like.
This stretchiness combined with the baby-blanket softness of the fabric makes this suit sweatpants-comfortable—without looking like sweatpants. We've even worn it on a flight from DTW to LAX. And we'd be willing to wear it for the duration of an entire transatlantic flight, too. Now that's saying something, people.

Beyond being comfortable, this polyester fabric is also water repellent with a hydrophilic (water-loving) interior that wicks away sweat and a hydrophobic (water-hating) exterior that dispels that moisture. So it's breathable. And, while the hydrophobic exterior won't be much help in a downpour, it's a nice touch if you're a clumsy drinker.
Additionally, Ministry of Supply claims that the fabric is wrinkle-resistant. We've found that it wrinkles WAY less than other suits, but it's not completely impervious to wrinkles. That said, a lot of the wrinkles that do show up shake out after you toss it on, smoothed by your body heat. We probably don't need to point out that this is a huge benefit for travel, but we will anyway. This is a huge benefit for travel! You can toss it in your suitcase without a garment bag and throw it on at your destination without the help of an iron.

And, if the wrinkles do add up, you have the option of using a cool iron to make everything as good as new again.
On that note, this suit is very low-maintenance. If a regular suit is like a pet dog, requiring thought, love, and care, this suit is like a pet rock. You can toss it in your closet for months at a time without a single thought, and when you need it, it'll still be good to go.
You can also toss it in the washer and dryer. Yes, the dryer. No dry cleaning required. If this isn't a major perk for travel, we don't know what is.
While we'd like to say that you can't notice the technicality of the fabric looks-wise, you definitely can. It's subtle, but you'll see that it looks a little more technical, a little more space-age, than your average suit. But like we said, it's subtle. You can still wear this suit to a professional meeting or wedding (we certainly have).
Durability & Testing
We've been testing the Ministry of Supply Kinetic Pants and Kinetic Blazer, paired with the Ministry of Supply Aero Dress Shirt, as a travel suit for a few weeks now. We've taken it on a cross-country flight and worn it to a summer wedding.
We're happy to say, we have no durability issues, major or minor, to report. From our experience with the brand—which is serious about its materials and craftsmanship—we don't expect this to change any time soon.

We're digging all of the features, particularly the comfort and wrinkle-resistance. Overall, it's a solid travel suit for the person who travels often, needs to look professional, and doesn't want to do laundry that much.
Usage Timeline
Initial Usage
Condition: Excellent
For the Blazer, we have a size medium in Navy
For the Pants, we have a size 34 slim in Navy
Jacket is fitted—a little on the slim side, which we love
Fabric is quite stretchy—less like wool, more like gym shorts in the best way possible
Excited to see how the anti-wrinkle claim works in actual use
2 Weeks of Use
Condition: Excellent
Impressed by how comfortable this thing is. Would definitely wear it on an international flight.
Access the Pro Community Discussion
Get your questions about the Ministry of Supply Kinetic Suit (Blazer & Pants) answered from our team and the Pro Community right here on the page. Plus, join discussions with other members about gear, guides, and more.
Other Clothing & Accessories Reviews