Ministry of Supply Momentum Chino Review
Professional pants with the comfort and breathability of sweats, the Ministry of Supply Momentum Chinos are ideal for the business traveler.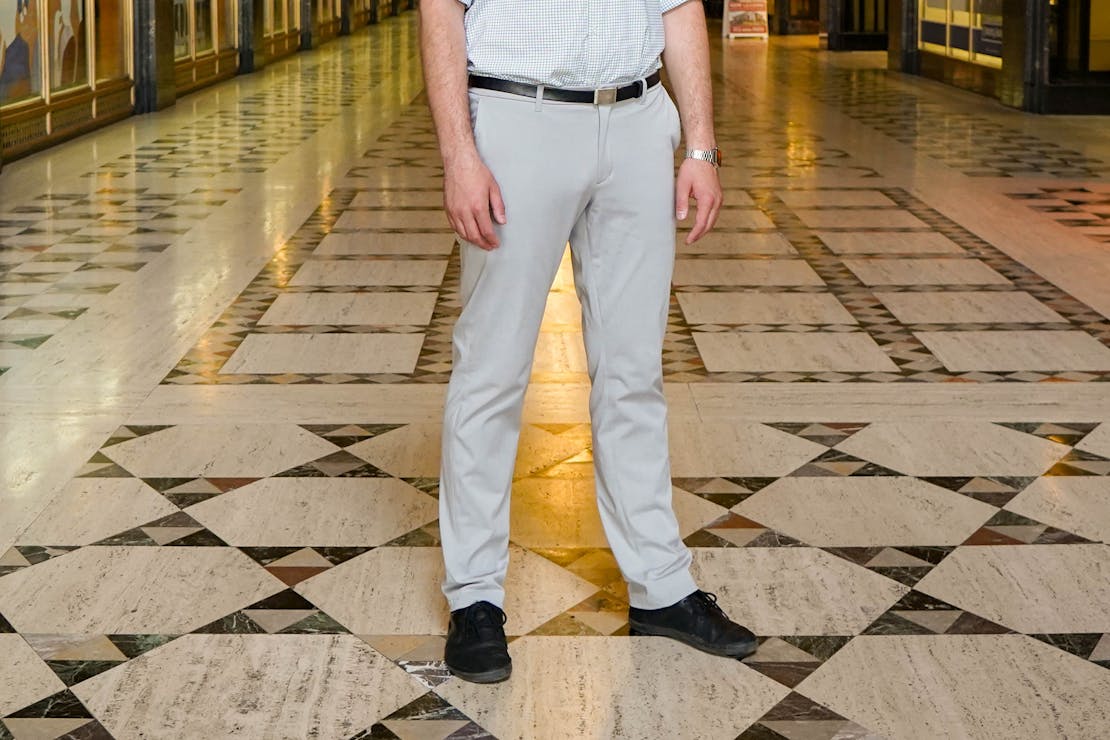 Our Verdict
Unlock the Pro Summary
Save time. Get access to brief summaries of our reviews so you can browse and make decisions more efficiently.
Pros
Stretchy, thermoregulating, soft, and wrinkle-resistant
Professional aesthetic that will fit in at a business meeting
Nearly as comfortable as sweatpants
Cons
Not super versatile (you can't really dress them down)
French fly can take longer to put on and take off than a traditional button
Not the best in hot weather
Recent Pack Hacker Video
Technical Details
Notable Materials

Polyester

Manufacturing Country

China

Warranty Information
Full Review
If you're a business traveler, you're going to love Ministry of Supply's Momentum Chinos. If you're not a business traveler but like to look sharp and gentlemanly, then you're also going to love these pants. And if you hate chinos and prefer to live in sweatpants, you may also love these chinos.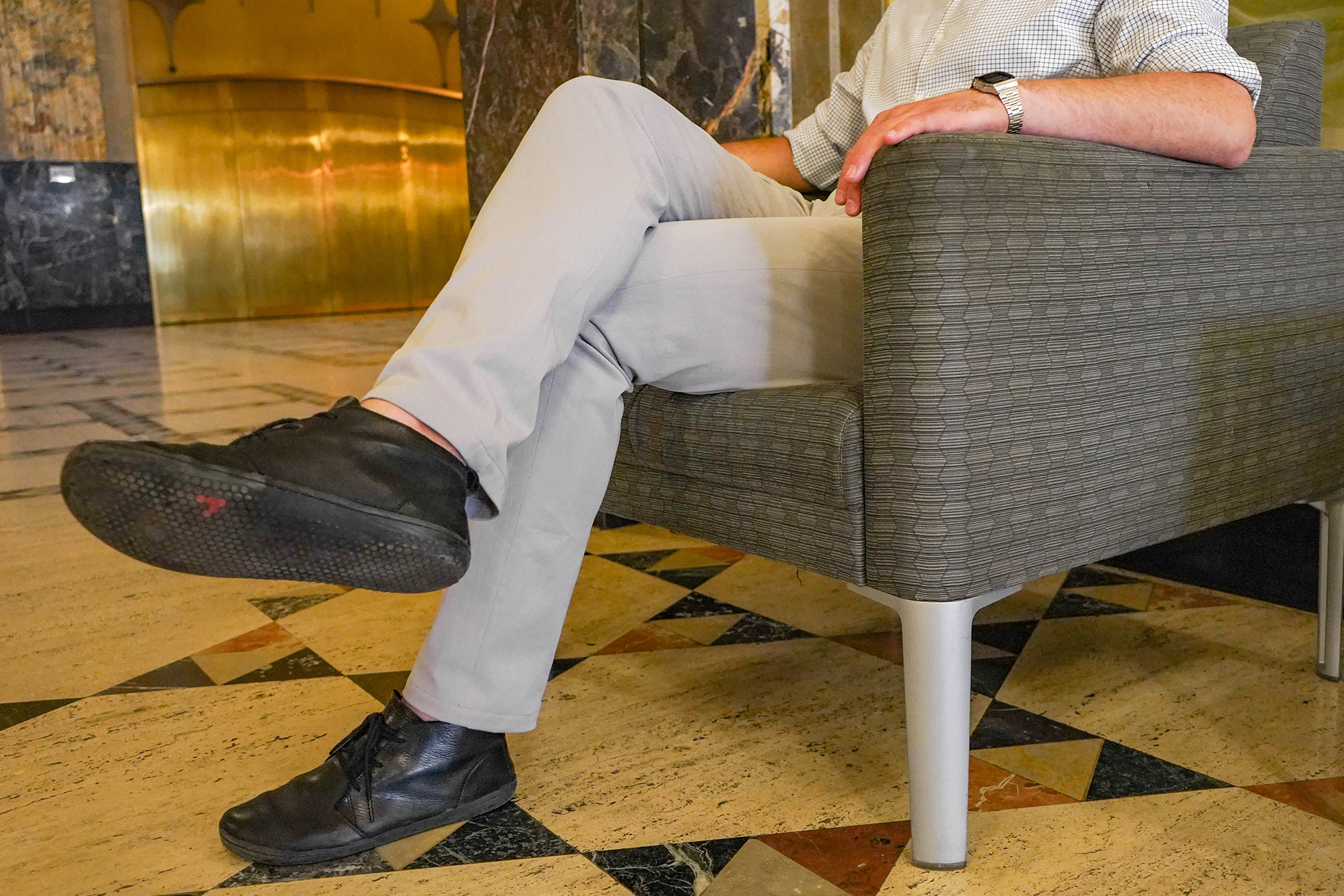 What we're getting at is that we're pretty sure everyone can find something to love about these pants. And that's because the Momentum Chinos are equal parts dressy and comfortable. Now, when we say "comfortable" we mean seriously comfortable. Tossing these pants on is similar to the feeling you get after waking up to a blizzard, getting a message from your boss that you don't need to come to work, and then enveloping yourself in blankets and sleeping for the next four to six hours. Okay, it might not be quite the same experience—they're just pants, after all—but it's close.
This comes at no surprise to us, seeing as Ministry of Supply specializes in technical business-wear (once an oxymoron, now an entire industry) that looks and feels good.
And Ministry of Supply takes this job seriously. So much so that the company's founder ran a half-marathon in 2015 while wearing a Ministry of Supply suit. He even broke the record for fastest half-marathon ran in a suit at 1:24:41 (there are records for everything these days, apparently).
Anyway, back to the chinos. While all you sweatpants-lovers out there will enjoy the comfort, we do think these pants are best suited for business travelers as they're a bit too fancy to be casual. Let's get into the details.
Fabric & Fit
As we said, the Ministry of Supply Momentum Chinos are business pants with all the comfort and breathability of pants you'd wear around the house. So the fabric and fit don't exactly match. By that we mean it's a bizarre feeling to be able to do a roundhouse kick—or attempt one, anyway—in the same pants that make you look like a banker.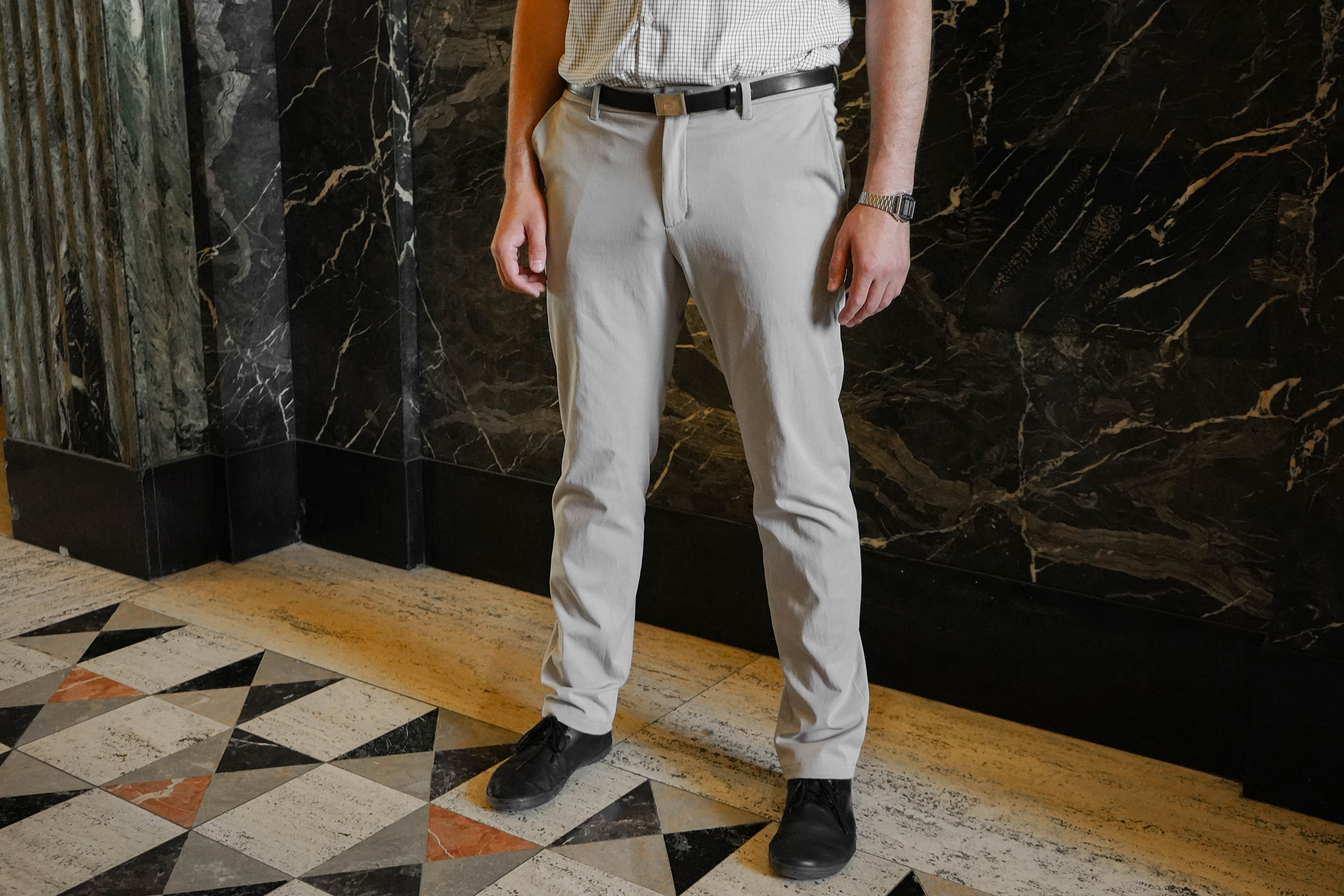 The pants fit like a typical pair of chinos, with a slim leg that follows the body without being skin-tight. The stitching is all beautifully done and the button is elegant in its simplicity (although if you look closely, it says Ministry of Supply in pink type, which, luckily, is not at all noticeable when you're wearing the pants).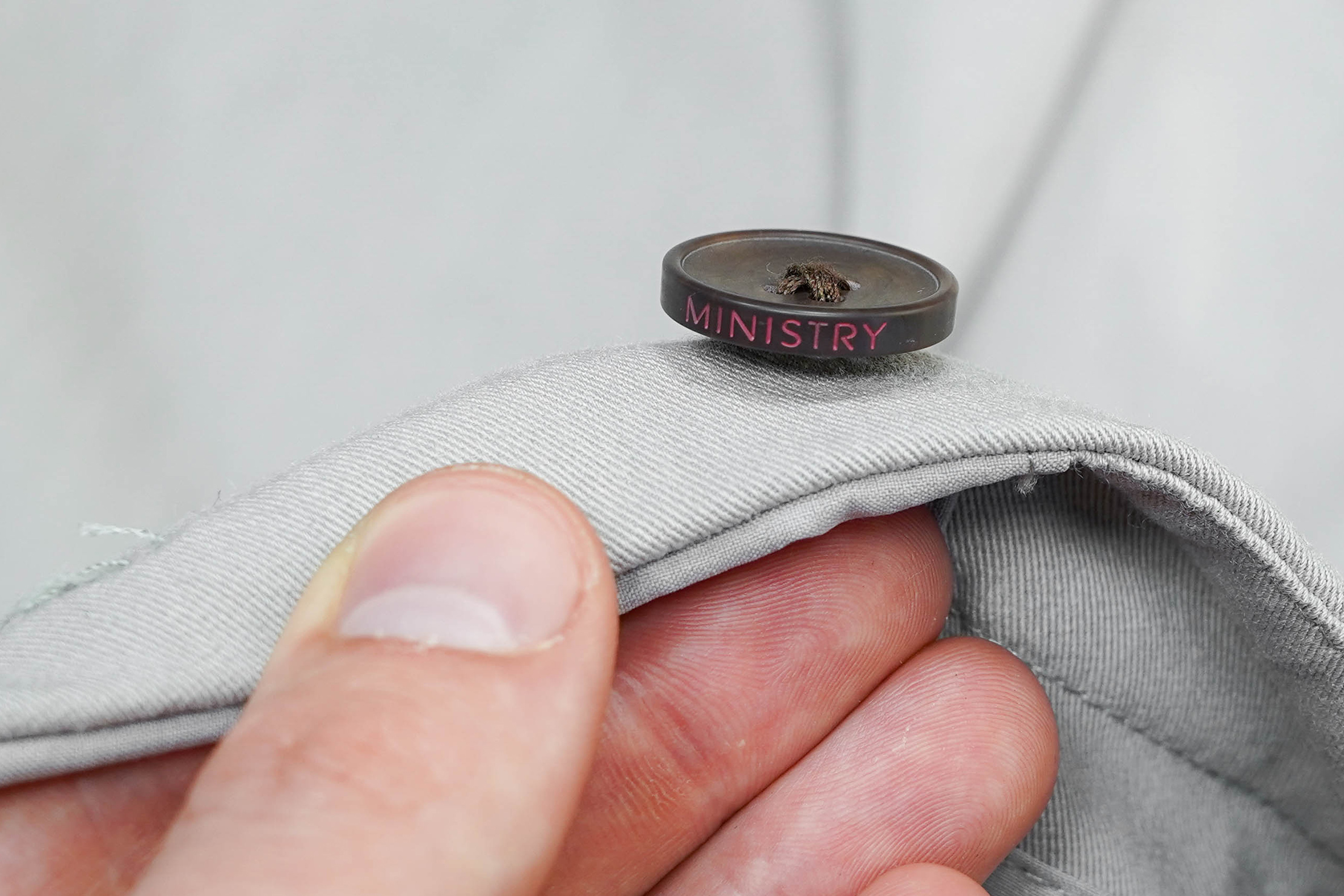 You can also ensure a proper fit by hemming the cuffs (or getting them hemmed if you're not familiar with a sewing machine). All of Ministry of Supply's pants come in a long inseam for easy hemming, and they even offer a store credit reimbursement for hemming.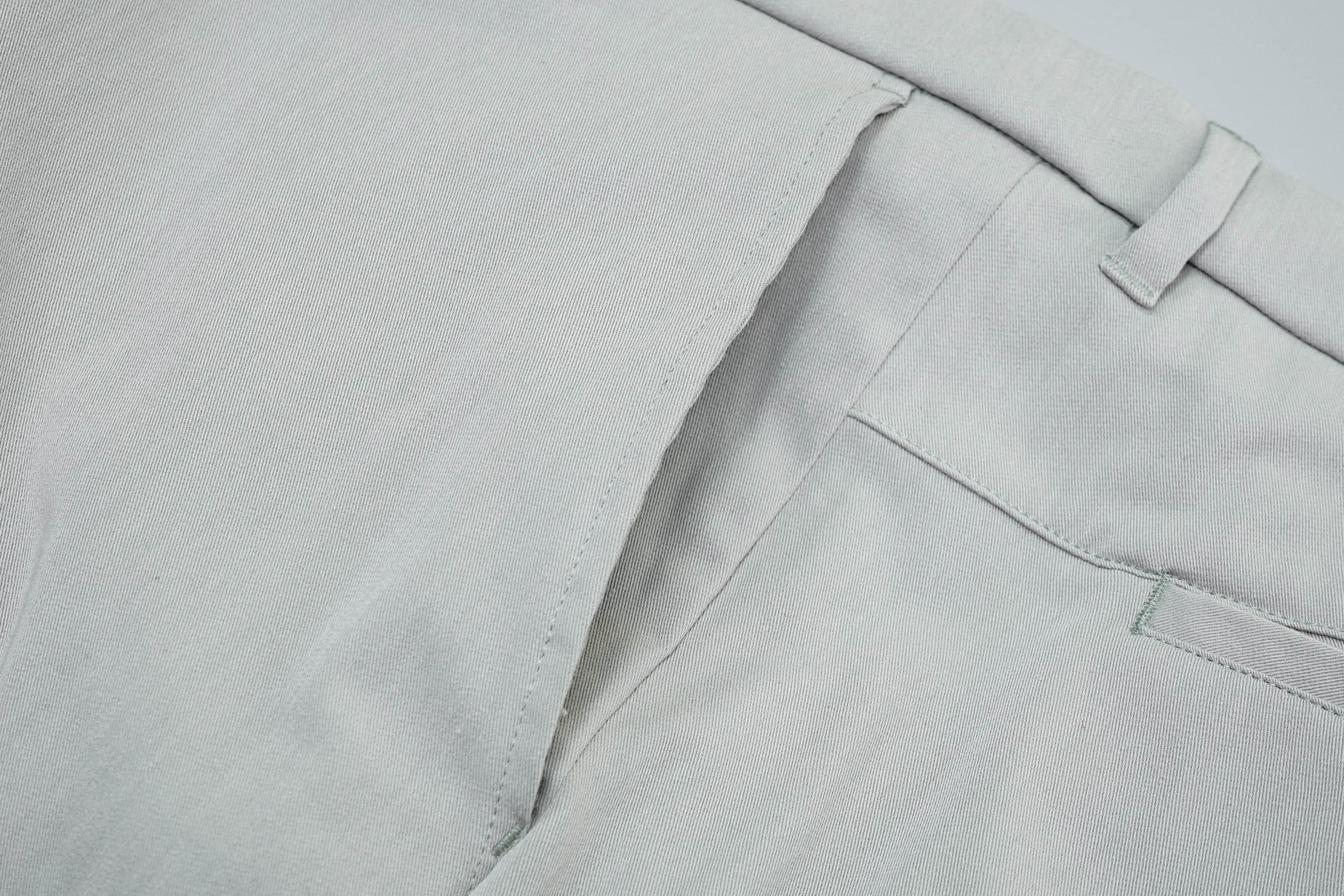 These chinos have everything that you'd expect to find on a pair of pants: belt loops, a zipper fly, and four pockets (two on the back, two on the front). There's also a second interior button—called a French fly or waist stay—to help keep the shape of the pant and prevent wrinkles from forming in the fly while you wear them.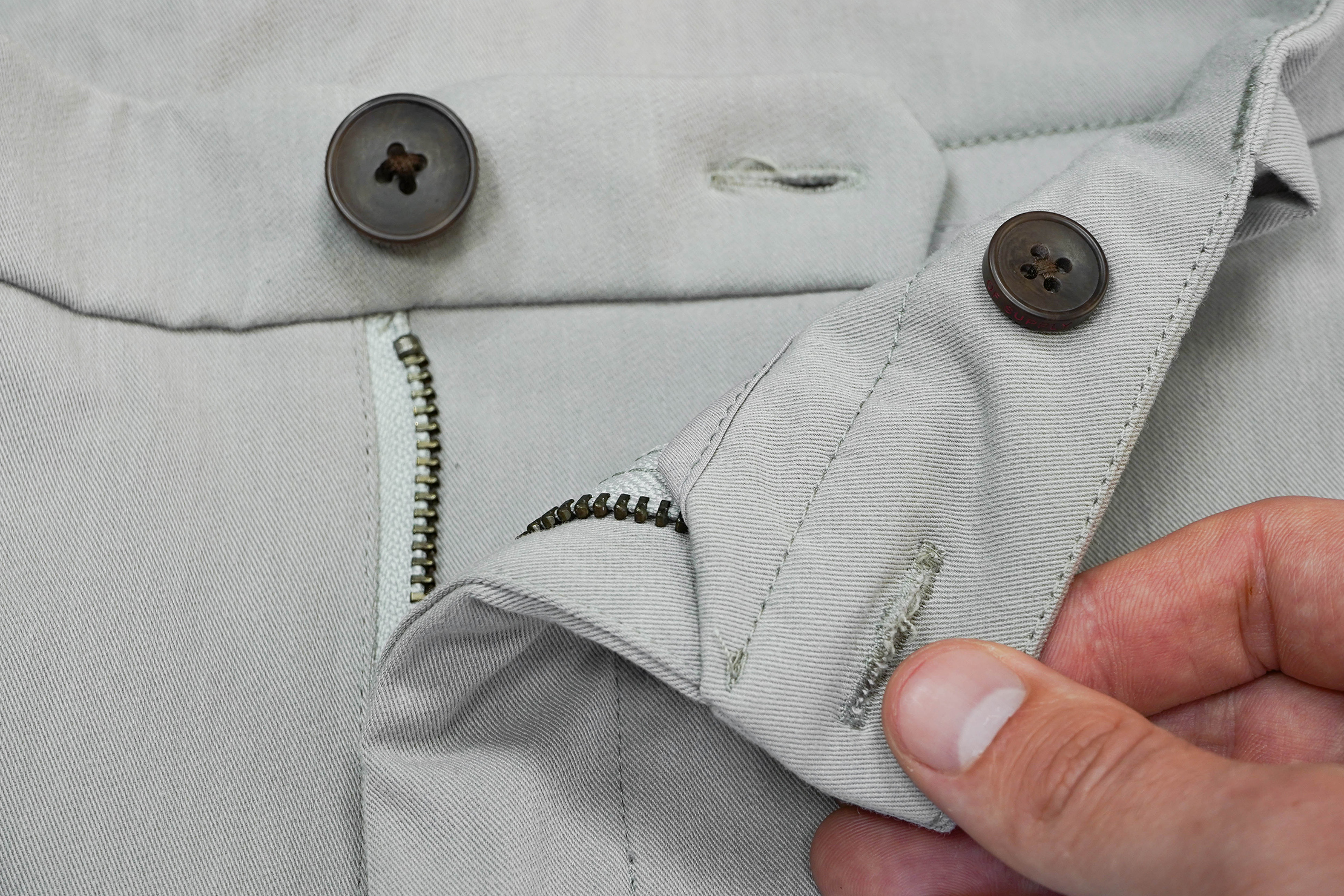 While some people prefer to travel with pants that have "extra" features—like five gazillion secret pockets and waterproof zippers—we prefer to keep it simple. We usually don't utilize said features (that's what day packs and slings are for!) and prefer the look of a regular pair of pants—but to each their own.
At the time of this review, these pants are available in three colorways: Navy, Stone, and Khaki. We've been testing the Khaki, but all three colorways share that classy, I'm-on-my-way-to-an-important-meeting vibe—especially when paired with a sports jacket or button up, like Ministry of Supply's Aero Dress Shirt.
We suppose you could dress the pants down by wearing sneakers and a t-shirt. But, in reality, you'll look like you're wearing business pants with sneakers and a t-shirt, which don't really go together (but who are we to judge?).
And with all that said, let's talk about why these pants are ideal for travel—the fabric. These pants are a blend of "Hollow-Core" polyester, nylon, and lycra.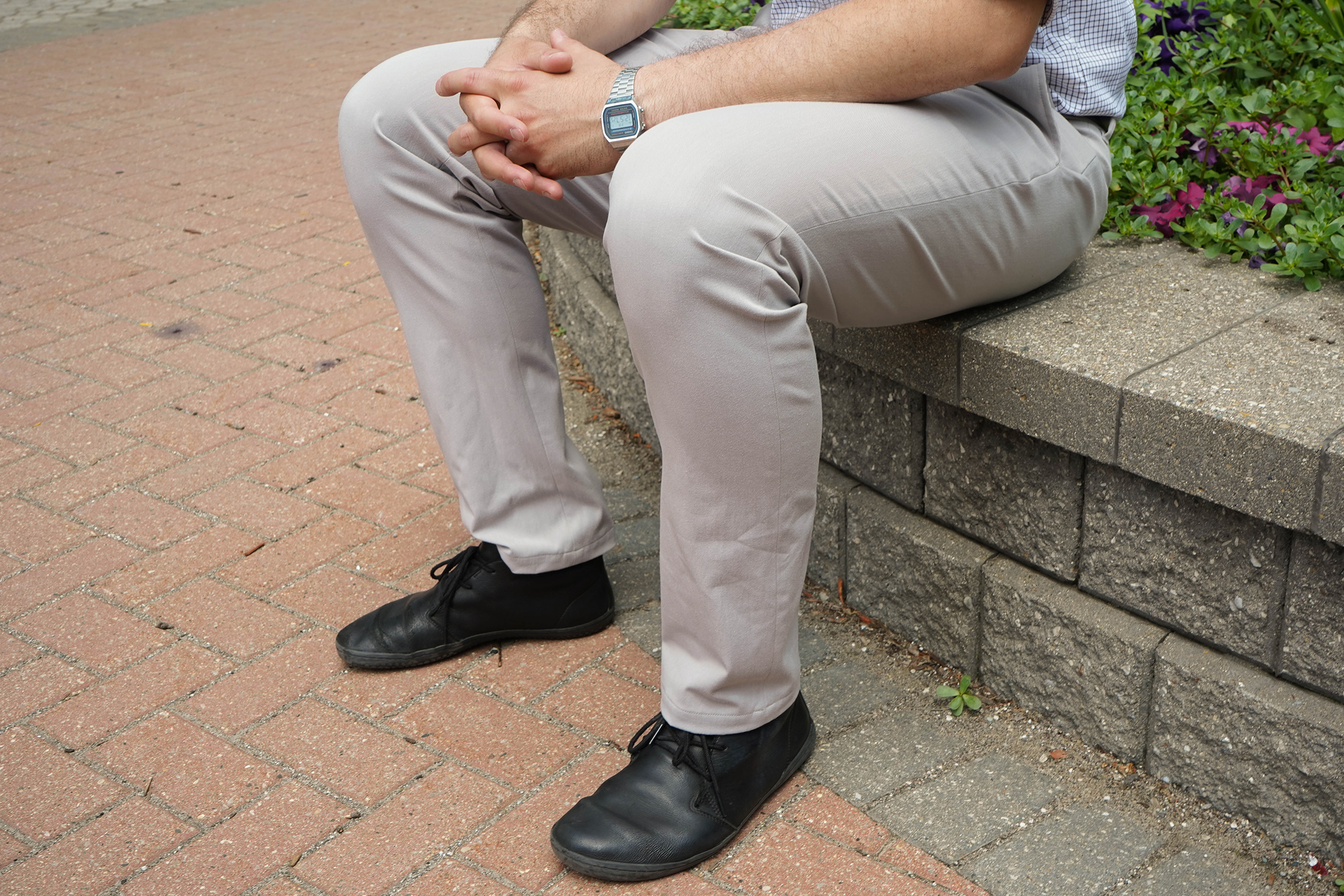 Ministry of Supply is all about their marketing—hence that half-marathon-in-a-suit stunt—so we have to say that "hollow-core polyester" set off our marketing-jargon alarm bells. Turns out, it's actually different from regular old polyester. As the name suggests, each fiber of Hollow-Core polyester has a hollowed-out core. There's a bit more to it than that, but you're probably not looking for a science lesson right now, so we'll skip straight to the benefits.
Basically, hollow-core polyester helps with temperature regulation. The pants keep you warm by trapping insulating air against your body. But the chinos work well in warmer weather too, since the pants are lightweight and breathe well. To be clear though, when we talk about warmer weather we're not talking about heat-wave-at-the-equator warm. These pants are certainly more breathable than cotton, but you'll definitely start to sweat when it gets hot. As per usual with pants.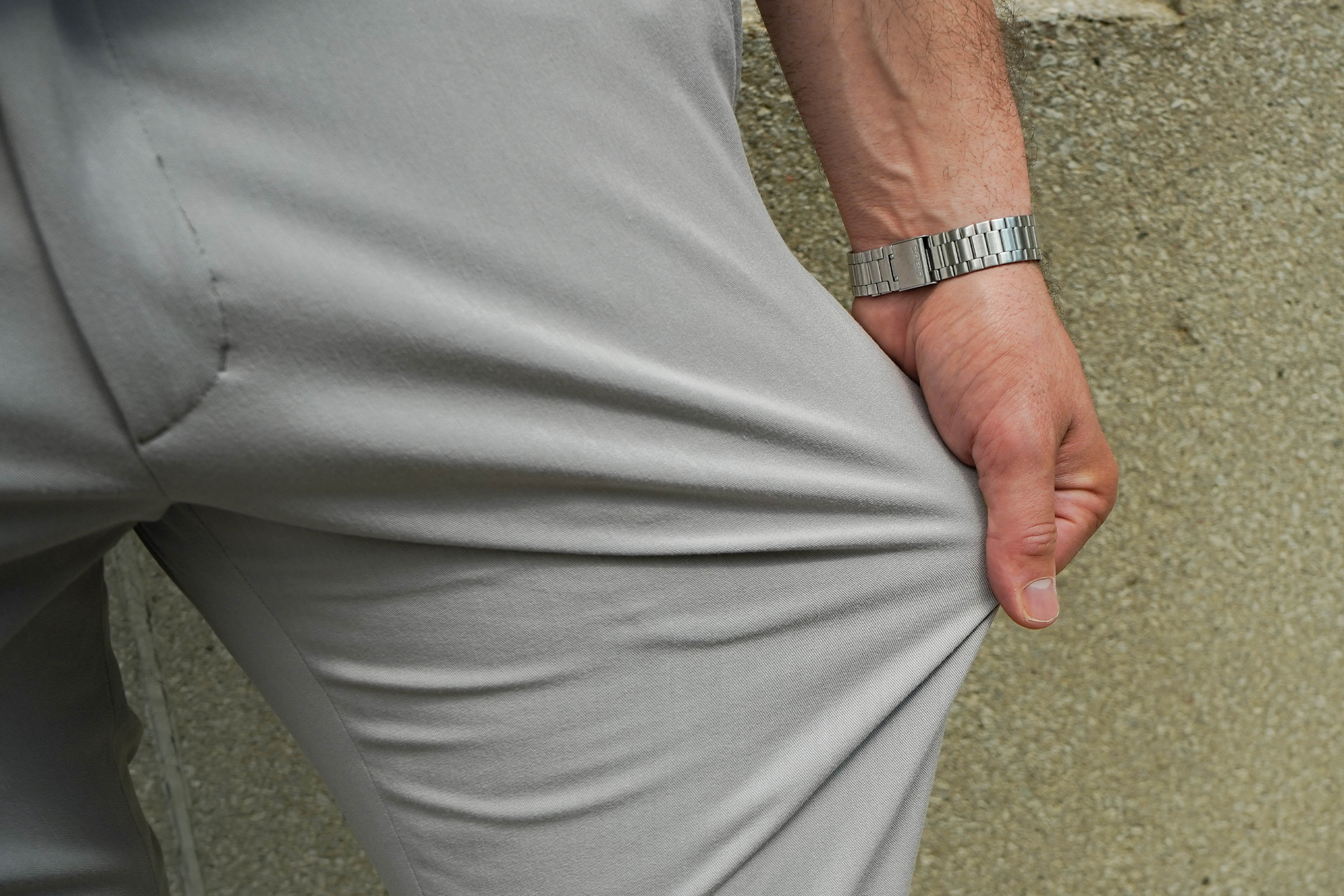 The Lycra helps give the pants an all-over stretch. And the folks at Ministry of Supply aren't joking when they say stretch. You could do yoga in these pants no problem (as long as you're prepared for some odd looks).
The pants are also soft, which Ministry of Supply credits to the spun nylon yarn. All three of these features—temperature regulation, stretch, and softness—create a level of comfort we've never had before or even thought possible with dress pants. While they won't exactly match the comfort of your favorite sweats, they're pretty darn close.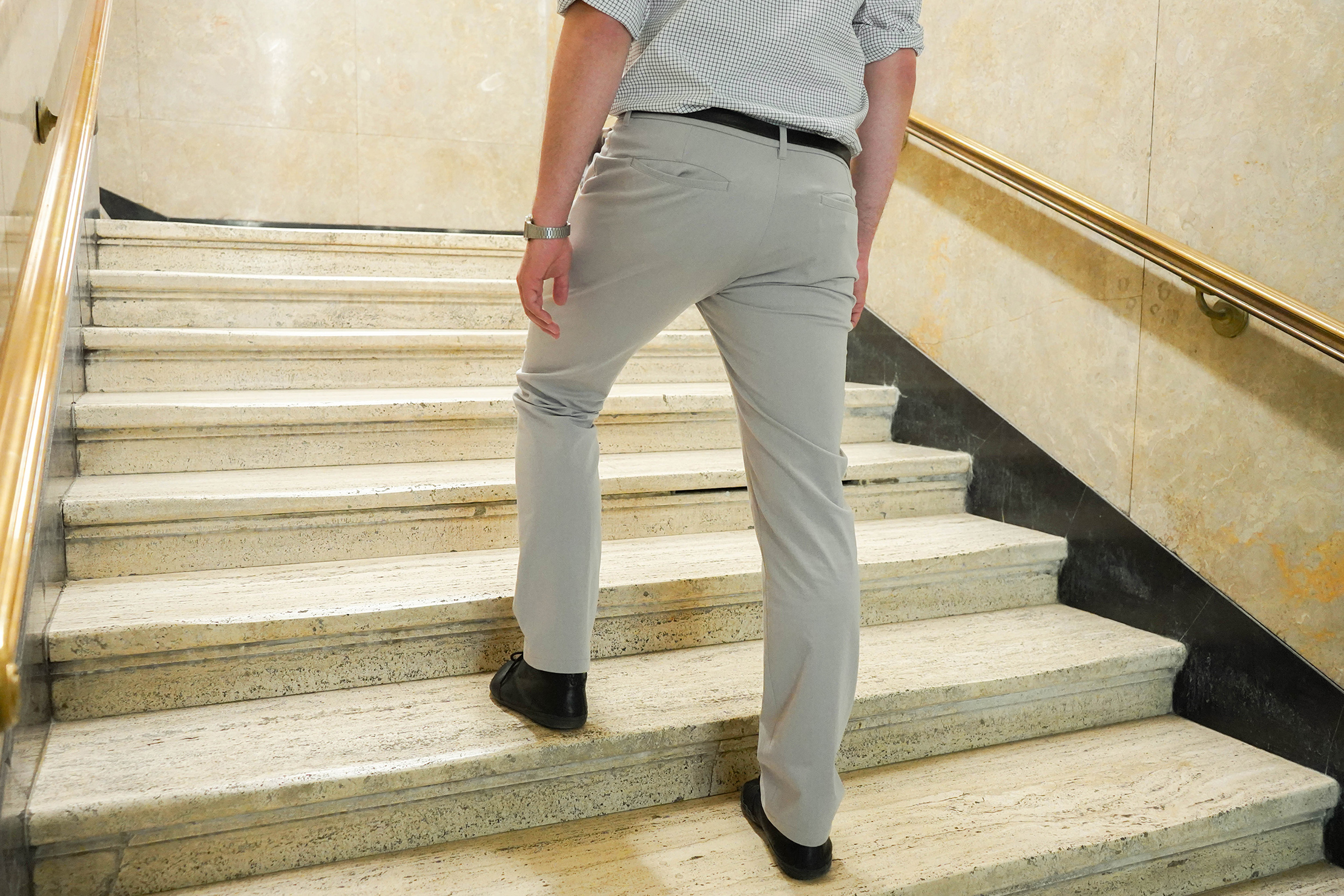 Now, we've saved the best feature for last: these pants don't wrinkle(!). Usually, business-wear requires an annoying amount of maintenance. Dry-cleaning, steaming, pressing, ironing—all things that are 1) time-consuming and 2) infinitely harder to accomplish while traveling.
We've tossed these pants in a drawer, pulled them out a week later, and couldn't find a single wrinkle. Better yet, you can throw these in a washer and a dryer. No dry-cleaning necessary.
Durability & Testing
We've been testing these chinos for about a month now in Detroit, Michigan. They make us wish we had fancier things to attend.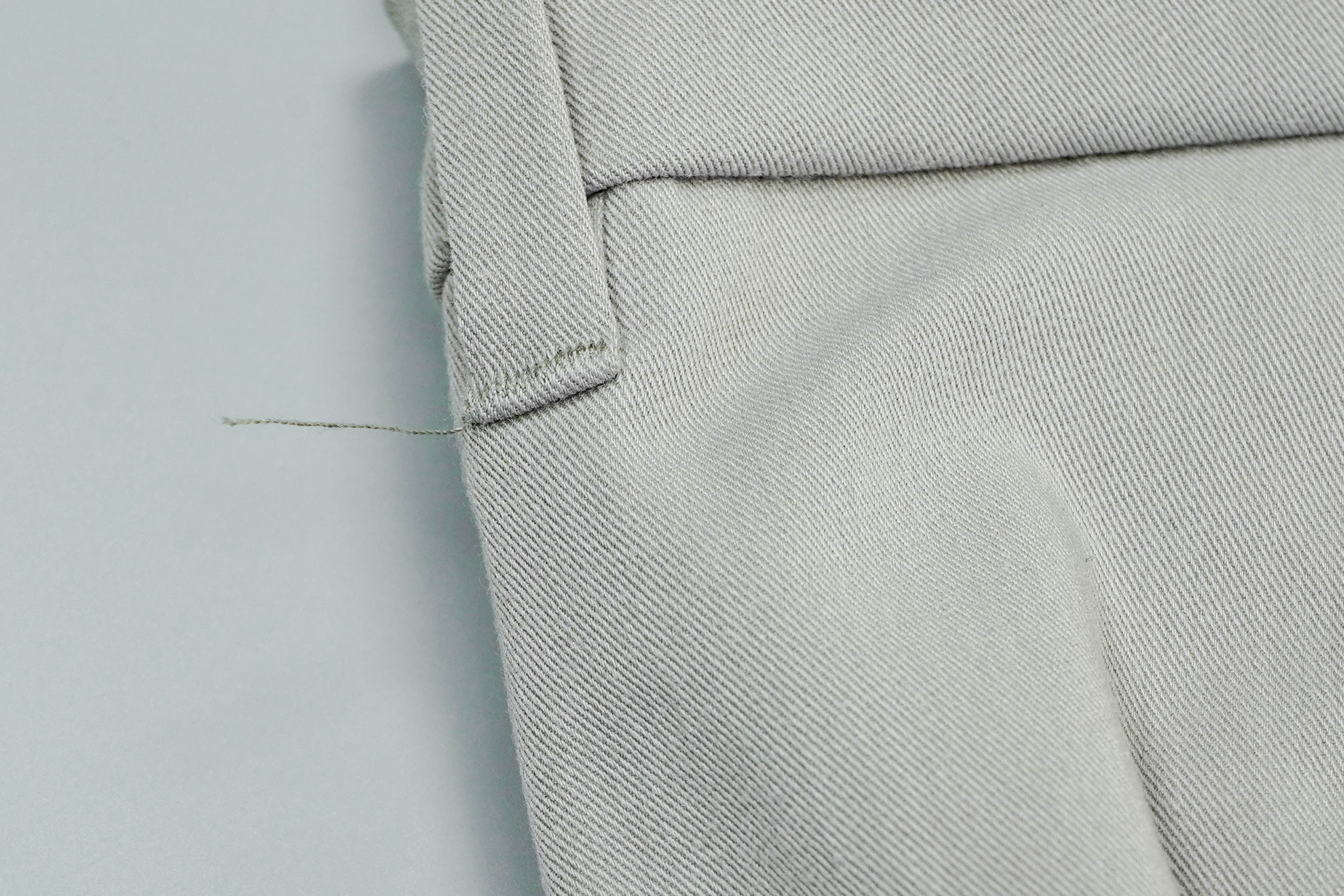 We've noticed a few loose threads, but nothing out of the ordinary. Overall, the construction is solid and we expect they'll last us far into the future.
Usage Timeline
Initial Usage
Condition: Excellent
Modern fit and comfortable wear
Fabric "feels" like it's been coated with something
High quality components and feel
2 Weeks of Use
Condition: Excellent
Feel extremely comfortable on!
1 Month of Use
Condition: Good
Found a few loose threads, nothing wild though.
Access the Pro Community Discussion
Get your questions about the Ministry of Supply Momentum Chino answered from our team and the Pro Community right here on the page. Plus, join discussions with other members about gear, guides, and more.
Other Clothing & Accessories Reviews