Timbuk2 Spirit Laptop Backpack Review
The Timbuk2 Spirit Laptop Backpack is great for everyday essentials, though access can be tough since the main zipper regularly gets caught in the fabric welt.
Our Verdict
Unlock the Pro Summary
Save time. Get access to brief summaries of our reviews so you can browse and make decisions more efficiently.
Pros
Comfortable harness system
Elastic holds bottles tight in side pockets, no matter how wide
Keel small gear close on shoulder strap attachment points
Cons
Main compartment zipper catches on fabric
Front sags due to thin fabric
Using daisy chain in main compartment blocks laptop sleeve
Recent Pack Hacker Video
Technical Details
Capacity

16l

Weight (lb)

1.1 lb (0.5 kg)

Dimensions

15.4 in x 9.84 in x 5.51 in (39.1 x 25 x 14 cm)

Notable Materials

Recycled Nylon, Recycled Polyester, Polyethylene, YKK Zippers, Duraflex Hardware

Manufacturing Country

Indonesia

Laptop Compartment Size

13"

Warranty Information
Full Review
You don't need a huge bag when you want an everyday carry that can also haul your gear for a short trip. The 16L Timbuk2 Spirit Laptop Bag is a laptop bag with enough space to potentially serve double duty if you're heading away for a few nights. It's got a fairly minimal design with a few fun features thrown in, including a unique arrangement of pockets and attachment loops.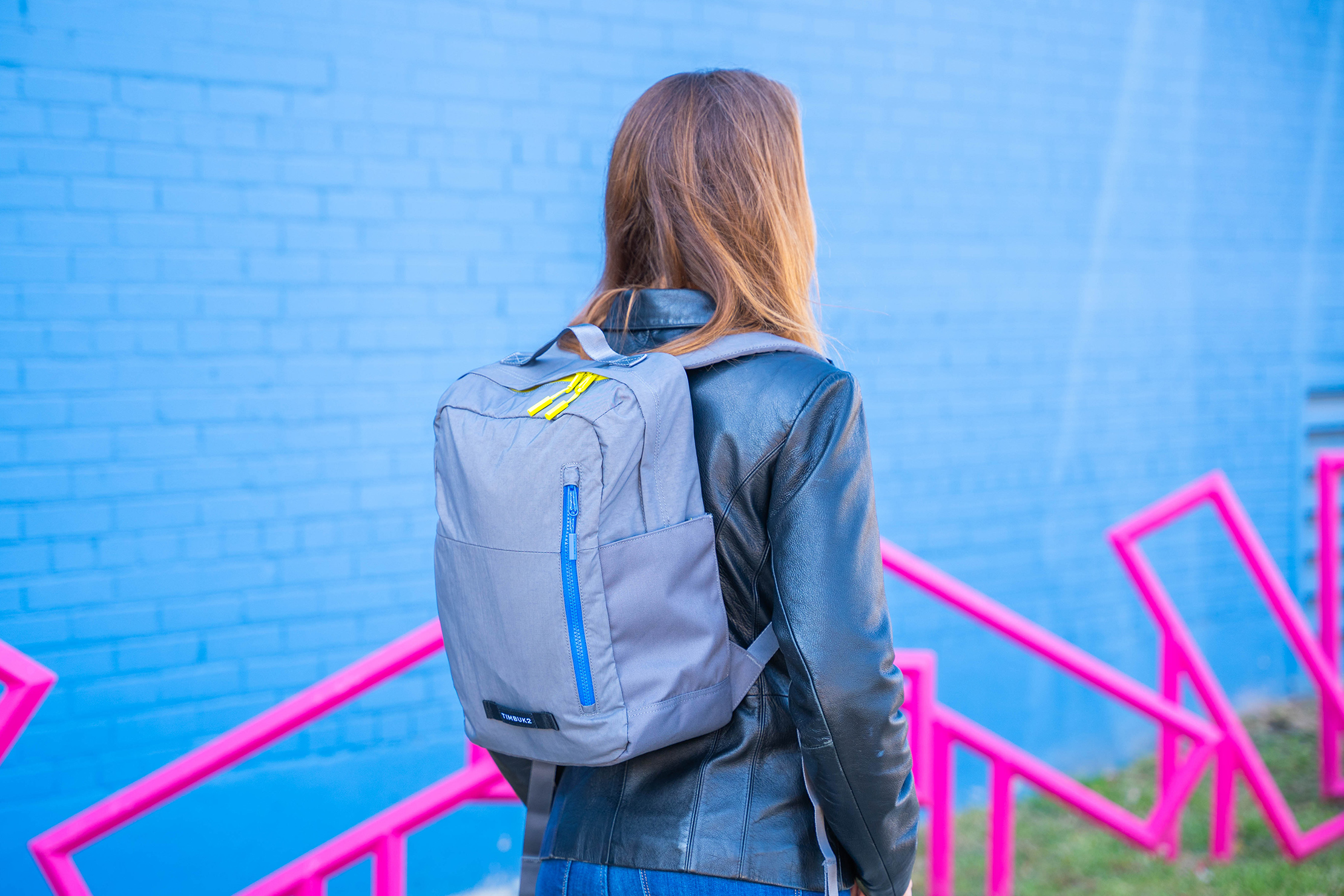 Now, let's get right to the review to see how it performs.
External Components
If you're into Earth-friendly packing, you may like Timbuk2. As a brand, Timbuk2 says it tries to respect the planet, using pre- and post-consumer materials to make its products, and the Spirit Laptop Backpack is no different. The daypack is lightweight due to the recycled nylon and polyester materials. We're testing the Eco Gunmetal Pop colorway, which is gray with a pop of color. That's largely thanks to the zippers, including a chunky royal blue YKK Vislon zipper for the larger front compartment, a bright yellow No. 5 reverse coil YKK zipper on the smaller front pocket, and another bright yellow for the No. 8 reverse coil YKK zipper to open the main compartment. The pop of color continues inside. We'll get to that later; just suffice it to say that you won't have any problem seeing gear in this bag.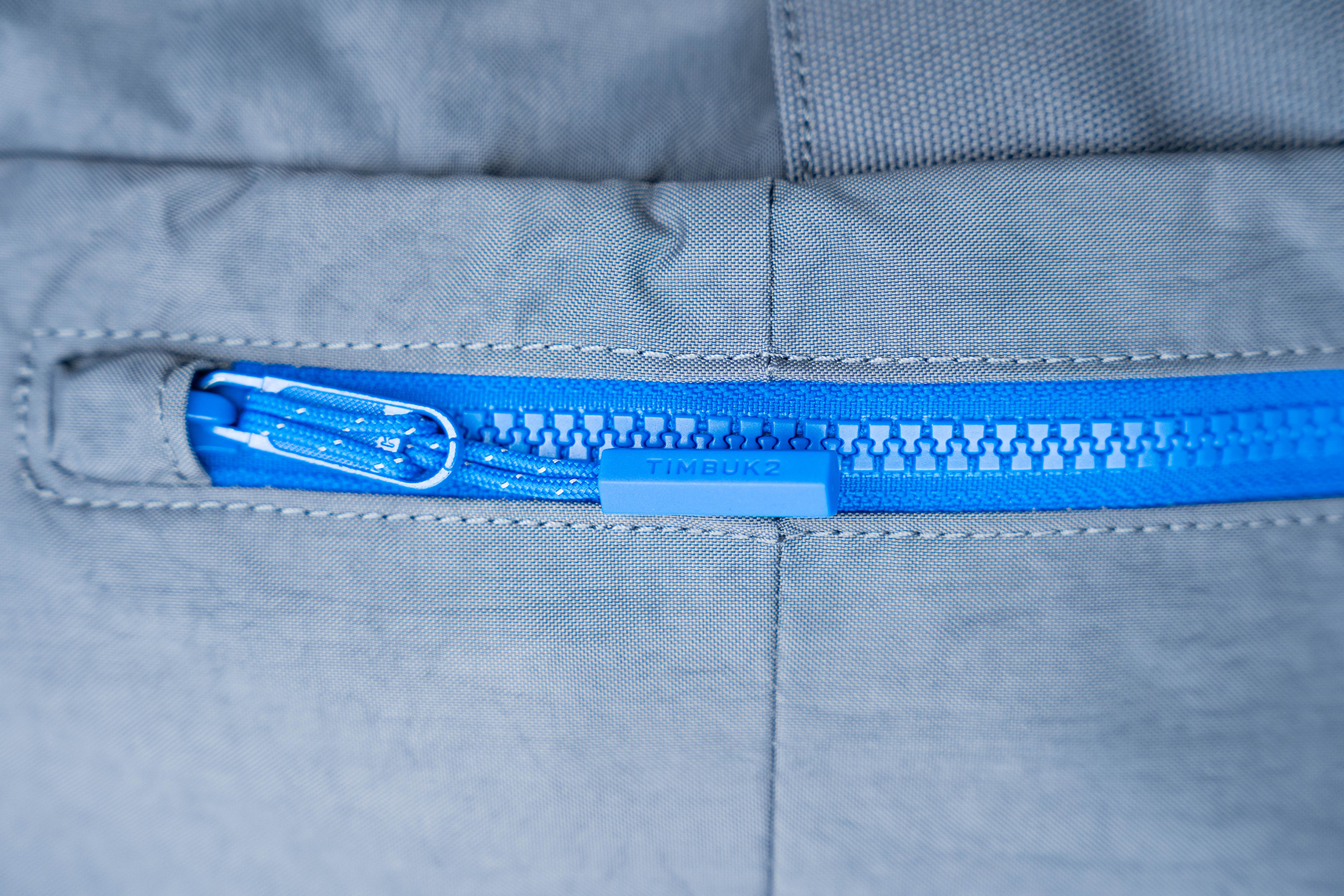 Cords that end in hexagonal plastic with the Timbuk2 name weave through the metal zipper pulls, making them easy to open and reducing jangly noise. The cords are the same color as the pulls, which are, in turn, the same color as the zippers, except for the main compartment zipper on the Eco Nautical Pop colorway. In that case, the cord and pull are yellow, while the zipper itself is a bright blue.
The Eco Nautical Pop colorway is navy blue with pops of color on the zippers and interior lining. Other colorways available at the time of writing include monochrome hues: Eco Black, Eco Nautical, and Eco Gunmetal (are you spotting an eco-friendly trend here?). In all cases, the front panel and the top of the shoulder straps feature thinner fabric, while the water bottle pockets, back panel, bottom, and underside of the shoulder straps feature a thicker, more textured textile. We do have to mention that it's hard to pack the bag enough to prevent the thinner front fabric from sagging slightly, which somewhat affects the bag's aesthetics.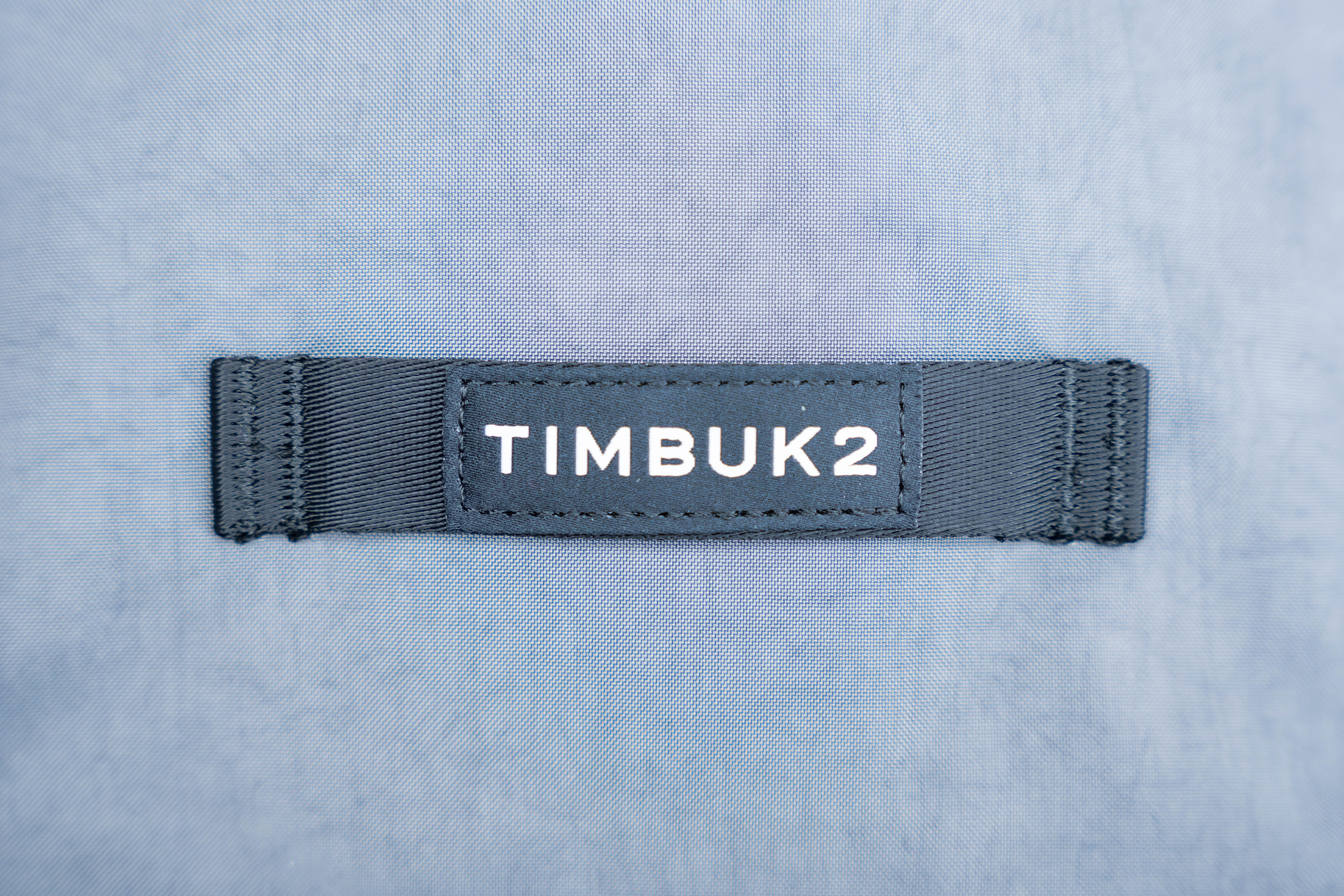 The TIMBUK2 logo—written in all caps—is on a 4-inch black loop toward the bottom of the bag. It can serve as a place for a bike light if you need one since it's also an attachment point. The brand name is also on a horizontal loop in the middle of the right-hand shoulder strap and serves as an attachment point there, as well.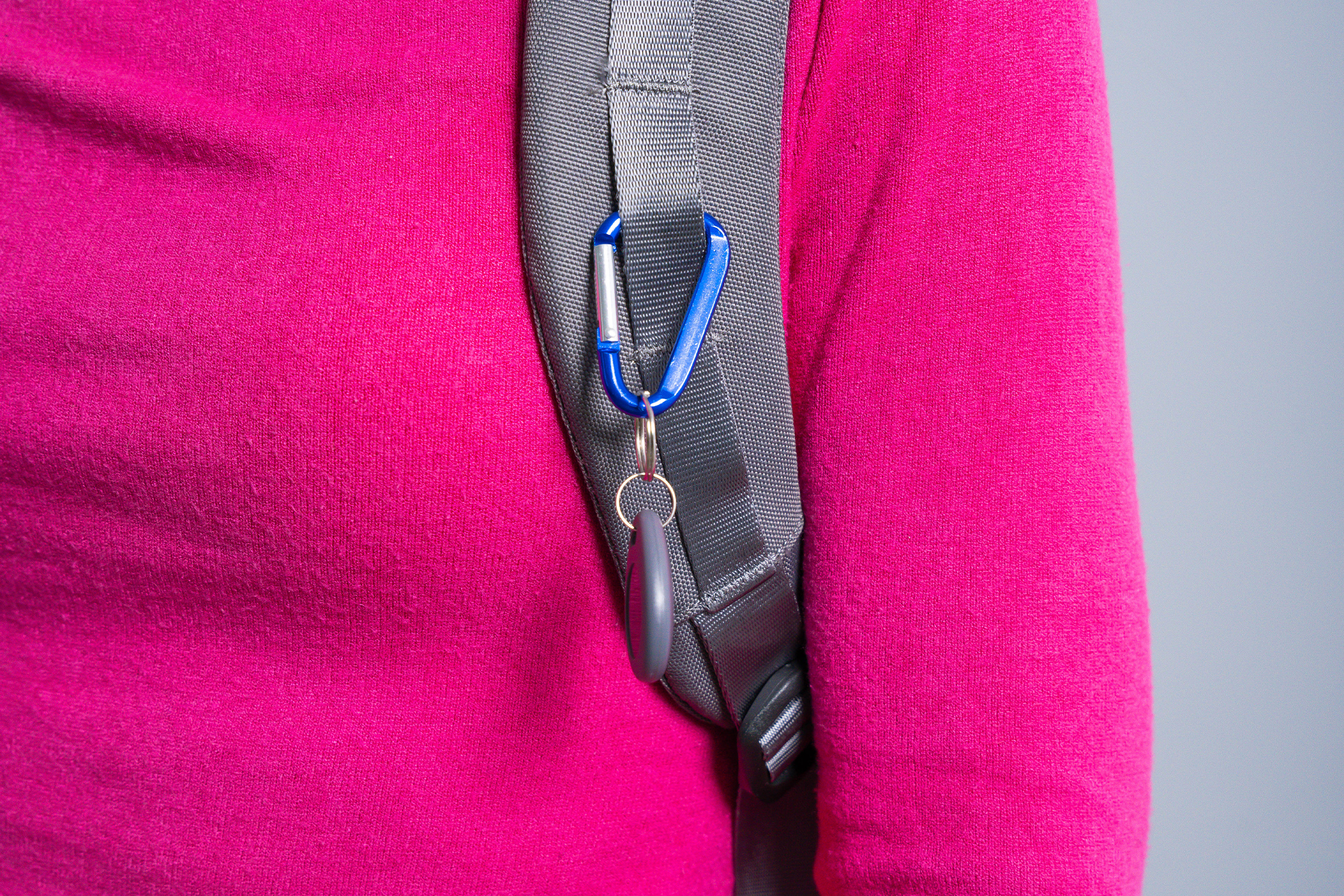 The left strap has a twin horizontal attachment point, though it's gray instead of black. On each shoulder strap, a daisy chain of three attachment points parades down from the horizontal loops so you can clip small gear with a carabiner. We like hooking a key fob to get into the office and hand sanitizer here to keep them close at hand. The straps adjust with Duraflex Hardware slides that work well, although there are no keepers to contain the extra straps (and there's quite a bit of excess for smaller users).
A carry handle at the top is shiny inch-wide webbing. It's the same webbing that creates the loops on the shoulder straps and runs through the adjustment slides, as well. The carry handle isn't padded, so you wouldn't necessarily want to carry it long term this way, though it's not uncomfortable for pulling it out of a bin or your trunk, and it works well for hanging the backpack on a hook.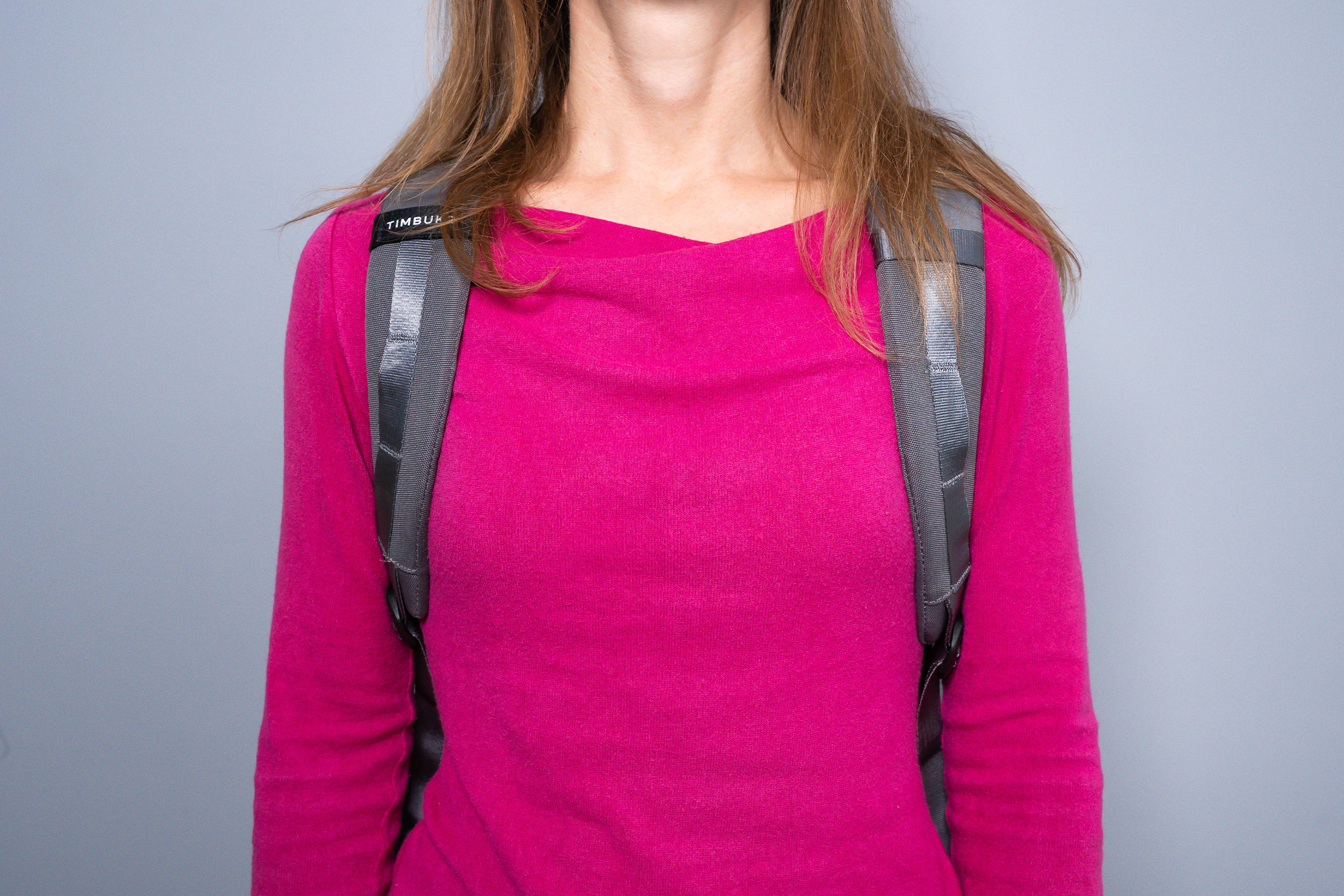 Let's get back to the shoulder straps, though. They are well-padded yet flexible. Combined with the similarly padded back panel, the Timbuk2 Spirit Laptop Backpack is comfortable to carry. However, you'll feel some stiffness when you've fully packed it out since your laptop runs nearly the entire bag height, providing a firm structure. It's not bad; it's just not a pack that conforms to your back when stuffed to the brim.
Let's discuss that a little further, shall we?
Fit Notes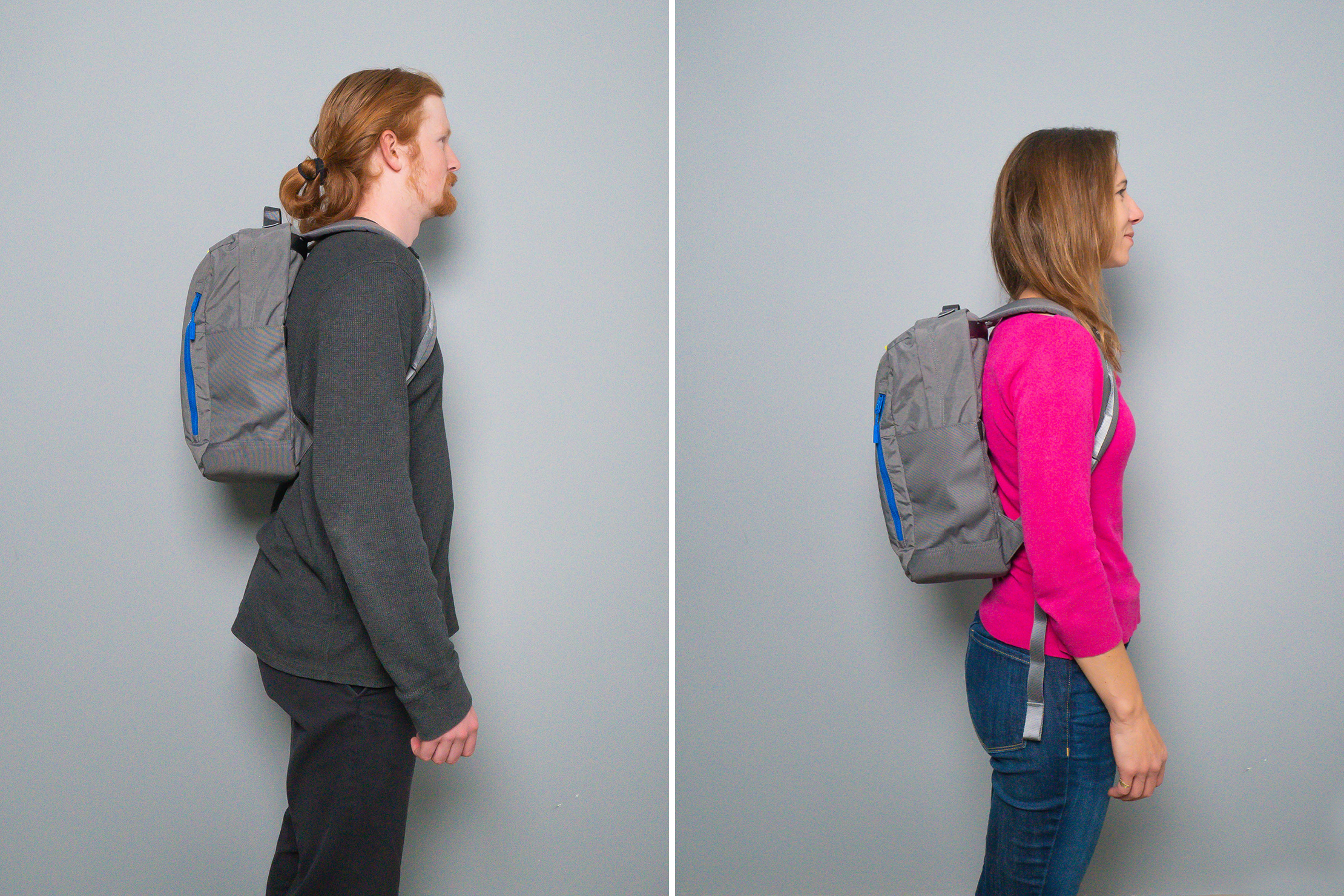 Although the plain colorways are sleeker, this is a casual-looking backpack in any color. It's great for everyday carry, sightseeing, and hitting the cafe with friends. We like the fun, casual vibe on this style of bag since it's not large enough for use as a sole travel backpack or small enough to wear it like a fancy sling into posher settings.
As we alluded to above, we find it comfortable, whether just carrying a laptop or hauling that plus pouches, a tech kit, and a picnic lunch. The only difference is how much you feel your rigid laptop when carrying it. If you have the fit dialed in tight and the bag fully packed, it's impossible to ignore the stiff structure of a device. If the straps are looser or you're carrying just a few tiny travel accessories and a water bottle with your laptop or tablet, then it's not as noticeable. Either way, it's not painful since nothing digs in or pulls at the trap muscles. Instead, it's as if your computer is tapping you to say, "Hi! I'm here! You should get some work done."
Inside The Pack
There are a few places to stash gear outside the Timbuk2 Spirit Laptop Backpack. Beginning with the front of the bag, you'll see two zippers. There's a 10-inch vertical zipper to the right of the Timbuk2 label and a 6-inch vertical zipper to its left. The longer zipper is more noticeable since it's the chunky YKK Vislon we mentioned earlier and because no fabric conceals it. More on that later. Since it's open, it does have a zipper garage to keep moisture from seeping in through the end of the zipper.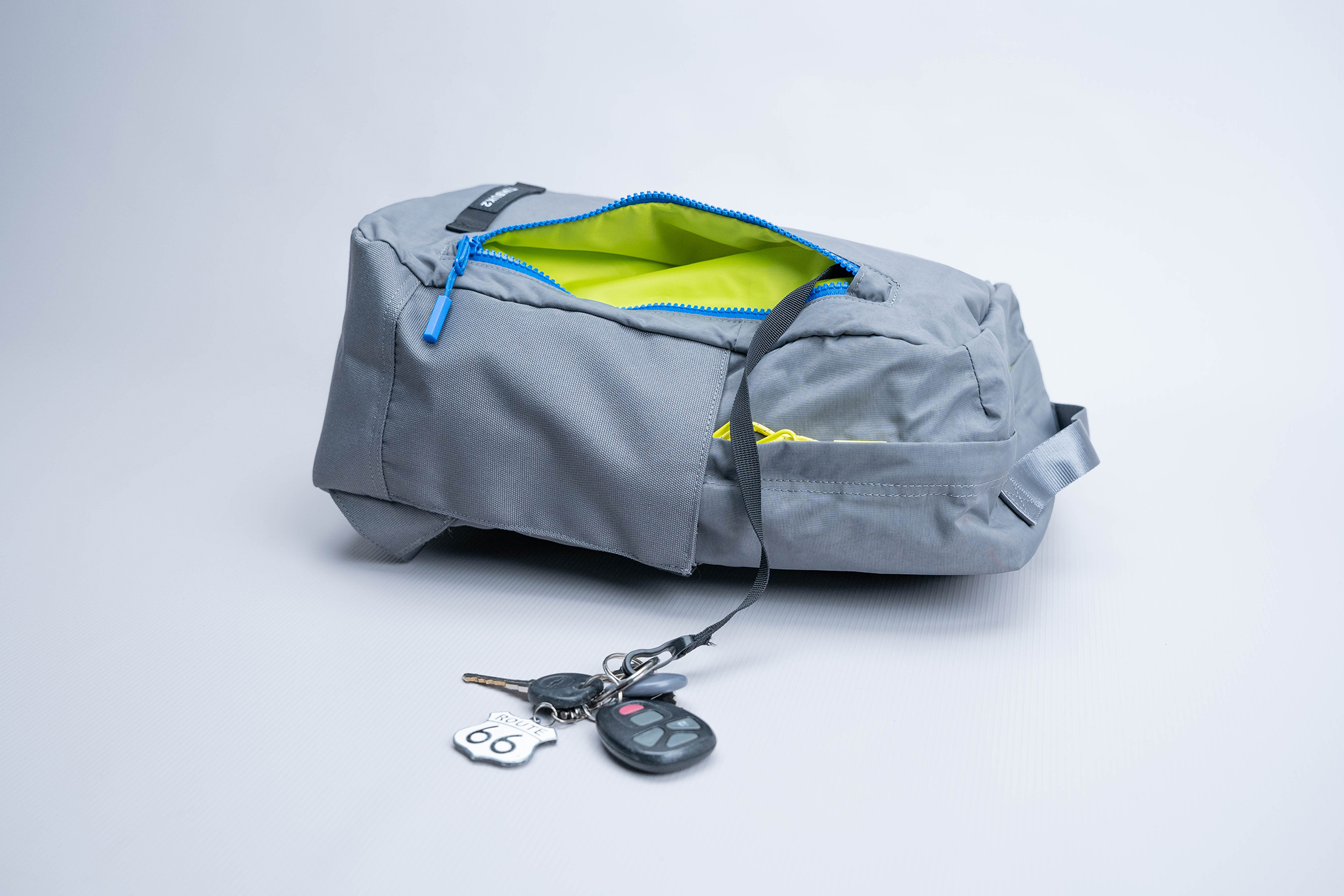 Unzip this pocket, and you will find a large pocket along the backpack's front panel. It's 8 inches wide and has a bright yellow liner, so it's easy to spot gear when you peak in from the right side of the bag. It's basically a large dump pocket and a great place for a wallet, notebook, snacks, and keys. That's thanks to an 11-inch long key leash ending in a plastic clip that's sewn to the top of the pocket where it opens with the zipper. We usually like long key leashes because we can typically open doors without unhooking keys from them, though this one is so long that it often gets caught looping out of the bag when we try to zip up the pocket, mainly when the pack is lying down. Not a huge issue; just something to mention.
The left-side zipper is hidden behind the fabric, yet we have no issue with it getting caught as we open and close the pocket. This pocket spans the identical 8 inches of width as the first pocket, though it runs between that front pocket and the main compartment. With its smaller opening, this pocket is great for pens, hand sanitizer, lip balm, and other smaller gear. There's less space to scrounge in to find what you're looking for, so it's a better spot for smaller gear.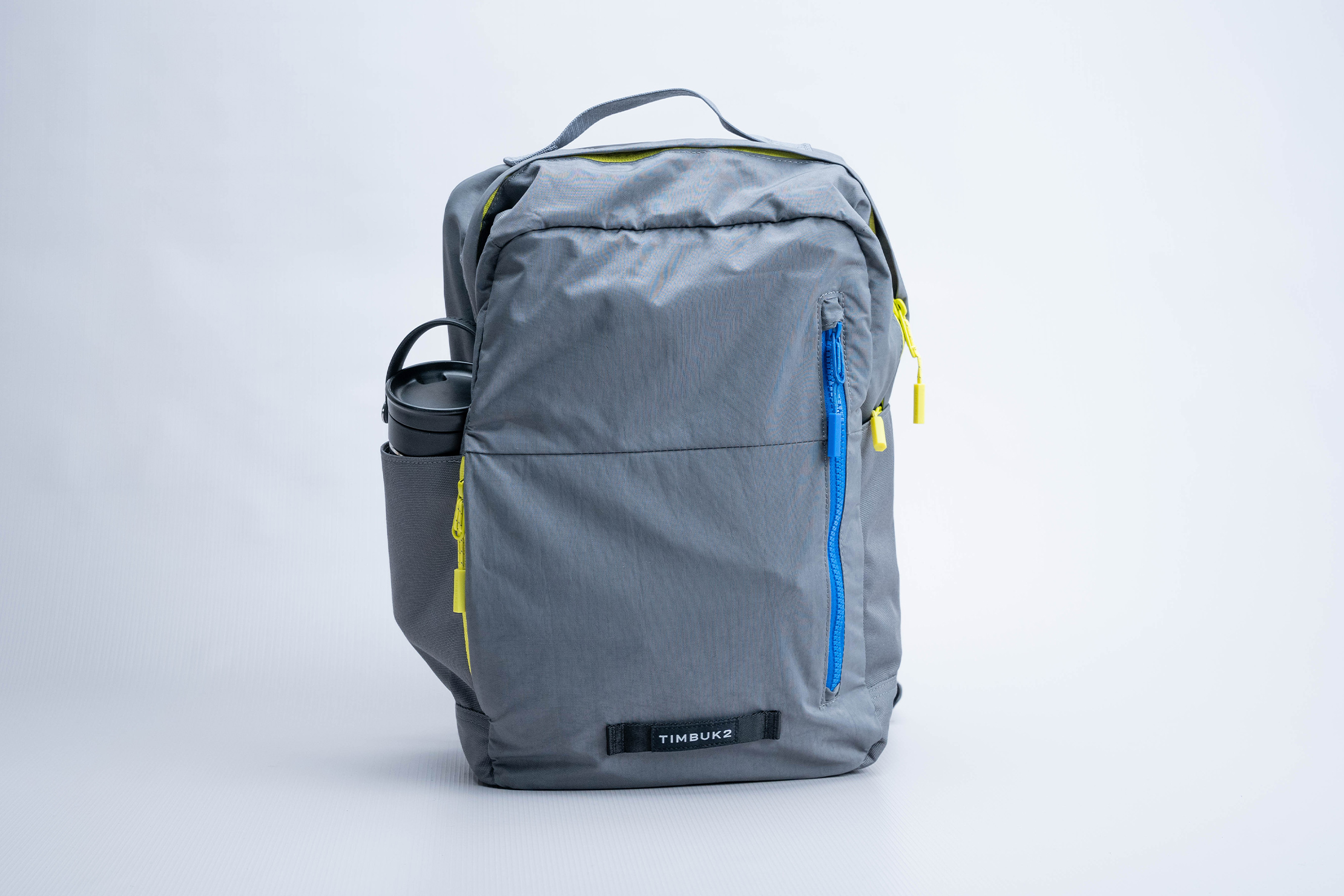 There are also two water bottle pockets: one on each side of the bag. They have a fabric gusset topped with a snug piece of elastic so they can expand to hold a wider bottle while holding slender bottles tight. Depending on the size bottle you're carrying, the pockets eat into the main compartment's capacity. However, it's nice to have the option to carry a slim Hydro Flask Standard Mouth or a wide Nalgene, depending on your hydration needs.
Now, let's head inside.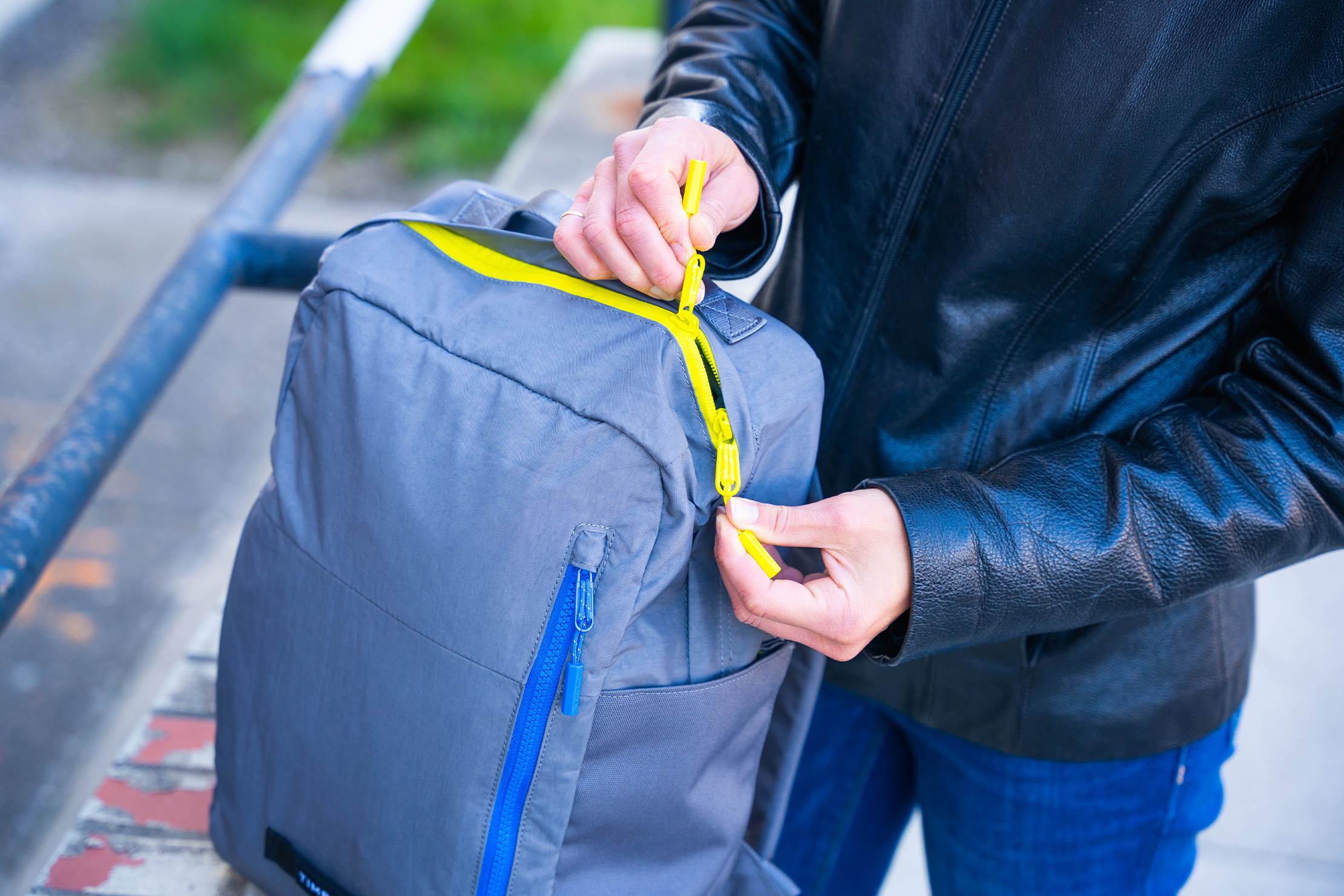 The main compartment zipper runs horseshoe style from bottle pocket to bottle pocket, with a fabric welt covering it for moisture protection. While that's great in theory—and is definitely great in a rain shower—it's annoying every day since the zipper gets caught in the fabric regularly. Seriously, it did it the first time we opened the bag and continues to do it daily. If you can run your thumb or finger along the backside of the zipper as you're using it, you can push the fabric out of the way, though it becomes more difficult the closer you are to either end. We're nitpicking, we know. It's something that bears mentioning, though.
When you get inside, you find Timbuk2's motto on a label centered at the top of the laptop sleeve: "Keeping junk out of the dump since '89." It's written in green on a label that is the same bright yellow as the interior lining on the Pop colorways and is on a black label on the others. The nearly neon hue makes it easy to spot anything in this backpack, and a light gray liner on the non-Pop colorways also increases visibility, though not to the same degree.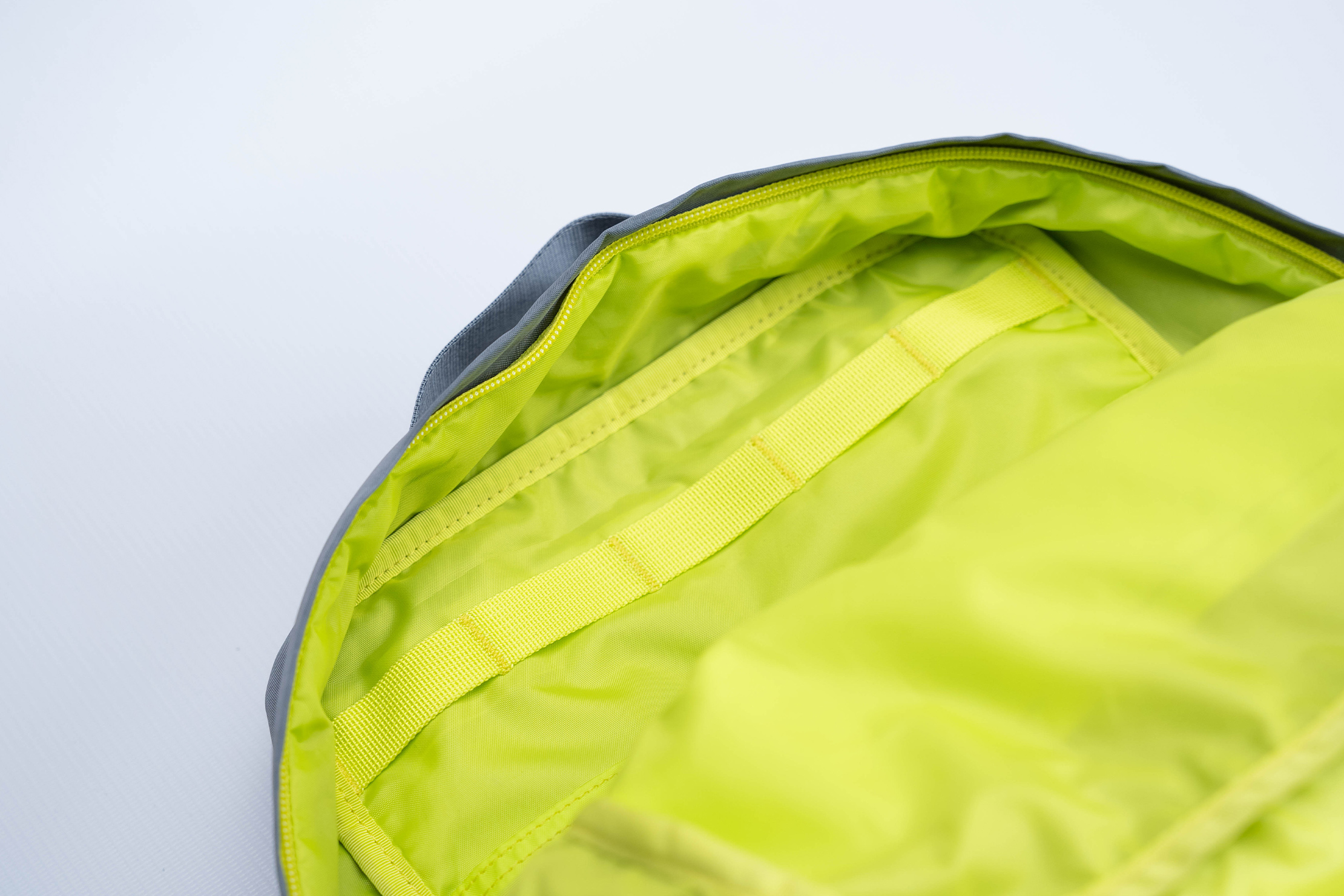 No matter the color, the layout of the main compartment is the same. About an inch from the top of the bag, you see a horizontal daisy chain of attachment loops along the back panel. With little internal organization, these loops come in handy to clip tech kits, makeup pouches, or anything else you prefer to be accessible from the top of the bag instead of sliding down to the bottom.
We like using the outermost two loops and then flipping the pouches out of the way when we want to pull out or slide in a laptop. Using these loops blocks the laptop sleeve, a fact you'll want to keep in mind before creating a garland of gear across the top of the bag.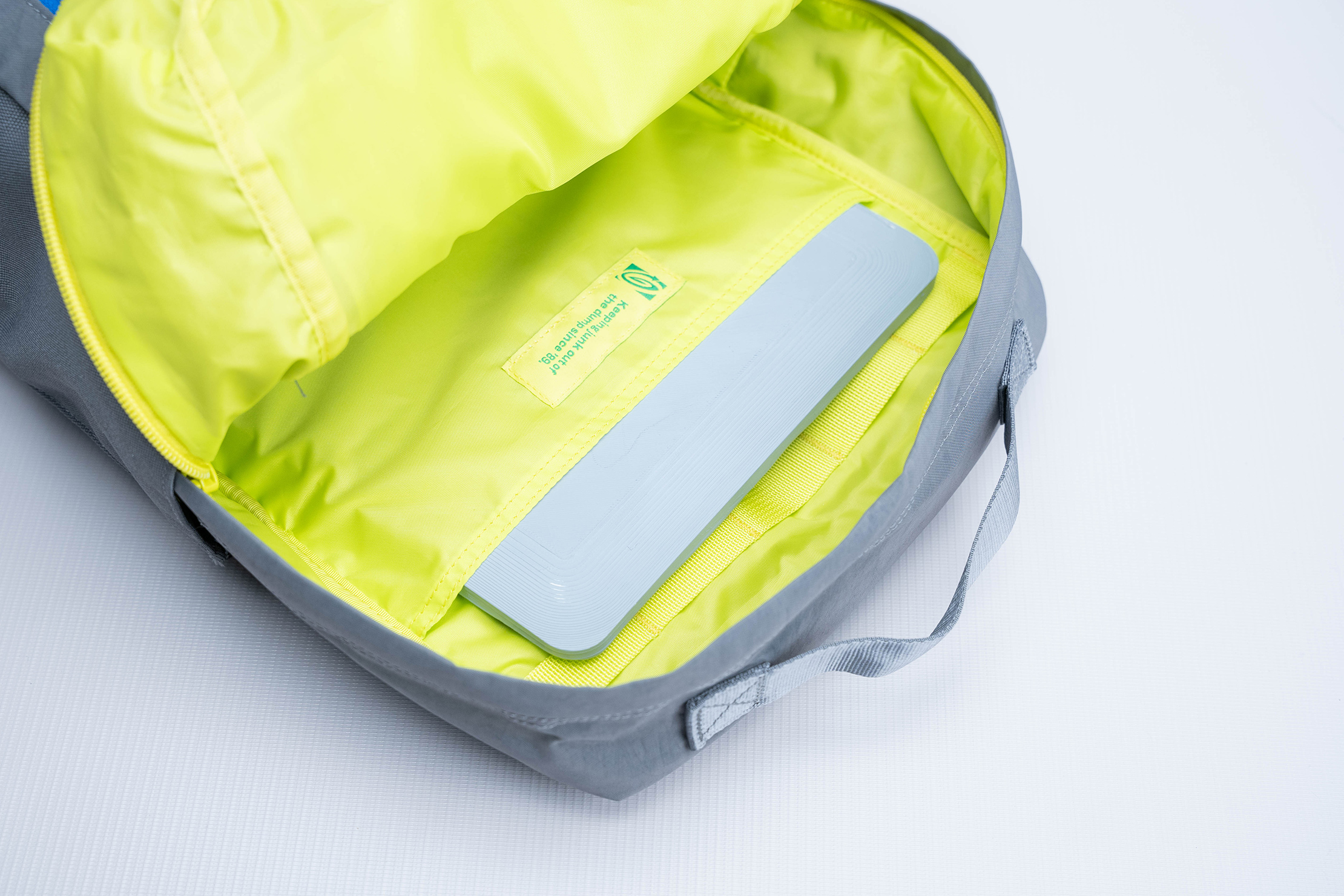 The laptop sleeve fits a 13-inch device and is pretty minimal. There's padding along the back side courtesy of the rear panel. The sleeve itself, however, is not padded. It has a very minimal false bottom, so you're not going to want to be tossing your bag to the floor when your laptop's inside. Unless you like that cracked-screen look, that is?
The remainder of the bag is open space. Depending on your needs, you can toss a lunch cooler in here, some books, a travel jacket, and even a packing cube or two. No matter what you pack in it, the Timbuk2 Spirit Laptop Backpack will let you take it comfortably wherever you need to go.
Usage Timeline
Initial Usage
Condition: Excellent
Tons of attachment loops
Digging the hi-vis interior of the Pop colorways
Very tight elastic atop water bottle pockets
2 Weeks of Use
Condition: Excellent
Fabric wipes clean easily
Back panel feels stiff when carrying a laptop
Use packing cubes and pouches to organize the main compartment
Access the Pro Community Discussion
Get your questions about the Timbuk2 Spirit Laptop Backpack answered from our team and the Pro Community right here on the page. Plus, join discussions with other members about gear, guides, and more.
Other Bags & Luggage Reviews