Patagonia Black Hole Backpack 25L Review
The Patagonia Black Hole Backpack may not be well-suited for your tech, but it transitions seamlessly between casual every day and more rugged outdoor use.
Our Verdict
Unlock the Pro Summary
Save time. Get access to brief summaries of our reviews so you can browse and make decisions more efficiently.
Pros
Two spacious external pockets for frequently-used gear
Excellent versatility for the commute, gym, and outdoor adventures
Recycled, durable, water-resistant fabric
Cons
Material is shiny and looks crinkly, especially when not fully packed
Water bottle pockets are wide—not as secure for taller bottles
Laptop sleeve is inefficient, lacks padding and ease of access
Recent Pack Hacker Video
Technical Details
Capacity

25l

Weight (lb)

1.43 lb (0.6 kg)

Denier

300D

Dimensions

22 in x 10.5 in x 5.5 in (55.9 x 26.7 x 14 cm)

Notable Materials

Recycled Polyester, Ripstop Polyester, Thermoplastic Polyurethane (TPU), YKK Zippers, Duraflex Hardware

Manufacturing Country

Vietnam

Laptop Compartment Size

15"

Warranty Information
Full Review
Have you ever seen a black hole up close? Unless you're reading this from a space station (and even then), the answer is most likely no. But, today is your lucky day, because we're going to talk about the next best thing: the Patagonia Black Hole 25L Backpack.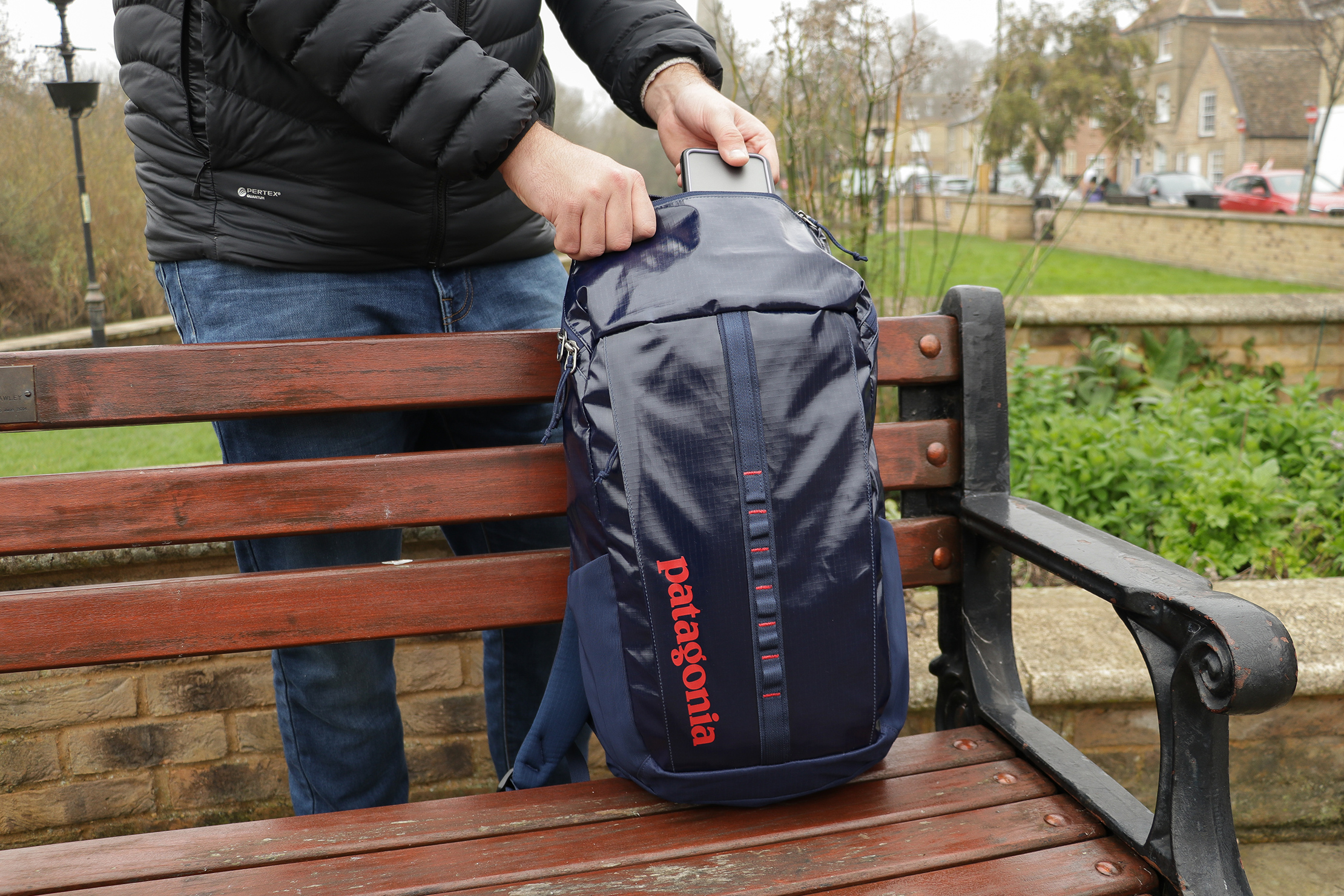 This daypack is a part of Patagonia's greater Black Hole line that features products designed with environmentally-friendly fabric and storage that can hold more than what meets the eye. It's just like a black hole, except this pack won't suck you into a void of space and time (or, it hasn't yet, anyway).
3… 2… 1… let's blast off into this review!
Materials & Aesthetic
Like we said with the Patagonia Black Hole Duffel Bag 40L, this pack sports a look that's, well, sort of sporty—"casual yet attractively stylish," as the dictionary would define it. You can take this bag around the city with all your everyday gear in tow or take it with you to and from the gym, and it will look to be in its element either way.
There are four colorways in total you can pick up this bag in at the time of this review, like Classic Navy (the one we have), Coriander Brown, Black, and Smokey Violet. If you're looking for something especially sleek and low-profile, the Black colorway is your best bet, but if your taste is more tactical or outdoorsy, the Coriander Brown shade is one to consider, and so on.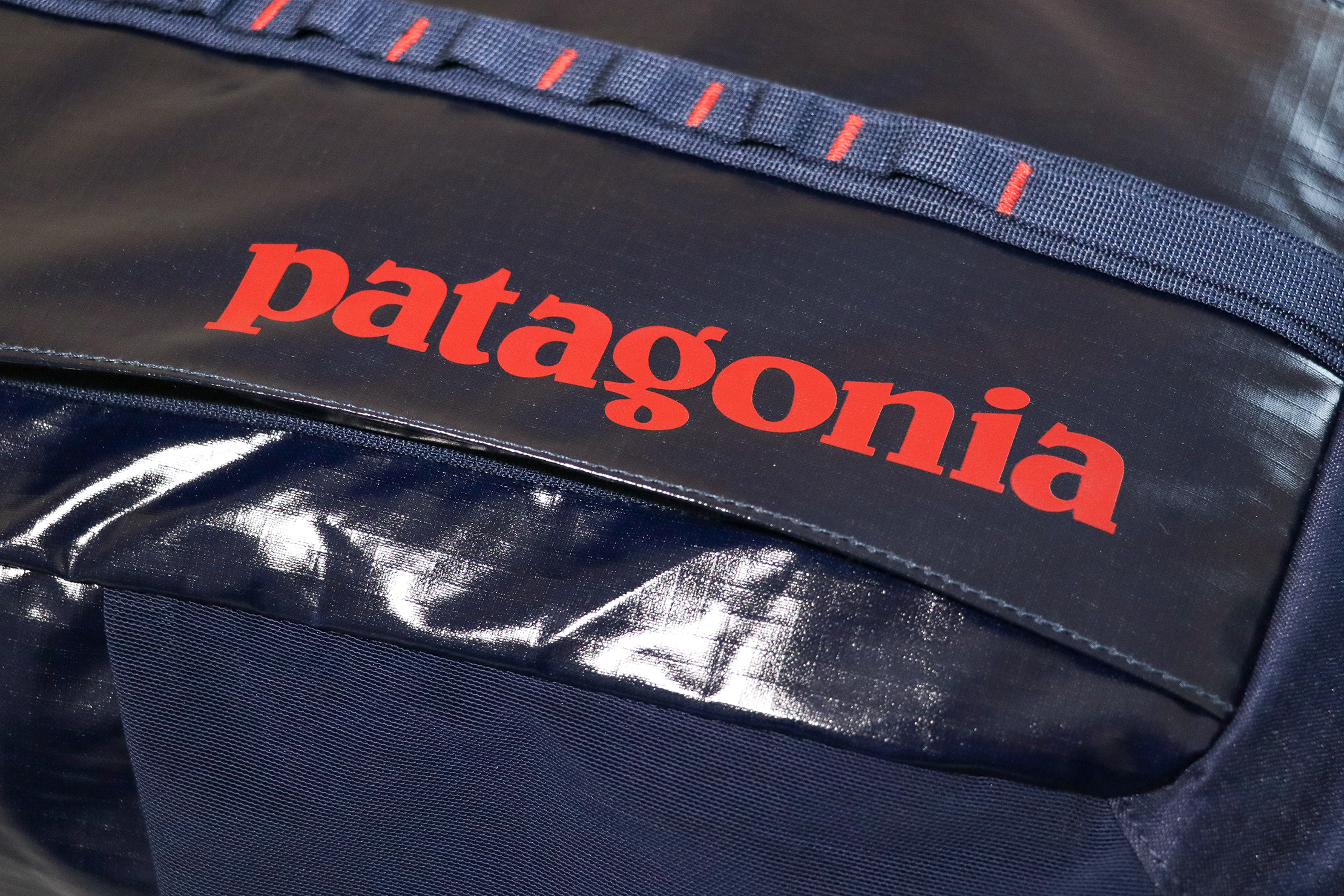 The classic Patagonia wordmark appears in red letters down one side of the bag's front on the Classic Navy colorway we've been testing the last two weeks. This branding matches the other red thread accents throughout the bag that contrast with its otherwise muted palette, and we're digging it. Of course, your mileage may vary.
As you probably guessed from its name, this backpack features Patagonia's Black Hole fabric—a 100% recycled ripstop polyester laminated with a TPU-film. We've encountered this material on other bags in the Black Hole line, and we aren't huge fans of its shiny, crinkly look. That said, we do appreciate the sustainable approach and the durability and water-resistance it offers for protecting our gear.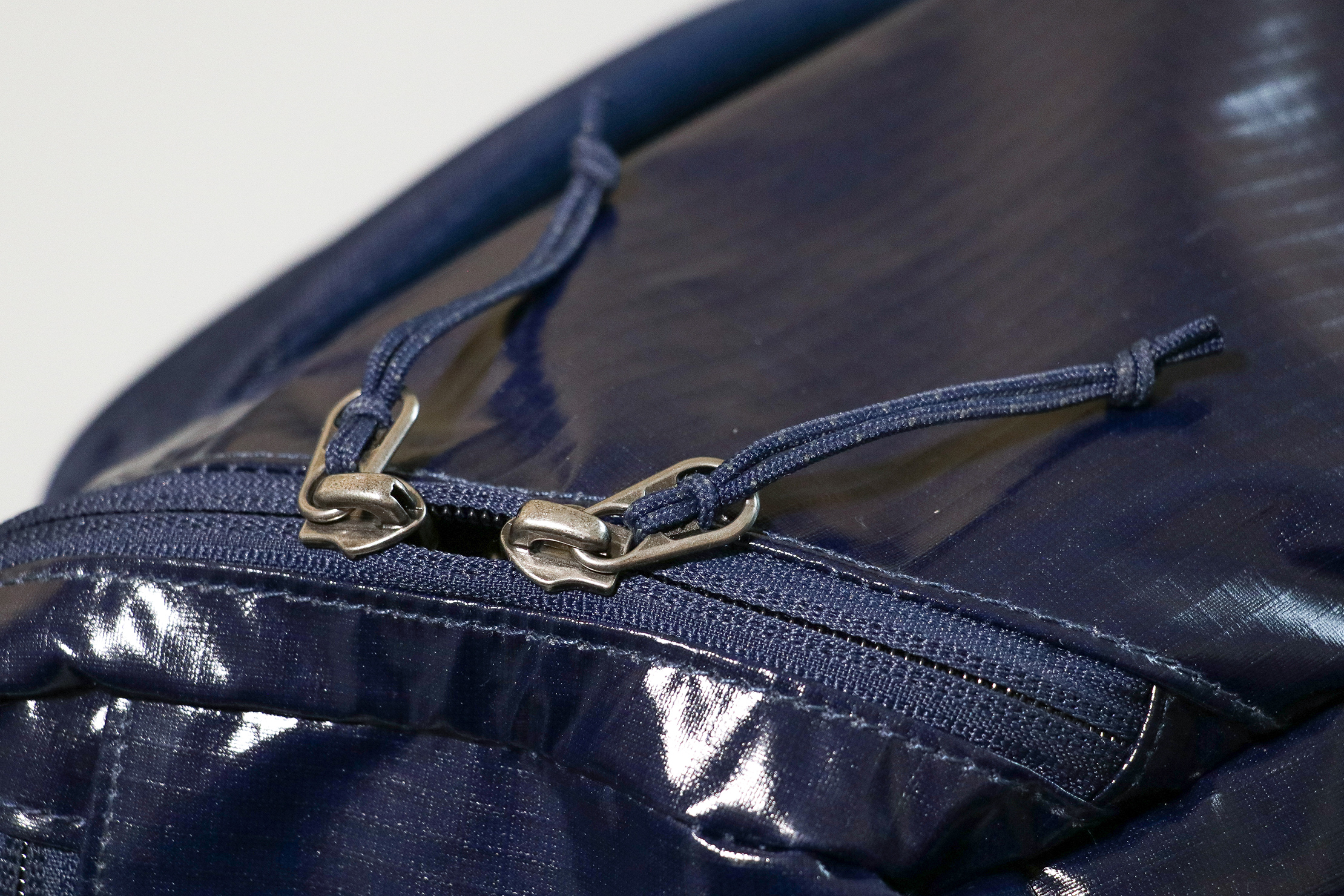 We're happy to see YKK zippers integrated throughout this pack. We've had many positive experiences with them in the past, and their trusty reputation upholds with this bag (we think so, at least). We don't foresee any problems in the near (or distant) future.
When you're choosing hardware on name alone, Duraflex, a mix of "durable" and "flexible," is a solid contender. More importantly, it also performs as good as it sounds. Every buckle and adjuster has been working just fine, and like the zippers, we don't expect any significant issues in the foreseeable future.
External Components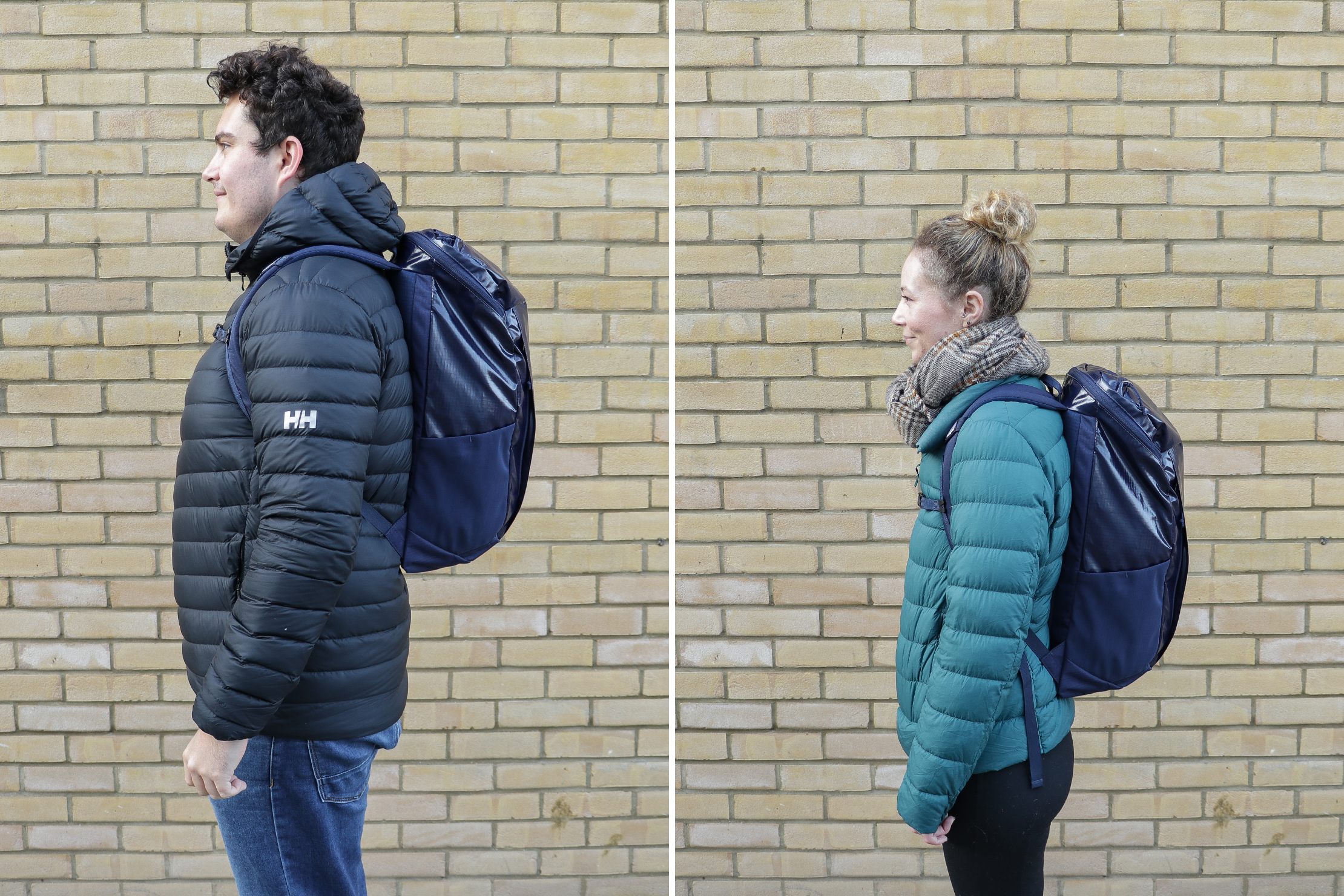 Editors note: Patagonia offers this bag in a 23L women's-focused fit, but we don't have that on hand for testing and comparison.
The shoulder straps are pretty standard for a pack of this size, in that they have just enough padding to keep you comfortable for the load you're likely carrying. Adding to the bag's more rugged capabilities, there's also a loop on either strap that you can slip the hose of a water bladder through so it's not bobbing around as you walk.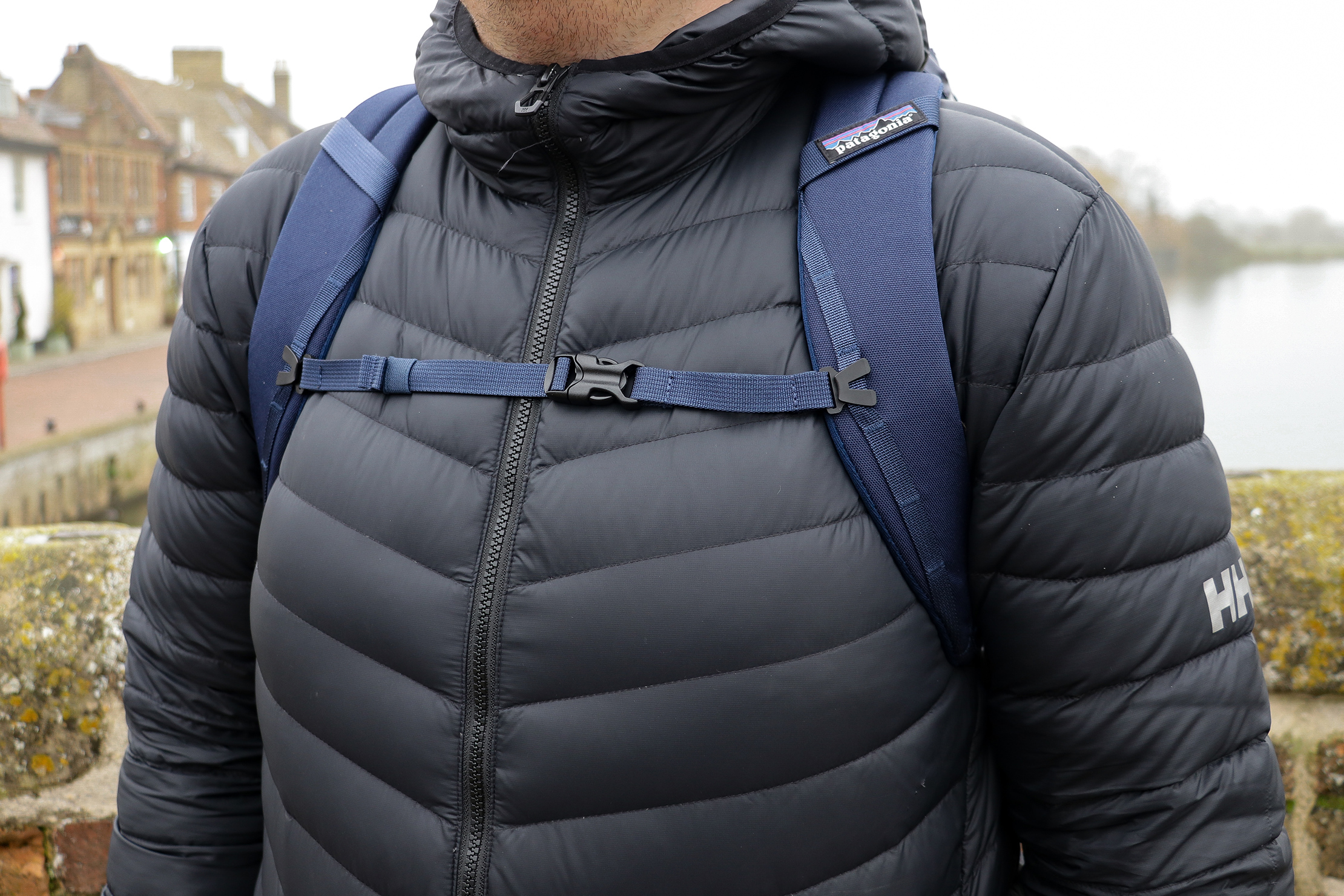 Attached to the shoulder straps is a standard sternum strap that can be positioned on one of five loops, depending on wherever it best supports you and the weight you're carrying. This bag holds about 25L of gear, which makes it more of an in-between size, meaning you may or may not find this sternum strap necessary—either way, it's there if you need it, and we've found it to improve the overall carry during our testing.
Last up for the harness system is the back panel, which also features a comfortable padding level. It's not the most breathable bag we've ever tested, as there's no mesh lining back here, but we haven't been getting crazy sweaty with it on. So, just be aware that some level of sweat is unavoidable, particularly if you're wearing this thing in the heat or for a lengthy period of time.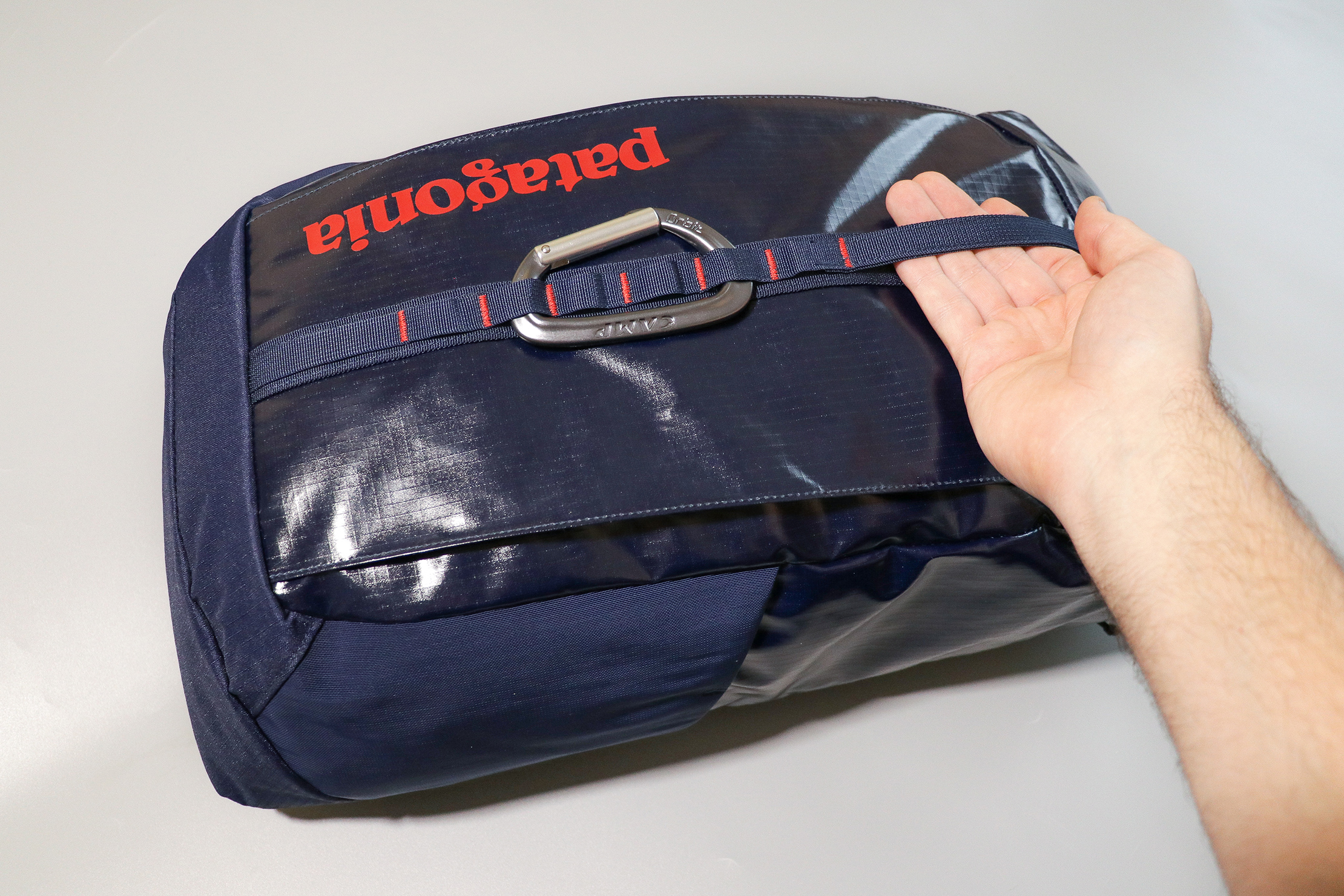 We also want to point out the daisy chain that runs along the middle of the bag's front. These attachment points are a great spot to hook a carabiner clip or other accessories you want to keep handy and add some outdoor-esque functionality to a relatively urban bag.
There's even some space between this strip and the fabric at the top, meaning you're able to grab and carry the bag from this spot like you would any other handle. We haven't done so many times throughout testing, but it is an option if you need to quickly move this bag around to grab something out—of course, you can use the top handle for this purpose, too. It's just some folded nylon material, but it's convenient and comfortable enough for said task.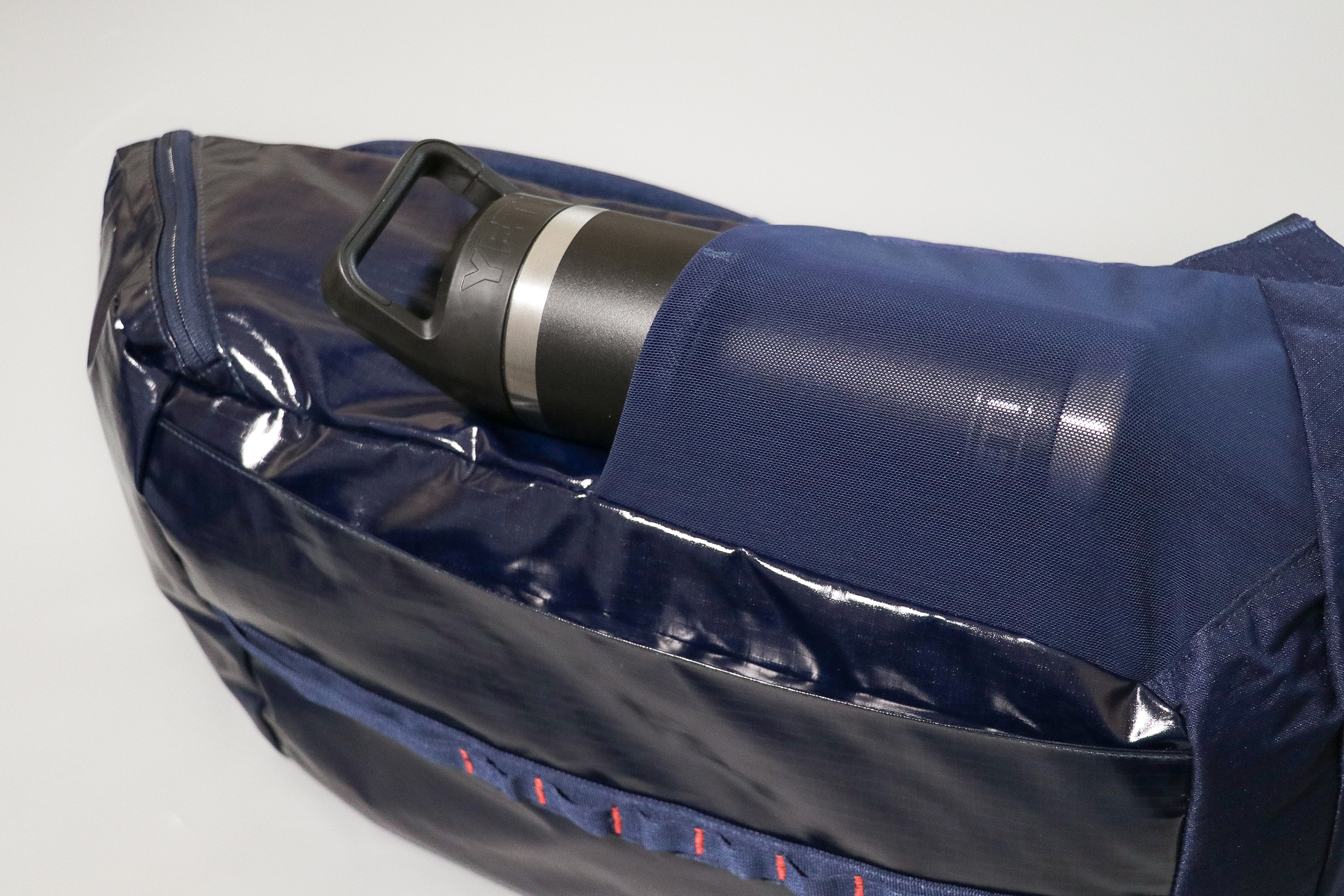 You can take advantage of this bag's two water bottle pockets that are nice and stretchy, allowing them to accommodate larger bottles. However, they're not very deep, meaning taller, slimmer bottles won't feel entirely secure. We've been keeping the YETI Rambler 18oz Bottle inside one, and it's worked just fine, but this is something to note depending on what you're usually carrying your water in.
Inside The Pack
We need to cover two pockets before jumping into the Black Hole 25L Backpack's main compartment, starting with the front pocket. This stretches almost the full height of the bag, offering ample space to pack out with your slimmer frequently-used items: you can fit small-to-medium notebooks, documents, and the like inside to give you an idea.
Of course, if that's not enough for your stuff, you also have a quick-grab pocket positioned at the very top of the bag. We've been keeping things like a wallet and keys inside, so they're always close by when we need them, although it works for any kind of gear you're continually using throughout the day.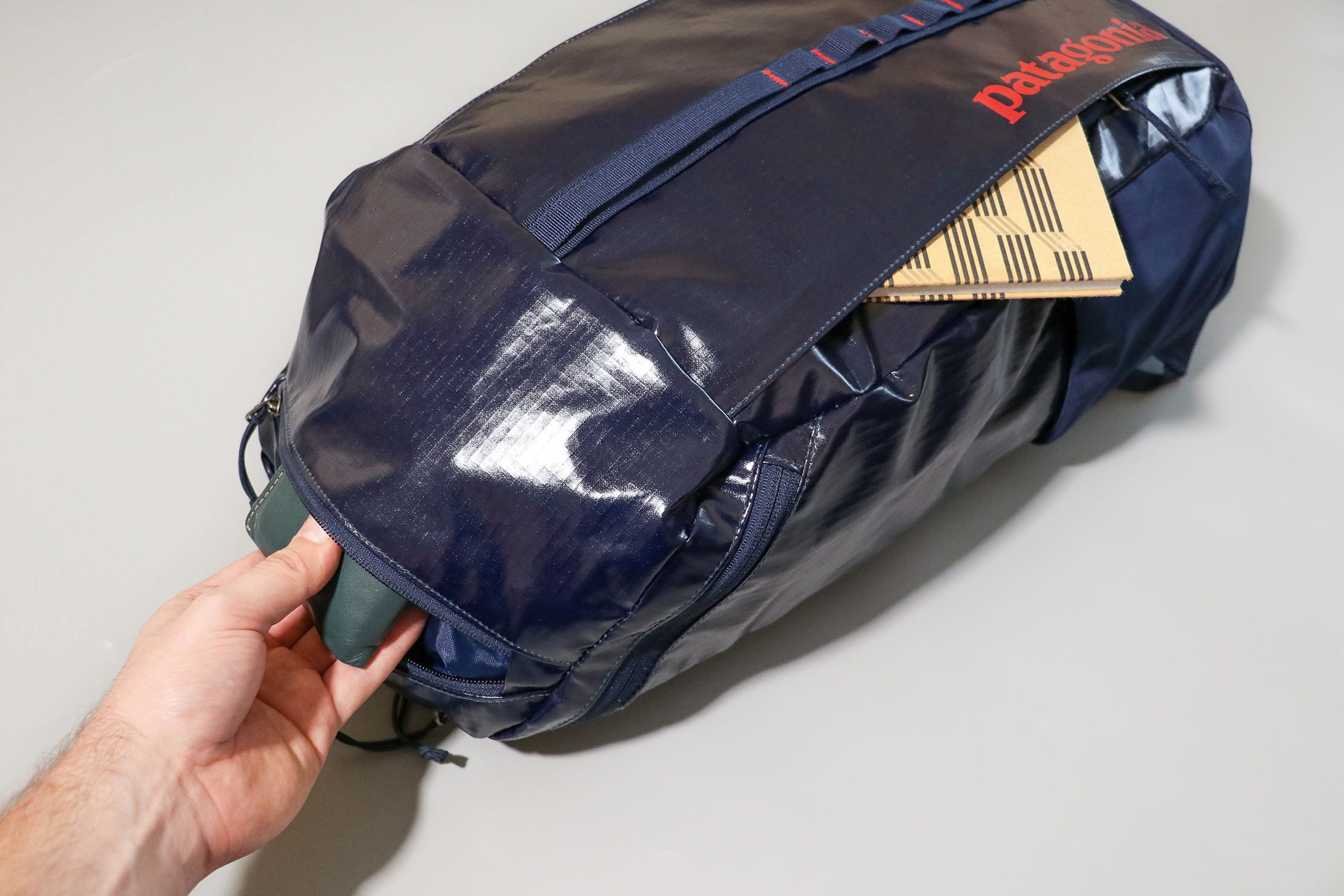 One note is that if you really pack out the main compartment as we have during testing, it will eat into this pocket's space, limiting your capacity some. So, you'll just want to balance out both places in a way that best works for your gear, as you would with most bags. If you have a lot of quick-grab items, leave some room in the main compartment to accommodate the pocket and vise versa.
As promised, we're going to move into the main compartment next. Again, this bag holds 25L worth of gear, which we've found to be plenty of room for our everyday essentials—or enough space for those spontaneous outdoor adventures, depending on how you're using this thing. It's top-loading, so you'll need to unzip the top and fold over the flap to get inside and pack it out with your stuff.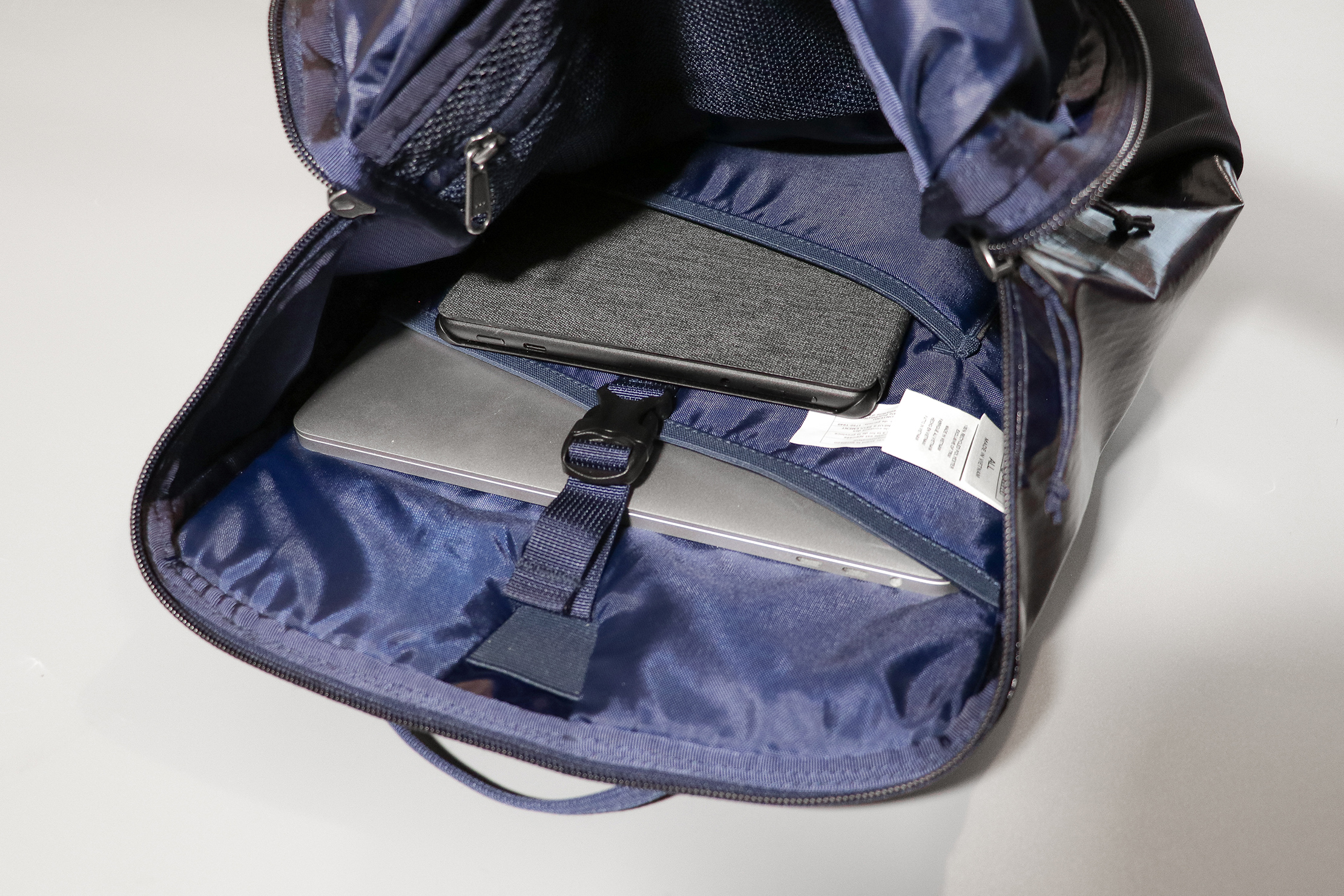 Organization-wise, there's a laptop sleeve against the wall that secures with a buckle and can hold up to a 15″ laptop. We haven't been able to fit one with a protective case on during our testing, which is something to note if you're someone who typically appreciates the added protection.
If we're honest, this sleeve operates better for a water bladder than your tech—it's not designed with the padding, protection, and ease of access we appreciate in a great laptop sleeve. So, if you're going to be hauling nothing but tech with you every day, our laptop bag guide will help you find a pack more suited to your use case.
There's also a smaller sleeve in front of this one where you can slip in a tablet or e-reader. It's suspended away from the bottom of the bag, so you're getting a little more added protection than with the laptop sleeve, at least. If not more tech, then you could keep a passport or extra cash here, too, or whatever else you think will work.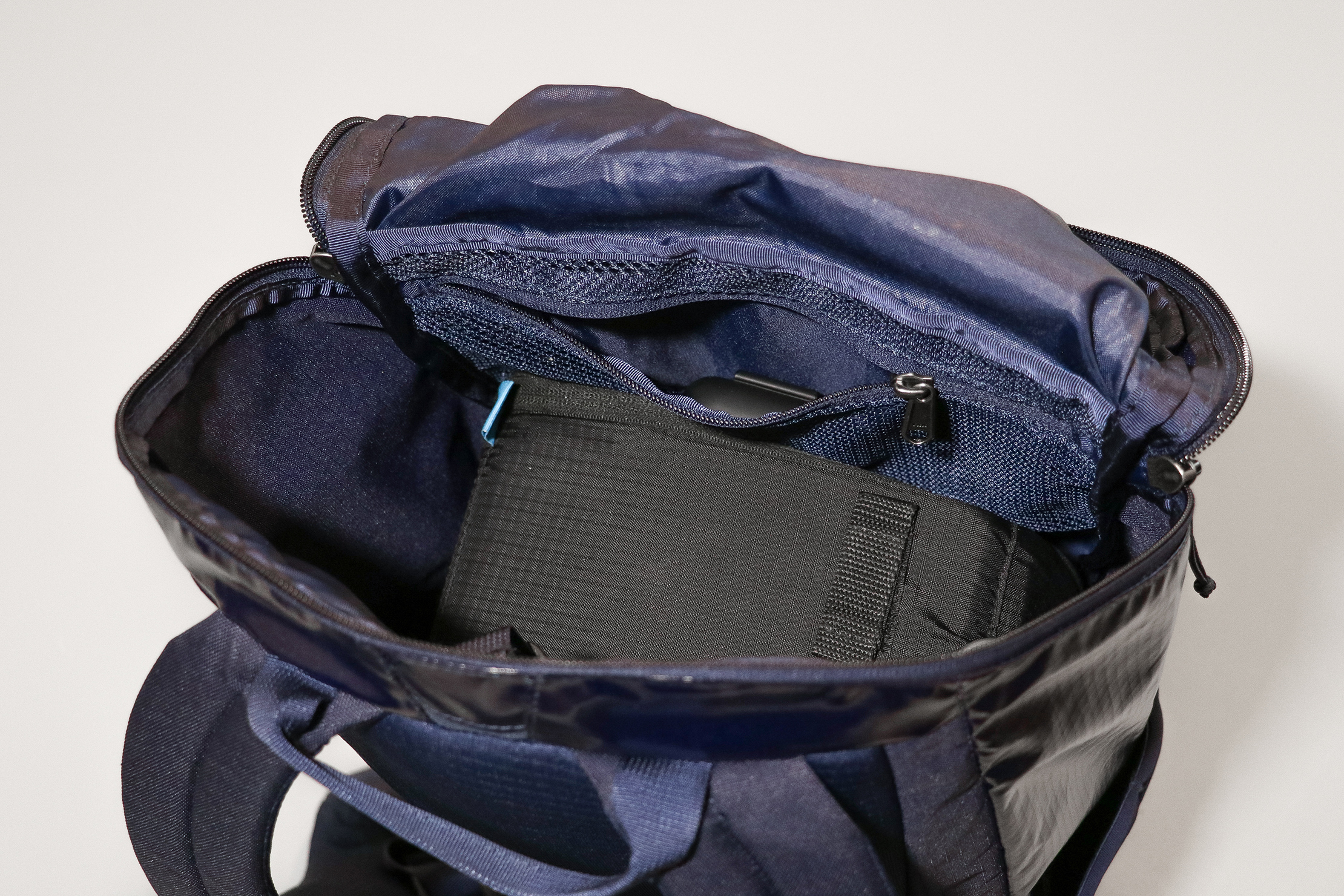 Then across from this sleeve is a zippered mesh pocket you can use to organize tech accessories, whether it's a mouse, cables, chargers, among other things. We've found it to be difficult to access when we have the compartment fully packed, so we've been segmenting our accessories with a separate tech pouch altogether. This pocket also has a built-in key clip, but since it doesn't offer speedy access to our keys, we haven't found this useful, either.
The remaining space is yours to fill to the brim with a lunch box, packable jacket, a hoody, packing cubes, or all of the above. Keep in mind that because this is a top-loader bag, you might find it difficult to see and grab the gear you're keeping at the bottom, so you'll want to pack strategically: the stuff you're going to use the least should be on the bottom, and then you can stack the rest of your gear accordingly.
Usage Timeline
Initial Usage
Condition: Excellent
Great size for all your EDC gear or a short hike down the trail
Durable and water-resistant materials and construction
Top loading style bag can make the bottom hard to see into
2 Weeks of Use
Condition: Excellent
We've found the laptop compartment can be a bit tricky to access, especially if you have the bag fully packed out
The harness system is nicely padded and offers a comfortable carry, along with a sternum strap that provides additional support when needed
We've been digging the two large external pockets on the front and top of the bag, they're quicker and easier to access than the main compartment
We like that the Black Hole fabric is highly weather-resistant and durable, but it can be a bit crinkly and saggy when the pack isn't at full capacity
Access the Pro Community Discussion
Get your questions about the Patagonia Black Hole Backpack 25L answered from our team and the Pro Community right here on the page. Plus, join discussions with other members about gear, guides, and more.
Other Bags & Luggage Reviews