Mystery Ranch Mission Rover Review
The Mystery Ranch Mission Rover is a solid no-frills option for maximum legal size carry-on travel, featuring durable materials and simple organization.
Our Verdict
Unlock the Pro Summary
Save time. Get access to brief summaries of our reviews so you can browse and make decisions more efficiently.
Pros
Ample space for packing cubes and travel gear
Dual side handles let you move the bag around while it's open
Dedicated shoe compartment is a nice touch
Cons
The bag is a little on the floppy side
No option for a hip belt, which is a tough sell at 43L
Doesn't feel quite as robust as other Mystery Ranch products we've tested
Recent Pack Hacker Video
Technical Details
Capacity

43l

Weight (lb)

3.5 lb (1.6 kg)

Denier

500D

Dimensions

22 in x 13 in x 11 in (55.9 x 33 x 27.9 cm)

Notable Materials

CORDURA®, Nylon, YKK Zippers, Duraflex Hardware

Manufacturing Country

Vietnam

Laptop Compartment Size

15"

Warranty Information
Full Review
The Mystery Ranch Mission Rover is a 43L backpack designed to get you from point A to point B without a stop at baggage claim. And, made by the Montana-based brand that boasts building the "best load-bearing equipment in the world," this bag should have enough room for all your gear.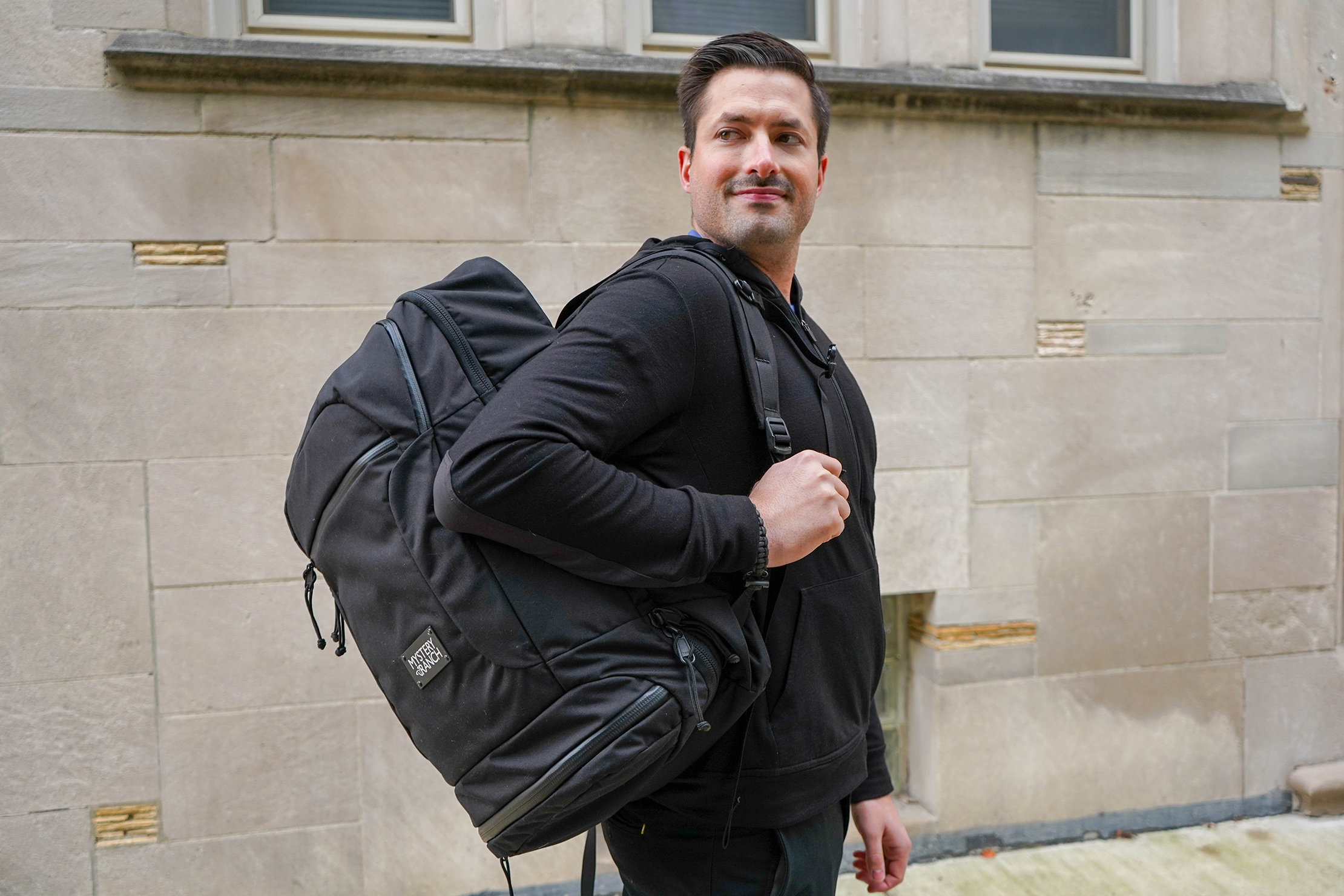 Our team has been testing the Mission Rover for about a month in Detroit, Michigan—loading it to the brim as if we were traveling. (Don't underestimate how helpful it can be to practice your trip.)
How did it perform? Let's jump in and find out.
Materials & Aesthetic
The main fabric on the exterior of the Mystery Ranch Mission Rover is 500D CORDURA nylon. The liner on the interior is 200D.
It feels pretty good in your hands overall, but some areas inside the bag are not lined, which makes this thing feel a bit, well, cheap—at least compared to other Mystery Ranch products we've tested. The version of the Urban Assault 24 we tested, for example, has 1000D CORDURA and a liner throughout, which definitely feels a lot more robust. The folks at Mystery Ranch are known for making hardy gear, so this lack of liner seems out of place.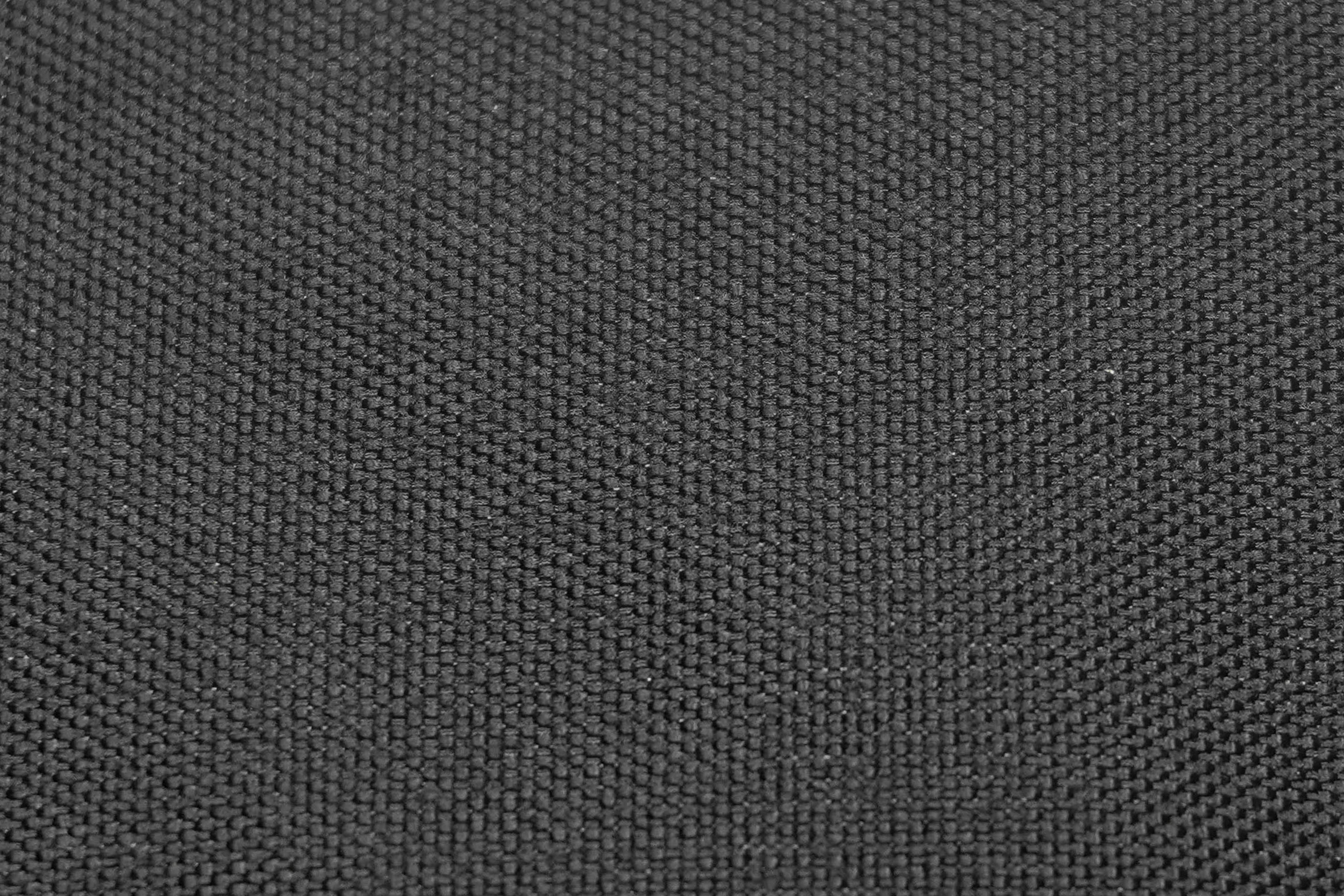 At the time of this review, the Mission Rover comes in three different colors: a tan-hued Coyote, a Galaxy blue (with a rad Coyote zipper accent), and Black, which is what we've been testing. And there's no question of what brand you're wearing with the Mission Rover thanks to a big, chunky metal Mystery Ranch logo on the front of the bag.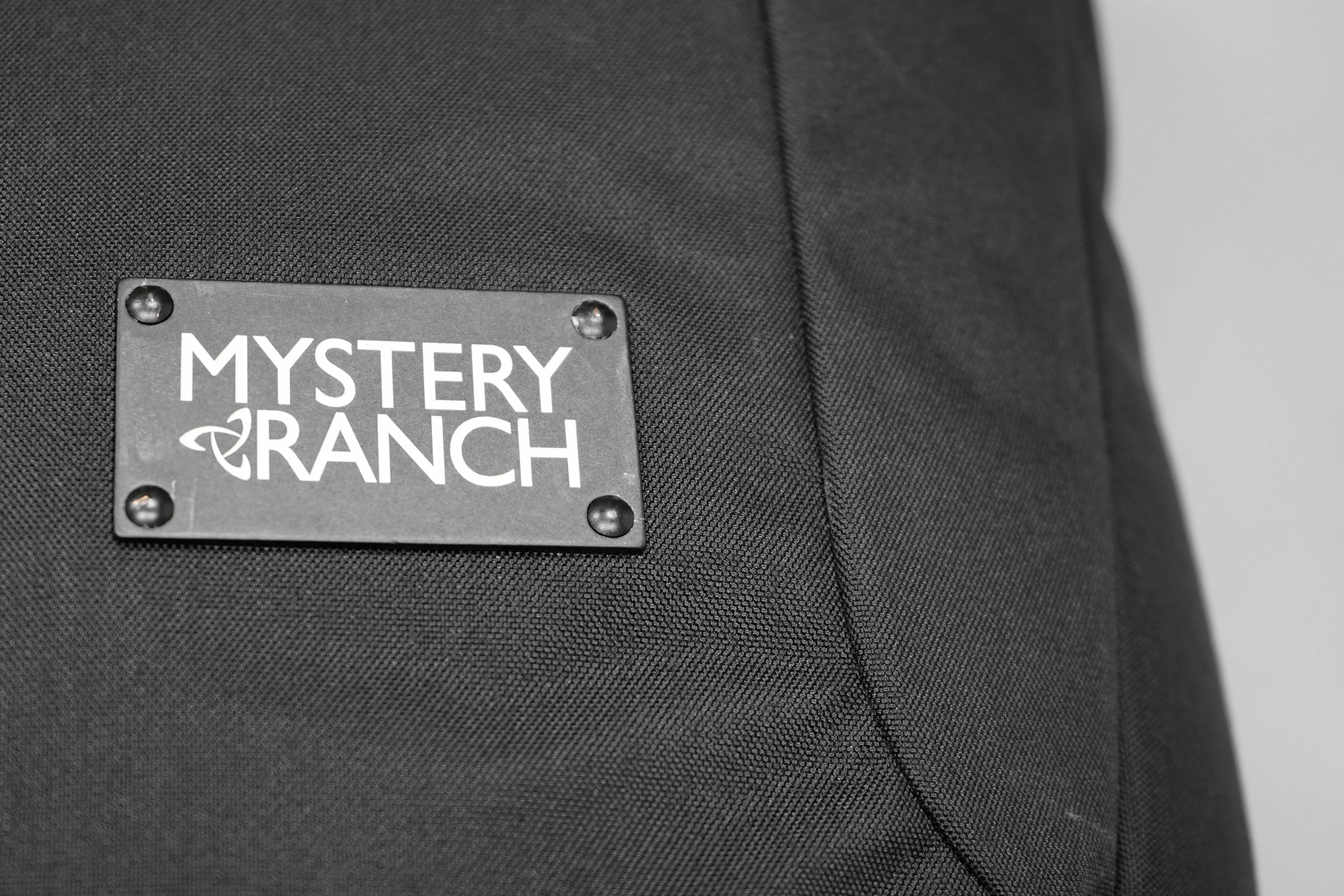 As far as looks go, the Misson Rover is big and boxy—which may not be everyone's favorite aesthetic. We think this backpack is more streamlined than some of the other boxy bags we've tested, but as always, we polled our Instagram audience to see what you think. About 43% of you liked it, while 57% gave it a pass. Make sure to give us a follow if you want to take part in future polls.
The main advantage of this shape, of course, is you can pack it totally full of travel gear and packing cubes and use just about every bit of space inside the pack.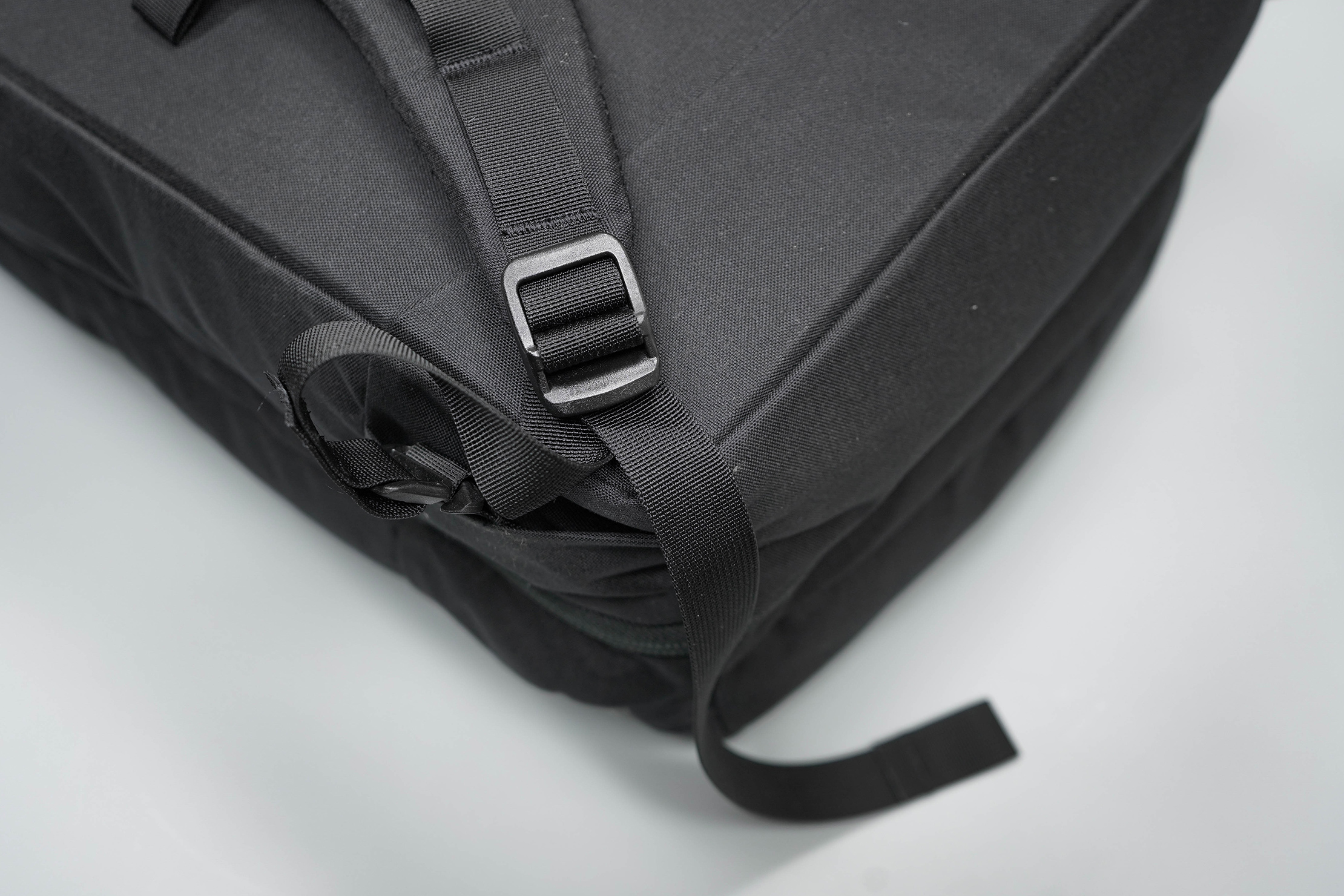 Wrapping up materials, the Mystery Ranch Mission Rover uses beefy YKK AquaGuard zippers—great for strength, durability, and extra weather resistance—and durable Duraflex plastic hardware on the strap adjusters and the buckles throughout the bag.
External Components
There's quite a bit going on with the harness system on this thing. So buckle up (get it?) and get comfy. We're going in.
First, the harness system on the Mystery Ranch Mission Rover is pretty comfortable. It starts with the shoulder straps—which are about a half-inch thick and have some really nice density to them. There's also mesh on the backside of the shoulder straps to help with airflow as you're wearing the bag.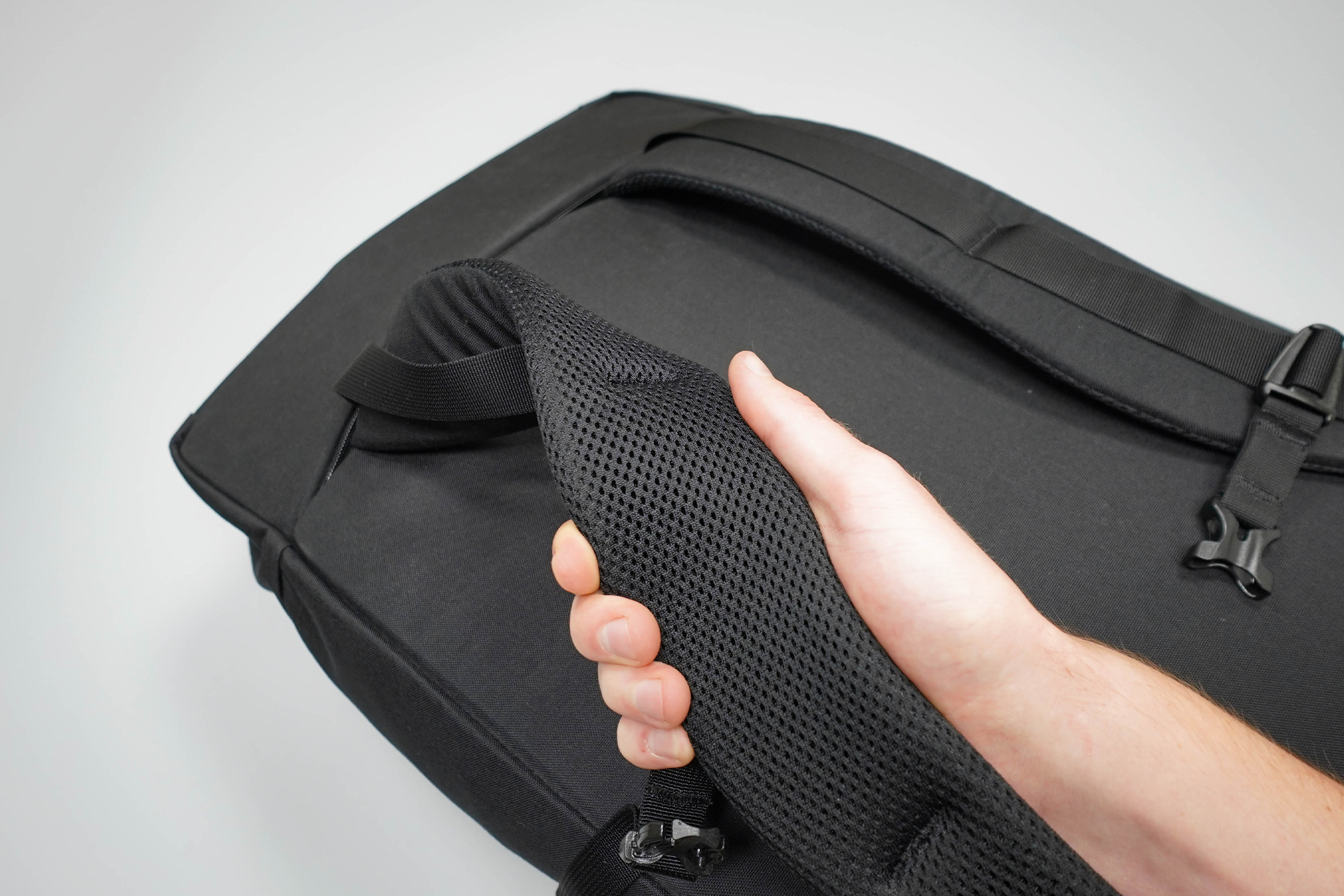 On the front of each shoulder strap, there's a strip of nylon webbing with two sewn attachment points you can use to move the adjustable sternum strap up or down. We're fans of adjustable sternum straps, especially ones that attached securely like this on the Mission Rover.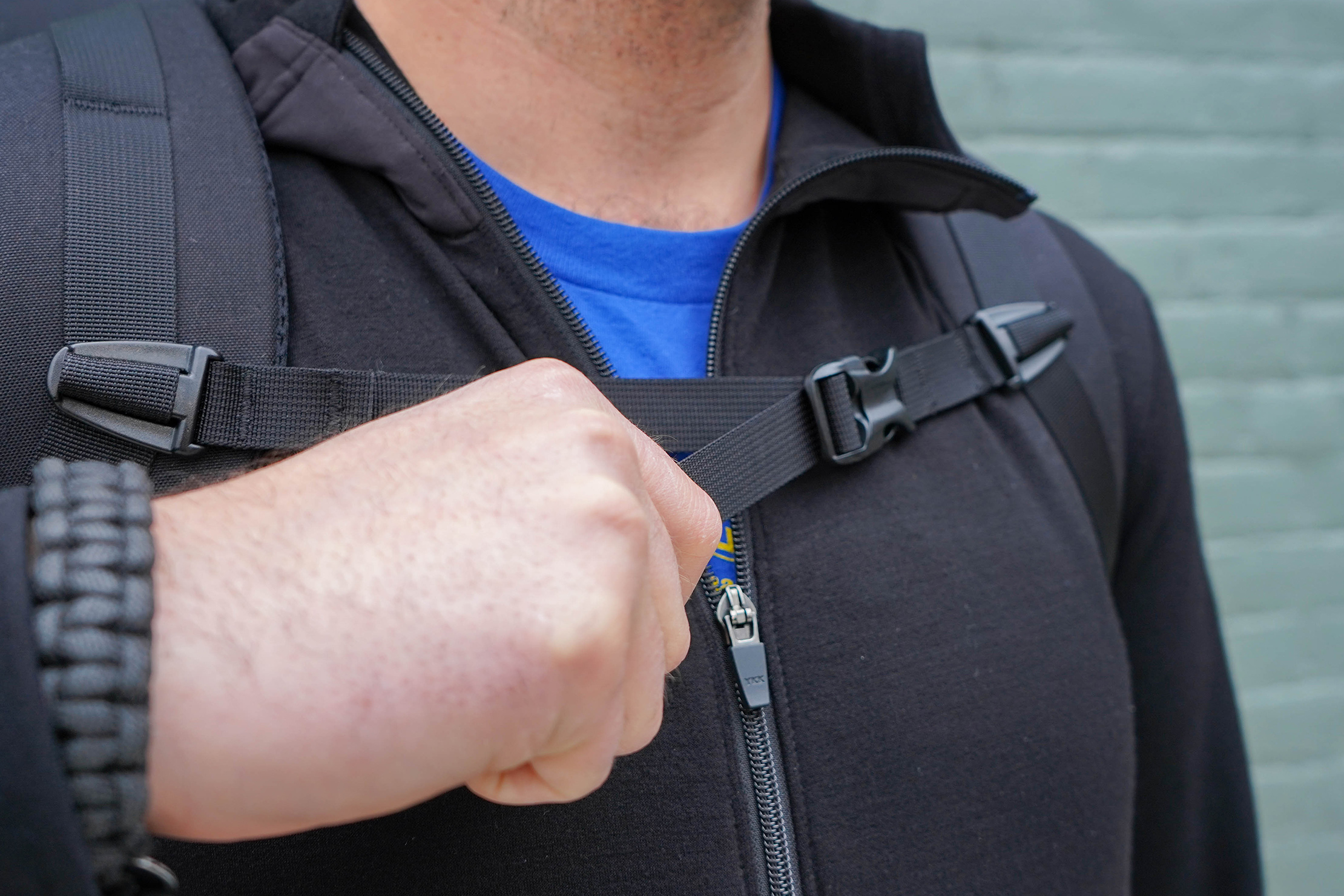 The shoulder straps are easy to adjust thanks to that chunky Duraflex hardware at the bottom, which is great. What's not so great is the excessive amount of dangle. These straps are long—like longer than most—and there are no elastic keepers to keep things tidy. So if you're you're looking to reach Dangle Zero, you'll probably want to pick up a pair of strap keepers.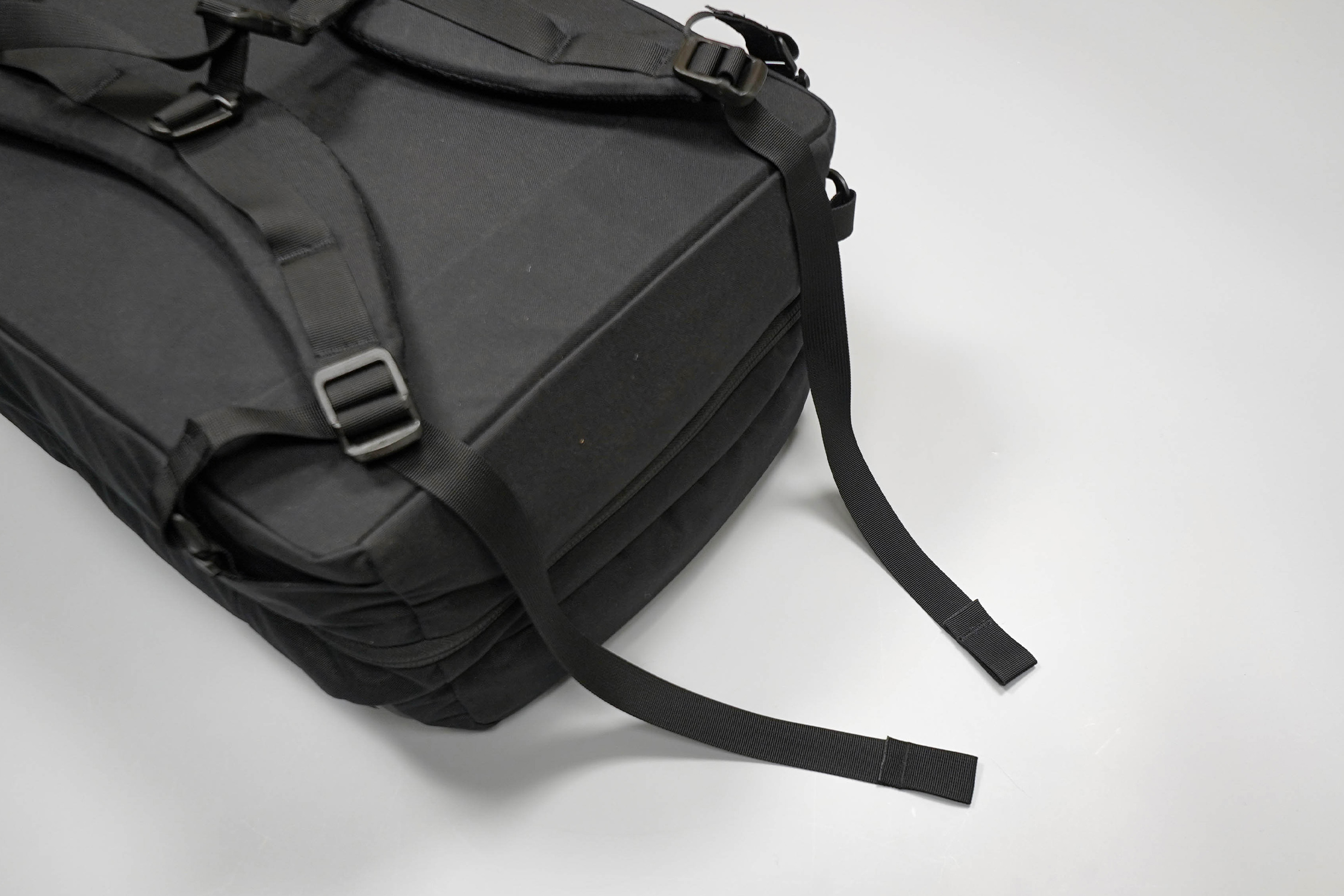 Now, the shoulder straps on the Mystery Ranch Mission Rover are hideable. So you can stow away the straps if you want a streamlined package for stuffing in the overhead compartment, checking at the gate, or rocking messenger bag style (more on this in a minute).
They attach to small loops at the bottom of the bag via G-hooks. To be honest, we had some concerns about this at first—not much is worse than a shoulder strap detaching unexpectedly when you're rushing through the airport to catch your next flight. But we've had no issues so far in our month of testing. It's been totally solid.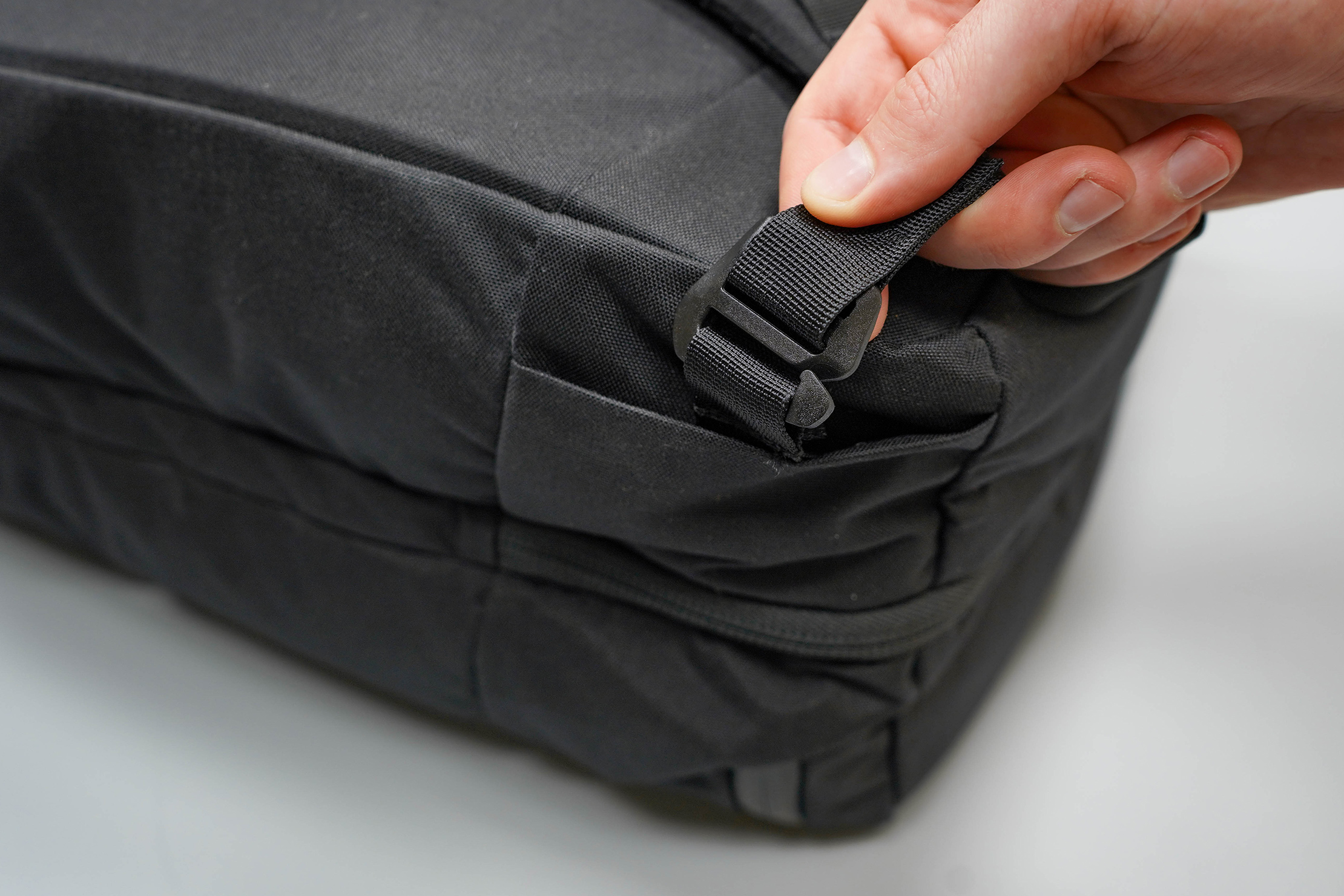 While taking the G-hooks on and off takes a bit of getting used, we've decided that's probably a good thing (in most cases). Not great if you're in a hurry, but it provides some peace-of-mind that they won't come off randomly.
Once you unhook the straps, you can stash them away in the zippered sleeve on the back panel. And there's a small bit of fabric on each side to hide the attachment loops at the bottom. We really like these—it's the little things, ya know?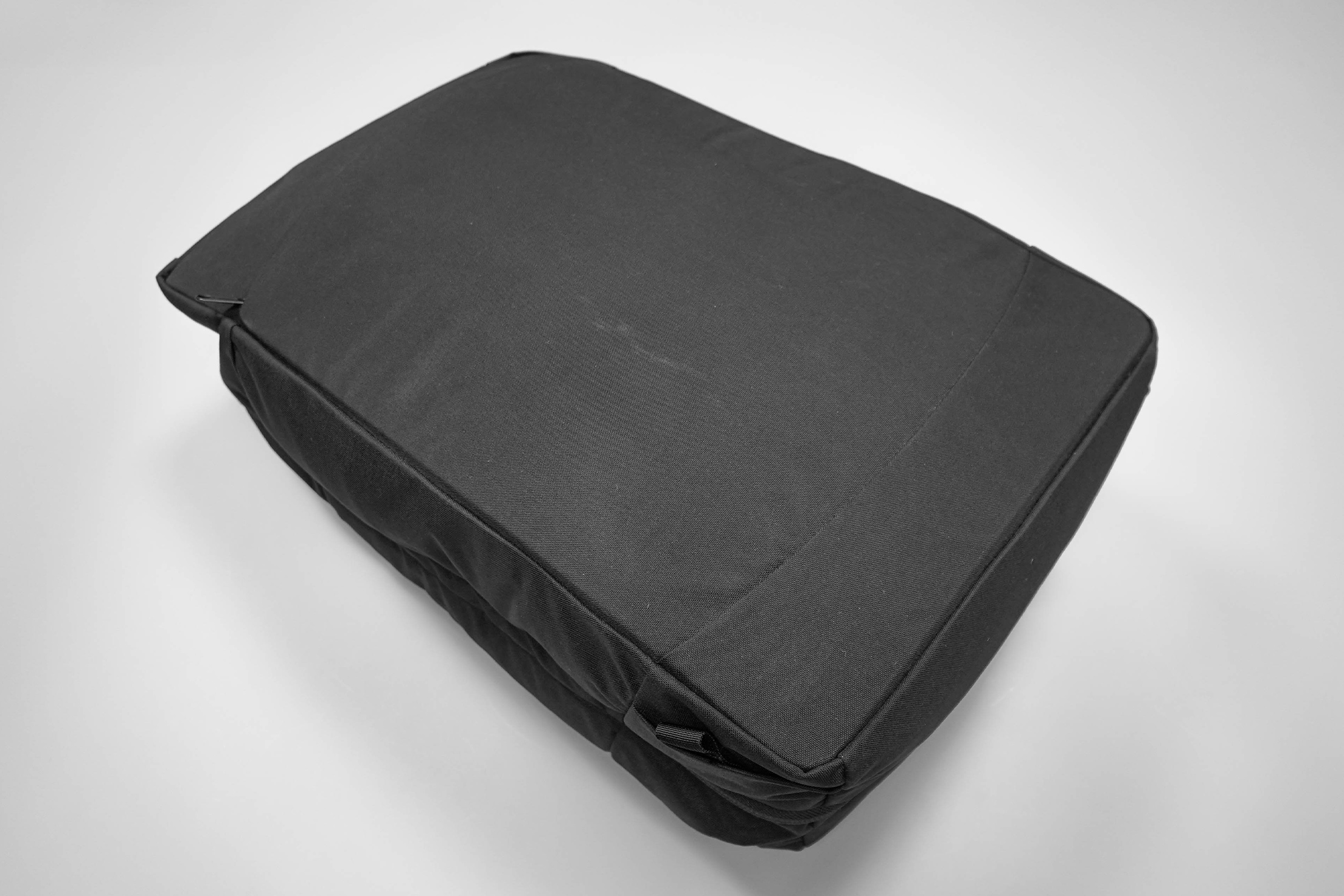 Next up is the back panel (or lack thereof)—there's really no padding or mesh on the back of the Mystery Ranch Mission Rover. There is a thin frame sheet that offers some slight rigidity just enough to give the bag a little bit of structure) but it's still flexible enough to contour to your back.
It's also floppy. To put it into perspective, it's not quite as floppy as the Patagonia Black Hole MLC 45L, but definitely floppier than the EVERGOODS CTB 40. The Mission Rover is somewhere in the middle.
Okay, almost done talking about the external components. Still with us?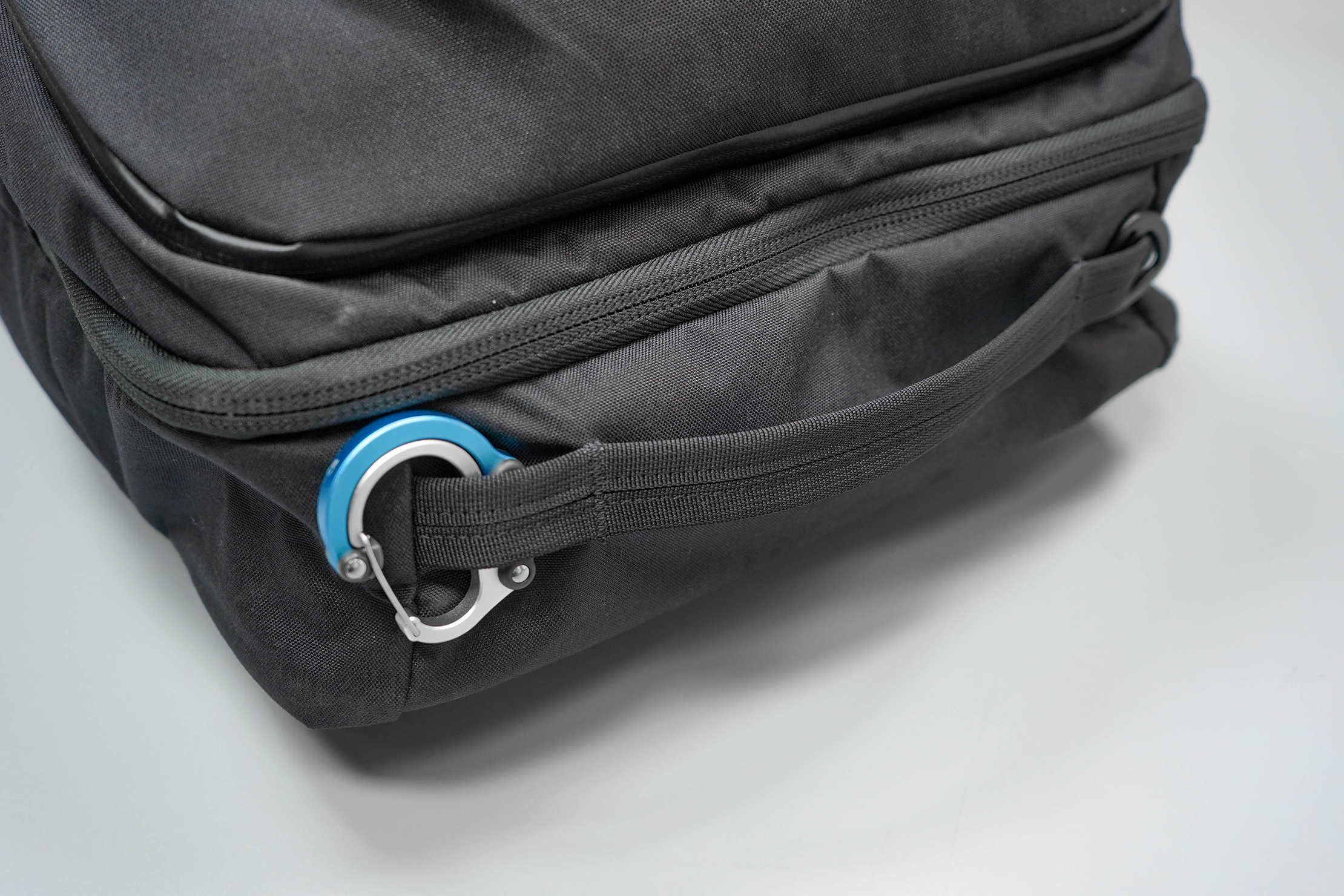 At the top of the bag, you'll find a folded webbing handle. It feels padded and is comfortable and convenient to grab when you're on the go.
You'll also find double handles on one side of the Mission Rover. By "double handles" we mean that there are two of them on the same side of the bag—but on opposite sides of the main zipper. This serves two purposes.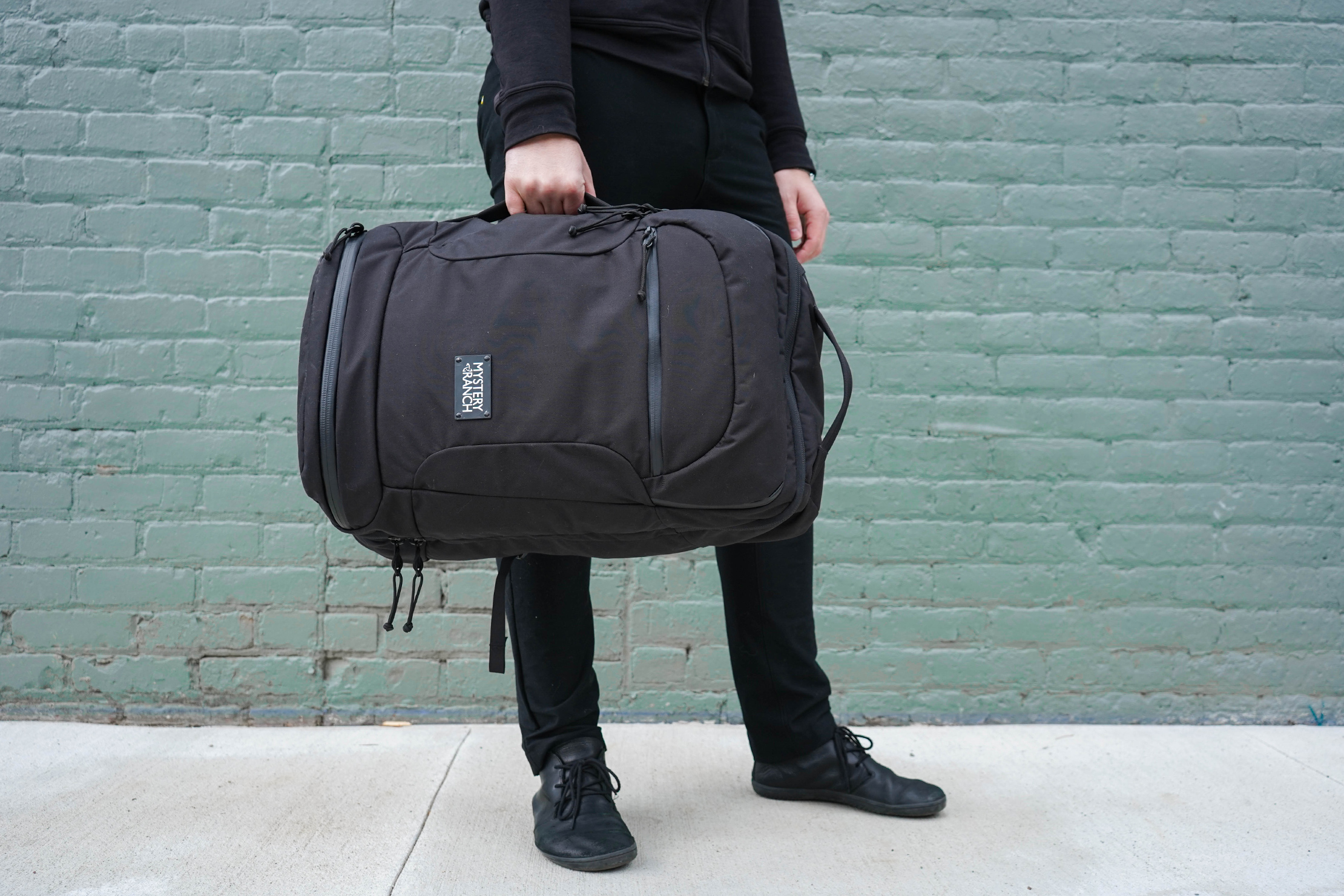 1) You can grab both handles and the weight of the pack stays centered and balanced. 2) When the bag is fully open clamshell-style, there's a handle on each side so you can easily move it without needing to close it first. A surprisingly handy feature that shows the folks at Mystery Ranch have put some thought into this bag's design.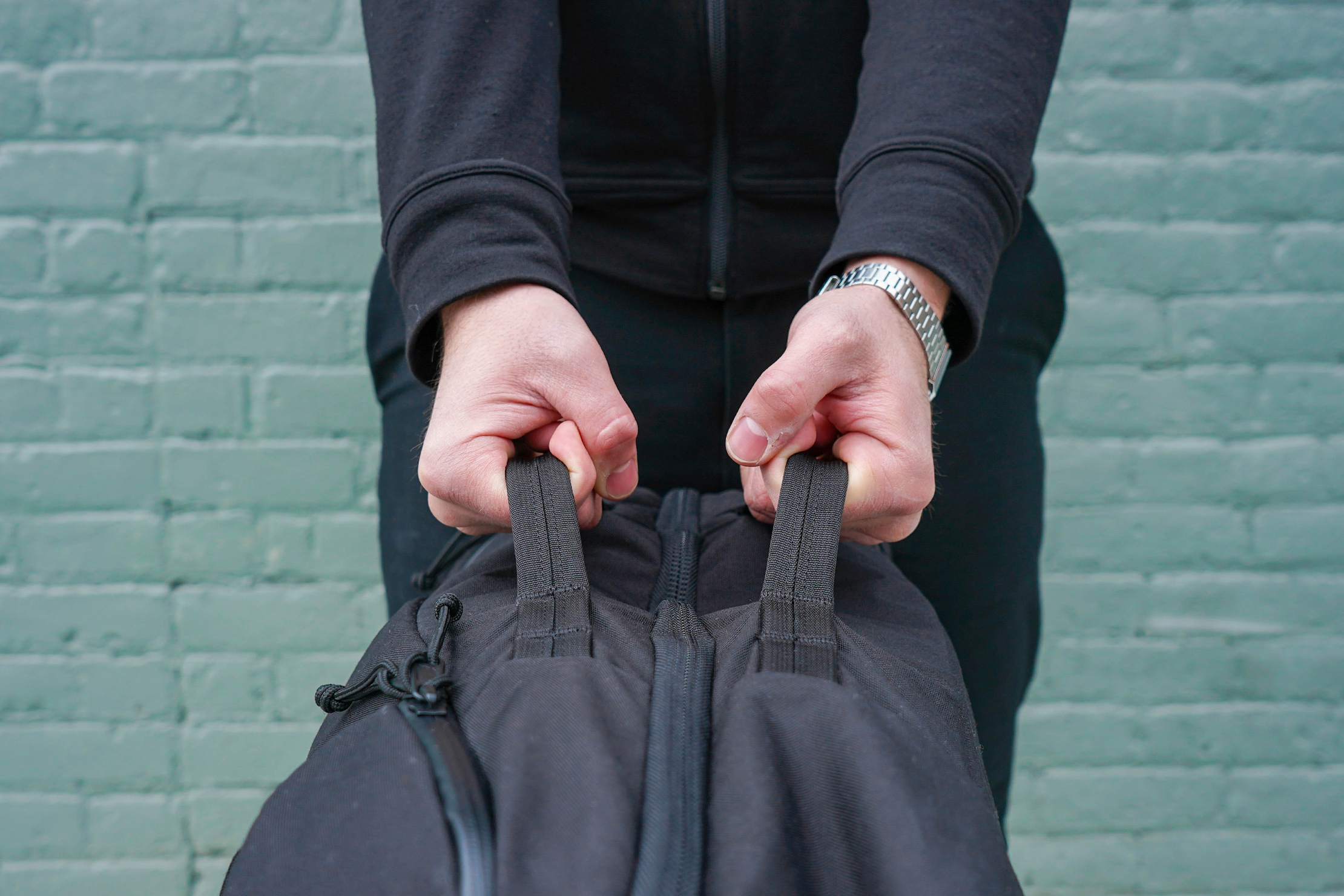 Now for a couple of things the Mission Rover does not have—load lifters and a hip belt.
The entire harness system on the Mystery Ranch Mission Rover is anchored lower on the bag, which can help mitigate the need for load lifters. There's more space at the top, so the weight stays a little bit closer to your back. Also, this backpack has a slimmer profile. But in general, we find that load lifters can help larger capacity bags (over 35L) have a more comfortable carry.
There's also no option for a hip belt on the Mission Rover—and the same comment above applies. We think bags that are over 35L should at least have the option for a hip belt since they can get heavy and a hip belt helps distribute some of that weight onto your hips. (Hence the name.) Neither of these are deal-breakers, but something to keep in mind.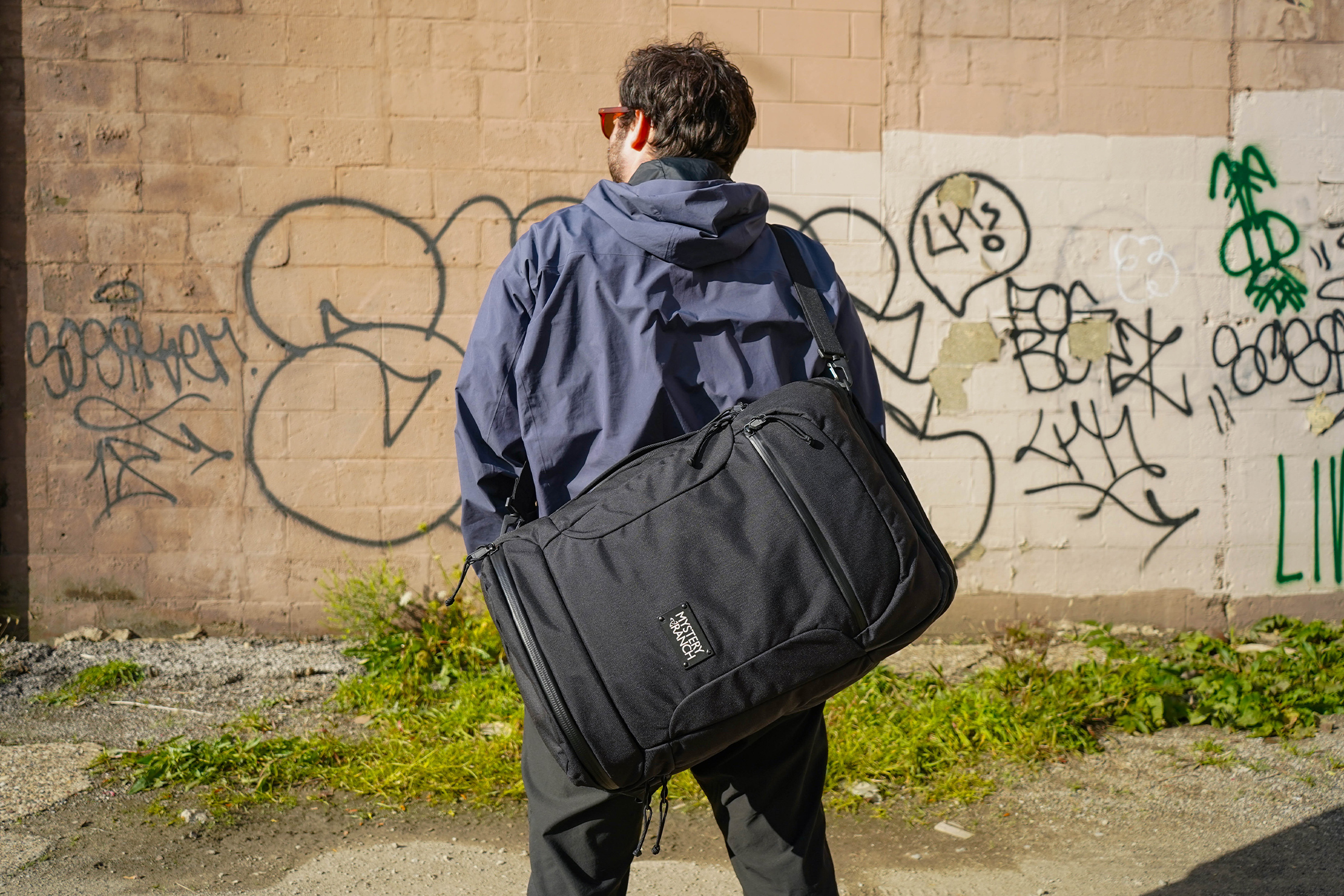 Finally, you'll find two smaller sections on the handles that you can use to attach something like a carabiner or a luggage tag. There are also two D-rings on the backpack's exterior to attach the included messenger strap. For us, this bag is a little too large to wear in messenger mode, but your mileage may vary.
Inside the Pack
The interior organization of the Mystery Ranch Mission Rover could be categorized as "no frills."
A shoe compartment unzips from the bottom to reveal ample space for even a larger pair of shoes. It's also a good place to store dirty clothes. We like that Mystery Ranch included a pocket like this—there's plenty of room for it on a pack this size.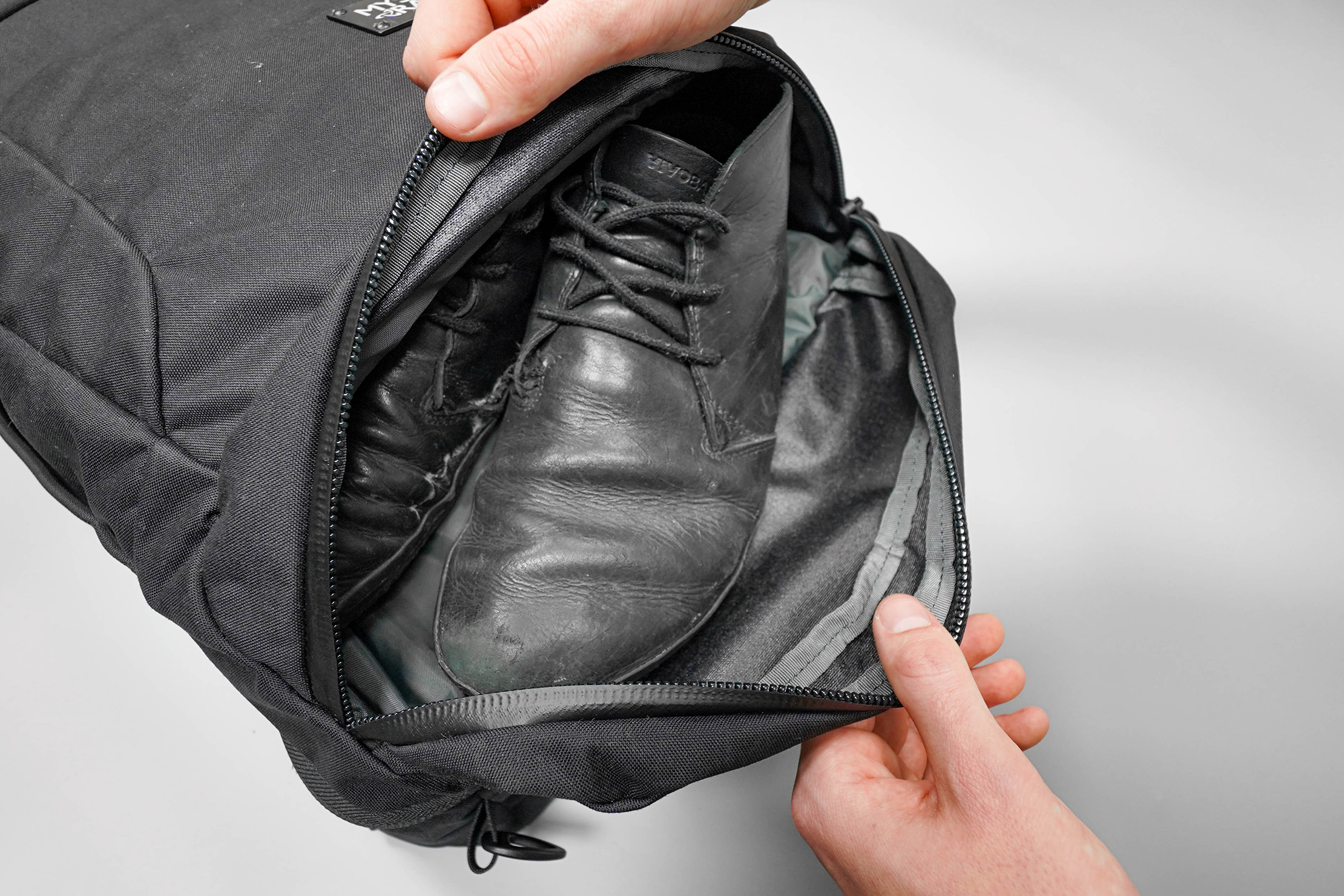 Next up, there's a quick-grab pocket with some minimal organization on the front. The positioning of this pocket isn't ideal—we usually prefer quick-grab pockets to be located higher up at the top of a bag for easier access.
The depth of this pocket goes down to about the middle of the Mystery Ranch logo, and it includes three slots for pens, pencils, and styluses (styli?) along with two slots on the left-hand side for larger items.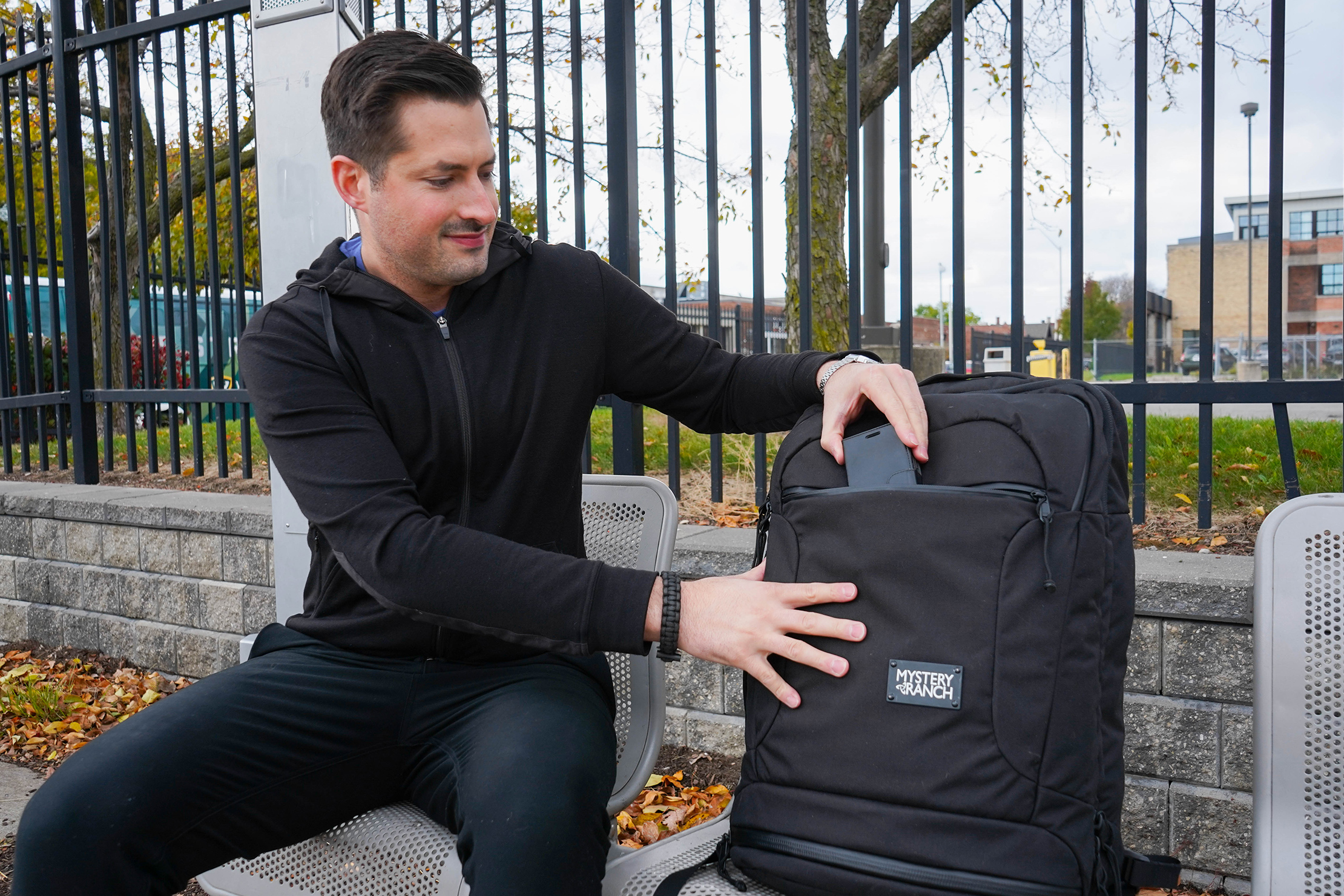 We're a little thrown by the sizing on the two liner pockets on the left—a bit bigger than pencil pockets but still too small for a battery bank or tech items. There's a little space in this compartment to throw a couple of snacks, but overall, we've found the organization here to be just okay.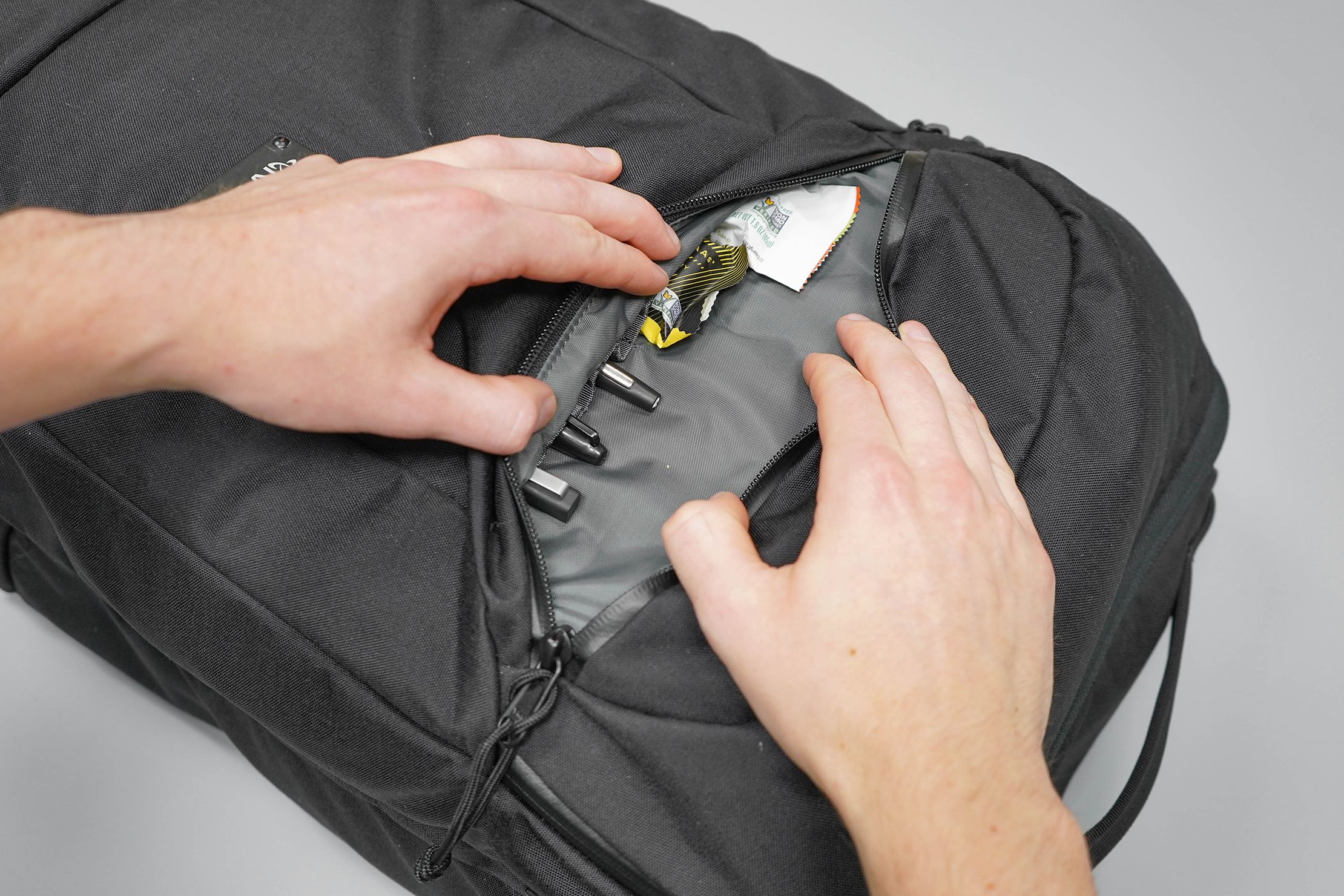 Behind that quick-grab pocket is the laptop compartment. The zipper goes down about one-third of the front, horseshoe-style, while the interior capacity goes down to pretty much the full height of the bag. Inside this compartment, you'll find a laptop sleeve that snugly fits a 15″ laptop—even a slim case makes this a tough squeeze. If you're someone who always prefers the extra protection of a laptop case, this will probably be an issue for you.
There is, however, a stretchy nylon strap at the top of the laptop sleeve for a bit of added security. It's somewhat clumsy to fasten, and seems overly long and stretchy (not entirely sure why), but it's there if you want to use it.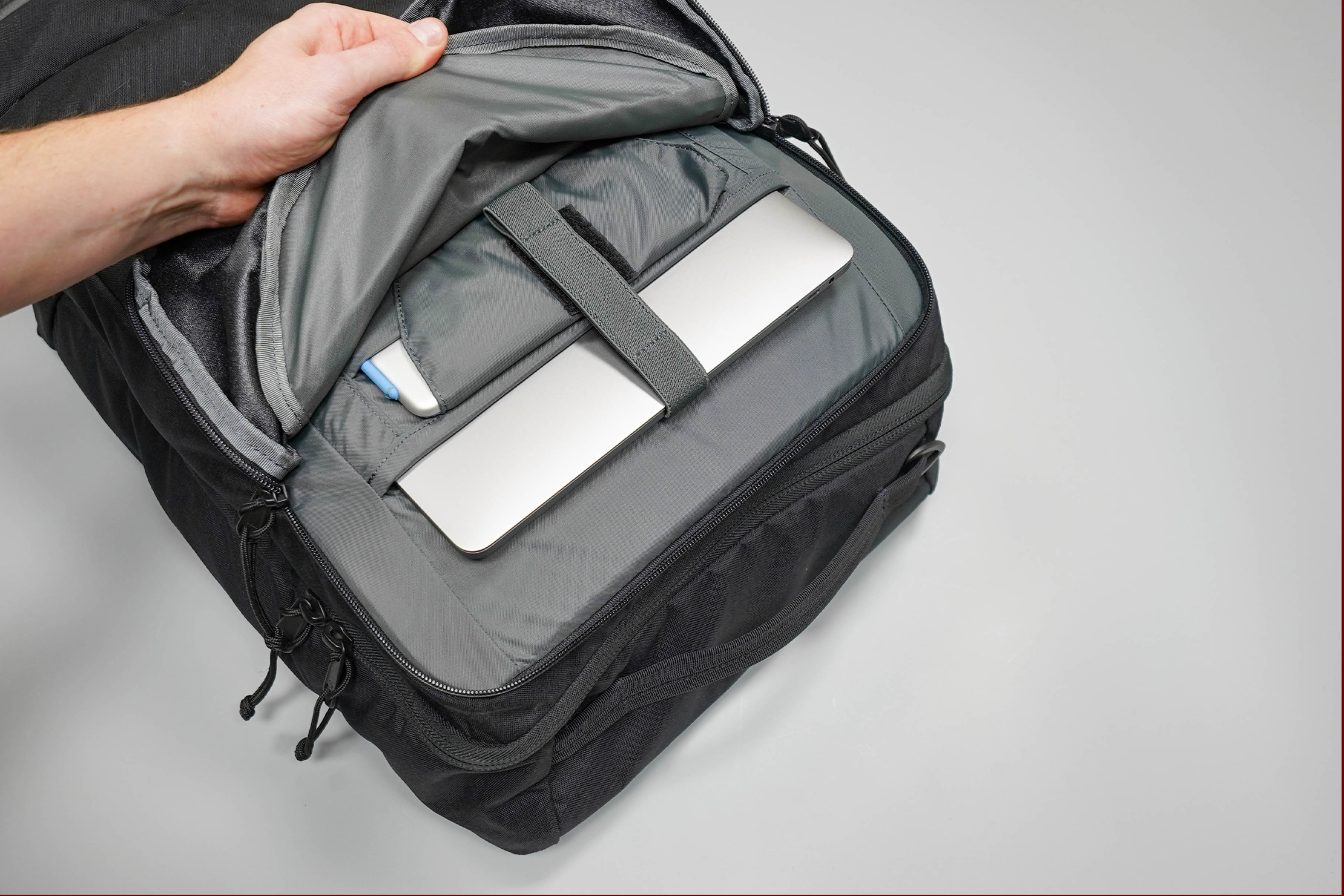 In front of the laptop pocket, there's a tablet sleeve that opens up with a triangular liner flap. We like this liner mechanism a little better because it seems to really lock your tablet or notebook in place—versus the floppy elastic band on the laptop sleeve.
Now, we generally prefer for the laptop compartment to be positioned closer to the back of the bag—not only for a more comfortable carry but it seems like a better spot for the laptop overall. Your mileage may vary.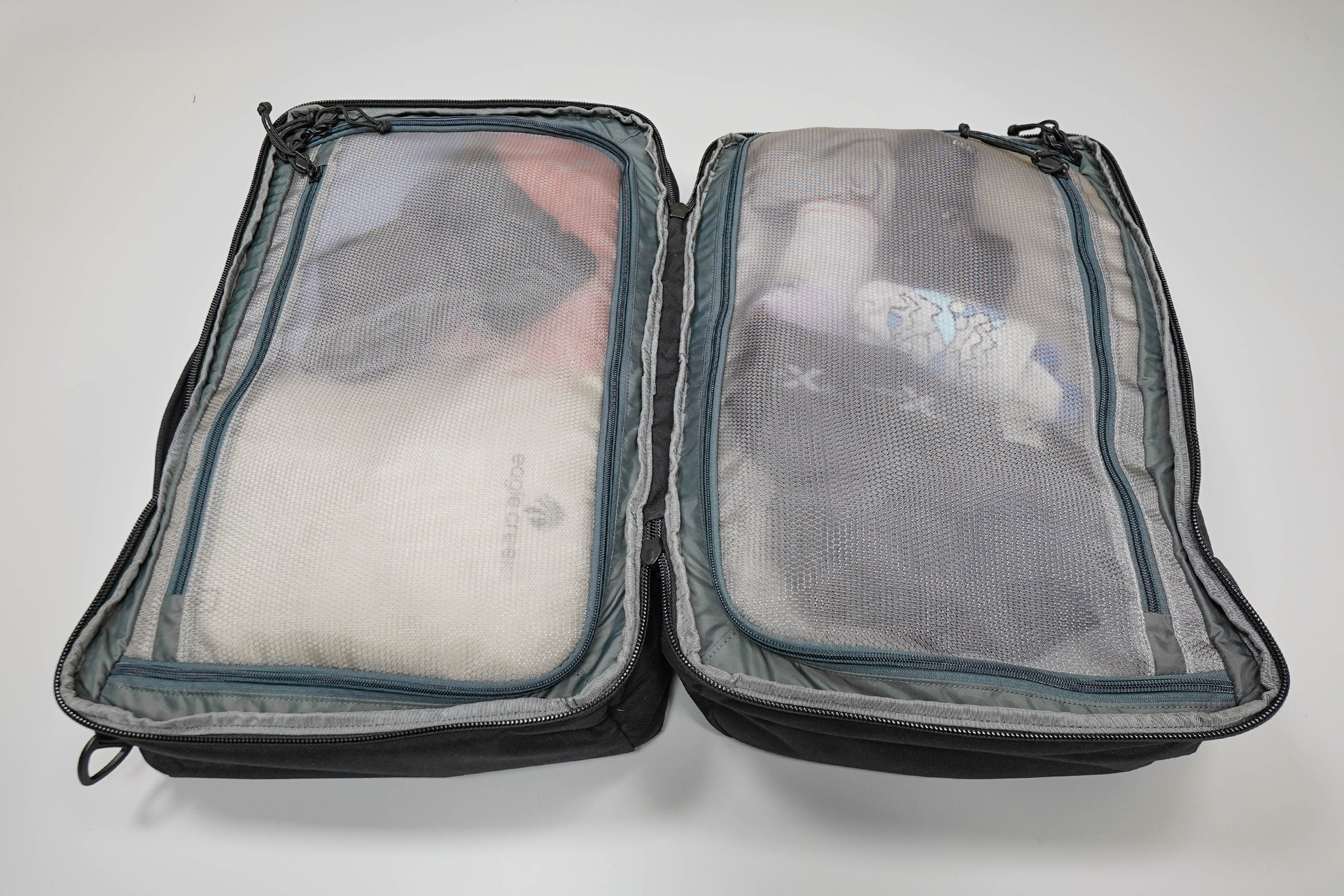 On to the main event of the Mystery Ranch Mission Rover—that giant main compartment.
This thing opens up fully clamshell-style with a No. 10 YKK Racquet coil zipper. The zippers also have big paracord pulls on them, which are super easy to grab (even if you're wearing gloves). Although, at times, we've found them to get tangled up making it tough to tell which pull belonged to which zipper.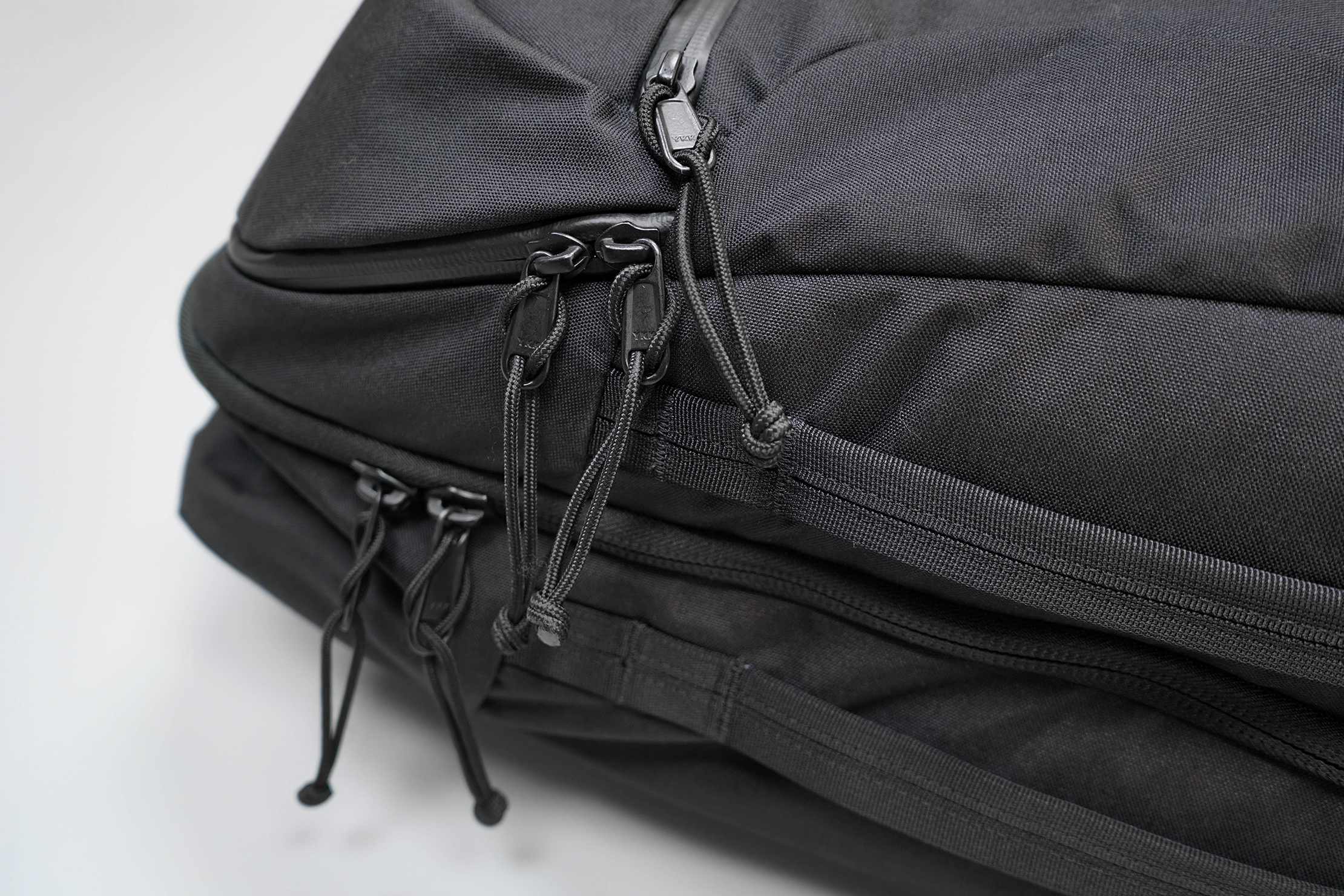 Open this thing up and you've got two giant buckets to stuff with clothes and gear. The left side of the main compartment (which is closest to your back) has the most space. It's a little more rectangular and you don't have those front pockets (the quick-grab pocket, laptop compartment, and shoe compartment) cutting into your space as they do on the right side.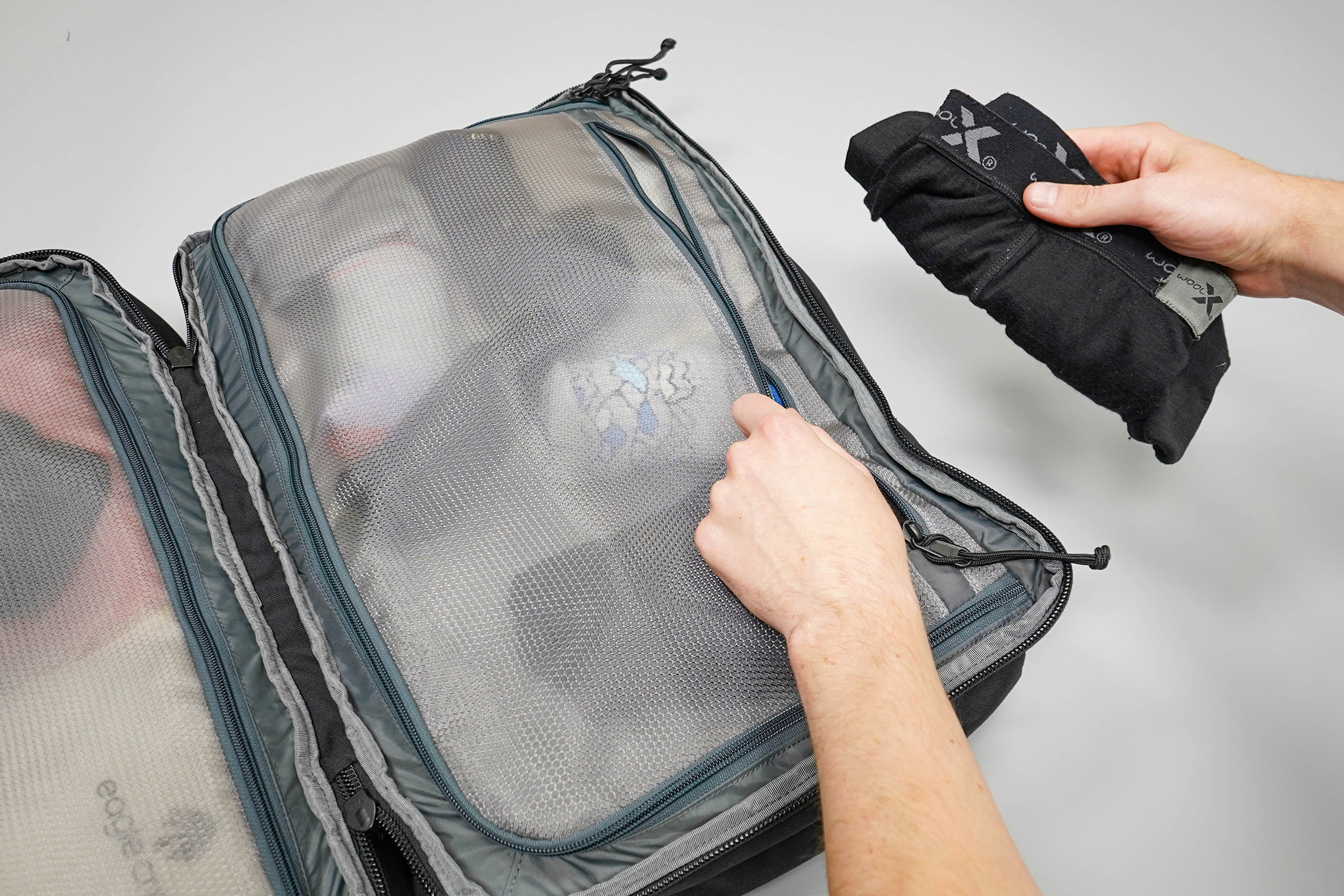 Both sides of the Mission Rover's main compartment have a very simple, large mesh divider pocket spanning the full width and height. These are nice for smaller items like socks and underwear, and they act as the flaps to separate the two sides of those clamshell buckets.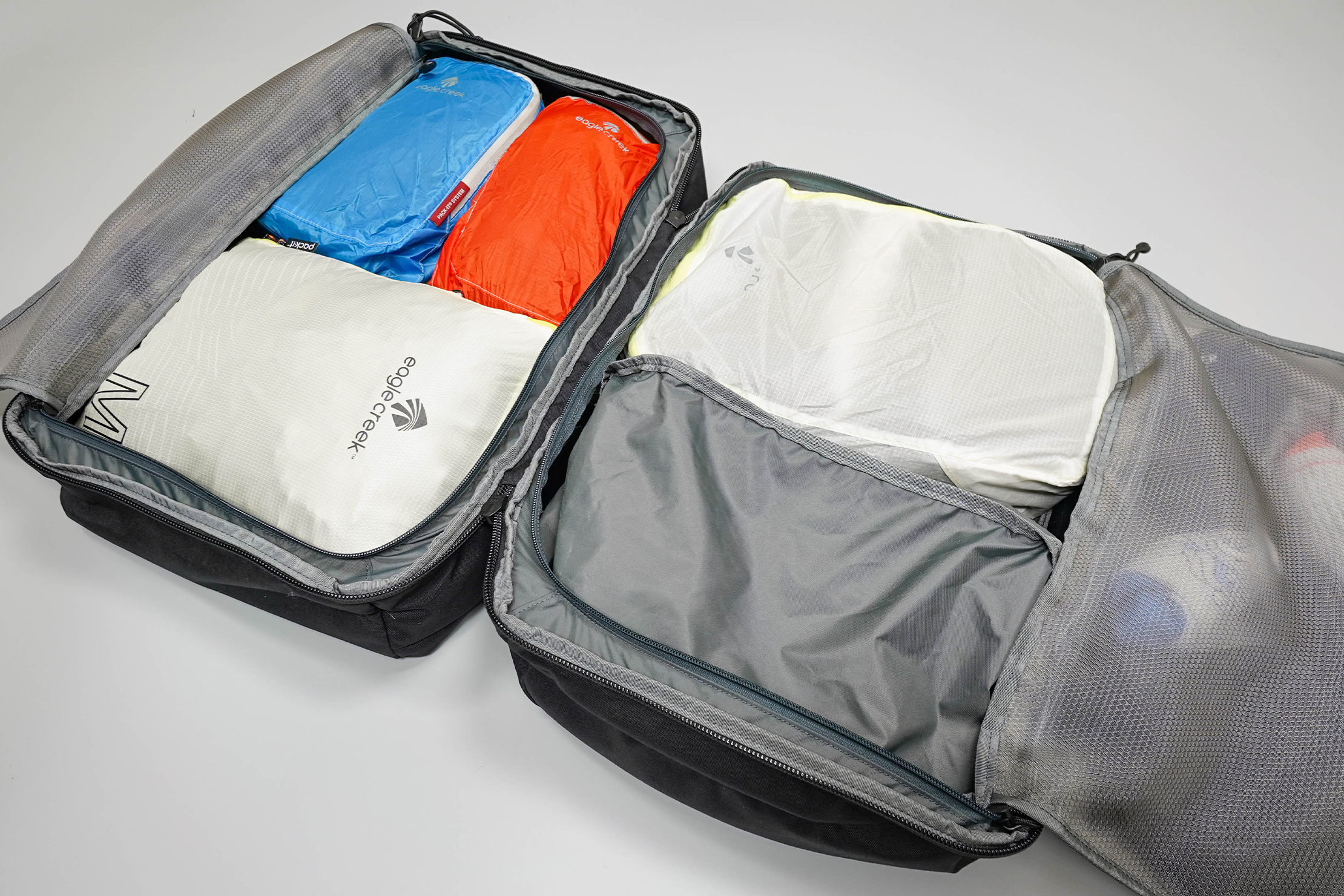 And that's it. The organization is very simple, but we're not complaining. We dig it! You can really load up and pack out this backpack pretty much any way you'd like. As always, we'd recommend packing cubes to help keep you organized. But, hey, you do you.
Durability & Testing
At the time of this review, our founder, Tom and Managing Editor, AJ have been testing the Mystery Ranch Mission Rover around Detroit, Michigan for about a month.
Because this design to be a one-bag travel backpack, not an everyday carry bag, we've kept this bag pretty fully loaded during our testing—or as fully loaded as possible—to mimic travel.
While some bags can be used for both travel and daily carry, we've found pretty quickly that the Mystery Ranch Rover works much better as a travel backpack.

That's due in part to the positioning of the laptop compartment, since this bag just kind of crumples if you put a laptop in it and nothing else. When filled up with clothing and packing cubes, the bag has more structure and is much more functional.
Ultimately, the Mission Rover is made to be packed out for travel. And we're digging that boxy nature of the bag for that reason—you can really maximize every inch of that 43L capacity.
Durability-wise, the bag is well-made (as you'd probably expect from the folks at Mystery Ranch). But we do prefer the materials on other Mystery Ranch bags we've tested such as the Mystery Ranch UA24.
Usage Timeline
Initial Usage
Condition: Excellent
Minimalist one bag travel style that will work great with packing cubes
Made of strong, durable materials
We will be interested to see how the shoulder strap attachment points hold up since they do not lock
2 Weeks of Use
Condition: Excellent
Big and boxy look, but a little more streamlined than other bags of this size
Shoe compartment is a nice feature
1 Month of Use
Condition: Excellent
We've found the bag to perform better when fully packed out
Pretty comfortable carry, but would prefer a hip belt option or load lifters
Access the Pro Community Discussion
Get your questions about the Mystery Ranch Mission Rover answered from our team and the Pro Community right here on the page. Plus, join discussions with other members about gear, guides, and more.
Other Bags & Luggage Reviews