Mystery Ranch District 24 Review
Mystery Ranch's District 24 lacks the carrying comfort we typically see from them, though their cleverness still shines through the bag's versatile layout.
Our Verdict
Unlock the Pro Summary
Save time. Get access to brief summaries of our reviews so you can browse and make decisions more efficiently.
Pros
Collapsible gussets allow for a clamshell-style opening that's easier to pack
Able to stand on its own despite its teardrop shape
Deep but still accessible front compartment
Cons
Isn't as comfortable to carry as other Mystery Ranch backpacks
Water bottle pockets lack grip, especially for slender bottles
Most interior pockets too deep for small gear
Recent Pack Hacker Video
Technical Details
Capacity

23l

Weight (lb)

2.7 lb (1.2 kg)

Dimensions

18.5 in x 11.75 in x 9.75 in (47 x 29.8 x 24.8 cm)

Notable Materials

CORDURA® Nylon, Nylon, YKK Zippers, Duraflex Hardware

Manufacturing Country

Vietnam

Laptop Compartment Size

17"

Warranty Information
Full Review
When we think of Mystery Ranch, we think of very good carrying comfort. That's the impression we get from the brand's exemplary backpacks, such as the Mission Rover, In and Out Packable Daypack, and the duo of Urban Assaults. Along with that comes the brand's unique approach to internal layout and accessibility. They're like two sides of the same Mystery Ranch coin, so we definitely know what to look for in their backpacks.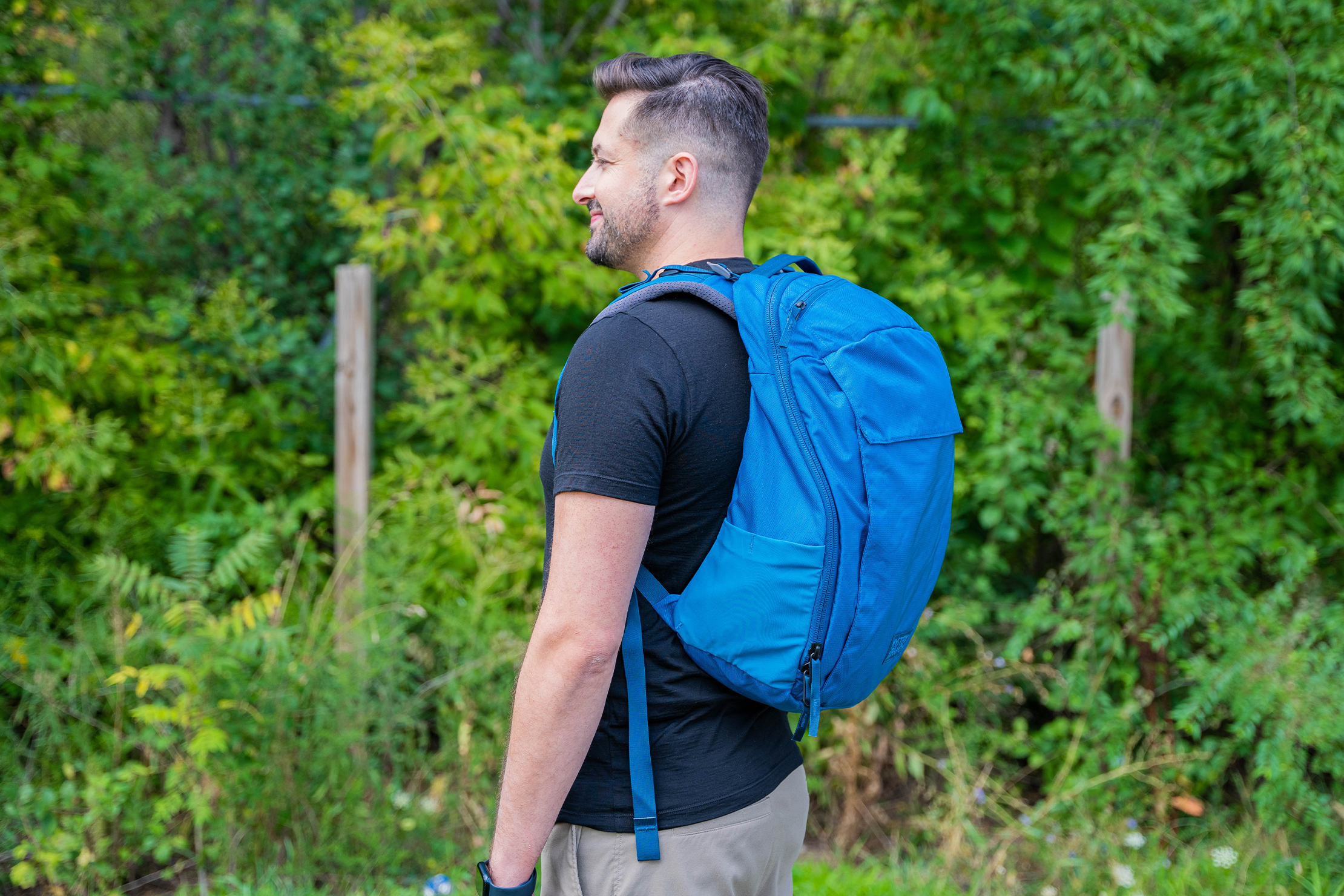 The District 24's main compartment nails the latter with its versatility, courtesy of the foldaway gussets. You can choose between a gusseted opening that presents you with an accordion-style layout or a traditional clamshell opening for easier packing. Even the front pocket gets a similar treatment thanks to a side zipper. On the other hand, the harness system on the District 24 is uncomfortable compared to what we've seen from the brand's other bags.
Before we jump into this review, there are two things to note. First, despite the name, the District 24 is officially rated at 23 liters. Second, this review is based on an early sample. So while the design is reflective of the final product, the build quality may still improve. Now, without further ado, let's get started.
External Components
We'll start off with the water bottle pockets. There are two of these, one on each side of the bag, leaving you with the option to carry something like a folding umbrella as well as a travel water bottle. The stretchy mesh material used here is the norm for a lot of backpacks. However, the pocket itself doesn't really have a ton of grip.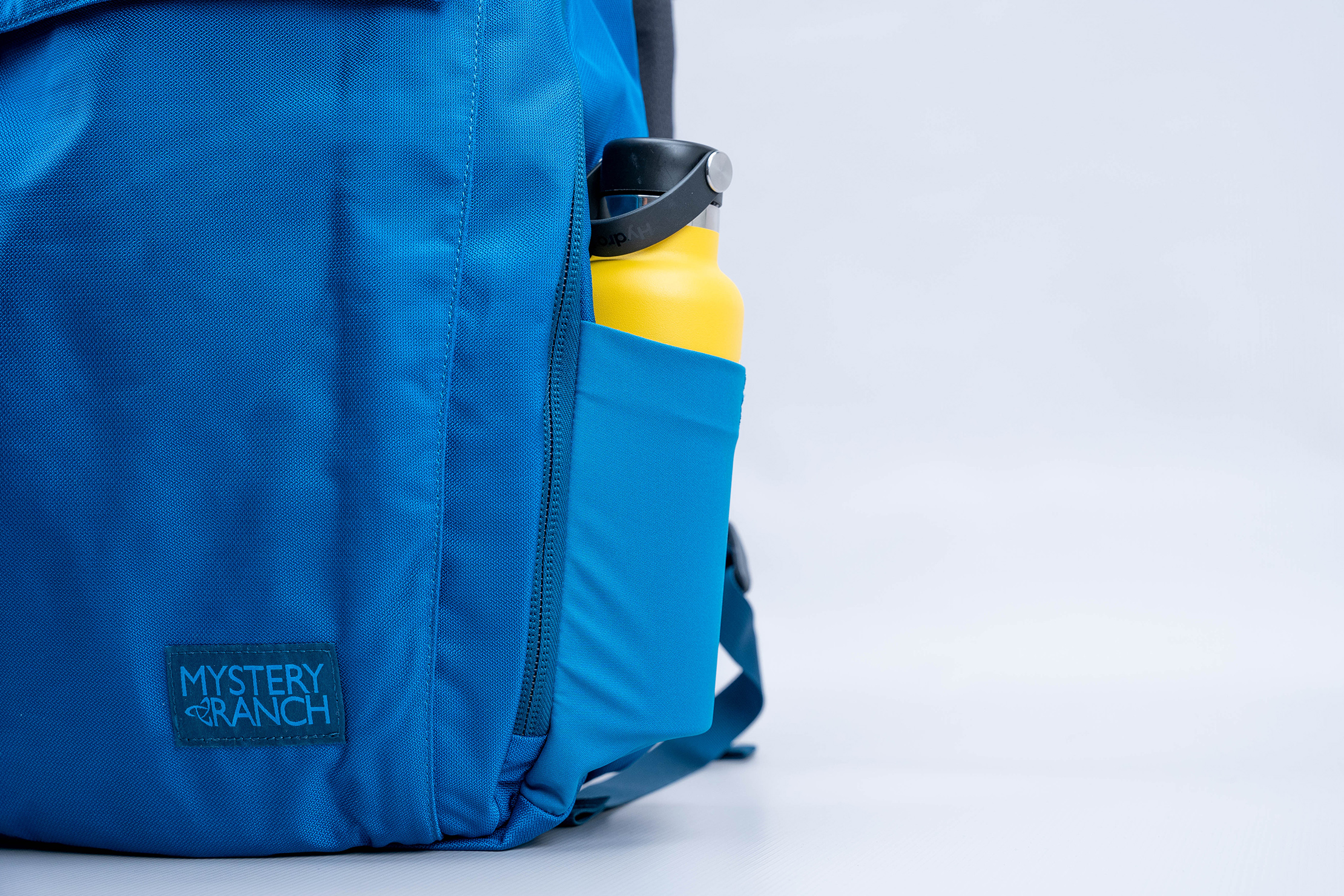 Our 18-ounce Hydro Flask, though fairly slender, sits fairly loosely inside. In turn, that means it can fall out if the bag tips over. Larger bottles that can stretch the mesh may fair better, but we wish there was a way to secure our bottle more firmly. For example, other backpacks have a corresponding loop above their water bottle pocket where we can use a carabiner to anchor our bottle's handle.
On a more positive note, the water bottle pockets feature drainage holes. Liquids can already permeate through the mesh relatively easily, but we welcome the addition of drainage holes for good measure.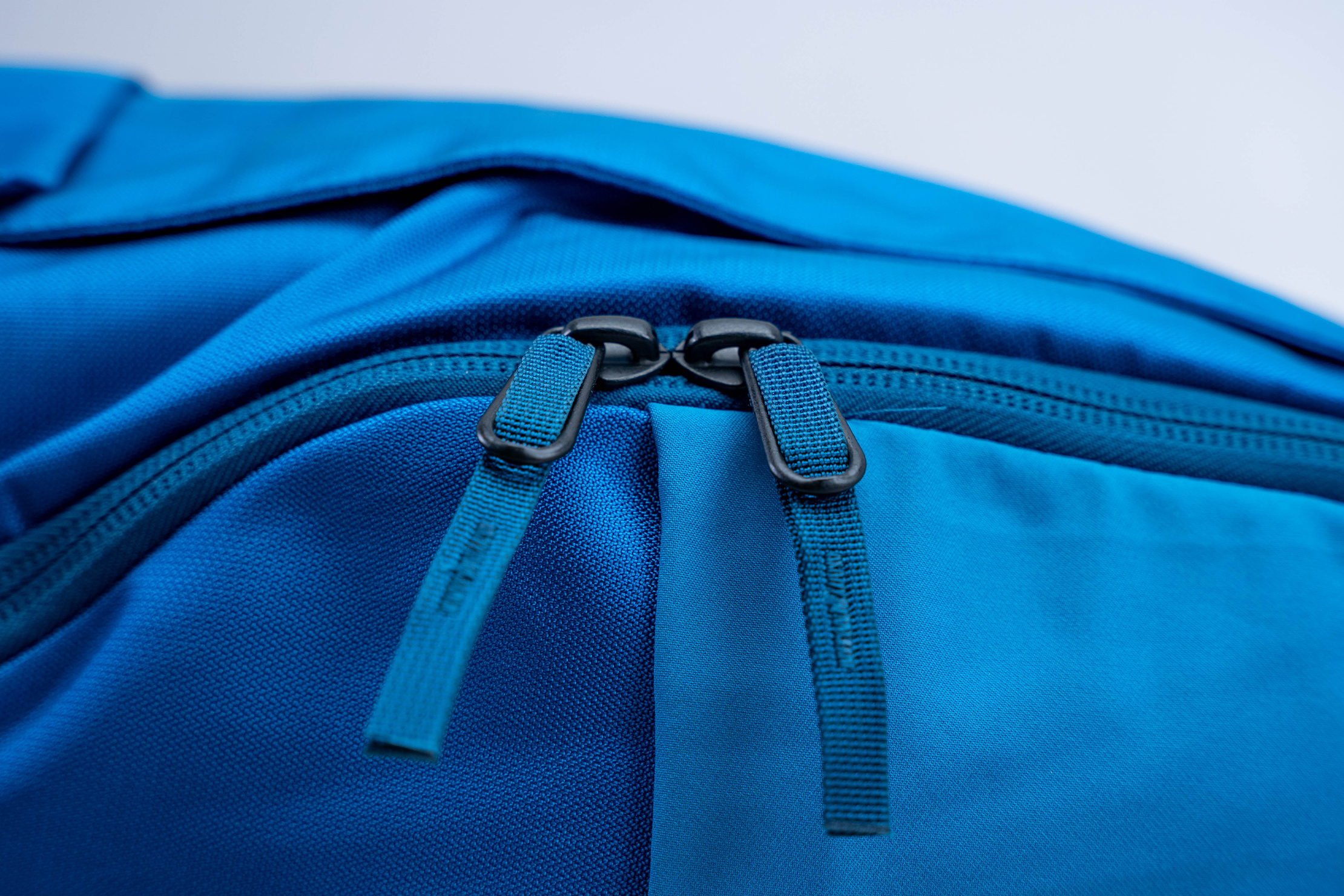 Next up are the zippers. These are from YKK, one of the most reputable (if not the most reputable) brands when it comes to zippers, and this shows in how easy it is to unzip the bag. As for the pulls, Mystery Ranch uses a combination of a metal pull threaded with nylon to make them easier to grab. That may not mean much in everyday sunny weather, but once the snow starts to fall and you're wearing thick gloves, grabbable zipper pulls become more of a necessity than a nice-to-have.
Something you may have noticed from our pictures is the loose threads around the exterior. While we'd usually be apprehensive about thready red flags like these, the bag we're testing is an early sample, so we're willing to chalk this up to teething issues. For what it's worth, Mystery Ranch's gear has always been pretty solid based on what we've tested, and we've no reason to believe that the retail version of the District 24 is going to be any different.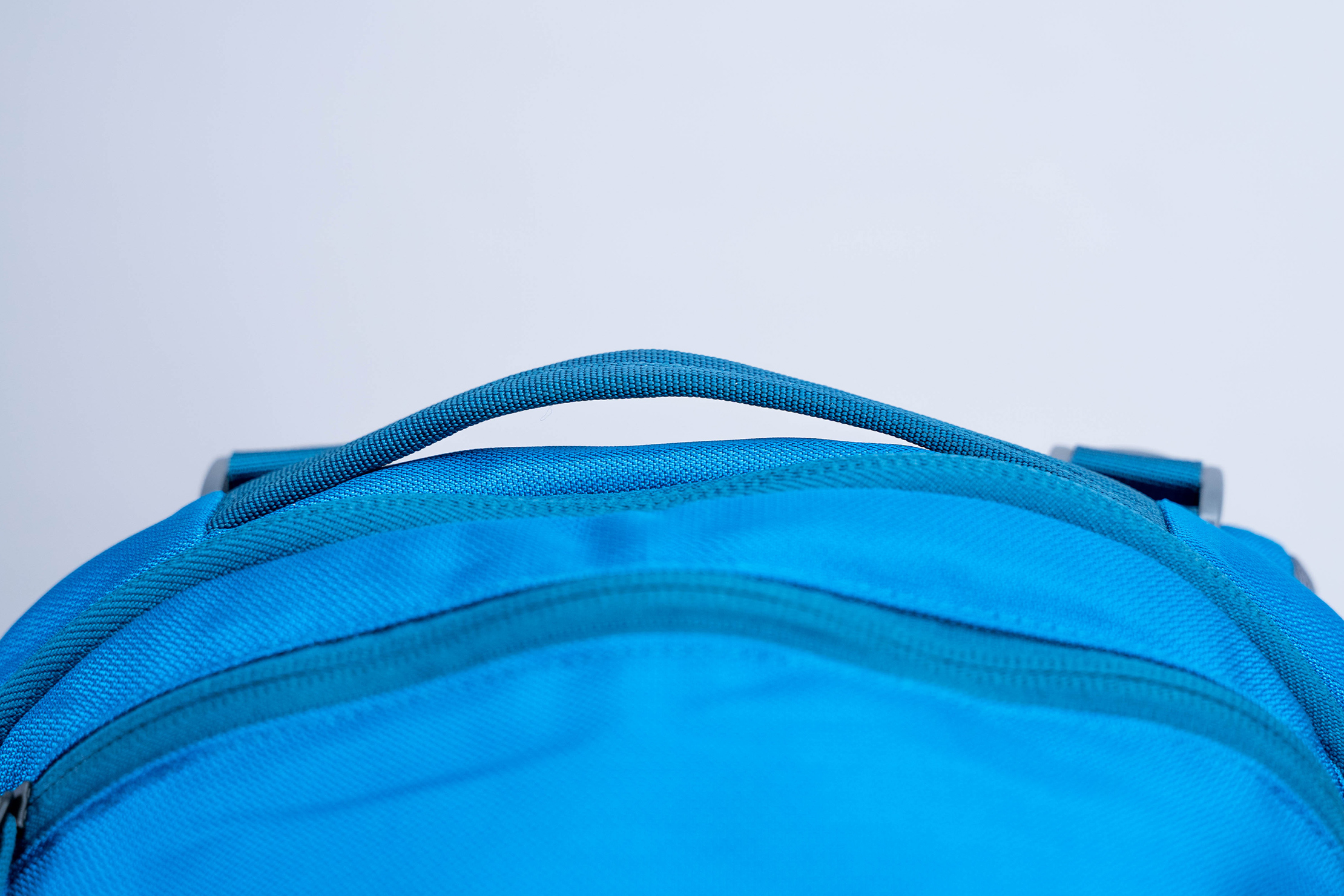 Up at the top is a haul handle. This is a step or two above your usual nylon handle in terms of thickness and durability. It's double stitched and features some padding for comfort. It's not quite at the level of larger travel backpacks, but it's certainly beefier than what you'd normally see on other daypacks.
Before we get into the harness system, we just want to preface this by saying we dig how comfortable Mystery Ranch backpacks usually are. The brand prides itself on the amount of engineering it puts into its harness systems, and we're more than inclined to believe them. And now the twist: at the time of writing, this has been the least comfortable Mystery Ranch harness system we've tried. We'll get more into that in the Fit Notes section, but for now, let's take a look at the anatomy.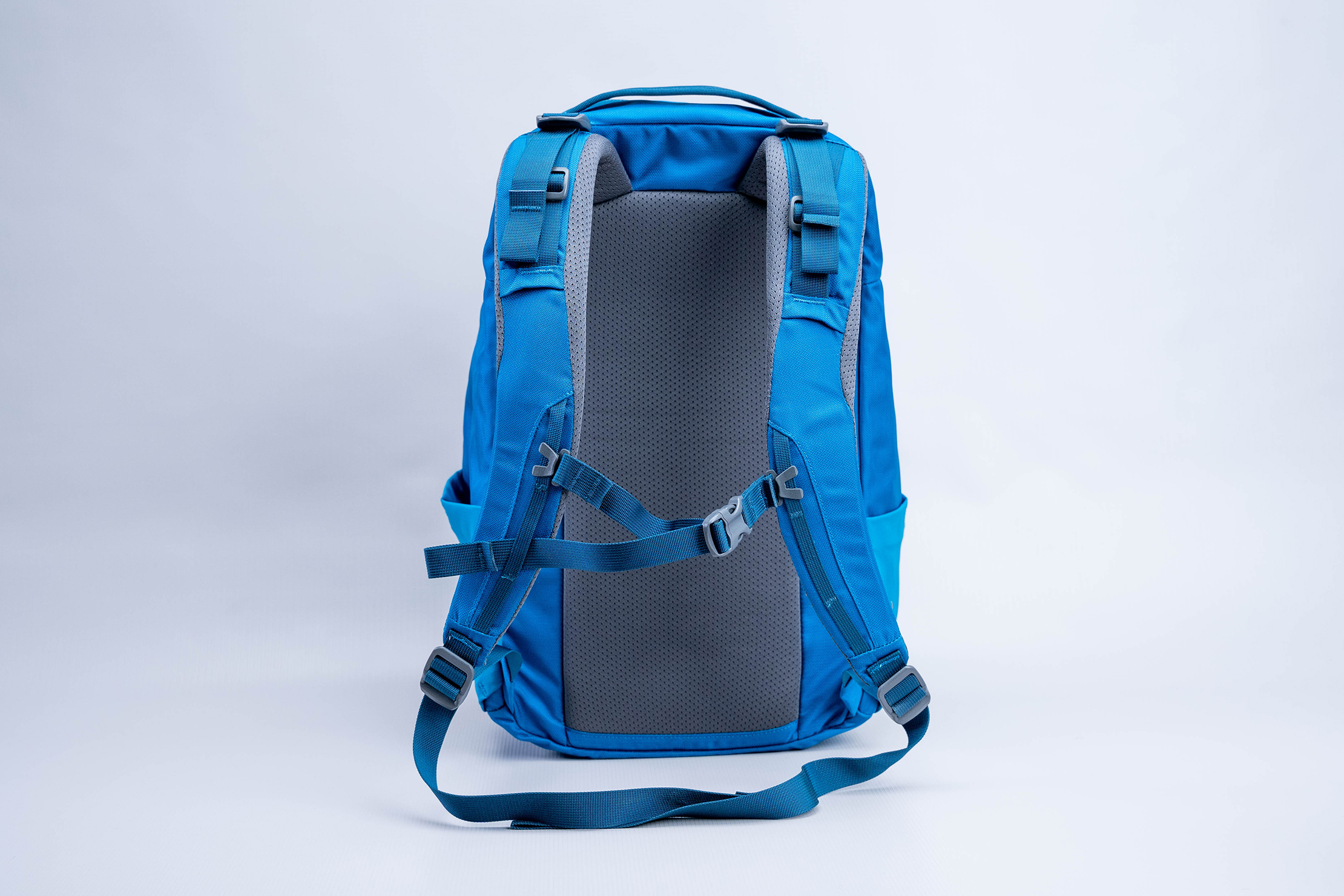 On the face of it, the District 24 features a kitted-out harness system. You get a pair of well-padded shoulder straps, a sternum strap, and even load lifters. Keen-eyed readers may have noticed that while the sternum strap is the sliding type, the railing is segmented into three parts. That's not an issue, however, as even the default position (the middle segment) already offers enough adjustment, at least for our needs.
As for the load lifters, not only can you adjust the top end to pull the bag up, but you can also slide the bottom end to adjust where they're anchored. That's a lot of adjustment, in theory. However, no matter how much we play around with them, we still can't quite dial in a comfortable setting.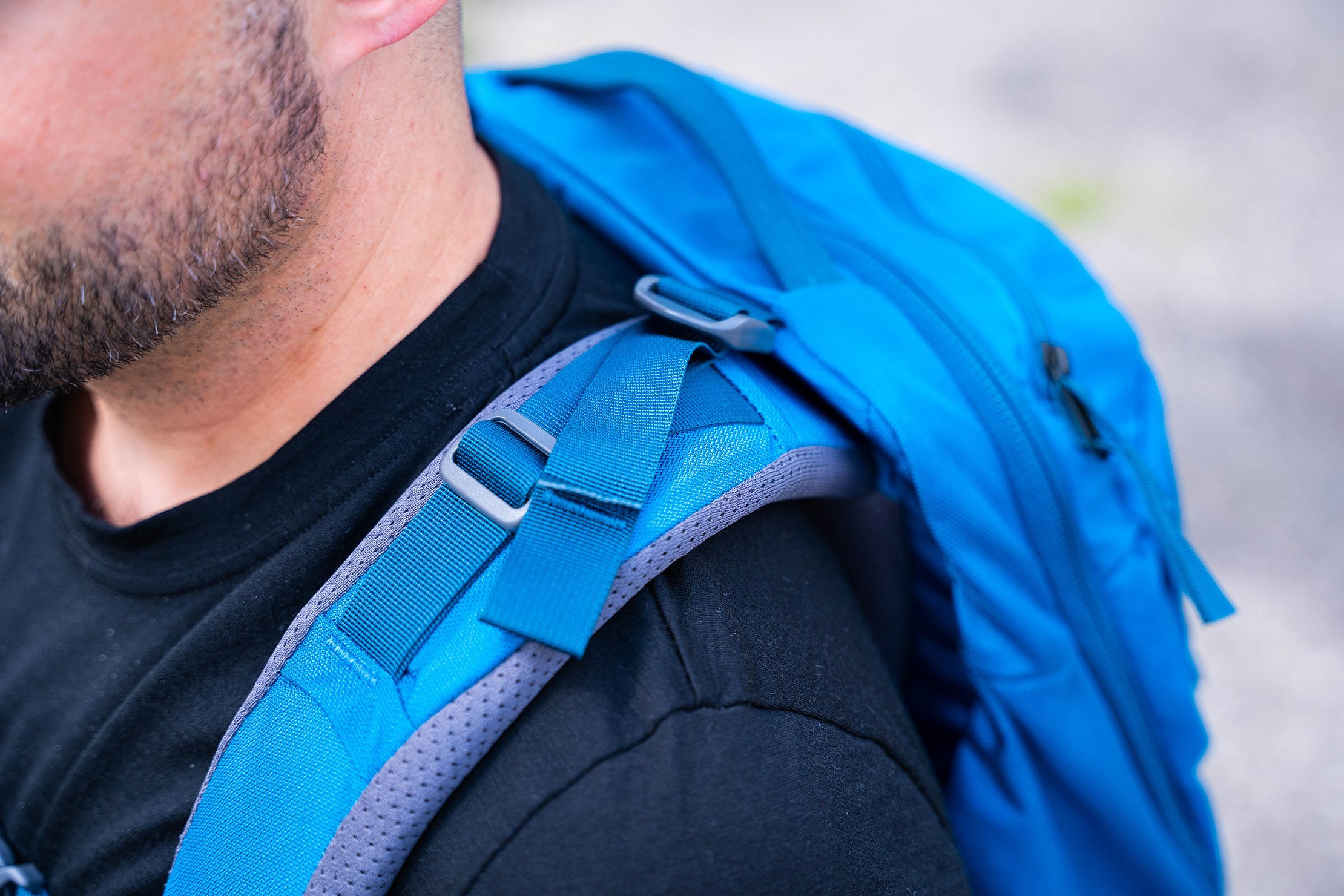 Last but not least is the back panel, where there's also more than an ample amount of padding. It's covered in breathable mesh, allowing air to escape more easily on hot days. However, nothing prevents a sweat if the weather gets hot enough, so don't expect it to fully prevent murals from getting painted on your back.
Fit Notes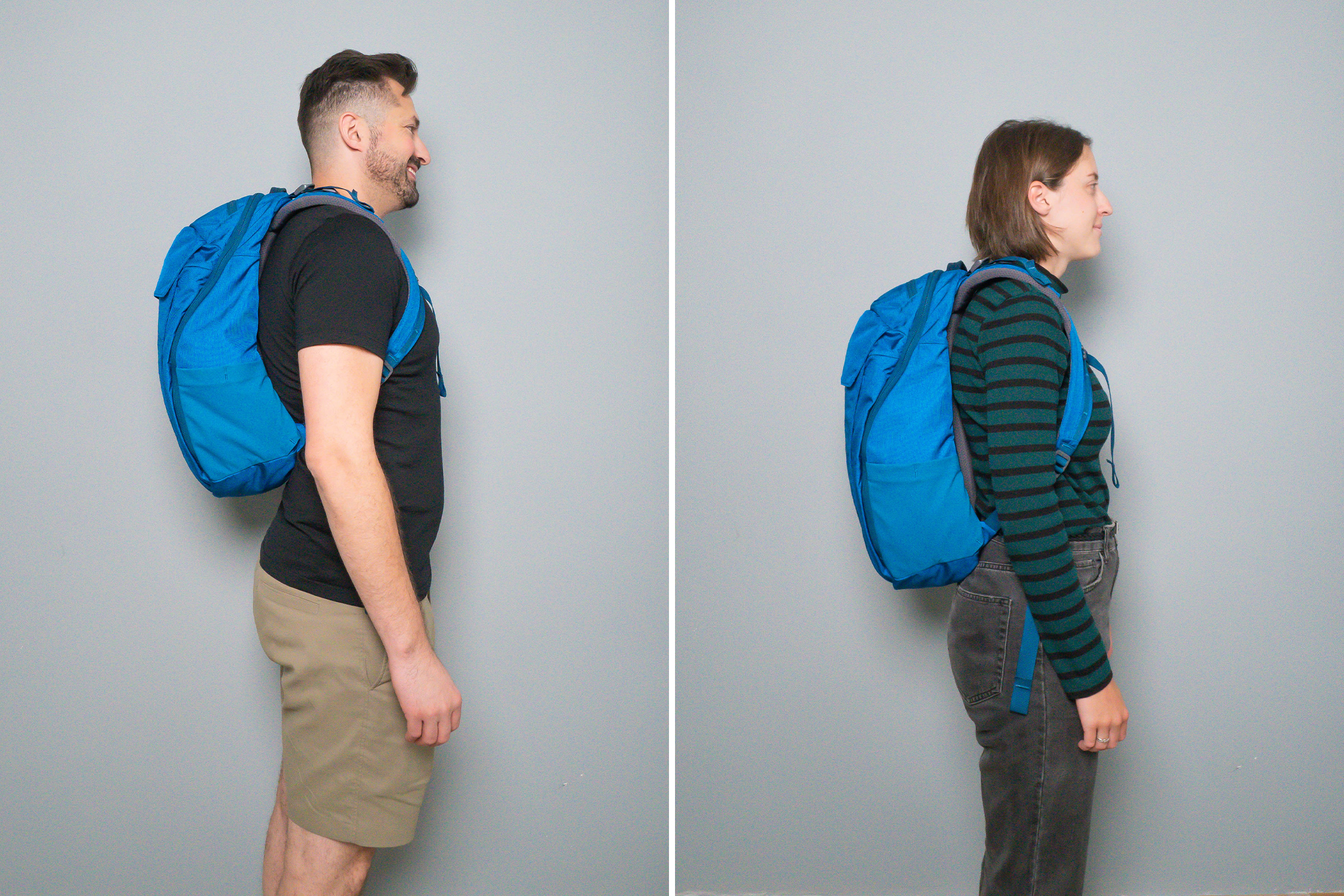 Before we put the bag on, you may notice something looks off about the District 24. If you think it's the front compartment's flap, then you're on the right track because it's been bothering us as well. The flap's edge curves out, leading to a sort of duckbill effect. This is because the loop and hook patch doesn't exactly align when you fully close the flap down. Thus, you have to make sure to get the alignment right to stop this from happening. The duckbill look is a weird quirk, for sure, but nothing catastrophically gaudy.
As we mentioned earlier, the District 24 feels uncharacteristically uncomfortable for a Mystery Ranch backpack. We believe the main culprit here is the bag's teardrop shape which makes it feel saggy and bottom-heavy. Unfortunately, the load lifters can't seem to cope and are unable to shift some of that weight up. That being said, a saggy carry isn't an issue exclusive to the District 24 or the brand. If we're coming across as overly critical, that's only because we've come to expect excellent carrying comfort from Mystery Ranch.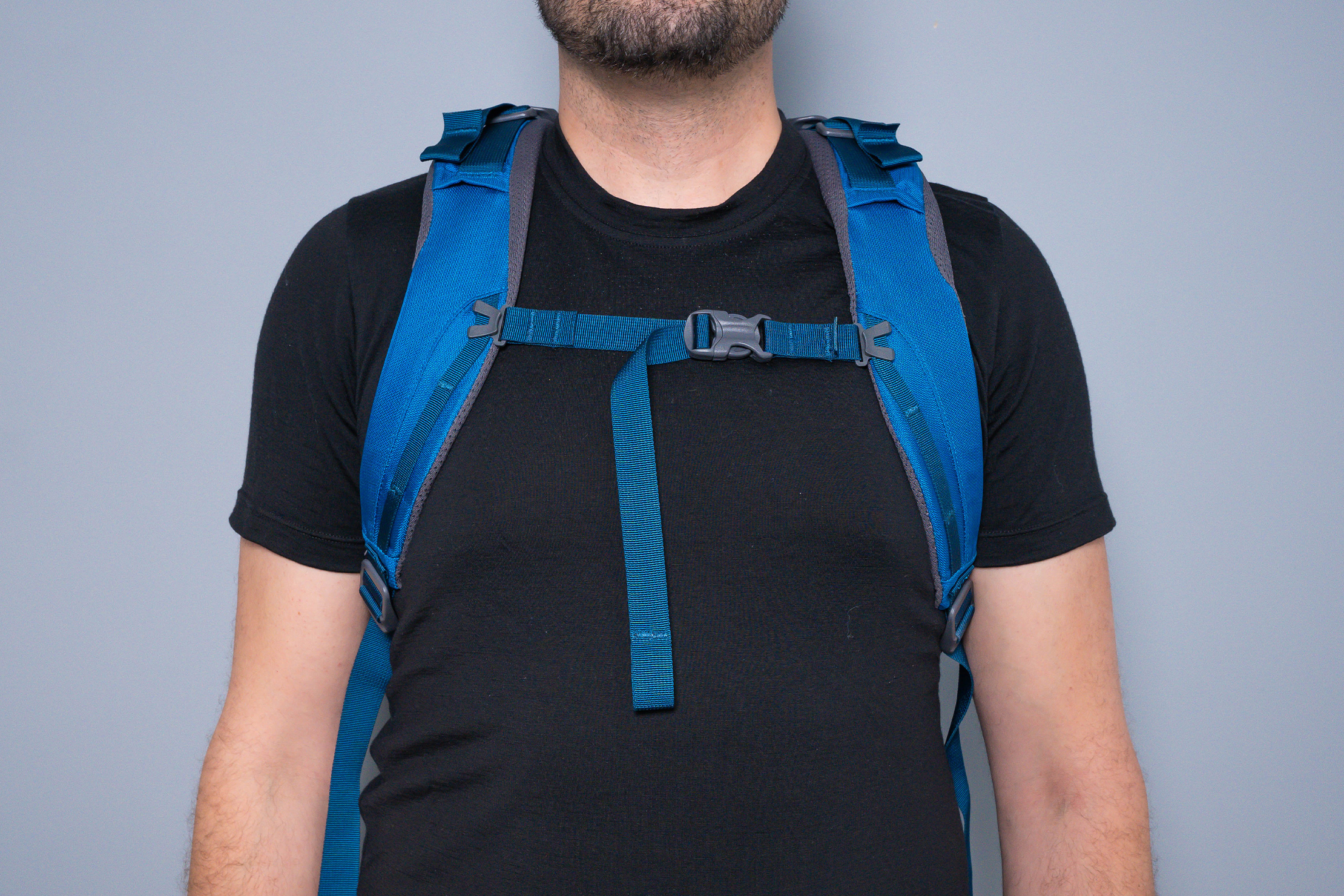 We've also noted that there's a lack of strap keepers for any of the main straps on the District 24. Again, this is another omission that's not exclusive to Mystery Ranch, but we do prefer to have strap keepers in the name of that #danglefree experience. If you really need them, you can always go third-party, though at an additional cost.
Inside The Backpack
At the front of the District 24 is a compartment that's covered by the flap we discussed earlier. This pocket goes very deep, extending all the way down to the base of the bag. Fortunately, you won't have to go forearm-deep to reach inside because there is a more thorough way to open the compartment.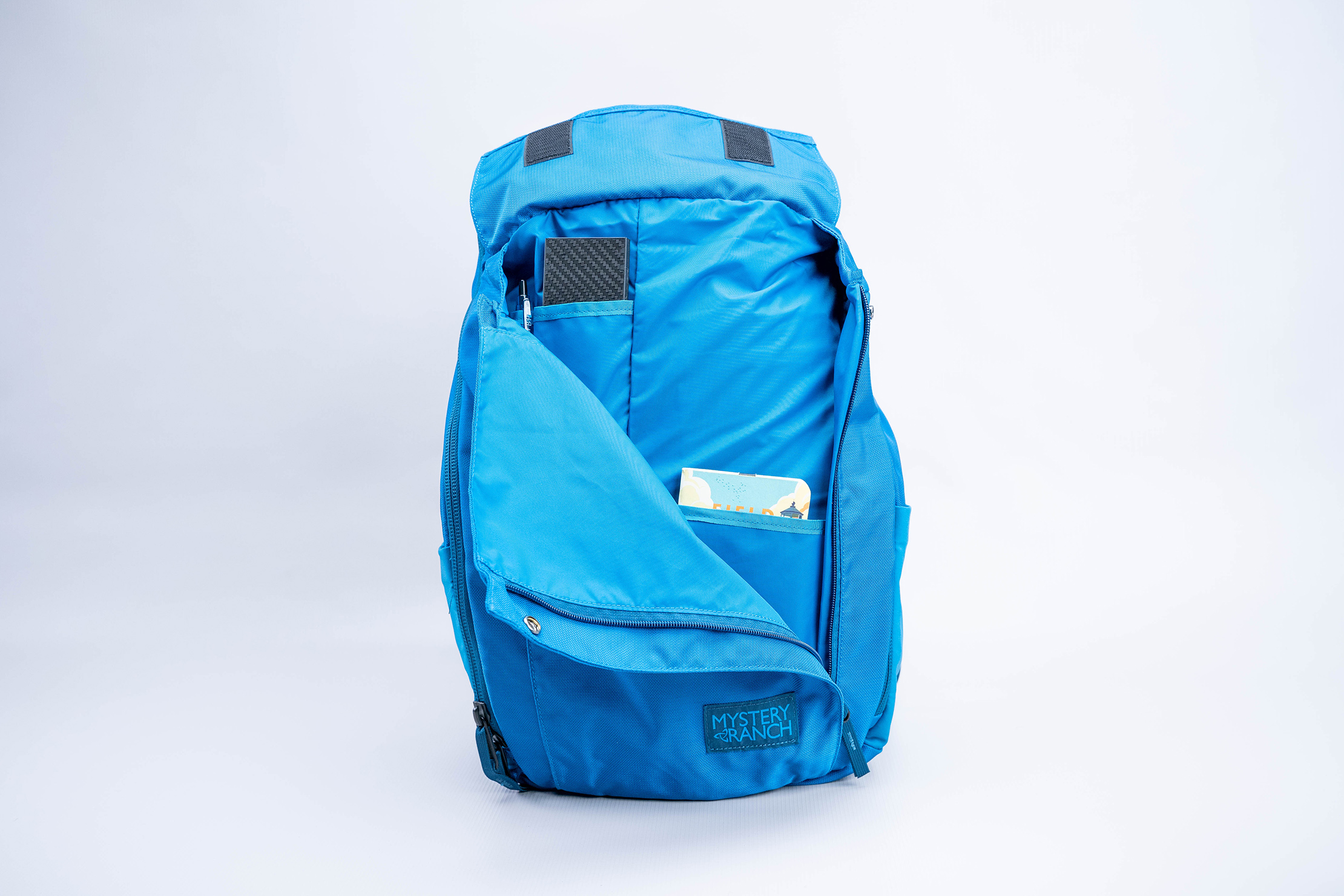 On the right side of the front compartment is a zipper that goes all the way down, topped off by a snap fastener to stop it from unzipping on its own. Yep, this side fully unzips to reveal the compartment's entire interior. This not only allows easier access inside but also easier storage of really bulky items like a packable jacket. Simply lay it in and let the zipper do the compression for you.
Inside the front compartment is a lone liner pocket in the bottom right corner. It's a bit deep for our liking, which makes it good for bulkier gear like a battery bank or a mouse. On the other hand, it's too big for smaller gear like dongles and thumb drives. The two smaller liner pockets located diagonally above have a similar problem. They're narrow and seemingly fit for slender gear like pens or a packet of gum. If it's something as small as an Apple AirTag, though, it's going to be a struggle to shimmy it out of there.
There's also a smaller pocket at the top of the District 24 for quick-grab items. It's a simple dump pocket, with the only real feature being the built-in key leash. The key leash's strap isn't very long, so you'll have to detach your keys if you want to unlock something. We dig that the pocket's interior retains the light blue color of the outer fabric as it makes visibility much brighter.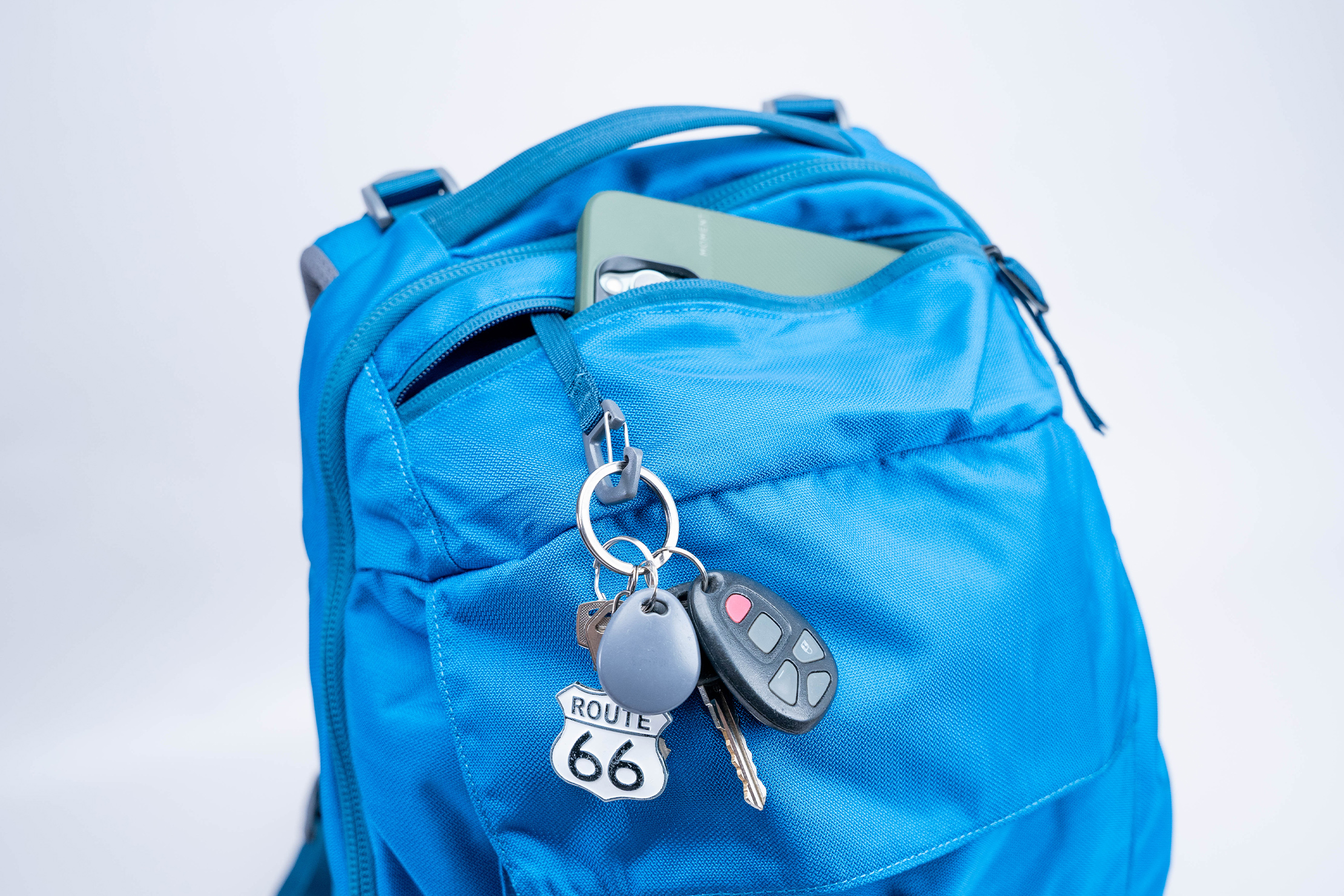 The District 24's teardrop shape not only applies to its overall profile, but you also see it with how the main compartment opens. The bag unzips from the top with the zipper track curving forward as it goes down to the sides. Gussets at the sides stop it from fully folding down, and instead, you get an accordion-style interior. The wide opening is great for everyday access, but what if it can be wider?
For most bags with a gusseted opening, this is where the story stops. You get a compromise between a horseshoe-style and a clamshell-style opening, but neither extremes. However, the District 24's gussets are attached via loop and hook fasteners, meaning they can be disengaged, as well as folded down. With the gussets out of the way, this allows you to pack the District 24 easily like a regular clamshell backpack.
It's worth noting that, despite the District 24's curved teardrop shape, it's able to stand on its own with the gussets engaged. This is an area where the District 24's versatility really stands out. You can fully open it like a clamshell and lay it out on your bed when you're packing it in your hotel room. On the go, you can open it accordion-style, and it will stay standing up beside you whether you're in a cafe or airport lounge.
Because of the foldable gussets, the main compartment's layout is quite compartmentalized. At the back, you get your standard laptop sleeve with a false bottom and a fairly rigid frame sheet. These two form a good combination since a false bottom won't do you any good if there's no solid frame sheet to absorb an impact.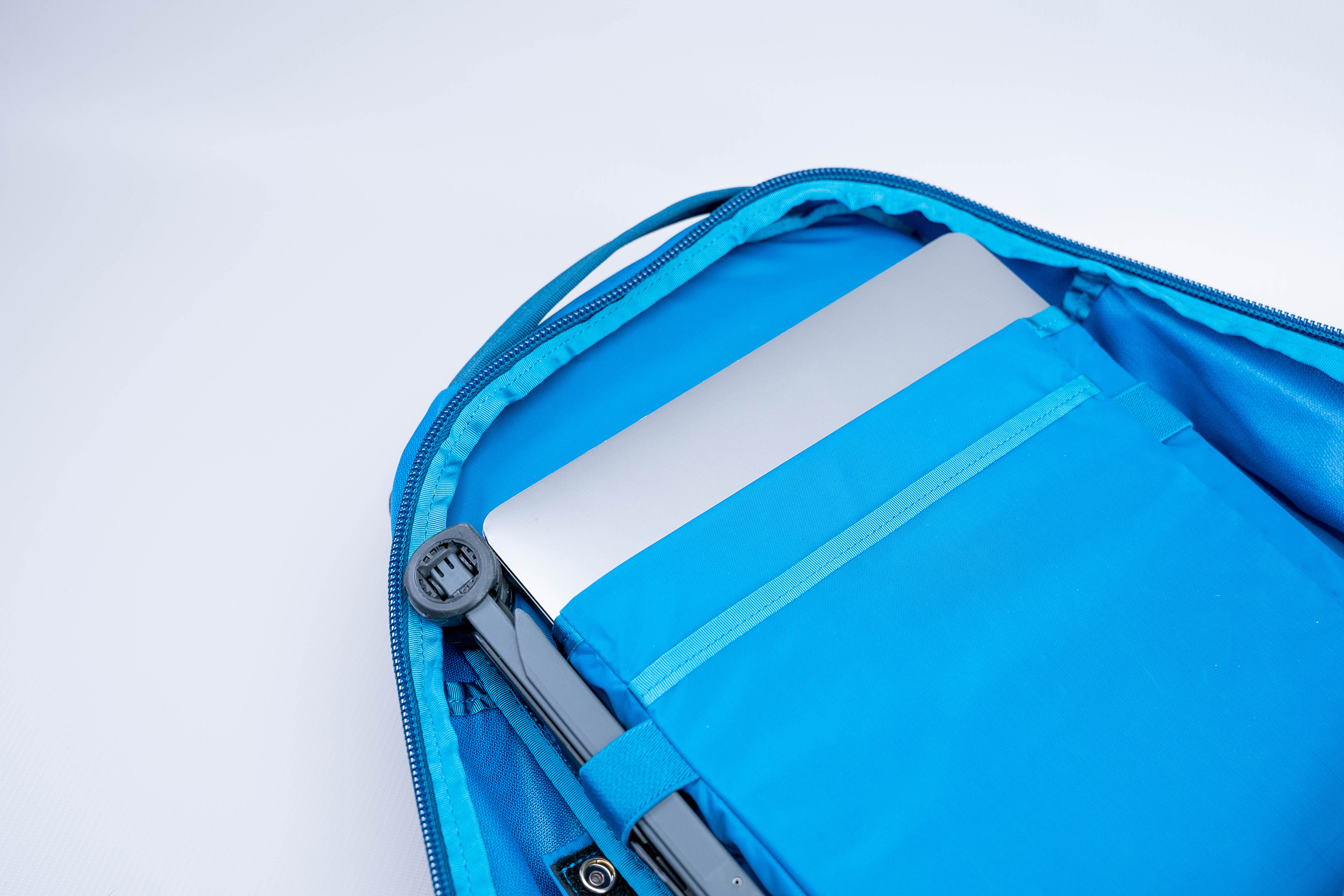 In front of the laptop sleeve is a divider pocket for an additional device like a tablet or a travel-sized keyboard. Flanking this divider pocket are elastic loops where you can attach accessory straps. Alternatively, you can do what we did and use it to hold something slender like our Roost V3 Laptop Stand.
With the gussets engaged, you get some free floating space in the middle where you can put the bulk of your gear, like packing cubes and thick clothing. The other side towards the front also features ample space for a hoodie and a pouch, though it's meant for flatter items. You also get some organization here in the form of two liner pockets, each wide and deep enough for our Kindle, let alone our iPhone 13 Pro Max.

The District 24 is a good example of Mystery Ranch's clever engineering of a bag's accessibility and use of space. The bag has a ton of organization and is very compartmentalized, but it doesn't feel too cramped, either; it's just right for the rated 23-liter capacity. It's unfortunate that it's missing the brand's signature carrying comfort, though, since that would've made it the ideal Mystery Ranch backpack.
Usage Timeline
Initial Usage
Condition: Excellent
Laptop sleeve has a good chunk of false bottom
Relatively well-structured, but that could change over time as the bag breaks in
The shoulder straps are notably thick
2 Weeks of Use
Condition: Excellent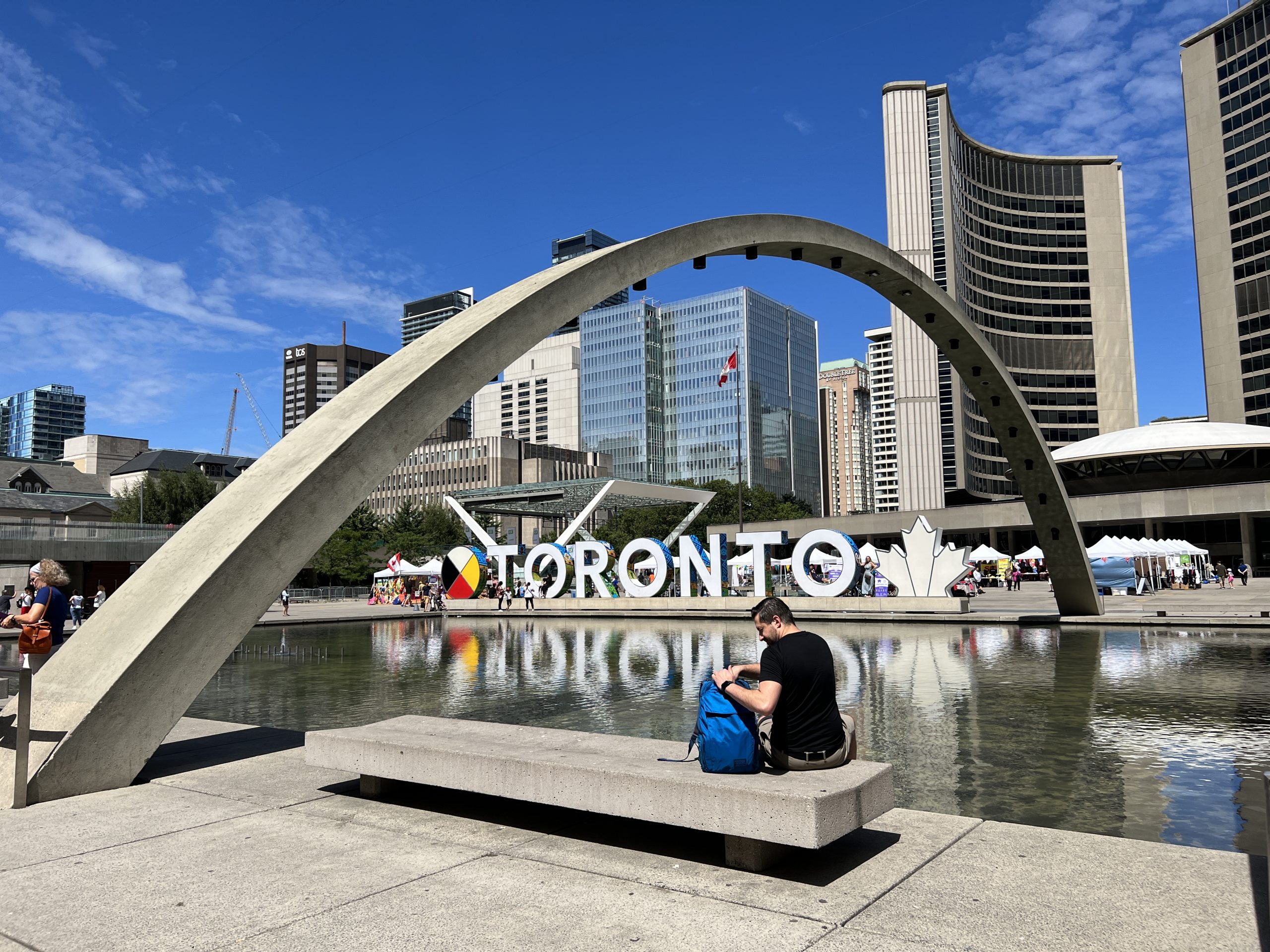 Enjoying that the divider pocket can be used to keep the bag accordion style or disengaged to go full clamshell
Teardrop shape makes the bag carry, feel, and look bottom-heavy
Zipper pulls are nice and grabbable due to ample fabric on each zipper
The pockets in front of the bag are pretty deep, which is good or bad depending on the items you are carrying—for us, they're a bit too large for what we typically carry
Access the Pro Community Discussion
Get your questions about the Mystery Ranch District 24 answered from our team and the Pro Community right here on the page. Plus, join discussions with other members about gear, guides, and more.
Other Bags & Luggage Reviews