LARQ Bottle Filtered Review
The LARQ Bottle Filtered is a sleek-looking way to stay hydrated, though its weight and capacity leave it lacking for travel.
Our Verdict
Unlock the Pro Summary
Save time. Get access to brief summaries of our reviews so you can browse and make decisions more efficiently.
Pros
Sleek design
Easy to open one-handed
Included carabiner helps with carrying on smaller bags
Cons
Carabiner opens upside-down and is difficult to use
Heavy for a bottle of this size
Filter eats into capacity
Recent Pack Hacker Video
Technical Details
Capacity

17oz

Weight (oz)

15.5 oz (439.4 g)

(17 oz model) | 19.4 oz (25 oz model)

Dimensions

10 in x 2.7 in (25.4 x 6.9 cm)

(17 oz model) | 11 in x 3 in (25 oz model)

Notable Materials

Stainless Steel, Silicone

Manufacturing Country

China

Warranty Information
Full Review
If water running from the tap tastes like you're drinking from a pool or cast-iron cookware, the LARQ Bottle Filtered may be the water bottle for you. According to LARQ (and we're not scientists, so we're trusting them on this), the Nano Zero filter technology removes lead, heavy metals, chlorine, and particulates for improved tasting water.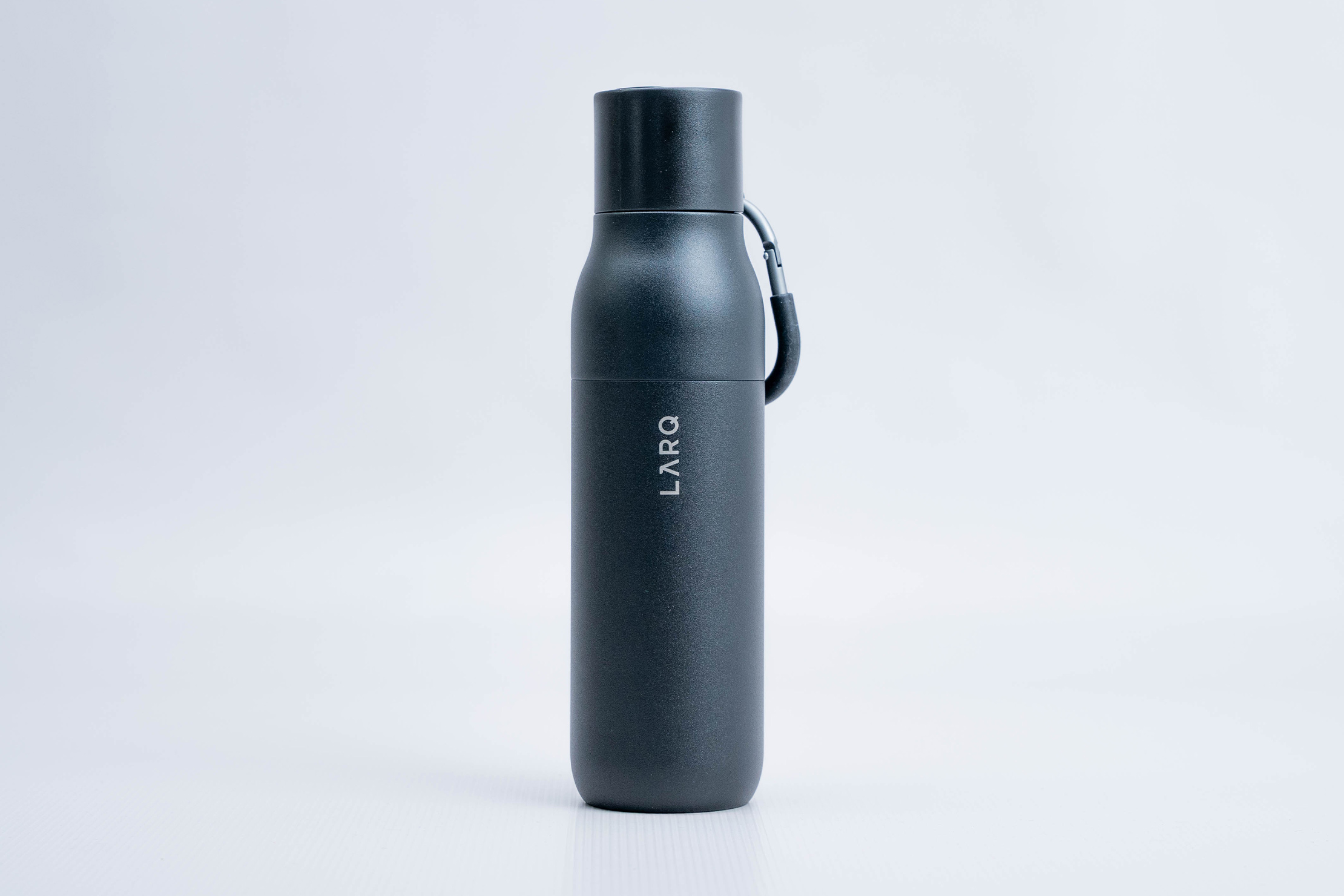 Does it live up to the hype? Let's find out.
The Rundown
The primary feature of the LARQ Bottle Filtered is right there in the name. Forget needing a Brita or running to your fridge for filtered water; this is a bottle we fill from the tap to enjoy hydration without the heavy metals.
When unboxing the bottle, we find a LARQ bottle that looks similar to other LARQ bottles, except for the cap. This one has an included straw, making it easy to drink one-handed. We especially like that when we need a sip while driving a rental car on a road trip, as we can stay hydrated while continuing to look straight ahead.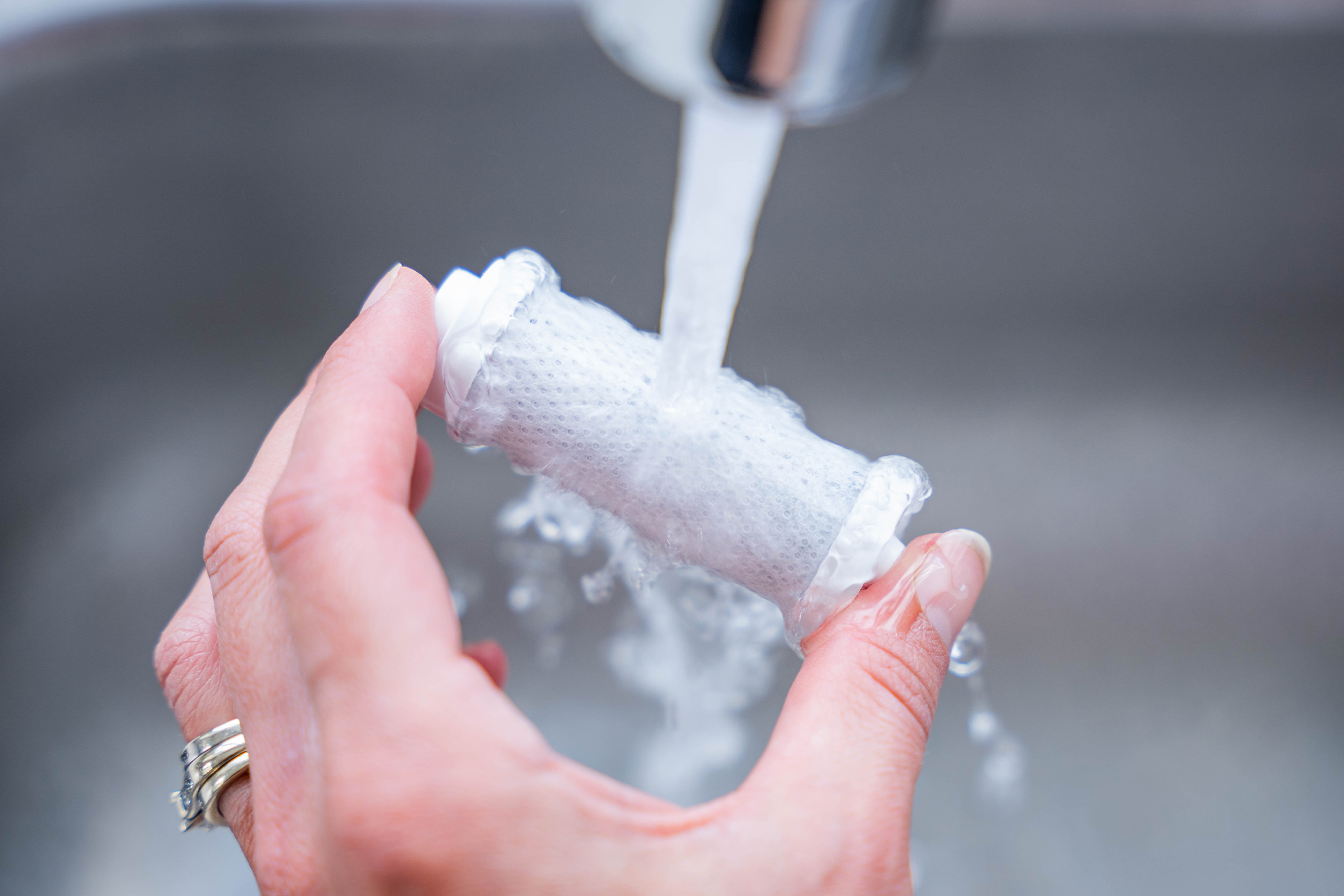 Inside the bottle, the straw attaches to a filter LARQ says will last through 40 gallons of water, or about two months, depending on your use. It is simple to set up: take the wrapper off the filter, run it under some cold water for about 10-15 seconds to properly wet it, and then push it into the end of the straw. Push the straw into the lid, and it's ready to filter all kinds of particulates out of your water, including microplastics, mercury, and PFAS. You can sign up for a filter replacement plan and have a new one sent every two months, or just order refills as you like.
Filling the bottle is not as straightforward because it can be hard to know how much water to put inside. We overflowed the bottle the first few times because it's not easy to guess how much volume you're losing when you stick the straw and the filter back in the bottle. We imagined the line outside could be a guide to how high to fill it, though it turns out we were wrong and were leaving unfilled capacity behind. There's no internal fill line either, so we find it easier to fill the bottle with the filter and the straw inside so we can see how high the water rises. The straw filter makes this more difficult since we have to maneuver the cap and the straw out of the way to fill the bottle. You get the hang of it rather quickly, though, because of the sheer amount of trips to the tap! The 17-ounce LARQ Bottle Filtered's capacity is not actually 17 ounces—it's 14.5 ounces due to the included filter. When we consider that a standard single-use bottle is 16.9 ounces, we find ourselves running to refill it more often than we like throughout the day.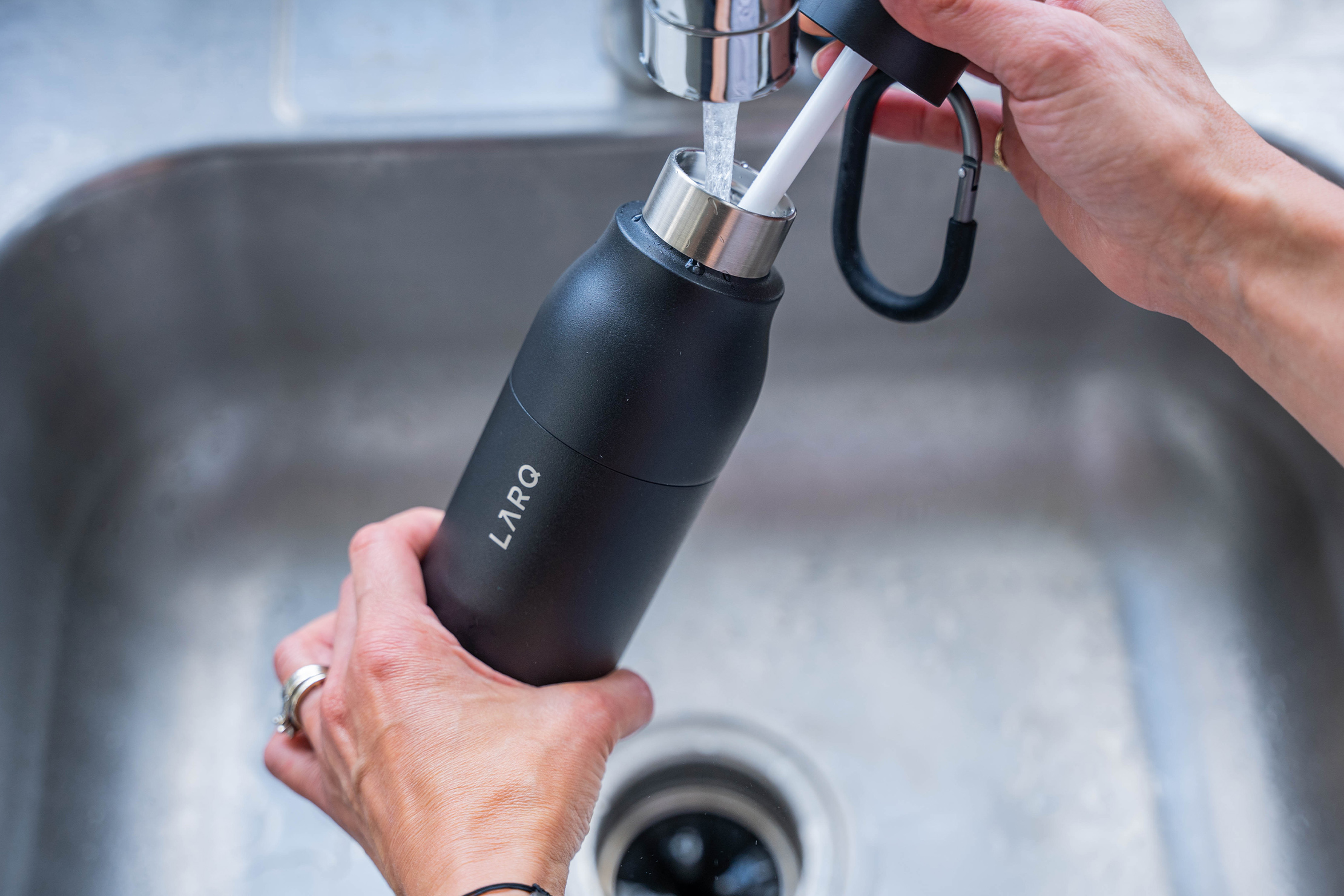 All of that said, we don't notice a huge taste difference in the water coming out of the bottle, though your milage and sensitivity may vary. We're not testing the filtered water to know what's left behind, and how would we? The water only travels through the filter through the power of suction through the straw; it's not like we spit it out for testing afterward. This reveals this bottle's kryptonite—it's hard to know how much impact it will have on the taste of your tap water until you drink it, but thus far, we've been satisfied.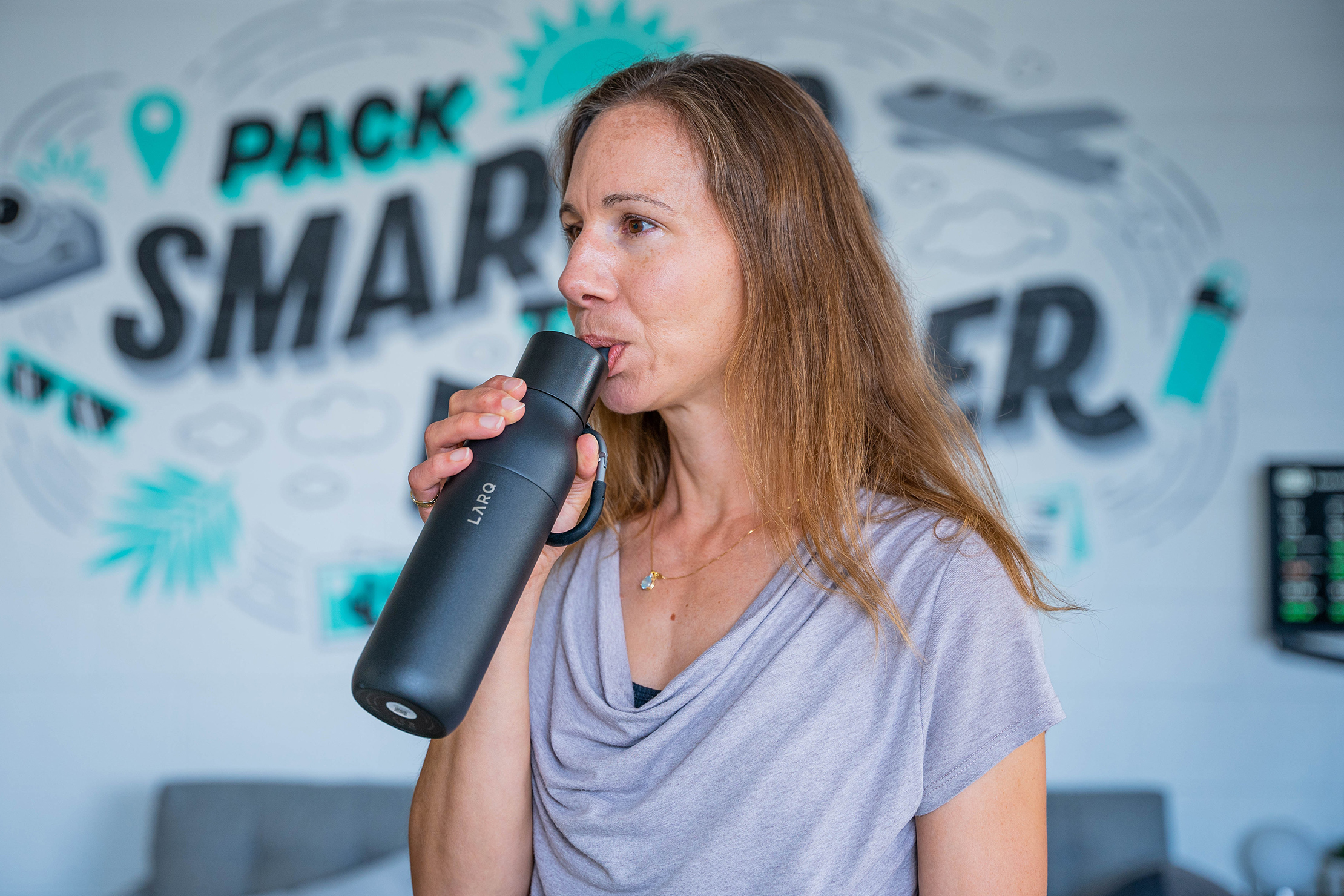 One more perk of the LARQ Bottle is its stainless steel double-walled insulation. LARQ says it will keep water cold for up to 24 hours. In our daily use testing, we've never had the water last that long, of course—we drink 14.5 ounces in a few hours! We put ice water in the bottle at 7:30 in the morning, and it stays cold until at least midday. The ice itself lasts in the bottle throughout the day if we don't add additional water, though it melts about halfway through a day when you're adding to it (of course it does! It has to cool the new water). So while we think it's a nice bottle for keeping your water cold (it's not intended for use with any drink other than cool, still water), realize that you'll have to find a tap for regular refills when you're traveling—and it'll be a little sooner than with many water bottles.
Packability
A bottle is as packable as the bag you're using, for the most part, and the LARQ Bottle Filtered is not much different. When we have a bottle pocket or cup holder available, we find that's the easiest way to tote it.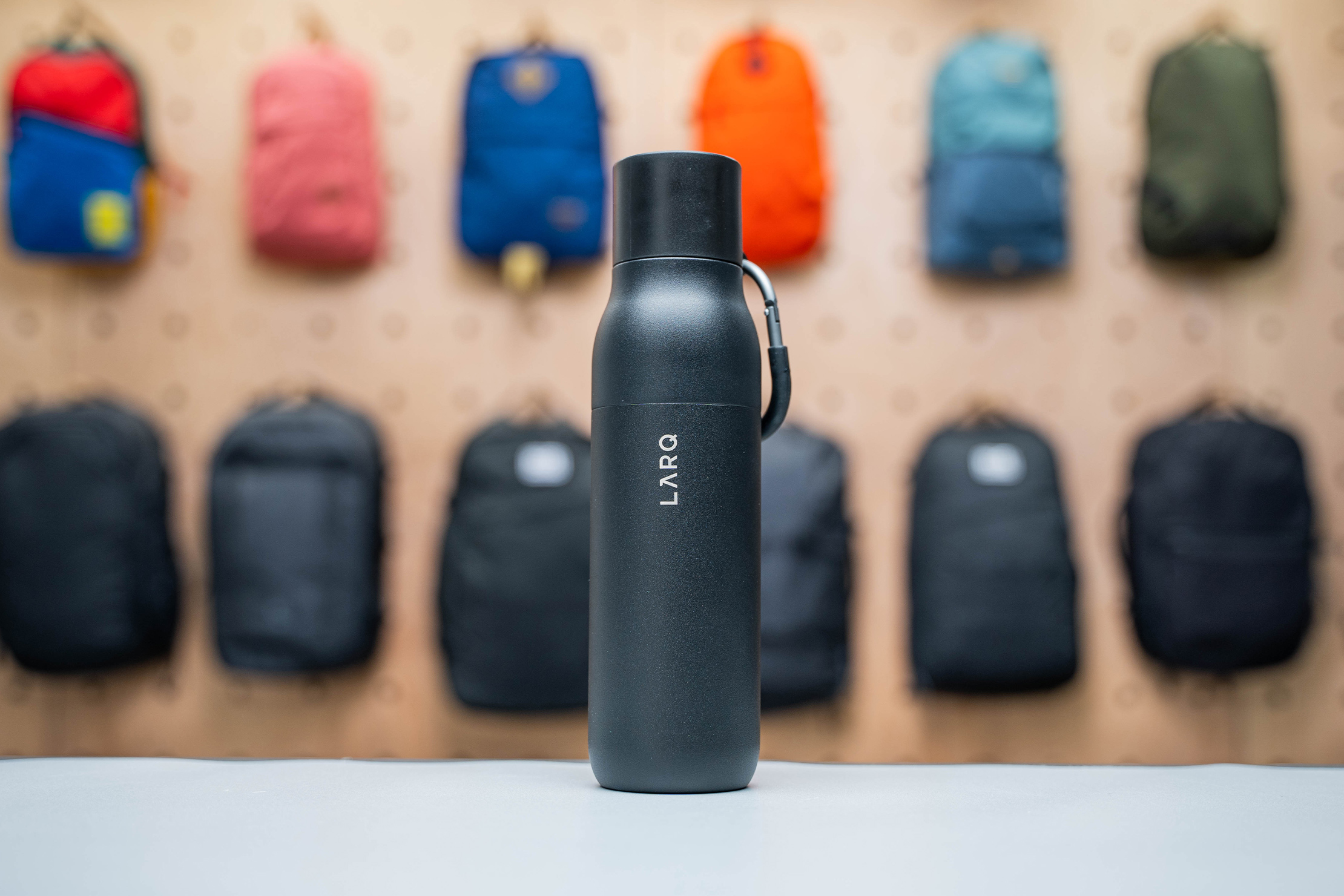 However, when those options aren't available, we use the included carabiner to clip it to the outside of our travel daypack or sling. It works well. However, the 15.5-ounce weight of the bottle—especially with water inside—means it's not always the most comfortable to carry this way. It sways from side to side as we walk, and we feel the momentum it's building, especially when it's attached to a sling or carrying a bag over one shoulder.
While this isn't an issue if we're just dashing to a car or even walking to our gate at the airport, we opt for something lighter when we're walking for longer. Of course, this isn't necessarily unique to the LARQ; full water bottles are not usually super comfortable to carry via carabiner for this reason. The LARQ's extra few ounces just exacerbate the problem.
Quick Comparison
The LARQ Bottle Filtered is a good-looking water bottle. Whether you opt for Obsidian Black or Granite White, we think you'll be happy with the choice. A ridge line separates the top from the bottom, a design we've seen on other LARQ bottles.
We like the look of the included carabiner clip, which has a silicone covering that looks nice when clipped to the outside of our bag. We like that pretty much every external feature of this bottle is black, except for the silver LARQ branding stamped vertically below a ridge-line on the bottle and the portion of the carabiner that opens and is free of silicone. While it's relatively easy to drink from the water bottle, once you get the hang of using enough pressure to bring the water up through the filter, it's harder to use the carabiner. It clips seemingly upside-down, which makes it challenging to put on a bag if you don't flip it up first, and difficult to take off attachment loops on a backpack. It's not impossible, though it is awkward, and we think the silicone coating is what makes it so difficult to open the carabiner.
Pitting the LARQ Bottle Filtered against similar water bottles, we don't see a ton of difference in appearance. The LARQ Bottle Filtered and the LARQ Bottle PureVis get equal points for aesthetics, though we don't think the looks of a Hydro Flask Bottle 21 oz with a standard mouth are too shabby either.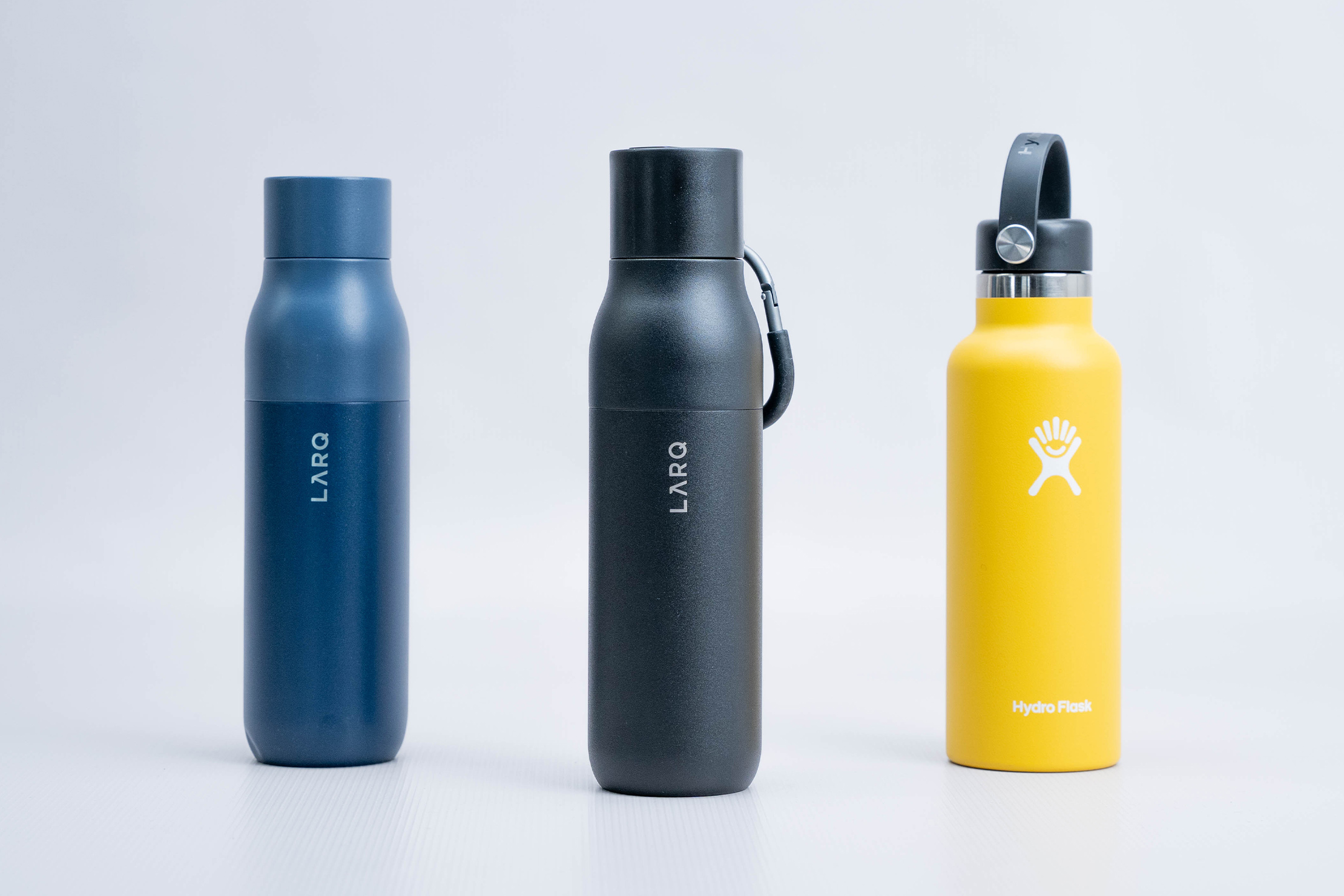 The differences become apparent with usage, beginning with picking the empty bottles up off the counter. While an empty Hydro Flask weighs in at 11.3 ounces, the LARQ Bottle PureVis is 13.5 ounces, and the LARQ Bottle Filtered is a whopping 15.5 ounces. Considering its internal capacity is less than it weighs, it's a pretty hefty bottle to be lugging through your travels.
The Hydro Flask provides you with 21 ounces of water, just like it says. You'll get 4 ounces less water with the LARQ Bottle PureVis, which has a 17-ounce capacity. However, even though we're testing the 17-ounce version of the LARQ Bottle Filtered (both it and the PureVis also come in 25-ounce versions), the actual amount of water you can fit in here is just 14.5 ounces—less than a disposable water bottle. While we're not advocating turning away from reusable bottles, we have to point out how annoying it is to refill this one seemingly constantly.
However, if you can taste a difference between water from the tap and filtered water, the LARQ Bottle Filtered is the only one of the three that will do that right in the vessel, so in that case, the added weight and reduced capacity may be worth it to you. Hey, you need to get your steps in, right? You will with trips to the sink with the LARQ Bottle Filtered, and if filtration is what you're looking for, it gets the job done.
Usage Timeline
Initial Usage
Condition: Excellent
Matte black is very sleek-looking
Nice to have a built-in carabiner
Filter reduces capacity
2 Weeks of Use
Condition: Excellent
Difficult to fill with ice as filter gets in the way
Water tastes clean
We feel like we're constantly refilling it
Access the Pro Community Discussion
Get your questions about the LARQ Bottle Filtered answered from our team and the Pro Community right here on the page. Plus, join discussions with other members about gear, guides, and more.
Other Miscellaneous Reviews