LARQ Bottle PureVis Review
We love the aesthetic of the LARQ bottle and the fact that it's self-cleaning. But its weight and small capacity mean it's not ideal for travel.
Our Verdict
Unlock the Pro Summary
Save time. Get access to brief summaries of our reviews so you can browse and make decisions more efficiently.
Pros
Modern, sleek aesthetic
Keeps cold liquids cold and hot liquids hot
UV light reportedly kills 99.9999% of harmful, odor-causing bacteria
Cons
Doesn't hold a large volume of liquid
Heavy
UV light doesn't hit the lip of the bottle, meaning it could still contain bacteria and viruses
Recent Pack Hacker Video
Technical Details
Capacity

17oz

Weight (oz)

13.5 oz (382.7 g)

Dimensions

9.6 in x 2.7 in x 2.7 in (24.4 x 6.9 x 6.9 cm)

Notable Materials

Stainless Steel

Manufacturing Country

China

Warranty Information
Full Review
As gear testers, we've struggled to come to terms with the fact that we can't properly test the LARQ bottle. Sure, we can check if it holds water (spoiler alert, it does) and we can take notes on how long it takes for ice to melt inside its insulated stainless steel walls.
But the LARQ bottle is advertised as a self-cleaning water bottle that kills harmful bacteria (both in the water and on the bottle) with a UV light—and we have a distinct lack of white coats and Petri dishes here at Pack Hacker headquarters.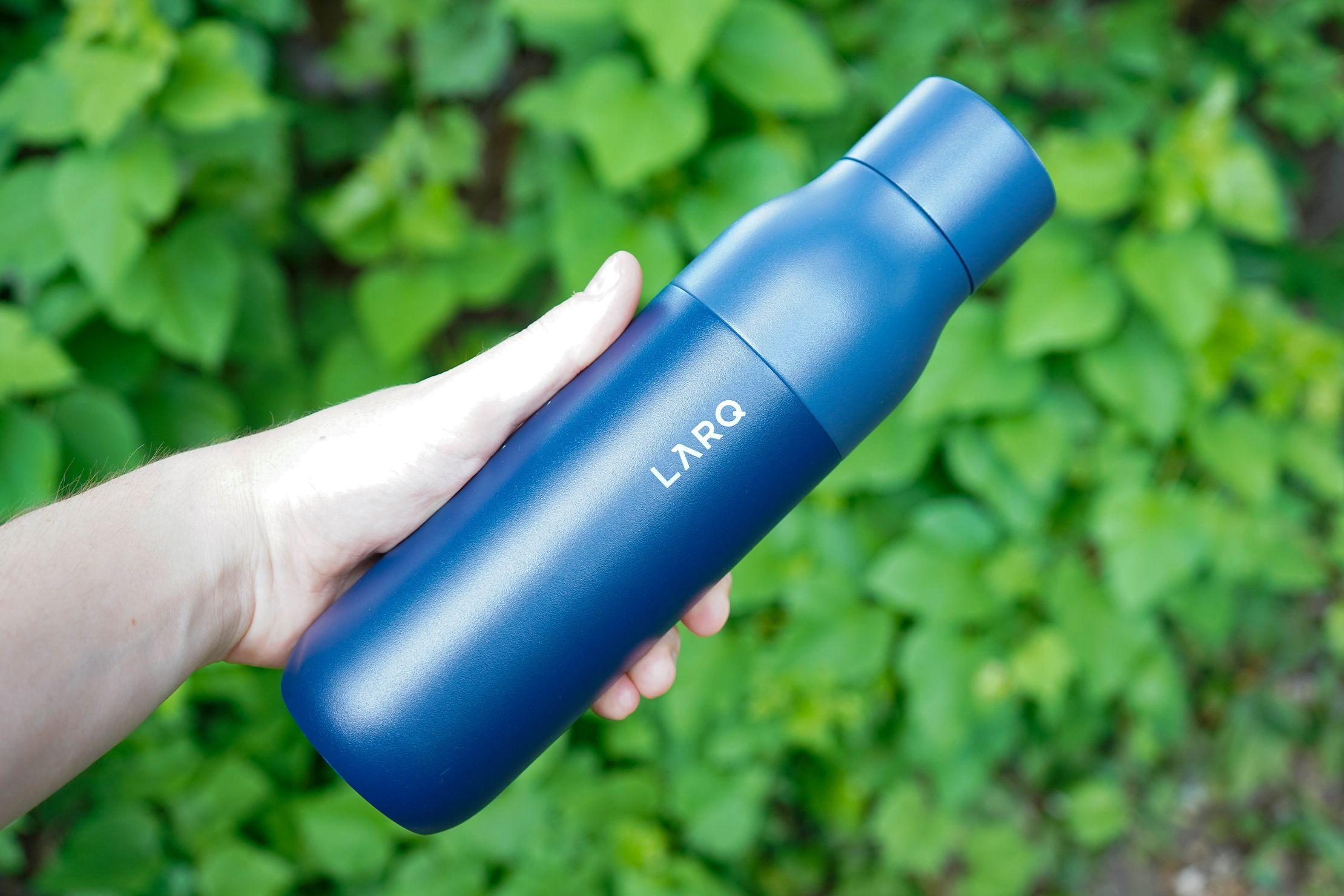 So we can't actually test if this bottle does what it says it does.
We haven't washed this bottle since we got our hands on it a month ago—for testing purposes, not out of laziness, to be clear—and we haven't noticed any build-up, grime, odor, or general sliminess. That said, we've also only ever used it for water.
We have no real reason to doubt LARQ's claim that the bottle "neutralizes up to 99.9999% of harmful, odor-causing bacteria," but we can't confirm it either. You could also say this bottle keeps 99.9999% of lions away. We haven't encountered a single lion this month, so we have no real reason to doubt this claim either.
Okay, with that rant out of the way, let's back up and start at the beginning.
Materials & Aesthetic
Other than the whole killing bacteria thing, LARQ boasts one other feature in its tagline: "[the LARQ bottle] is really-really-good-looking." We're always fans of movie references, and we have to agree: this bottle is really, really, ridiculously good looking.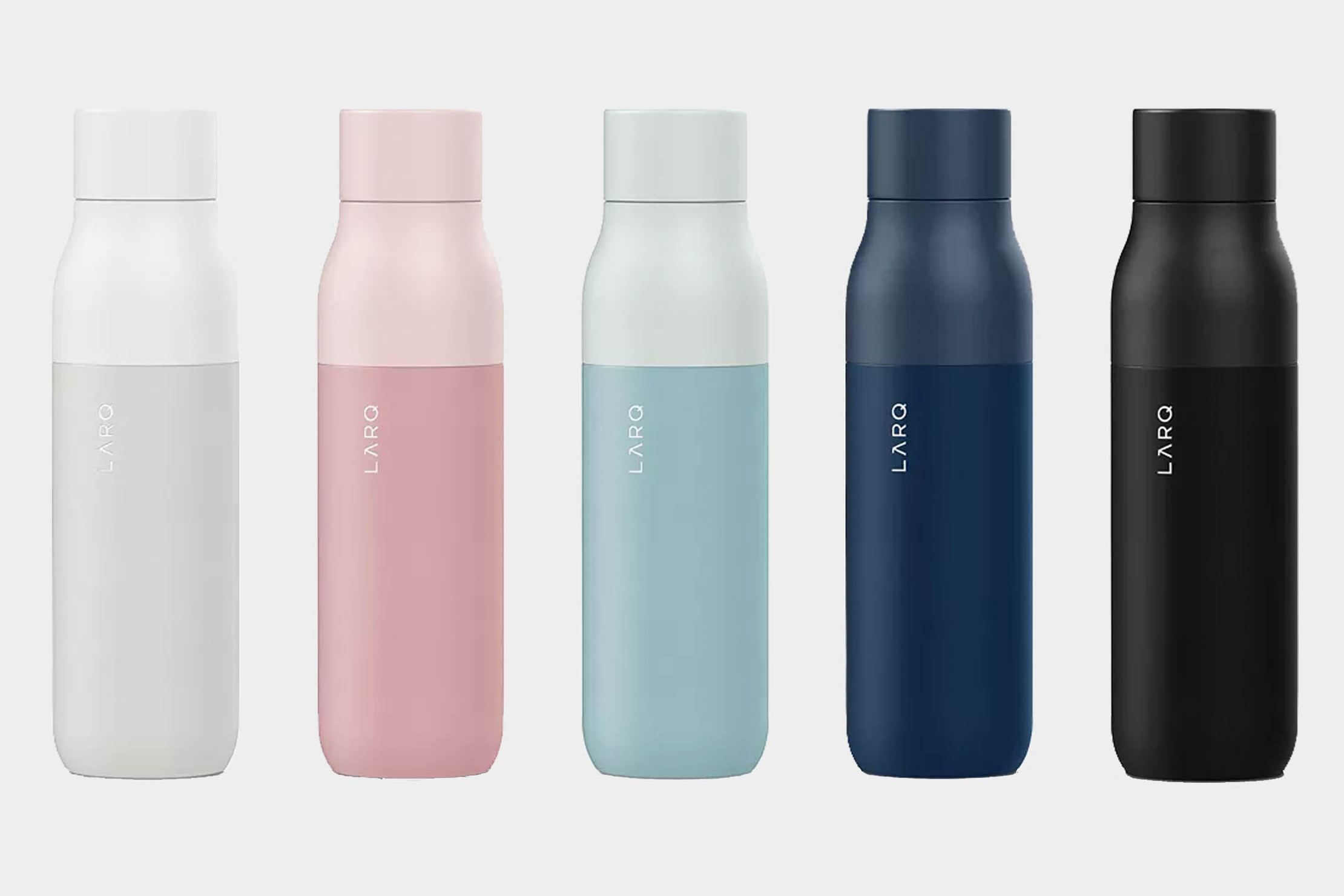 It has a sleek, stainless steel body, and at the time of this review, it's available in five colorways: Himalayan Pink, Seaside Mint, Granite White, Obsidian Black, and Monaco Blue. To up the sophistication factor, these colorways are all two-toned with a lighter shade on top and a darker one on the bottom. We're digging it!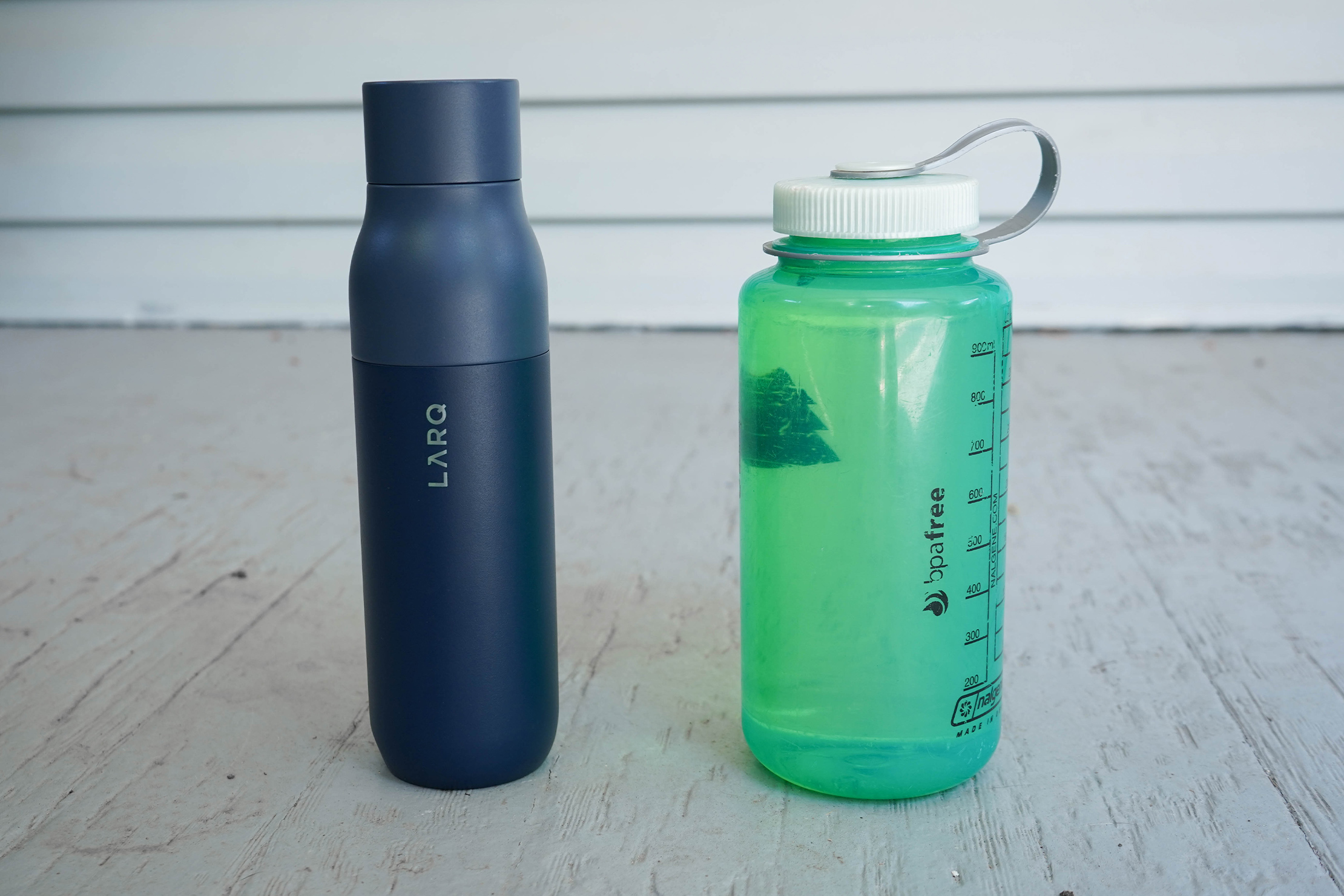 With a volume of 17 ounces, this bottle is on the smaller end of the water bottle spectrum. That's fine if you're in a situation where accessing water isn't difficult, but isn't the point of a bacteria-killing water bottle to help you out in situations where accessing water is difficult? Not sure about you, but we certainly drink far more than 17oz of water on backpacking trips.
Moreover, this water bottle is heavy. Some people like that since it feels durable, but it's not ideal for travel, where every ounce counts.
How it Works
We've already admitted that we're not scientists here at Pack Hacker. So we're going to share how this bottle works in theory with the understanding that we can't confirm or deny these claims.
Legally speaking, we're not recommending using this as your sole method of water purification on a backpacking trip through the Amazon rainforest. It may or may not be enough to get the job done—but either way, we'd prefer you do your own research to determine if this type of purification will suit your needs.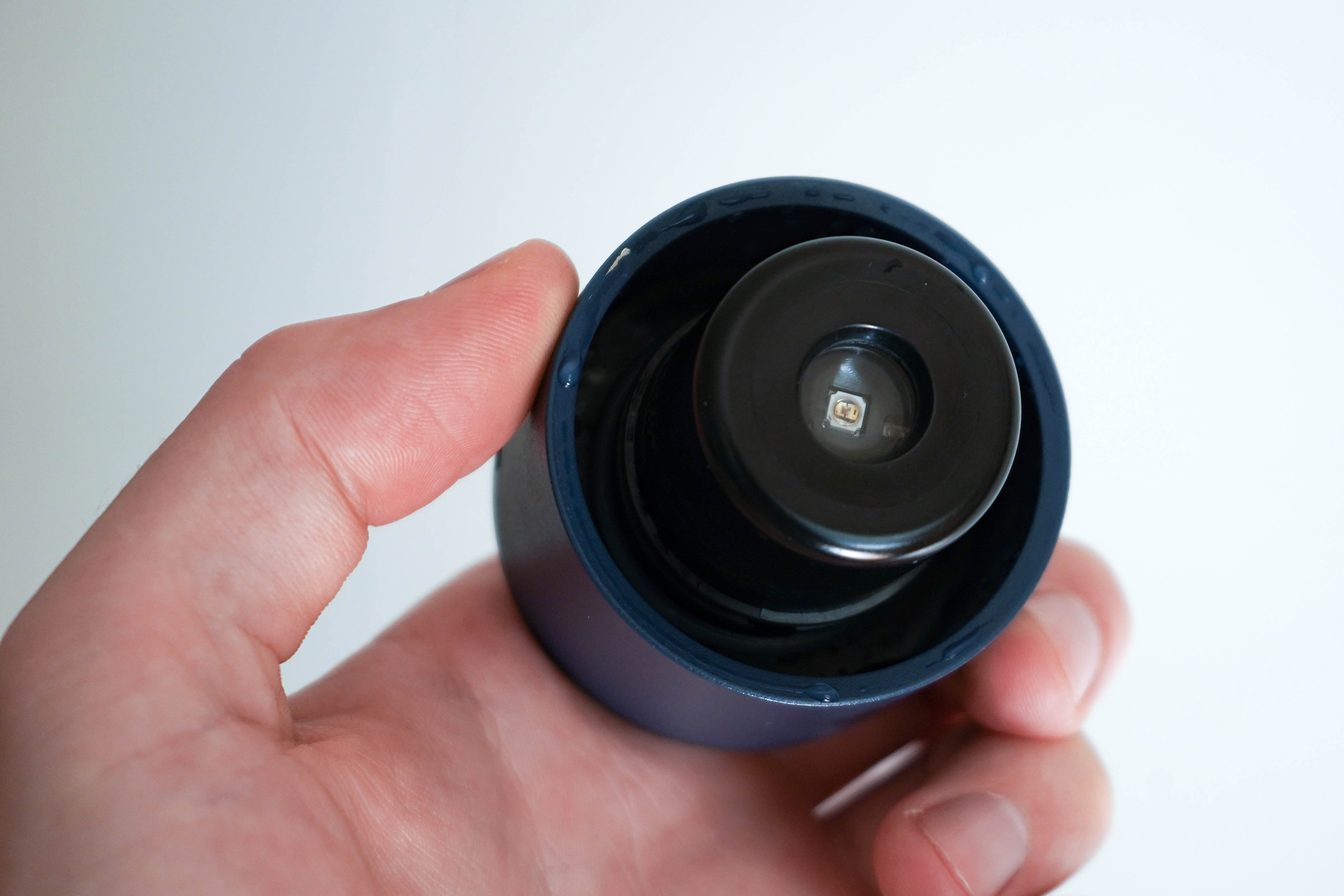 Now with that being said, in theory, the LARQ bottle uses proprietary UV-C LED technology to kill 99.9999% of harmful, odor-causing bacteria and viruses (in adventure mode). LARQ says this technology is the "most advanced in the world." You can check out LARQ's website to get into the nitty-gritty about how said UV lights trigger a chemical reaction in the DNA of germs and whatnot (and see a pretty gross video about mold), but we're not going to get that scientific here.
(Note—LARQ did work with a third-party lab to measure the efficacy of the UV light against E.coli. You can check out the results on LARQ's website).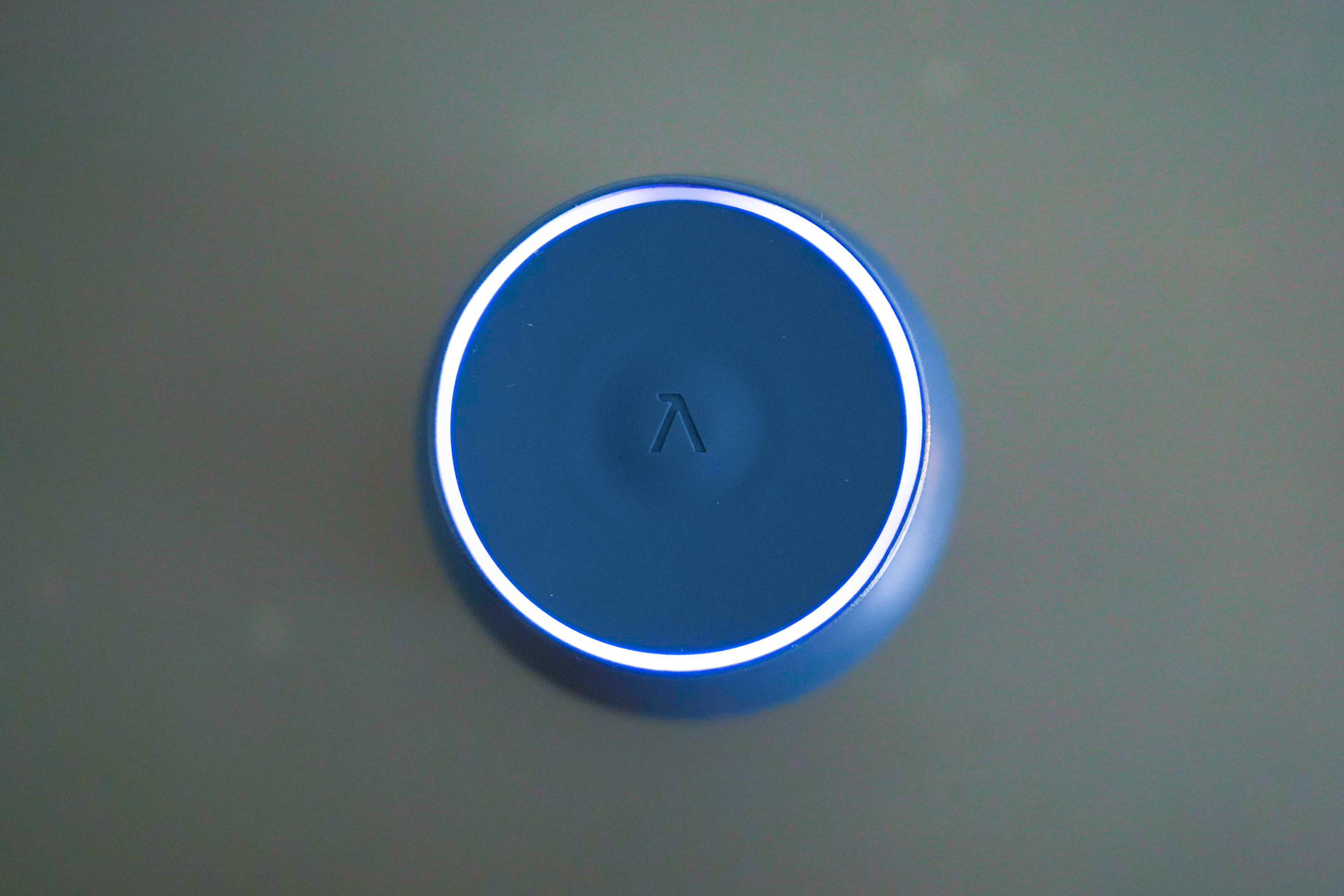 What you have to do as the consumer is pretty simple. There's a button on the top of the cap—push it whenever you want the bottle to commence its cleaning cycle (you'll know it's working because a light reminiscent of an Alexa will light up on the rim of the cap). The cycle takes 60 seconds or 120 seconds in "adventure mode." Adventure mode, presumably for adventuring, has a 3x increase in the UV light dosage.
If you have the lid off of the bottle and accidentally (or purposefully) press the button, the rim light will turn yellow and the UV light won't turn on. You don't want to take UV light to the eye—or any other part of your body, for that matter—so we appreciate this safety feature.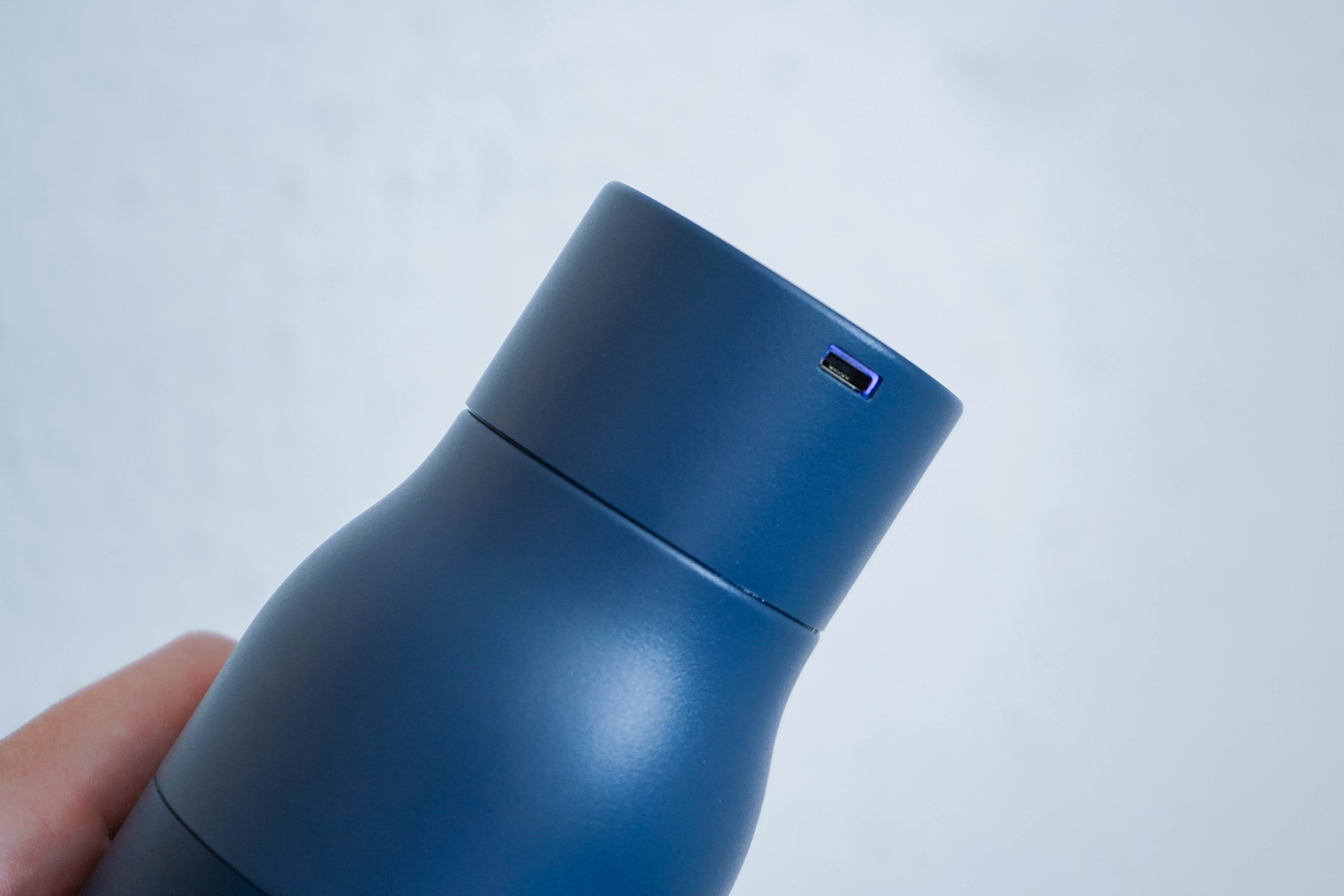 It works with a battery, so you will have to charge your LARQ bottle with a Micro USB cable. That's not ideal for travel—we have too many things to charge already—but it's also not a huge deal since the charge lasts for about a month (it does take four to five hours to charge, though). This is the first rechargeable water bottle we've tested at Pack Hacker, so we're not sure how a month compares to others on the market, but it seems pretty good. Additionally, even with the Micro USB port, the water bottle is still water-resistant.
If you're a forgetful person, the bottle also auto-cleans every two hours. So you'll be protected no matter what (unless you forget to charge the battery).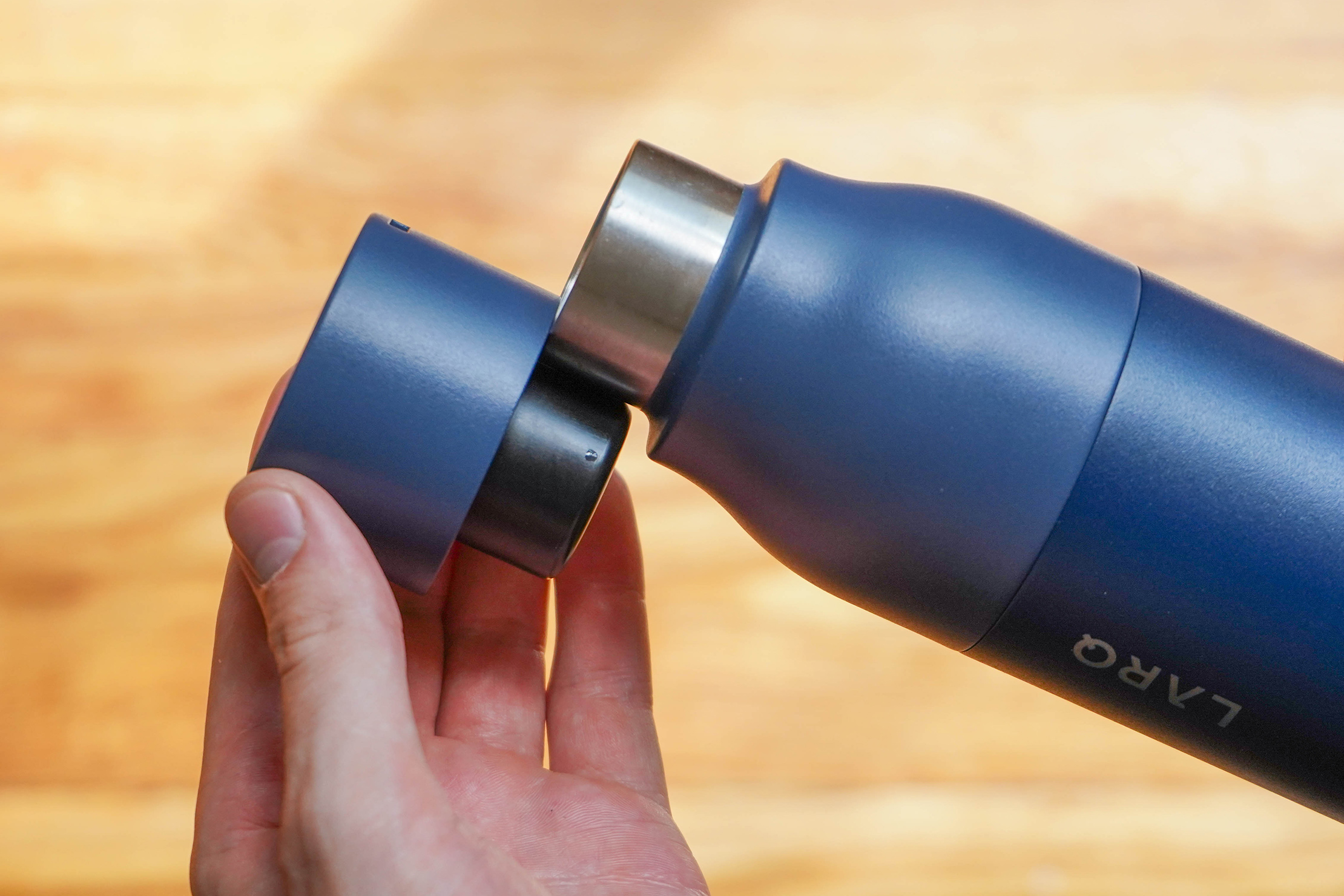 Because the UV light is on the bottom of the bottle's lid, one concern we've had is that the lip of the bottle won't be hit with the same UV-C LED lights and could still be crawling with all that bacteria. (We've heard others argue this same point.) This isn't a huge deal for mundane situations, but if you're collecting water from a stream—as LARQ depicts in marketing photos—the bacteria on the lip could still get you sick.
On that same drinking-water-from-a-stream note—this bottle doesn't filter anything. So you may swallow a decent amount of dirt. If you like a little texture in your water, then this probably won't bug you. (Get it—bug? Cause there's probably bug parts in the water, too.)
Now, let's talk about those more mundane features.
As far as a water bottle goes, the LARQ bottle does indeed hold water. It's also vacuum-sealed and double insulated, so it does a nice job keeping cold drinks cold and hot drinks hot. We've found that ice will stick around for about 24 hours—maybe a little less—while hot water cools off approximately 12 hours in. Those are both perfectly respectable times, as far as we're concerned. And better yet, the bottle never sweats.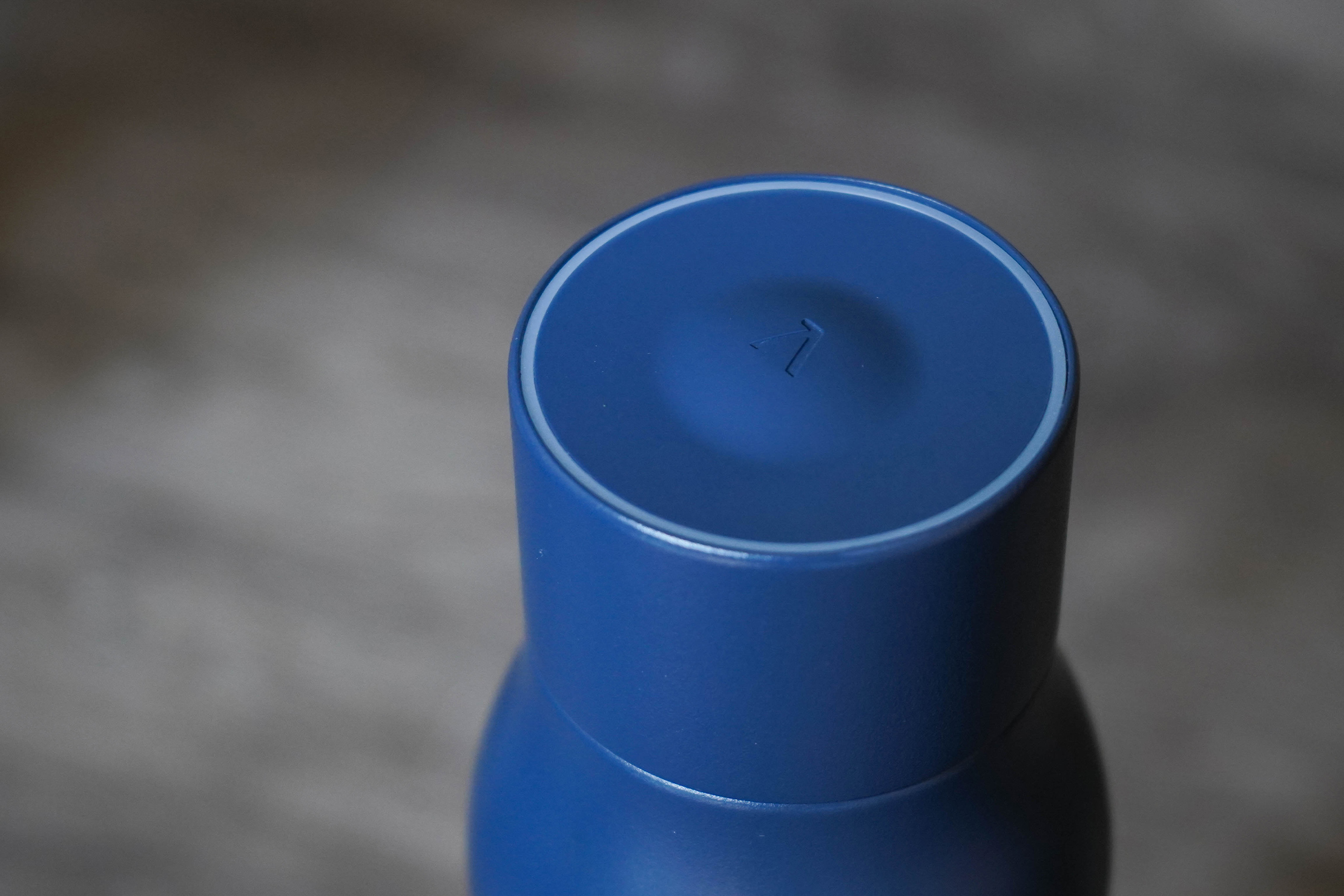 However, we did notice that the lid kind of bubbles out when the bottle is full of hot water. We're not sure what's going on here, but it's somewhat concerning—although it does go back to normal after it cools down. Nothing terrible has come out of this bubbling-effect, it's just bizarre.
Final Thoughts
Picture this—a crisis has occurred. You're backpacking through a remote area or it's the apocalypse (zombies, aliens, or climate—it doesn't matter). Long story short: you've run out of water. The only available source is a stream that's chock full of disgusting bacteria and viruses.
You'll probably be disappointed with the LARQ water bottle. Its small internal volume means you'll have to stick close to the stream—which is unfortunate since that's where the zombies hang out—and you'll have to sanitize the lip of the bottle with bacteria-killing wipes. Wipes you're likely to run out of.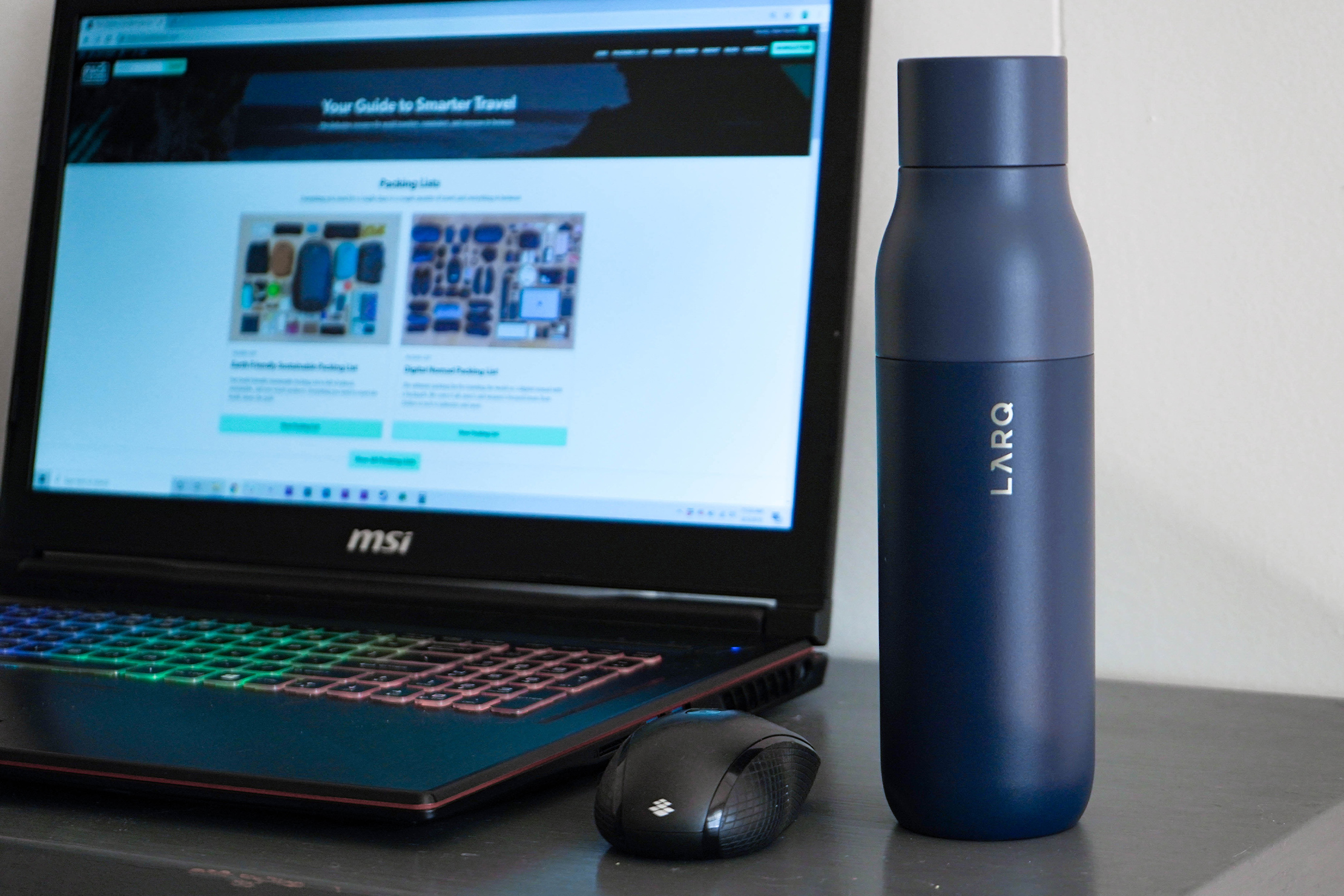 Now picture this—you're living in a place where the water quality is known to be decent, but not great. You should be okay, but you're a little wary and would like the peace-of-mind that comes with additional water sanitation. Plus, you can't stand washing water bottles and want to have one that looks modern and sophisticated. If that's the case—you'll probably love the LARQ bottle.
One last thing to note: we're ashamed to admit there has been an incident involving the LARQ bottle and a flight of stairs. The bottle has come out on the other side okay—although there's a small dent and a few minor scratches. But the UV light still works!
Usage Timeline
Initial Usage
Condition: Excellent
Great color options
Made of sturdy stainless steel
Does not filter water, only kills bacteria
Doesn't seem like the LED would clean the rim of the bottle considering it sits lower on the bottle lid.
2 Weeks of Use
Condition: Excellent
We haven't washed it yet and haven't noticed any odor or grime, which is a good sign.
1 Month of Use
Condition: Excellent
Still no grime or odor. Be we did accidentally drop the bottle down the stairs (whoops). So now it has a few marks and one small dent. But the light still works!
Access the Pro Community Discussion
Get your questions about the LARQ Bottle PureVis answered from our team and the Pro Community right here on the page. Plus, join discussions with other members about gear, guides, and more.
Other Miscellaneous Reviews