Incase ICON Lite Triple Black Backpack Review
The Incase ICON Lite Triple Black Backpack is minimal in its size and aesthetic, but also in its organization.
Our Verdict
Unlock the Pro Summary
Save time. Get access to brief summaries of our reviews so you can browse and make decisions more efficiently.
Pros
Great size for everyday use
Comfortable, densely-padded harness system
Durable, water-resistant materials
Cons
Not a ton of organization for what it is
No elastic keepers to manage excess strap
Fabric welt on front pocket can slow down access some
Recent Pack Hacker Video
Technical Details
Capacity

12l

Denier

840D

Dimensions

20 in x 12 in x 6 in (50.8 x 30.5 x 15.2 cm)

Notable Materials

Nylon, DWR Coating, Duraflex Hardware, Unbranded Zippers

Manufacturing Country

China

Laptop Compartment Size

16"

Warranty Information
Full Review
The Incase ICON Lite Triple Black Backpack's name might be lengthy, but it rolls right off the tongue. More importantly, this thing makes for a simple, solid daypack for your everyday essentials.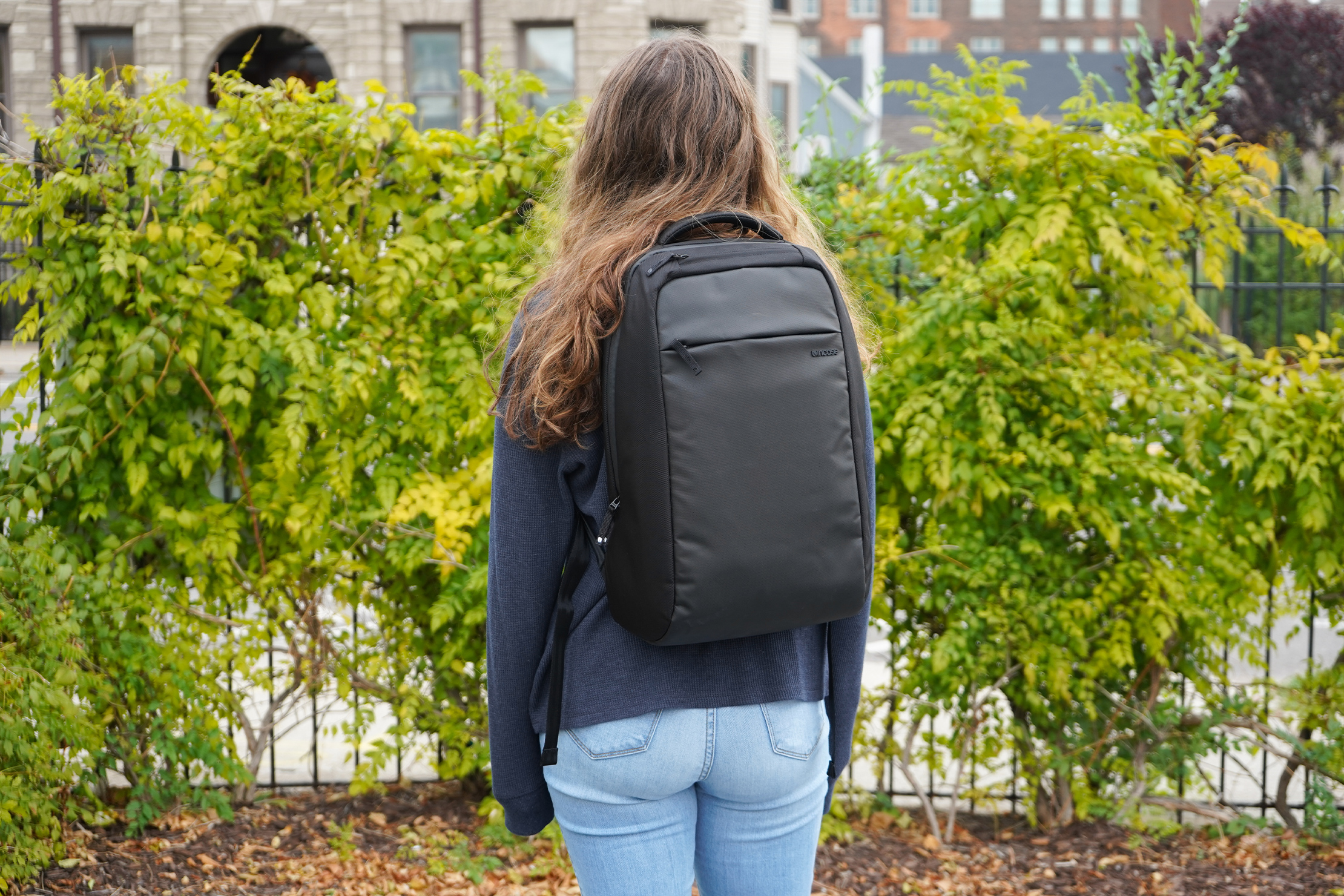 We've tested several Incase products in the past, like the ICON Backpack. Like it, the ICON Lite Triple Black Backpack features some redeemable characteristics in an EDC bag, like durable materials and a streamlined look.
How has it been holding up during testing? The answer lies in the review below!
Materials & Aesthetic
This pack is essentially a smaller, simpler version of the original ICON Backpack. It has the same subdued, technical look but without all the bulk, which may be why this bag scored 11% higher on its aesthetic according to our Instagram poll at 69% approval.
If you haven't already guessed from the name, this bag is available in the Triple Black colorway at the time of this review, but that's it. We appreciate how low-profile this colorway keeps the pack, though, so it's not drawing any unwanted attention in a crowd. If you were hoping for something more vibrant, we're sorry to break the bad news. Feel free to keep a lookout just incase more colorways become available in the future.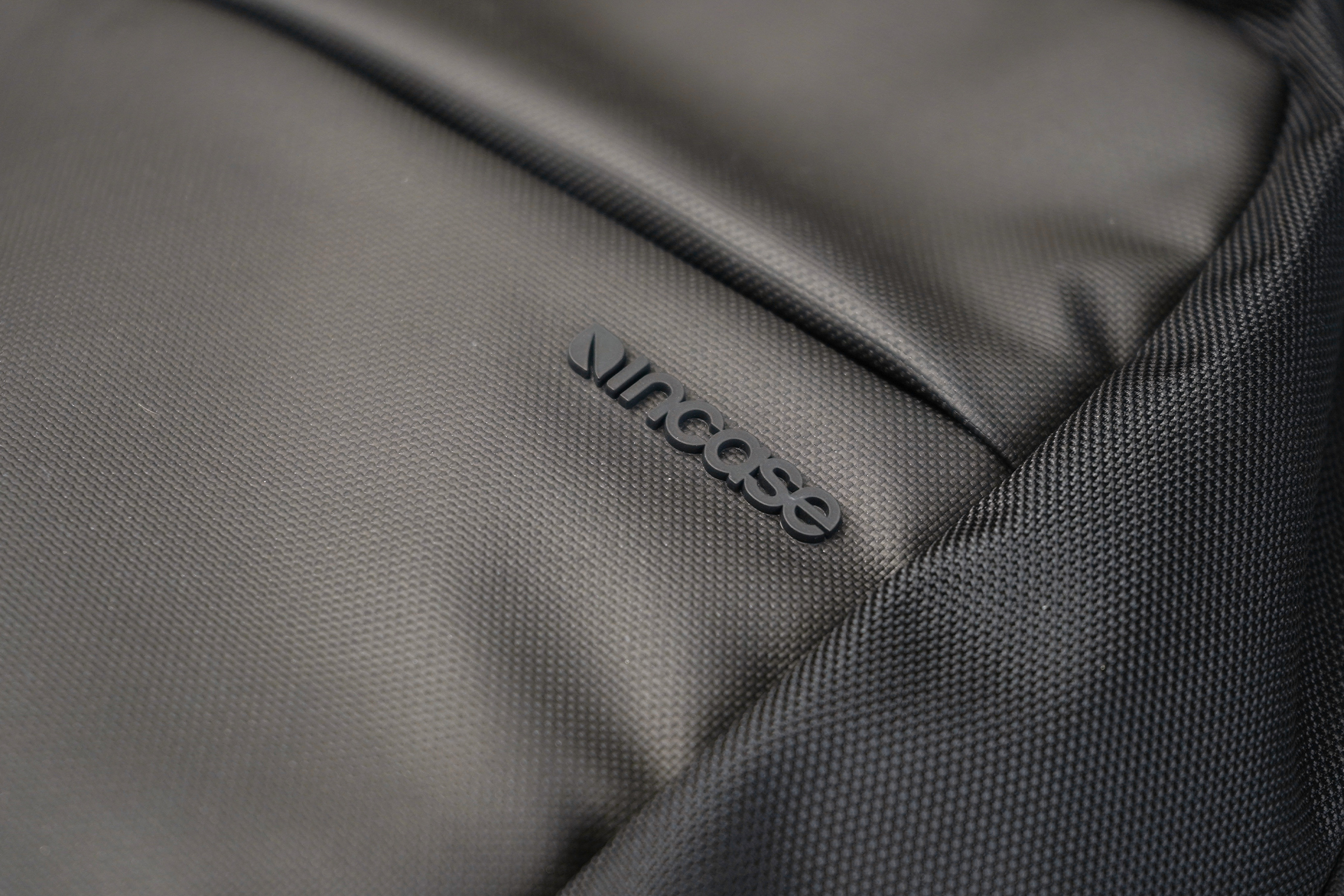 As for the branding, Incase incorporates their logo in a few places, including the zipper pulls, shoulder straps, and right on the front of the bag. They're all black-on-black (except for the one on the shoulder strap), so they're relatively subtle.
This pack's material reminds us of a lot of what we've seen on Aer's Work Collection. It's made with an 840D ballistic nylon that's stiff to the touch and features a weather-resistant coating along the front to help water slide off and away from your stuff. It's still in great shape after two weeks of testing—we haven't seen any scratches, scuffs, or tears so far.
Our only note is that this fabric picks up debris easier than others we've tested, so a quick look at the bag before you head out might save you from any disapproving looks. We had this issue with the ICON Backpack as well, which features a similar material, so this comes as no surprise.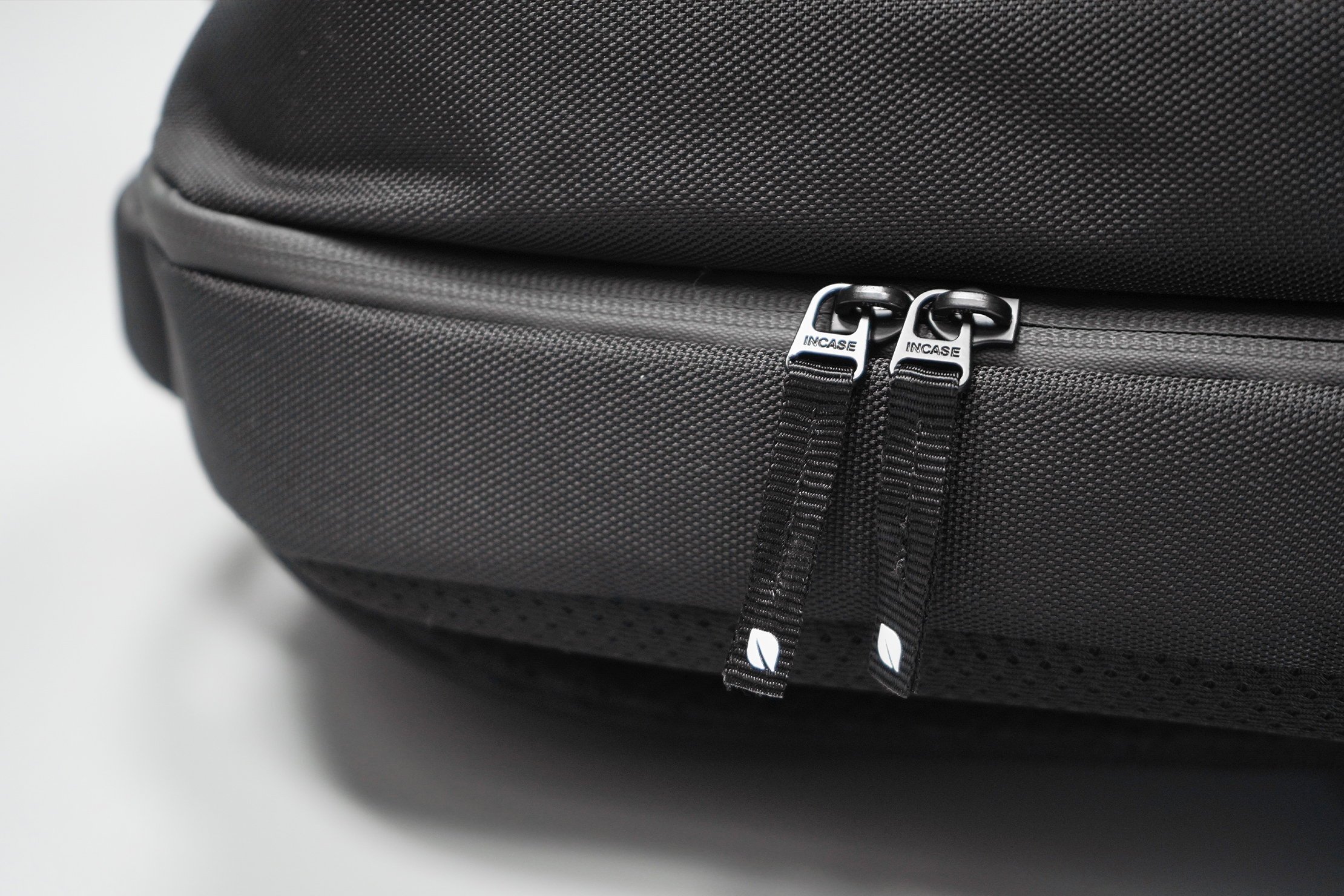 As we mentioned in the ICON Backpack review, the zippers on this bag are unbranded, which is always a concern for us. That said, most of the zippers on this pack have been gliding open and closed during testing, and we appreciate their easy-to-grab zipper pulls. We have one note with the zipper on the front pocket, but we'll explain that later in the review.
The hardware, however, is branded. It comes to us from Duraflex, and we're not mad about it, considering all of our positive experiences with it in the past. The strap adjusters and buckles on the bag have been working properly throughout testing—we don't have any gripes to share.
External Components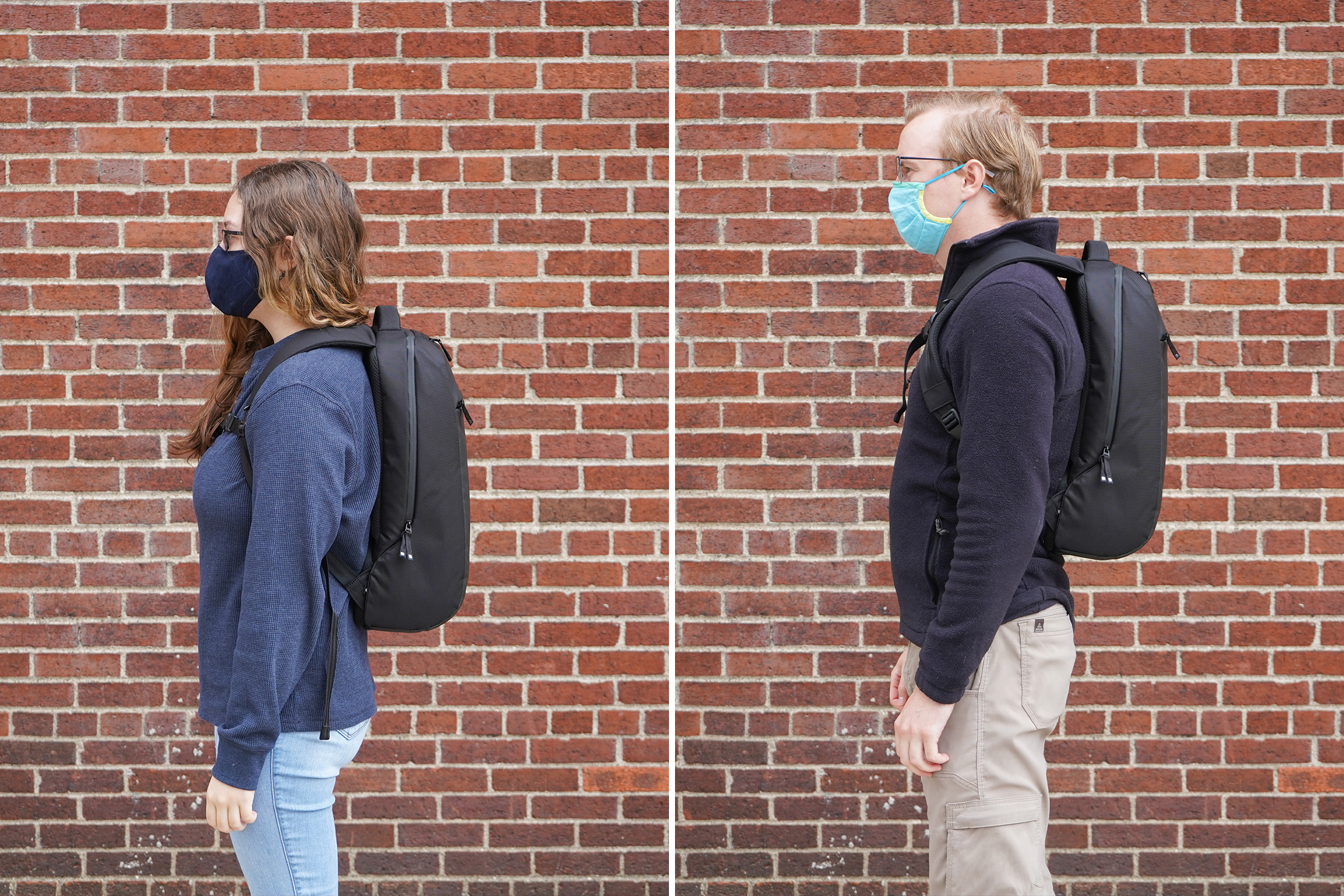 There's a substantial amount of padding on the bag's shoulder straps, considering its size and storage. You have all the support you need for the line up you'll likely be carrying. Not to mention, the smooth mesh lining increases breathability, so you're not sweating up a storm on a warmer day or on longer wears. We would've appreciated some elastic keepers to do away with dangling strap, but you can always add something like the Tom Bihn Strap Keepers to supplement.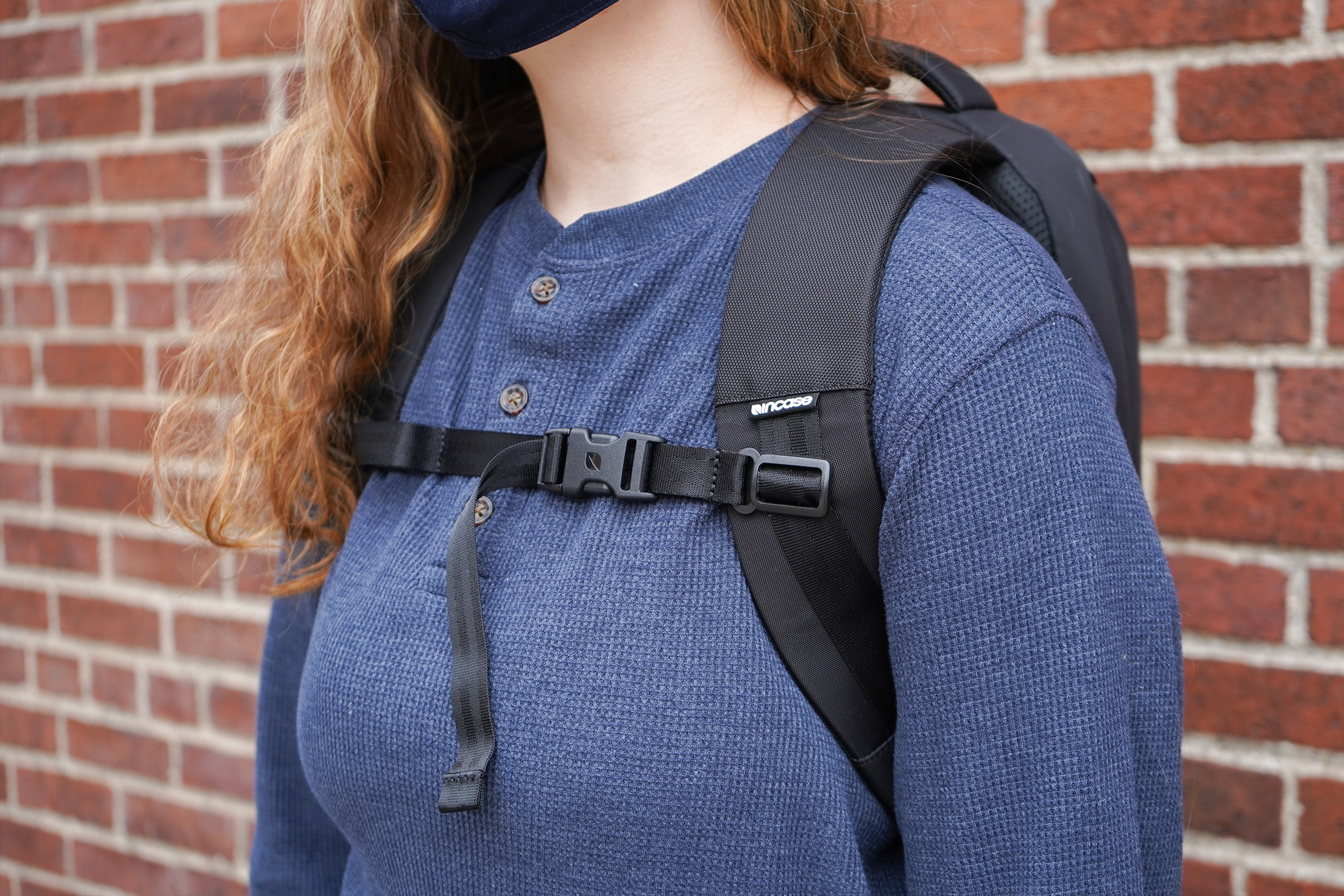 As for the sternum strap, it's elasticated, so it flexes well to your chest and is easy to adjust to wherever it feels the most supportive. You might not feel the need for one since, again, this bag is on the smaller side, but some extra stability never hurt anybody. As we do with the shoulder straps, we wish that it had an elastic keeper to manage excess strap better, so it's not flopping around as we walk.
The back panel is also well-built, with ample, stiff padding. It also has air channels and a luxurious mesh lining to ventilate your back (something you don't get with the ICON Backpack). Altogether, the harness system is a little overkill for this smaller daypack, but we've appreciated the added comfort (especially when we've got it on for lengthier carries).
Thankfully, we haven't had the same "hover back" issue we experienced with the ICON Backpack, which felt like it was pulling away from our back toward the bottom (more so on our taller team members). The ICON Lite Triple Black Backpack doesn't feel like we're carrying around a giant brick either, as it's not nearly as bulky.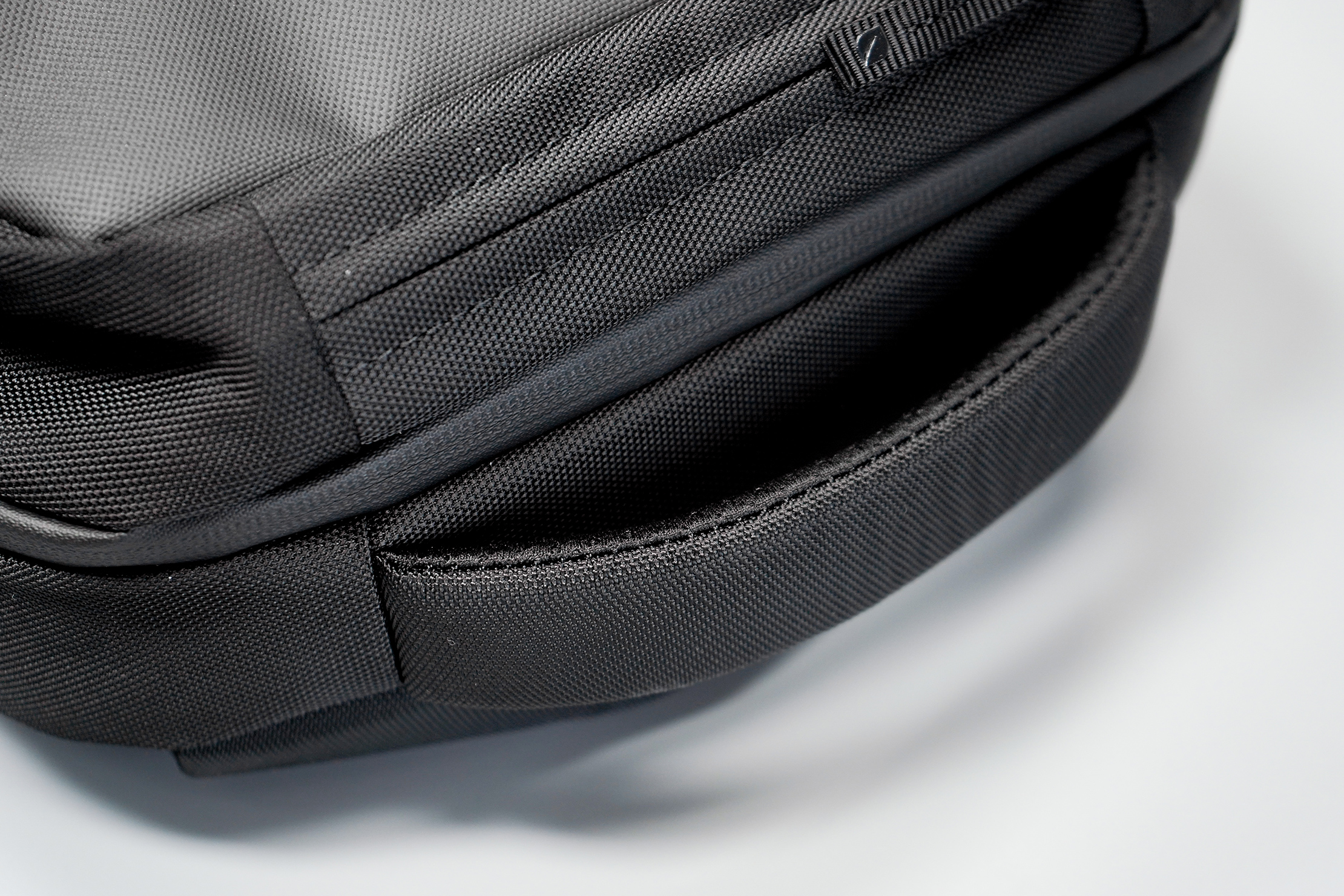 Even the handle at the top of the bag is densely padded, with its own mesh lining to prevent your hands from getting sweaty. It has a fair amount of structure and space between itself and the bag, so it's easy to grab when we're moving the pack around or need to grab something out.
There aren't any water bottle pockets on the outside of this thing, meaning you don't have a place to store one externally. You have the capacity in the main compartment to hold a larger one if you're continually carrying it with you; just note that it's going to be incredibly close to your laptop (possibly too close for comfort).
Inside The Pack
While we've found it more comfortable to carry, the ICON Lite Triple Black Backpack lacks the level of compartmentalization that the ICON Backpack possesses. This can be either a positive or negative for you, depending on what's most important to you in a pack—comfort or organization, and what you're willing to sacrifice for both.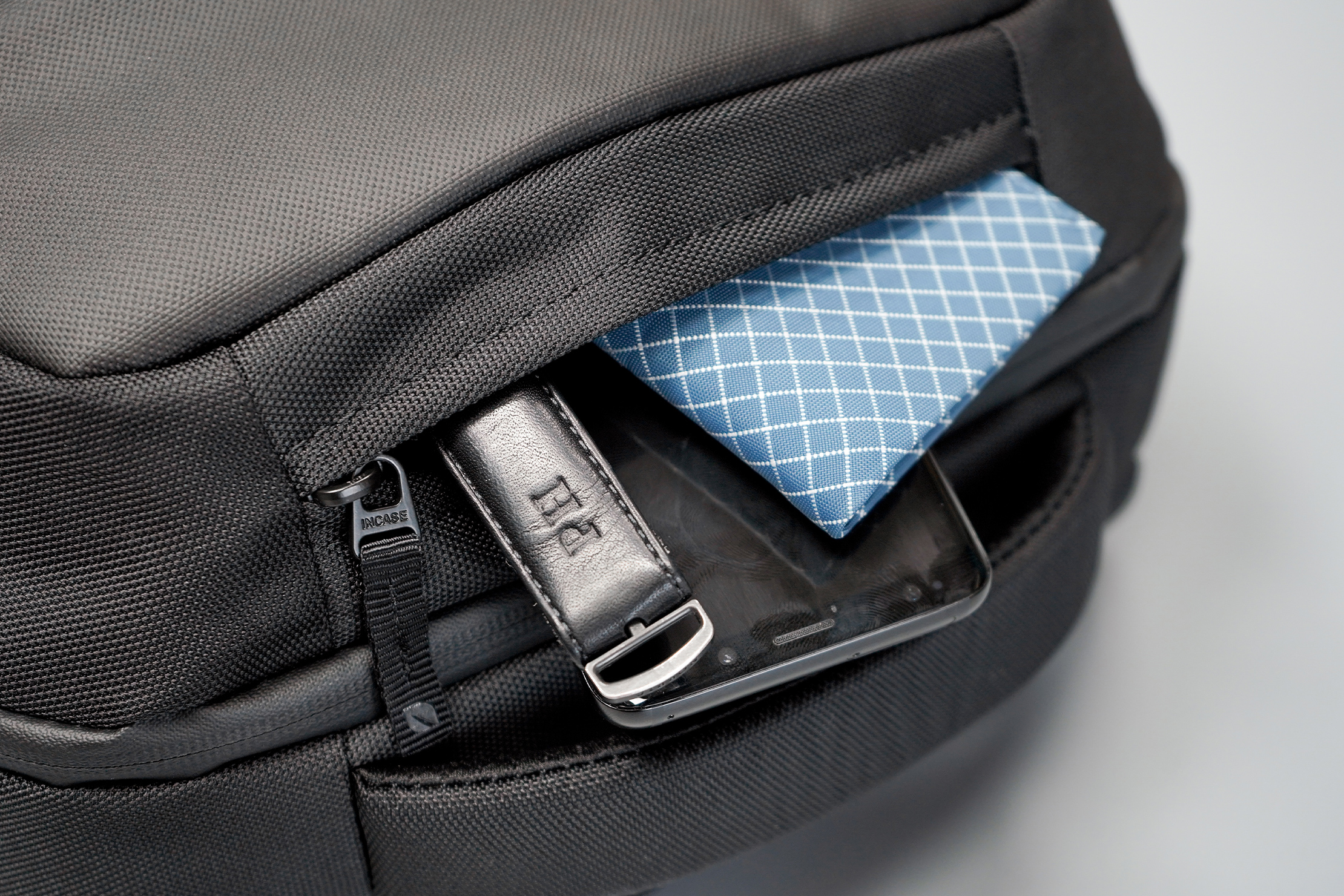 The first pocket up for grabs is the small pocket at the very top of the bag. Its location makes it an excellent spot for quick-grab items like your wallet, keys, and even your phone—especially since the soft lining inside keeps tech safe from any scratches.
You also have a zippered pocket on the front that extends most of the length of the pack. The zipper is covered by fabric welts that further protect it from moisture and promote a cleaner look in the process. Unfortunately, it also makes this pocket more challenging to open, as it makes the zipper hard to find and can cause it to stick some.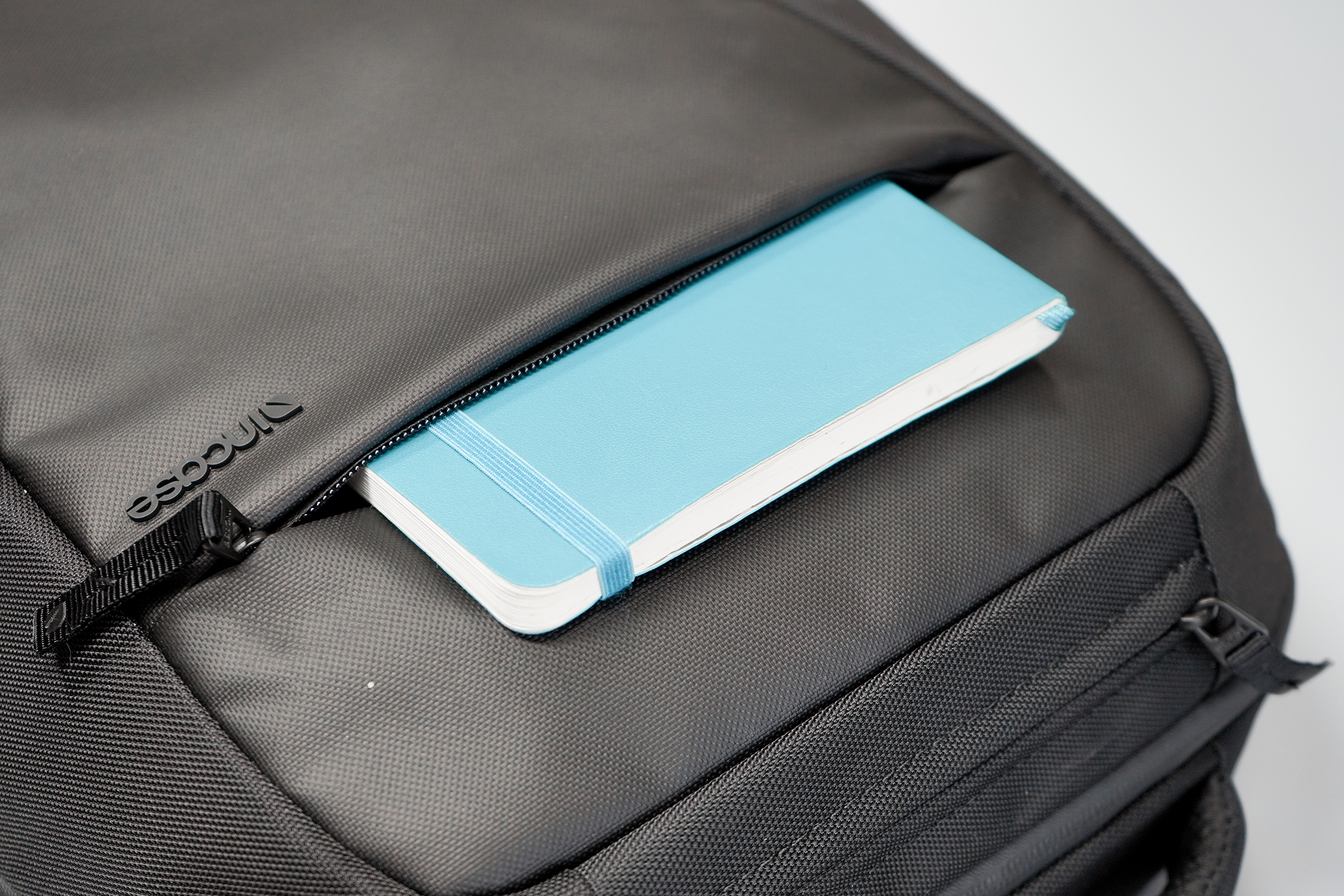 Once you do get it open, you have enough room to store a larger notebook, documents, and flatter items along those lines. We've found that the outline of whatever you pack inside this pocket is visible from the outside, so you don't want to store anything too bulky or overpack, as it makes the bag look lumpy.
We hinted at this above, but unlike the ICON Backpack, the ICON Lite Triple Black only has only one compartment—the main compartment. The bag offers 20L of storage, so you have room for the basics that you'll use every day, but its organization isn't anything to write home about.
You have two small liner pockets against the front flap that can fit cables, a mouse, and other tech/general accessories you don't want floating around. We've been keeping a tinier notebook in one and the Matador Pocket Blanket 2.0 in the other, and they've been a great size for both.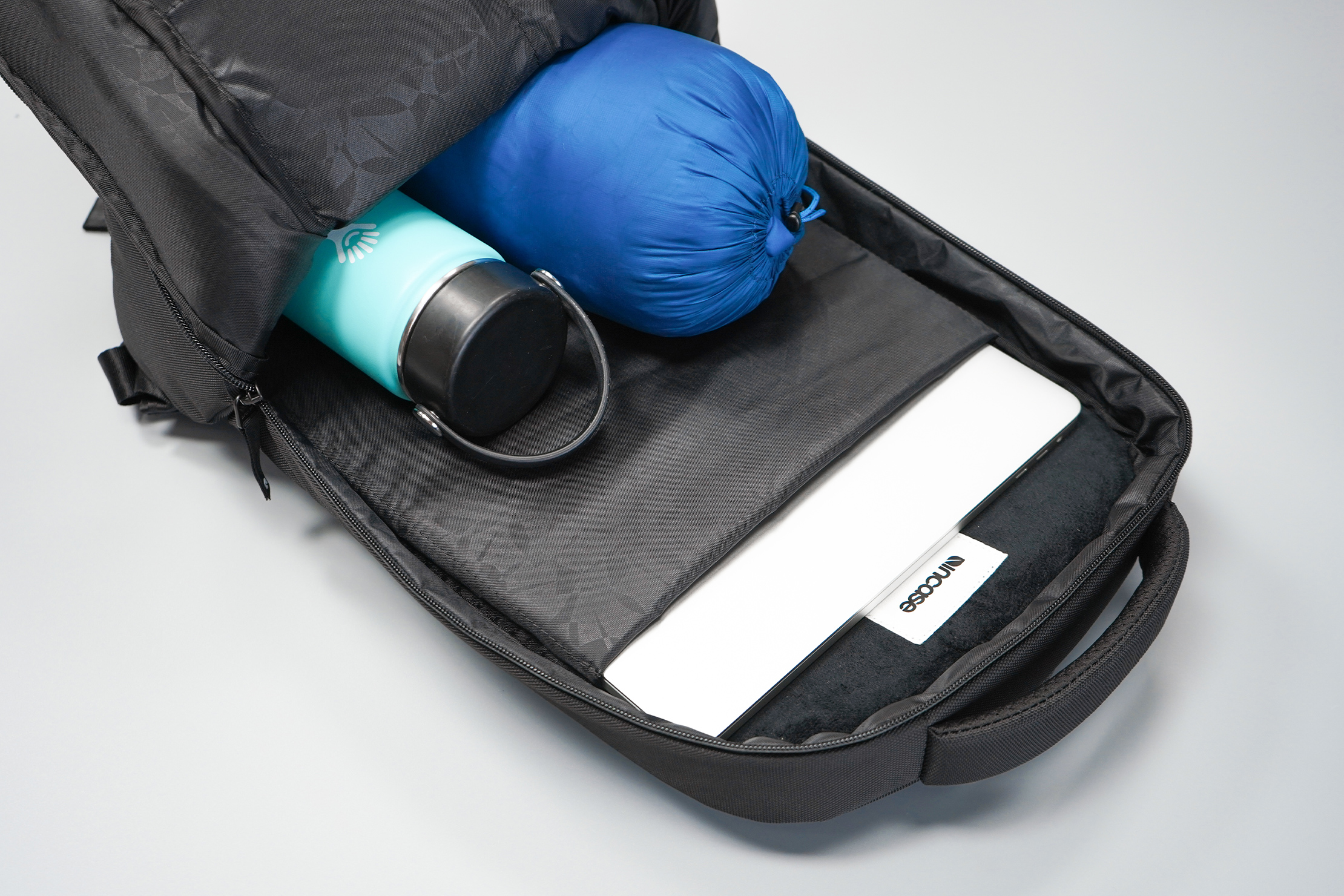 On the opposite side is a dedicated sleeve that can hold up to a 16″ laptop, though we've been slipping a 13″ MacBook Pro inside during testing. Your laptop is sandwiched in by the padding on the sleeve itself as well as the padding from the back panel, so it has a superior level of cushion if and when it gets jostled around on your commute.
Because of this padding and the suspension of the sleeve, we haven't felt a need to use a protective sleeve of our own. That said, we have been testing with the Incase Compact Sleeve with BIONIC, if you'd like to incorporate one for peace of mind.
The rest of the compartment is open space that you can fill with your bulkier gear. You could stash a packable jacket for when the wind picks up, an umbrella for sprinkling showers, or a water bottle (since you don't have a spot for it on the outside. If you have any excess of smaller items and are looking for more compartmentalization, incorporating pouches and packing cubes with go a long way.
This bag is also well-structured and can sit upright all on its own. This structure is super helpful for when we're working—we can open the compartment and just reach in and out as we need to without completely picking the bag up or finding something to lean it against.
Usage Timeline
Initial Usage
Condition: Excellent
Great size backpack for your EDC and tech items and not much else
Material is durable and water-resistant
Faux-fur soft and padded laptop sleeve
2 Weeks of Use
Condition: Excellent
This bag doesn't have a lot going on in terms of organization, so we've had to supplement with packing cubes to keep our stuff more compartmentalized
There's some nice, spongey padding and a mesh lining on both the shoulder straps and back panel that make this bag super comfortable—even on lengthier wears
No tears or scratching as of yet, but the material has picked up a fair amount of fluff on the bottom of the bag
Access the Pro Community Discussion
Get your questions about the Incase ICON Lite Triple Black Backpack answered from our team and the Pro Community right here on the page. Plus, join discussions with other members about gear, guides, and more.
Other Bags & Luggage Reviews