Incase ICON Backpack Review
If you're conscious of how you pack it, the structured Incase ICON Backpack is a solid, sleek option for your everyday carry.
Our Verdict
Unlock the Pro Summary
Save time. Get access to brief summaries of our reviews so you can browse and make decisions more efficiently.
Pros
Comfortable harness system
Lots of organization for your gear
Sleek, techy look
Cons
Capacity can get tight if you pack one compartment too heavily
Most of the internal pockets don't have any closure (gear can slip out)
The back panel is stiff & padding can stick into lower back
Recent Pack Hacker Video
Technical Details
Capacity

17l

Denier

840D

Dimensions

19 in x 13 in x 9 in (48.3 x 33 x 22.9 cm)

Notable Materials

Nylon, Duraflex Hardware, Polyethylene, Unbranded Zippers

Manufacturing Country

China

Laptop Compartment Size

16"

Warranty Information
Full Review
Just Incase you were looking for a new daypack, allow us to tell you a little bit about the Incase ICON Backpack we've been testing for the last two weeks.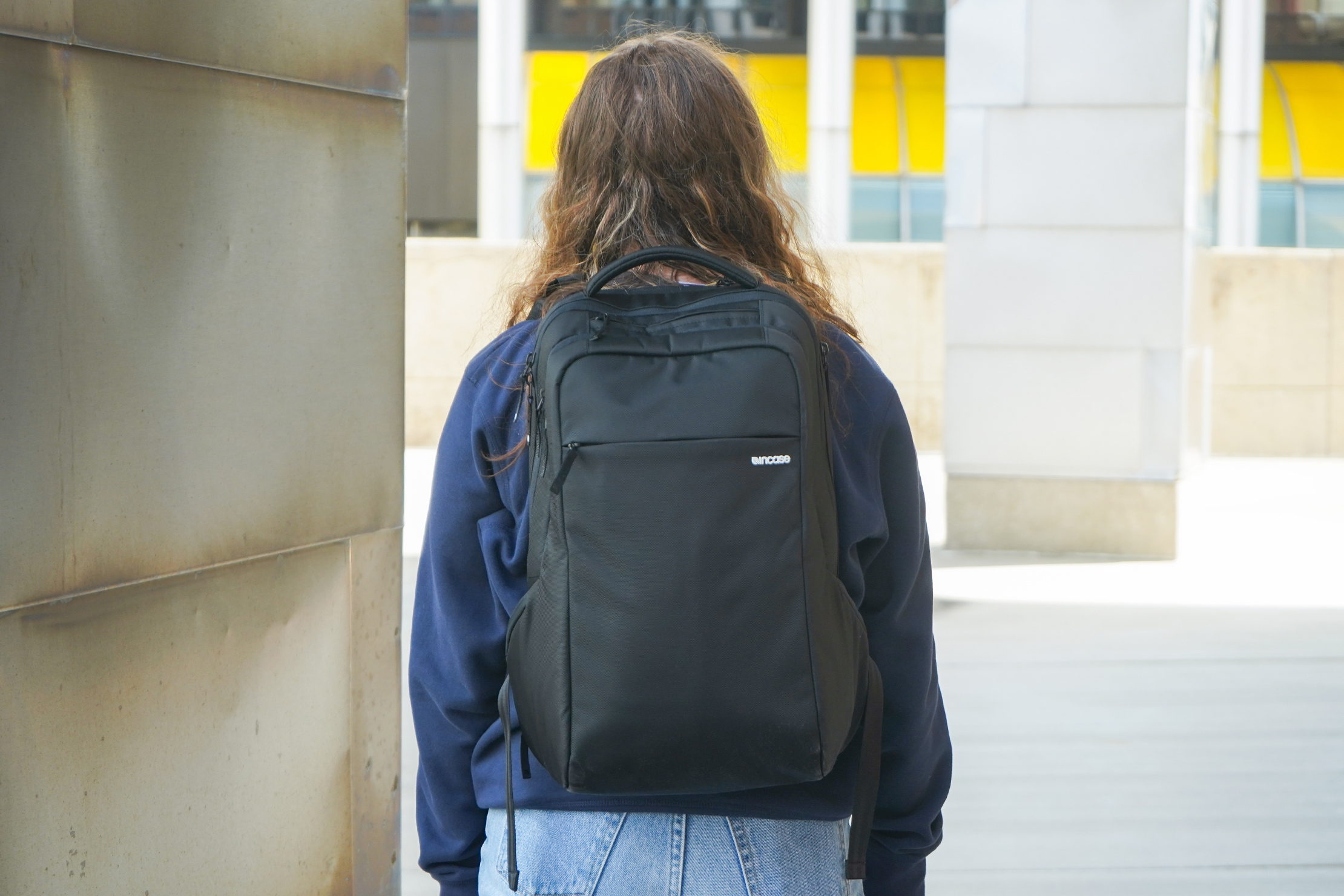 This pack has three separate compartments to keep your gear well-segmented and retains a slick, clean look while doing so. There are several iterations of this pack, including the Incase ICON Lite Triple Black Backpack, though we'll be focusing on the standard ICON Backpack in this review.
We have a lot to go over, so let's jump right in!
Materials & Aesthetic
The ICON Backpack has a sleek, streamlined look to it. Its distinct structure also gives off a techy vibe that we've been digging. Something we want to note here, though, is that it's a pretty big bag—we've tested this bag on several of our team members and found it can look a little oversized on smaller frames.
At the time of this review, the Incase ICON Backpack is available in two different colorways. We've been testing the Black colorway (of course), and like the sleekness it adds to the bag. You can pick up this pack in Navy Blue, too. If you're looking for anything brighter, you're out of luck.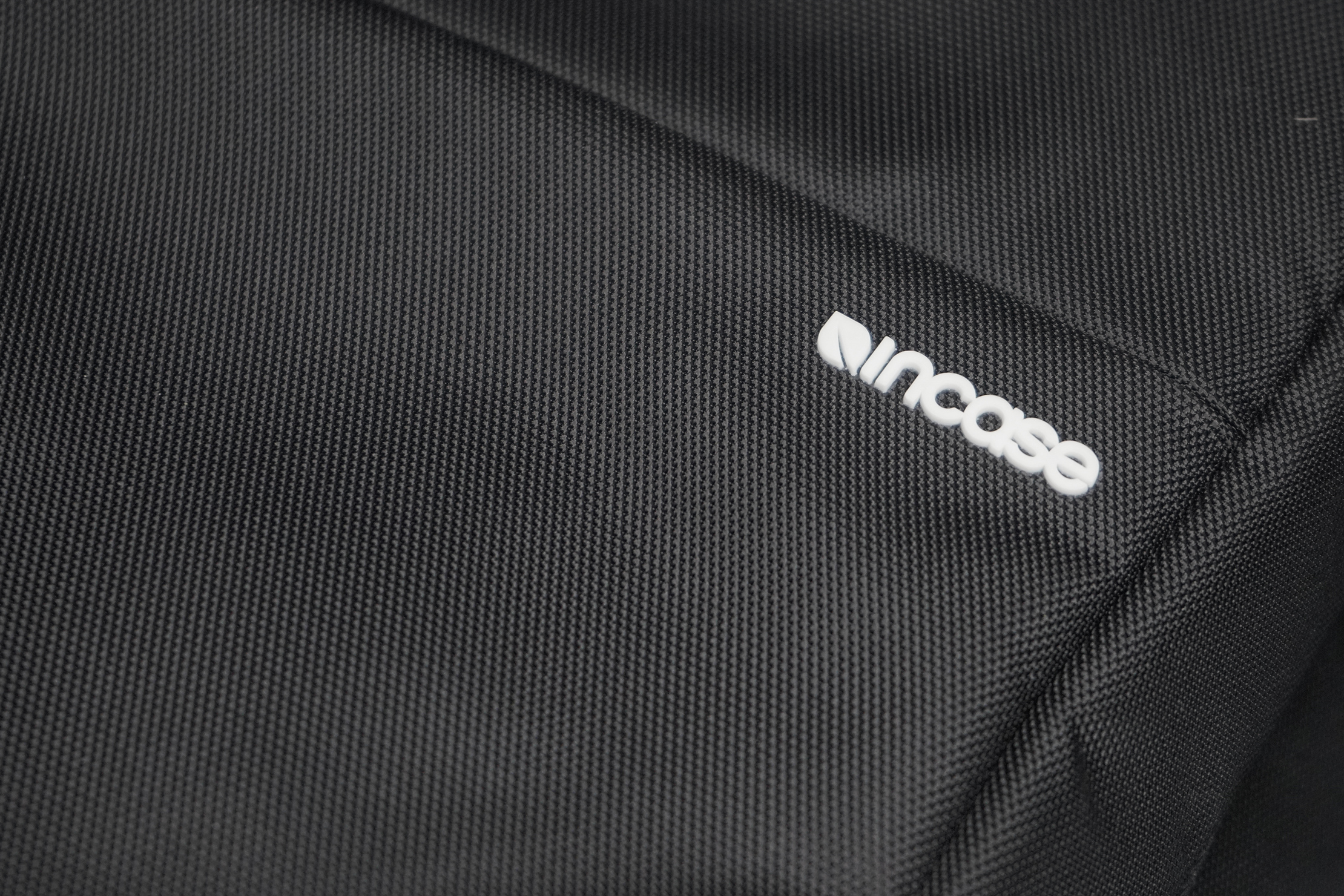 Incase incorporates a lot of branding throughout this bag. You'll see their logo on the front of the bag, on one of the shoulder straps, stamped into the back panel, on each zipper pull, and in a couple of spots inside the pack. Thankfully, they're all on the smaller and subtler side (except the white tag in the main compartment), so no issues there.
This pack is constructed with durable 840D nylon that feels robust in hand. It's held up well during these last couple weeks of testing—no scratches or scuffs to speak of. We have noticed that this material does pick up fluff easier than other fabrics we've tested, so it can look a little dirty after a few wears.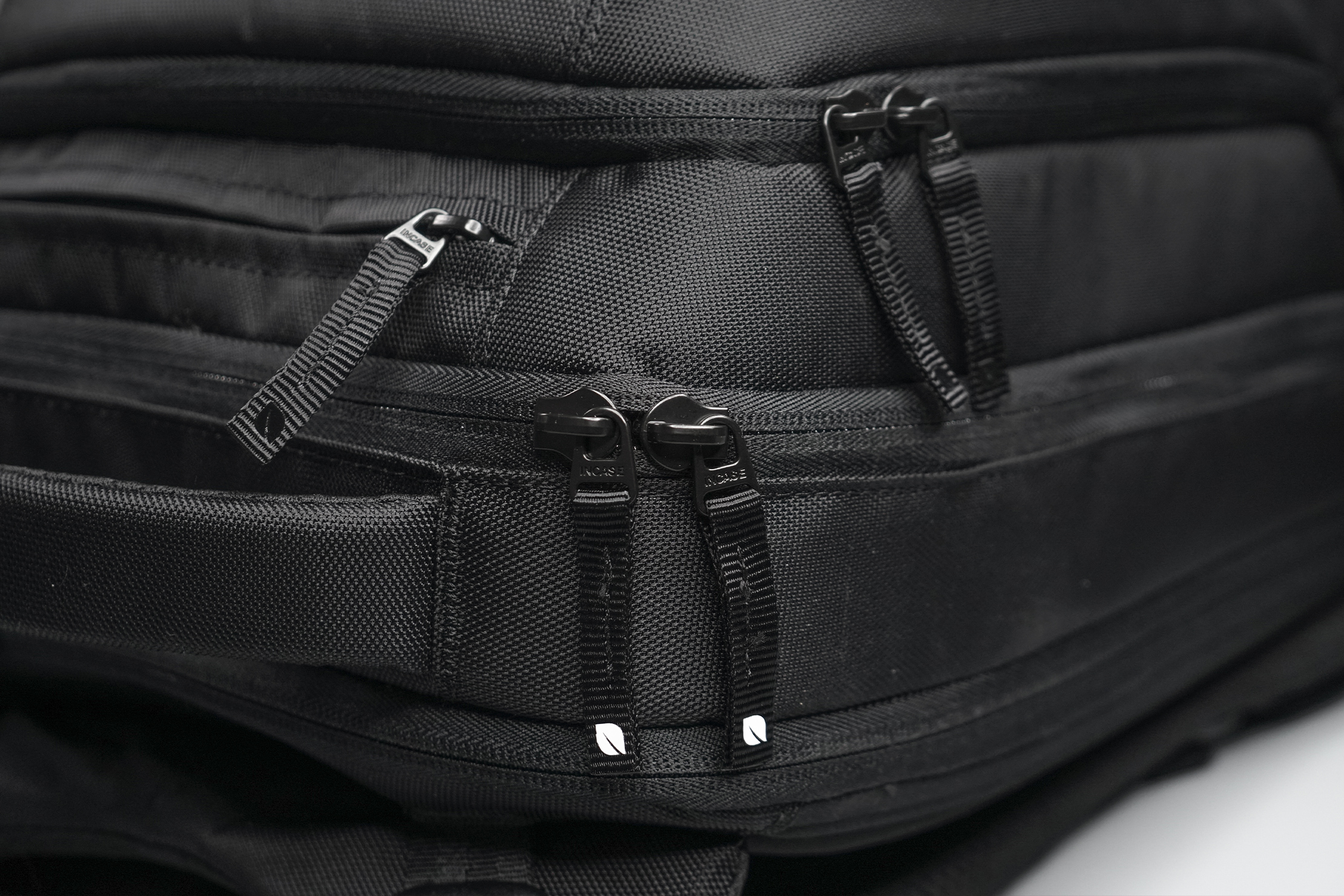 The zippers on this bag are unbranded, which leaves us a little concerned about their durability over time. We've only been testing with these zippers for a short while, so we don't have the same kind of experience to reference as we do with a brand like YKK, for example. They've been working decently so far, with some minor stickiness around corners, but we'll be keeping an eye on them.
The hardware comes to us from Duraflex, a brand we've encountered on many bags in the past. We're happy to report that everything has been working smoothly so far during testing—nothing crazy to report.
External Components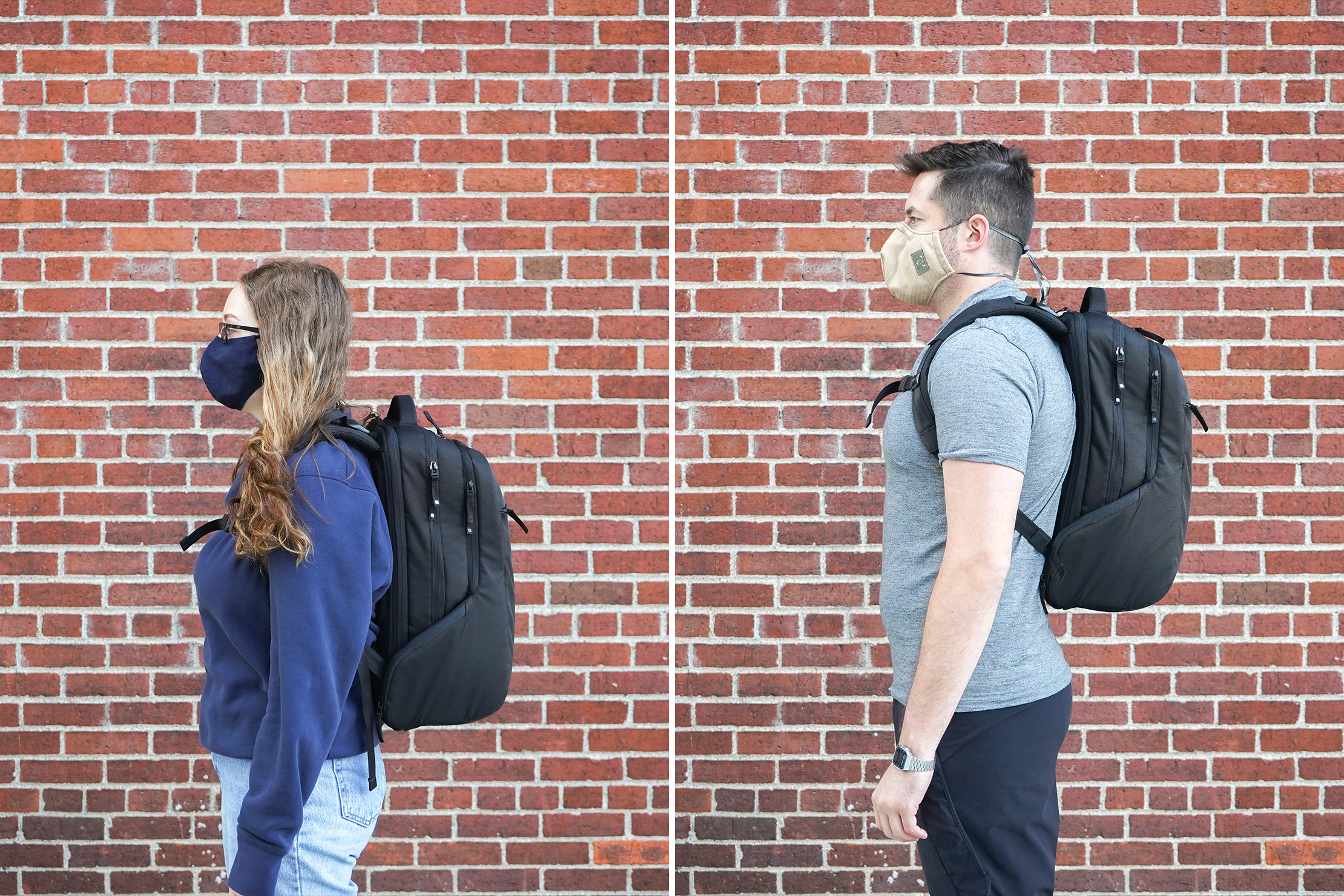 As we mentioned earlier, we've tested this bag on a few team members here at Pack Hacker. Our taller team members felt the same "hover back" phenomenon that we experienced with the backpacks in the Aer Work Collection—where the bag feels as though it's pulling away from the back. With the Aer bags, we found that wearing them lower helped mitigate the hover back, but we haven't been able to find that sweet spot with this pack.
This is likely due to the stiffness of the back panel, which doesn't curve to the back at all. It's either flat on most of the back and hovers lower down, or it feels flat on the lower back and floats at the middle and top. This may not be as big of an issue for you, though—it all depends on your body type and what you find comfortable.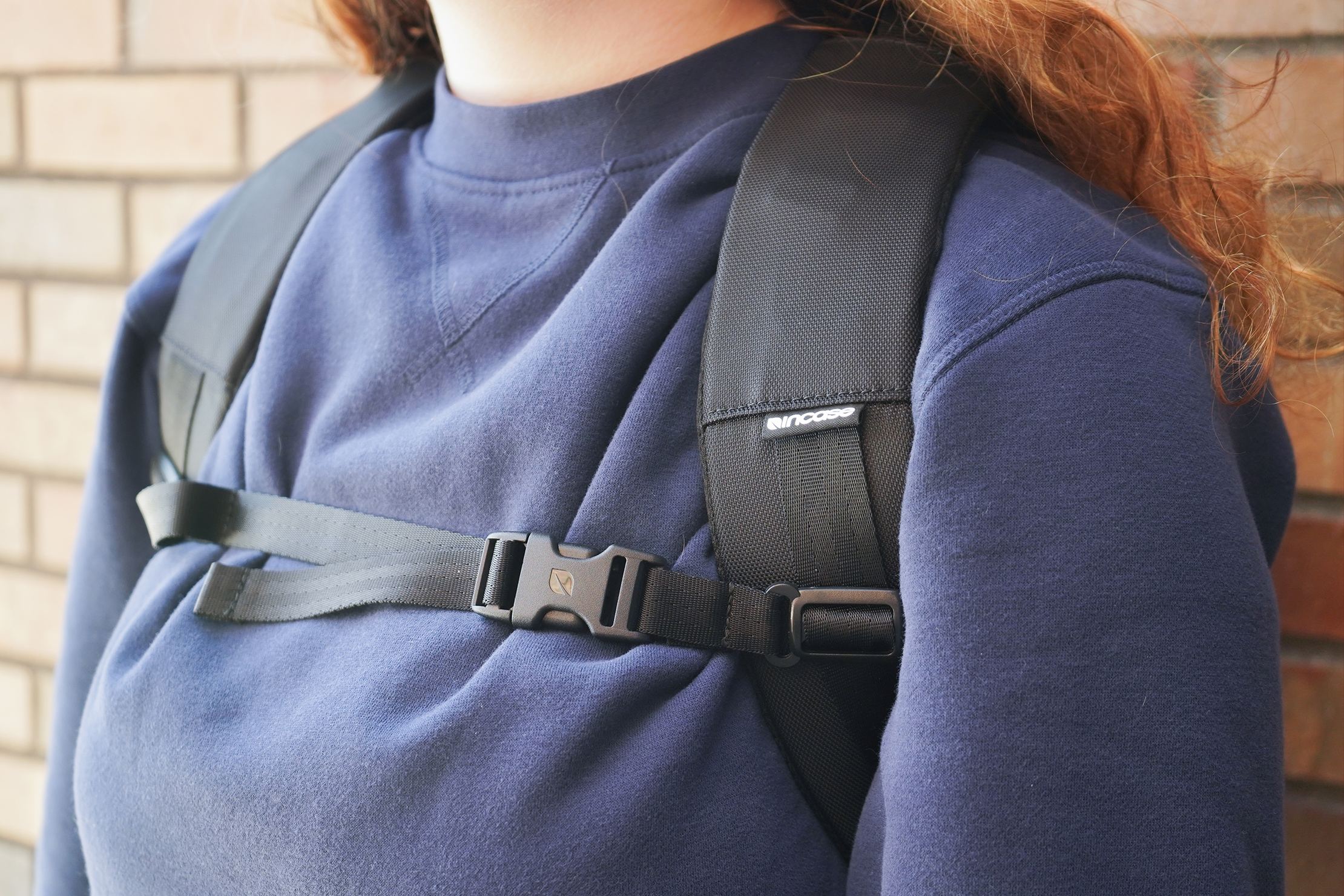 The shoulder straps are nice and densely padded, with lots of mesh that adds some much-needed breathability, as this is a big, all-black bag. There are also load lifters at the top you can adjust to help distribute weight more evenly if need be. Plus, these straps contour nicely to the shoulders, helping them to fit and feel comfortable.
You also have an elasticated sternum strap that's securely attached and easy to adjust to where it feels comfortable. It doesn't have an elastic keeper to help manage excess strap, so if you max out its adjustment, you'll have to deal with some dangle. (Darn it.)
There's no hip belt on this bag and no place to attach one. This hasn't been an issue for us during testing, as it's not a necessity for us on a bag of this size. That said, if you like having the added weight distribution, you might miss it.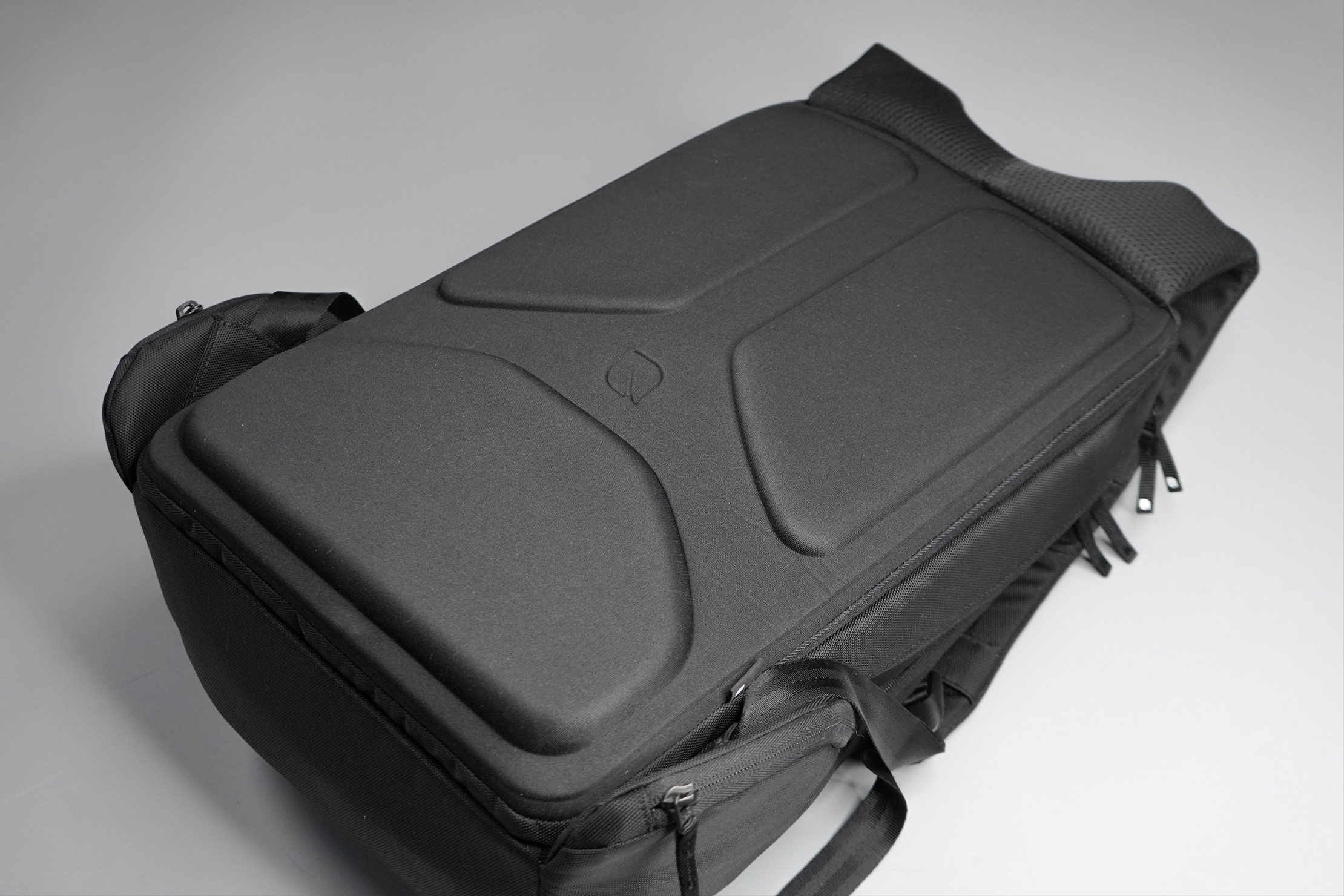 Looking at the back panel, you'll notice some pretty dense padding. It gives the bag a lot of structure, so it doesn't get floppy or saggy. Like we said before, it can feel pretty stiff when we've got the bag on and cause the bag to feel like it's pulling away from the body in certain spots. We've also found that the lower back padding can stick into our backs some, which gets uncomfortable after a while.
You have a padded, easy-to-grab handle on the top of this bag for grabbing it or hanging it. It's also lined with mesh on the bottom, which we're not sure is necessary as we're not usually carrying this bag as a tote. If you have especially sweaty hands, though, you might appreciate this integration.
Inside The Pack
This pack has lots of organization in the form of pockets, both inside and out. We'll start with the external pockets, to give you an idea of what you can keep handy and where.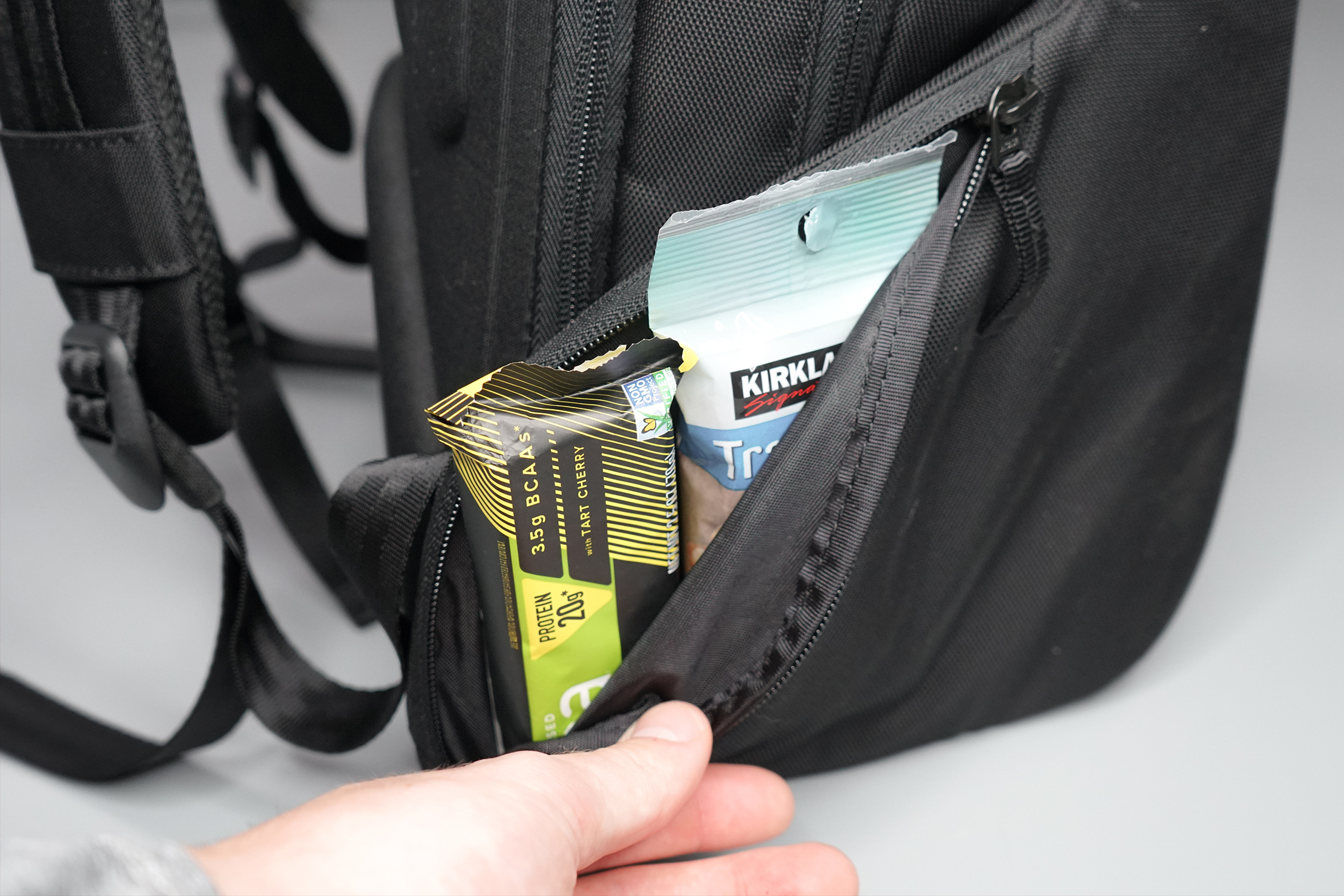 The first two pockets we want to turn your attention to are on the sides of the bag. They have an odd shape that almost makes this pack look like it has wings (if they ever make a flying backpack, we'll be the first in line to review it). They're big enough to stash your phone, some snacks, and other small items you want to keep handy—also note that these pockets are pretty thin, so flatter items work best in here.
One of these pockets has a media port that you can feed some corded headphones through to get that hands-free music or podcast experience. We didn't get much use out of it as we're heading in a more wireless direction when it comes to headphones, but your mileage may vary.
This pocket also has a bright, neon green interior that you won't see anywhere else on the pack. While we appreciate the added visibility, we think this integration would've been more helpful in the larger compartments.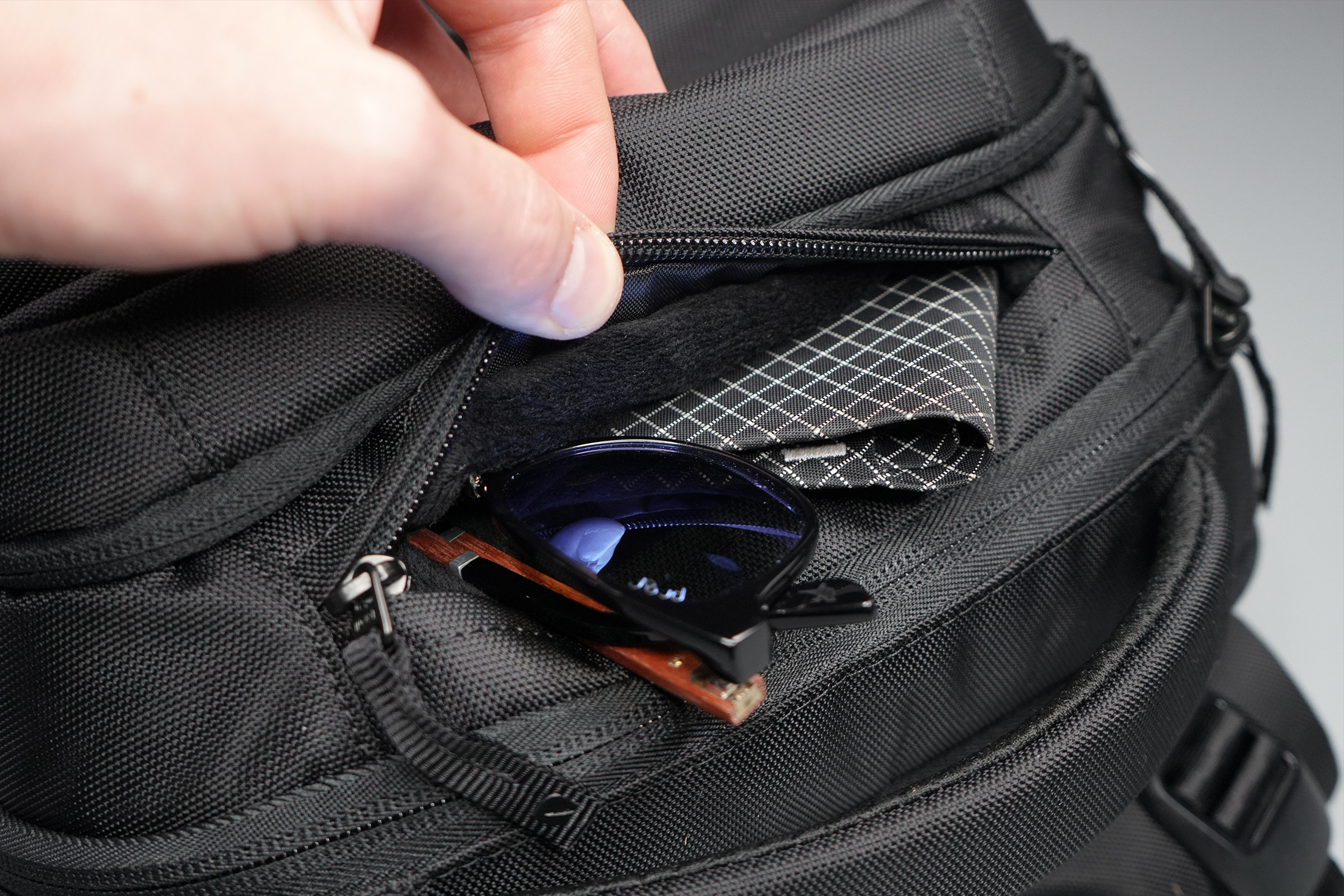 Next up, you have a quick-grab pocket at the very top of the bag. It has a super soft lining material, so you can feel good about stashing a pair of sunglasses or even your phone in here and not have to worry about scratches. It's also a great size for a wallet, which is what we've been keeping inside. This has saved us from that classic cash register anxiety, as we're not desperately fumbling for our money while strangers stare and groan behind us.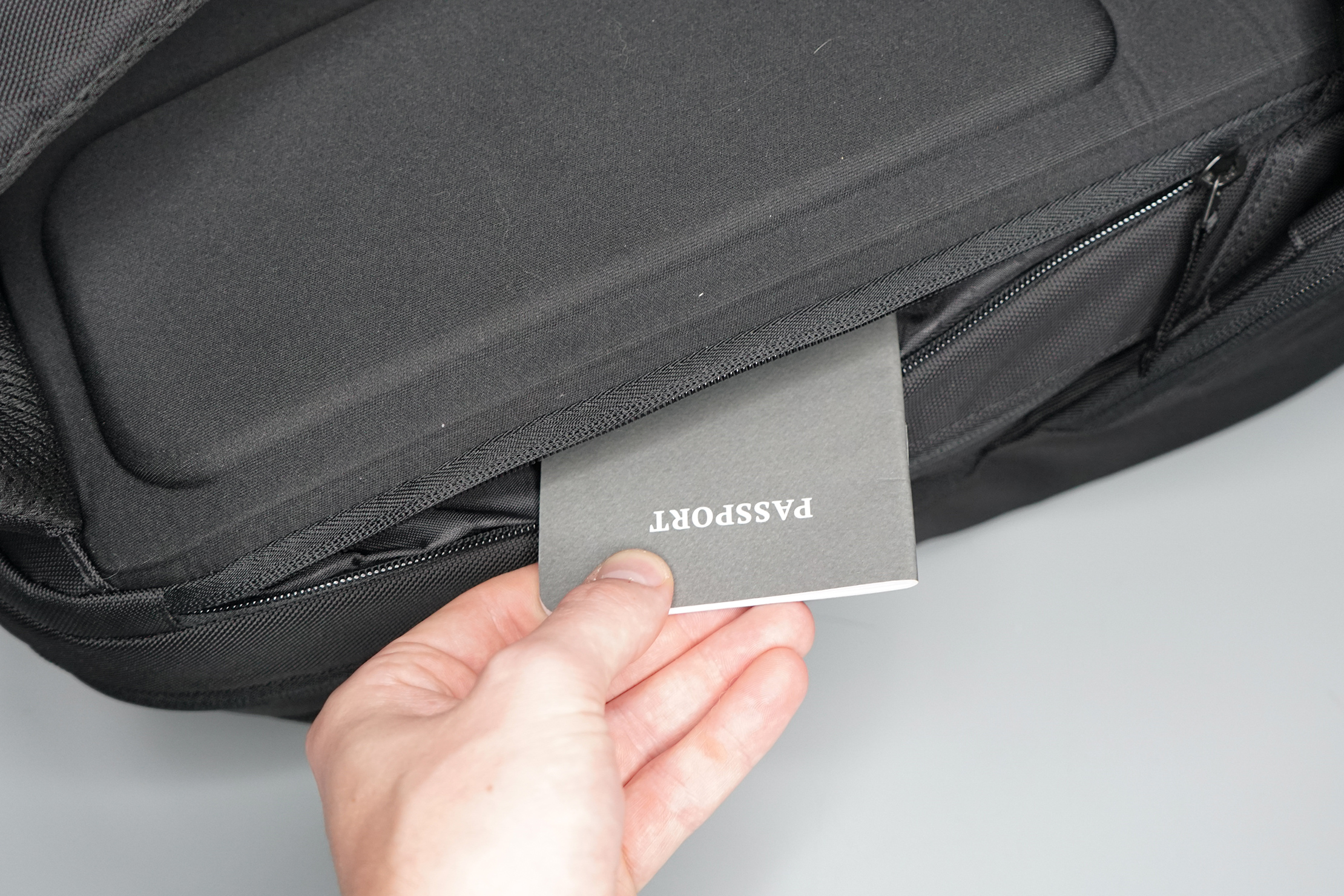 Continuing, there's a hidden pocket on the back panel. It's a great spot to stash your more valuable items, like your passport or travel documents, as the zipper faces your back when you've got it on. This keeps your valuables secure from the wrong hands, and the zipper lays flat so it's not poking you. However, because it sits against the back, you don't want to keep anything too bulky back here. Flat items work best.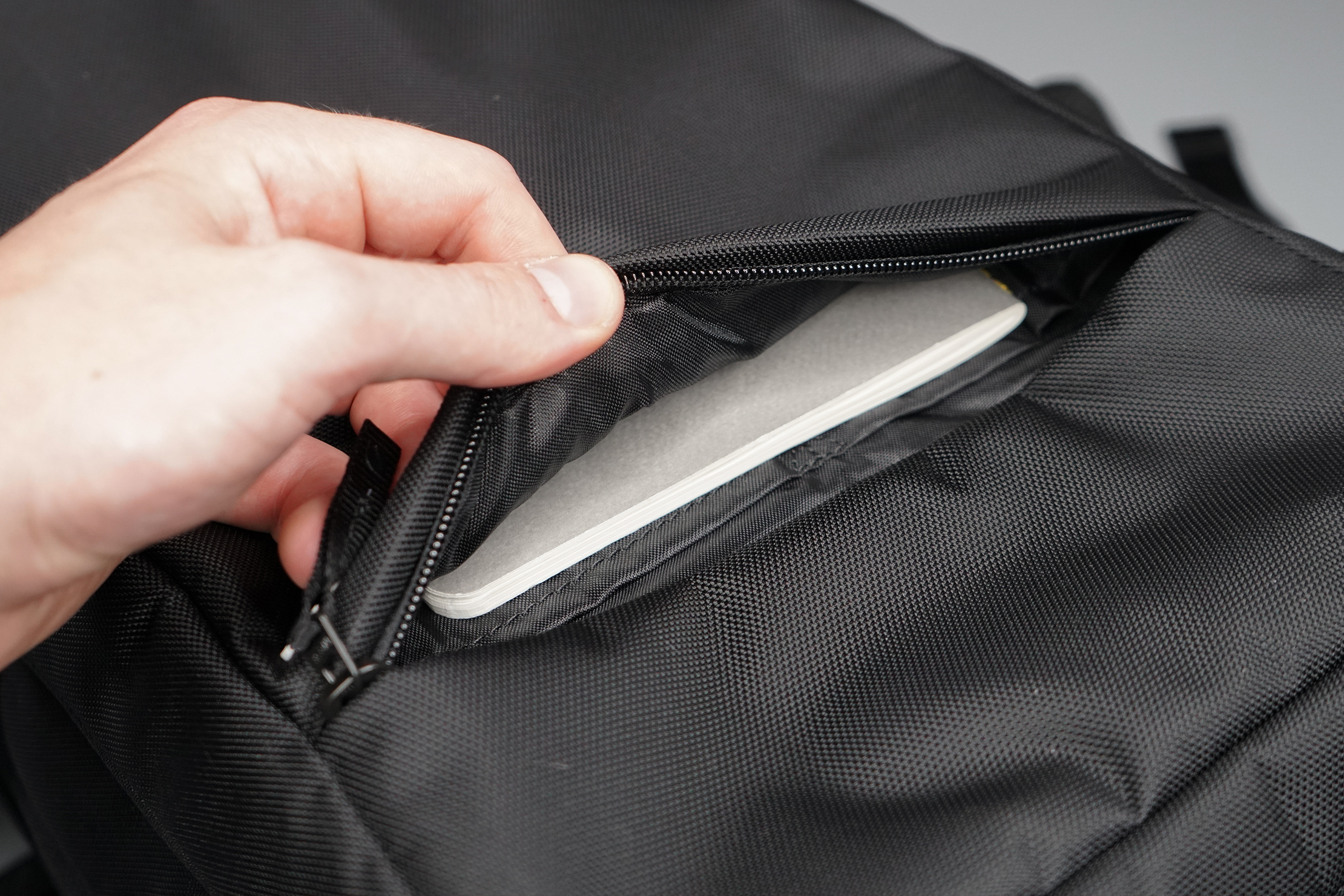 Last on the list is the pocket on the very front. It stretches most of the length of the bag, so you can fit your taller gear no problem. We've just been keeping a medium-sized notebook inside and it's worked well so far. Similar to the side and back panel pockets, flatter items are ultimately going to fit better, as anything with too much dimension will leave it bulky.
Now we can finally cover where to store your non-flat items! This pack's storage is separated into three separate compartments that we've found helpful during testing for keeping our gear segmented.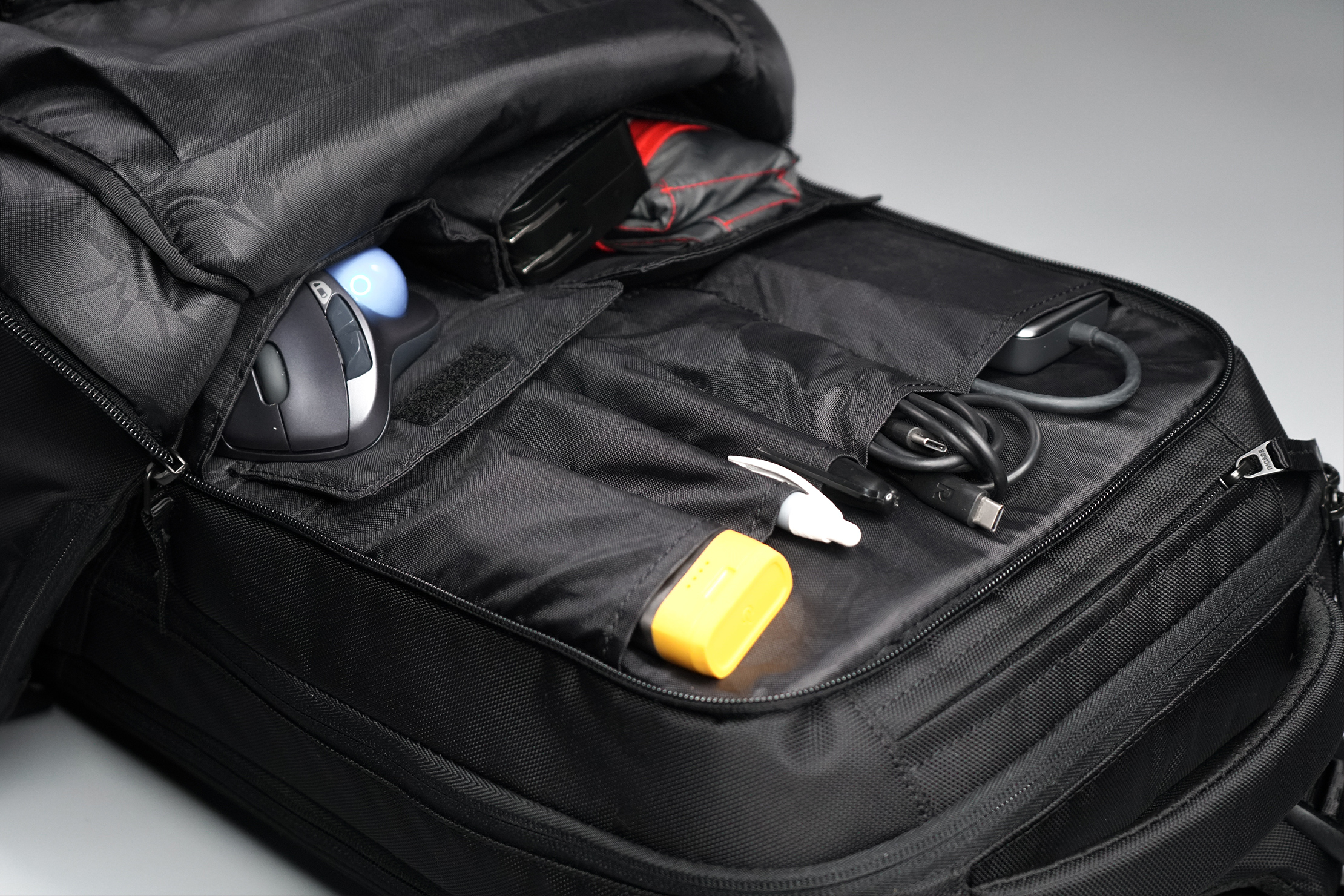 The first compartment has lots of helpful organization for our tech accessories. Against the back wall are liner pockets—one medium, two small, and then two pen sleeves—that we've been using to keep an Apple Magic Mouse, phone charger, and some pens handy. They don't have any kind of closure, so your gear can slip out of these pockets and get mixed up in the main area if the bag gets overturned—it hasn't been an issue during testing, but it's something to be aware of.
Below these liner pockets are two larger pockets that secure via velcro. Because of this closure, these are nice for storing the gear you don't want to be mixed in with your other stuff. We've been keeping the Matador Pocket Blanket 2.0 in one and the Rite in the Rain Outdoor Journal (Large) inside for when we want to relax on the grass or need to jot down ideas on the go.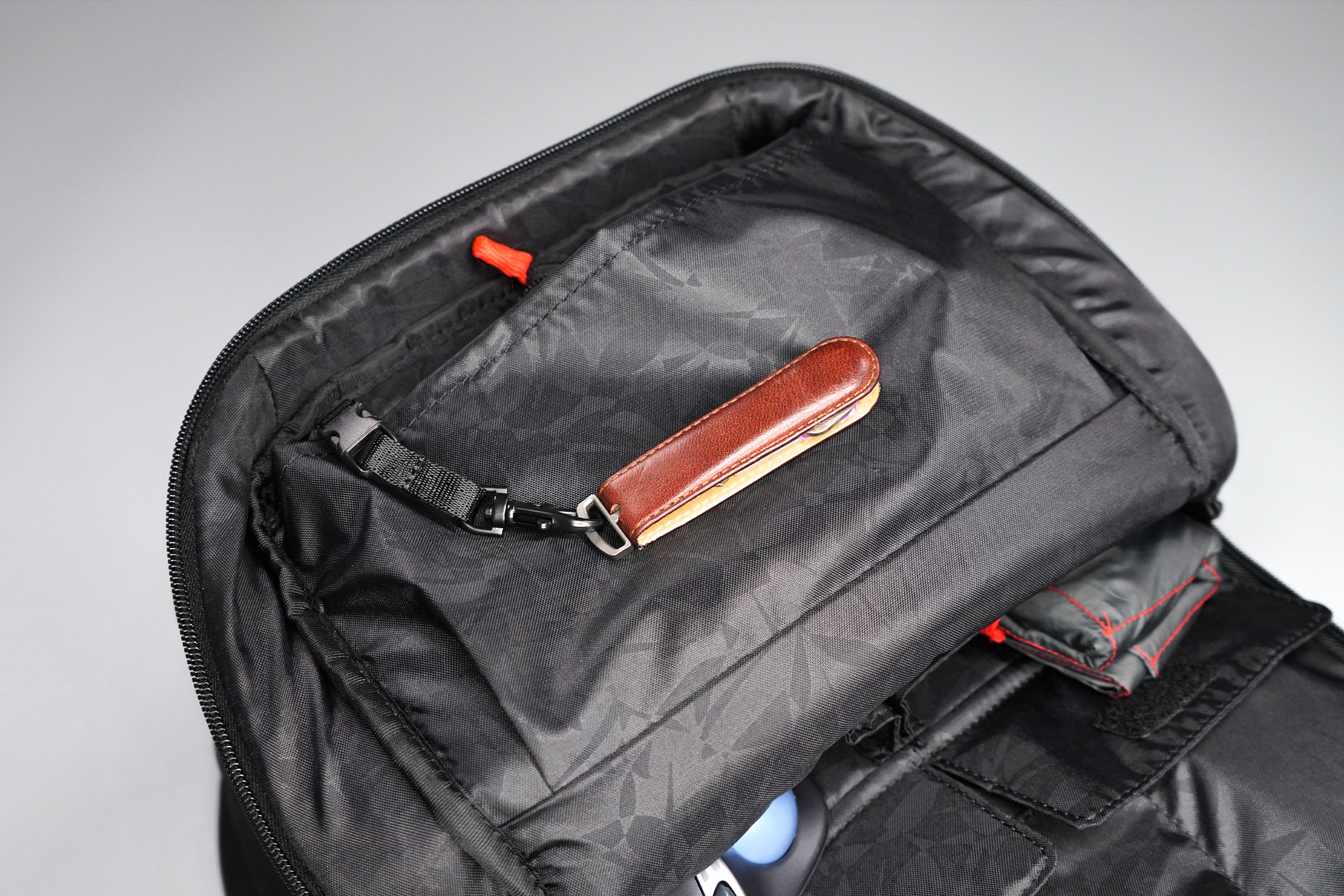 On the front flap of this compartment is another pouch that houses a key leash. The leash isn't very long, but it's attached by a small buckle that you can unclip if you want to remove the whole thing when unlocking your car or door. It also has a metal clip that feels robust in hand, so we're not worried about it snapping under the weight of our keys.
If you have bulkier keys, they'll take up most of the pouch, so there's not a ton of room to slip in other items. There are plenty of other pockets throughout this pack where you can keep additional gear, though, so you're not pressed for space if you want to leave this pocket as a nice little hammock for your keys.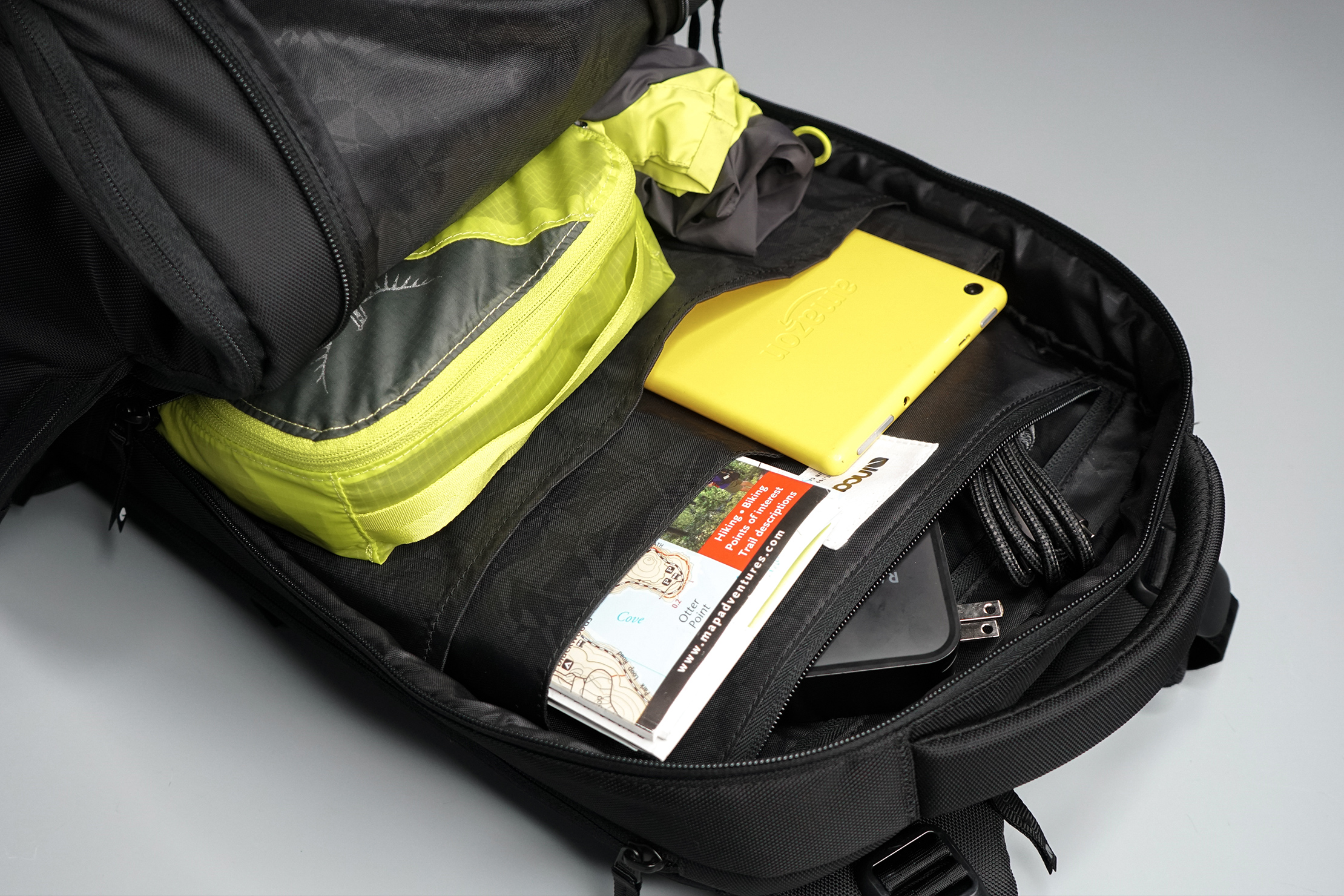 As for the main compartment, you'll find three more sleeves—two on one side, and one on the other. The larger one that sits against the back panel can hold an iPad or similar tablet if you travel with one, though there's not much of a false bottom, so we recommend keeping your tech in a protective case. There's a shallower sleeve in front of it where you can keep an extra charger, also.
On the other side, there's a similar pouch to what you'll find in the front compartment, but larger (and without the key clip). This pouch is deep enough and wide enough to manage larger, bulkier cables, like a laptop charger and block—that's what we've been keeping here anyway.
You also have some more free space in this compartment to pack out with pouches or packing cubes if you're looking for even more organization. Or, load it up with a light jacket, a lunchbox, or your water bottle (since there's no place to store it on the outside). Keep in mind, though, that packing this compartment out too heavily will tighten capacity in the laptop compartment. So if you want to carry a laptop, you don't want to pack this spot out with anything too crazy.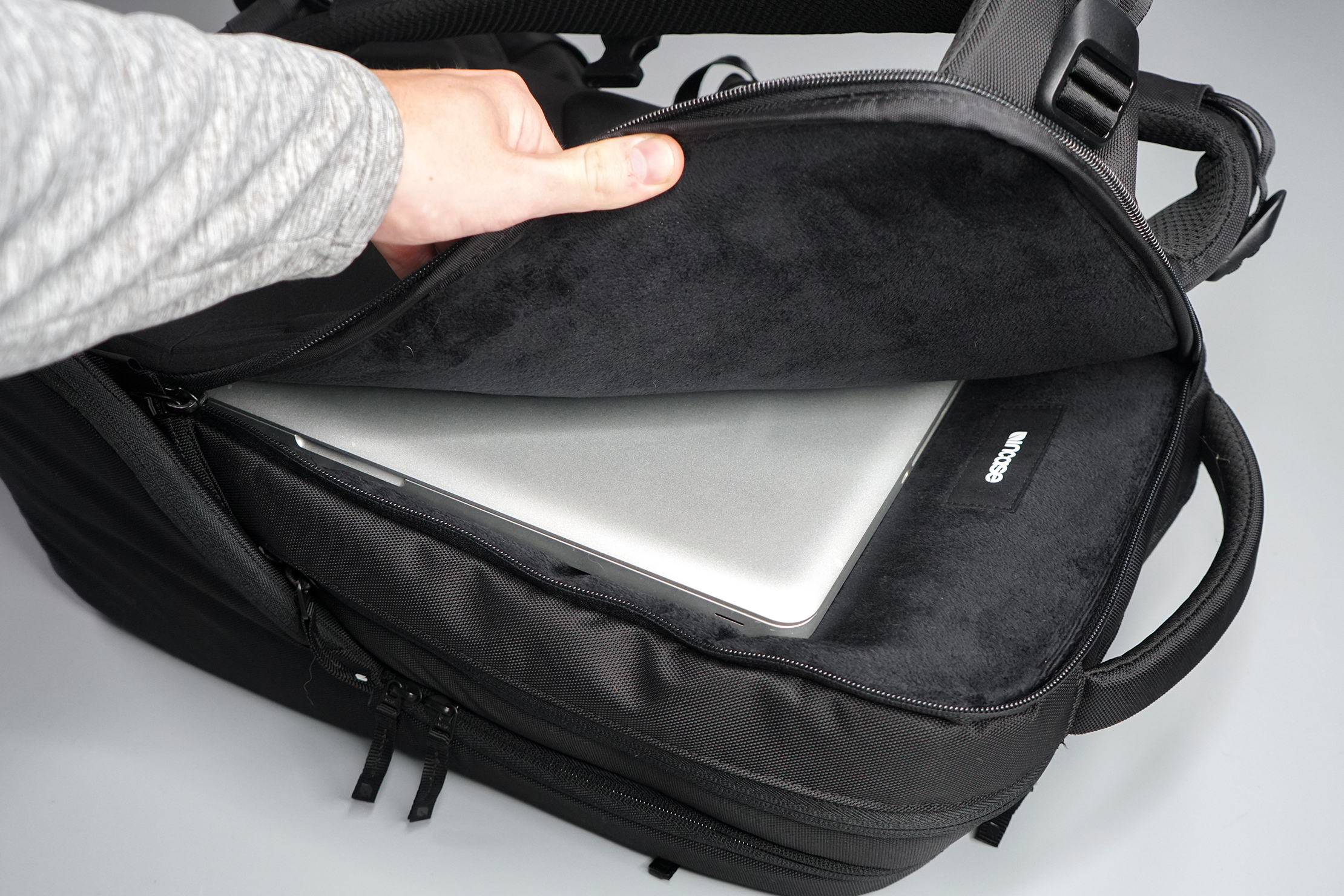 Finally, you have the laptop compartment at the very back of this bag. You can store up to a 16" laptop in here, and it unzips on one side to give you quick, easy access. This compartment has some thick padding, as well as a super-soft lining material to protect your tech from scratches and your commute.
This compartment also has a false bottom, but it's slight, so it's not as effective as protecting your gear when it's getting jostled around like some other packs we've tested. To compensate, we've been keeping our tech inside the Incase Compact Sleeve with BIONIC just Incase (it's always funnier the second time around) we drop the bag or are heading out on a rougher trip.
Usage Timeline
Initial Usage
Condition: Excellent
Laptop compartment is thick and well-padded
Tons of great tech organization all over this bag
Harness system is more than enough for a bag of this size, even when fully loaded
2 Weeks of Use
Condition: Excellent
Material feels durable, but picks up fluff easier than some other fabrics
Organization has been convenient for our tech accessories during testing
Digging the three separate compartments as well to segment our gear—though we have noticed packing one of these out too heavily can make capacity tight in the others
Access the Pro Community Discussion
Get your questions about the Incase ICON Backpack answered from our team and the Pro Community right here on the page. Plus, join discussions with other members about gear, guides, and more.
Other Bags & Luggage Reviews