Matador Pocket Blanket 2.0 Review
More of a tarp-feel than blanket, the Matador Pocket Blanket 2.0 is lightweight, water-resistant, and easy to pack away.
Our Verdict
Unlock the Pro Summary
Save time. Get access to brief summaries of our reviews so you can browse and make decisions more efficiently.
Pros
Easy to fold and pack away
Lightweight, water-resistant fabric
Metal weights/stakes help keep blanket secure
Cons
Tight fit for multiple people
Material is pretty thin, not the most comfortable
Can get wrinkles due to compression
Recent Pack Hacker Video
Technical Details
Weight (oz)

3.8 oz (107.7 g)

Dimensions

63 in x 44 in (160 x 111.8 cm)

Deployed

Notable Materials

Metal, Nylon

Manufacturing Country

China

Warranty Information
Full Review
Get up to 20% off Matador • Join Pack Hacker Pro
Normally when we talk about PocketsPlus carry, we're referring to the standard gear you're likely keeping in your pockets—your wallet, keys, phone, maybe even a snack or two. Now, we're adding a blanket to that list.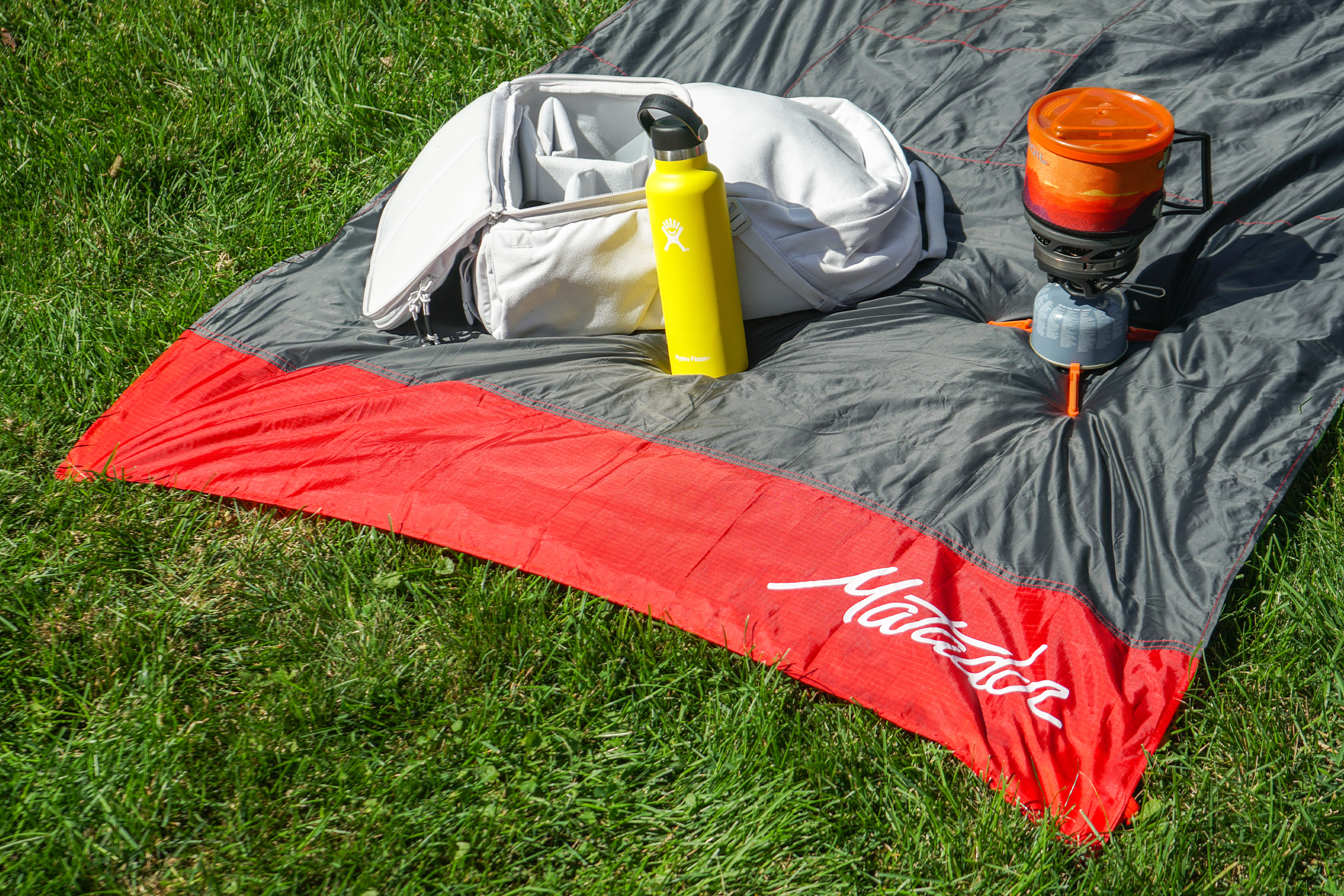 The Matador Pocket Blanket 2.0 is a lightweight, water-resistant outdoor blanket you can lay out for a picnic, getting some work done in the park or even an afternoon snooze. The best part? It compacts so small that it can literally fit in your pocket.
After two weeks of testing, we're here to tell you what we think—let's get to it.
Materials & Aesthetic
This blanket has a grid pattern throughout that gives it a techy vibe. Because it's compressible, you'll have to deal with some wrinkling after folding and unfolding it a handful of times. We'd also say that this is closer to a tarp than a blanket, as it's not made with very thick or warm material. This is a clear tradeoff with the compression offered though.

At the time of this review, you can pick up the Matador Pocket Blanket 2.0 in four different colorways—Black, Ocean, Alpine Green, and Original Red, which is the colorway we've been testing these last two weeks. It's not the most subtle of the four, but the red thread is easy to follow when we're packing it up. Plus, its red pouch is quick to spot inside our packs, which we appreciate.
Normally, Matador keeps branding pretty simple on their products. We can't say the same for this blanket, though. Their wordmark on the pouch appears on a black-on-white tag and is also spelled across one end of the blanket. We would've preferred something a little more subtle—but if anyone asks you where you got your blanket from, it saves you an explanation.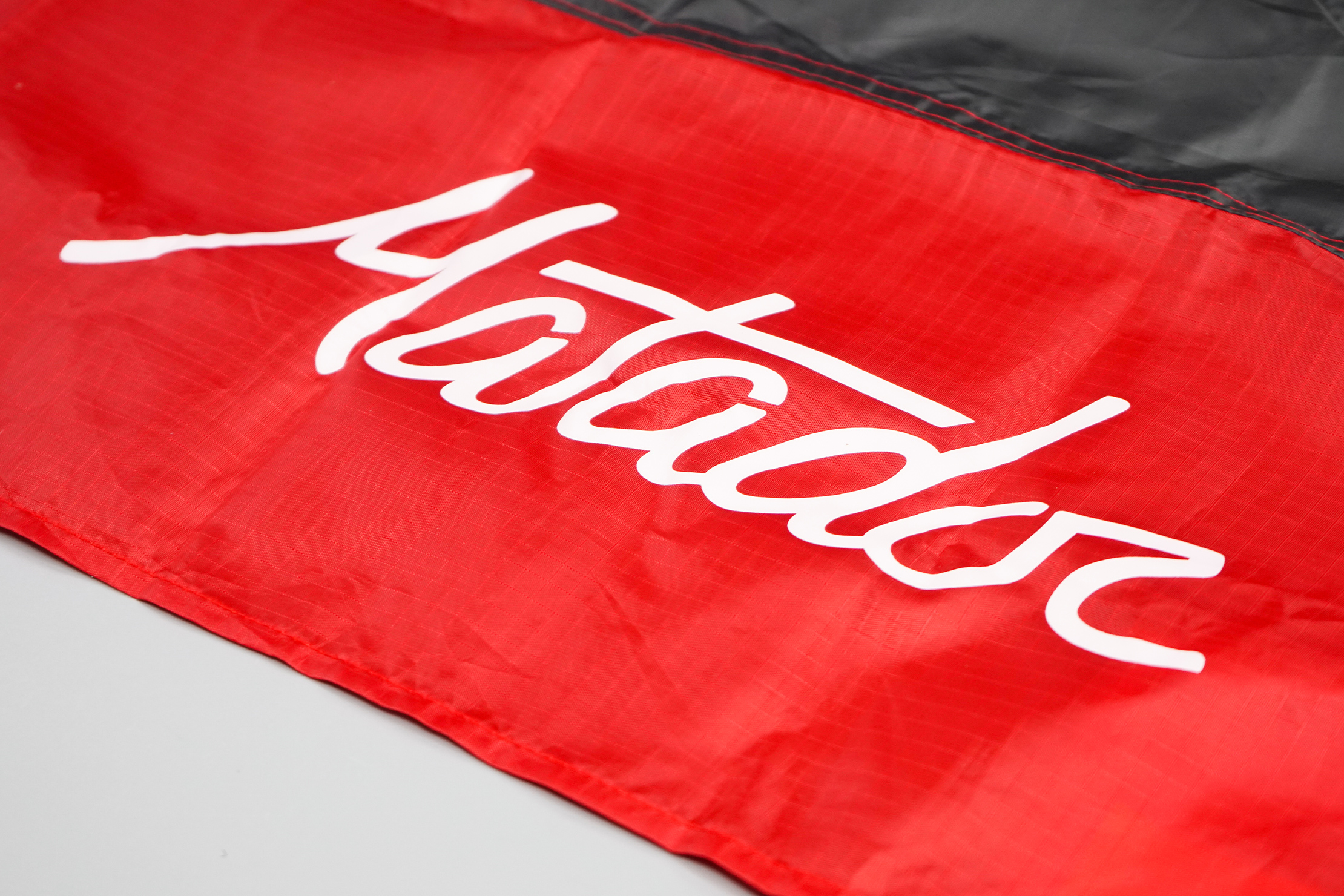 Let's talk a little more about the material. The Pocket Blanket 2.0 is made of Hyperlite Nylon, which feels swishy in the hand. It reminds us of the traditional lining material you'll find in some packs. It's an all-black blanket, so it can get a little toasty when you have it out in the sun for awhile—keeping it under a shady tree helps keep it cool.
This fabric also isn't very thick, meaning you can really feel whatever is beneath it, so a soft patch of grass or some warm sand is your best bet. We've found it stays pretty clean, too, so it doesn't look dirty after just a few uses.
We've also spilled some water on this blanket (on purpose this time) to test its water resistance, and we're happy to report that water quickly and easily beads off. So if it ever rains on your parade (or your picnic, rather), your blanket isn't ruined. Matador also claims this material is puncture-resistant, and while we haven't been intentionally poking it, we haven't found any tears or scratches as of yet, which is a good sign.
Features & Experience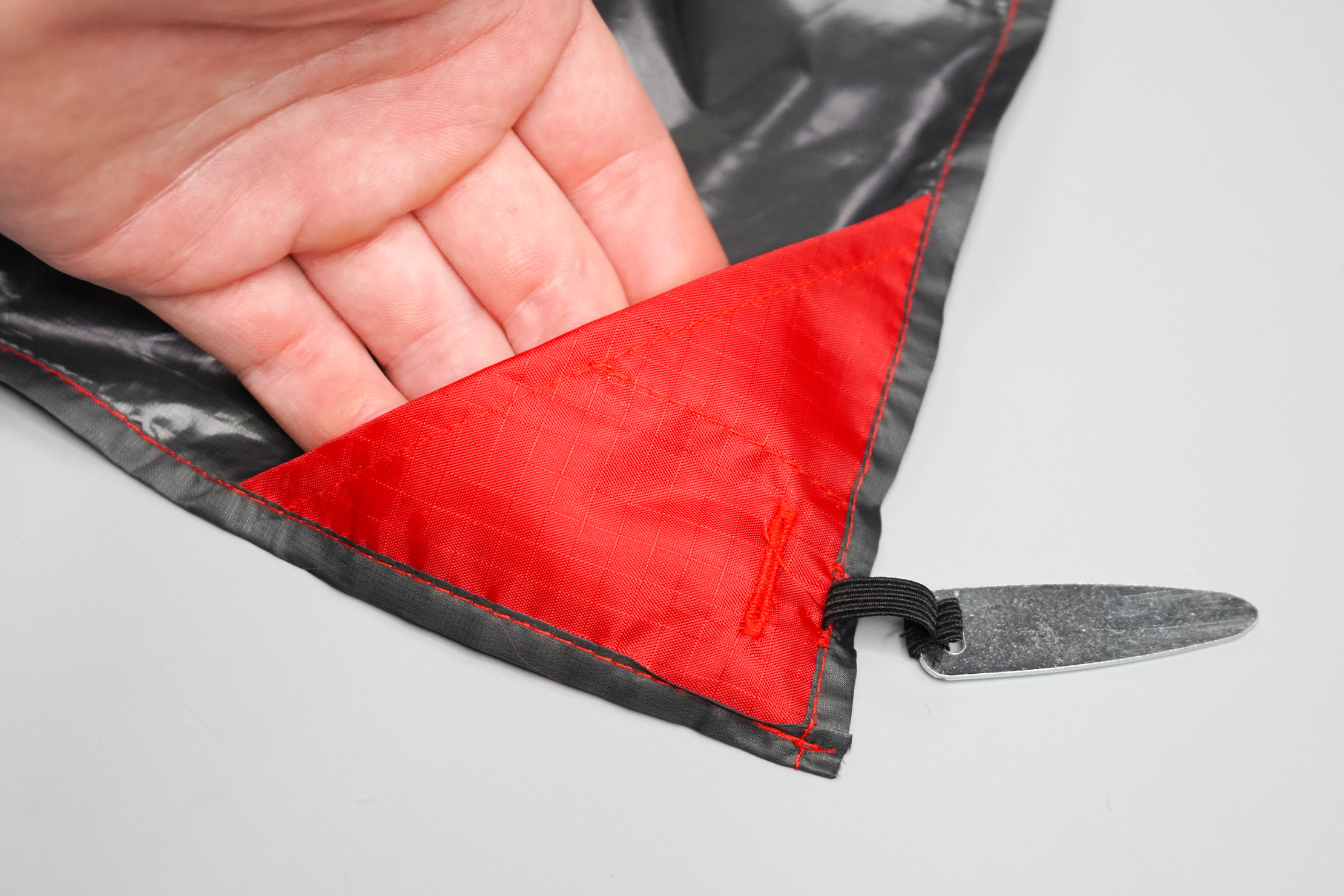 There are some convenient features incorporated on this blanket as well. You'll find metal weights in each corner that help secure the blanket. They double as stakes that you can slip in the ground to secure the blanket so it's not flailing away when a breeze rolls in. They slip easily into slots in the blanket when not in use for a clean look.
Also on the bottom of each corner is a pocket you can fill with sand. So if you're taking this thing on a solo trip to the beach, the sand will act as weight to help keep the blanket secure. It's clear that this blanket has been thoughtfully designed with multiple use cases in mind, and we appreciate it.
Of course, there are lots of other clever ways you can use this blanket. Spread it out over a picnic table so you have a clean, smooth area to set down food. Use it as a make-shift rainfly if you encounter some surprise showers. Throw it over your shoulders and wear as a stylish cape. The possibilities are endless.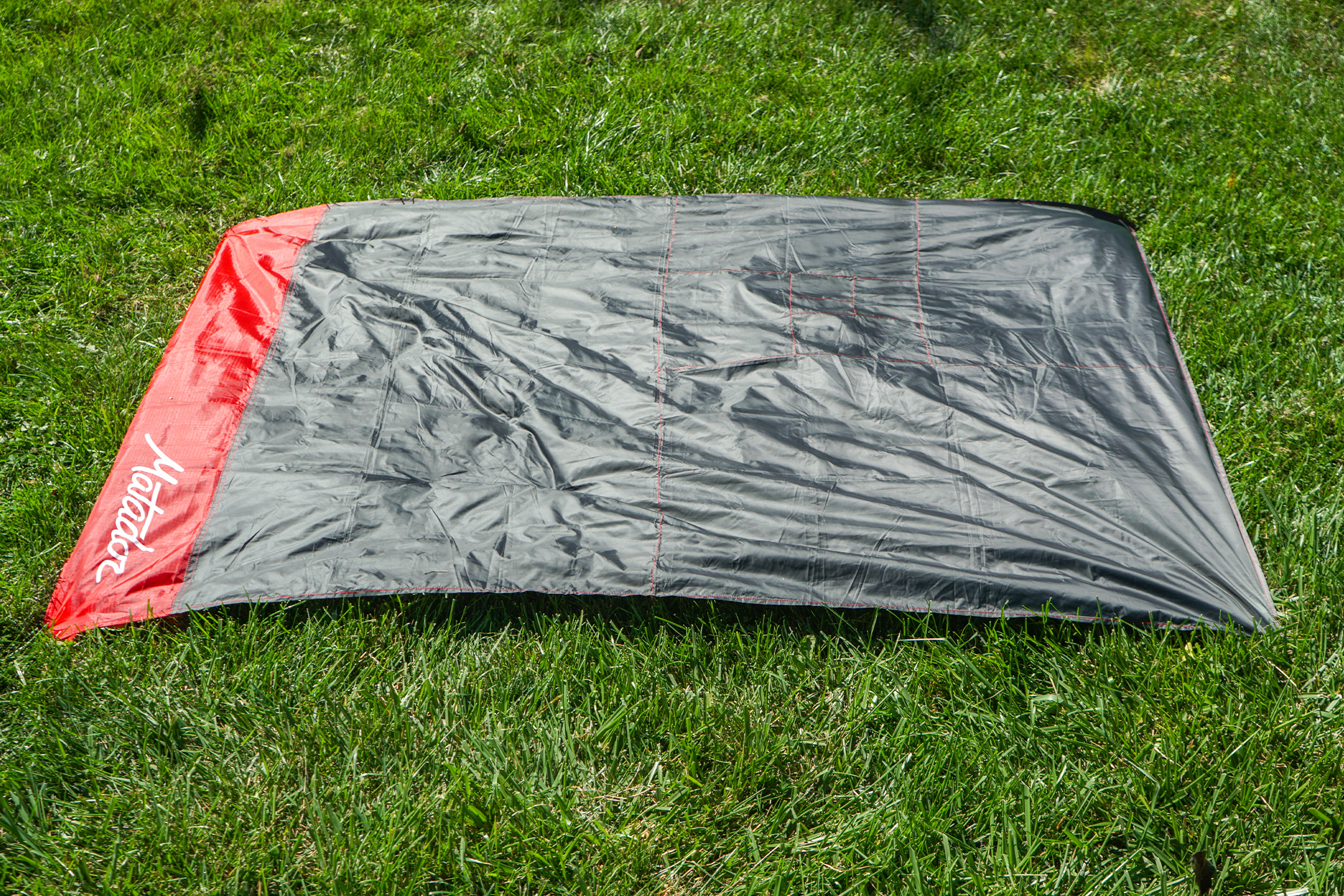 Once you have this thing unfolded, you can lay it out wherever you plan on spending your morning, afternoon, or evening. It's 63 X 44 in (160 X 110 cm), and is nice and roomy for an individual and some supplies—a backpack, some journals, your lunch, or whatever else your spread consists of.
It's advertised to hold between two and four people, but we've found it's a pretty tight fit with any more than two. If you're pretending the ground is lava and you need to get four people to safety, then sure, it works. But if it's just a regular day and you're hoping to study with three friends, for example, there's not a ton of room for all of you and all of your stuff.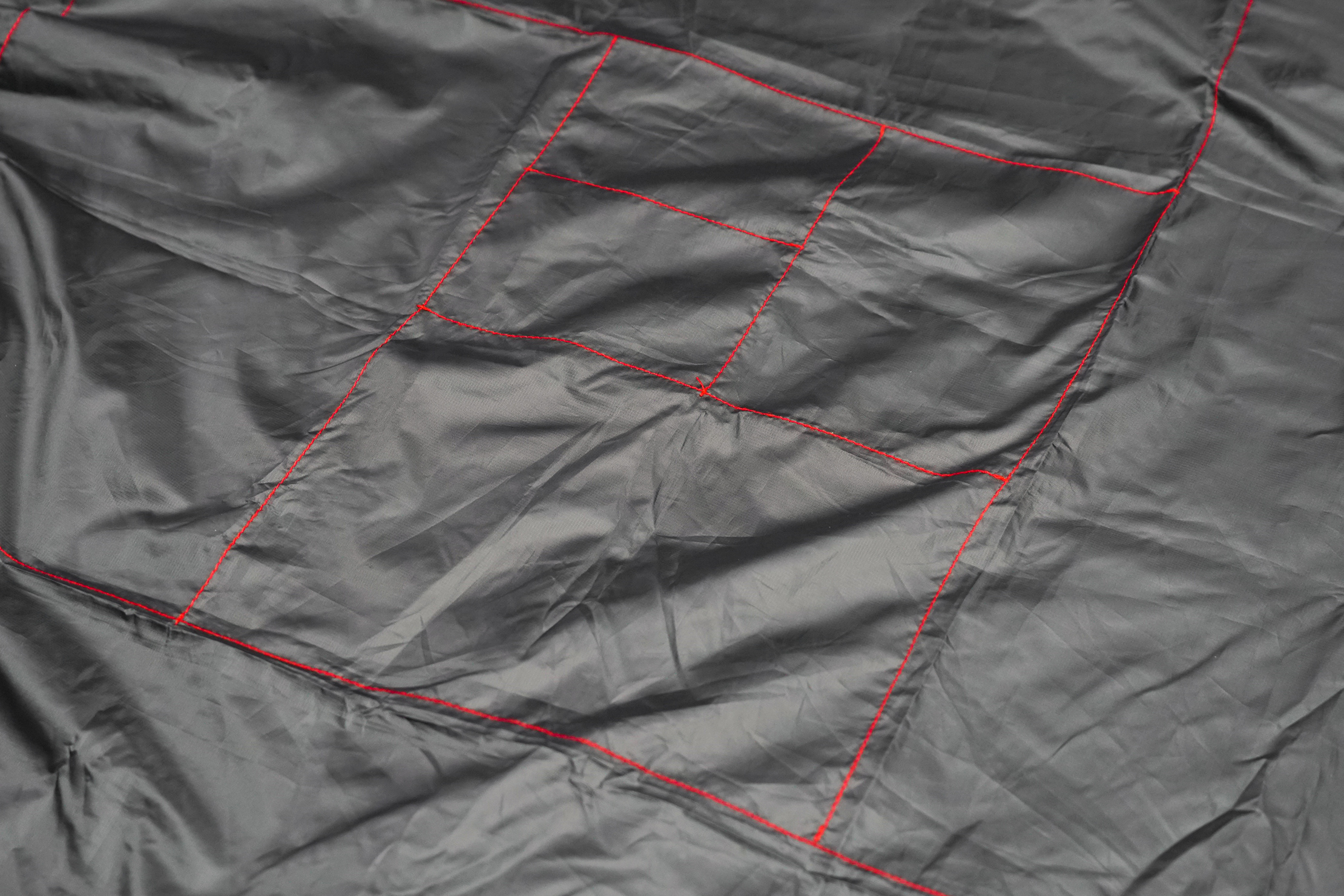 You'll notice some bright red stitching on one half of this blanket, and it's not just for looks. This thread works as a guide for packing this thing back up. Just fold it in half along the lines until it once again fits in your hand, then pull the attached pouch over the bottom. Then pack it away in your bag or pocket.
Usage Timeline
Initial Usage
Condition: Excellent
Lightweight and packs down to about the size of a deck of cards
Built-in corner stakes to keep it in place
Sewn-in guide lines help you fold it perfectly every time
2 Weeks of Use
Condition: Excellent
Branding isn't the most subtle, but this blanket has been easy to spot in our packs which we appreciate
We've been sprawling this thing out in our backyard and slipping the metal stakes in the ground, which have kept the blanket nice and secure
This blanket's fabric is pretty thin, meaning we can feel everything beneath us, so we've found it most comfortable when spread out on a soft spot
Access the Pro Community Discussion
Get your questions about the Matador Pocket Blanket 2.0 answered from our team and the Pro Community right here on the page. Plus, join discussions with other members about gear, guides, and more.
Other Toiletries & Personal Care Reviews