Gravel Explorer MAX Toiletry Bag Review
The Explorer MAX Toiletry Bag from Gravel is a travel companion you can count on to transport and organize your toiletries, but you might not have the space for it.
Our Verdict
Unlock the Pro Summary
Save time. Get access to brief summaries of our reviews so you can browse and make decisions more efficiently.
Pros
Three compartments for different toiletries
Ample organization for everything
Exterior design is sleek and minimalistic
Cons
Won't fit in smaller packs
Dual-zipper opening can be tricky
Just one separate waterproof storage area within main organization
Recent Pack Hacker Video
Technical Details
Capacity

6l

Weight (oz)

13.4 oz (379.9 g)

Dimensions

4.73 in x 11 in x 6.1 in (12 x 27.9 x 15.5 cm)

Notable Materials

Polyurethane, PVC, Aluminum, Polyester

Manufacturing Country

Vietnam

Warranty Information
Full Review
Get up to 15% off Gravel • Join Pack Hacker Pro
At the time of writing, the Gravel Explorer MINI Toiletry Bag is one of the highest-rated toiletry carriers on our site and even earned a Pack Hacker Pick badge. The Explorer MAX is at the other end of the size spectrum, leap-frogging over the SLIM and PLUS. We're curious whether we'll see the same dual compartments and intuitive design we saw on the smaller iteration or whether the larger size means an entirely different layout. Let's find out!
Materials & Aesthetic
The primary pack material here is QuarryPoly, which we were curious about from the get-go. In questioning Gravel what that meant, they informed us that it's polyester with an outer coating, which works for us. It has a matte look and feel to it, which we dig. The material doesn't have a ton of structure, but there are many layers of fabric inside, so the bag doesn't have any issues standing up; we'll discuss the interior later.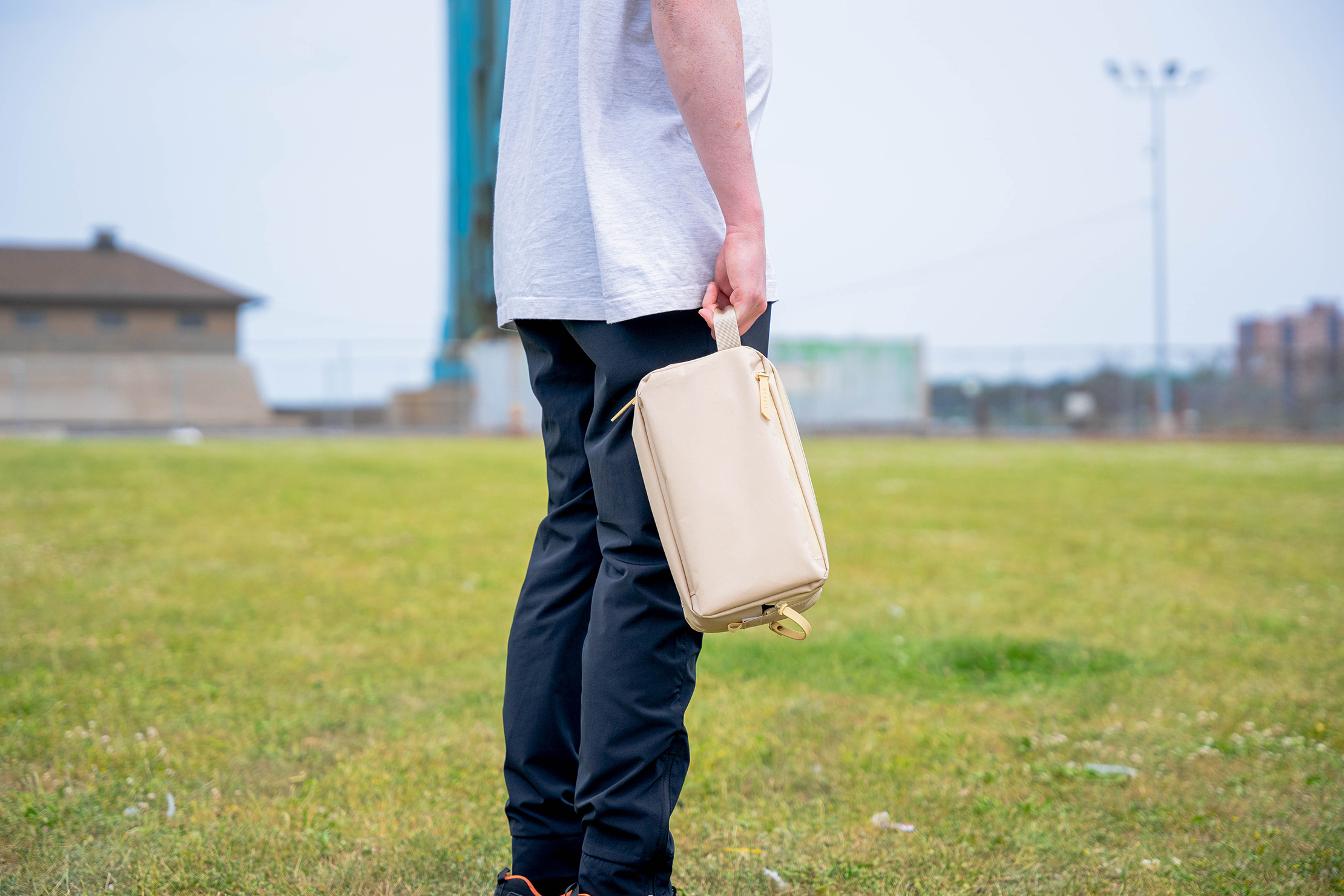 Gravel also has polyurethane and PVC listed, which are staples of toiletry accessories because of their water-resistant properties. That's great for keeping water out of your toiletries or shampoo away from the gear outside, but it gives the pack a very synthetic feel. We don't mind, but it might not be your preferred aesthetic.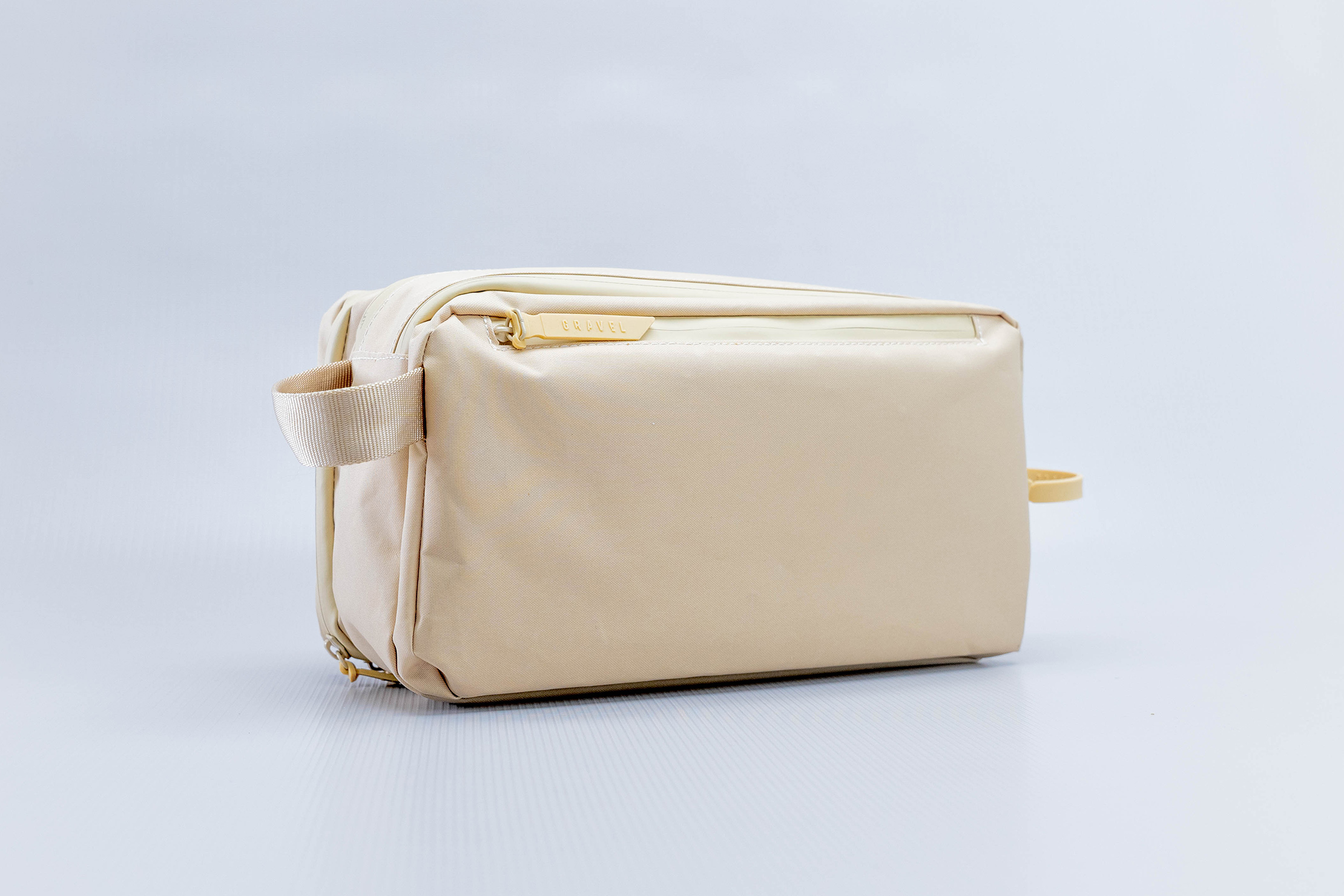 There's a hanging hook—which we will cover in-depth in a minute—crafted from aluminum. It has a little weight to it, but it's sturdy, which is ideal for how large this toiletry bag is. You can load a ton of stuff inside it due to its size and don't have to worry about the metal hanging hook breaking.

Since we're talking about size, we might as well uncover the elephant in the room. This thing is six liters—yes, one more than five, one less than seven liters. It sometimes feels more like a sling or lunch box than a toiletry bag. We don't think that's terrible; we just want to hit home about how significantly sized this thing is. When fully packed out, it's hard to palm it by any of its sides. There are carry handles to cover you on that one—but to reiterate—this thing is sizeable!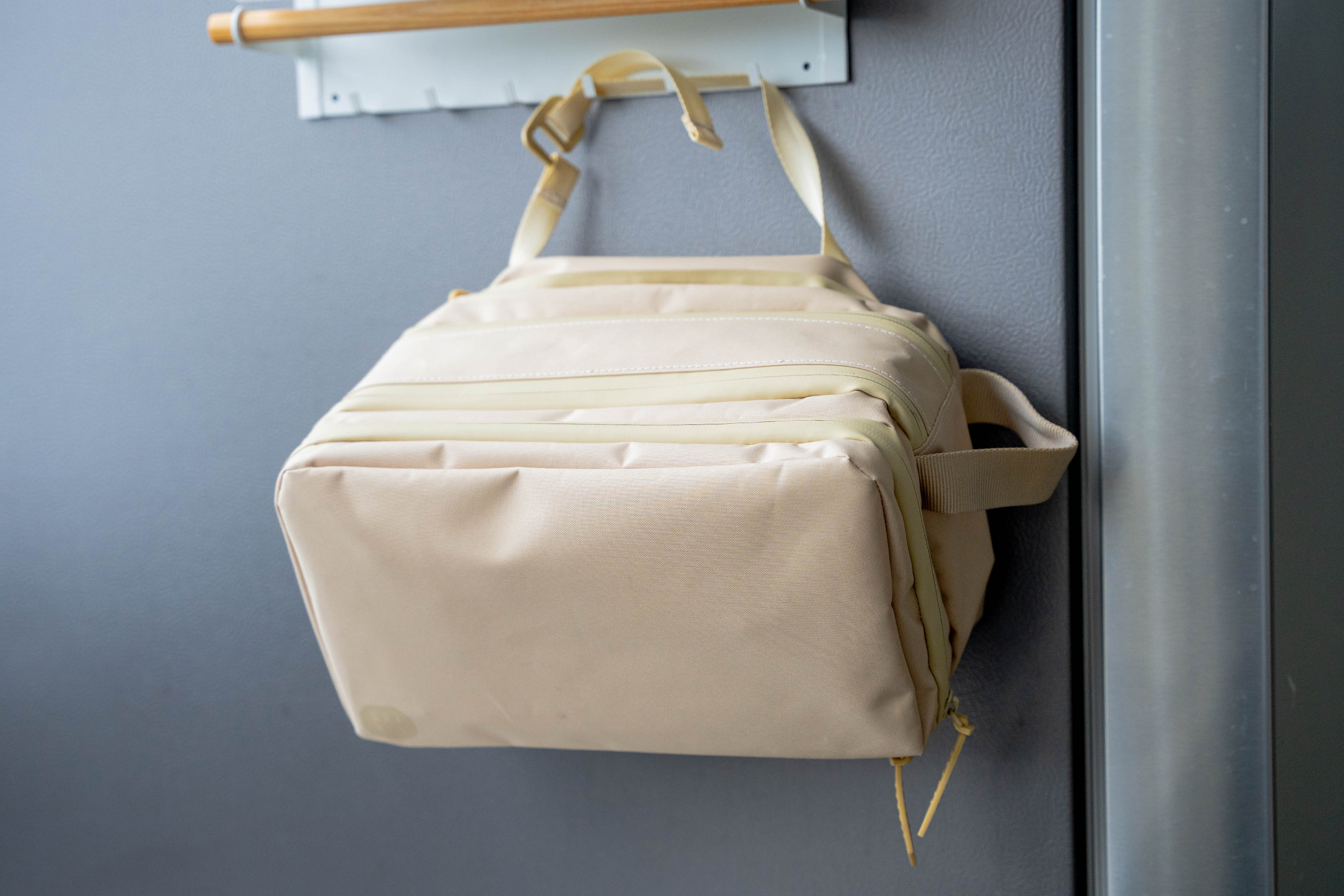 At the time of writing, the Explorer MAX comes in two colorways. We got our hands on the Sand model, and there's a Black one, too. Both options combine good color choices with a sleek matte finish, and the logo fits nicely. So nicely, you might not know it was there if you weren't looking for it.
We didn't have any issue with the unbranded zippers like we did on Gravel's Plus sized Toiletry Bag. Each track on the exterior has a water-resistant finish to ensure that water stays out and toothpaste stays in. The zipper pulls feel like they're crafted from silicone and have a nice texture. The material is similar to Gravel's Soft 30 oz Liquid Bottles, which we quite liked.
The main compartment zippers run on a parallel track with a connected zipper pull. It feels slightly odd at first but adds a lot of functionality to the main compartment. It's such a large area that one zip would be too small for the large items you can fit inside, like a travel hair dryer or curling iron.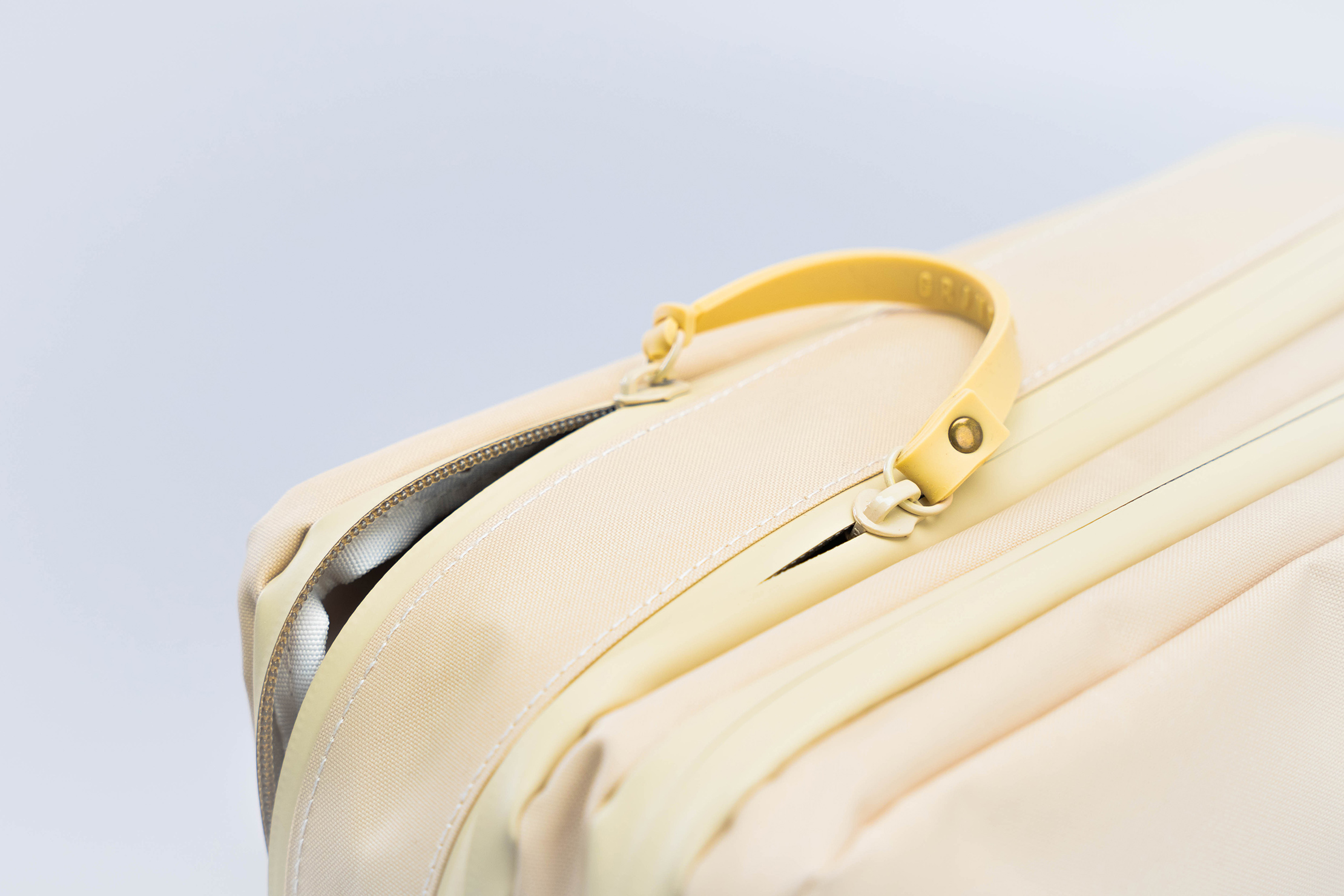 Because there's a double zip, when you open the compartment, there are a few inches of entrance and egress space, so larger items can move freely.
The zipper pulls have GRAVEL spelled out with raised letters, which is helpful if they get wet. The silicone-feeling material is slippery when moisture is present, so the letters offer something to grasp onto, making it easier to open and close the compartments. We had a zipper pull break on the Mini Toiletry Bag, but have had no such issue with the MAX.
Usage & Features
Kicking things into gear, we'll start with how you can get this thing from point a to point b. The first way to hold it is from the connected zippers we just reviewed. There's enough room to fit your entire hand underneath it and hold onto it, although we don't recommend it as this can accidentally open the bag. In a pinch, it works.
Our recommended method is via the carry handle on the opposite side, which is crafted from a material that feels like nylon. It has an inherent softness and feels durable but comfortable. There isn't any padding or anything, but it feels nice in your hand, and it's large enough not to be restrictive when the walk to the bathroom at the airport is further than you thought.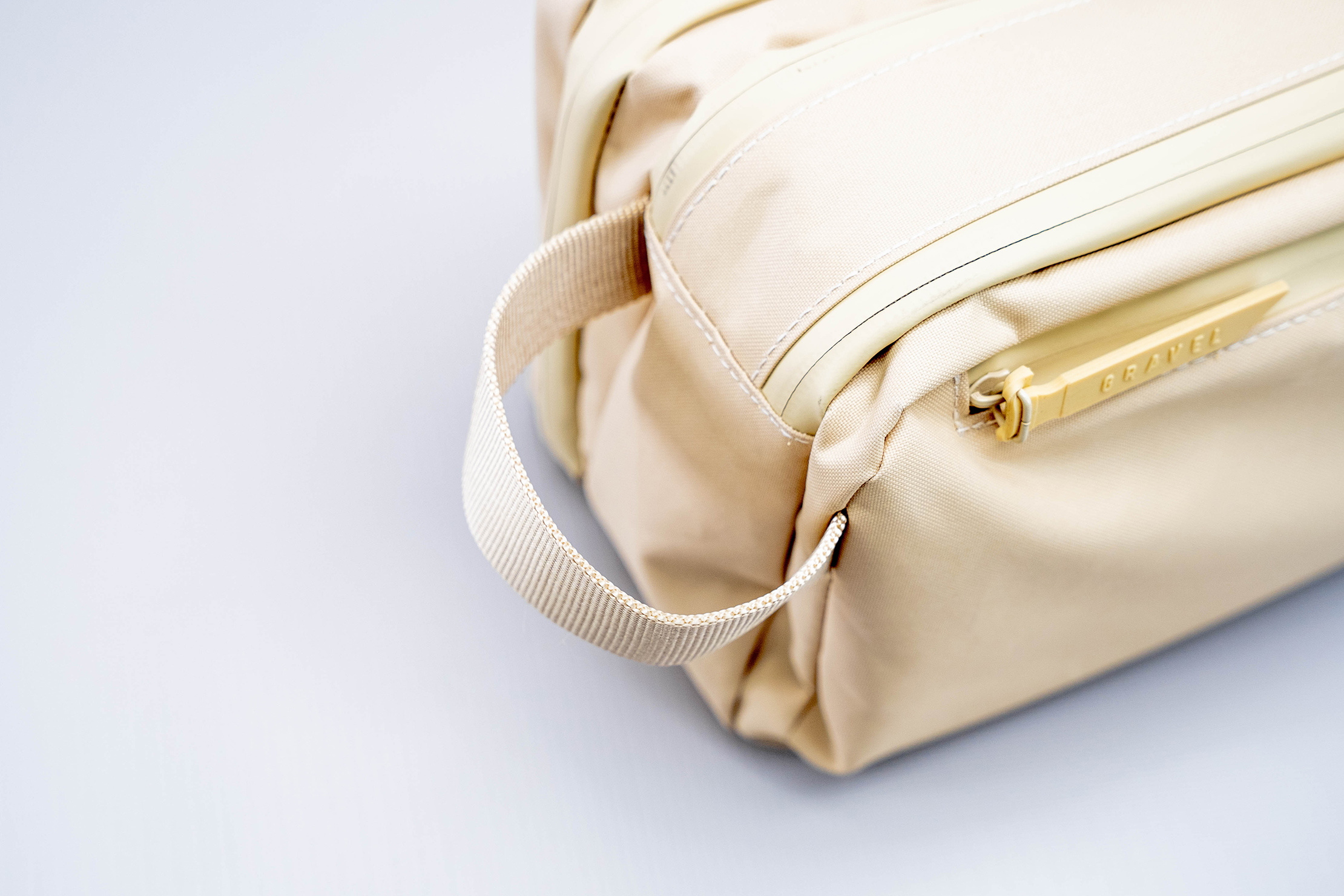 Moving inside the bag, we'll start with the rear pocket. It resembles one you'd find on the back of a sling and operates somewhat similarly. It excels in carrying flat items, as there isn't much room.
Its primary use is stowing the hanging device we mentioned earlier on. There's a long strap on one side, a metal hook on the end, and a small loop on the other. You can adjust where the metal hook sits on the strap, offering you more or less hanging distance. We dig that you can hook and unhook the hanger because it enables you to hang it from non-traditional places like the handle on a drawer, around a light fixture with a big head, or on your dog's collar. That last one probably isn't a good idea, but hey, maybe your Shih Tzu likes to brush their teeth after a trip to the park—we don't judge.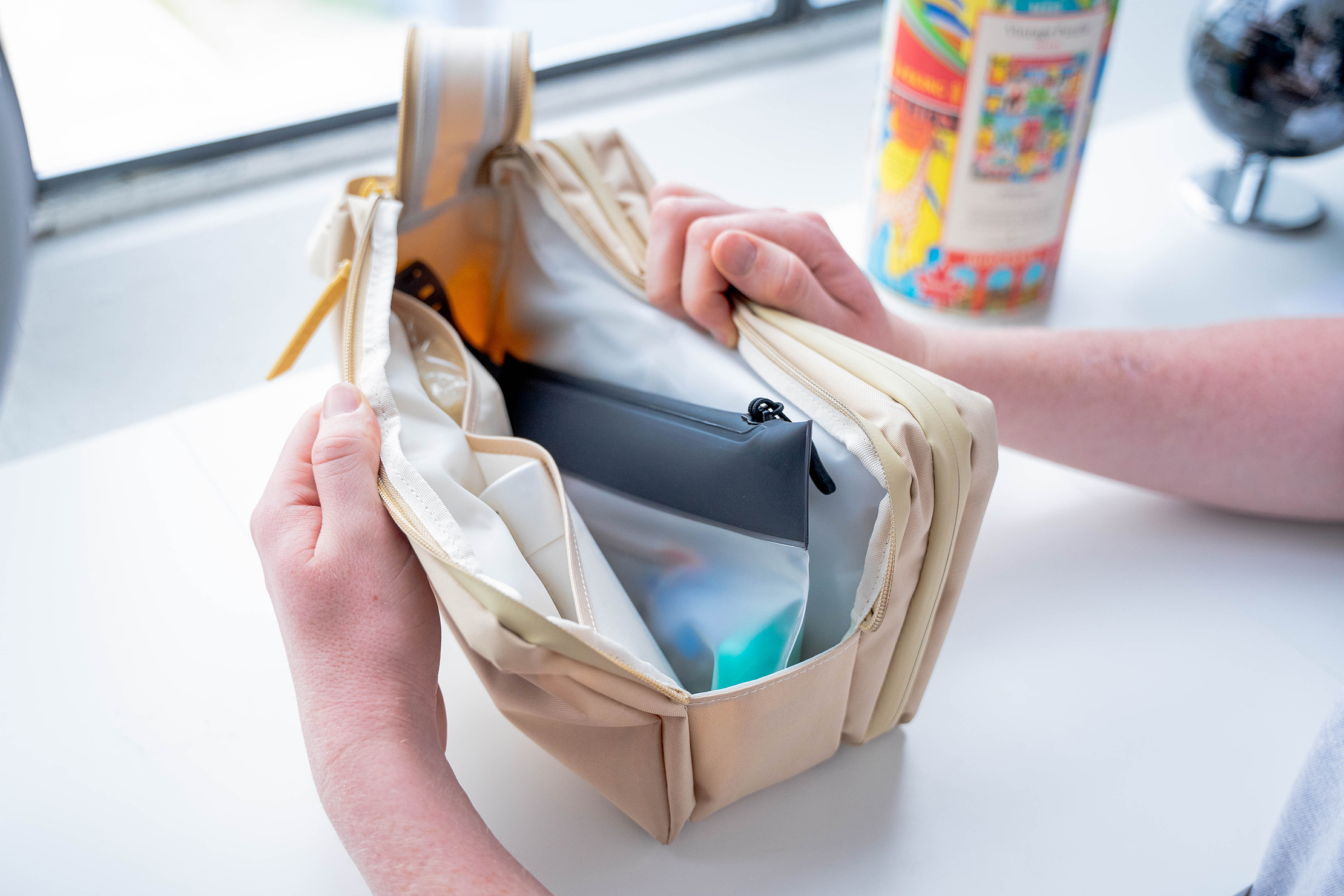 Moving inward from the flat pocket, we find ourselves at the entrance of the main compartment. As we mentioned earlier, it opens with two zippers, creating a flap in the middle between the two. The end of the flap has a magnet on it to hold it in place, even when the zippers aren't closed; a nice addition, we think. It also adds weight to the end. The material dangles out of the way and doesn't float around when the pack is open.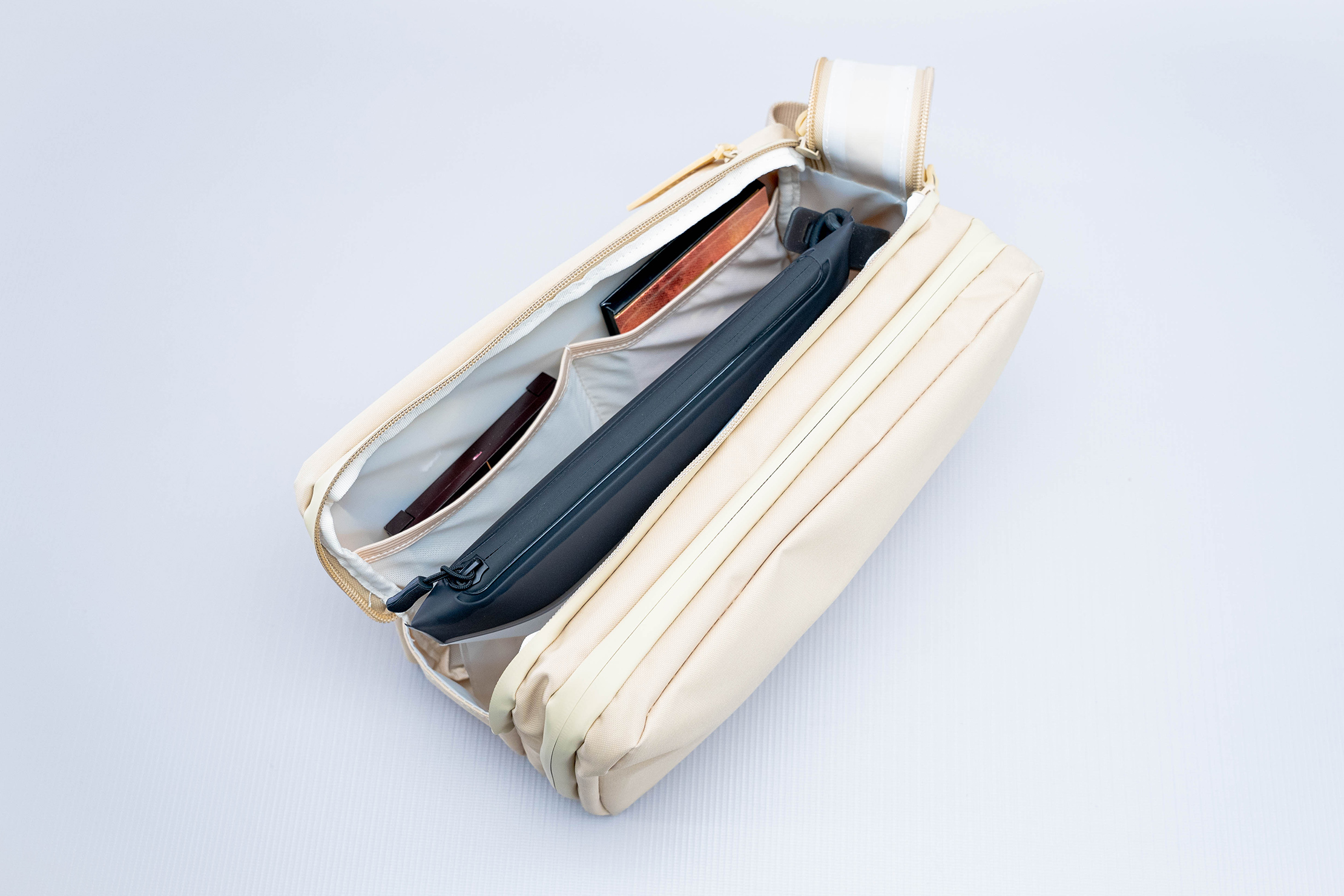 When opened up, there's a ton of space to work with here. Most of the land is uncultivated, but there are a few liner pockets. Two to be exact, both of which are on the outside wall. We like the stretch mesh material for oddball-sized items like a Vasarii nakd. Thai Crystal Deodorant Stone or chargers for electronic toiletry devices.
The compartment has enough room to stow a lot of gear, whether a travel-sized hairdryer or a thin set of pajamas to bring on your flight. The walls on each side feel like polyurethane, protecting each pocket from the others should a spill or shampoo explosion occur.
The last of the three pockets has a clamshell opening, which we think is unique. We've tested toiletry pouches that open like this in the past, like the Away Small Toiletry Bag. Still, we're excited by the fact that the Explorer MAX has a clamshell-style opening in addition to other compartments. It allows you to compartmentalize your toiletries, which is ideal for folks who like staying organized or traveling with a partner.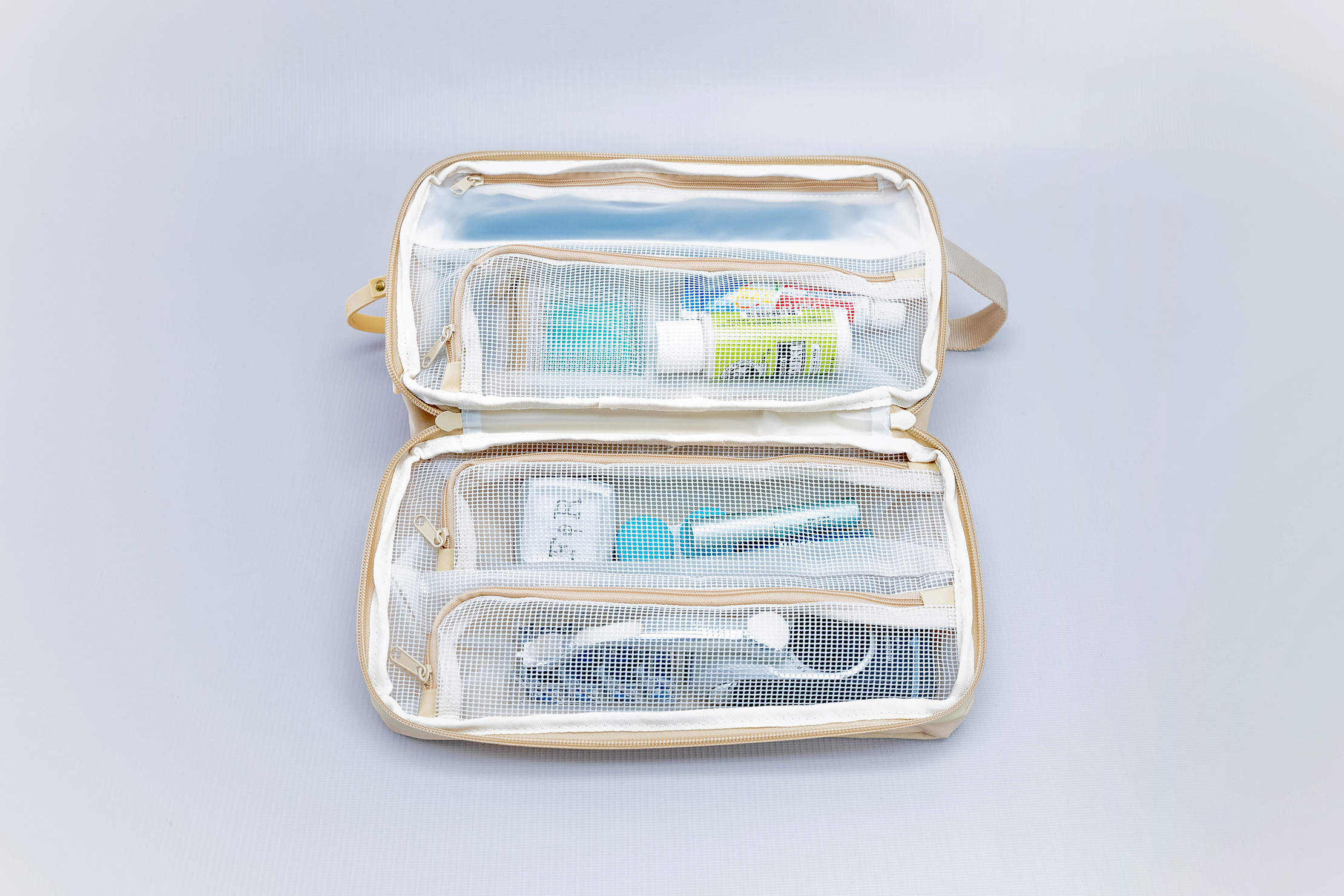 This section has a ton of organization, most of which uses mesh to separate things. The interior side has one polyurethane pocket for your toothbrush or a similar-sized item and a large mesh pocket next to it. The mesh on these pockets is rigid but has large holes, which is excellent for letting products air out if they're still damp. This mesh pocket has an additional mini pocket inside it, which Gravel suggests is a place for cotton swabs. We like to use it for dental floss but to each their own.
The opposite side of the clamshell opening has two similar mesh pockets, but they lack the hidden pocket inside. They're well suited for almost every imaginable size of toiletries, but extremely wide bottles might struggle to fit. If that's the case, we can always move them to the large main compartment we already discussed. We wish there were another plastic-lined pocket for a razor, but it isn't the end of the world to stow it elsewhere.
But wait, there's more! At the time of writing, if you purchase the Gravel Explorer MAX Toiletry Bag, you get a 3-1-1 TSA Compliant Bag to go inside it. If you're heading through airport security, you'll need it, so it's a helpful inclusion. The MAX offers a ton of space to stow toiletries, but if you don't have a TSA-compliant bag to pack your liquids inside, the security agent won't be thrilled to see you.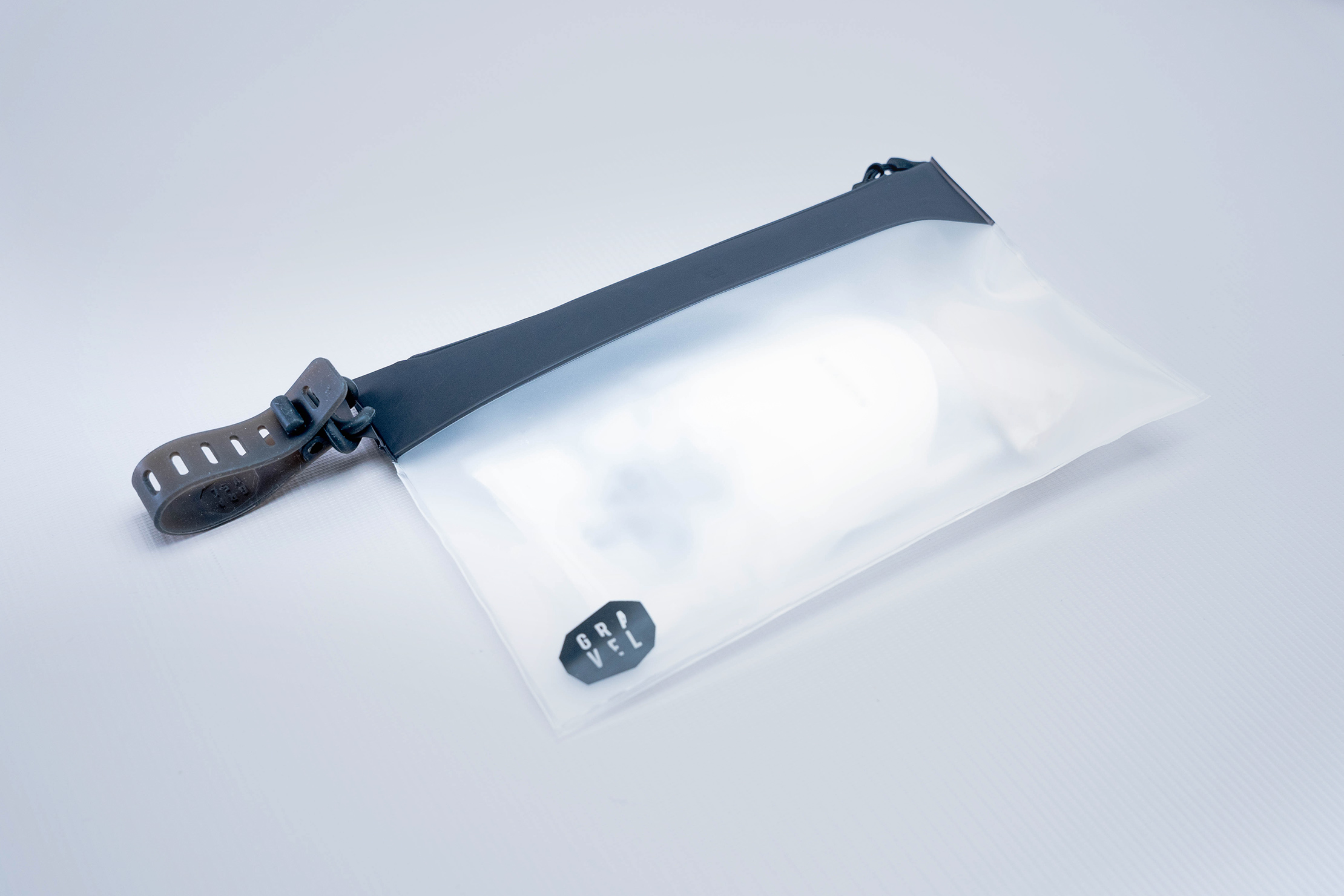 We won't dive too far down the rabbit hole of the 3-1-1 Bag as it's a separate bag, but it has the same unbranded zippers as the Explorer MAX—complete with water-resistant zipper tracks. We didn't have any issues with liquids leaking in or out of the bag, and the silicone loop on the outside is perfect for yanking it out of the Dopp kit, checking it, and tossing it back inside. Gravel says that you can fit three of these inside the Explorer MAX, which might be overkill, but will suit the needs of multiple travelers using the same toiletry bag.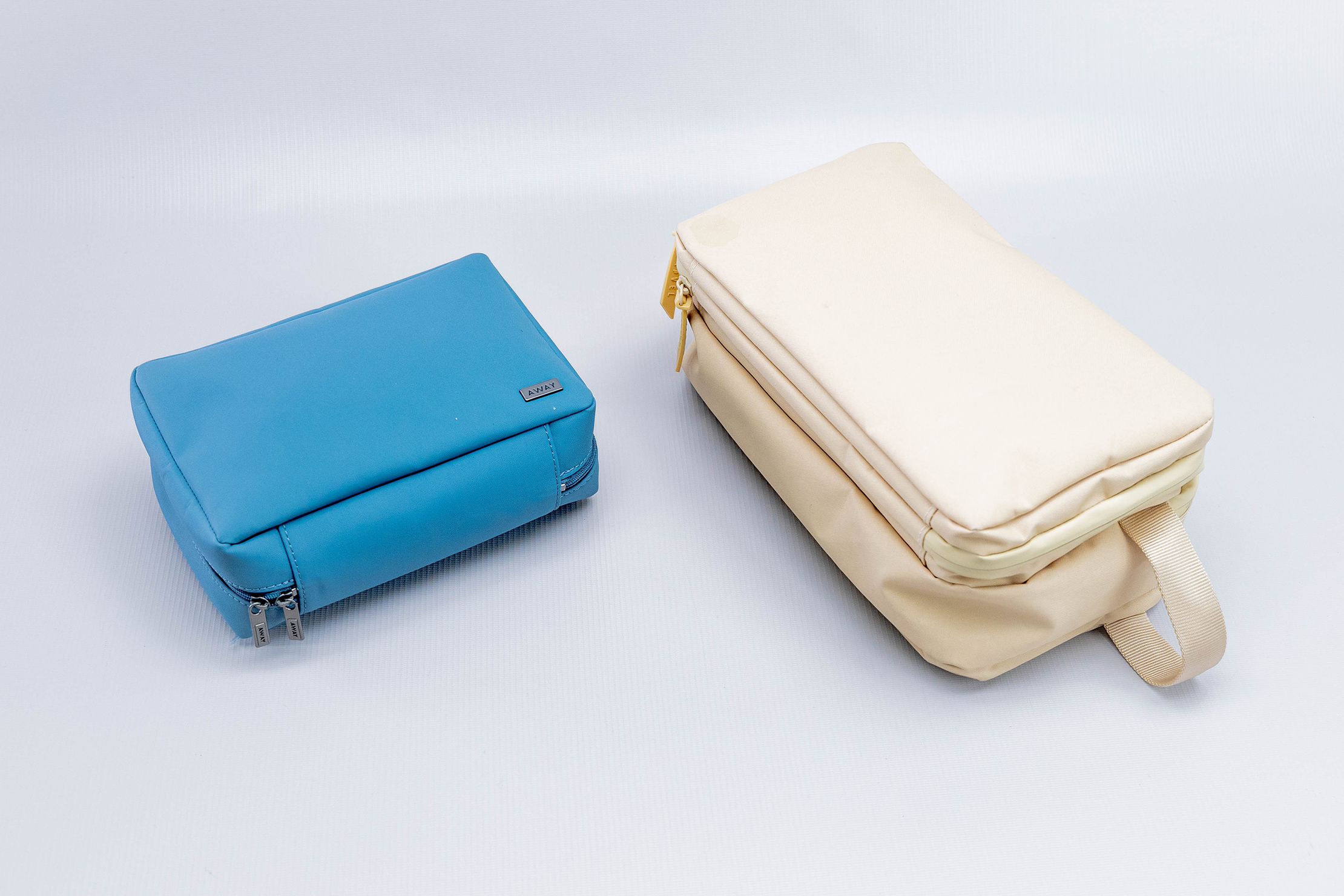 Overall, we're amped by how the Gravel Explorer MAX Toiletry Bag performed. The size can be prohibitive to minimalist travel, but if you're bringing a checked bag, extra carry-on, or going on a road or train trip—it might be the Dopp kit for you. The materials don't get in your way, it keeps things segmented and looks good while doing it. If you can get over the size, there isn't much else to report here.
Usage Timeline
Initial Usage
Condition: Excellent
Eight different pockets to organize toiletries
Included hook makes hanging it in the bathroom easier
The TSA compliant liquids pouch is nice but may be awkward to stow inside
2 Weeks of Use
Condition: Excellent
Interior material is easy to clean
No abrasions of loose threads on the bag
Some marks on the zipper track, but easy to clean
Access the Pro Community Discussion
Get your questions about the Gravel Explorer MAX Toiletry Bag answered from our team and the Pro Community right here on the page. Plus, join discussions with other members about gear, guides, and more.
Other Organizers & Pouches Reviews