Vasarii nakd. Thai Crystal Deodorant Stone Review
Vasarii's nakd. Thai Crystal Deodorant Stone is an all-natural approach to keeping underarms stench-free, and it's travel-friendly too.
Our Verdict
Unlock the Pro Summary
Save time. Get access to brief summaries of our reviews so you can browse and make decisions more efficiently.
Pros
Good cost per use
Compact, easy to fit in a small toiletry bag
All-natural ingredients
Cons
Takes longer to apply than ordinary deodorant
Can pop out of plastic base after a lot of use
Takes a while for your body to adjust to the mineral salt
Recent Pack Hacker Video
Technical Details
Weight (oz)

2.5 oz (70.9 g)

Manufacturing Country

Thailand
Full Review
Some of our best adventures are those trips where we spend 99% of the time in the great outdoors. Whether it's a national park tour, a food trip down an Asian street market, or a stroll through a downtown cityscape, they're all good memories, albeit sweaty ones. As such, one of the most indispensable tools in our toiletry bag is deodorant.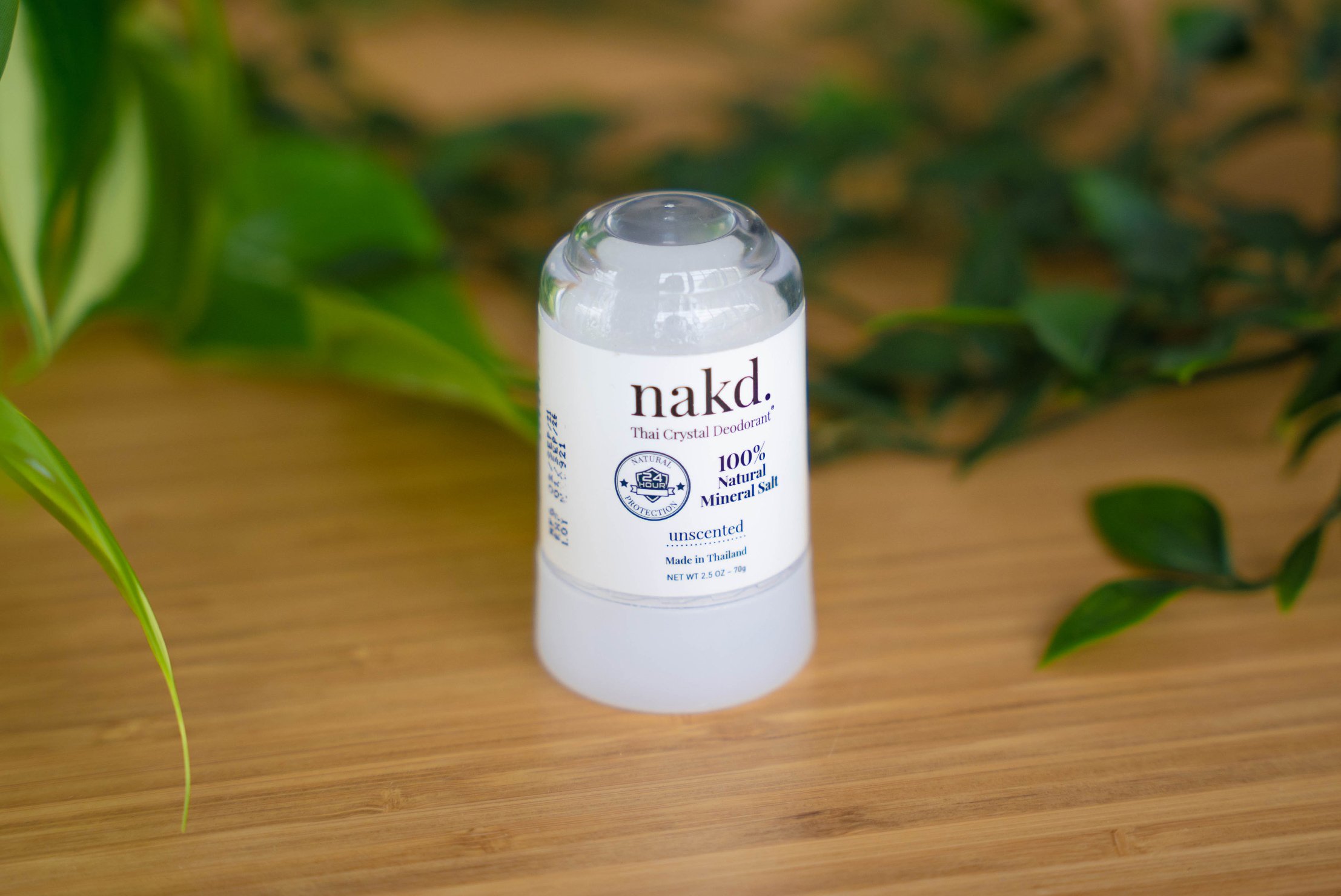 Deodorants come in all shapes and sizes, but the type we're looking at in this review is a crystal deodorant. Vasarii's nakd. Thai Crystal Deodorant Stone is one such example. It works more or less like a regular stick of deodorant, though with extra steps, and it's unscented. On the flip side, it is all-natural, lasts a long time, and is quite travel-friendly.
Materials & Aesthetic
The nakd. Thai Crystal Deodorant Stone is housed in clear and white plastic, with a black and white wrap-around label that's quite minimalist. Right next to its more colorful off-the-shelf counterparts, it does a good job of looking more boutique. It goes well with our set of GoToob+, some of which are also in white and clear colorways.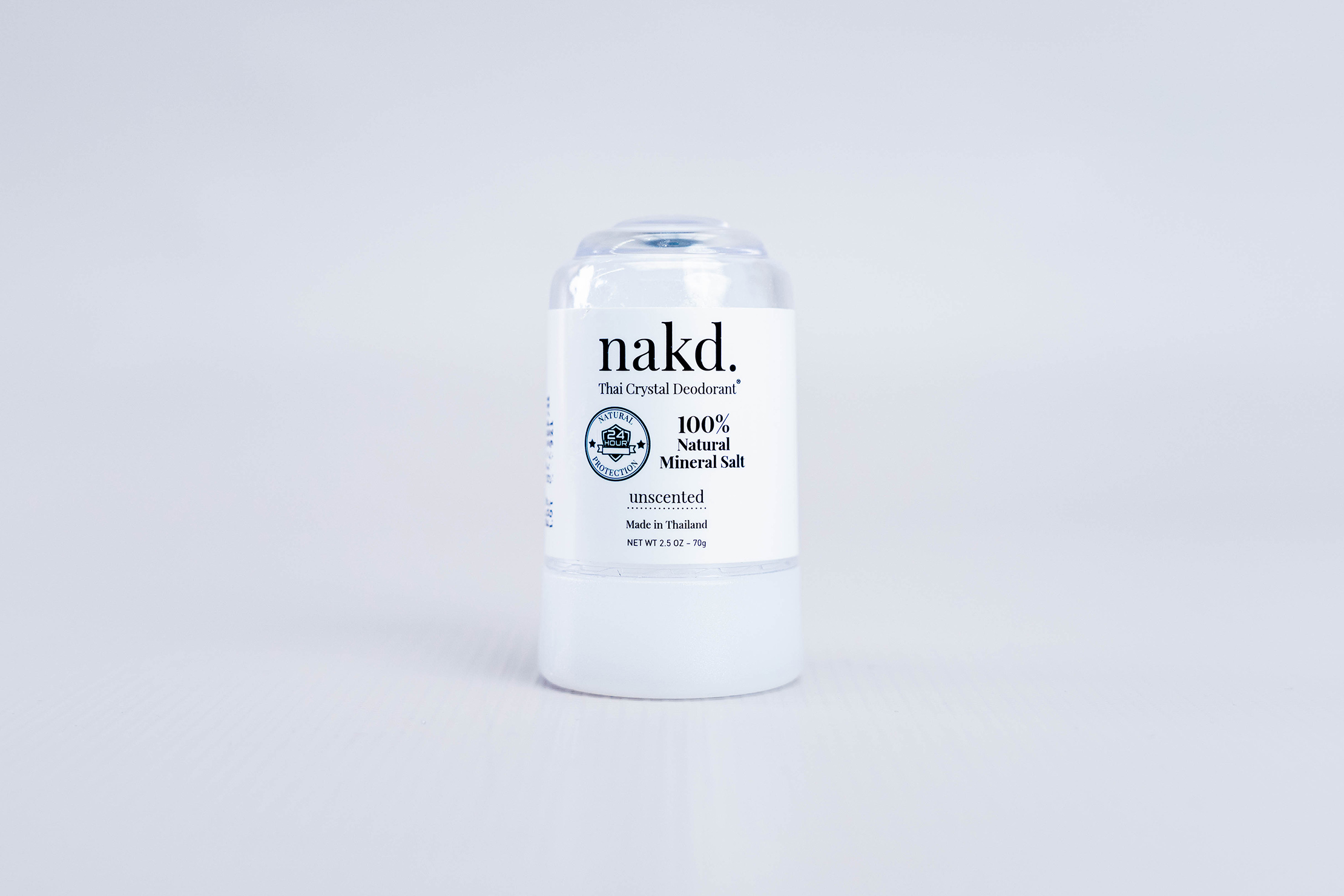 The 2.5-ounce we have here actually comes packaged with a bigger 4.25-once version. Either way, the plastic containers are of fairly decent quality. The casing certainly feels more robust than what some cheaper deodorants use, and we're particularly pleased with the threading on the cap. It's not so thin that cross-threading is an issue, something which was an issue for us on other deodorants. You'd be surprised how something as simple as threading and uncapping something affects someone's perception of a product's quality.
The deodorant or "stone" itself is made of potassium alum (potassium aluminum sulfate), a naturally occurring mineral salt. The fact that it's all-natural is a draw in its own right if you're looking to eliminate chemicals from your everyday toiletries. By the way, most of these stones are sourced from Thailand, which is why you'll often see the country's name or demonym on the label.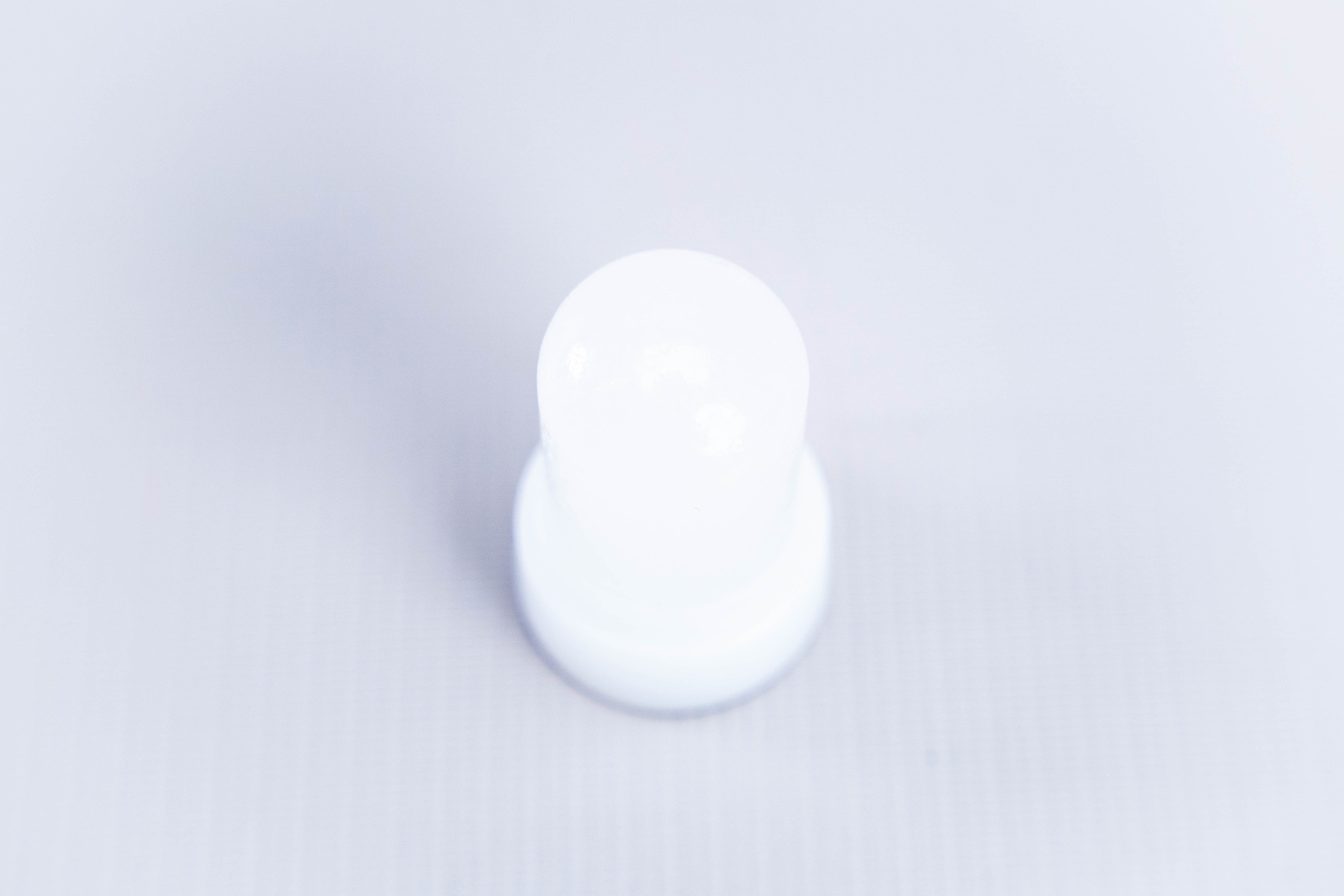 Most crystal deodorants are unscented, with the most distinguishing factor being their application method. This one is a stone, which can lessen the potential of spillage while traveling. Plus, it's a solid, so it doesn't count against your TSA liquid allowance. That's a win.
Usage & Features
Okay, let's be honest, most of the time when someone says something is unscented, it usually still has a faint smell. To put it another way, water is perceived as tasteless, but you still know what it is when you drink it. As for this unscented crystal deodorant, it smells characteristically salty, and in a good way.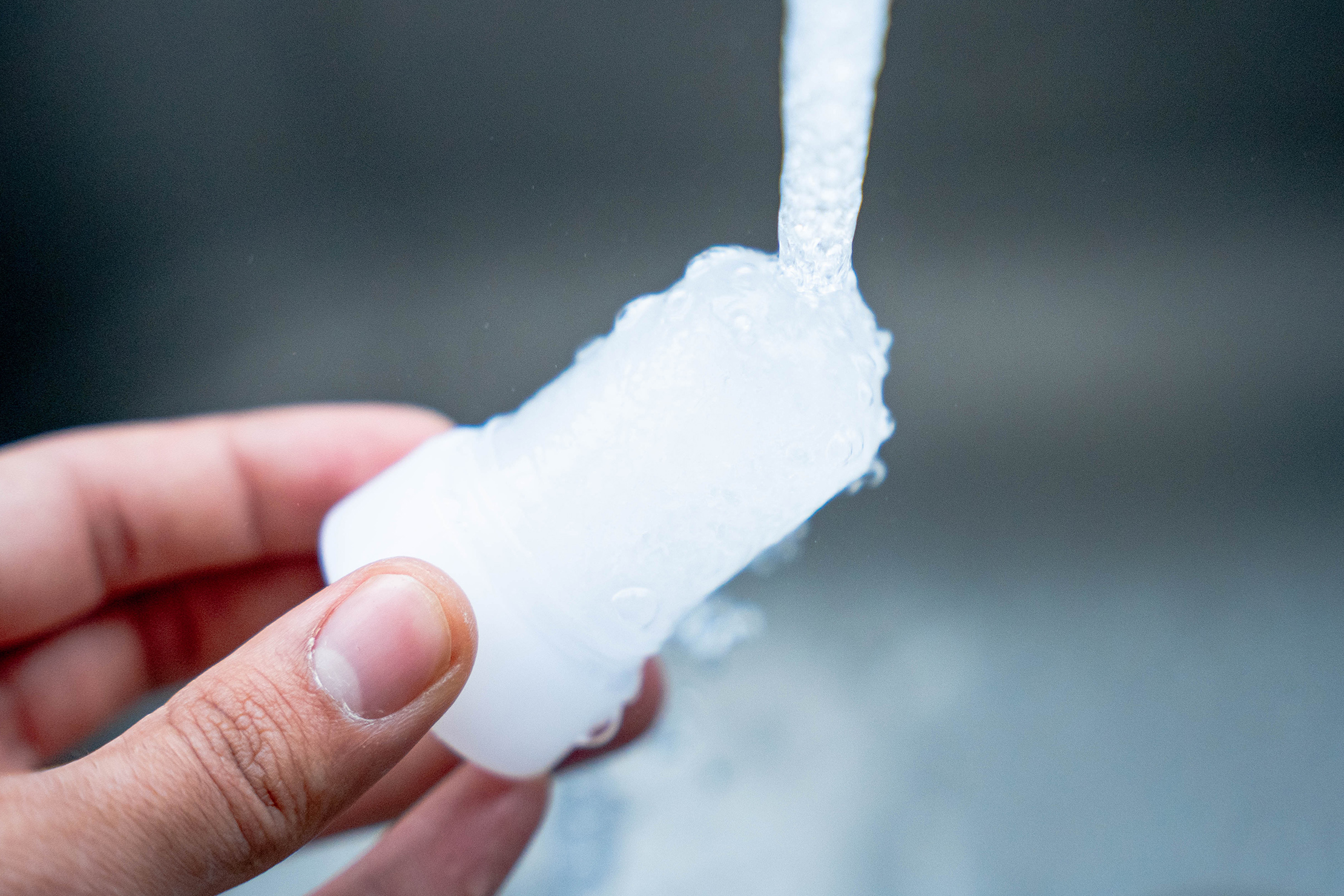 It does take some time before your body gets used to crystal deodorant if you're switching from something else. One change is that you'll probably sweat a little bit more early on, though we personally didn't notice a difference in that regard. Application time might be the biggest downside since the crystal needs to be moistened with water and rubbed for each underarm. It takes us about 25 or 30 rubs to get a satisfactory application, but your mileage may vary. Once it's on, though, we're good to go for an entire day for adventuring.
As for how long the crystal itself lasts—we've found it'll last for about two to three months; not bad for something so small. Application starts to get tricky once the crystal gets too small for its plastic base. It can fall off once it's loose enough, and then you'll have to hold the rock when you use it. That is one disadvantage that you don't get with a roll-on, but it's not a deal-breaker to us. You can still store it inside of the case just fine, too.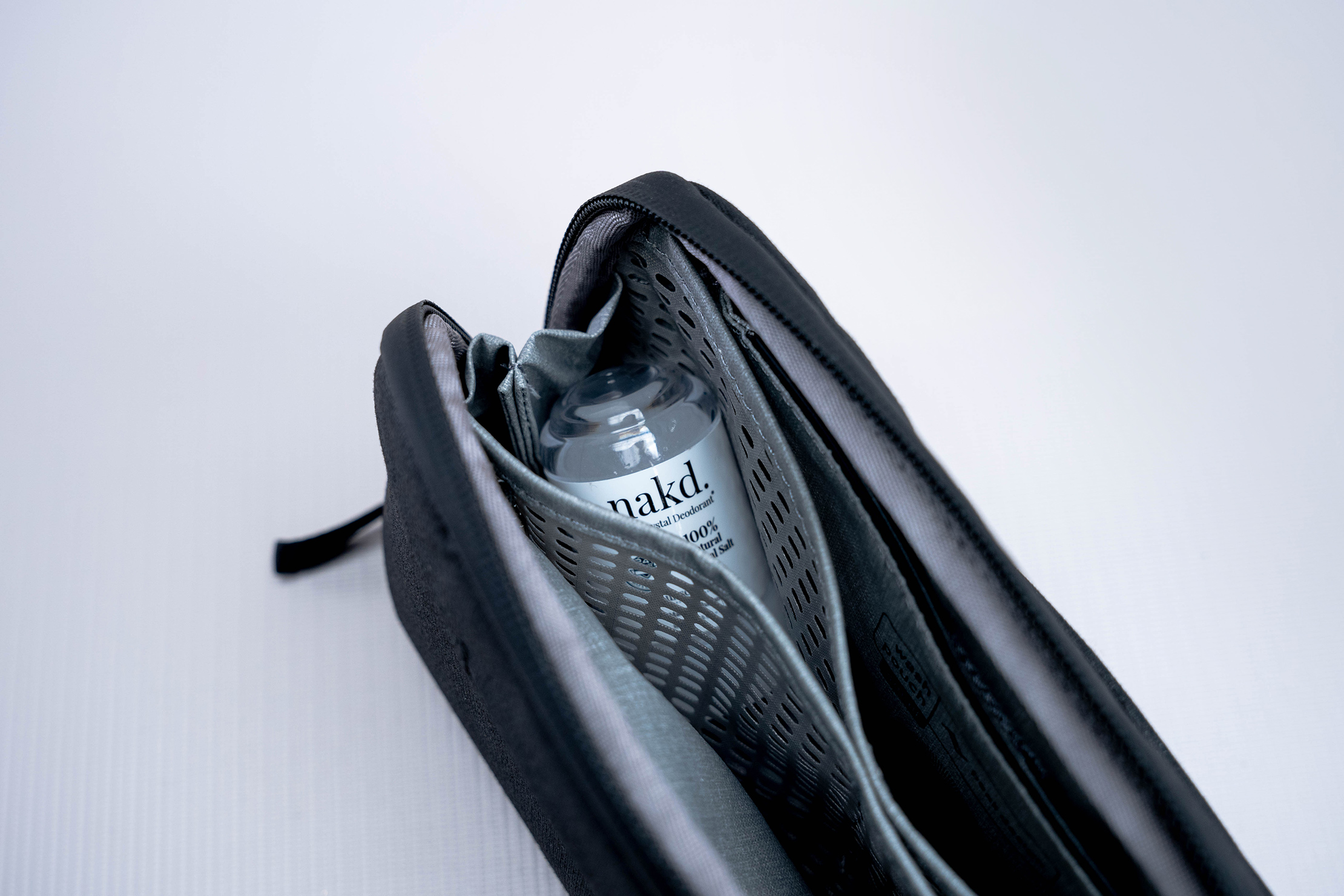 For travel purposes, the smaller 2.5-ounce version is the way to go for space-saving reasons. Some compact toiletry bags like Peak Design's Small Wash Pouch maximize space and organization by clever use of subdivided pockets; pockets where the 2.5-ounce version slots well into.
To give you a sense of scale, here it is next to a bunch of other deodorants we have. We've even included the Crystal Mineral Deodorant Travel Stick, a similarly-sized crystal deodorant. As you can see, the nakd. Thai Crystal Deodorant comes at a very close second to the Crystal Mineral in tems of smallness.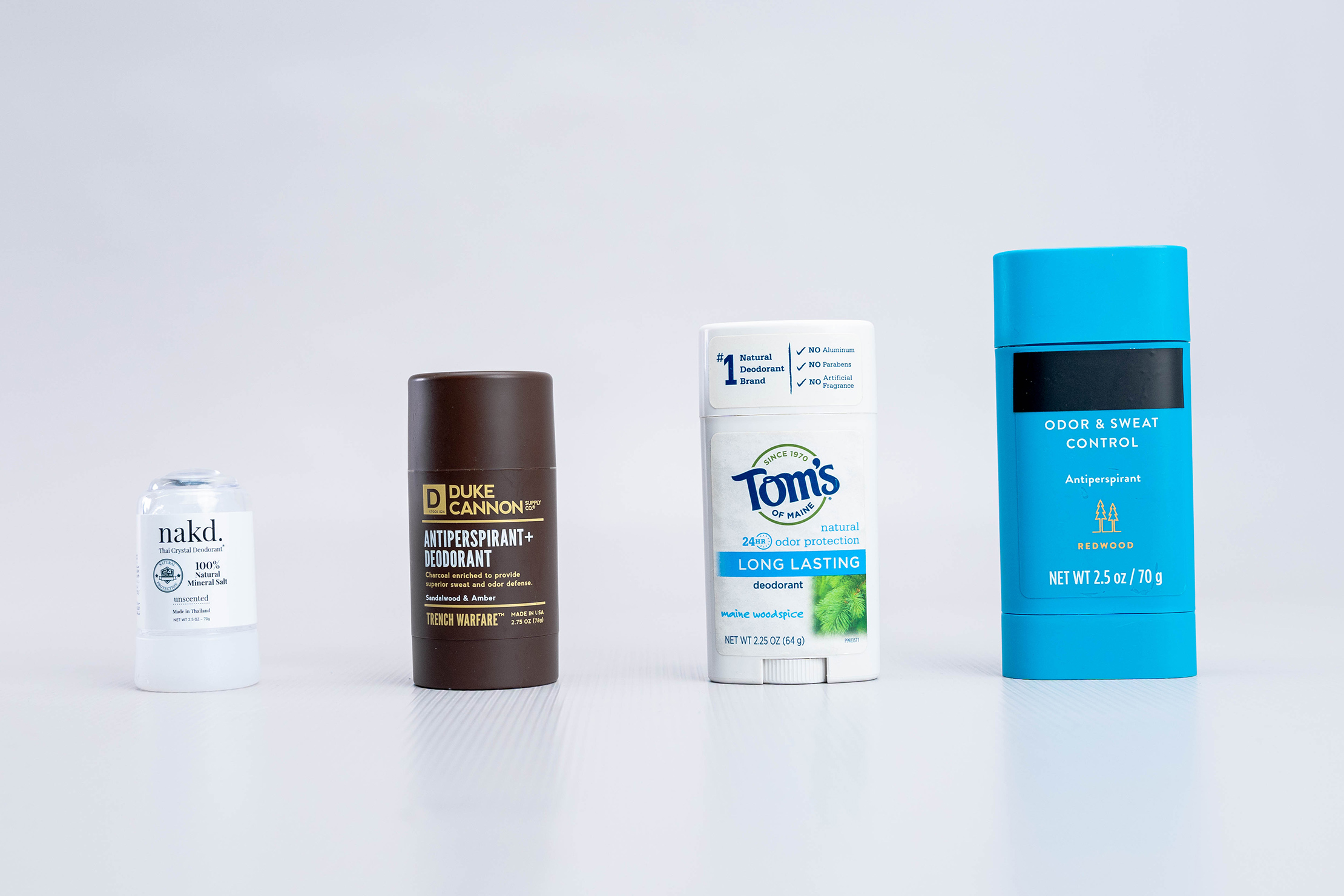 It's also worth noting that a stick deodorant like this doesn't count as a liquid. Meanwhile, roll-ons, sprays, gels, creams, and pastes are subject to the TSA's 3-1-1 rule. Really, sticks (or other solid deodorants) are basically a no-brainer if you're flying.
The nakd. Thai Crystal Deodorant Stone is a solid choice—pun intended—though it has its fair share of flaws. While the speed of application isn't its strongest point, it's passable as an excuse to get thorough with hygiene. You also have to take into consideration that as an unscented, all-natural option, the trade-off is that it doesn't have all the chemical doo-dads to cover all the bases. Still, as a travel-sized crystal deodorant, it's light on space, TSA-friendly, and keeps the stench at bay.
Usage Timeline
Initial Usage
Condition: Excellent
Easy to apply and spread
Comes in a 4.25 oz and 2.5 oz size
It has a tiny bit of scent, but it's very unnoticeable
2 Weeks of Use
Condition: Excellent
The 2.5 oz size has proven to be a nice travel companion
The housing is slightly larger than Crystal Deodorant but more robust
No issue with TSA while taking it on a trip—it doesn't count as a liquid
Access the Pro Community Discussion
Get your questions about the Vasarii nakd. Thai Crystal Deodorant Stone answered from our team and the Pro Community right here on the page. Plus, join discussions with other members about gear, guides, and more.
Other Toiletries & Personal Care Reviews