Fjallraven Ulvo 23 Review
As long as you don't mind simplicity, you'll probably love the Fjallraven Ulvo 23—a daypack that's water-resistant, durable, and oh-so-sleek.
Our Verdict
Unlock the Pro Summary
Save time. Get access to brief summaries of our reviews so you can browse and make decisions more efficiently.
Pros
Sleek, minimalistic look
Bergshell fabric is water-resistant, tear and abrasion-resistant, durable, and extremely soft
Simple organization that works for a pack of this size (but could be too simple for some)
Cons
The zipper on the main compartment can be slow to work
Shoulder straps are a little too close together at the top of the pack
Front pocket opens vertically, which encourages your stuff to fall into a disorganized jumble
Recent Pack Hacker Video
Technical Details
Capacity

23l

Weight (lb)

1.43 lb (0.6 kg)

Denier

400D

Dimensions

17.7 in x 11 in x 5 in (45 x 27.9 x 12.7 cm)

Notable Materials

Nylon, YKK Zippers, Woojin Hardware

Manufacturing Country

Vietnam

Laptop Compartment Size

15"

Warranty Information
Buying Options

$125.00
$124.94
Full Review
You know the heart-eyes emoji? Yeah, that's the best way to describe how members of our team look at the Fjallraven Ulvo 23. This backpack has clean lines, rich color, and a simple silhouette that doesn't detract from the bag's overall function. It's quite a departure from the company's extremely popular Kanken pack, but we think it's a nice one. (Though we're still fans of the Kanken.)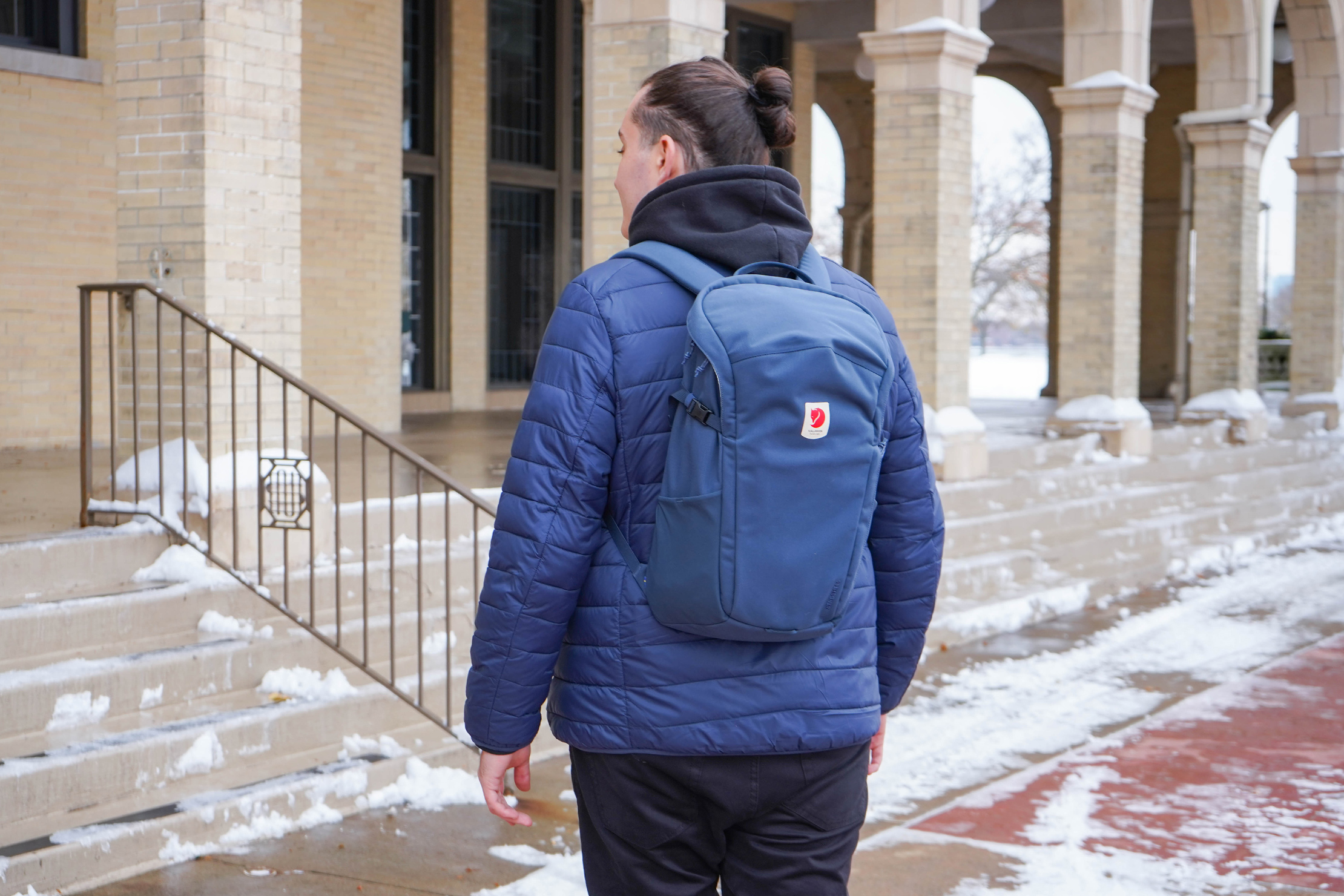 We've been testing the Ulvo 23 for a month—as a daily driver for a month in Detroit, Michigan and on a trip to San Francisco, California. And while we admit this backpack may not be for everyone—particularly for those of you who want Tom Bihn levels of organization—we have been thoroughly enjoying putting it to the test.
So without further ado, let's check it out.
Materials & Aesthetic
As we already said, we are digging the aesthetic of this backpack. Its rounded shape, elegant stitching, and old-fashioned type on the logo tag come together to create a bag that's somehow both heritage and modern.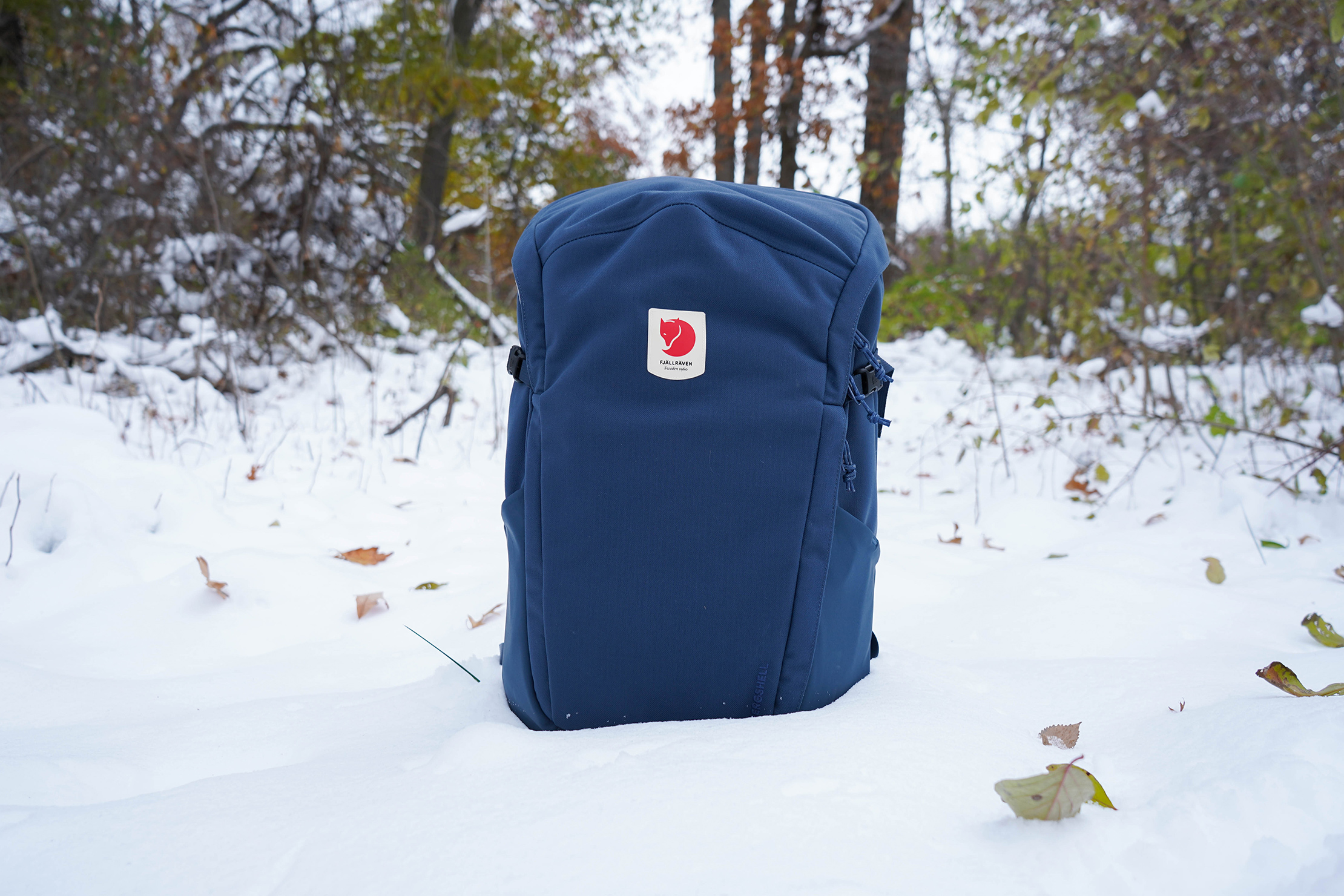 At the time of this review, it's available in two styles: a roll-top and a zippered top. The former tips the scales toward heritage, while the latter's cleaner shape adds a touch of modernity.
We've been testing the zippered version in the Mountain Blue colorway, but you can also pick it up in Black and Red Gold. Fjallraven usually sticks with subdued, earthy tones, so we're not surprised by these options. If you're more of a neon-or-bust kind of person, you may want to leave this review and check out a Cotopaxi pack.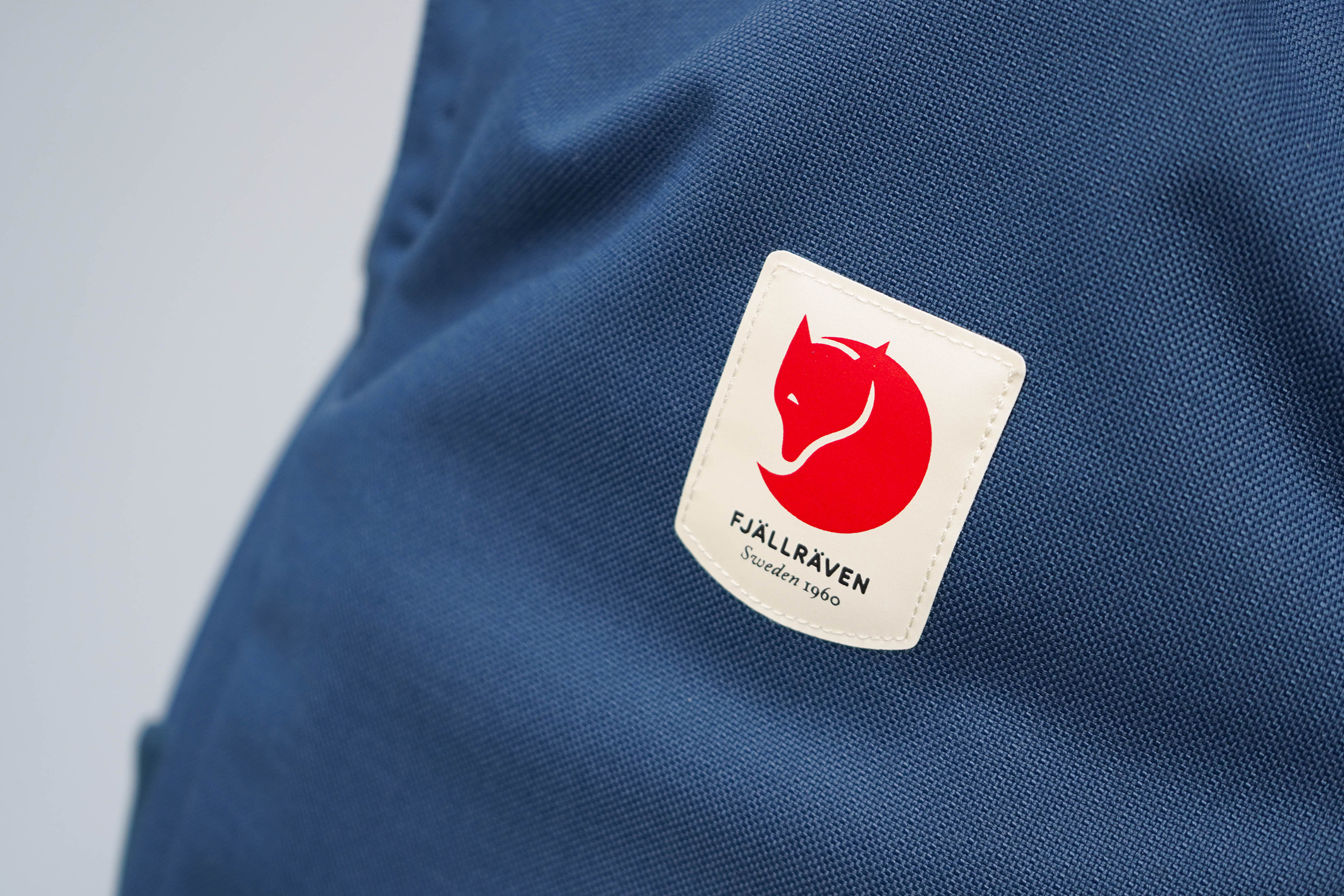 As far as branding goes, you'll find a logo tag stitched into the front center of the pack. Something to note here is that this logo tag isn't made of leather, which is great news for the vegan Fjallraven fans on our team and out there in the world. You'll find the classic Fjallraven Arctic Fox logo on a few other places throughout the bag, but nothing too over the top.
Alright, that's enough about looks. Let's get into one of the neatest things about this pack: its exterior fabric.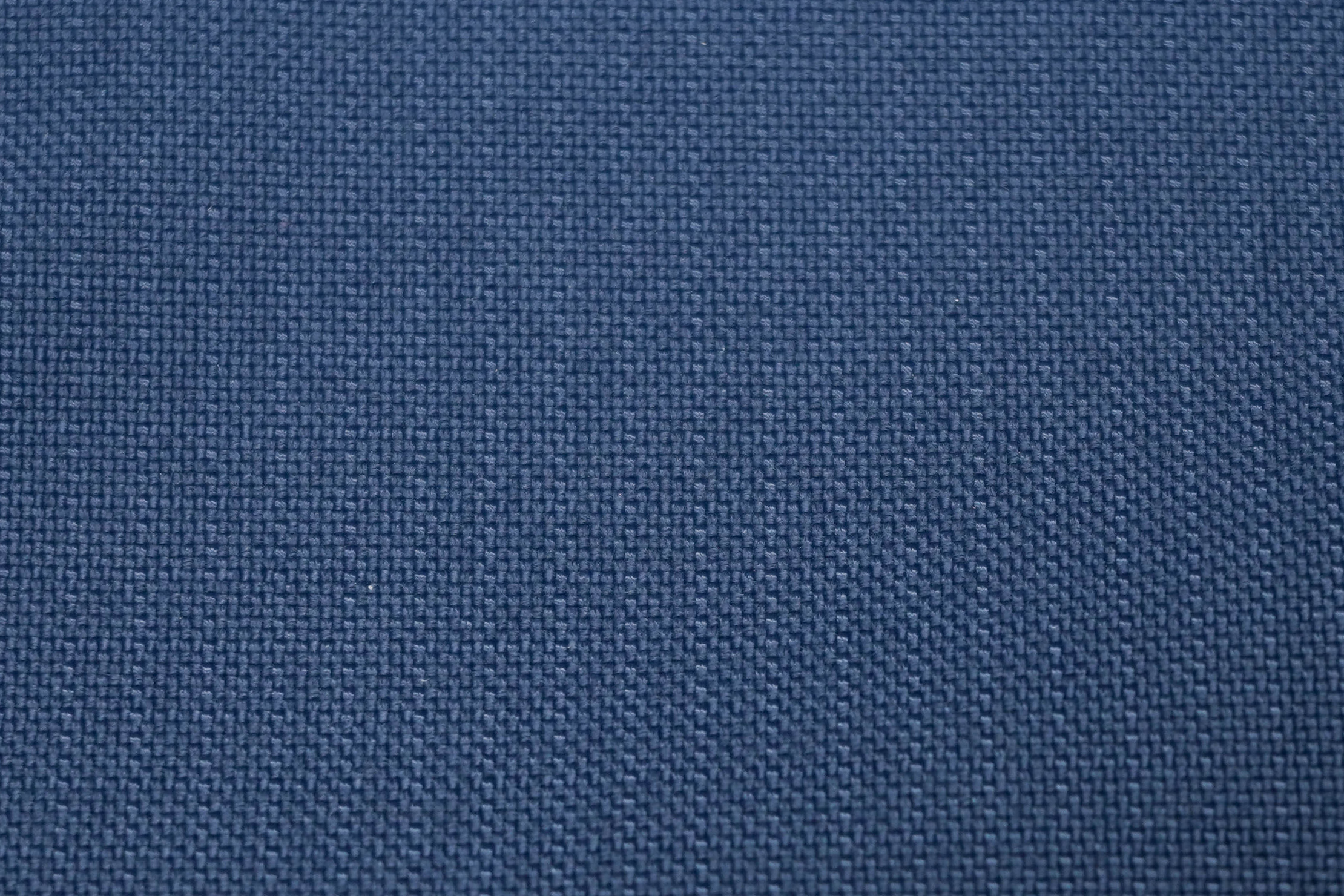 Fjallraven is known for its own G-1000 fabric, but the Ulvo 23 is made of something new called Bergshell (in case you forget, it's stitched into the bottom front of the bag). Bergshell is a 400D nylon made of two different types of yarn: air-textured and ordinary filament yarn.
Without getting too technical, these yarns complement one another well. Air-textured yarn has high abrasion resistance, but low tear strength. Ordinary filament yarn, the opposite. Thus Bergshell is both tear and abrasion-resistant. Yeah, science!
Bergshell also has a flat ripstop construction, that classy matte finish, and is extremely soft to the touch. So soft that we've found ourselves petting the Ulvo 23 on more than one occasion (…is that weird?).
And it's waterproof. The term waterproof sets our gear reviewer senses tingling—so let's break down Fjallraven's claim. The Bergshell fabric, which has a TPU laminate, is rated as waterproof up to 10,000mm. 10,000mm is a solid rating, meaning this fabric is pretty dang water-resistant and will keep your stuff safe from the most inclement weather—snow, rain, ice, etc. But we don't recommend taking this bag with you scuba-diving.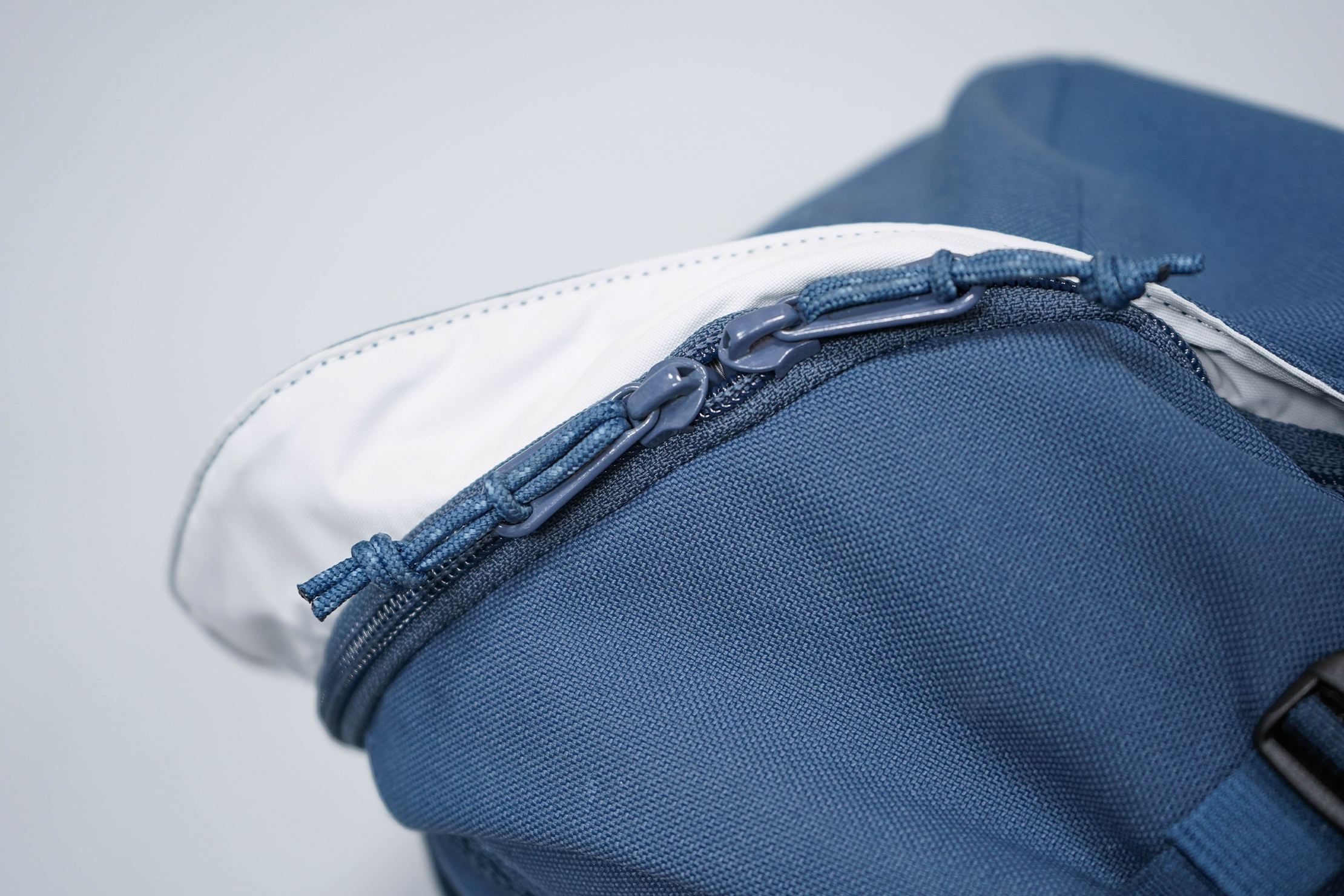 Partially because the pack itself isn't waterproof, although it's very water-resistant with covered seams and flaps of the Bergshell fabric protecting the zippers. Water-resistance is all most of us need, anyway. We've been out and about with the Ulvo 23 while it's been raining and are happy to report that everything inside the bag has stayed nice and dry.
Oh, and good news for all of you eco-warriors out there—Bergshell is also made of 31% recycled nylon.
YKK zippers and Woojin buckles round out the materials, both of which should last you quite a while.
External Components
Starting with one of the most important parts of a backpack—its straps. Mostly, the straps are comfortable. We say mostly because the straps contour to the body, are perfectly padded, and feature breathable mesh. But they're too close together at the top.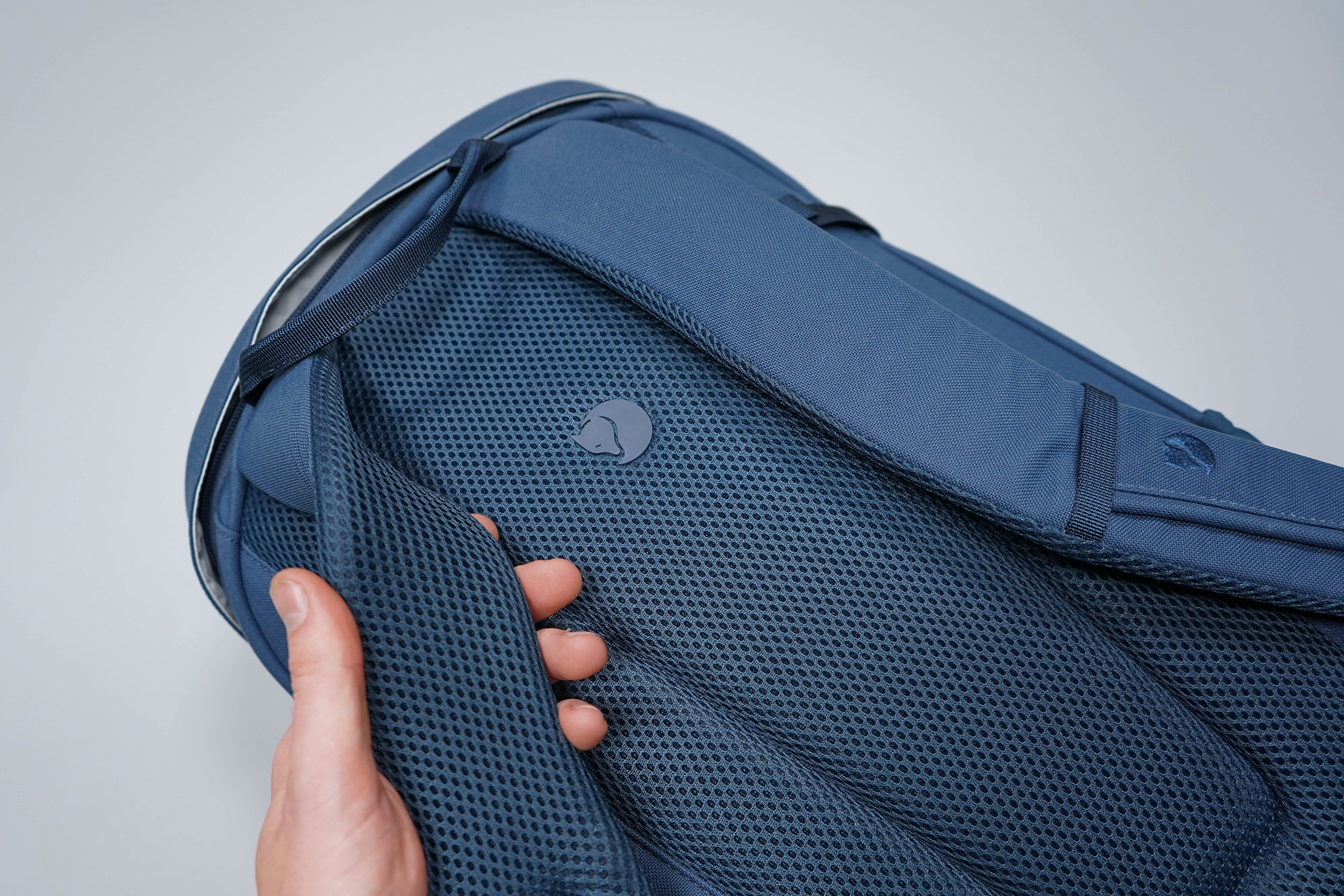 This narrowness can cause the pack to be tight against the spot where your shoulders meet your neck, which impacts certain body types more than others (you'll notice it more if you have wide-set shoulders). You can always loosen the straps to help combat this a bit, but it doesn't solve the issue. We don't think it's a dealbreaker, but it's worth noting.
The back panel is fabulous. It has structure and the same padded mesh found on the straps. The air channels make it plenty breathable too. We haven't had any issues with swamp back, but this thing is also on the smaller, lighter end of backpacks. Plus, at the time of this review, it's been cooling off here in Michigan. If you're carrying your rock collection around in the Australian desert, your experience may be different.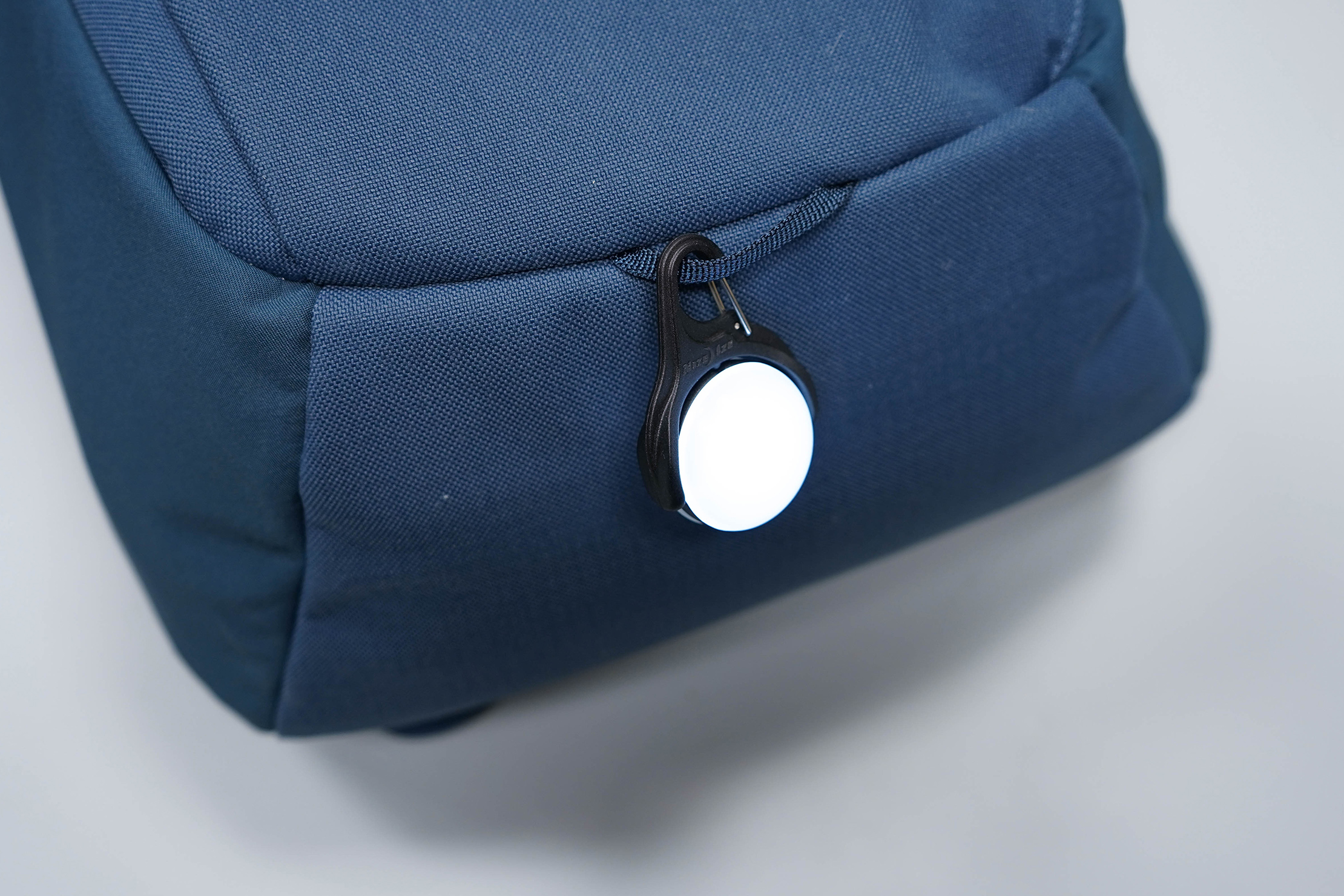 There's a small loop at the bottom of the pack to attach bike lights. Great for late-night strolls or rides. There's also a top handle to hang this thing up whenever the need arises and a loop on each shoulder strap you can use for carrying anything externally.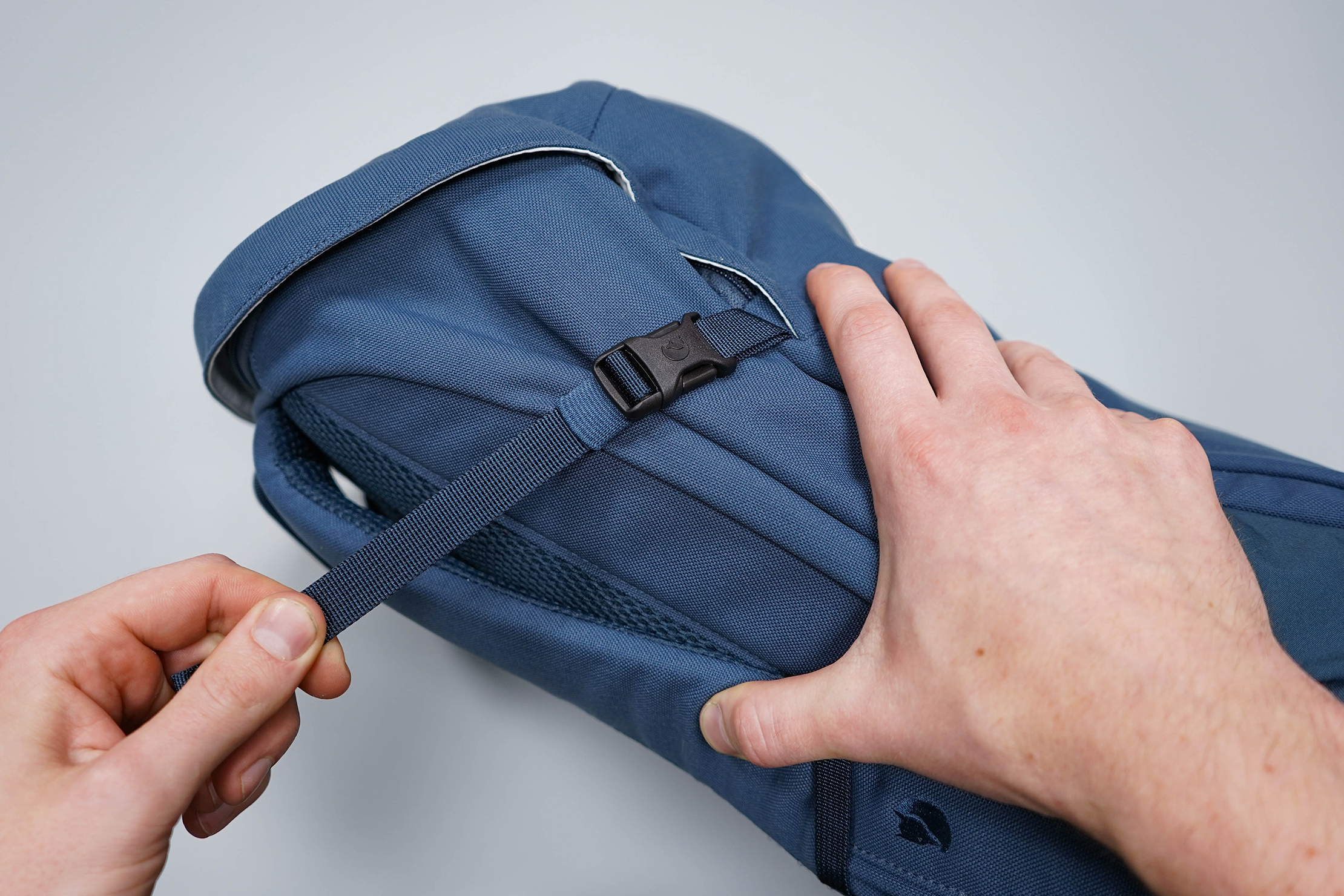 You'll also find compression straps, which can expand or compress the usable space of the main compartment without getting in the way of the zipper. To be frank, we haven't used these compression straps much—the bag doesn't compress small enough to be packable or expand much more when unbuckled—but they're there if you'd like to use them. And the strap keepers ensure everything looks nice regardless if you use them or not.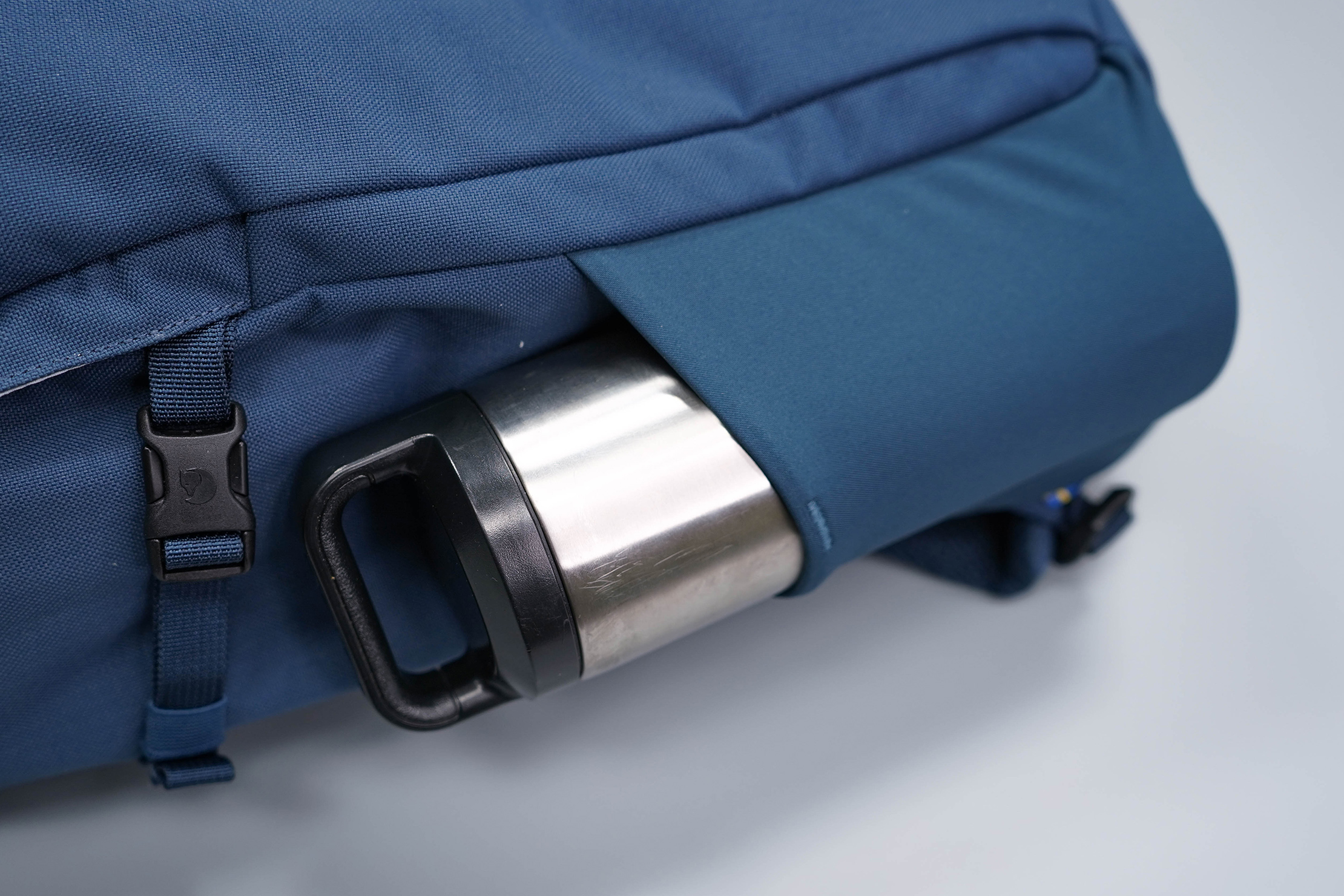 We're digging the two stretchy water-bottle pockets. These pockets work great for, yes, water bottles and travel coffee mugs, but also those random items you don't want to pack away in one of the other pockets. We've tested it with an apple, computer and phone chargers, even some change. You can be as creative as you want here but know that 1) they're not secure and basically a pickpocket's dream pocket and 2) they're not water-resistant like the other two pockets.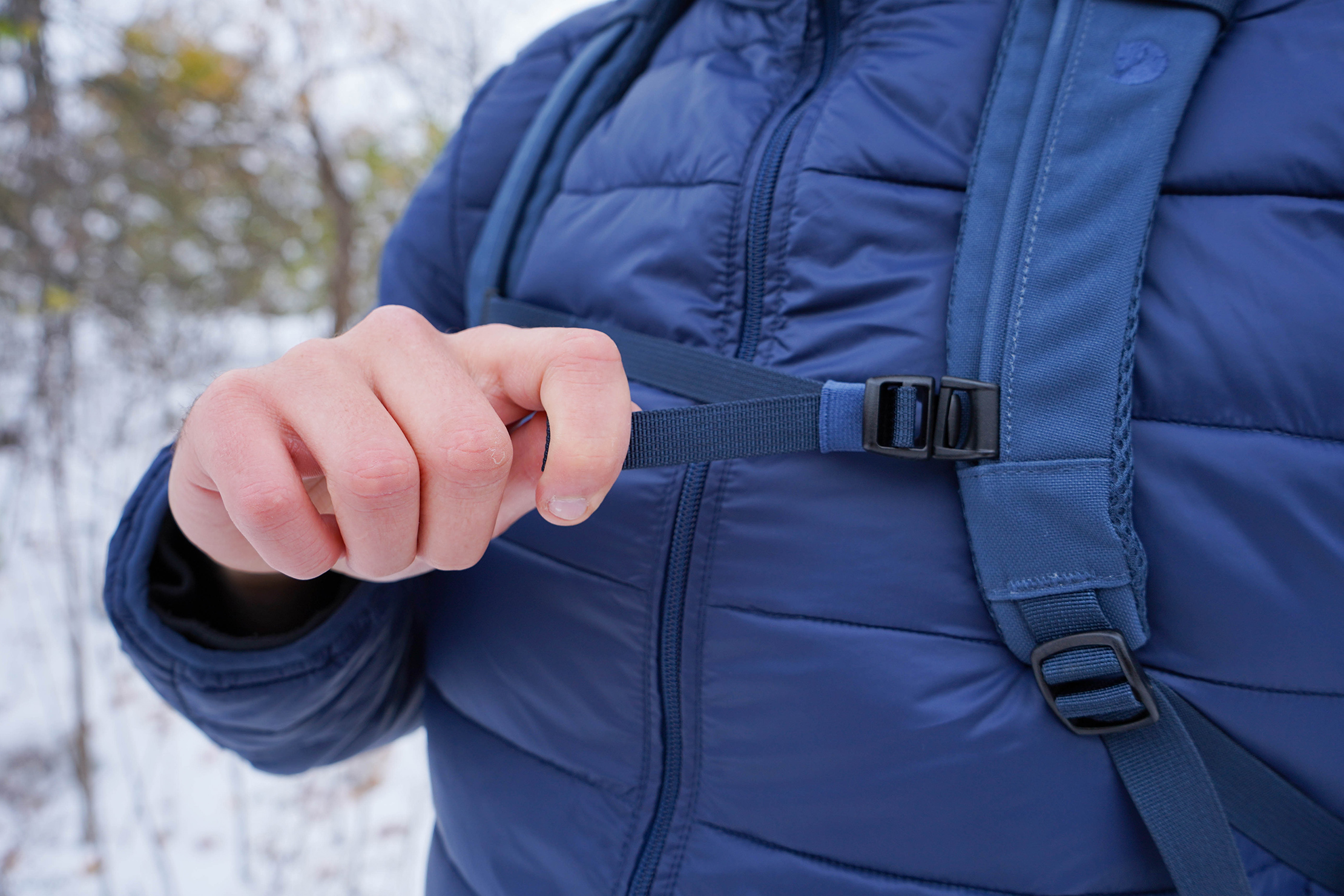 And, finally, there's the sternum strap. It's super easy to adjust—you simply slide it down its track. Plus, it's secure. Unlike some other adjustable sternum straps out there, you likely won't be losing this one. It also works really well as it has elasticity for comfort and a strap keeper for tidiness.
Inside the Pack
The Fjallraven Ulvo 23 is one of the more minimalistic packs we've tested, which works well since it only has an interior capacity of 23L. Still, those of you who like to have a place for everything won't appreciate the lack of pockets and interior organization.
There are only two pockets on this pack (not including the two water bottle pockets).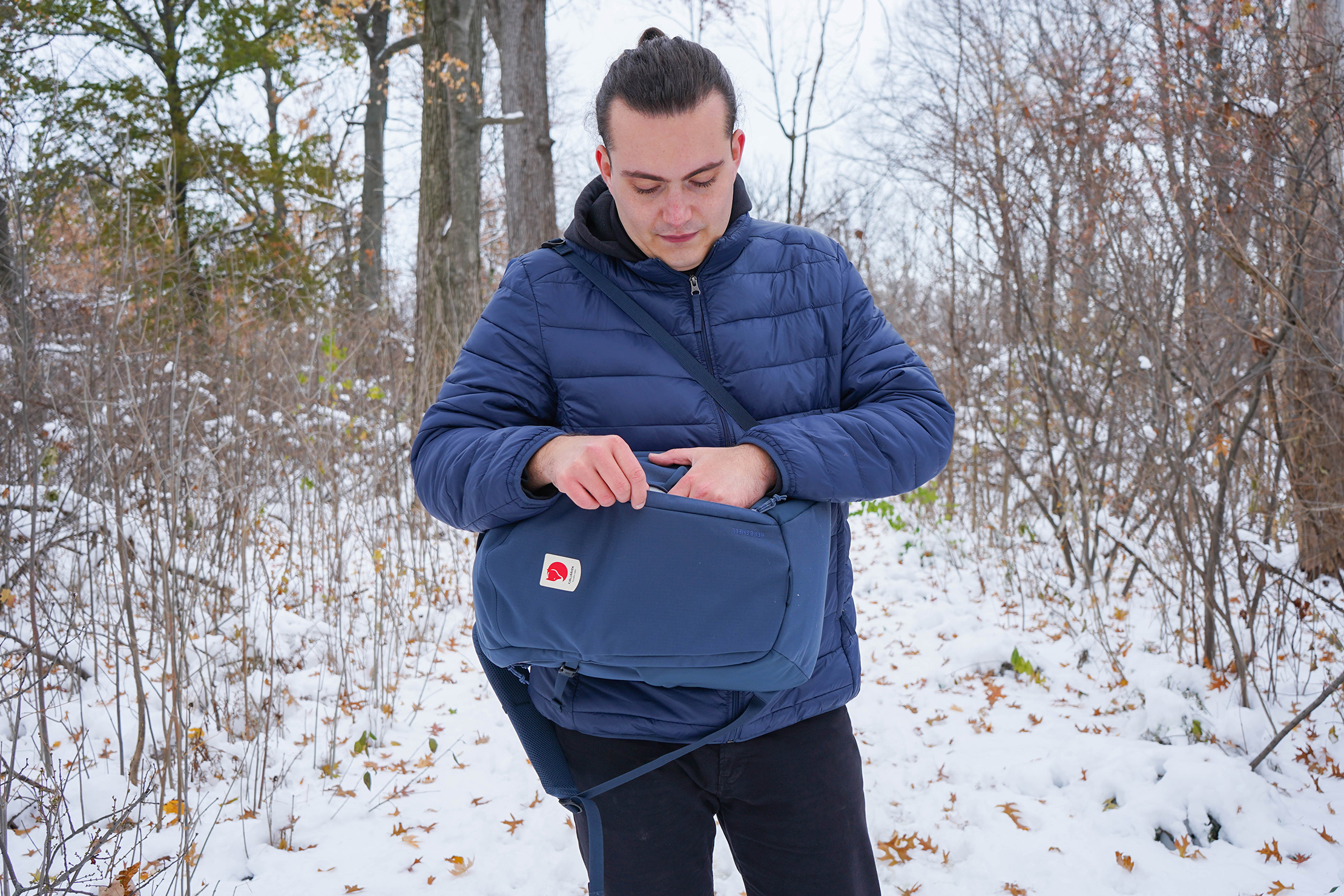 The front pocket has a vertical opening, which is easy to access when you swing the bag forward off of your right shoulder. It has no further organization inside of it. We've stored smaller notebooks here, although you have to angle it to fit the opening (the opening is noticeably shorter than the compartment itself). We've also kept our wallet and keys here.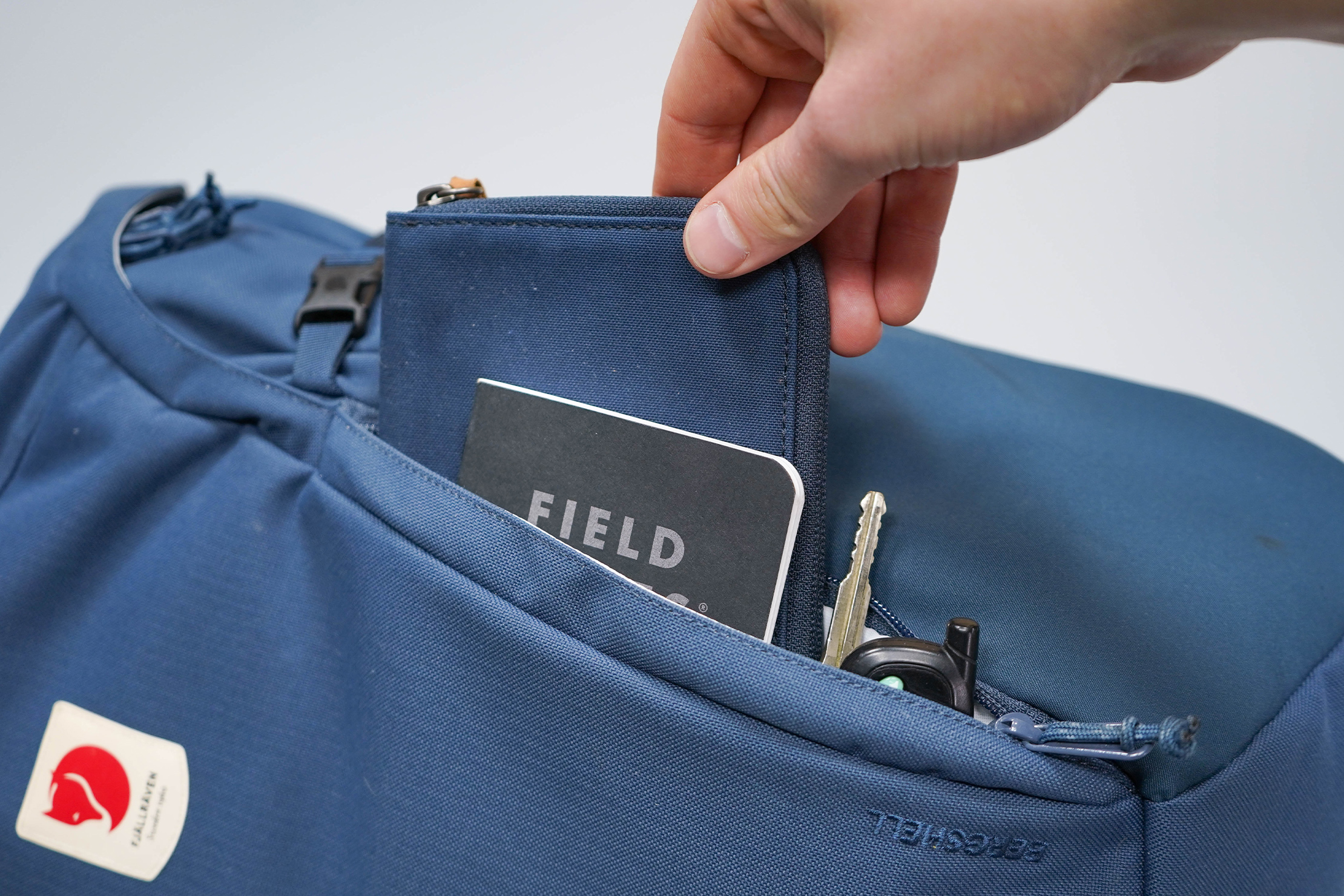 Also, this pocket is oriented vertically, which means your stuff may end up in a jumble at the bottom of it, depending on what your stuff is. We haven't found this to be a major issue—again we've only used it for a notebook, wallet, and keys—but vertical pockets are contentious for a reason. You know yourself and whether or not this will annoy you. We do think including a key leash would've been a nice touch.
Remember the roll-top style of this pack we mentioned earlier? Well, besides being different in that it has a roll-top, it also lacks this vertical pocket. Instead, it has a smaller zippered compartment in one of the water bottle pockets. We haven't tested this pack, so we can't talk about it, but you should know in case you were considering ordering that style.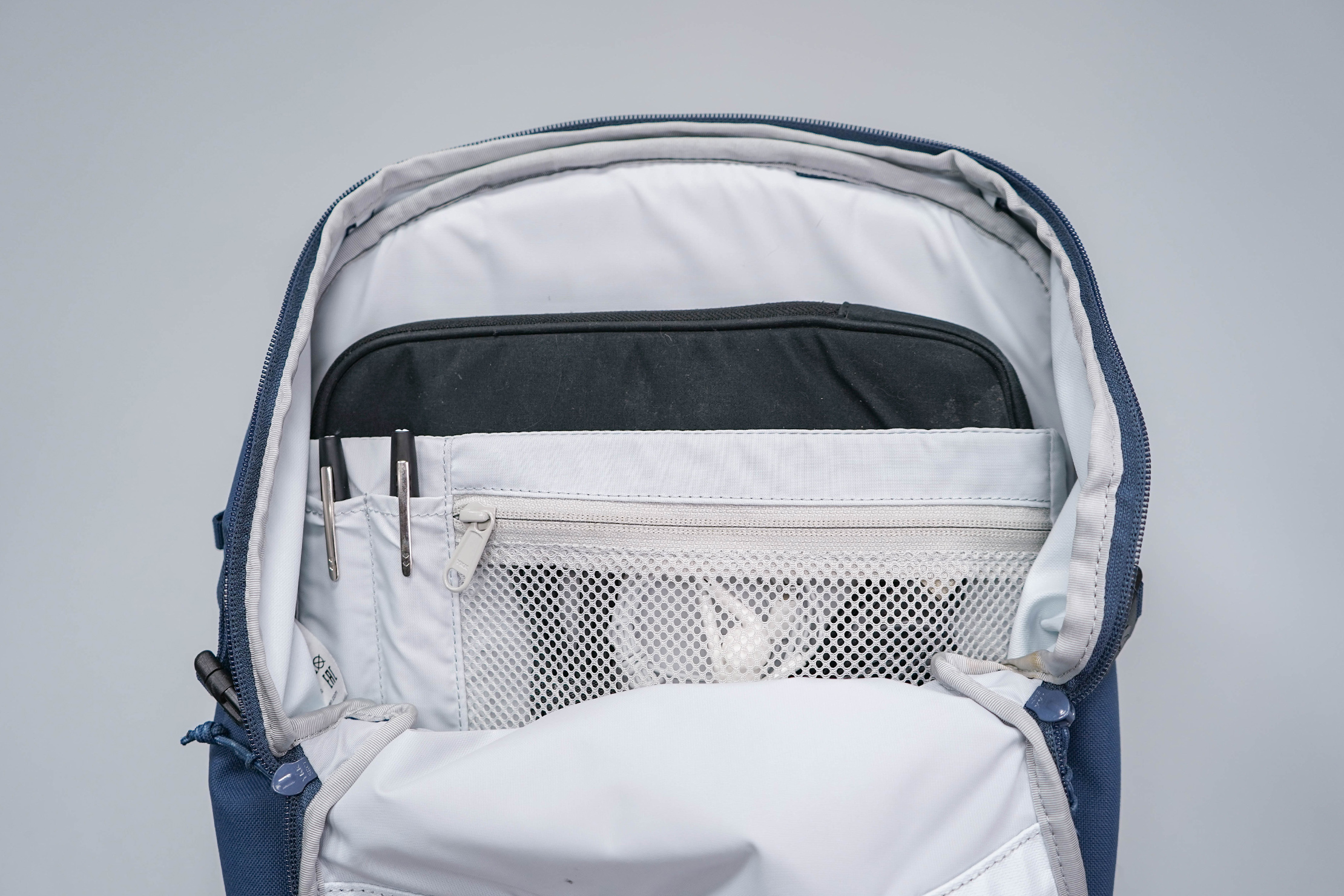 And that brings us to the main compartment, which has a half-zip, horseshoe-style opening—similar to the EVERGOODS CHZ22. We're not huge fans of this opening as tugging the zipper around the corners is a bit of a pain. It's slow and can occasionally get stuck. This is pretty nit-picky, though.
You'll also want to make sure to tug the fabric over the zipper completely if you want any of that water-resistance we talked about earlier.
Inside, you'll find a padded laptop sleeve that sits against the structured back of the pack. It fits up to a 15'' laptop. It's padded enough that we've tested it carrying a case-less laptop, but we recommend you don't live that far on the edge and buy a laptop sleeve for extra security. Unless Danger is, in fact, your middle name, too…
There's also a small zippered mesh pocket and two pen sleeves. We've used the former primarily for headphones and the latter for, well, pens. Not very creative, we know.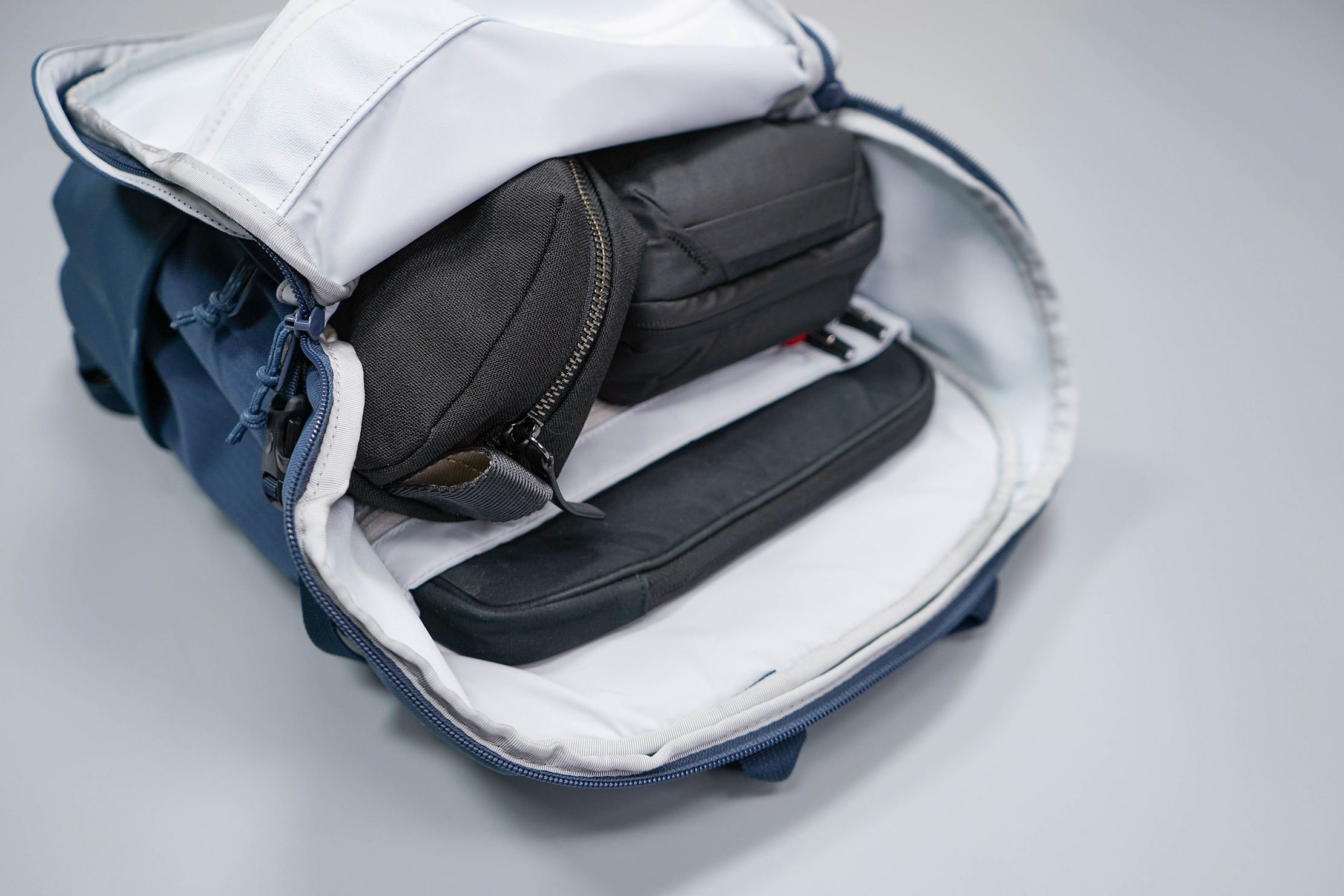 The rest of the space is open to do with what you will. If you use a ton of smaller items in your daily life—tech accessories and other things of that nature—you'll probably want to pick up an accessory bag or two.
Due to the way the bag closes, there's a lot of extra room at the top. For us, this goes underutilized, but it does allow you to easily stuff a bulky sweatshirt or jacket inside. And it gives the pack that rounded shape we like so much (although, on occasion, it can look slightly reminiscent of a duckbill).
Durability & Testing
As we mentioned at the beginning of this review, we've been testing the Fjallraven Ulvo 23 for a month as a daily driver in Detroit, Michigan and n a trip to San Francisco, California. And if you haven't been able to tell, we've been digging it.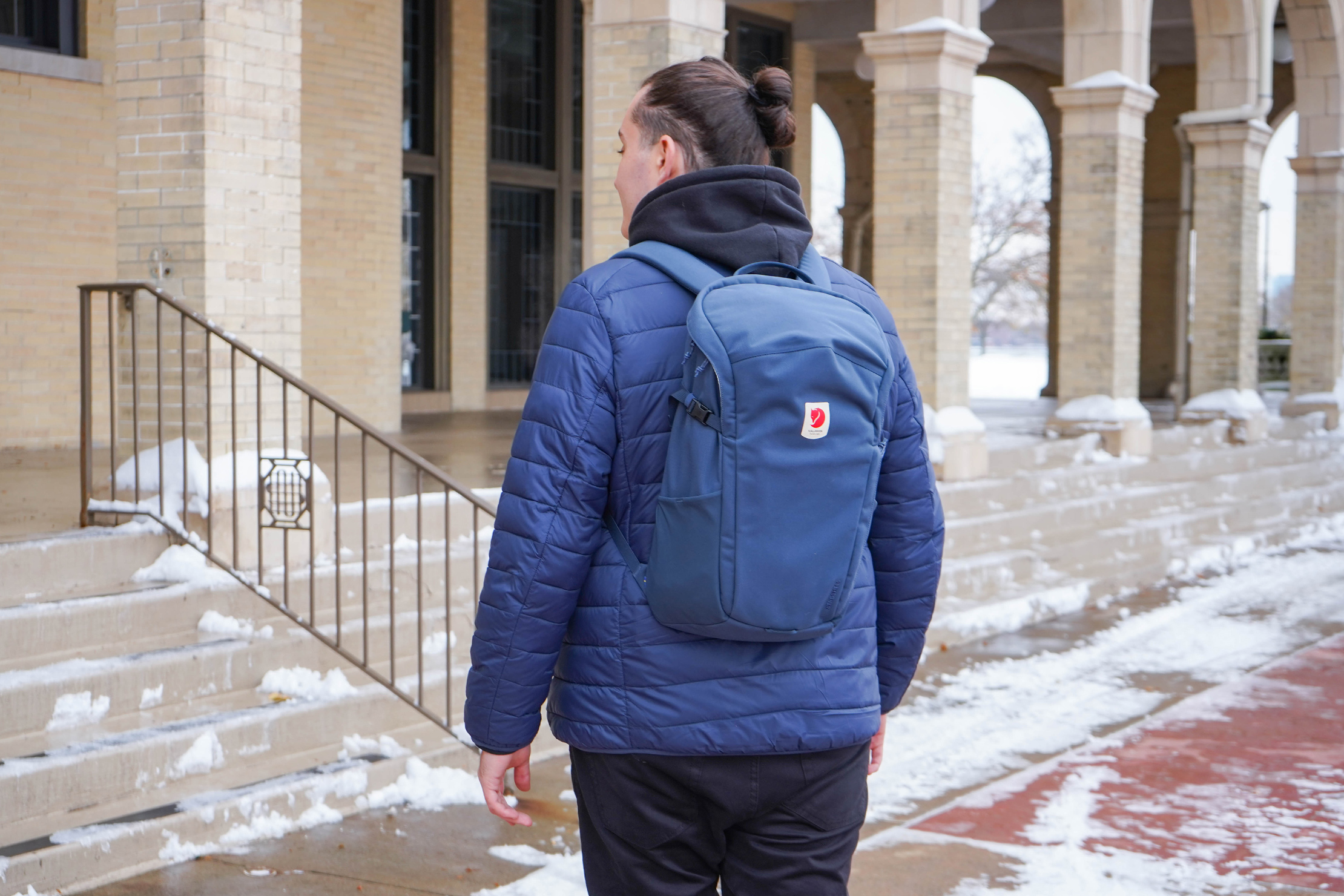 It's complicated where it needs to be complicated—the durable materials—and simple where it needs to be simple—the interior organization. It's not a packable daypack, so it won't be great for stuffing in your one-bag travel backpack and taking around the world—it'll take up too much space. But it is a great companion for EDC, day trips, or short hikes. It's a little small even for short trips—yeah, we've tested it—but if you're a hardcore minimalist you'll be able to make it work.
And, as we've come to expect from Fjallraven, everything is looking good durability-wise.
Usage Timeline
Initial Usage
Condition: Excellent
Excellent harness system with curved shoulder straps and lots of padding
Minimalist design
Water-resistant materials that feel nice and durable
1 Year of Use
Condition: Excellent
The bag has held up very well through daily use, hikes, and brief amounts of time in the rain
The sternum strap hook can disengage if it loses tension
The inside has a couple of tiny stains
Access the Pro Community Discussion
Get your questions about the Fjallraven Ulvo 23 answered from our team and the Pro Community right here on the page. Plus, join discussions with other members about gear, guides, and more.
Other Bags & Luggage Reviews