EVERGOODS Civic Half Zip 22L (CHZ22) Review
Durable and sleek, the EVERGOODS Civic Half Zip 22L has everything you want in a daypack and nothing you don't—if only the sternum strap was more secure.
Our Verdict
Unlock the Pro Summary
Save time. Get access to brief summaries of our reviews so you can browse and make decisions more efficiently.
Pros
Built with quality, durable materials
Most of the pockets have their own volume
Carry is exceptionally comfortable
Cons
The volume of the security pocket can cause the front of the pack to look odd
The sternum strap isn't super secure
The quick-grab pocket can get in the way when grabbing your laptop
Recent Pack Hacker Video
Technical Details
Capacity

22l

Weight (lb)

2.25 lb (1 kg)

Denier

500D

Nylon Shell with a 420D liner.

Dimensions

18 in x 8 in x 11 in (45.7 x 20.3 x 27.9 cm)

Notable Materials

Nylon, YKK Zippers, HDPE Plastic, Duraflex Hardware, EVA Foam

Manufacturing Country

Vietnam

Laptop Compartment Size

17"

Warranty Information
Buying Options

$199.00
Full Review
Who's ready to get technical? Because, yes, it's time for another EVERGOODS review. If you're familiar with the company, then you'll know the folks over there are serious when it comes to making quality, durable gear.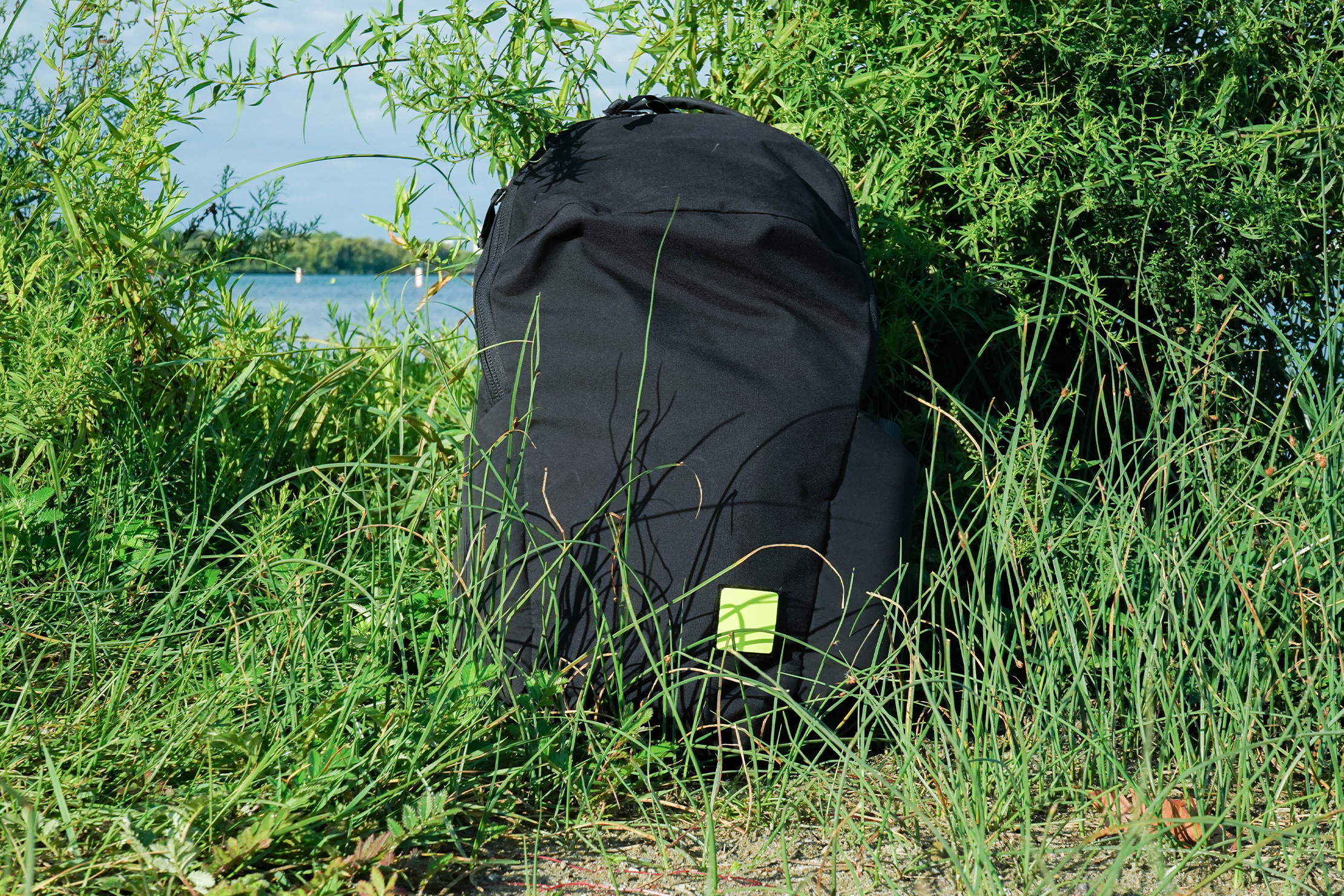 The Civic Half Zip 22L (CHZ22 for short) is EVERGOODS's attempt at the classic daypack (or a super minimalist's one-bag travel pack). It's built to withstand years of abuse, but doesn't look too tactical or "durable." It's like a backpack from Patagonia had a baby with a backpack from GORUCK (because that's kind of what happened).
We've been testing the CHZ22—or the "cheese" (get it, CHZ?)—for about a month as a daily driver around Detroit, Michigan and have taken it with us on short trips across the midwest. And we have a lot to say about it. Spoiler alert, it's mostly good.
So let's get into the review.
Materials & Aesthetic
The CHZ22 has a clean, polished look that manages to simultaneously steal the show and blend into the background. It looks at home in the city, but mountain lions and grizzly bears may also be impressed with the sleek aesthetic.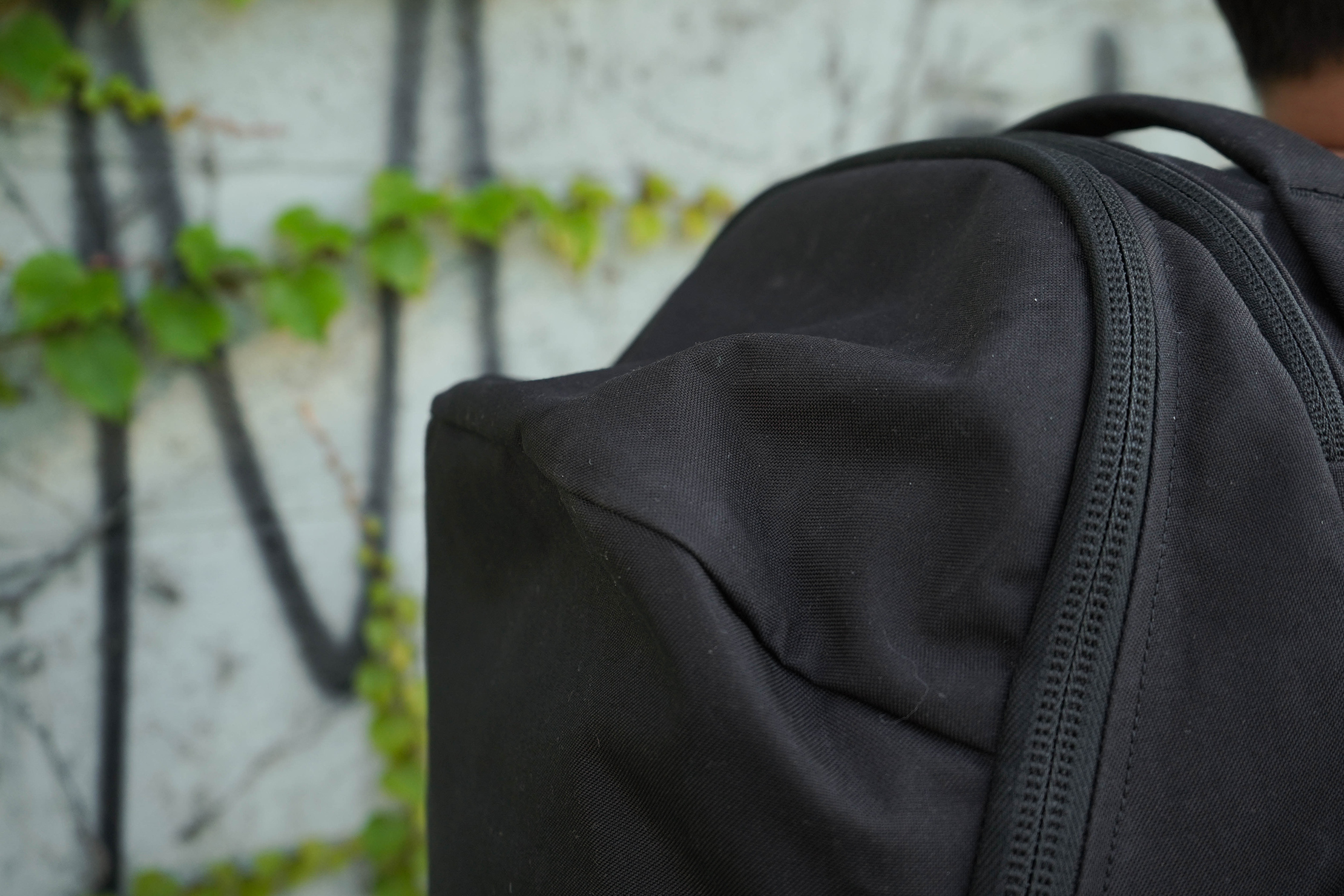 The only thing we're not digging looks-wise is what we like to call the rhino horn or duckbill that occasionally makes an appearance on the front of this pack. As we'll discuss later, most of the pockets on this pack have their own volume—which is great—but the volume of the interior security pocket kind of fluffs out, creating that rhino-horn-esque shape. Sometimes, it's not a problem and squares off the front of the bag in a very suave way. Other times, it looks bizarre.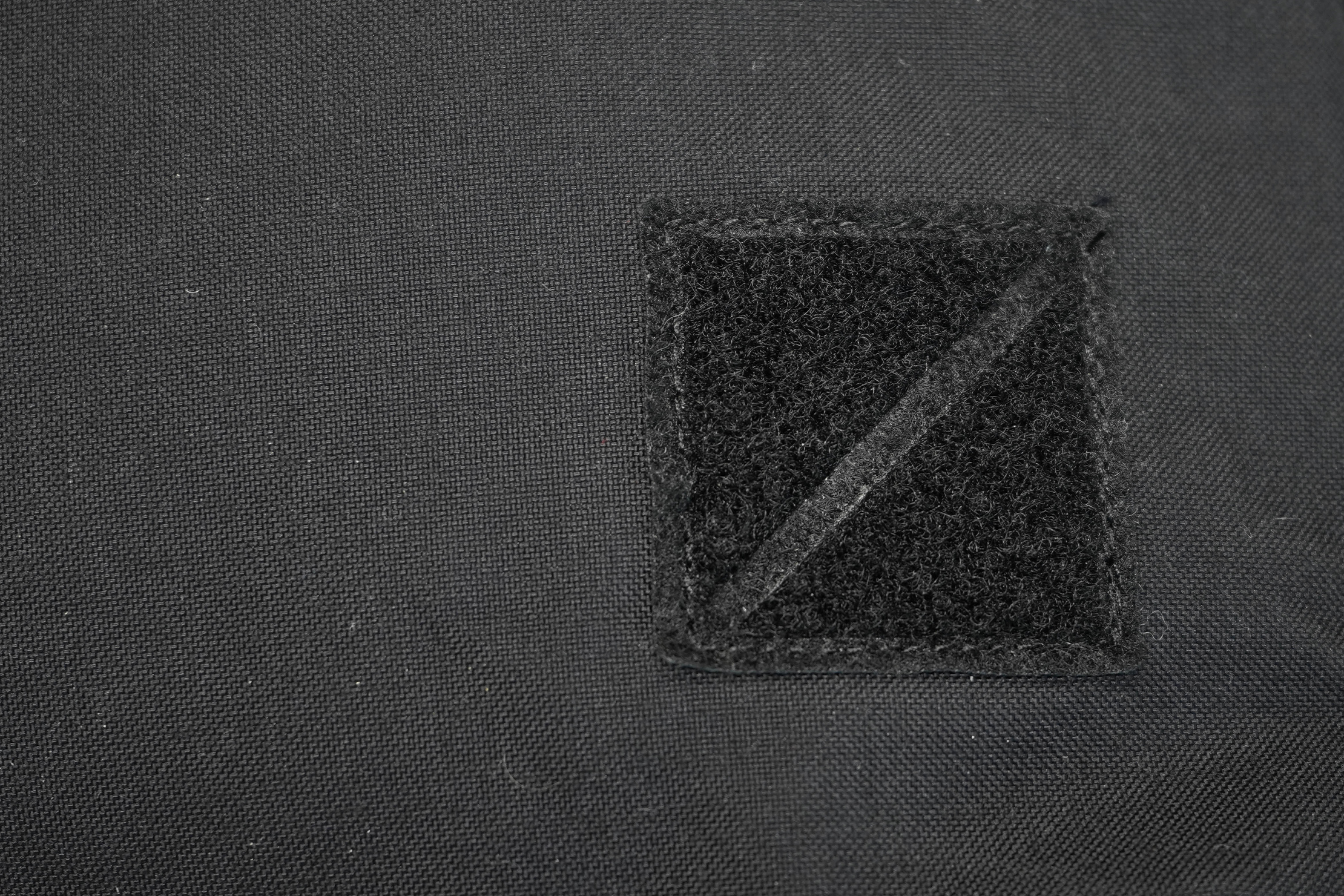 As per usual with EVERGOODS, the branding is minimal. You'll find the logo on a velcro patch on the front of the pack, which you can cover with a reflective patch the company sells or any other velcro patch you've got on hand. You'll also find the logo on the sternum strap, and on a few spots inside the pack, including a tag that lists care instructions and materials.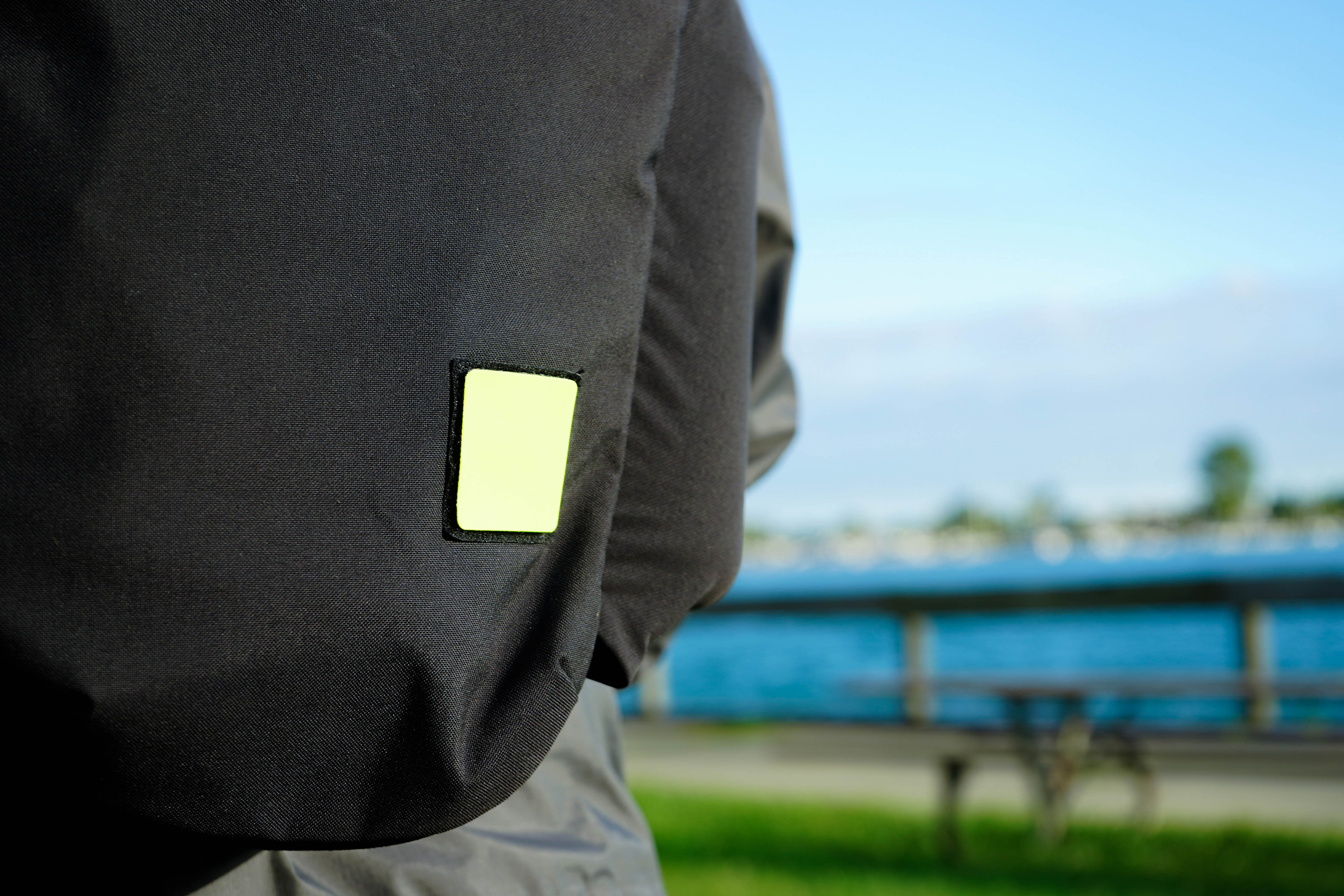 Alright, everybody, it's time to dive into the materials. Since this is an EVERGOODS backpack, this section will be extensive. So grab a cup of tea, perhaps a coffee, and get comfortable.
A quick aside—if your dreams don't involve Nylon 6,6 and YKK zippers then you have our permission to skip to the External Components section. Cliff Notes version: the folks at EVERGOODS don't mess around when it comes to materials. This bag may last so long that it'll become a family heirloom.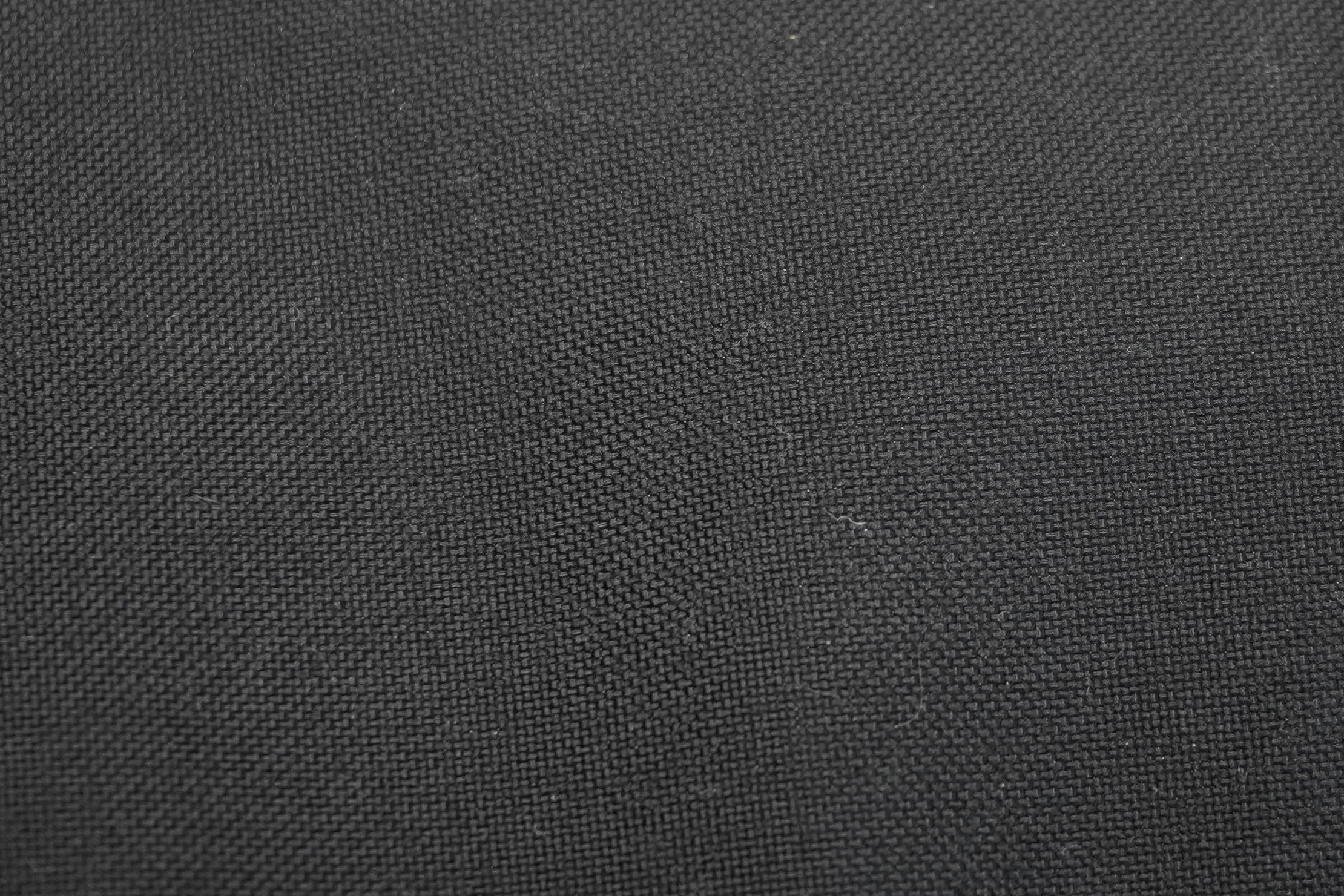 The pack's shell is made of 500d high tenacity nylon 6,6 with air-textured yarn and a water-repellent coating. In other words, it's some pretty tough stuff. Nylon 6,6 isn't your regular ole nylon—this guy has an extra 6 on the end to denote its second 6-carbon monomer, making the fabric that much stronger (#science). The textured yarn gives it that matte look we're so fond of and the water-repellent coating helps with water resistance (you probably could've figured that one out on your own).
We're happy to report that the exterior doesn't cling to dirt, dust, and pet hair as much as the CPL24 does. It still seems to attract dust and lint more than other packs, but not nearly to the same degree as before. Which, frankly, is a relief.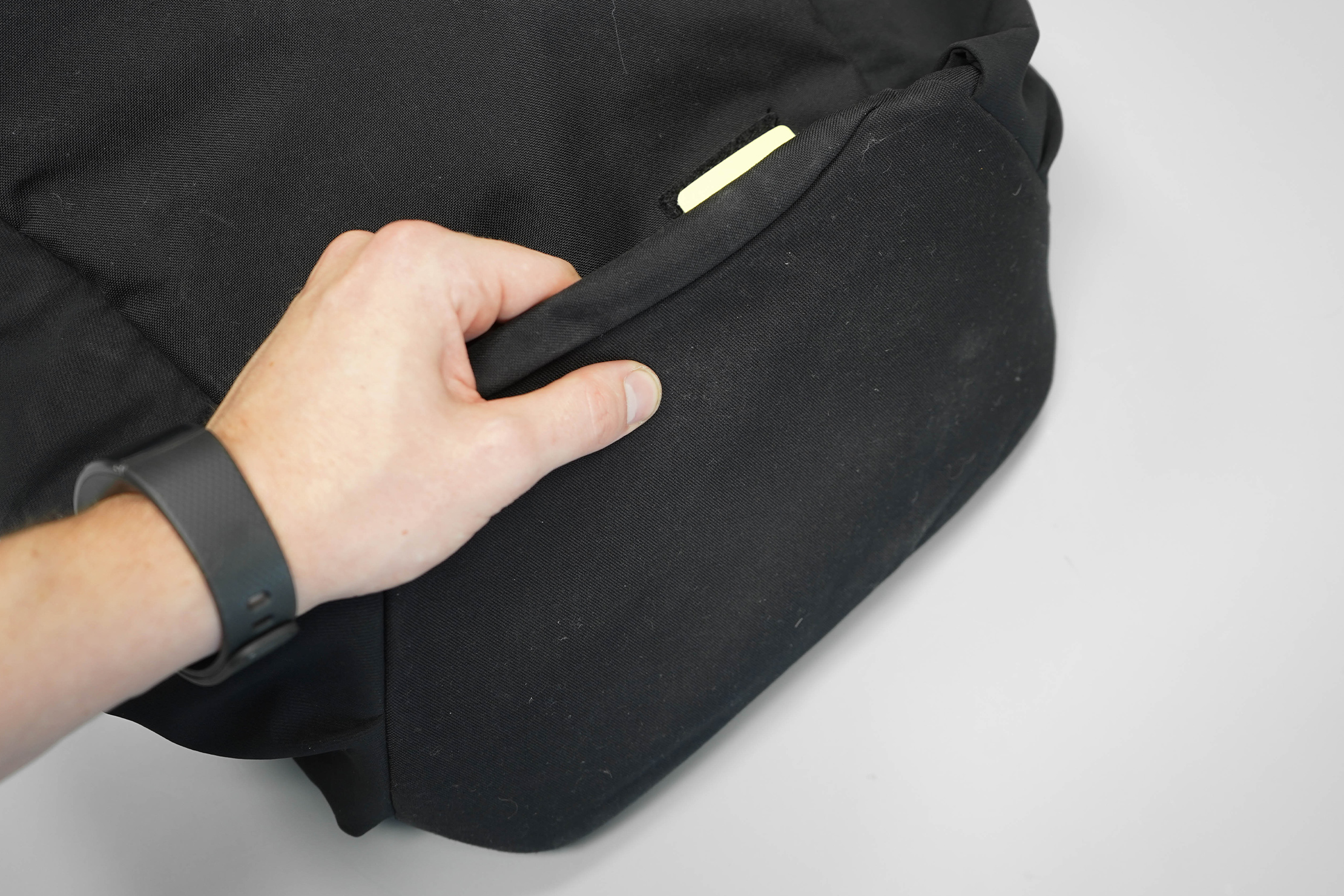 Along the bottom of the pack, there's a panel EVERGOODS dubs the "scuff panel" with a second layer of fabric to guard against abrasions. It's a nice touch—you'll usually find the first battle wounds on the bottom of packs as they see the most action.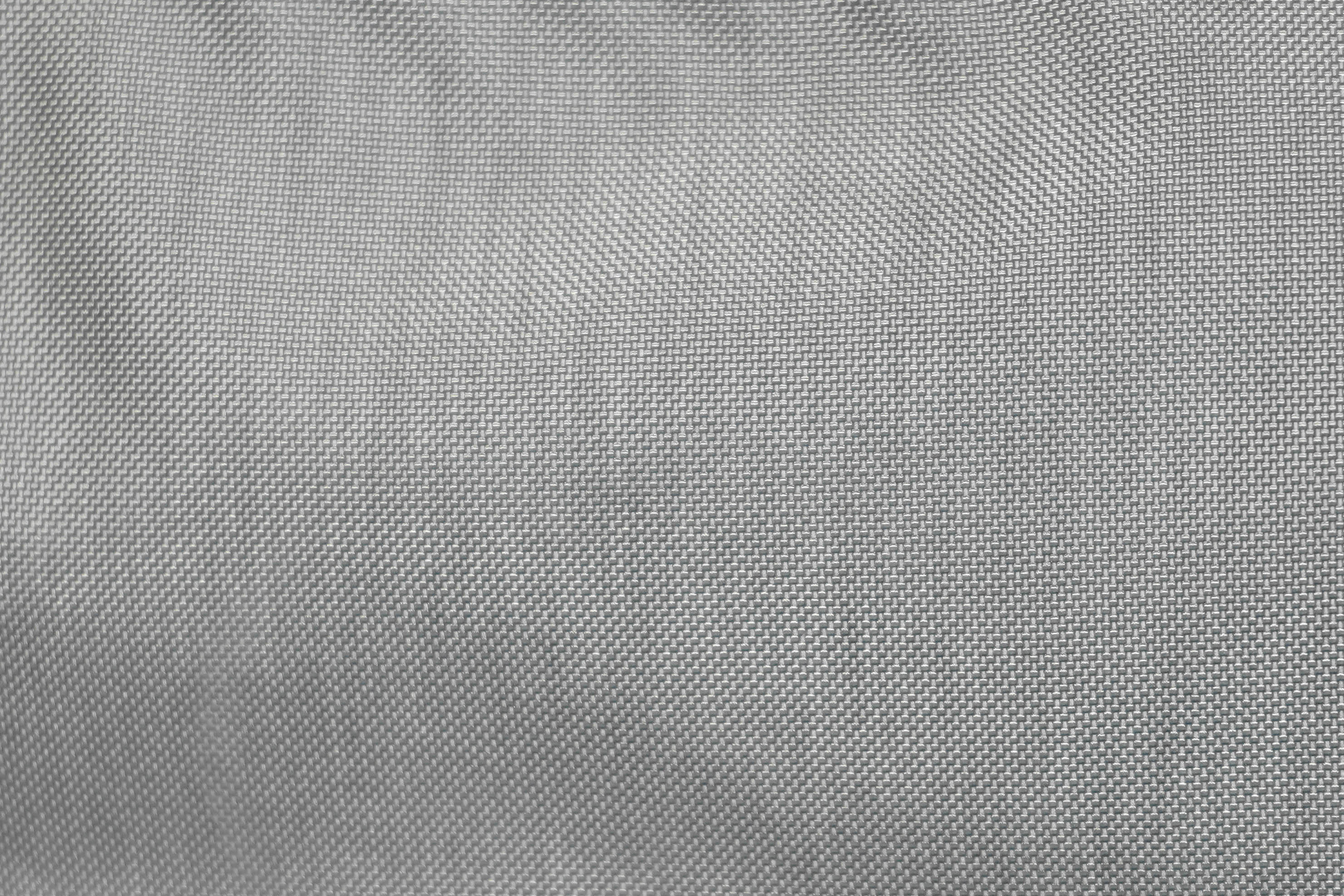 The interior is made of 420d high tenacity nylon in a lighter color than the exterior for some solid visibility. This stuff is also durable with a solid strength-to-weight ratio (as in it's strong and lightweight).
But wait, there's more. An HDPE (plastic) frame sheet gives this pack its structure. Coupled with its overall boxy design and this pack can almost sit upright on its own. It's not great at it, but it'll get there if you help it along. (Think a baby taking its first steps. They will likely fall on their face from time to time, but technically they're walking).

The zippers are all from YKK. The main compartment zipper is a beefy #10, the rest are only #8's—how pathetic. (To clarify, that was sarcasm. #8 YKK zippers are still really freaking beefy and durable.) The zippers take a few weeks to break in, though we'd trade stickiness for durability any day.
External Components
Jumping right into the most important part of this bag—that's right, the two water bottle pockets. If you've read our review of the CPL24 then you know we're not fans of its lack of water bottle pockets. (We're just going to assume the folks at EVERGOODS read our review and that's why they added water bottle pockets on the CHZ22. Hey, Kevin and Jack!)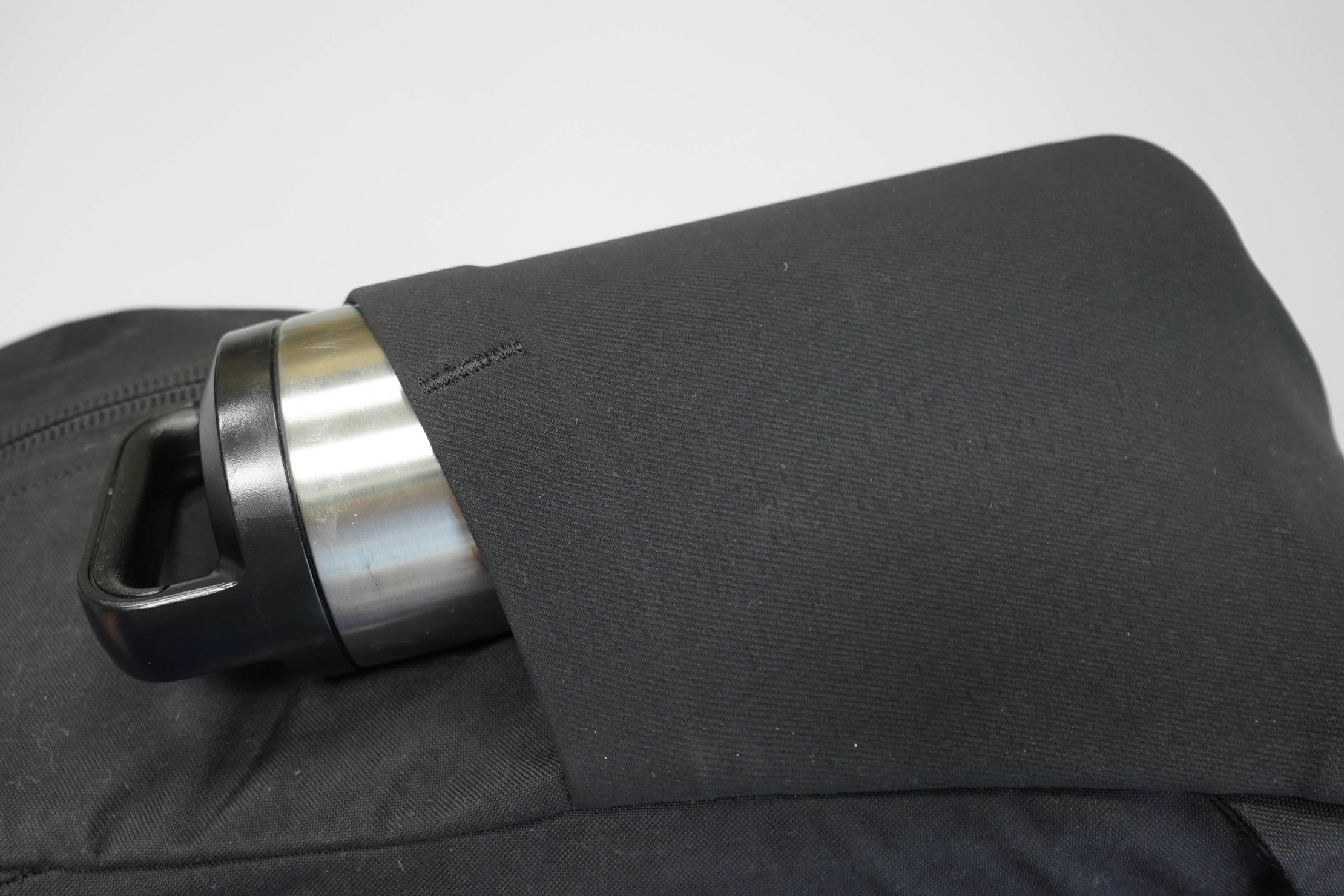 Of course, these aren't ordinary water bottle pockets. EVERGOODS always has to take things to the next level. They are made from a stretchy, soft material (to get specific, a blend of nylon and polyurethane) that'll fit 1L bottles as well as some other random items you'd like to store externally. Unlike all of the other pockets on this bag, these can eat into the volume of the main compartment, but not to an annoying degree.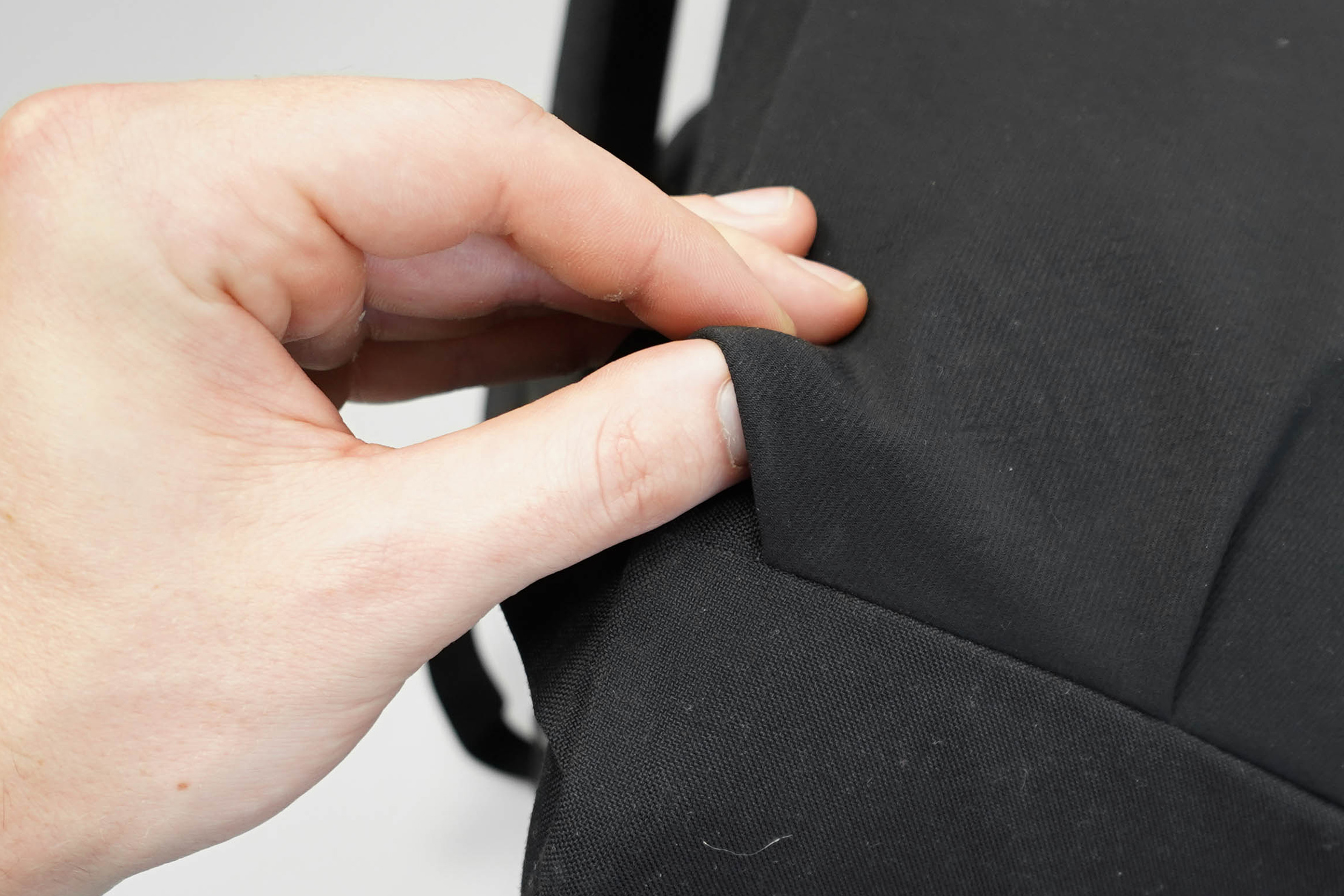 You'll find two small cutouts on either side of the pocket to dispel moisture and dirt, which is a really nice touch as anyone who's ever had a backpack for years can attest to (we can't be the only ones who somehow seem to collect sand in the bottom crevices of our bags…right?). When you have the bag fully packed out, it can be a little difficult to squeeze some bottles into these pockets, but nothing more than you'll find on most other backpacks.
We could wax poetic about these water bottle pockets all day long, but there's a lot more to cover.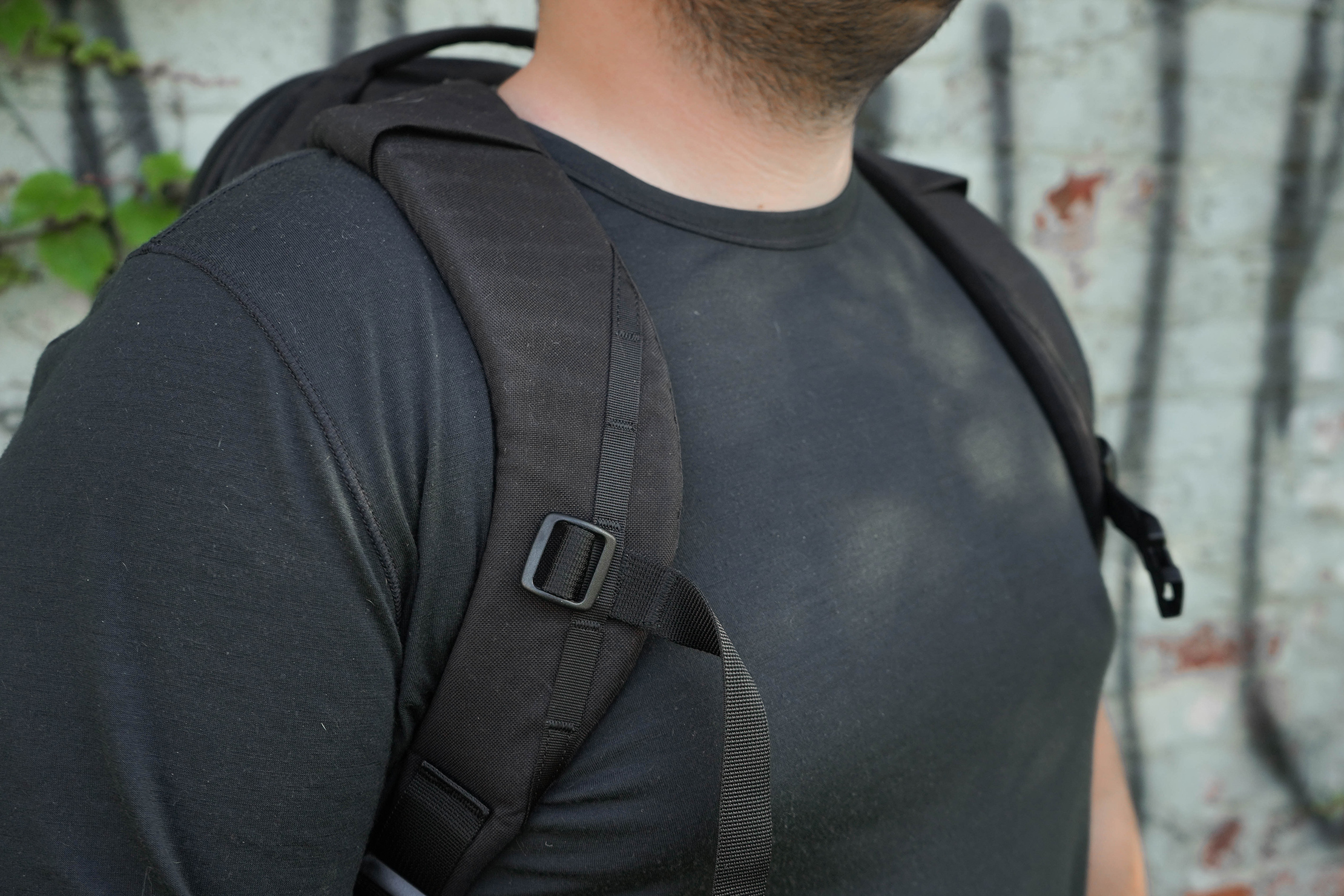 Let's talk carry. Once again, the folks at EVERGOODS haven't accepted the status quo here. The straps are cushioned with Zote EV50 foam and have a nice curve that follows the shape of your body. The back panel and shoulder area are also curved and fit snugly against your back with a slightly higher carry than you'll find on most packs. The high carry can feel odd if you're not used to it, but it certainly helps lift the load. Especially for those of you with smaller torsos.
We love how snuggly this pack fits against the body. It's like wearing a jetpack. Throw it on and you're ready to go.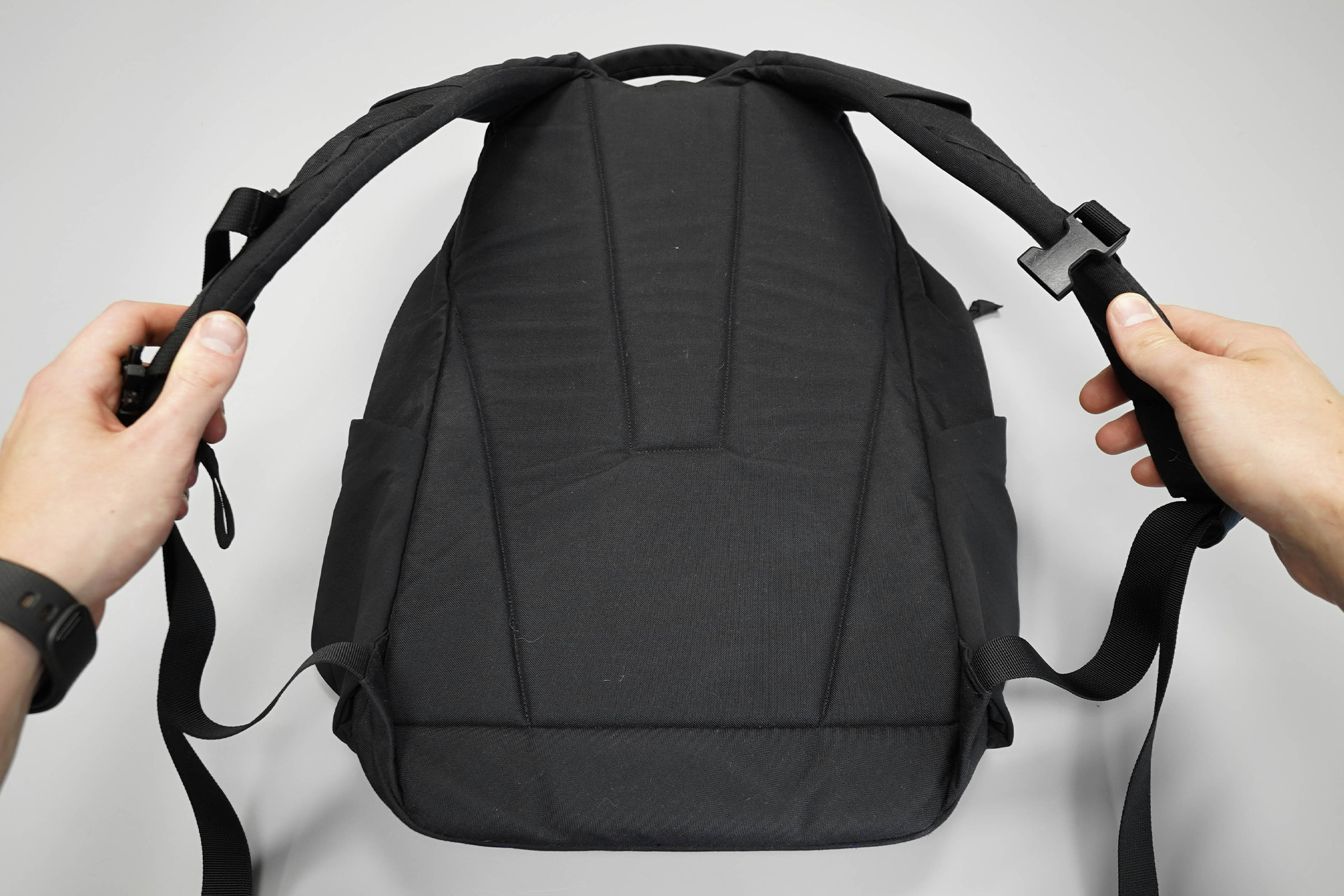 Now, the back panel doesn't have any mesh or air channels. The folks at EVERGOODS say the textured yarn helps buffer a small amount of moisture, but that's only a small amount. If you'll be carrying this bag on 100 degree days, or if you're prone to that dreaded swamp back, then this may not be the best backpack for you.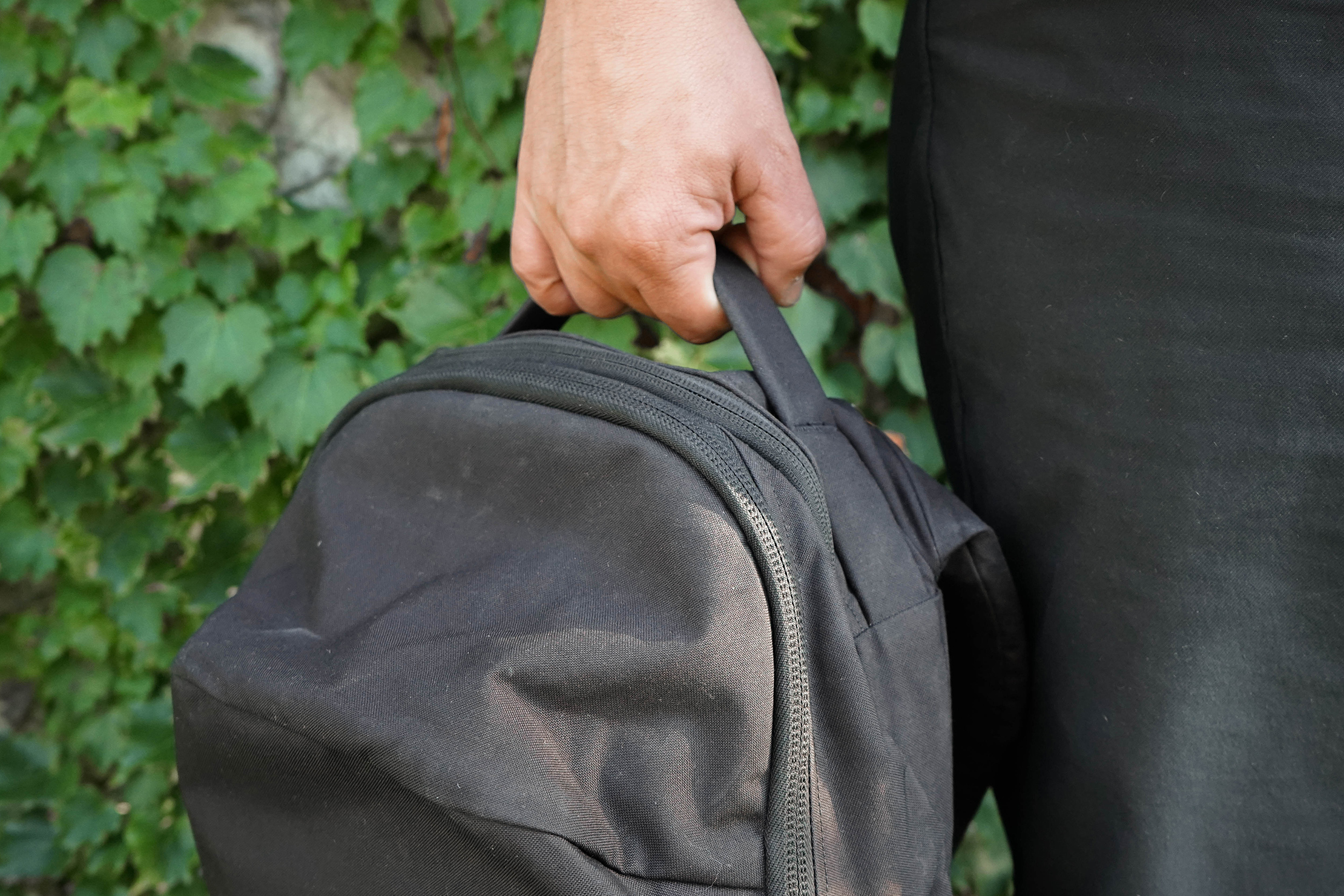 The top handle is solid—quite literally. It doesn't have any padding, but there's a rigidity to it that we like. Due to the lack of padding, you might feel the handle digging into your hand if you're carrying a full pack like this for long stretches. It wasn't a big issue for us, but something worth noting. The handle is hugged by accessory loops so you can clip any wet clothes you're hoping to dry, accessory bags, a lock, whatever you can think of.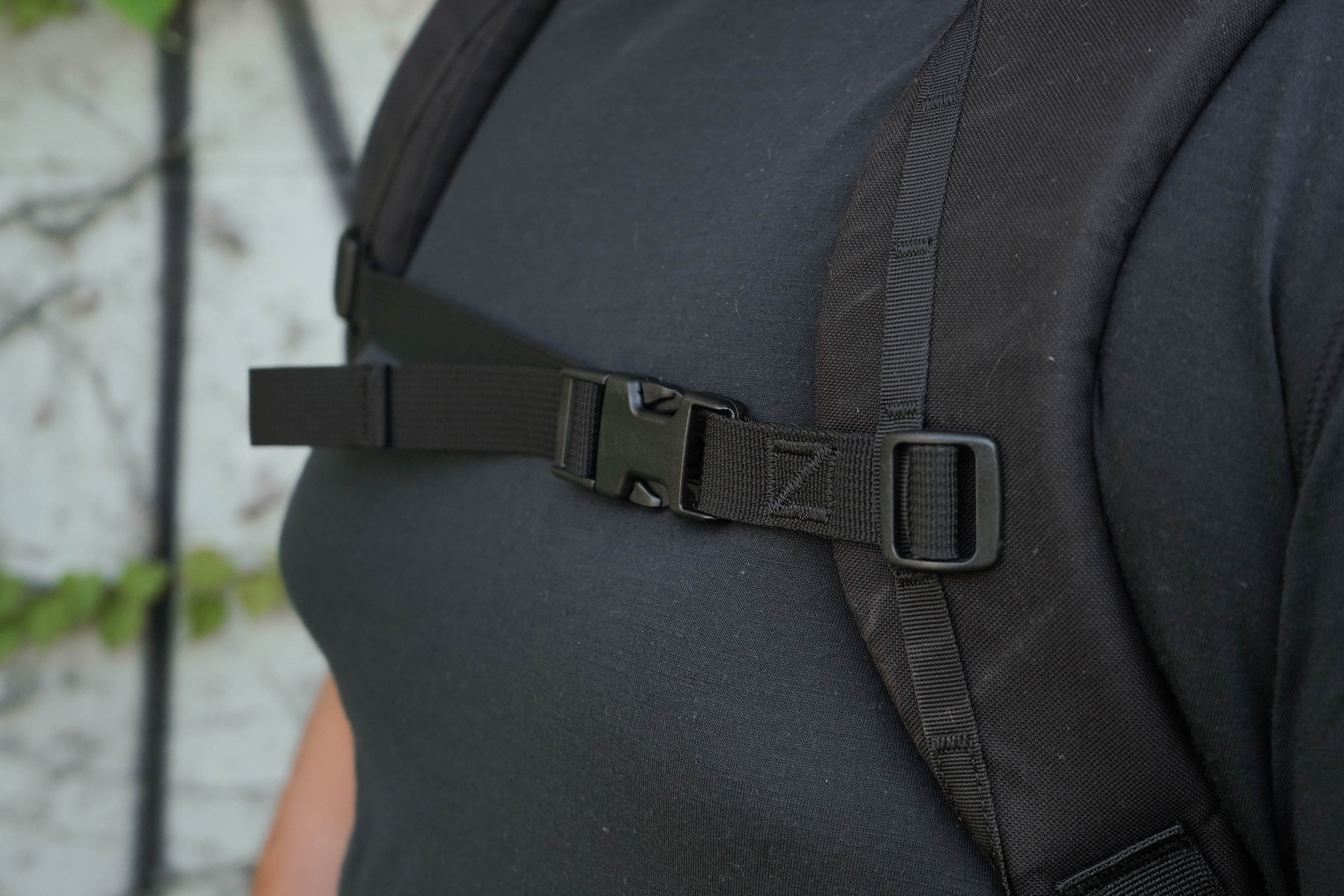 And that brings us to the sternum strap—our least favorite part about this bag. As we've noted in past EVERGOODS reviews, this sternum strap isn't secure. We like that it's adjustable, removable, and reversible for all you lefties out there. But there has got to be a better way. We haven't dropped this particular sternum strap yet, but we have accidentally pulled it through the attachment loop when tightening. The sternum strap of the same design on the CPL24 came loose twice.
Inside the Pack
One of the neatest—and most useful—features on the CHZ22 are the liter-independent pockets. That means that almost every single pocket has its own volume and doesn't eat into the space of the main compartment (besides the aforementioned water bottle pockets). It's like magic.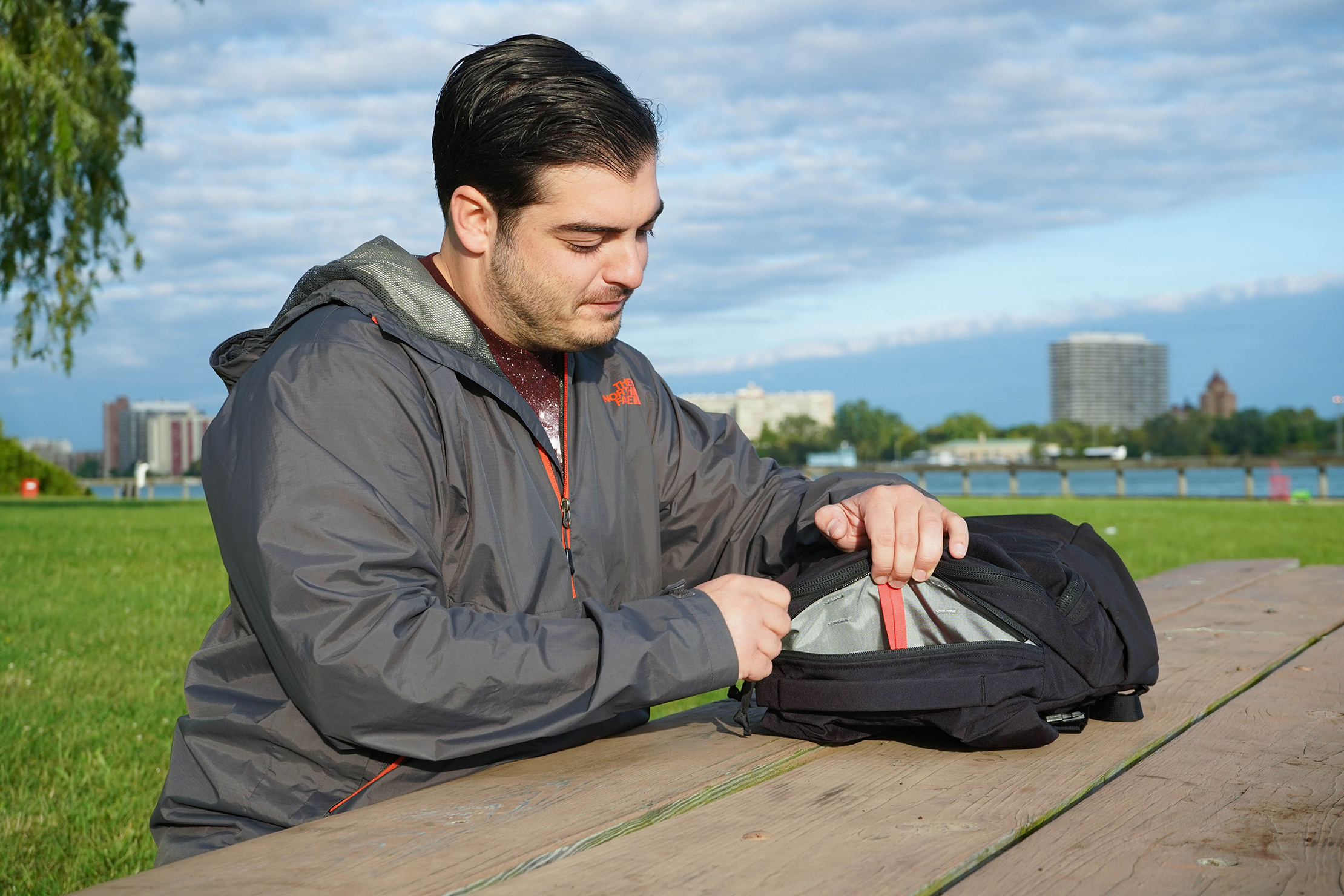 The quick-grab pocket sits on the top of the pack. It's a great spot for all those items you want to access quickly (hence its name). For us, that's snacks. All of the snacks. It's also a good size to empty your pockets into when you go through airport security. It has a key leash, which is an upgrade from the EVERGOODS key leashes of yesteryear—it's hardier, so it shouldn't break on you. We also love the pop of color it adds to an otherwise two-toned bag.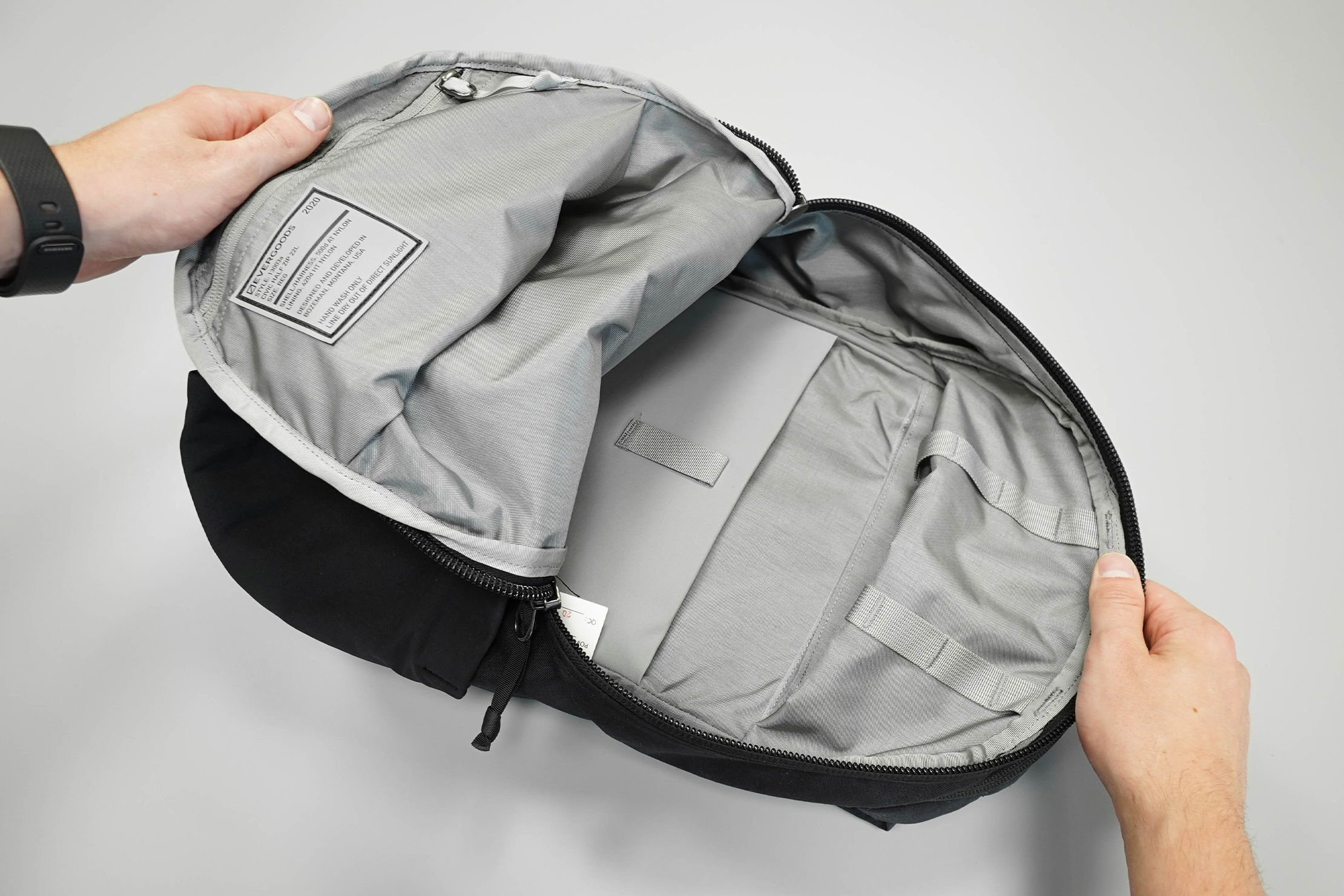 The main compartment has a half-zip, horseshoe-style opening (hence the name Civic Half Zip). You'll find what EVERGOODS calls the security pocket on the interior of the front flap.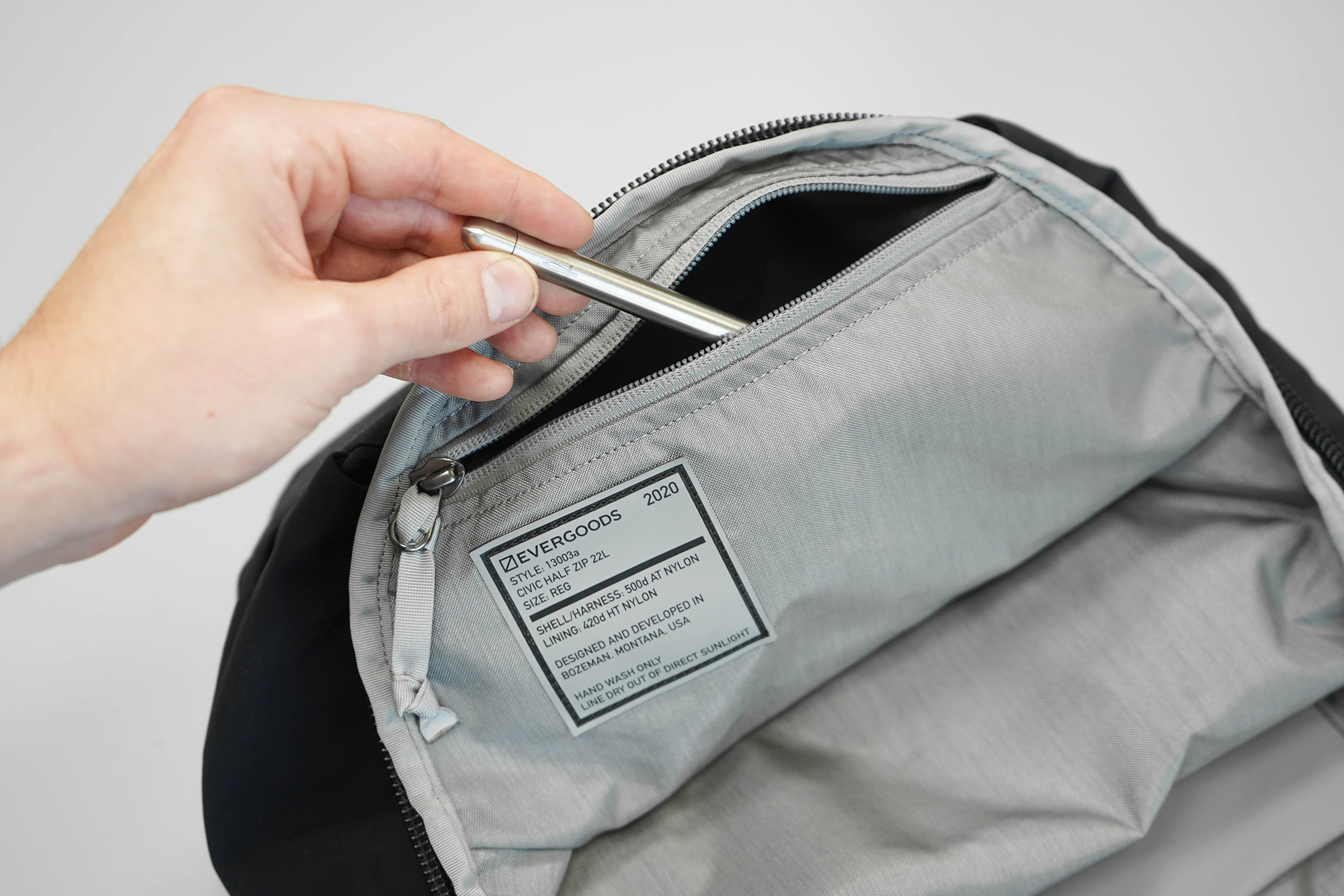 To be frank, this pocket isn't our favorite. It has its own volume, which, again, is amazing, but if you load it up the front of the pack gets floppy. Plus, it makes it hard to work the zippers. And creates that rhino-horn we mentioned oh-so-long-ago. We've mostly kept our random assortment of pens here, (since we've had no luck with heavier items) but it would also be a good spot for cash or your passport on the road.
This backpack doesn't have a dedicated laptop compartment, but the laptop sleeve is well-designed. It fits up to a 15'' laptop and is lined with thick, soft padding. Plus, it has a false bottom to keep your precious cargo safe. This is definitely an improvement on the laptop compartments of the CPL24 and CTB40.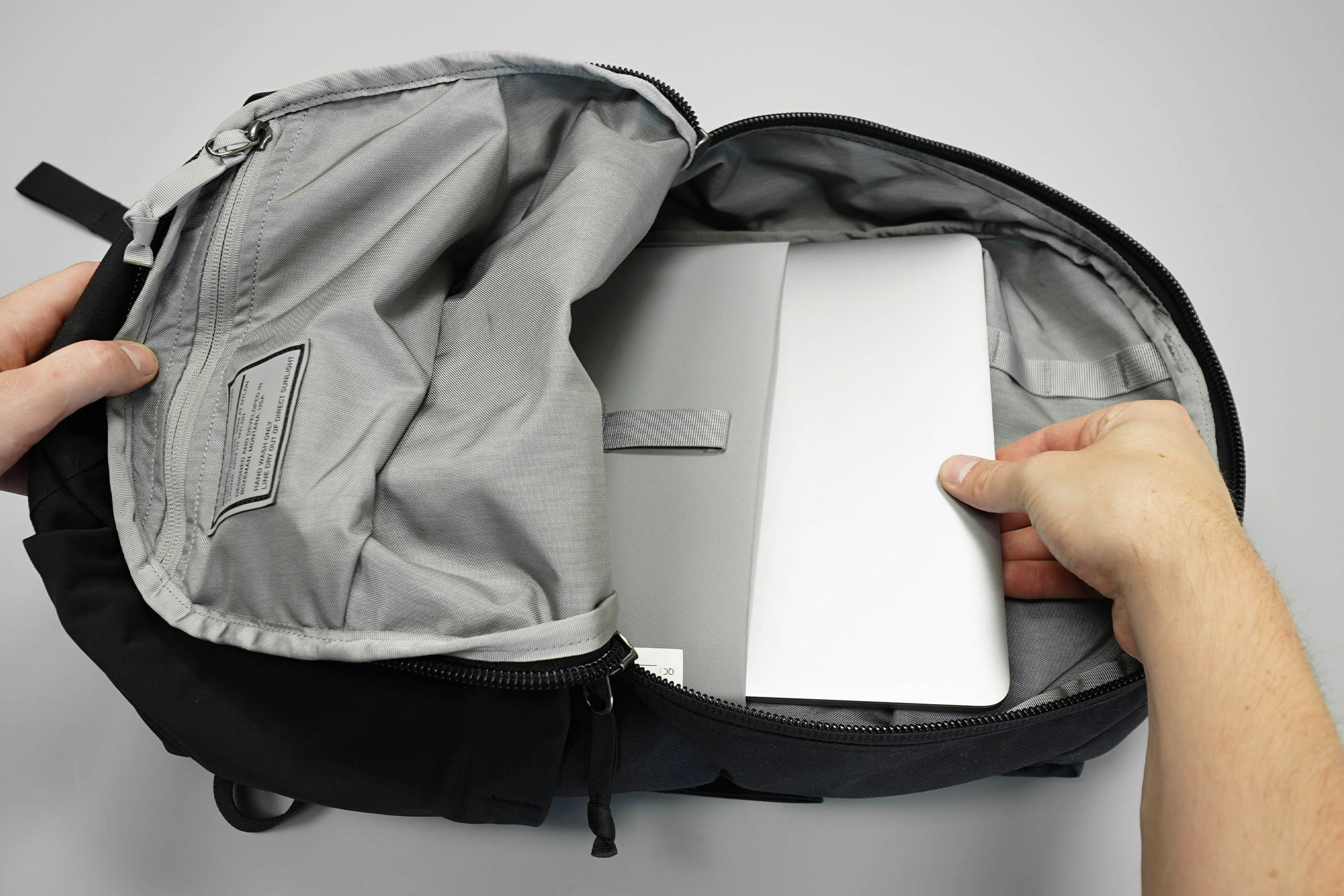 One quirk about this laptop sleeve is that when you pull out your laptop it may collide with the interior of the quick-grab pocket. The quick-grab pocket hangs down from the top of the pack. When full, it bulks up and may get in the way of smoothly sliding your laptop up and out of the backpack. Not a big deal, but still a deal.
Another note about this laptop sleeve is that it doubles as a water bladder sleeve—so you can seamlessly transition from city to country. The hydration tube exits out of either one of the shoulder straps, but you hardly notice these exit points whenever they're not in use.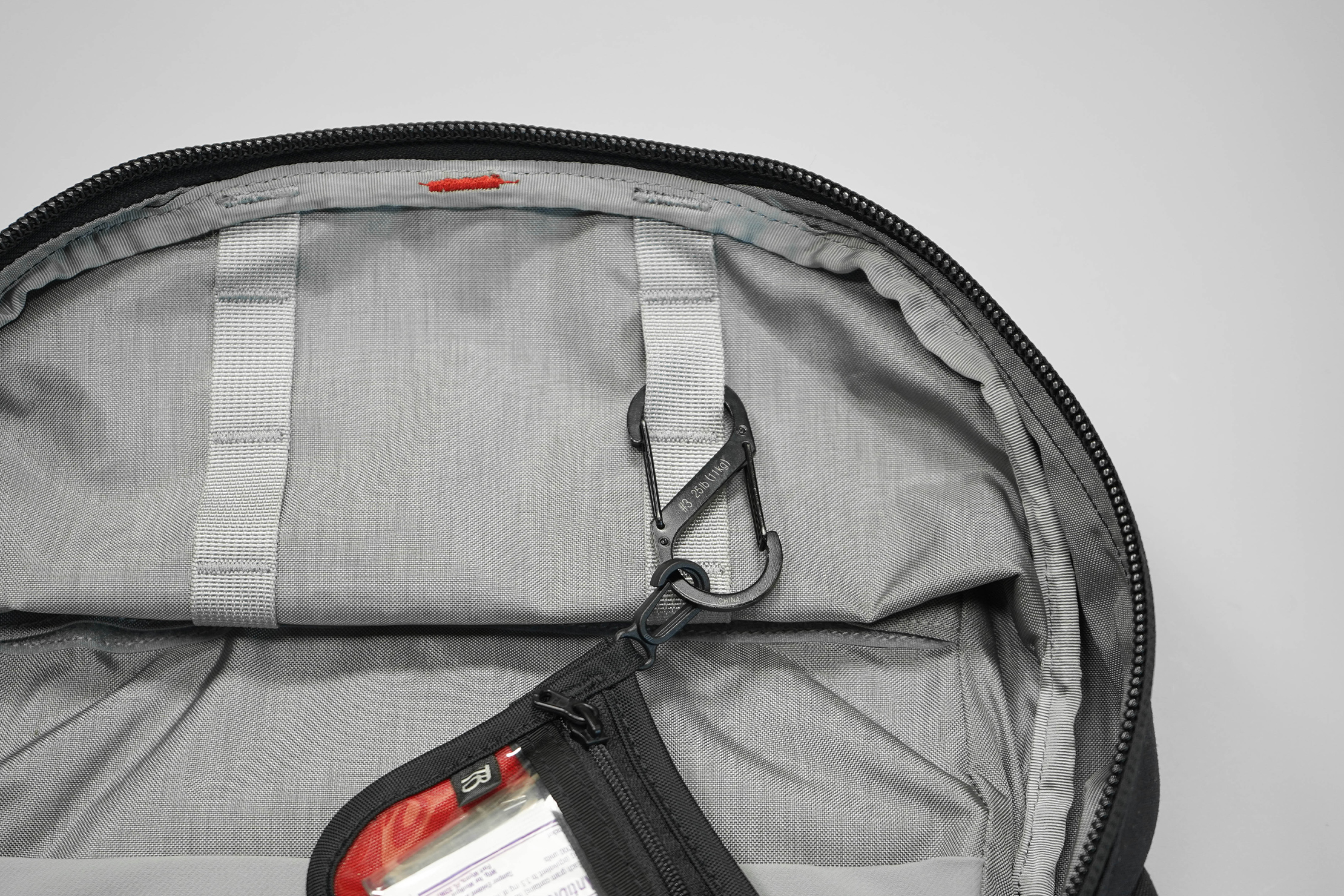 At the top of the main compartment, you'll find two vertical rows of webbing. EVERGOODS has suggested storing pens here, but most pens will slip out unless you securely clip them in. But you can basically use these for whatever you want—with a carabiner, the world is your oyster. You could even attach an accessory pouch and take your organization to the next level.
The rest is open space to do with what you will. Once again, feel free to use accessory pouches or even packing cubes. It fits more than you think. We've managed to take it on multiple four-day trips with no problems.
Durability & Testing
We've been testing the EVERGOODS Civic Half Zip 22L for three weeks as a daily driver around Detroit, Michigan as well as on short trips across the midwestern United States.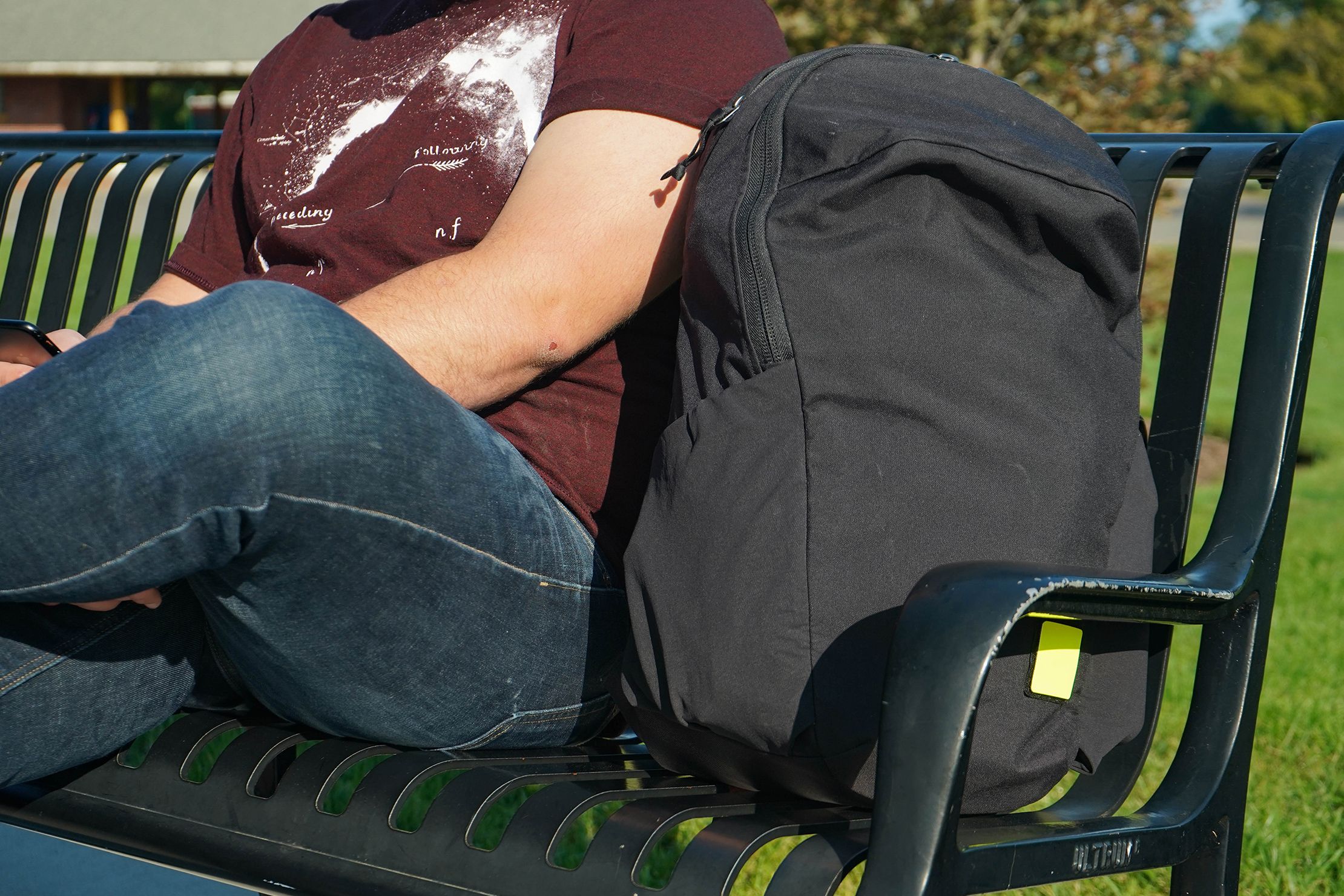 As we've said frequently throughout this review, EVERGOODS takes durability seriously. We don't have any issues to report. Perhaps our grandchildren's grandchildren will update the Usage Timeline down below with news of the first tear.
Jokes aside, it's holding up quite nicely. And we're happy that it's not collecting as much dirt/dust/hair as past EVERGOODS packs.
Usage Timeline
Initial Usage
Condition: Excellent
Excited to see material upgrades in the laptop sleeve padding and key clip
Digging the size and built-in dimension of the quick access pockets
Main zipper is stiff around the corners, but feels like it will break in over time
2 Weeks of Use
Condition: Excellent
The zippers are starting to break in and feel a tad less sticky.
1 Month of Use
Condition: Excellent
Access the Pro Community Discussion
Get your questions about the EVERGOODS Civic Half Zip 22L (CHZ22) answered from our team and the Pro Community right here on the page. Plus, join discussions with other members about gear, guides, and more.
Other Bags & Luggage Reviews