Matt & Nat VERASM Wallet Review
Durable and sleek, The Matt & Nat VERASM Small Wallet is perfect for the vegan travelers out there—though its internal organization is a bit much.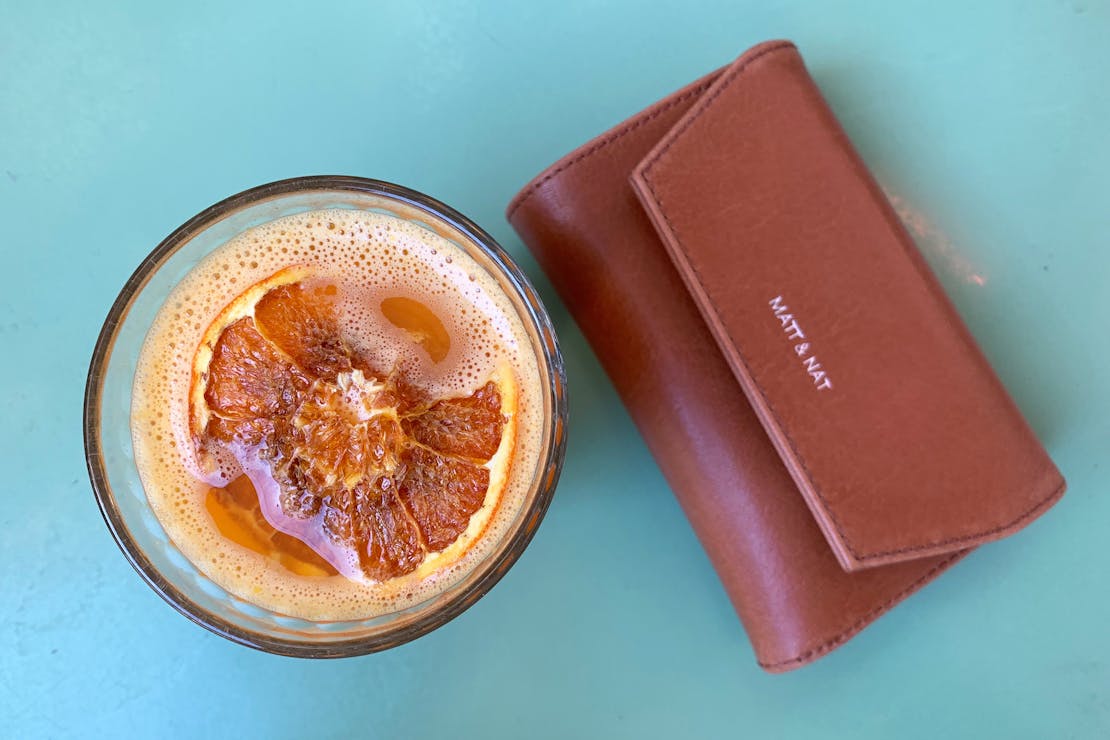 Our Verdict
Unlock the Pro Summary
Save time. Get access to brief summaries of our reviews so you can browse and make decisions more efficiently.
Pros
Vegan leather that mimics actual leather.
Made of durable, quality materials.
Vintage, sophisticated look.
Cons
Internal organization is a bit much.
May be too large for some tastes.
Unbranded hardware.
Recent Pack Hacker Video
Technical Details
Weight (oz)

4 oz (113.4 g)

Dimensions

4 in x 5.5 in x 1.5 in (10.2 x 14 x 3.8 cm)

Notable Materials

Polypropylene

Manufacturing Country

China
Full Review
If you're vegan but love the look of leather, then Matt & Nat needs to be on your radar…or maybe it shouldn't. Because you'll likely spend a good chunk of change on exquisite vegan "leather" briefcases, belts, jackets, purses, shoes, and wallets. You've been warned.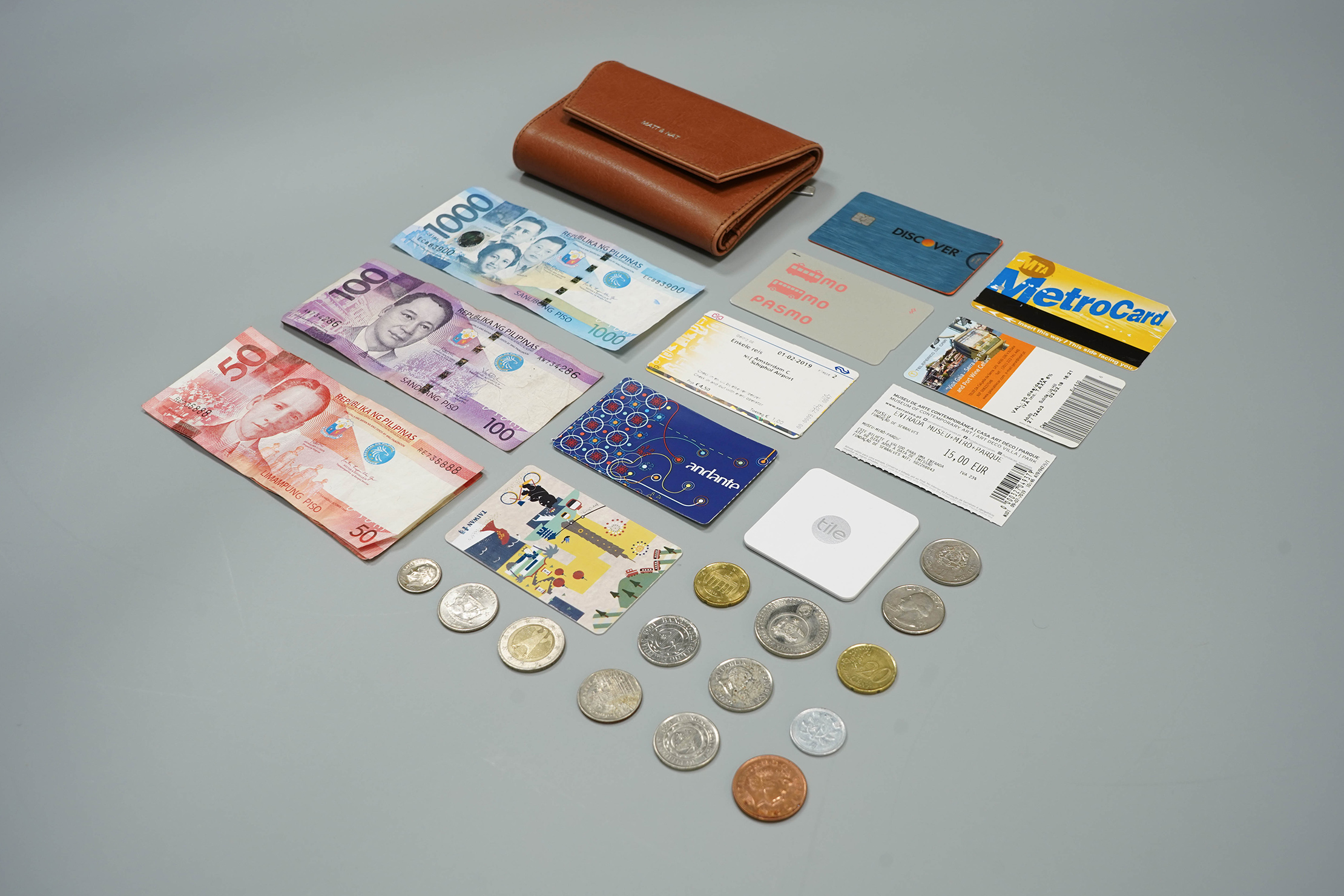 We've been testing the Matt & Nat VERASM Small Wallet, which we'll discuss in detail in this review, but it's worth taking a look at the company itself first.
Matt & Nat—which sounds like it's named after two humans, but actually stands for Materials and Nature—was founded in Montreal, Canada 24 years ago with the mission to create luxury goods without using animal products of any kind (while vegan lifestyles are more commonplace now, they were less so 24 years ago—so this is quite the fun fact!).
The folks over there are also committed to sustainability, though they recognize the impact any type of production has on the environment and are always striving to do better. We appreciate that Matt & Nat's not "green-washing" its eco-footprint—the website openly discusses all the ways the team plans to do better going forward.
One final note before we jump into the review—Matt & Nat also cares about social responsibility. Its products are all made in China in factories that are SA8000® Standard certified. This certification looks at eight areas important to social accountability and ensures that every worker is treated like a human and not a means to an end. And we can certainly get behind that.
So without further ado, let's get into the review of the Matt & Nat VERASM Small Wallet.
Materials & Aesthetic
Matt & Nat sells luxury goods—and that's exactly the vibe of the VERASM wallet. It has a simple design with elegant stitching along its perimeter and an overall leathery texture. The Matt & Nat logo is embossed in silver on the front of the wallet and engraved on the back zipper. It's beautiful and minimalist, which is right up our alley.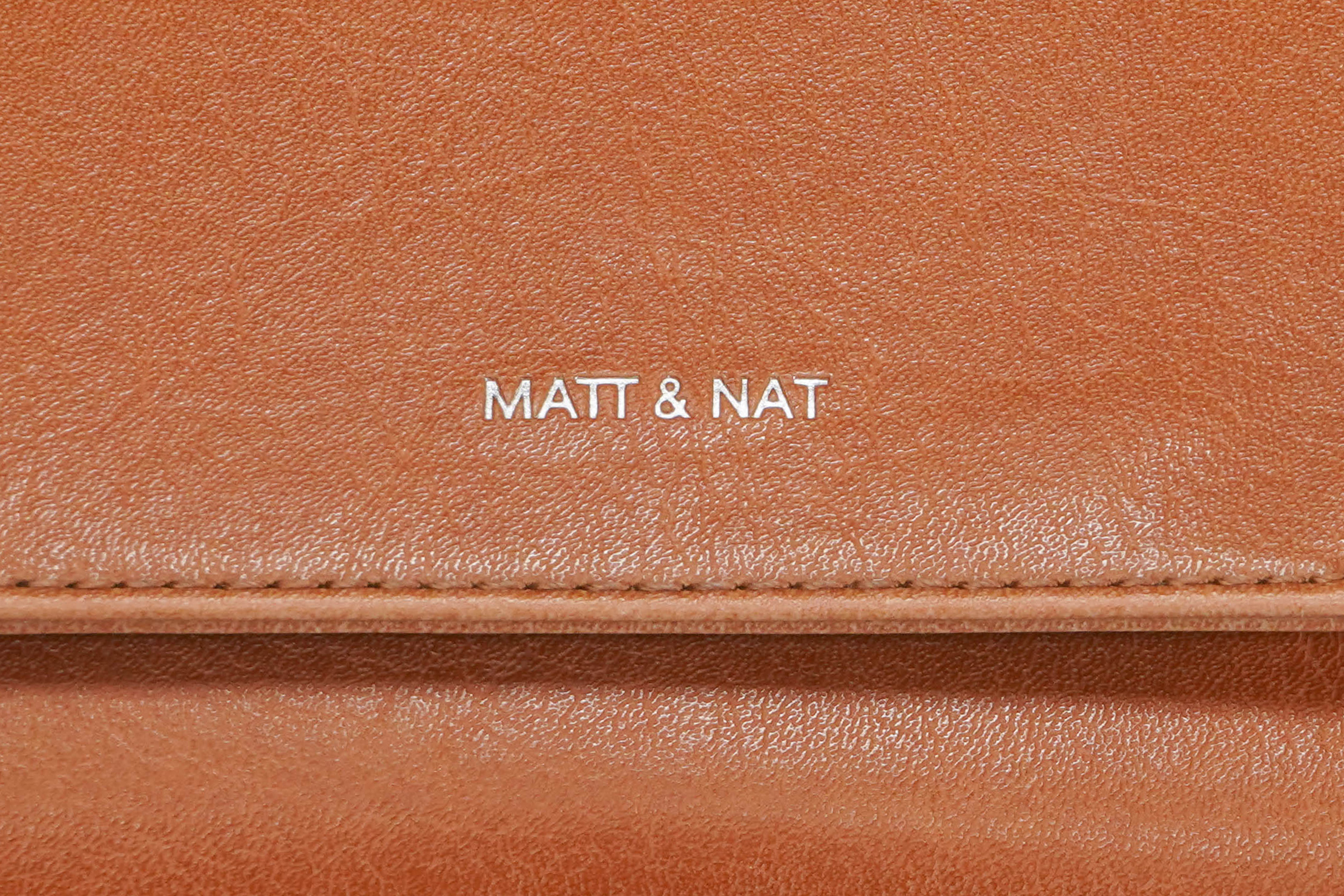 You can also tell it's part of the company's "Vintage Collection" by the way it's cut and the silver matte hardware used.
It's available in five colorways at the time of this review: Shadow, Black, Chili Matte Nickel, Cosmo, and Garnet. We've been testing the Chili Matte Nickel (a.k.a. brown) colorway, but you can't go wrong with any of the other options. Of course, lighter colorways are always more sensitive to showing dirt, wear, and tear (oh my!), so keep that in mind.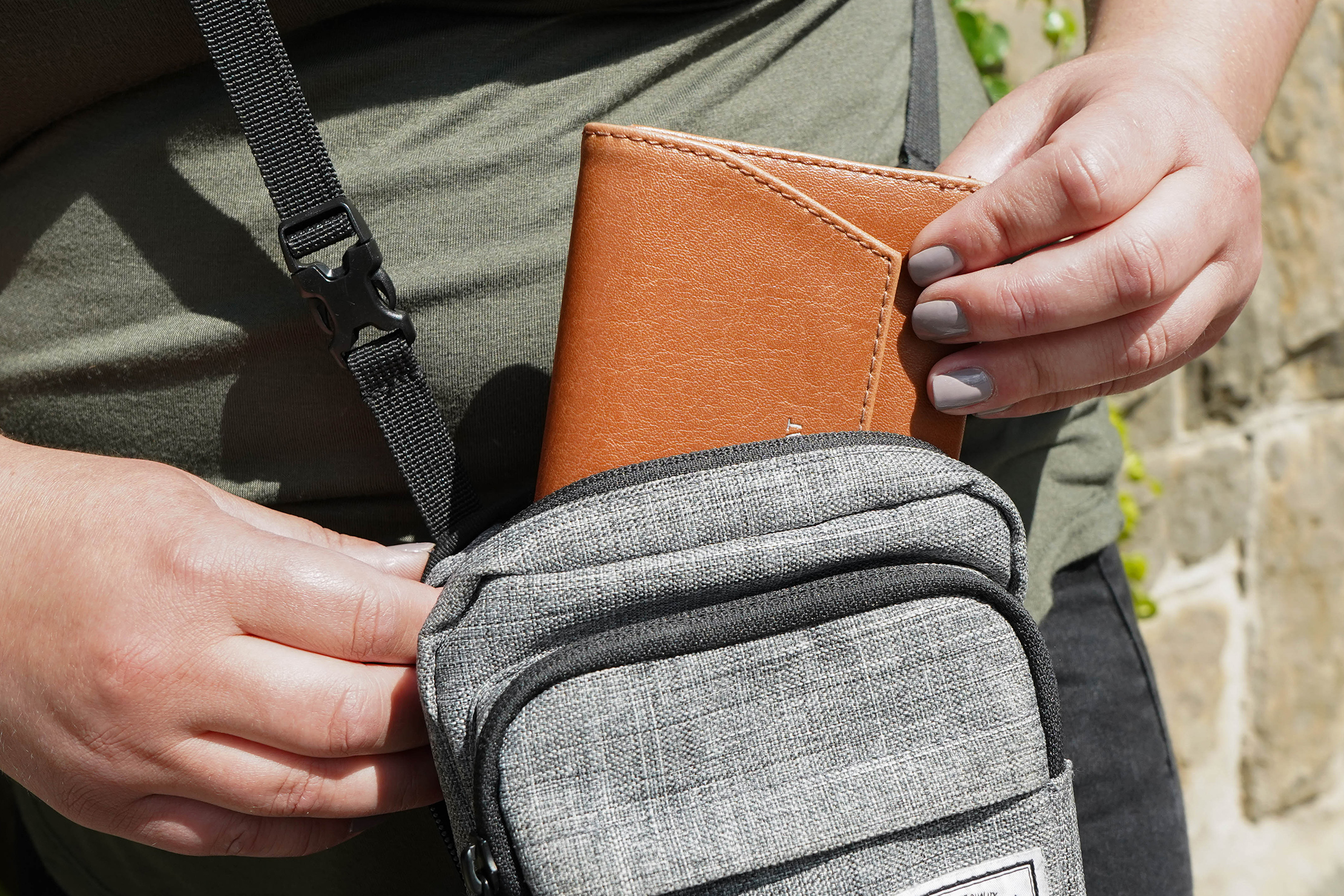 Now, this wallet isn't built with travel in mind. It's not large per se, but it's not small either. If you're used to wallets you can put in your pocket, you'll be disappointed with the size of this thing. But it's not unwieldy or bulky, and will fit in most sling bags/backpacks/purses.
With that, let's check out the materials.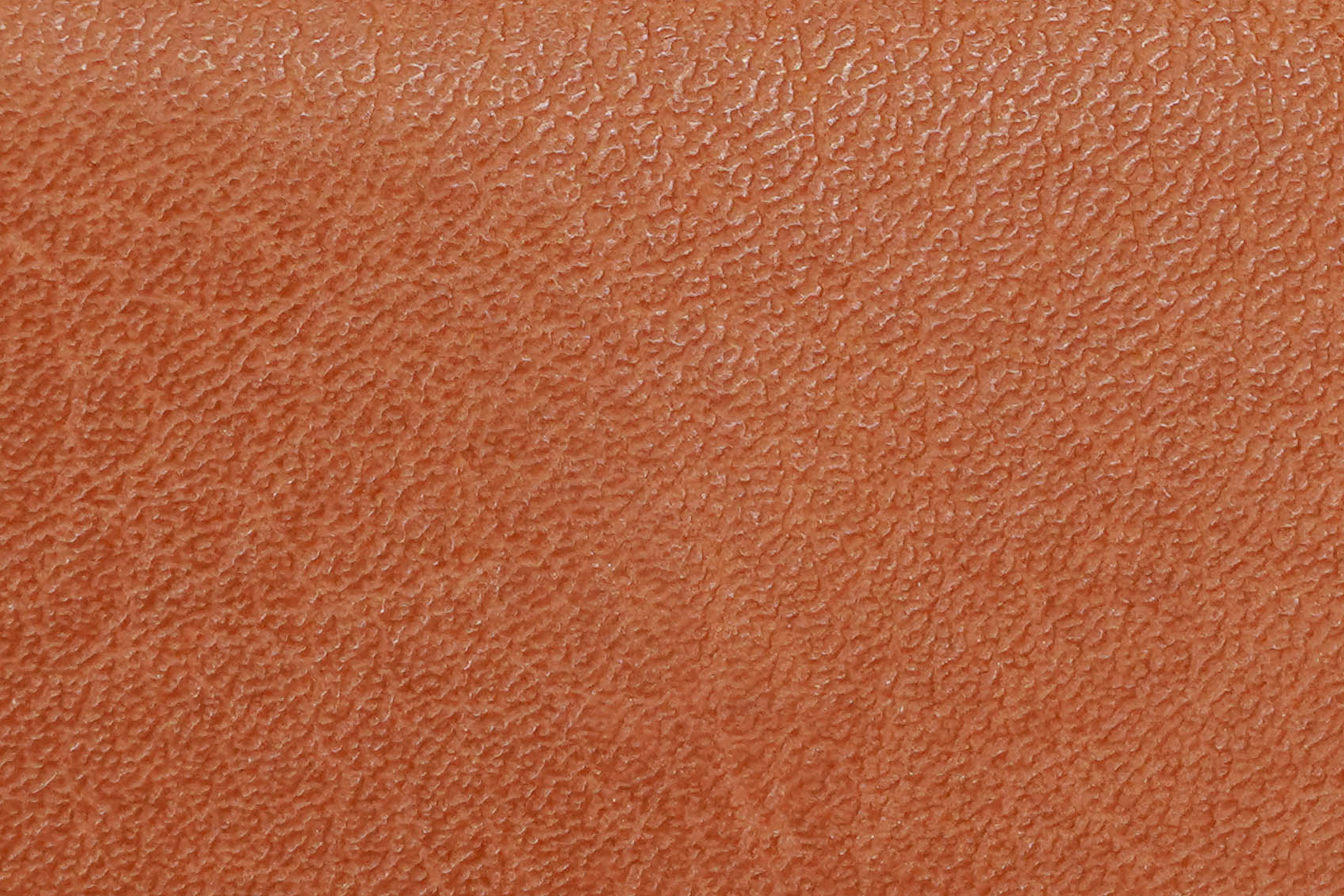 Matt & Nat doesn't specifically say what the VERASM wallet exterior is made out of, but they use two vegan leathers across their products: PU (polyurethane) and PVC (polyvinylchloride), with a preference for the former as it's better for the environment.
The vegan leather on the VERASM wallet doesn't feel like the vegan leathers of old—you know, the stuff that feels like plastic and peels on day three. No, this stuff mimics leather to an almost scary degree. When we first got our hands on this wallet, we had to double-check that it was actually vegan (it is, don't worry).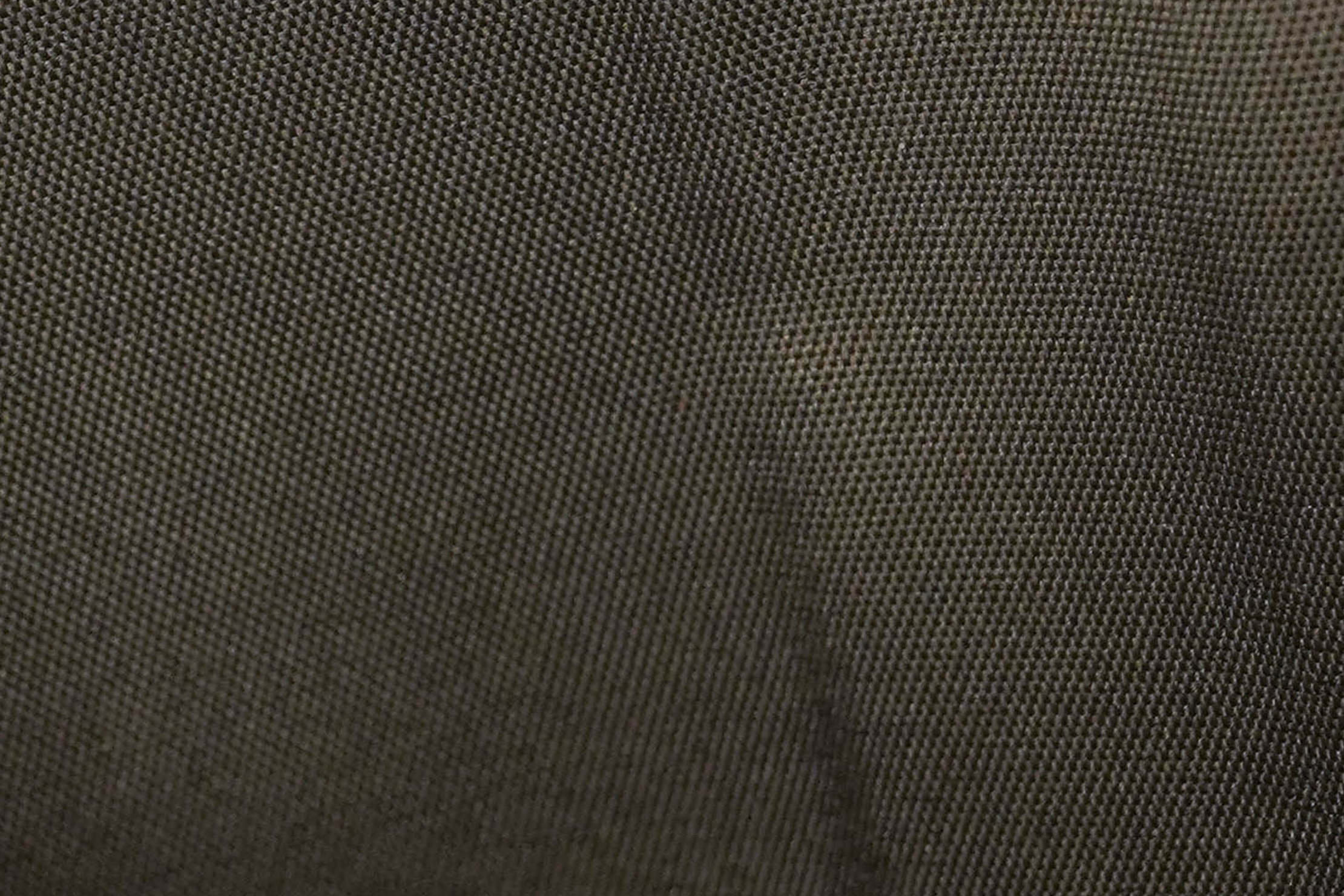 The lining is made from 100% recycled plastic bottles and the folks at Matt & Nat claim they recycle three million bottles per year to be used on their products. We can all probably agree that's pretty rad.
The hardware—an exterior zipper and snap enclosure—are both unbranded. We haven't had any problems with either so far, but we're always wary about unbranded hardware. We've had stuff break on us one too many times (trust issues, you know?).
Features & Usage
Before we open this sucker up, let's quickly discuss the zipper coin pocket on the back. We love the element of style it adds, as well as its functionality. The zipper is smooth to open and close, and the pocket expands—allowing you to easily access the coins you've tossed inside. In the states, coins aren't that important beyond paying for parking, laundry, and the occasional gumball, but it's nice to have a dedicated coin pocket when abroad.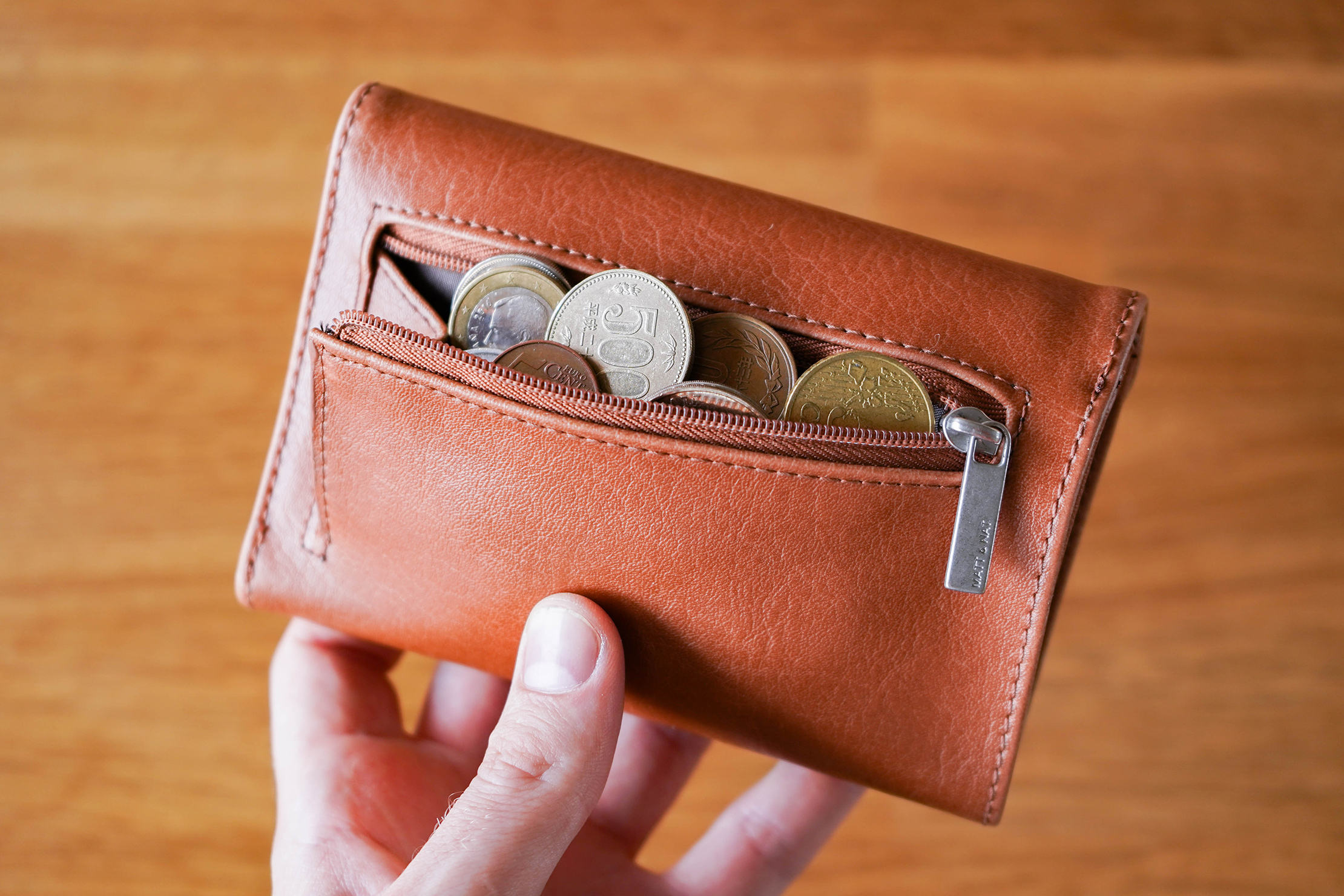 The wallet opens with a snap enclosure, which makes an oh-so-satisfying pop sound. And it's adjustable! While we don't recommend using this wallet as a clutch—there's no wrist strap to keep it secure—we've used it as such in a pinch. When you adjust it to the looser option, you can easily fit a large smartphone inside nice and snug.
The interior has a lot of organization. To a fault, really. You'll find 10 card slots, one massive bill compartment, and four slit pockets. And we haven't used most of them.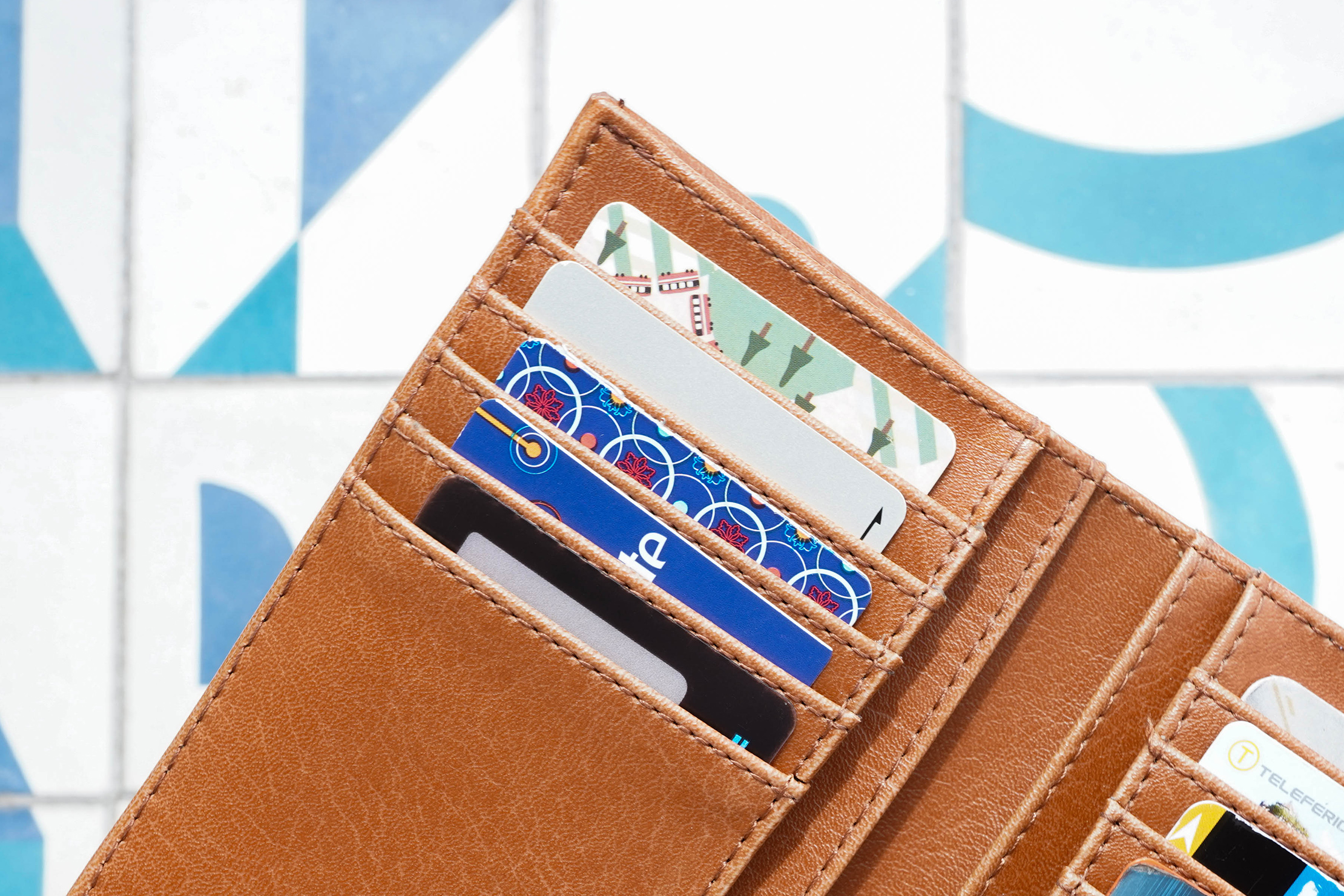 The card slots each hold three to four cards comfortably. Meaning you could carry approximately 30–40 cards inside this thing. Now, we're not in the business of telling you how many cards you should keep in your wallet, but if you're carrying 40 on the daily, you might want to Google Marie Kondo.
So far, we haven't had any problems with these card slots stretching out. But, to be safe (and because we have plenty of room for it) we've been keeping only two cards in each slot. Will the slots stretch eventually? Sure, but we don't foresee it being a problem any time soon. And we don't see it happening as quickly as it does with real leather.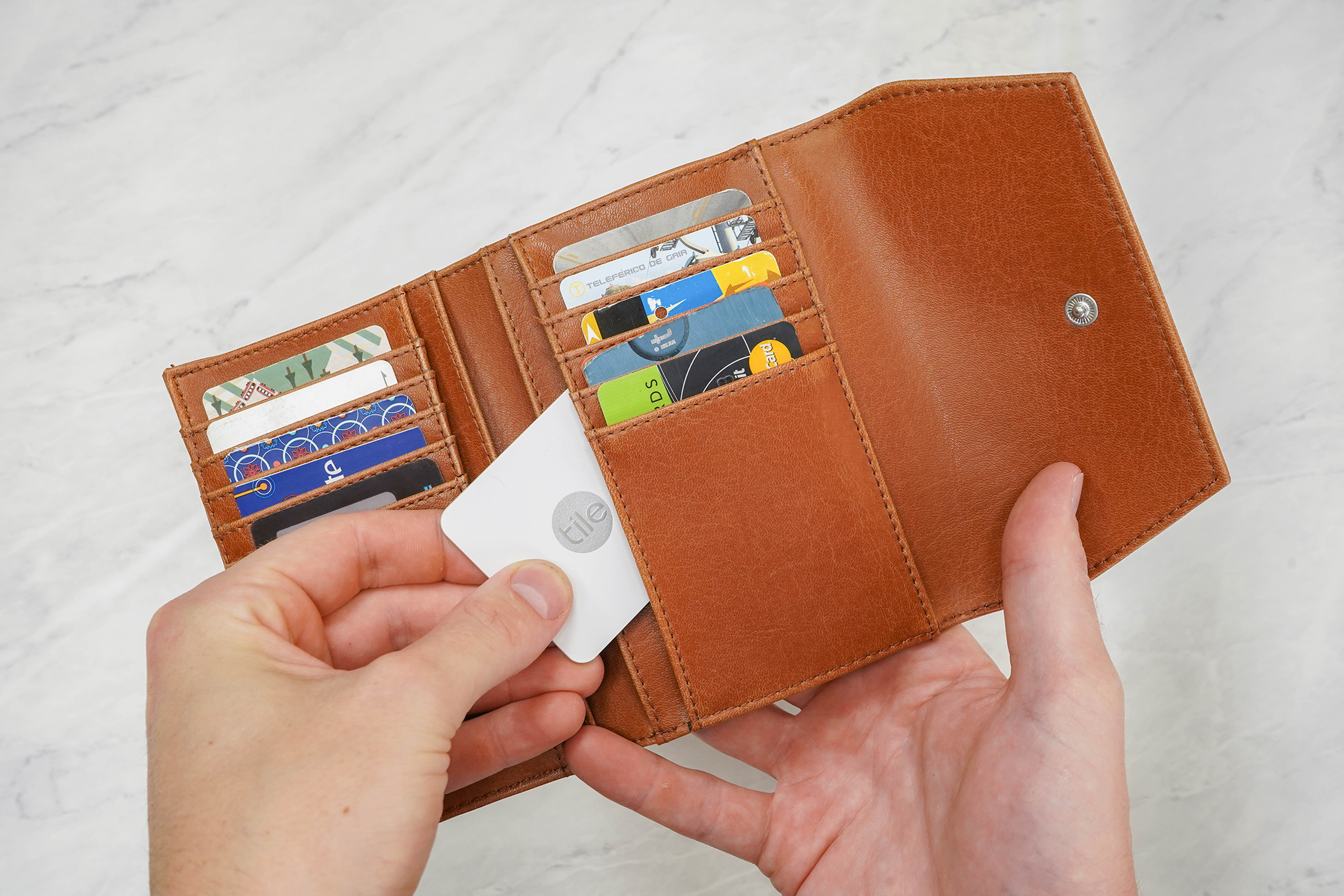 You can toss a Tile Mate—a nifty device that will help you locate your wallet if it's lost by connecting to an app on your phone—in one of the slit pockets, but we haven't found what to do with the other three slit pockets. Every once in awhile we'll stuff a receipt inside, but we don't see much of a purpose for them. Maybe we're not creative enough?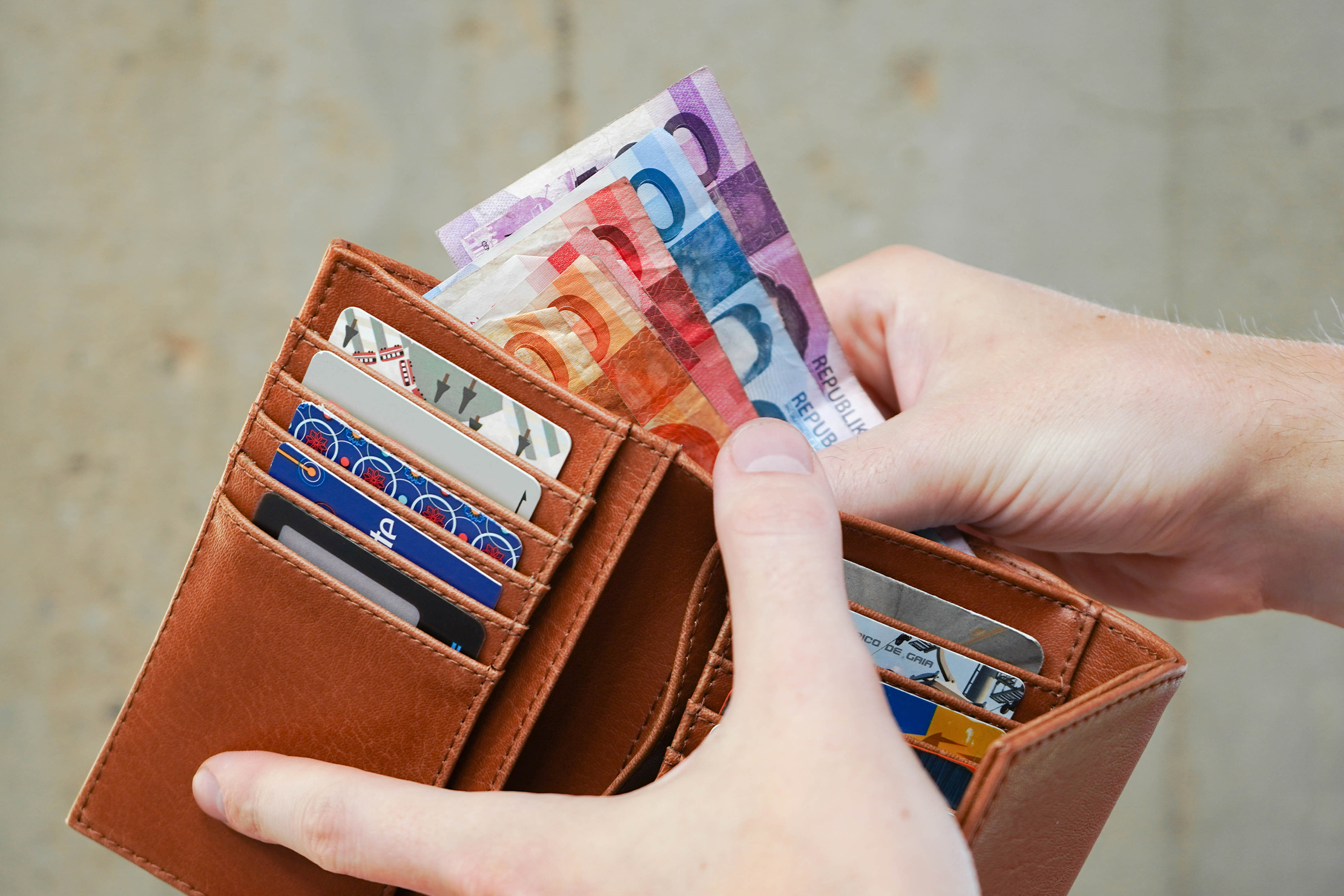 And that brings us to the bill pocket. This thing is massive. It'll fit most bills from most countries and while it's not built for it, you can fit a passport in here too. We like that there's a little hole at the bottom, which keeps dust and dirt from collecting.
Durability & Testing
We've been testing the Matt & Nat VERASM Small Wallet for nearly four months now. It's seen daily use and been on multiple trips. While we don't utilize all of the interior capacity, we've grown attached to this wallet and plan to keep on testing it for many more months to come.
The vegan leather is holding up exceptionally well. It's easy to wipe clean and doesn't stain or crack or anything like that. While we take care of it the sense that we're not dropping it in the mud or scratching it with a pen, we haven't gone out of our way to keep it looking good, so we're impressed with how it's doing (any wallet that can survive a five-day camping trip without getting dirty deserves a metal).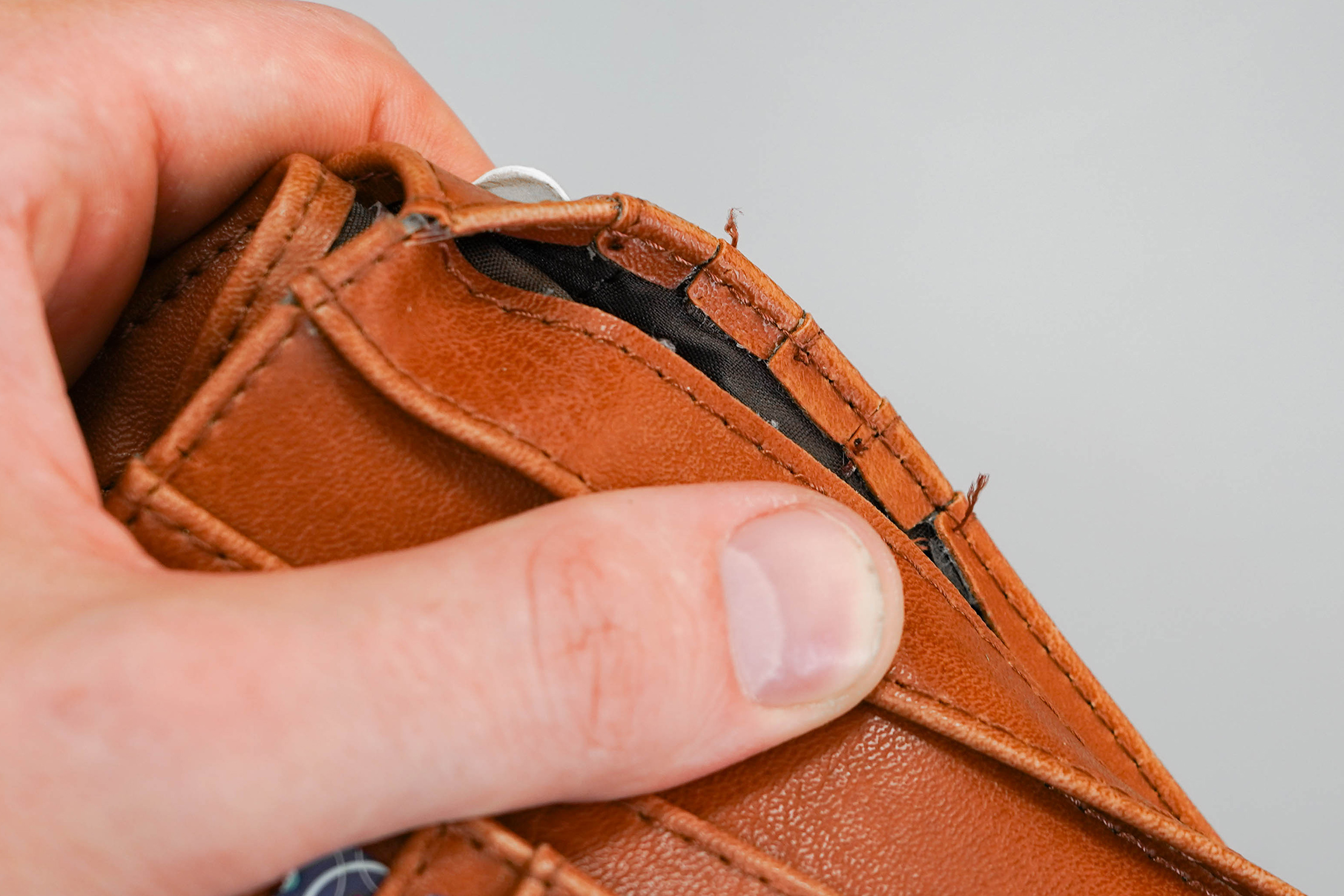 We've noticed a couple of loose threads, but nothing major yet. We'll be sure to update the Usage Timeline below if any of these rebel threads become an issue, but we don't think they will. The folks at Matt & Nat say they are committed to creating durable, timeless products that won't end up in a landfill after a year of use. And, so far, we have no reason to doubt that.
Usage Timeline
Initial Usage
Condition: Excellent
Great craftsmanship and durable.
The "fake leather" material actually feels great.
1 Month of Use
Condition: Excellent
Not getting a whole lot of use out of the slit pockets.
2 Months of Use
Condition: Excellent
Spotted a couple of loose threads—nothing concerning yet.
3 Months of Use
Condition: Excellent
Access the Pro Community Discussion
Get your questions about the Matt & Nat VERASM Wallet answered from our team and the Pro Community right here on the page. Plus, join discussions with other members about gear, guides, and more.
Other Organizers & Pouches Reviews