Bellroy Tech Briefcase Review
The Bellroy Tech Briefcase is excellent for everyday carry or business travel, although you'll likely want a tech kit for extra organization.
Our Verdict
Unlock the Pro Summary
Save time. Get access to brief summaries of our reviews so you can browse and make decisions more efficiently.
Pros
Padded shoulder strap adds carry comfort
Useful front pocket organization
Feels extremely lightweight for its capacity
Cons
Gear can get caught on pockets when packing
Zipper doesn't seal main compartment
Gatekeeper key clip interferes with pocket access
Recent Pack Hacker Video
Technical Details
Capacity

14l

Weight (lb)

1.98 lb (0.9 kg)

Dimensions

16.5 in x 12.6 in x 5.51 in (41.9 x 32 x 14 cm)

Notable Materials

Recycled Polyester, Recycled Nylon, YKK Zippers

Manufacturing Country

Philippines

Laptop Compartment Size

16"

Warranty Information
Full Review
While your travel backpack may have a laptop compartment or sleeve, you may not want to haul around a 30-50 liter pack when walking to the coworking space or coffee shop around the corner from your Airbnb. Instead, you'll likely want to carry a laptop backpack, or, if a shoulder bag is more your thing, a messenger bag.
With its sleek design, we often reach for Bellroy products when we want gear that marries form and function. Bellroy's design tends to be professional looking, and it often incorporates useful features into its products to make your work life easier on the go. That's true whether you're using it for everyday carry, life as a digital nomad, or just because you like streaming content on your laptop better than your phone.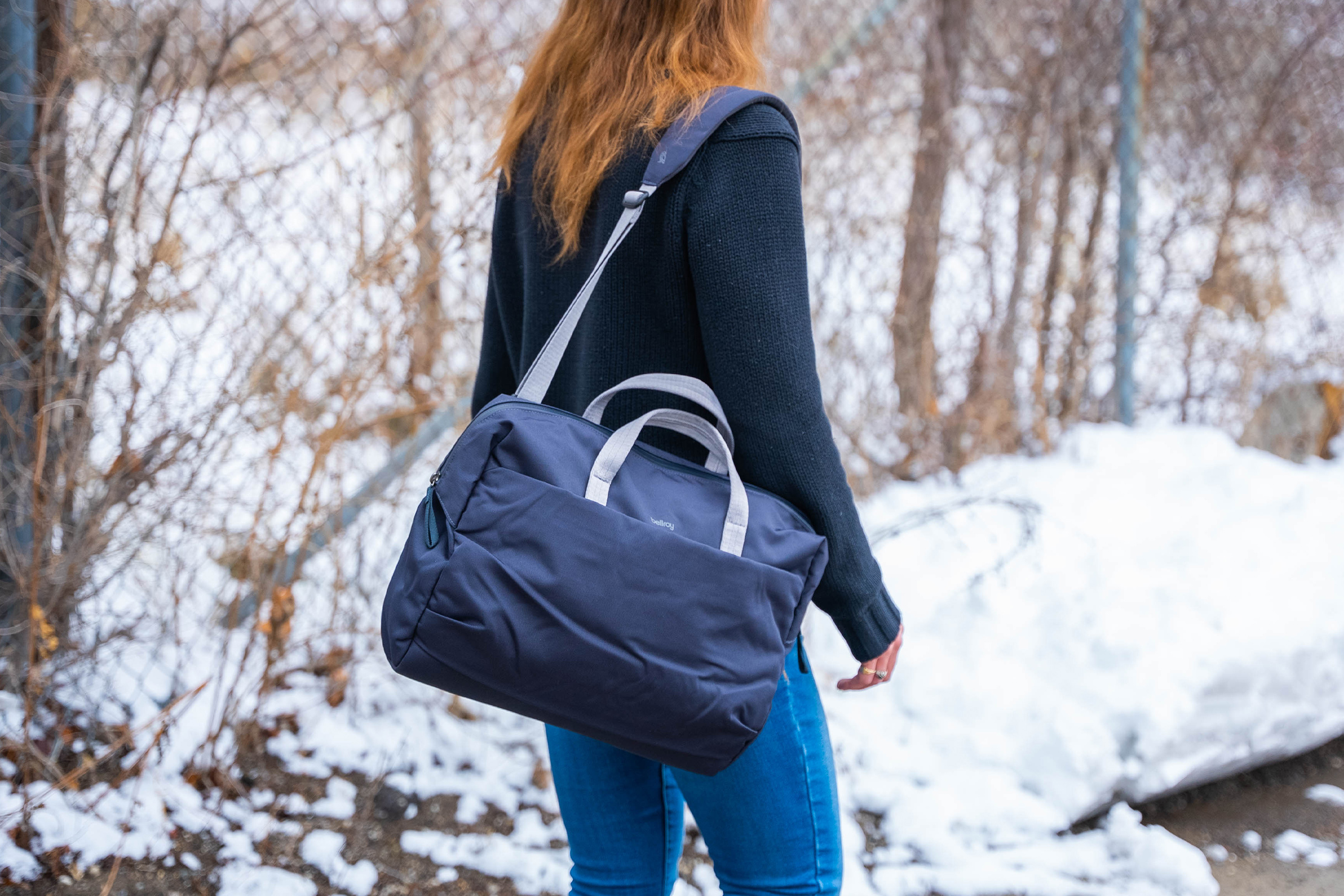 So does the Bellroy Tech Briefcase measure up to the brand's high standards? Let's find out.
External Components
If you were to picture a messenger bag in your mind, it'd probably be pretty close to what the Bellroy Tech Briefcase looks like in person. It looks like the quintessential messenger bag with dual carry handles, a rectangular design, and an optional padded shoulder strap. While it's true that the name is actually "Briefcase," the leather-free construction and softer lines put this bag more in the former category than the latter.
Bellroy uses recycled materials for its Tech Briefcase—water-resistant polyester and nylon. We're testing the Slate colorway, a dark gray with light gray accents on the carry handles, shoulder strap, and lining, though you can also pick it up in Black or Navy. The lining remains the same for all three colorways and contrasts with Bellroy's signature light tan on some portions of the lining and the pockets. The straps on both the Black and Navy options are black, and the only difference between the accents on those two colorways is the key leash of the Navy—which is a deep red!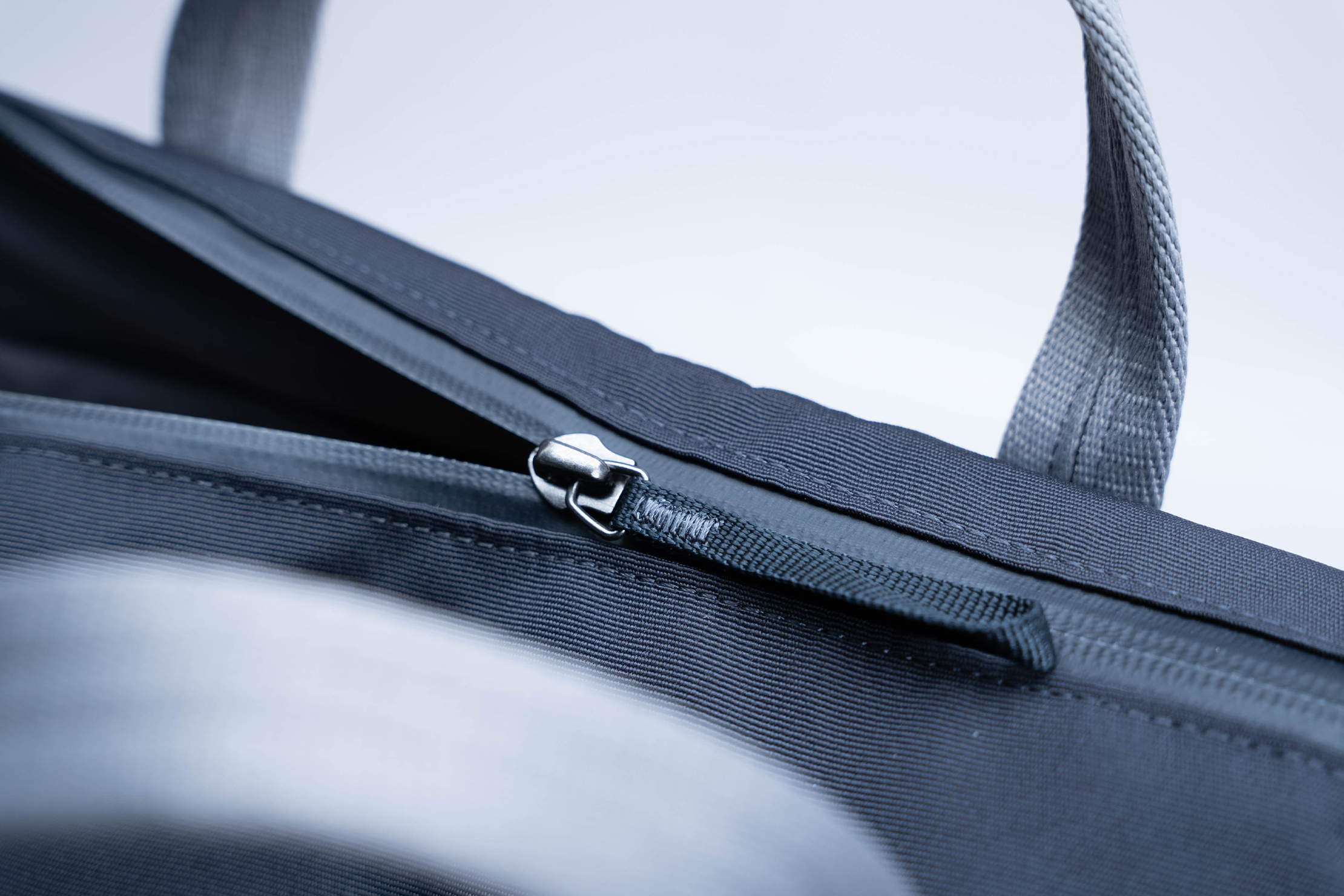 There is an AquaGuard YKK zipper for the main compartment and YKK zippers elsewhere around the bag, although the clips and adjuster slides on the bag are unbranded.
Back to the carry handles for a moment, though—they are a super soft webbing with rolled edges, so they don't dig into your palms if you have to use them for some time.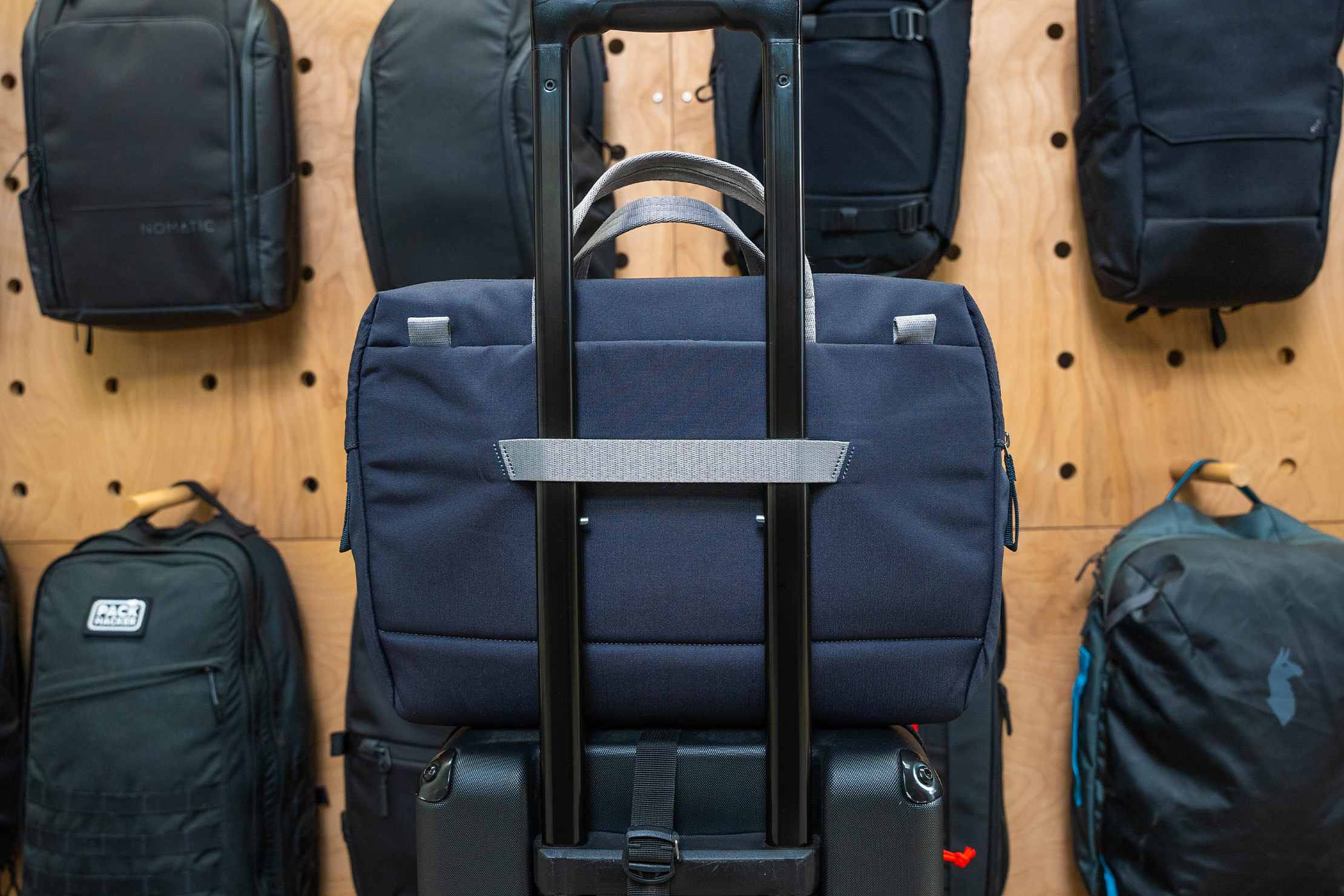 On the rear, a luggage pass-through slides over the handle on your rolling luggage or large briefcase. It's made with the same soft webbing as the handles and lies completely flat against the bag, so there's no worry if you don't ever use it—it won't get in your way.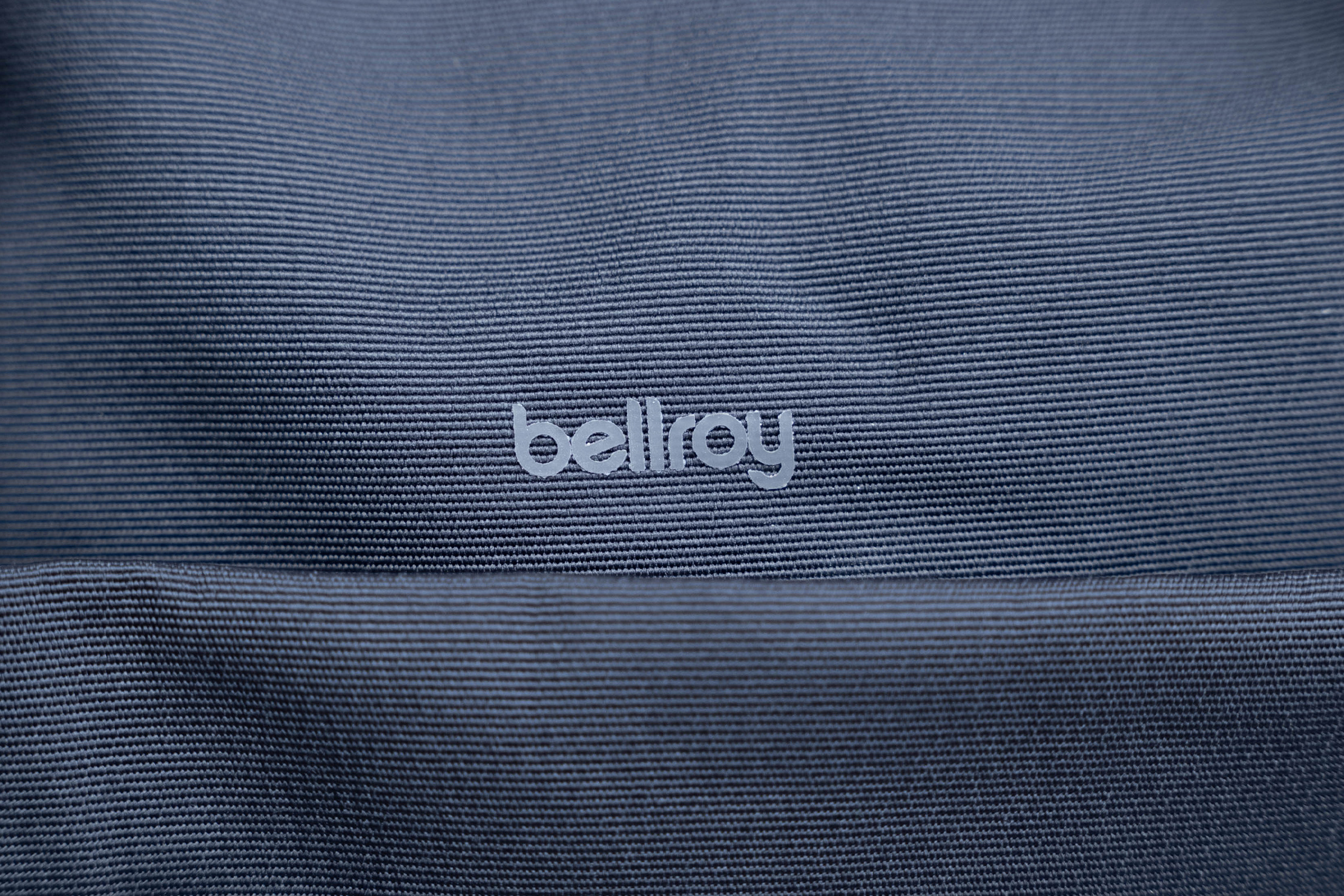 Centered toward the top of the front of the bag is the lowercase "bellroy" brand name, and the Bellroy bird logo is also on the detachable padded shoulder strap.
Speaking of the shoulder strap, it attaches to webbing loops on the bag's rear side. Two gatekeeper clips—which look like upside-down lowercase g's—are on the end of the strap. While they're more challenging to use, you can rest assured that they won't accidentally slide out of the loops whether you're carrying the bag or it's sitting on the passenger seat of the car.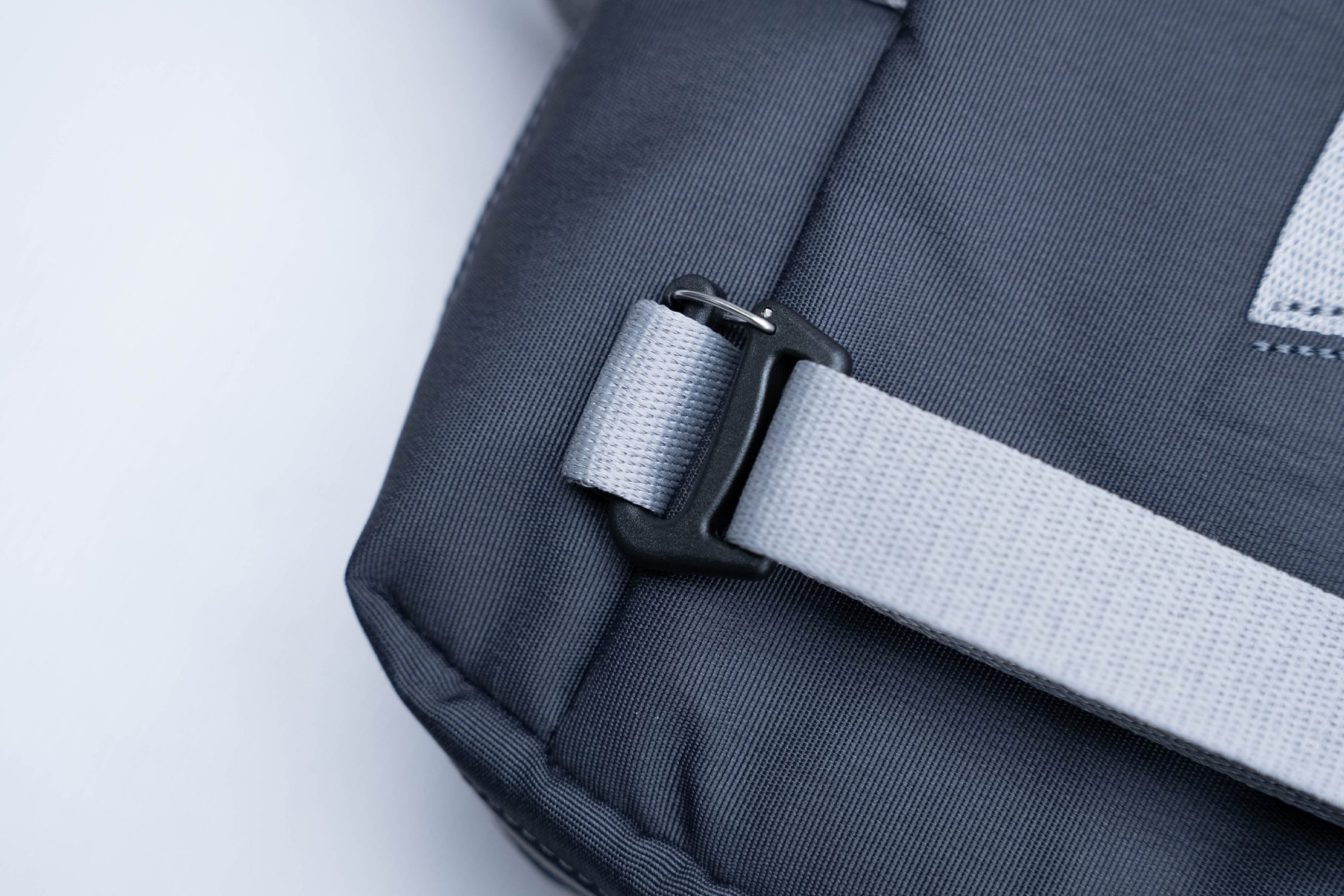 To use them, you have to firmly squeeze the tail end of the "g" clip so the gate can slide over the hook. It then pops open so you can slide it onto the loop. Push it back over the tail when you're through the loop, and you're good to go—it's not going anywhere without more effort.
In the middle of the shoulder strap is a 14-inch piece of cushy padding. The exterior is the same recycled polyester as the primary bag material, while the underside is more like athletic pants—stretchy, breathable, and soft. On either side of the cushion are slide adjusters so you can lengthen or shorten the strap to the correct length for you. It ranges from 34 to about 52 inches, so depending on your height and preference, you can wear it over your shoulder or crossbody.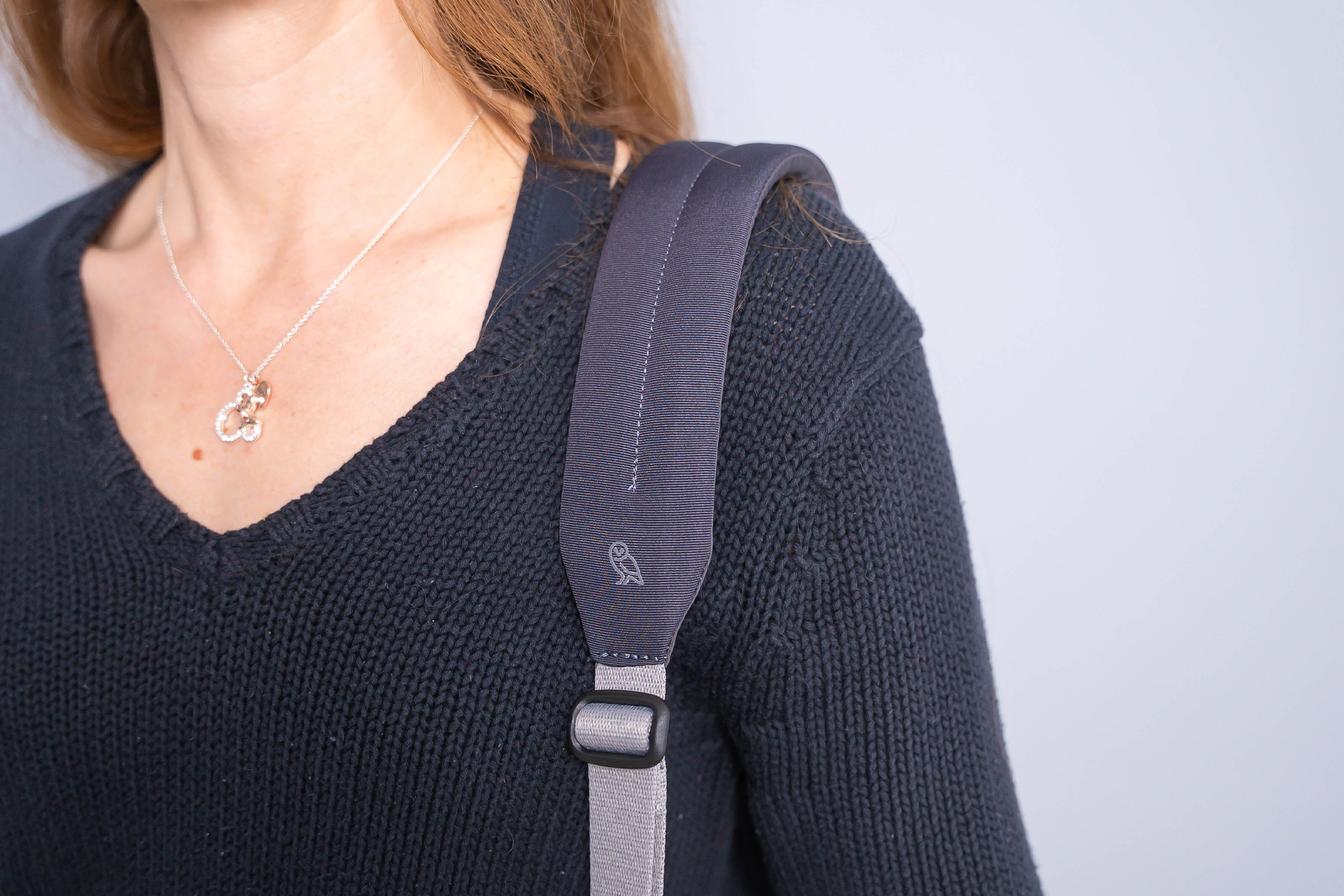 The Bellroy Tech Briefcase is a messenger bag (or briefcase), not a travel daypack, so there's not much going on with the back panel, and that's OK. A dual-density foam padding along the rear panel will protect your device since the back side is adjacent to the laptop sleeve.
Fit Notes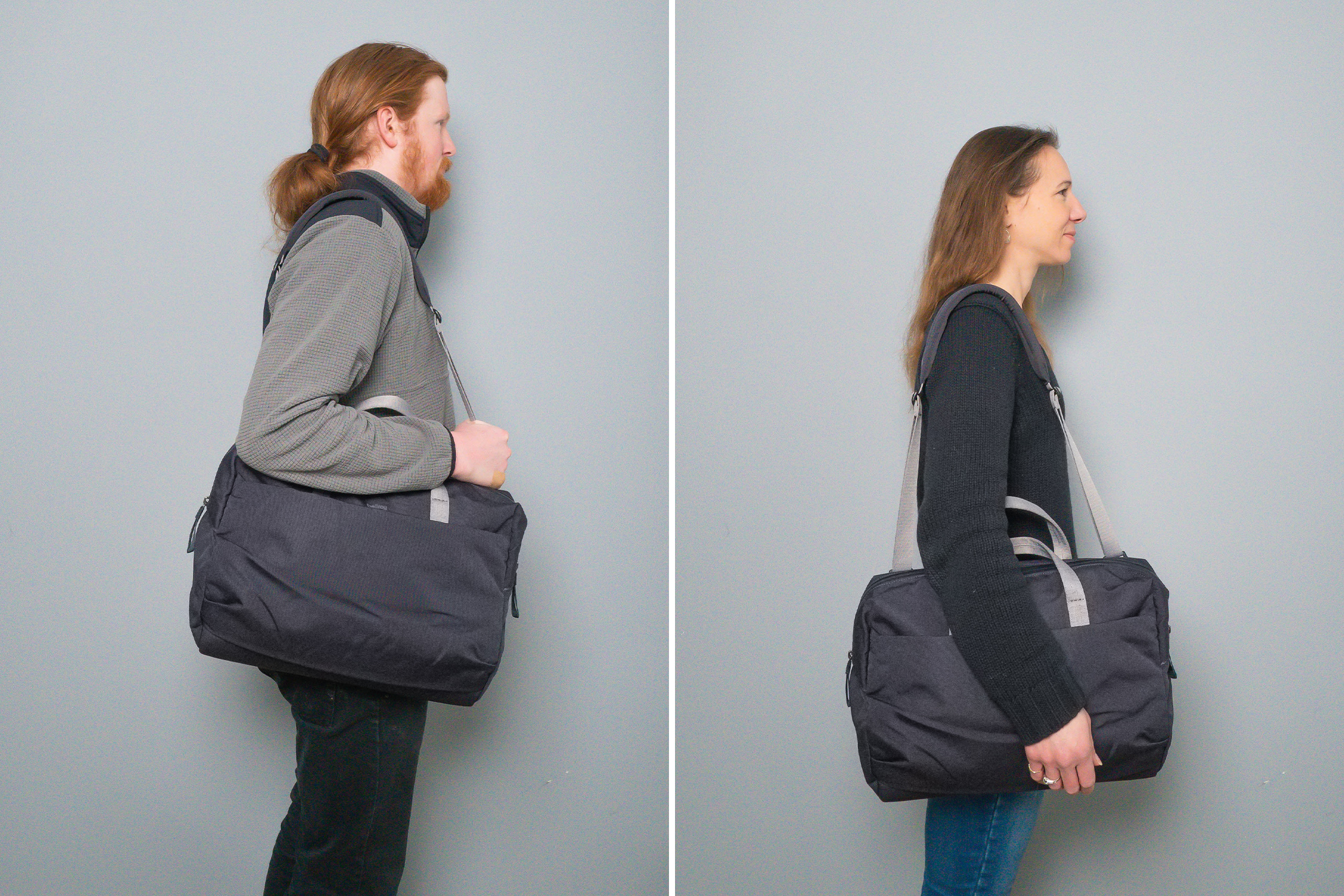 How comfortable you find the Bellroy Tech Briefcase depends more on what you have inside and how long you carry it. The messenger bag seems quite light for its size, so when you're carrying it over a shoulder, it's comfortable to the point of almost forgetting it's there, especially if you're wearing a coat.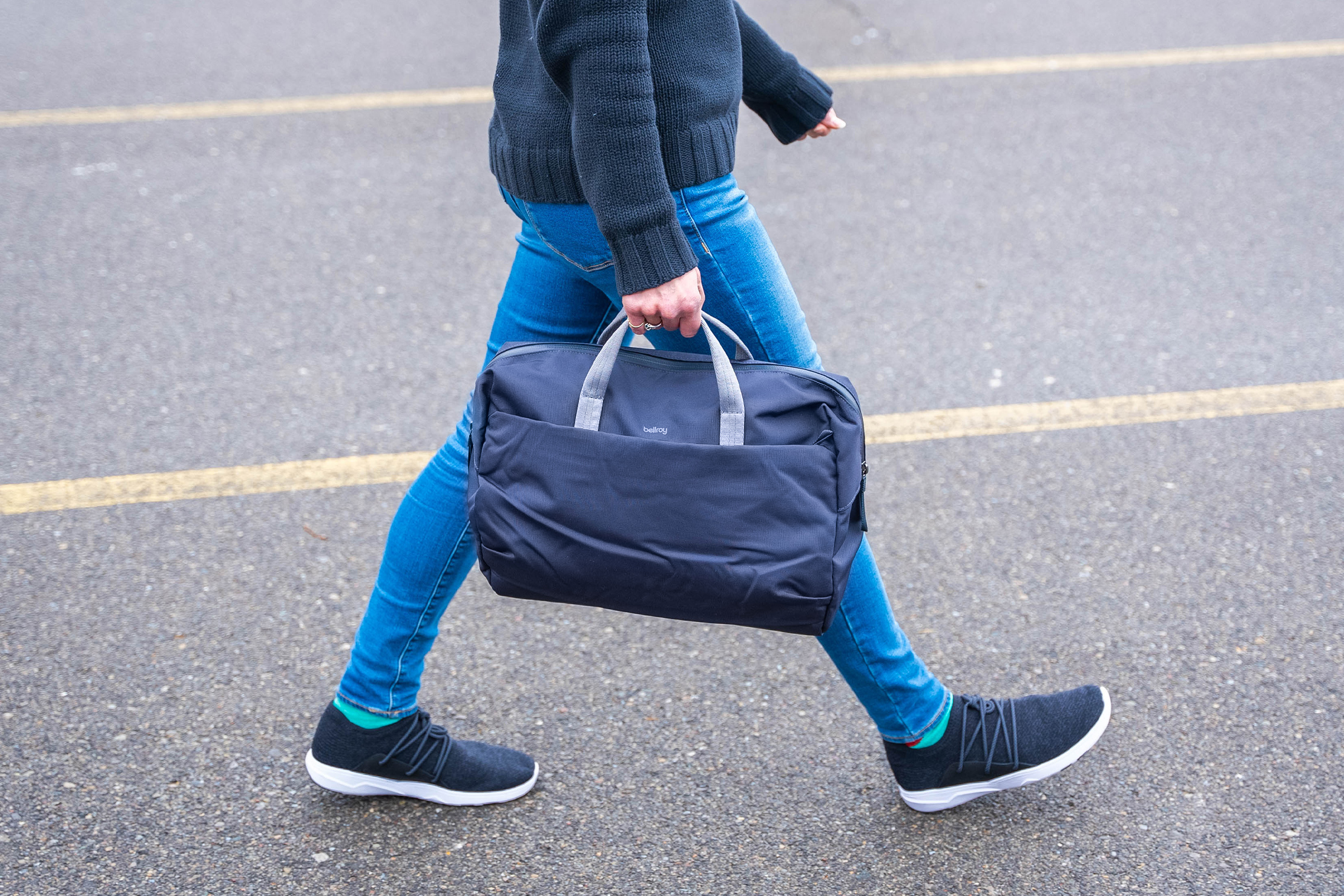 It seems slightly heavier when you're carrying the bag briefcase style, though that's more a statement on the strength of our tester's arms (or lack thereof!) than anything wrong with the bag. If you're swinging it from the car into the coffee shop, back to the car, and into the office, you'll be fine. If you're commuting on foot, do yourself a favor and use the shoulder strap.
However you're rocking it, the Bellroy Tech Briefcase has an understated, professional style that you can bring on the plane, in the boardroom, or even in a nice restaurant—especially if you're there for a business lunch. All three colorways blend into the background, and there are no flashy accents that scream, "look at me!"
Inside The Bag
Being a briefcase, as it were, there aren't a ton of bells, whistles, and extra pockets lurking around this bag. There's a sizable quick-access pocket in the front and the main compartment—that's it.
Beginning with the front pocket, a half-inch high reinforced piece of fabric protrudes above the zipper to protect it from the elements and streamline the look. It feels like there's a flexible piece of metal or plastic inside the fabric there, likely to keep it standing upright instead of flopping over.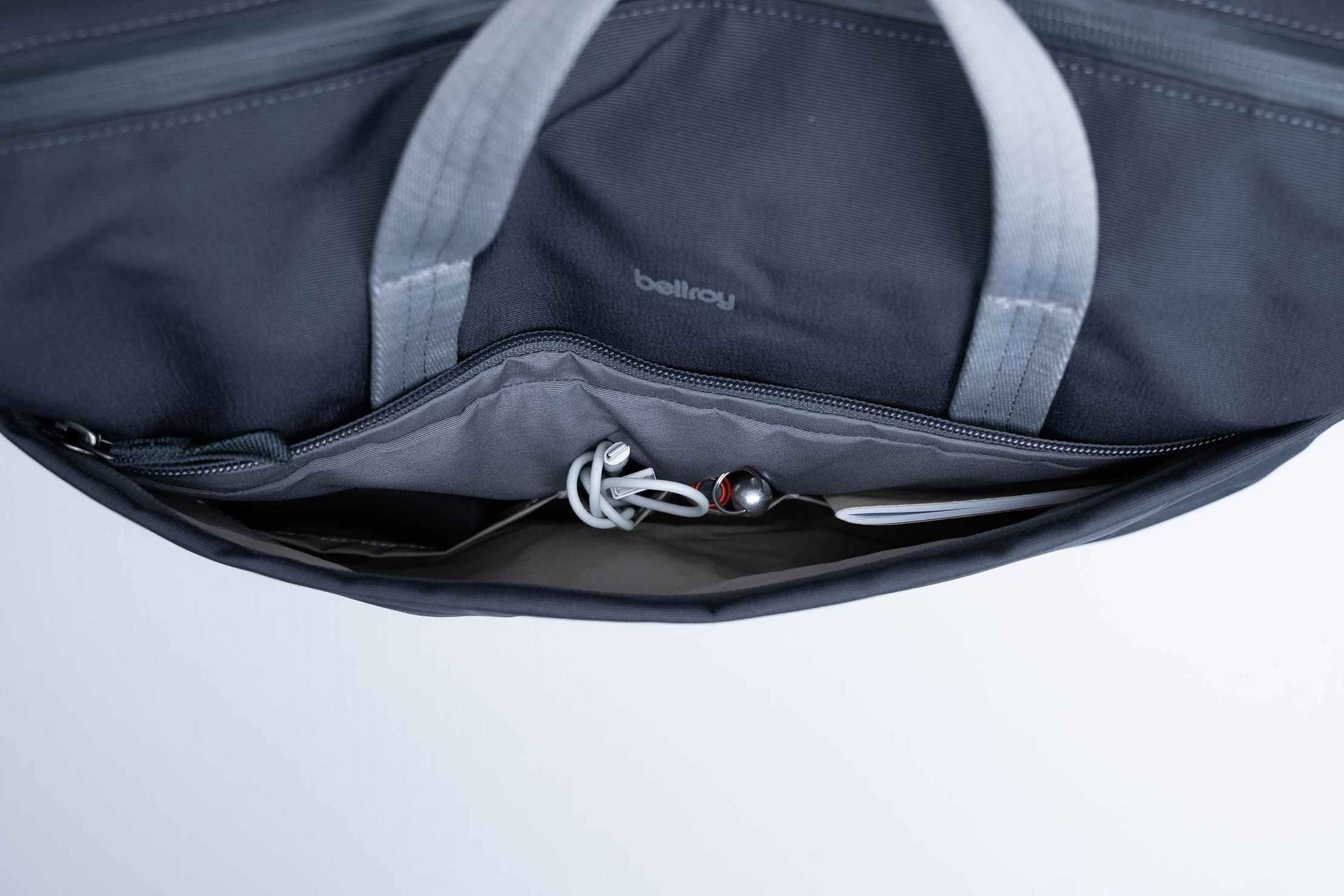 A one-way zipper opens the section, and there's a small loop of webbing for the zipper pull to make it easier to open. The inside looks a lot like the Bellroy Desk Caddy, minus the elastic loops. There's a gray background liner with tan liner pockets: two wider ones on either end and two narrower ones in the middle that can each hold one or two pens. The wider pockets are suitable for your wallet and phone, though we find they can fold over as you try to slip gear inside, especially thicker items.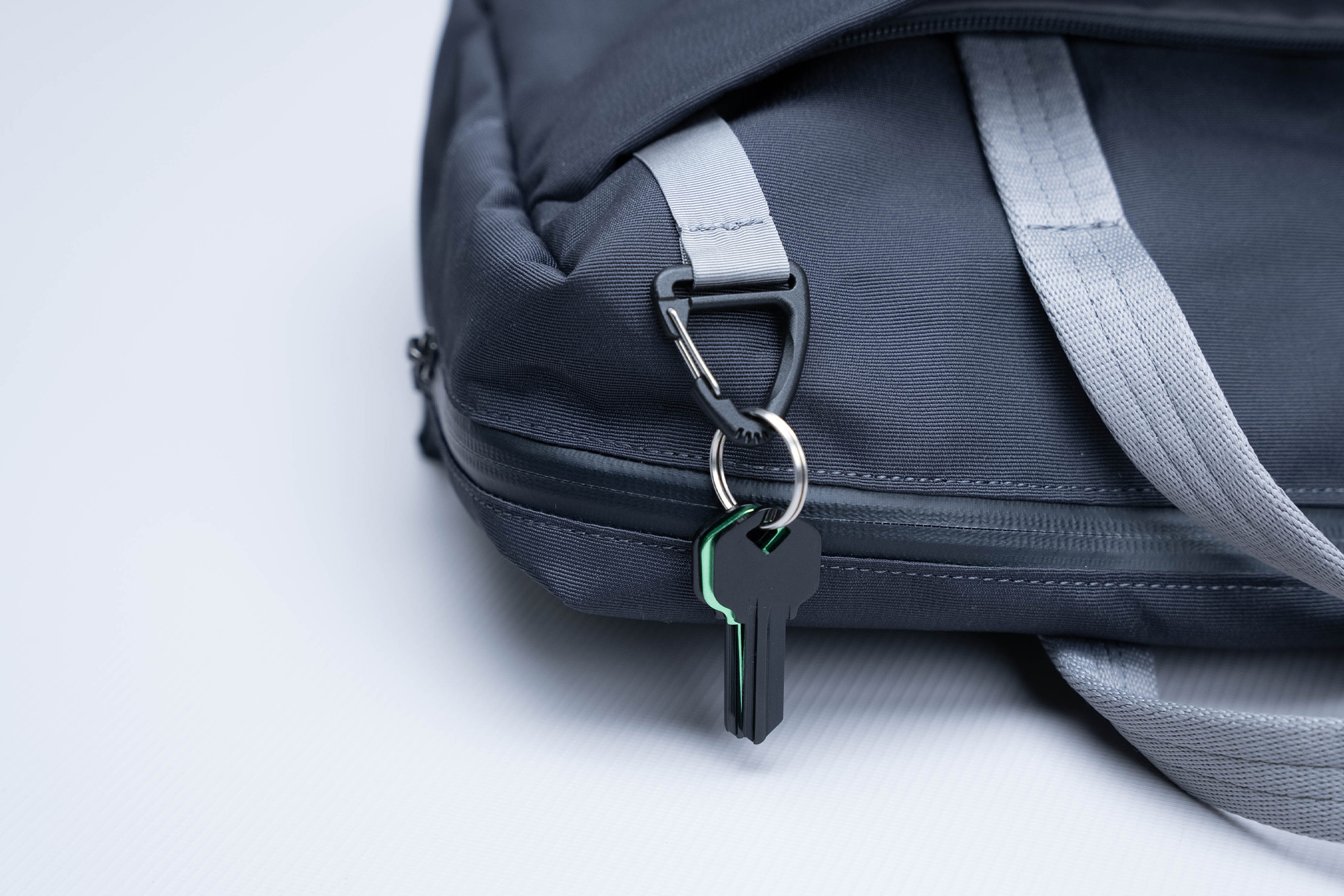 All the way to the right, where the zipper closes, there's also a short, yet thick, ribbon key leash. It ends in a triangular gatekeeper clip that's nearly as stiff as the clips holding the shoulder strap onto the bag. Unfortunately, it works against you here, making it more difficult to attach thicker keychains. It's great to use with carabiners, provided said carabiner opens easier than the clip. Otherwise, it's easy to slip a traditional key ring on; it's just harder to get it back off again because the gate opening is so narrow. It's also worth mentioning that the leash slips into the pocket on the far right—so be aware of that if that's where you decide to stash your phone.
The rest of this pocket is open for interpretation. Since it's only 7 inches deep and spans almost the entire bag width, it's easy to see inside. You can toss other small travel accessories outside the slip pockets in this area and still have easy access to your AirPods, dongles, and USB adaptors. In fact, because of the two wider pockets' floppiness, it's almost easier to do that than to use the built-in organization.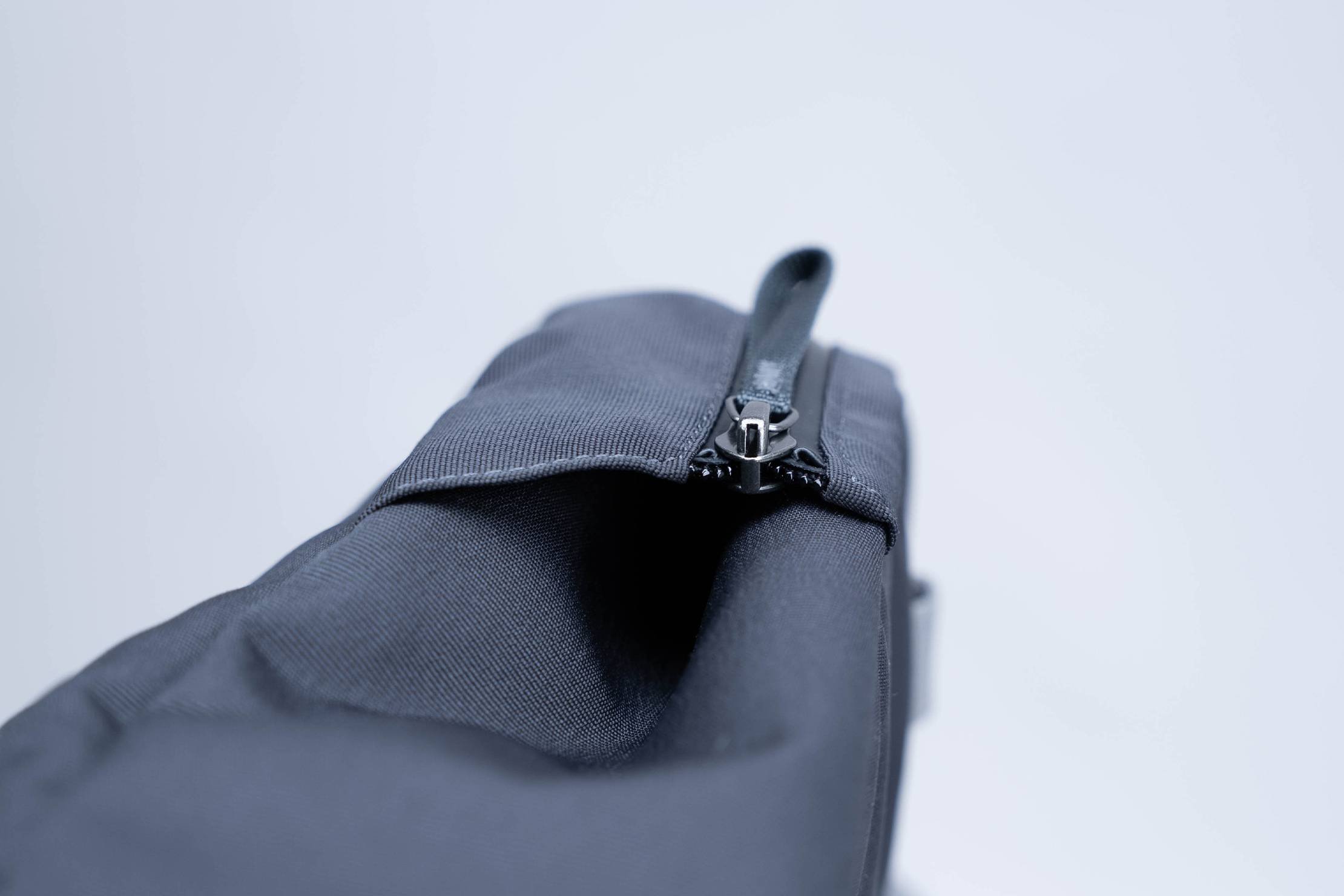 As we head into the main compartment, you'll see a dual-sided AquaGuard zipper protects it from the elements, yet it's a similar design to other Bellroy bags. The zipper extends down the sides by about 4 inches without meeting the bottom of the bag. Instead, you can reach your fingers underneath either side of the closed zipper and hook them around the gusset leading into the bag. While it's not that big of a space, there is the potential for tiny gear to slip out if the bag were to upend, so be careful storing loose change or a single earbud in the main area.
The zipper opens from either end with slightly larger loop webbing pulls than the front pocket. However, since it doesn't attach to the bag, there is a possibility that you can find yourself opening one side when the other is already open, which doesn't usually happen with zippers integrated into the main body of the bag.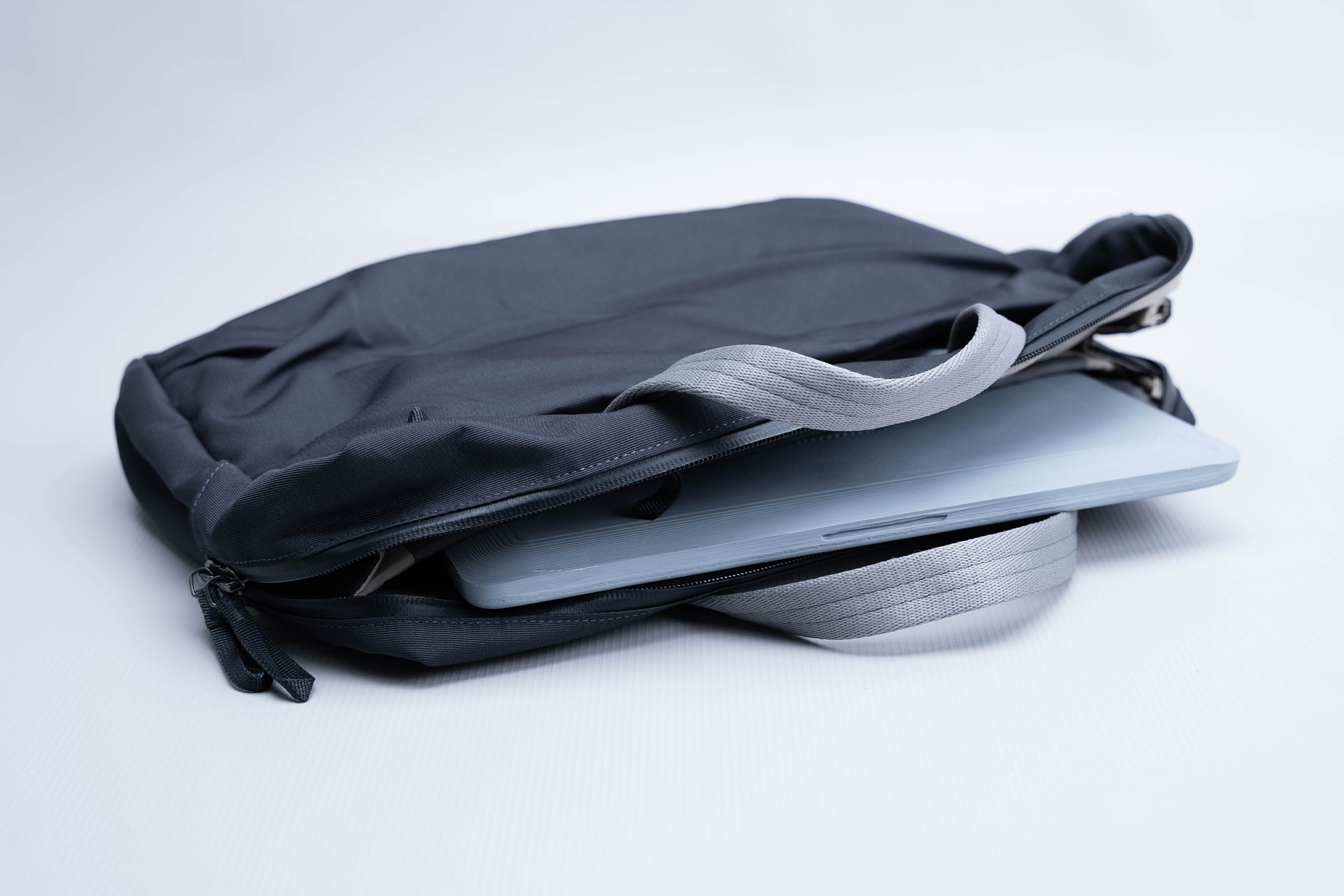 Once you get inside, you'll find the main compartment lacks extra organization. There's a dual-density foam laptop sleeve along the back panel to hold up to a 16-inch device, a stretchy mesh zip pocket along the top of the front panel that's raised out of the "crush zone" for delicate gear like glasses, and that's it.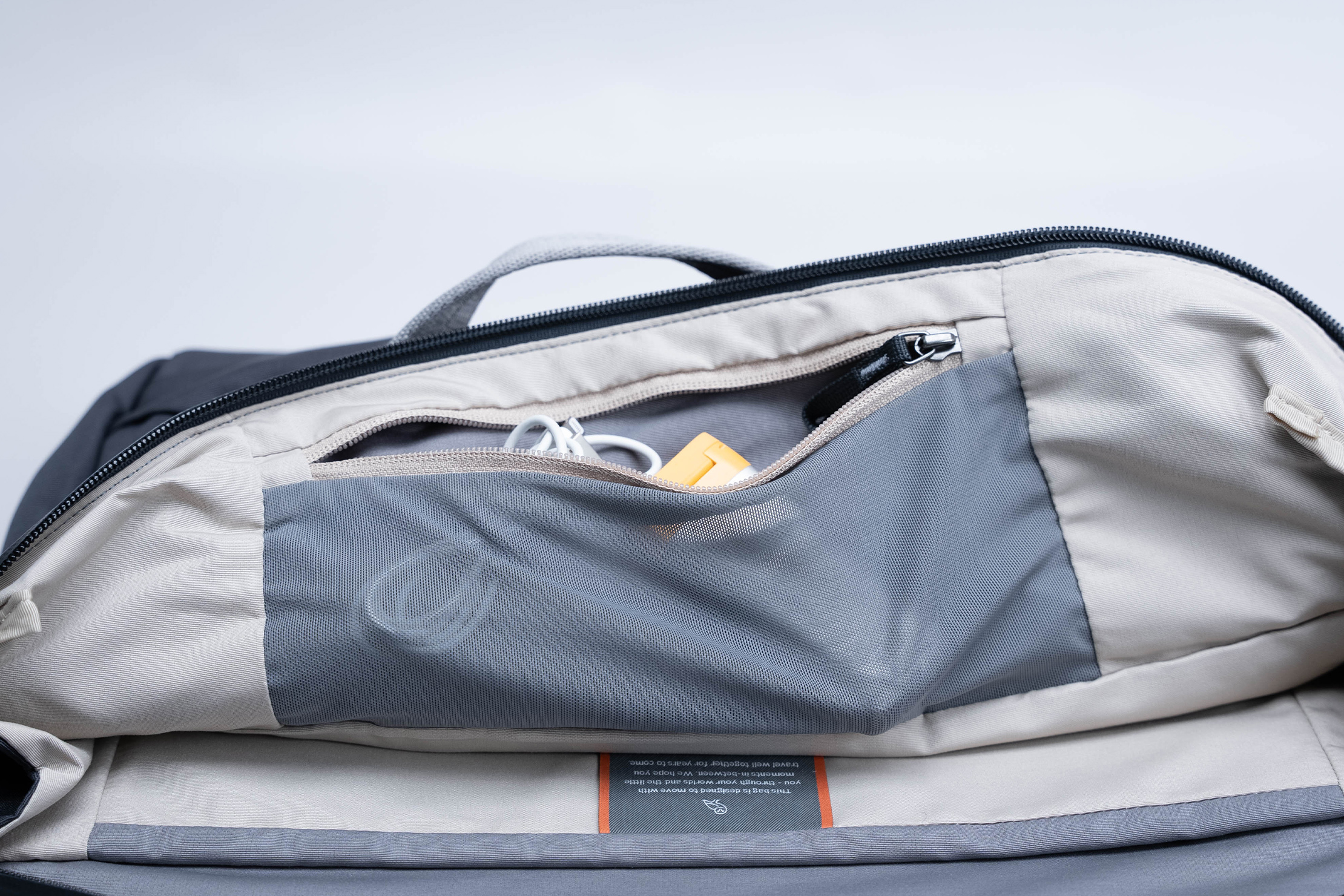 The zipper configuration does allow you to open this area very wide, so you'll have no problem tossing in a tech pouch or two to provide your own segmentation. You even have room to slip a travel water bottle in here, though there's no specific pocket for it or any way to hold it upright, so make sure it's a bottle you trust not to leak on your laptop if it tips.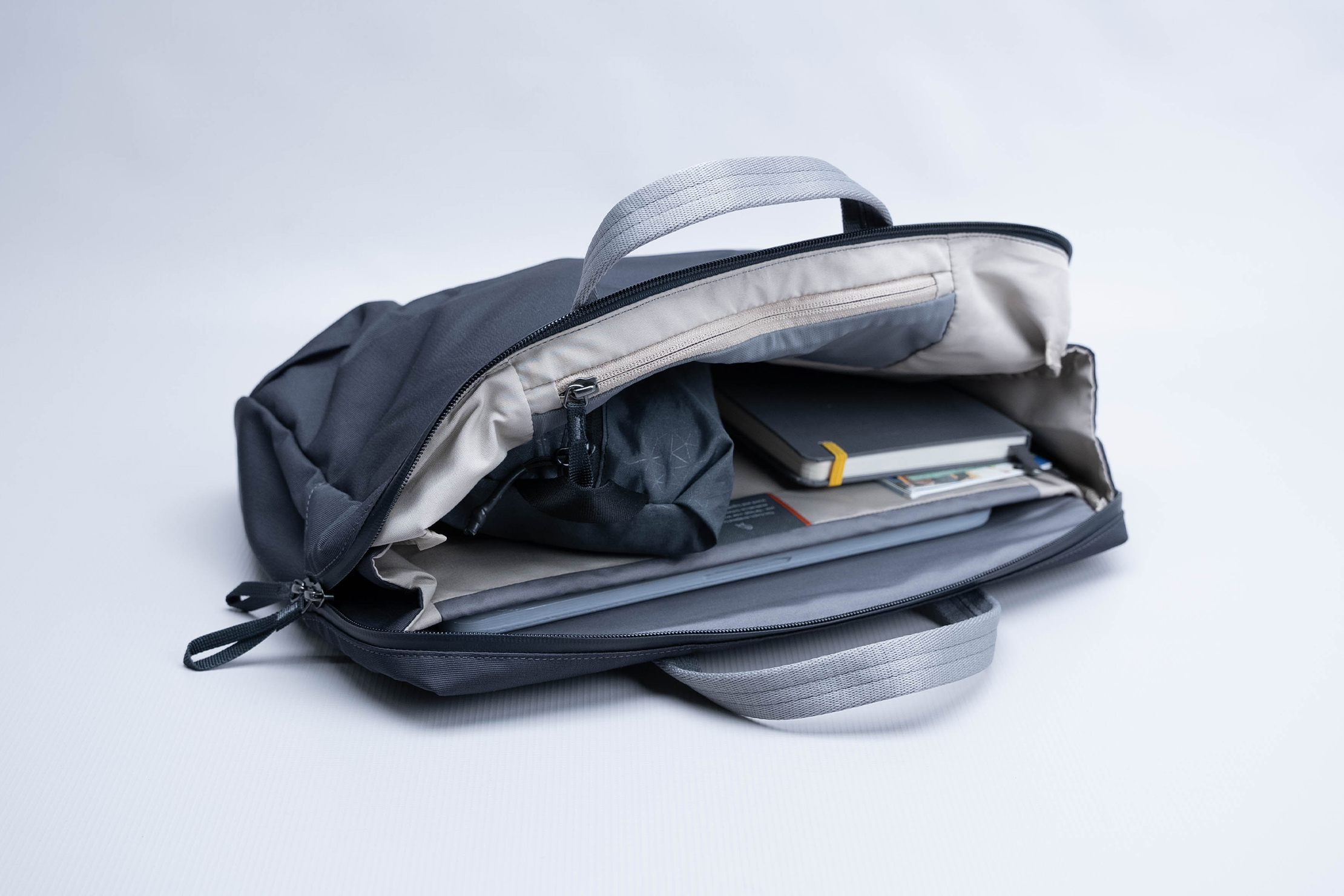 However, you're on your own as to pockets for cords, a mouse, a tablet, and other techy accouterments of daily life. While it doesn't bother us, we have access to plenty of pouches and tech kits here at Pack Hacker, and you may not. If you have already invested in your own cubes and pouches and like being able to move them from travel backpack to messenger bag to sling, or if you don't have a lot of gear to carry beyond your laptop and a few files or notebooks, you're likely to be happy with the space afforded in the Bellroy Tech Briefcase.
Usage Timeline
Initial Usage
Condition: Excellent
Webbing straps are super soft
A tad difficult to attach the shoulder strap, though it's very secure
Seems like a good balance of space and organization
2 Weeks of Use
Condition: Excellent
Great to carry, especially with the padded shoulder strap
The front pocket opening seems narrow at times
Key clip falls into slip pocket
Access the Pro Community Discussion
Get your questions about the Bellroy Tech Briefcase answered from our team and the Pro Community right here on the page. Plus, join discussions with other members about gear, guides, and more.
Other Bags & Luggage Reviews