Away F.A.R Convertible Backpack 45L Review
The Away F.A.R Convertible Backpack 45L's spacious compartments are a treat to use even without packing cubes, though its soft structure impacts packability.
Our Verdict
Unlock the Pro Summary
Save time. Get access to brief summaries of our reviews so you can browse and make decisions more efficiently.
Pros
Zippers are easy to open
Spacious and has plenty of options for organizing gear
Can be carried as a duffle or a backpack
Cons
Zippers don't feel very secure
Baggy structure makes packing and access tricky
Lackluster carry comfort in backpack mode
Recent Pack Hacker Video
Technical Details
Capacity

45l

Weight (lb)

3.32 lb (1.5 kg)

Dimensions

21.7 in x 13.6 in x 9.5 in (55.1 x 34.5 x 24.1 cm)

Notable Materials

Recycled Polyester, CCBS Zippers

Laptop Compartment Size

15"

Warranty Information
Full Review
Away's gear is some of the more stylish out there. Granted, looks are subjective, but in our view, their clean and classy aesthetic is very appealing. Whether it's a backpack or a pouch, you can expect a well-defined shape, a decent structure, and a sprinkling of metallic zippers. Take all of those away, though, and we're not quite sure what to make of it.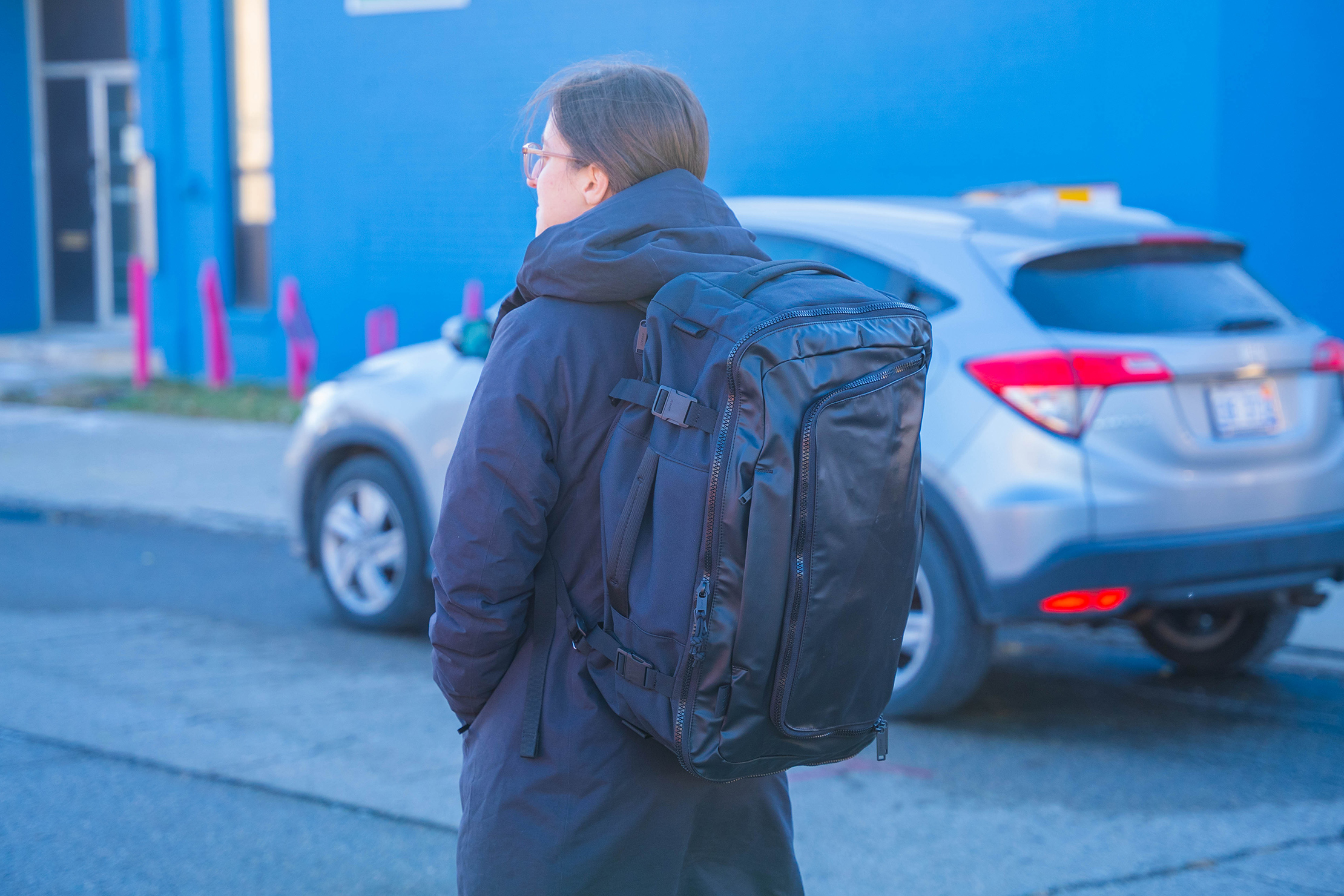 The Away F.A.R Convertible Backpack 45L lacks the structure and refinement we see well implemented on their Backpack, Small Zip Backpack, and even the Hanging Toiletry Bag. It's big yet floppy, so it struggles to maintain its shape. You may think we're nitpicking on the looks too much, but it also affects comfort and the way it packs. It's a bit of a shame because, since it's a 45-liter bag, you can fit a lot of gear inside, and it even does a good job of organizing it as well.
External Components
First things first, what does F.A.R even stand for? It's "For All Routes," and as the name implies, it's Away's lineup for anyone looking for outdoor travel gear. This means you can expect a certain level of robustness in terms of build quality, right?

The outside of the F.A.R Convertible Backpack is made out of a lightweight 100% recycled polyester fabric that's abrasion-resistant. That last bit is important to note because this sample here already has a small scuff at the front. It's one that just came out of nowhere in the early stages of testing, so it was worrying at the time. However, the good news is that it's mostly cosmetic and isn't the kind of damage that's likely to deteriorate in the future. Still, a mark is a mark, and it's hard to ignore once it's there.
You may notice something when you look at the F.A.R Convertible Backpack long enough; there's a huge "A" at the front. It's a bit hard to see in pictures, but you can see it outlined because of the surfaces' very slightly different finishes. Do we like it? Yes, it sort of reminds us of Marvel's logo for the Avengers, albeit a very stealthy one. There's also a small tab on the left side of the bag that says "AWAY" in all caps in case you forget what "A" stands for.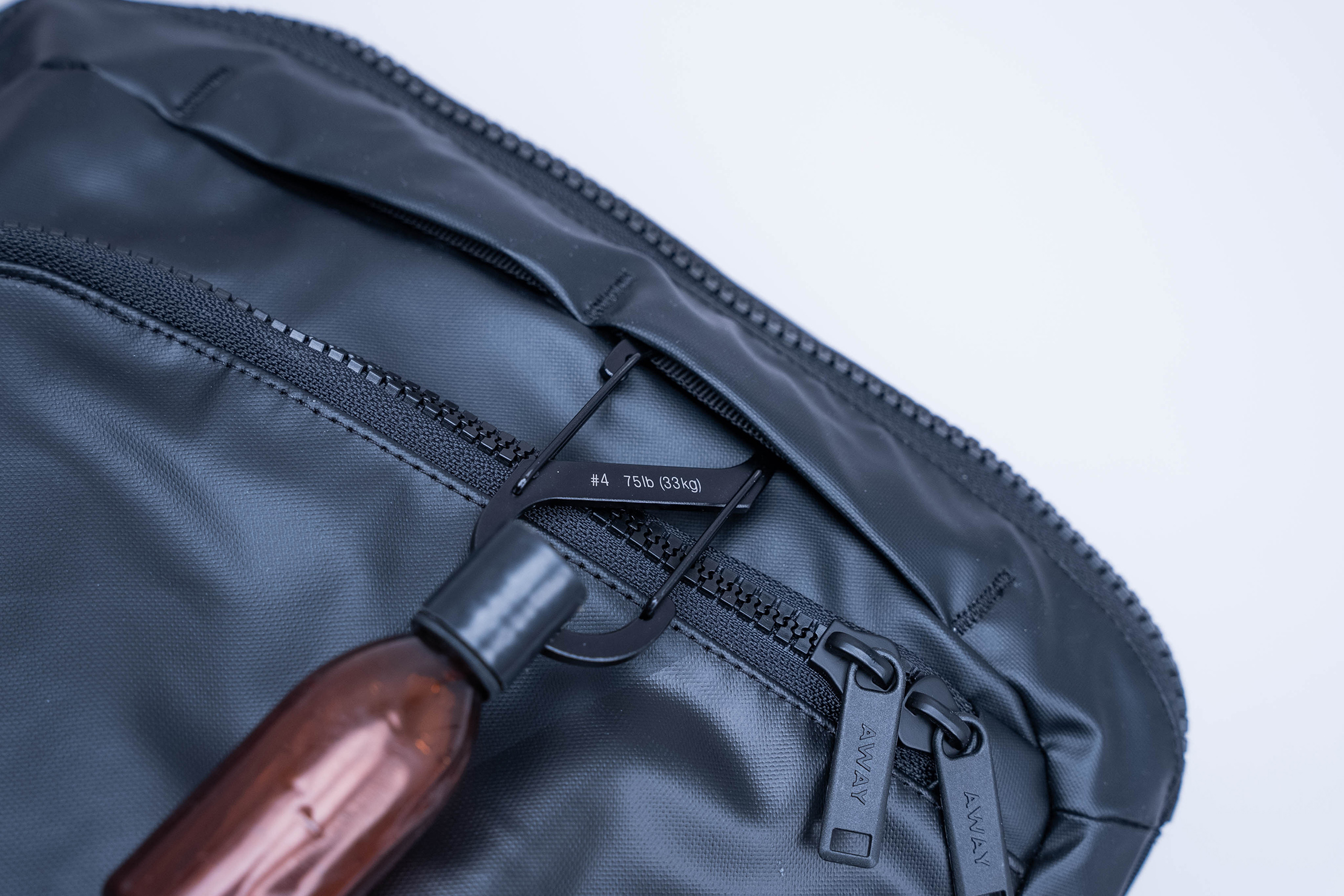 One of the more practical aspects of the F.A.R Convertible Backpack's construction and materials is the fact that it's actually quite lightweight. For a bag that's 45 liters in size, it only weighs in at 3.32 lbs, plus it packs relatively flat. This means it's not a chore to squeeze into an already cramped closet once you're done with your trip—an often overlooked feature for anyone who's not using their travel backpack as a daily carry.
On the flip side, the F.A.R Convertible Backpack lacks the robust structure of Away's other bags. Now, that's not necessarily the fault of the polyester fabric. Rather, it's the sheer size of the bag that brings out this issue. Think about it: the bigger a bag is, the more volume the fabric has to support. Unfortunately, this results in not only a more subjectively unkempt appearance but also trickier packing and worse carrying comfort (which we'll discuss later on).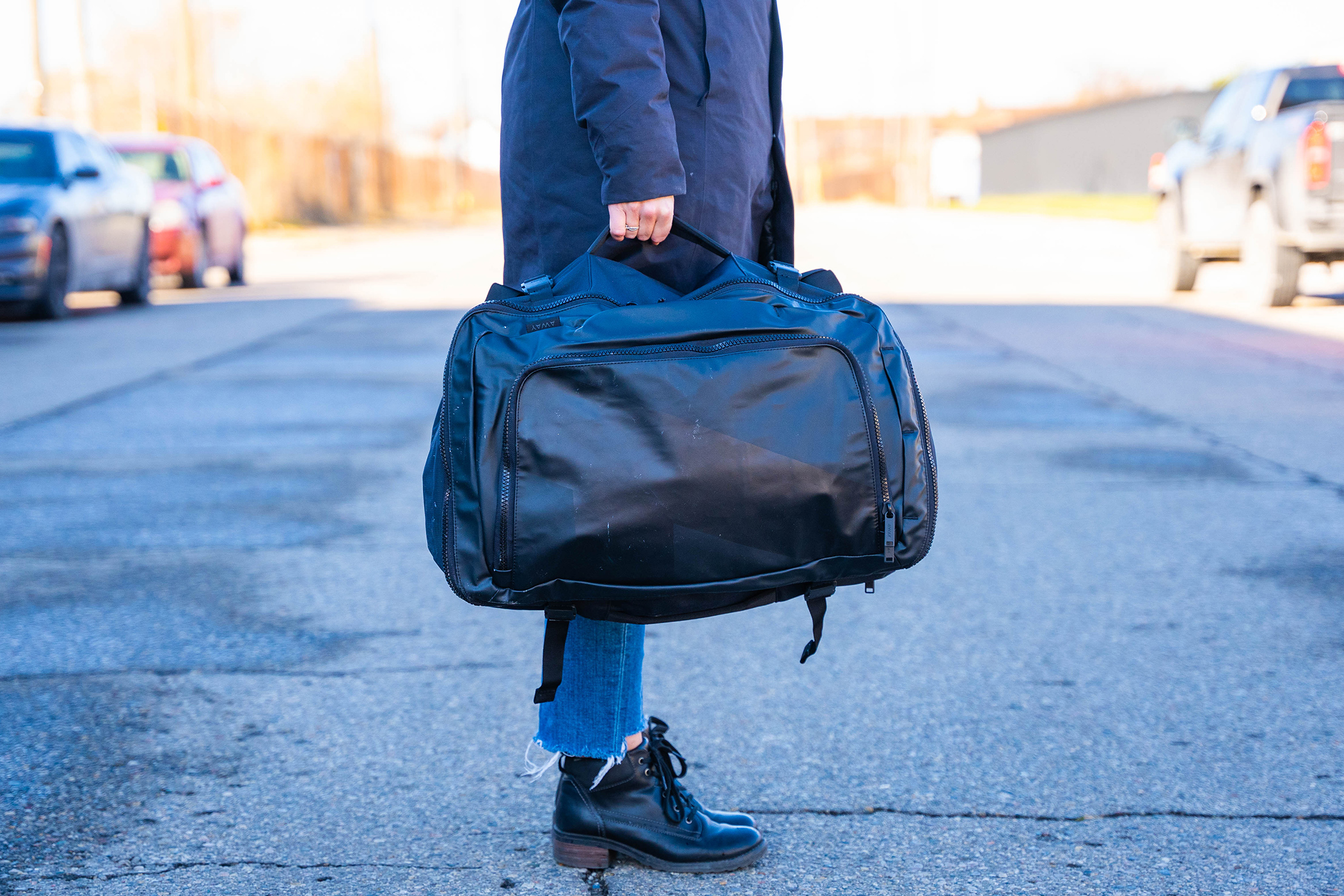 That's enough about the fabric and structuredness (or lack thereof); what about specific external features? Well, there are two daisy-chained loops at the top (if you're looking at it from a vertical backpack perspective) and three handles. There's a handle at the top and one on each side (again, from a vertical backpack perspective), and all of them are thick with padding for comfort.
Moving over to the harness system, the backpack straps on the F.A.R Convertible Backpacks looks rather anemic at first. Rest assured that despite their narrow appearance, they're quite thickly padded, which should help with comfort.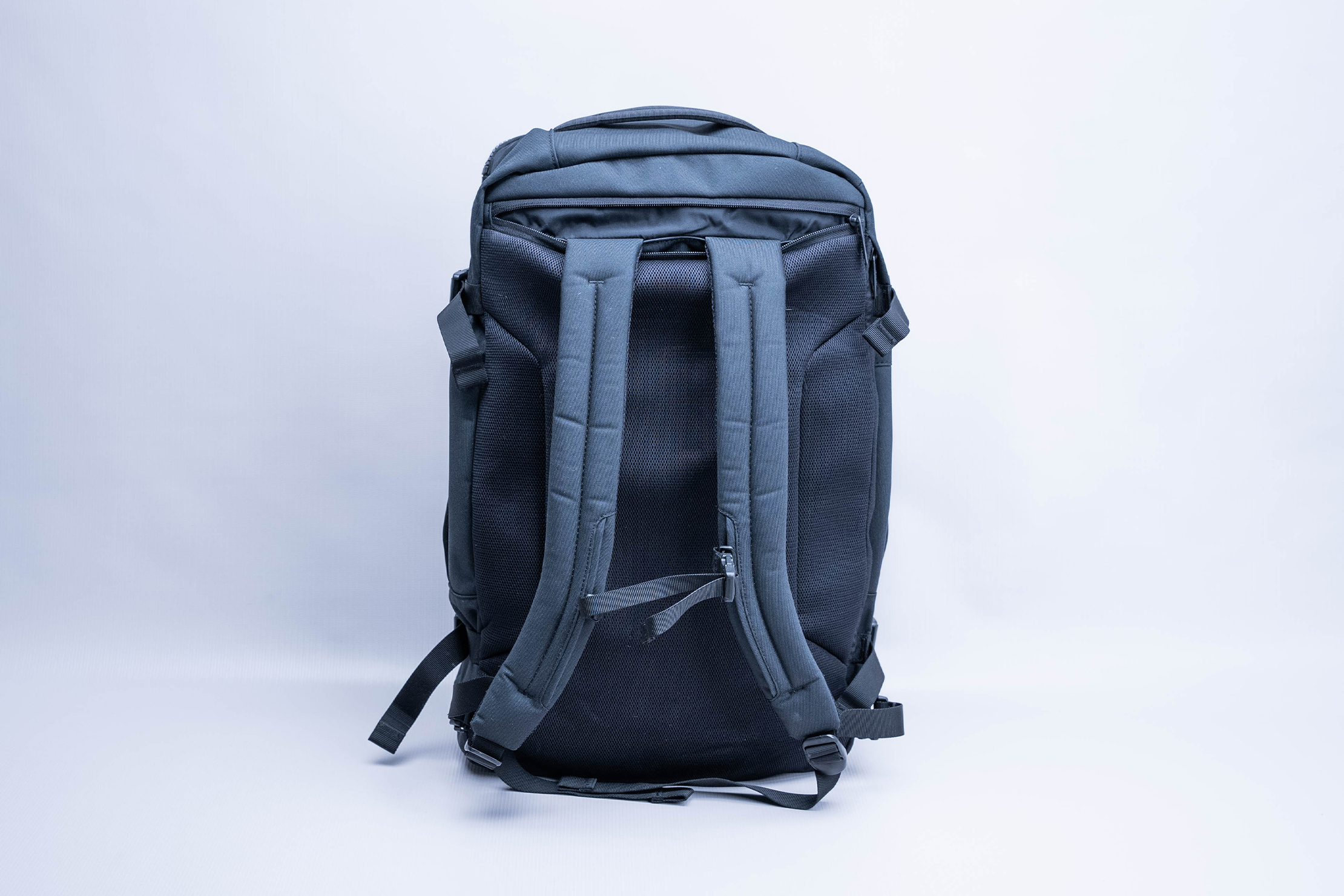 A sternum strap comes included, and it's our favorite kind: the type that slides on rails. It's our favorite because it gives users very granular adjustment, whereas sternum straps that mount via loops are more incremental.
As you can imagine, based on the name, the backpack straps can be stowed away. Gatekeeper clips attach each end of the straps to corresponding loop tabs near the bottom of the bag. Gatekeeper clips are usually tricky for us to undo, but since these are spring-loaded, that's not the case. Pop them off, slide the clips out of the loops, and then you can stow the straps behind the zippered back panel.
The back panel itself is quite plain. There's no mesh layer, nor are there any significant channels where hot air can escape. There is, however, a luggage pass-through that lets you mount the F.A.R Convertible Backpack horizontally. This would be an issue for most backpacks since it's hard to get inside them when they're on their side. However, since this one has a duffle-style main compartment, accessibility doesn't suffer.
Going back to the harness system, a removable crossbody strap also comes included. Like the backpack straps, these also mount via spring-loaded gatekeeper clips that attach to loop tabs on the left side. The loops and clip are noticeably bigger than the ones used for the backpack straps for better durability.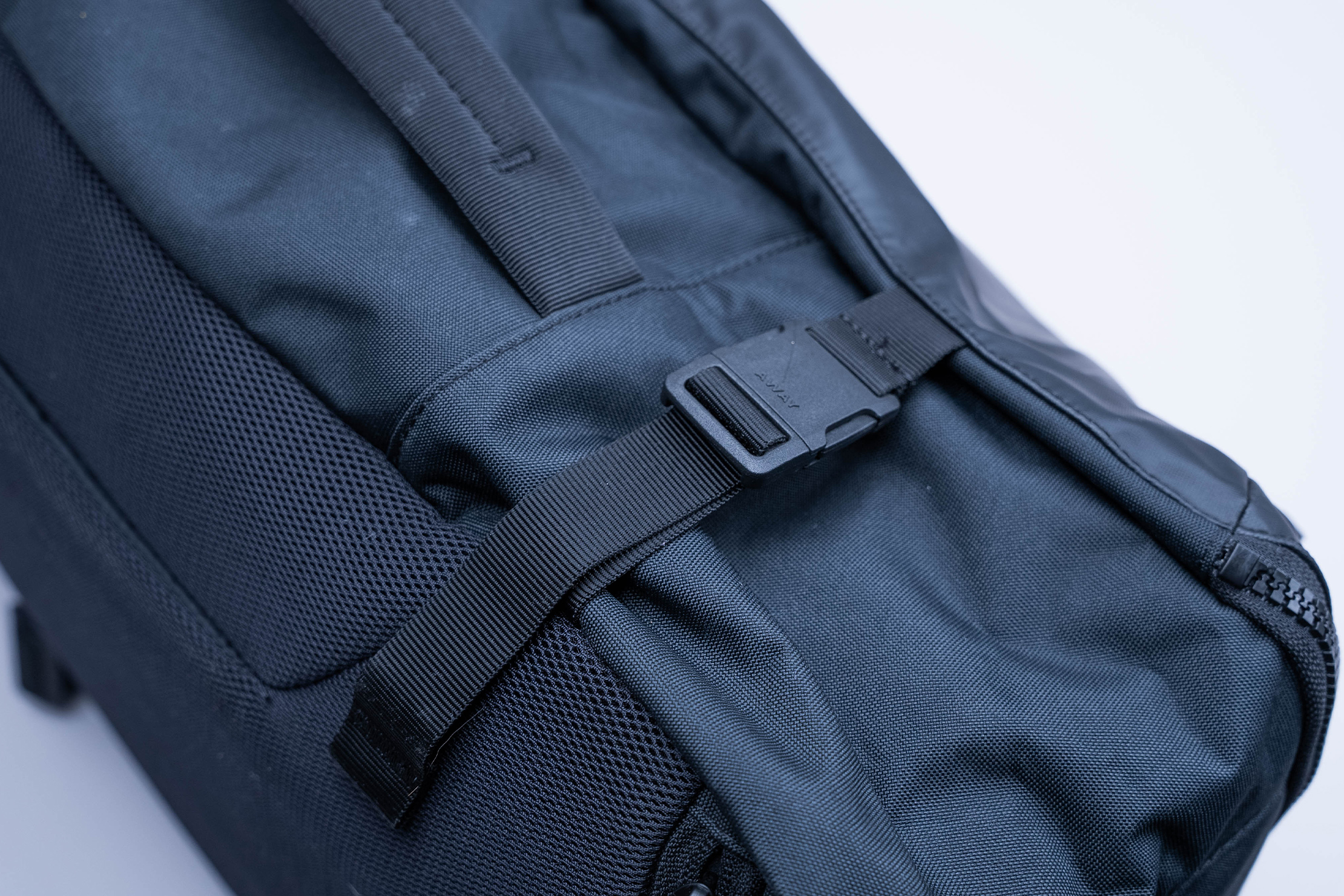 Lastly, the F.A.R Convertible Backpack also features compression straps, four of them in total, with two on each side. They certainly help cinch the bag down, though they don't get rid of its sagginess.
Fit Notes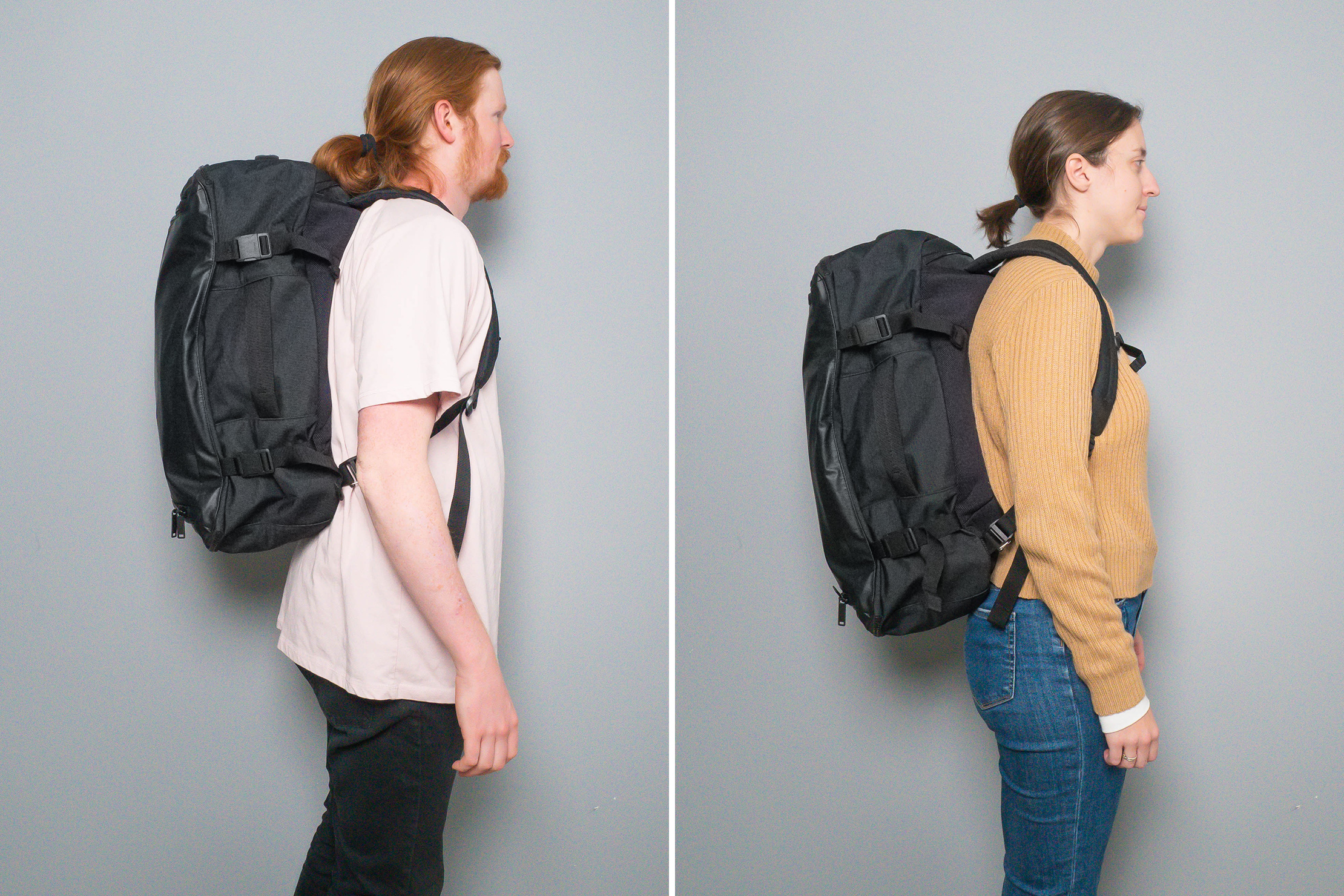 First up is backpack mode. As we've mentioned earlier, the thin-looking straps have enough padding to cushion the F.A.R Convertible Backpack, even when it's fully packed. That said, the overall saggy structure of the bag means the weight noticeably pulls back, and you can see this visually, too.
Additional hardware like load lifters and a hip belt could mitigate this, but the carrying experience is comfortable enough if a bit lackluster. Still, it's the preferable option for us because having two backpack straps distribute the bag's weight provides better comfort than the lone crossbody strap.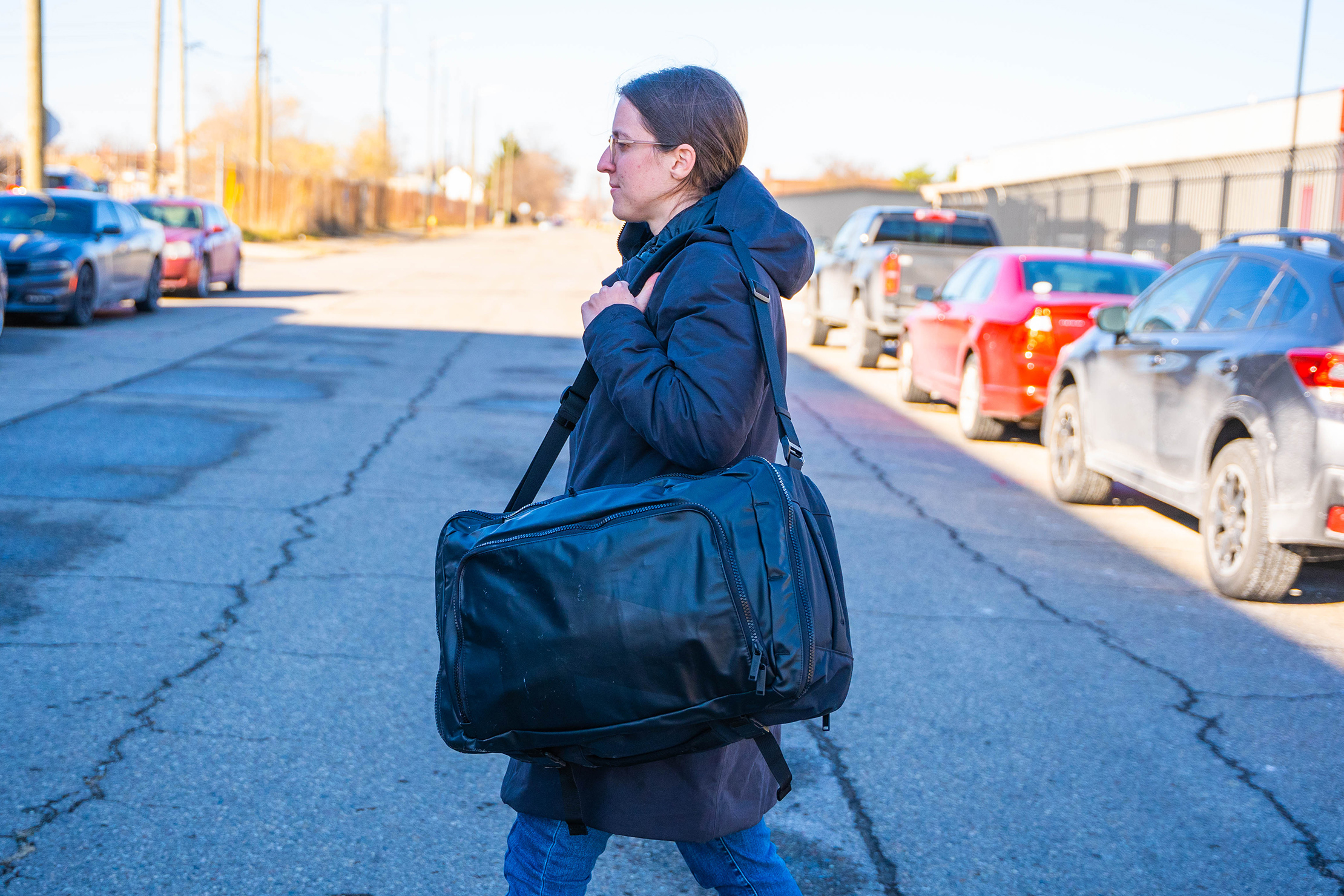 Those who prefer this carry style will find that the F.A.R Convertible Backpack pulls all its weight to the side. Again, this is due to the bag's soft structure, so we still recommend sticking with backpack mode for long-term carrying or using the handle if you just need to move it nearby.
Inside The Backpack
Now let's talk about the F.A.R Convertible Backpack's compartments. There are quite a lot of them, but we'll start with the smallest of them: the front quick-grab pocket. It's located on the left side, sandwiched between the zipper tracks of the front and main compartment. A fabric welt also shrouds it, so it's a bit easy to miss.

Don't think it's lacking in space, though. Quite the opposite; it's very spacious inside. Coverage extends from the opening and all the way near the right edge of the bag. It's a little too big for keys, wallet, and smartphone, but it works well accessibility-wise. This is especially true in duffle mode when the opening is facing up.
Fortunately, all of the F.A.R Convertible Backpack's compartments have their openings oriented upwards, so they're easy to access in duffle mode. The same is true for the laptop compartment. We're not usually fans of a sideways opening laptop compartment since they're hard to access in cramped public spaces (like a bus or a plane). However, it fits the theme of a backpack that converts into a crossbody duffle.

The laptop compartment fits a 16-inch MacBook Pro. You'll have to watch the angle as you insert it, though, as the edges of the opening can catch on the metal. We carry MacBooks without a case, so we're particularly careful not to get the edges scratched. It's also worth noting that padding at the back not only helps with protection but also with comfort since there's no rigid frame sheet to keep the back structured.
The first time we opened the F.A.R Convertible Backpack's front compartment, something felt off. The zippers felt very easy to open, so much so that we're afraid that they might pry open over time if we leave even an inch of opening. The zippers are from CCBS, and they're very chunky compared to the sleeker ones on their smaller backpacks. The good news here is that both compartments are fairly easy to open even when you're in a hurry, but you'll have to close them tight afterward.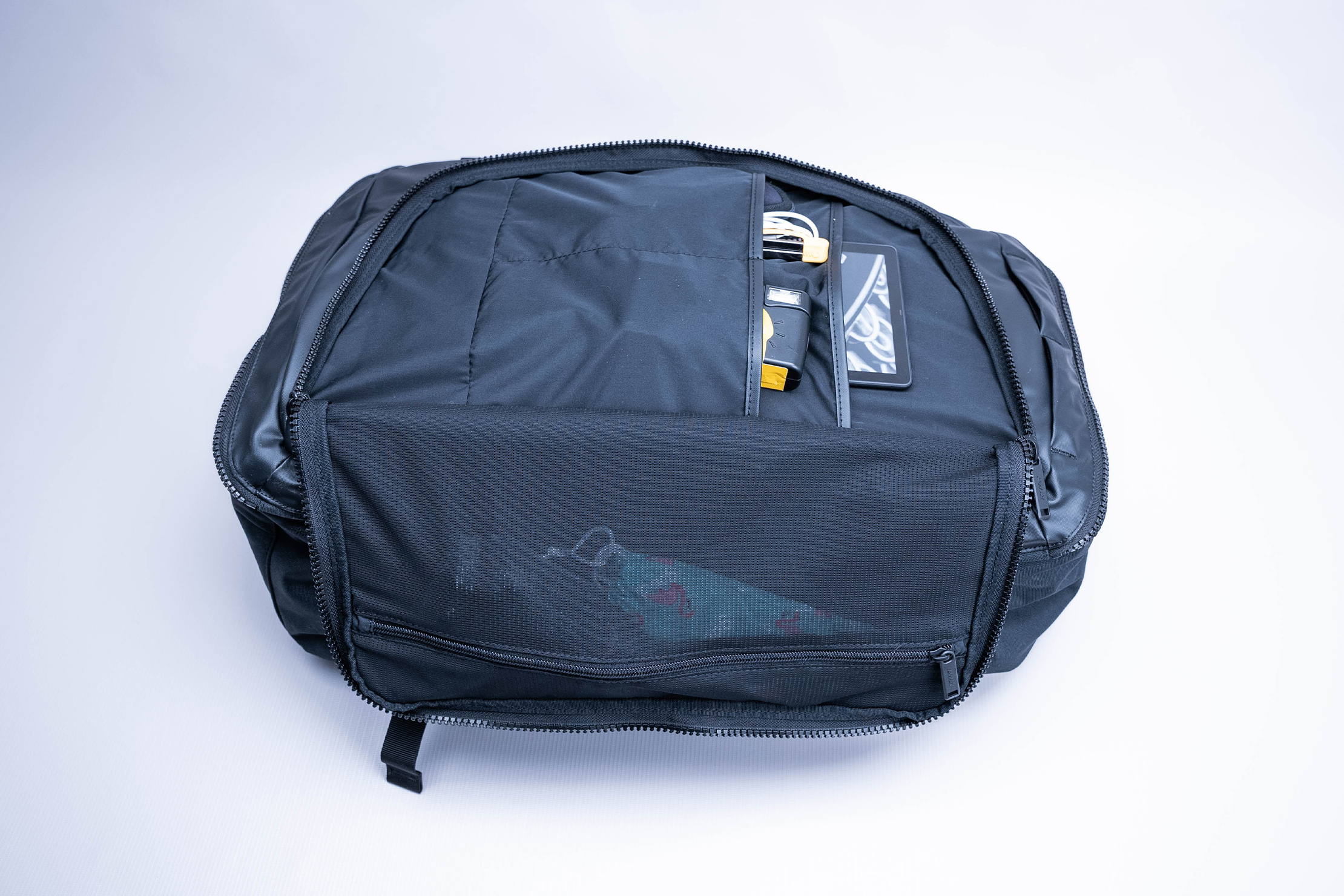 The front compartment contains a handful of pockets you can use to organize your gear. You have a large zippered pocket on the flap itself, a tablet pocket at the back, and two smaller slip pockets in front. This amount of organization is okay if you're carrying mostly large items like a battery bank, a travel mouse, and an e-book reader. However, we wish there were smaller pockets for tiny accessories like dongles and USB thumb drives.
Fortunately, the entire front compartment is large enough to fit a fairly sizeable tech pouch. In fact, space isn't really an issue since we are able to fit even low-profile boots. The sides have shallow but non-negligible walls that give the front compartment plenty of depth to fit such bulky items.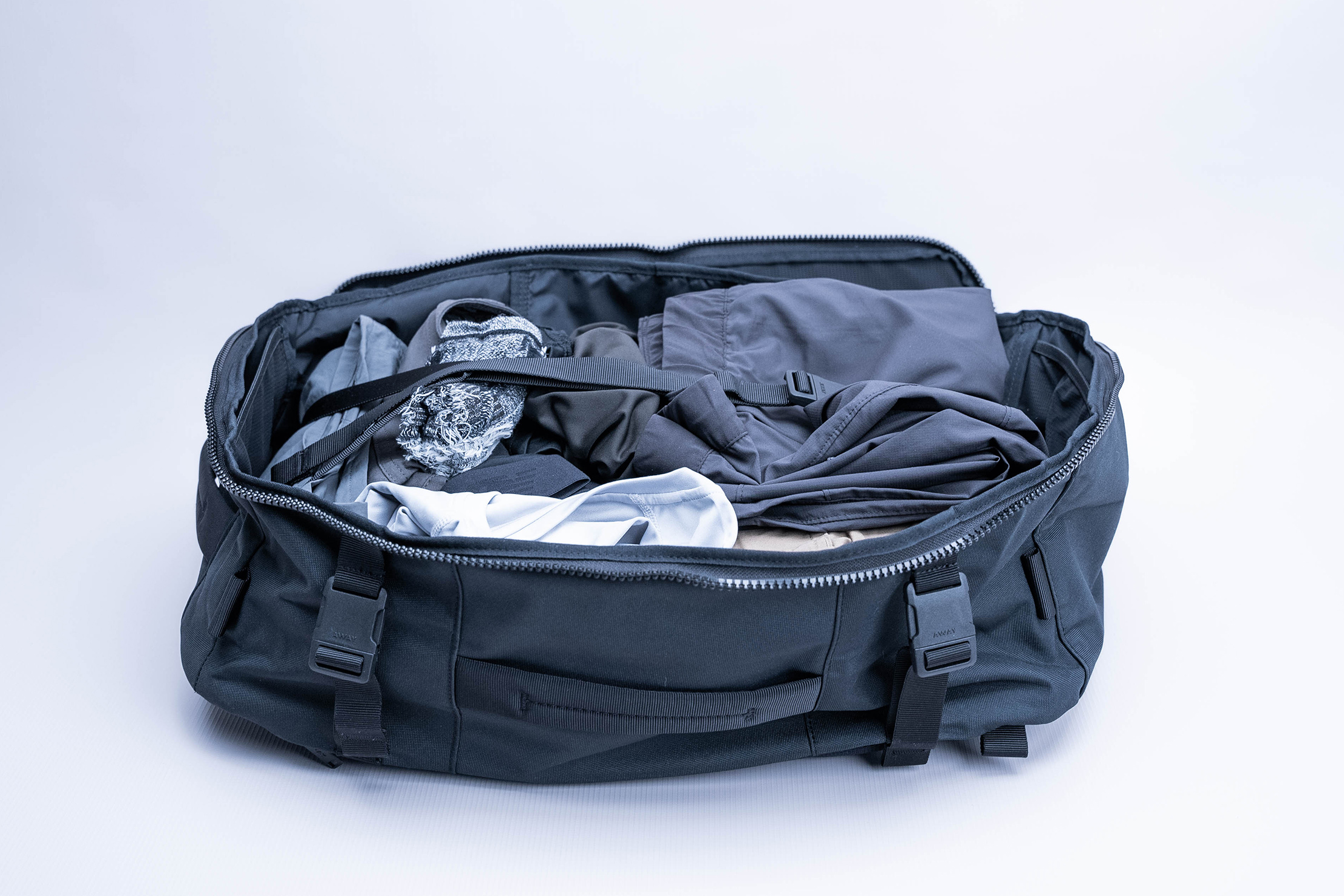 The main compartment opens up like a clamshell. It's a style you'd find on duffle bags like the Patagonia Black Hole Duffel Bag 40L and The North Face Base Camp Duffel. What sets Away's offering, though, is the inclusion of a hold-down strap.
If you've been following our content, then you'd know that we rely heavily on packing cubes whenever we're traveling. Whether it's a travel backpack, a tote bag, or a duffle, we always double down on packing cubes to separate gear and keep everything organized. For those who don't like using packing cubes, though, hold-down straps like this one are the next best thing. It keeps stacks of shirts and pants cinched down, and you can just unbuckle it once you reach your hotel room.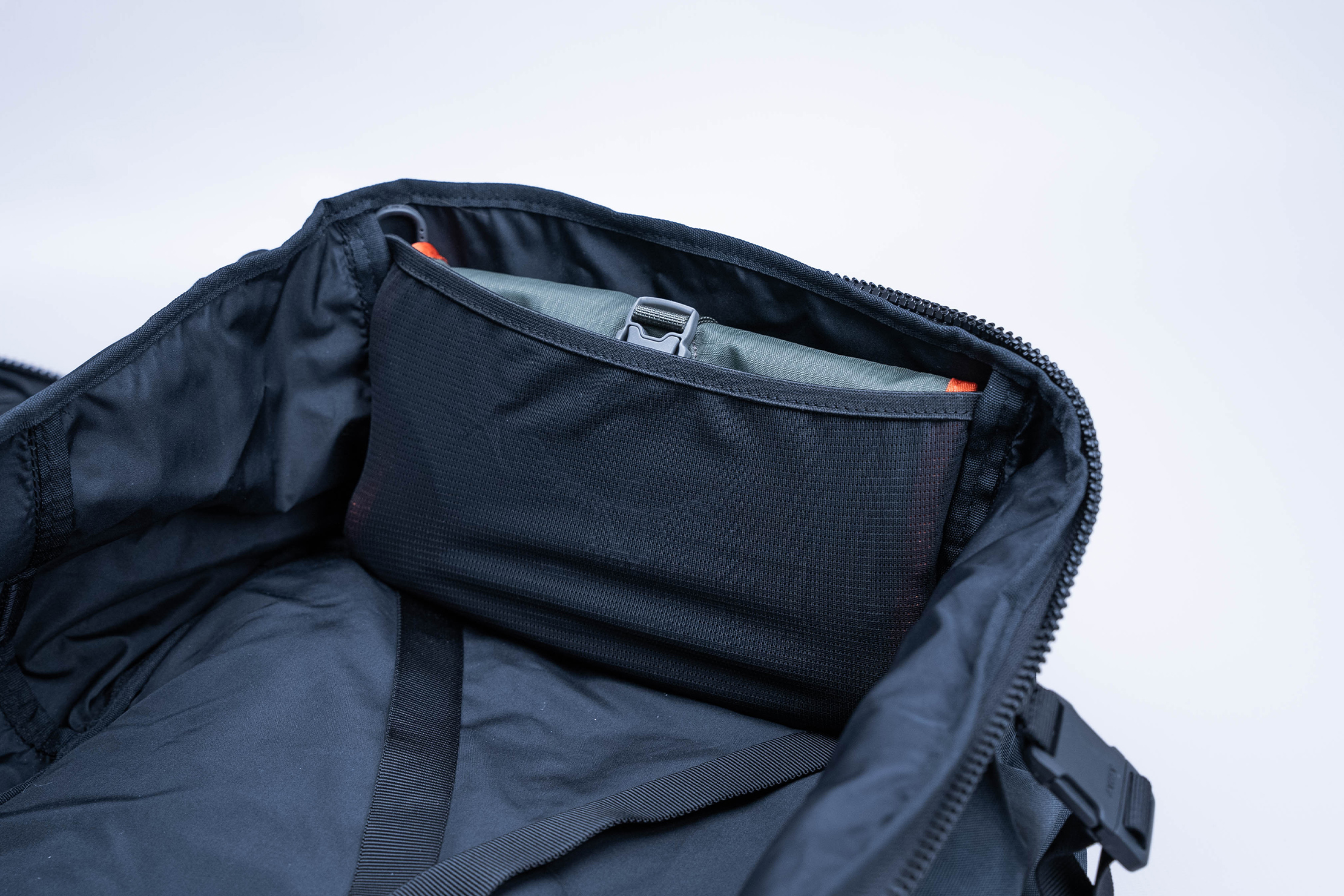 Without either packing cubes or hold-down straps, clothing can just freely float around the main compartment. The result would be a mess, so we're glad Away included a strap here. Other bags with a similar bucket-style main compartment do have it, but other times brands will only include mounting points for them.
In case you want additional organization, there are also extra pockets inside. There are slip pockets at the sides where you can keep accessories like handkerchiefs and socks or small toiletry bags. On the main compartment's cover are two large zippered mesh pockets. We use these to keep underwear, with one handling clean ones while the other stores used ones.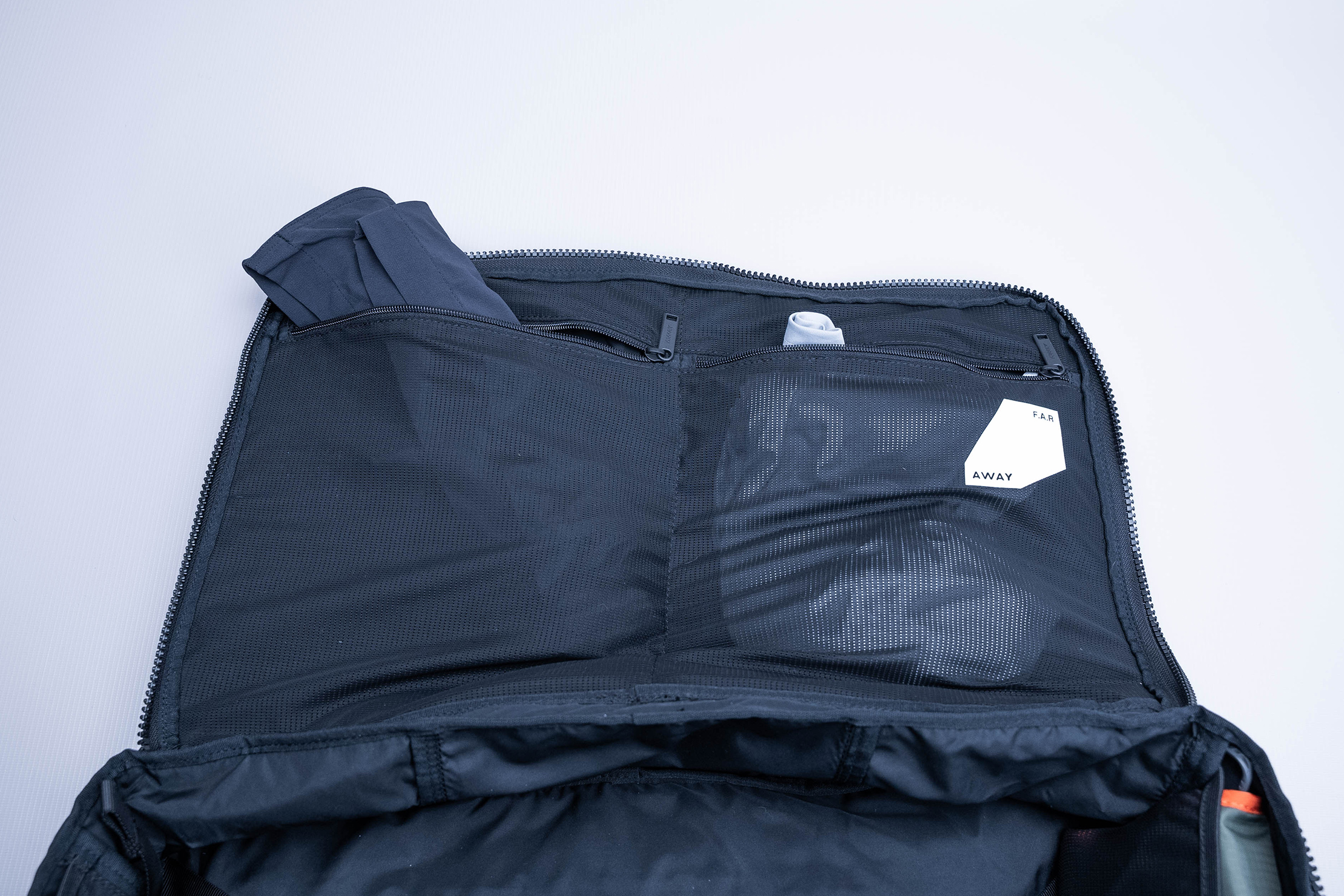 The issue that sticks out to us about the F.A.R Convertible Backpack is its soft structure. This not only impacts comfort because of the sagginess but also how easy it is to pack. The main compartment's side walls have a hard time staying up. This makes us constantly maneuver gear around them whenever we try to take something out or put something in. We like that it can store a lot of gear, but its floppy structure gets in the way sometimes.
Usage Timeline
Initial Usage
Condition: Excellent
Looks a bit saggy
Zippers are smooth…almost too smooth
Digging the sleek design
2 Weeks of Use
Condition: Good
A few blemishes and scuffs on the front that appeared toward the beginning of testing
Back panel mesh is a magnet for dust and pet hair but is pretty comfortable
Pretty saggy in general, and the compression straps don't help much
Tons of space in the main compartment, though the sides can collapse down as you pack and unpack
Access the Pro Community Discussion
Get your questions about the Away F.A.R Convertible Backpack 45L answered from our team and the Pro Community right here on the page. Plus, join discussions with other members about gear, guides, and more.
Other Bags & Luggage Reviews