Away Backpack Review
TIME Magazine crowned the Away The Backpack one of the best inventions of 2019. While we don't agree, it's still a solid pack.
Our Verdict
Unlock the Pro Summary
Save time. Get access to brief summaries of our reviews so you can browse and make decisions more efficiently.
Pros
Ample space
While simple, the organization works well
Comfortable shoulder straps
Cons
Lack of structure means this pack can look saggy
Luggage passthrough and zippered water bottle pocket could be improved
Sticks far off your back when full
Recent Pack Hacker Video
Technical Details
Capacity

25.5l

Weight (lb)

2.8 lb (1.3 kg)

Dimensions

17.5 in x 12.4 in x 7.2 in (44.5 x 31.5 x 18.3 cm)

Notable Materials

Nylon, Leather

Manufacturing Country

Vietnam

Laptop Compartment Size

15"

Warranty Information
Full Review
Away has dominated the roller luggage scene basically since its founding in 2015, winning the hearts of influencers and celebrities everywhere.
The question is—can Away do it again with the Away The Backpack? TIME Magazine seems to think so. TIME named this travel backpack as one of the best inventions of 2019. Which is some seriously high praise. (To be clear, we're talking about the 25.5L travel backpack, not the Daypack.)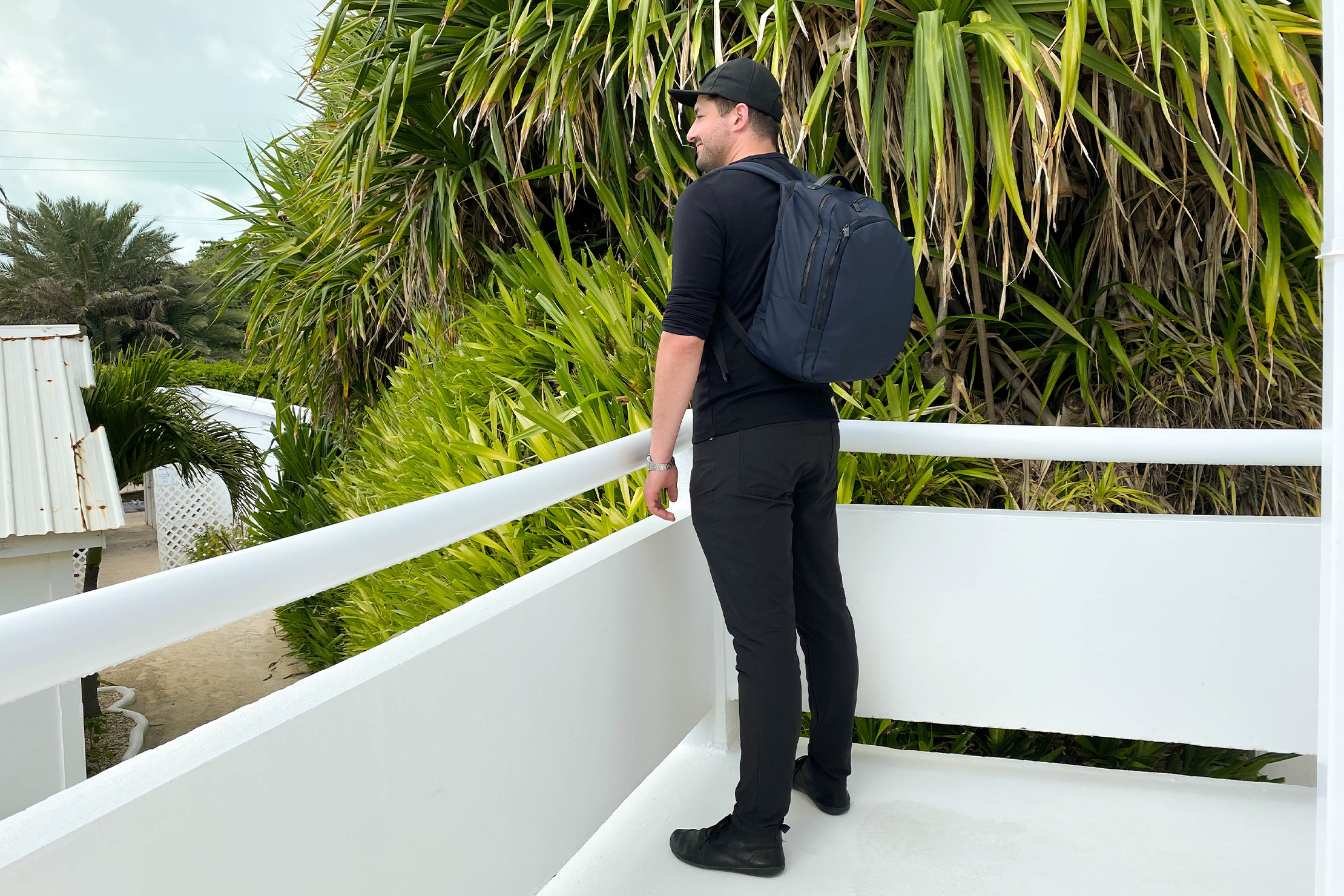 We had to see if this bag truly was one of the best inventions of 2019. So, we bought our very own Away The Backpack and put it to the test—traveling with it for a month around Detroit, Michigan, Atlanta, Georgia, and San Pedro, Belize. What did we uncover? Read on to find out.
Materials & Aesthetic
Overall, the look and feel of the Away Backpack matches the rest of the Away universe, including the oh-so-popular suitcases. The backpack, which has a premium, streamlined aesthetic, walks the line between heritage and modern.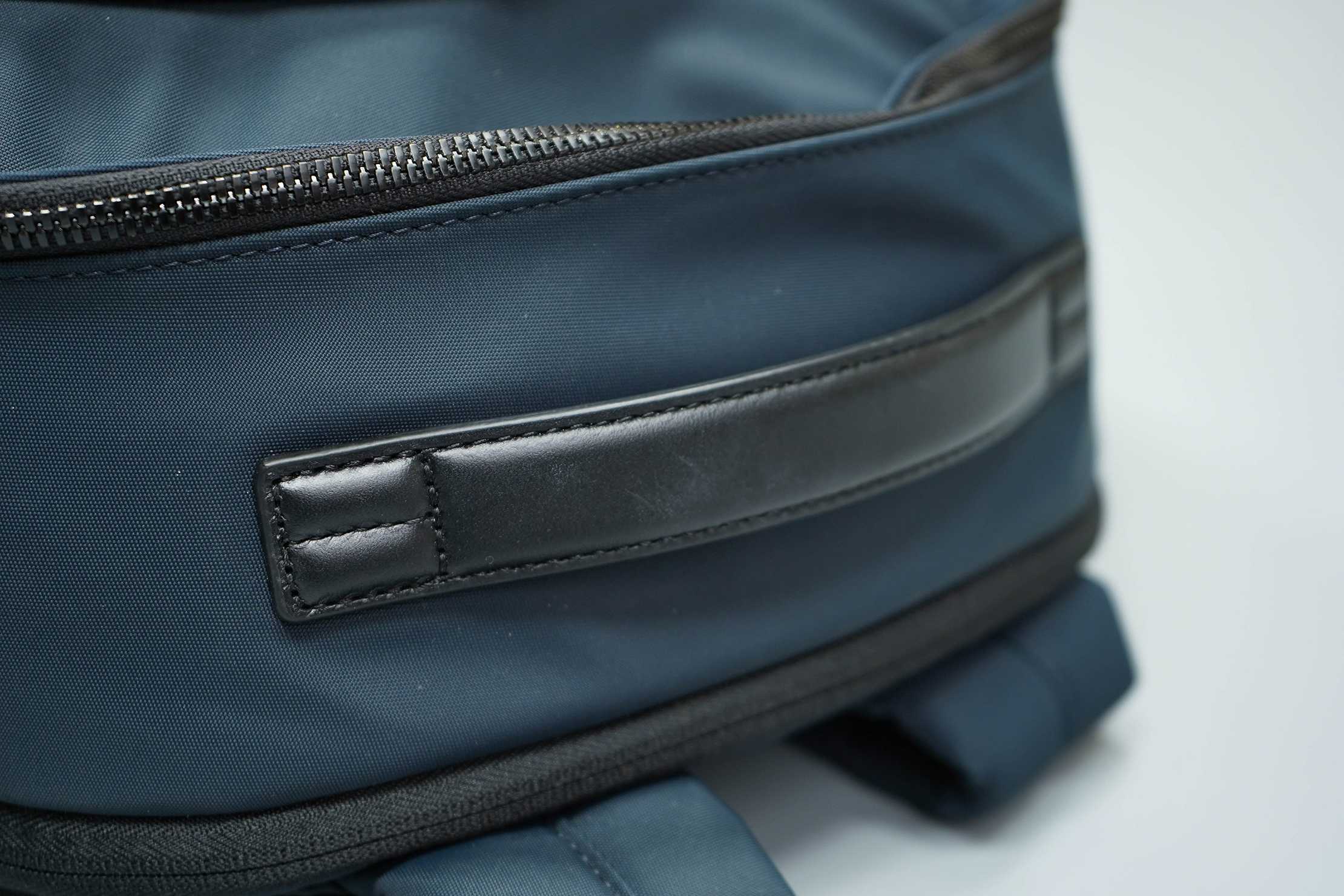 The leather accents and metal hardware tip the scales toward heritage, while the water-resistant, nylon exterior undoubtedly belongs in the 21st century. The six colorways available at the time of this review are all rich yet subdued, creating the luxe feel Away is known for. And the branding is minimal—something we always appreciate.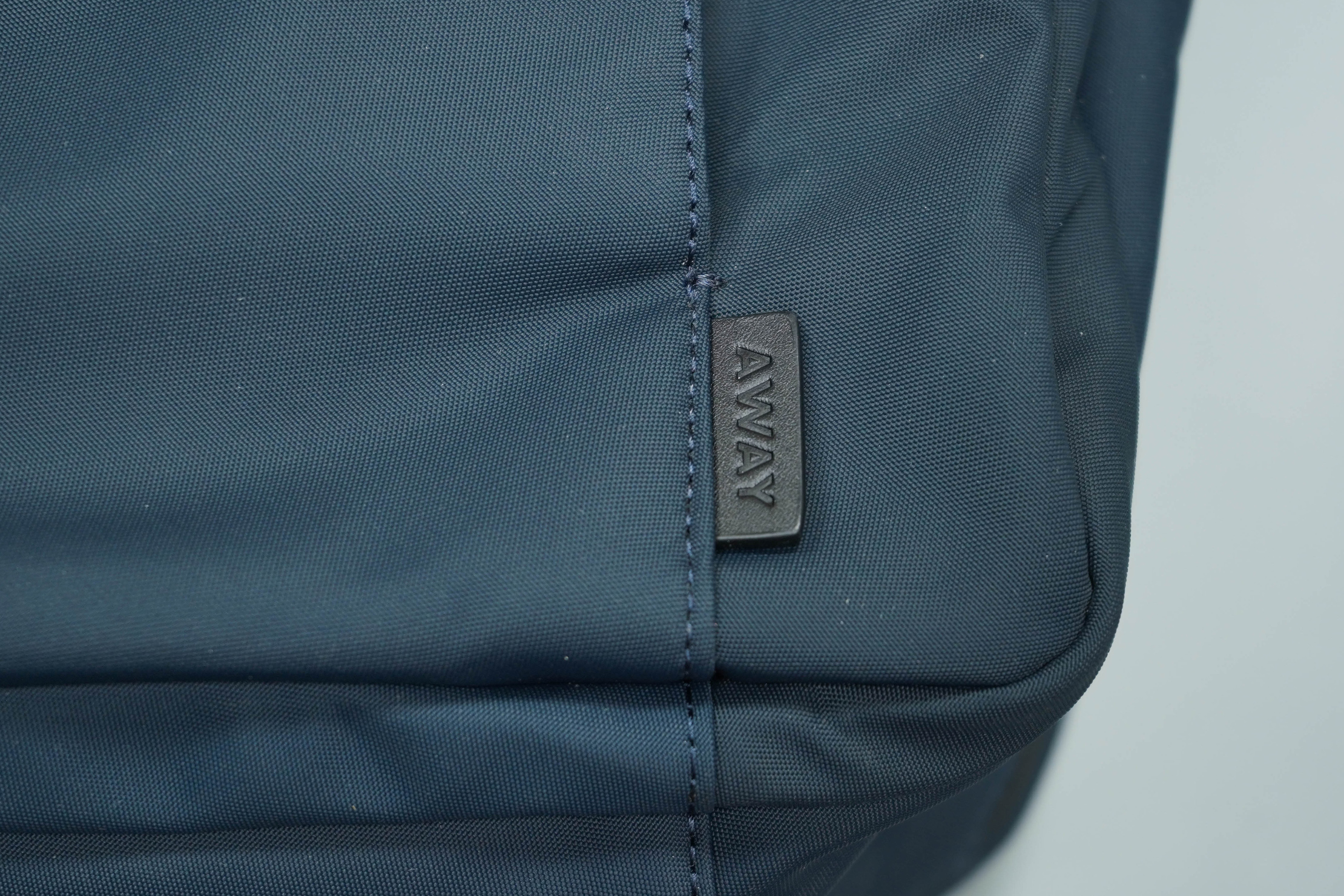 You can also personalize your backpack if you'd like—the folks there will embroider up to three letters on either the side or back of the pack. If you want to be predictable you can go ahead and choose your initials, but you can also have some fun with it.
A few suggestions: PH (for Pack Hacker, of course), CAT (because who doesn't love those cuddly little fur-balls?), HSM (for all you wanna-be Wild Cats out there), BBL (because if you're traveling you'll literally be back later), AWY (maybe, unlike us, you don't like subtle branding)… We could do this all day, but you get the idea.
All of that said, only 33% of you like the look of the Away Backpack. We're not sure if 67% of our Instagram audience has a grudge against Away or what, but we have to say we're surprised that this simple backpack failed to impress such a majority of you. (If you want to participate in future aesthetic polls, make sure to follow us on Instagram!)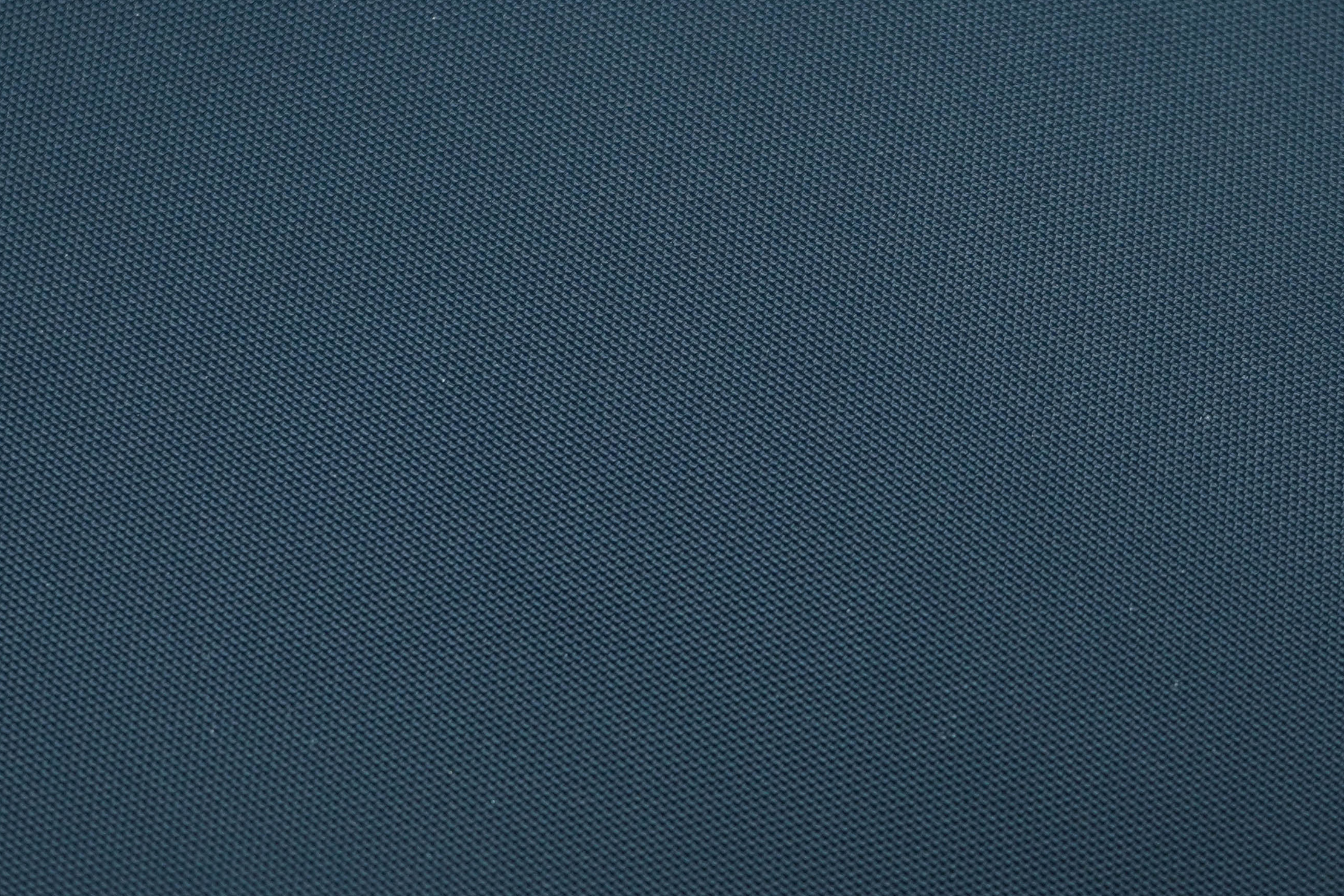 Looks-aside, the materials Away opted for feel nice and durable. As we already mentioned, the nylon exterior is water-resistant. That water-resistance is great for drizzly days or if you accidentally set the backpack down on a wet surface. But don't expect it to do well in a downpour.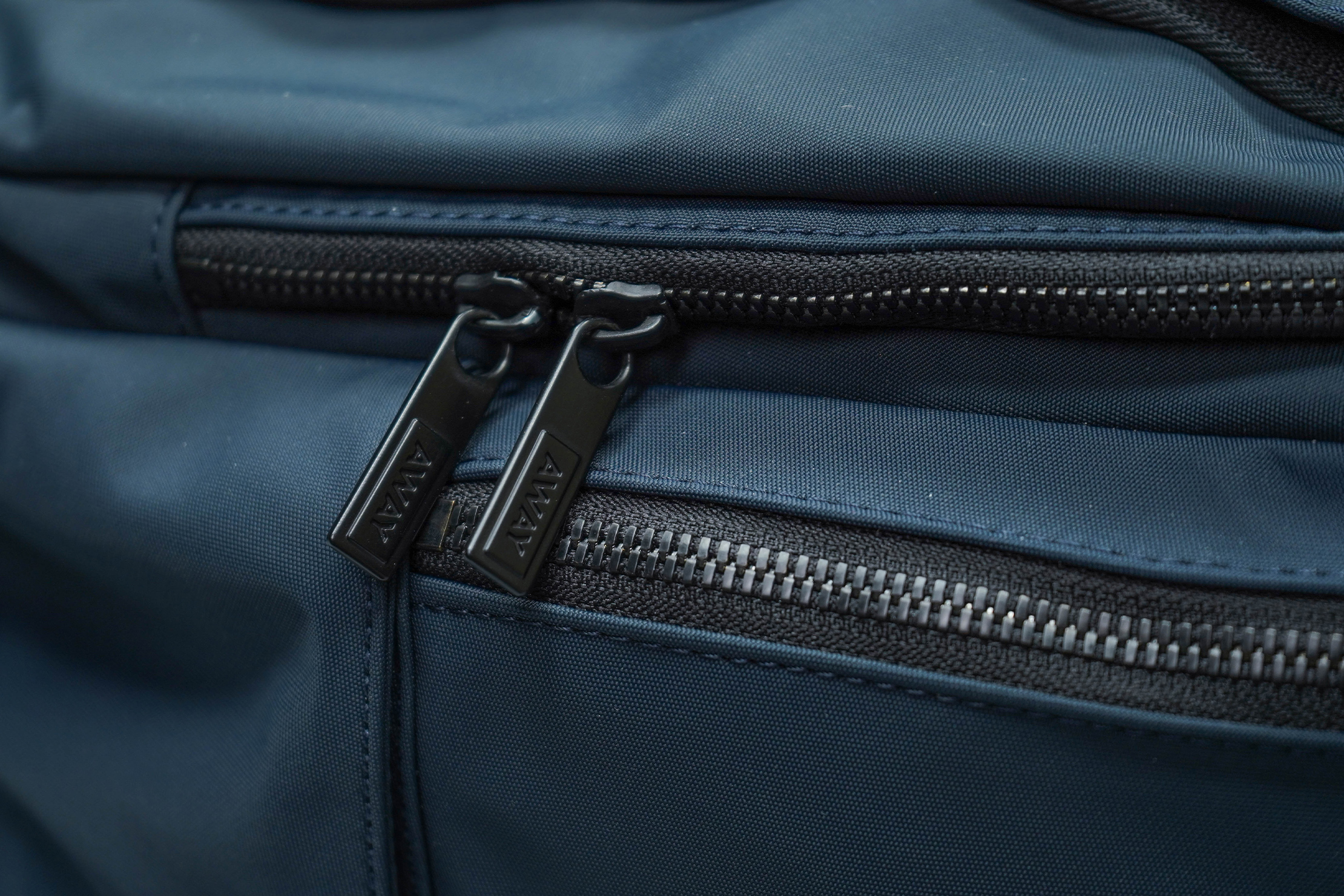 The zippers are smooth and premium-feeling, and the zipper on the laptop compartment is also water-resistant for extra protection. That said, we haven't been able to identify the brand. And because we can't identify the brand, we're leery of them. We've had no issues in testing so far, but we'll make sure to keep you updated in the Usage Timeline below if that changes.
One final note—Away seems to be pretty quiet about the leather used on the packs. We're not sure where the leather is sourced from or if it's held to any ethical/sustainable standards.
External Components
The harness system is simple, yet effective. The shoulder straps are decently padded—thick and comfortable enough for a pack of this size. There isn't a sternum strap or any load lifters, which is fine for a 25.5L backpack. (Although we've tested packs of this size that do include said things.)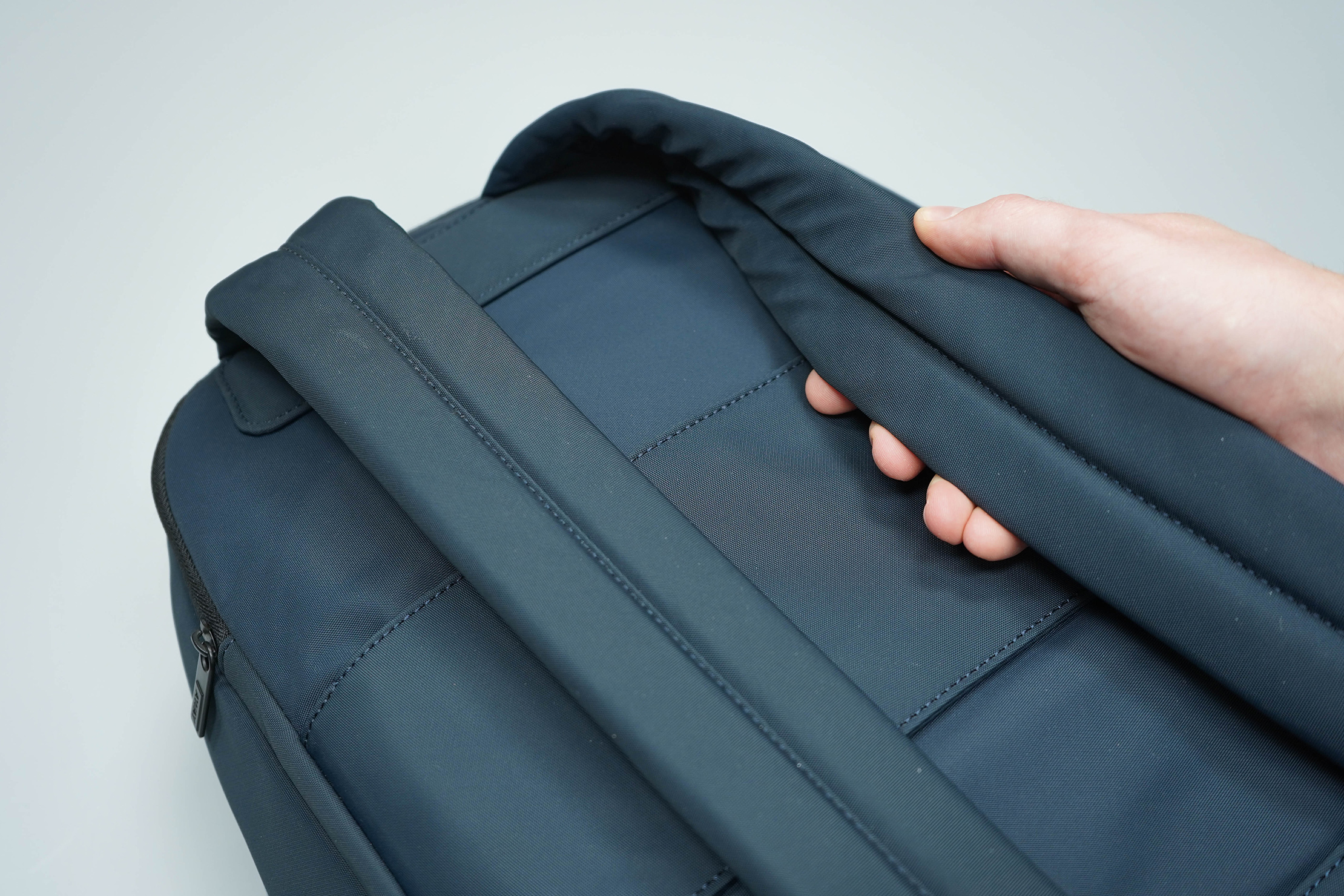 The back panel has a few small air channels, although nothing that'll prevent sweat from building up in hot climates or if you're a sweaty person.
A couple of things worth noting about the way this pack carries—the bag itself is short but deep, so it can look a little chunky. If you have a longer torso, you may be better off with a thinner, flatter pack that'll sit closer to your back. If you have a shorter torso, this carry will probably work well for you. But the pack will still stick out off of your back when it's full. (A quick aside—even though it gets fat when full, it will fit beneath the sit in front of you on a plane.)

The back panel also doesn't have much padding or rigidity to speak of, so it can create a saggy look while you're wearing it. It's definitely not a structured carry, although you can improve this with some strategic packing.
At the top of the pack, you'll find the traditional backpack handle. Only this one is leather, contributing to that classy, heritage vibe. It hasn't quite broken in yet, but that's not any major problem since it's only been a month.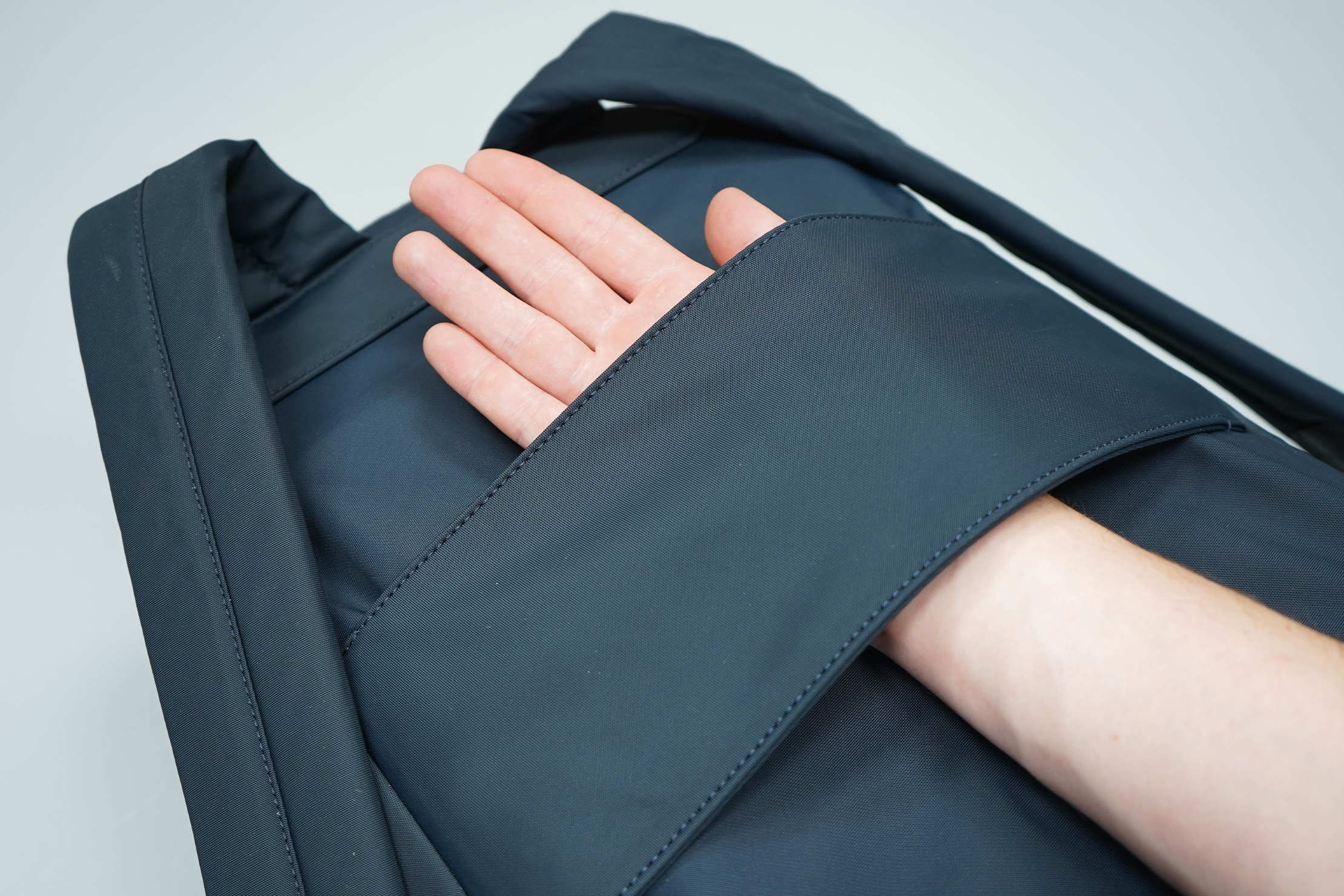 There is a luggage passthrough on the back panel, so you can slide it down the handle of your suitcase. Obviously, Away's intention is for you to use it with Away luggage, but it should work on most suitcases. And while it does work, the way it's been designed just feels a little bit sloppy. There seems to be excess fabric, it doesn't lay as flat against the bag, and there's no zipper to close it. We've seen it done better many times—for example, the Aer Travel Pack 2 has a luggage passthrough that's just a simple band and the Tortuga Setout Duffle Bag has a pass-through that can be concealed with a zipper.
Behind the passthrough, you'll find a zippered security pocket for all those items you don't want to be stolen—passport, extra cash, wallet, etc.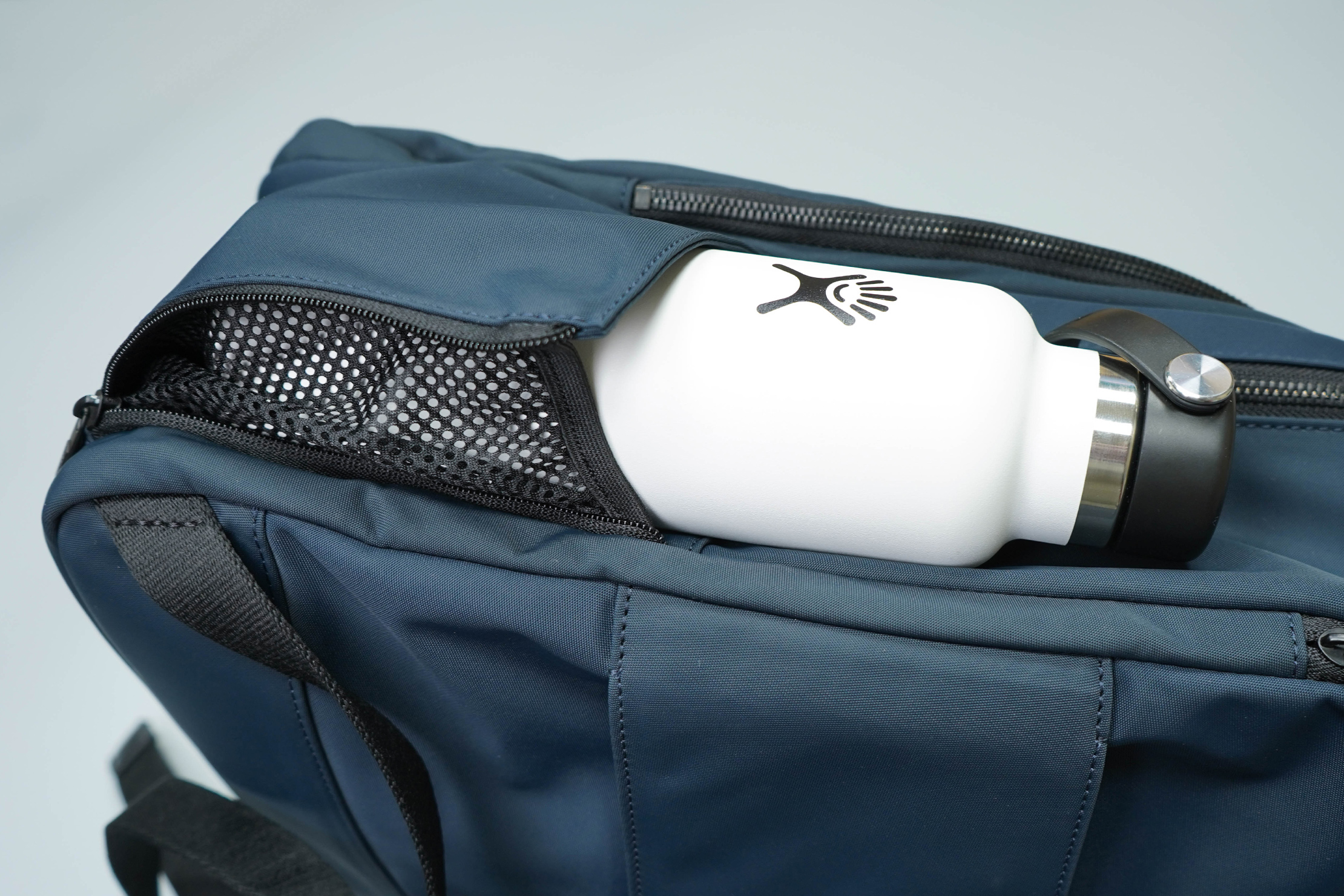 Finally, there's a zippered water bottle pocket on one side of the pack. It's not our favorite. While we like the look of it, water bottles jostle around quite a bit while you're walking. And, without any elasticity, it doesn't feel secure. Frankly, we're surprised the Hydro Flask we've used while testing the pack hasn't fallen out of the pocket to its doom—it wobbles all over the place. Again, we've seen this same style of water bottle pocket done better elsewhere (the Tortuga Setout Laptop Backpack, for example).
Inside the Pack
Alright, let's open this baby up. The front vertical compartment is super quick and easy to access—simply slide the backpack off of one shoulder, swing it forward to the front of your body, and voila. So this compartment, which has no further organization inside of it, is a great spot for anything you want to grab quickly—snacks, a packable rain jacket, a notebook so you're ready to jot down notes whenever inspiration strikes. But we don't suggest keeping smaller items here since they'll all end up in a jumbled pile at the bottom of the compartment.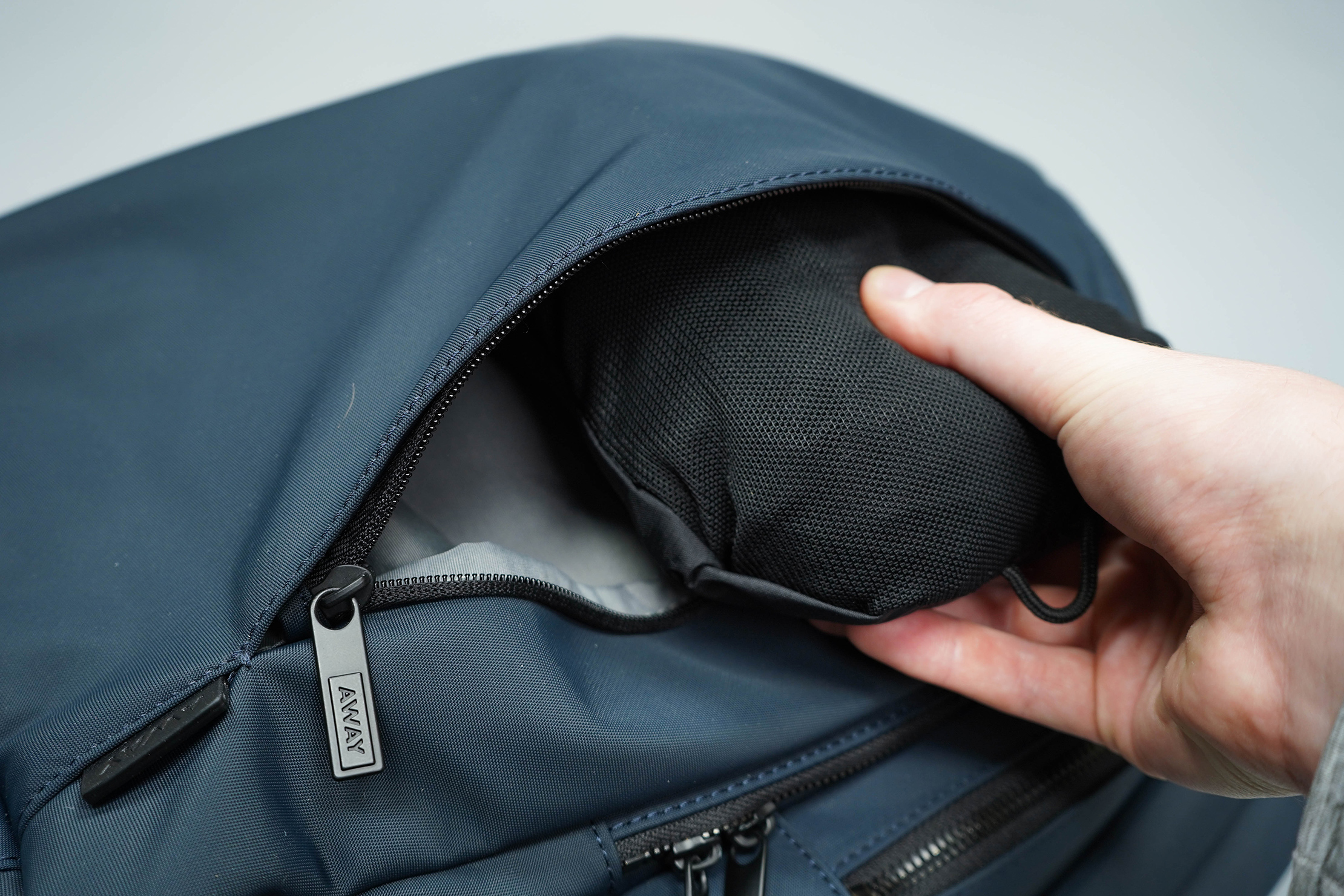 Behind it is a much larger compartment that opens up in a horseshoe style. The compartment goes all the way to the bottom of the bag, creating a large, cavernous space you can fill with a good amount of stuff. Just note that the more you fill up this space, the more the pack will stick out on your back.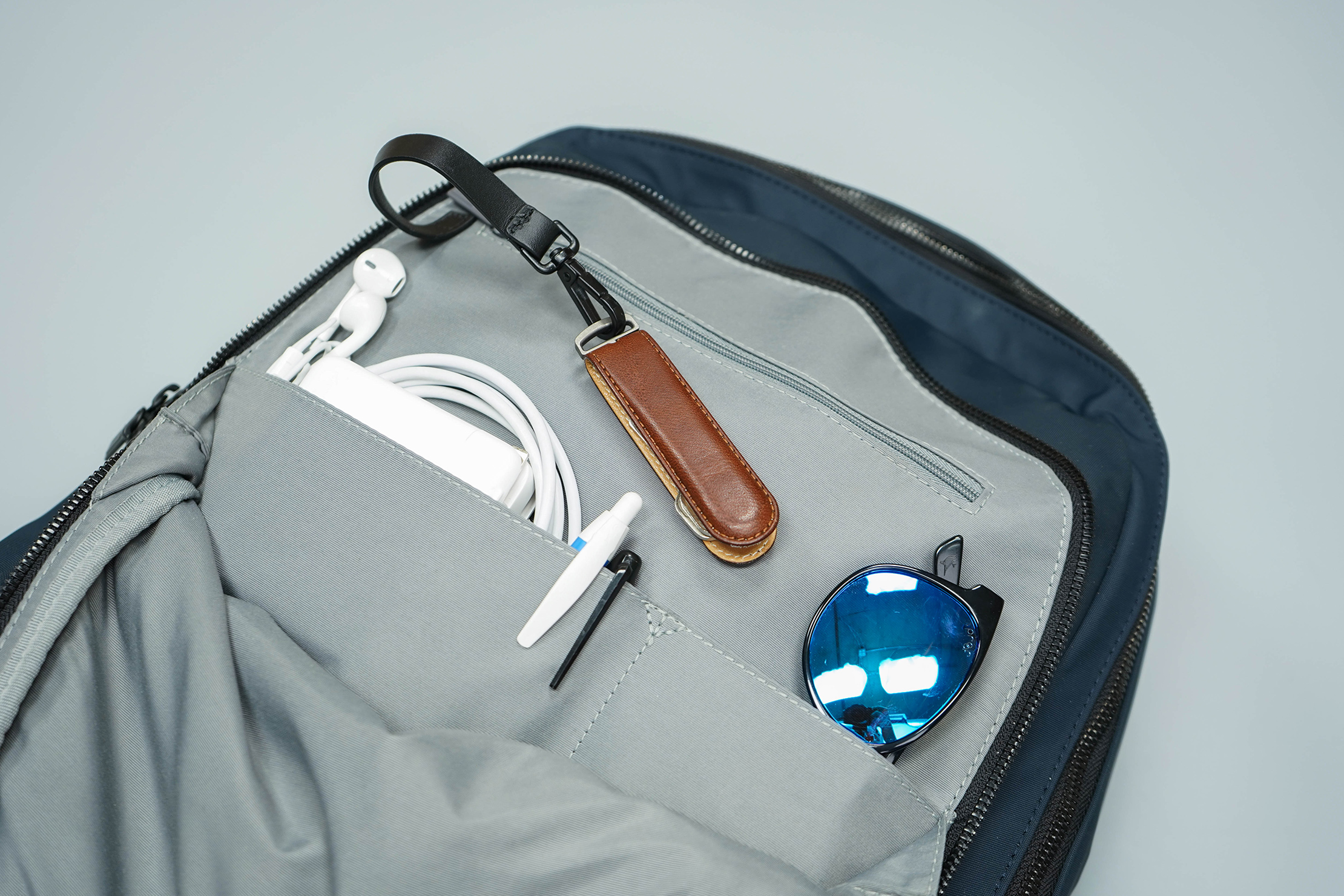 Inside of it, there are two slip pockets—one larger one that's great for a notebook or kindle, and one smaller one that'll fit your phone or an extra battery. There's also a small zippered pocket to further compartmentalize your stuff. Finally, there's a key clip, which looks and feels premium compared to a lot of other key clips we've seen.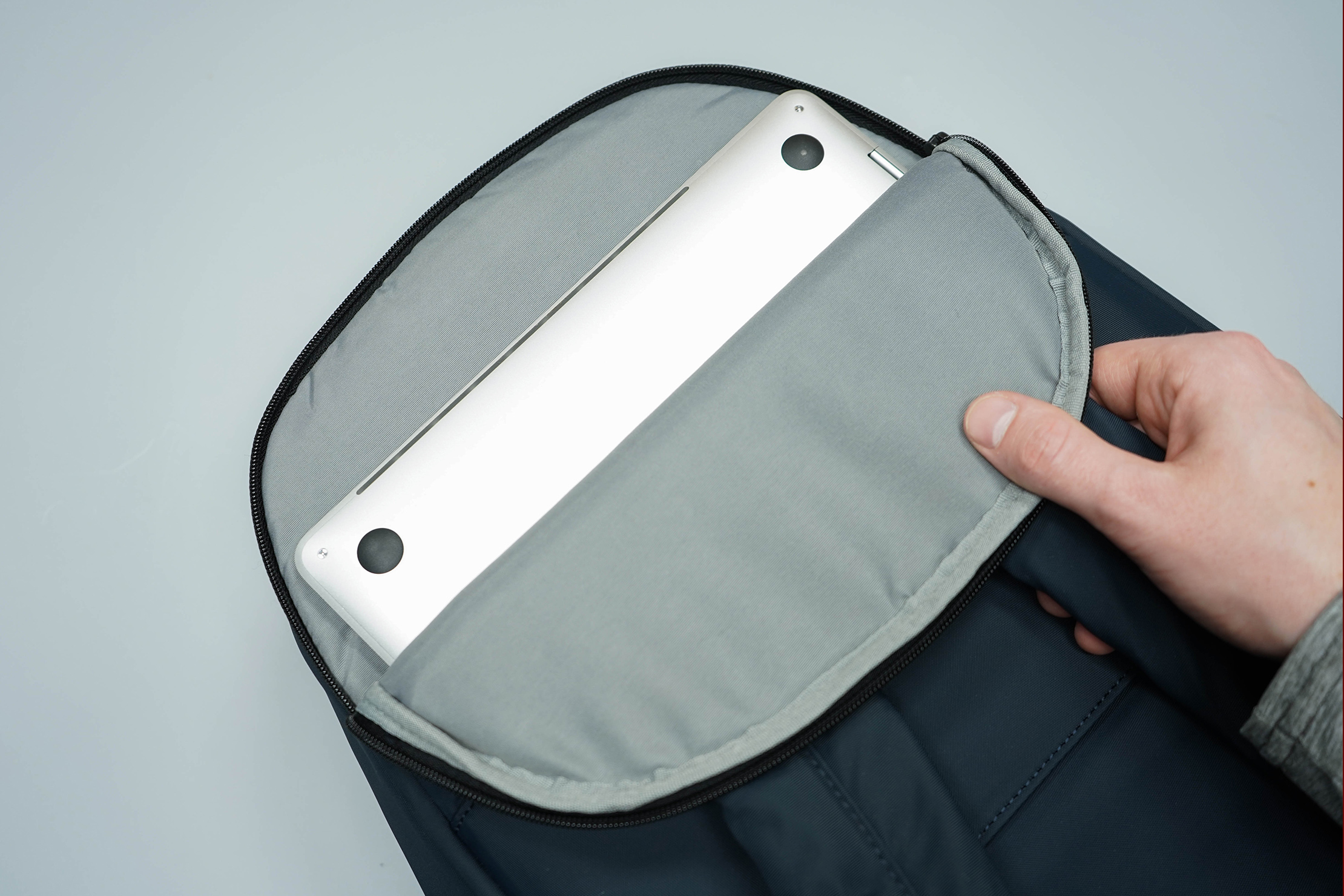 Before we jump into the main compartment, let's head over to the laptop compartment. It's well-padded with easy access to quickly grab your laptop during airport security or wherever. But, unfortunately, there is no suspension system to keep your laptop off the bottom of the pack. If you accidentally set your backpack down really hard, it could damage your laptop. It fits up to a 15'' laptop—we've had no problem fitting our 15'' MacBook Pro with a case on it inside this thing.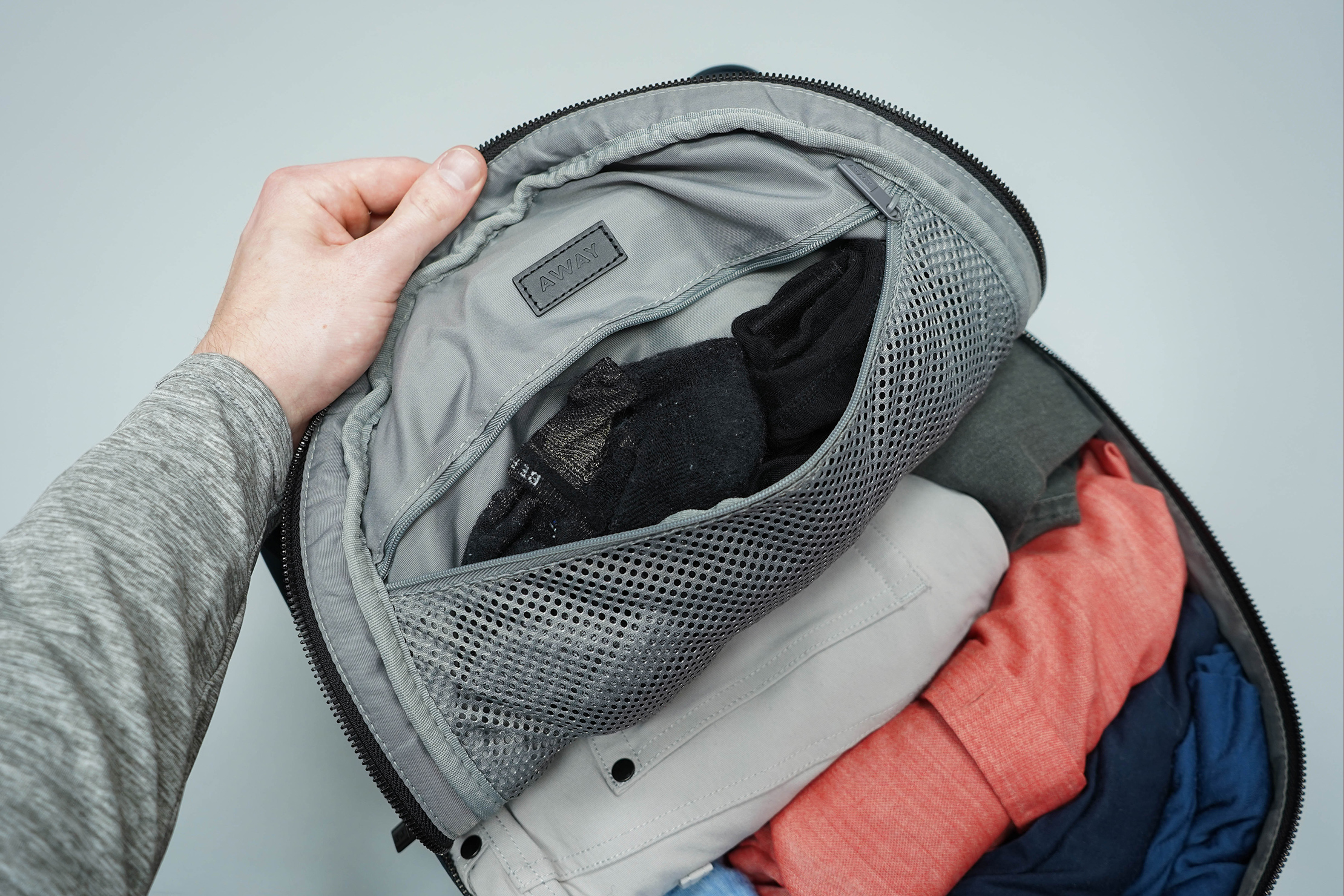 Similar to the other compartments, the main compartment has plenty of space and minimal organization. There's a single zippered, mesh pocket to separate out toiletries or tech accessories (chargers and the like). We love the soft, luxurious feel of the mesh.
You can easily use a few packing cubes in the rest of this space—in fact, we suggest it as a way to keep your stuff organized. Away makes packing cubes, which we've reviewed, but you can also take a look at our packing cube guide for more options.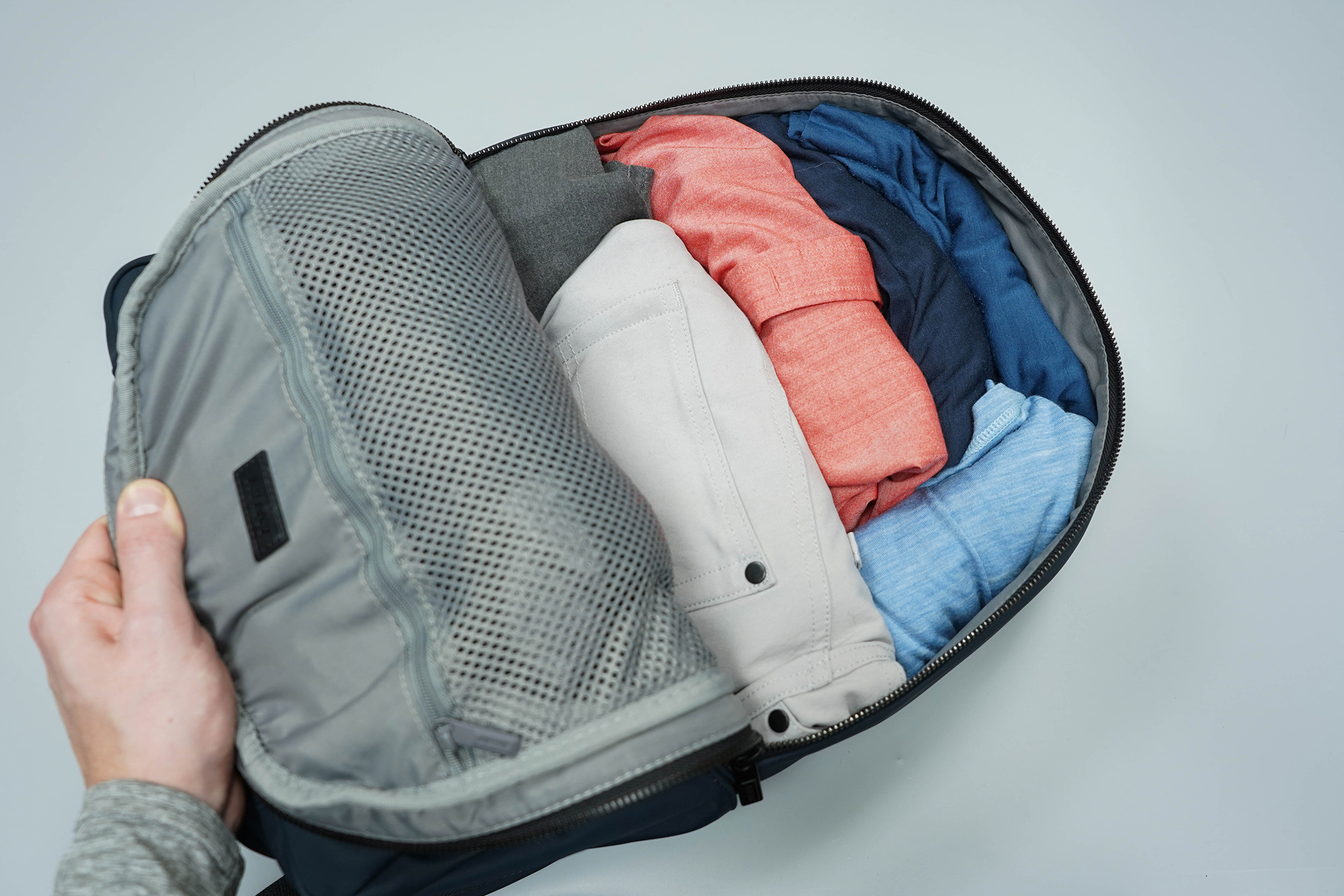 Overall, this pack has enough room you could easily keep enough clothes, toiletries, tech, and accessories inside for small to medium-sized trips. But it's also small enough to work well as a companion to roller luggage or duffle bags if you need some more space.
Durability & Testing
So has the Away Backpack lived up to the praise heaped upon it by the writers at TIME? After a month of testing in Michigan, Georgia, and Belize, we have to say no, it has not. That's not to say the Away Backpack is a bad backpack—in fact, it's a solid pack we've really enjoyed testing. But, we've reviewed hundreds of innovative travel backpacks, and the Away Backpack isn't anything too special.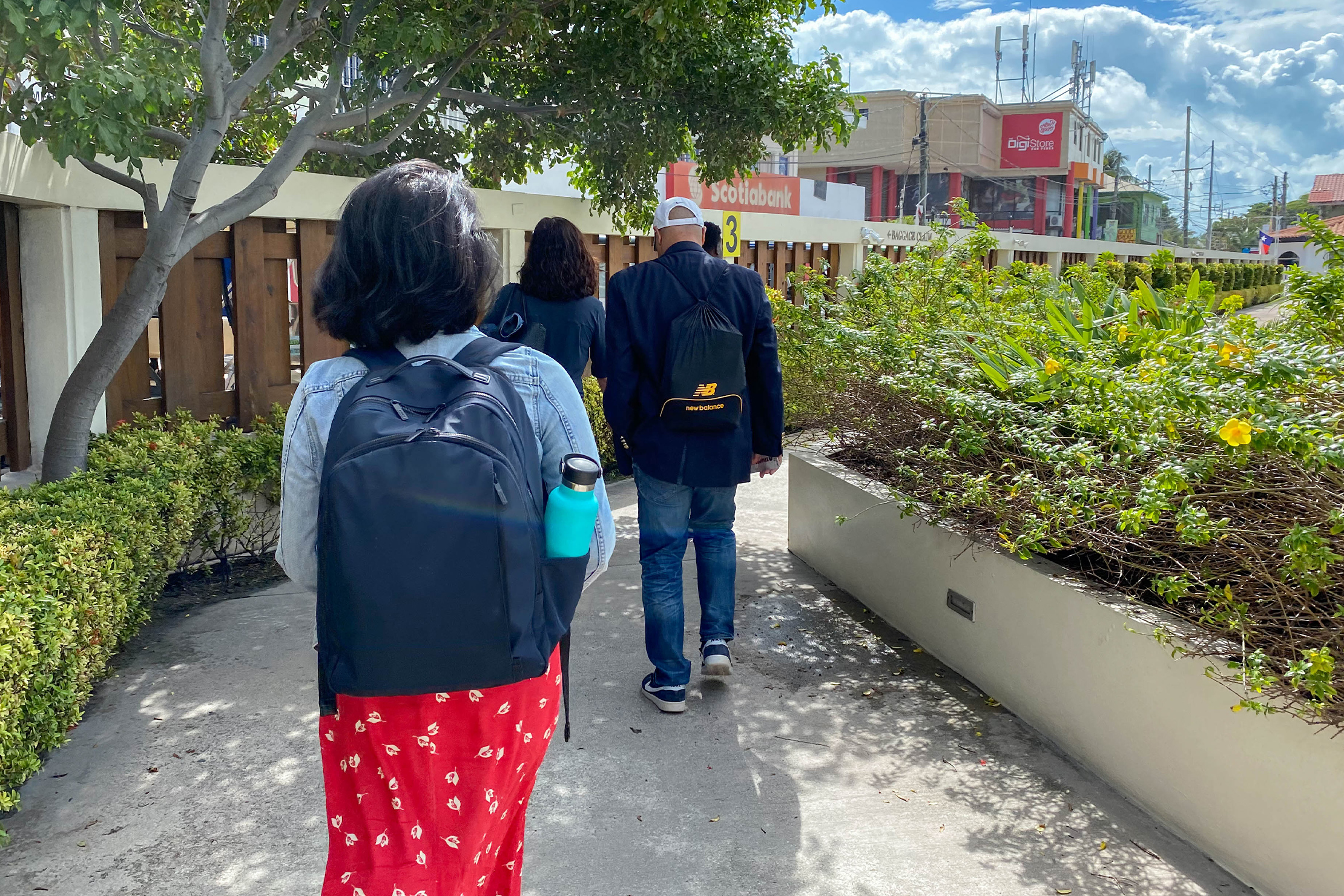 But you can also give it try for yourself. Away offers a 100-day return policy, allowing you to "return [your backpack] anytime within the first 100 days of purchase, no ifs, ands, or asterisks." Well, there is one asterisk—you can't return personalized items (so don't have it embroidered if you think you'll need to return it).
We haven't tested this policy ourselves, but we've heard positive reports about Away's customer service team. A trusted Pack Hacker source received a replacement part no-questions-asked after their Away The Carry-On broke during a trip.
So far, it's been holding up really-well durability-wise. We have no issues—major or minor—to report.
Usage Timeline
Initial Usage
Condition: Excellent
Classic backpack style and look, doesn't stick out in a crowd
Nice well-padded shoulder straps help to create a comfortable carry
Ample sized security pocket hidden behind the luggage pass-through
2 Weeks of Use
Condition: Excellent
Nothing to report durability-wise. It's still looking great.
1 Month of Use
Condition: Excellent
Still holding up well, but the water bottle compartment is precarious.
Access the Pro Community Discussion
Get your questions about the Away Backpack answered from our team and the Pro Community right here on the page. Plus, join discussions with other members about gear, guides, and more.
Other Bags & Luggage Reviews