ALPAKA Elements Backpack Review
The ALPAKA Elements Backpack's slim design is complemented by its comfortable shoulder straps, making it a capable, everyday-focused backpack.
Our Verdict
Unlock the Pro Summary
Save time. Get access to brief summaries of our reviews so you can browse and make decisions more efficiently.
Pros
Geometric-patterned shoulder straps wear comfortably
Slim profile works well for everyday carry
HUB-compatible loops add customizable organization
Cons
Slim design limits capacity
Sternum strap shifts easily
Fabric is a bit of a dust magnet
Recent Pack Hacker Video
Technical Details
Capacity

24l

Weight (lb)

2.43 lb (1.1 kg)

Denier

500D

Kodra HT (6,6 Nylon) DWR | 1680D Ballistic Nylon bottom panel

Dimensions

20.4 in x 12.5 in x 5.5 in (51.8 x 31.8 x 14 cm)

Notable Materials

Kodra Nylon, Ballistic Nylon, Ripstop Nylon, DWR Coating, YKK Zippers

Manufacturing Country

China

Laptop Compartment Size

16"

Warranty Information
Full Review
Get up to 15% off ALPAKA • Join Pack Hacker Pro
One key thing that separates travel backpacks from everyday backpacks is complexity. Travel packs tend to have lots of compartments, comprehensive harness systems, and a ton of space. On the other hand, while not lacking in features, everyday bags tend to be more focused. They're designed to carry what you need on a daily basis, not a one-week vacation in Tahiti.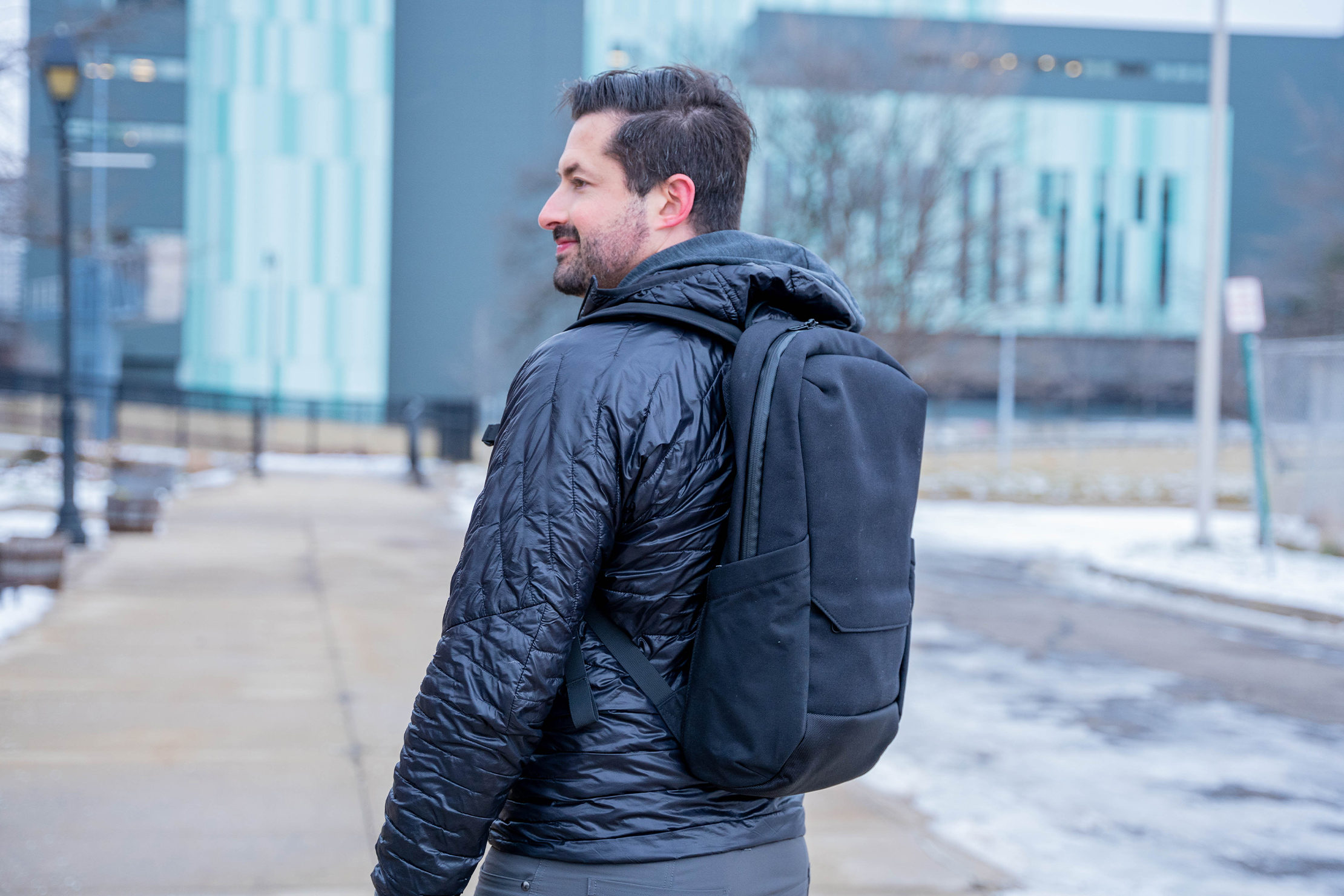 ALPAKA's Elements Backpack does quite well in this regard. Its tall shape and slim profile limit packing capacity, though we don't mind this at all since it's comfortable to carry around and has a streamlined look. It's far from the basic sack as well. With its well-padded laptop compartment and HUB-ready loops, the Elements Backpack covers all the bases—well, almost. The use of unbranded zippers and hardware is a sticking point in our eyes, but not as much as one would think.
Materials & Aesthetic
The Elements Backpack keeps things pretty stealthy and low-key with its all-black aesthetic. It's very sleek, not just because it's black but also because there's very minimal branding anywhere on the outside. The only hint that this is an ALPAKA product is the small glossy logo located at the lip of the front pocket. It's fairly easy to miss under poor lighting, but it is there. The stitching at the top corners also gives the bag dimples, which are styling cues also found on the Elements Tech Brief and Elements Tech Case.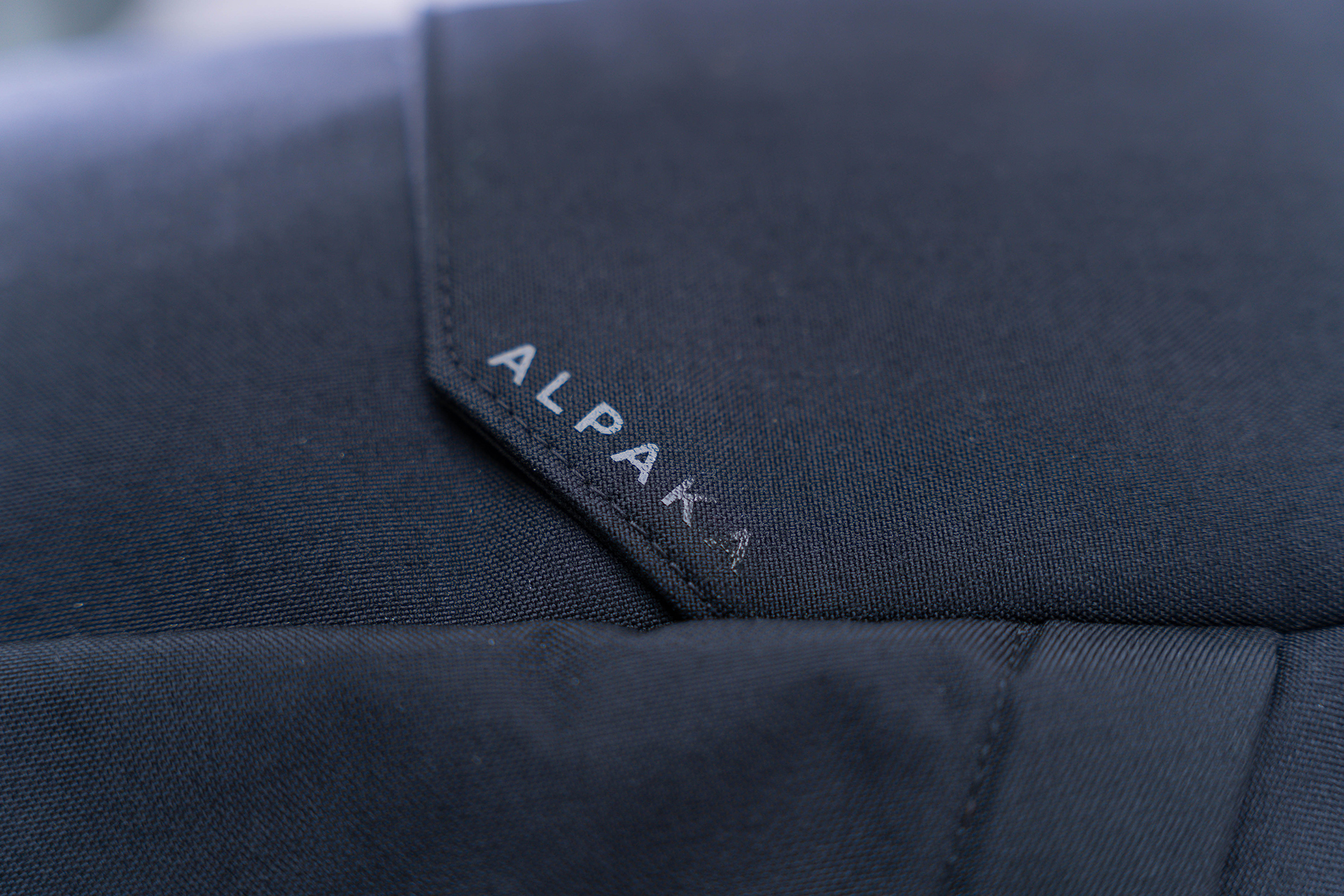 The biggest sleek-ness factor at play here has to be the bag's slim profile. Simply put, the Elements Backpack is much leaner than many backpacks. Looking at it from the side, there's less emphasis on depth and more on vertical length. The result is that the Elements Backpack doesn't give us a hunched look, provided it's packed according to shape and capacity.
There's only one colorway available at the time of writing: black. More specifically, it's 500D Black Kodra HT nylon, which dominates most of the Elements Backpack's exterior. The HT presumably stands for "high-tensile" because this fabric surely does feel like it. However, ALPAKA went the extra mile and used 1680D Ballistic Nylon for the bottom panel. Heavier denier fabrics tend to do better against abrasion, so setting this bag on rough pavement should be less problematic. At most, the fabrics' most major downside is that they're a bit prone to catching dust along the way—something that's easy to spot on the color black.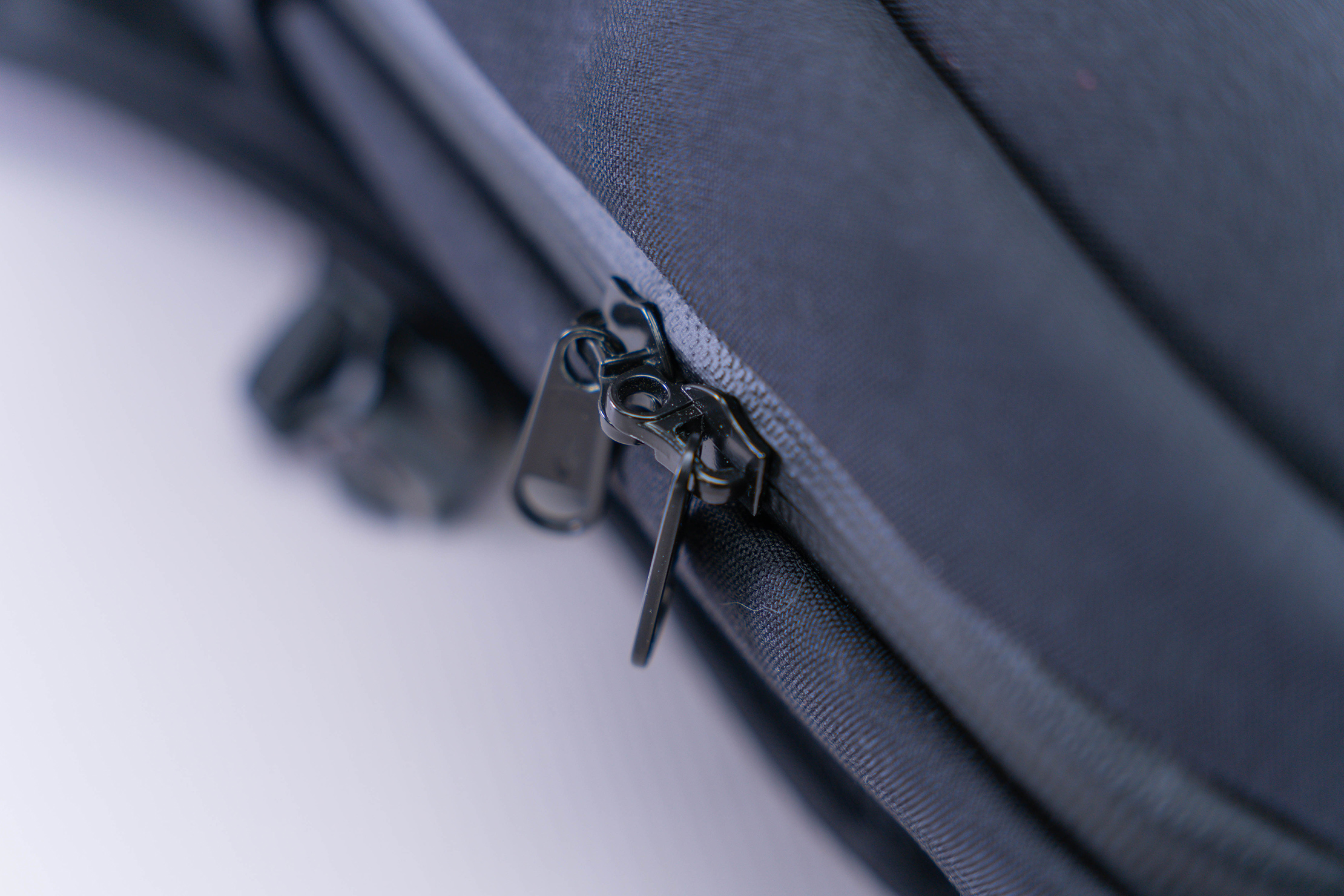 This combination of tough nylon fabrics gives the Elements Backpack a good structure. However, we're less stoked about the accompanying hardware. The zippers, buckles, and adjusters are unbranded. We're fans of branded ones coming from familiar names like YKK, Duraflex, ITW, or Woojin, as we've had very few problems with them (if any). It gives peace of mind whenever we see familiar names like these. That said, even though the Elements Backpack uses unbranded ones, they do work well. None of the zippers jam, nor do the buckles or adjusters get stuck unexpectedly, so they all get a pass.
External Components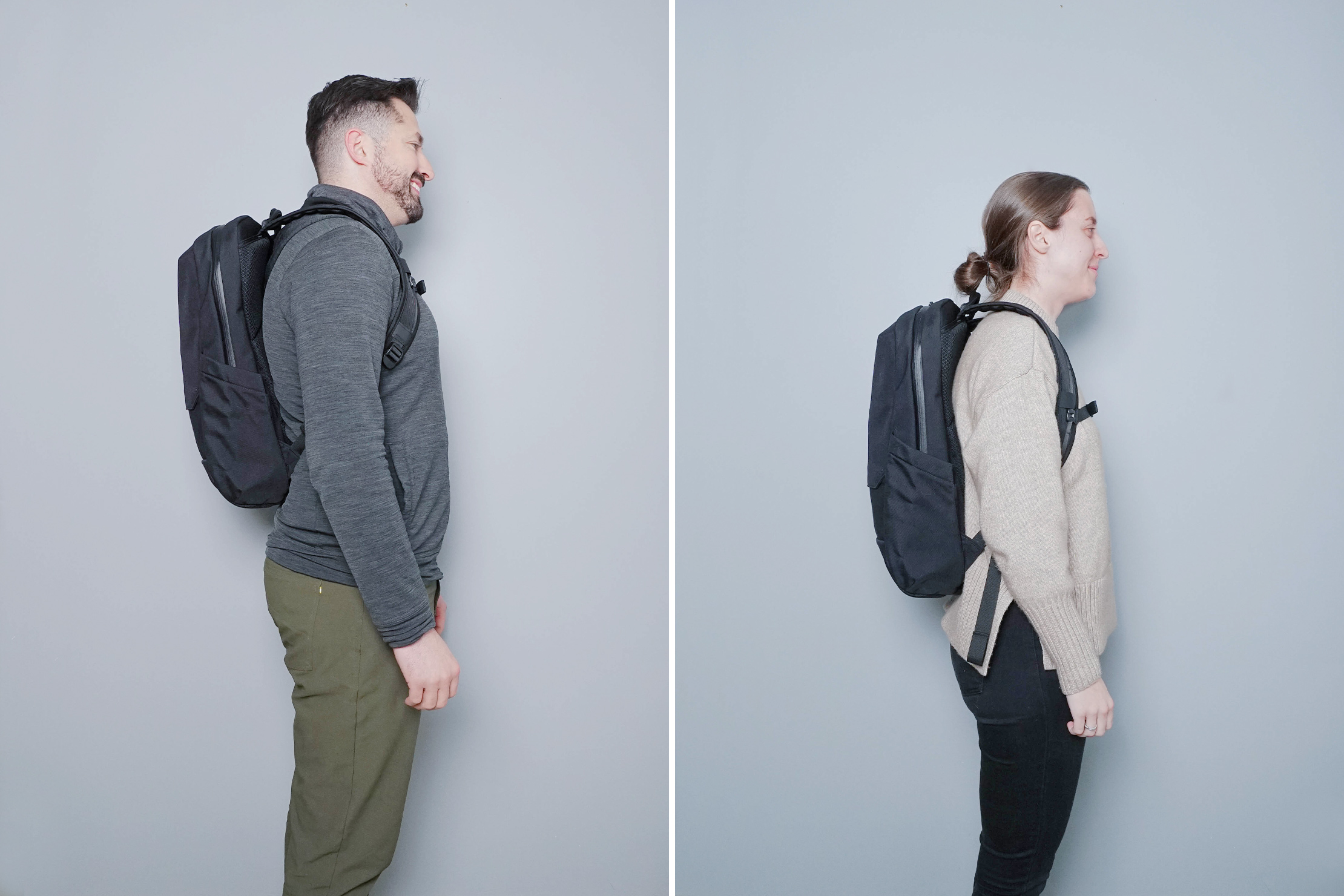 Looks can be a bit deceiving at first, though. Despite the Elements Backpack's slim and sleek design, it has a substantial capacity, being rated at 24 liters. It's not quite in travel backpack territory, but it's no slouch as an everyday carry backpack. As such, the harness system is quite well-equipped to deal with the size and potential weight of the backpack.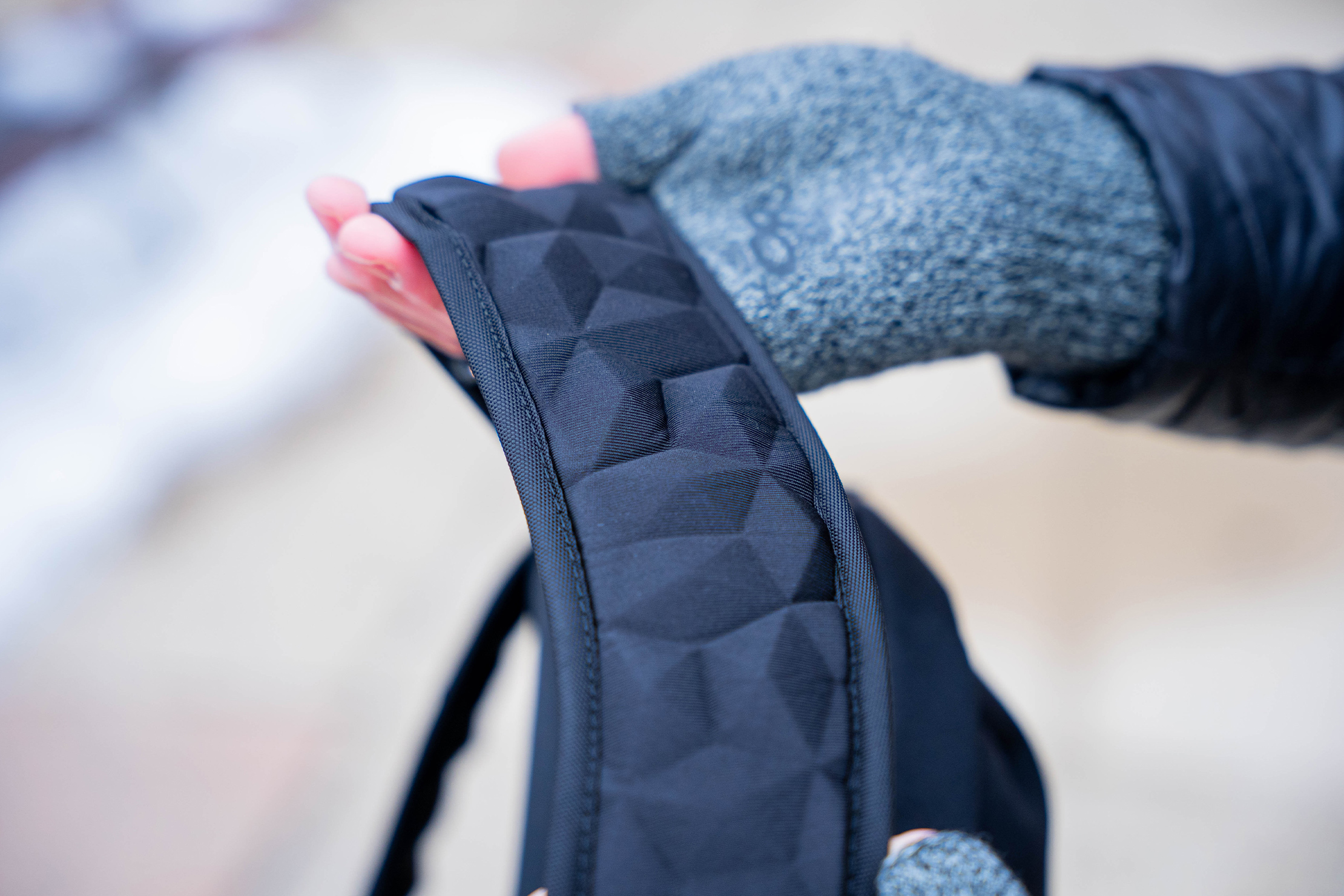 Flip over the shoulder straps, and you'll find a funky-looking pattern. It's not just a printed pattern, though; the padding itself is molded with a tessellated, geometric pattern. The texture is noticeable once it's pressing down on the shoulders, and the sensation takes some time to get used to. That said, it's not uncomfortable—far from it. Carrying the Elements Backpack, loaded or empty, is a comfortable experience even after a full day of walking.
There are Hypalon loops on the shoulder straps themselves for attaching items like ALPAKA's HUB accessories or your own carabiners and clips. Below that is the sternum strap, mounted on strips of seatbelt-like material. We're usually fans of rail-like systems because of the great degree of adjustment they have. In this case, though, the strap shifts up and down too easily for our liking. Additionally, the Hypalon loops get in the way of adjustment, making the process somewhat clunky. Fortunately, we don't find using the sternum strap necessary since the shoulder straps themselves do a good enough job. They're also removable, so we just left the strap at home most of the time.

Lastly, the shoulder strap length adjusters are accompanied by strap keepers (and so is the sternum strap). We're fans of these because they prevent slack from flapping around when it's windy or when we're riding a bike.
Equally important as the harness system is the Elements Backpack's back panel. There's a generous amount of padding applied here. The panels are arranged in a distinct V-shaped pattern, allowing for huge gaps that act as air channels. Combined with the meshed fabric, this makes the back panel well-ventilated.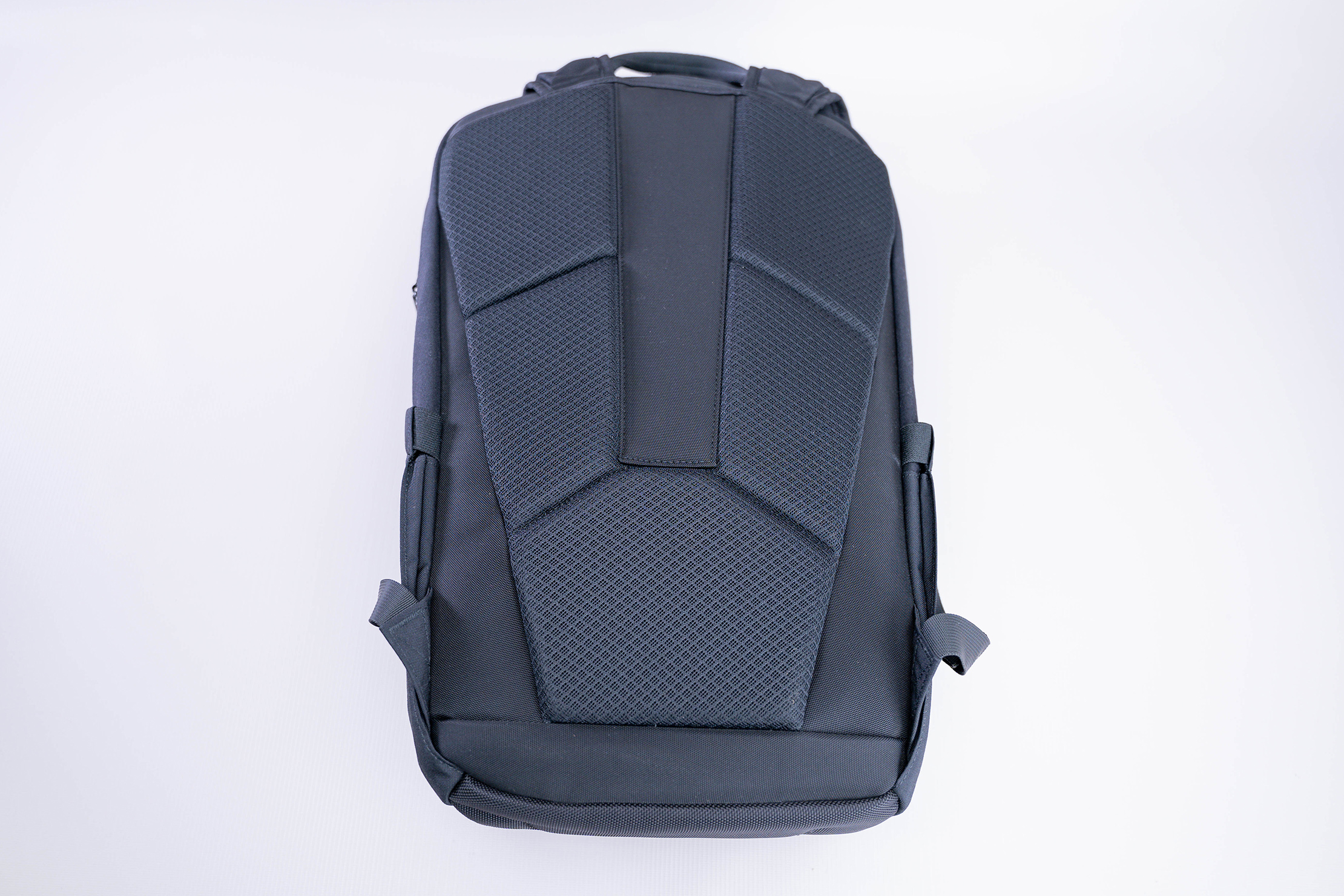 The usual grab handle is at the top of the back panel. Most backpacks come with a handle like this, ranging from simple nylon loops all the way to full-on briefcase-style handles. The one on the Elements Backpack leans more towards the latter, being well-padded and wide enough to be gripped comfortably.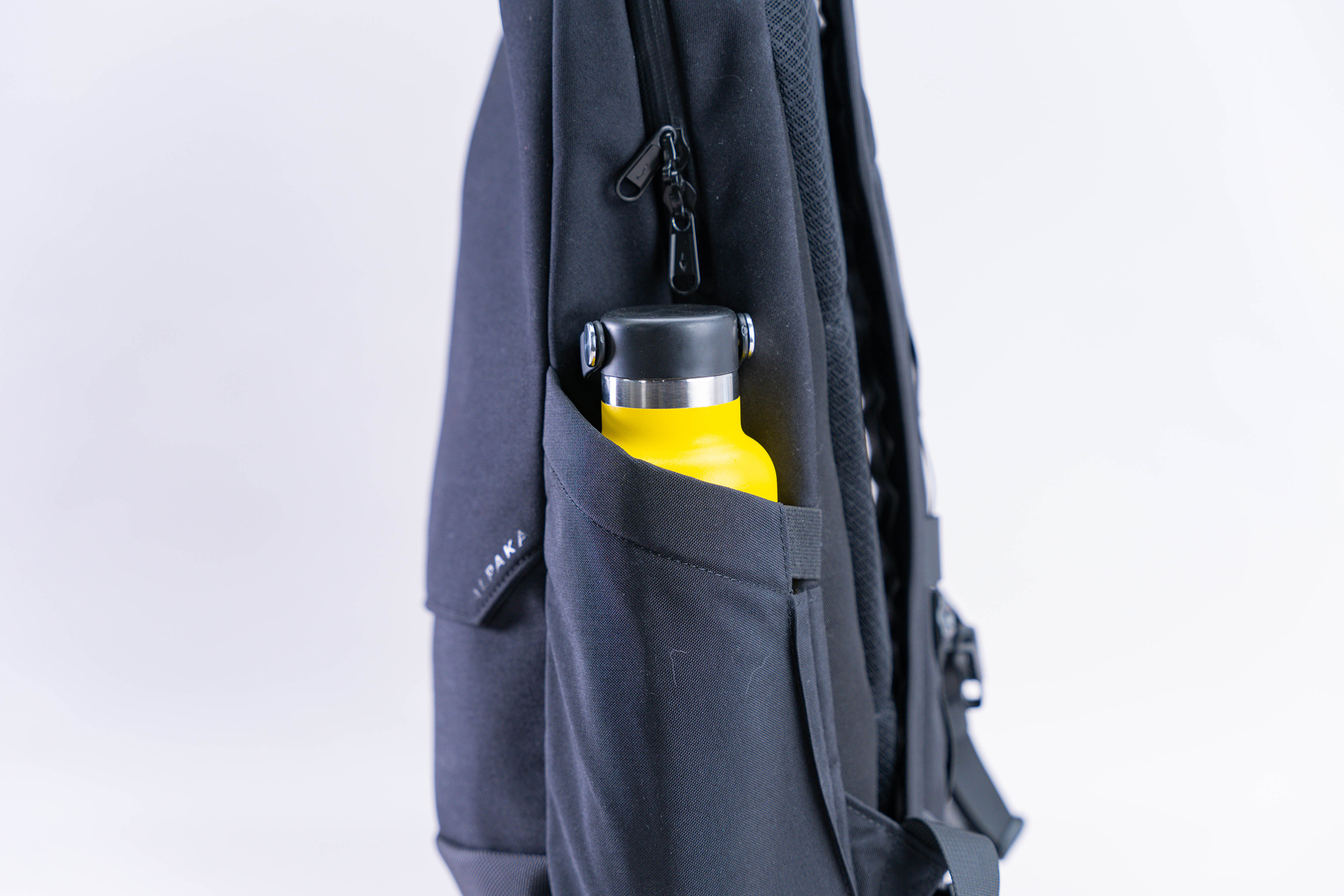 Flanking the bag are water bottle pockets. They're not the biggest by any means, but the trade-off is that they fold flat when not in use. There's only a tiny bit of gusset for expansion and some elastic to cinch bottles down. Our 32-ounce Nalgene Wide Mouth Tritan bottle doesn't fit no matter how much we try (and wish) it will. On the other hand, our trusty 18-ounce Hydro Flask fits in like a glove. Your mileage may vary depending on how slim your particular bottle is.
Inside The Pack
Like most packs, the Elements Backpack comes with a front pocket for quick-grab items. We've mentioned earlier that the ALPAKA logo is located on a lip. This lip shrouds the front pocket's opening, adding a bit of security as well as style. It's a similar style to that of Boundary Supply's Rennen Recycled Daypack, but minus the magnets.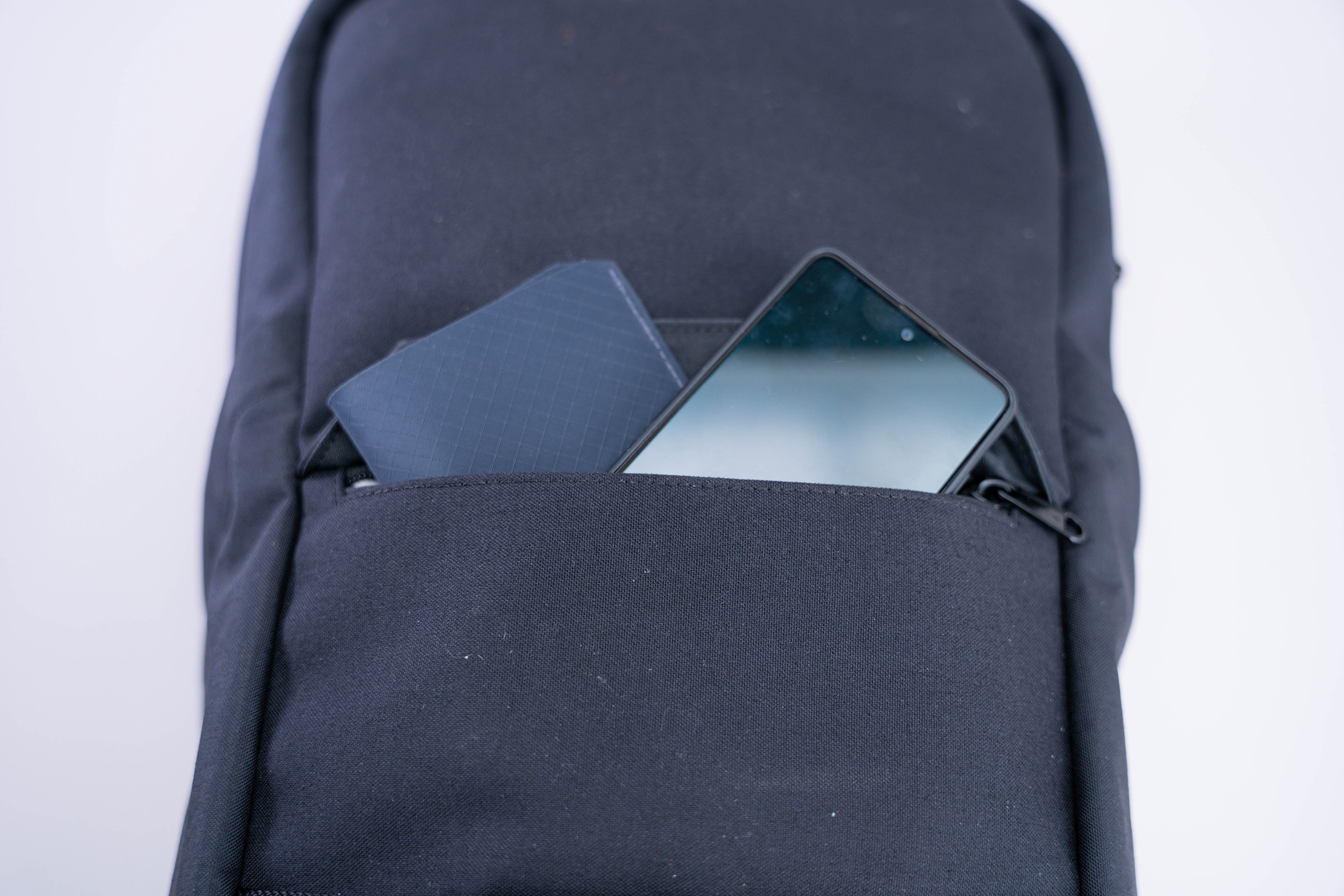 The space inside the front pocket isn't all that much. A rolled-up pair of winter gloves do fit, but it makes the front bulge out a bit. Silver lining: the black fabric helps hide bulges like these. For the most part, we try to maintain the slim look of the bag whenever we can. To that end, we mostly keep only similarly slim items like battery banks, wallets, and smartphones in the front pocket.
The main compartment opens up horseshoe-style, with the zippers going about halfway down the sides of the bag. The zippers are lockable and reverse coil AquaGuard-style, protecting against thieves and splashes, respectively. Given the tall profile of the Elements Backpack, the wide opening grants good access to the bag's interior. This is important because there's quite a lot going on inside the main compartment, especially if you're into ALPAKA's HUB ecosystem, so you'll want a good view of everything inside.

In a nutshell, ALPAKA's HUB ecosystem is their lineup of first-party accessories. These include the HUB Keychain, HUB Cardholder, HUB Sanitizer Holder, and many more. These clip onto loops (which the Elements Backpack has two sets of). Once they're clipped on, the accessories themselves quickly attach and detach via magnets. The system works well, especially those that are mounted externally, like on the Hypalon loops of the shoulder straps.
There are two sets of loops inside the main compartment: one set at the back, and one set at the front. There are three loops on each set, but the ones at the back are wider, allowing two accessories per loop. In total, we reckon the main compartment can host up to nine HUB accessories. Of course, it will be very crowded if you max it out. We'll leave it to you to decide if that's your thing—just keep in mind that it can get pricey.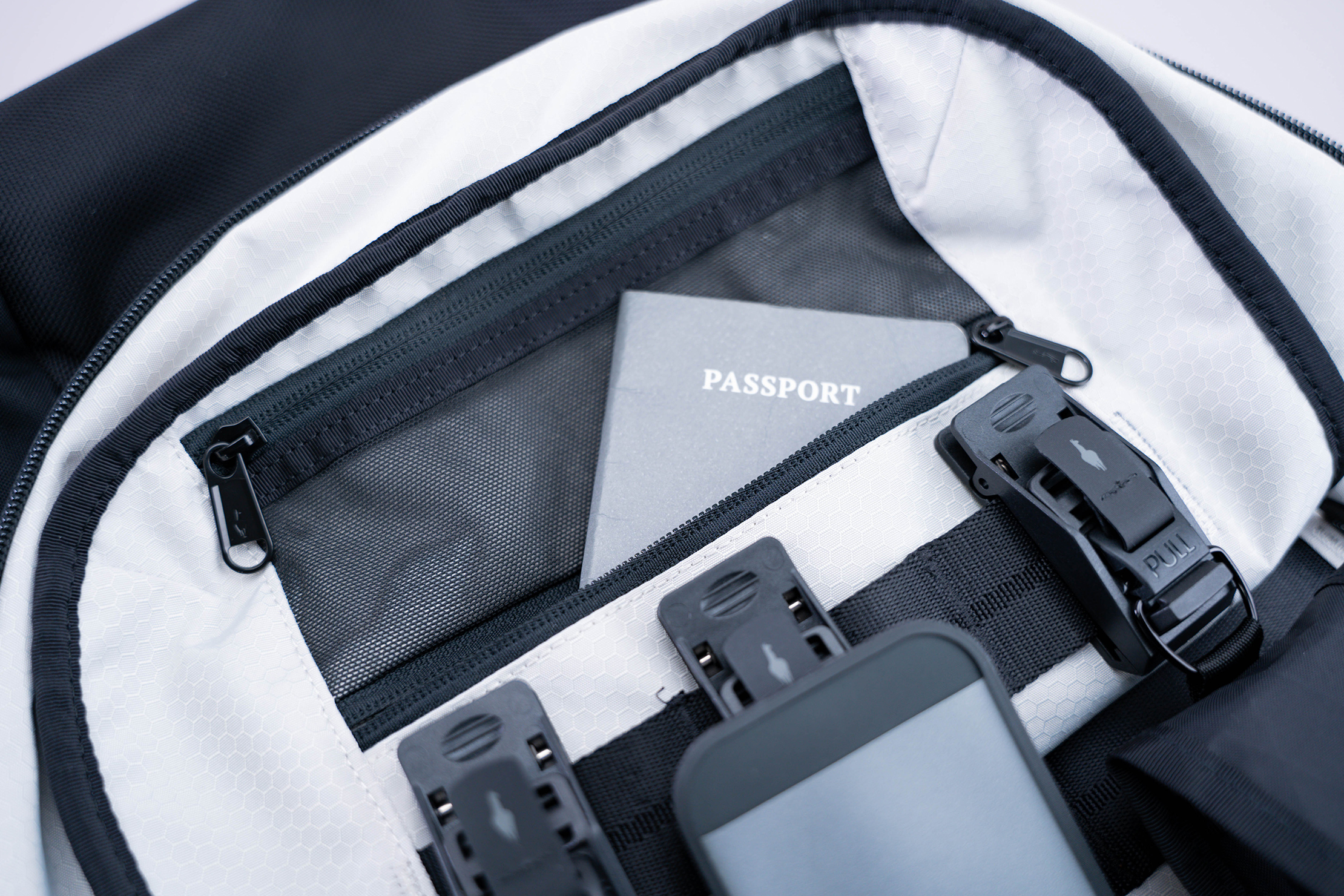 As for pockets, the main compartment has two just above the front side HUB loops. The topmost one is a small mesh pocket, suitable for small tech accessories like USB adapters and wireless earphone cases. Below that is a zippered pocket. It has the clearance to fit passports vertically, and there's enough room here for other travel documents like personal IDs and tickets. Anything bulkier than those could lead to bulges at the front, compounded if the front pocket's packed out as well.
The main compartment itself has ample space near the bottom for one or two packing cubes. The only issue is that HUB accessories mounted near the top do get in the way. Taking out a hoodie, for example, requires some maneuvering to get around what's attached. Loading up with HUB accessories also takes up considerable space along the top, further decreasing space for other items. This definitely isn't our first choice for a travel backpack (since it's not geared for that anyway). At the same time, even as an everyday backpack, it's still worth planning how and what to pack to maximize this slim backpack's 24-liter capacity.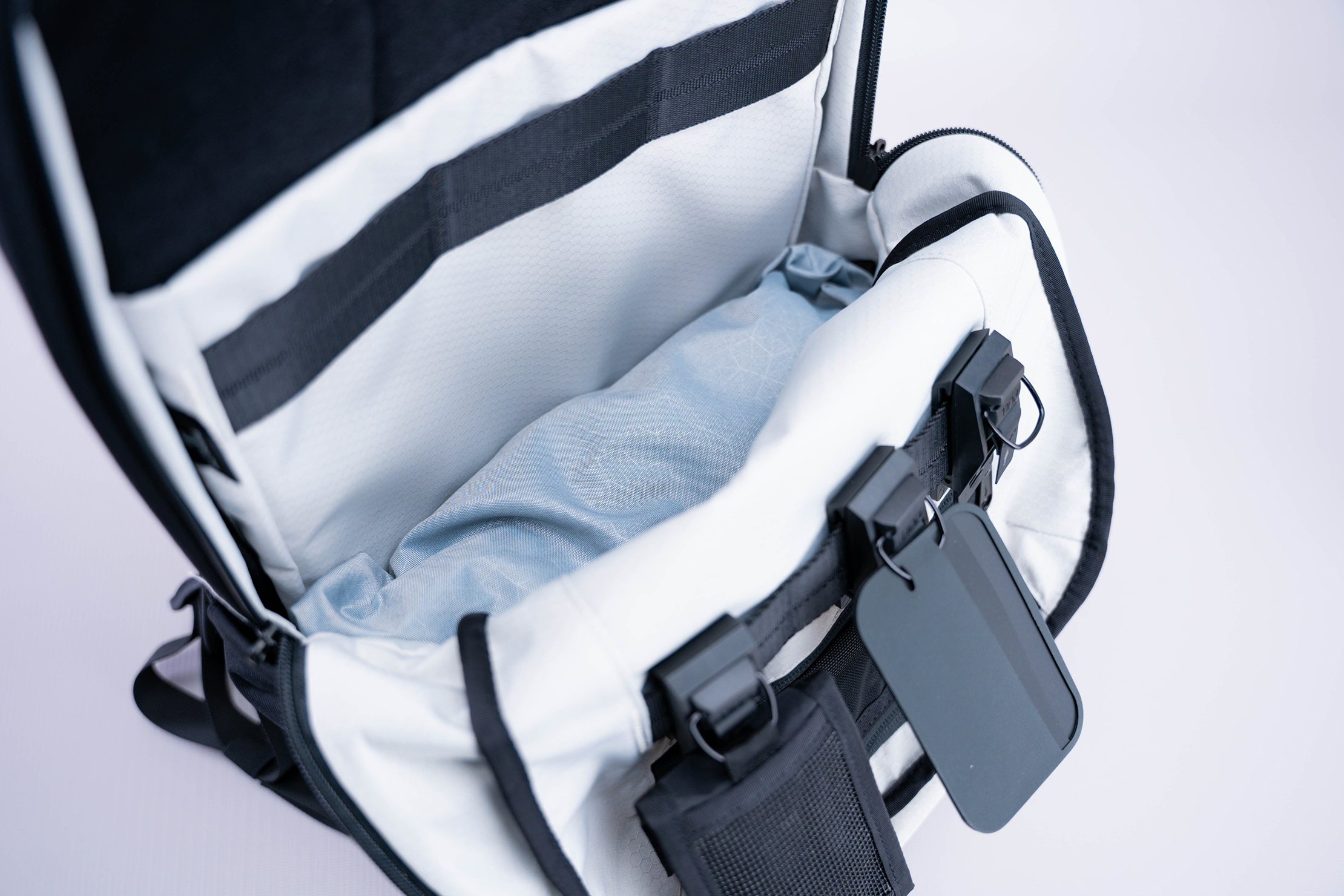 While packing cubes and clothes can be packed in with relative ease, a bulky item like a lunch box might not—we suggest carrying those externally. Alternatively, skip the lunch box altogether and put the food container directly inside. Mind you, while the Honeycomb Ripstop Nylon lining is durable, it's not waterproof.
Lastly, there's a built-in, soft-lined laptop sleeve towards the rear of the main compartment, fit for 16-inch laptops. We dig just how well-padded this sleeve is, both at the back and at the front. This means that even with an empty main compartment, there's still padding to absorb impact coming from the front side. No more relying on packing cubes and clothes to do that job—the backpack can do it competently on its own.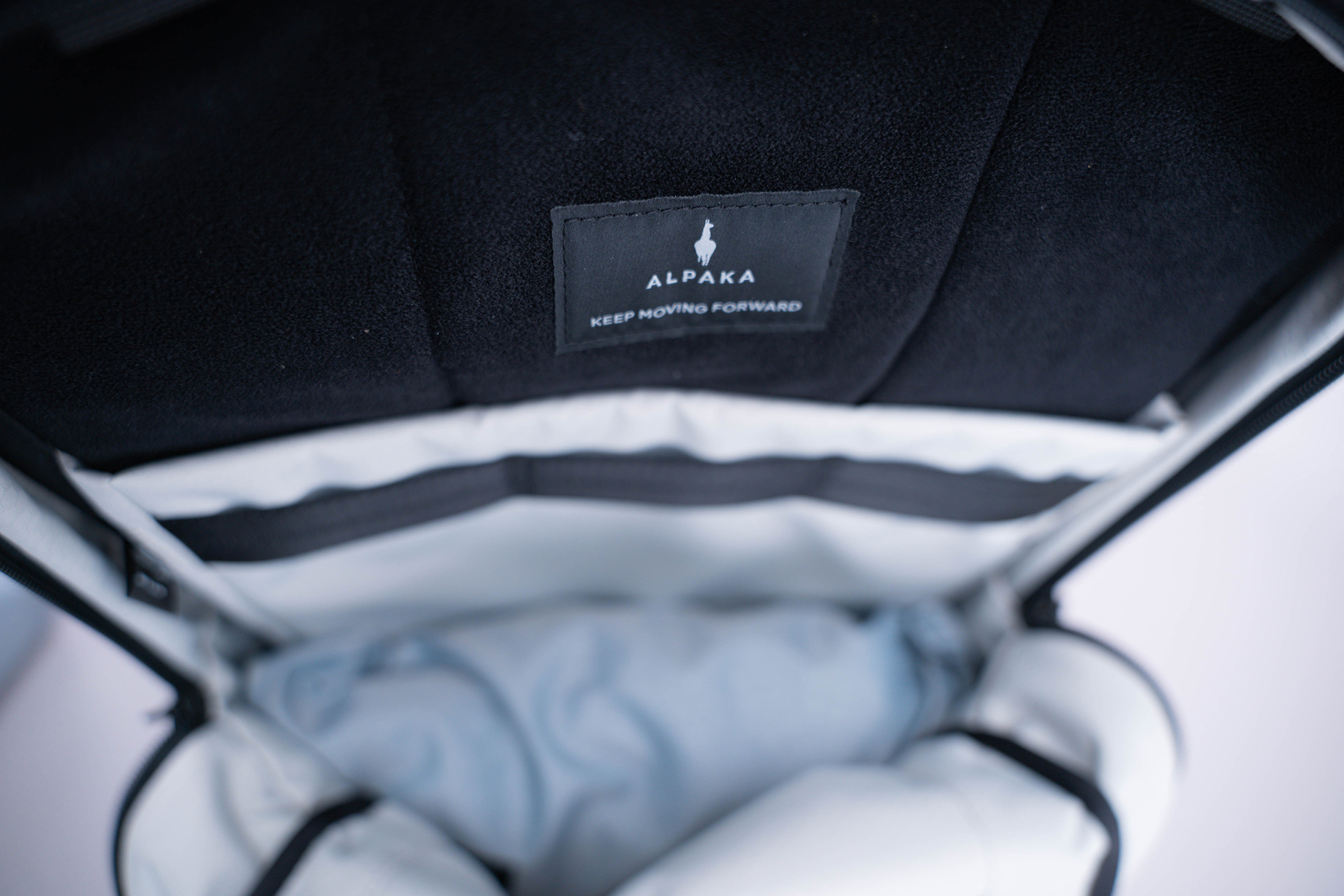 Despite the many features we've talked about, the Elements Backpack's simplicity still shines through. It's got a comfortable harness system, a slim profile that wears well, and enough capacity that make it great as an everyday backpack. Plus, if you want some of that magnet action, the HUB ecosystem is there as an option, albeit a pricey one. We're still a bit skeptical about the unbranded zippers and hardware, but given that they work well on our sample, using the Elements Backpack is overall enjoyable for us.
Usage Timeline
Initial Usage
Condition: Excellent
Shape and profile are on the tall side
Good structure, but doesn't stand on its own
Features the same honeycomb Nylon Ripstop liner found in the Elements Tech Case
2 Weeks of Use
Condition: Excellent
Bag's fabric can pick up lint
The shoulder straps have a funky, geometrical patterned padding that takes a bit to get used to
The HUB system is pretty great, but it can get expensive
Dig how slim the bag is, but it does limit packing capacity
Access the Pro Community Discussion
Get your questions about the ALPAKA Elements Backpack answered from our team and the Pro Community right here on the page. Plus, join discussions with other members about gear, guides, and more.
Other Bags & Luggage Reviews