ALPAKA Elements Tech Brief Review
The ALPAKA Elements Tech Brief is a minimalistic briefcase that combines comfortable carry options with all-out organization—and extra storage space to boot.
Our Verdict
Unlock the Pro Summary
Save time. Get access to brief summaries of our reviews so you can browse and make decisions more efficiently.
Pros
With the internal organization, all gear has a home
Enough space for a laptop, tablet, and e-reader all at once
Materials are durable and water resistant
Cons
Items can bulge from hidden pocket and be uncomfortable
Gatekeeper clips are hard to manipulate
Unbranded zippers raise concern for long-term use
Recent Pack Hacker Video
Technical Details
Capacity

5.5l

Initial measurements taken from ALPAKA website

Weight (oz)

33.5 oz (949.7 g)

(Ballistic Nylon 840D), 31.7 oz (X-Pac VX42) - 14" version | 37 oz (Ballistic Nylon 840D), 34.6 oz (X-Pac VX42) - 16" version | 7 oz - shoulder strap

Denier

840D

Ballistic Nylon | 420D - X-Pac VX42

Dimensions

11.42 in x 15.75 in x 2.75 in (29 x 40 x 7 cm)

16" version | 10.24 in x 15.75 in x 2.75 in - 14" version

Notable Materials

Ballistic Nylon, X-Pac, Ripstop Nylon

Manufacturing Country

China

Laptop Compartment Size

16"

16" version | 14" - 14" version

Warranty Information
Full Review
Get up to 15% off ALPAKA • Join Pack Hacker Pro
At first look, the ALPAKA Elements Tech Brief is pretty massive for a laptop case, though a bit unassuming as a briefcase. On the one hand, we dig small, versatile gear, but we also want to ensure we have enough space for everything we need on trips that require access to the internet. Is this brief the best of both worlds, or will it miss the mark on both accounts? Let's find out.
Materials & Aesthetic
You've got two materials to choose from on the Tech Brief, both of which are durable and look professional. Your first option, which we have on hand, is 840D Ballistic Nylon. It has a nice texture, is a little rough to the touch, but offers extreme durability and water resistance. The other option is VX42 X-Pac, which looks equally as nice and will be lighter than the ballistic nylon option.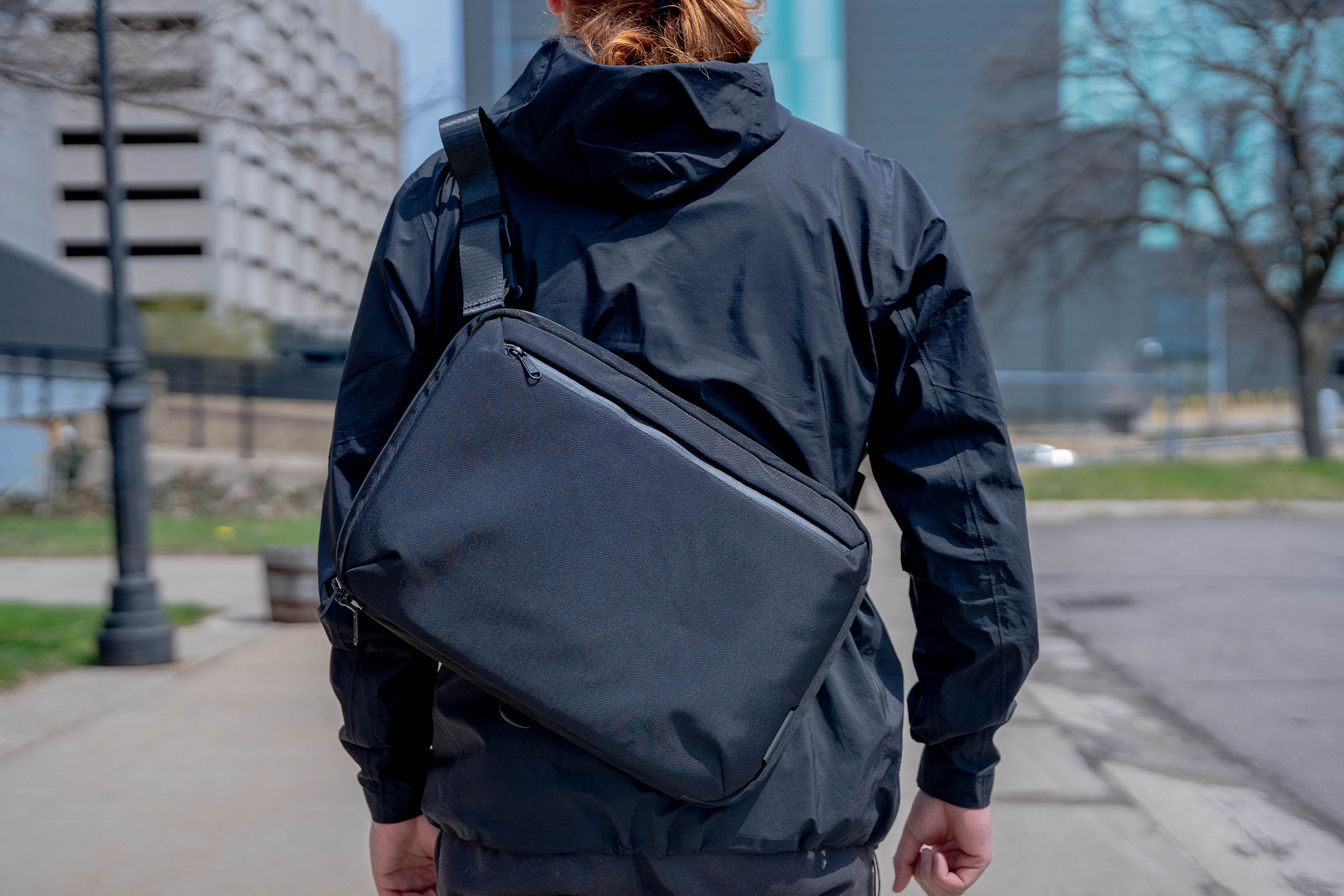 Depending on how you view colorway choices, you'll love or hate the options available on the ALPAKA Elements Tech Brief. The nylon material comes in black, and…just black. However, the X-Pac version also comes in black, and, well…just black, too. We probably should have started by saying that if you're a fan of all-black gear, you'll be happy, but what fun would that have been?
The ballistic nylon model we have on hand has been able to cope with Michigan's spring weather without issue. For the uninitiated, springtime in the mitten (how we affectionately refer to our state, as it's shaped like a hand) means rain, snow, sleet, ice, sunshine, and everything else imaginable. At no point did we notice water seeping through the materials or leaking into the main compartment, partly due to the use of water resistance zipper tracks on the exterior.

The zippers are unbranded, but we've had no issues with them in our usage. The zipper track looks very similar to what we have seen from YKK AquaGuards, but as we said, these are unbranded. The zipper pulls are basic metal tabs with the ALPAKA logo imprinted on them. It's a little silly looking, but you won't notice unless you're staring right at them, and it will put a smile on your face the first time you see it. Unless you're deathly afraid of Alpakas because you went to a petting zoo as a child and were spit on by one, but in that case, this might be the right step into forgiveness.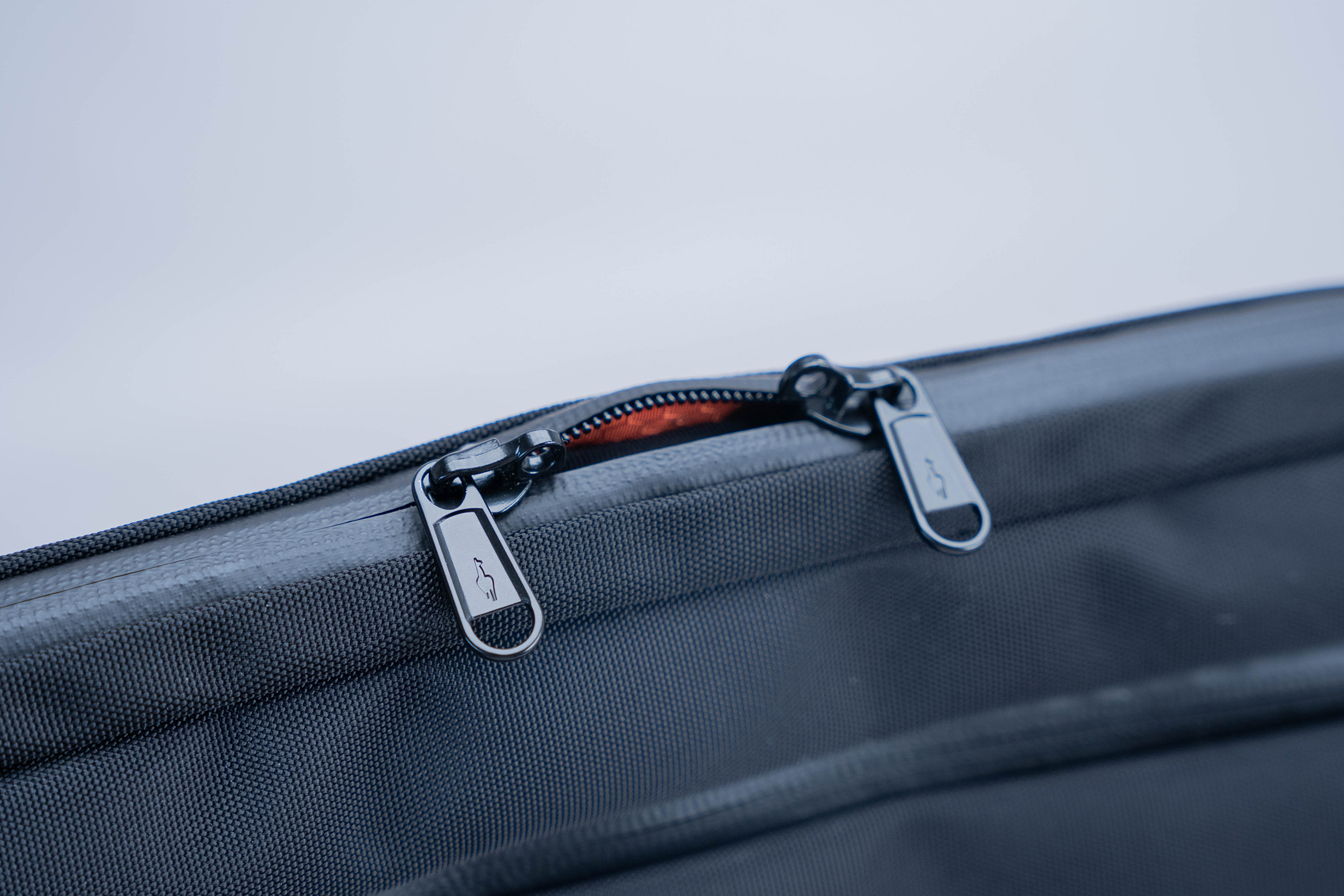 The only exterior zipper that isn't a water-resistant model is on the hidden pocket on the back panel. It's almost completely covered by fabric, though, and we've had no issue with water making its way inside that compartment.
This is probably as good a time as any to let you know that this pack comes in two different sizes, one for 14-inch and one for 16-inch laptops. We have both the 16 and 14-inch models on hand, and they're identical apart from the features on the 14 being a bit smaller than its older brother. ALPAKA's site even uses the same product images for both, which showcases the similarities. We might add that the pockets on the 14-inch may be a bit smaller, as there isn't as much space to work with.
The hard plastic adjusters on the strap and D ring on the bottom of the back panel are mostly unbranded, but a few have KAM imprinted on them, and others have ALPAKA branding. Brand recognition aside, these all operate as they should, and we haven't hit any bumps in the road in terms of adjusting them.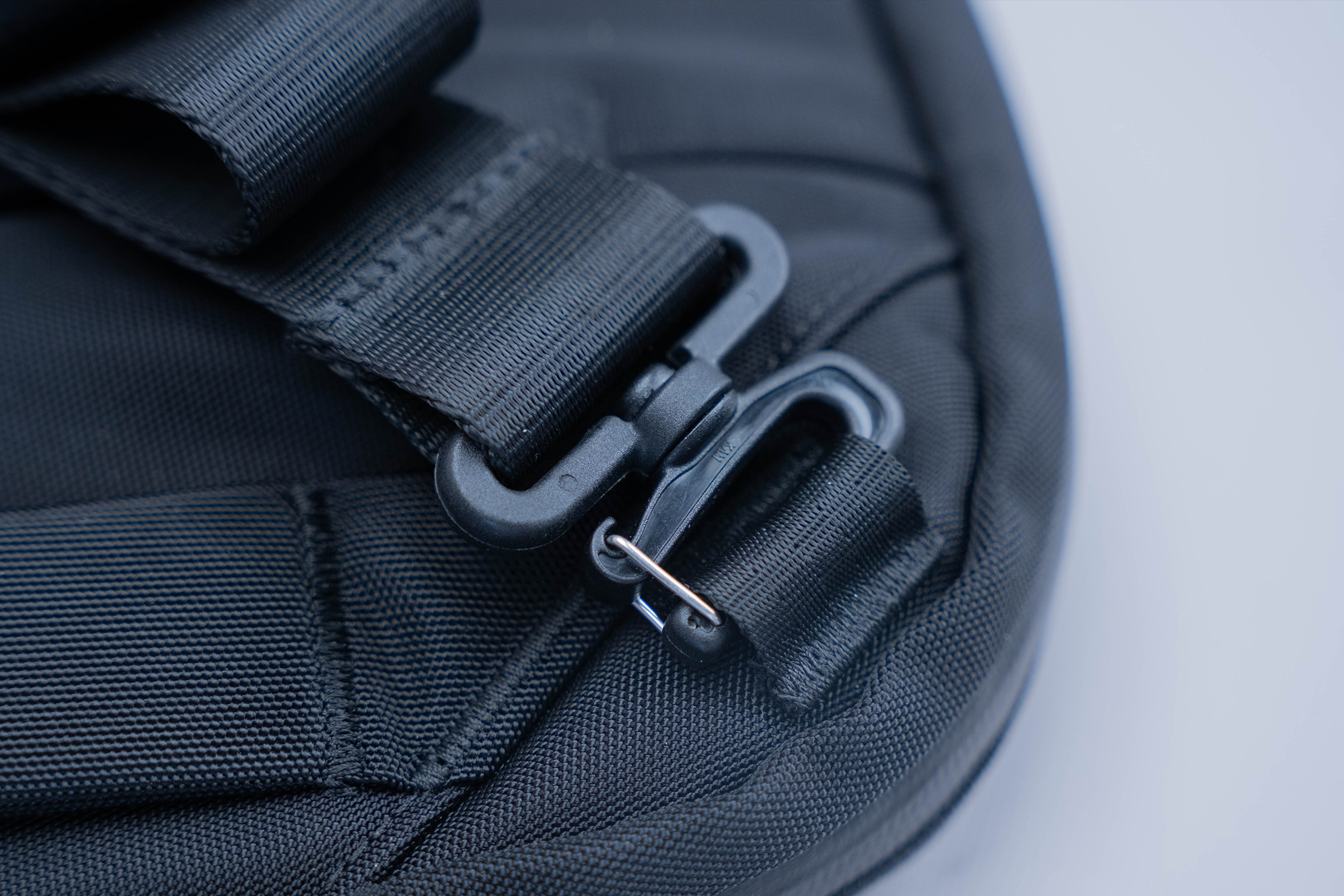 The strap attaches using a gatekeeper clip which is a minor inconvenience. Don't get it twisted; it stays locked in place wonderfully but adjusting it is difficult. This is especially true if you have larger hands or struggle with small pieces, as the latch is quite small. We will dive into why that's an issue later on; we just cracked open the can here to make you sweat a little.
The fastener on the strap is a Maglockz clasp, which is very similar to a sliding Fidlock fastener. It feels easier to use than some magnetic clasps we have used in the past, almost like it slides a little easier, and the magnet catches quicker. The plastic doesn't feel as durable, but it has held up so far in testing.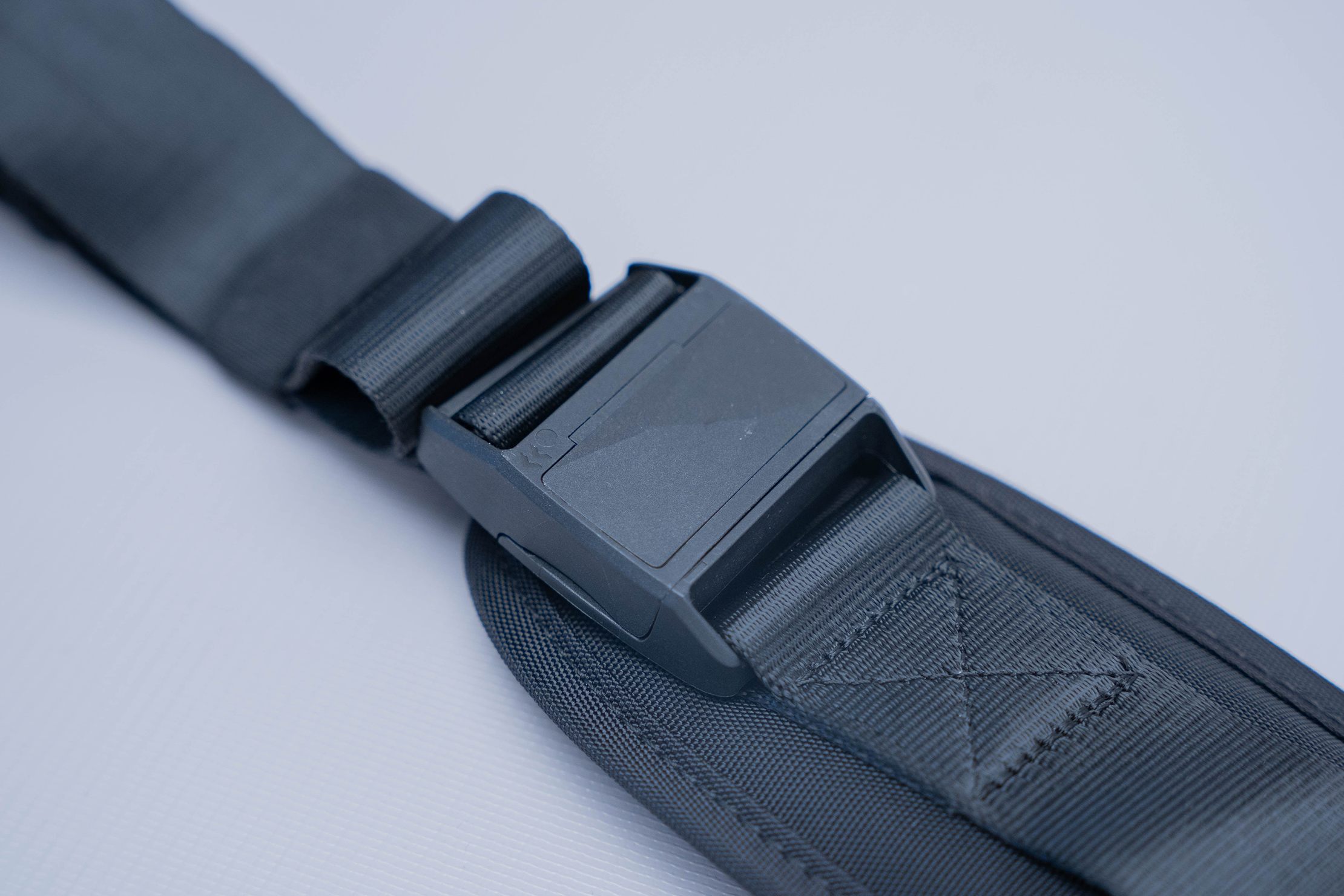 Typically we'd wait to head inside the pack, but we wanted to quickly mention the interior fabric. It's, as ALPAKA describes it, a blood orange honeycomb lining. The color is nice to look at, and the honeycomb design is somewhat shiny, which adds a nice texture. This makes it extremely easy to find your gear, unless all your gear has an orange honeycomb pattern, too. All jokes aside, we like the look of the interior. Like the gatekeeper clip, you're going to have to wait a little while to find out more!
External Components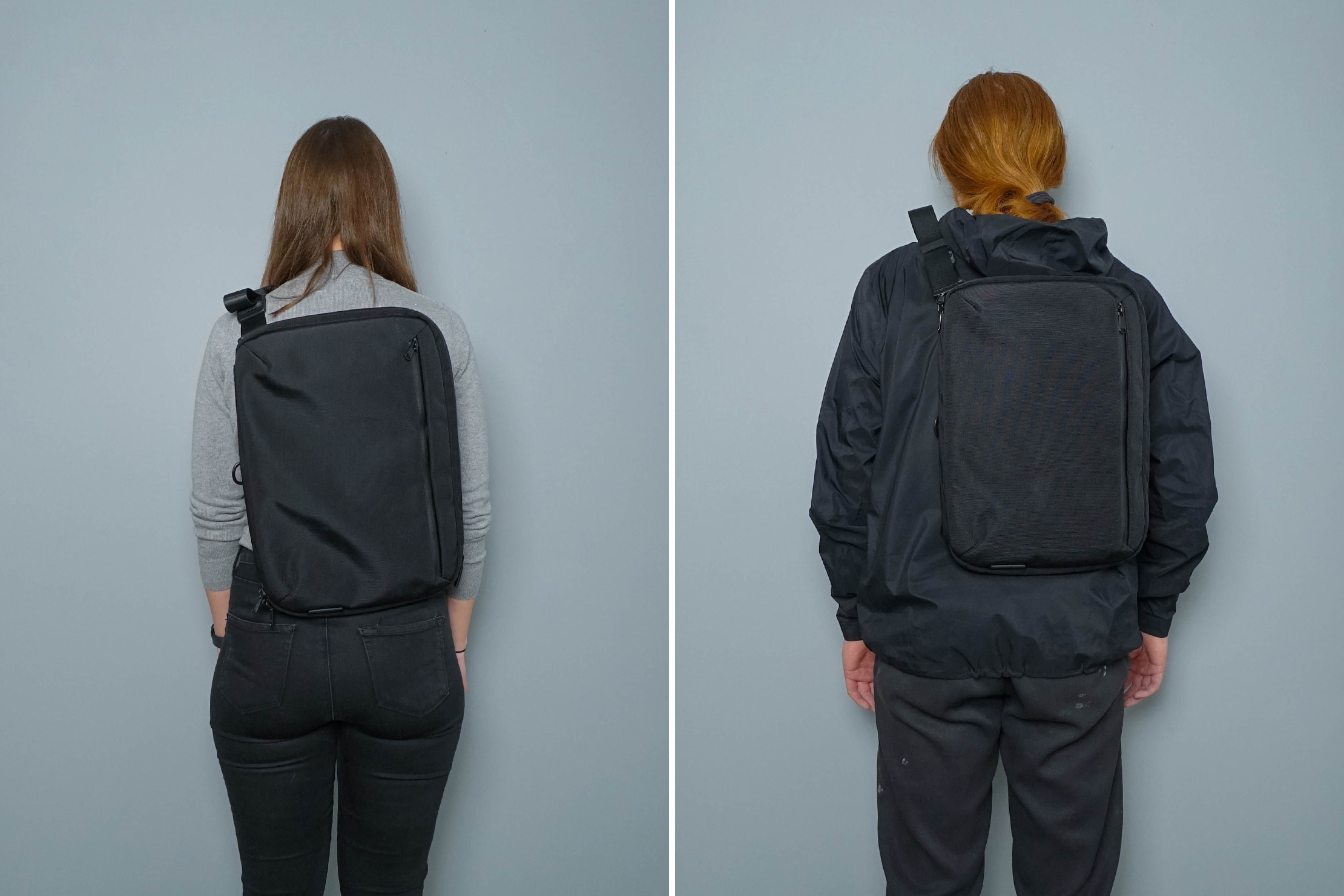 The strap has ample padding and is quite comfortable. It almost looks like a topographic map, with mountains and valleys of padding along the way. This creates natural air pockets, which helps with air flow. There isn't any mesh or standard aeration, but the material is lightweight. It gets a bit warm on warmer days but no more than other packs we have tested in the past. We feel that it's quite a bit more comfortable than the NOMATIC Tech Case's strap, which is still by no means uncomfortable.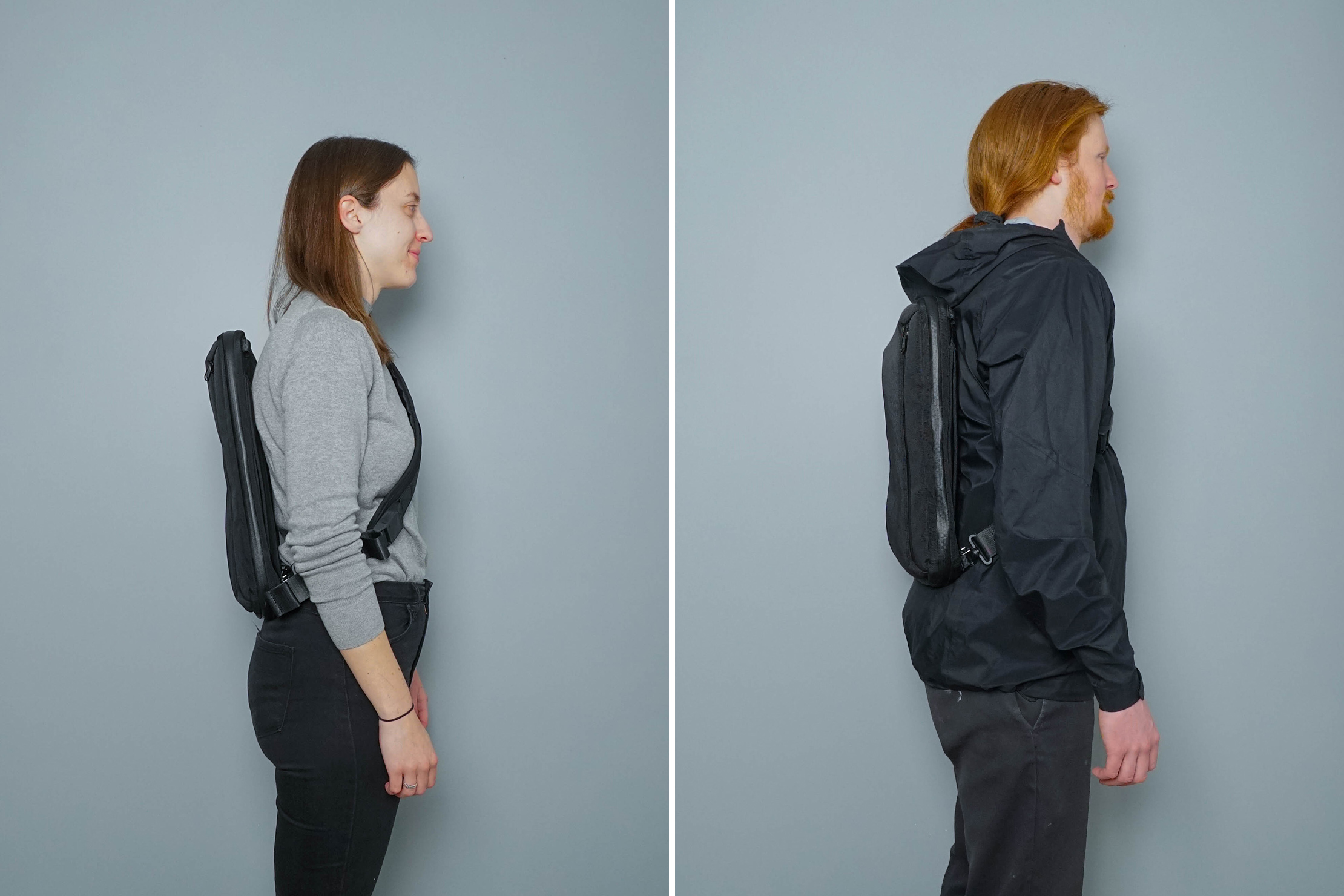 There are strapper keepers on both sides, which is ideal because there is a lot of leftover strap—depending on how you wear it, of course.
As we mentioned earlier, the strap connects with a gatekeeper clip. There are four attachment points that enable the pack to be worn in different ways. If you put one end of the strap on the top left and the other on the top right, you can wear the brief as a shoulder strap or a messenger bag. Both ways are comfortable but can be awkward once you start moving quickly. For a faster-paced adventure, place the straps diagonally from one another. This enables you to wear it almost like a single-shoulder-strap backpack. It's pretty comfortable this way, no matter how quickly you are heading to the cafe (or, let's be realistic, the bathroom).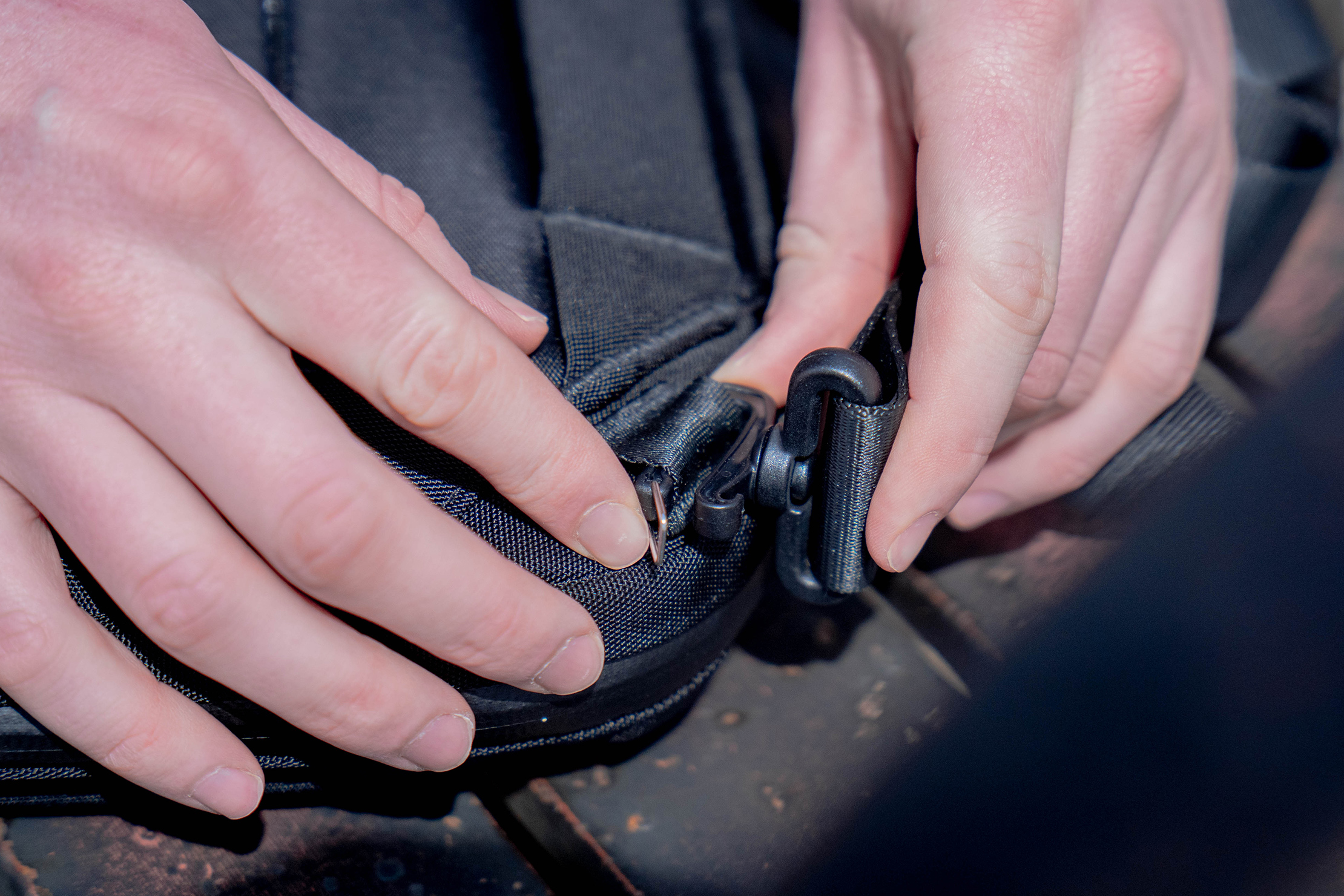 If you plan to switch from shoulder to back mode frequently, the clips are annoying. They do get easier with time and practice, but even so, it can be painful for your hands to pinch the clip. If you aren't moving the strap around a ton, this isn't an issue, and it works super well.
The back of the strap has a line of attachment loops. The loops are quite wide, which makes fixing smaller things onto it hard, but larger clips and carabiners handle it just fine. We're able to use a Nite Ize S-Biner fairly easily here. The material is very durable, so heavier items can be hung here too. Depending on how you're wearing the brief, the items may be on your chest, which is great for quick access. At other times they're on top of your shoulder or on your back, which isn't all that ideal.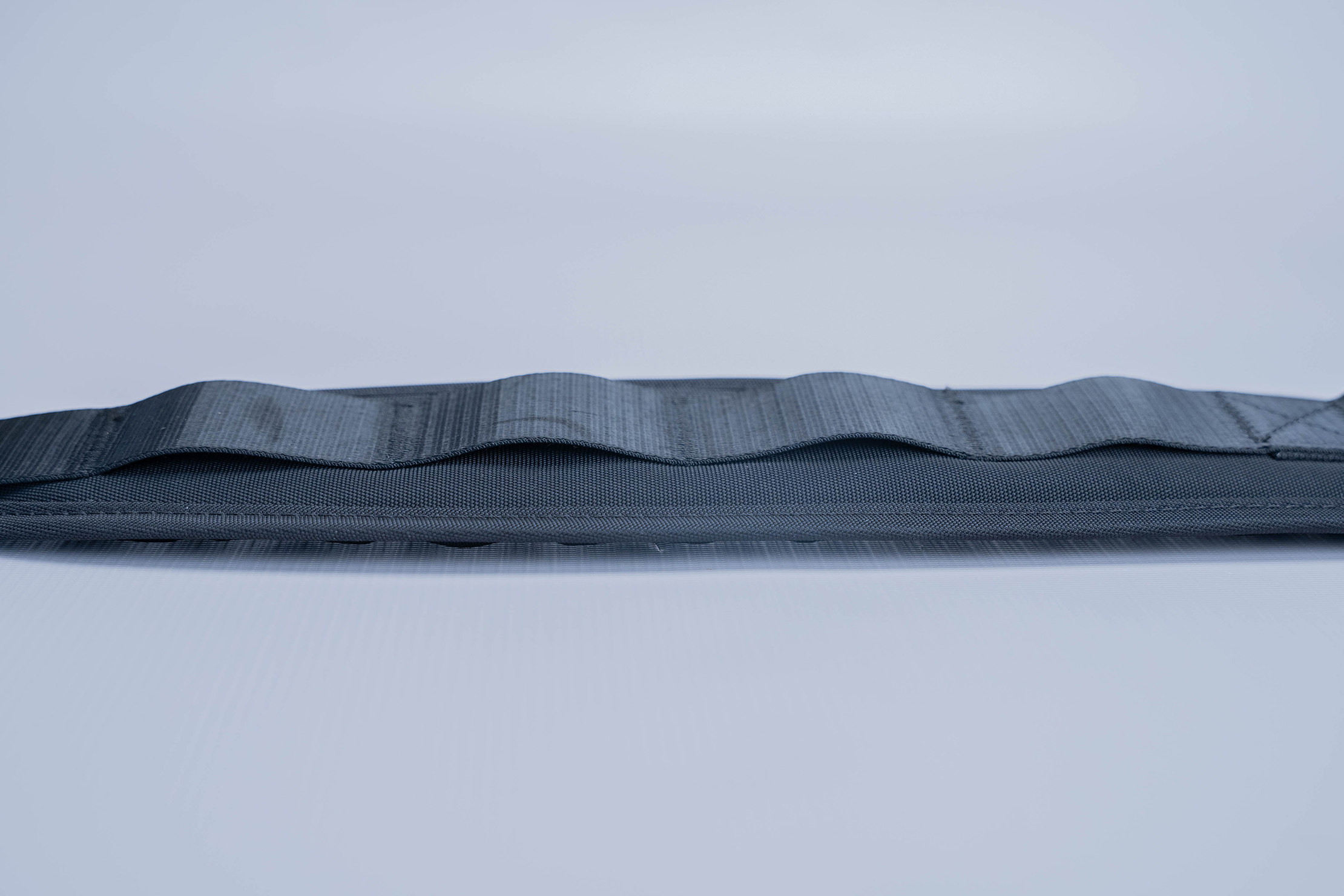 There's a handle on the top of the back panel, which we think is a great include. It operates as a luggage pass-through as well, which is great for when you have rolling luggage. It's constructed from a rigid plastic piece wrapped in the pack material. It's not comfortable to hang onto for extended periods, but its ample size is a nice switch up from the smaller handles we often see. There's a lot to grab onto while you're holding it in public transit, while heading through airport security, or when your shoulder gets tired after a long day of exploring.
Inside The Pack
Jumping inside the brief, we'll start by going over the hidden pocket on the back panel. It's quite large for a hidden pocket and can be used for more than just hiding your passport or travel documents. A regular-sized iPad, eReader, or small book does well here, but larger, more oblong-shaped items will protrude into the back panel and poke you while you're wearing it.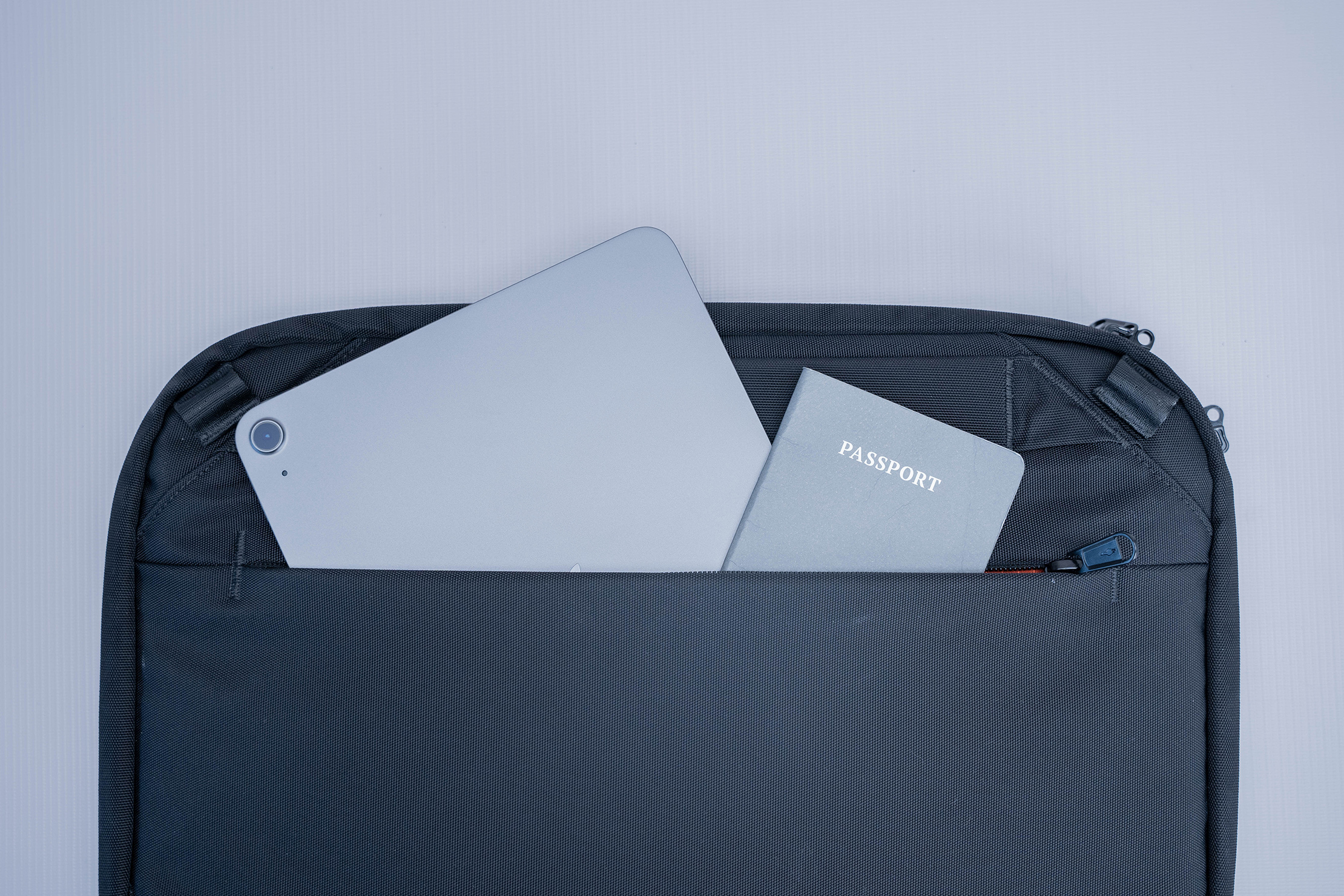 The front pocket is equally useful, with even more room to play with. It takes up most of the front face of the brief, so there's a ton of space for gear. There isn't much wiggle room as the shell is relatively rigid, but wider items still fit reasonably well, especially when compared to the hidden pocket we just went over. We dig the two elastic pockets inside, as they arent' super tight but are large enough to fit a Kindle, phone, wallet, or similar sized item.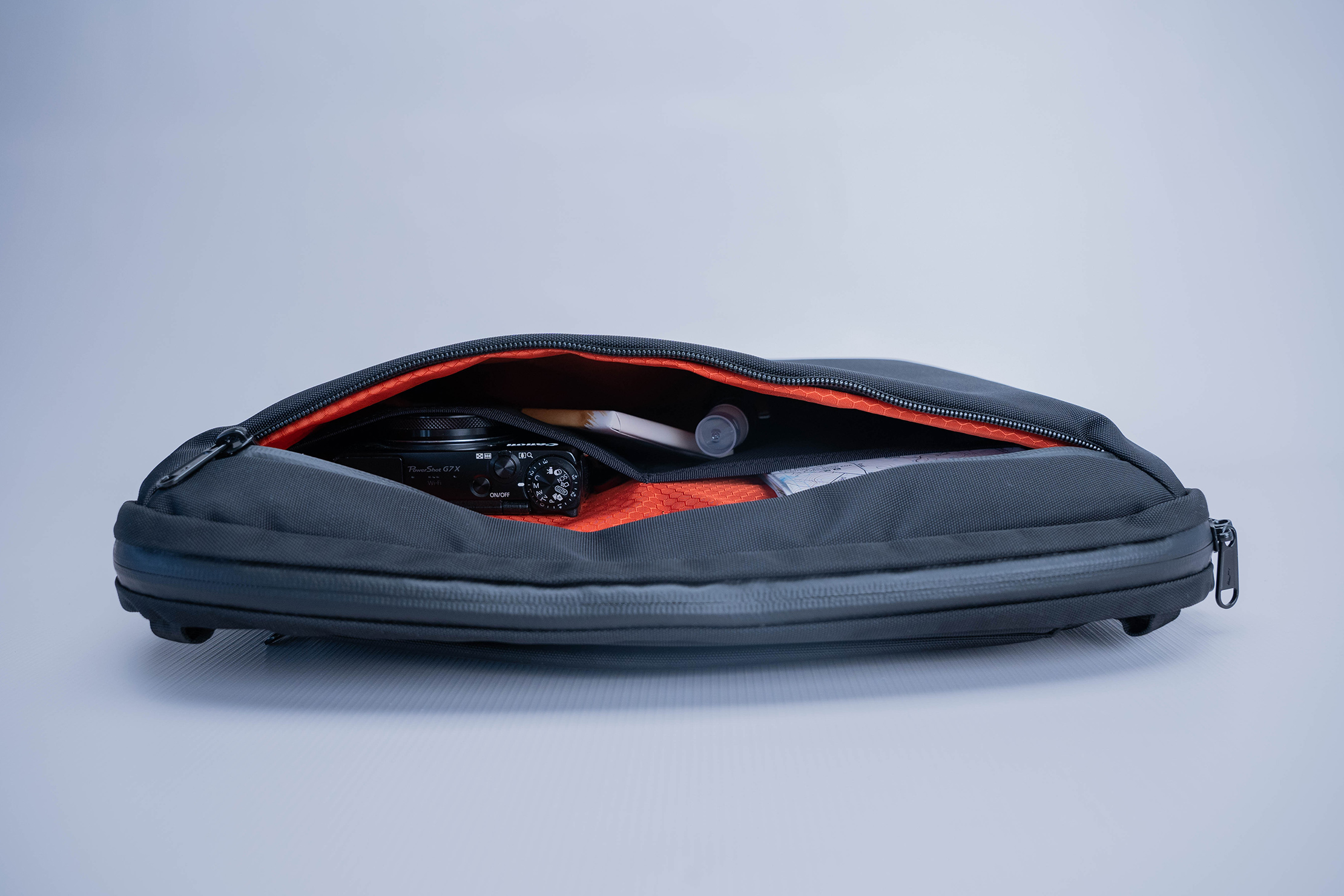 Oddly enough, we put extra clothes inside this pocket a few times, which fit nicely, and we could access them quickly once we got to work. As far as travel is concerned, you could stow a few outfits in here so that you can change during the day to make your 4-hour layover in Paris look like a week-long trip, or more practically, keep an extra pair of socks and leggings if your feet and legs get cold throughout the day. It's nice to not have to bring a full daypack with you, especially if you're trying to keep things more lowkey.
The main compartment is where most of the action is, and by action, we mean organization (and fun). For the sake of ensuring you follow our description, we will start on the laptop compartment side of the brief and move outwards.
The laptop compartment area has a different fabric than the rest of the orange-clad interior. It's black, and the best way we have been able to describe it is as reminiscent of the material on the back of the headrests on a 2002 Saturn automobile. It isn't super soft, but it isn't all that rough, either. It adds a layer of protection to an already padded laptop area, and placing your laptop here feels safe.

Just inward from the laptop sleeve is another sleeve for a tablet or device. It doesn't have as much padding as the laptop area but has enough to protect a tablet or eReader. A piece of fabric is attached just above the laptop area and connects below the second sleeve we just mentioned to secure them with a hook and loop fastener. It isn't terribly snug, but it keeps things in place if the journey goes offroad.
After the laptop and tablet area, we're into what we'll call, for lack of a better term, the main area. It's divided into two sections by a divider with organization on both sides. The divider doesn't go all the way to the bottom of the compartment, so things can slide from one side to the other or be stored on the bottom of the compartment if they're short enough.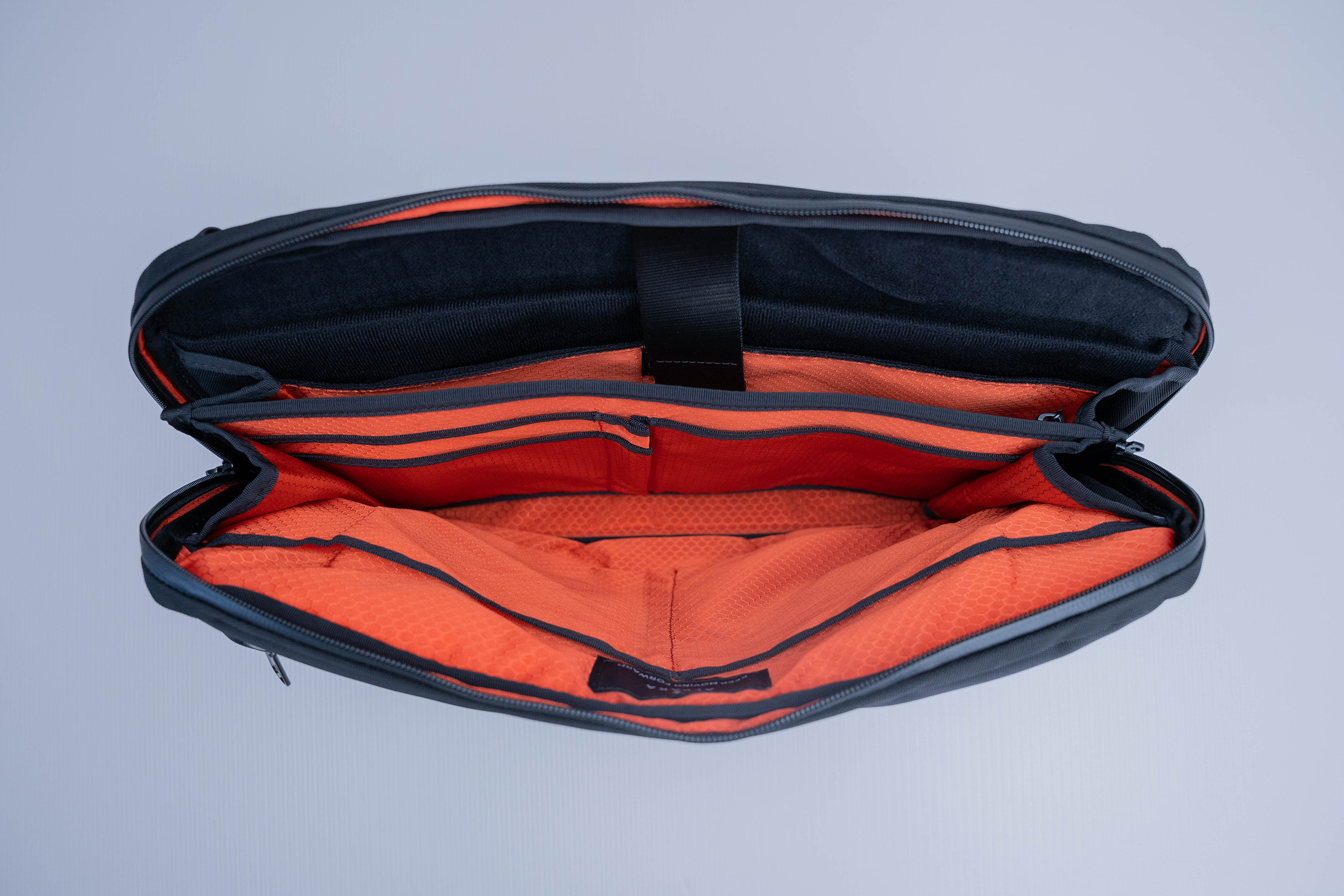 The first side of the divider has a zippered pocket. It's the only thing inside the brief with a top that secures, which is great for small items like dongles, memory cards, batteries, or a flashlight like the NITECORE TINI 2. You can lock these items down here so they can't bounce around, which isn't the case for any other interior compartment.
On the other side of the divider are three liner pockets and a pen or stylus slider. There isn't a ton of depth to these pockets, but you can easily fit a mouse, wallet, or USB hub.
There's ample size on both sides of the divider, so you can fit items like a keyboard or other computer accessories and other daily use items. We're able to stuff a few pieces of clothing inside here and even a lunch. We can't fit our lunch box inside, but we can fit our lunch without the box.
On the opposite side of the laptop area are two large liner pockets. These pockets are super deep and are an excellent catch-all for items you don't want wandering the main compartment alone but don't feel are important enough for one of the smaller or the zippered pocket.

Overall, the main takeaway from the ALPAKA Elements Tech Brief is that everything has a home here. You don't need to bring a tech pouch because everything you have has a place. In addition to your tech gear, you can stow a few daily-use items, too. A packable jacket, extra socks, snacks, and souvenirs you pick up along the way fit inside the main compartment, front pocket, and hidden pocket. It is a tremendous carry-on item, especially if you have a checked bag for the bulk of your stuff.
TLDR; It fits a lot of gear.
Usage Timeline
Initial Usage
Condition: Excellent
Scales up the accordion-style organization found in the Elements Tech Case
The main opening expands really widely thanks to the gussets
Its ability to stand requires some balancing of what's packed inside
2 Weeks of Use
Condition: Excellent
Exterior is extremely easy to clean
Ballistic Nylon hasn't scuffed or frayed
Zippers keep water out and remain smooth
Access the Pro Community Discussion
Get your questions about the ALPAKA Elements Tech Brief answered from our team and the Pro Community right here on the page. Plus, join discussions with other members about gear, guides, and more.
Other Bags & Luggage Reviews