Boundary Supply Rennen Recycled Daypack Review
The Boundary Supply Rennen Recycled Daypack has clean looks, eco-friendly materials, and great organization—held back only by its soft structure in front.
Our Verdict
Unlock the Pro Summary
Save time. Get access to brief summaries of our reviews so you can browse and make decisions more efficiently.
Pros
Mostly comprised of recycled materials
Thoughtful organization that works most of the time
Back panel and shoulder straps are generously meshed
Cons
Lack of structure can hinder organization
Water bottle pocket could use an elastic or strap for better grip
Front pocket can be slow to access due to the magnetic flap
Recent Pack Hacker Video
Technical Details
Capacity

22l

Weight (lb)

1.9 lb (0.9 kg)

Denier

600D

Dimensions

19 in x 11 in x 6 in (48.3 x 27.9 x 15.2 cm)

Notable Materials

YKK Zippers, Duraflex Hardware, CORDURA Eco Fabric

Manufacturing Country

Indonesia

Laptop Compartment Size

15"

Warranty Information
Full Review
Boundary Supply isn't coy with what they've created—the Rennen Recycled Daypack. The name says it all: it's a daypack made from recycled materials. If you ever run out of things to talk about with your friends, be that random-fact-person and tell them that your bag is made from 42 recycled plastic bottles. That, or simply fiddle around with the satisfying magnets on the front pocket to pass the time.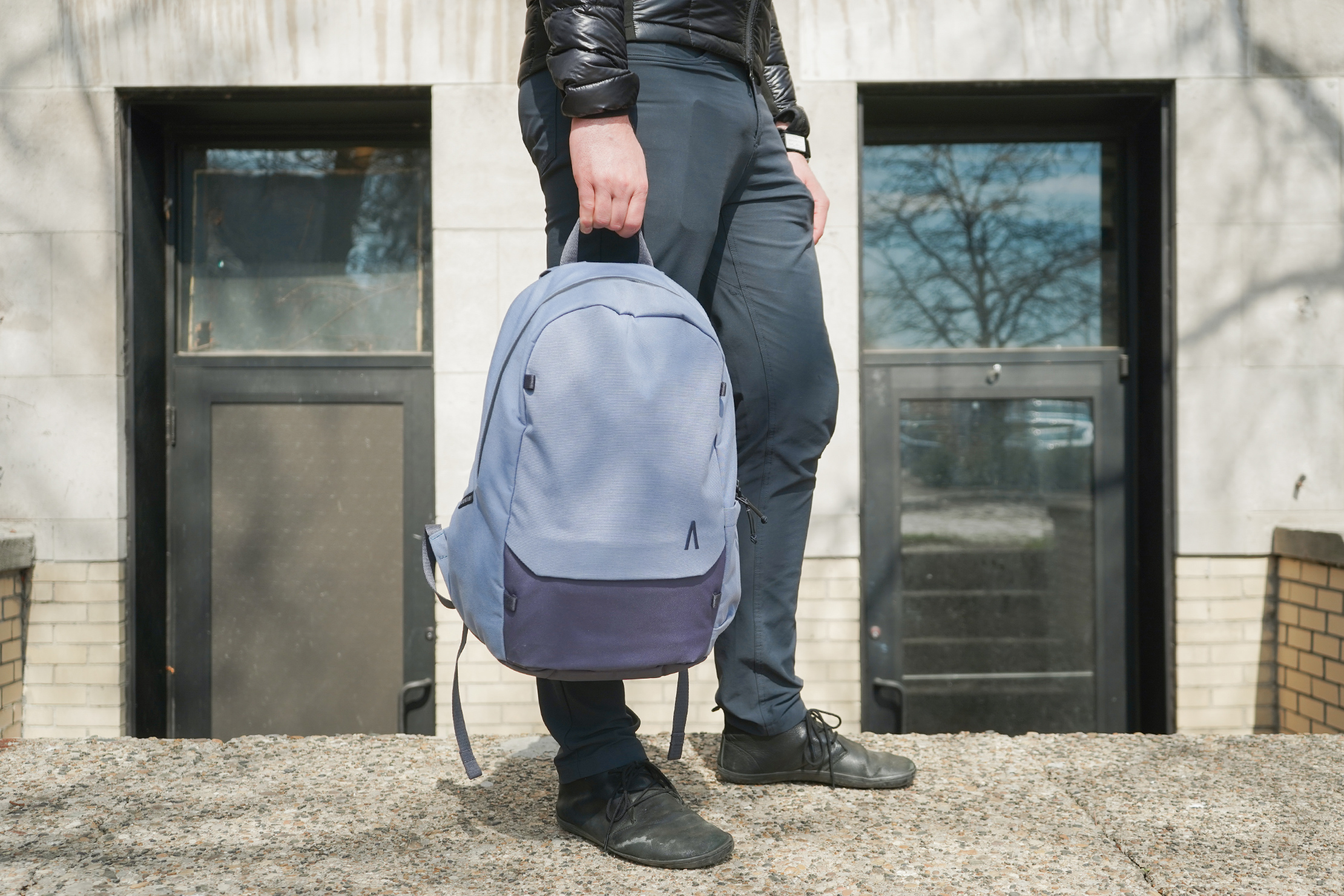 Either way, this daypack was definitely interesting to test out with its subtle quirks and features. Some of which include magnets, pockets, and magnetic pockets. Don't worry; that last one will make more sense once we get into it, so let's dive in.
Materials & Aesthetic
The Rennen Recycled Daypack has a sharp, clean look that's sure to turn a few heads, thanks to this blue-on-light blue colorway. Boundary Supply has done a good job of matching two different shades of blue that catch the eye, but not in a way that's not too in-your-face. The logo itself blends really well into the aesthetic: a simple, stitched chevron at the front that forgoes any text. If blue's not your thing, there's also a brown-on-light brown option, plus an equally sharp yet discreet-looking black-on-darker black option.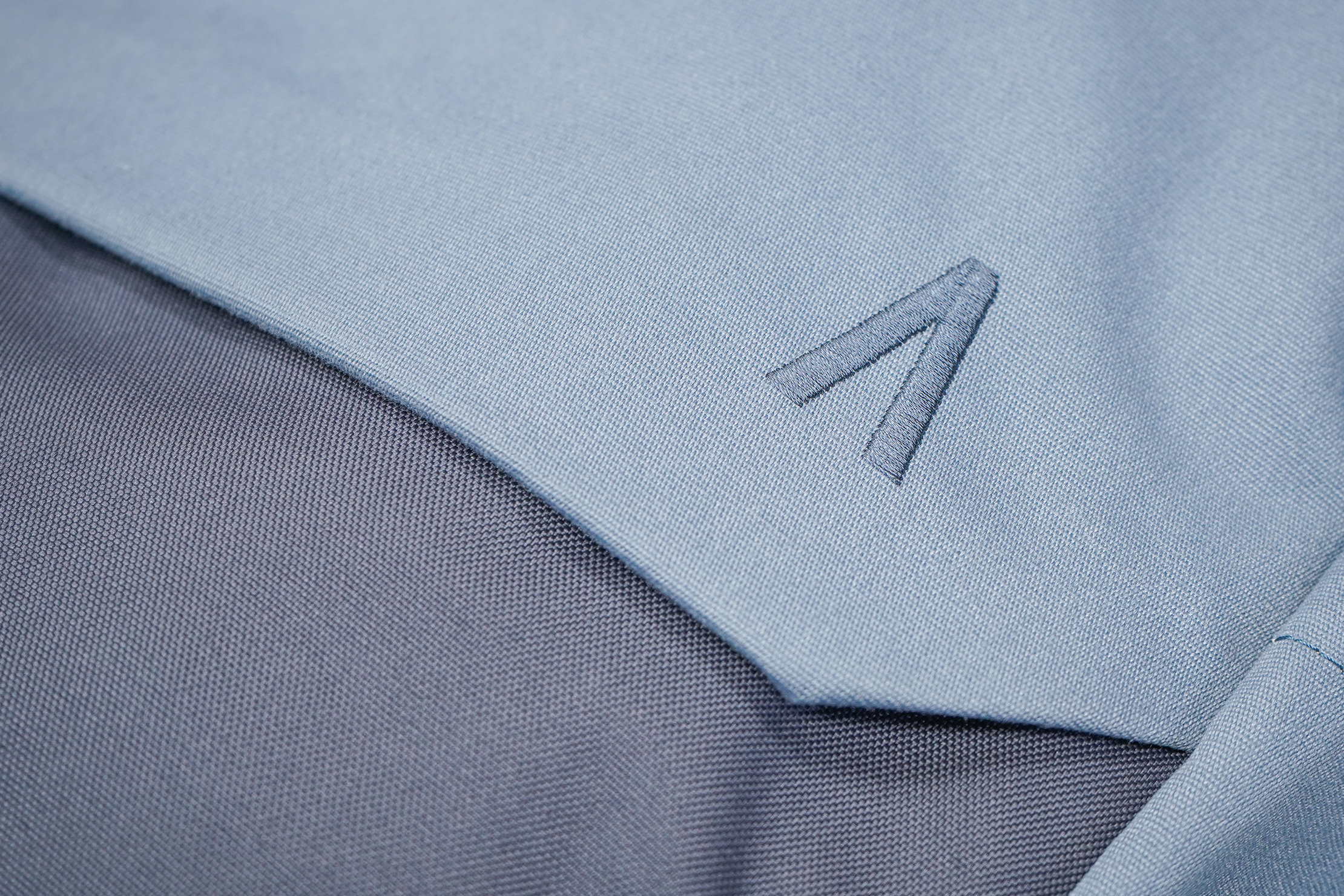 It's all very minimalist, but there's arguably a more important aspect to the design as the name suggests—it's made from recycled materials. Yes, under the pretty styling you'll find eco-friendly goodness. We dig it when companies find a way to make something kinder to the environment without compromising looks or durability.
The main material is a 600D CORDURA Eco Fabric, and Boundary Supply specifies that it incorporates 42 recycled plastic bottles. The fabric is as tough as you'd expect of CORDURA nylon, and it emerged from our testing without any damage worth noting. That said, the Rennen Recycled Daypack does feel a little unstructured at the front, which did cause some inconvenience, as you'll see later on.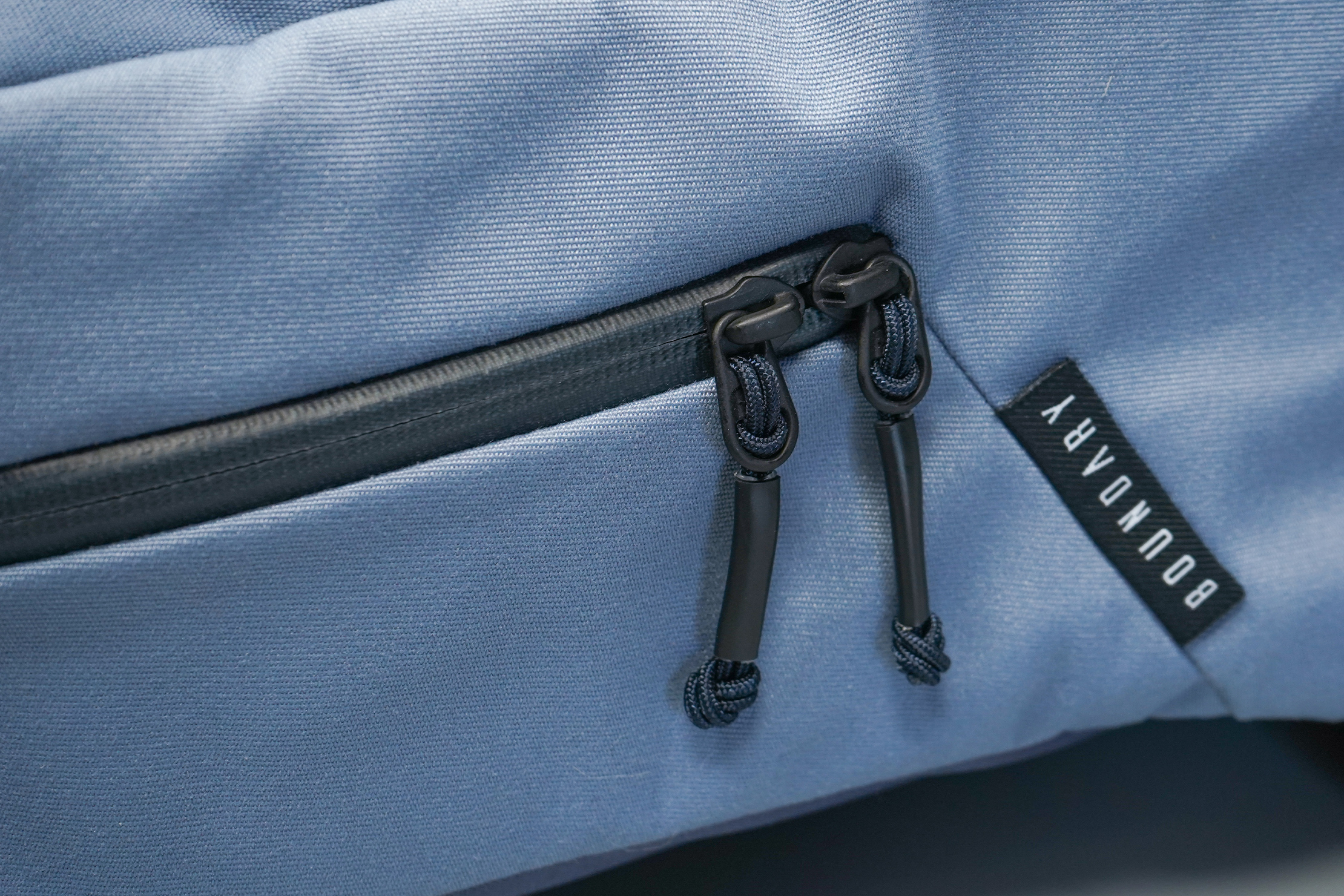 Also present are YKK Zippers, Duraflex hardware, magnets, and aluminum—all of which are Bluesign-certified and add to the premium vibe the Rennen has going on. Functionally, the bag's hardware responds with gusto: the zippers glide along the elements nicely—as do the aluminum strap adjusters—and the magnets snapped on and off with satisfying tactility.
External Components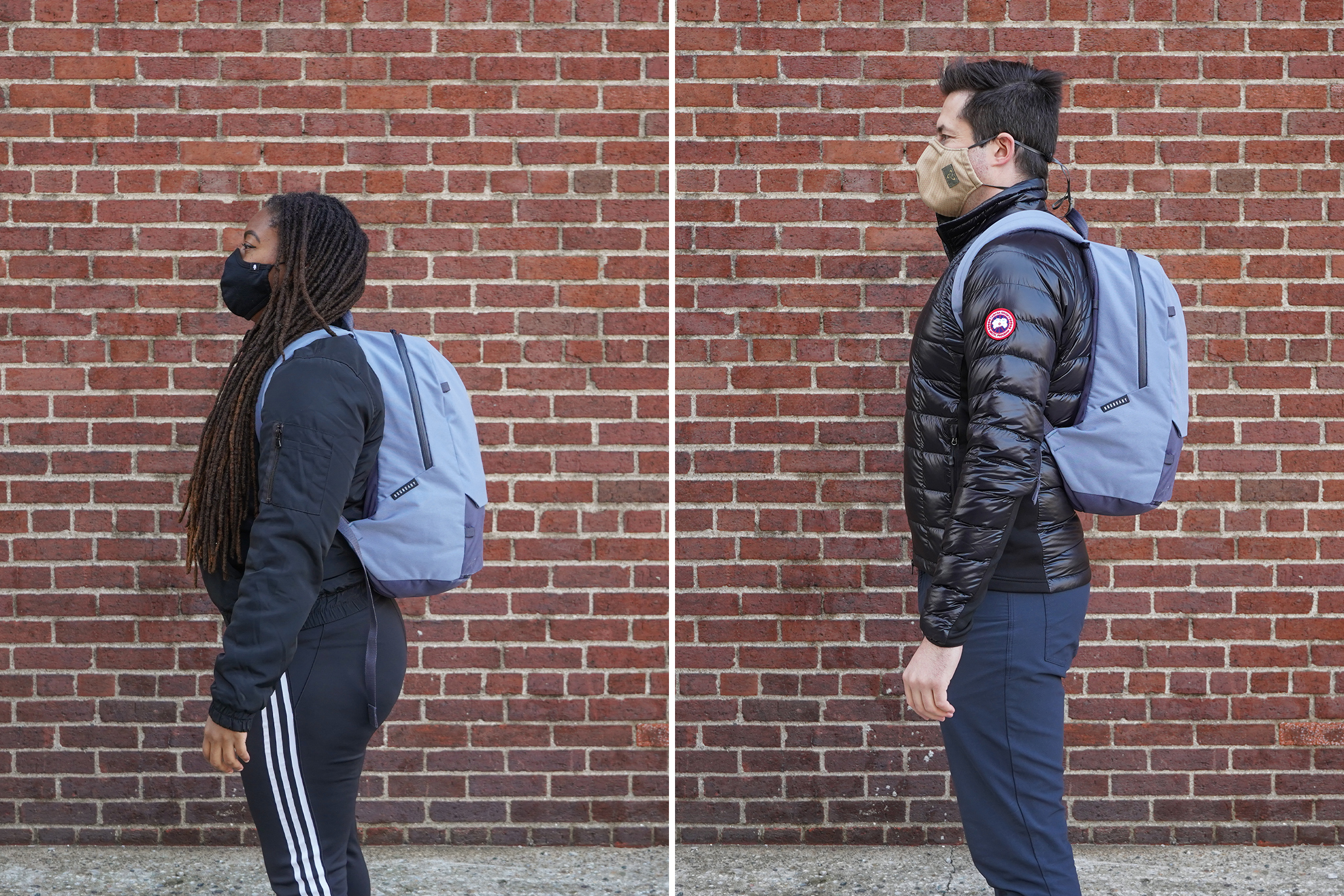 The harness system on the Rennen Recycled Daypack also looks and blends well with the styling. The shoulder straps are topped with the same CORDURA nylon the main body uses, and they're shaped to match the clean profile of the bag. From an angle, it even flows well into the wingtips at the sides.
More importantly, they're comfortable to wear thanks to how well-padded and meshed these straps are underneath. It's the same mesh material that's generously applied over the back panel, keeping things cool and breathable on your back and shoulders. Plus, those wingtips help relieve some of the pressure by moving some of it forward, making the carrying feel less constricting overall.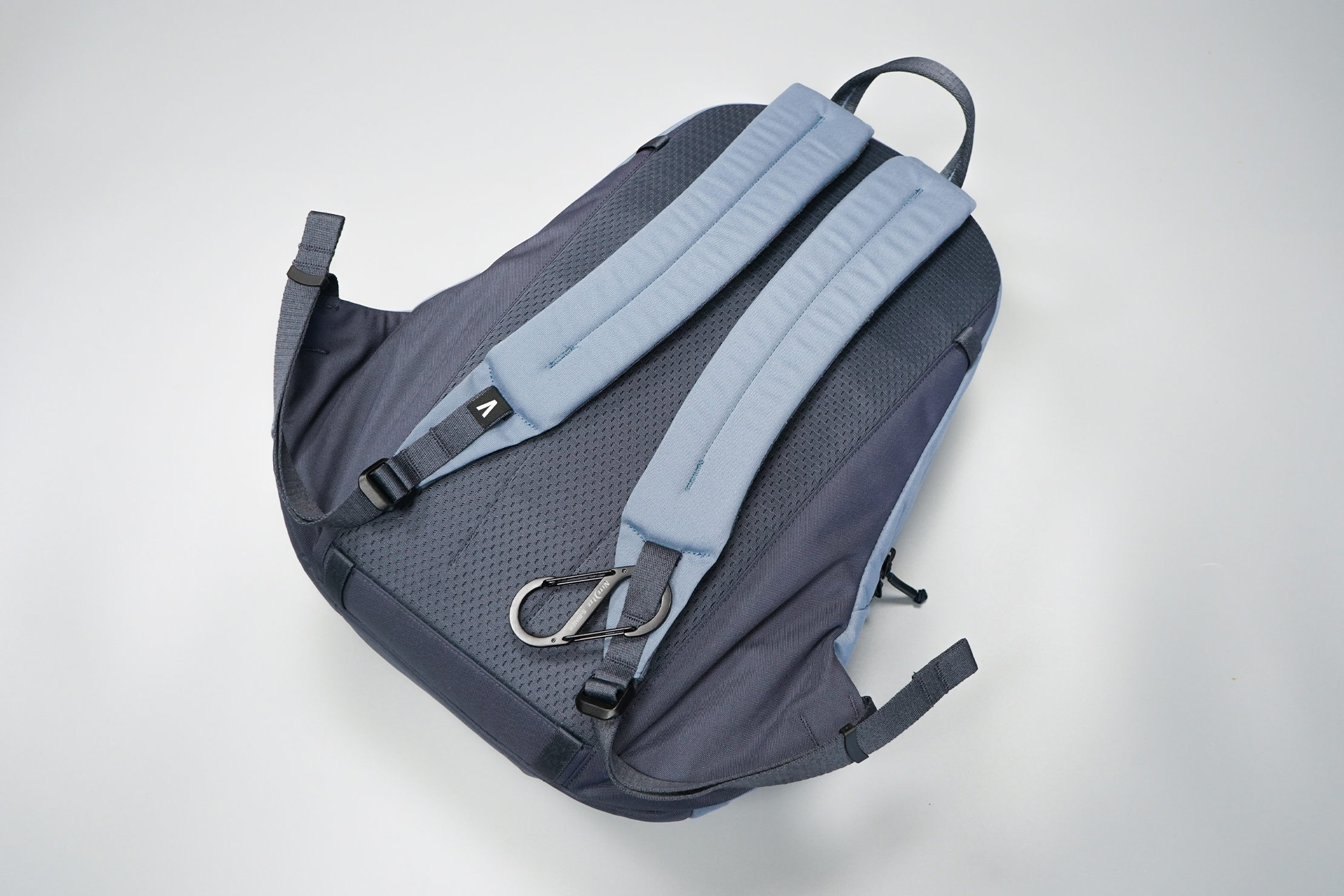 The Rennen Recycled Daypack doesn't have anything too extra going on for its harness system. There are only two nylon webbing points near the tips for accessories, but there are no waist straps or sternum straps included. It's just the basics: a pair of trusty shoulder straps fit for daypack duties and a handy stitched-in top nylon loop for hanging behind restroom stall doors. Not to worry, even at 22 liters, we never found a need for extra straps, even when we were carrying our typical loadout that included our hefty laptop, camera, and other tech gear.
It feels right at home in the city, handling itself well with only the expected amount of wobble during our daily A to B's. But if you prefer a bit more flexibility and/or a closer fit for more vigorous activities like cycling or light jogging, something like the Tom Bihn Paragon Backpack that has a waist strap would feel more secure.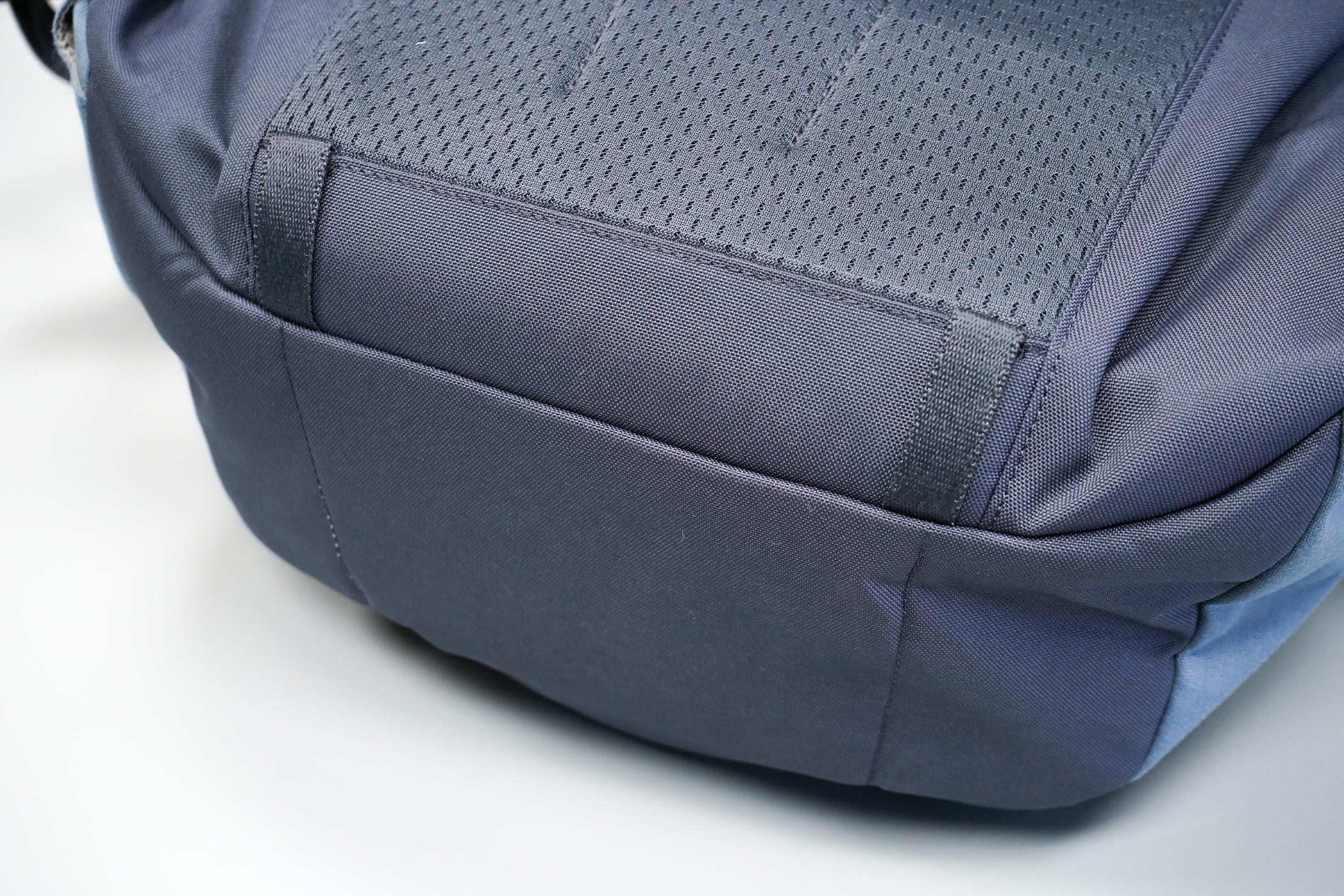 There's a total of ten lash points all over the Rennen Recycled Daypack: four at the front, two at the back, and four underneath. These loops have a felt texture that makes them ideal for grabbing onto, and we found them useful on the Rennen Recycled Pouch, where they flanked the zipper. However, on this backpack, their positioning also makes them suitable for accessories like carabiners or keychains, and that's what we used them for.
You can even use an extra accessory strap on the two rear loops, so you have a makeshift luggage pass-through, should you want to take this bag through an airport. Another idea would be to use two accessory straps so you can hang a yoga mat, a tripod, or a pair of dirty shoes underneath the body.
Last but not least, there's a lone water bottle pocket on the right side of the bag. Yep, Boundary Supply hasn't forgotten about the importance of staying hydrated when you're taking in the scenery of the urban jungle. Unoccupied, it folds flat cleanly, keeping in touch with the overall design language. Once you put in something like a 20-ounce water bottle like our Yeti Rambler, it sits in well, but the lack of any elastic or adjustable strap can make things feel a little bit slippery and less secure. It's not a big issue for most bottles in the 20-ounce range, but we wouldn't say no to trading in some of those clean lines for a bit more bottle security.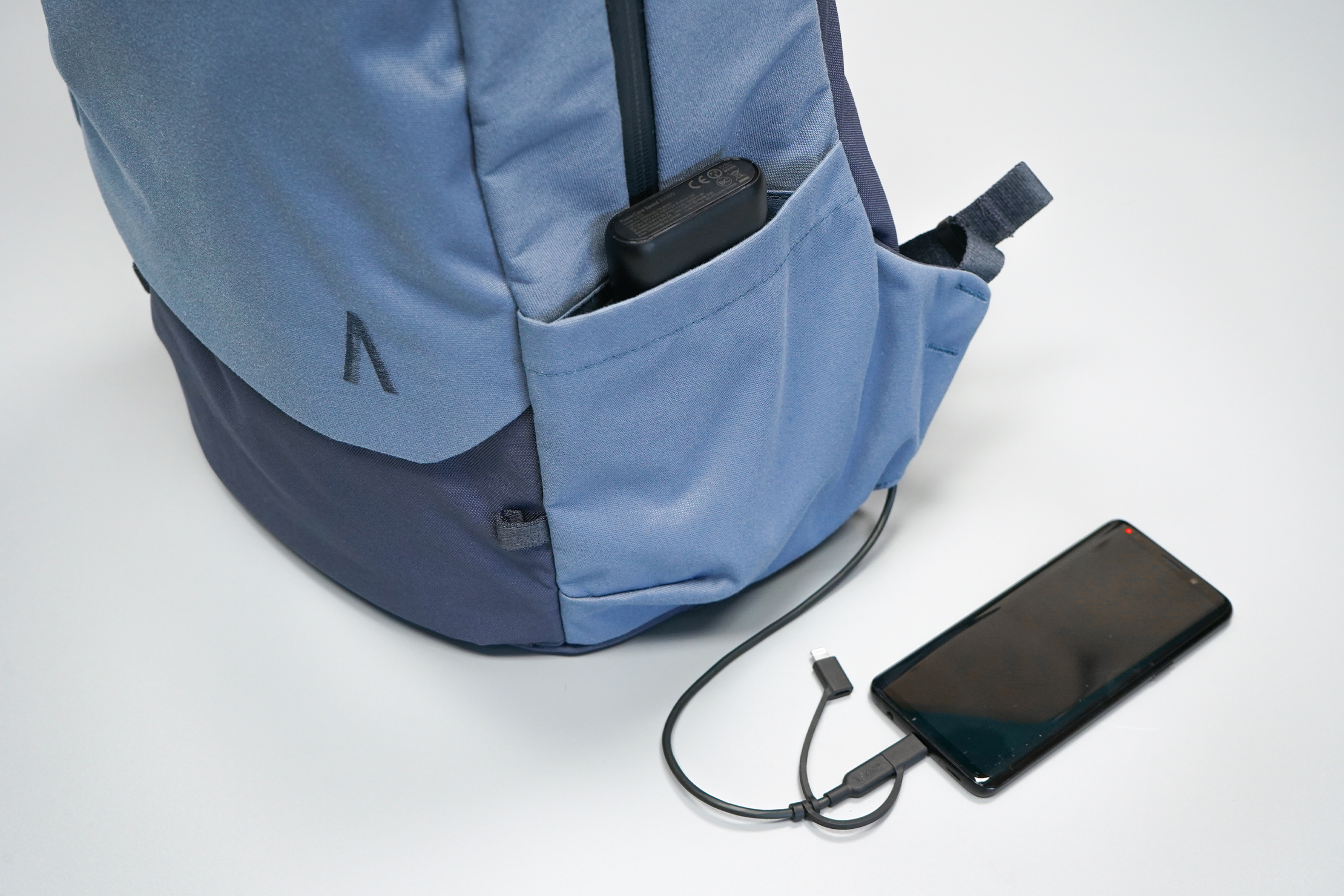 An interesting thing about this water bottle pocket is that it has a drainage hole that leads to the tip of the right side wingtip. Or so we thought it was a drainage hole. It can work as such, but Boundary Supply says it's more of a pass-through for a charging cable. In case you need to top-up your phone, you can put your power bank inside the water bottle pocket and run a cable through the hole. We wouldn't do this while there's a bottle of liquid inside, but it's a nice feature to have nonetheless.
Inside The Pack
Before we get to the main compartment, we have to talk about the front pocket. More specifically, the magnets, which we're sure you're itching to know more about and what they bring to the table. At face value, they offer more security in tandem with the excellent YKK zipper we mentioned earlier.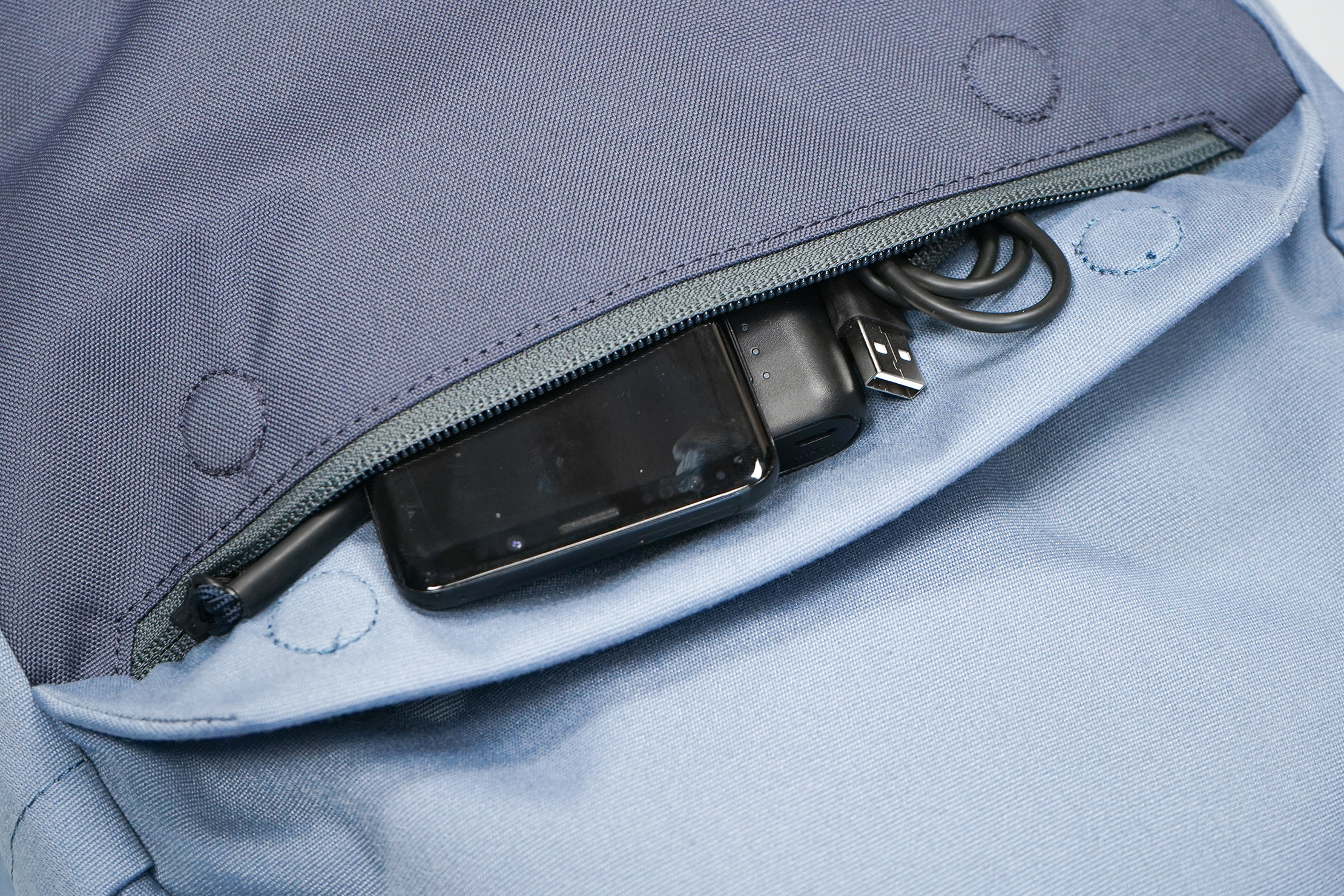 However, in practice, it's an extra step before you can access the front pocket, so we think it's somewhat redundant. That is until Pack Hacker Pro member and fellow reviewer Geoff pointed out that the magnet + zipper combo works best if you don't use the zipper when you don't need the extra security, and then use them both if, say, you're walking around the city. It takes time to get used to, especially if you're coming from just a simple zippered front pocket, but we eventually got the hang of it.
The pocket itself has a fair amount of volume inside, thanks to the gusset underneath that gives it a sizable floor. It's one of those front pockets that's best when using a small pouch or two due to the amount of stuff you can fit inside. Smartphones, power banks, thick wallets can fit inside no problem, and there's also a loop if you like to keep your keys in the front pocket as opposed to the top pocket that contains Boundary's HT Key Clip.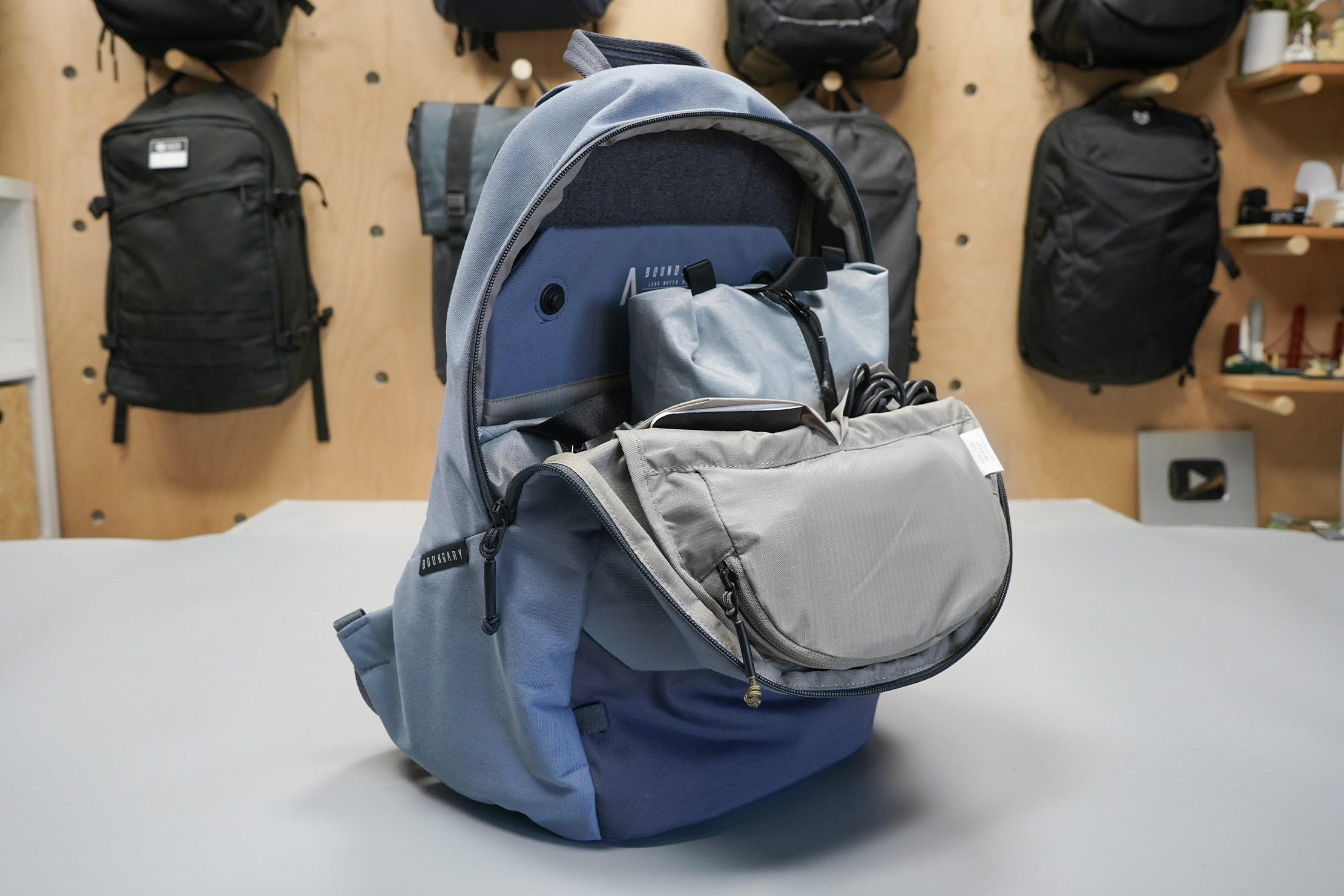 Now we can finally open up the main compartment. But before you do, the Rennen Recycled Daypack doesn't have much structure at the front, so we advise having one hand assisting it in case it flops over. It's not going to hit the floor, though having a hand keep it upright keeps the top pocket easily accessible.
This top zippered pocket also doesn't have much structure. While space and volume inside are okay (and you do get a magnetic mounting point for an HT Key Clip), the softness somewhat makes it difficult to get what you need. There's also a tendency for stuff to fall out when you open the zipper due to the opening's horseshoe-style shape. It's something to watch out for in case you want to put chunkier stuff inside. For bigger items like mice or power adapters, you'll want to use the two more suitable liner pockets below, though they can still spill out if the front folds over.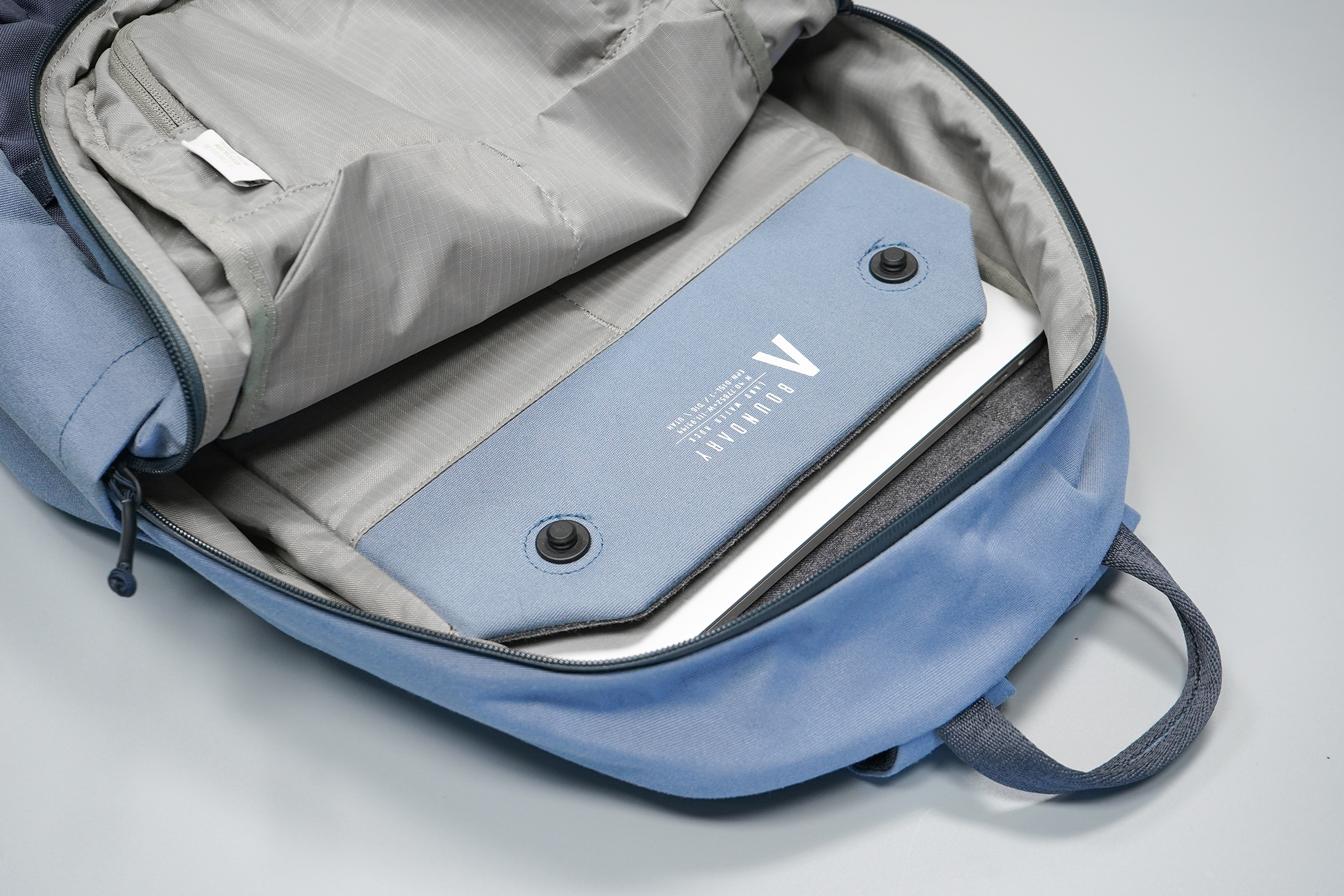 Next up are the laptop compartment and the two peculiar black dots near the top. These are also magnetic attachment points for special use of Boundary Supply's own smaller bags/pouches like the Port Kitt. These make it so that they stay on top and are quick to access at all times.
The laptop compartment is well-padded, both at the front and back, with panels made from recycled materials. Our 16-inch MacBook Pro fits in with some wiggle room at the sides, so you can probably get away with thicker laptops. We're happy to report that there is also a false bottom, making this a well-rounded laptop compartment in terms of protection.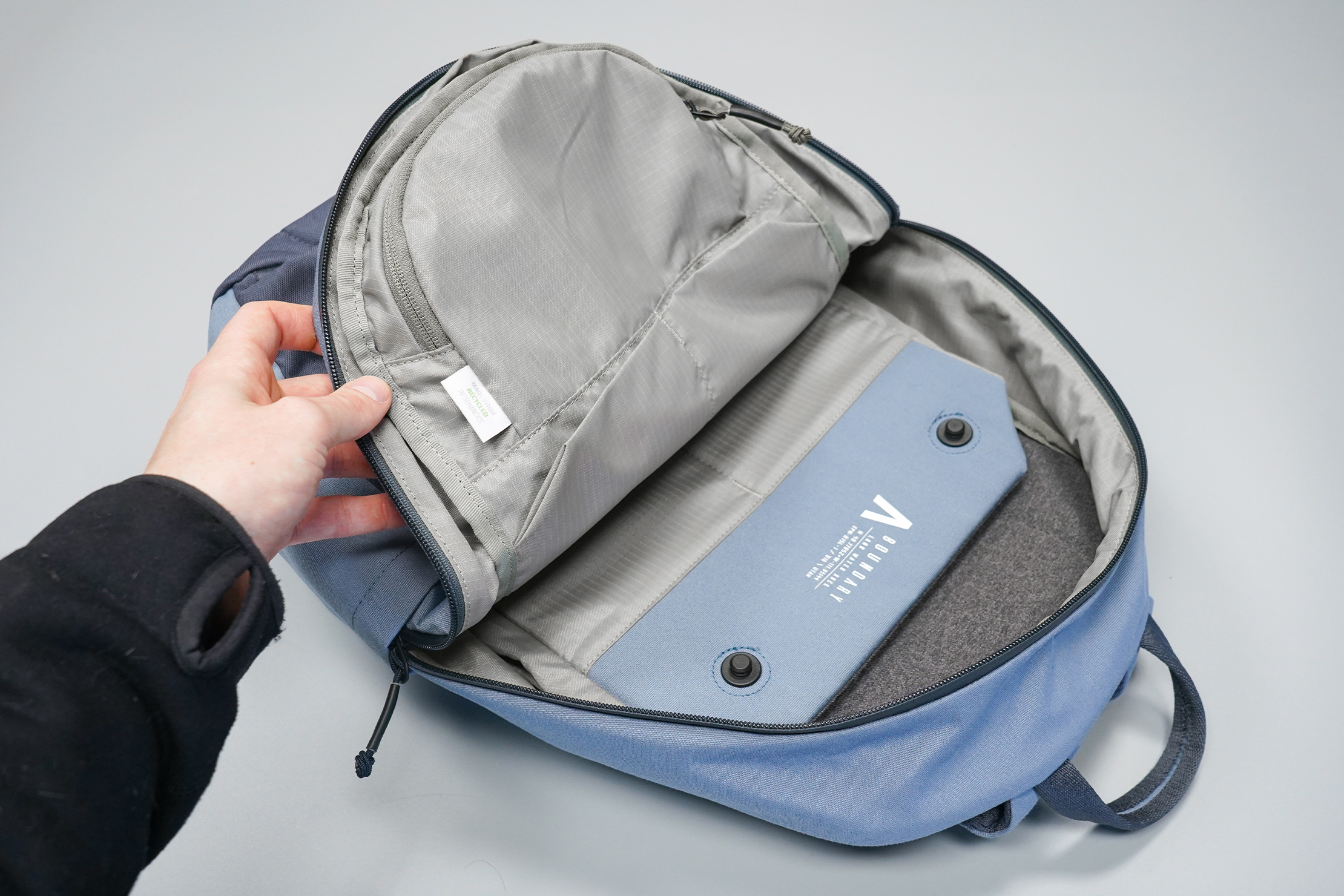 The Rennen Recycled Daypack opens up horseshoe style, which gives you good access to the space inside. The ripstop fabric is also quite bright, so you'll have little trouble navigating and fishing out packing cubes and pouches. You'll be able to fit a decent amount of clothing and/or daily essentials. For reference, we've been able to pack two medium-sized packing cubes, a tech pouch, and a compact umbrella inside. That's alongside our 16-inch laptop and its entourage of accessories inside the various pockets.
Wrap Up
After a few weeks of testing, the Rennen Recycled Daypack's strongest impression on us is the build quality, with organization coming in at a close second. We dig that Boundary Supply has made all the necessary steps to make this bag eco-friendly without any notable compromise on quality. Plus, it's all packaged neatly in a simple design that just works.
Organization inside is actually one of the strong points, and it's really only let down by a lack of structure. However, it's something that you can get used to, and we'd rather have the extra pockets at the front than just leave it blank. The lash points outside and magnetic mounting points inside are also nice amenities that leave you with customization and future expansion options.
Despite the rather soft structure, it's a solid offering from Boundary Supply with strong aesthetics and appeal for those who want something that's kinder to the environment at the same time.
Usage Timeline
Initial Usage
Condition: Excellent
The beige-ish color and the canvas-like material give it a heritage look
That said, there's plenty of modern features like magnetic mounting points and cable pass-throughs for devices
Recycled materials also feel durable in the hand
2 Weeks of Use
Condition: Excellent
We purchased this bag from Geoff—a member of Pack Hacker Pro. Here are Geoff's thoughts on the pack after using it:
Overall, I think it's a solid bag in terms of value. It's Boundary's cheapest bag, so certainly not expecting the level of innovation and nice features that went into the Prima, but you get a good backpack for the retail price.
What I think would most enhance the user experience is elastic. Particularly with the two internal slip pockets in the main compartment which don't have any elasticity. So while it's easy to slide something in, it's also easy for those things to slide out if you toss the bag around.
The exterior pocket has both a zipper and magnetic flap, but because the opening to the pocket is a bit tight and the magnetic flap is a bit firm, I was comfortable not zipping it up and just relying on the magnetic flap to keep the contents secure. This made accessing the contents slightly easier too since you cut out the step of unzipping.
The Rennen's organizational features are pretty simple. Only the main compartment with a laptop sleeve and a few pockets. So it's more similar to Evergoods bags than to Aer bags, which have a pocket for every conceivable thing. So I think the Rennen Daypack would work well for someone who likes organizational pouches or tech pouches too, or someone who doesn't require a very high level or organization.
I haven't been able to test out the modular functions of the bag, since I don't have Boundary's Port Kitt or their Fieldspace tech sleeve anymore.
Access the Pro Community Discussion
Get your questions about the Boundary Supply Rennen Recycled Daypack answered from our team and the Pro Community right here on the page. Plus, join discussions with other members about gear, guides, and more.
Other Bags & Luggage Reviews