ALPAKA Elements Tech Case Review
The ALPAKA Elements Tech Case can double as a sling, and its accordion-style organization is quite flexible, though geared toward flatter items.
Our Verdict
Unlock the Pro Summary
Save time. Get access to brief summaries of our reviews so you can browse and make decisions more efficiently.
Pros
Horizontal pockets good for lengthy, flat items
Easy-to-shift dividers make space management easier
Good structure even when empty
Cons
Bulkier, more rounded gadgets take up more space
Using the pen loop may obstruct the liner pockets below
Zipper pulls are jingly
Recent Pack Hacker Video
Technical Details
Capacity

2.1l

Denier

500D

for Kodra and X-Pac X50 version | 210D for X-Pac VX21 version

Weight (oz)

10.2 oz (289.2 g)

for Kodra and X-Pac X50 versions | 8.82 oz for X-Pac VX21 version

Dimensions

9.45 in x 5.51 in x 2.56 in (24 x 14 x 6.5 cm)

Notable Materials

Kodra Nylon, X-Pac, Ripstop Nylon, Fidlock Hardware

Manufacturing Country

China

Warranty Information
Full Review
Get up to 15% off ALPAKA • Join Pack Hacker Pro
There comes the point in every digital nomad's life that a dump pocket just simply won't do. Remember that one drawer in the house where every leftover cable, wire, and tool ended up eventually? That's something we do our best to avoid with our tech goodies. As such, a tech pouch is something we can easily recommend for getting organized.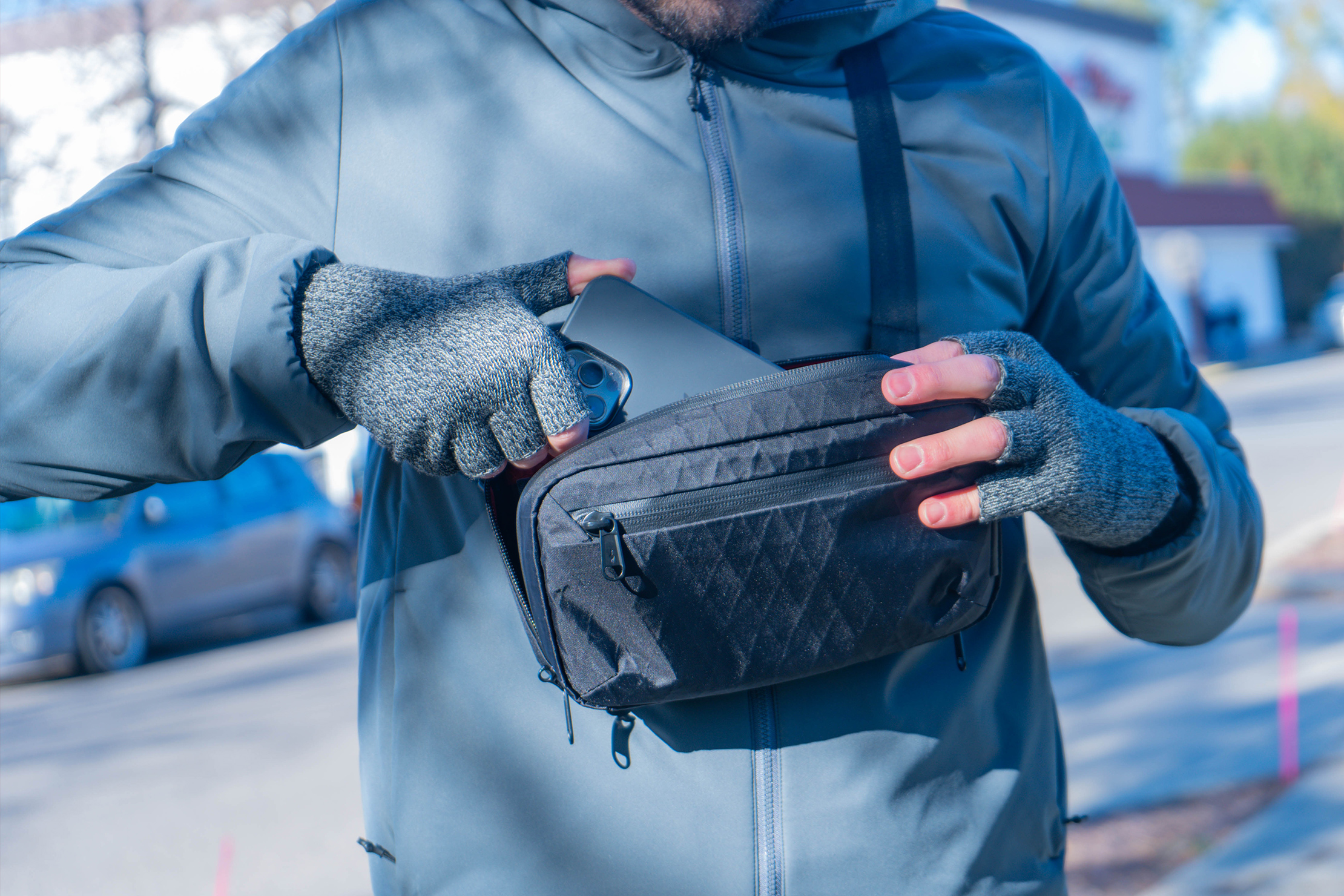 If, like us, you already have an assortment of accessories, something to the tune of ALPAKA's Elements Tech Case may be up your alley. Opening this tech pouch up is like opening up a catalog in 3D; everything is separated and laid out neatly with good accessibility. The cherry on top? It's also a sling, so it's not strictly limited to inside a bag or carrying by hand. We dig what ALPAKA has going on with the Elements Tech Case, but let's find out if it's a good fit for you as well.
Materials & Aesthetic
Right of the bat, the most distinguishing feature is the diamond pattern on the fabric. And whenever there's a diamond pattern on a fabric, one name always pops into mind: X-Pac. More specifically, this is VX21 X-Pac, and the Elements Tech Case's front really rocks the textured look with style. To our eyes, black diamonds match the tech pouch theme really nicely, like it's a chainlink fence from the 24th century. Mind you, X-Pac isn't all style and no substance; it's a very durable fabric as well.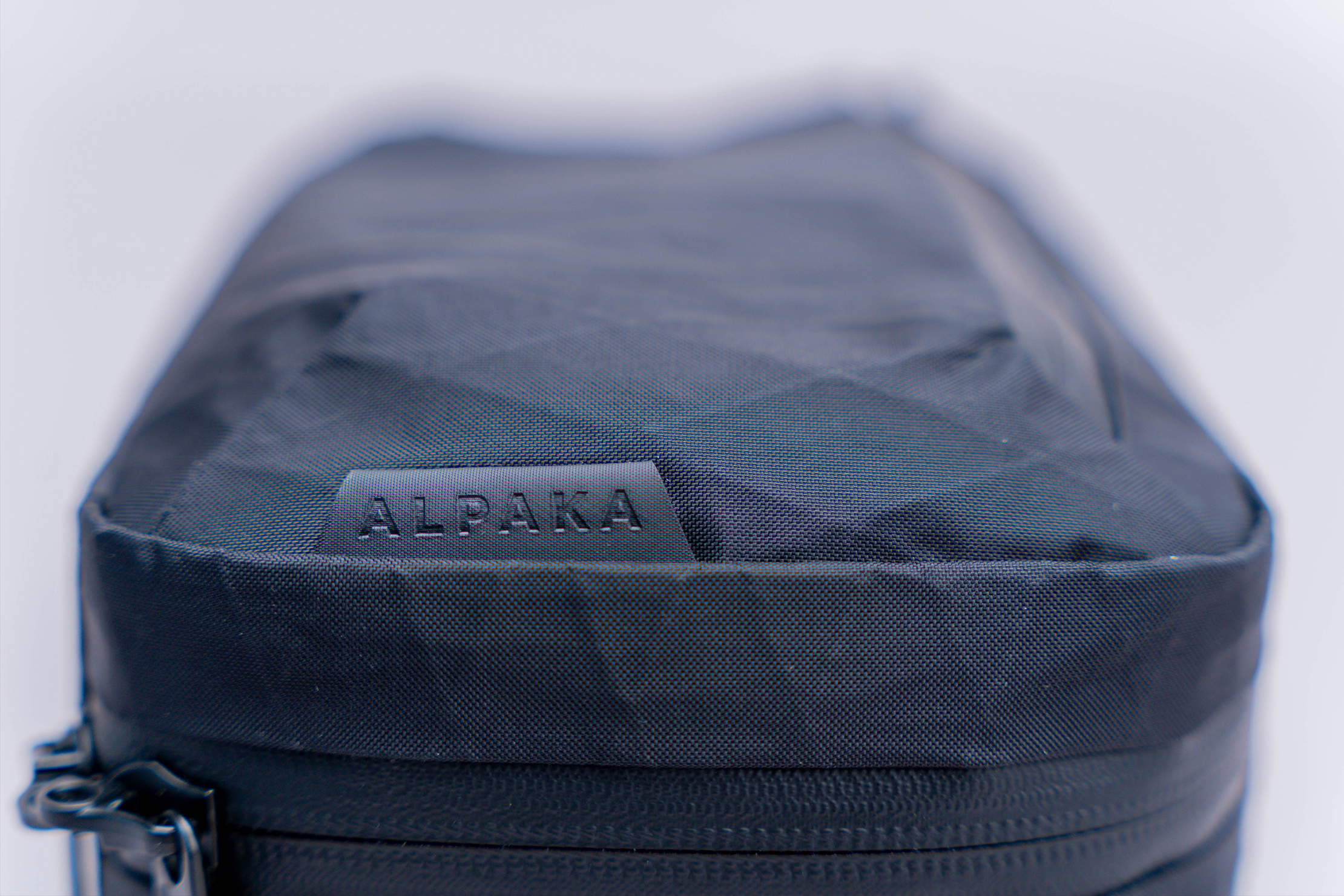 For the uninitiated, X-Pac is a fabric made of different layers of materials. There's the outer nylon, the X-Ply mesh made of polyester, and finally, a waterproof film with a sprinkle of water-resistant coating for good measure. Even the zippers are reverse coil water-resistant types, though we're not quite sure what brand they are.
We tend to be hesitant whenever we encounter unbranded zippers. Fortunately, these ones work just fine, with just the right amount of resistance along the zipper elements. One nitpick we have is that they do seem a bit jingly, as the metal pulls tend to clang together. We're eager to replace them with paracord pulls. However, covering them with shrink wrap could also help dampen the noise.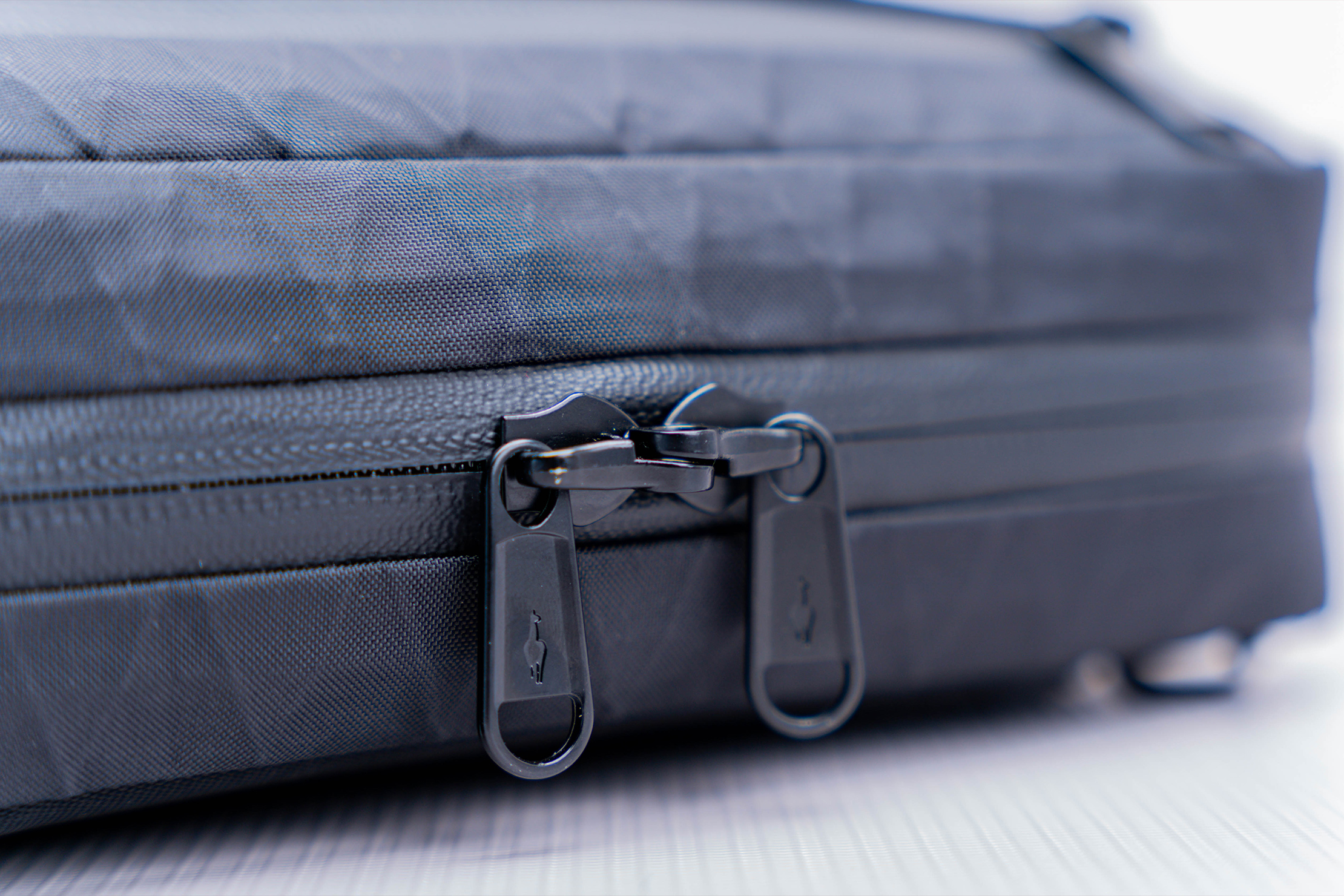 Even the interior gets some added protection by way of 210D Ripstop Nylon. This is a welcome addition, as some very pointy or edged gadgets are prone to snagging on fabric. When they do, they can make a tear that deteriorates faster than you can say USB and OMG. Ripstop helps alleviate that by stopping rips (hence the name) using a reinforced pattern, in this case, a honeycomb one—sweet! We dig the color's name too: Blood Orange. Despite the rather hardcore-sounding name, it reminds us of candied plums, which are a real treat if you've ever tried them.
On the subject of colorways and patterns, there are a few choices available at the time of writing. There's a model using all-black 500D Nylon Kodra, and then there's a beefier X-Pac X50 in Dark Multicam. The X50 is 500 denier like the Kodra, and it's heavier than the 210 denier of our VX21 model. But if you are set on VX21, it also comes in Slate Grey if you want something that's not plain black.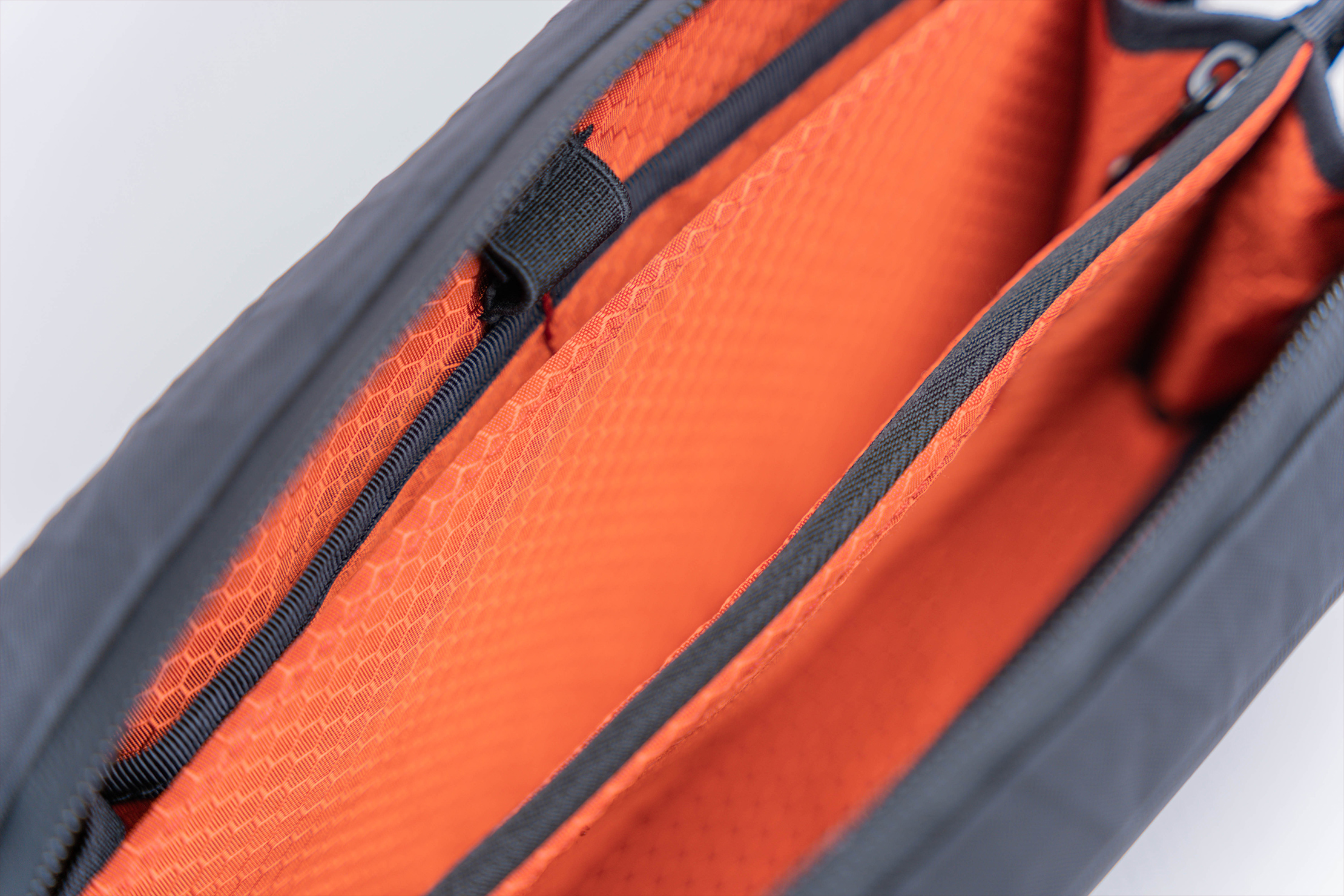 Last but not least of the materials is the Hypalon tab tucked away in the corner. It bears the ALPAKA logo subtly and has a nice rubbery feel. Everything about the Elements Tech Case does feel this way: solid build quality with strong materials, even with the unbranded zippers. The fabric feels mushy and crinkly, but in a good, very structured way that builds our confidence in the pouch. It can stand on its own, quite literally, too.
External Components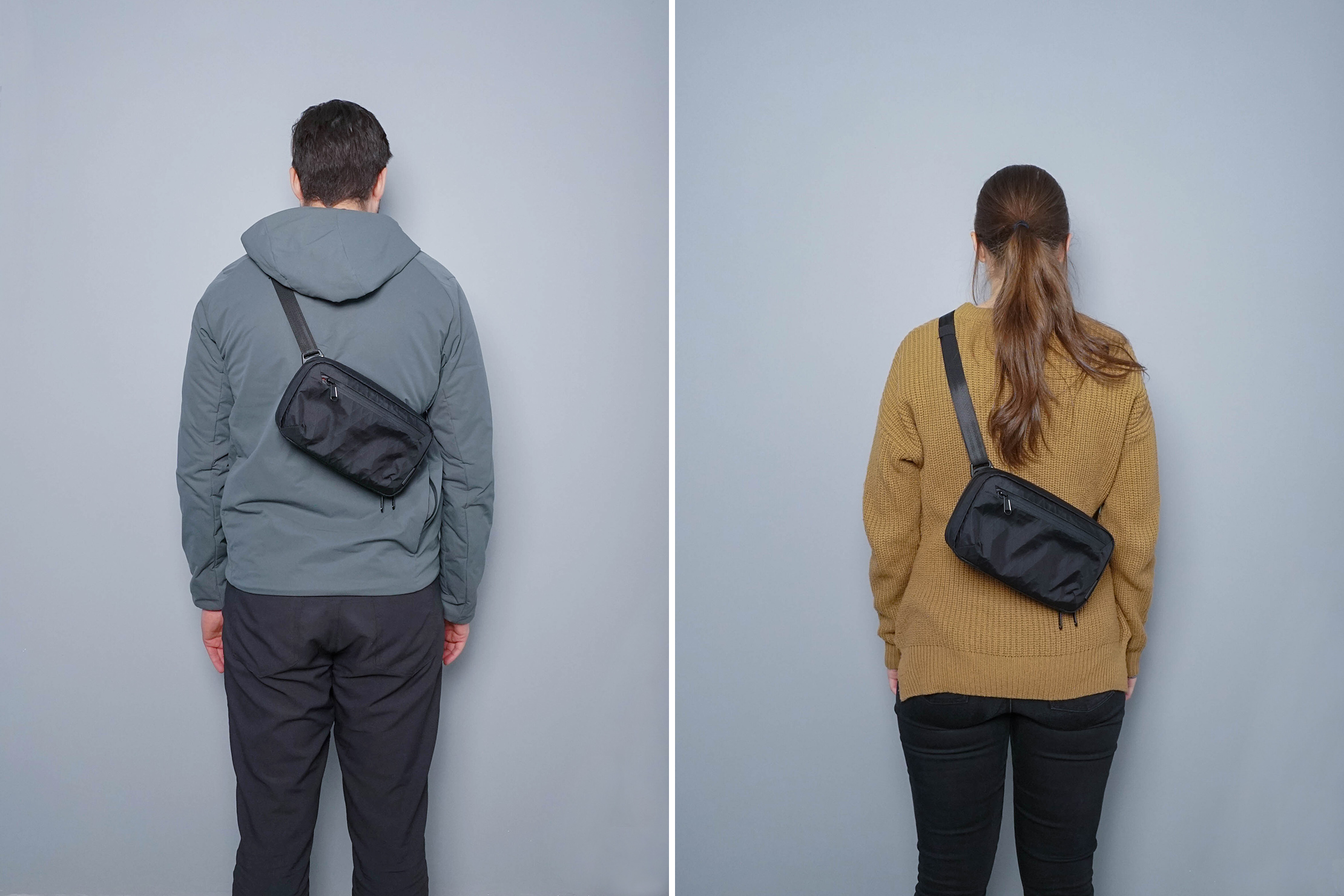 Despite being a tech pouch first, the Elements Tech Case is quite versatile in terms of how we can carry it. By far, though, our favorite has been carrying it as a crossbody sling. Flip the pouch around, and there are two diagonally oriented nylon loops where a strap attaches via gatekeeper clips. The standard strap is simple, with a lone adjuster and an elastic strap keeper for tying down the extra slack.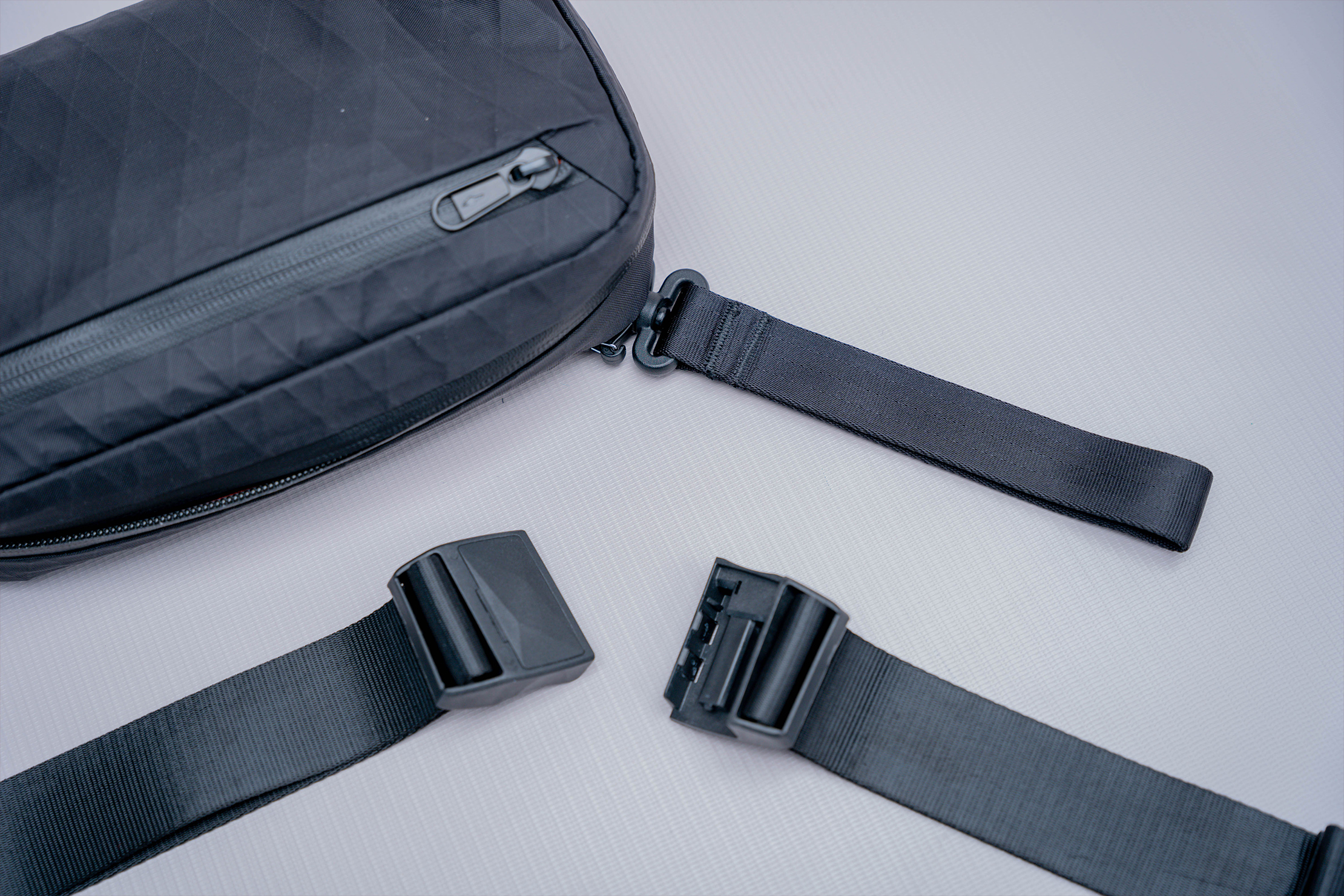 There's also a magnetic Fidlock buckle version of the strap. This one is for those who want a quicker way to release the pouch without having to pull it over their head. Plus, Fidlock magnets are satisfyingly tactile to use. However, we don't particularly need the extra quickness, and we have no problem using the simpler strap.
Something we noticed is that the back panel isn't covered with X-Pac. Instead, it's more typical-looking nylon fabric, and the absence of the diamond texture makes it softer to wear. The result is a comfortable carrying experience, as the pouch sits nicely flush against us, minimizing the bulkiness despite its rather large proportions. The diagonal orientation of the loops may seem trivial, but we do feel it helps achieve a good level of comfort.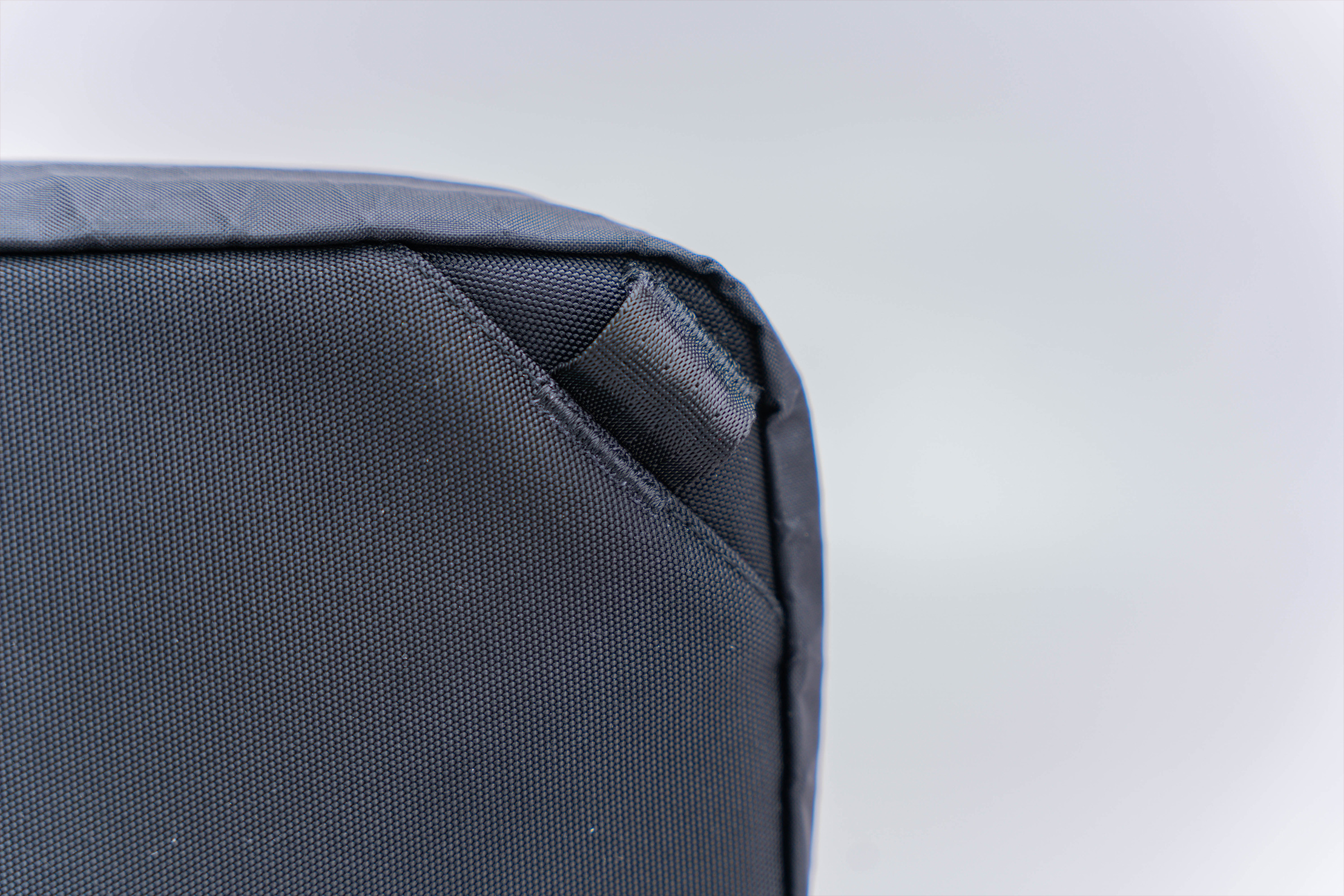 Alternatively, the Elements Tech Case can also be carried as a clutch, and we do like carrying it this way as well. The body is just wide enough that we can get a good, comfortable grip on it. Your mileage may vary, though, depending on how heavy the gear inside is. There's also a detachable wrist strap so it can be carried with a finger or two. The clip on the strap is on a 360-degree pivot that prevents twisting and buckling—a small but nice touch for hassle-free carrying by hand.
Inside The Pouch
Now we move on to the interior aspects of the Elements Tech Case where it begins to really shine. First up is the front pocket, and don't worry, this one gets the Blood Orange Ripstop Nylon liner as well, meaning visibility isn't too difficult. It's a wide and deep pocket that extends all the way to the bottom corners of the pouch. There's fair volume here, thanks to gussets at the bottom corners. We're able to fit a pack of wet wipes, a Zippo, and a cleaning cloth for our camera lens—items we generally need access to more frequently.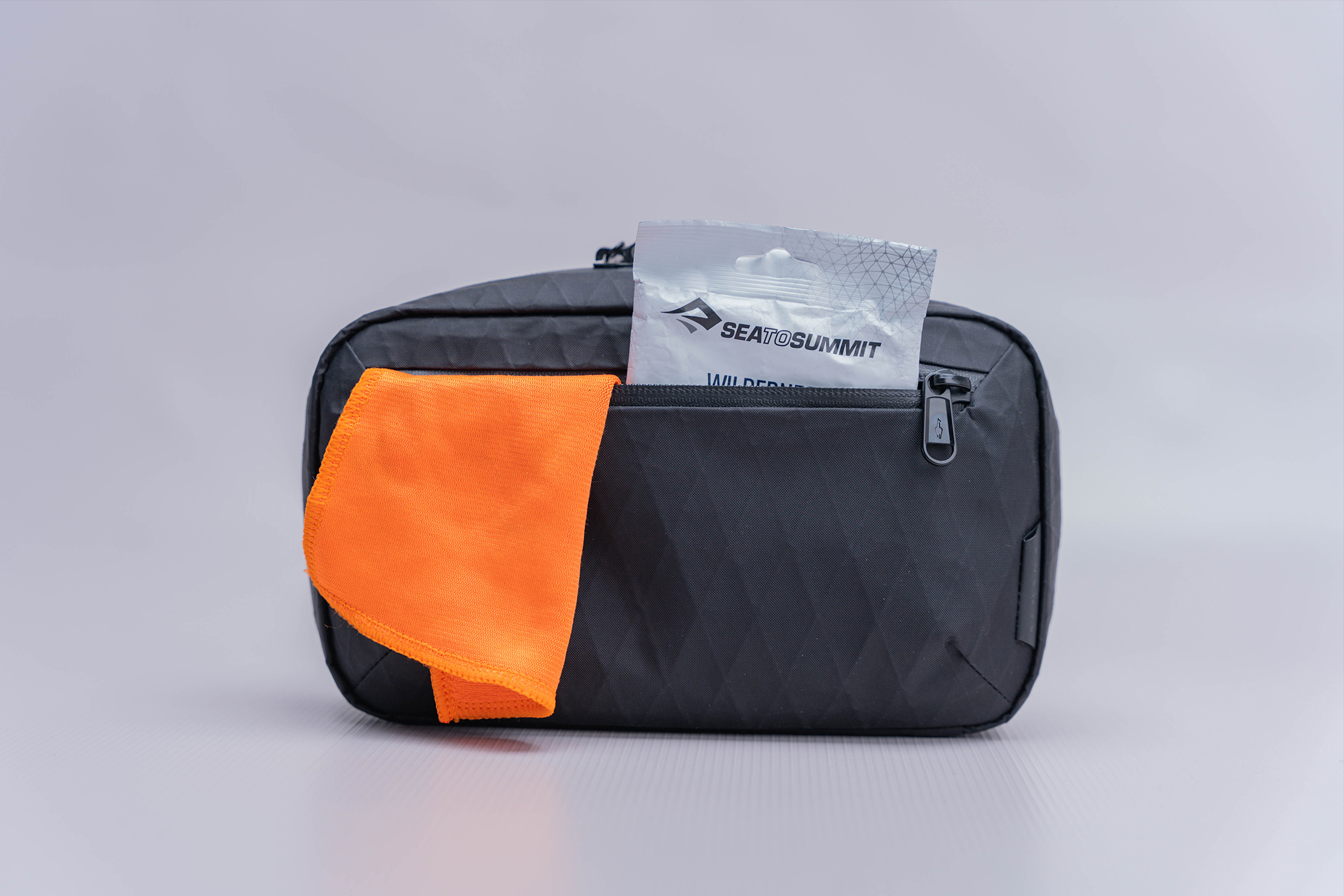 But the star of the show is definitely the main compartment. Accessibility is good because of its wide opening, but it can also be really secure since the zippers are lockable. Inside is accordion-style organization with many slots and a variety of pockets. If you're sensing a bit of déjà vu, then you're not alone. We've seen this style of organization with Peak Design's Tech Pouch and even their Wash Pouch. However, there is a key difference in approach here.
Whereas Peak Design's organization is more segmented and origami-like (seriously, look at how the dividers crisscross), ALPAKA's is more horizontal and straight-layered. The impact is not immediately obvious, but trust us, it's there, and we feel it. It affects the type of gear we're putting in and the shape we prefer. But before we dive deeper into that, let's get ourselves the lay of the land.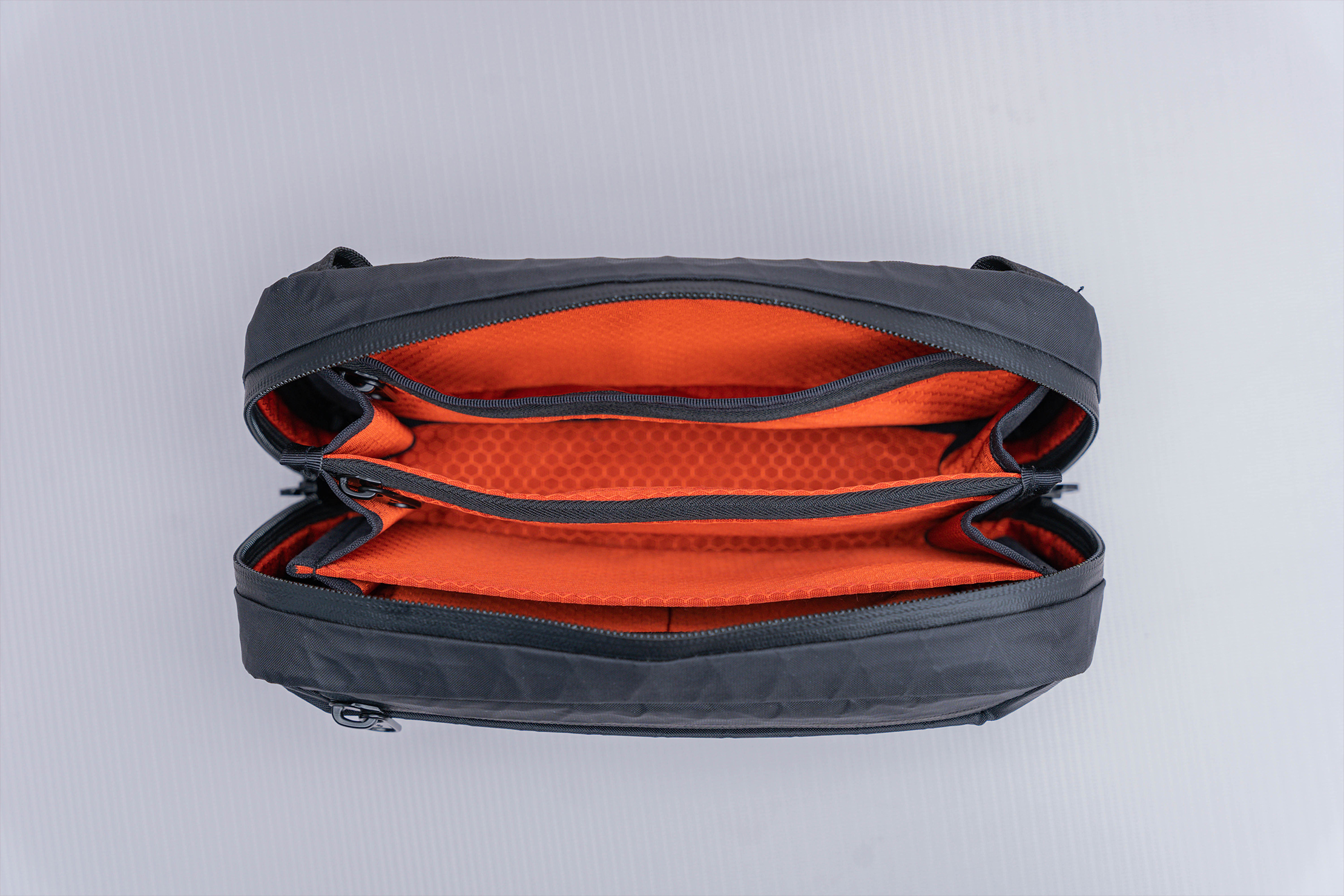 You can check out the photo above to see just how varied the pockets are. The only notable type of pocket absent here is mesh, though it's not sorely missed. Starting from the back, there's a tablet slip pocket, followed by two zippered pockets acting as dividers with open spaces in between. The next divider is a more rigid one, but its bottom isn't stitched to the floor, so it can easily shift back and forth depending on your preference. This adjustability allows for more versatility. For example, if we decide to bring out our beast of a power bank, the Anker PowerCore III Elite 25600 60W, we could move the divider to one side to accommodate the extra thickness. On the other hand, we can use the divider to fit our Apple Magic Mouse 2 on one side and a rolled-up Lightning cable on the other.
Inside the middle zipper pocket are three smaller liner pockets. They're small but just big enough for the middle one to fit our inCharge X, while the smaller flanking ones can fit an Apple AirTag. Mind you, these inner pockets are raised quite a bit, so taller items may conflict with the zipper opening.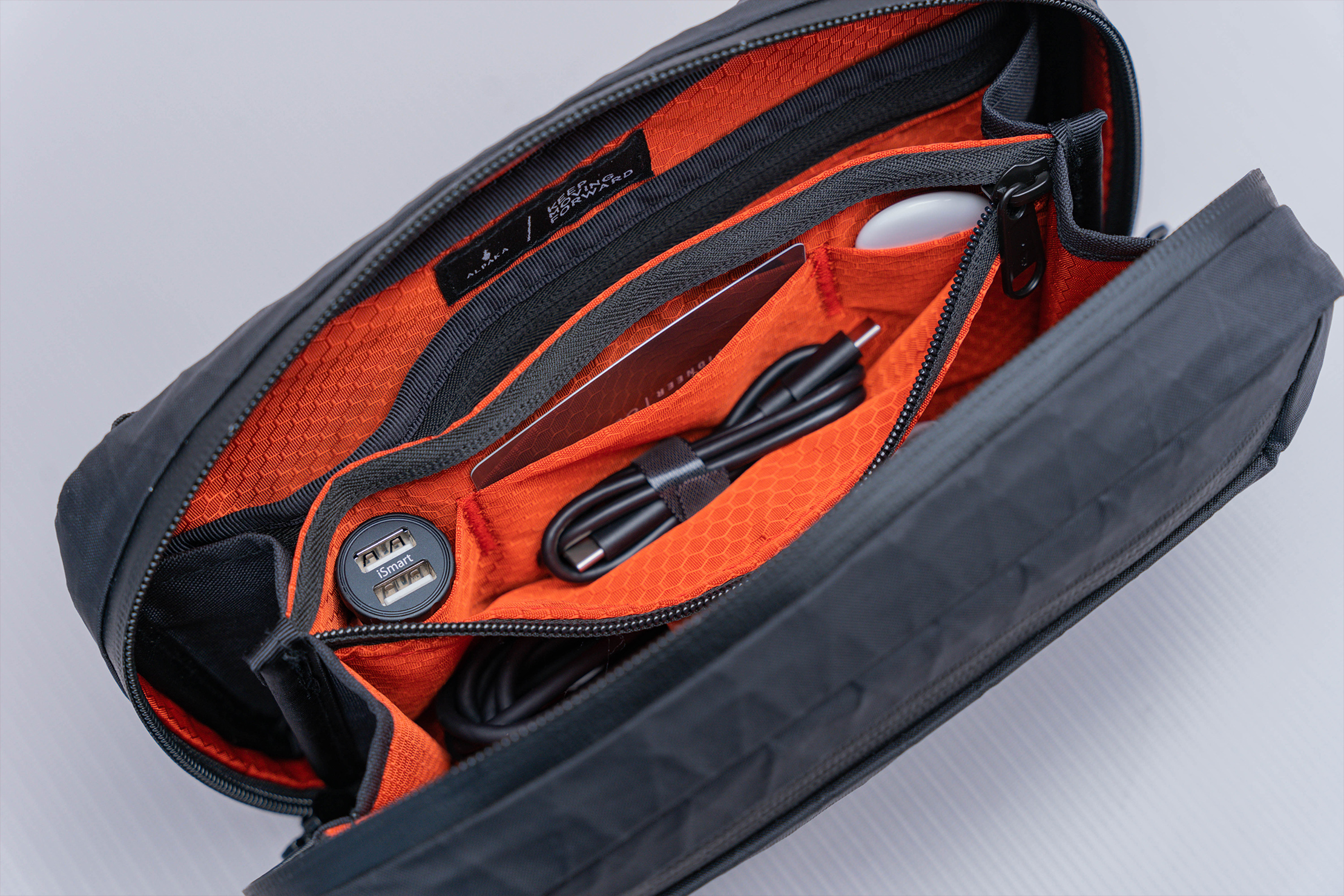 The horizontal pockets are definitely more catered towards longer and flatter items. Items like our power banks, travel mice, cables, and adapters all fit well inside. That said, more rounded and bulky items, like the Anker Nano II 65W, don't make the most of the pockets. Unless there are other items alongside them, these items spread out the walls and leave dead spaces. The Peak Design Tech Pouch gets around this because its pockets are more split and independent.
Lastly, there are twin passport-sized liner pockets at the front side with a pen loop above them. Our nitpick here is that a pen inside the pen loop can clash with a passport in the pocket below. It's a small issue we've seen on other pouches with pen loops, but it's not a deal-breaker by any means.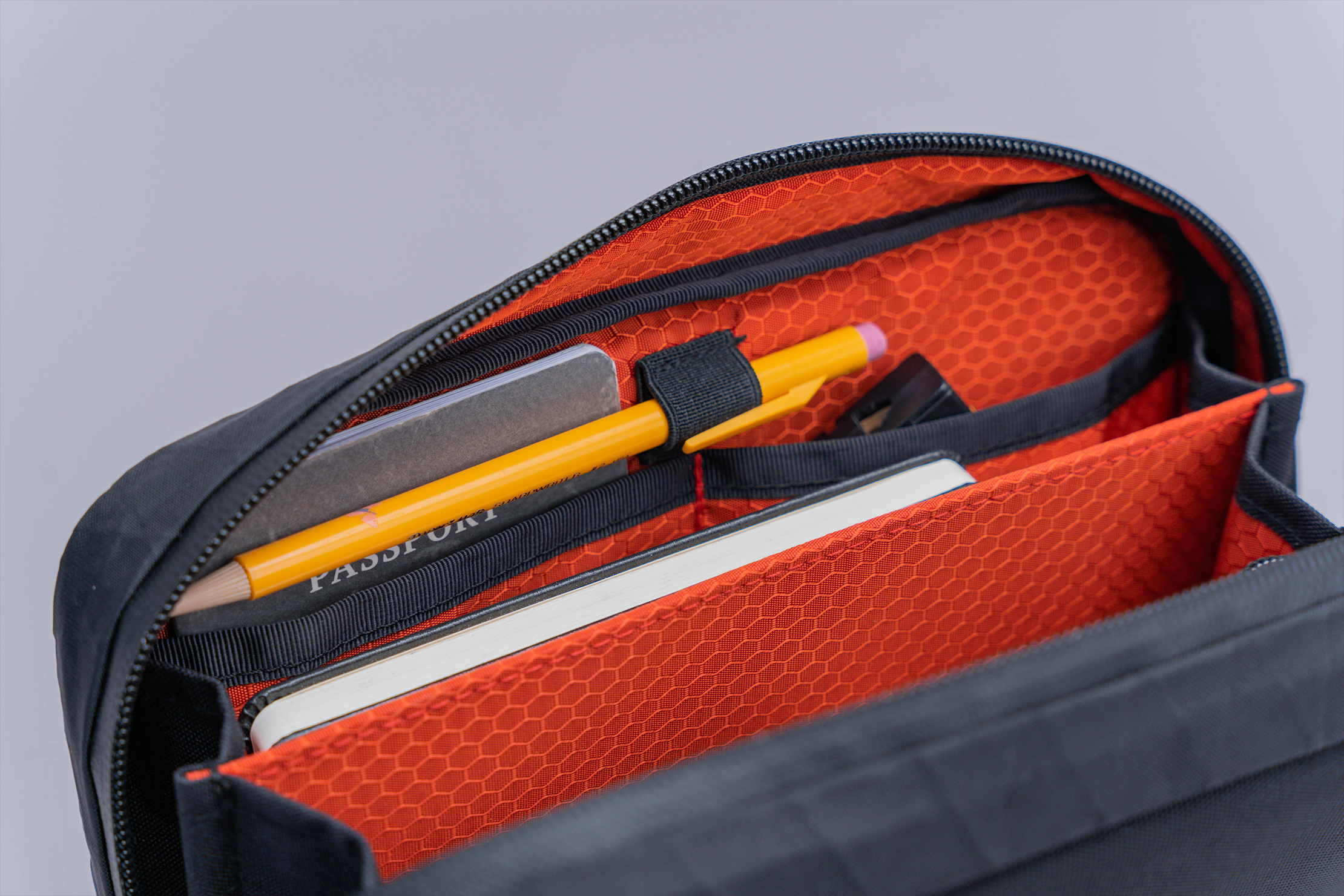 We dig where ALPAKA is going based on what we see with the Elements Tech Pouch. The organization definitely has its strengths, and with some consideration, it's fairly easy to maximize. Furthermore, we appreciate the materials and the build quality, as it makes the pouch feel whole and cohesive. From the way it carries to the way it feels, this pouch is really in its element.
Usage Timeline
Initial Usage
Condition: Excellent
Gusseted partitions make for good internal organization
The amount of depth is a good match for this kind of layout
The Blood Orange-colored ripstop liner is a bit darker than their usual orange liners
2 Weeks of Use
Condition: Excellent
Dig that there are 2 interior zippered pockets for smaller items
There are 3 carry straps available at the time of publishing—we found the most use out of the ordinary strap versus Fidlock or wrist strap
Love the ability to use this as a tech case or sling—versatile for travel
Material is great, zippers are so-so
Access the Pro Community Discussion
Get your questions about the ALPAKA Elements Tech Case answered from our team and the Pro Community right here on the page. Plus, join discussions with other members about gear, guides, and more.
Other Organizers & Pouches Reviews