No matter where your next trip is planned, you can always use some extra security features. Even if they're never tested, the peace of mind they offer can be immense while traveling through bustling cities, unfamiliar public transit systems, and terrain you aren't used to. However, deciding what kind of anti-theft bag to get can be daunting. Don't fret; we're here to help!
This list covered numerous styles and styles of backpacks, slings, and crossbody bags with extra security you may not see on a regular pack. Depending on the brand, you'll see different kinds of features. Some are more elaborate than others, and some feel like they're doing more to protect your gear than others.
A common feature is locking zippers. These come in many shapes and sizes, and some aren't locks at all. There are zipper heads with holes in them so you can put a padlock through them, pulls that have clips on them so you can attach it to a metal fastener (which makes it harder for somebody to open it when you aren't paying attention), and loops of fabric that you feed the zipper through to stop it from opening quickly. Some bags even have a mechanism that locks the pulls down when they aren't used. They're all effective, but some will do more to deter somebody from getting inside your pack.
Next are slash-proof materials. Similar to zippers, these come in all shapes and sizes. Some fabrics are more durable, so they're harder for somebody to cut with scissors or a knife. However, some take it further and have metal wire between the layers of fabric to stop a knife or scissors in their tracks.
There are other security features; however, those two are the ones we see most often. It's essential to decide what kind of anti-theft add-ons you want before looking for a bag so you are sure to get what you want. Once you've figured that out, scroll down!
Let's dive in.
Slings & Crossbody Bags
Pacsafe Metrosafe X Anti-Theft Urban Sling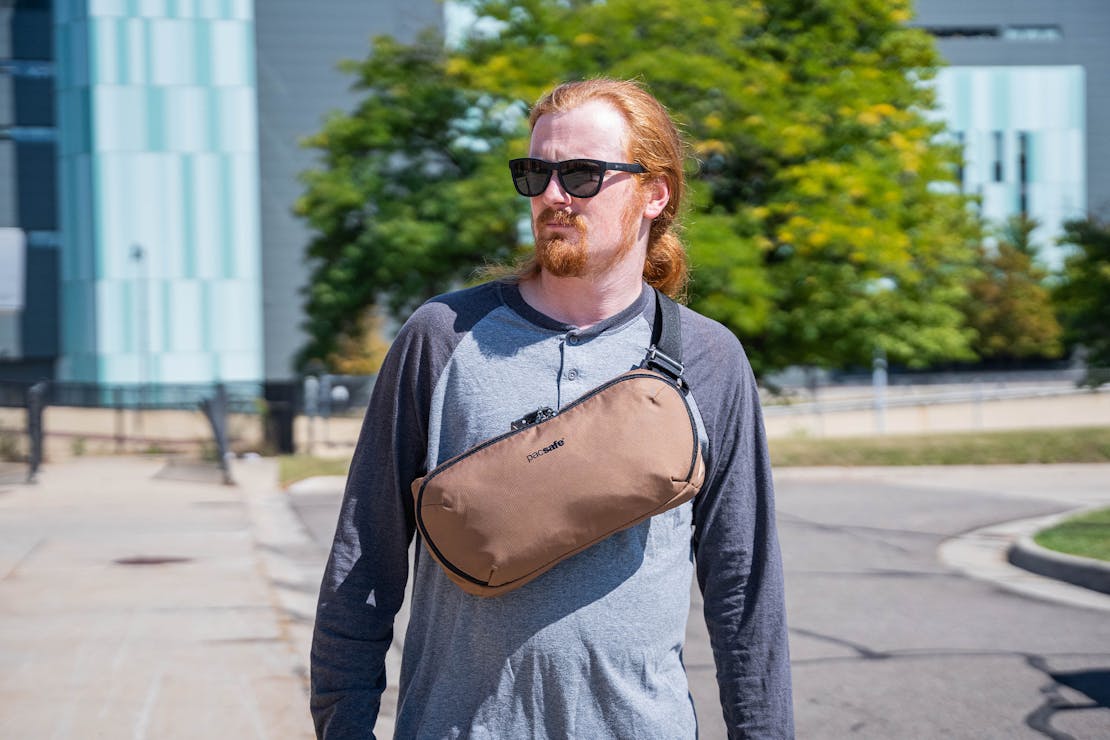 You might be wondering if all the security features on these anti theft crossbody bag models affect usage. Well, yes and no. Certain bags will have so much added security that it makes things harder to use, but the Pacsafe Metrosafe X Anti-Theft Urban Sling doesn't fall into that category. The locking main compartment zippers are simple once you get the hang of them, we dig the locking strap closure, and the rest of the features are internal, so they don't affect how you carry the pack!
The zippers are relatively jangly when not locked down, which will annoy some users. However, this is a post about anti-theft bags, so you should lock those puppies up. There's no secondary compartment for gear, which feels like a miss. The main compartment is amply sized and has intuitive organizational features with space for pens and other small gadgets, so you can utilize that instead. Still, we think a quick-access pocket would have been an excellent addition.
The back panel is well padded and includes holes for airflow, which is helpful on steamy days. Overall, we've found this anti-theft bag to be incredibly comfortable but a bit large for users with a smaller frame.
Why We Like It
The anti-theft features don't get in your way
The back panel is comfortable and aerated
What You Should Know
Zippers are loud when not locked down
There's no secondary compartment for extra gear
See Full Review & Buying Options
Large Slings, Messenger Bags, & Totes
Backpacks
So there you have it: some of the best anti-theft bags on the market. Hopefully, you've found the pack for your next trip, no matter the destination. Happy travels, and stay safe!