TUMI Brief Pack Review
The saggy carry of the TUMI Brief Pack makes its premium price tag a tough pill to swallow despite its thoughtful organization and superb attention to detail.
Our Verdict
Unlock the Pro Summary
Save time. Get access to brief summaries of our reviews so you can browse and make decisions more efficiently.
Pros
Thoughtful pocket layout and just-right organization
Spacious main compartment with gussets for easy access
Neatly integrated luggage pass-through locks the bag in place
Cons
Very jingly zipper pulls
The fit feels saggy because of how the shoulder straps pull
Laptop compartment lacks false bottom and is tight to access
Recent Pack Hacker Video
Technical Details
Weight (lb)

3.3 lb (1.5 kg)

Dimensions

12 in x 17 in x 8 in (30.5 x 43.2 x 20.3 cm)

Notable Materials

Ballistic Nylon, YKK Zippers, Leather, Tarpaulin

Laptop Compartment Size

15"

16" MacBook

Warranty Information
Full Review
$600 is a lot to budget no matter how you slice it—and yes, that applies to the world of travel gear as well. So when we got our hands on TUMI's Brief Pack (which sits at around $600), we were keen to see what you get for that kind of money. We're no strangers to expensive backpacks, mind you, though it does raise our collective eyebrows whenever we're presented with one.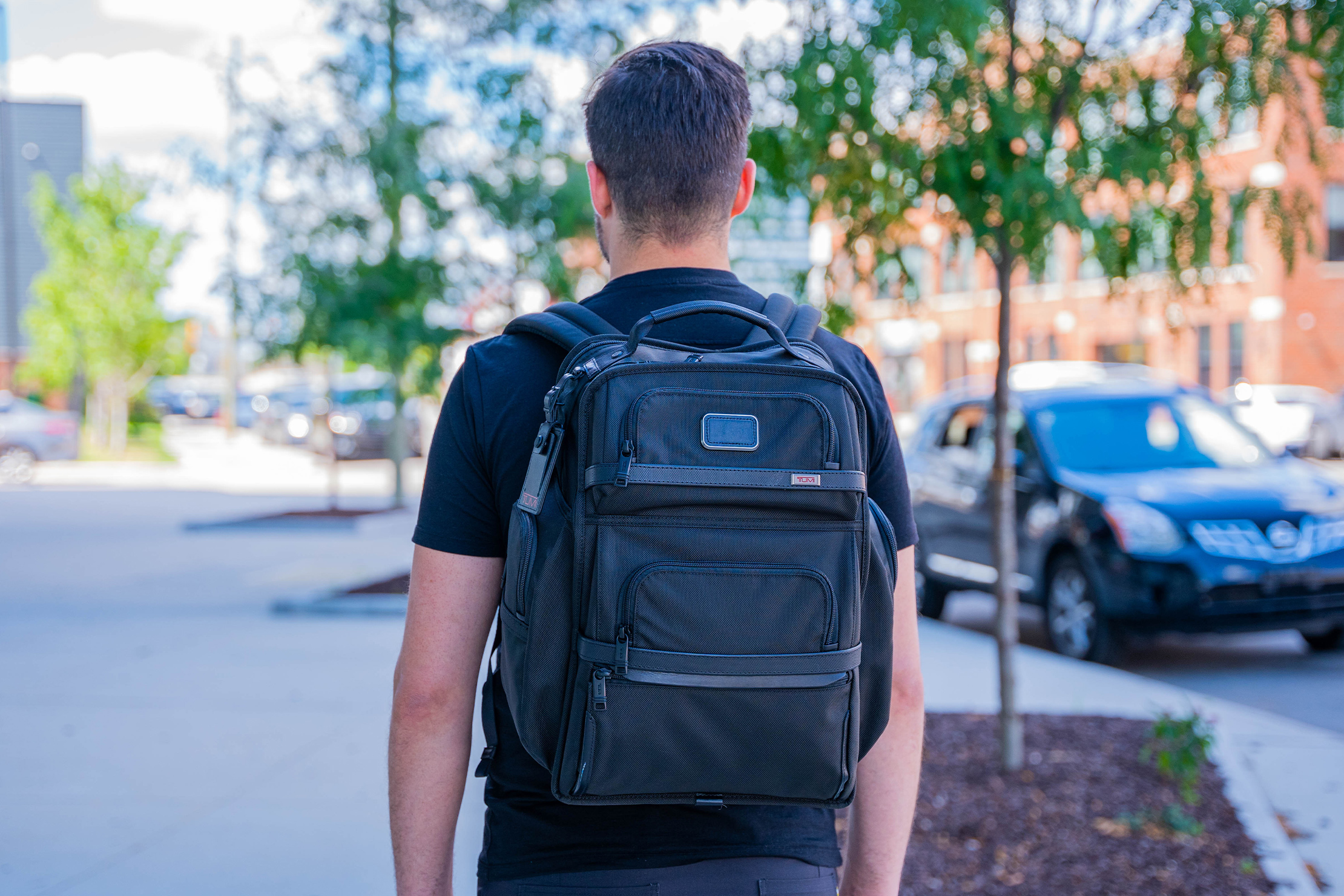 So, what does the Brief Pack bring to the table? For starters, it has a lot of pockets, and we do mean a lot. There are three front pockets and two at the sides, in addition to the usual laptop and main compartment—you get even more inside the latter. There's plenty more to like about the Brief Pack that showcases TUMI's know-how when it comes to travel gear. So, is there anything holding the Brief Pack back? Let's find out.
External Components
The Brief Pack looks bristling with features. There are a lot of pockets and compartments scattered throughout the bag, and it makes for a busy-looking aesthetic. For us, though, the first thing that sticks out about the Brief Pack is the zipper pulls. They're very jingly, almost to the point that you may actually hear this bag before you see it coming around a corner. We don't like this sort of jingliness because of how distracting it gets whenever we're walking around.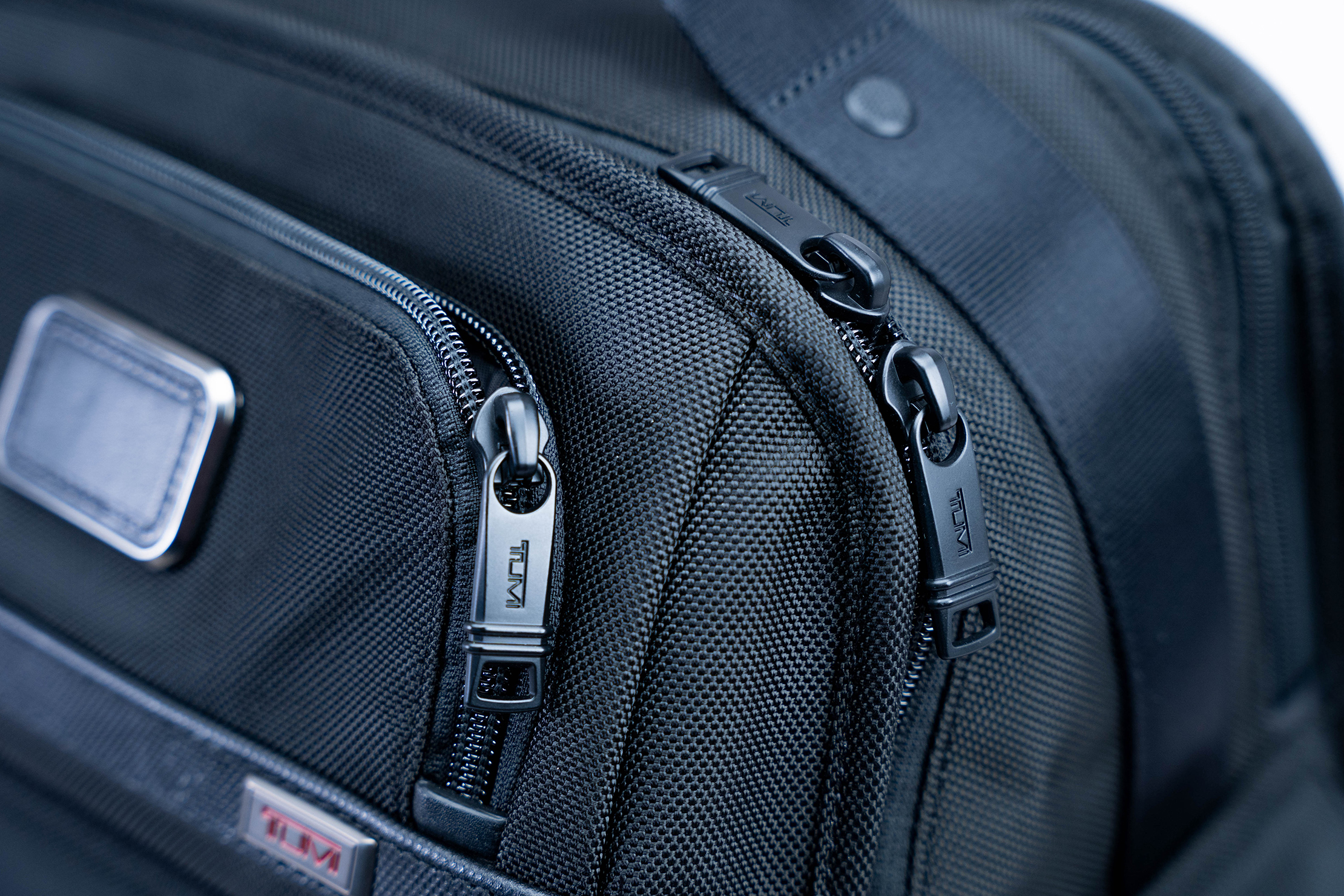 TUMI does sell other zipper pulls as part of their Accents Kit, which should be quieter. That said, the Brief Pack is already pricey as it is, so we wish quieter zipper pulls were included—kind of like what Tom Bihn does.
In fairness to TUMI, the zipper pulls may be jingly, but they do feature some cleverness. Their rings are relatively thin, which allows them to pass through the slider's loop if they're pulled hard enough. This means that if the zipper gets jammed, the pull breaks off the slider, thus preventing further damage along the zipper elements.
Oh, and did we mention that these are YKK zippers? Yep, so you can rest assured that the chances of these zippers breaking are minimized.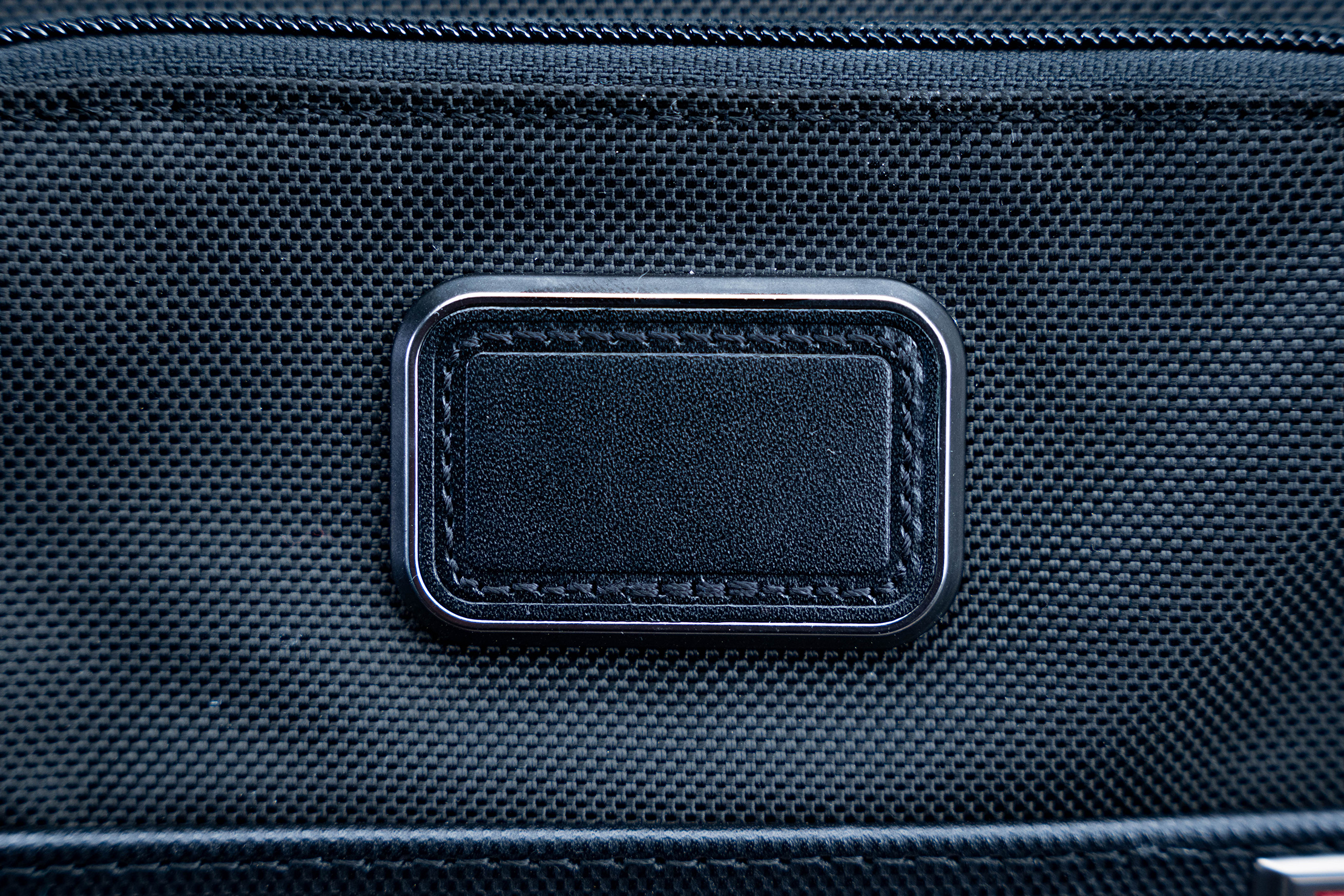 Zippers aside, your eyes may be drawn toward the blank logo at the front. It's the monogram patch, and TUMI includes one, and you can customize it on their site. If that's not enough eye candy, there's also the Accents Kit we mentioned earlier. Apart from zipper pulls, the kit includes two patches, a luggage tag, handle wrap, and a pouch. It is an add-on that adds to the cost, though, so it makes the Brief Pack an even pricier proposition.
Our sample already came with a luggage tag, and it's well-built, too. It's leather and has a built-in cover, so your information isn't always on display. We're happy to see that it doesn't feel like an afterthought, considering the bag's already hefty price.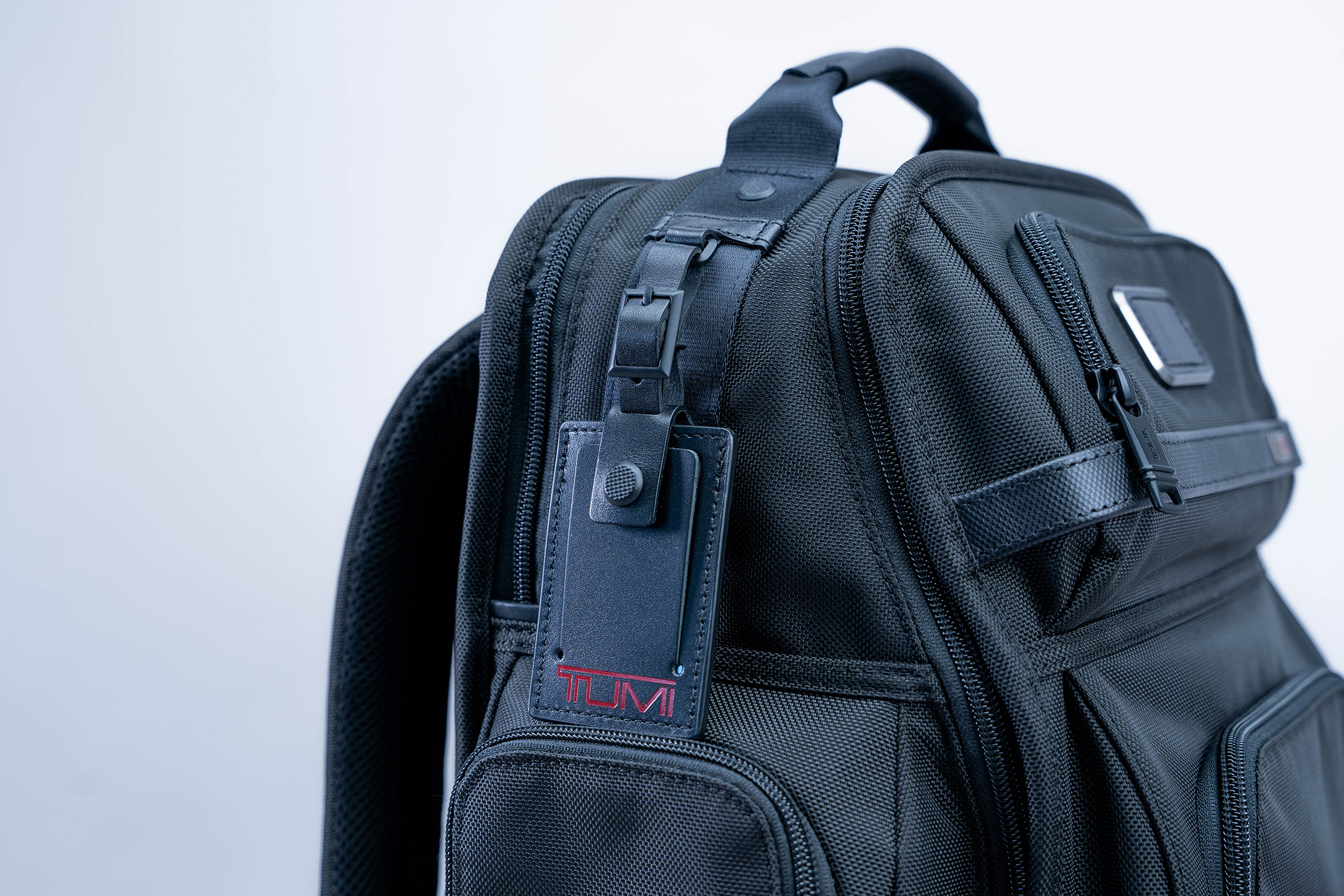 Add-ons and bits that make the Brief Pack stand out are fine if you're really into that. For us, though, they're really not that necessary (apart from some quieter zipper pulls). On its own, the Brief Pack is pretty solidly built with FTX ballistic nylon that feels very structured all throughout. Parts of the ballistic nylon acting as reinforcement even get some slick coating.
Something else that's coated is the top handle. Even without the handle wrap from the Accents Kit, the handle does well on its own. It's centered, so there's no awkward forward or backward lean. This is in contrast to other backpacks whose handles are situated between the shoulder straps (i.e., towards the back).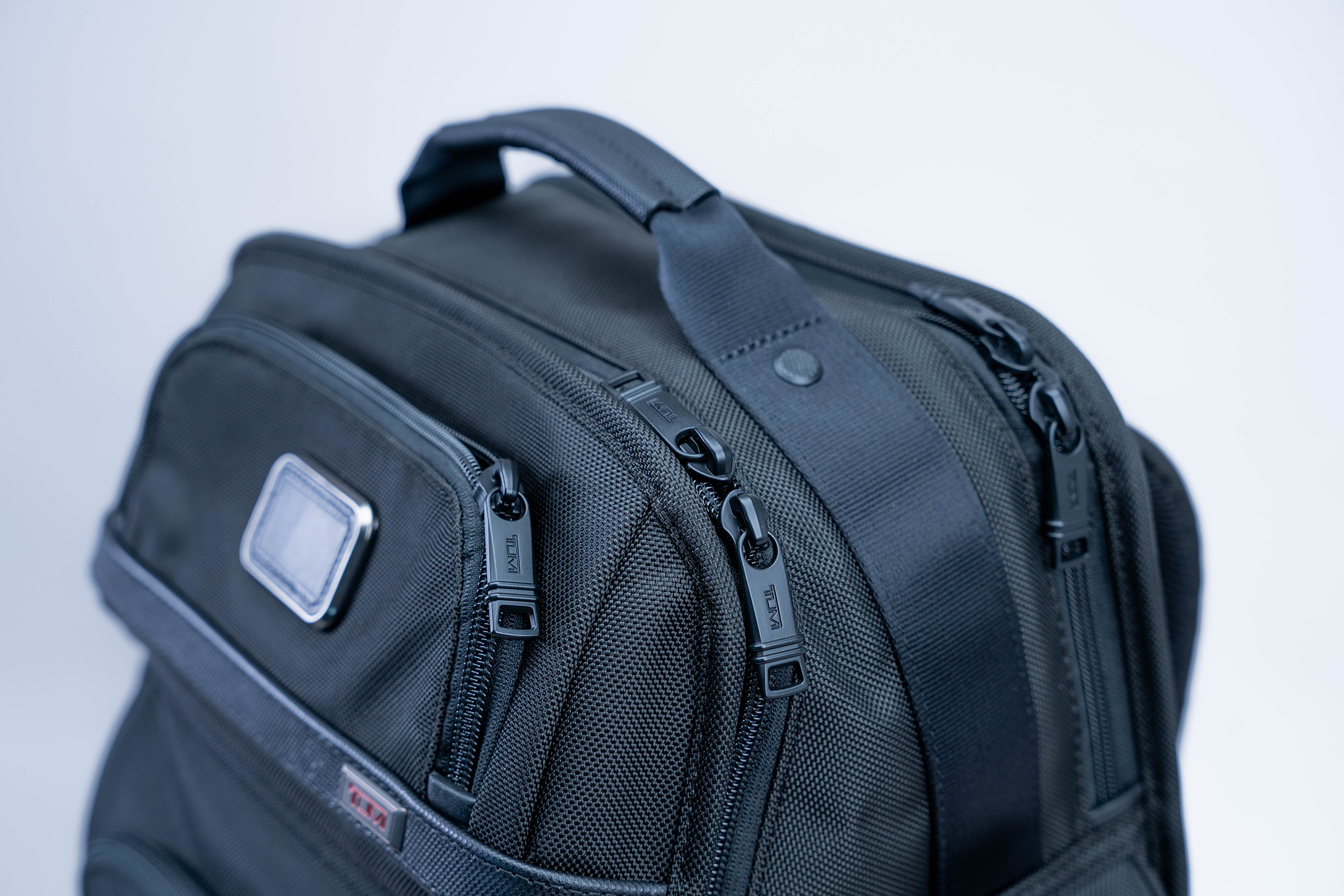 On the surface, the Brief Pack's harness system is well-mated to the bag's size. The shoulder straps have a decent amount of padding, and so does the back panel. Breathable mesh covers all surfaces where the bag makes contact with your body, so there is some breathability there. The usual disclaimer applies here, though: Your mileage may vary since mesh can only do so much to prevent a sweaty back. So keep that in mind if you're carrying the Brief Pack under a scorching sun or somewhere with high humidity.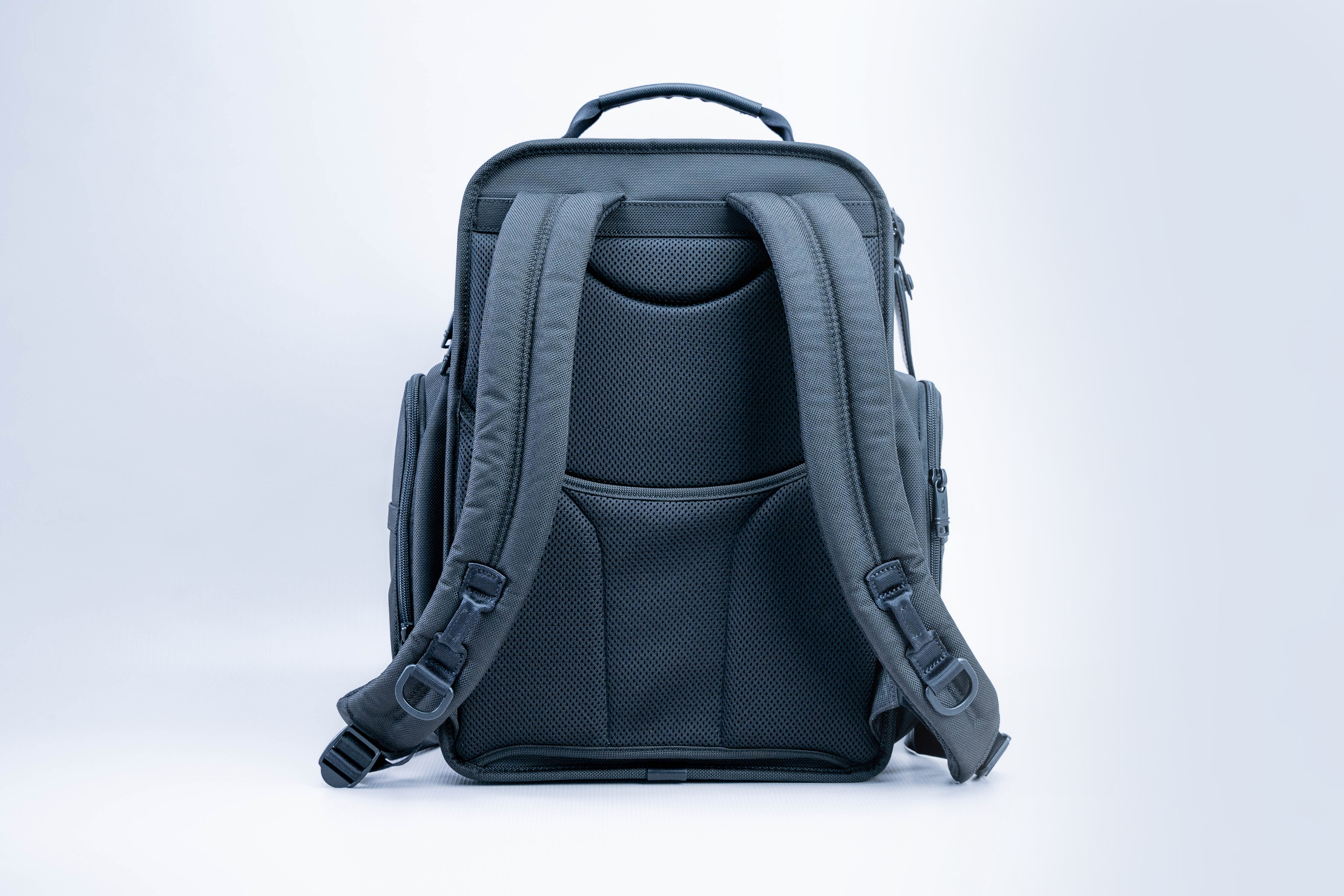 Something that's noticeably missing from the Brief Pack is a sternum strap. Oddly enough, there are loops on each of the shoulder straps where you can attach it. However, there's only one of these loops on each side, so you won't be able to adjust the height.
Below each loop is a D-ring where you can hang accessories like a carabiner or a keychain. Lastly, the straps are tapered off with leather. This is arguably an aesthetic touch, but we do like the reinforcement it gives.

A luggage pass-through is neatly integrated into the back panel. It starts along the bottom edge and comes out from the crescent seam in the middle. The fit is relatively tight here, and it really locks the bag against the handle of our rolling luggage.
Fit Notes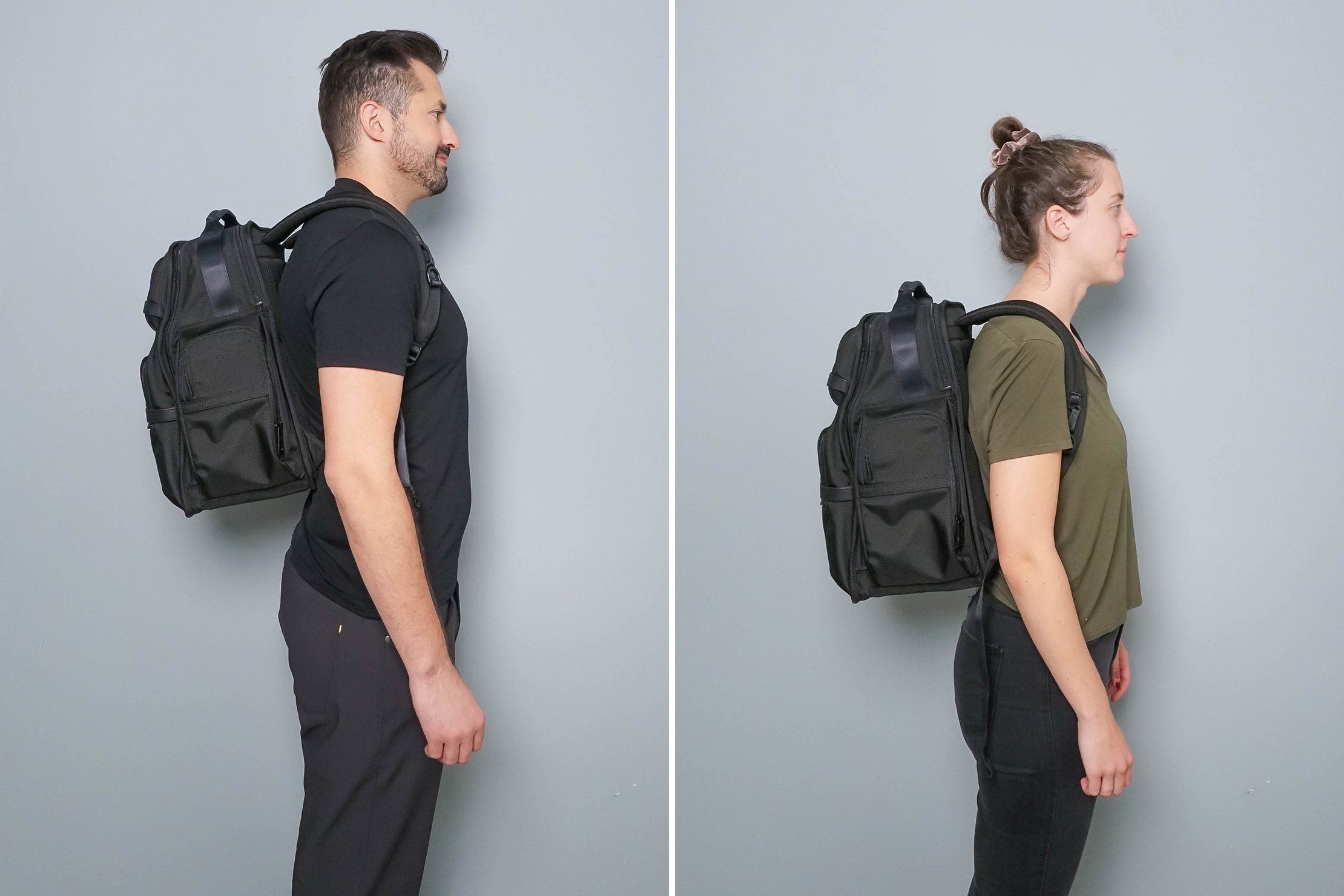 As we've said, the harness system seems capable on the surface. However, once we've tried the Brief Pack on, the overall feel just isn't quite comfortable. There's a saggy feeling despite any adjustment we do with the shoulder straps. This may be due to how much depth the Brief Pack has versus its height. It almost gives the bag an unstructured feel when it starts to pull back on you.
In other words, it's the way this bag is shaped that compromises carrying comfort. The lack of a sternum strap doesn't bother us as much, and we'd say the padding is sufficient, but we're just not satisfied with how this bag carries.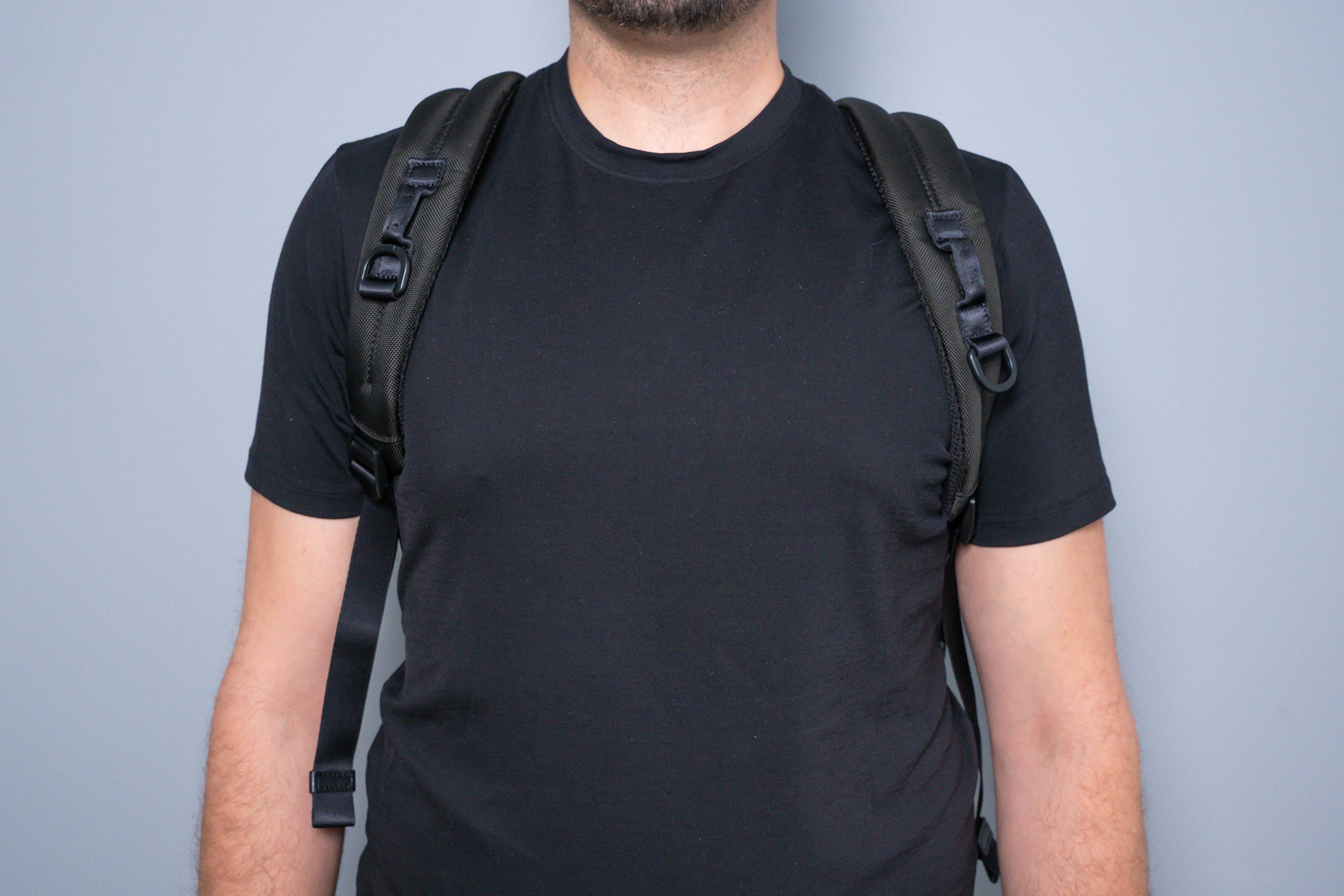 Still, it at least looks good, as subjective as that may seem. Despite being littered with pockets, the Brief Pack manages to pull off an organized and symmetric look. It doesn't look too confusing; there are just a lot of these pockets to explore one by one.
Inside The Backpack
There are so many pockets to choose from, but we'll start with the ones at the sides. These side pockets may look identical on the outside, but their different interiors suggest different uses.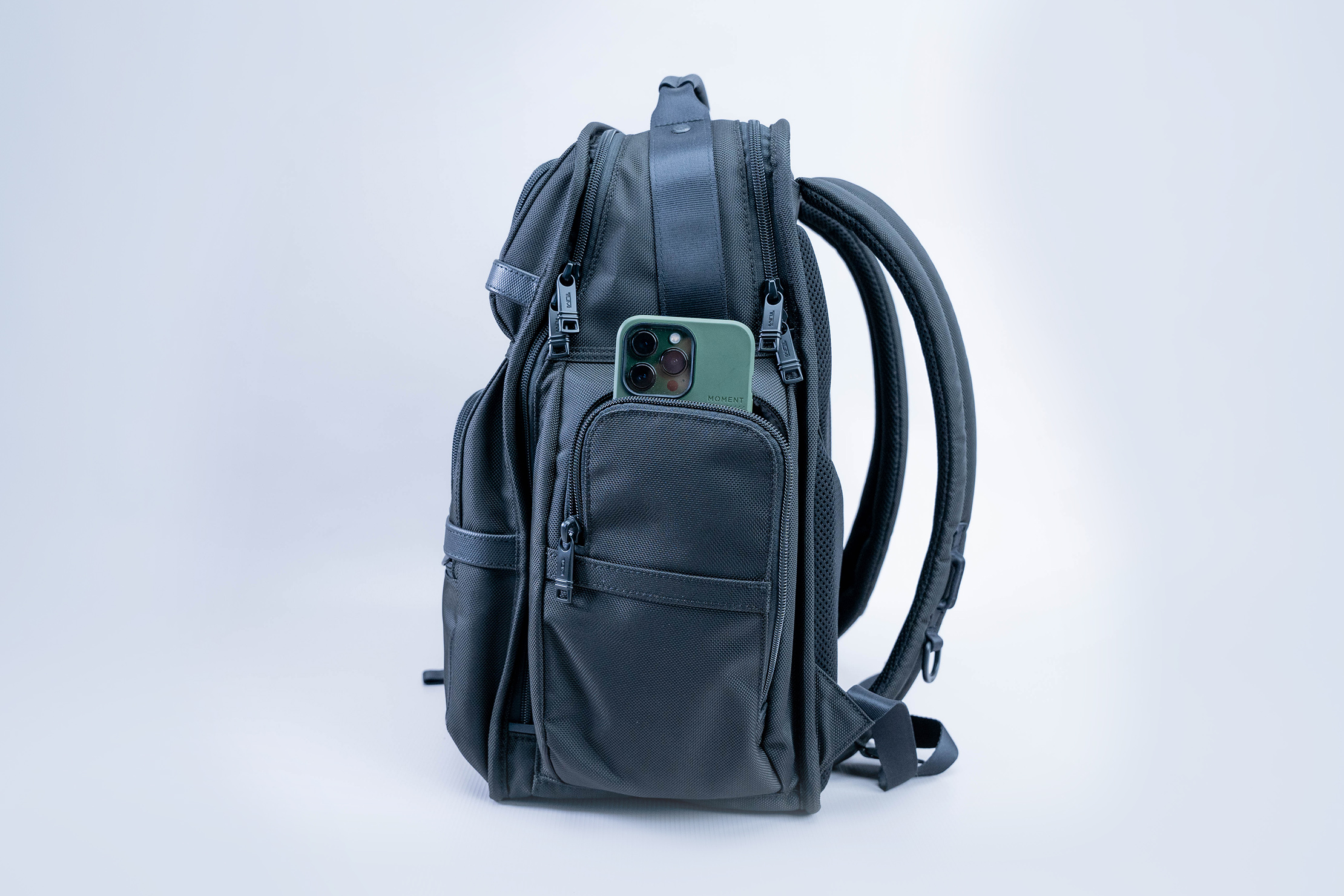 The right one is a dump pocket with a gray nylon liner—nothing too special. The left one, though, has a waterproof black liner, making it more suitable for water bottles or compact umbrellas. Vertical clearance isn't that high, so you'll be limited to short bottles like our Snow Peak Tsuzumi Bottle.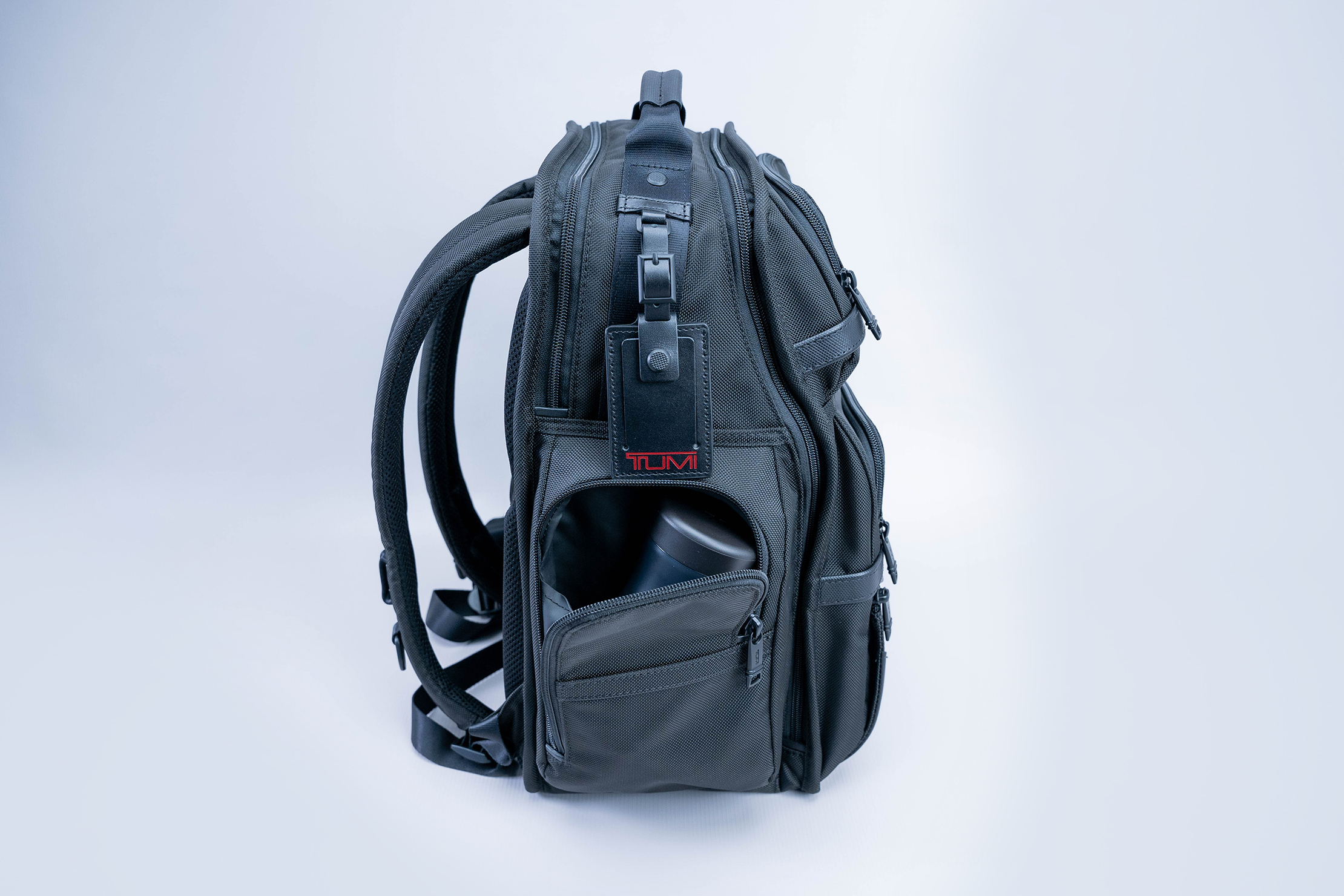 One neat attention to detail with these pockets is the gussets. Their openings go all the way back, and the gussets allow them to open up wide. This means you can—relatively speaking—easily open each pocket with your opposite arm to get whatever's inside.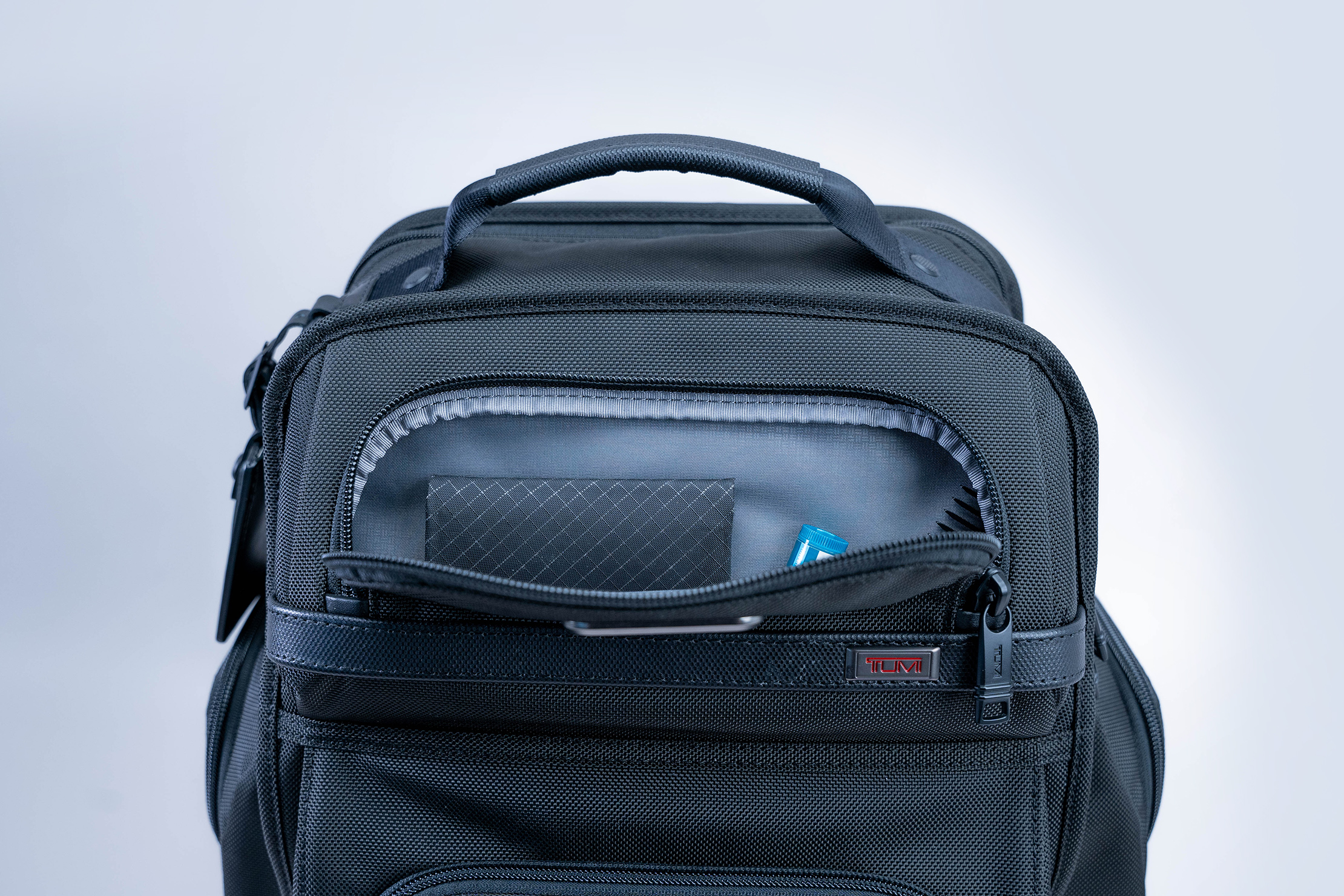 There are more pockets at the front. At the top is another dump pocket, which doesn't seem very spacious from the outside. Inside, though, there's plenty of depth to store even bulky accessories like a wallet or a medium-sized power bank. That said, we found it to be more useful if kept unoccupied since it's an ideal spot to quickly stash items from your own pocket when going through airport security.
Lower down is another similarly-sized pocket. Unlike the previous pocket, this one has a bit more organization inside. There's a zippered pocket, two liner pockets, and a key leash. Additionally, there's the TUMI Tracer patch that bears a unique barcode with your information on it (if you decide to register your Brief Pack).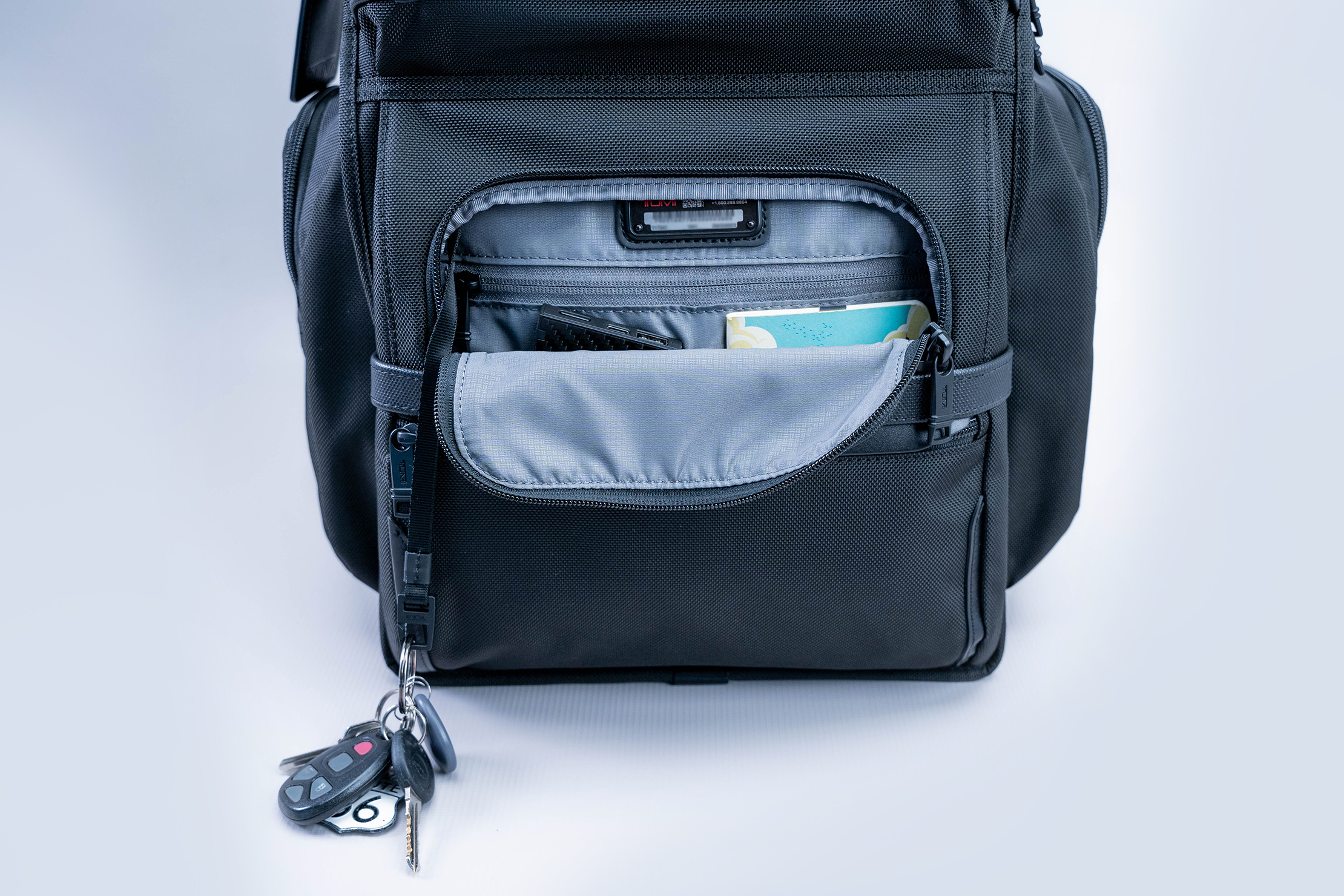 The idea is that in case you lose the Brief Pack, whoever finds it can scan the barcode and find relevant information so they can return it to you. We're not quite sure how effective this would be in the real world since it's inside one of the bag's many pockets.
Lastly, there's a third pocket located just below the leather accents along the bag's bottom half. It's another dump pocket for other gear you need to store. Since this one's all the way down, we'd save this for less frequently used gear.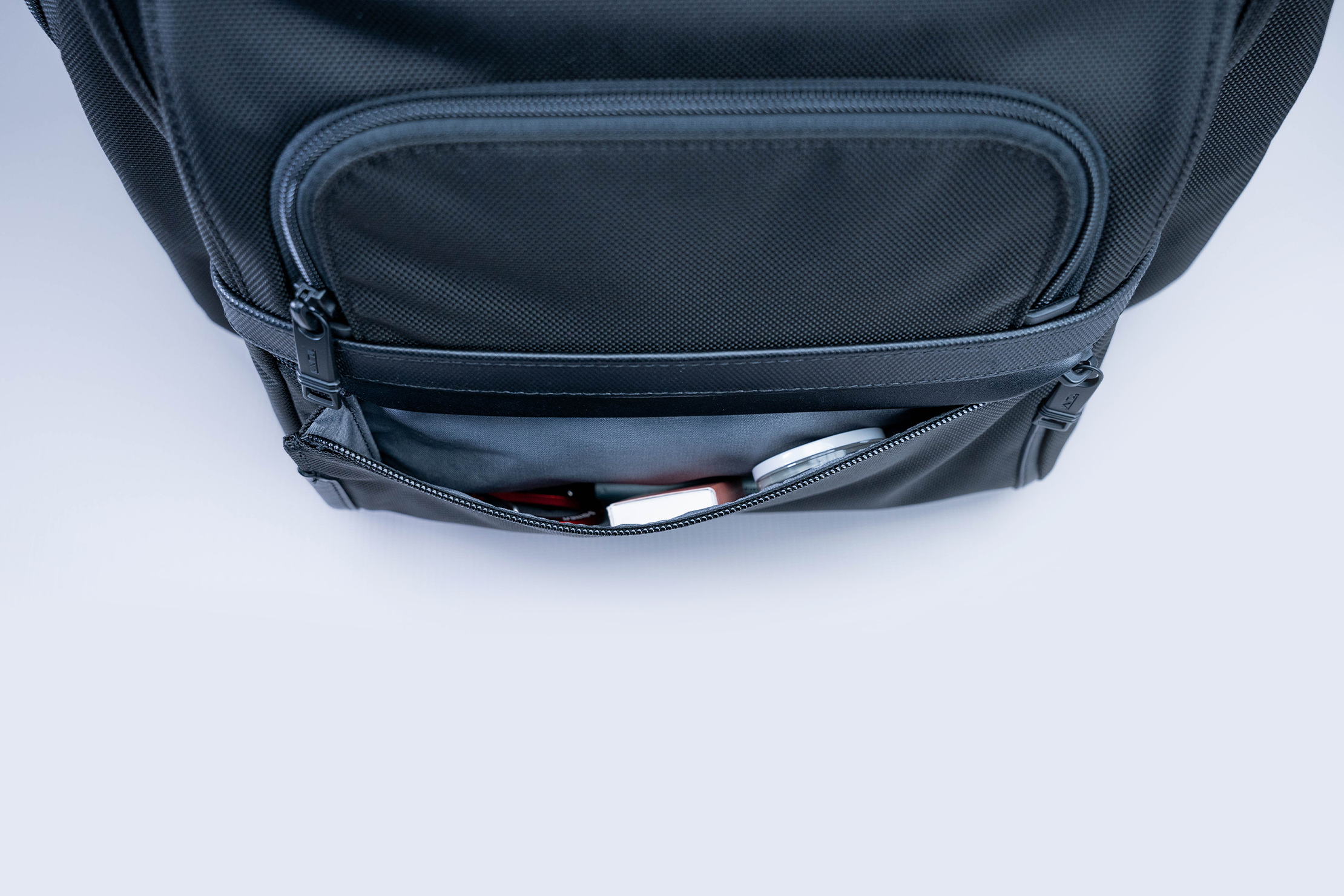 There's a dedicated compartment for your laptop on the Brief Pack. It's at the back and opens up horseshoe-style. That's a relevant thing to point out since the compartment spans the entire back area of the bag, so having that much access could be useful in case you drop something small inside.
As big as the space inside is, though, there's a notable lack of a false bottom. There is some padding along the bottom edge, but other than that, there's nothing to protect your laptop in case of a drop. We wish TUMI incorporated a false bottom into its design since it's a feature a lot of other brands use.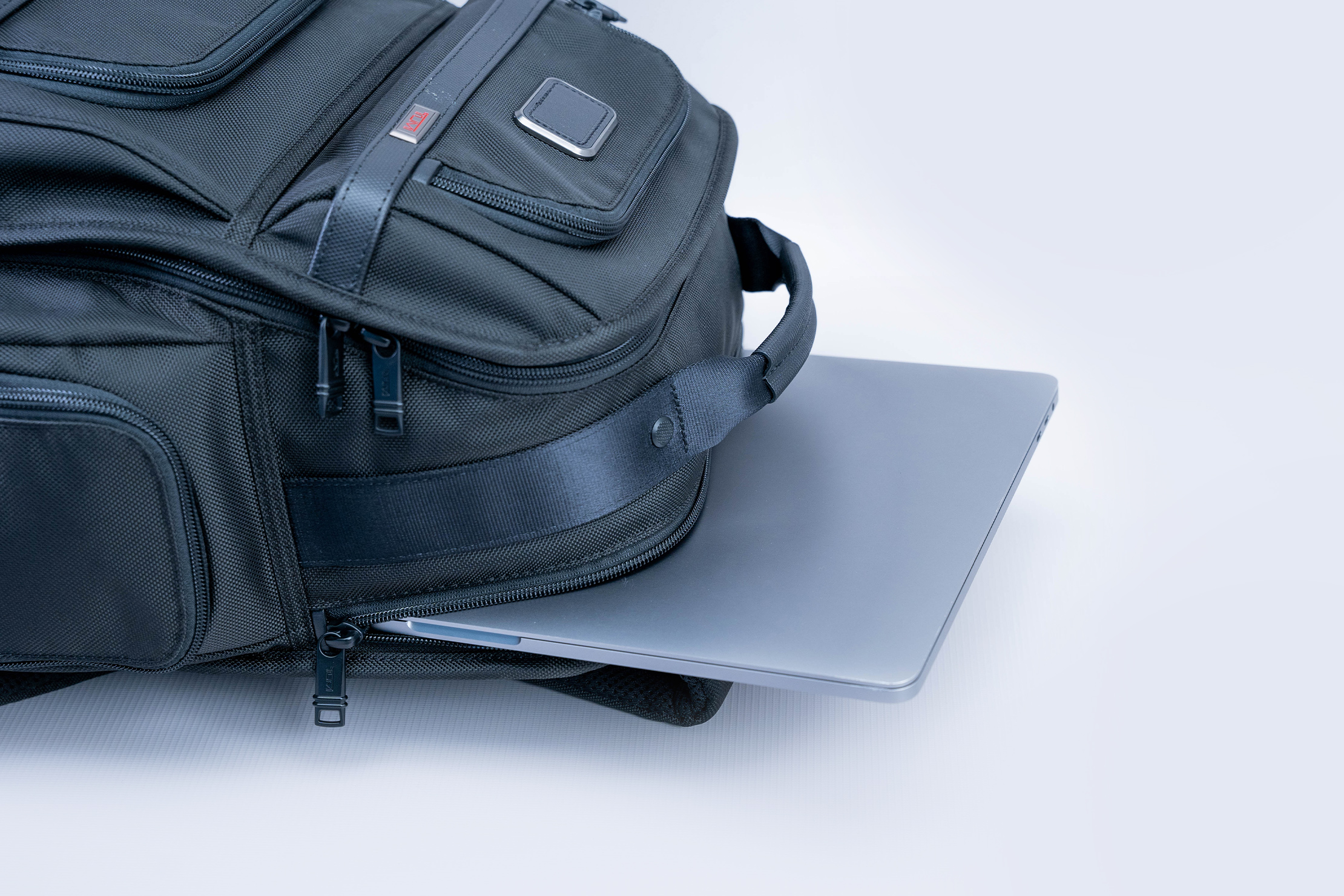 Something else we've noticed is that the soft liner inside the laptop compartment is rather loose. It's not like the fabric feels baggy, but it does mean gear in the adjacent compartment can jut in. That can make taking out and putting your laptop inside extra hard, depending on how packed out the main compartment is.
The main compartment's zippers go all the way to the sides. You would think this would result in a clamshell-style opening similar to a suitcase. However, there are gussets at the sides that prevent the front from completely folding over. We like clamshell-style openings for their ease of access when we're packing a bag. That said, this top loader approach isn't bad either.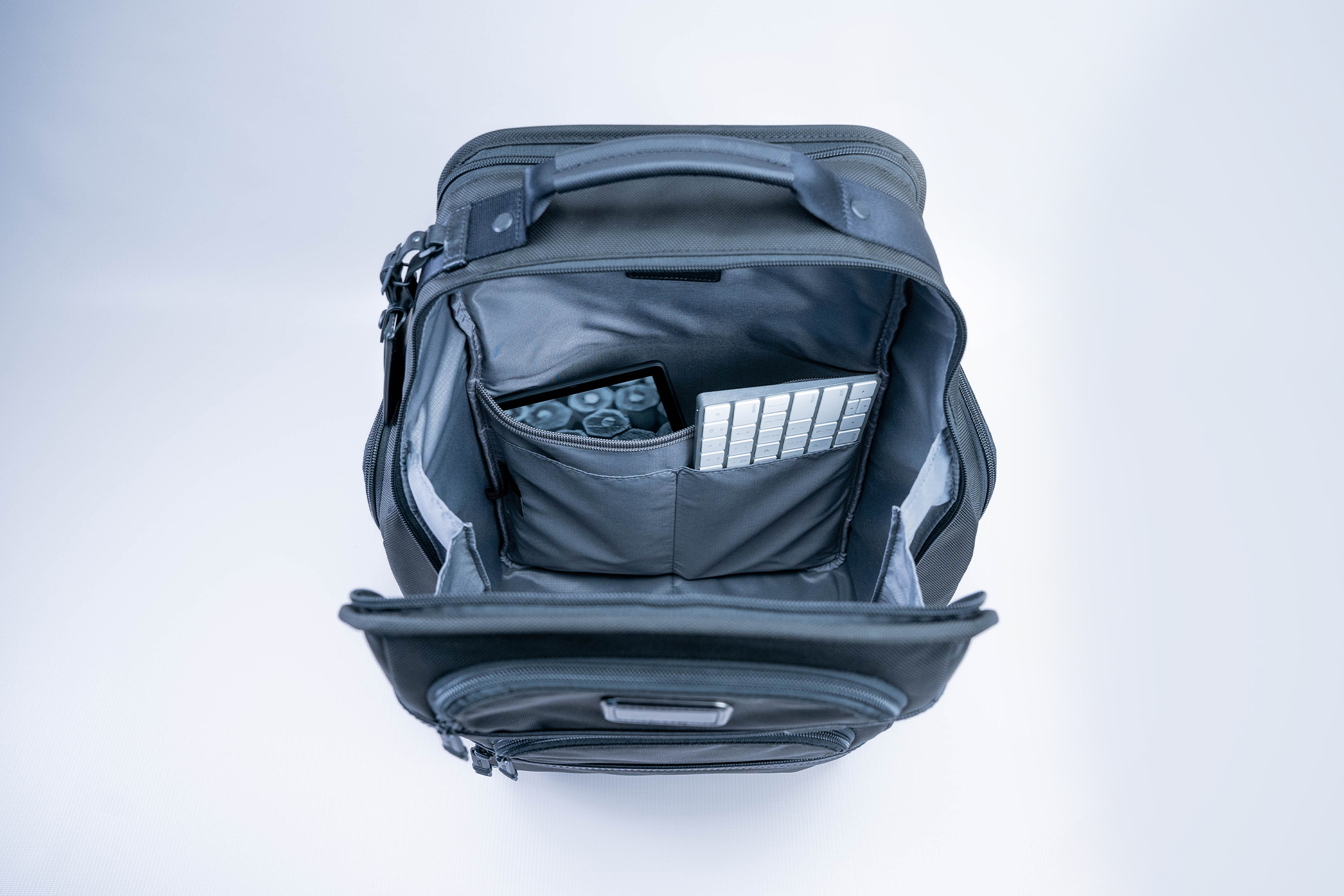 You get more than enough access to get packing cubes and pouches all the way to the squared-off floor. There's no guesswork involved, unlike some tighter-fitting rolltops or horseshoe-style openings. The gray liner also does a good enough job of keeping the interior visible even under poor lighting conditions.
Space isn't really an issue here, as you can see. On the other hand, if it's more pockets you want, then you're in luck because there are more of them in this main compartment.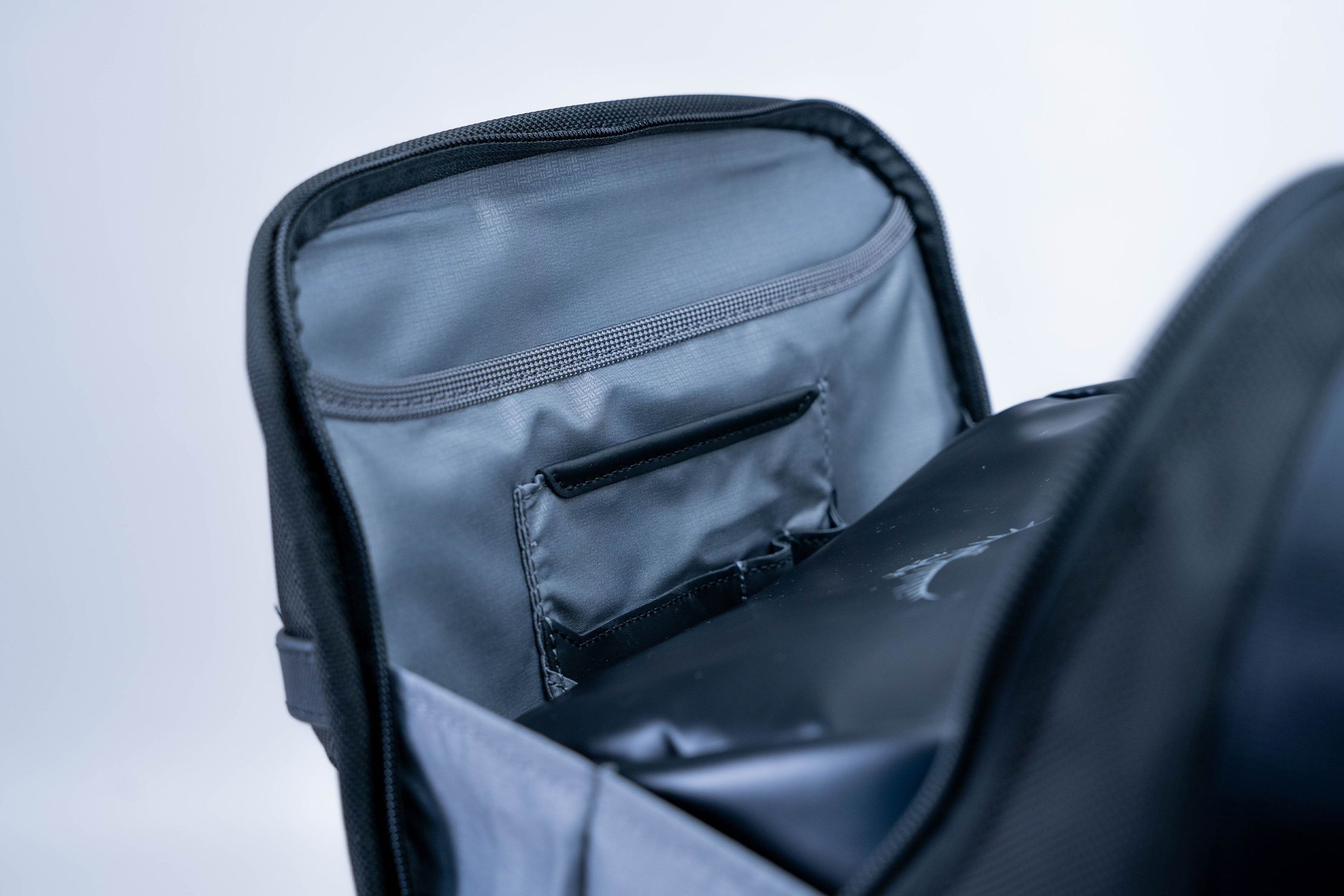 Towards the back is another sleeve that you can use for a secondary laptop (if you're the productive type to carry more than one of those.) Below that are two side-by-side liner pockets that go relatively deep. This trio of pockets may be obscured once you have the main compartment filled up. Fortunately, most of the smaller gear we frequently access can be stored on the front side liner pockets.
At the front side, you get a bunch of these liner pockets. There are two pen pockets, three-tiered card pockets, and one passport pocket at the top. Above these smaller pockets is a large drop pocket for bulkier accessories like a tech pouch.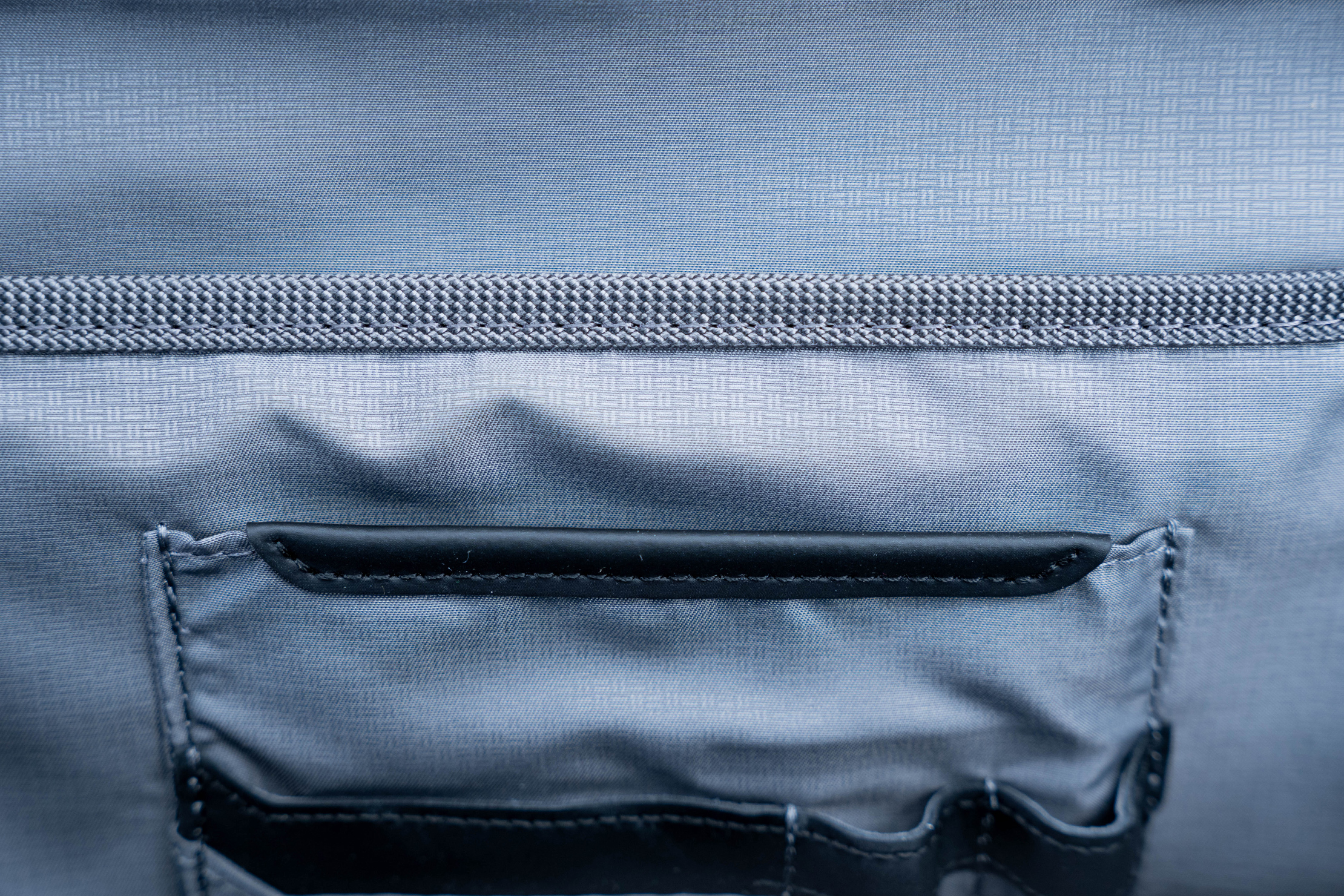 At around $600, the Brief Pack is definitely priced steeply for a backpack. There's nothing inherently wrong with that if the bag performs proportionately to its price. We do see that to some degree with TUMI's good attention to detail in organization and subtle features. Unfortunately, we just can't get over the Brief Pack's saggy carry—it undermines the bag's many pros, making the price tag harder to swallow.
Usage Timeline
Initial Usage
Condition: Excellent
Bag has quite a bit of depth to it
The zippers make it jingly and noisy—though the sold-separately zipper pull ties may help with this
Love the liner side-pocket detail – one is a weather-resistant material, and the other is a standard ripstop
The organization is well-thought-out – dig the mini admin panel in the top interior
2 Weeks of Use
Condition: Excellent
Really enjoy the organization inside of the bag – it feels just right
The carry was saggy for us, especially when filling it up with a lot of weight—not as comfortable as some other bags we've tested
If the main compartment is full, it can cut into the laptop compartment and make it difficult to slide a laptop in and out easily
The luggage passthrough works well—really locks the bag into place
Access the Pro Community Discussion
Get your questions about the TUMI Brief Pack answered from our team and the Pro Community right here on the page. Plus, join discussions with other members about gear, guides, and more.
Other Bags & Luggage Reviews