Snow Peak Tsuzumi Bottle Review
The Snow Peak Tsuzumi Bottle's hourglass shape is good for ergonomics, but not so much for packing efficiency.
Our Verdict
Unlock the Pro Summary
Save time. Get access to brief summaries of our reviews so you can browse and make decisions more efficiently.
Pros
Ergonomic shape is comfortable to hold
Retains temperature really well
Internally threaded opening is easy to drink from
Cons
Hourglass shape doesn't maximize space in a bag
Relatively small 12-ounce volume for daily hydration
Regular cleaning is a must to avoid staining and lingering smell
Recent Pack Hacker Video
Technical Details
Capacity

0.35l

Weight (oz)

7.5 oz (212.6 g)

Notable Materials

Stainless Steel, Polypropylene, Silicone

Manufacturing Country

Japan

Warranty Information
Full Review
Have you ever made a pot of coffee so nice you want to take it with you? Maybe you've stumbled across some quality coffee grounds from a local shop. Or perhaps the new coffee maker you just bought is that good. Either way, bringing that small cup of happiness along is a good way to keep up morale on the go. But what's a nice hot drink good for if it's gone cold when you reach your destination? Enter: the insulated bottle.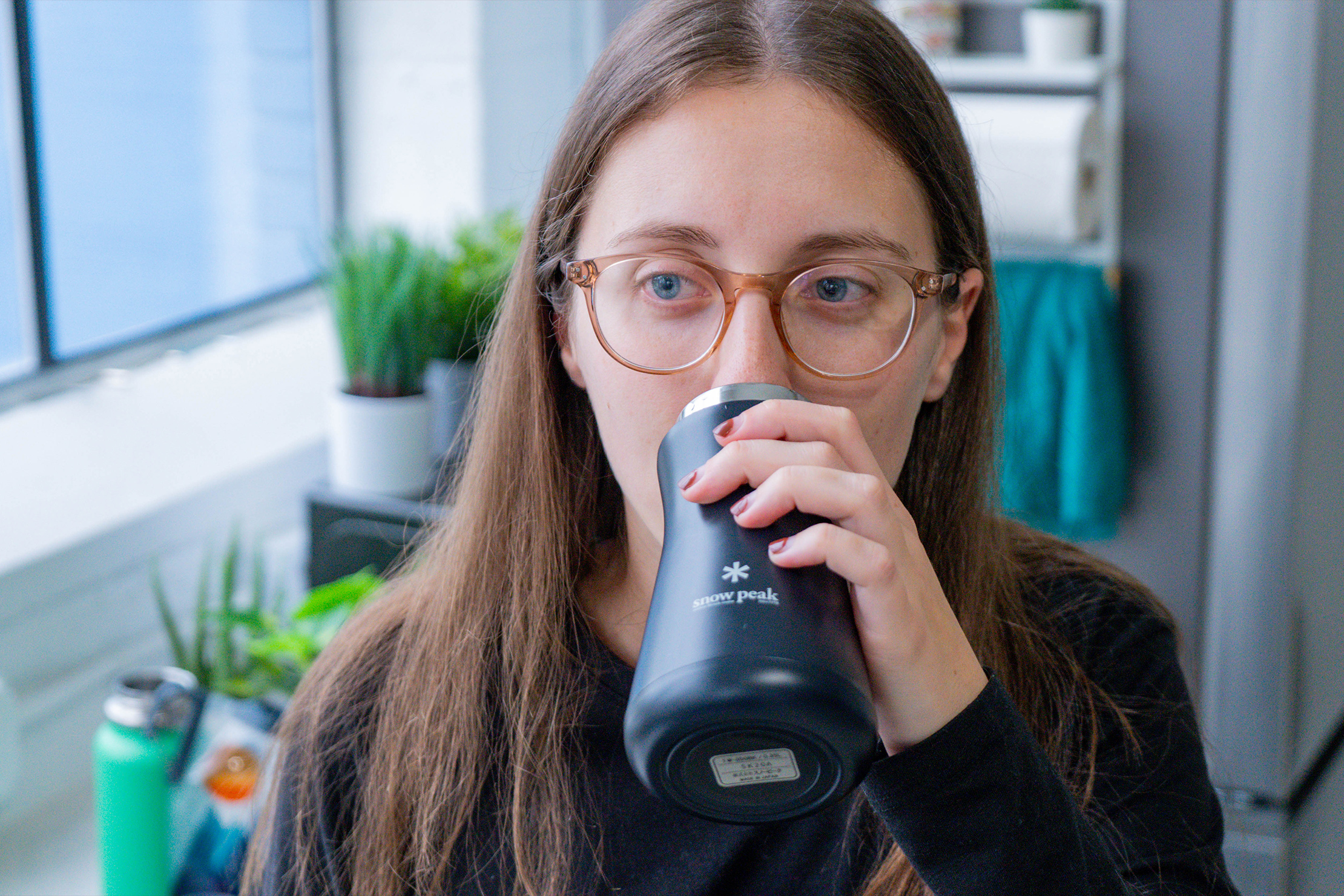 In this review, we'll be taking a look at Snow Peak's Tsuzumi Bottle—you can already taste the hot chocolate from the name alone. But before we get ahead of ourselves, this hourglass-shaped bottle does come with a few pros and cons. In terms of ergonomics, it's a nice bottle to hold, and thermal performance is strong. On the flip side, the non-uniform shape creates some problems when it comes to packing. We'll be discussing those and more, so without further ado, let's see what's what with the Tsuzumi Bottle.
Materials & Aesthetic
"Classy" is a descriptor we like to use whenever we see a design that we'd consider elegant and timeless. In our eyes, the Tsuzumi gets solid marks for being both. Starting with the hourglass shape, it's a nice profile to admire, with just enough asymmetry to earn it a spot in a modern living room and not just the pantry. The bottlenecked shape also has a practical function, as we'll discuss later on.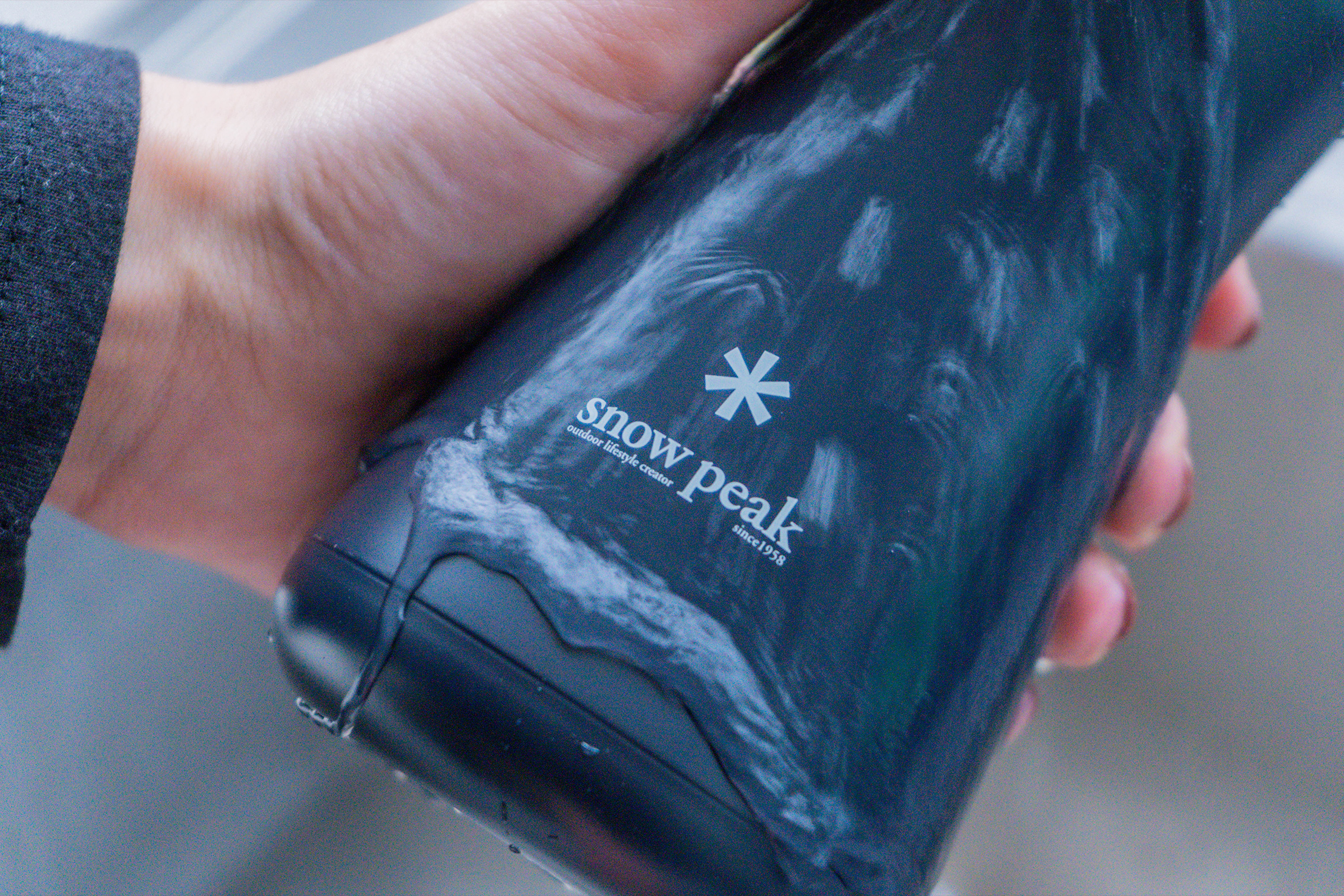 At the time of writing, the Tsuzumi comes in five different colorways: Black, Navy, White, Sand, and Red Clay. We're sampling the Black one, as we typically do, though the body does have a noticeable bluish tint in certain lights. You can see it under really good lighting as it contrasts quite a bit with the black cap. Mind you, we don't mind a bit of a two-tone theme on our bottle. In fact, we think all of the colorways the Tsuzumi comes in fit the classy aesthetics the brand's going for rather well.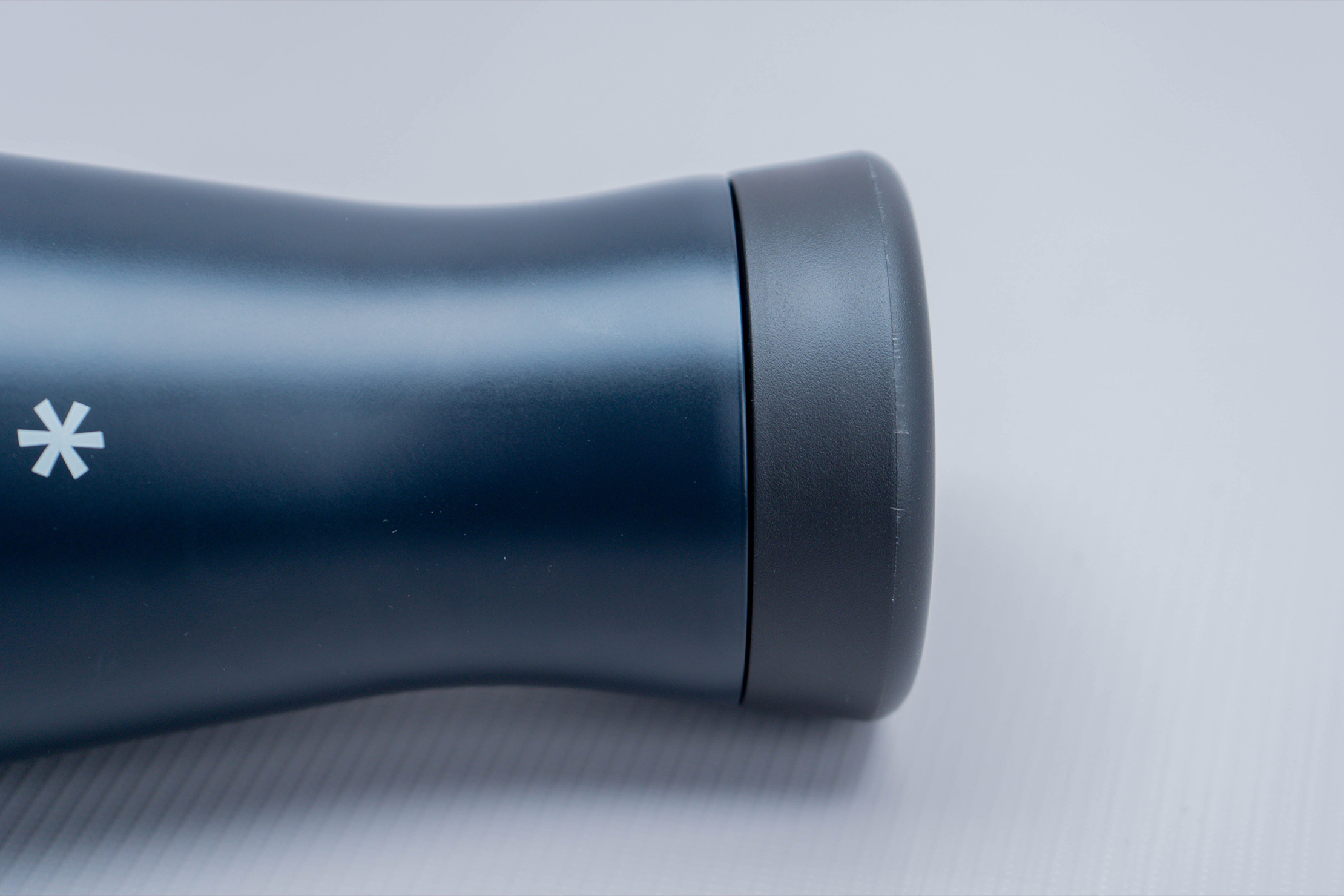 Branding is kept to a minimum, with only a lone contrasting logo on the side and an embossed snowflake on the cap to top things off. Other than that, the Tsuzumi bottle ticks all of the boxes under the minimalist styling checklist. The shape is uniform and artsy, with nothing jarring to report. It feels quite hefty for its size as well. The same basic ingredients of stainless steel, polypropylene, and silicone are found here, just like on most other insulated bottles. The most notable bit of damage on the Tsuzumi so far is some slight blemishes around the cap. They're fairly minor, though, and they don't affect the bottle's functionality in any noteworthy way.
Usage & Features
Going back to the carafe/hourglass shape, it's a very ergonomic one to hold. The slight bottleneck is wide enough to grasp while the conical bottom half fits well with the rest of your hand. Don't get us wrong; we rarely find insulated bottles hard or uncomfortable to hold. The Tsuzumi's shape just adds a touch of extra comfort to the equation with its shape, which we can certainly get behind.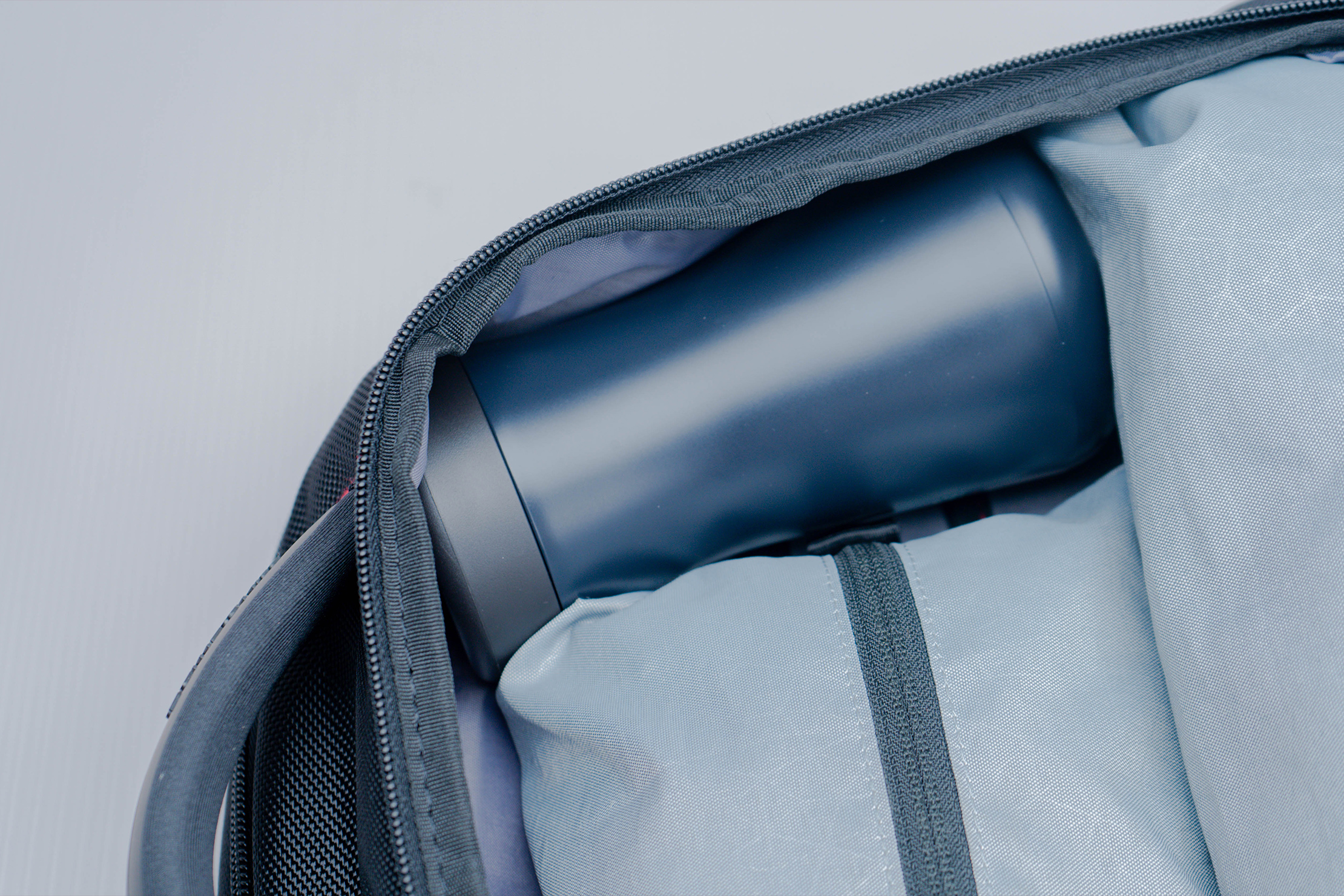 Where the shape shows its weakness is when it comes to packing. With the base of the Tsuzumi being the widest part, it stretches out most water bottle pockets while leaving the rest fairly loose. This creates a lot of empty space around the bottle so it's less firmly secured in place. Not only that, but the non-uniform shape makes it tricky to pack around stiff items. Clothing and packing cubes that can bend and wrap around if it's placed inside the main compartment isn't much of an issue. But against stiffer pouches and toiletry bags? That's a little trickier, and it could cost precious ounces of packing space.
Let's suppose those extra ounces don't matter. Or say our packing skills can work around the shape (as they usually do). Is the Tsuzumi worth it? For starters, let's talk about the threading.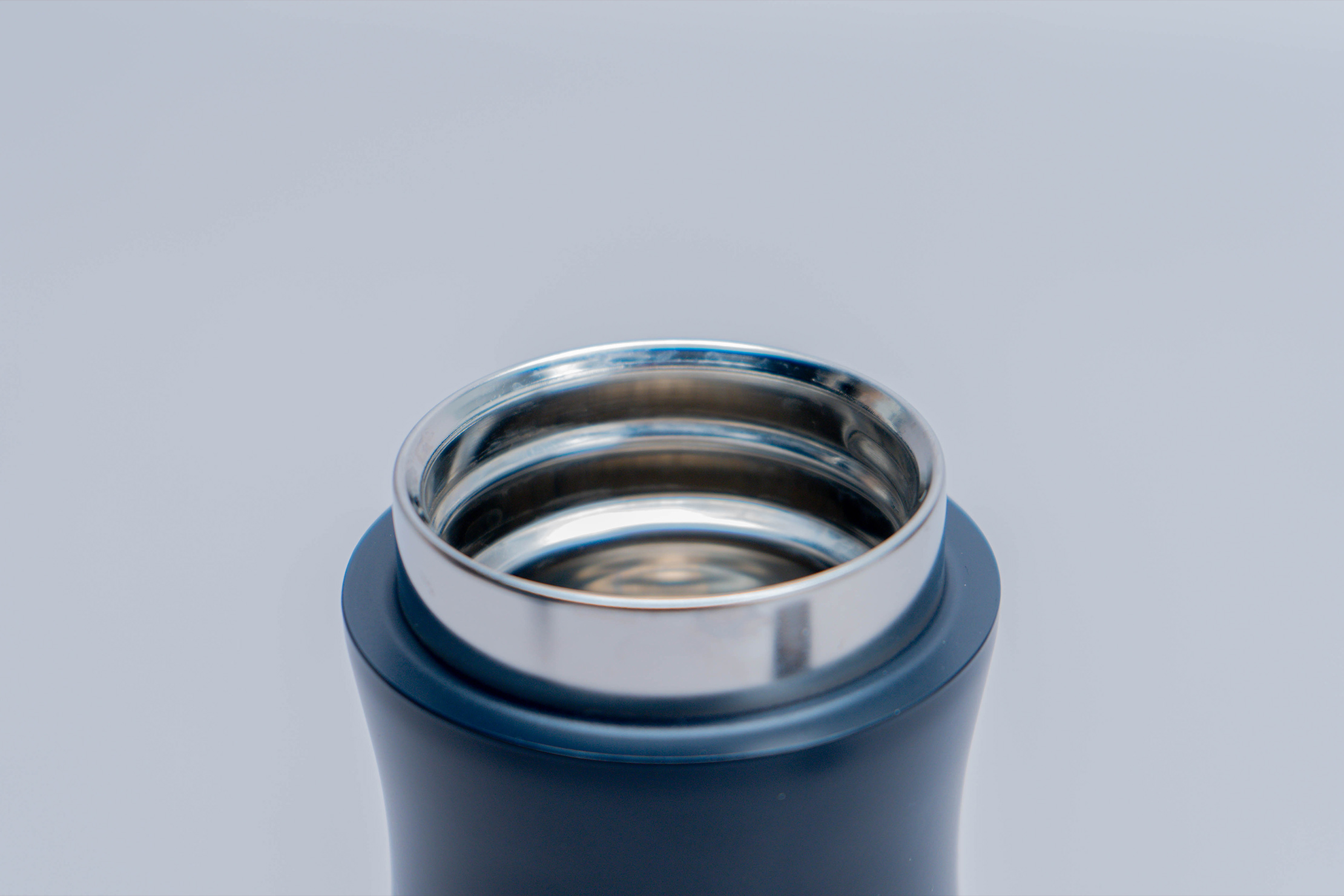 The Tsuzumi features internal threading for its cap. This is the same kind of threading the EcoVessel The ASPEN features, and we praised it for being comfortable to drink from. Likewise, the Tsuzumi is smooth to drink from, as the sleek outer rim is easier on the lips. Furthermore, liquids don't catch on any outside threading, so there's no dripping when capping and uncapping.
The opening itself is relatively wide for its size, which is also a factor in how easy it is to drink from. It's fairly easy to slip ice cubes into the Tsuzumi, even with the slight bottleneck in the middle.

Like the rest of the bottle, the Tsuzumi's cap is simple in its design. It only breaks down into two parts: the main cap and the rubber gasket. This isn't necessarily a bad thing since it just means fewer parts to keep track of during cleaning. That said, those who are looking for more functional tea spouts, built-in straws, or even handles will have to look elsewhere, as the cap is just that: a cap.
In terms of size, the Tsuzumi is rather small at just 350 ml, or just under 12 fluid ounces. Put another way, the Tsuzumi wouldn't be our first pick if we need frequent hydration throughout a busy day. What it's best at, though, is containing drinks like tea, coffee, hot chocolate—drinks that you generally don't gulp down by the gallon. With these, temperature is a huge factor in maintaining their flavor.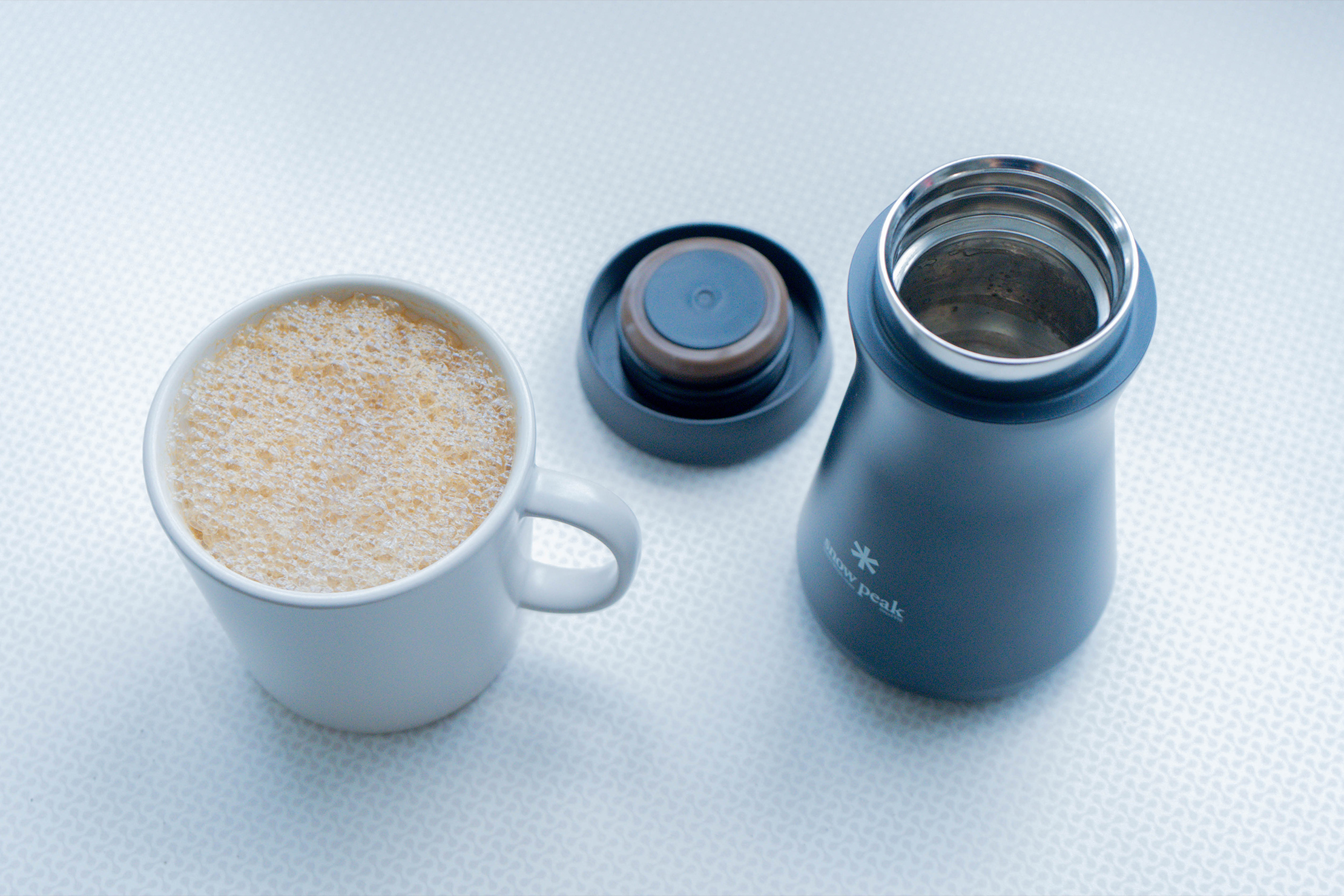 This is where the Tsuzumi performs really well. In day-to-day use, our daily batch of coffee remained hot throughout the day. We did a closer observation using hot water to make sure this wasn't just a fluke or our minds playing tricks on us. After about five hours, we poured the water out, and it was still too hot to drink. Needless to say, that means no more reheating coffee in the microwave for us.
After all that coffee is gone, thorough and immediate maintenance is a must for the Tsuzumi. We found that the interior of the bottle is prone to staining and retaining smell from coffee. Leaving the bottle to soak overnight with leftover coffee is enough for the coffee smell to really dig in. It took a few washes to eventually get rid of the smell, so we highly recommended daily washing to avoid the extra effort.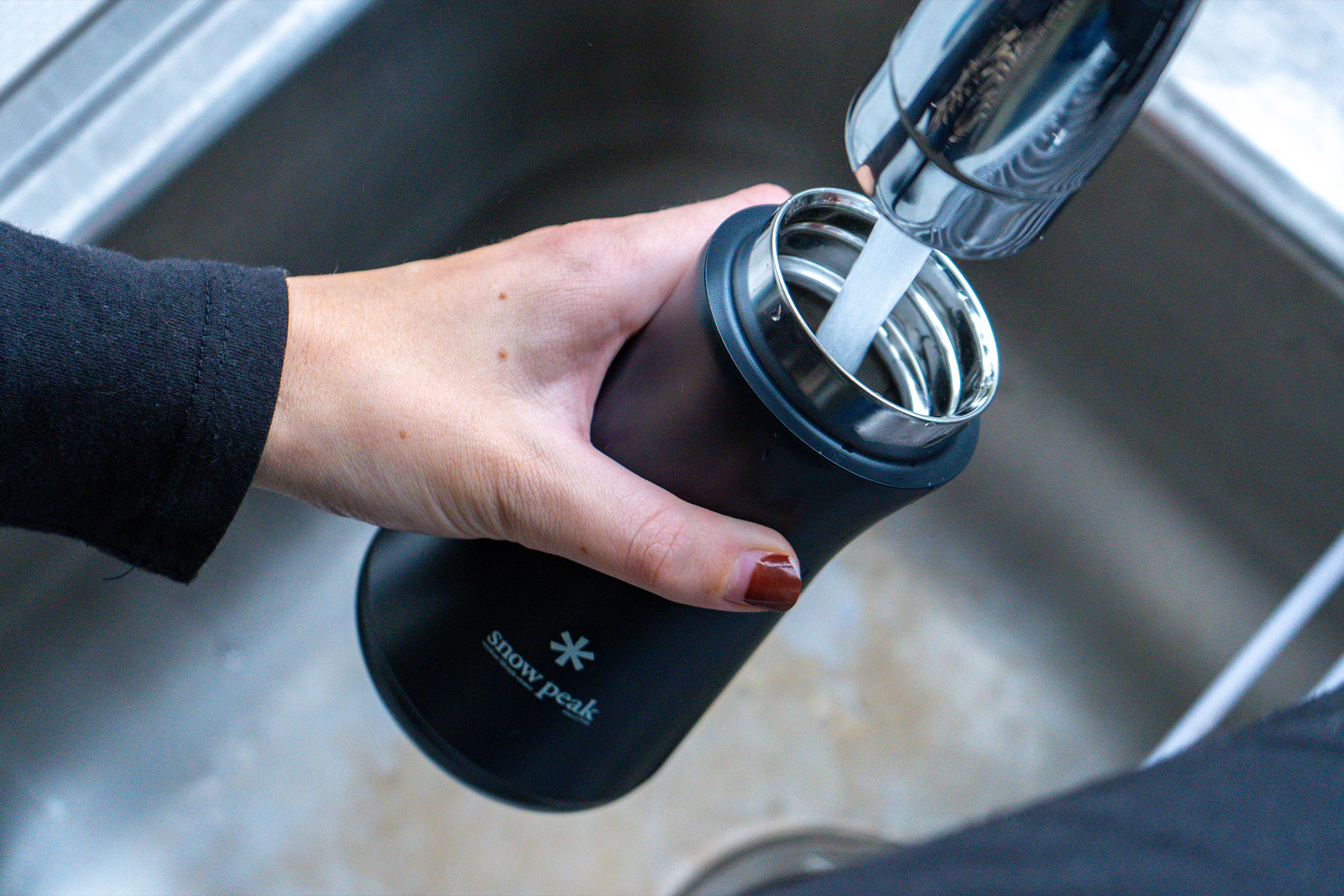 Insulated bottles come in all different shapes and sizes, and Snow Peak's take on the concept is a bit more focused than we initially thought. The small size and ergonomic shape make it a nice little hot beverage dispenser for our use case. While the bottle's shape and frequent maintenance requirements are important factors to think about, hot beverage lovers who crave unique-looking gear would do well to consider the Tsuzumi.
Usage Timeline
Initial Usage
Condition: Excellent
The unique hourglass shape is easy to hold
It lacks a handle or any attachment points
The opening's fairly wide for inserting ice cubes
2 Weeks of Use
Condition: Excellent
Super ergonomic in hand, but it makes it harder to pack things around it since there's not a straight line to pack gear against
Similarly, it takes up a weird amount of space in a water bottle pocket, as the mesh (or other material) expands to accommodate the base, but the top is significantly smaller
Internal threading on the cap makes for a more comfortable sip and prevents water from dripping on the outside of the bottle
Develops a lingering smell of coffee unless washed properly every single time
Access the Pro Community Discussion
Get your questions about the Snow Peak Tsuzumi Bottle answered from our team and the Pro Community right here on the page. Plus, join discussions with other members about gear, guides, and more.
Other Miscellaneous Reviews