Troubadour Goods Pioneer Backpack Review
The Troubadour Goods Pioneer Backpack is a professional-looking bag with unique access points and organization in a water-resistant package.
Our Verdict
Unlock the Pro Summary
Save time. Get access to brief summaries of our reviews so you can browse and make decisions more efficiently.
Pros
U-shaped opening allows full and easy access to main compartment
Quickly access laptop through top or side zipper
Vented shoe compartment keeps dirt away from gear
Cons
Quick-access pocket collapses into bag when unzipped
Weather-proof zippers stiff to open around corners
Chest strap sold separately
Recent Pack Hacker Video
Technical Details
Capacity

23.5l

Weight (lb)

2.4 lb (1.1 kg)

Dimensions

11.8 in x 19.3 in x 6.3 in (30 x 49 x 16 cm)

Notable Materials

Recycled Polyester, Vegan Leather, YKK Zippers, Duraflex Hardware

Manufacturing Country

China

The Pioneer is also manufactured in Vietnam.

Laptop Compartment Size

17"

Warranty Information
Full Review
Get up to 25% off Troubadour Goods • Join Pack Hacker Pro
Heading out on a business trip or traveling to a more stylish destination, it's nice to have a travel bag that blends into the environment instead of screaming "tourist!" Troubadour Goods checks that box with the Pioneer Backpack, which mixes business with pleasure in a sleek package, blending a laptop bag with a gym duffle, so you only need to grab one to get you through the day.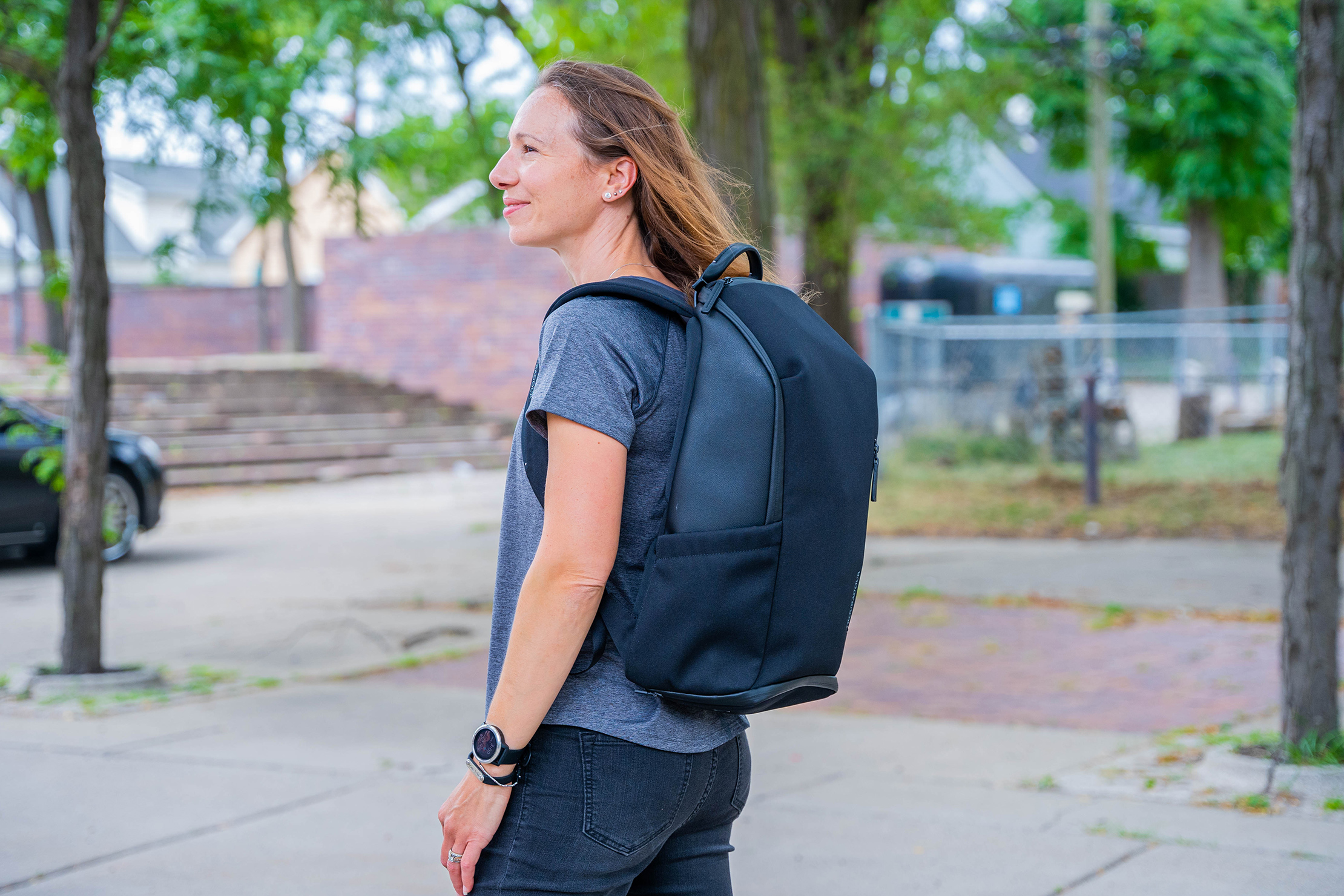 Troubadour, named for traveling minstrels on the move, includes features wanderers will appreciate throughout the bag, from a vented shoe compartment to optional side access for a laptop. How does it all come together? Let's find out.
External Components
The Pioneer Backpack is a backpack, and—short of a top carry handle we use to hang it on a hook—that's the way to carry it. The sleekly-styled bag is made with recycled polyester inside and out, with vegan leather trim. That trim shows up on 2-inch zipper pulls, along the side panels leading into the water bottle pockets, and on the carry handle.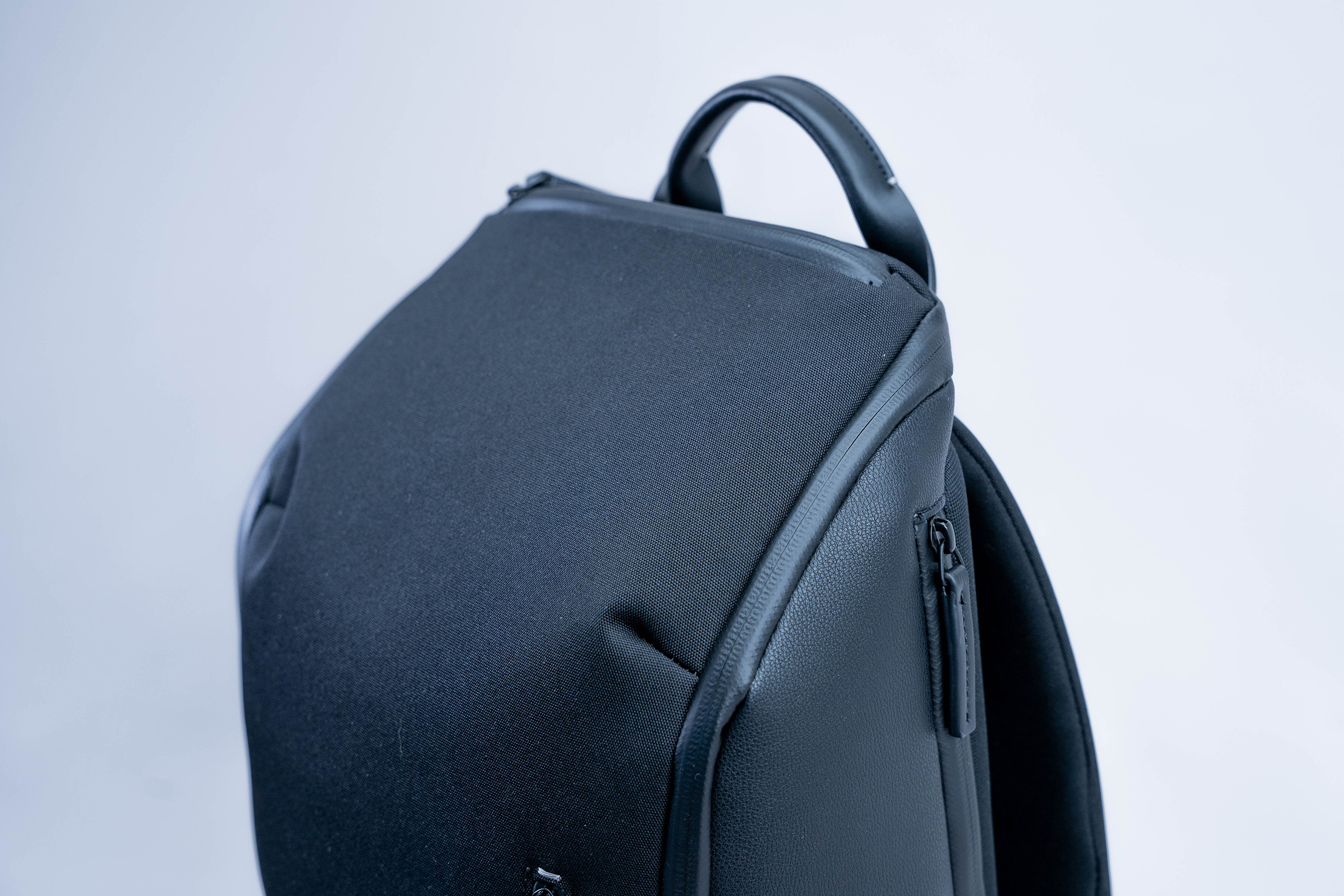 The fabric, lining, and zippers are water resistant to keep gear dry, and it works. We tested it ourselves, and the inside seems to stay dry even when shot with a hose. It dries quickly from a light shower, as well.
There aren't any specific external attachment points, although the vegan leather pulls connect to the zippers via a small triangular piece of metal, so we use a carabiner hooked through one of those triangles to attach a hand sanitizer. If you don't need to hook anything to the bag, no extra loops or straps get in the way of the aesthetics.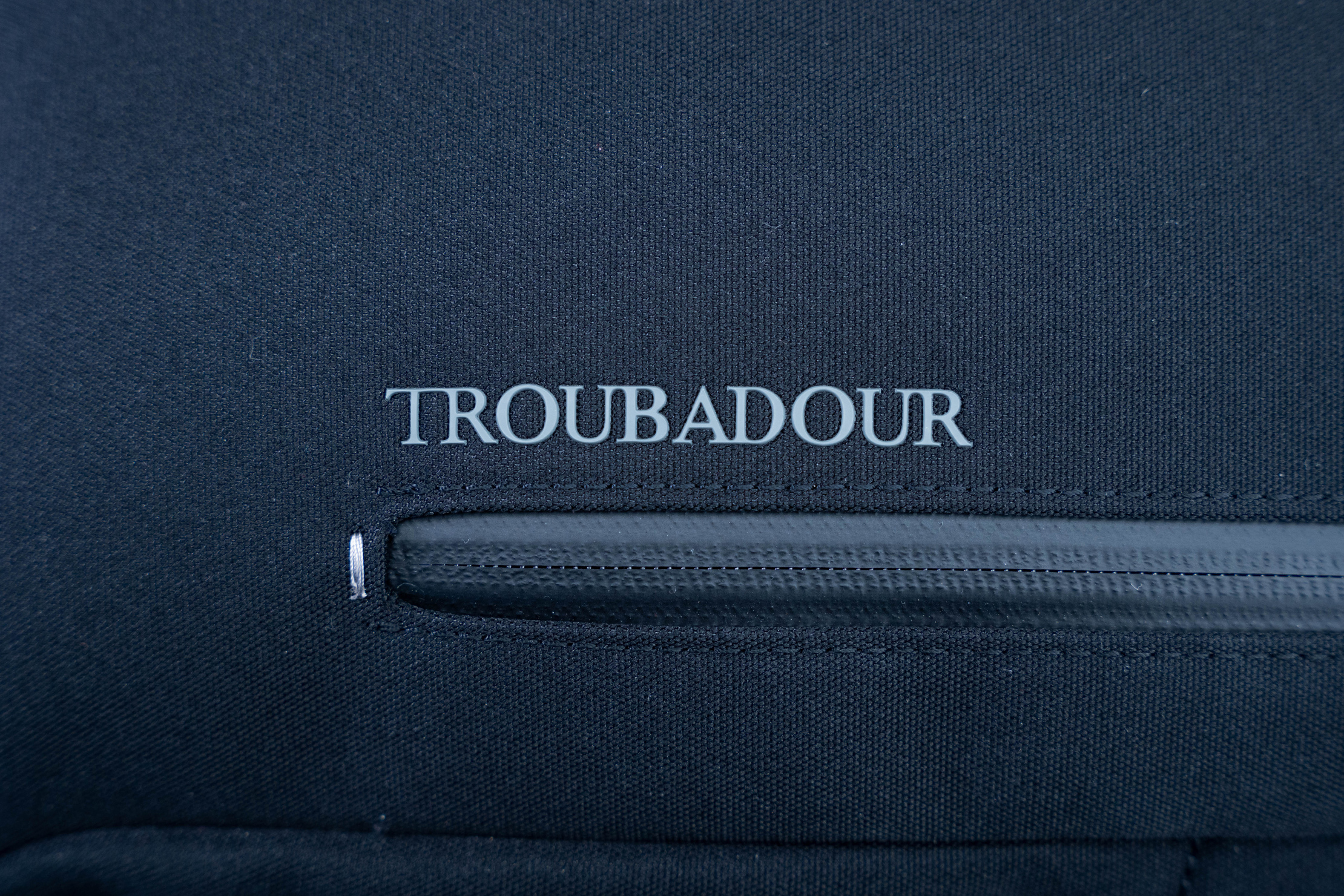 The Troubadour name is stamped vertically alongside the front pocket, along the middle of the back panel, and on the left shoulder strap. That may sound like a lot of branding, but the all-caps gray letters are subdued and blend well with the style of the bag.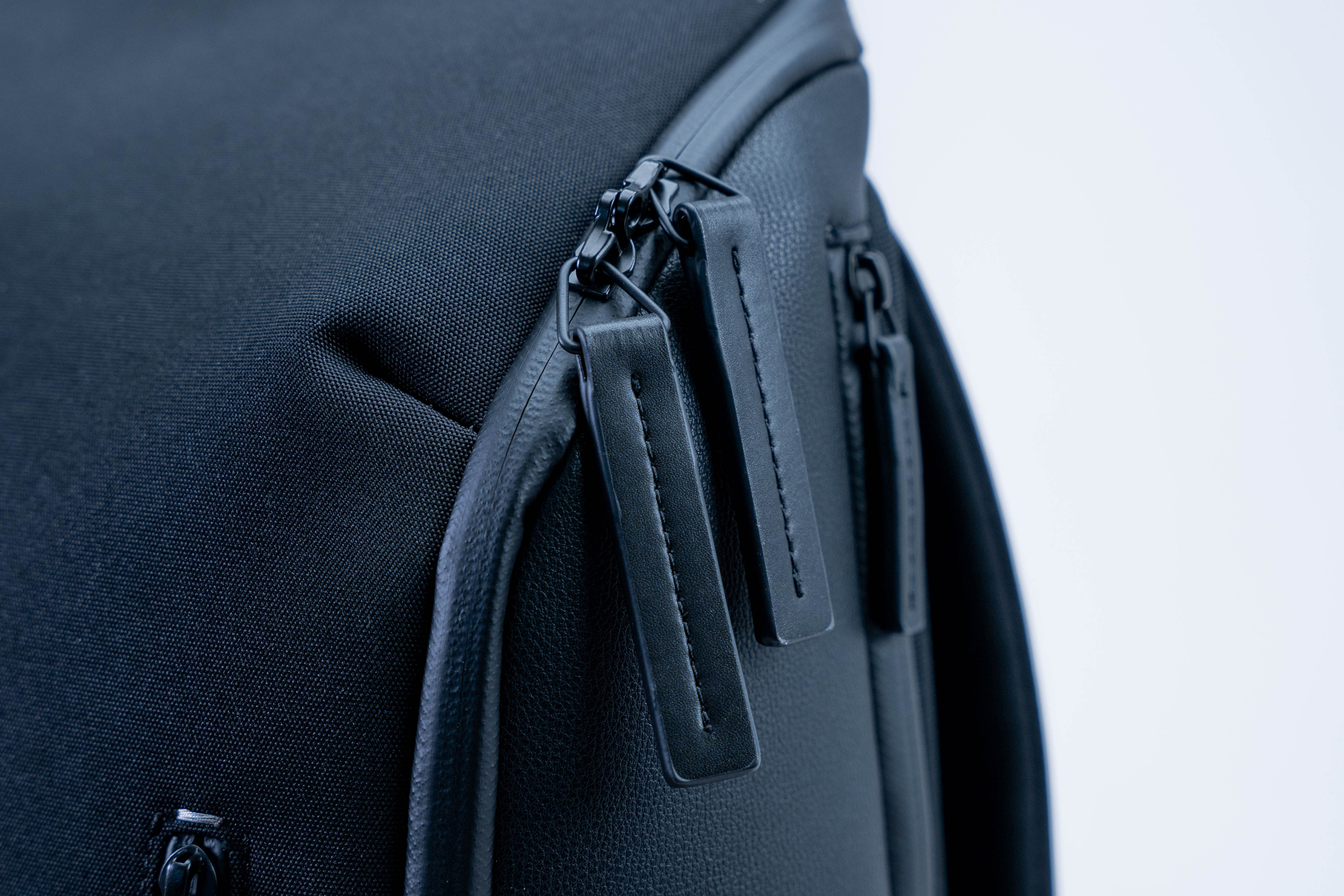 The London-based company uses YKK zippers, including weather-proof styles for the external zippers, and Duraflex hardware throughout the bag. The Duraflex slides stay put, and we don't have issues with the YKK zippers, except around corners. We have hopes these will slide more smoothly as time goes on, but after two weeks' use, they're still quite stiff.
The harness system is simple and works well. Padded, contoured shoulder straps are flexible and adjust with Duraflex slides along a thin, shiny webbing strap. At the end of that strap is a C-shaped plastic clip that acts as a strap keeper. After adjusting them to your liking, hook the end back onto the strap below the slide to keep the excess from dangling freely. It still leaves a loop, but it certainly looks nicer than just a freely hanging strap.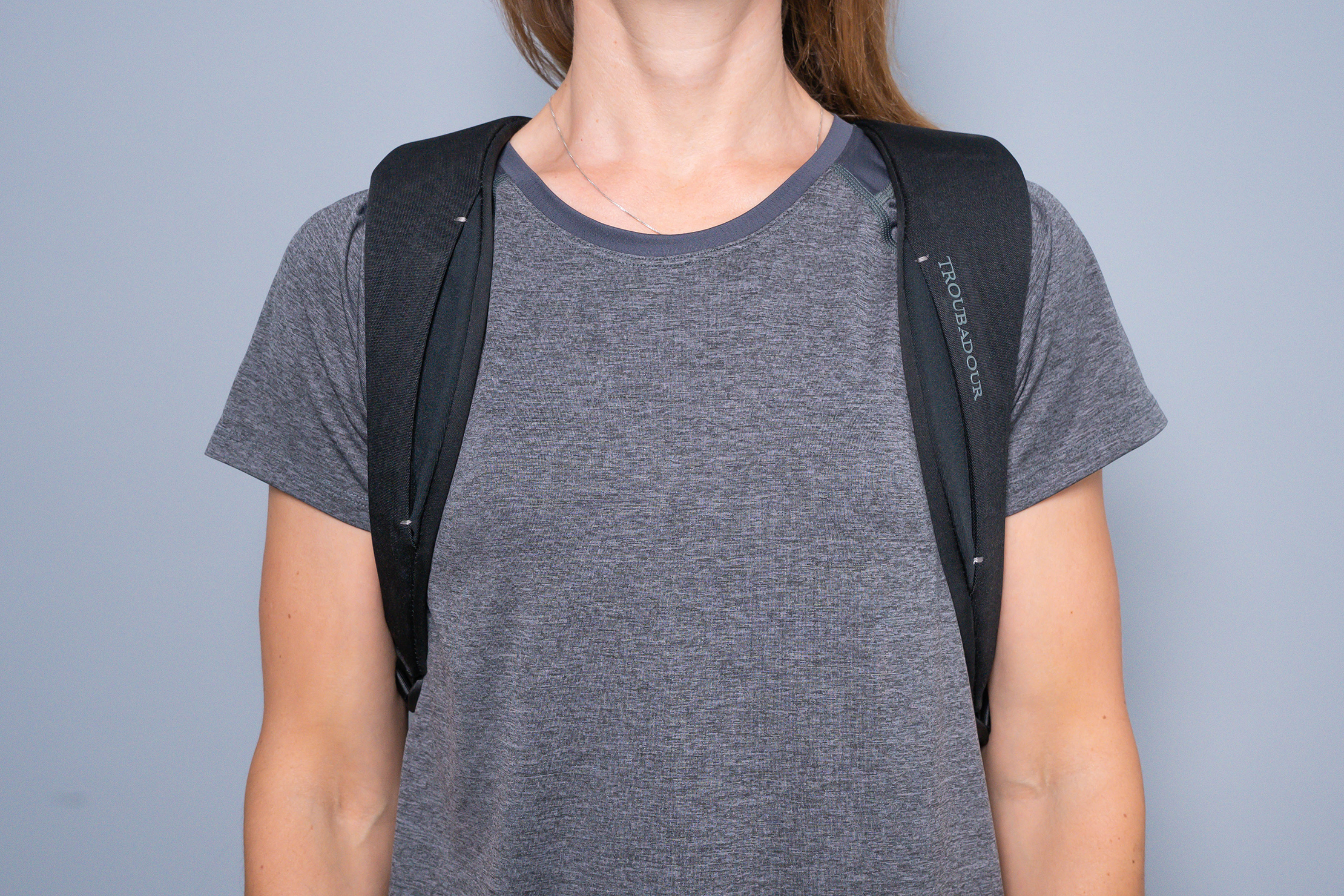 Troubadour offers a sternum strap that slides along a rail on the shoulder straps but doesn't include it with the bag. Instead, it's sold separately for a negligible extra cost. Indeed, for the minimal price tag, we feel Troubadour could have just increased the backpack's price by a few dollars and thrown it in. Luckily, the harness system is comfortable enough that we don't miss it—we're just irked when companies nickel and dime us to death. On to the back panel.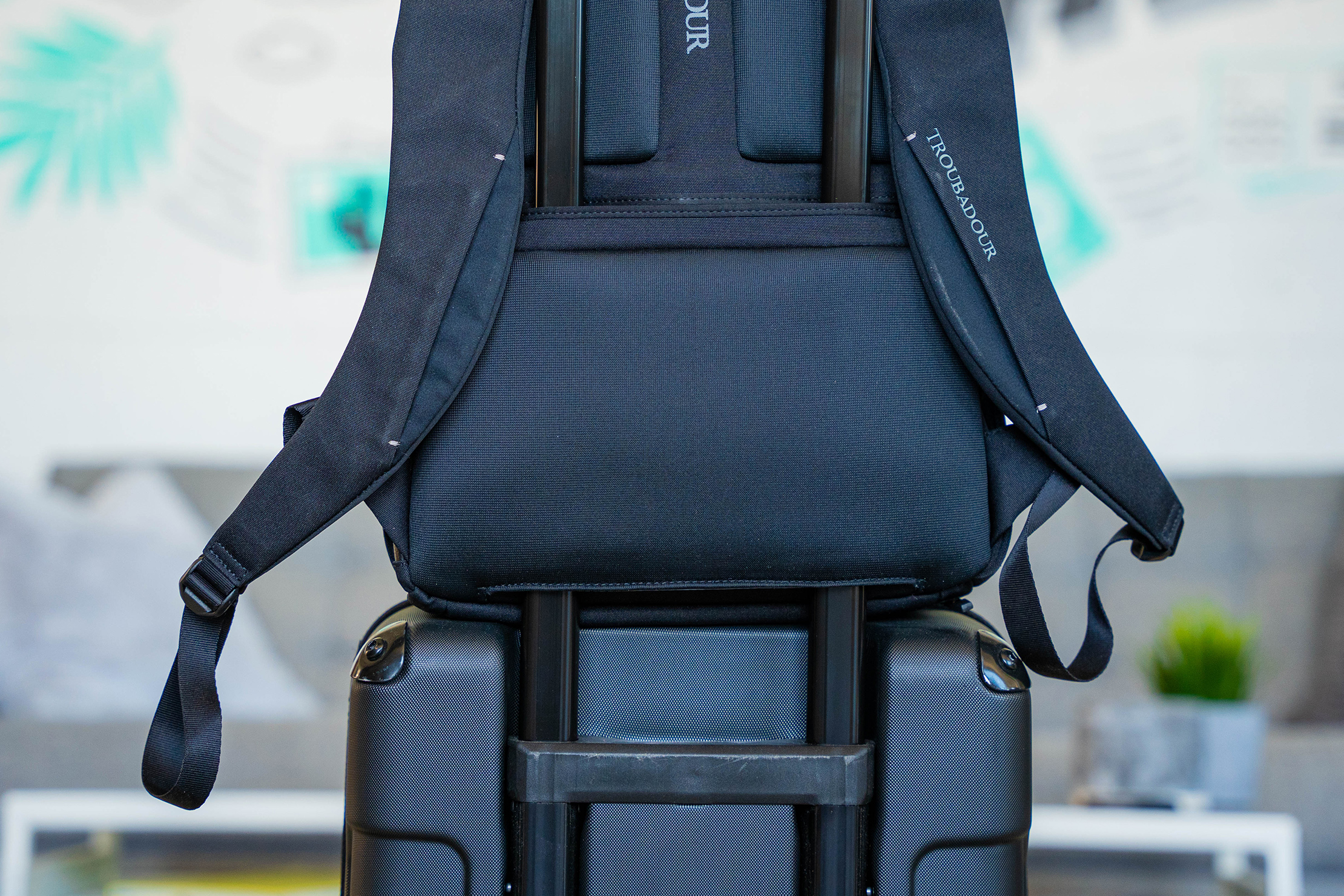 It features the same padding as the shoulder straps, and as with the straps, it feels great when carrying the bag. There are three rectangles of padding on the panel: two vertical rectangles that run along the upper half of the bag, leaving an air channel in the middle, and one horizontal piece of padding along the entire width of the lower third of the back. The horizontal section is also a luggage pass-through, which works well with rolling luggage.
Now let's discuss the Pioneer Backpack's fit.
Fit Notes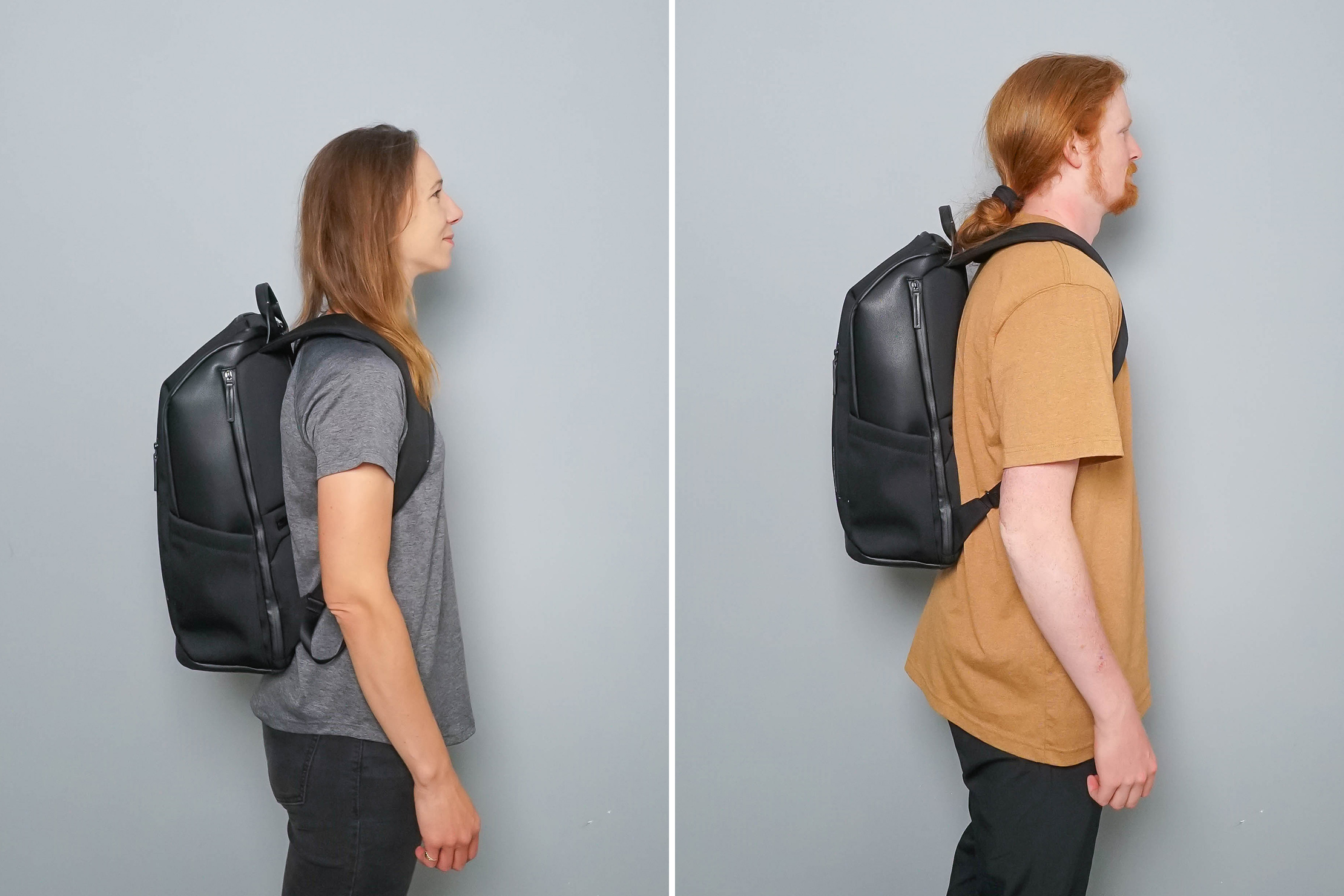 The Pioneer has a 23.5L capacity, which is enough room for daily gear, though it's spreads across more than 19 inches of height, so we don't feel like we're going to take out fellow subway riders when swinging this pack around. We appreciate that, whether we're heading into work or out to a museum or a cafe. It also sits quite nicely on its own, only falling forward if we overpack the front panel (which can be easy to do with all the included pockets, but we'll get to that in the next section).
When worn as a backpack, we've found it has a comfortable fit. The padding is thick enough to provide comfort without being too stiff. Even along the back panel, the padding cushions you from feeling what you're carrying inside, and, while it has structure, it's not so stiff that it digs into your lower back, which we've experienced with some other travel daypacks.
While we're rocking the Black version, the Troubadour Goods Pioneer Backpack also comes in Navy and Khaki, and all three have black vegan leather trim. It gives the bag a professional, stylish look while being eco- and animal-friendly.
But enough about the outside. The Pioneer Backpack has plenty of included features, so let's look inside.
Inside The Pack
Before we get into the main compartment, there's plenty of features around the outside of this bag. To begin with, a 9-inch vertical zipper on the right side of the front of the backpack allows access to an 8-inch wide pocket. It's lined with light-gray recycled polyester fabric and is a nice catch-all for small gear. We can access it with one hand while holding the bag in the other hand, so it's a good spot for a wallet, cash, and other small items you may need to reach for while you're on the go.
It's not secure, however, so when traveling to a more sketchy area, that may not be where you want your ID and important documents as nefarious passerby could likely get into this pocket without you feeling it. Just be aware of your situation when deciding what to put here. There are plenty of other places to stash things around this backpack that may work better, depending on the situation.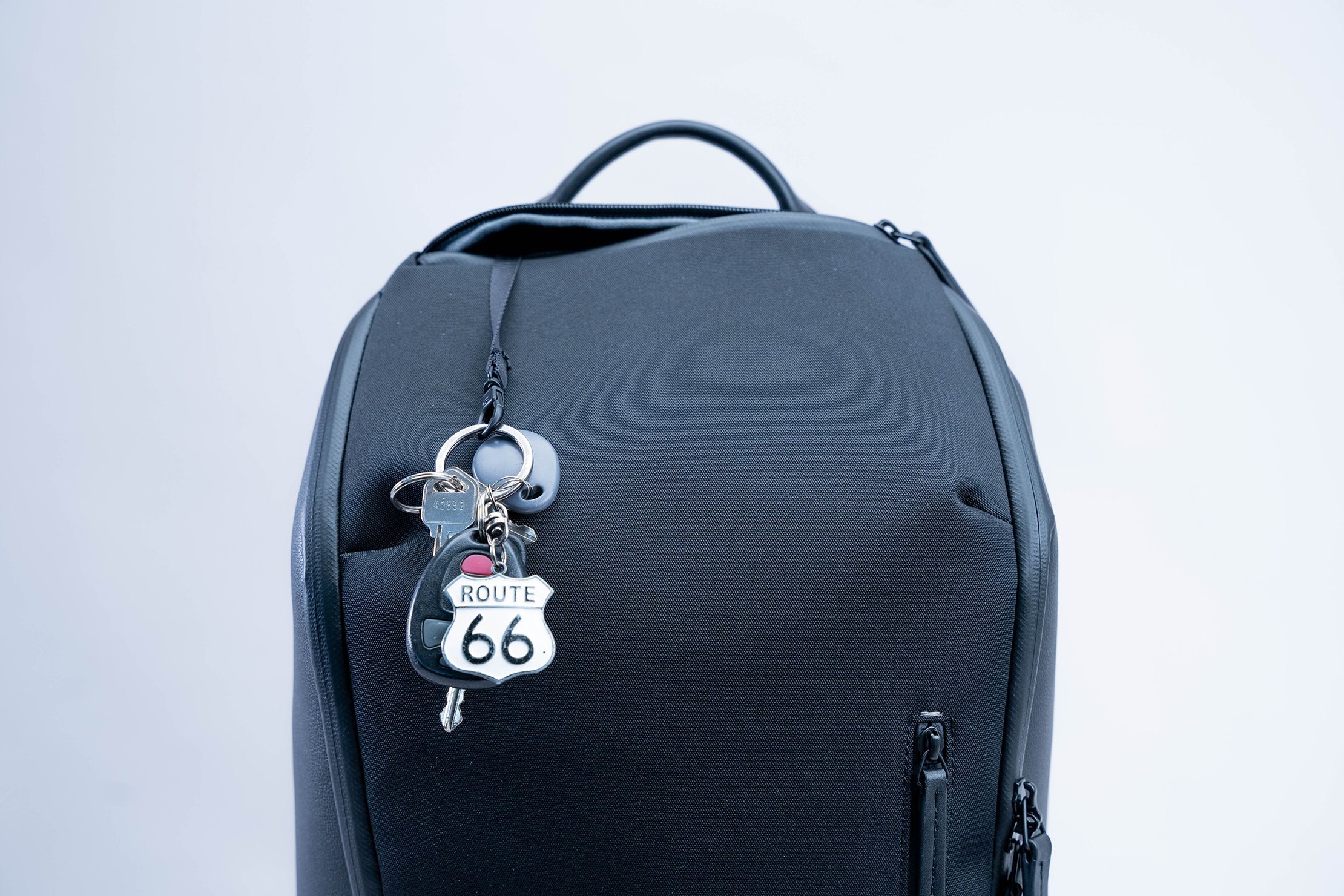 At the very top of the bag is another zippered pocket providing access to an 8-inch wide by 6-inch deep compartment. It is lined with soft fabric to protect your phone and sunglasses from scratching. However, this is also where Troubadour attaches a 5-inch key clip. Using that negates the protective nature of the remainder of the pocket—since your keys could scratch your phone and will scratch your glasses—so be aware of what you're tossing together here. It's also worth mentioning here that loading up this pocket collapses the front of the bag when there's not much beefing up the inside. The front flap to tumbles inward or falls outward when the main compartment zipper is open due to the weight carried in this and an adjacent interior pocket. Because of this, we find it's better to load up the lower front pocket than the top front pocket if you can. However, the top one is more secure since you'd feel someone unzipping a compartment up by your neck. There are pros and cons to both options.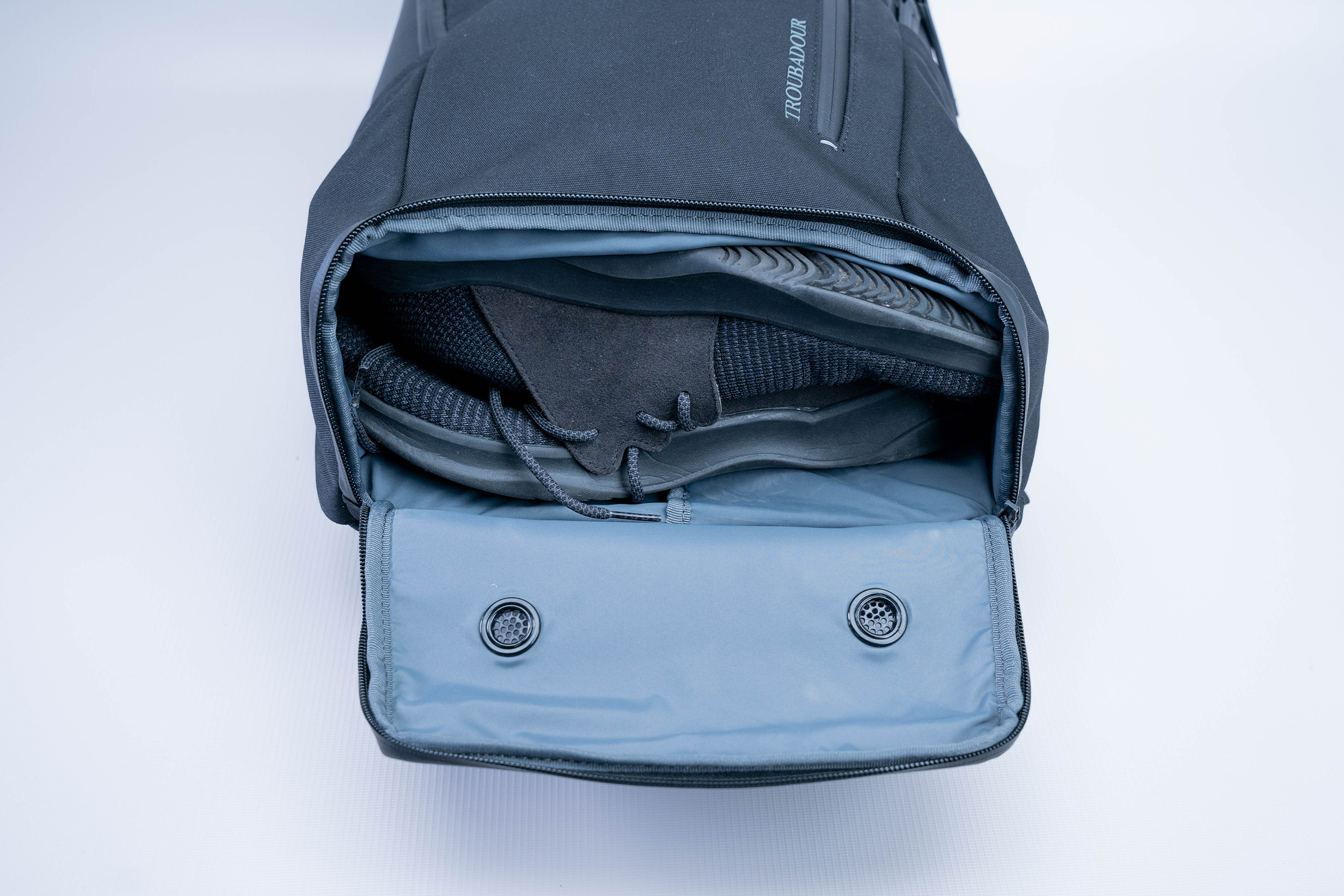 Laying the bag down exposes the last zippered pocket on the Pioneer Backpack. You'll see two small circles with aeration holes here, and a weather-proof zipper encircles three-quarters of the bottom of the bag. Unzip it to expose a gray liner reaching the top of the backpack. It's meant for gym shoes and other messy gear, keeping them separate from our tech, and the aeration holes allow for drainage if your shoes are dirty or for airing out when they smell. This is a handy feature for when we're hitting the gym or the city sidewalks right after work—there's no need for a separate bag. We want to note, though, that this isn't extra space in the bag. Instead, this pouch expands as much as it needs to into the main compartment to hold your shoes or collapses completely flat when not needed.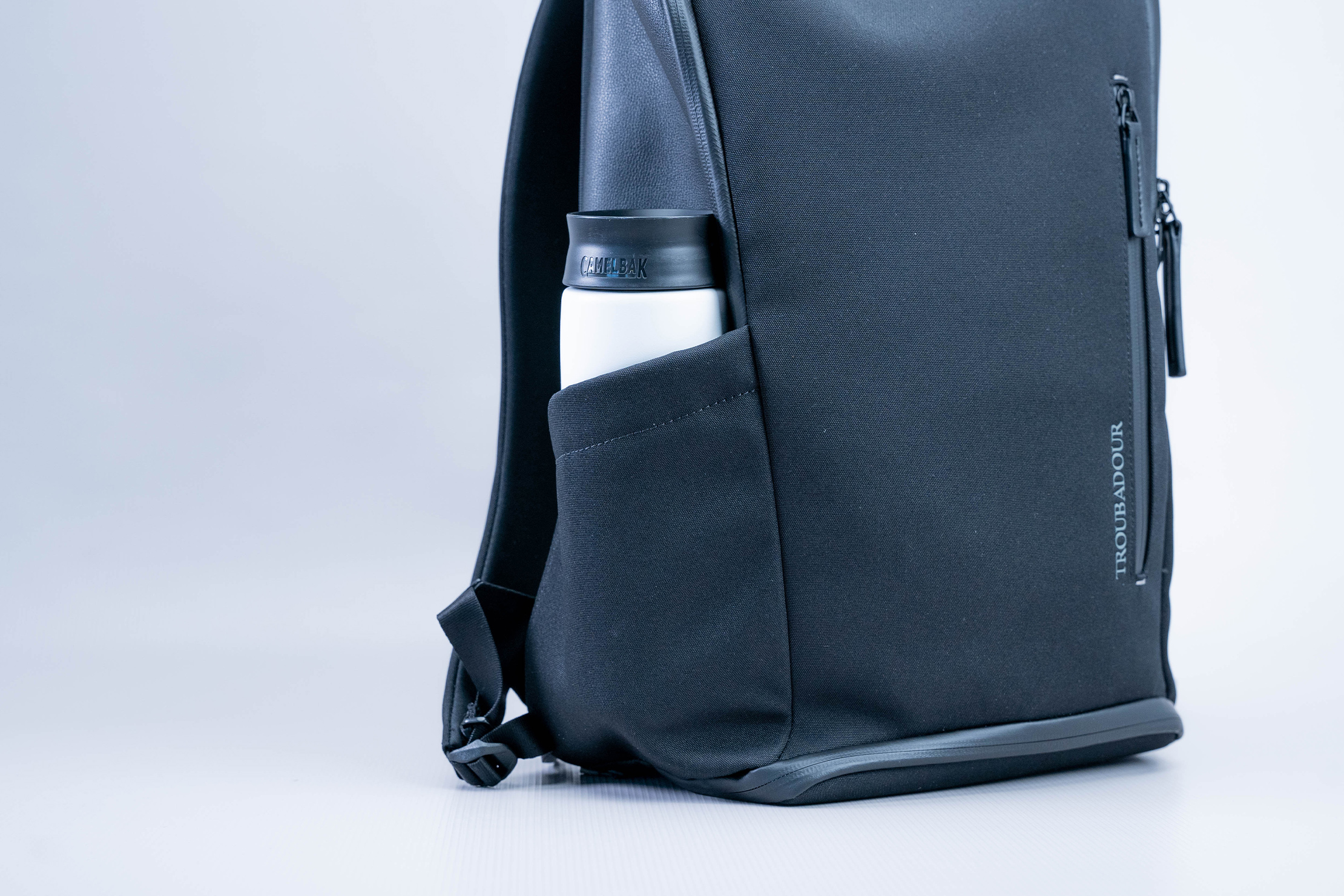 There are also two side pockets for water bottles, umbrellas, and other gear we don't mind just tossing in an open pocket. They stretch open with a piece of elastic and a fabric gusset to accommodate a wide range of bottles, from a narrower Hydro Flask to a wide-mouth version.
One more pocket to mention: Troubadour has plans to add a phone pocket to the top of the back panel, positioned between the two shoulder straps. Our sample does not include this feature, though it seems like an interesting add-on to the Pioneer and we'll be sure to update our Usage Timeline if we get our hands on a bag with it in the future.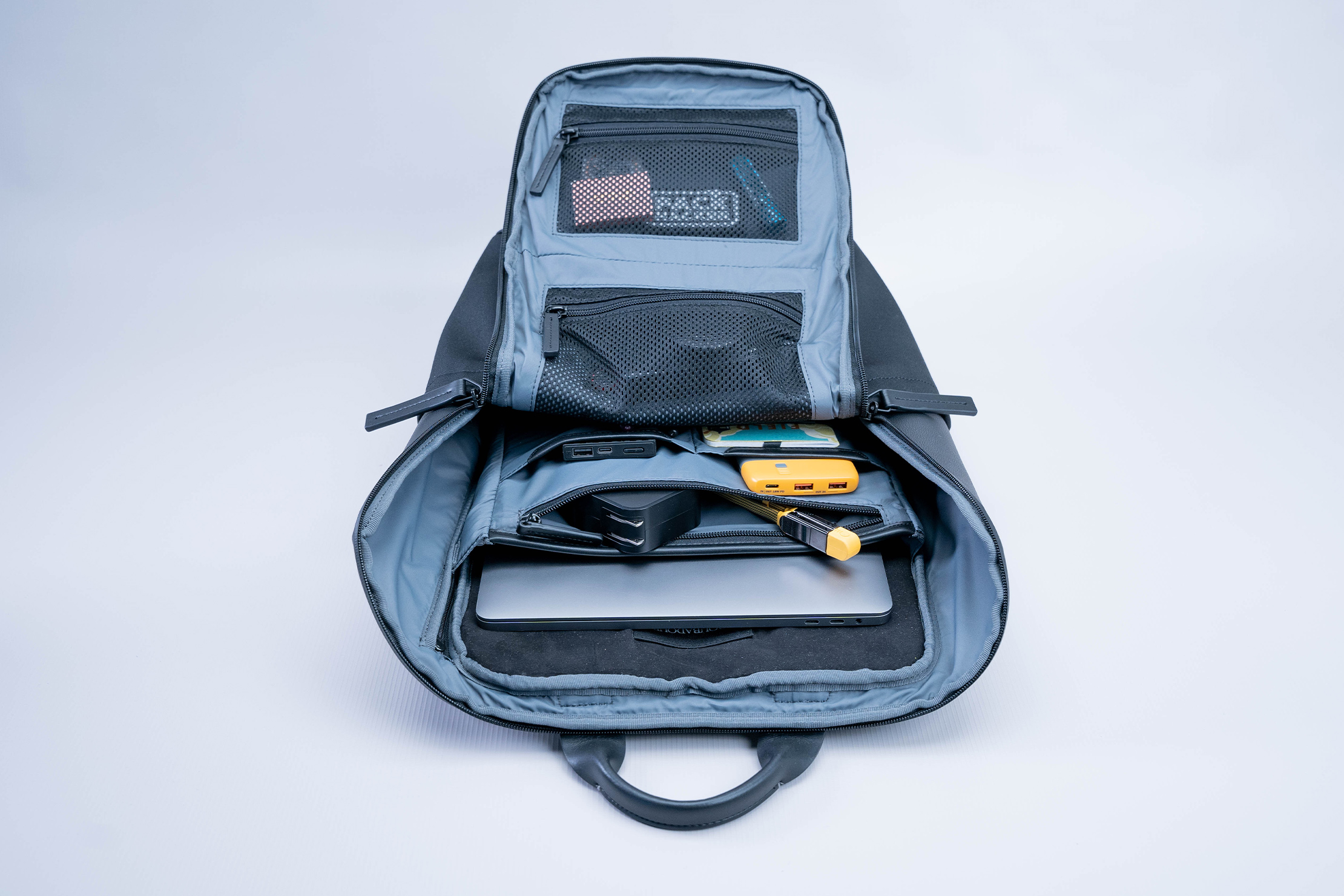 The main compartment opens with a U-shaped zipper that reaches down to both side pockets. This allows us complete access to the bag's interior, something we have missed in other backpacks with similar U-shaped openings. This convenience is balanced by the floppiness of the front panel when unzipped, as we covered above. It's compounded by the two zippered mesh pockets on the interior of the front panel: the top one is 7 inches wide by 5 inches deep, and the bottom is 7 inches square. We love pockets, so we like to load them up, but we get annoyed when using them to capacity causes issues elsewhere. These pockets are great places for tiny travel accessories and other small gear if a floppy front panel doesn't bother you, though. The bottom pocket doesn't add much to this problem; it's mainly the combination of the interior and exterior pockets adjacent at the top.
It may not be an issue for you, depending on what you're carrying, as there are also tons of pockets on the back side of the backpack.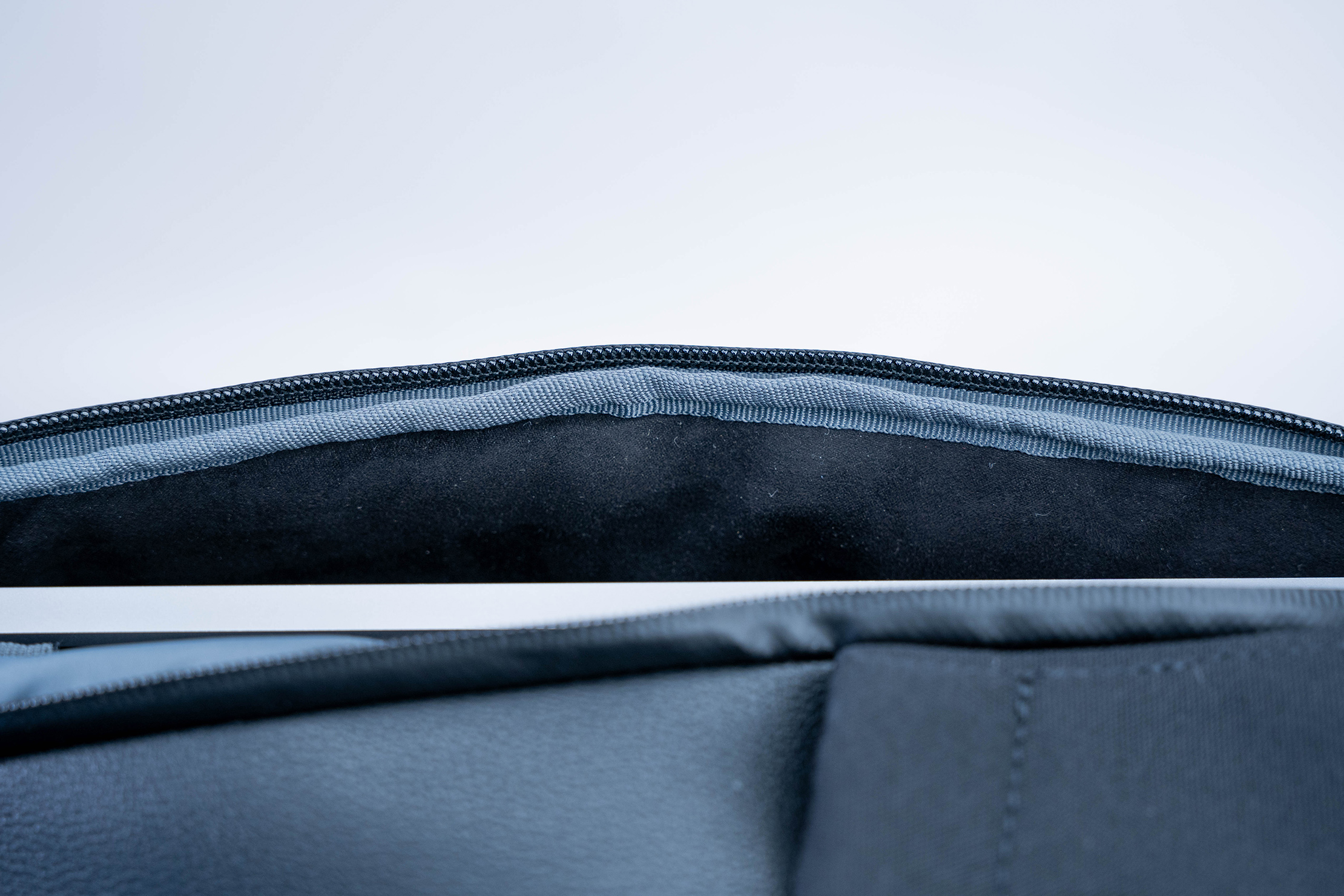 Let's start with the laptop sleeve that can accommodate a 16- or 17-inch device, depending where you look on the Troubadour Goods Pioneer Backpack's product page. It's lined with the same soft black fabric lines as used in the exterior top pocket. There's also the Troubadour London logo on a patch here. We can see why the company is wavering between which size computer can fit here. Getting in through the top, you have plenty of room to slide a larger device. You'll have no problem if you only plan on going in and out here.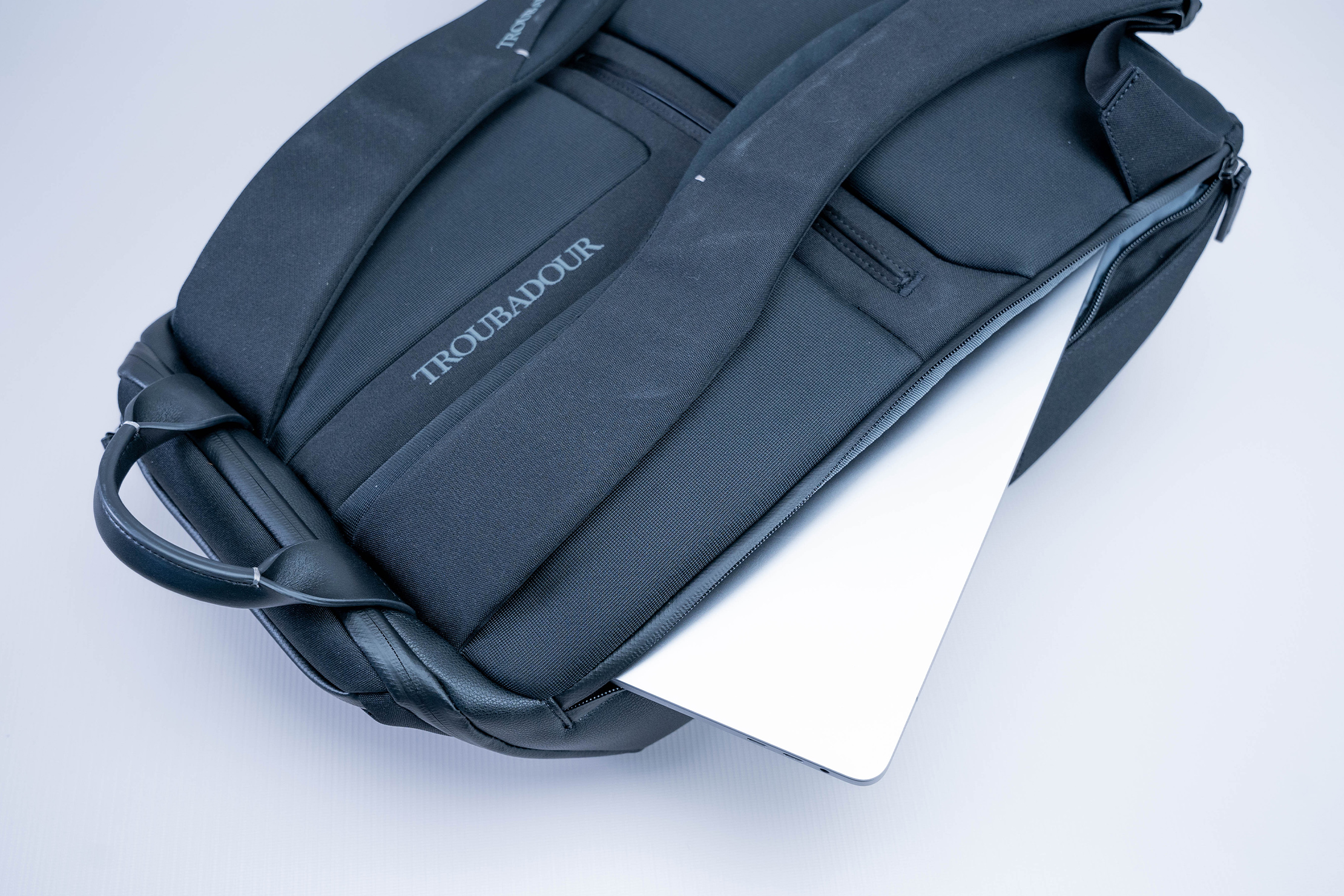 However, there is a fifth weather-proof zipper on the outside of the bag's right side, adjacent to the back panel, allowing side access to the laptop sleeve. It's convenient to reach inside and grab a computer without digging through the main compartment. Of course, this won't work when you're in a tight airline seat, but we find it convenient through everyday use. However, while a 13-inch device slides out this way, and a 16-inch device does as long as it is kept completely straight, there isn't extra room beyond the 16 inches. While a larger device fits in the sleeve, you're giving up the quick accessibility if you use one.
One note—don't forget to zip the side back up! Leaving it open and swinging the pack onto your back can cause an unfortunate crash with your laptop. It's not a problem we've encountered, but something others have with similar openings, so we want to mention it.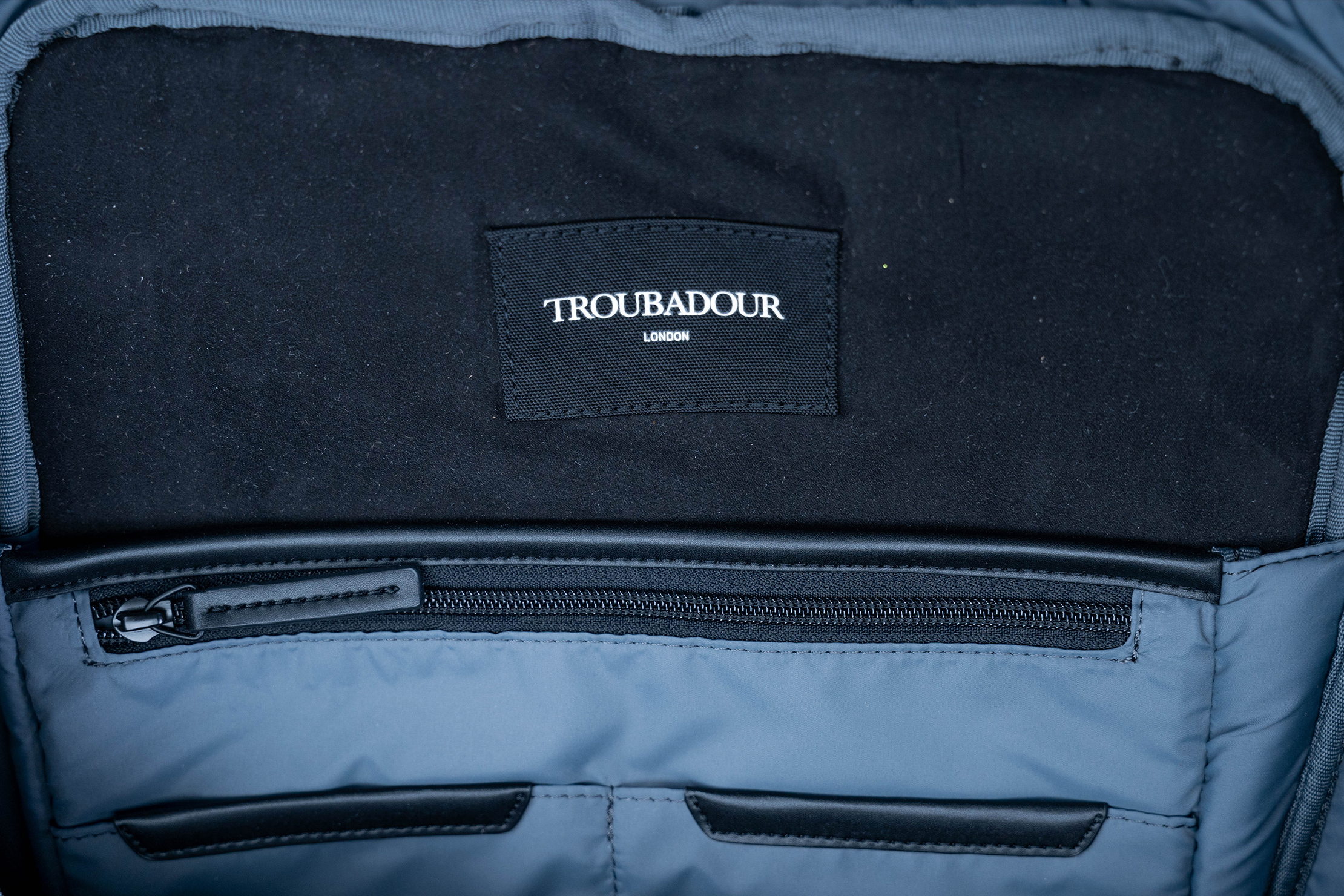 In front of the laptop sleeve is an 8-inch deep zippered pocket. We mostly use it for cords and wall chargers, though Troubadour shows an iPad slipped in there. While we tested, and that does fit, the front of the pocket is somewhat floppy. Plus, since there's a zipper at the top, and the iPad sticks far out of the pocket, it's not a use we prefer. If you need to do this, go for it. It's likely fine, but with no extra padding and the shallower depth, it doesn't seem designed for a second device.
We're not done with the organizational features! Two open pockets split the width in front of the zippered pouch, beginning two inches below the zipper and running to the bottom of the bag. Our reading glasses fit well here, as do various other items, including a phone if you want to keep it inside the bag. In front of the right side pocket are two pen slots, and in front of the left side pocket is yet another pocket the perfect size for a mouse.

Putting this all together means you can keep all your tech and smaller gear completely separate, in different organizational pockets, from the remaining space in the main compartment. We then easily fit gym clothes and a lunch in there with room to spare. When we use the bottom pouch, there's still room left over in the main compartment after we slide in running shoes, though not all of us are rocking huge shoes. The nice thing with the Pioneer Backpack's design is that, even if you are rocking bigger footwear, they'll fit in this bag without eating up room for your other gear.
Usage Timeline
Initial Usage
Condition: Excellent
Shoe compartment has ventilation holes
Side access to laptop compartment
Sternum strap sold separately
2 Weeks of Use
Condition: Excellent
Shoe compartment expands to fit large footwear
Fabric dries quickly
A comfortable carry, thanks to padding on the shoulder straps and back panel
Access the Pro Community Discussion
Get your questions about the Troubadour Goods Pioneer Backpack answered from our team and the Pro Community right here on the page. Plus, join discussions with other members about gear, guides, and more.
Other Bags & Luggage Reviews