Tropicfeel Nest Review
The Tropicfeel Nest Backpack is highly versatile and transitions well between daily carry and weekend trips, though it feels naked without the add-ons.
Our Verdict
Unlock the Pro Summary
Save time. Get access to brief summaries of our reviews so you can browse and make decisions more efficiently.
Pros
Kangaroo and padded side pockets are well integrated
Comfortable back panel is
Versatile external storage for holding extra gear
Cons
Water bottle pocket struggles holding large bottles
Shoulder straps aren't well aerated
Can feel naked without add-ons
Recent Pack Hacker Video
Technical Details
Capacity

16l

Expandable up to 30L

Weight (lb)

2.43 lb (1.1 kg)

Dimensions

18 in x 11 in x 5.5 in (45.7 x 27.9 x 14 cm)

Notable Materials

Recycled Polyester, Recycled Nylon, YKK Zippers, Duraflex Hardware

Manufacturing Country

Vietnam

Warranty Information
Full Review
Get up to 15% off Tropicfeel • Join Pack Hacker Pro
The promotional video for the Tropicfeel Nest states, "Last year, we introduced a new era of packing. Today, we're here to take it to the next level." They're referencing the introduction of their Shell Travel Backpack, which could be seen as the Nest's older, larger brother. We felt that the Shell was a sound all-in-one system but also felt that it lacked cohesion. The Nest is much smaller than the Shell, but we can't help but wonder if cohesiveness is an issue on this pack, too. Let's dive in; this is going to be a long one!
Materials & Aesthetic
To kick things off from a sustainability perspective, the Nest is crafted from 90% recycled materials. There's a ton of sourcing and material information available on their website about where their products come from, which is great to see, as transparency isn't always a given in manufacturing.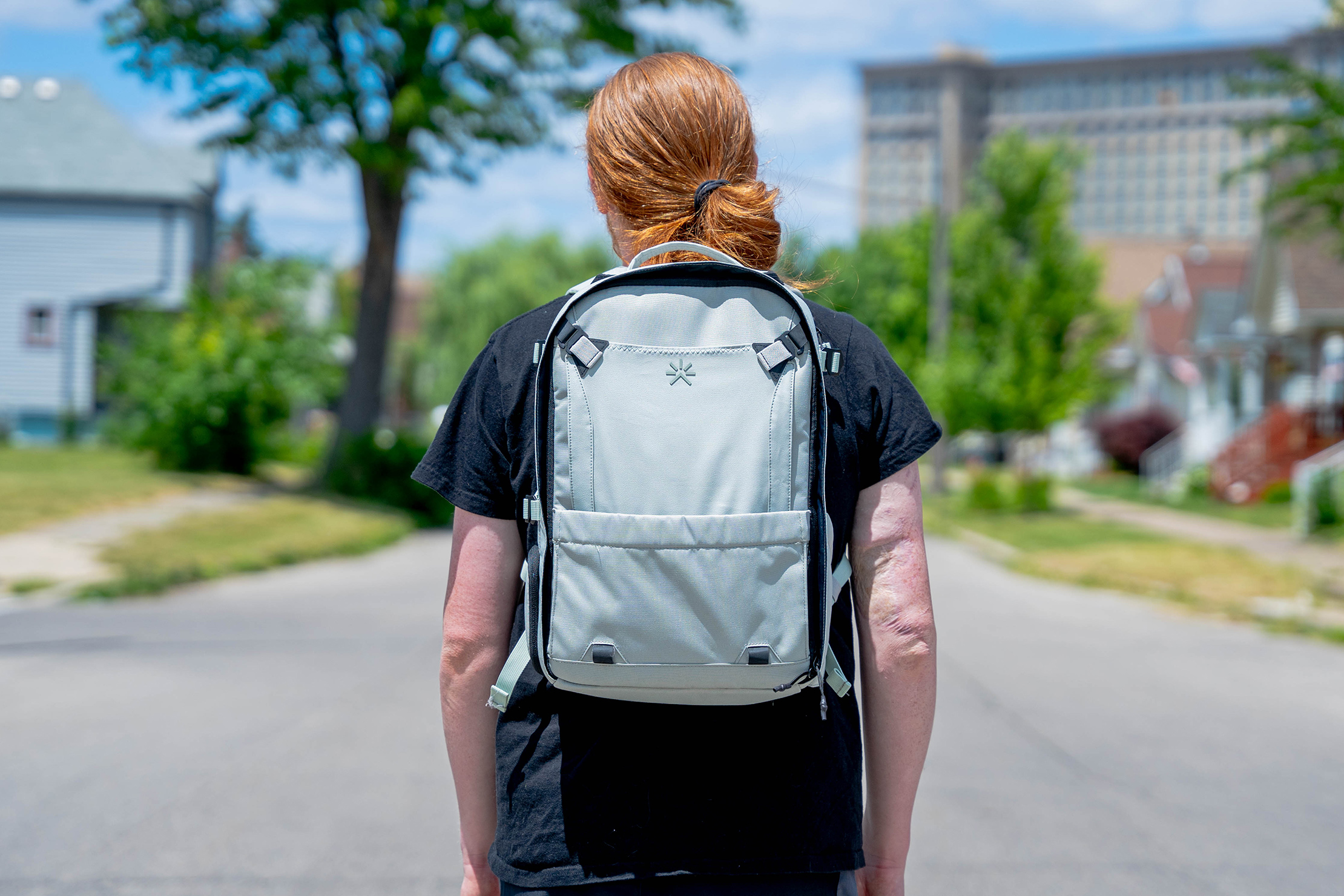 The pack is crafted from 100% recycled nylon and 100% recycled polyester, both of which feel highly durable. They're water-resistant, too. After a half-hour in light rain, the inside of the pack is still dry, though it's a good idea to head for cover in heavier precipitation.
As far as colorways are concerned, we've got four to work with at the time of writing. The options are All Black, Blueberry Navy, Amphora Brown, and the one we have, Desert Green. All four are highly minimalistic, though the All Black and Blueberry Navy options are exceptionally sleek due to their monotone color design. We think the darker accents on the Amphora Brown and Desert Green are appealing, too.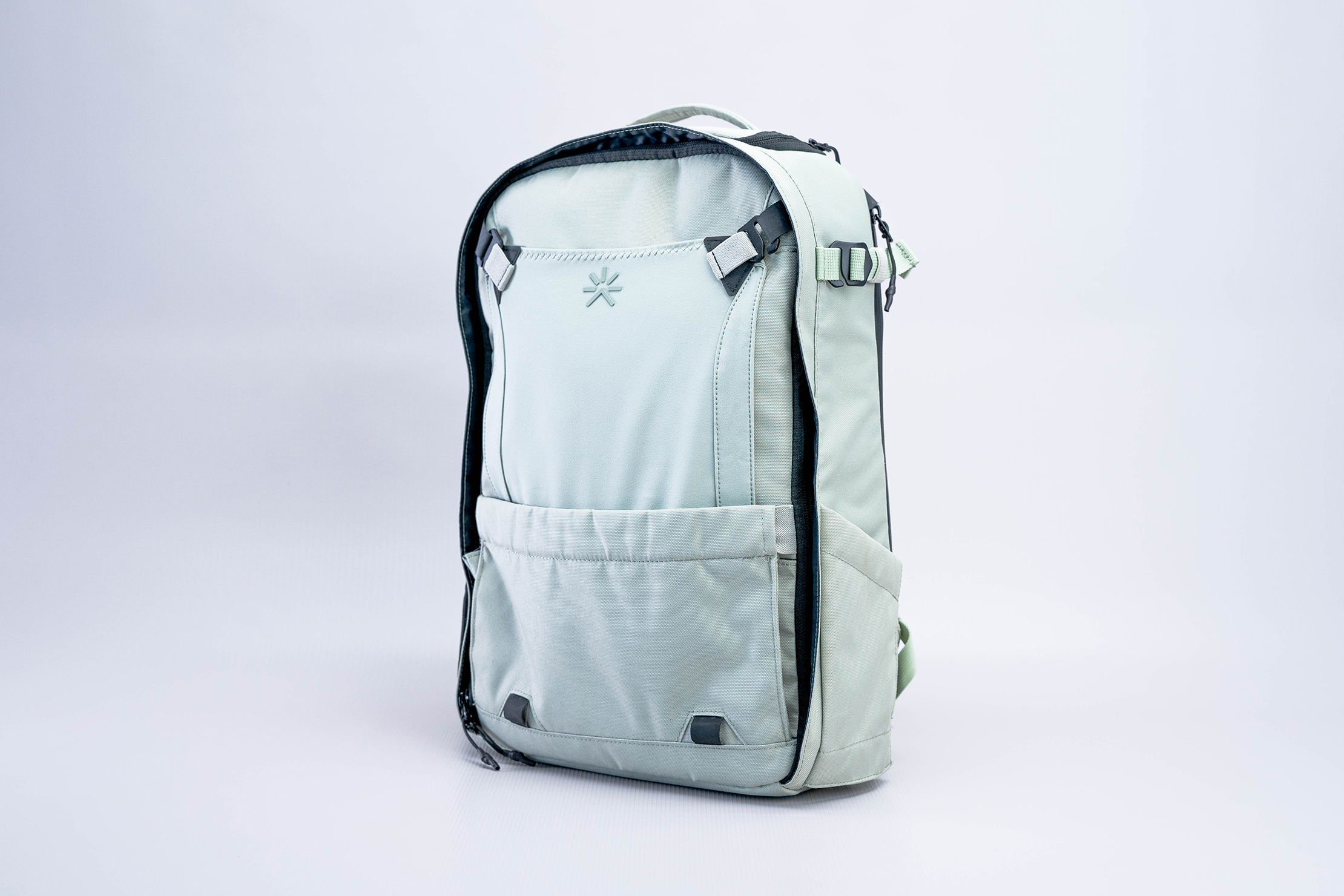 Due to the lightness of the our colorway, we've noticed that you can see sweat marks on it very easily. This is especially apparent if you're cycling or walking around all day. The sweat takes a while to dry and is less noticeable once the moisture is gone. However, there's an area on the back panel is discolored from sweat. We expect this wouldn't be as noticeable with either of the two darker colorways.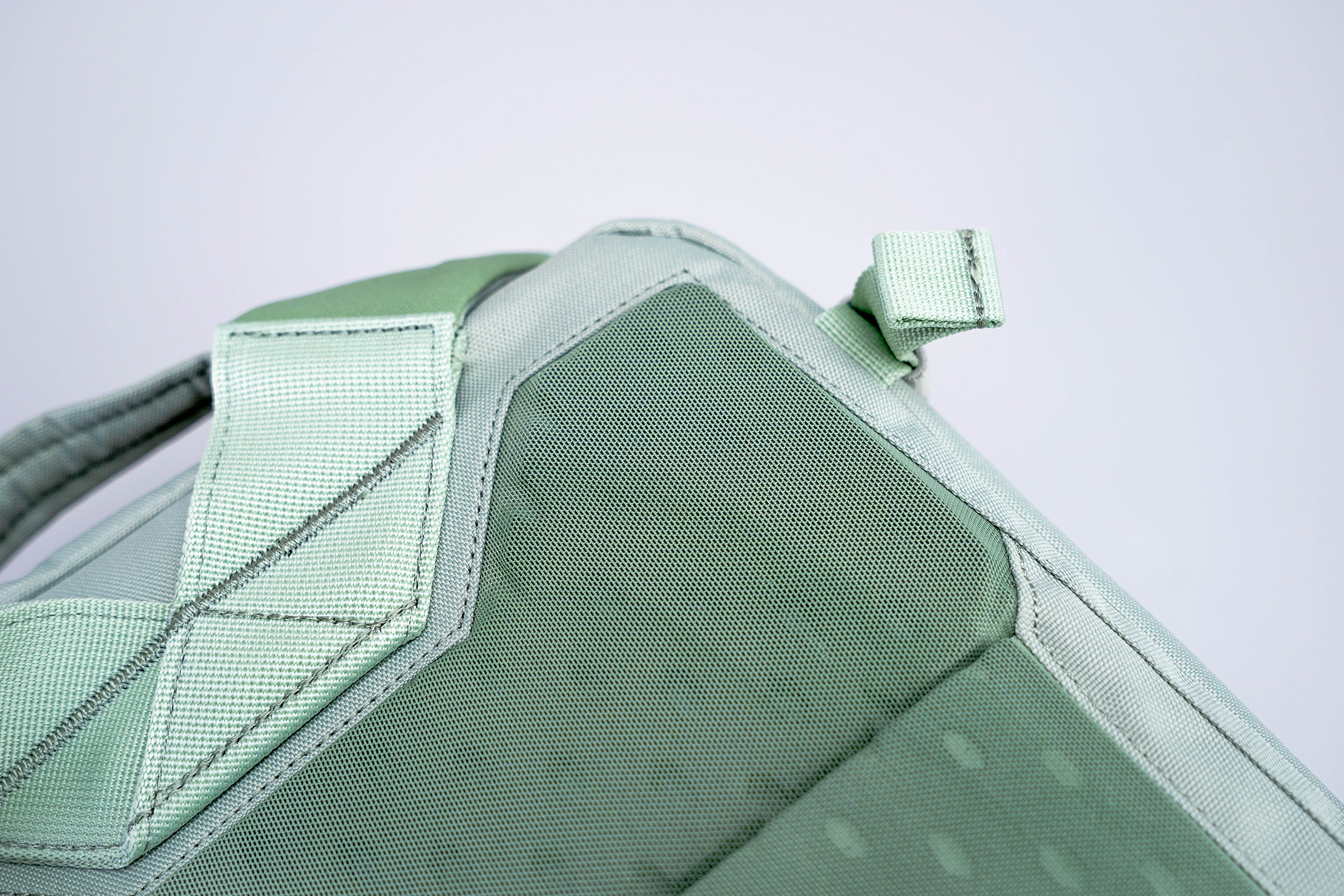 Throughout the pack's construction, there are YKK zippers, with #8 models on the exterior and #5 throughout the interior. The pulls on the outside have a paracord-like material with shrinkwrapped plastic on the end, and the inside pulls are standard metal pulls from YKK. Both work as we expect them to and fit the job that they're tasked with.
If you got excited when we told you that the zippers are from YKK, you'll probably be excited to learn that all the plastic hardware is from Duraflex. The strap adjusters are easy to use, the sternum strap is snappy, and everything feels as durable as we expect from this reliable brand.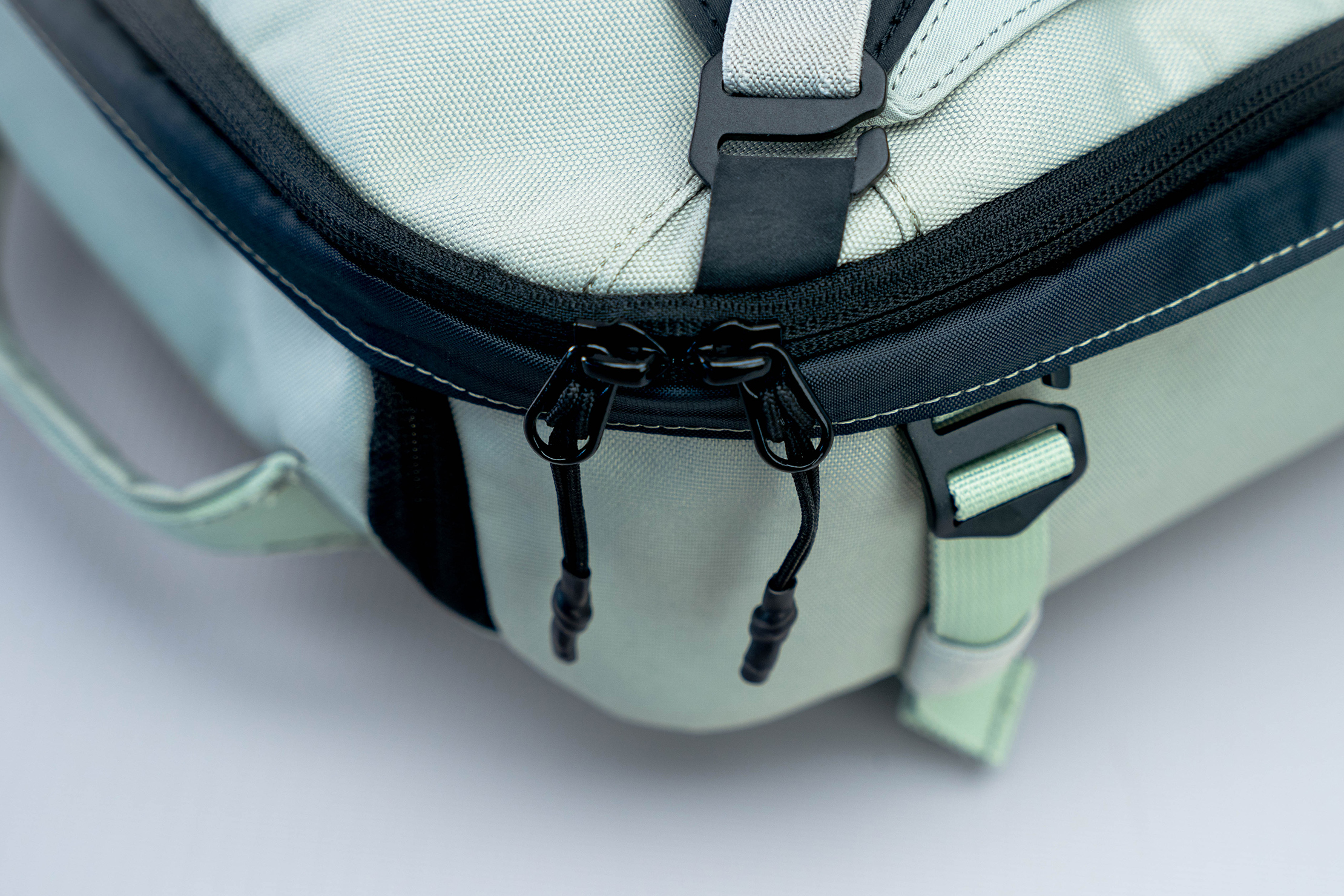 There are metal hooks throughout the pack to secure the kangaroo pocket, Spider Net System, and side straps. They're black, and we've noticed no chipping or marks on them. There is some fraying where the kangaroo pocket attaches to the bottom of the pack. However, though it doesn't look the best, it hasn't affected use.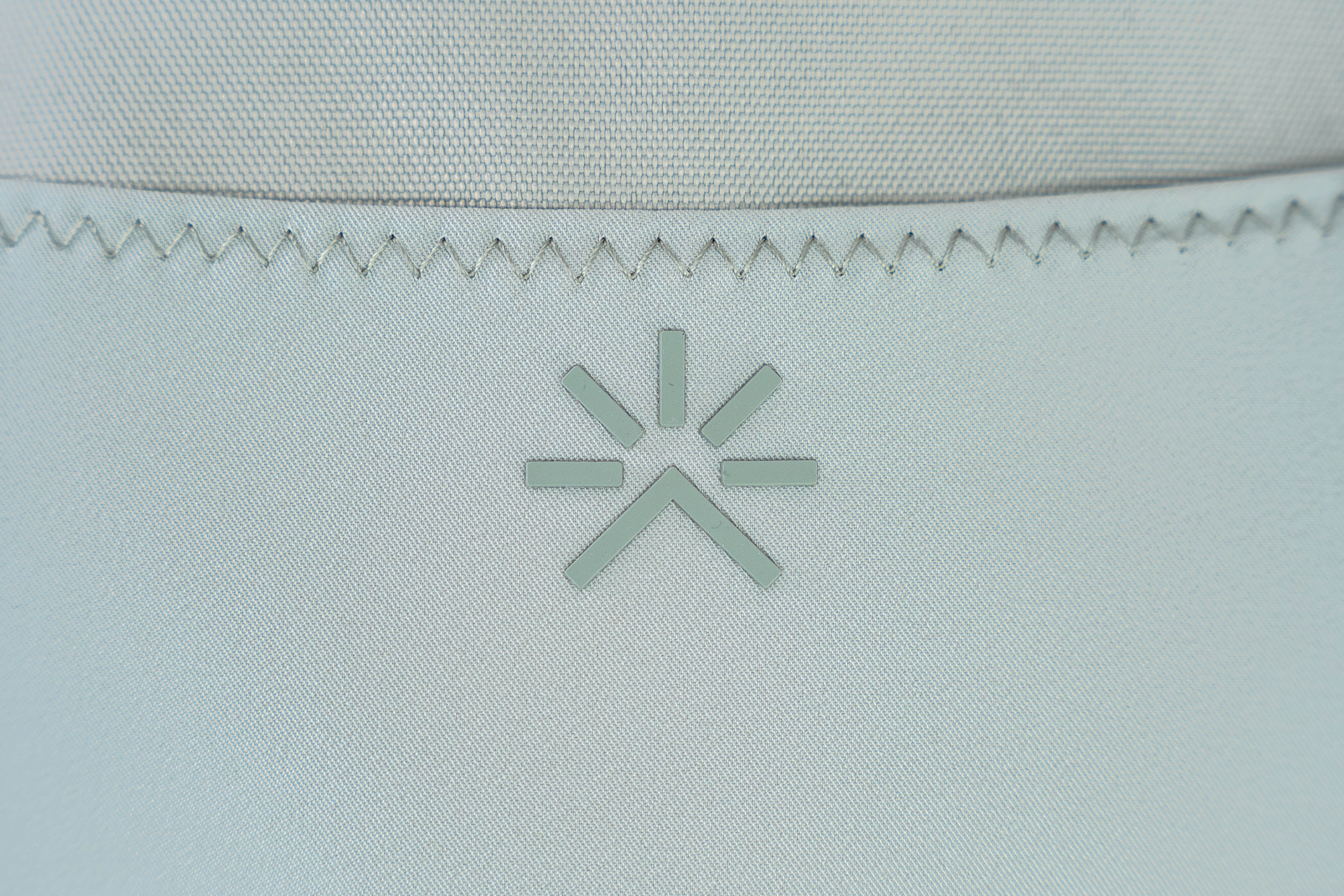 The Tropicfeel logo—a minimalistic mountain with rays of sunlight rising behind it—is on the front of the pack near the top and the back panel near the bottom. It's the same color as the pack material, so it blends in, which is a nice touch.
Overall, the Nest has a nice clean look, with strong lines and a simple vibe, even with all the external features it has going on.
External Components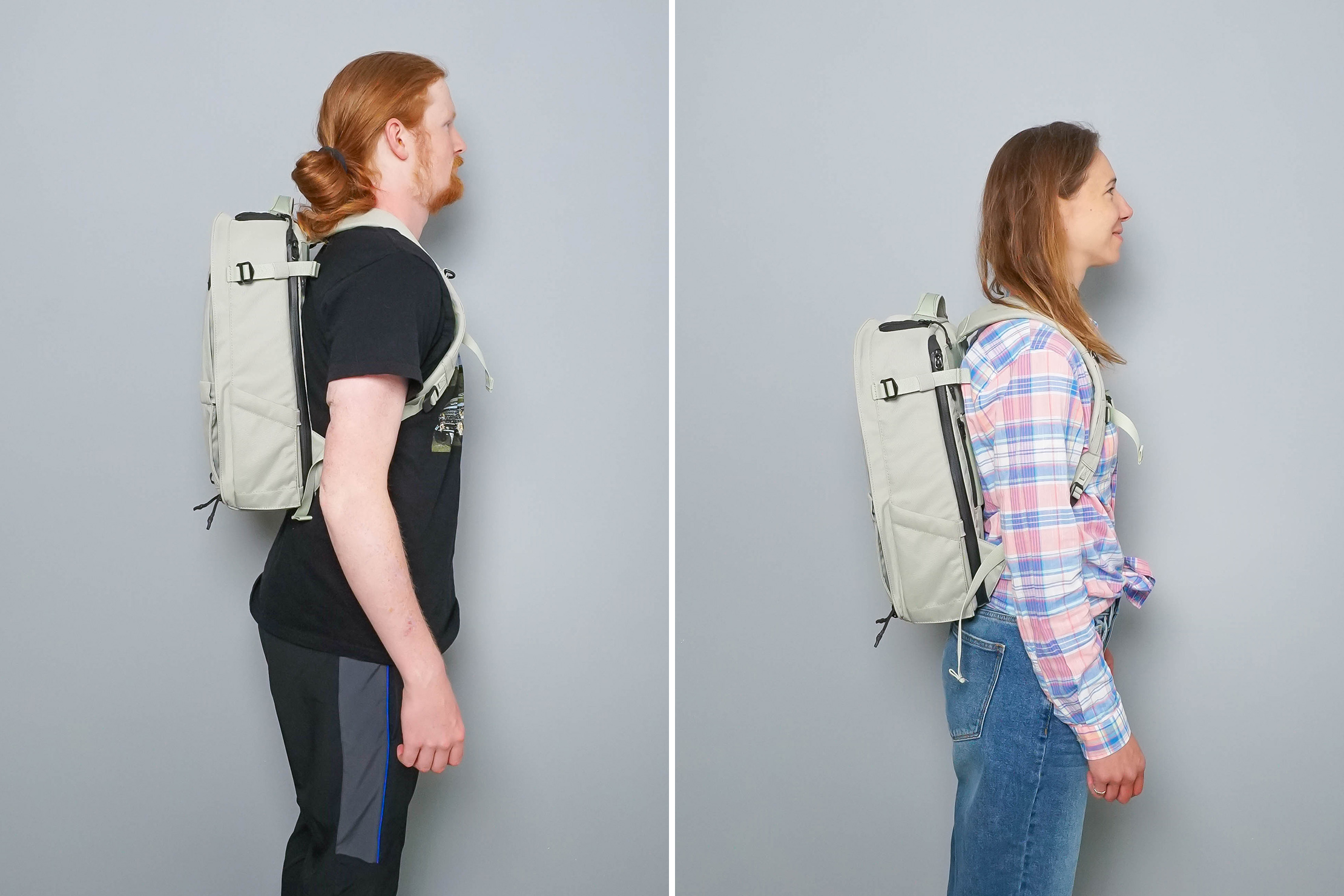 We'll kick this section off with the back panel because we're amped about how well thought out it is. There's padding throughout, with small holes every few centimeters to enable airflow. The padding (and holes) are covered with a breathable mesh material, allowing air to pass through.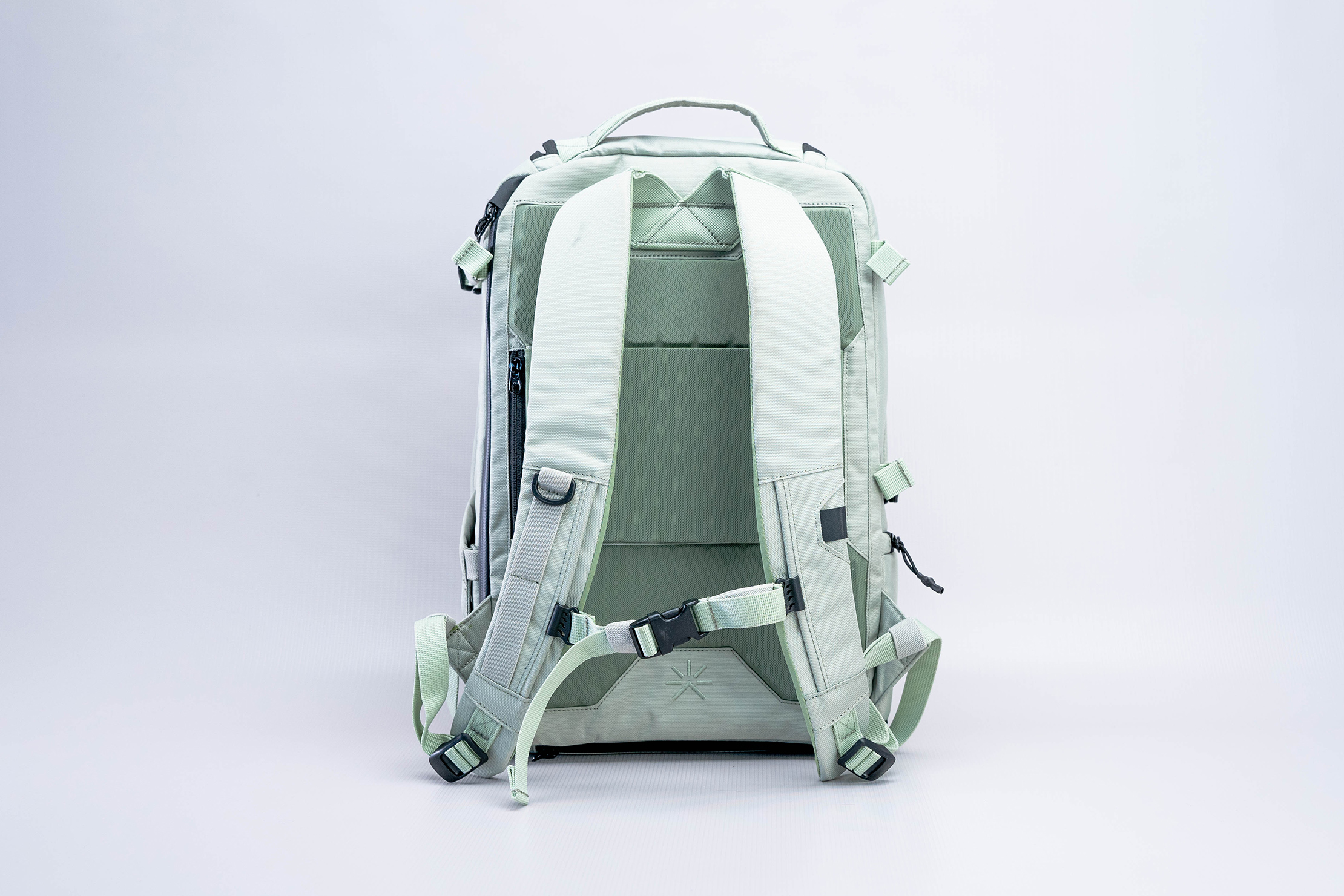 The middle section of the back panel is a luggage pass-through, which is worth noting for its use as a travel backpack. Some luggage pass-throughs are raised, which can impact carry if not designed properly. The Nest's pass-through is the same level as the rest of the back panel when it isn't in use, so you can't feel it's there.
A hidden pocket behind the luggage pass-through is perfect for stowing your passport, travel documents, or other paperwork that you want to ensure makes it through your trip. If you keep too much inside here, you can start to feel it on your back, though that's the case for a lot of hidden pockets in this location.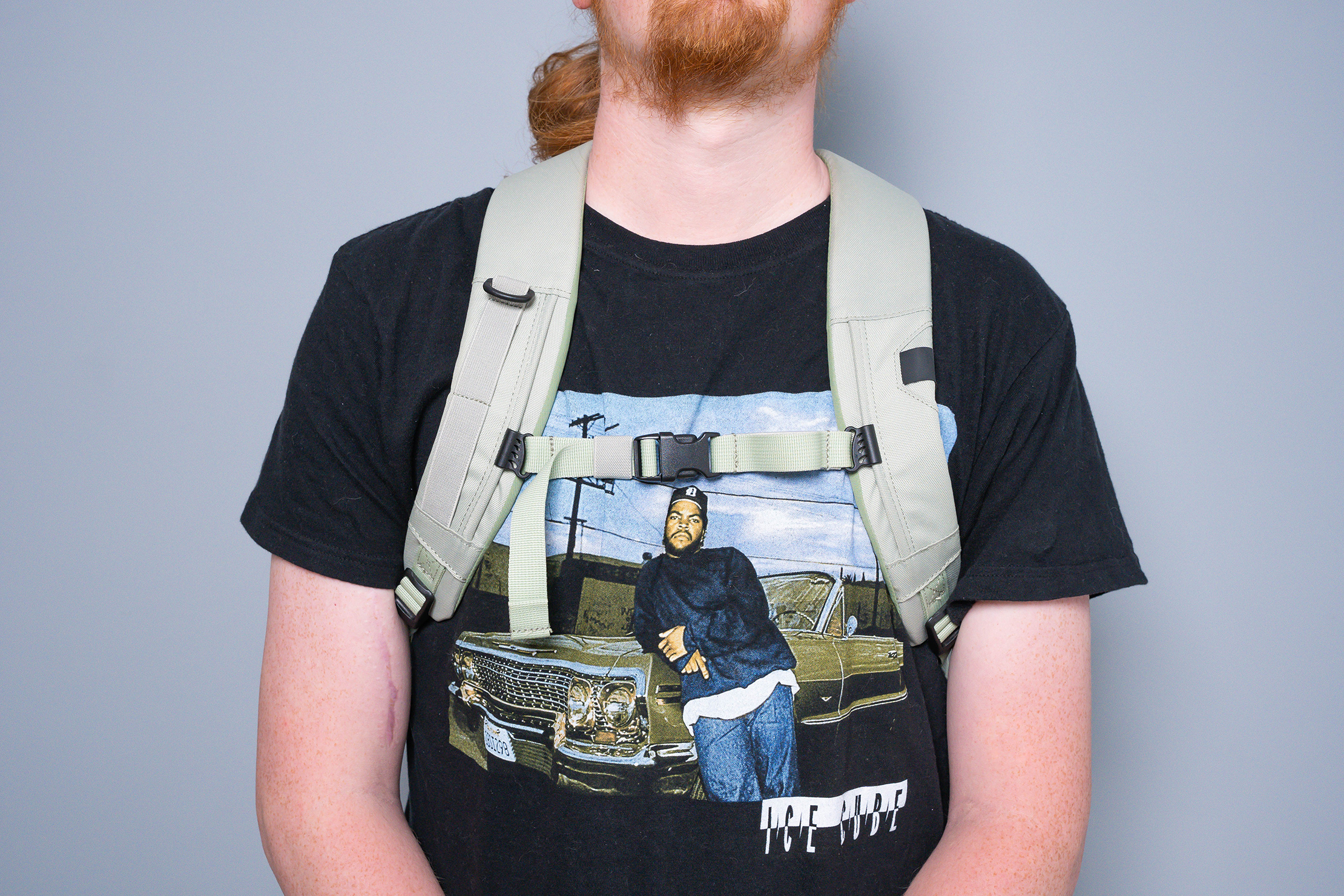 Though the back panel is well ventilated, there's only so much that can be done to prevent sweat. It still causes perspiration on scorching days, however, the pack does not feel suffocating, even in 96°F heat with a heat index of 104°F (35.56°C and 40°C, respectively).
The shoulder straps aren't as breathable as the back panel, which makes them feel a bit warm during wear. They're well-padded and covered in similar mesh, however, they don't have the holes for airflow, which is one of the reasons we think they can be a bit sweaty in scorching weather. That said, they're comfortable and get the job done.
The right shoulder strap has two loops crafted from stretchy material and a D-ring for attaching extra gear like a carabiner or a pouch. A Nite Ize S-Biner SlideLock ore Yakoda Utility Pouch feels at home here.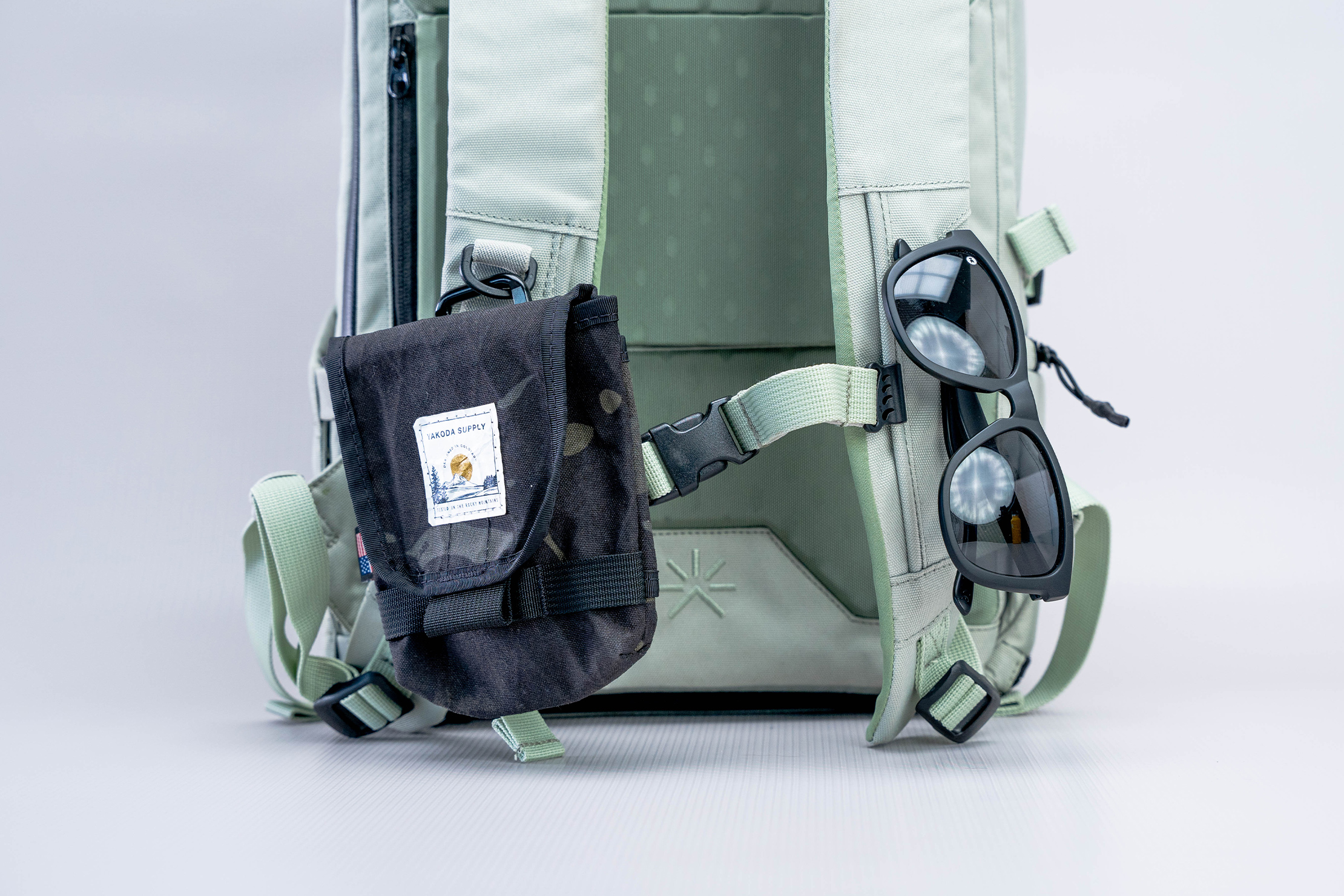 The left shoulder strap has a slider to hold a pen or sunglasses, which is nice for quick and easy access. It's crafted from the same tarpaulin-like material where the kangaroo pocket attaches, though it hasn't frayed like the one we mentioned earlier.
The Nest has a sternum strap rail system, which is great for micro-adjustments. The clip is small, but it does the job it's tasked with. There's a strap keeper here, which we dig, as it keeps extra material from flopping around and hitting your chest.
There's a water bottle pocket on only one side of the pack, and it's a bit small for our liking. It has an elastic side closure, but we struggle to fit even small-sized water bottles here. We often end up stashing our water bottle elsewhere and using this as a quick-use pocket for our phone or wallet. It's tight enough to keep small items locked in place, which is a testament to its size.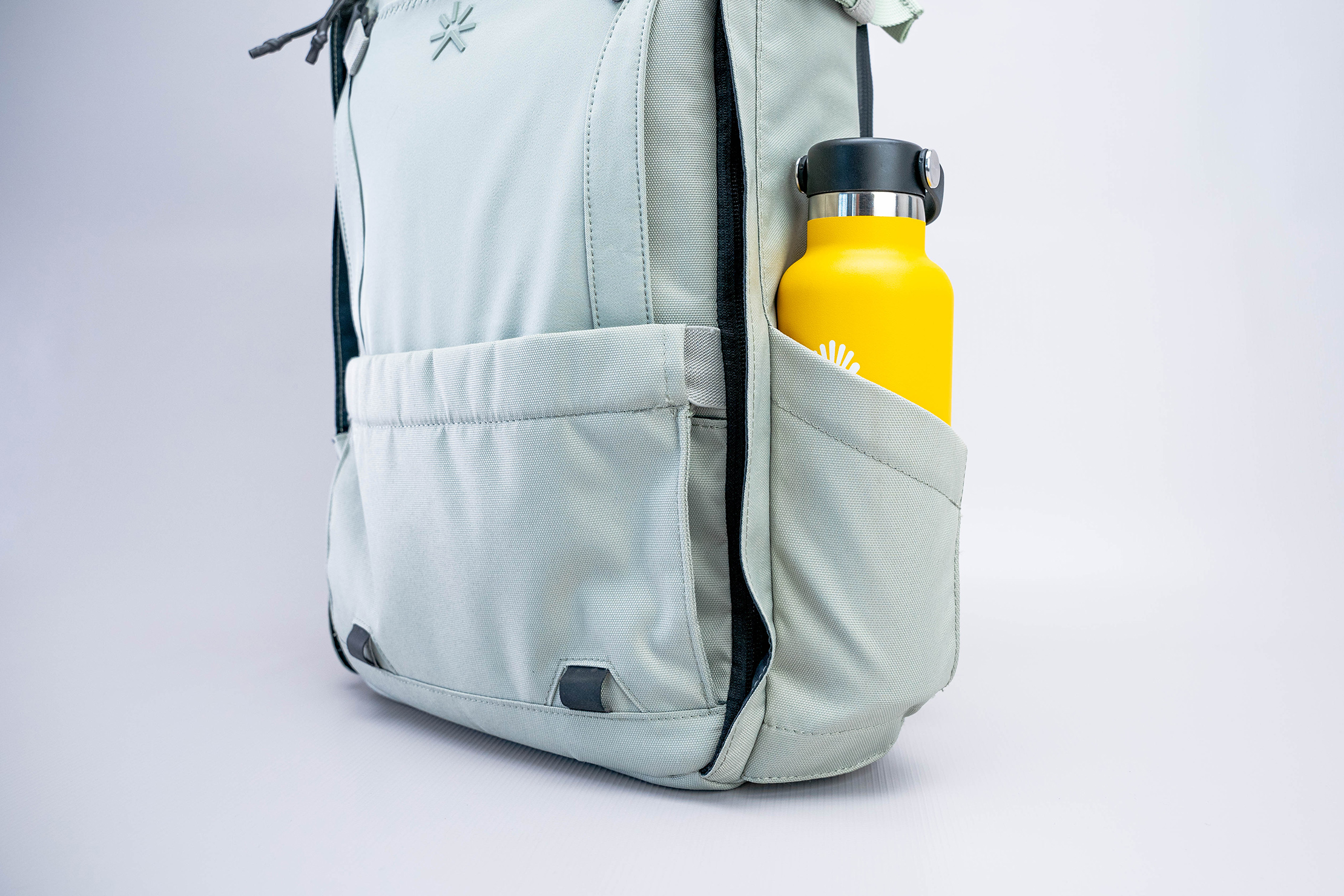 There are three adjustable side-straps for attaching larger gear to the outside of the pack. There's one above the water bottle pocket and two on the other side. The one above the side pocket works well for a tripod, but depending on the size of your tripod's feet, you may not be able to get all three feet inside. The other side is a better fit for trekking poles, as you have two attachment points to stop them from swinging around too much. The straps use the same keepers as the sternum strap and work well at keeping extra materials at bay.
We're toeing the line between the external components and inside the pack sections, but we feel that the Spider Net System falls more into the former than the latter. The system is stored inside the front pocket and is crafted from durable elastic. It slides out of the pocket and isn't noticeable when not in use. It's similar to a webbing system to hold items down, though the elastic means gear won't poke through the gaps. Two metal hooks on top lock down whatever things you keep underneath them. It isn't a pocket per se, but it extends the front pocket further up so it can hold taller items without fear of them falling out. It's ideal for adding outside storage to the pack, and you can fit a fair amount of gear here.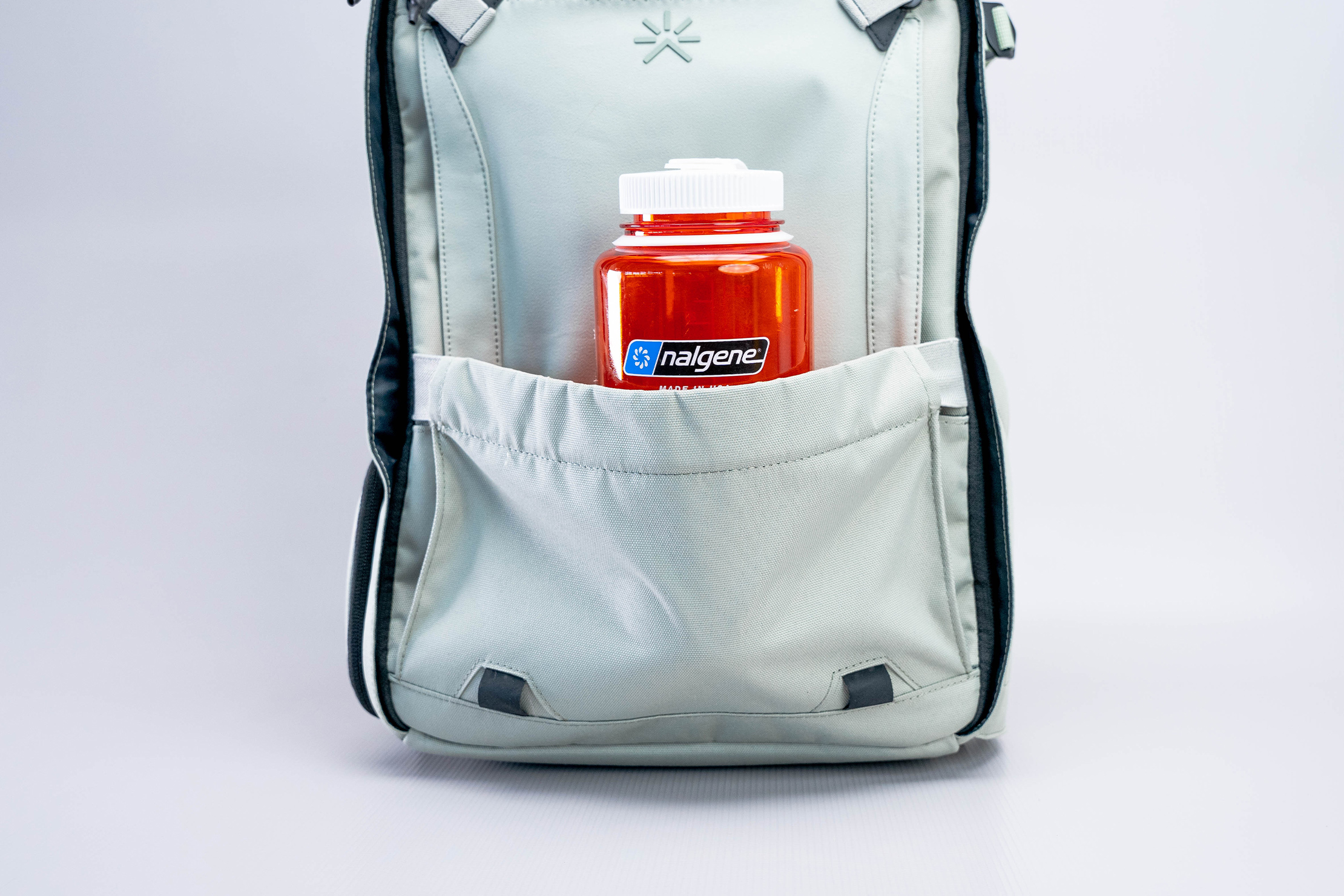 This is where the Smart Packing Cube 10L is designed to go, and it fits perfectly within the front pocket and underneath the Spider Net System. The idea is that you can store the packing cube outside the bag and load the rest of your gear inside. Once you arrive, take the packing cube out, hang it in your hotel or Airbnb with the attached hook, and continue to use the Nest as your daypack, or just take a sling instead.
Tropicfeel's product video shows the Spider Net System stowing a bike helmet, but we find this isn't all that practical, especially for larger models. It's the perfect size for storing oversized sweatshirts, a jacket, or any old 10L compressible Tropicfeel packing cube you have lying around at home.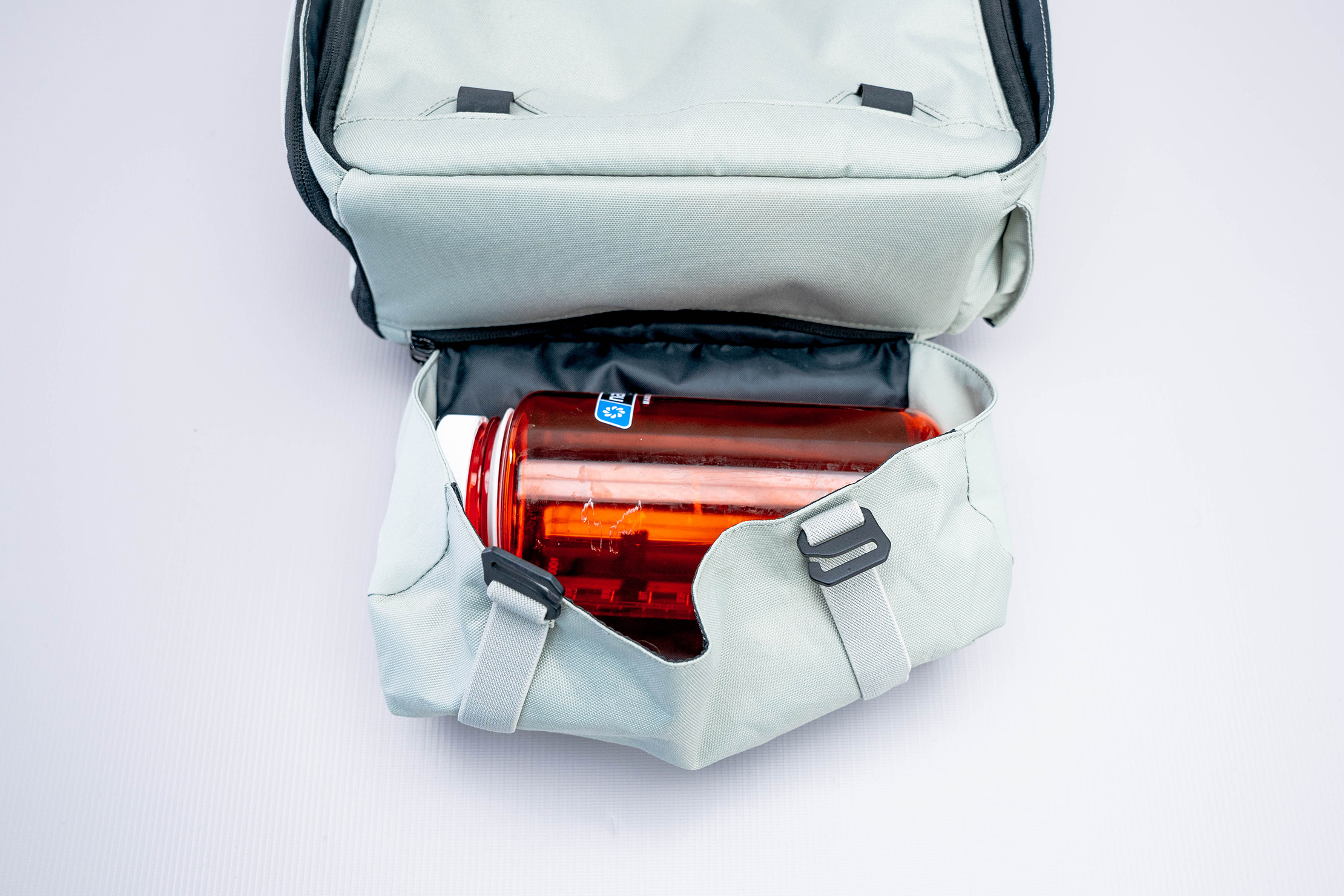 Continuing to toe the line between interior and exterior—there's a kangaroo pocket on the bottom of the pack. It hides away using a zippered pocket and secures to the front of the pack using two metal clips. This is where we see the tarpaulin-like material fraying. We think it might be because we've put more weight on these clips than other place on the pack, though we aren't certain.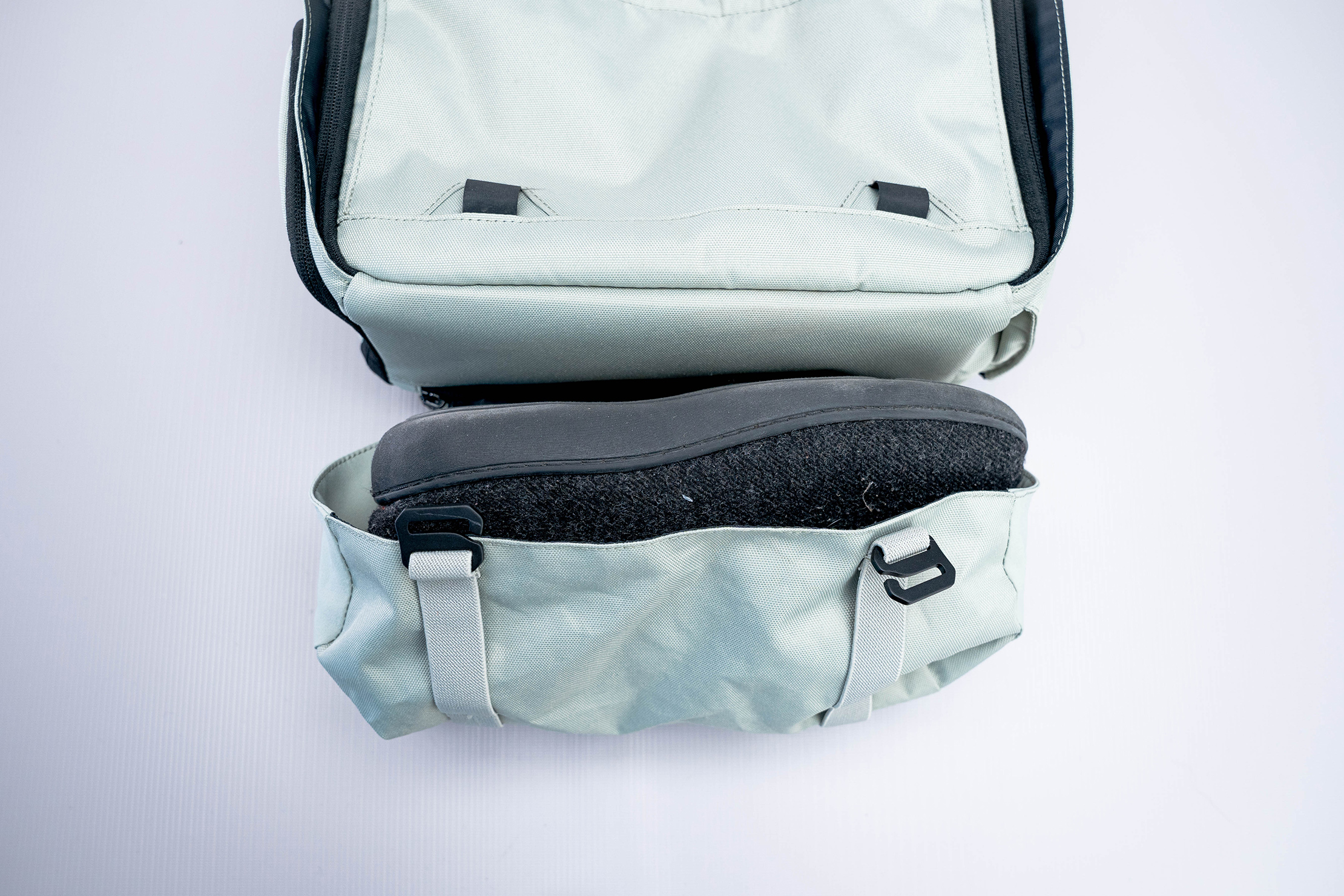 The kangaroo pocket adds 4 liters of space and is a perfect place for shoes, a large water bottle that won't fit into the side pocket, or anything that can be exposed to the elements. There are cracks between the pack and the extension, so avoid placing things that can't get wet here.
There are four loops crafted from a stretchy strap on the bottom of the kangaroo pocket. This is yet another place you can stow a tripod, trekking pole, or yoga mat. Items that are heavier on one side than the other, like a tripod with a large head, may cause one side of the elastic to stretch further, leading to it sliding out of the pocket.
Last but not least, the top handle is durable and comfortable. There's enough padding to ensure you can hang onto it for a few minutes without it digging in, and it's large enough to grab onto quickly.
Inside The Pack
Without anything deployed, this pack sits at 16 liters. Adding the kangaroo pocket gives four more liters, putting you at 20. That's as large as the pack can get without anything add-ons, though you can strap a fair amount of gear under the Spider Net System, using the side straps, and under the kangaroo pouch with the stretchy straps.
In order to get to their advertised 30 liters, you need to add a packing cube. There are two options: the standard five-liter and their 10-liter Smart Packing Cube, which will get you to 25-liters and 30-liters, respectively. Neither of these take up room that we've already accounted for, as the five-liter slides into the front pocket, and the 10-liter Smart Packing Cube uses the front pocket and the Spider Net System to attach to the exterior of the pack.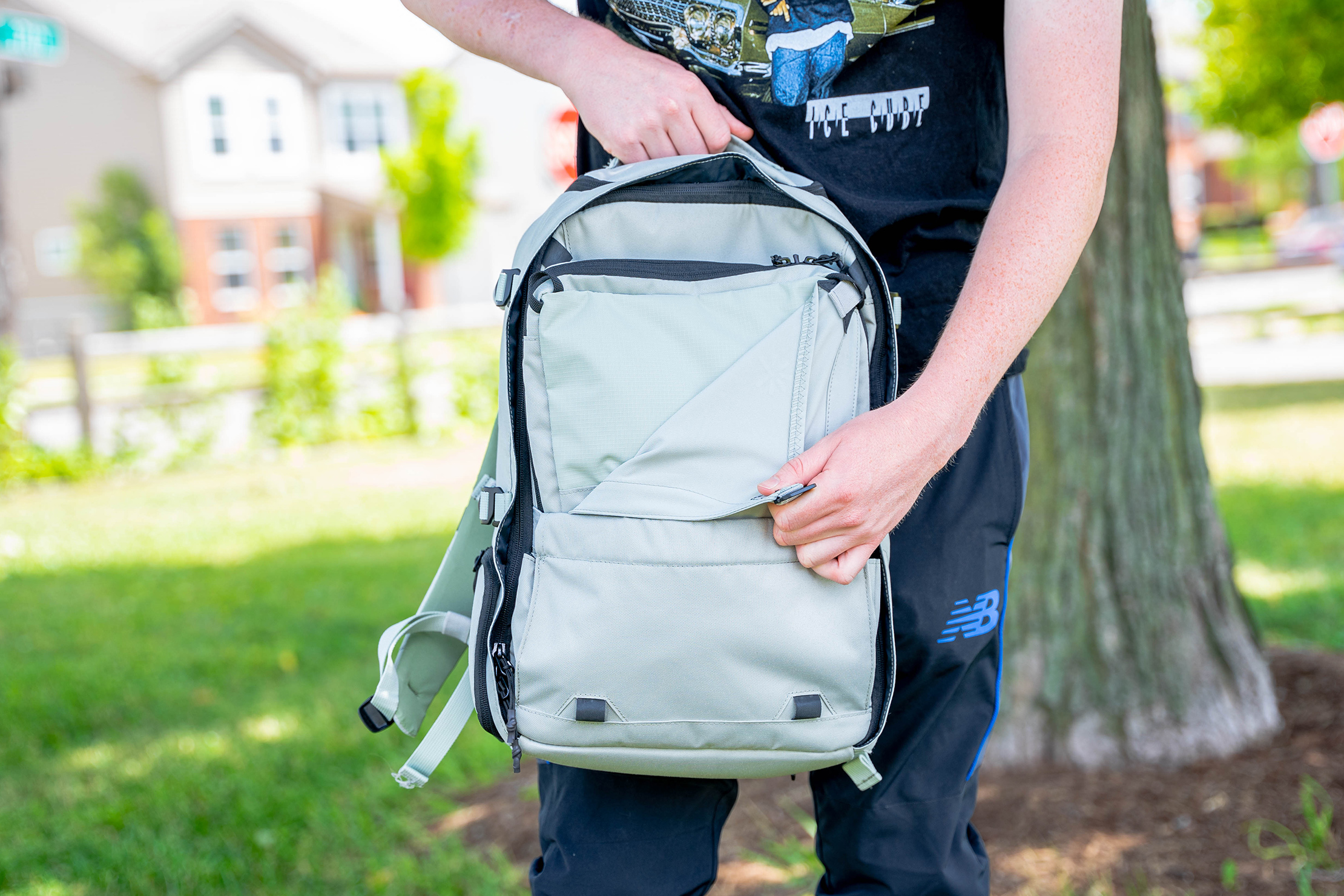 Now that we've gone over the literage, let's jump into the front pocket. It doesn't close on the top, and it's where the exterior packing cubes rest. It's also an excellent place for quick-use items that don't need to be fully secured. We find it's a nice spot for a BlueTooth speaker because there's an open top for music to emanate.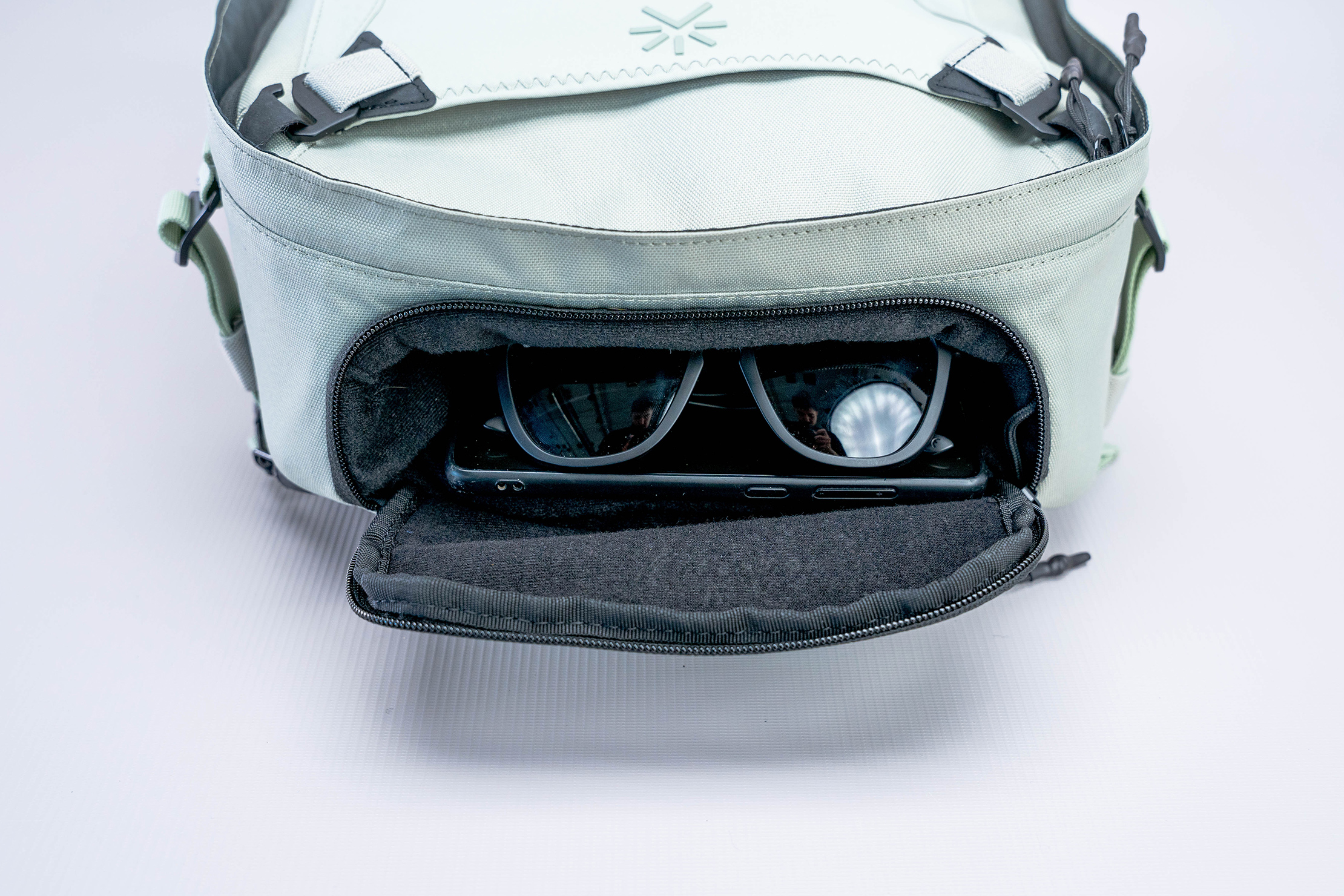 The top pocket is attached to the top handle and is ideal for quick-use items. It has a soft liner so your sunglasses or phone won't get scratched up, and there's a small loop in the corner so you can attach your keys or a carabiner. It doesn't get in the way like key clips sometimes can, so we're happy with its functionality.
Finally, after nearly 2,000 words, we're ready to jump into the main compartment. Here goes nothing! It has has a clamshell opening so you can see everything inside the pack simultaneously. The main area doesn't have organization features, but the flap has a few pockets. To describe it simply, it's a free for all. There isn't much segmentation other than on the opening, so it's up to you (or Tropicfeel's extra organizers) to do the heavy lifting.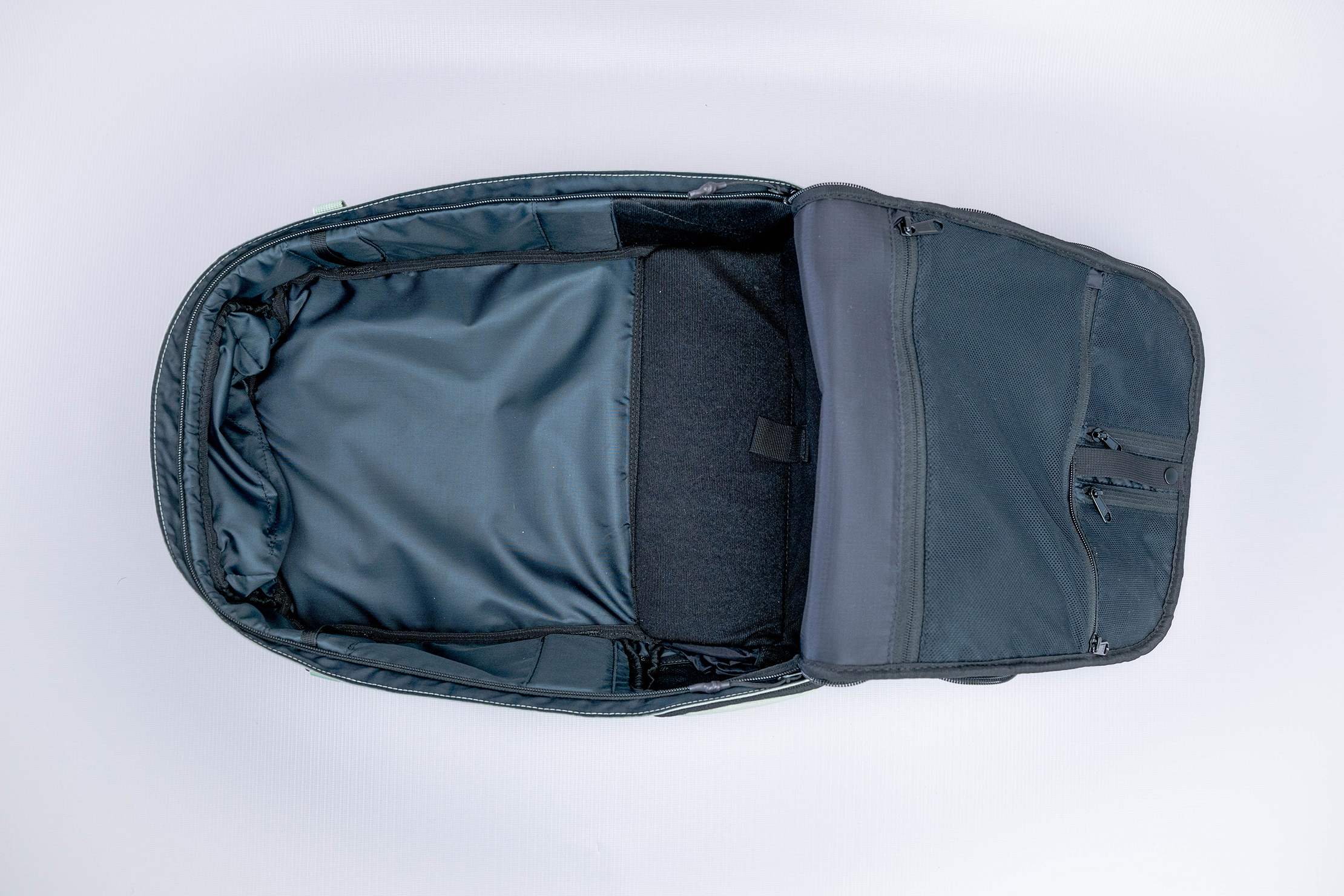 The top of the flap has two small zippered mesh pockets that are a good size for dongles or charging cables. There's a larger zippered mesh pocket below, which is ideal for a battery bank. The mesh has a little give to it, making storing larger items easier.
Below that is a similarly sized zippered opaque pocket. This is a good spot for a passport or other travel documents, and it's also the storage area for the main compartment organizer you can purchase from Tropicfeel that we'll go over shortly.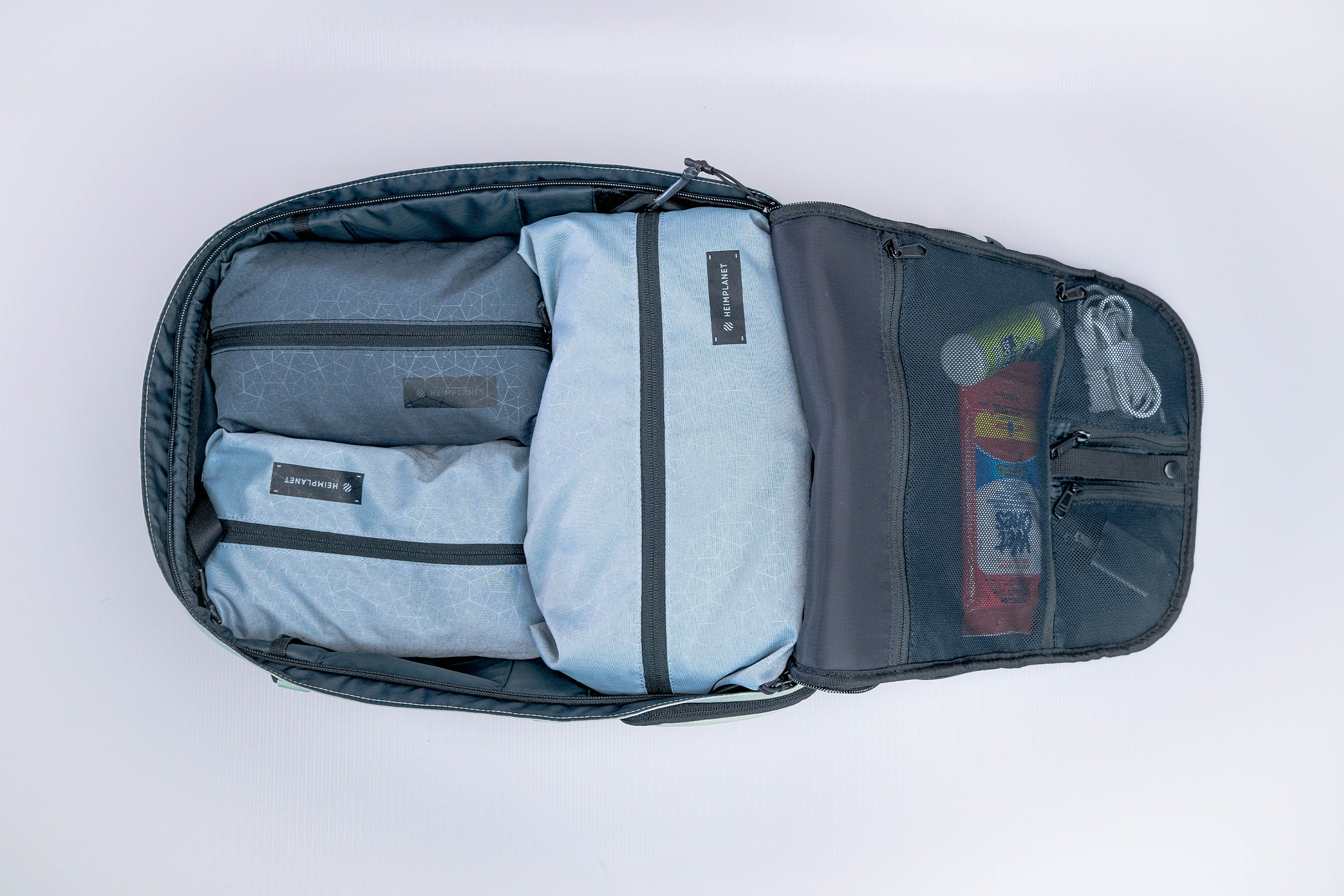 Moving into the open area, there's a structured compartment on the bottom of this area folds out when you want to use it. Once it's been deployed, you can access it via a small square zipper on the pack's exterior. This is ideal for items you want to have a little more padding from the rest of your gear or if you want access without opening the clamshell.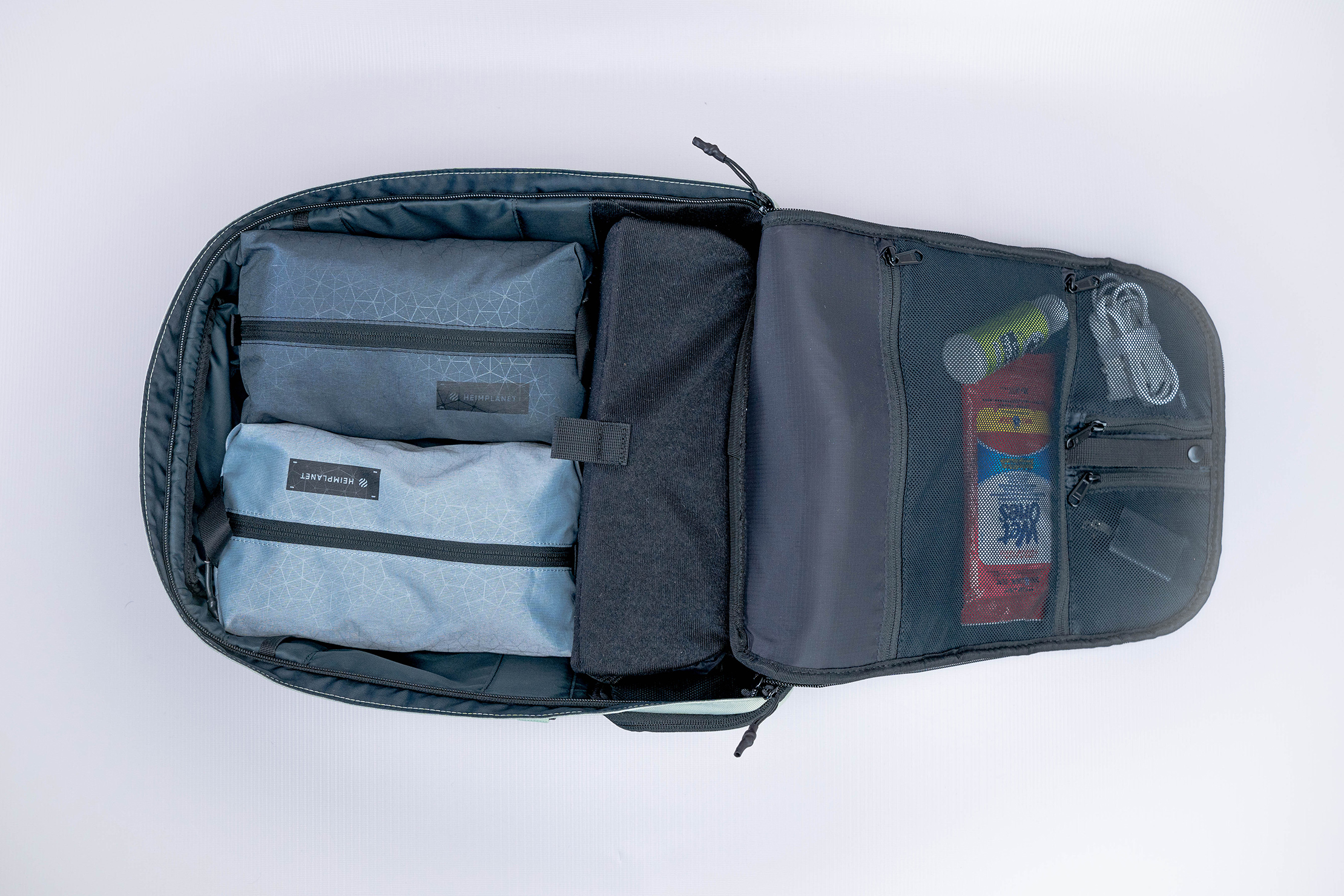 The door to access the compartment from the exterior has a small mesh slider with a lining inside. It expands into the structured compartment for storing wet gear or items you want to keep from getting wet.
You can put food here so that if it spills, you don't have to worry about getting the rest of your gear dirty, or a swimsuit or pair of light sandals fit nicely here, too. It has a drawstring closure, so it isn't completely waterproof, but in most cases, it gets the job done.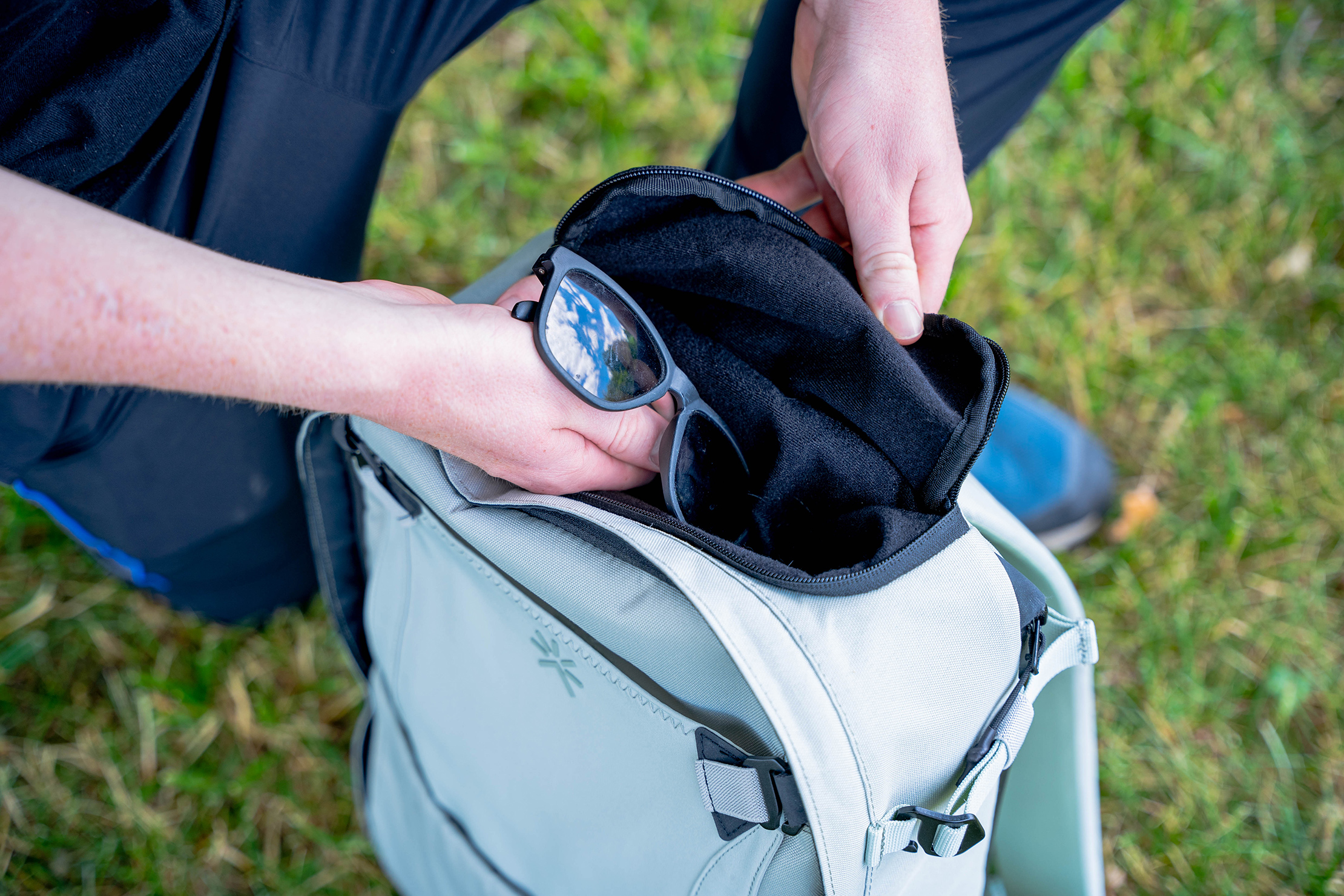 When not in use, the padding folds down into the bottom of the main compartment and doesn't take up much room. It adds also additional protection for your gear, which is a bonus feature that we dig.
Now that we've gone over what the main compartment is on its own, we should go over what it can be transitioned into with additional products from Tropicfeel.
The main compartment organizer breaks up the large space we just went over into smaller, easier-to-pack pieces. There are loops on the compartment's sides to facilitate the organizer, and it rests on top of the padded bottom compartment.
A camera cube fits within that same space and attaches using the side loops and a hook and loop fastener. A small strap secured by a button between the two small mesh pockets on the flap connects to the flap of the camera cube so that when you open the Nest's clamshell opening, the camera cube opens, too.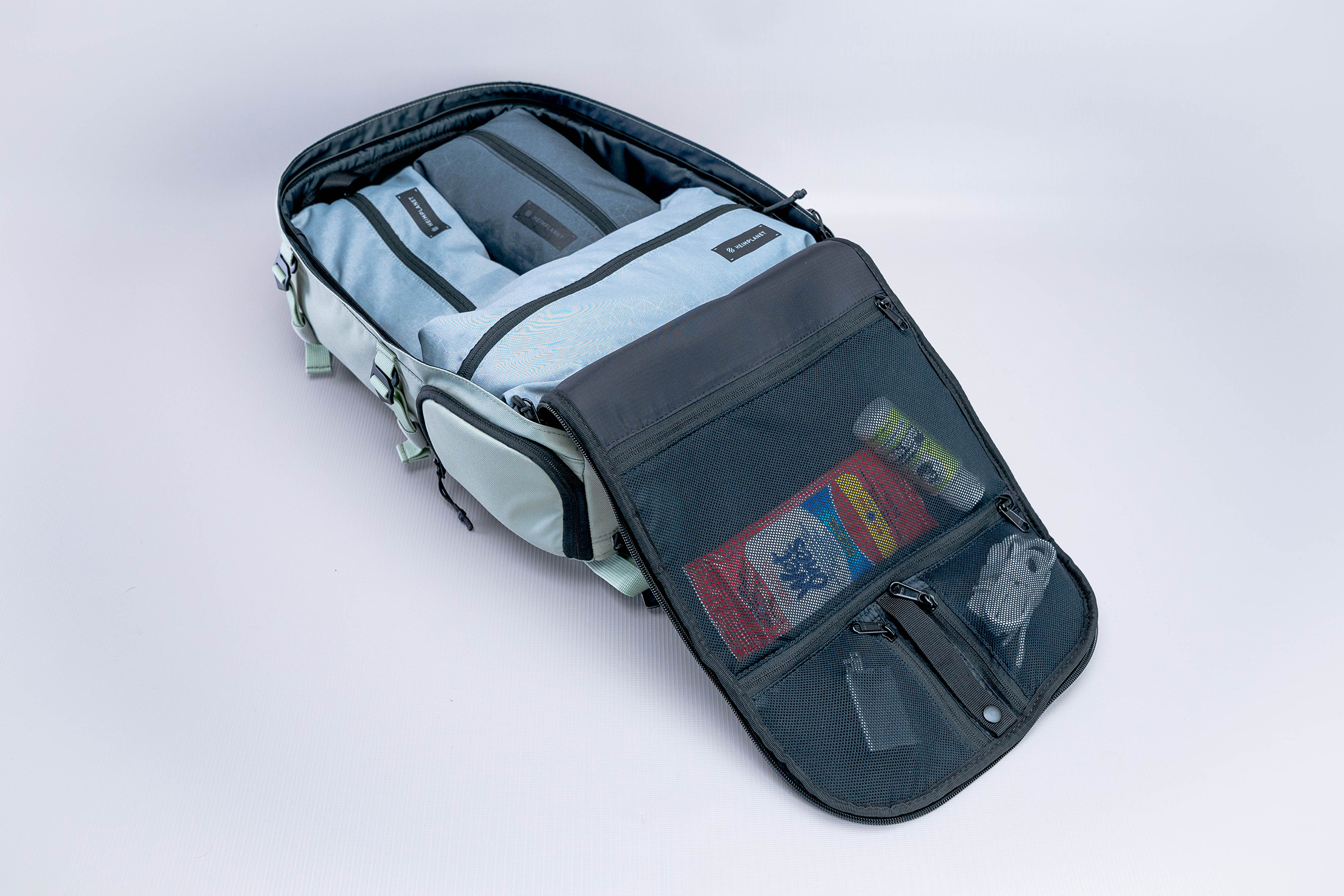 The Nest is a capable pack by itself, though we must admit it feels a little naked without the additional gear Tropicfeel offers. If you don't opt for one of their integrated packing cubes, the pack maxes out at 20-liters. This is more than capable as a daily bag, though it may not have the gusto to take on most weekend trips. The additional 5 to 10 liters enable its transition into a travel pack, especially considering the extra space doesn't come at the expense of space already in use.
In that same vein, if you do opt for the additional packing cubes, the removable storage is beneficial. Once you arrive, remove the packing cubes and use the Nest as your daily adventure pack to explore your destination.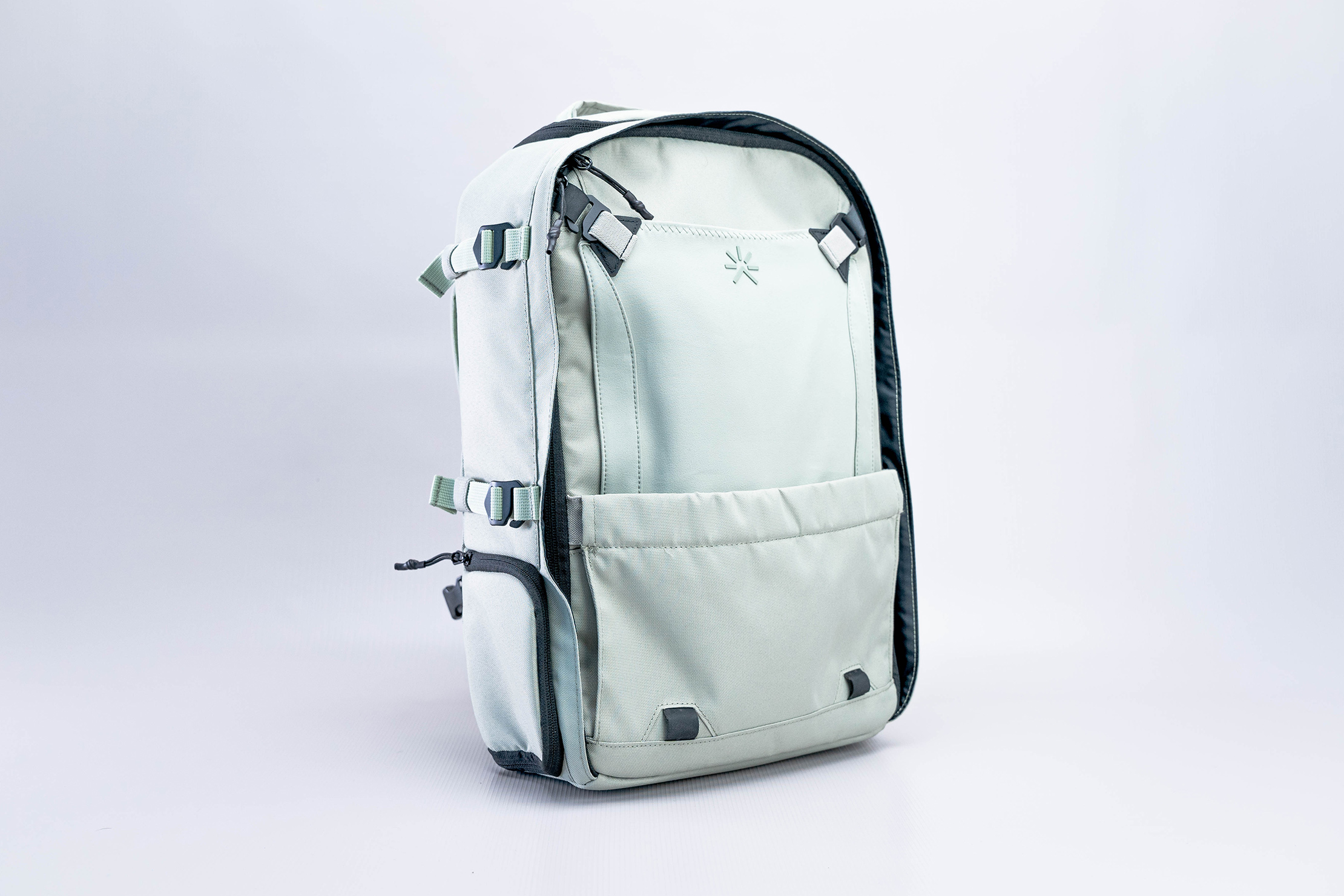 We feel the need to reiterate one last time that the features on the Tropicfeel Nest are exceptionally well thought out and feel like they were designed by someone who travels frequently. If you prefer to provide your own organization, you may find some of the Nest's features superfluous. If you like to invest in a system and go all-in, the Nest will serve you well!
Usage Timeline
Initial Usage
Condition: Excellent
The bag has a ton of add-on features but still looks sleek
Kangaroo extension is handy for wet or dirty items
Shoulder straps are light but comfortable
2 Weeks of Use
Condition: Excellent
Some fraying where metal hooks latch onto the bag
Sweat discoloration on the back panel is noticeable
Materials are otherwise in great shape
Access the Pro Community Discussion
Get your questions about the Tropicfeel Nest answered from our team and the Pro Community right here on the page. Plus, join discussions with other members about gear, guides, and more.
Other Bags & Luggage Reviews