Yakoda Utility Pouch Review
The Yakoda Supply Utility Pouch might be made for fly fishing, but its rugged build is able to handle just about anything we throw inside.
Our Verdict
Unlock the Pro Summary
Save time. Get access to brief summaries of our reviews so you can browse and make decisions more efficiently.
Pros
Can handle a variety of object shapes and sizes
Locking carabiner keeps the pouch secure
Polyurethane coating keeps water out
Cons
Pass-through is a bit too large for most shoulder straps
Water can get trapped inside the pouch
Top flap coverage can leave the pouch exposed to the elements
Recent Pack Hacker Video
Technical Details
Weight (oz)

1.5 oz (42.5 g)

Denier

500D

Dimensions

3.25 in x 5 in x 1.25 in (8.3 x 12.7 x 3.2 cm)

Notable Materials

X-Pac

Manufacturing Country

United States

Warranty Information
Full Review
Yakoda Supply is a company favored by folks who live and breathe fly fishing. Although most of their products are designed to make your time out on the water simpler and easier, some of their products cross over into general use, and their Utility Pouch is a great example of that.
Materials & Aesthetic
First things first, this pouch was designed in Colorado and made in America, which is pretty neat if you ask us. Its primary use is for carrying fly tins, which are the metal tins that store flys. If you're not familiar with fly fishing, a fly is an artificial lure meant to resemble an aquatic insect made from hair, thread, and feathers. The Yakoda Supply Utility Pouch can hold two of Yakoda's specialty fly tins or a 12 oz aluminum canned beverage.
The exterior of the pouch is a mixture of X-PAC and 500D DWR fabric. This combination is great at keeping liquid out of the pouch (or in, if that's how you roll). The top flap secures using a narrow hook and loop fastener, but we've found that it has quite a firm grip and rarely comes loose.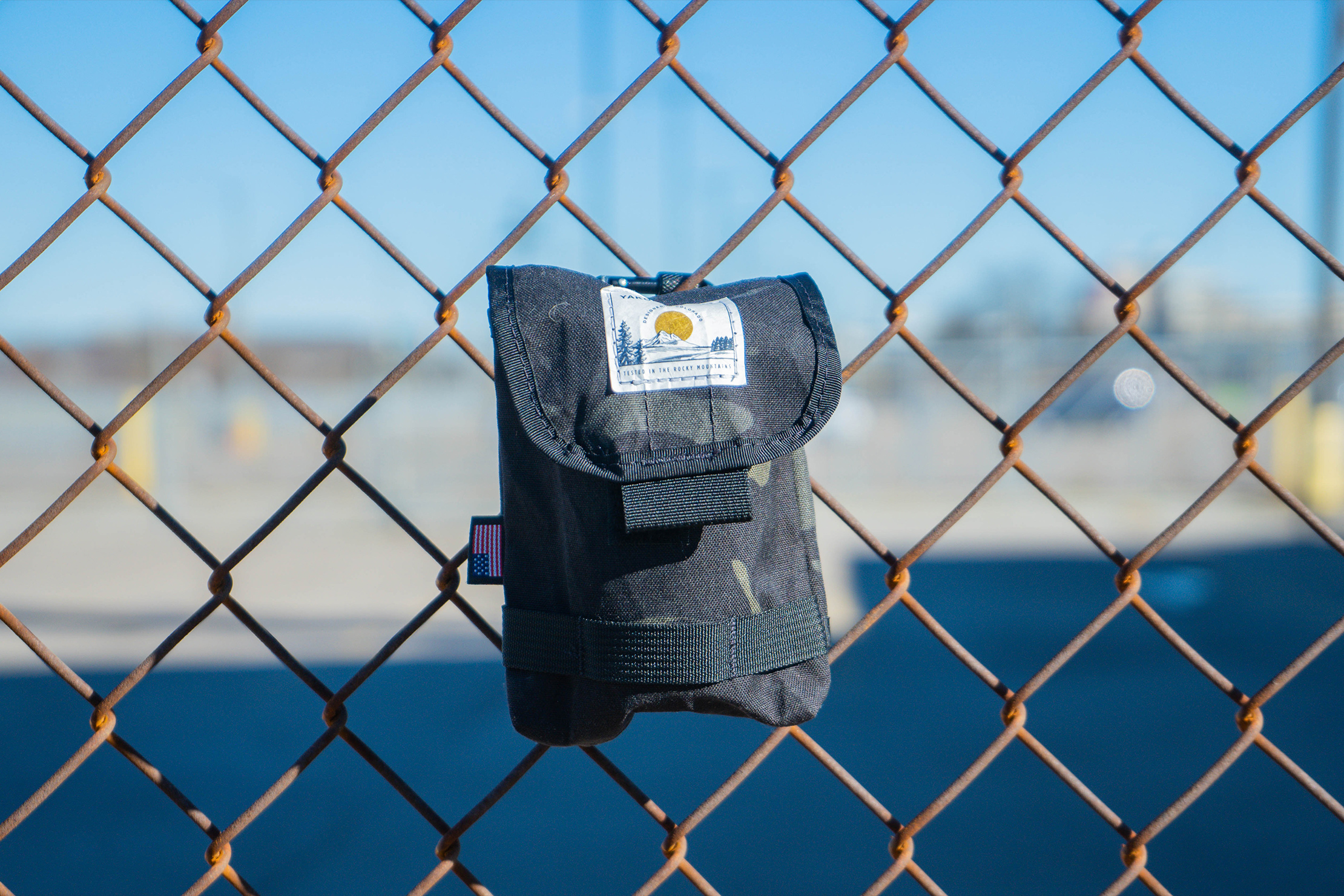 The attachment loops are sturdy, and the stitching that holds them in place feels very durable. The stitching on the front logo feels a little feeble, and the patch is made of a papery material that doesn't feel very hardy. With that being said, it stayed intact for over two weeks of testing and has a nice rugged look
The pouch comes in four different colorways at the time of writing: White, Black, Mountain Multicam, and Black Multicam. If you aren't typically a huge fan of camo, the Black Multicam pouch we tested isn't overly camouflaged and almost looks marbled. Either way, we love the color on this thing.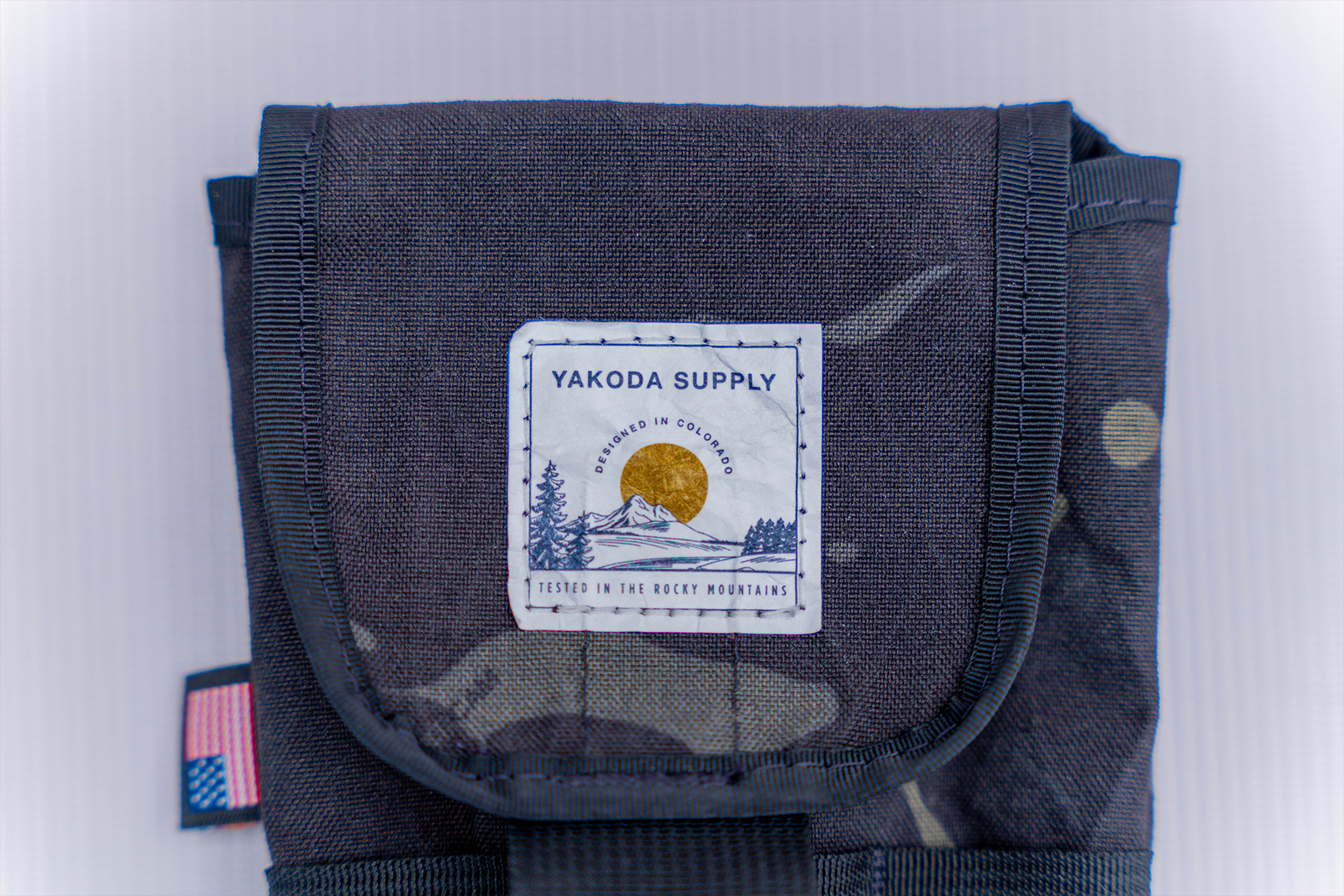 It is worth noting that the camo models are X-Pac X33 while the solid color models are X-Pac X21, meaning that the camo colorways have a bit thicker fabric than the solid ones. The solid color models are a few bucks cheaper than the camo models to make up for this difference, which is a great look from Yakoda Supply, we think.
External Components
The pouch also comes standard with a Yakoda Square 'Biner. As much as we love using this locking carabiner, we regret to inform you all that it is in fact a rectangle, not a square. This was a shocking revelation, but after we got over the initial blow, we still love using this thing. It's black to match the pouch and attaches to a strip of nylon behind the rear pass through. If you aren't using the carabiner, you can fold it down to hide it from view, which is nice. We most often use the carabiner to attach the pouch to a daypack. It is useful in the car for on the go access while commuting or on a road trip. Every car needs another cup holder, right?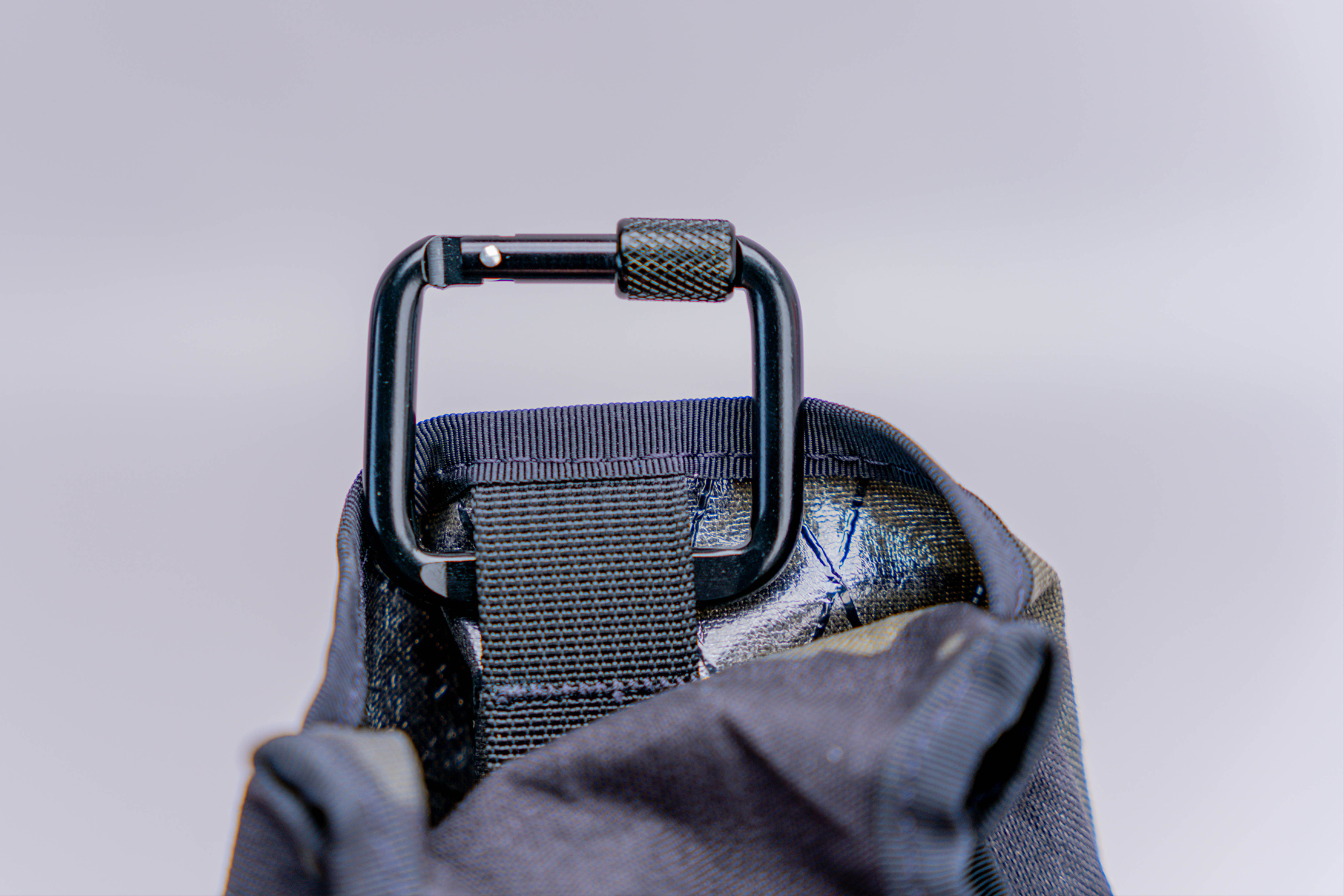 The piece of material that the Square 'Biner attaches to initially threw us for a loop, until we realized that it's a pass-through for a strap. We're able to use this to attach the pouch to a removable shoulder strap of a backpack, shoulder sling, and other accessory loops to keep the pouch nearby at all times. Most standard backpack shoulder straps are a little thin for this large pass-through, as it's made for fly fishing wader straps, but we find it to still be useful on most packs.
You can also use the pass-through to hold the top flap of the pouch back to offer easy access to whatever you have inside. We mostly find this helpful while there's a 12 oz can in the pouch, as other items that don't fill the area completely are prone to falling out without the top flap secured.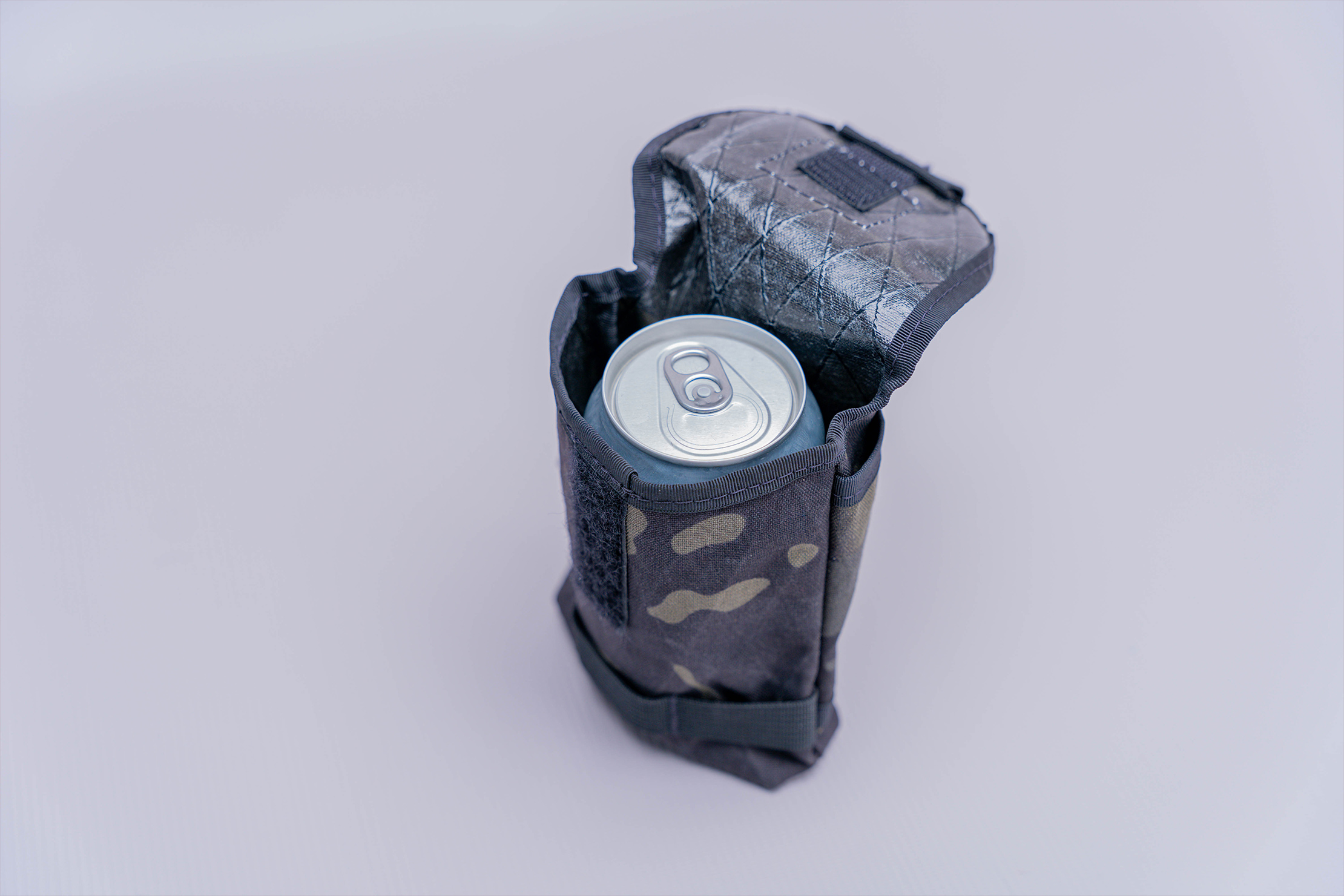 On the back of the pass-through is a piece of nylon that you can use to attach the pouch to a belt. This feels a bit awkward compared to other pouches we've tested, but we did get used to it after a few minutes. Plus, it's the best way we've come across to have quick access to a can of beer at all times while keeping your hands free.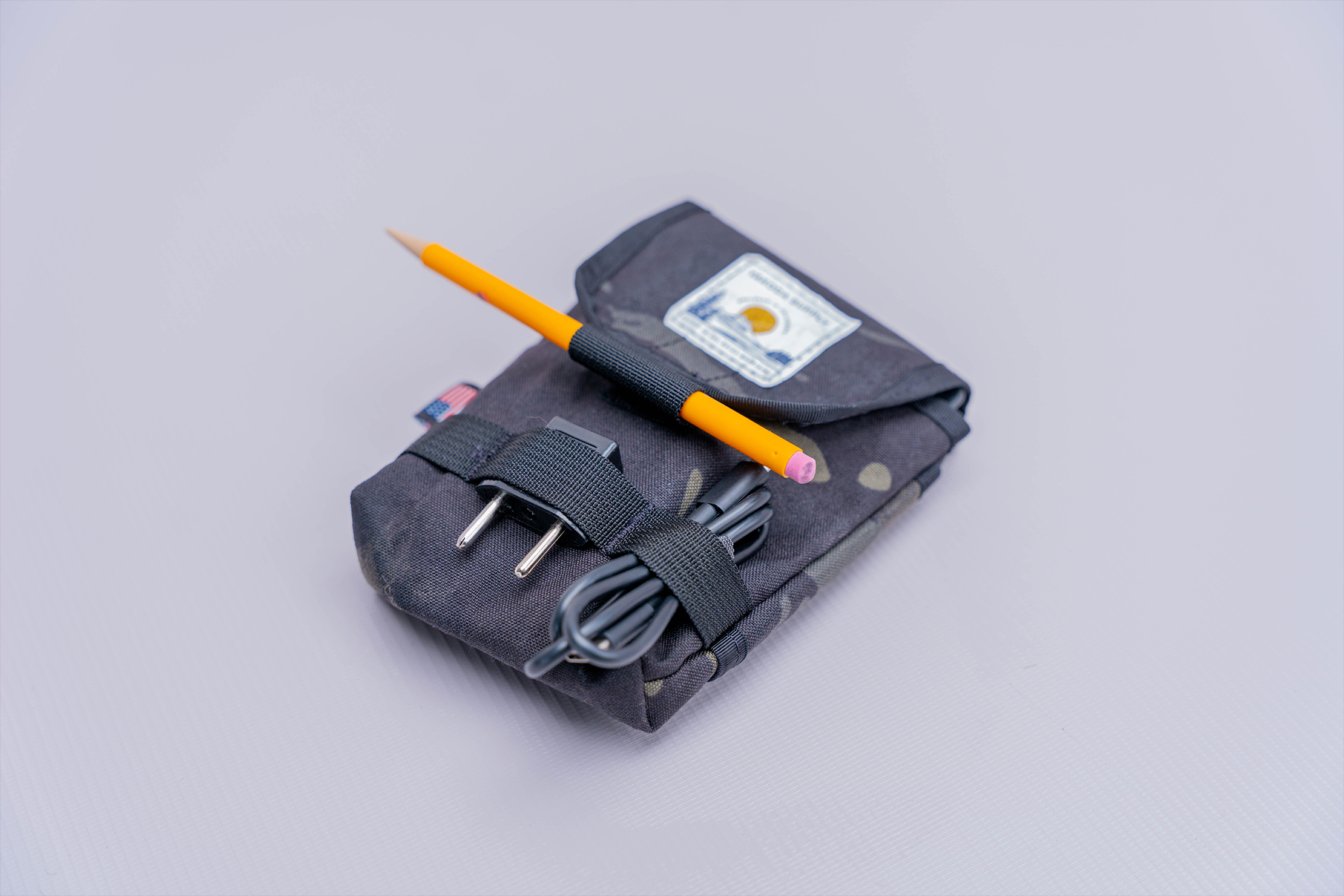 The attachment loops on the front of the pouch are made with the same nylon material as the back belt loop and are great for mounting smaller items like the Prometheus Lights Beta QRv2 Flashlight.
Inside The Pouch
The inside of the pouch is about as basic as it gets. There is no organization or hidden compartments to be found here, but for the most part, we like it that way. If there were different pockets and compartments, there wouldn't be much room for the main storage area.
The interior has a polyurethane coating that keeps water and snow at bay. It is important to note that depending on how much you throw into the main compartment, there are access points for the elements to find their way into the pouch where the top flap attaches. We wouldn't throw our iPhone in the pouch during a torrential downpour, but during a light rain, it will weather the storm just fine.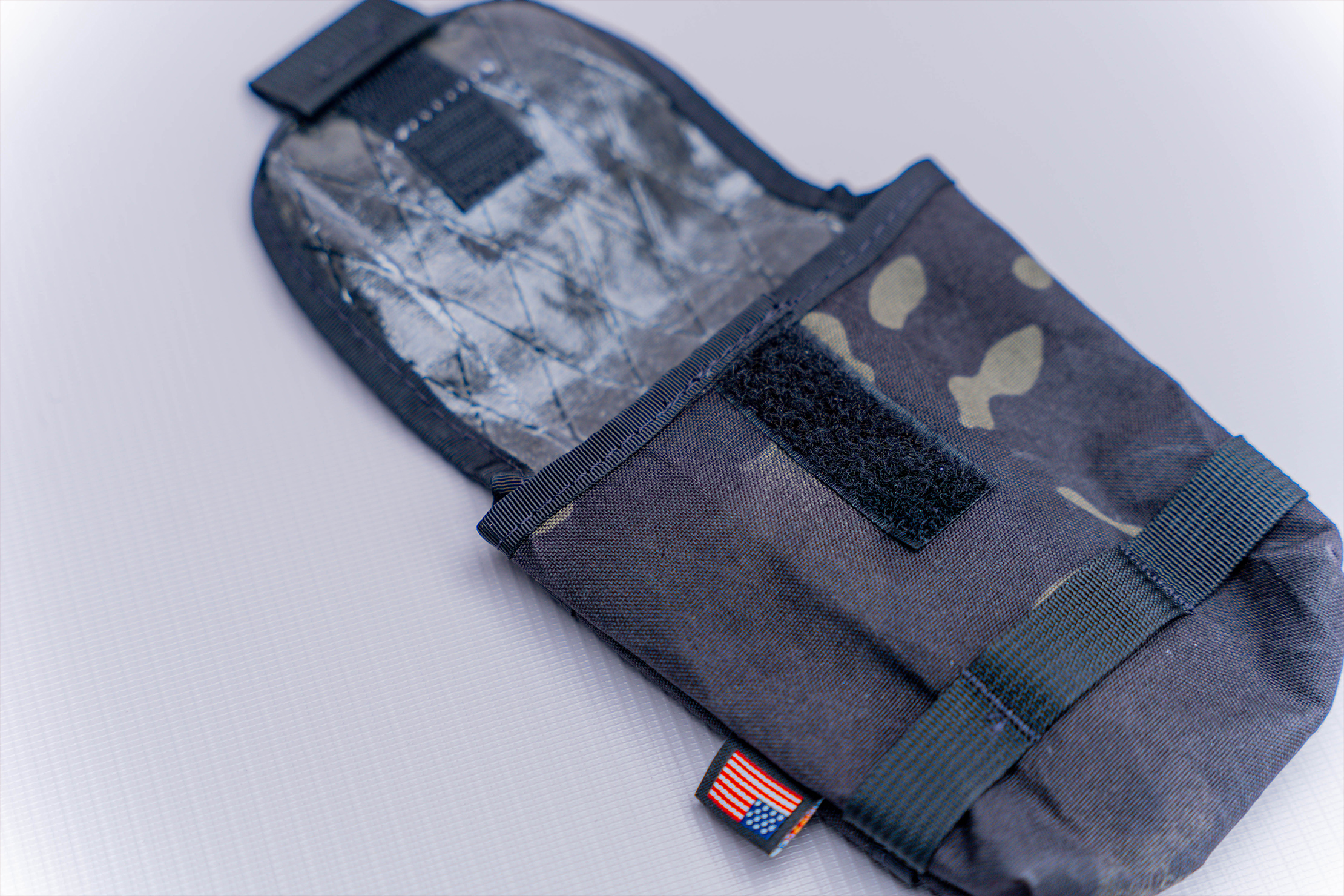 As we have talked about, the pouch is designed for fly fishing. You might be wondering, though, what else can you throw inside it? Well, we're glad you asked.
Our daily carry with this pouch is a cell phone, mask, mini hand sanitizer, pocket knife, and a pair of headphones. A few times, we used it to carry a small camera, in our case the Konica Big Mini 35mm point and shoot, which fits with room to spare. Other users have reported stowing their waterproof camera for fishing trips, which sounds like a great shout to us.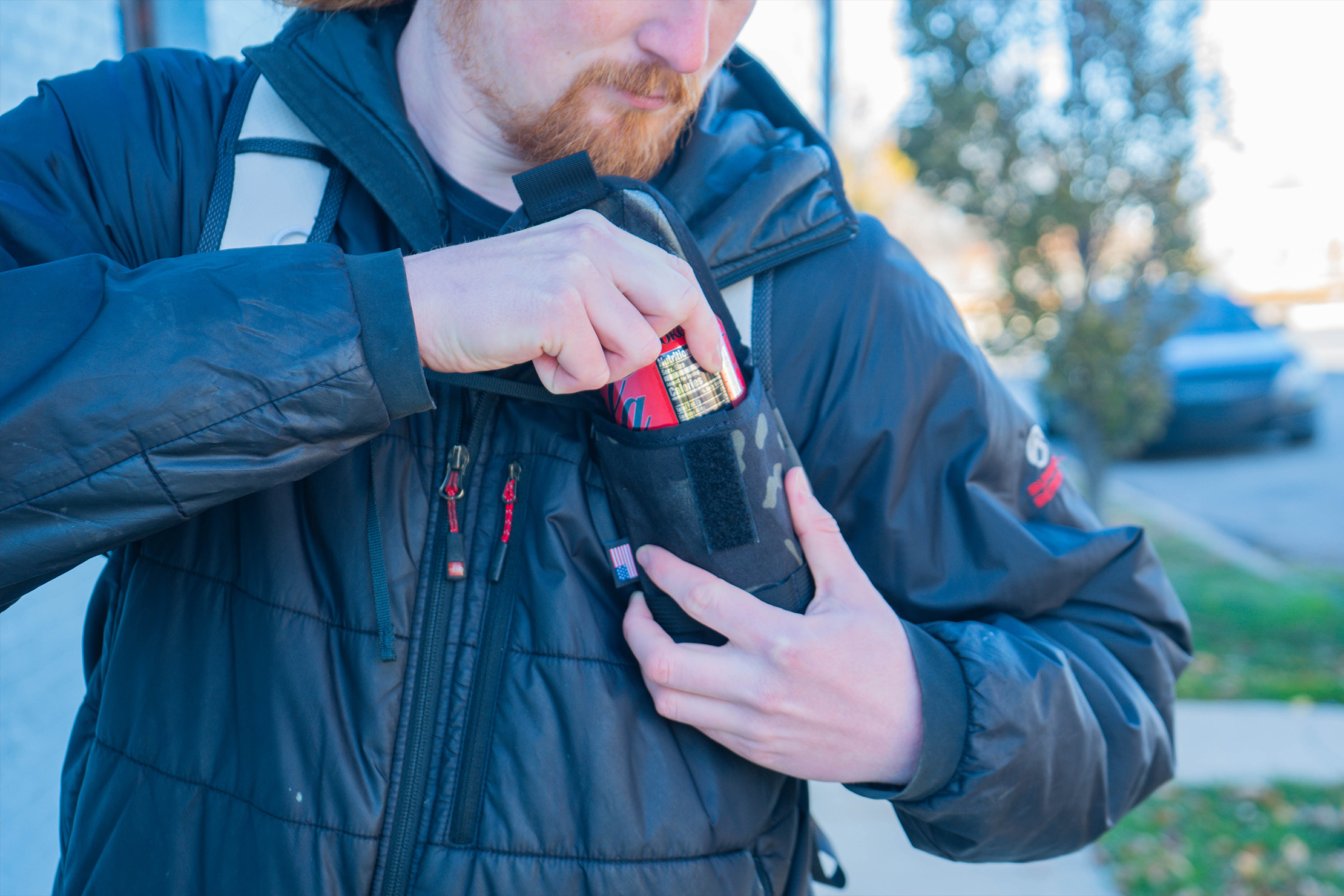 When we first got the Yakoda Supply Utility Pouch we were blown away by its versatility. Day after day we were able to fit new items inside it, eventually just testing random items around the office to see what would fit and what wouldn't. It's one of those things you don't miss until it's been in your life, and if you never knew it existed, you might have been just fine, too. Either way, we thoroughly enjoy the craftsmanship on this pouch and look forward to seeing how it holds up to future testing.
Usage Timeline
Initial Usage
Condition: Excellent
Lower fabric is Yakoda River Pro, and it's DWR-coated
Comes with a Yakoda Square 'Biner
Functions as a cup holder too
2 Weeks of Use
Condition: Excellent
Yakoda Supply tag shows signs of wear but remains intact
All of the stitching is in great shape
Square 'Biner shows signs of wear but operates as it should
Access the Pro Community Discussion
Get your questions about the Yakoda Utility Pouch answered from our team and the Pro Community right here on the page. Plus, join discussions with other members about gear, guides, and more.
Other Organizers & Pouches Reviews