Tortuga Prelude Travel Backpack Review
While the Tortuga Prelude Travel Backpack is priced higher than other budget options, the harness system keeps you comfortable when fully packed for adventures.
Our Verdict
Unlock the Pro Summary
Save time. Get access to brief summaries of our reviews so you can browse and make decisions more efficiently.
Pros
Comfortable, breathable harness system
Great size for lengthier travel
Great external storage options
Cons
Priced higher than other budget options
Not a lot of organization
Bag is floppy when not packed out
Recent Pack Hacker Video
Technical Details
Capacity

38.5l

Weight (lb)

2.5 lb (1.1 kg)

Denier

900D

Dimensions

21.65 in x 13.75 in x 7.87 in (55 x 34.9 x 20 cm)

Notable Materials

Recycled Polyester, Thermoplastic Polyurethane (TPU), YKK Zippers, Duraflex Hardware

Manufacturing Country

Vietnam

Warranty Information
Full Review
Get up to 10% off Tortuga • Join Pack Hacker Pro
If this is the first time you're hearing of it, allow us to introduce you to the Tortuga Prelude Travel Backpack. It's essentially the budget version of the brand's pricier travel pack, the Setout Backpack 35L. And while there is a difference in quality, the Prelude still offers all the space you need for lengthy travel.
That being said, if you want to save yourself some time and have an extra 50 bucks lying around, go for the Setout instead of the Prelude.
Now, if you're traveling on a budget, you'll want to keep in mind that while the Prelude is a budget bag, it's not the most affordable option out there. That's why we want to give you all the information you need to decide if this bag is worth the smaller, yet still significant splurge.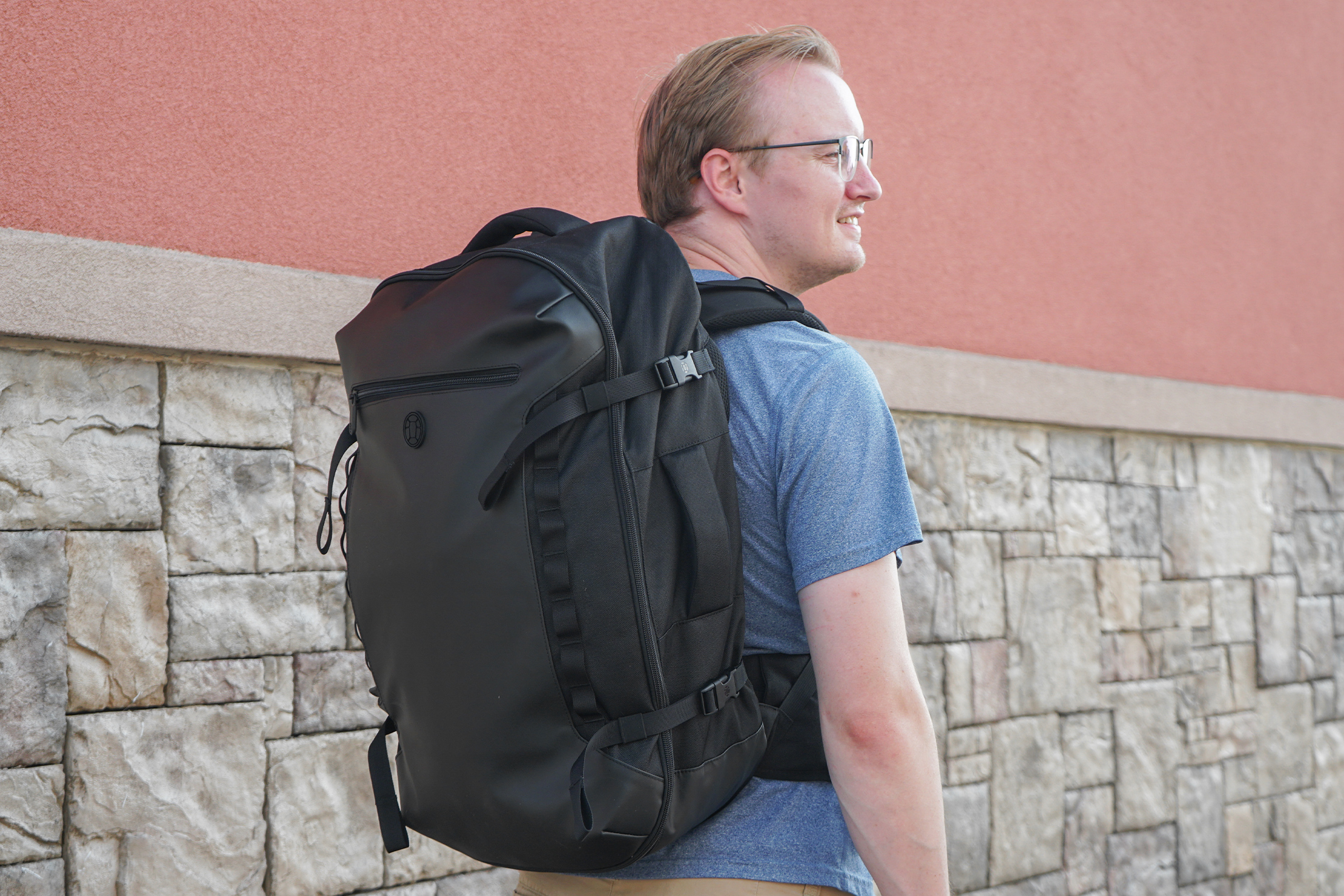 After two weeks of testing, we have some thoughts we want to share. So let's get to it.
Materials & Aesthetic
The first difference between this pack and the Setout is that there's only one version available at the time of this review, while its counterpart has not one, not two, but six different versions to choose from. You have options based on your torso, amount of gear, and expandability. You won't find this level of specification with the Prelude, which may or may not be an issue depending on what is or isn't a deal-breaker for you with a bag.
When we say this is a big bag, we mean this is a big bag. It almost looks like we're wearing a giant turtle shell when we've got it on (which makes sense, given Tortuga's turtle shell logo). But its TPU coating on the front offers a matte finish to keep this bag looking clean and streamlined. It doesn't look like all of you would agree, though, as only 59% of you liked this bag's look according to our Instagram poll.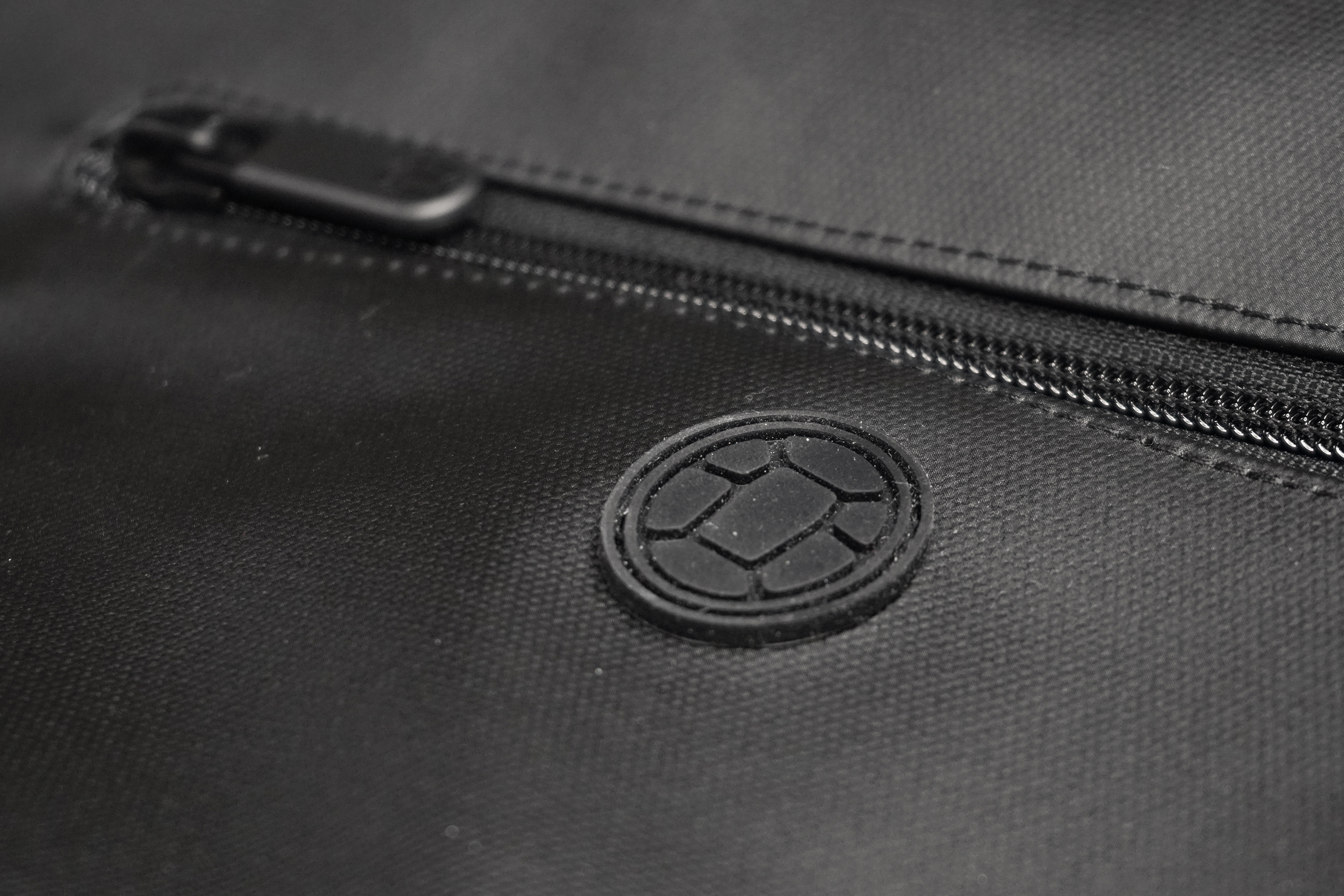 At the time of this review, the Prelude Travel Backpack is available in only one colorway, and that's Black. This doesn't bother us any, as we like the sleekness it adds to the pack. That said, you might prefer that your bag stand out and make a statement, which a subdued colorway like this one doesn't offer—it all depends on your preferences.
This pack is made with 900D recycled polyester fabric, with a TPU (thermoplastic polyurethane) coating for added water resistance. This is the same material you'll find on the Setout, just with a DWR coating rather than TPU. It feels durable in the hand despite the budget aspect of the bag, and we like to see Tortuga taking a sustainable approach to their materials—way to keep it eco-groovy!
One note we have about TPU is that it tends to scratch up more easily than some other fabrics we've tested. Thankfully, we haven't sustained any as of yet, but we're always keeping an eye out for any aesthetic damage. Overall, this coating has done a great job of keeping all of our gear dry during testing, which we appreciate.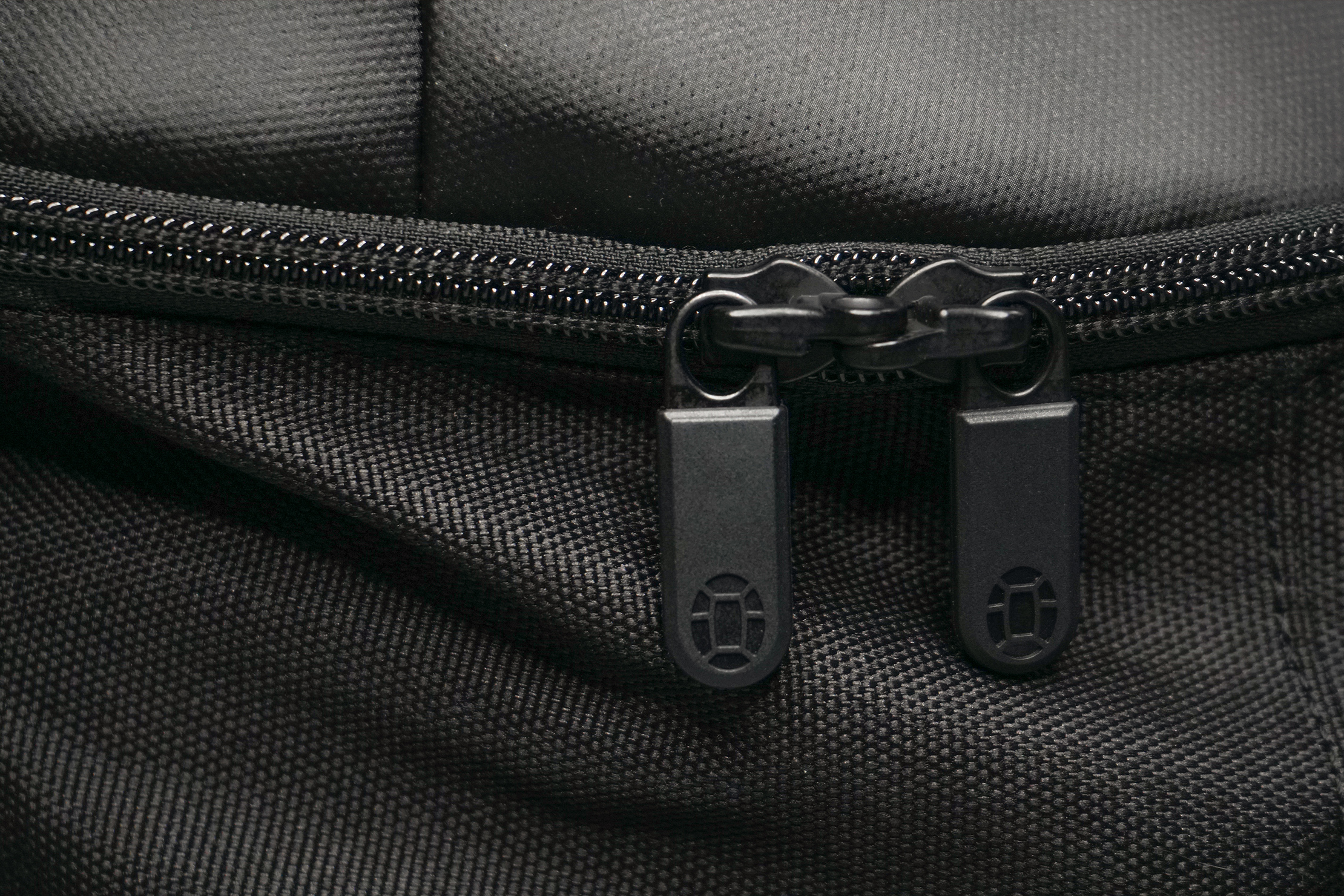 We're always happy to see some YKK zippers on bags, as we've had lots of positive experiences with them on other bags. These zippers feel robust in hand, and have some easy-to-grab pulls so we can quickly and easily unzip all the pockets and compartments. As expected, they've been working smoothly so far during testing.
You'll even find some Duraflex hardware on this pack, which we also have tons of experience testing. Like the zippers, all of the hardware has been working as it should be—everything has stayed secure and we don't have anything out of the ordinary to report.
External Components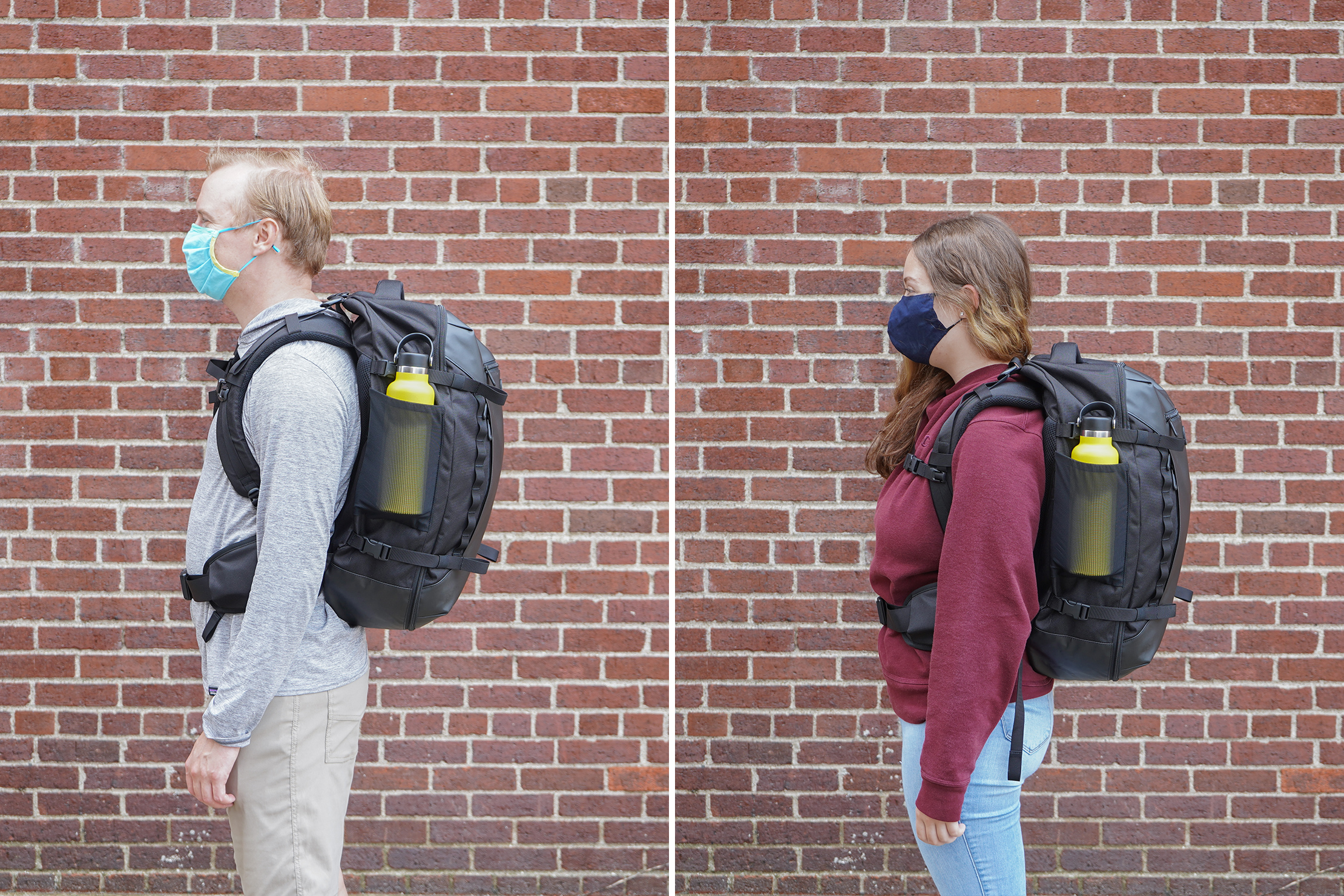 Let's take a closer look at this bag's harness system. It's pretty similar to the setup on the Setout, just not as soft and as densely padded. That said, we've still found it to be pretty comfortable overall.
The shoulder straps on the Setout pack feature injection-molded foam to add a nice level of comfort when you're wearing the bag. You'll only find some air mesh padding on this pack, but it's still pretty dense and highly breathable, so you're not missing out on too much.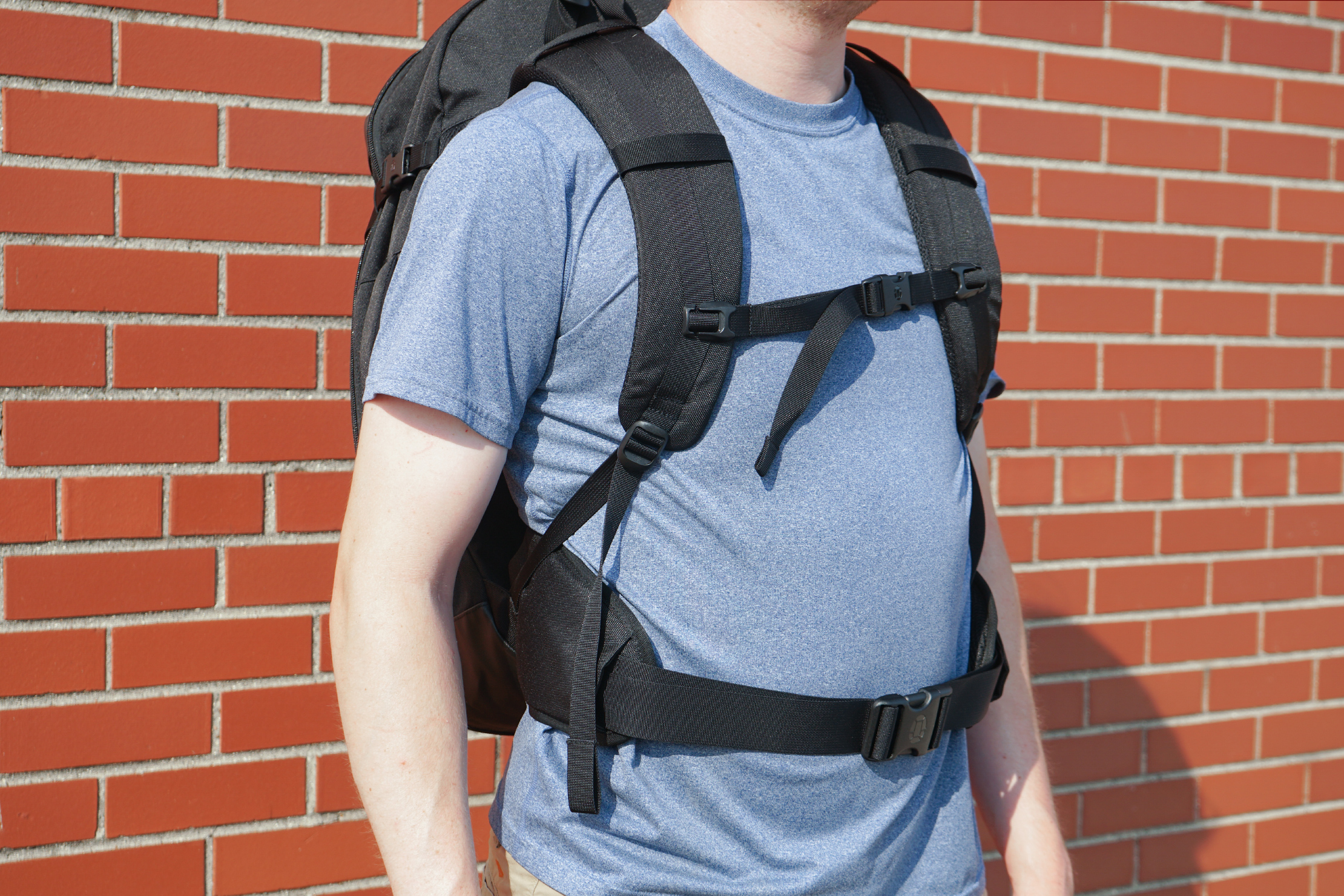 You have some load lifters at the top that you can adjust to help distribute the weight when needed. Plus, you can tuck the excess strap from these load lifters through the top attachment points for a cleaner look. Attach a carabiner to any of the four attachment points on this strap as well to keep it handy or use for some external storage.
On the Setout, you have the option to stow these straps away in the back panel. This functionality does not appear on the Prelude, so it's not as handy for when you need to check your bag or fit it into a compact spot, which is something to keep in mind while traveling.
Then, you have the elasticated sternum strap. It's securely attached so we're not worried about losing it, however, there's a stitch that fastens the nylon webbing to the strap that can obstruct adjustment of the sliding hardware. You may have to remove it to get it adjusted correctly to your frame, which isn't the quickest maneuver, but once you get it set, you should be good. This strap especially comes in handy if you have this bag on for long periods of time, as it offers some added stability.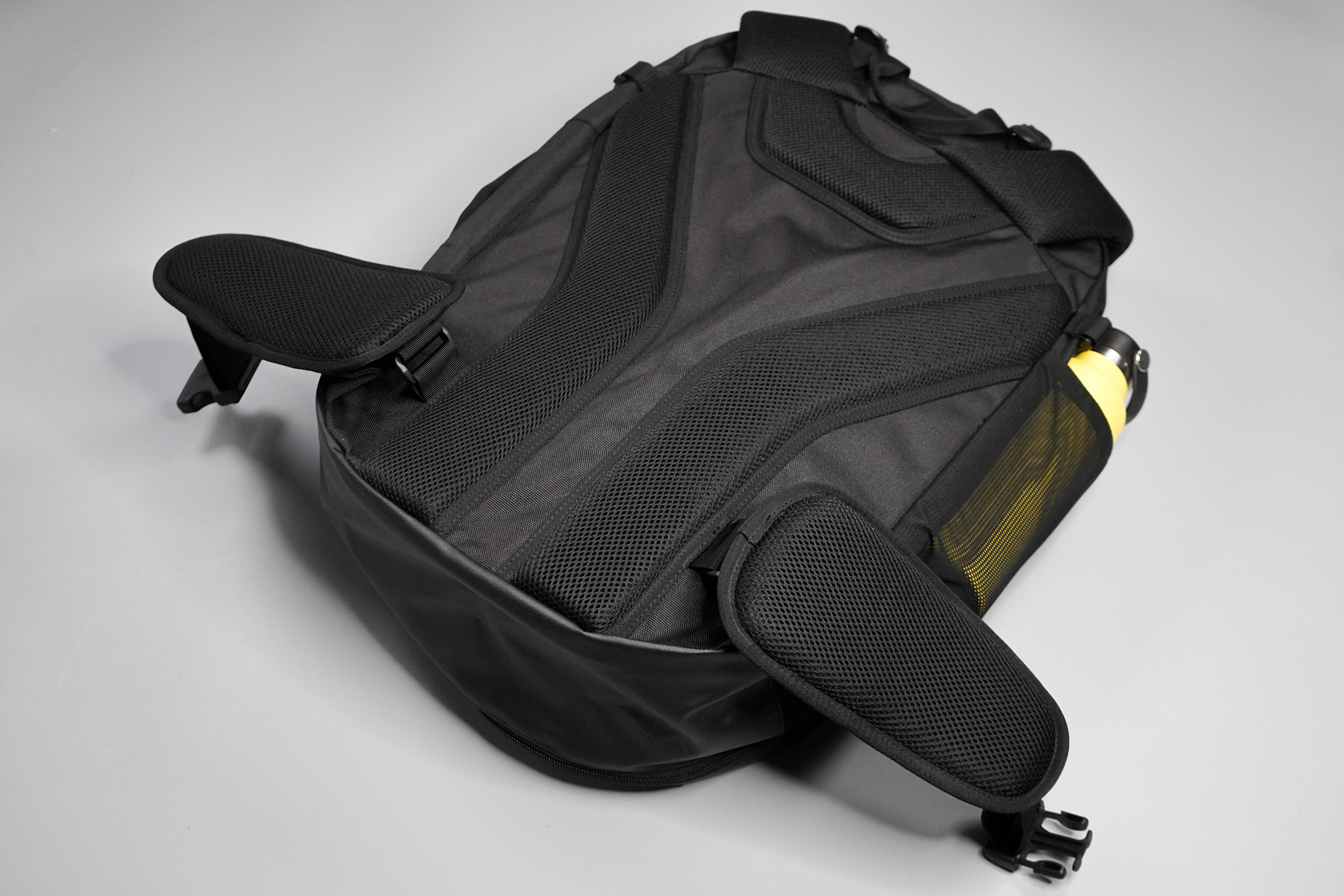 Speaking of stability, you also have a hip belt at your disposal. It's much smaller than the one you'll find on the Setout, which isn't a bad thing, as we weren't big fans of the Setout's version. It had an excessive amount of padding and extra storage that made it feel beefy, yet inefficient. Whereas the Prelude's hip belt has less but still ample padding and no storage, so it offers comfort without the bulk.
It does sit a little higher up than we'd like, but overall it's done a nice job of keeping the bag as close to the body as possible. It helps distribute weight more evenly, too, which is always appreciated on a heavy bag like this. Once you have it adjusted where it's comfortable, you can also slip the excess strap into the panels for that #DangleFreeExperience.
This bag's back panel also has some comfortable padding, and lots of breathable mesh, which is always appreciated since this is a bigger, all-black bag. One note we have is that this bag is pretty floppy when not packed out, so it can feel far away from the back when not fully packed. If you stuff it full of gear, though, it gains a lot more structure. Cinching the bag down with the compression straps helps mitigate this floppiness as well.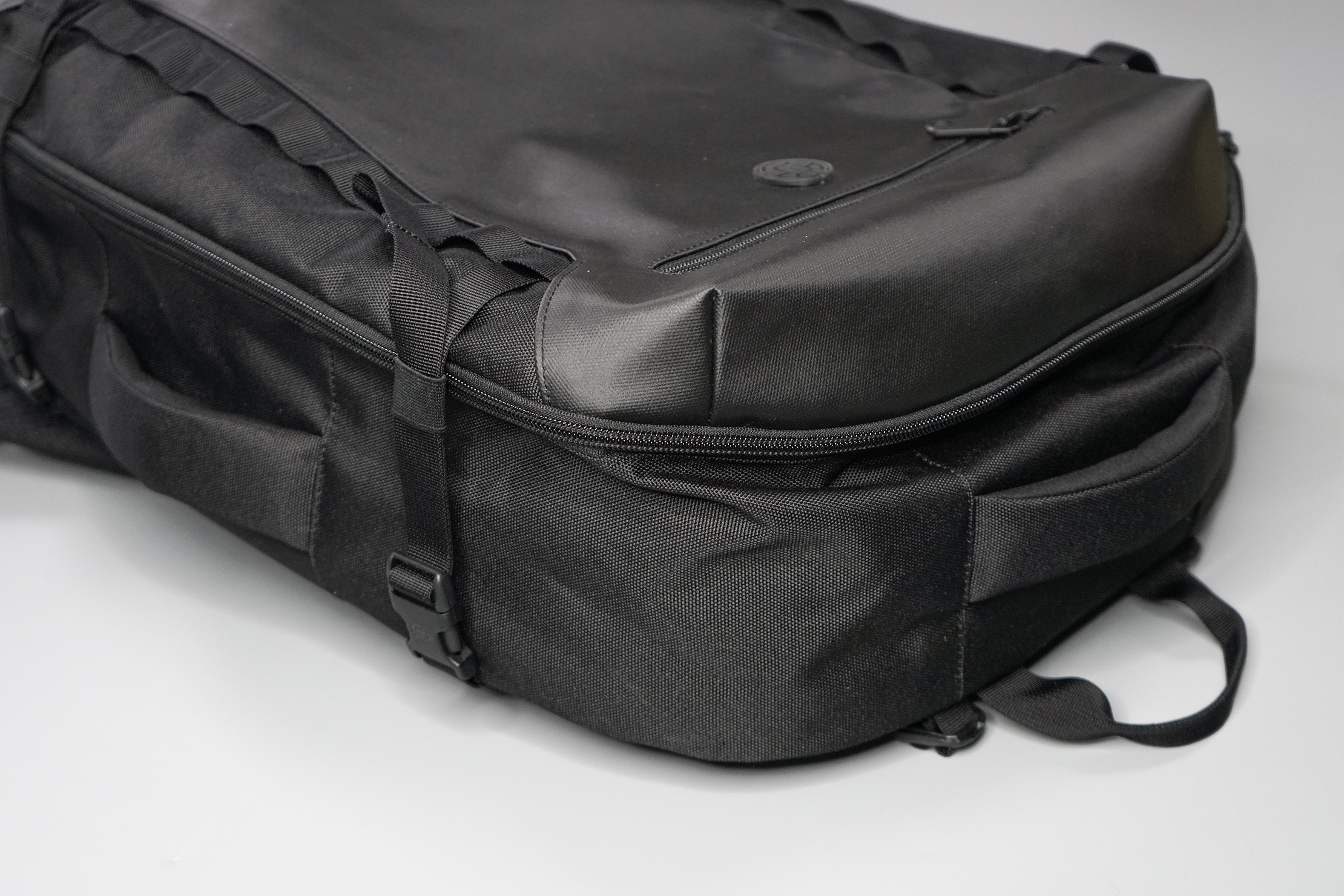 There are three handles on this bag—two on the top and one on the side. The first top handle is quite large, with lots of thick padding so it's comfortable for grabbing and picking up the bag. Behind it is a much thinner nylon loop that works more for hanging the bag when necessary.
As for the side handle, it's also densely padded and comfortable in hand, and works for when you want to carry this bag briefcase-style. This handle is mounted closer to the back panel, which can cause the bag to sag some from uneven weight distribution. As we noted above, we've found that cinching the compression straps can help mitigate this some, as it pulls together any extra fabric and gives the bag some added structure.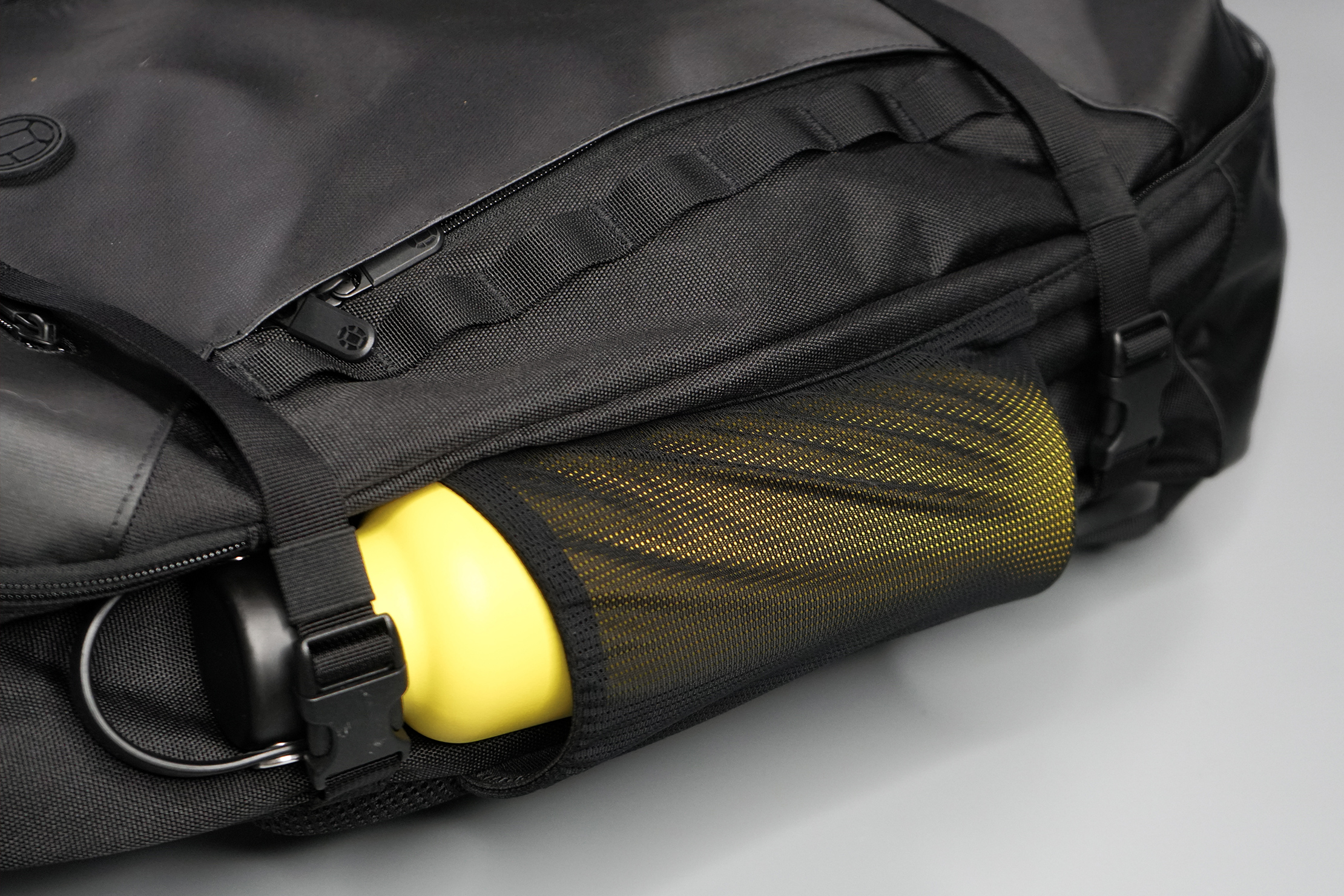 You'll notice two daisy chains on the front of this bag that offer even more opportunity for external storage. Again, you can clip a carabiner here for when you need it, or use it for some bonus external storage (to clip your hat to when the wind picks up, for example). You can even use these to hang gear that needs to dry, like a wet towel or piece of clothing. This way it's not getting everything inside the pack wet, and can dry out in the sun as you're exploring.
Plus, you also have an external water bottle pocket. It takes some fancy maneuvering, and it's a tight fit, but we've been able to get a bottle as big as the YETI Rambler 36 oz Bottle inside this pocket thanks to the stretchy mesh. This is handy for if you're carrying a larger bottle like this one while traveling. Although we've mostly been testing with the Hydro Flask Standard-Mouth Water Bottle with Flex Cap 21 oz, and it's worked well so far.
To finish off this section, we want to circle back to the two compression straps on both sides of the bag. These straps expand for ease of packing the bag out and compress when you have a lighter load inside and want to keep it as minimal as possible. Again, cinching these straps down makes the bag slimmer and in turn, this allows for any gear or packing cubes inside to define its structure, since this bag doesn't have much structure of its own.
Inside The Pack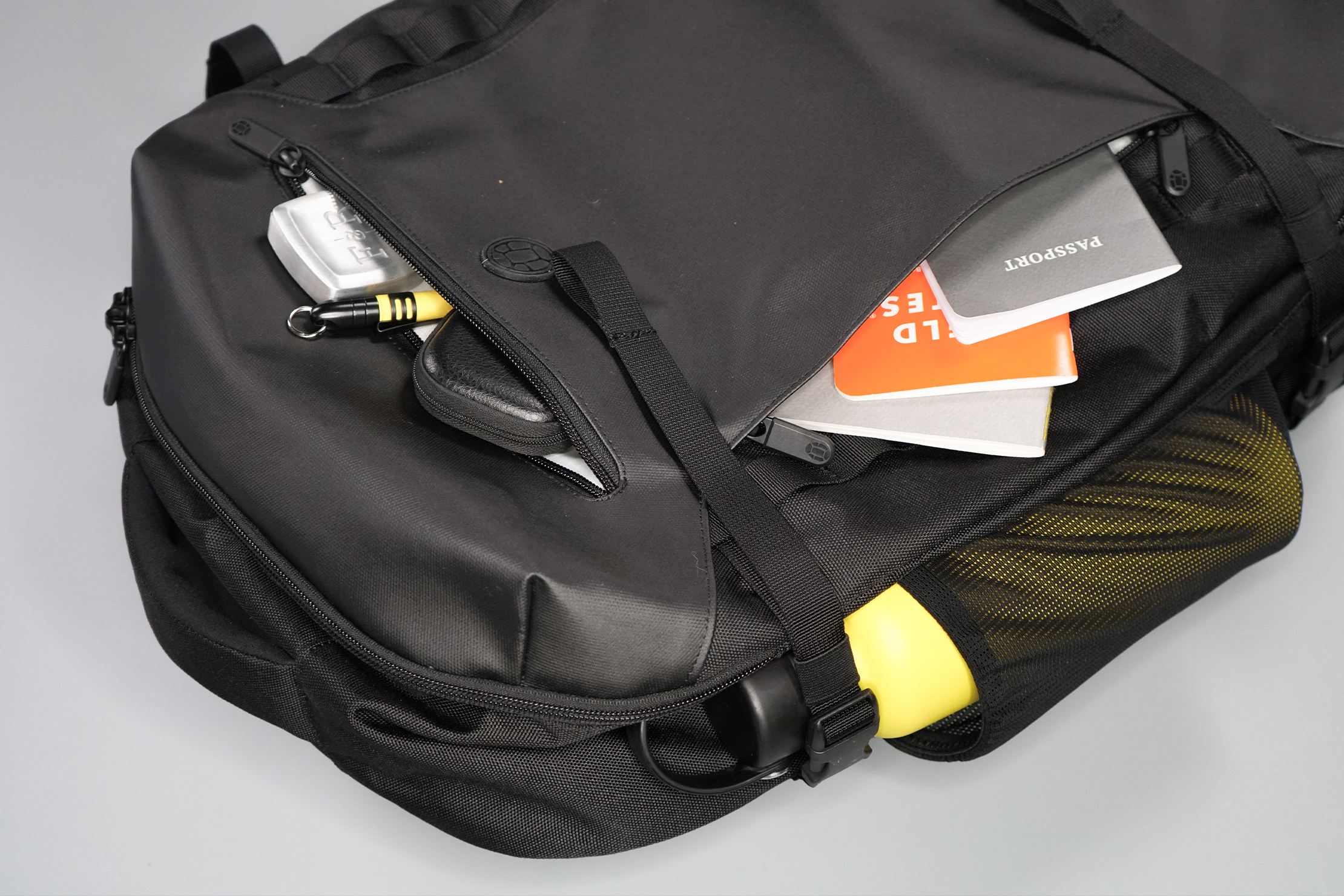 We want to go over this bag's pockets before we get inside, starting with this front quick-grab pocket. It's medium-sized and doesn't have any organization, so it essentially works as a dump pocket for your frequently-used gear. We've been keeping things like pens, small notebooks, and the like in here, though can stuff it with whatever your heart desires.
Below this pocket on the side is another, hidden pocket. It's a little harder to spot, so your flatter and more valuable items work well inside, including your passport, travel documents, and things of that nature. If you pack anything too bulky in here, this pocket will stick out and appear lumpy, which isn't a good look.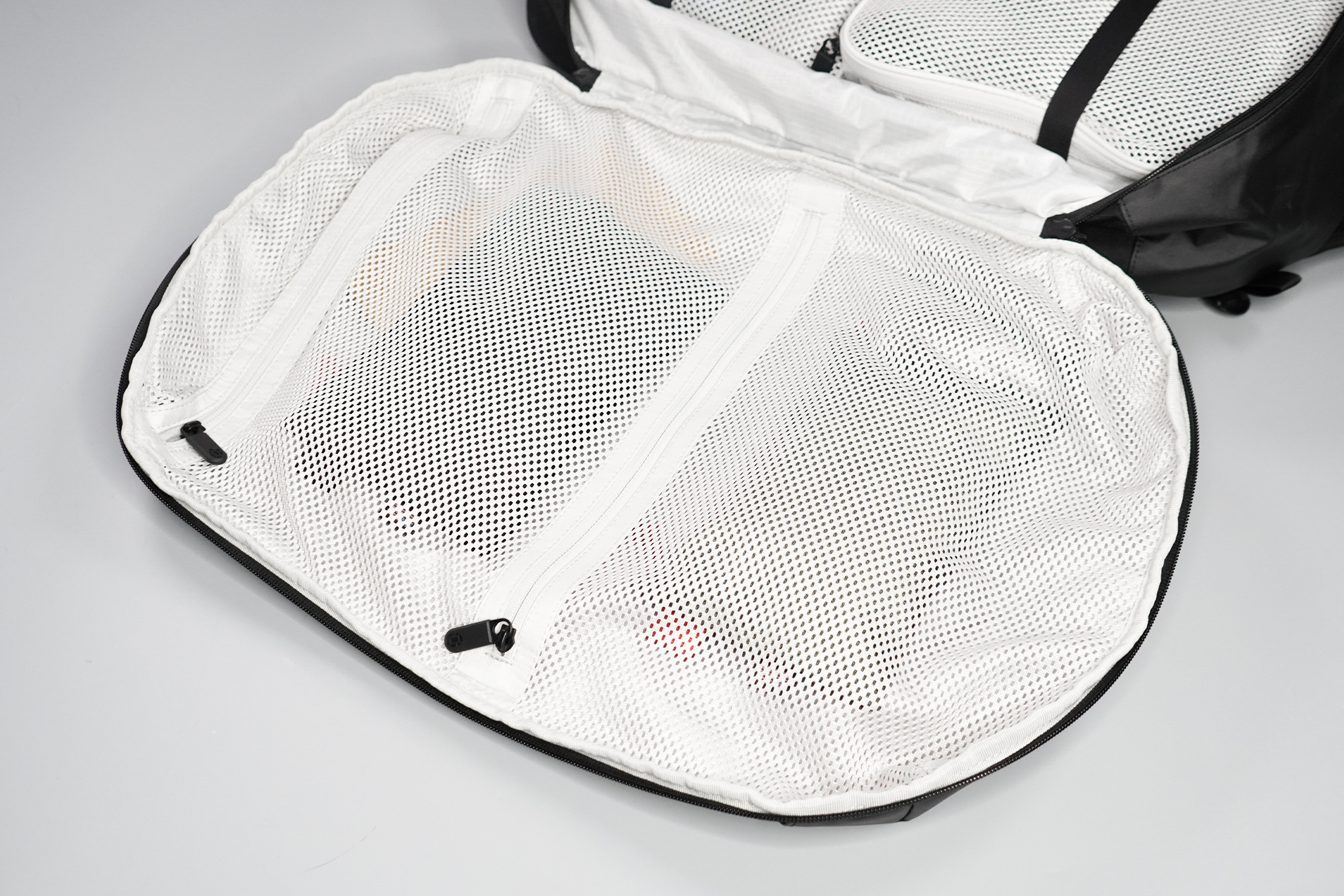 Now, finally, we're on to the main compartment. It opens up fully clamshell and has a bright white interior, so you have all the visibility and ease of access to your gear that you need. At 38.5L, this pack is a great size for storing all of your travel gear, from clothes to shoes to anything else you may need. If you're looking for something more catered to your everyday lineup and want to stay in the Prelude family, check out the Tortuga Prelude Daypack.
In terms of organization, this compartment is pretty simple—it reminds us of the IKEA VARLDENS Backpack 36L, another budget bag. You'll see two zippered mesh pockets on the front flap that are pretty big, so you can really load them up with gear. We've been using one for toiletries and the other for tech accessories, and have found them to help segment our different types of gear.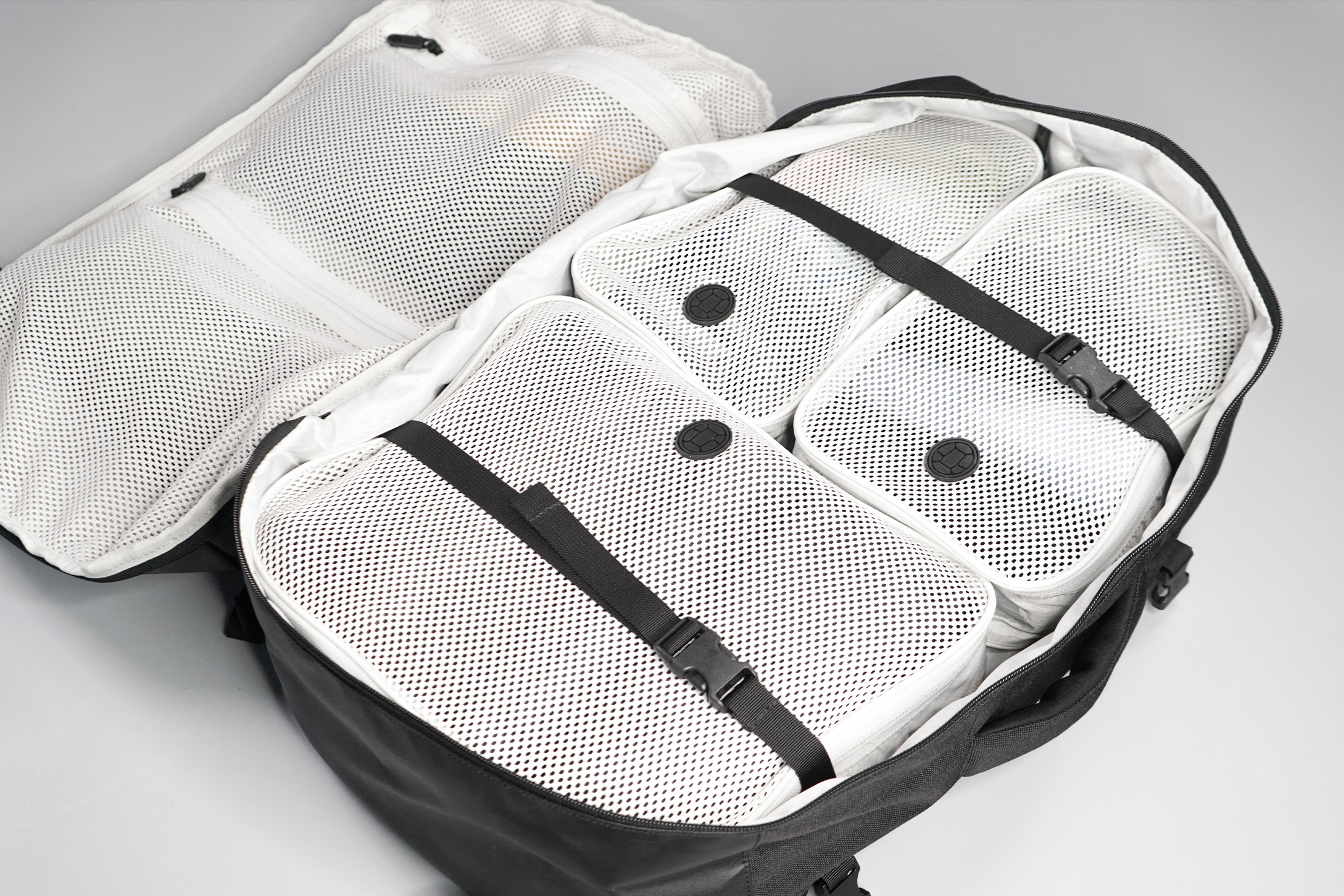 The rest of this compartment is a whole bunch of free space. We've been using the Tortuga Prelude Packing Cubes to help supplement the lack of organization, which fit the size and shape of this bag perfectly, and create a nice little bag ecosystem (though you can use any pouches or packing cubes of your choosing). Not only do they add more segmentation, but they also give this bag some structure so it's not as floppy, which we appreciate.
There are two compression straps you can use to secure these cubes into place. We've also been using these straps as a way to secure a laptop since there's not a dedicated spot for one—which may not be a problem if you're not traveling with one anyway. For us, it's not ideal, but the straps keep it more secure than if it were just free-floating in the compartment. We recommend keeping your laptop in a protective case if you are carrying it with you, and practicing caution when setting the bag down.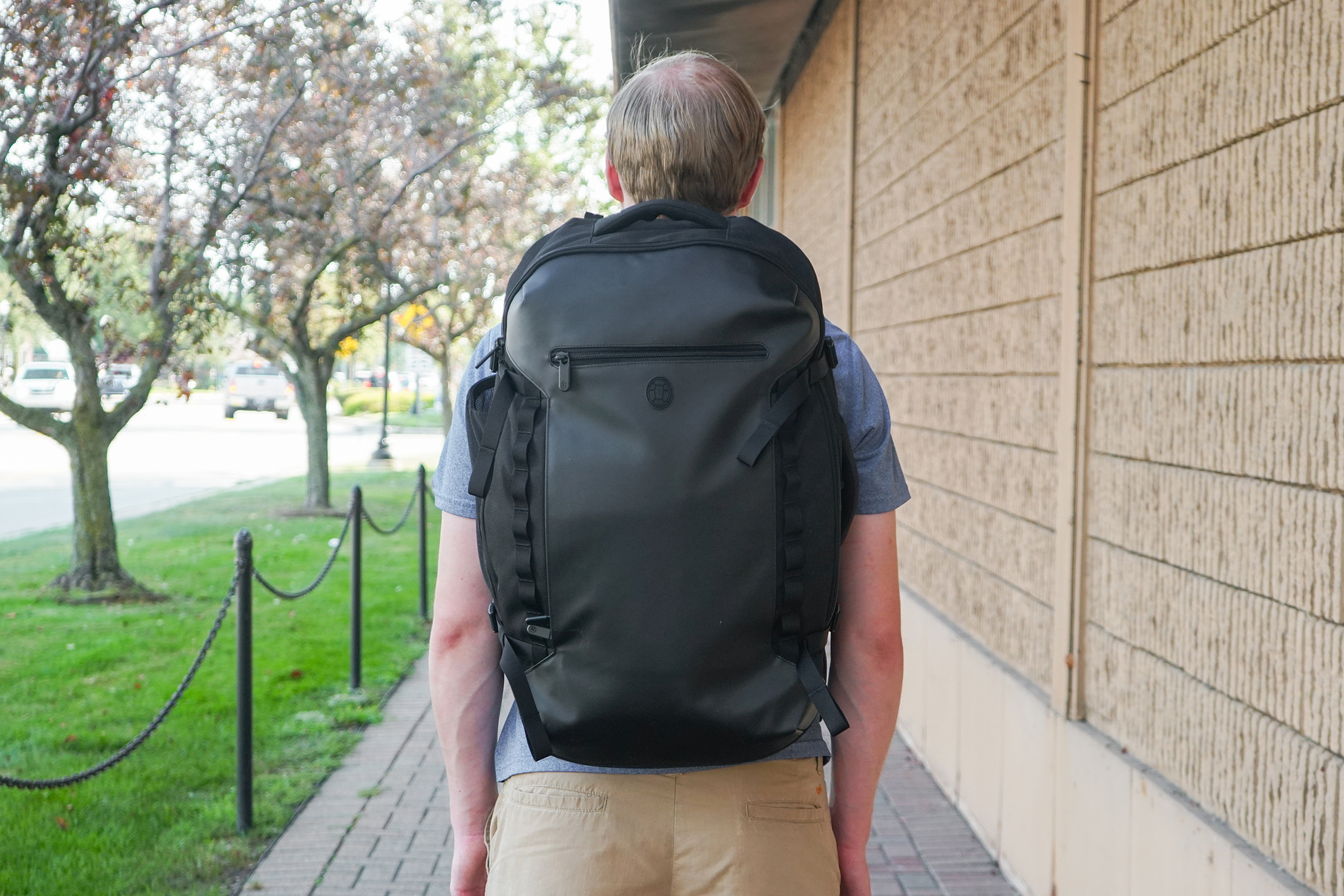 Like we pointed out at the beginning of the review, the Prelude is more of a budget bag by Tortuga standards than industry standards. There are definitely cheaper options out there if you don't want to go over budget. Now that you have an idea of what you're getting, you can decide whether the design, storage, and features will work and are worth it for you. If you have an extra 50 bucks, we still recommend going with the Setout instead of the Prelude.
Usage Timeline
Initial Usage
Condition: Excellent
The simplest of Tortuga's travel bags making a budget pick (as far as Tortuga is concerned)
Thick and sturdy harness system including a hip belt
Bag can be a little floppy and works best when it's fully packed out
2 Weeks of Use
Condition: Excellent
Very floppy overall but adding in the packing cubes helps give the bag some much-needed structure
The hip belt is a little high for optimal usage and not as good as other Tortuga harness systems
Access the Pro Community Discussion
Get your questions about the Tortuga Prelude Travel Backpack answered from our team and the Pro Community right here on the page. Plus, join discussions with other members about gear, guides, and more.
Other Bags & Luggage Reviews