IKEA VARLDENS Backpack 36L Review
While the IKEA VARLDENS Backpack 36L is a budget bag, its thoughtful design and ample storage work well for travel.
Our Verdict
Unlock the Pro Summary
Save time. Get access to brief summaries of our reviews so you can browse and make decisions more efficiently.
Pros
Streamlined, minimal look
Most access points are against the back, so they're more secure
Great amount of storage
Cons
Not a very comfortable harness system (especially for heavier loads)
Sternum strap feels cheap
No external water bottle pocket
Recent Pack Hacker Video
Technical Details
Capacity

36l

Weight (lb)

1.6 lb (0.7 kg)

Dimensions

20 in x 13 in x 8 in (50.8 x 33 x 20.3 cm)

Notable Materials

Ripstop Polyester, Ballistic Polyester, Polypropylene, Polyurethane, Opti Zippers, Duraflex Hardware

Manufacturing Country

Vietnam

Laptop Compartment Size

15"
Full Review
When you hear the name IKEA, huge warehouses, affordable furniture, and possibly even those famous Swedish meatballs come to mind—but probably not backpacks.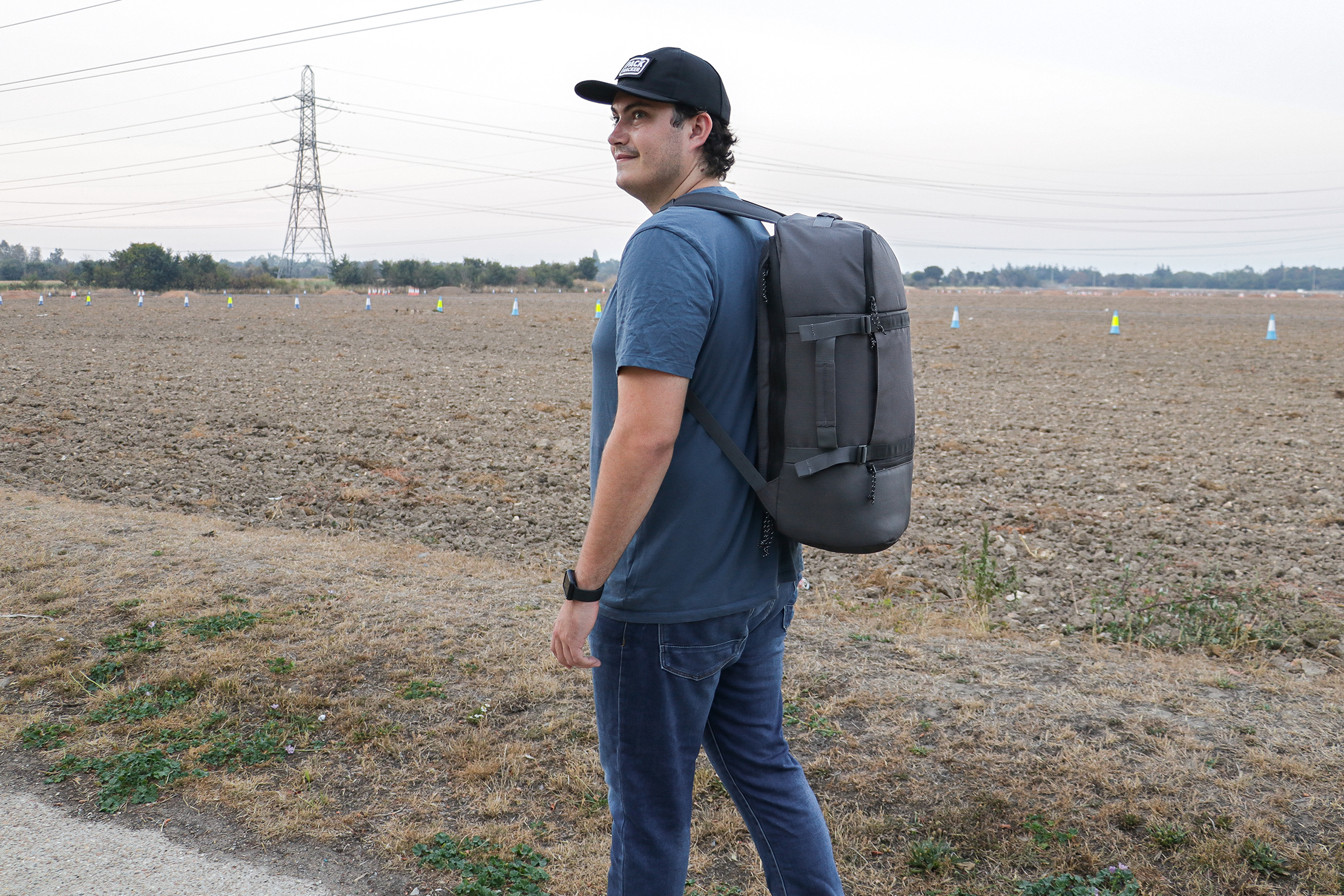 Believe it or not, IKEA offers lots of bags, packing cubes, and other travel items that we've been testing recently. We've also been consulting our Pro Community to see which piece of gear they're most curious about, and the verdict is…drumroll…the IKEA VARLDENS Backpack 36L!
Now, this is definitely a budget bag—so in terms of quality, you're getting what you pay for. That said, its capacity and features rival even some higher-end bags, while still keeping a clean and low-profile look.
We've been testing this bag around the UK for two weeks now, and want to share our thoughts—so let's dive in.
Materials & Aesthetic
At the time of this review, the IKEA VARLDENS Backpack is only available in one colorway—Dark Grey. So if you're looking for something on the brighter, more vibrant side, this probably doesn't fit the bill. But if you're familiar with us here at Pack Hacker, you know that we prefer more neutral colors for our gear—and we're digging the subdued aesthetic of this Dark Grey colorway. So no complaints there.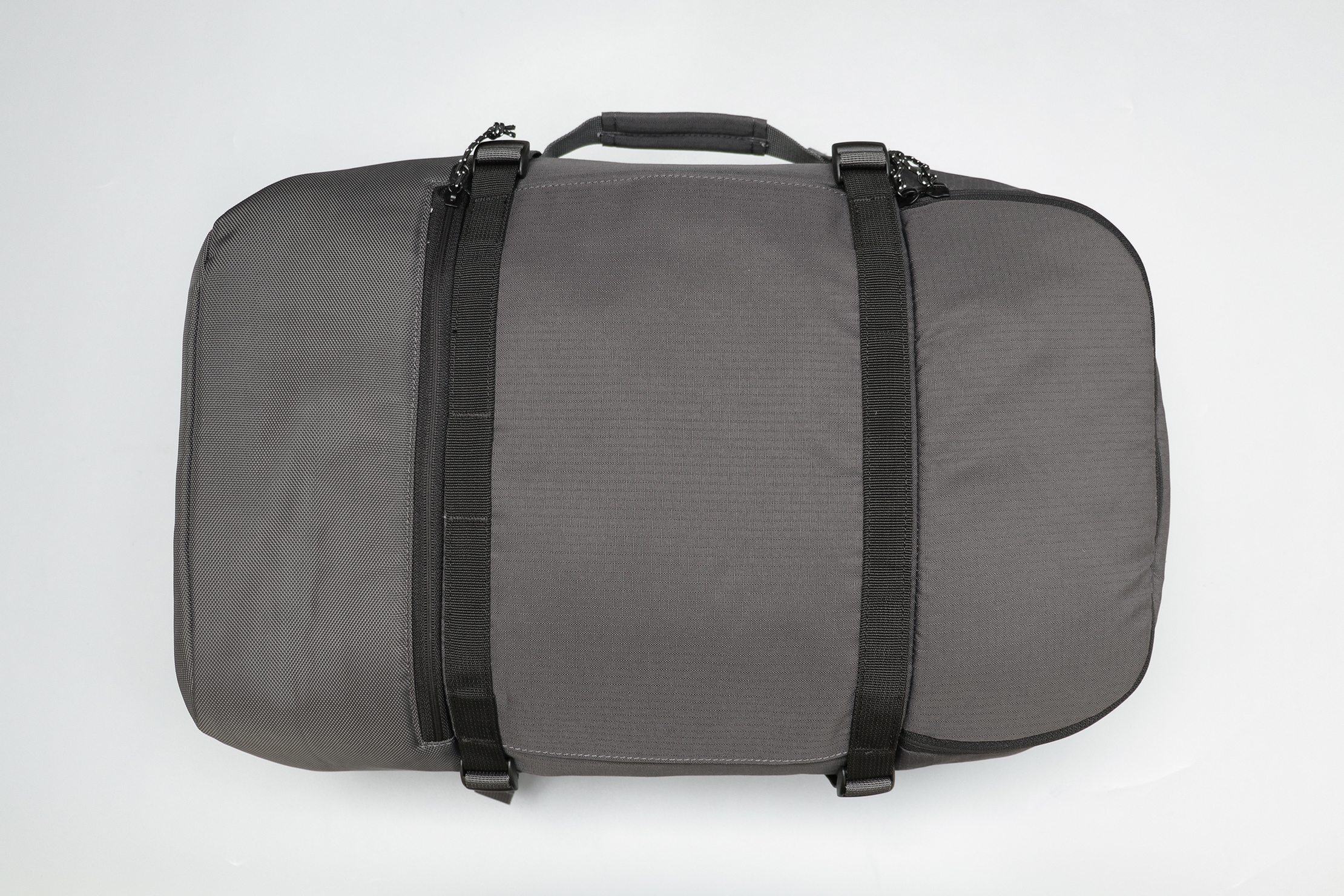 There's some black webbing across the front of this bag—normally, when you see something like this on a pack, it's for attaching things like a carabiner to allow for external storage. In this case, it's more for design than function as the material is sewed down on the fabric. But you do have one attachment point toward the bottom, so there's that.
The branding on the outside of this pack is as minimal as it gets—because there isn't any. You wouldn't even be able to tell by looking at it that it's an IKEA bag. And we don't mind this one bit. We think it helps keep this bag retain a clean and streamlined look—just because you're backpacking on a budget, doesn't mean it has to look like it.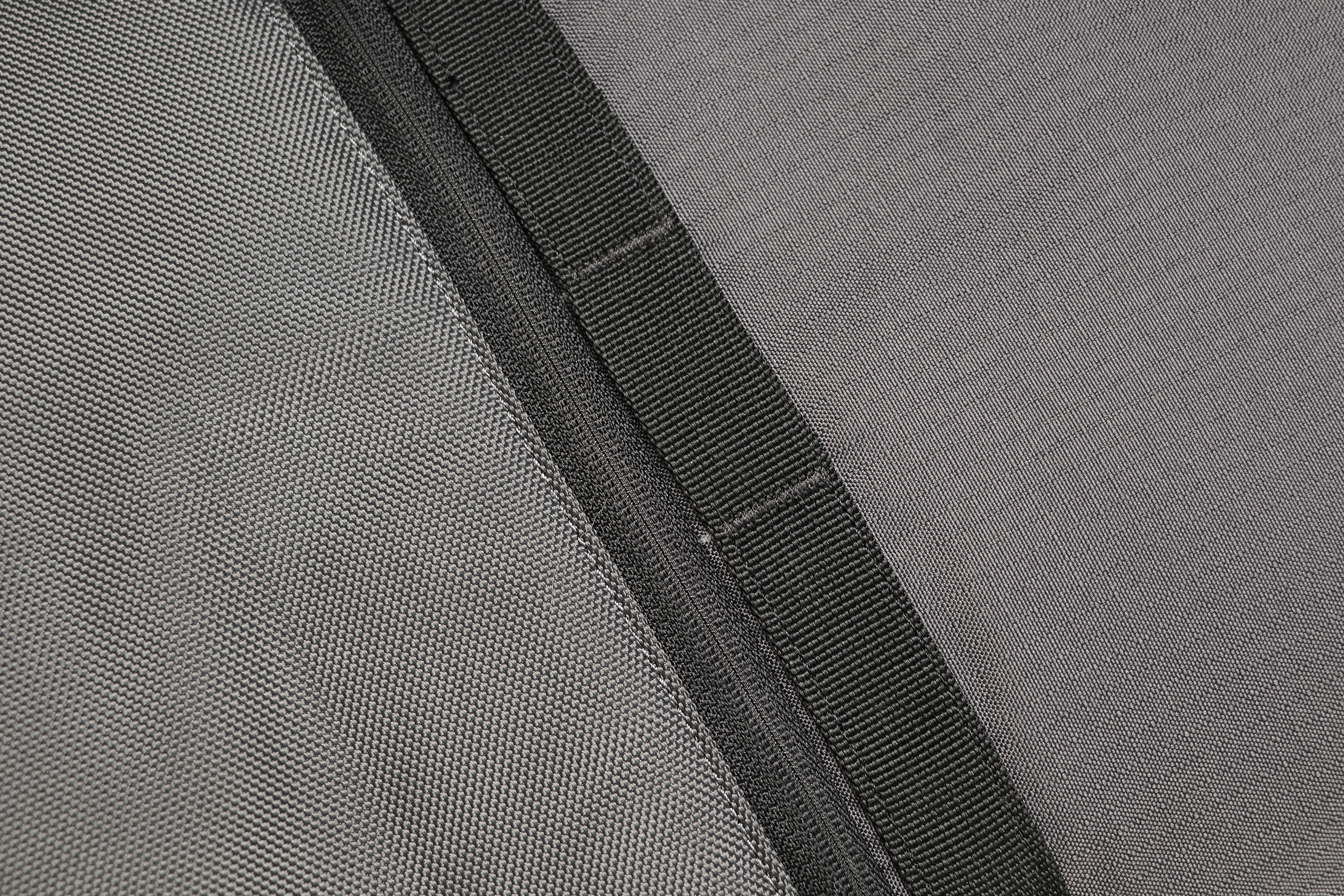 As for material, this pack is made with 100% polyester with ballistic polyester on the bottom, so you're getting some added durability on one of the higher traffic areas of the bag. And then there's ripstop polyester everywhere else—it's not the most impressive ripstop material we've ever tested, but we haven't sustained any rips or scratches so far.
It's also coated with polyurethane to give it some water-resistance. While we haven't hosed this thing down, you'll be fine if you happen to get caught in some drizzly weather. We also want to note that a majority of the fabric (about 90%) is recycled. Eco-groovy fabric is something we can get behind, so good job IKEA.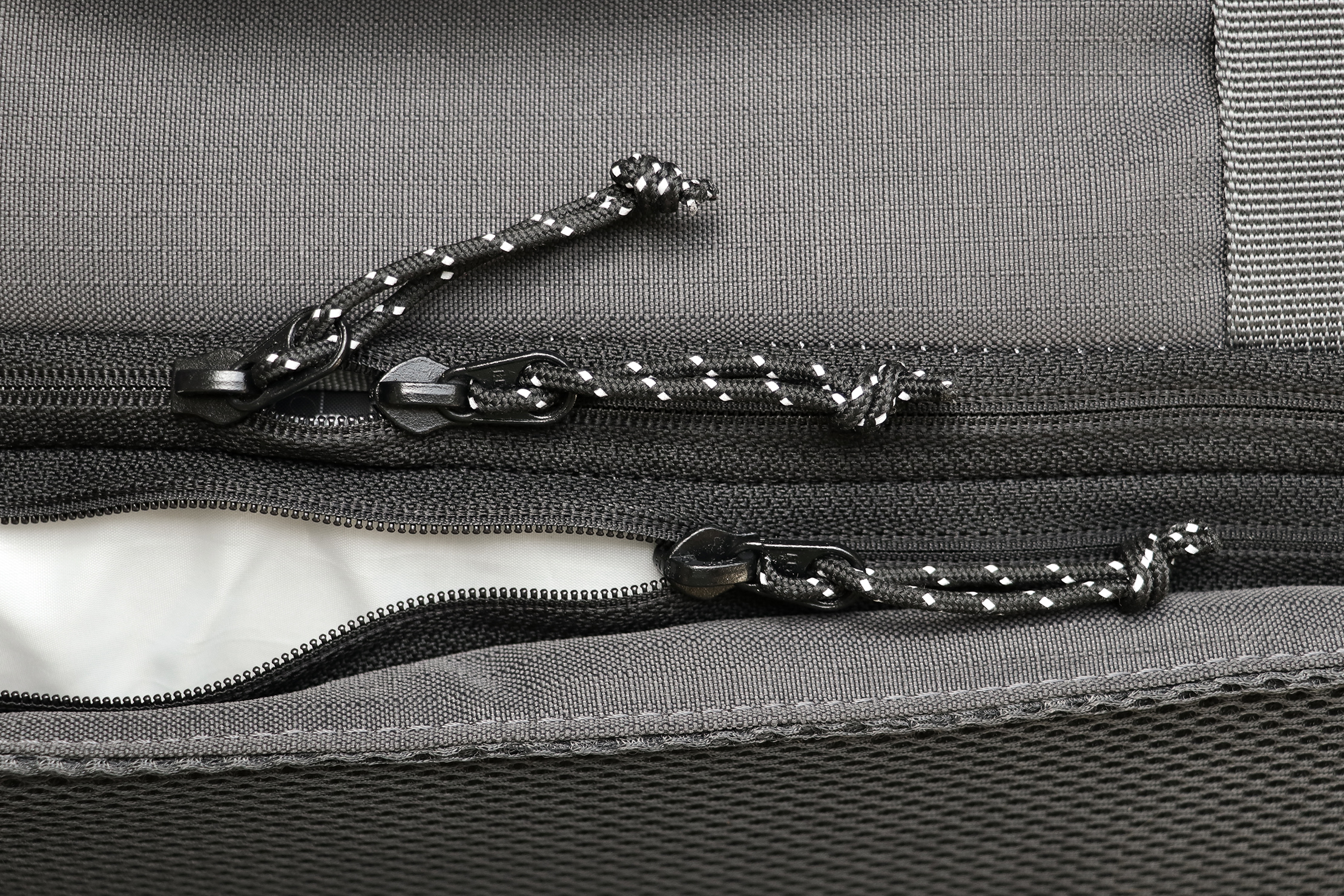 The zippers on here are from the brand Opti. We haven't had too much experience with this brand apart from the other IKEA travel bags and everyday gear we've been checking out recently. They've been working well enough so far during testing. We like the easy-to-grab pulls and they do feel like an upgrade from the cheaper zippers we've seen on previous IKEA bags (which we think is a nice touch).
We were surprised to also find some Duraflex hardware on this pack, which we've tested lots of on more rugged bags from actual gear brands. As expected, everything is working as it should be, and we're happy to see its integration here.
External Components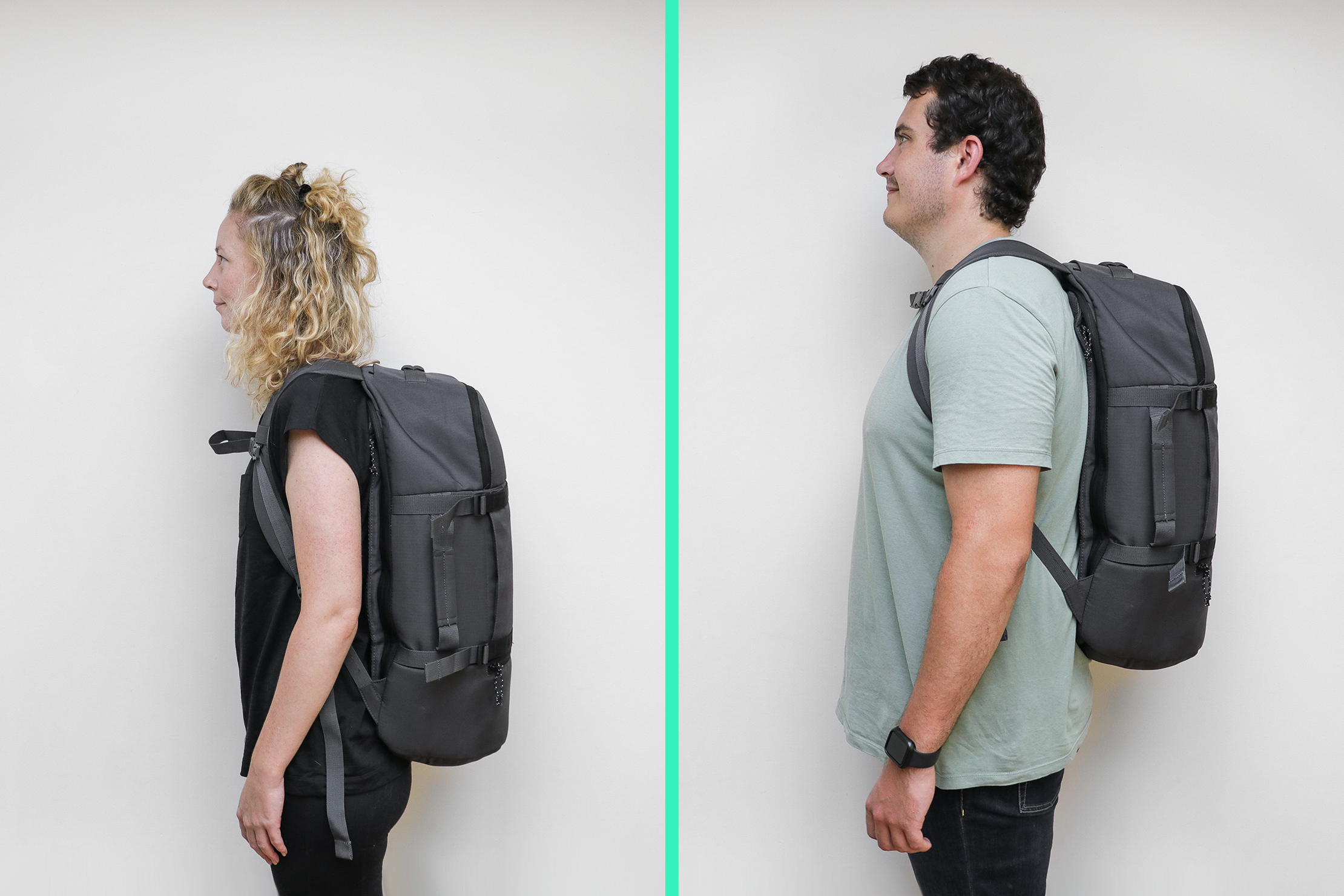 Like we said before, the IKEA VARLDENS Backpack 36L is a budget bag, and that's reflected in its harness system. Although considering the price of the bag, it does an alright job. Let's take a look, shall we?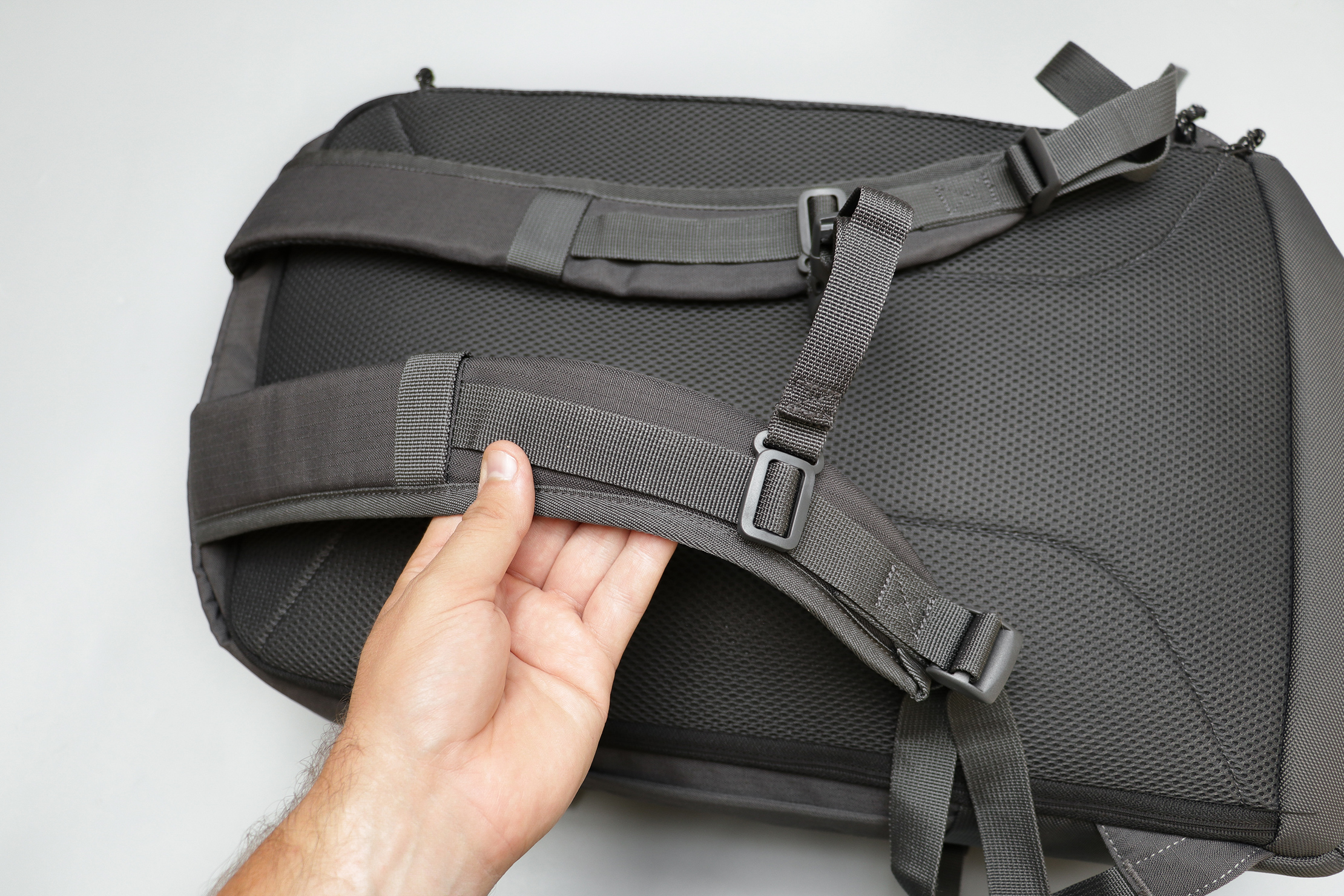 The shoulder straps on here do have some foam padding on the inside, but it's thin. We've found that they're alright when carrying a mid-size load, though they're not very comfortable for those heavier hauls. Which, if you're using this bag for extended travel, might be an issue—you may be able to fit everything you need inside, but carrying it is another thing.

Now, while there is some Duraflex hardware on the bag, the sternum strap's buckle and attachment points are unbranded—and it's easy to tell, as they feel cheap in the hand. But while we do have some concerns about durability, it's easy enough to adjust and we haven't had any issues with the buckle disengaging, which is good. And it does have an elastic keeper to manage excess strap, so we're getting that #DangleFreeExperience if nothing else.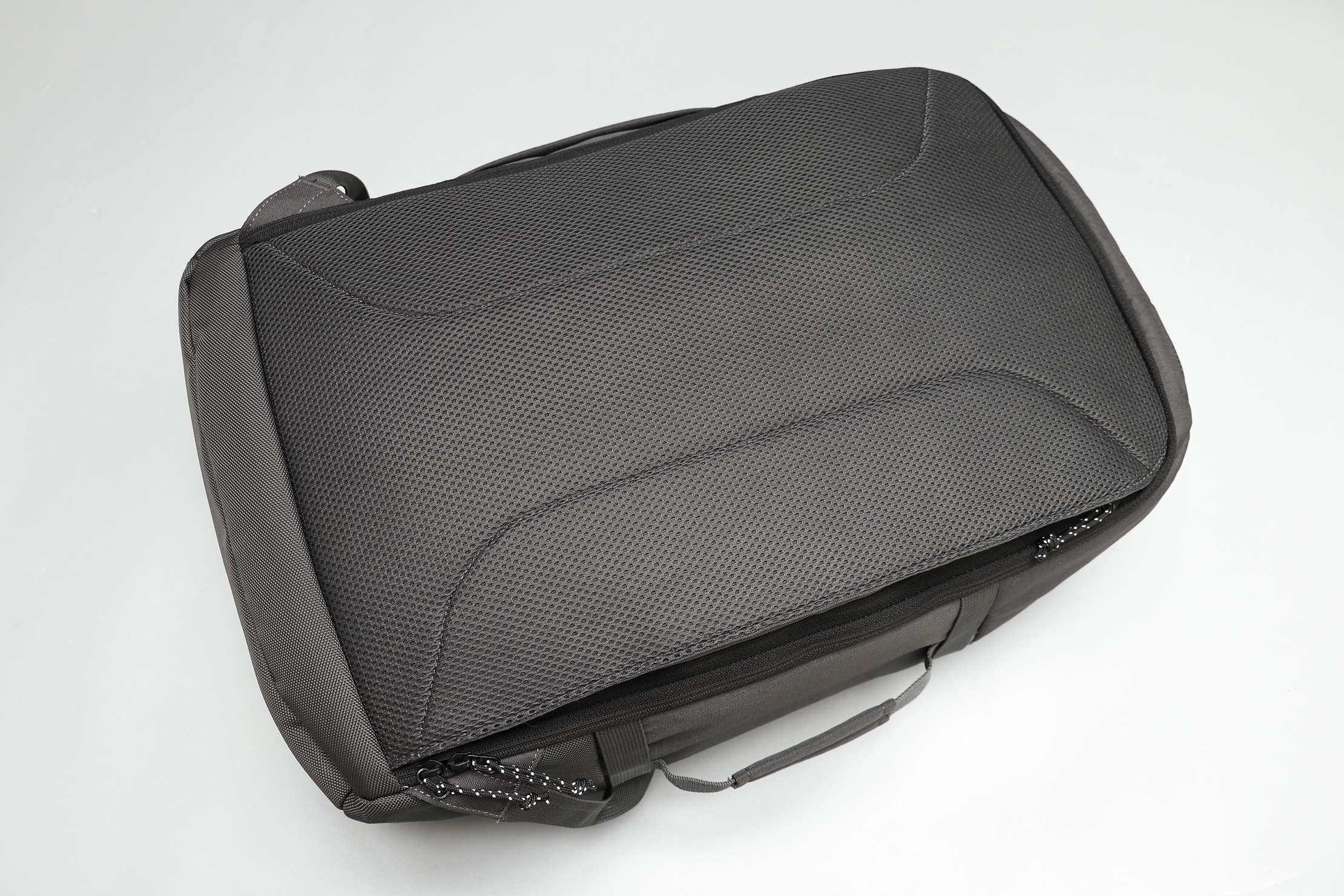 The back panel has a bit more padding than the shoulder straps, but again, nothing crazy. And while it's covered entirely in a layer of mesh, it's still not the highest quality. Plus, it's a pretty big bag and takes up a lot of your back when you've got it on—so when you're wearing this thing out in warmer weather, a sweaty back is almost unavoidable.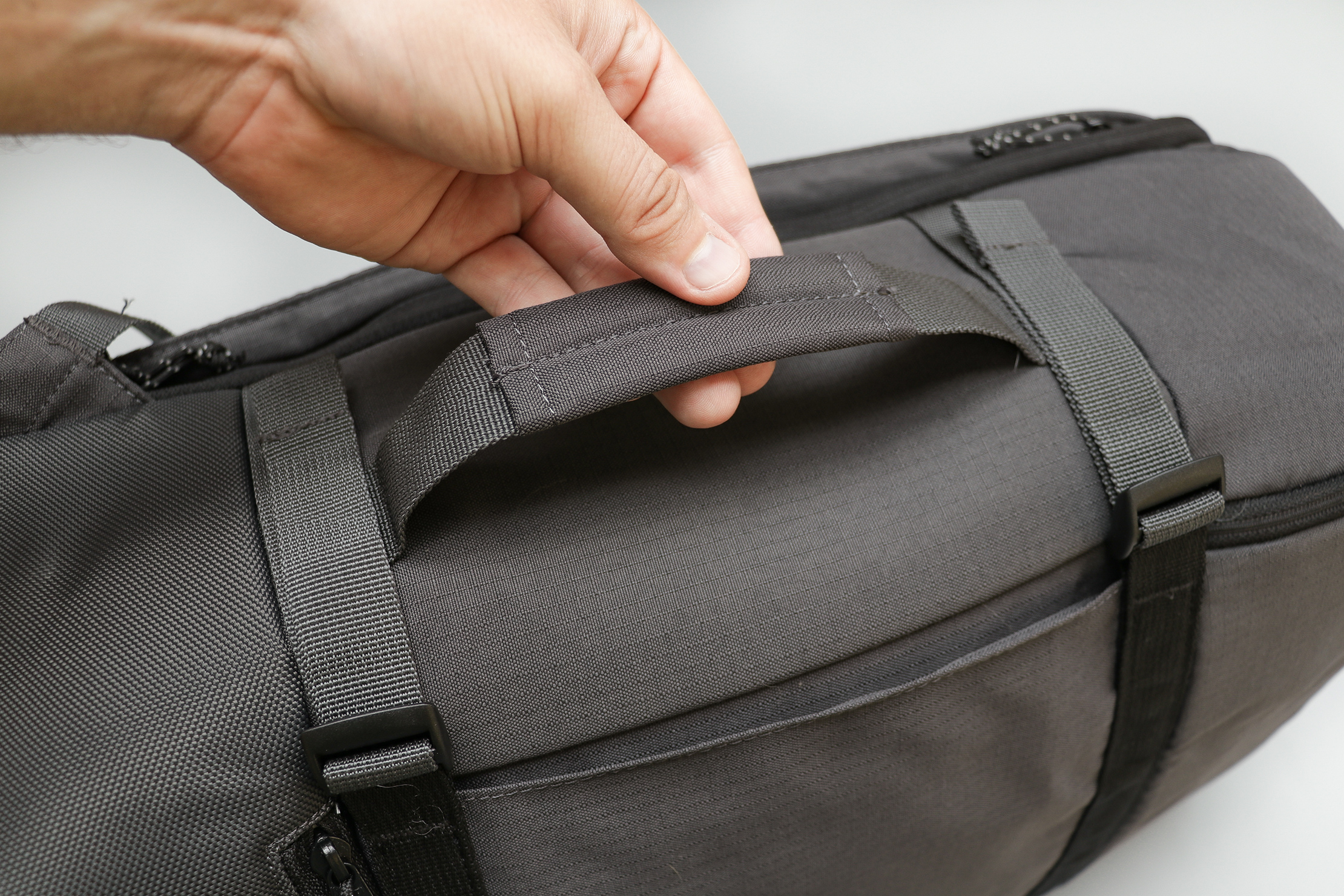 You've got two handles on the outside—one on the top and one on the side. Neither of them are super padded, but they're comfortable enough for grabbing/picking up the bag. And the side handle, in particular, is nice for when you want to carry the bag briefcase-style (or need to pull it out of an overhead bin, for example).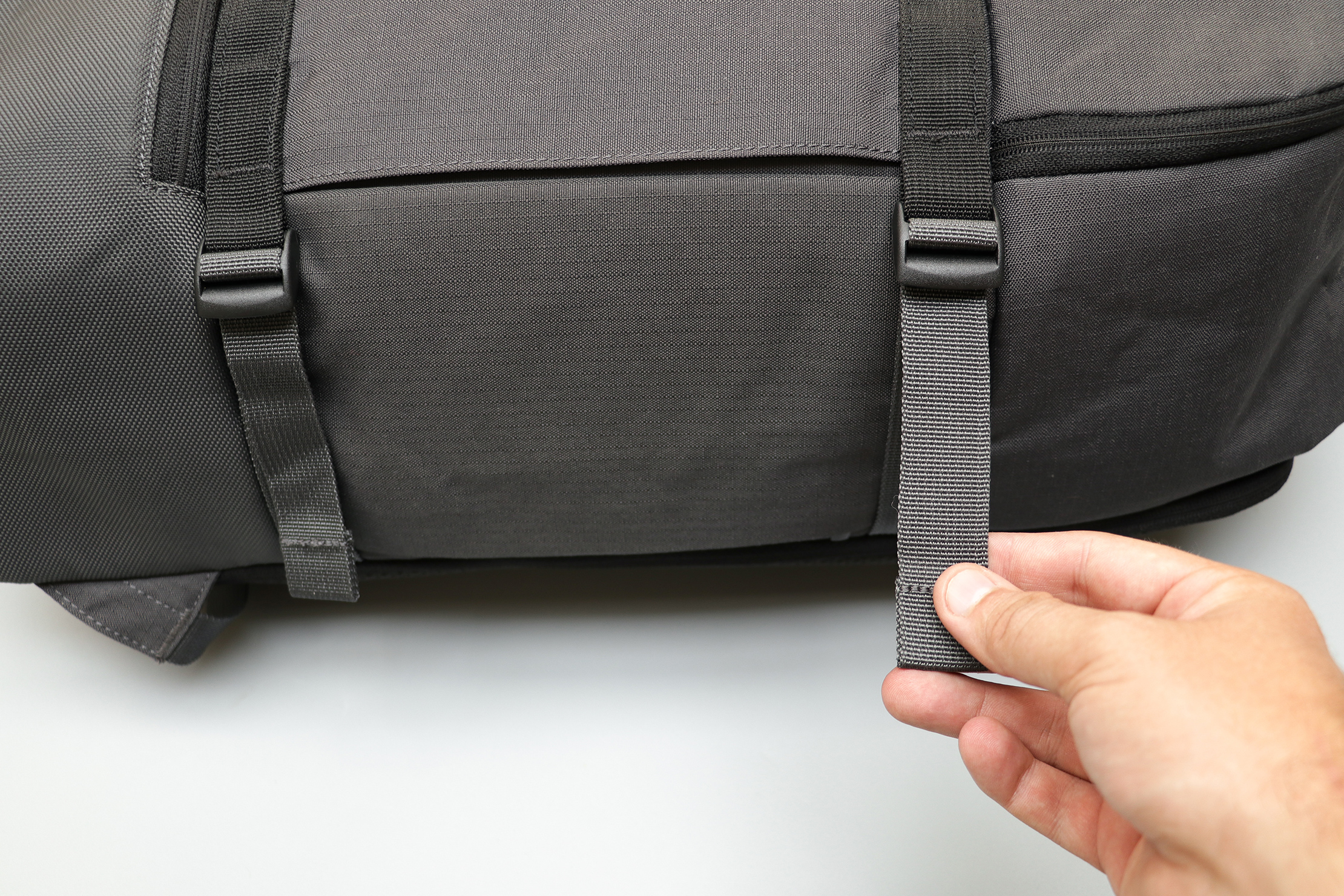 And to wrap up the outside, you also have two compression straps on either side of the bag. They don't have a ton of give to them, but they work for cinching the bag down a bit to keep it more minimal/low-profile. These don't have any elastic straps, but they're not very dangly even without them—so no big deal.
Something you won't find on the outside of this bag is an external water bottle pocket. This may be a pro for you, as it helps the bag keep its streamlined look—but if a water bottle is essential in your travel kit, this may be a con. Either way, it's something to note.
Inside The Pack
Before we jump into this pack, we want to mention that most of the zippers here are facing your back when you've got it on. We've really been digging this design as we can be confident our gear is secure (and much harder for the wrong hands to get to).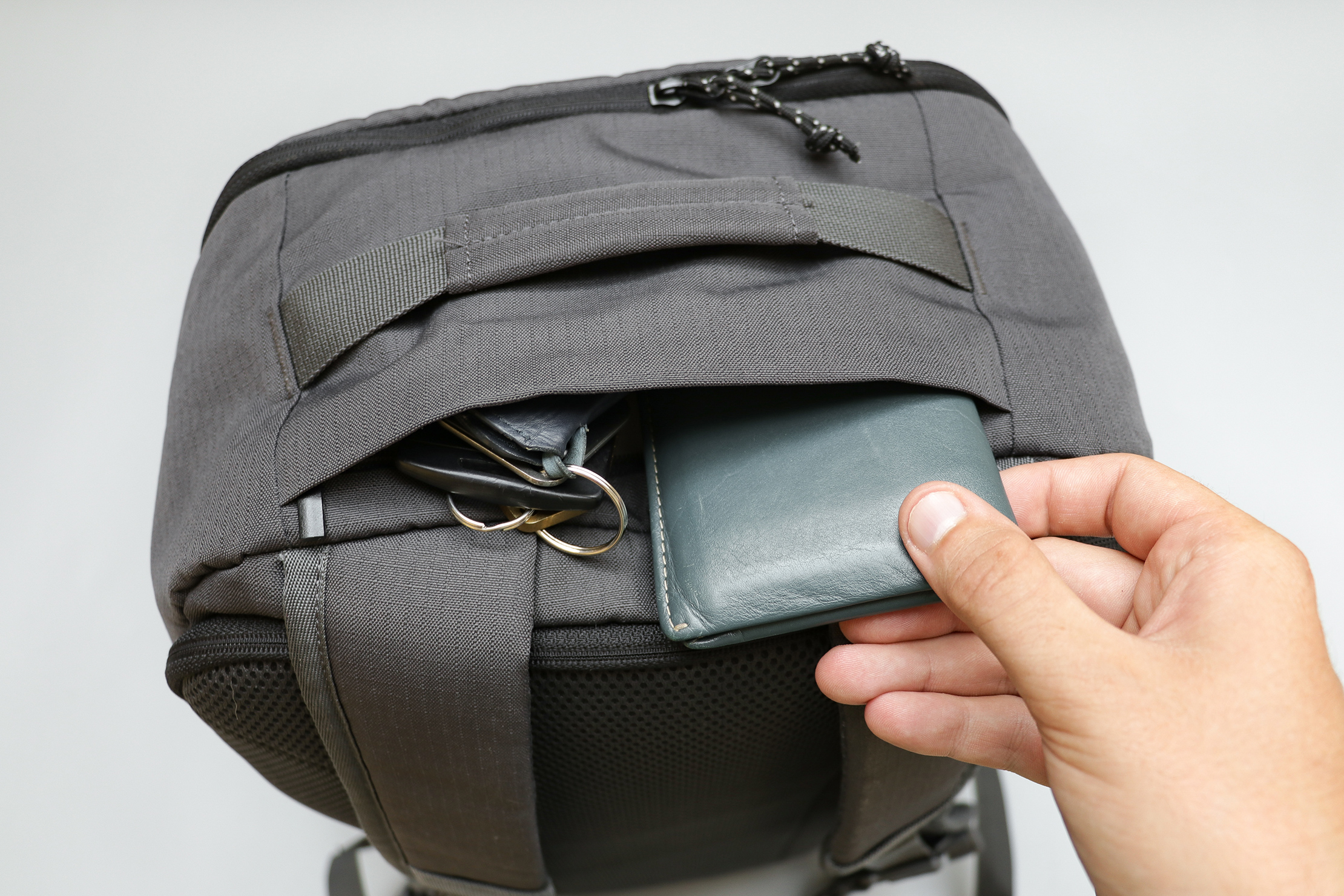 Now, starting at the top of the VARLDENS Backpack, you have a hidden quick-grab pocket that works great for the stuff you want to keep handy—like your phone, wallet, and passport (since there's no dedicated clip for them). As we noted above, this pocket's zipper is against our back, so all of your stuff is safe and secure.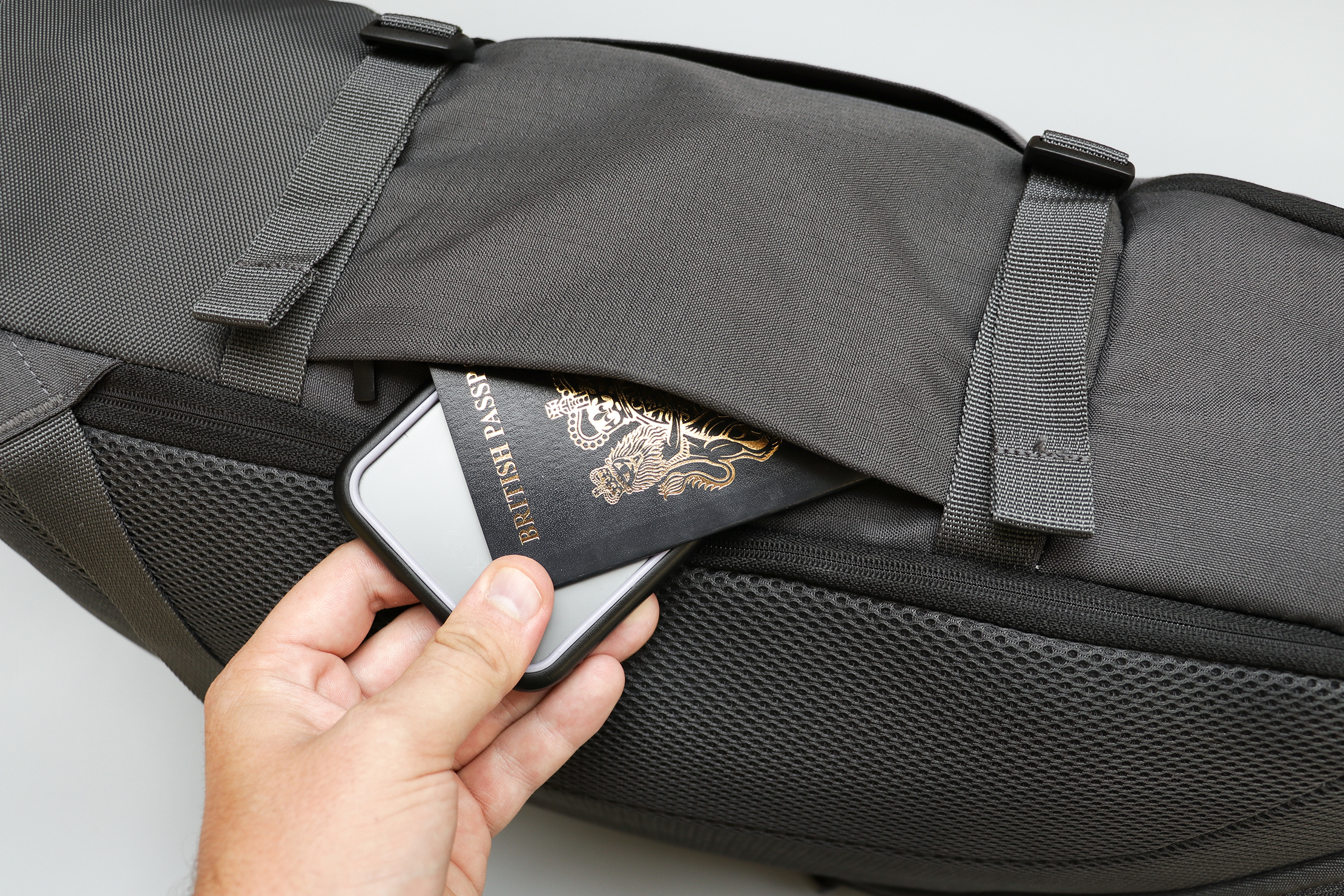 And on one side, there's another hidden quick-grab pocket that also works for your more frequently-used items—phone, wallet, keys, among other things. Again, the zipper on here is toward your back when you've got the bag on, and we appreciate the added security.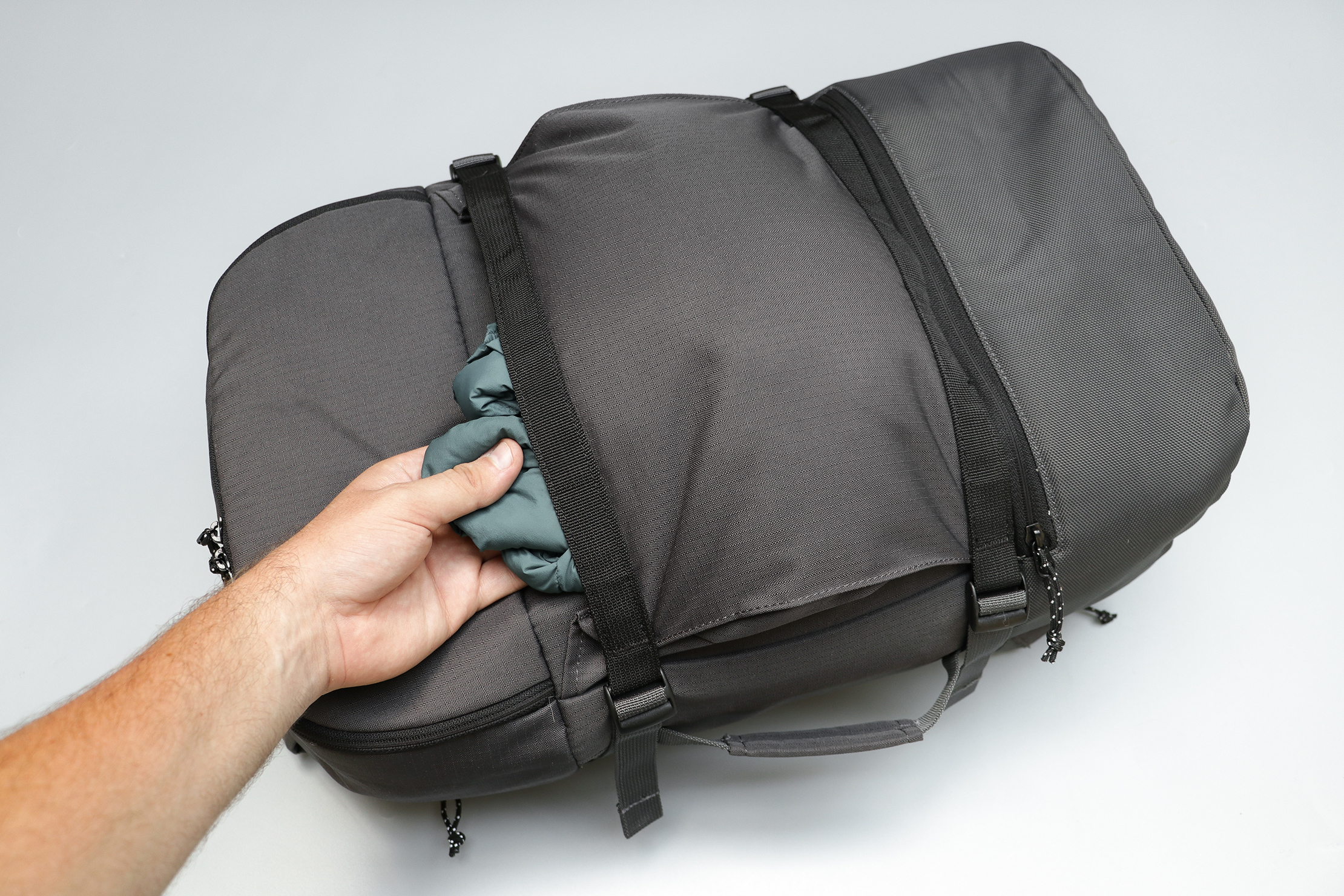 Then you have a roomy pocket on the front of the bag. We didn't get much use of it in testing, but it's a great spot to stash things like a light jacket, snacks, and things of that nature. And while there's no dedicated external pocket for your water bottle, you could slip one in here (that way it doesn't have to be inside the main compartment, where it's much harder to access).
There's no closure to this pocket so you don't want to put anything too valuable in here, but if you cinch the compression straps down on both sides, it keeps this pocket nice and close to the bag—so it's secure enough for the type of gear we mentioned. This pocket also has gusseted sides, so if you loosen the straps, you get some extra room. It's a win-win.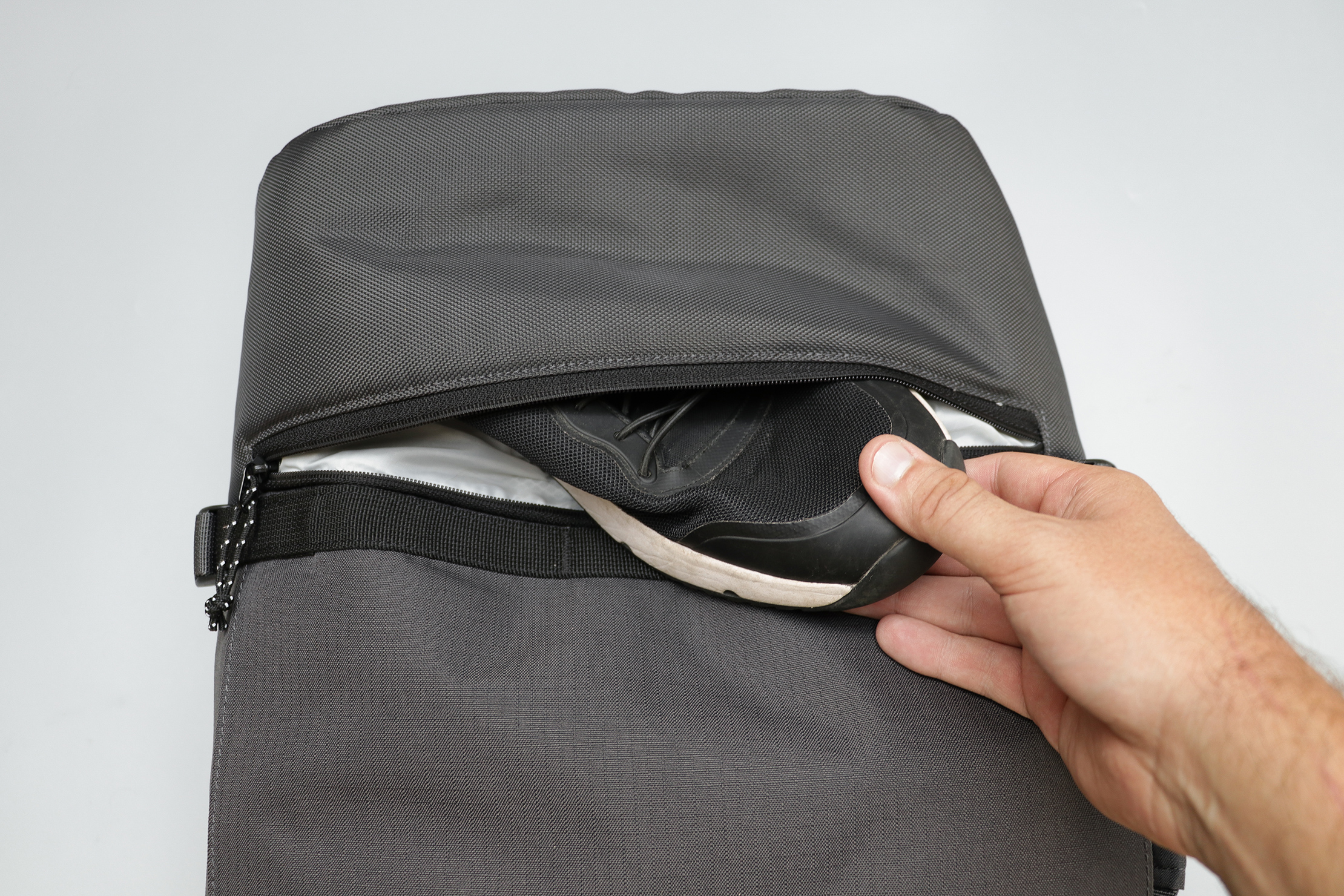 You'll also find a zippered pocket toward the bottom of the front of the bag that gives you access to a shoe pocket—whether you're bringing along an extra pair or get some dirty during your adventures. It's a pretty large compartment and we've found it can be used for things other than shoes as well (if you're looking for some extra compartmentalization).
The nice thing here is that it keeps whatever you do have inside separate from your gear in the main compartment. This way, if you want to keep things like a dirty pair of shoes or dirty laundry in here, it's not mixed in with your clean clothing. Keep in mind, though, that when in use, this pocket will eat up space in the main compartment—so pack wisely.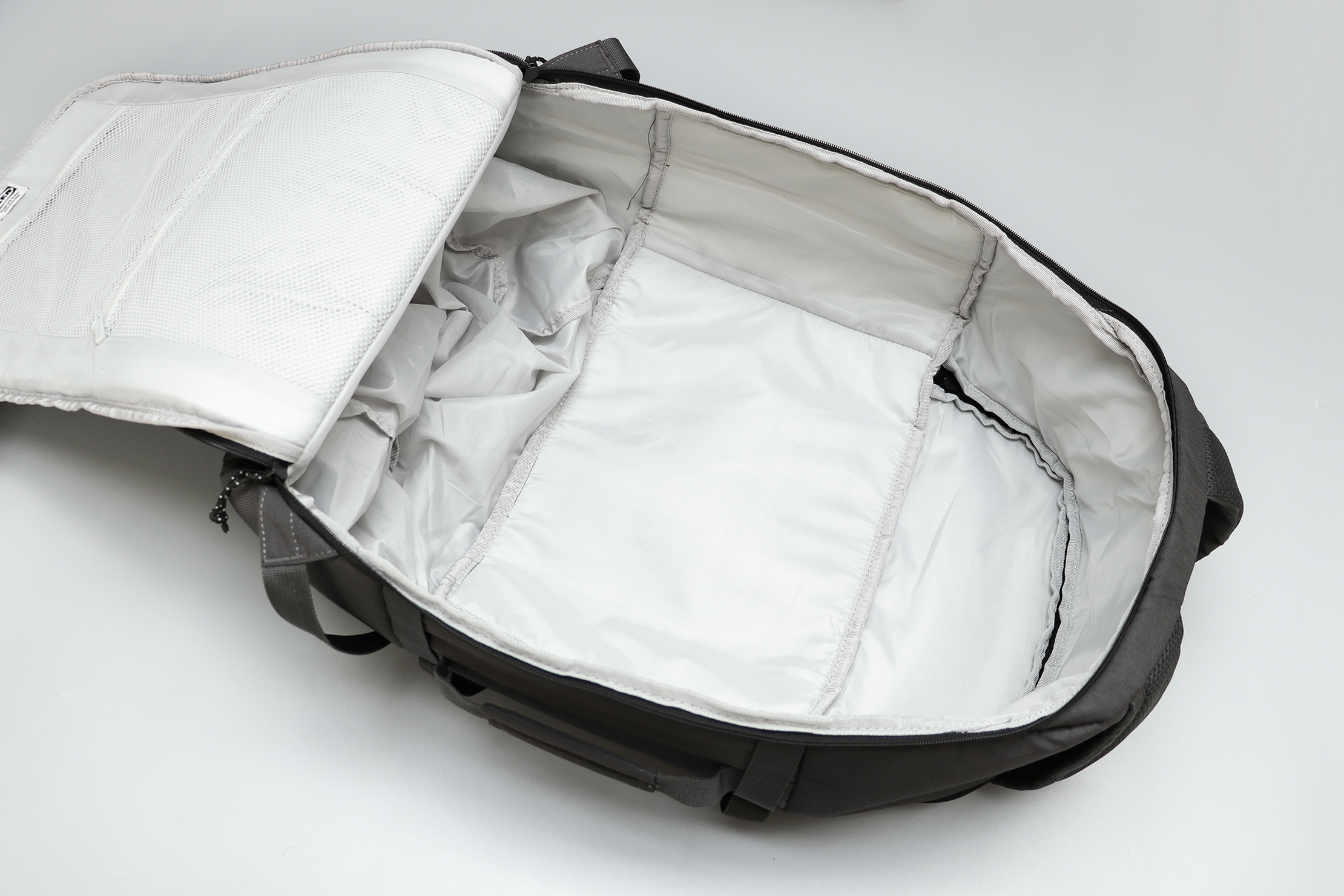 Now that we've covered those, let's get into the main compartment on this thing. The zipper to get inside spans the perimeter of the back panel—which, once more, we're digging the added security. Once unzipped, the bag opens up in a clamshell-like fashion to give you easy access inside.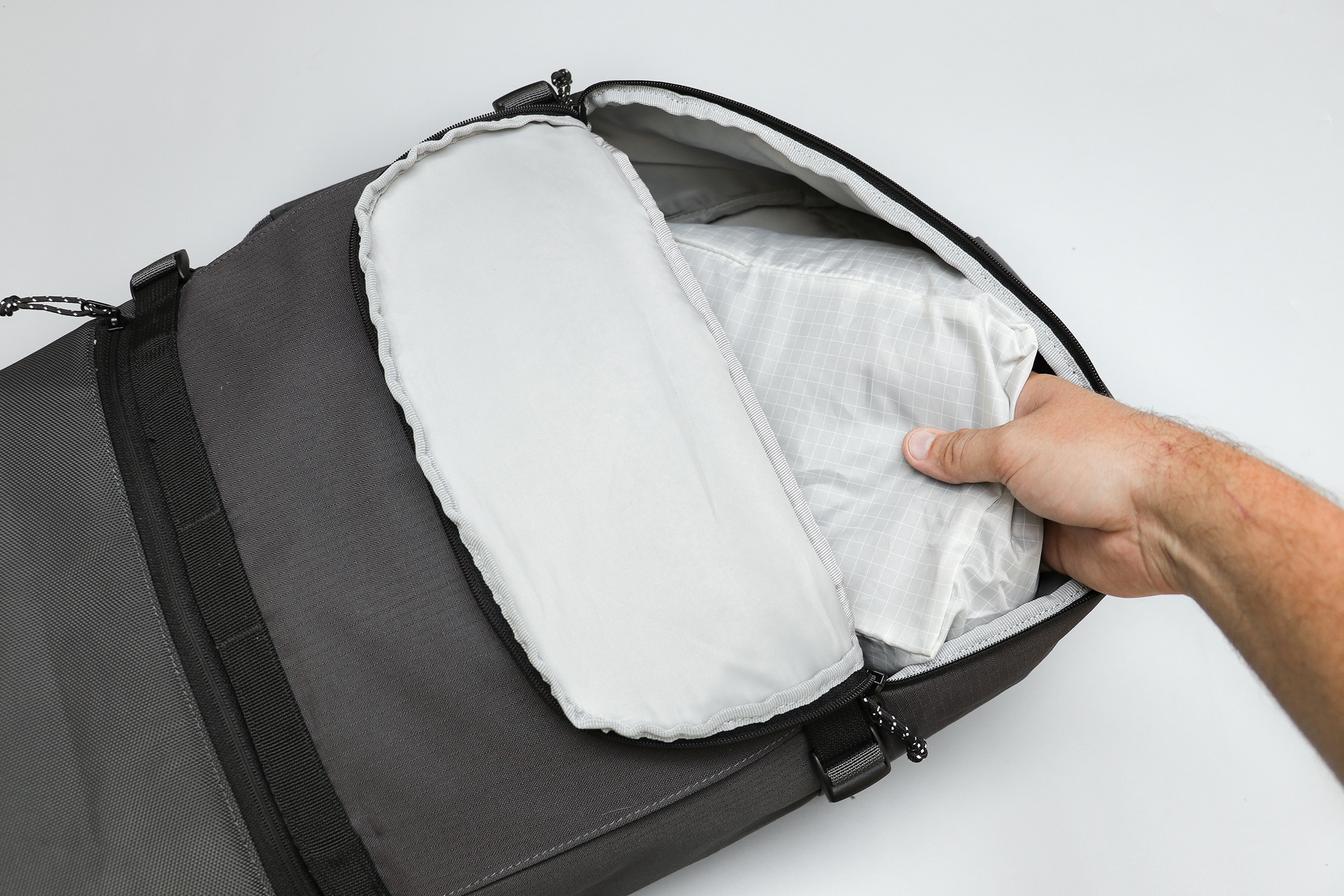 You do also have access to the main compartment from the front of the bag at the top—which allows you to get inside the bag without having to open up the entire compartment. We like this access option as we can just sling the pack around, unzip, and grab what we need.
That said, we feel this access takes away from the design of having most of the access points toward the back. It's not a huge issue, but it's something to be cognizant of when traveling (especially on your sketchier commutes).
Either way, the first thing you'll notice once you're inside is that it's pretty simple in terms of organization—you have a couple of pockets along the front flap and another along one side, but that's about it.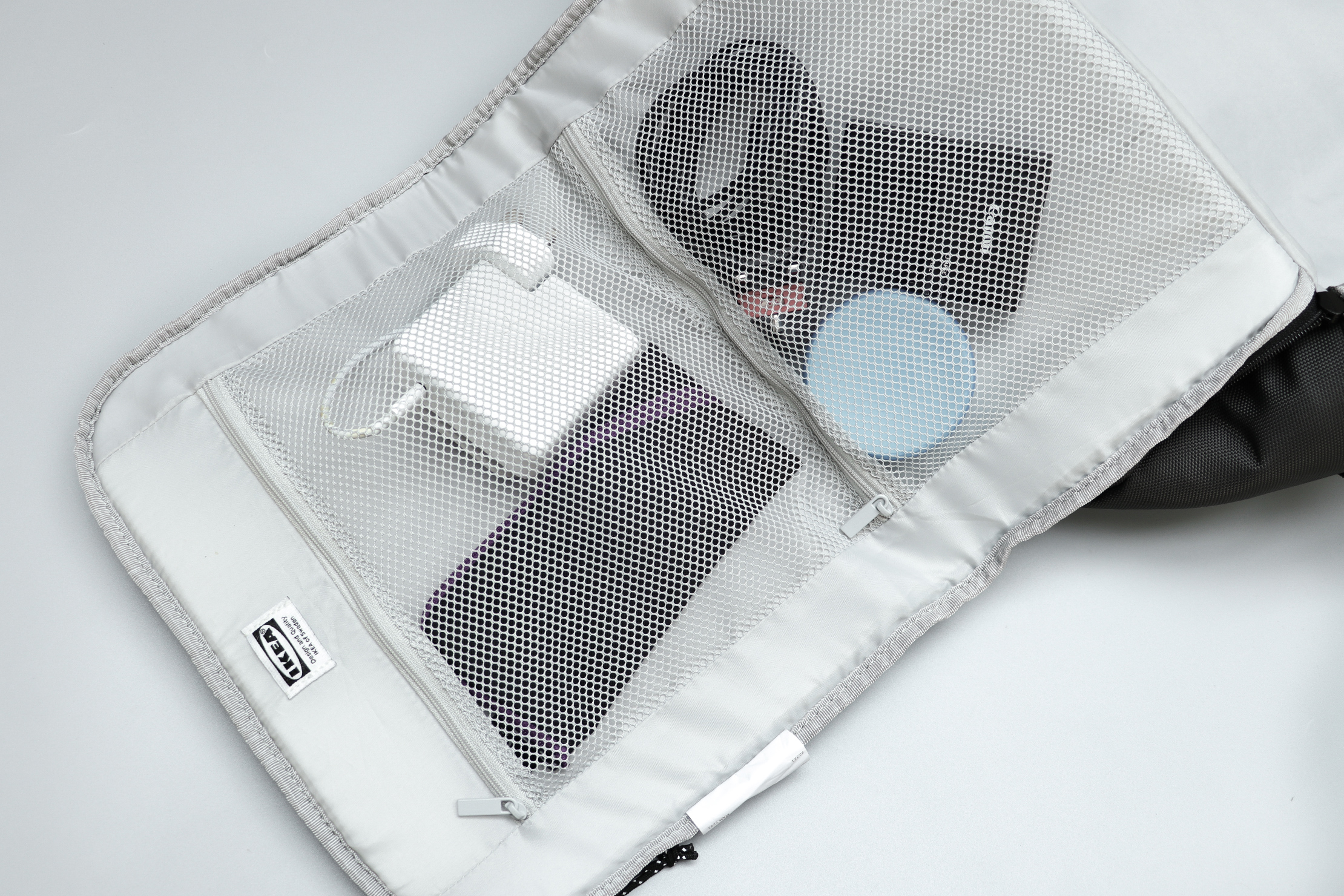 We'll start with those two front flap pockets—they're made with a mesh material that feels durable enough in the hand. Capacity-wise, they're both pretty large, though they don't have a lot of depth. Because of this, it's best to keep relatively flat items inside—some slimmer storing tech accessories, toiletries, and the like. And when not in use, they stay nice and flat against the front flap.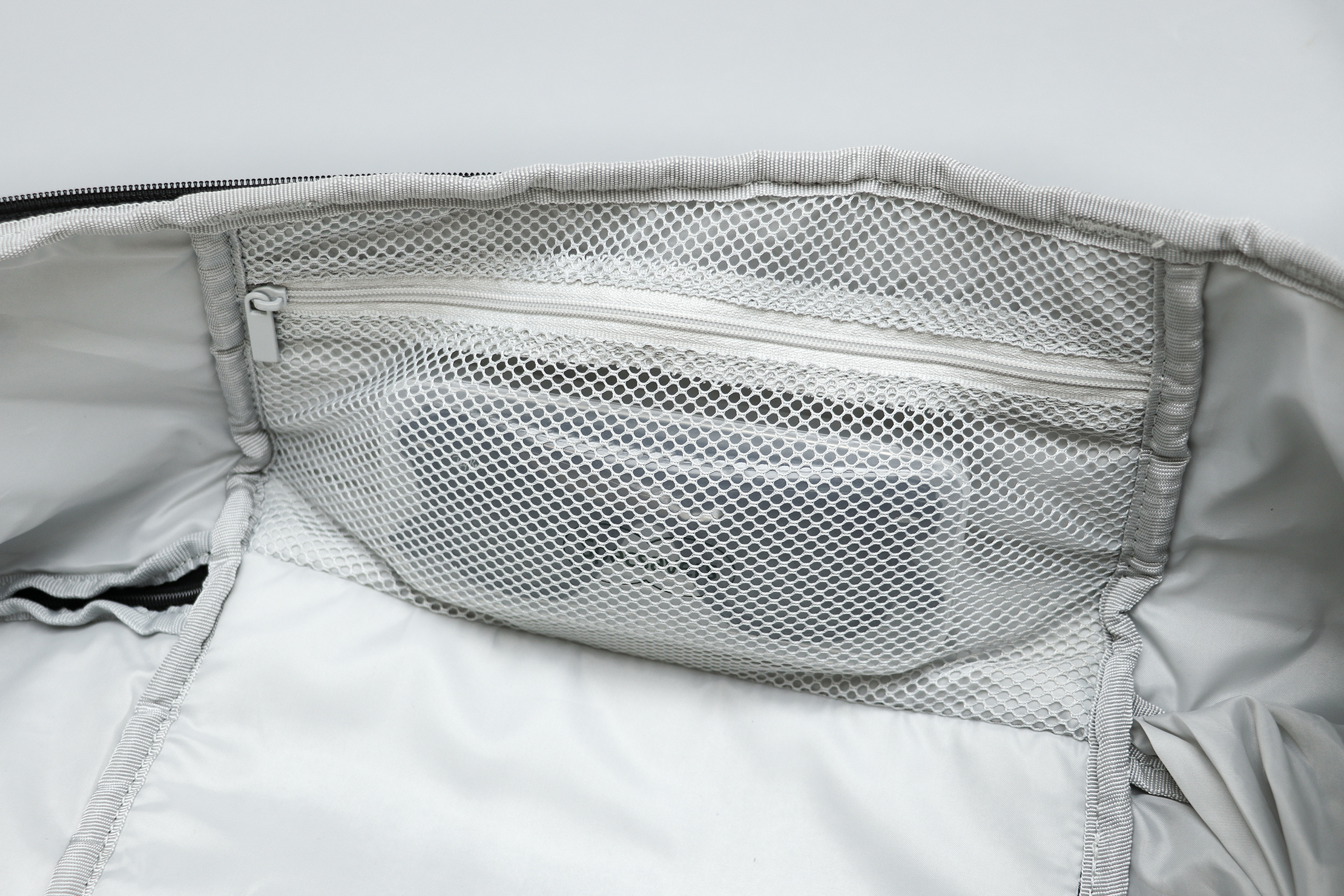 Then you'll find another mesh pocket against one side. This one is much smaller, but since it's secure inside of the compartment, it's a great spot for smaller valuables that you're not comfortable keeping in the external quick-grab pockets.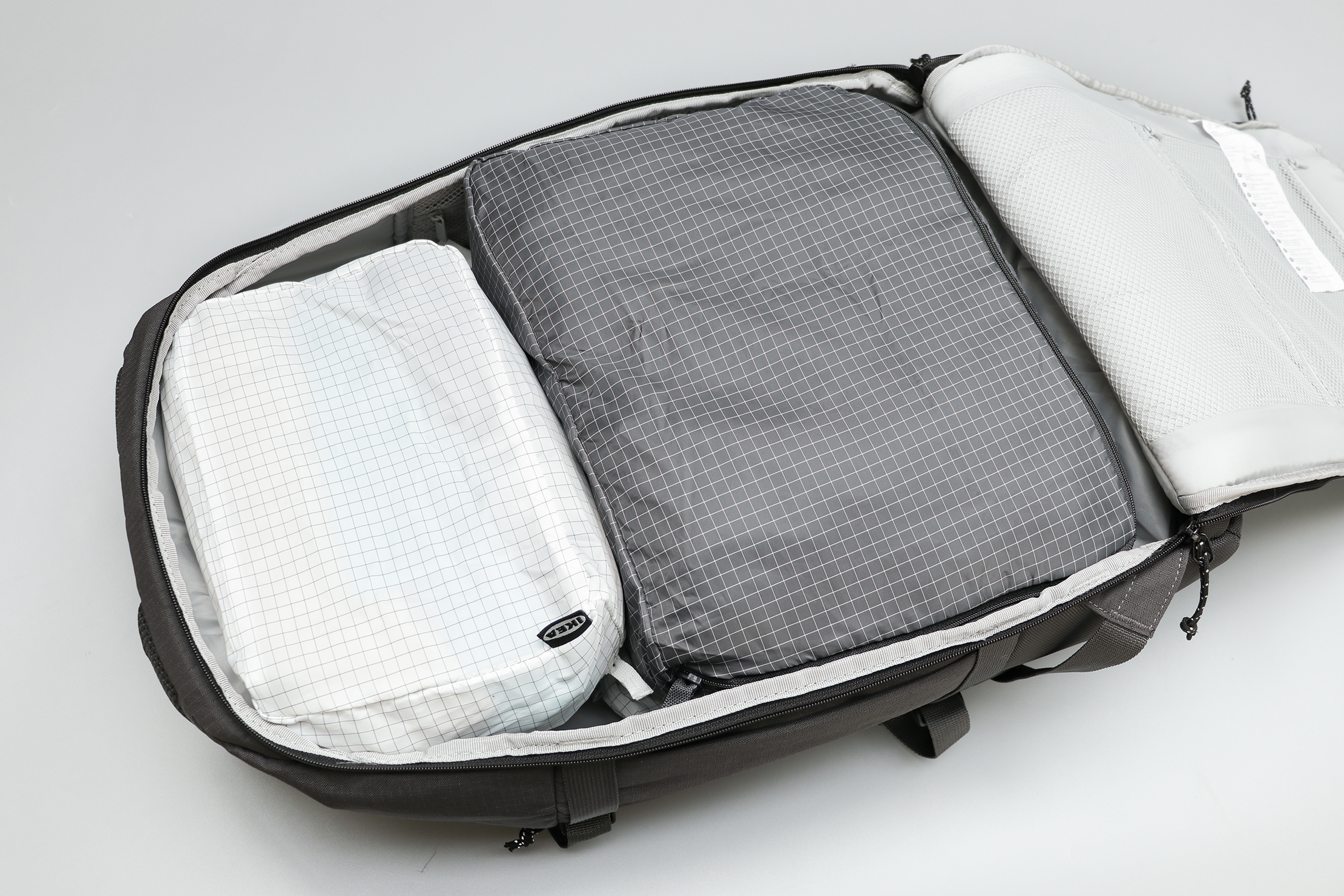 The rest of this compartment is just a ton of space—36L of space, to be exact. You can use it as one big dump pocket, or use pouches and packing cubes to help segment and organize your clothing and gear.
We've been using the IKEA VARLDENS Toiletry Bag ourselves, in addition to a set of three IKEA RENSARE Clothes Bags, and they've worked well for our purposes. Plus, they're both in the IKEA family, so they're on the more affordable end of the spectrum (which may be helpful if you're trying to keep your entire pack travel-ready on a budget).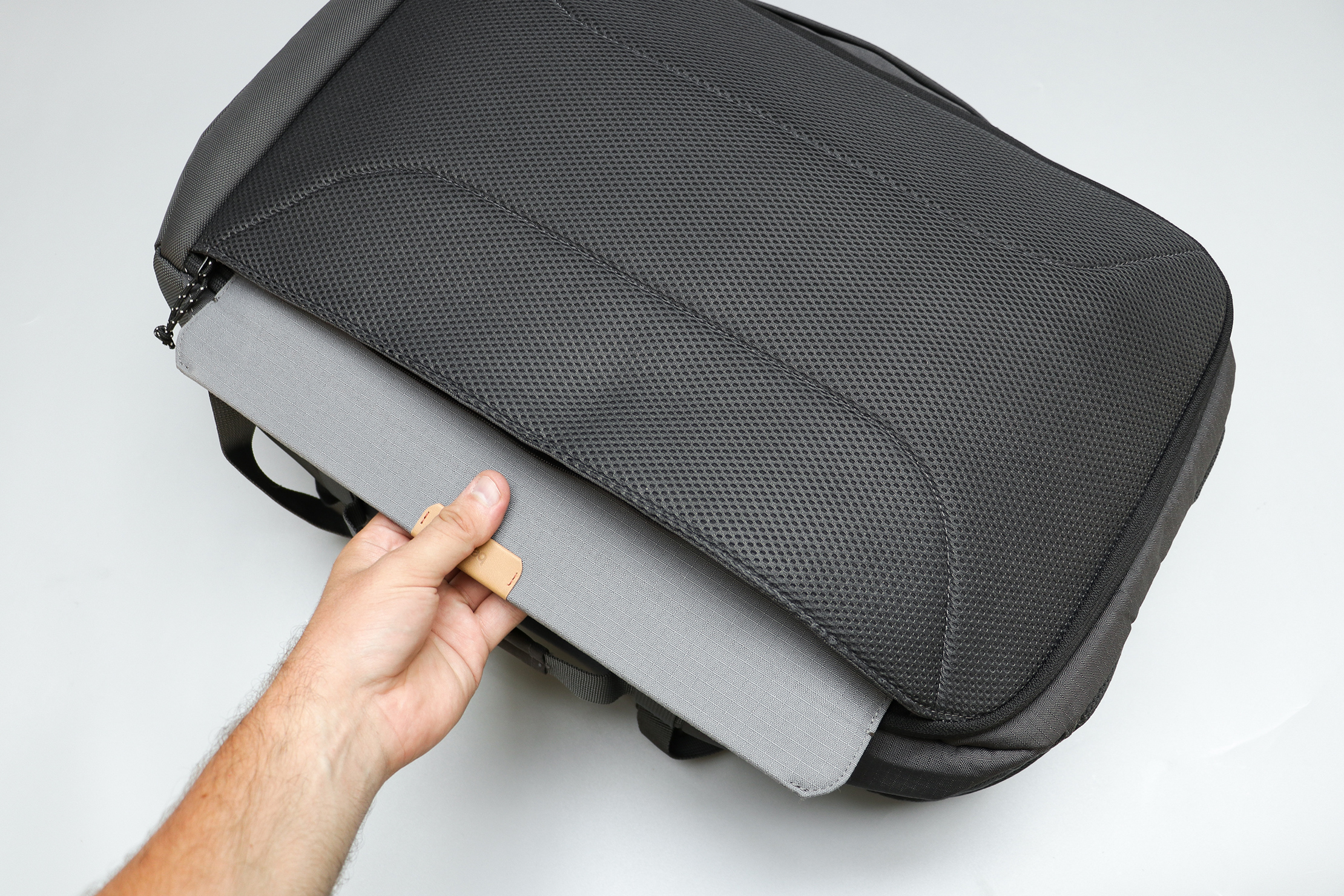 And lastly, you have a pretty heavily-padded laptop compartment that is located on the back panel. We've been able to fit a 15" laptop with a protective case on inside here with room to spare—and we can feel confident about keeping it inside, as this compartment is suspended to protect your tech when you set the bag down, or when it's getting jostled around. As always, we recommend keeping your laptop in a protective case when possible—but with the dense padding and false bottom, it's not essential.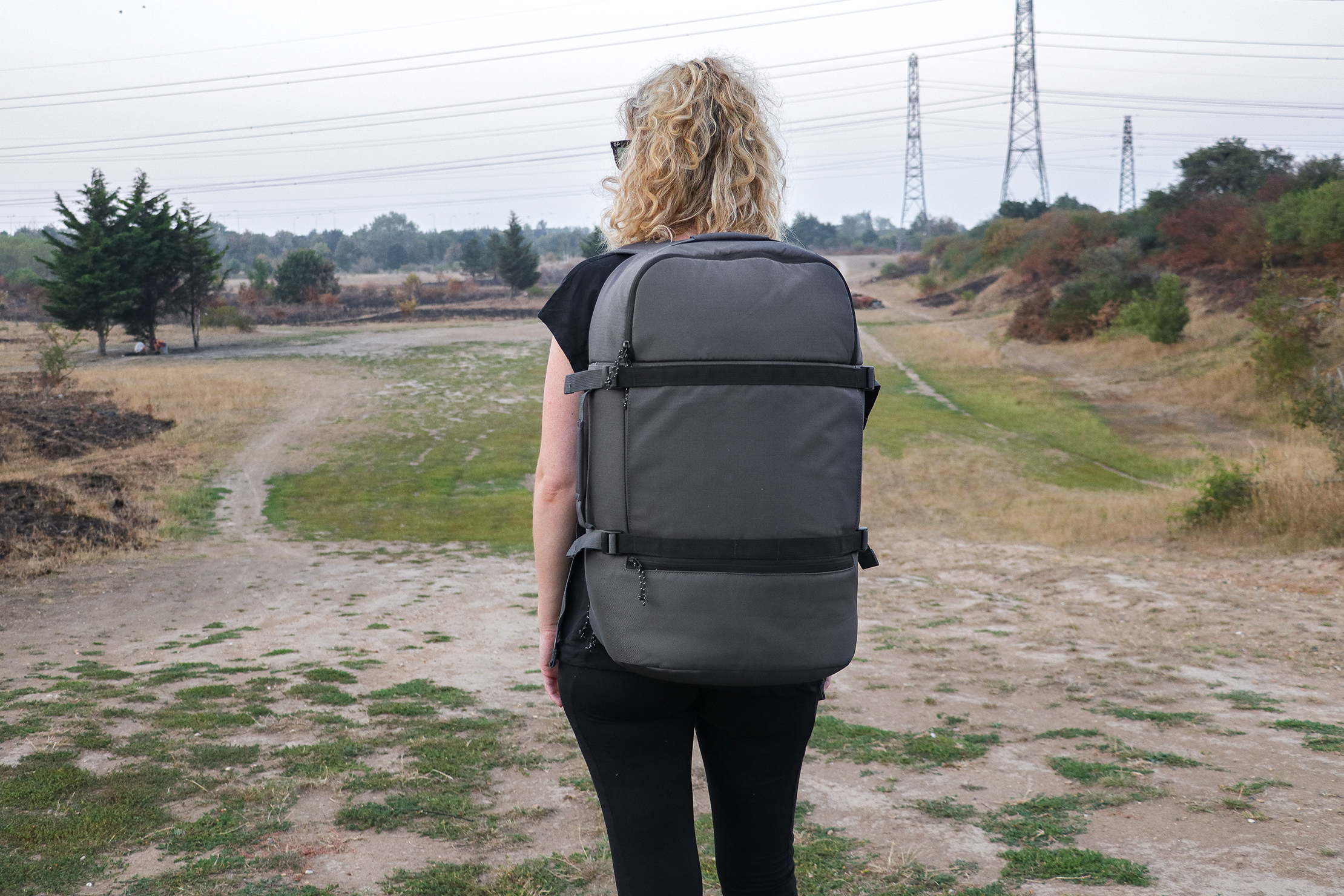 Durability-wise, the bag has held up well enough. We've noticed some loose threads around the bag, including a long one inside of the main compartment (which is to be expected on a budget back like this one, where the stitching isn't the highest quality). That said, it's still something to consider because, when you're traveling and living out of a backpack, that bag is essentially your home. If it rips or breaks, then you're out of luck. Overall, if you're on a budget, this pack will get the job done.
Usage Timeline
Initial Usage
Condition: Excellent
There's a ton of clever organization and access points going on throughout the bag, we especially like the hidden zippered pockets on the top and side
The harness system is nothing special but it's not bad given the budget price
The stitching is a little suspect in places
2 Weeks of Use
Condition: Excellent
We've been digging the padded laptop compartment and the fact it can hold a 15″ laptop with a protective sleeve on inside
The bag doesn't hold its shape too well and it is a bit floppy when not packed full, but that likely won't be a problem if you're using it as a travel backpack
All of the external quick-grab pockets and internal zippered mesh pockets come in really handy
While there's no side water bottle pocket, you can pop one in the front stash pocket which also comes in handy for a waterproof jacket
Access the Pro Community Discussion
Get your questions about the IKEA VARLDENS Backpack 36L answered from our team and the Pro Community right here on the page. Plus, join discussions with other members about gear, guides, and more.
Other Bags & Luggage Reviews