Topo Designs Mini Quick Pack Review
The Topo Designs Mini Quick Pack isn't the most comfortable to wear but its durability, fun design, and convenience are all top-notch.
Our Verdict
Unlock the Pro Summary
Save time. Get access to brief summaries of our reviews so you can browse and make decisions more efficiently.
Pros
Fun, cheery style and colorways
Made of quality, durable materials
The perfect size for day trips
Cons
Won't pack as well as other waist packs on the market
Not super comfortable to wear crossbody
Front pocket only fits flat items
Recent Pack Hacker Video
Technical Details
100 %
Carry-on Compliance
Capacity

1l

Weight (oz)

8 oz (226.8 g)

Dimensions

6 in x 10.5 in x 2 in (15.2 x 26.7 x 5.1 cm)

Notable Materials

Nylon, YKK Zippers, Paracord, Woojin Hardware

Manufacturing Country

Vietnam

Warranty Information
Full Review
Get up to 15% off Topo Designs • Join Pack Hacker Pro
Some waist packs try to blend into the background. Not the Topo Designs Mini Quick Pack. This thing shouts its existence in bold, bright colors and a fun design we're not surprised was born in the Rocky Mountain West.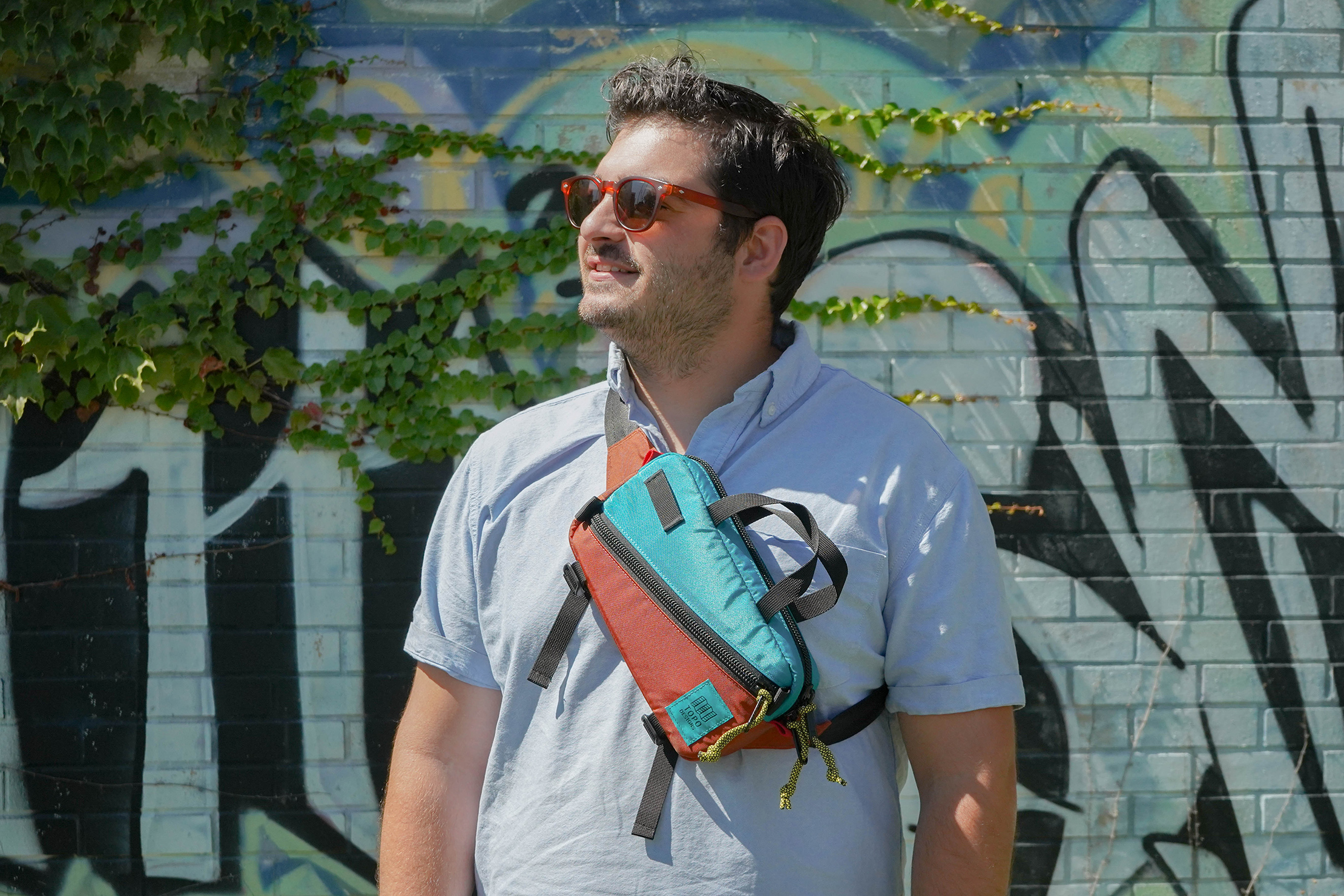 Beyond style, this waist pack also touts quality materials and a boxy shape ideal for organizing your essentials.
Need we say more? Actually, yes. Yes, we do…Which is why we've written an entire review. So let's get into it.
Materials & Aesthetic
If you're familiar with us here at Pack Hacker, then you'll know we're all about dark, subdued colorways (just take a look at our monochromatic Digital Nomad Packing List). That said, we can't help but love the wild, cheerful colorways of the Mini Quick Pack. We've been testing the Clay/Turquoise colorway, but it's also available in Silver/White, Black/Blue, and Black/Black at the time of this review.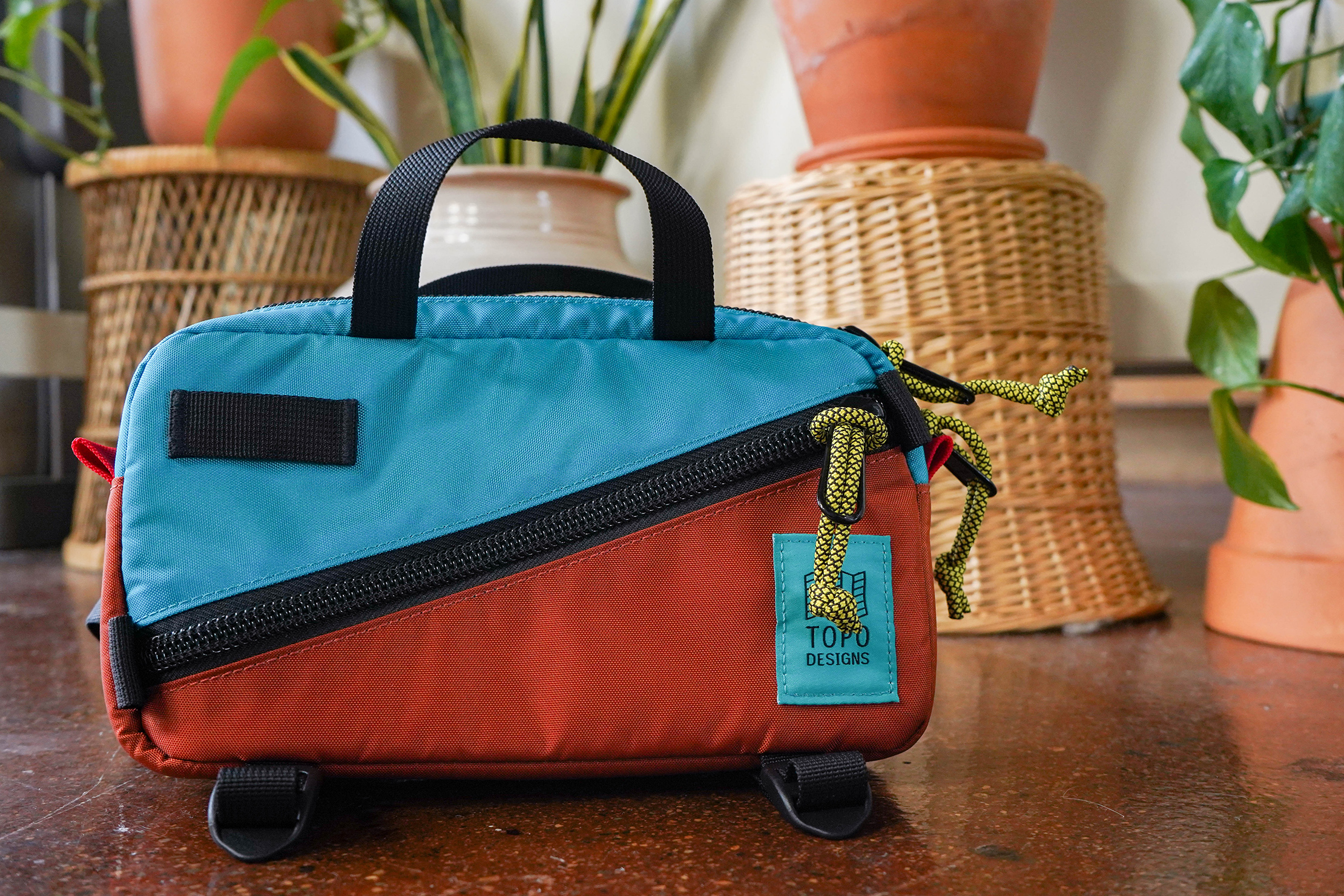 Coupled with the over-the-top zippers, colorful pulls, and overall boxy shape—this Mini Quick Pack is fun! (So fun it deserves an exclamation point.) Even if it's not your style, you can still appreciate what Topo Designs is going for here (at least we can). The interior of the pack is also a cheery neon yellow, which helps with visibility and further enforces its lively style.
Every time we look at this pack, we can't help but smile.
Topo Designs describes it as the "cool little sibling" of the regular Quick Pack—and with an interior capacity of 1L, it is little. Which is a huge plus in our book.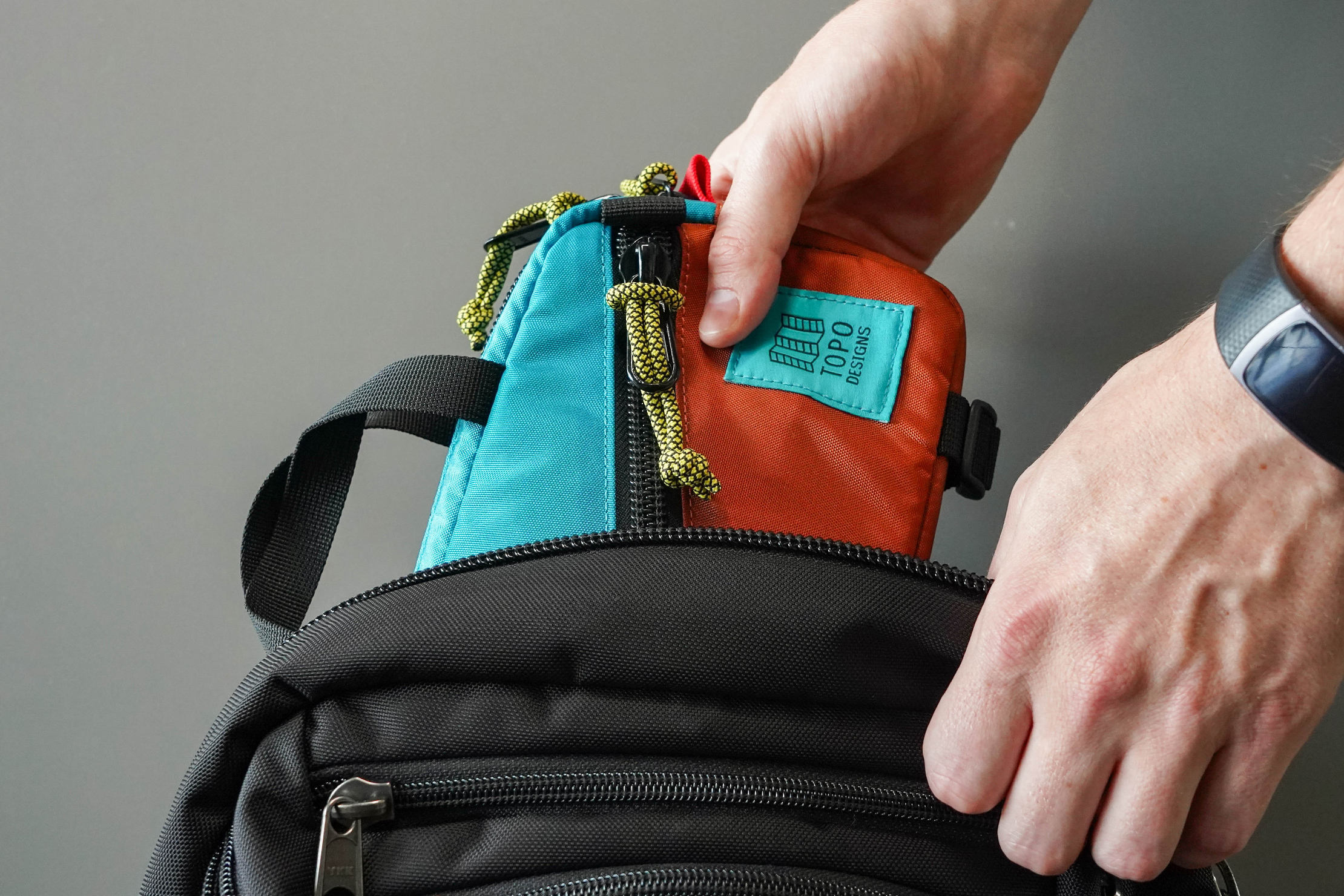 We think waist packs and sling bags are best for travel when they're small—too big and we find ourselves wishing for a daypack. Plus, its small size means it packs well. Because of its boxy structure, this is not the type of waist pack that disappears in your travel backpack or luggage. But it won't take up too much space either.
Plus, it's nice to have out while you're in transit. Sling it around your waist or wear it on your chest with a backpack and have easy access to all your travel essentials (earplugs, snacks, notebook, etc.) And it'll easily slide beneath the seat in front of you and likely in the seatback pocket (though your mileage may vary, some seat pockets on some planes are tiny).
This pack is designed to work as both a waist pack (the I'm-too-embarrassed-to-say-fanny-pack term for a fanny pack) and as a sling bag (crossbody on your chest or back).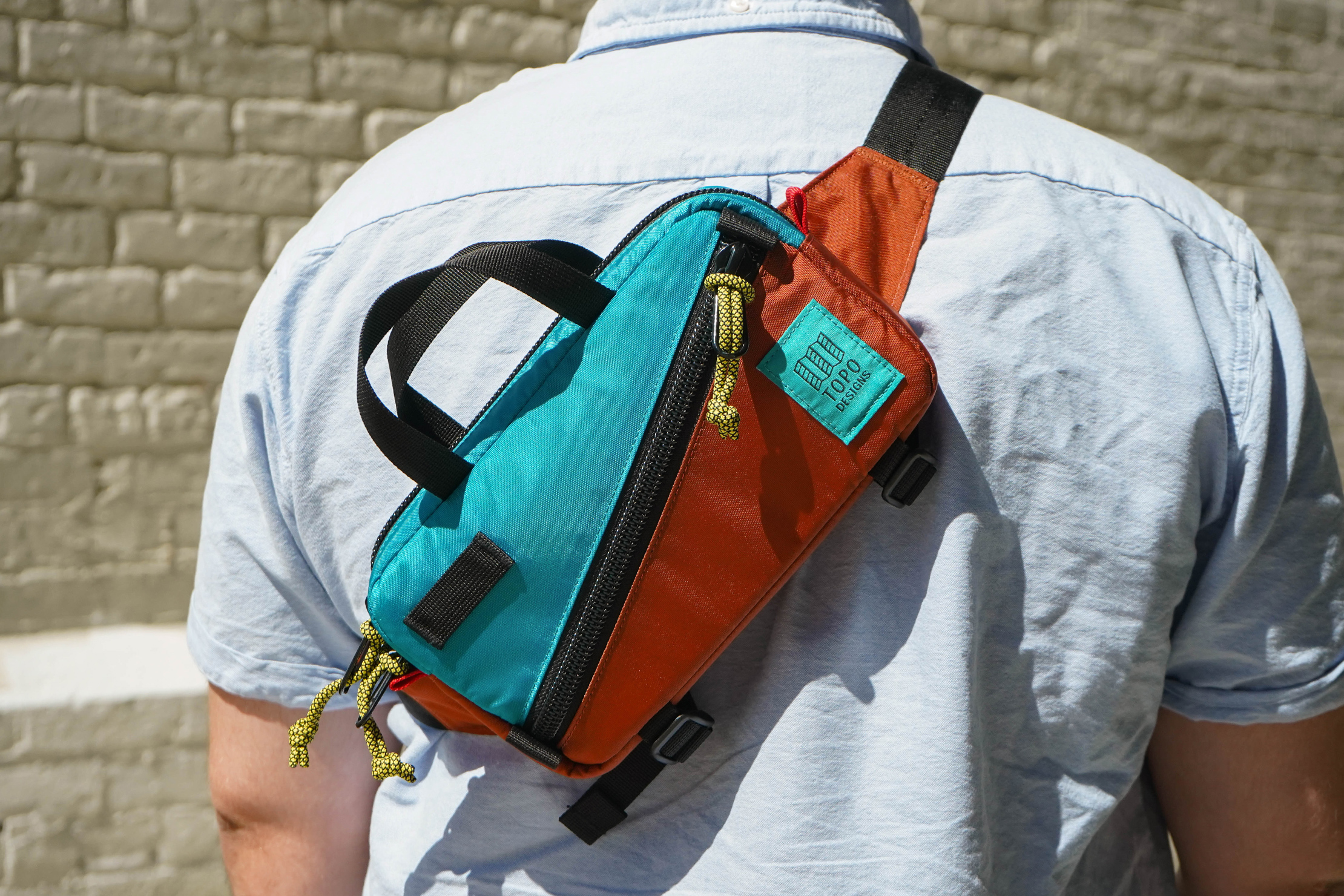 We've found this bag to be the most comfortable when worn as a waist pack, but admittedly it looks large on most bodies, spanning nearly the entire width of the hips. Style and comfort are more aligned when it's worn across the back. That said, we don't think it's comfortable worn this way. The buckle can uncomfortably press into your chest or the strap can dig into your neck.
It's even worse when worn on the chest. Its boxy shape gives it a bizarre look, plus it wears high and thus can be difficult to access.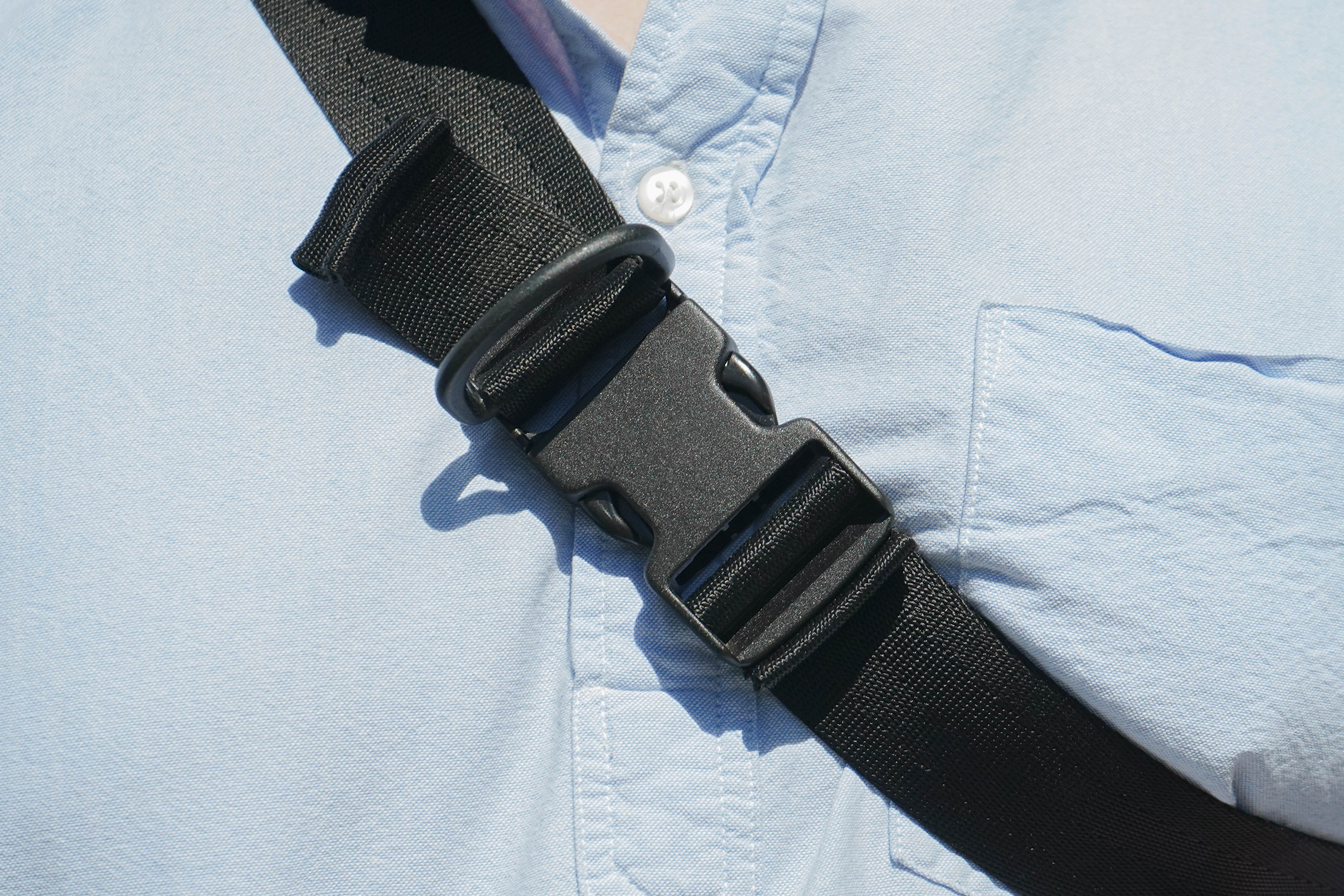 This is our largest gripe with the Mini Quick Pack—it just isn't that comfortable to wear. Although, the longer you have it, the better you'll be at adjusting the strap and bag to make it work for you and your body.
Comfort aside, this bag is incredibly hardy.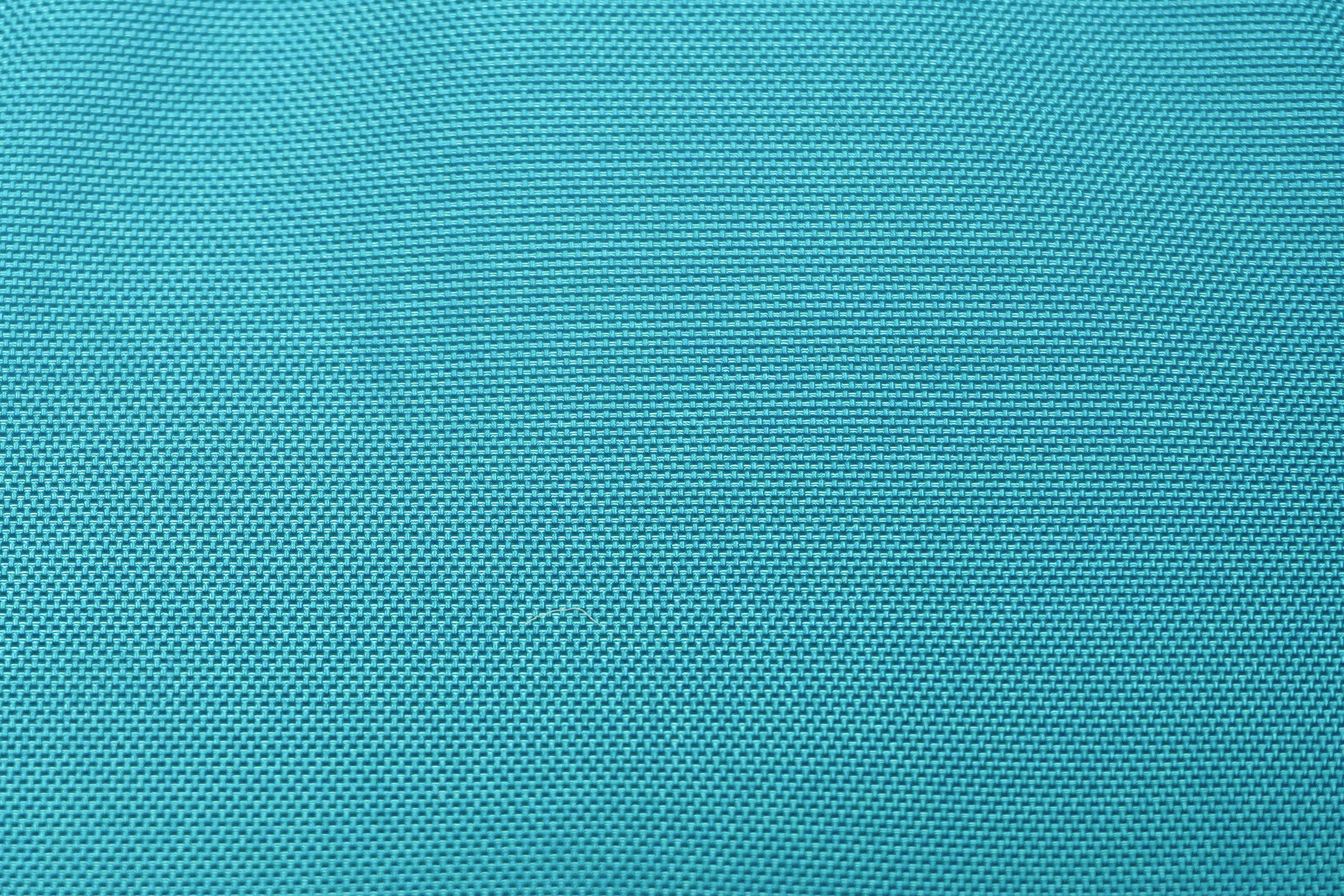 The exterior is made from 420D nylon pack cloth. Nylon is a common synthetic fabric that's known for its excellent strength-to-weight ratio (in that it's strong and lightweight). And the bag's lined with a 210D nylon pack cloth liner.
With a denier of 420, there are definitely more durable fabric choices out there. But this is a waist pack, not a backpack—you don't want or need anything too hardy.
We have found ourselves wishing for some mesh on the back panel to help with keeping the sweat to a minimum. When worn sling-style in warm and humid climates, you'll probably get that dreaded swamp back. Although less so than with a backpack.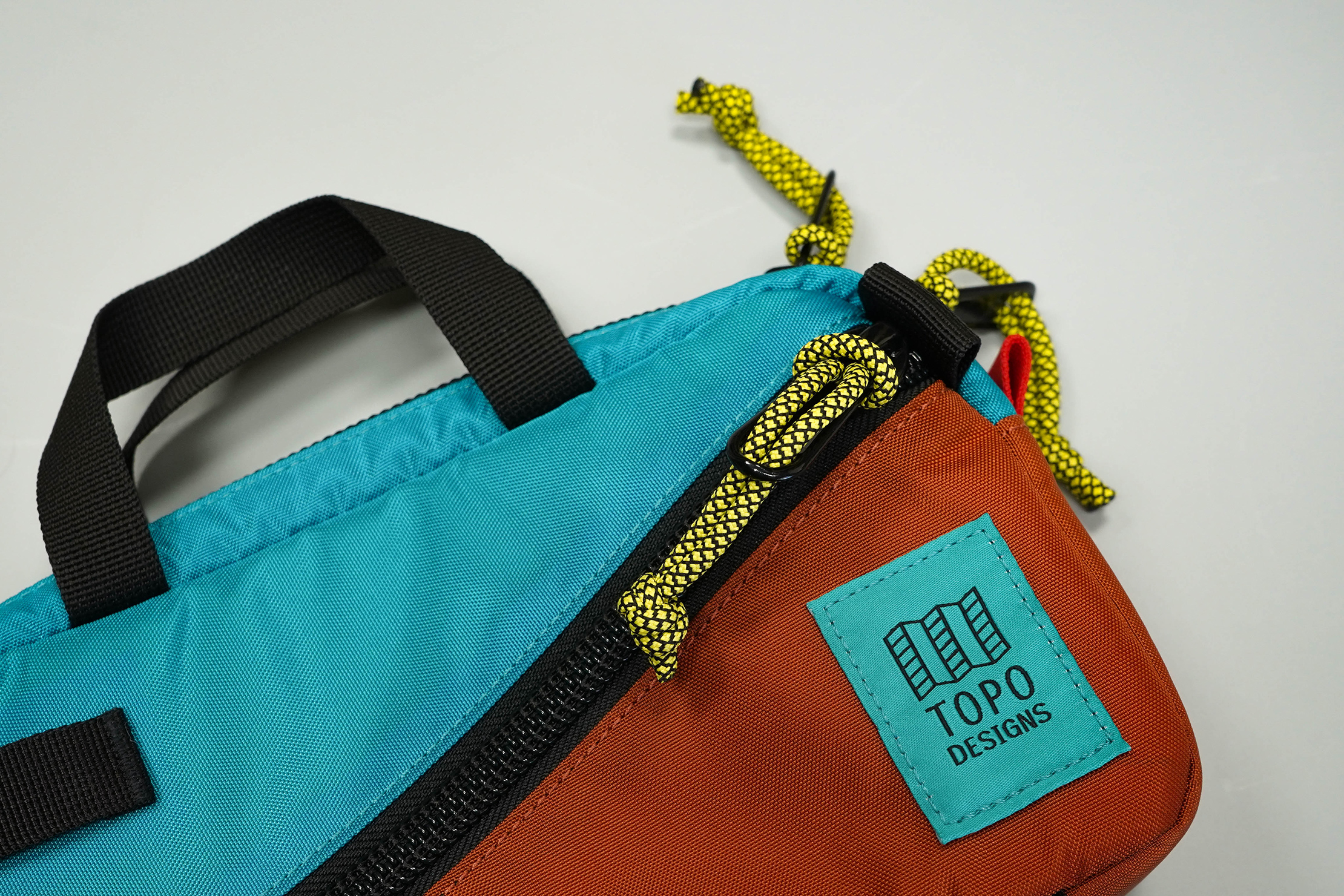 Alright, let's take a look at the zippers. You'll find ridiculously large #10 YKK reverse coil zippers on this pack. Zippers are measured on a scale of one (small) to ten (large). So these zippers are the largest possible. Is that really necessary for this pack? No, not at all. But, as we mentioned earlier, these zippers are a part of the overall cartoony style.
They're also smooth to work and don't jingle (which can be a problem for bigger zippers), so we're not complaining.
The equally oversized zipper pulls are a thick paracord. They're easy to grab and will probably last you quite a long time.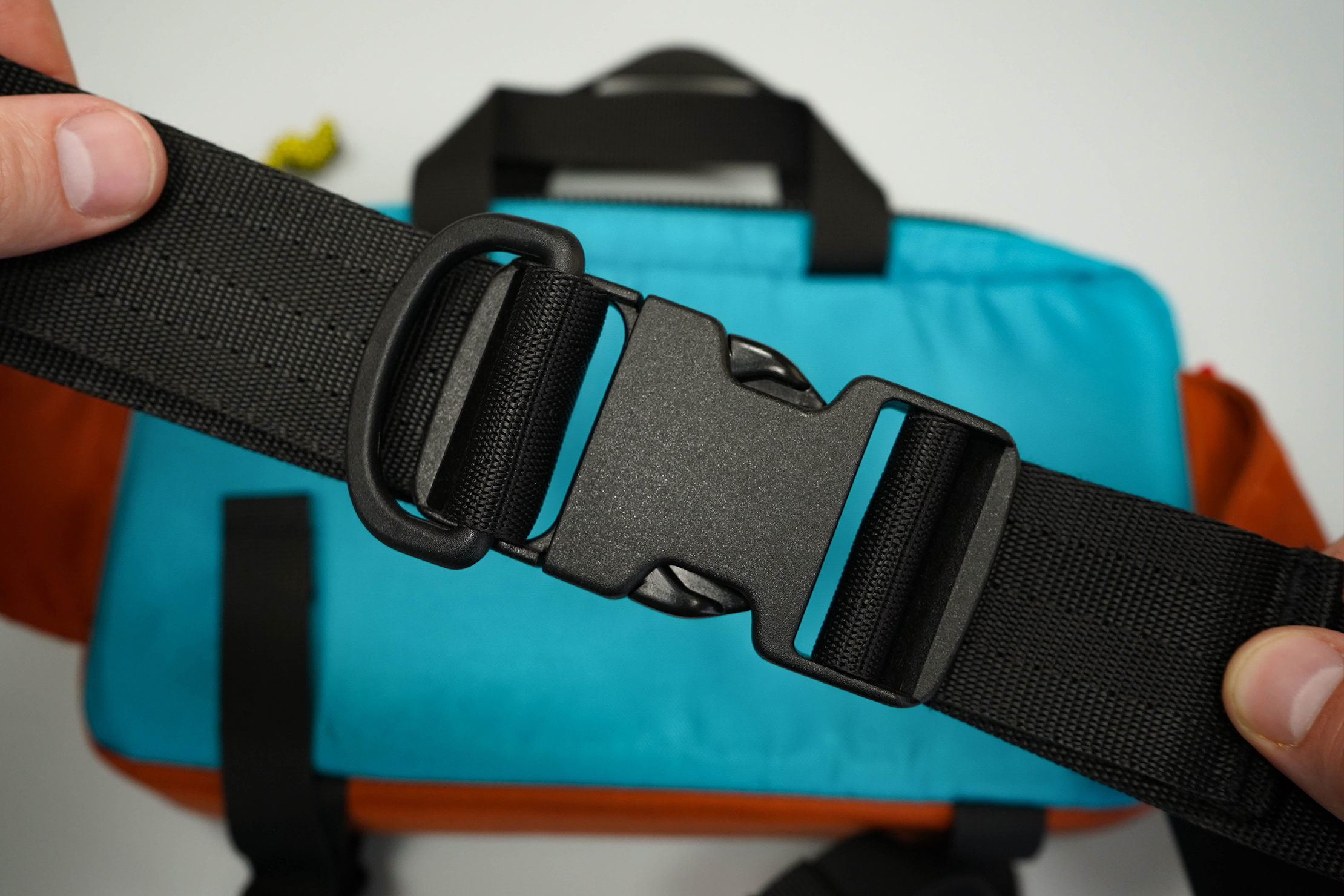 And, last but certainly not least, we've got the buckle from Woojin Plastic. We've tested several Woojin buckles at this point and have rarely had problems—and we don't expect any here. The buckle isn't as oversized as the zippers, but it's still hardy.
We also like that it has a quick-adjust D-ring so you can easily loosen the strap to sling the bag around and/or take it off. The D-ring is nice and large so you don't have to hunt around with your hand to find it—a small, but appreciated detail that helps make this feature smooth to use.
Now, we appreciate all the thought that has gone into durability here. But, this pack does weigh more than others because of it. It's still a hip pack—so it's not going to weigh a lot—but enough that it's worth noting.
External Components
For a 1L bag, the Mini Quick Pack has a surprising amount of external components going on.
Let's start with the seatbelt-style strap. Like we already said, this thing can be worn as a sling bag or a waist pack. And while it's not the most comfortable crossbody, it's more the fault of where the straps are anchored and the buckle placement, not the strap itself.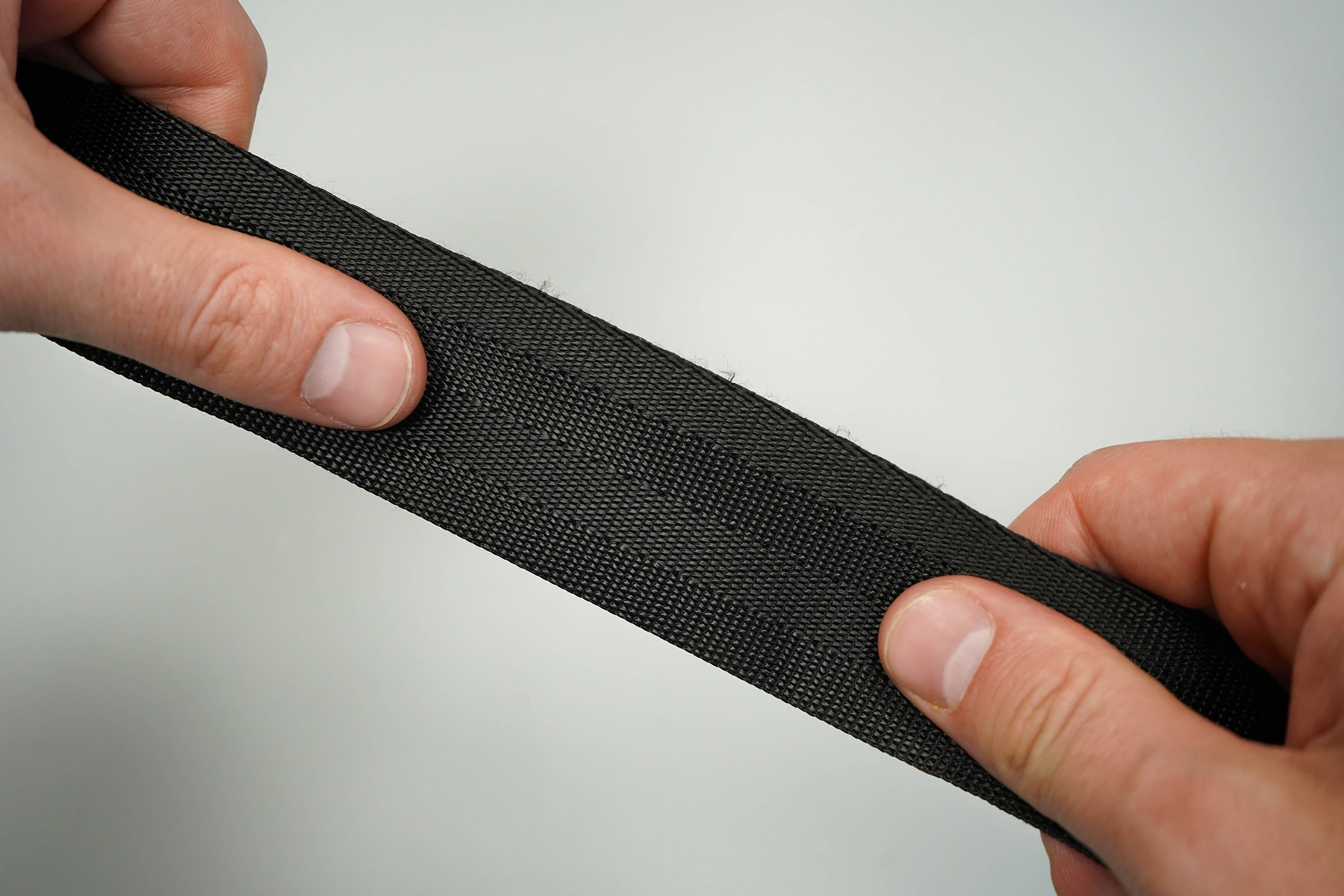 The strap is super minimal—it has no extra padding, which we're fine with since it's a small pack. It's also wider than other waist pack straps out there, which does help with the comfort thing.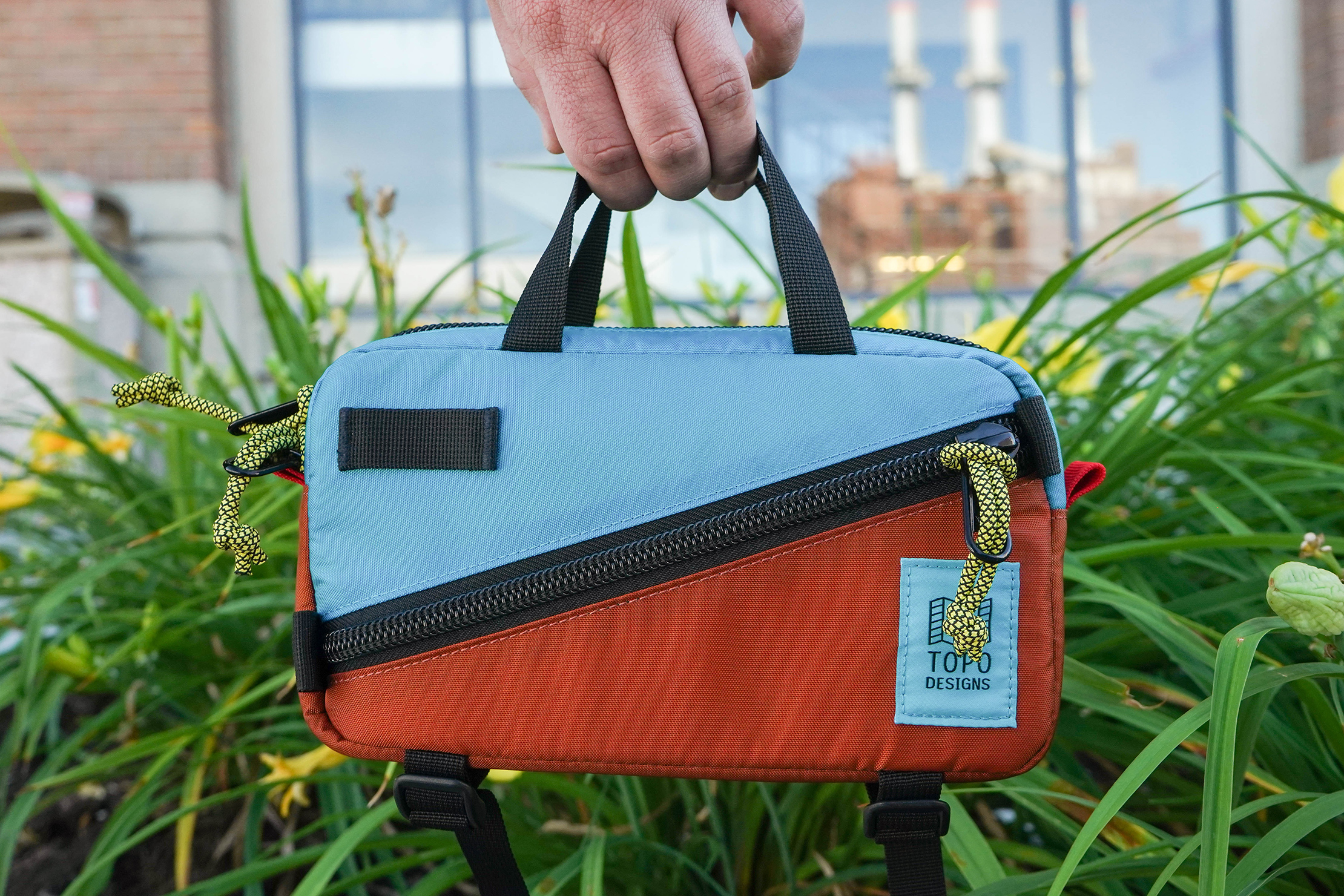 You can also carry this bag by the top carry handles (we like to pretend we're carrying a very small, very colorful, briefcase). We like carrying it this way, although the strap dangles as it's not detachable or stowable, so it looks messy. The top carry handles also work for hanging the pack up on hooks when you don't want to put it on the ground (*cough* airport bathrooms *cough*).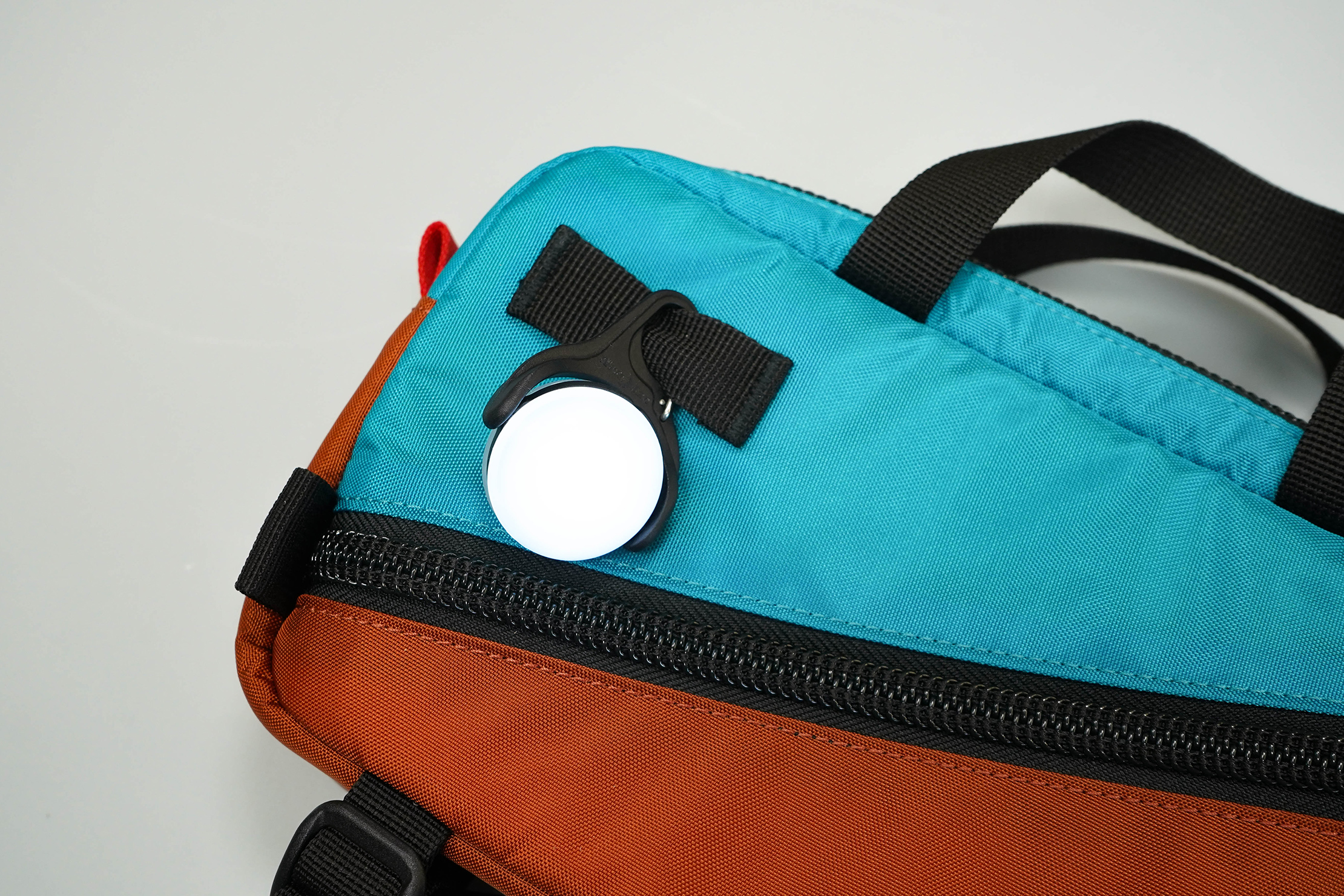 There's a small loop for connecting a bike light, although with a carabiner the sky's the limit on what you could connect here—a small water bottle, an accessory bag, another waist pack, whatever your heart desires.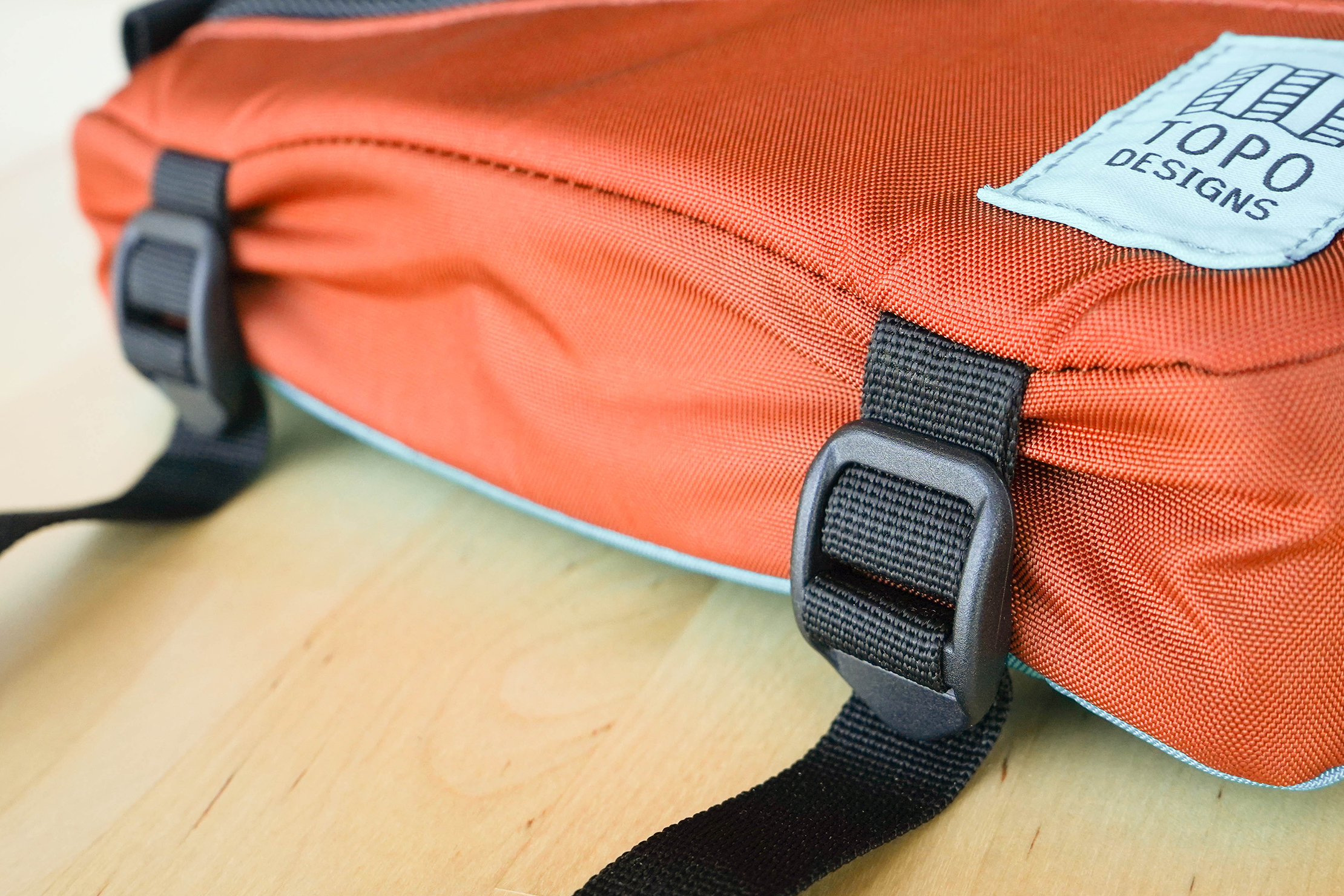 Finally, you've got two compression straps on the bottom. They're okay for compressing, though the bag doesn't flatten out much. They also work for carrying other gear if need be (like a rain jacket if the forecast looks iffy). In full disclosure, we've never taken advantage of this feature (if we need more space than this pack allowed, we'd probably carry a backpack). But it's there if you need it.
Inside the Waist Pack
There are two pockets on this pack. We've found the front one to be the least useful. It doesn't have much volume—you'll need to pack flat items here if you don't want anything pressing against the fabric, looking bulky. Even a granola bar has too much depth to comfortably fit. Most smartphones work, as long as you don't have a cumbersome case.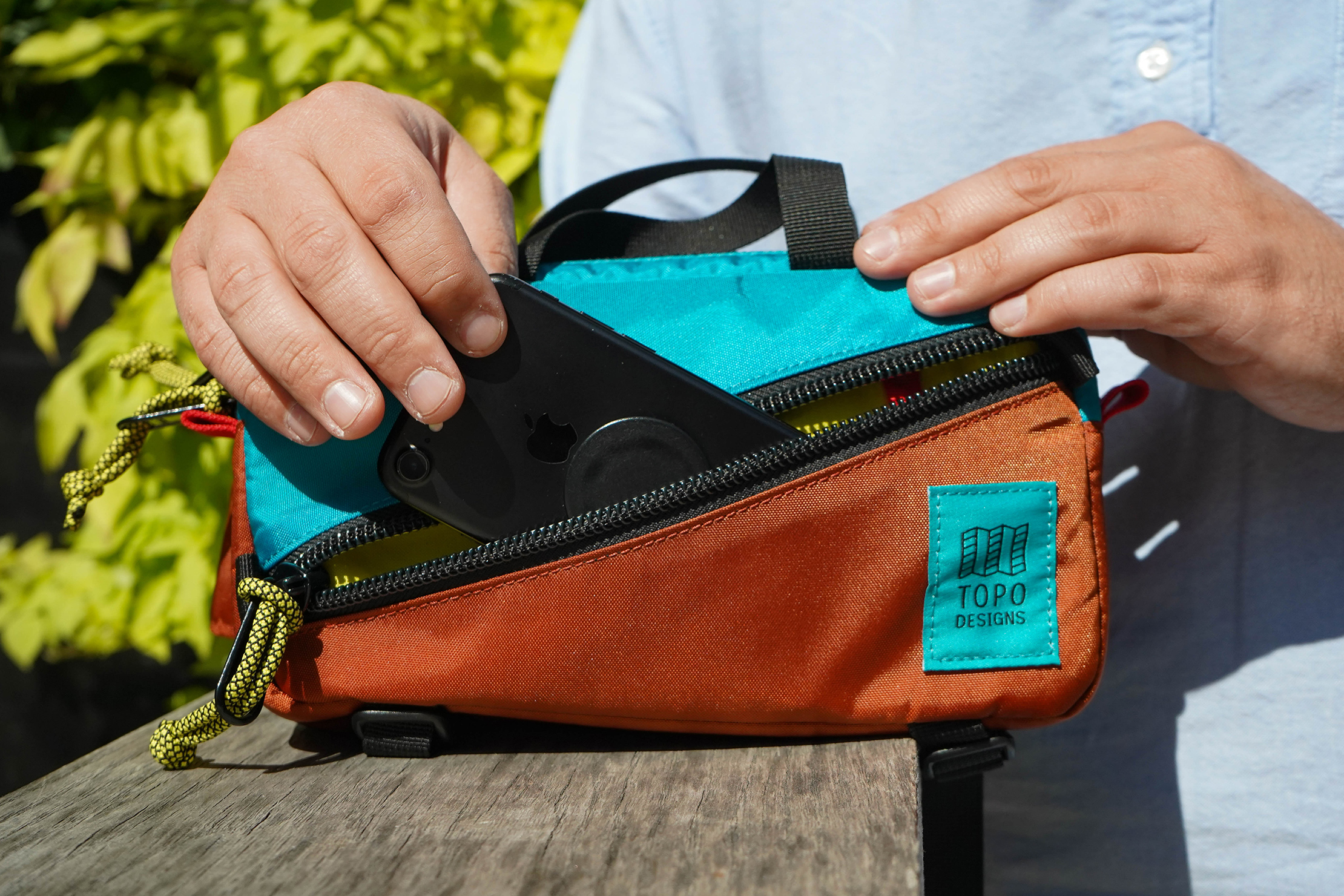 You'll find a key leash inside of this pocket, but, once again, your keys have to be streamlined to fit nicely. The key clip is also plastic, which isn't the most durable choice. We wouldn't be surprised if it eventually snapped.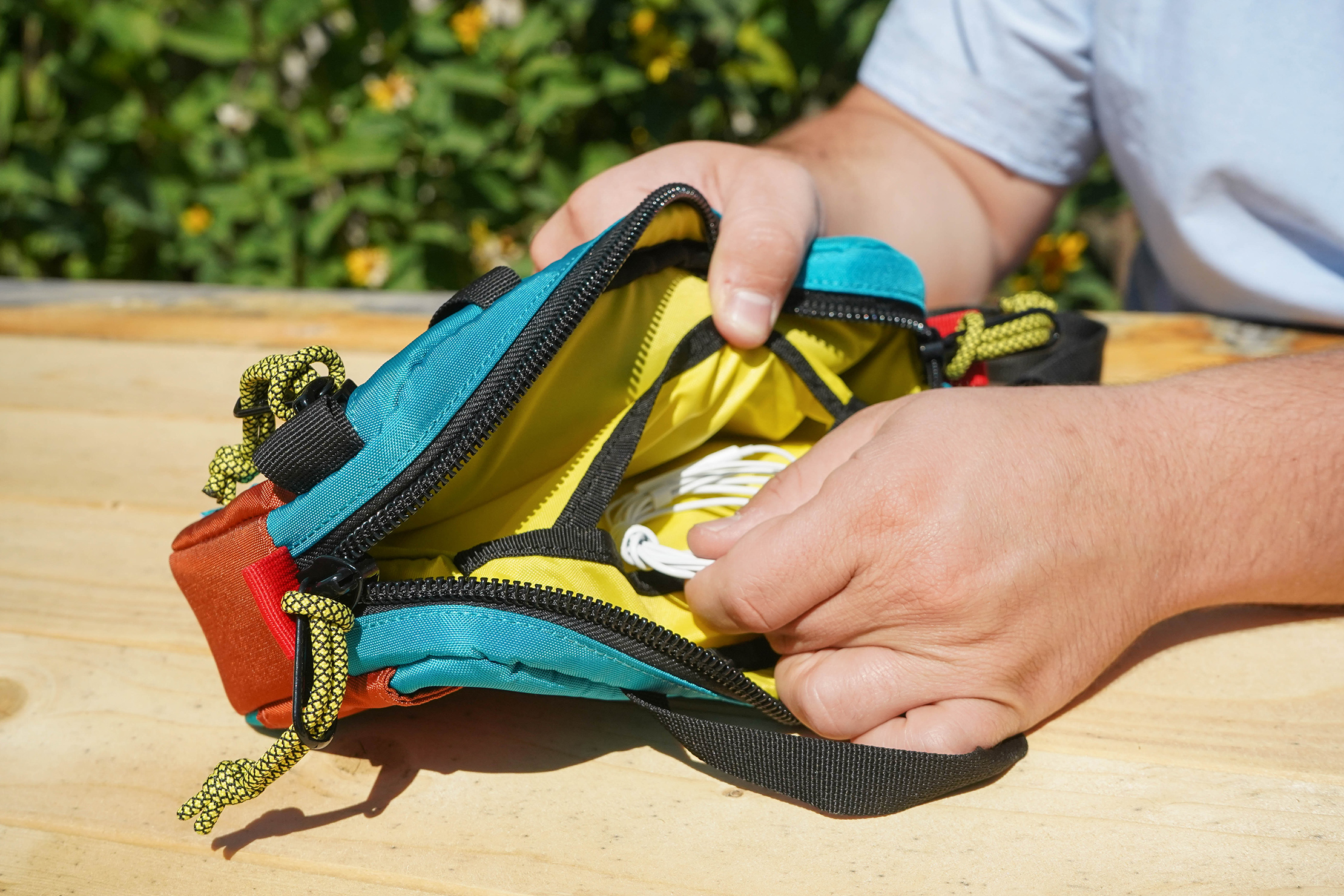 The main compartment has a good amount of volume and space. You'll find a hanging pocket against the back to keep smaller items you don't want to go digging for—headphones, pens, etc. We've used it as a spot to put our phone, but it's not quick to access if the rest of the compartment is full, so if you're constantly on your phone this wouldn't be a good spot for it.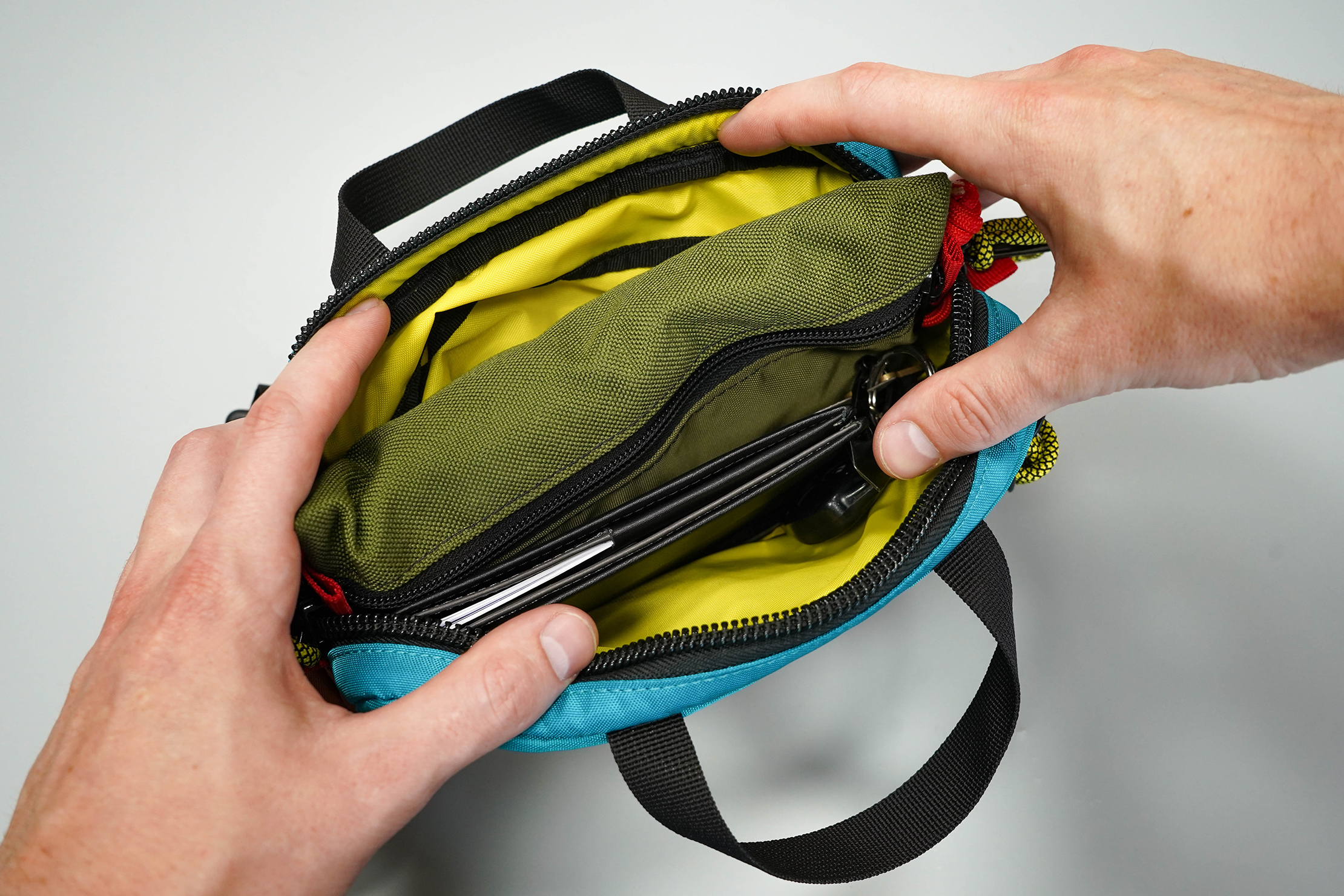 This compartment also has some padding and a nice structure, which you don't usually see on waist packs. You can stand it up and it'll stay upright (as long as the bottom compression straps are out of the way).
This structure is great as it allows you to strategically pack this thing. You can stick your sunglasses vertically on one side, put your wallet in the center, and your reusable straw on the other side—and it'll all stay in place! Plus, because it stays upright, you can set it down next to you at a coffee shop and easily access all your stuff.
That said, it is still a Mini Quick Pack. It's pretty much maxed out with the aforementioned wallet, sunglasses, reusable straw—plus a pen or two, phone, and keys.
Durability & Testing
We've been testing the Topo Designs Mini Quick Pack for two weeks around Detroit, Michigan. As we mentioned earlier in this review, it hasn't been the most comfortable to wear. The best middle ground between style and comfort is definitely on the back, although that leaves you at more risk for being pickpocketed in crowded areas.
But it gets high marks for style and durability.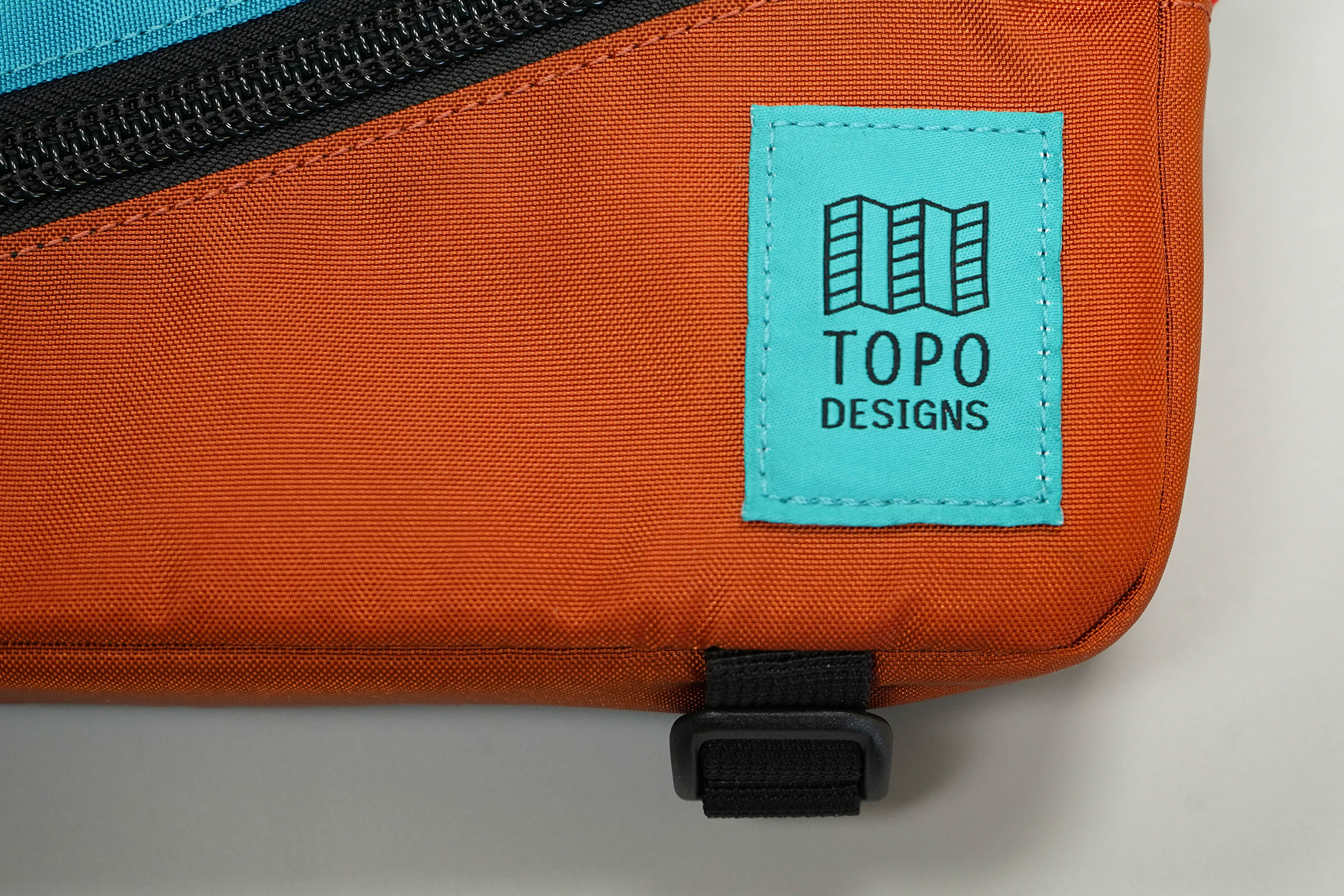 We don't have any issues to report as far as durability is concerned. We usually knock Topo Designs for the iffy stitching on the company's logo tags, but—knock on wood—the stitching on this logo tag has been doing surprisingly well. We expect that won't always be the case.
Usage Timeline
Initial Usage
Condition: Excellent
Loving the high-visibility interior to spot smaller items
Wears nicely as a sling, but is a little big for the waist or across the chest
A nice size to hold all your essentials while on the plane, or out and about
Available in a wide variety of colors
2 Weeks of Use
Condition: Excellent
Everything still looks brand new.
Access the Pro Community Discussion
Get your questions about the Topo Designs Mini Quick Pack answered from our team and the Pro Community right here on the page. Plus, join discussions with other members about gear, guides, and more.
Other Bags & Luggage Reviews