tomtoc Navigator-H71 Laptop Backpack 20L Review
The tomtoc Navigator-H71 Laptop Backpack is jam-packed with pockets, though the design limits your ability to use all of them.
Our Verdict
Unlock the Pro Summary
Save time. Get access to brief summaries of our reviews so you can browse and make decisions more efficiently.
Pros
Laptop compartment's false bottom hefty for a 20-liter backpack
Plenty of pockets for gear organization
Super easy and simple to stow straps
Cons
Tech accessories disappear into all-black interior
Organization works best with slimmer, flatter items
Water bottle pocket too loose, especially when bag is carried briefcase-style
Recent Pack Hacker Video
Technical Details
Capacity

20l

Weight (lb)

2 lb (0.9 kg)

Dimensions

17 in x 14.5 in x 5 in (43.2 x 36.8 x 12.7 cm)

Notable Materials

Nylon, YKK Zippers

Manufacturing Country

China

Laptop Compartment Size

16"

Warranty Information
Full Review
Get up to 20% off tomtoc • Join Pack Hacker Pro
Coming in at around $80, tomtoc's Navigator-H71 Laptop Backpack aims to be a bang-for-the-buck option for those looking for a tech-focused backpack. That's the brand's forte, by the way. Looking at their website, you'll notice a dedicated button to shop by device. Browse a little more, and you'll see that most of them bear familiar names like "YKK" and "CORDURA." Sounds too good to be true for something that won't break the bank, right? So is it?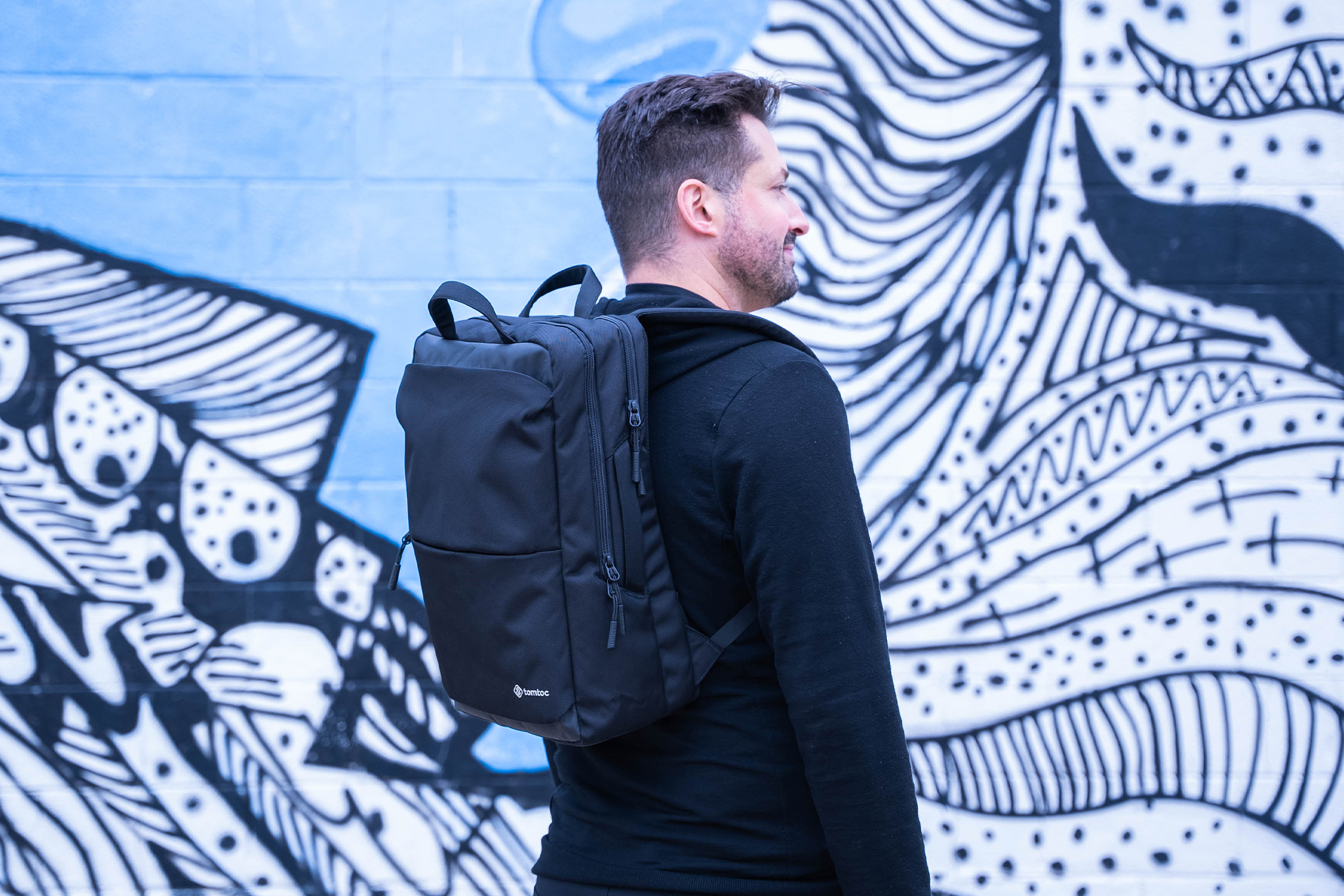 Well, there's always a catch—after all, no bag is perfect. While the fabric of the Navigator-H71 is indeed CORDURA and its zippers YKK, you'll see that it lacks the refinement of more expensive backpacks. The all-black interior liner, for example, makes it hard to find similarly dark-colored tech items. There are plenty of pockets for gear organization, yet utilizing all of them is tricky unless you have primarily flat items. Then there's the bottle pocket, which feels too loose, and since it sits opposite the side handle, carrying the Navigator-H71 briefcase-style may cause your travel water bottle to fall out.
The Navigator-H71 shines in other ways, even without factoring in the budget price tag. Stick around, and let's see what tomtoc gets right.
External Components
Let's start with the basics. You'll see a small CORDURA fabric tag on the side, which lines up with the ballistic nylon-feeling exterior of the Navigator-H71. It's not the heavy-duty 1680-denier ballistic nylon you'll typically see Aer use on their bags, but it feels like a lighter version of it. tomtoc says it's water-resistant, and there may be some DWR finish applied here as well, but they're rather mum when it comes to specifics. The zippers are from YKK, but the strap adjusters don't have any branding.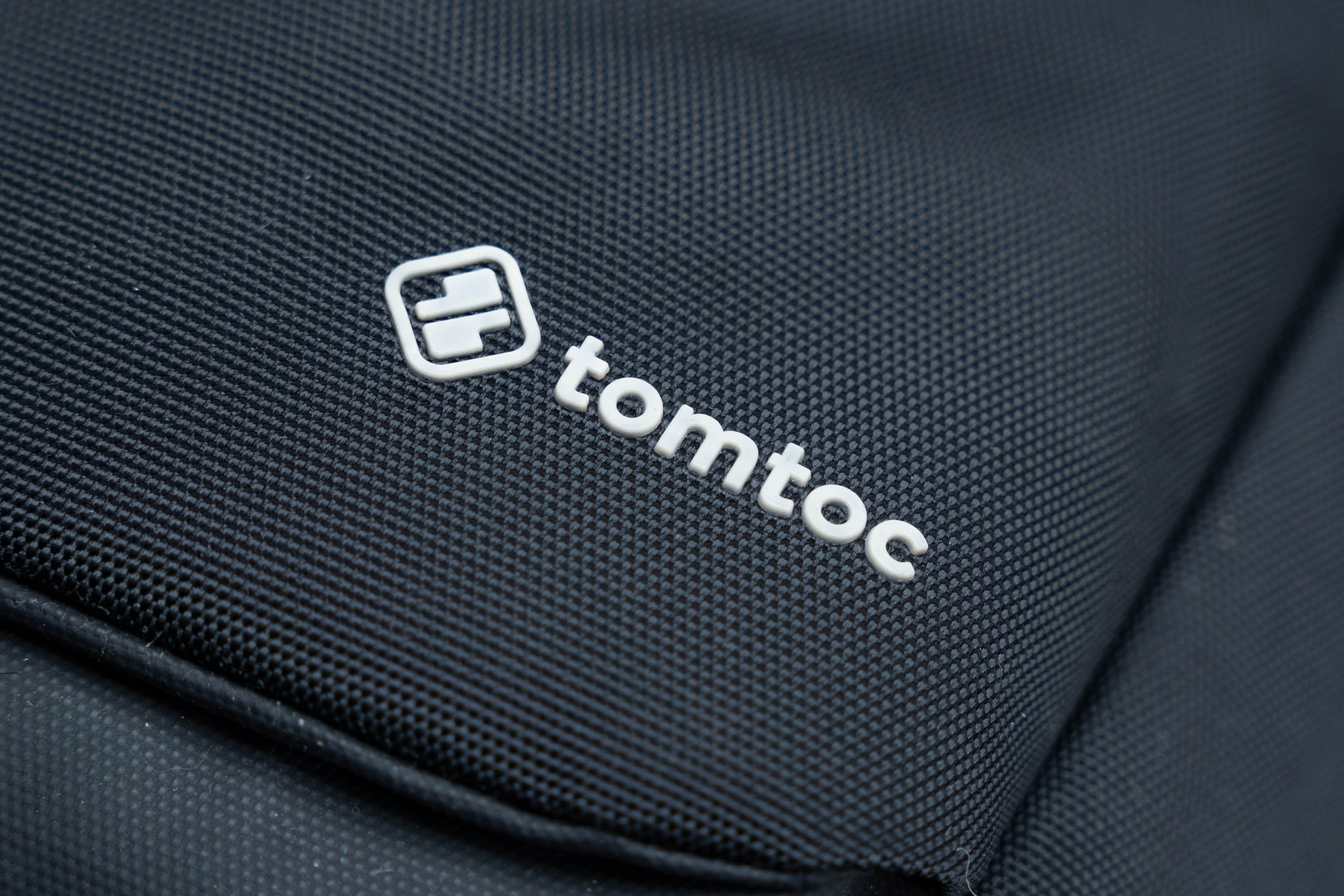 The zippers and fabric work well, and it's not like the Navigator-H71 will fall apart in your hands. However, feeling around and checking the bag's structure doesn't yield anything confidence-inspiring. It's "okay," although the fit-and-finish feels too loose in places where you'd expect top-tier brands to be more cohesive. For example, the Navigator-H71 lacks a frame sheet, making it too soft and baggy to carry.
Up at the top are two grab handles—Fjallraven Kanken Laptop Backpack fans, rejoice. Dual handles are great for a balanced carry and make toting a backpack by hand tolerable for longer. We don't particularly mind that, individually, the handles are thin since this 20-liter backpack isn't likely to be packing much weight anyway. Our only complaint with these handles is that the rear one pokes at the neck and can also get in the laptop compartment's zippers.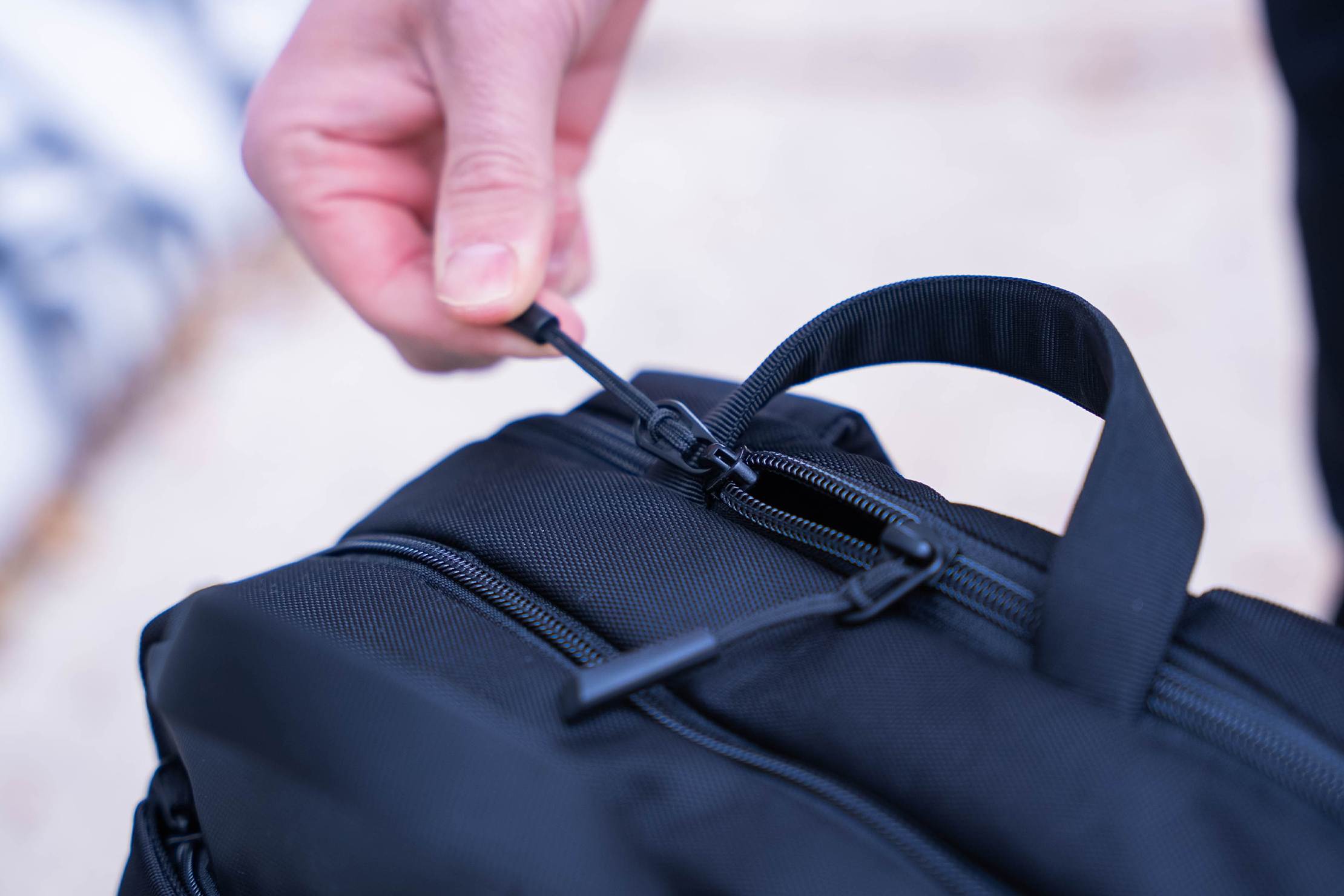 There's also a side handle on the right side of the Navigator-H71. This time, though, it's a single one, and that's honestly enough for short hauls and for taking the bag out of tight spaces. Keep in mind that a water bottle pocket is on the opposite side, although it's a bit loose. A 21-oz Hydro Flask fits with no problem, and built-in elastic provides some grip. Unfortunately, it's not enough for the slick finish on most insulated bottles; such is the case with the Hydro Flask. In other words, there's a good chance your bottle will slip out if you carry the Navigator-H71 sideways.
The bottle pocket has a hidden feature, by the way. Take a peek inside, and you'll find a pass-through hole where you can route a charging cable. It is handy for those who always find their smartphone running low on juice. That said, ensure you have a long enough cable if you plan to use your phone while you're charging it from a power bank inside the Navigator-H71.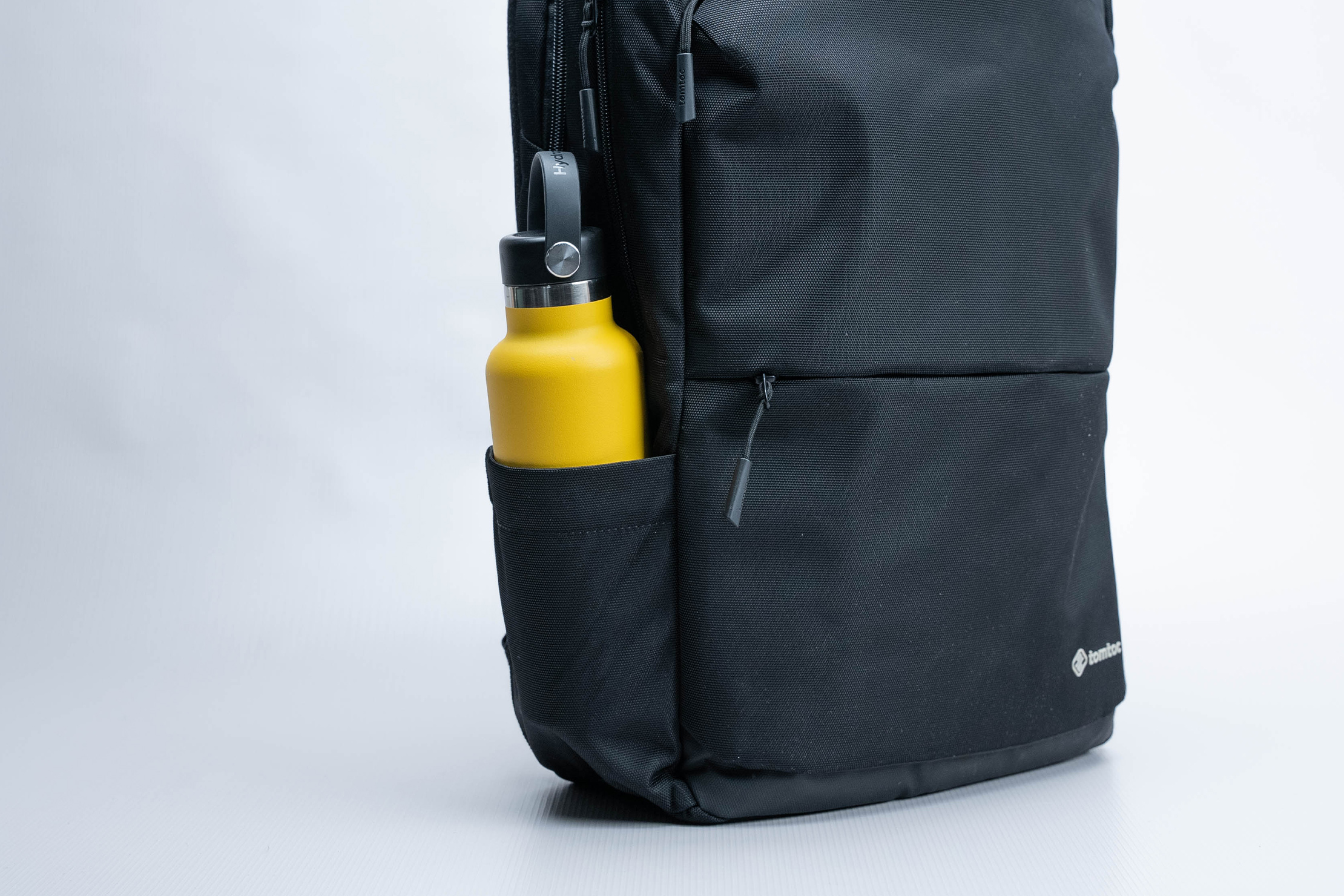 Next up is the Navigator-H71's harness system. The first characteristic we noticed about the shoulder straps is that there seem to be two kinds of foam used here. The outer layer feels dense, while the inner portion is cushy. We're not quite sure if this is a design feature since tomtoc doesn't explicitly mention this on their product page. Regardless, it strikes a balance of comfort while keeping a cohesive structure for the straps.
You may have already noticed that these shoulder straps lack a sternum strap. Yep, there are no frills here, folks, just a pair of supportive straps to carry them on your back. The harness system isn't all bad, though. A closer look at the back panel shows more than just mesh and padding.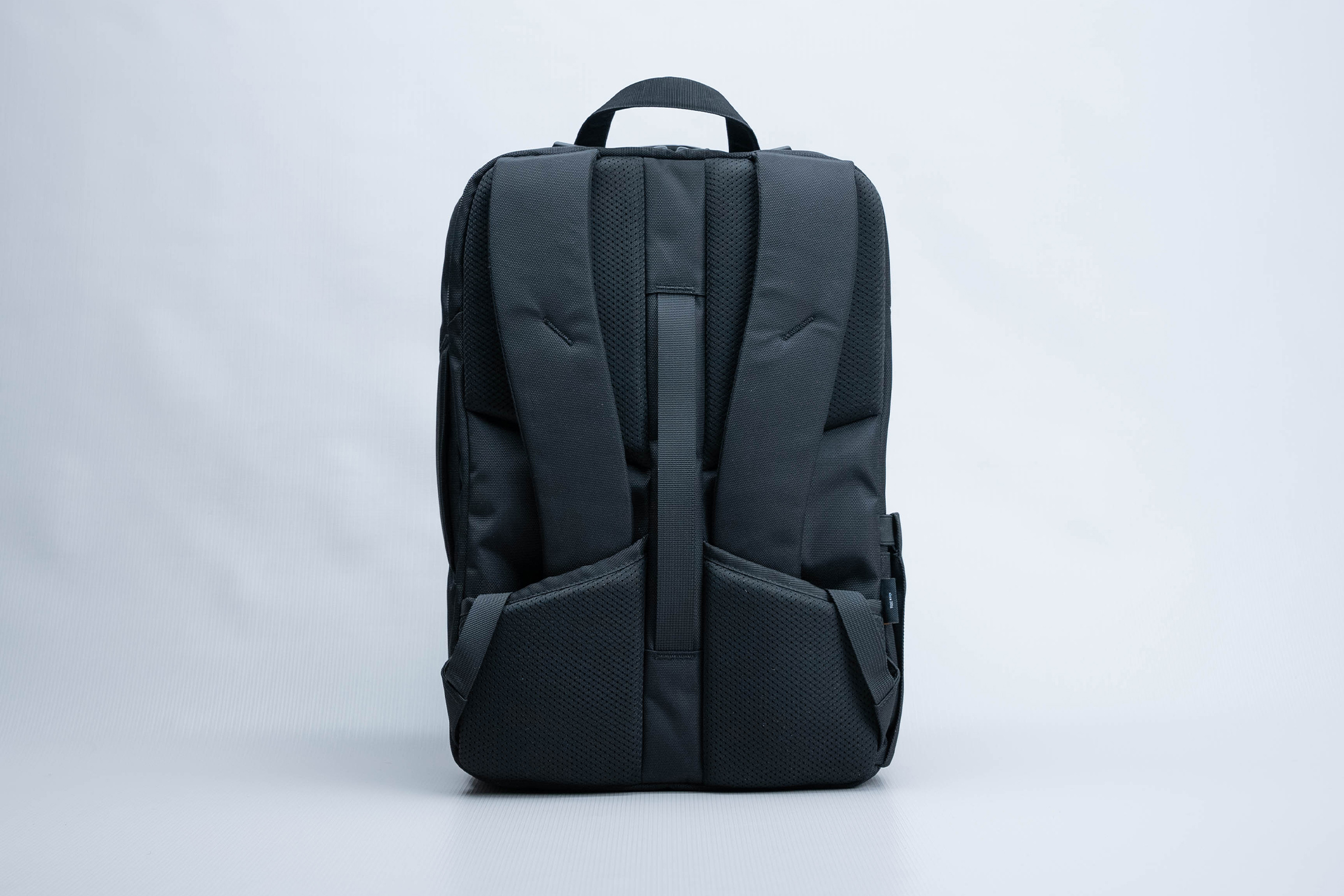 On the lower half of the back panel is a pair of pockets where you can stow each shoulder strap. You simply stuff them in—no fuss required, and we dig it. We've seen similar techniques applied to Heimplanet's bags, like the Travel Pack 34L (V2) and Transit Line Travel Pack, where the luggage pass-through doubles as storage areas for the straps. Compared with other brands that use a combination of clips, buckles, zippers, and compartments to stow their straps away, it's less clunky.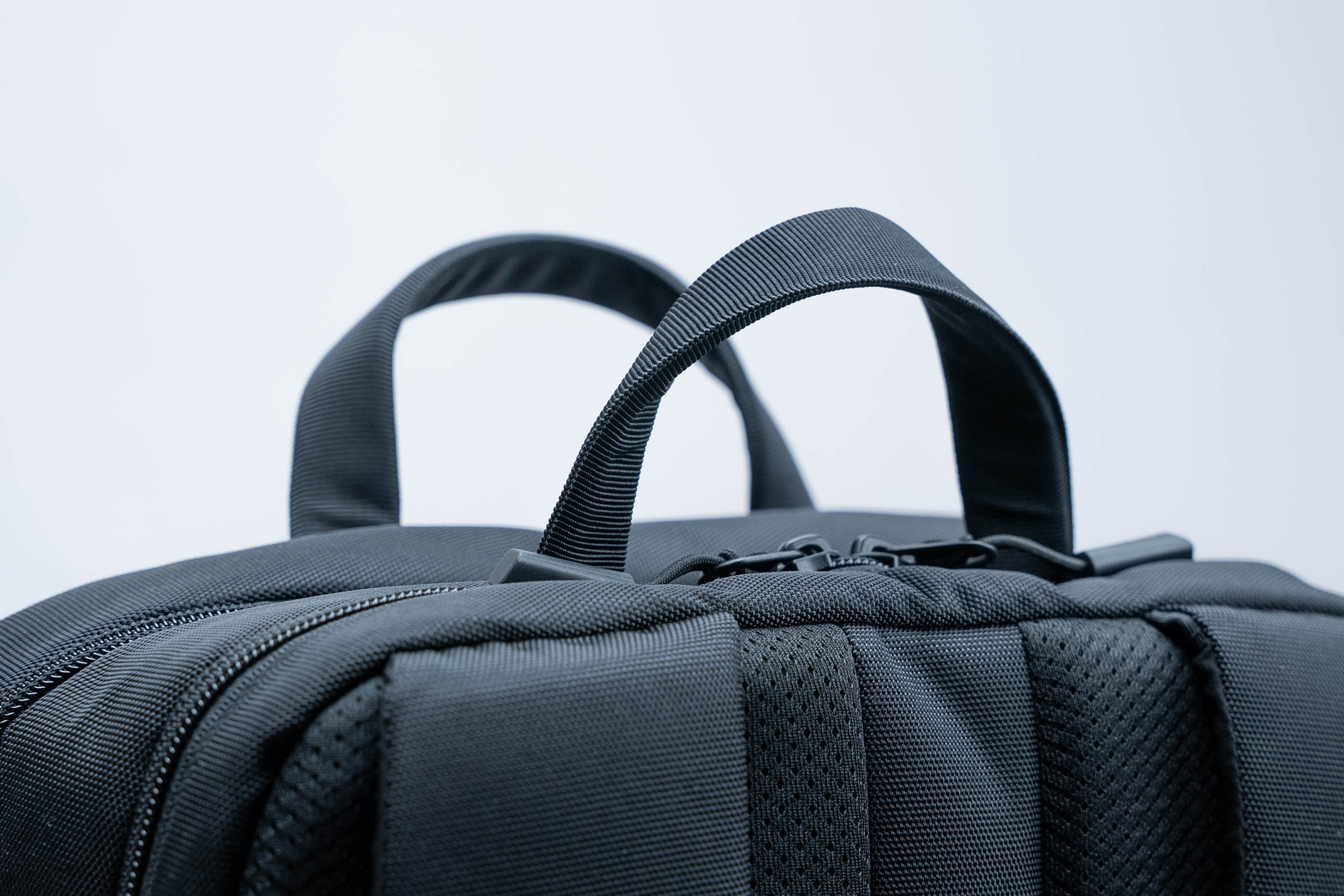 Lastly, embedded along the back panel is a thin strap acting as the Navigator-H71's luggage pass-through. It sits the bag horizontally on rolling luggage, which is less than ideal with the vertical internal layout (i.e., the pockets face upwards). Something else to keep in mind whenever you're carrying the Navigatore-H71 sideways, whether it's by the luggage pass-through or the side handle: items in the vertical pockets can slip out.
Fit Notes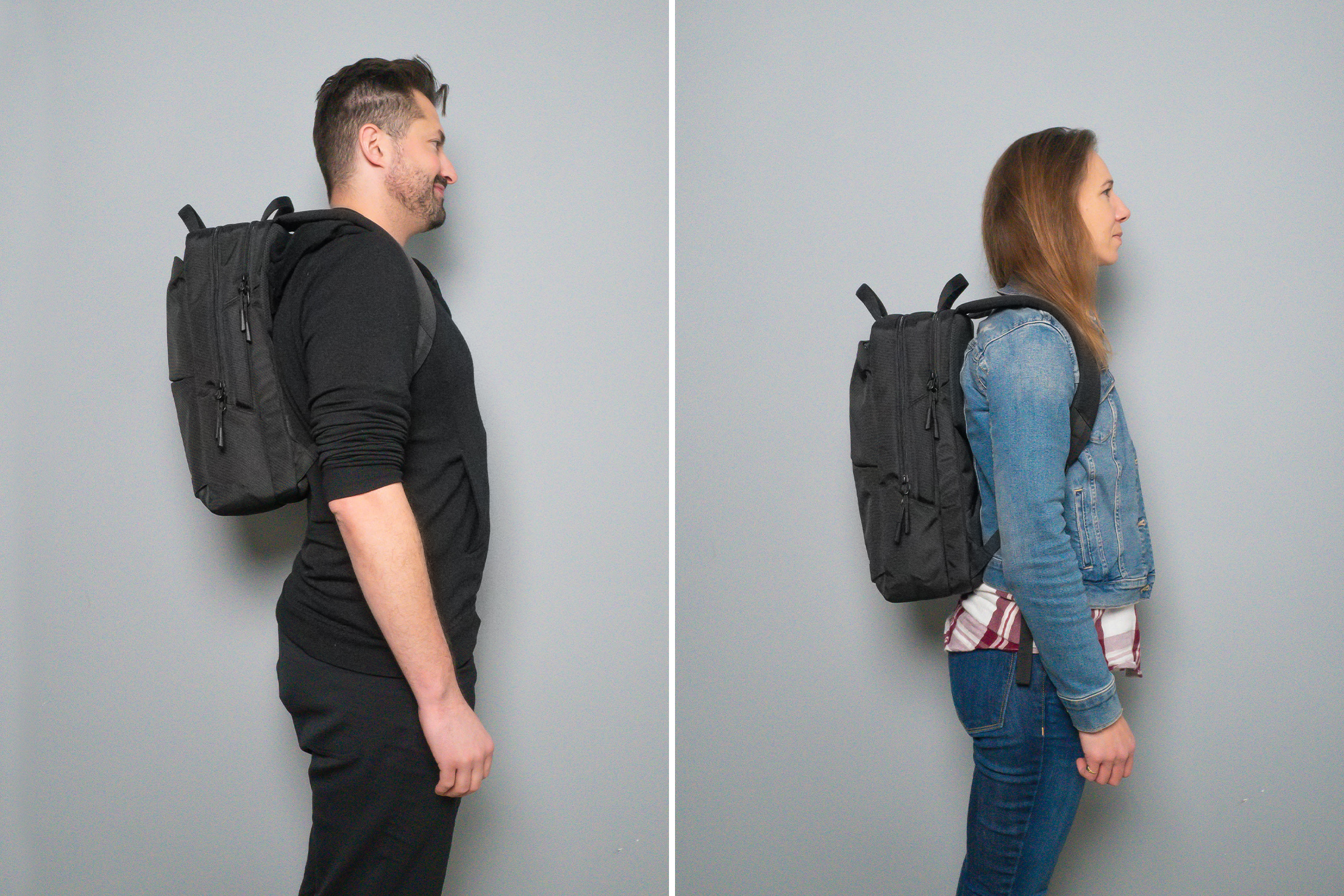 The Navigator-H71's boxy shape doesn't really contour well with the natural curve of the back; hence we like to wear it relatively low. For context, we generally wear backpacks high on the back for a more secure and tight fit. Consequently, this does mean that a frame sheet is optional on the Navigator-H71 since it already doesn't curve well.
A relaxed fit also works, and some folks prefer this more casual carry, which works in the Navigator-H71's favor. The rear half of the dual handles poke the neck when we wear the bag higher, and that's a big pet peeve of ours.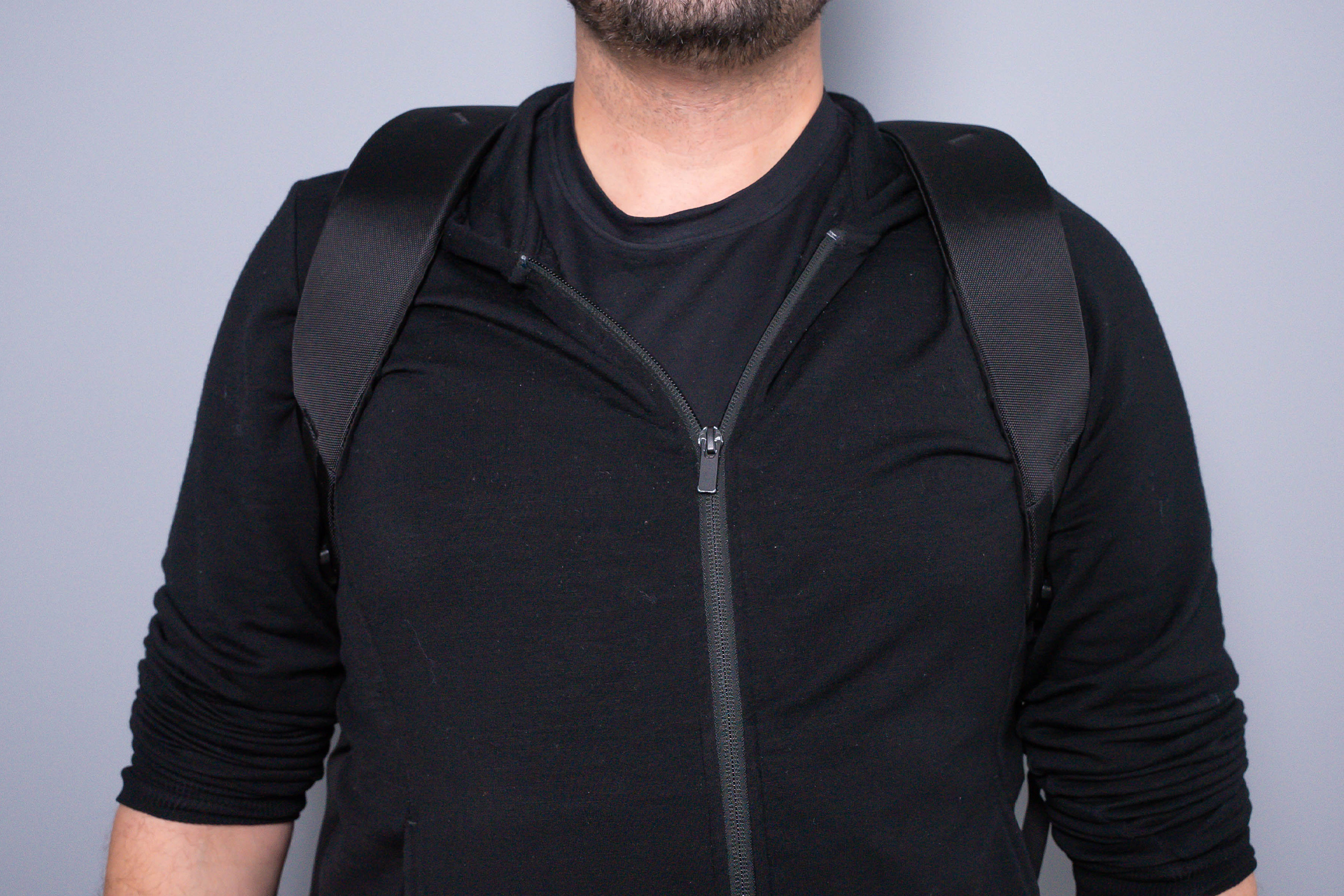 In case you were wondering, the Navigator-H71 doesn't come in other colorways. However, we're not too bothered by that since we prefer black, and we like the subtle aesthetic touches tomtoc made here. Take the front pockets, for example; a welt covers the top one, and the lower one recesses into the body. These little touches make the Navigator-H71 look a bit more premium than its price tag suggests, and it really cleans up the bag's overall appearance.
Inside The Backpack
Now it's time to get into the different compartments of the Navigator-H71. Remember, this is, first and foremost, a laptop backpack, so that's where we'll focus our attention. You may think that's a given; however, we've seen at least one laptop backpack miss the mark, namely the Timbuk2 Parkside Laptop Backpack 2.0, so we can't take things for granted. Before we get to the juicy part that is the laptop compartment, though, we'll first take a look at the secondary pockets.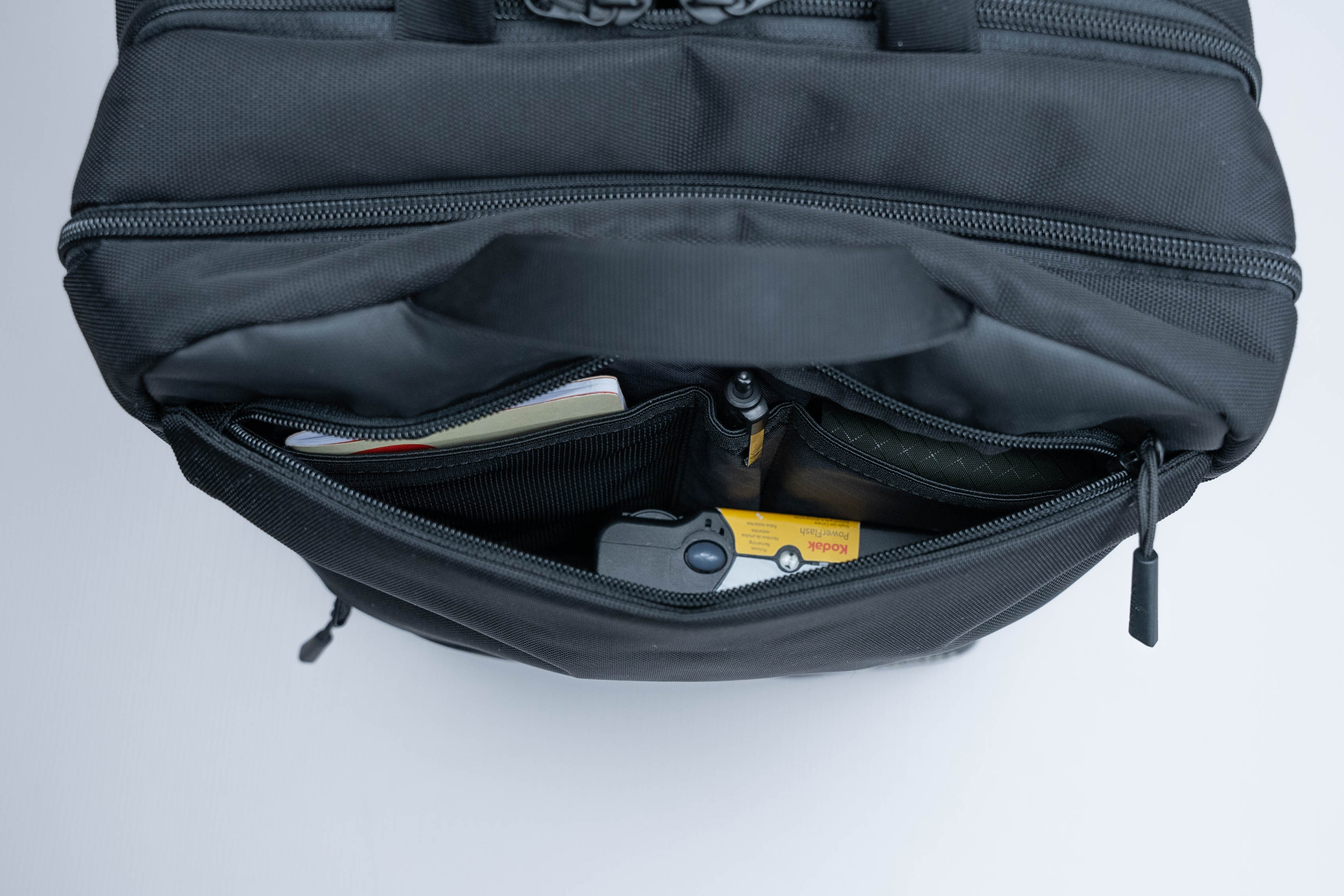 First up is the front top pocket that opens in a straight line zip along the upwards-facing fabric welt. Inside is a wide stretchy mesh pocket on the left, followed to the right by a Sharpie-sized pen pocket, then by a passport-sized liner pocket. While small accessories like an AirPods case or a small power bank fit inside the mesh pocket, larger items like the Matador Ultralight Travel Towel bulk it out so much that the rest of the interior becomes obstructed.
We're also not fans of the dark interior. Many tech accessories come in black, and they can camouflage well into a dark background, such as the one found in the Navigator-H71. Unfortunately, the rest of the bag's compartments are just as dim as this one.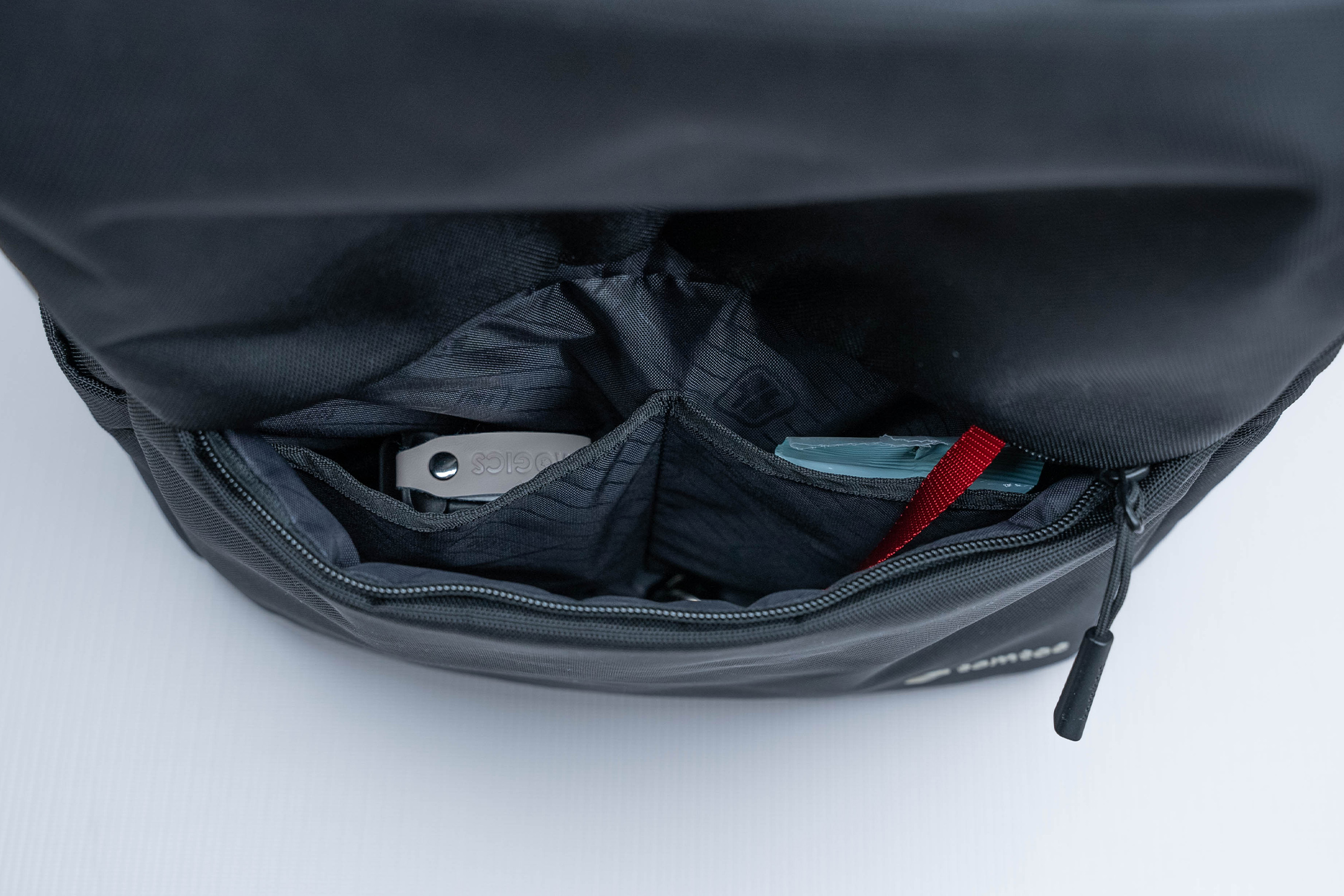 The lower front pocket also has its own organization options. There are two equal-sized slip pockets and a built-in key leash. These pockets work well with slim items like a Kindle and a compact charging adapter. However, like the front pocket above, usable space feels lacking overall. It's a shame because we really want to fit a packable jacket here; that's one of our must-have travel items. Sure, we can put one in the main compartment, but we'd rather have it in a more accessible area.
Finally, we arrive at the Navigator-H71's laptop compartment. It's located at the back, opens up horseshoe-style, and can fit a 16-inch MacBook Pro. Your laptop gets a dedicated soft-lined sleeve inside with more than an inch of false bottom to absorb impact from underneath—that's quite generous for a 20-liter backpack. It's worth noting that the felt-like material used here feels similar to the one they used on the Premium H13 for 12.9" iPad Pro, the only difference being the black color.

So what about the main compartment? It gets a standard horseshoe-style opening like the laptop compartment but with a lengthier zipper track that extends about two-thirds of the way down the sides. The front side has a zippered mesh pocket, while the rear has a document sleeve. The main issue is that using the mesh pocket for anything too bulky can easily obscure the space below. For context, we filled it up with gloves, and with the front pockets packed as well, the stacked bulk effectively hinders access to anything stored near the floor of the main compartment.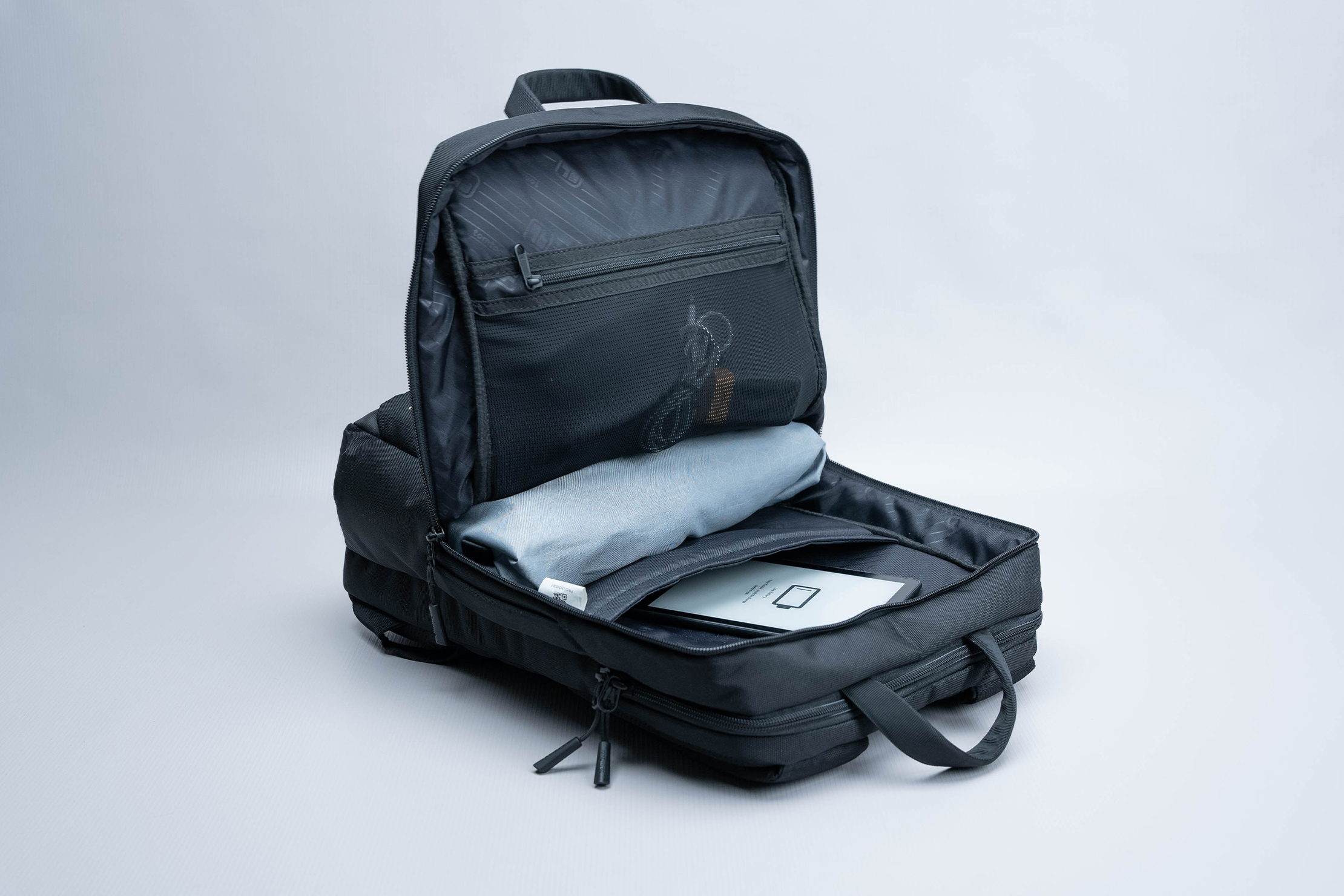 To be clear, the abundance of organization options in the Navigator-H71 isn't necessarily a bad thing. It's just that utilizing all of it requires strategizing to ensure accessibility doesn't suffer. While it is a bit rough around the edges when it comes to attention to detail, tomtoc manages to nail the basics of a laptop-focused backpack at a reasonable price.
Usage Timeline
Initial Usage
Condition: Excellent
Dig how the straps can tuck away quickly to get out of the way
Fabric/material feels a little loose & on the cheaper side
Top handles seem like a nice touch—will see how it feels during testing
2 Weeks of Use
Condition: Excellent
Strap stowaway system is a great little feature
A lot of pockets and organization offered, but we found it can be hard to use all of these at once unless you have very flat items
Water bottle pocket isn't very grippy—easy for a bottle to slide out
Access the Pro Community Discussion
Get your questions about the tomtoc Navigator-H71 Laptop Backpack 20L answered from our team and the Pro Community right here on the page. Plus, join discussions with other members about gear, guides, and more.
Other Bags & Luggage Reviews