tomtoc Premium H13 For 12.9" iPad Pro Review
The tomtoc Premium H13 is a compact tablet sleeve that packs enough accessories to turn a tablet into a workstation—and it even carries comfortably as a sling.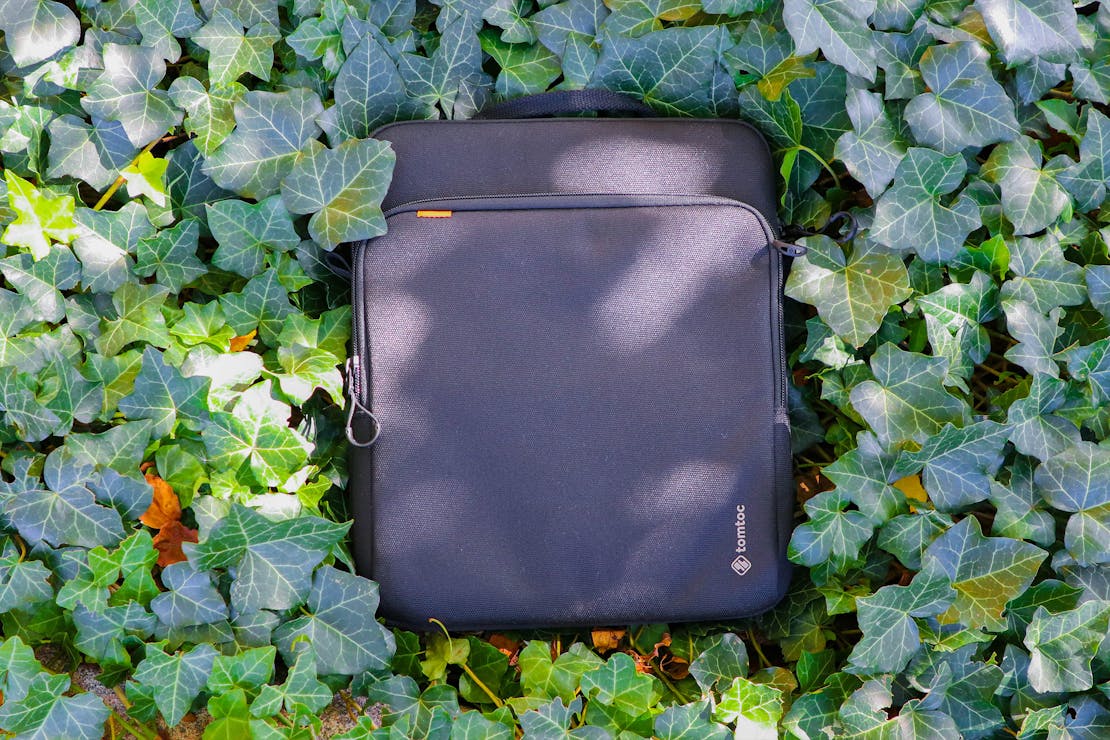 Our Verdict
Unlock the Pro Summary
Save time. Get access to brief summaries of our reviews so you can browse and make decisions more efficiently.
Pros
Materials and construction are durable
Has enough organization for a modest tablet-based work set up
Slim profile carries comfortably
Cons
Items in mesh pocket can conflict with items in the liner pockets
Fit may vary depending on how thick your iPad Pro's case is
Not the most spacious if you need to bring a lot of accessories
Recent Pack Hacker Video
Technical Details
100 %
Carry-on Compliance
Weight (oz)

14 oz (396.9 g)

Dimensions

12 in x 9.92 in x 0.87 in (30.5 x 25.2 x 2.2 cm)

Notable Materials

CORDURA® Nylon, Polyester, YKK Zippers

Manufacturing Country

China

Warranty Information
Buying Options

$49.99
$47.99
Full Review
Get up to 20% off tomtoc • Join Pack Hacker Pro
Tablets are amazingly capable devices, more so if you're touting something like Apple's iPad Pro. Depending on your workflow and needs, they can be an all-in-one device like a laptop, sans the keyboard and the excess bulk. Much like any computer, though, life with them is oh-so-much easier if you have the right accessories. We personally like to use our iPad Pro with a stylus for retouching photos and videos. We'll even connect a Bluetooth keyboard if we need to whip up a quick document.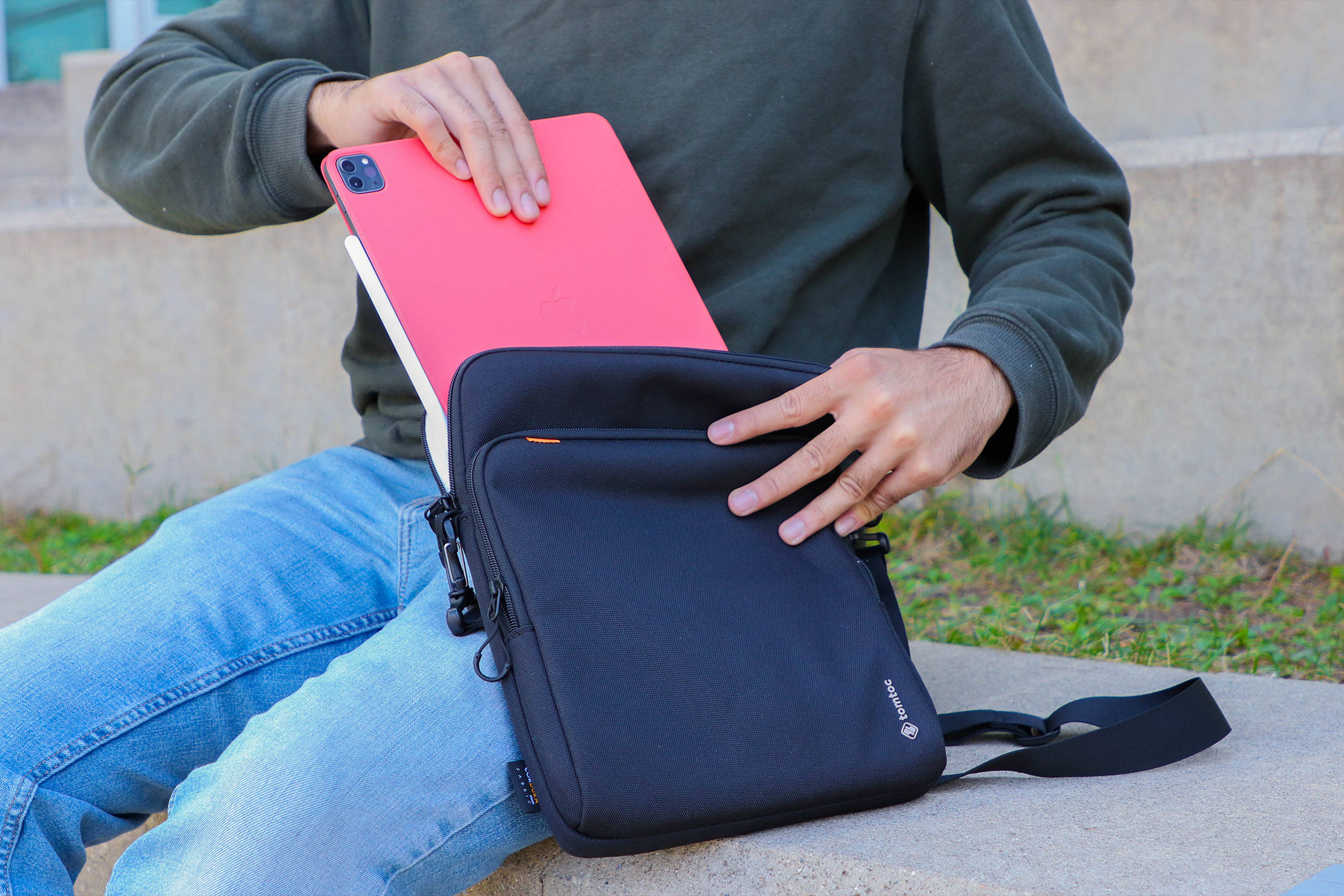 All of that said, it's clear that a tablet-centric workflow is possible, and tomtoc agrees. In this review, we'll be checking out their Premium H13. It's a tablet sleeve/sling with the extra functionality and space for carrying a few accessories to turn an iPad Pro into a capable workstation. The Premium H13 does come in other sizes for other devices like smaller iPads and Macbooks, but we'll be focusing on the one intended for 12.9-inch iPad Pros. Thorough consideration is recommended if you're looking to move to a more modest tablet-based setup like this, so let's see if this one fits the bill.
Materials & Aesthetic
A huge part of the marketing around the Premium H13 centers around the materials used. The stars of the show are the CORDURA Nylon and YKK zippers and hardware—if there were a duo we would wholeheartedly trust, this would be it. We've tested out a lot of bags over the years using CORDURA fabrics and YKK zippers and hardware, and we've rarely had problems with them. You can find them in pretty much everything, from small pouches to big travel bags, and they're regarded as industry-standard.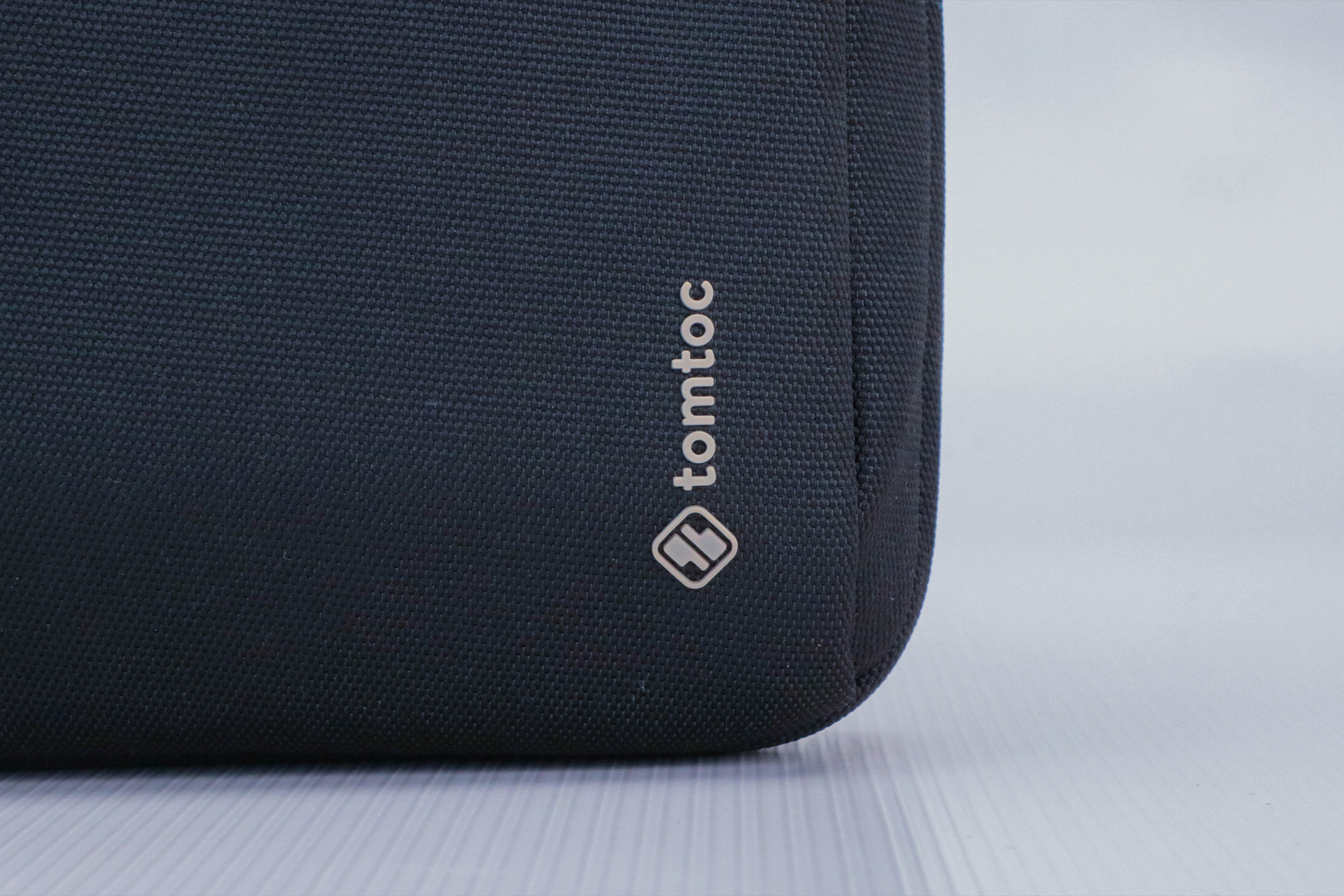 We think tomtoc has made a wise choice going with these materials for the Premium H13. But this isn't to say we're giving it an automatic pass. As with all gear we get our hands on, we put the Premium H13 through its paces, and we're happy to report that our trust hasn't been misplaced.
The thick nylon shell is able to cope well against rough surfaces. During one trip, we found ourselves setting it down repeatedly on the pavement of a parking lot. Once the day was over, there wasn't any noticeable damage to the fabric, except for some dirt. Speaking of which, most fluff and dust can be wiped off easily. However, there is no water-resistant coating, so prolonged exposure to rain isn't something we would take a chance with.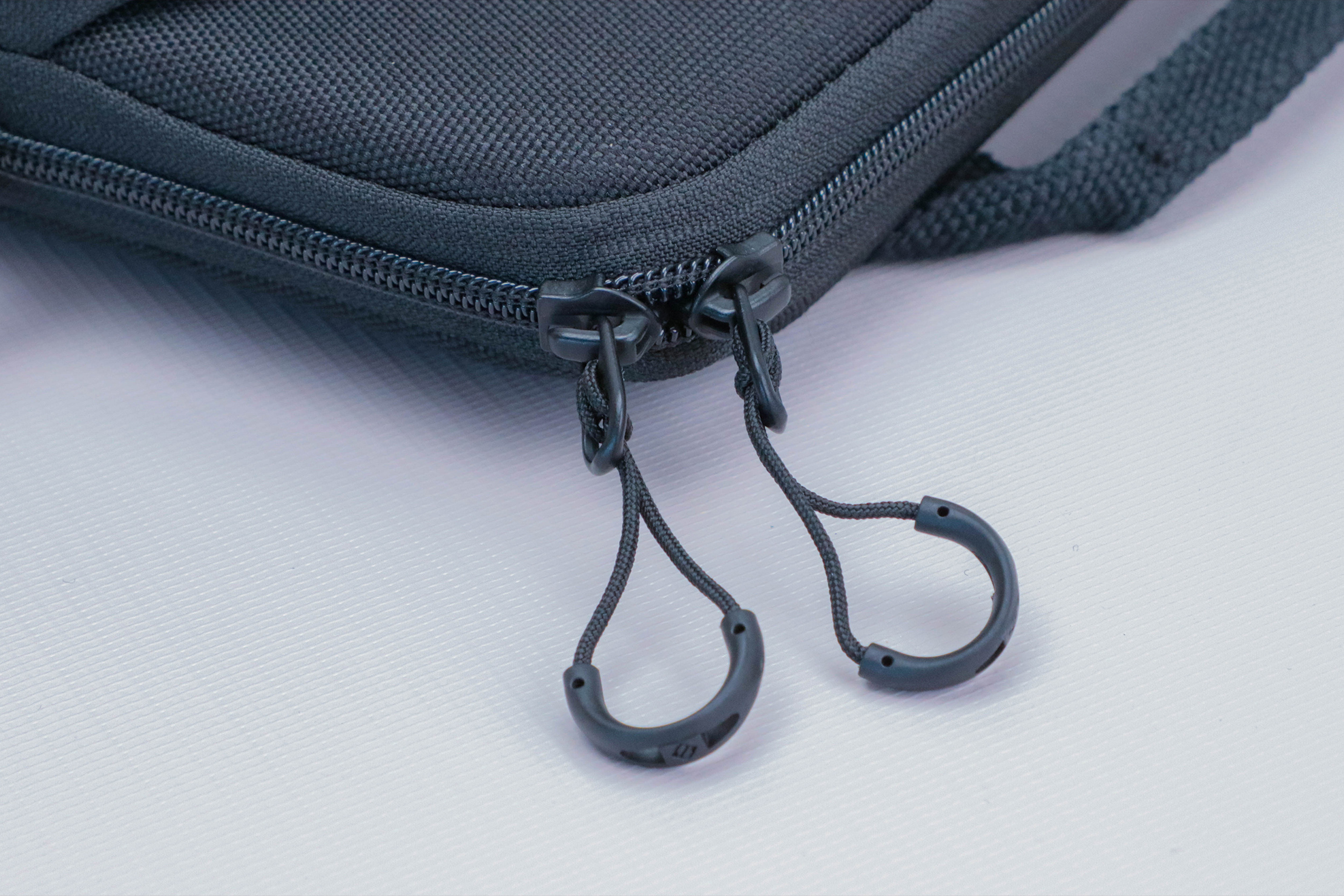 The hardware performed just as well, with the zippers being easy to open and close. A good way to test a bag's zippers is by trying to open it in the dark. In this regard, we didn't have to struggle too much trying to unzip the sleeve, whether it was in our car at night or a dimly lit cinema. The metal pulls also come with rubberized ring pulls that are easy to grab, even when not looking.
While the materials do all the talking, the looks come off as more restrained. The all-black fabric doesn't have much in the way of garnishing, just a lone orange tab, the tomtoc logo, and a CORDURA tag. We don't mind this approach since we'd rather not draw too much unnecessary attention to our bag full of expensive electronics. Thankfully, however, the darkness doesn't extend to the interior, as we'll see later on.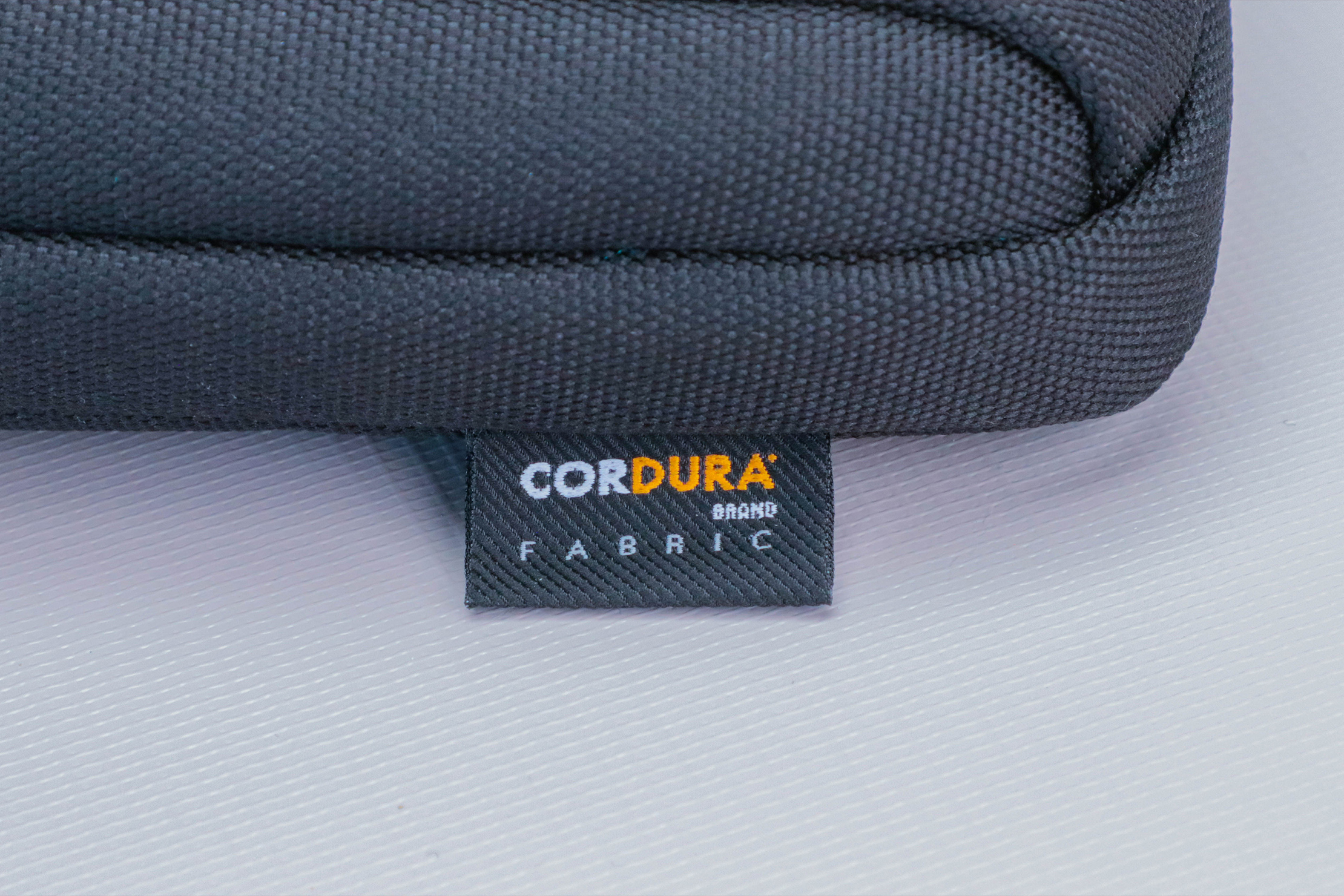 The Premium H13's shape takes more after a laptop or tablet sleeve; rectangular with rounded edges. The difference here is that tomtoc's design adds a bulging front pocket and some dangly bits courtesy of the sling strap. But even with those additions, the Premium H13 successfully leans more towards minimalist charm and classy styling. It not only looks at home in a professional boardroom meeting, but it also blends well wherever our work takes us, be it a chill downtown cafe or a lively co-working space.
External Components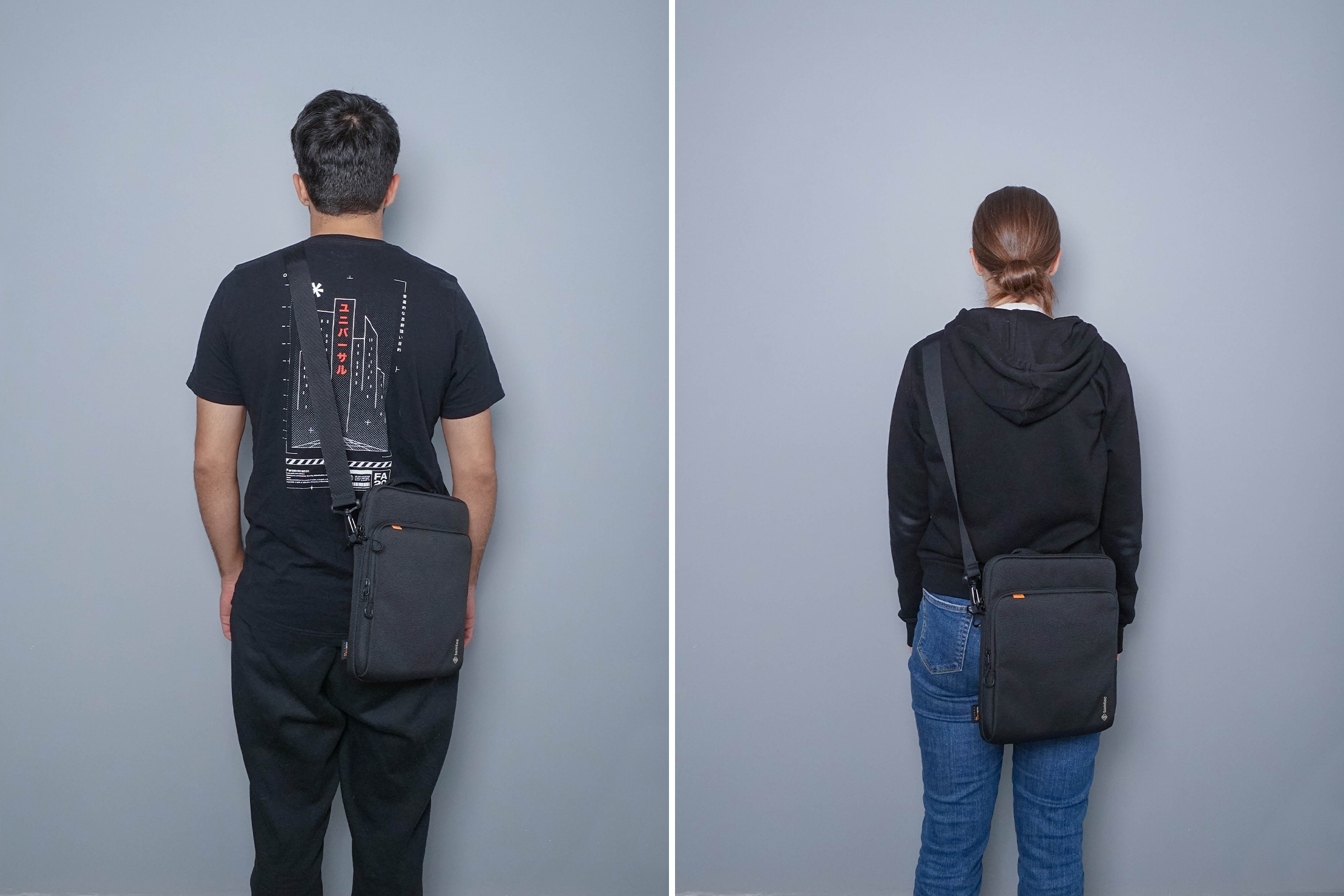 As mentioned earlier, the Premium H13's exterior is fairly minimalist, retaining most of its slim tablet sleeve form. But there are noteworthy features here that set the Premium H13 apart from a basic tablet sleeve. Most sleeves don't come with a handle or a strap to keep things compact. This, in turn, allows them to fit easily inside backpacks that don't have their own dedicated sleeves.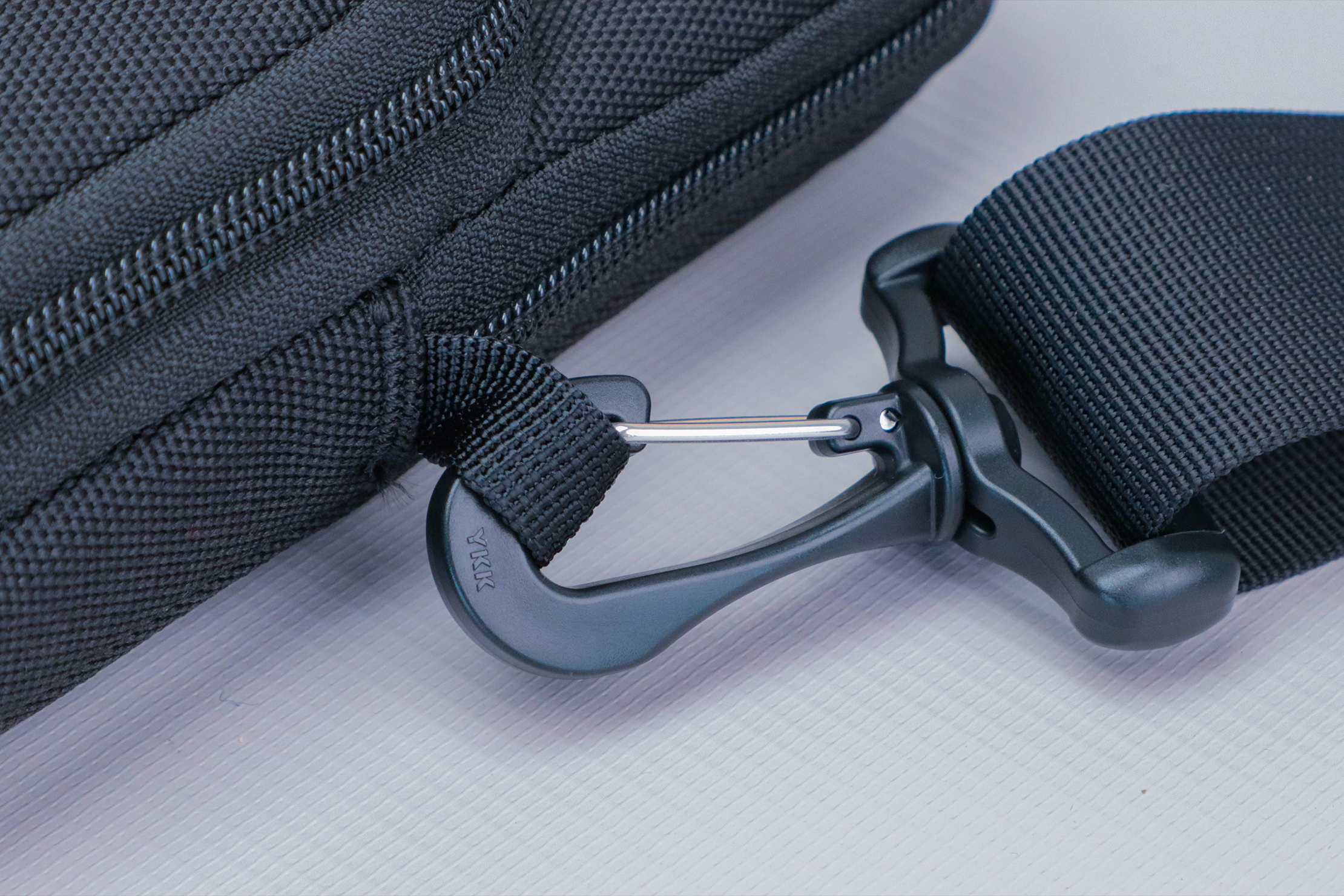 However, tomtoc does intend for the Premium H13 to be more than just a tablet sleeve. Included in the package is a simple but high-quality shoulder strap. This attaches to the small nylon loops at the sides of the Premium H13, just below the ends of the main compartment's opening. As with the zippers, the strap's gatekeeper clips are also from YKK, and they're pretty beefy and tactile ones too. The nylon loops themselves are stealthily bartack stitched into the main fabric, so we're confident it's not a weak link by any stretch of the imagination.
The strap system is relatively simple and robust. But how comfortable is it to actually wear? The good news is that despite its tablet sleeve underpinnings, the Premium H13 handles well as a sling bag. The first factor has to be the included strap. It's easy to adjust the length, but the adjuster also has just the right amount of resistance that it doesn't just slip on its own. The clips themselves also freely swivel, which eliminates any awkward twisting along the strap. Thanks to this, we're able to quickly and easily get comfortable with the Premium H13 from the get-go.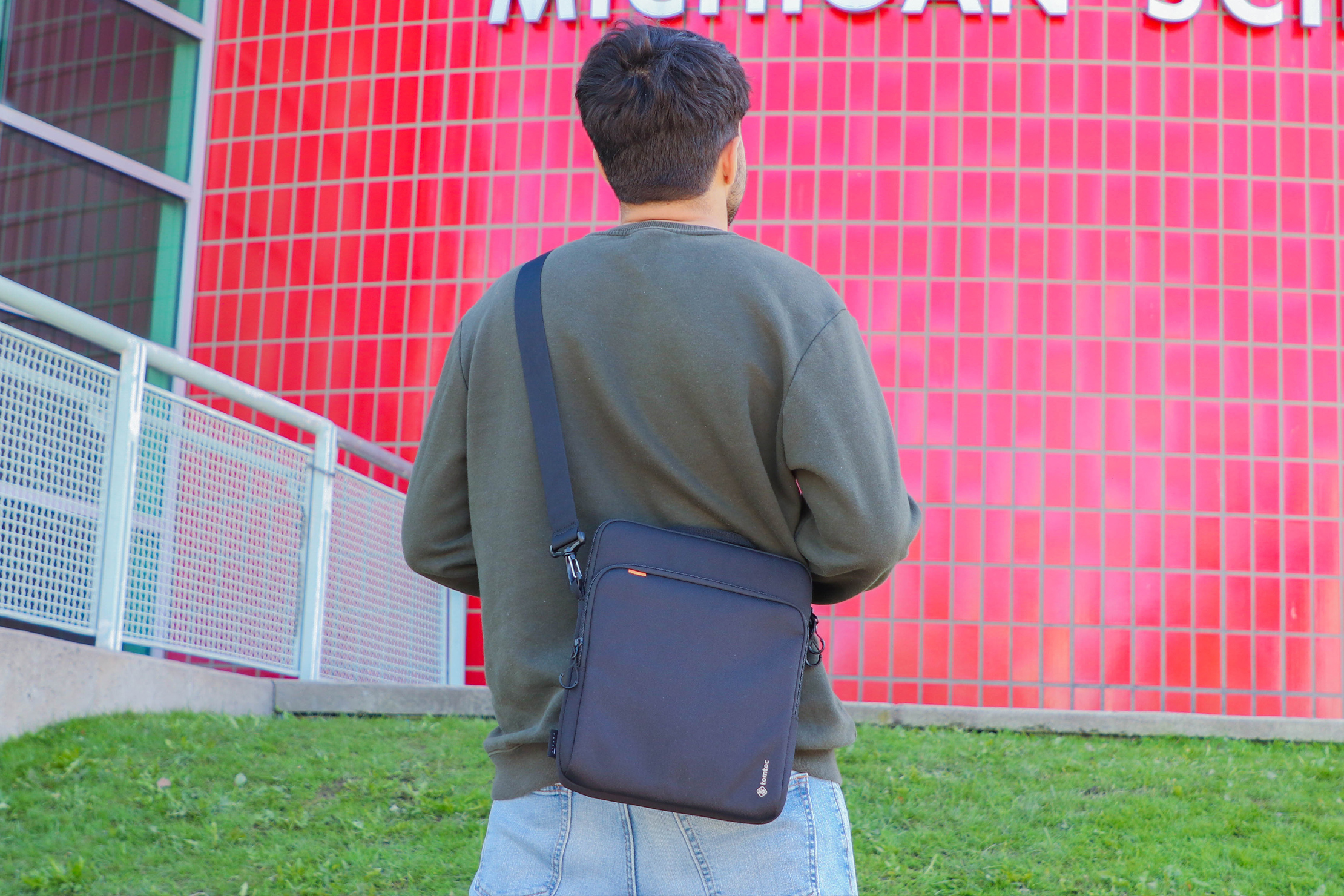 The second factor in the Premium H13 carrying comfort is its size. We've already emphasized how this is basically a souped-up tablet sleeve that retains its slim profile. Because of this, it sits flush against us whenever we are wearing it crossbody-style or even on one side. The key is to make sure that the length of the strap isn't too long. Otherwise, it can lead to the sleeve swinging too much.
We're generally pleased with how the Premium H13 handles. Thanks to its dense design—and having the strap adjusted to the right length—it never lost its well-integrated and flush carry, even after a full day of zig-zagging around a busy mall.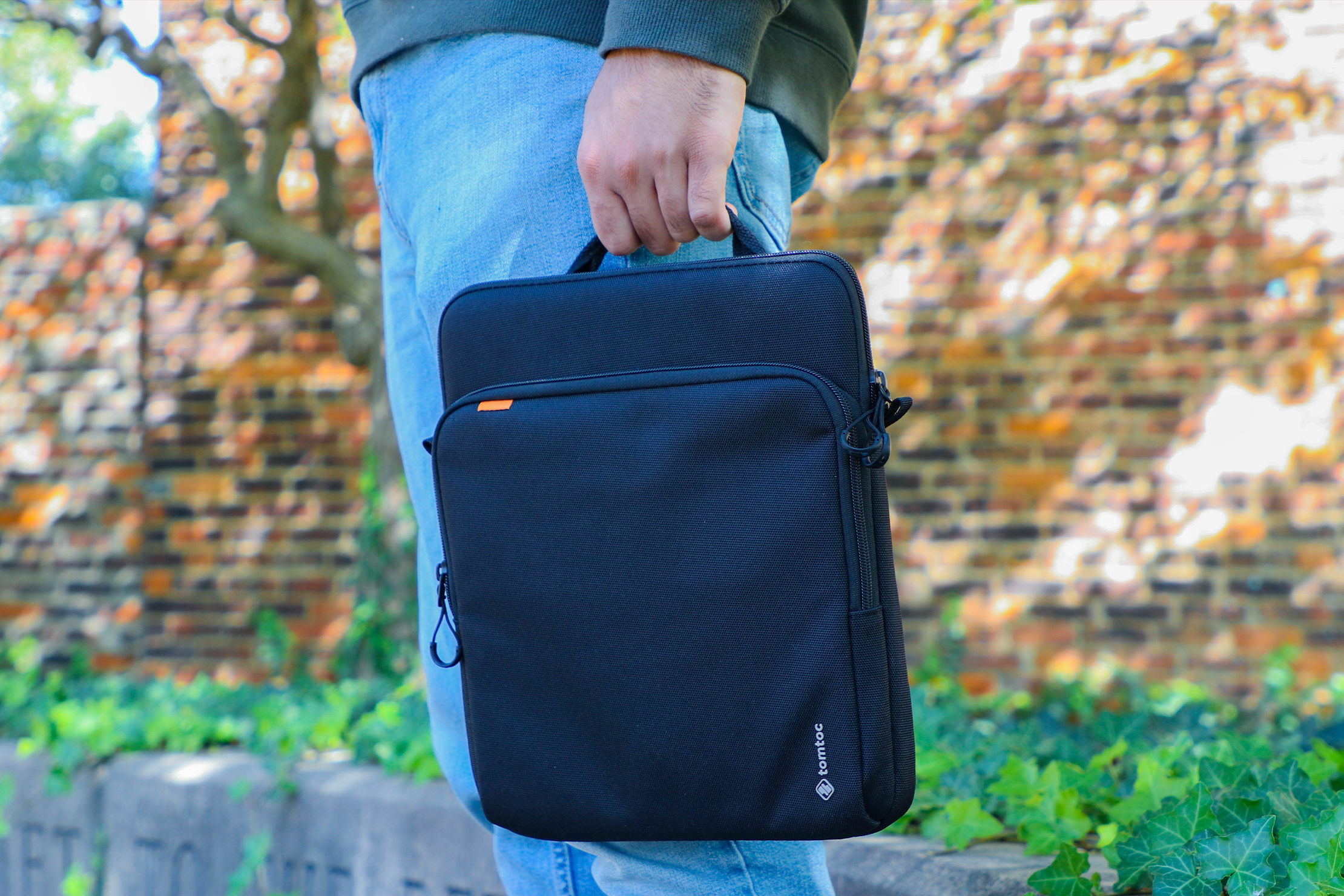 There is also a top grab handle stitched at the back. However, since it's a one-sided handle, using it feels unbalanced. It's more of a handle for pulling the sleeve out of a cramped bag, and this is what we primarily use it for. That said, the material is thick, folded nylon, so it's not the most uncomfortable handle to use for long periods, given the sleeve's intended capacity and use case.
Inside The Sleeve
The Premium H13's front pocket covers about four-fifths of the sleeve's surface. To an extent, that translates well to how much available space there is inside. But for the most part, it's only enough for a modest, tablet-centric setup. It opens up horseshoe-style, going about halfway down the side of the pocket—that makes for a relatively wide opening for a front pocket.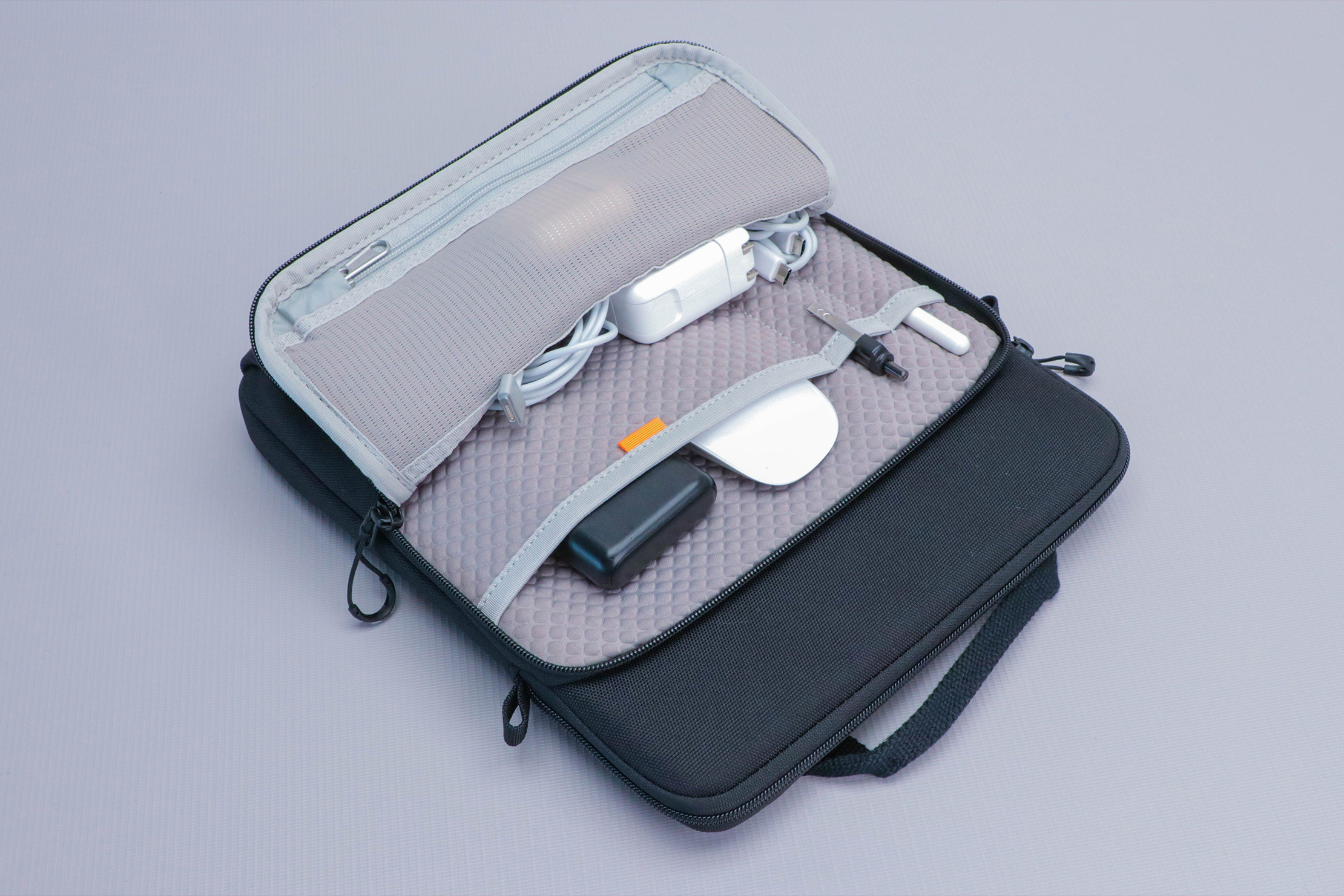 Towards the back, there are two pen silos and a wide liner pocket. Simple and straightforward, these pockets are enough for a stylus like an Apple Pencil, plus a regular pen or pencil since we still need to go analog from time to time. The wide liner pocket is large enough for a small e-book reader, a travel mouse, a slim battery bank, or a combination of those. Bulk is something worth watching out for, though, as we'll explain later on.
Meanwhile, on the front side, there's a zippered stretchy mesh pocket. The material feels very thin and light, but at the same time, it doesn't feel like it will tear easily either. It's positioned near the opening as well, so accessibility is fairly easy. A neat little bonus is the small zipper garage at the end of the opening. It's not really for weather resistance since it's an internal pocket. But its inclusion does help prevent the chunky YKK zipper from dangling outwards and jamming the main opening.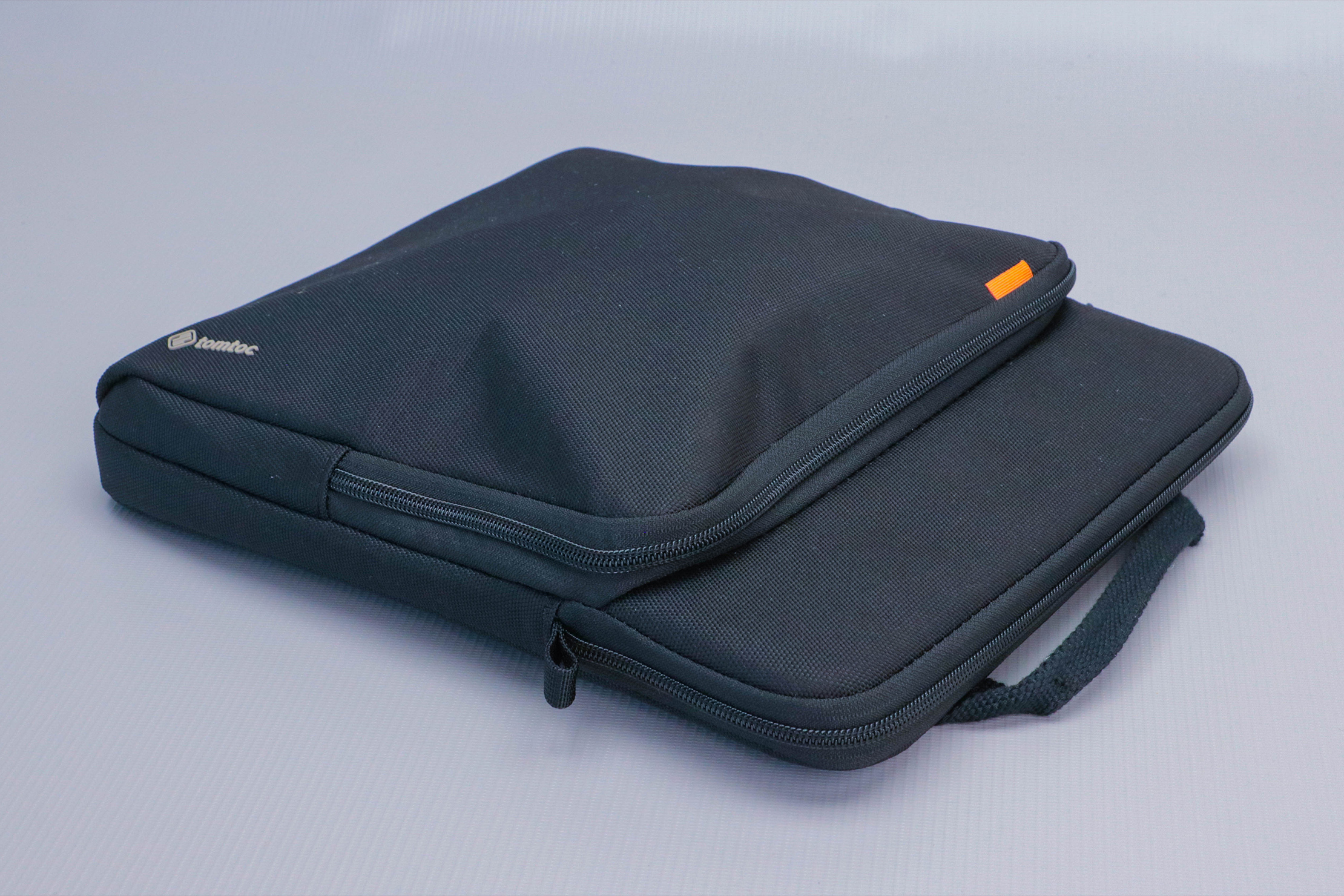 One thing to note about the mesh pocket and liner pockets is that they can conflict with each other. We put our wireless earphone's case in the mesh pocket, and it frequently clashes with the battery bank inside the liner pocket. It makes closing the front pocket tricky, so there's definitely a stacking issue that needs to be worked around. Our solution is to put bulky items like battery banks in the deep space of the front pocket itself. Again, the available space is limited, making the Premium H13 more suited to setups with not too many accessories.
The main compartment of the Premium H13 gets the most level of protection. No surprises there, again, given that it's a tablet sleeve at its core. The liner fabric is quite different from the one used in the front pocket. This fabric feels a lot softer and more felt-like, with larger oblong bumps—it's reassuring to use even when we go caseless on our iPad Pro.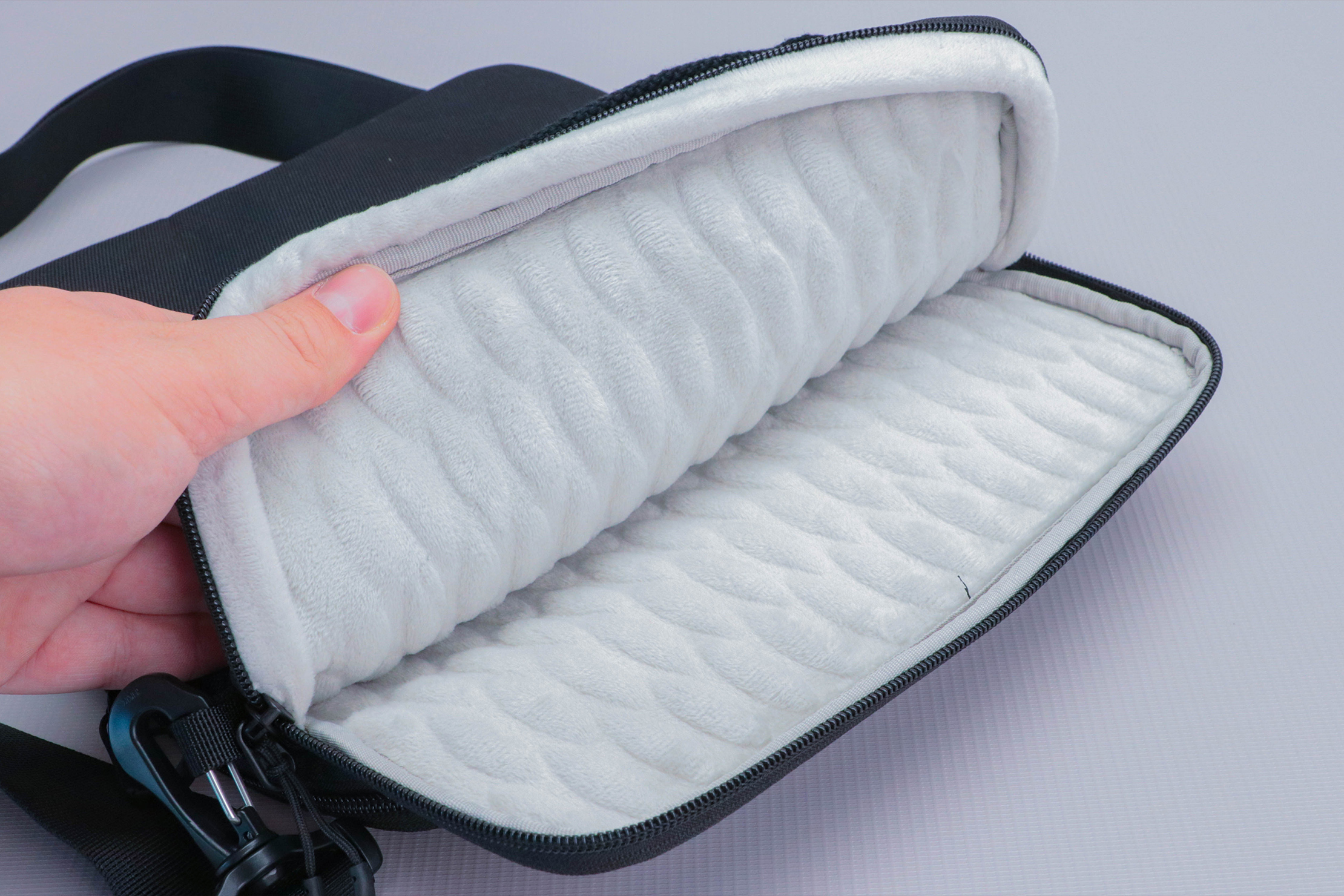 However, we most often do use a case with our iPad Pro, and there is something to be said if you're using one too. In our experience, if the front pocket's fully packed out, our iPad Pro with a case doesn't slide in easily. This may be because our case has rubberized corners, but it takes a bit of pushing in to get the tablet inside. On the other hand, it does make for a secure and protective fit around the device.
Your mileage may vary depending on what case you're using. tomtoc themselves spec the Premium H13 as being compatible with 2018-2021 iPad Pro 12.9-inch models with either a Magic Keyboard Folio or Logitech Slim Folio Pro Case attached. From our testing, we're able to fit our 12.9-inch iPad Pro 2020, fitted with a slim bumper case, plus a slim mini Bluetooth keyboard smaller than the iPad Pro itself.
tomtoc touts the Premium H13 as having what they call "Corner Armor". The name is self-explanatory, and for the most part, the edges of the Premium H13 do feel well-padded. Combined with the tight fit of the compartment, our iPad Pro sits secure and flush, which really sums up how the Premium H13 performs.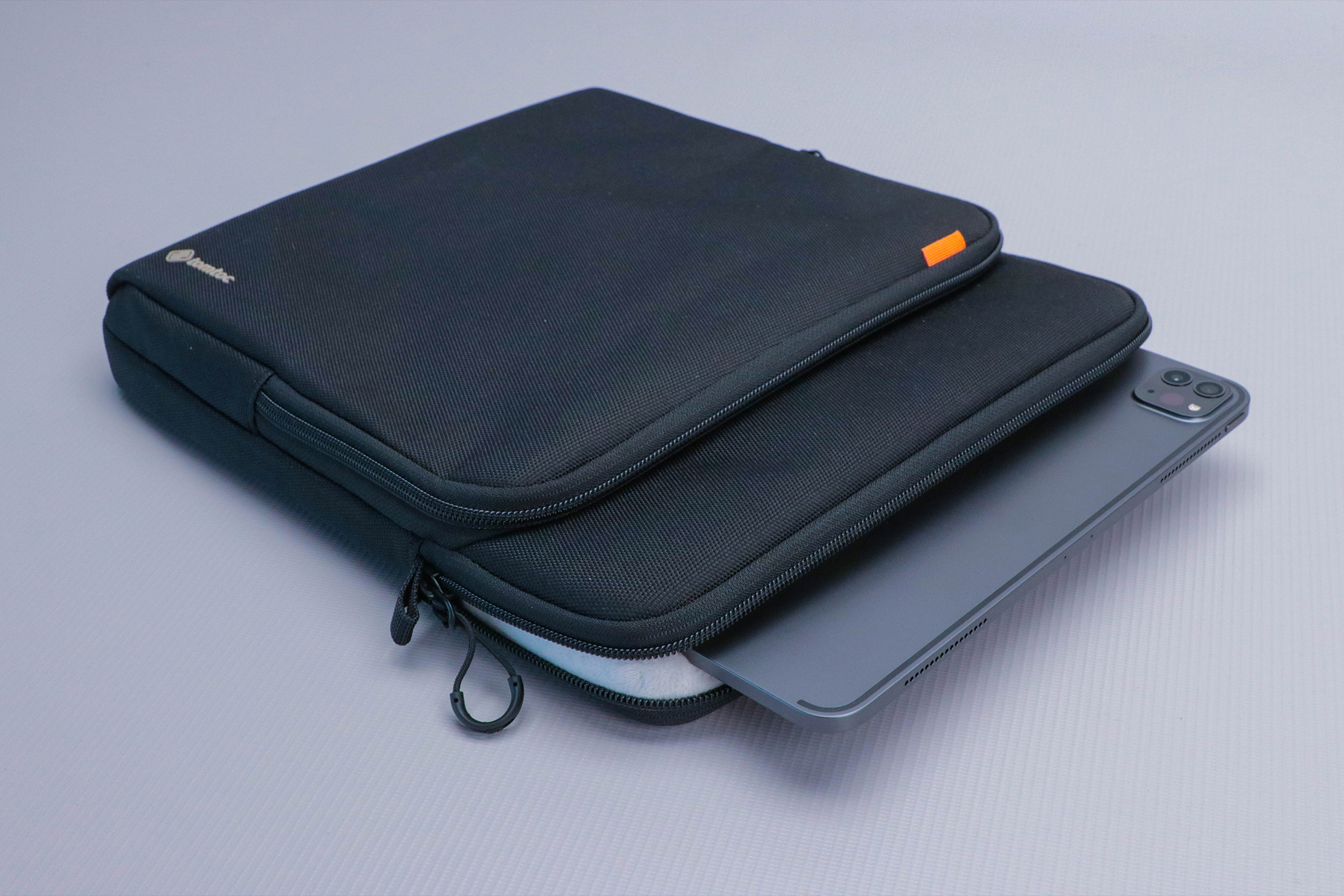 What we really appreciate with the Premium H13 is how it's enough for its intended use case. It doesn't feel as barebones as a basic tablet sleeve or as bulky as a full-sized messenger bag. There are just scenarios where going simple and minimalist makes perfect sense, whether it's for ease of movement or simply for reducing clutter. If you're looking to go down the minimalist tablet workstation route as we did, the Premium H13 doesn't disappoint.
Usage Timeline
Initial Usage
Condition: Excellent
Designed for the 3rd, 4th, and 5th gen iPad Pro 12.9″
Interior bottom corners are thickly padded
Tablet compartment feels really soft to the touch
2 Weeks of Use
Condition: Excellent
It handles really well in crossbody mode; the main bag rests well against you despite the simple strap system
Taking out our 2018 12.9-inch iPad Pro with a rubberized protective case is a bit tough because of the tight fit
Items inside the mesh pocket can conflict with other bulky items occupying the liner pockets
Really digging the tablet sleeve, sling, and organizer functionality all offered here; it's enough for a modest, tablet-centric setup for working remotely
Access the Pro Community Discussion
Get your questions about the tomtoc Premium H13 For 12.9" iPad Pro answered from our team and the Pro Community right here on the page. Plus, join discussions with other members about gear, guides, and more.
Other Bags & Luggage Reviews