Timbuk2 Q Laptop Backpack 2.0 Review
The Timbuk2 Q Laptop Backpack 2.0 is a well-organized everyday carry bag that also works for travel, but a narrow opening slows access to the main compartment.
Our Verdict
Unlock the Pro Summary
Save time. Get access to brief summaries of our reviews so you can browse and make decisions more efficiently.
Pros
Boxy shape stands upright
Lots of organizational options
Sleeves for both a laptop and tablet
Cons
Bottle pocket obstructs main and laptop compartment zippers
Difficult to access all main compartment space
Potentially too many pockets—not all get used
Recent Pack Hacker Video
Technical Details
Capacity

20l

Weight (lb)

2.1 lb (1 kg)

Dimensions

18.5 in x 11 in x 5.12 in (47 x 27.9 x 13 cm)

Notable Materials

Recycled Nylon, Polyethylene, Polyurethane, YKK Zippers, Unbranded Hardware

Manufacturing Country

Indonesia

Laptop Compartment Size

17"

Warranty Information
Full Review
When a bike messenger starts a bag company, you might assume they've taken steps to ensure products include thoughtful organization and a comfortable carry. A daypack is certainly easier to carry on the go than a stiff briefcase, that's for sure.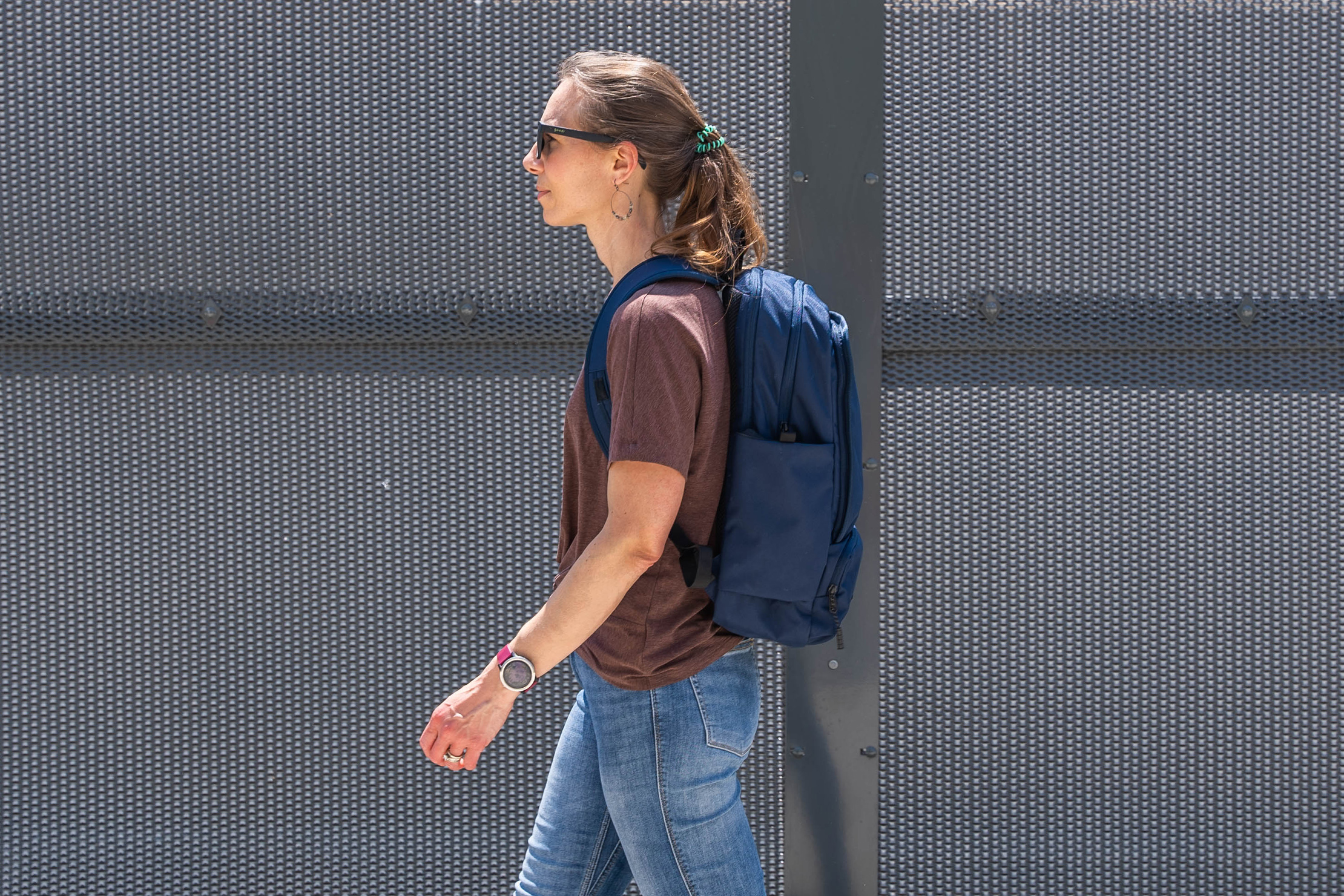 With the Q Laptop Backpack 2.0, Timbuk2 says it's aiming for a new and improved version of an already-popular bag. They designed the 20-liter pack for commuters and students, but how does it work for travelers and digital nomads? Let's find out.
External Components
At first glance, you'll see a lot going on around this laptop bag, with plenty of pockets and zippers running up, down, and around the backpack.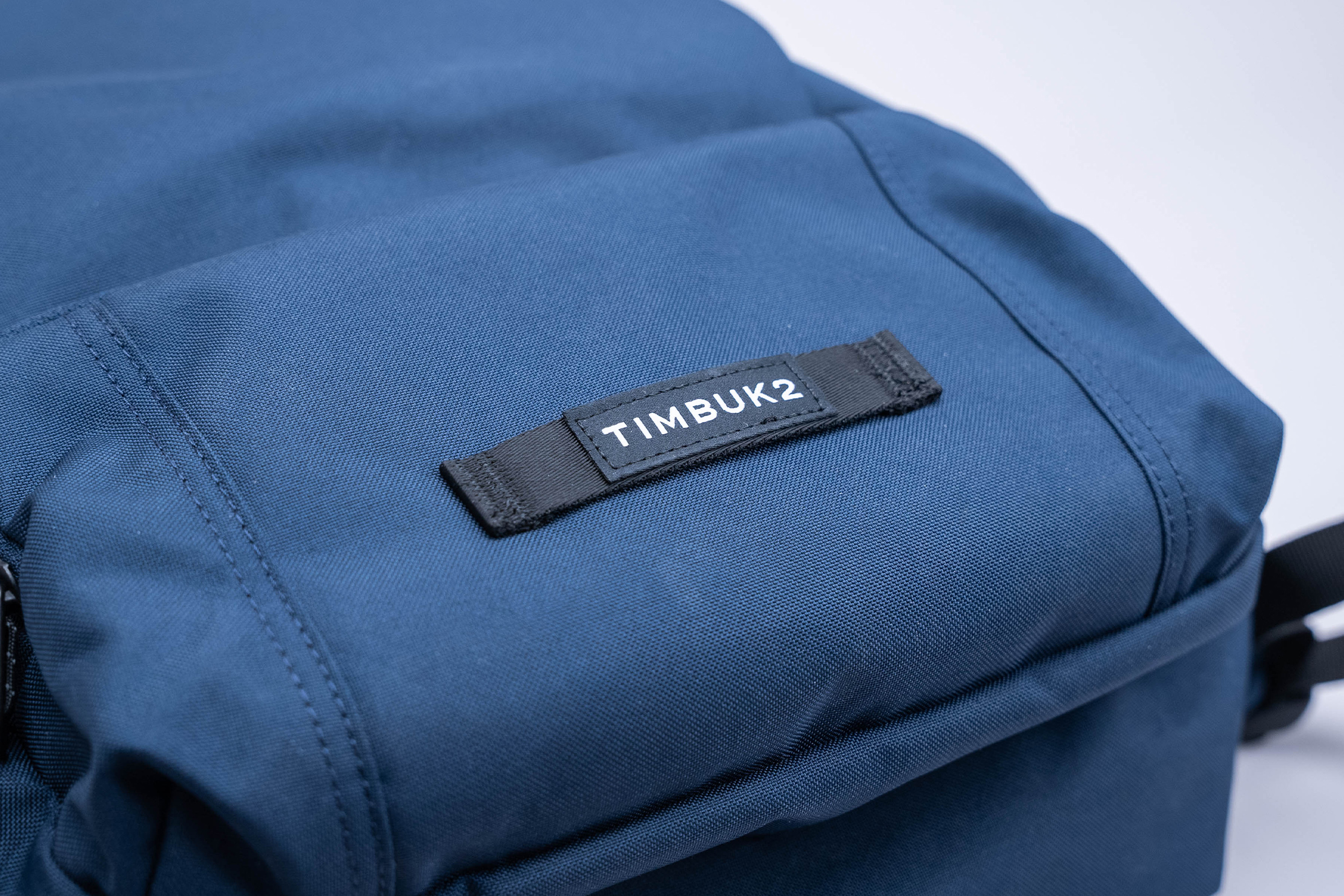 The exterior fabric is recycled nylon from pre-consumer materials and is fairly thick and coarse. It also attracts dirt, though it brushes off easily. We've got the Eco Nautical colorway, a navy blue, but it also comes in Eco Black and Eco Gunmetal, a lighter gray. There's a webbing loop at the bottom with a Timbuk2 patch on it; you could probably stick a bike light here to be visible while riding in the dark if needed.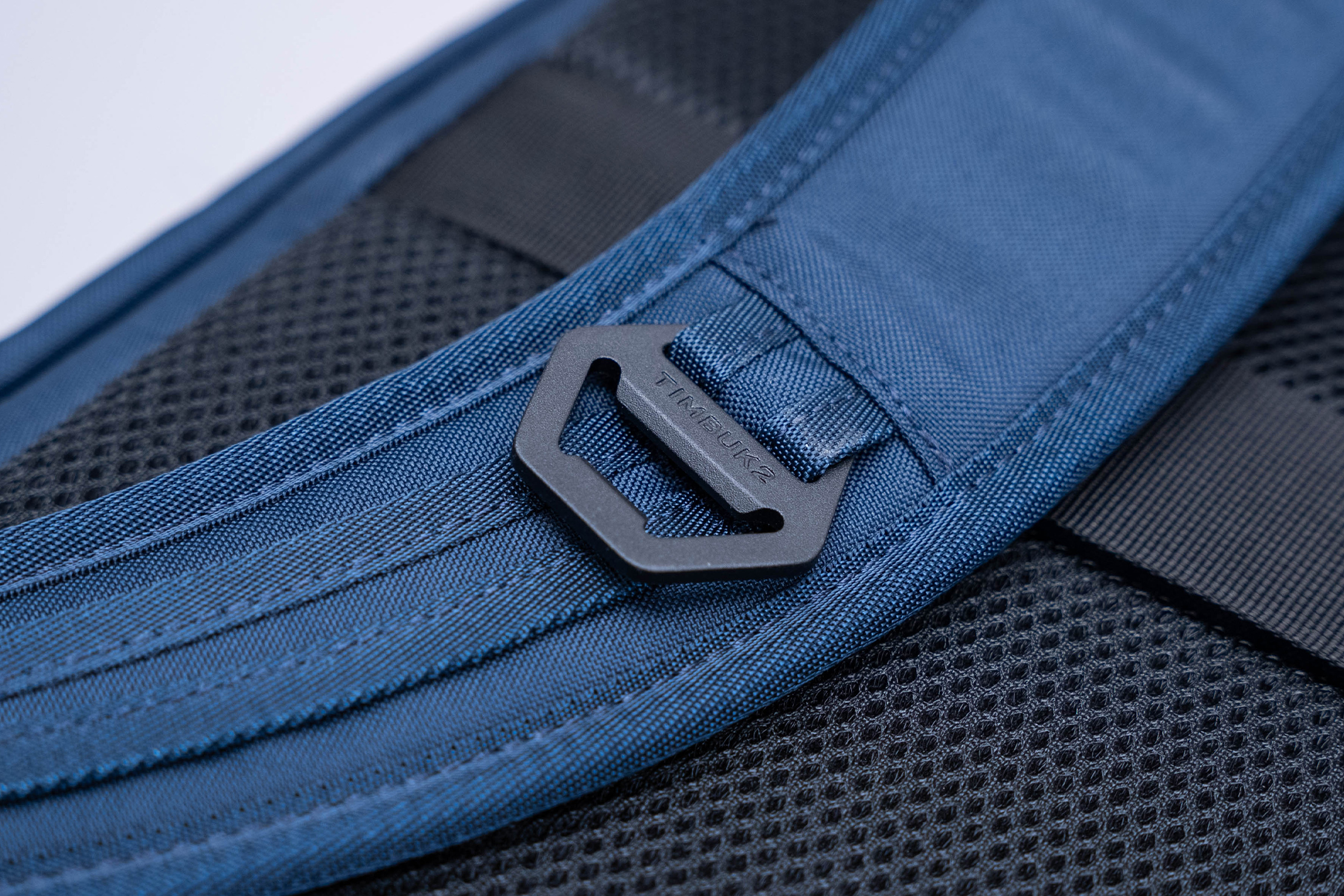 The only other nod to branding is Timbuk2 debossed on a metal bottle opener attached to the right shoulder strap. It's for "party tricks and quick refreshment," and a lark it would be if you cracked open a cold one with your bag still on your back.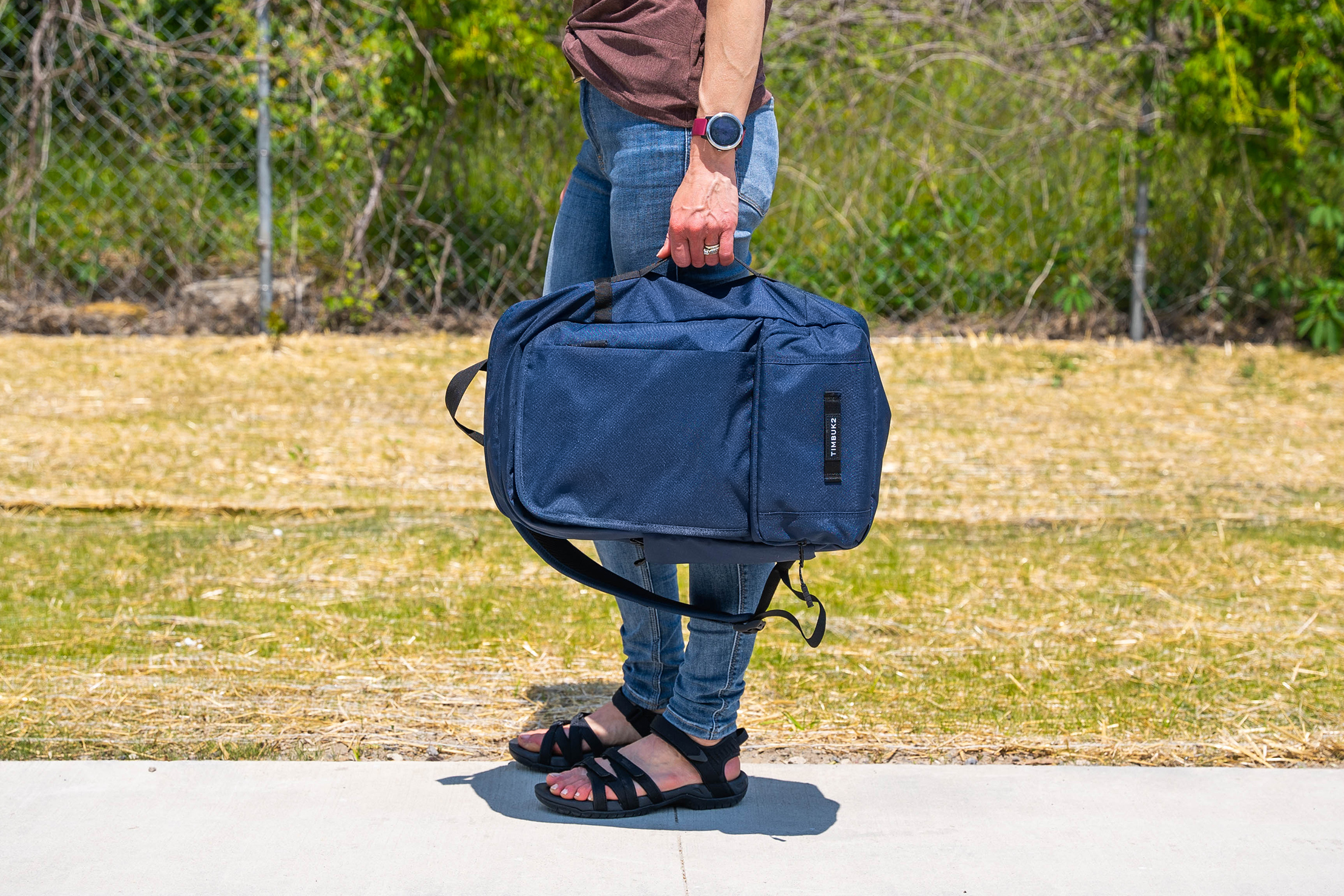 Along with a large webbing carry handle at the top, there's also a side carry handle on the right and a luggage pass-through on the back panel to make it easier to get through the airport with rolling luggage. It's nice to have options, and what's even better is that—except for the top carry handle—it all lays flat to stay out of the way if you don't use it.

As we mentioned above, there are plenty of zippers around this bag, and we're happy to report that they're all YKK. There are thin cords woven through the metal pulls that end in a barrel-shaped rubbery grip. It makes them easier to grab and cuts down on the jangling from the metal zippers slapping together. The only other hardware is the plastic adjusters on the shoulder straps. We can't find any visible branding on them, but they work as expected.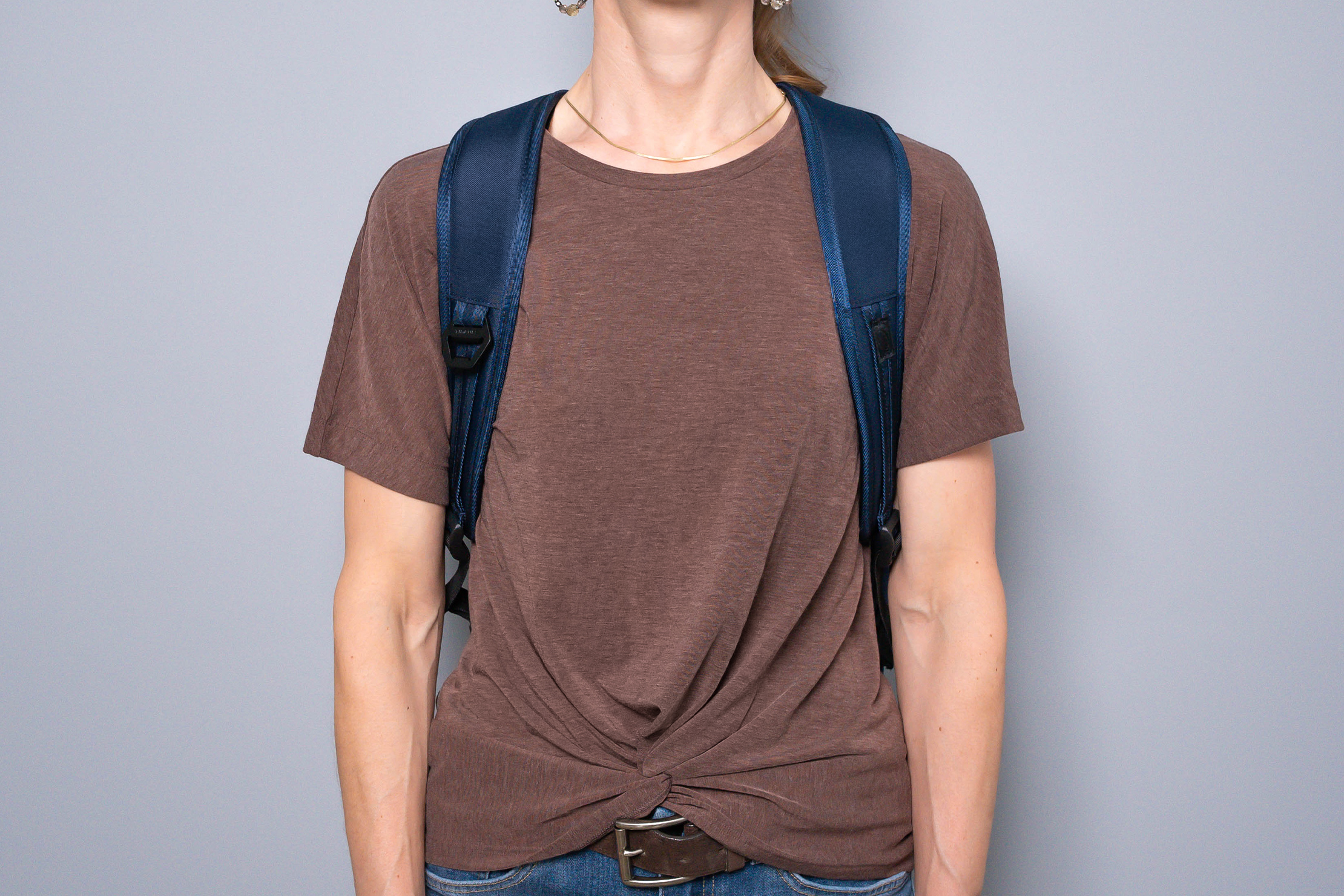 Speaking of the shoulder straps, let's chat about the harness system. The straps have thin padding with breathable mesh on the underside, and they connect with flexible webbing about an inch below the top of the pack. That allows the straps to move freely around different body types, which we like.
There are keepers to contain the extra strap, which we like, but the elastic is so tight that we struggle to squeeze it around double or triple thicknesses of the straps. Once you get it on, they stay in place, but it, honestly, takes some time and effort to get it around.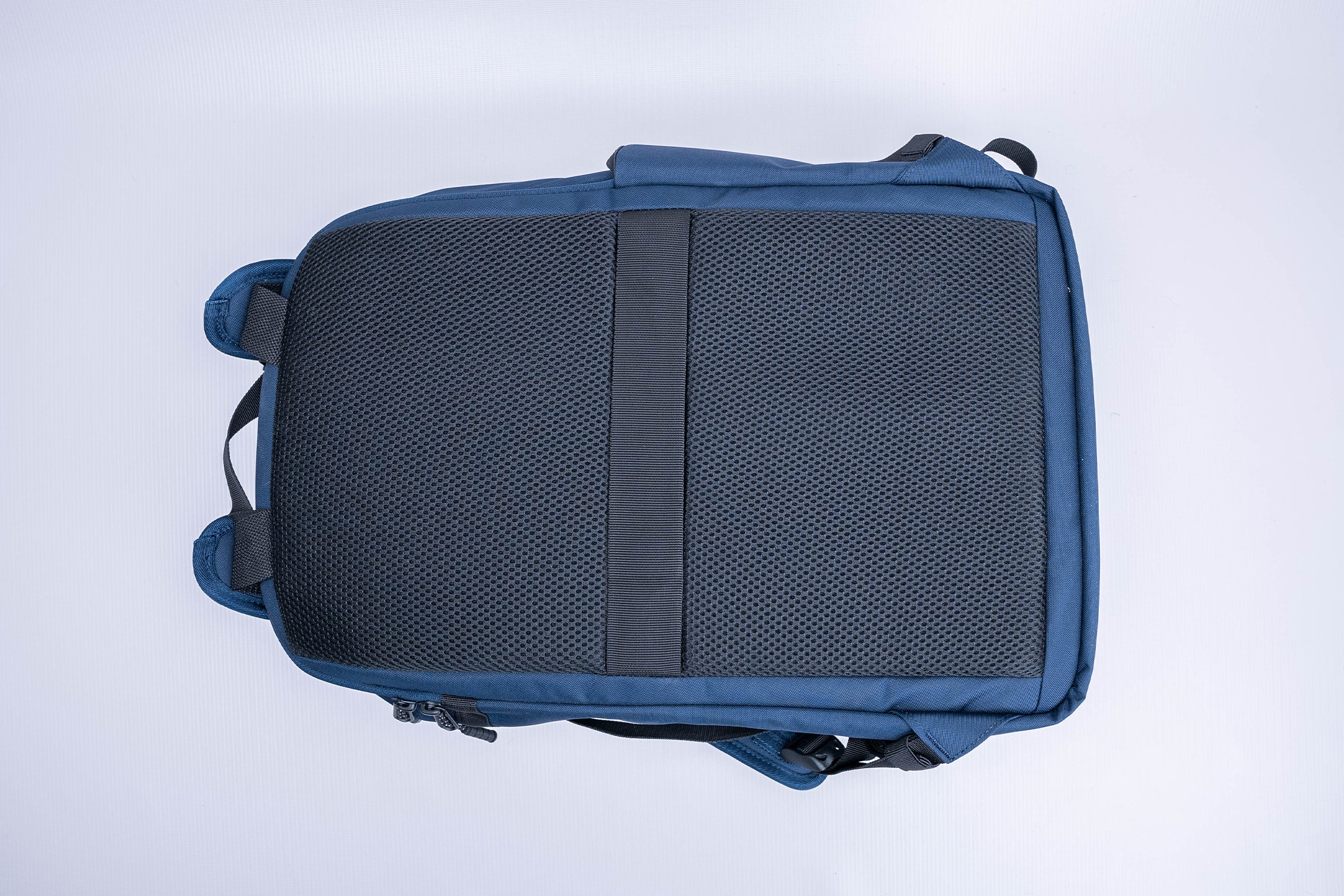 The back panel has more padding than the shoulder straps, so you don't typically feel your laptop through it while wearing the bag. It features the same breathable mesh to reduce the likelihood of a sweaty back.
There isn't a sternum strap or hip belt, but we don't miss it with this size bag.
Fit Notes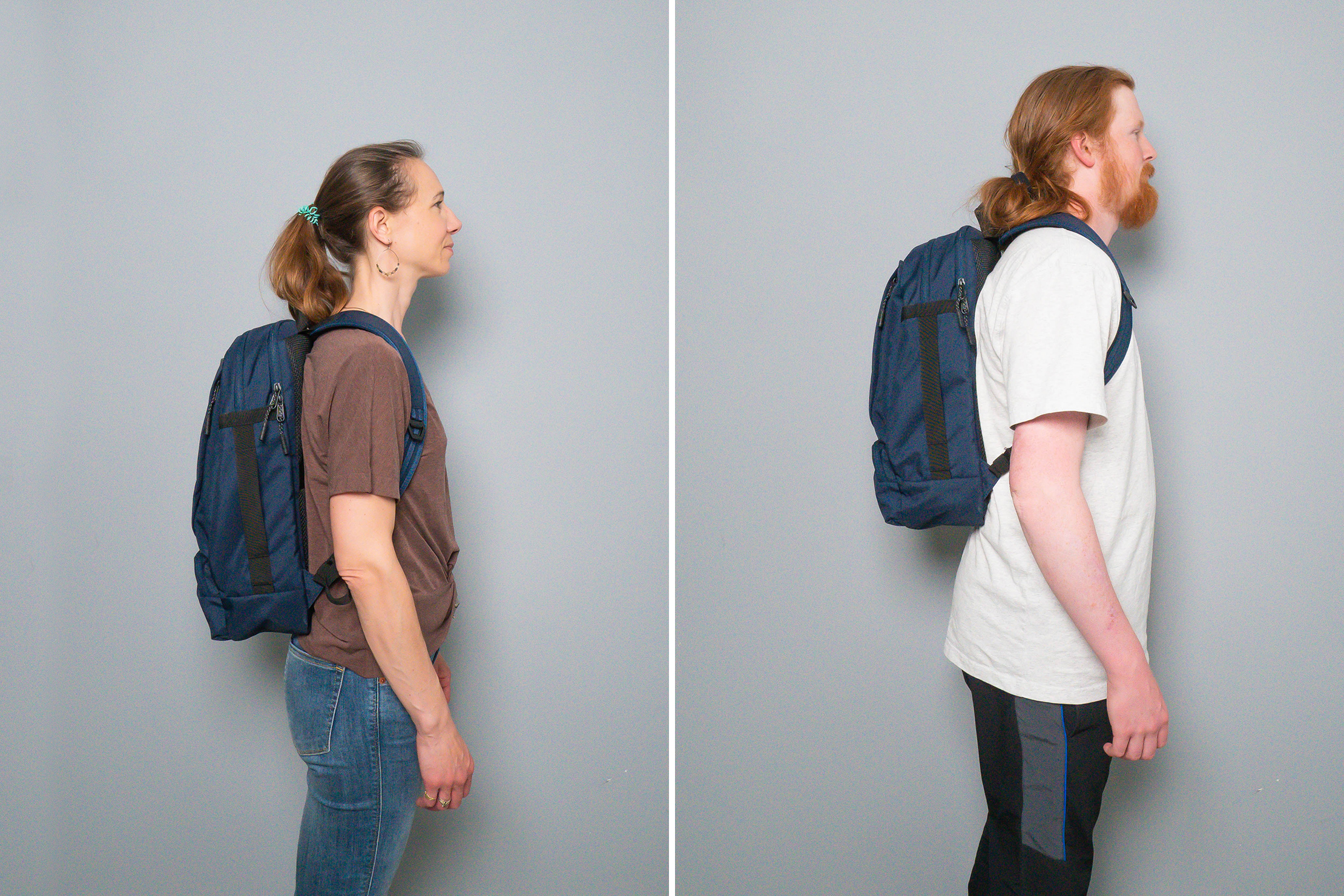 The Timbuk2 Q Laptop Backpack 2.0 is a casual bag, no doubt. It will fit nicely in a classroom, on your back as you commute, and as a personal item bag for the plane. The straps and the back panel are a bit stiff, however. They're not uncomfortable, per se, yet you can feel them pulling a bit at your shoulders. Additionally, the back panel can feel rigid when you put in your laptop, and, depending on the length of your torso, it can be a bit long.
We like that the bag's structure allows it to stand upright whether it's packed or not, so you don't have to worry about it falling on its front when you set it down next to you.
Inside The Pack
As we alluded to above, there is a lot going on around the outside of this bag. On the left is a travel water bottle pocket that accommodates most size bottles and holds them tightly thanks to a combination of pressure from the main compartment and elastic at the top. The pocket itself isn't stretchy—it's the same material as the outside of the pack—but you can get extra room by shifting your gear to the opposite side inside.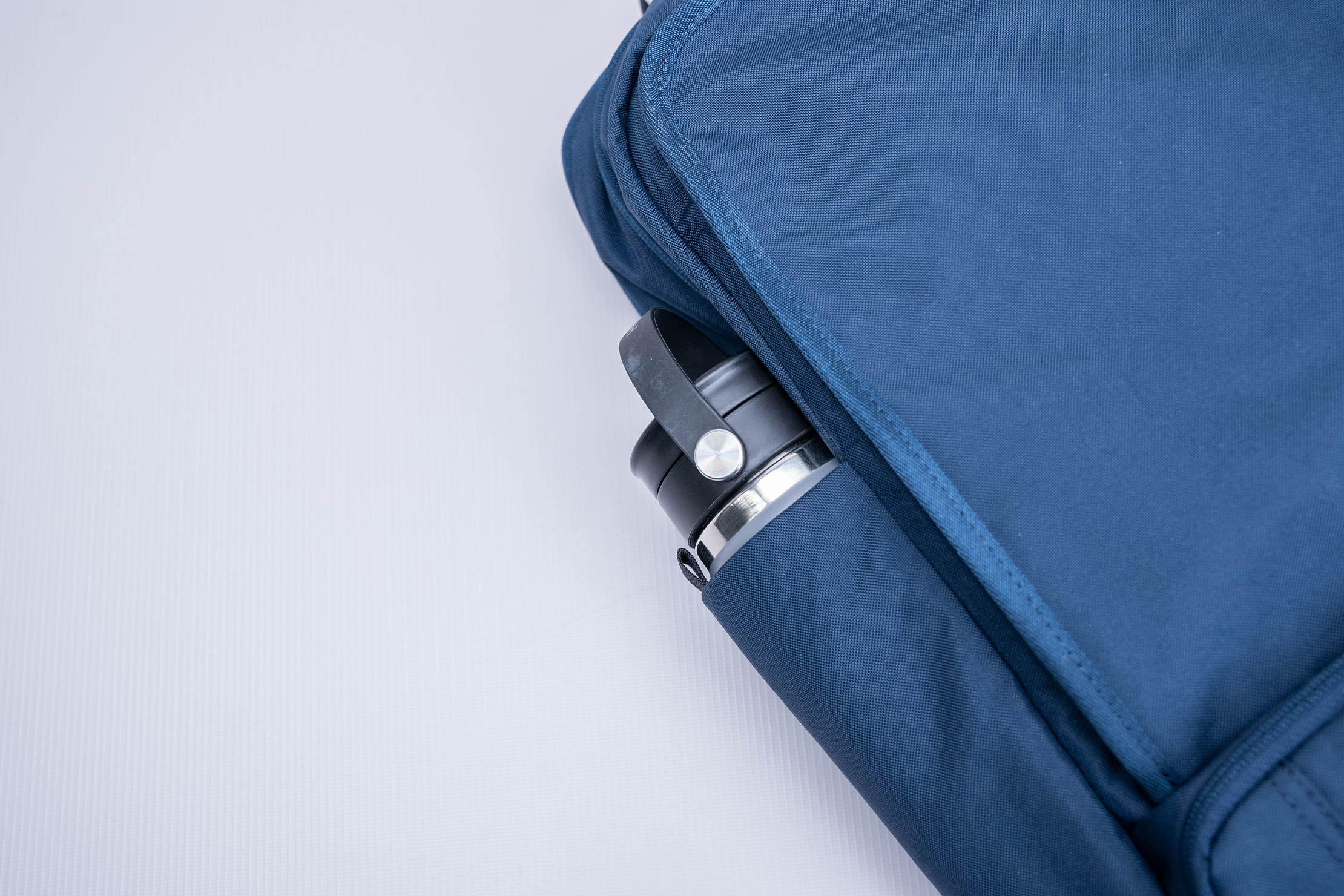 There are a couple of annoyances to mention: the elastic on our sample flips up nearly all the time, so you see some black against the blue colorway, and the main compartment zipper track runs below the edge of the bottle pocket. So, if you zip it all the way to the left side, it's hard to slide a bottle past the large zipper pulls, and if you do manage to, the bottle traps them, so you can't unzip it without pulling the bottle out.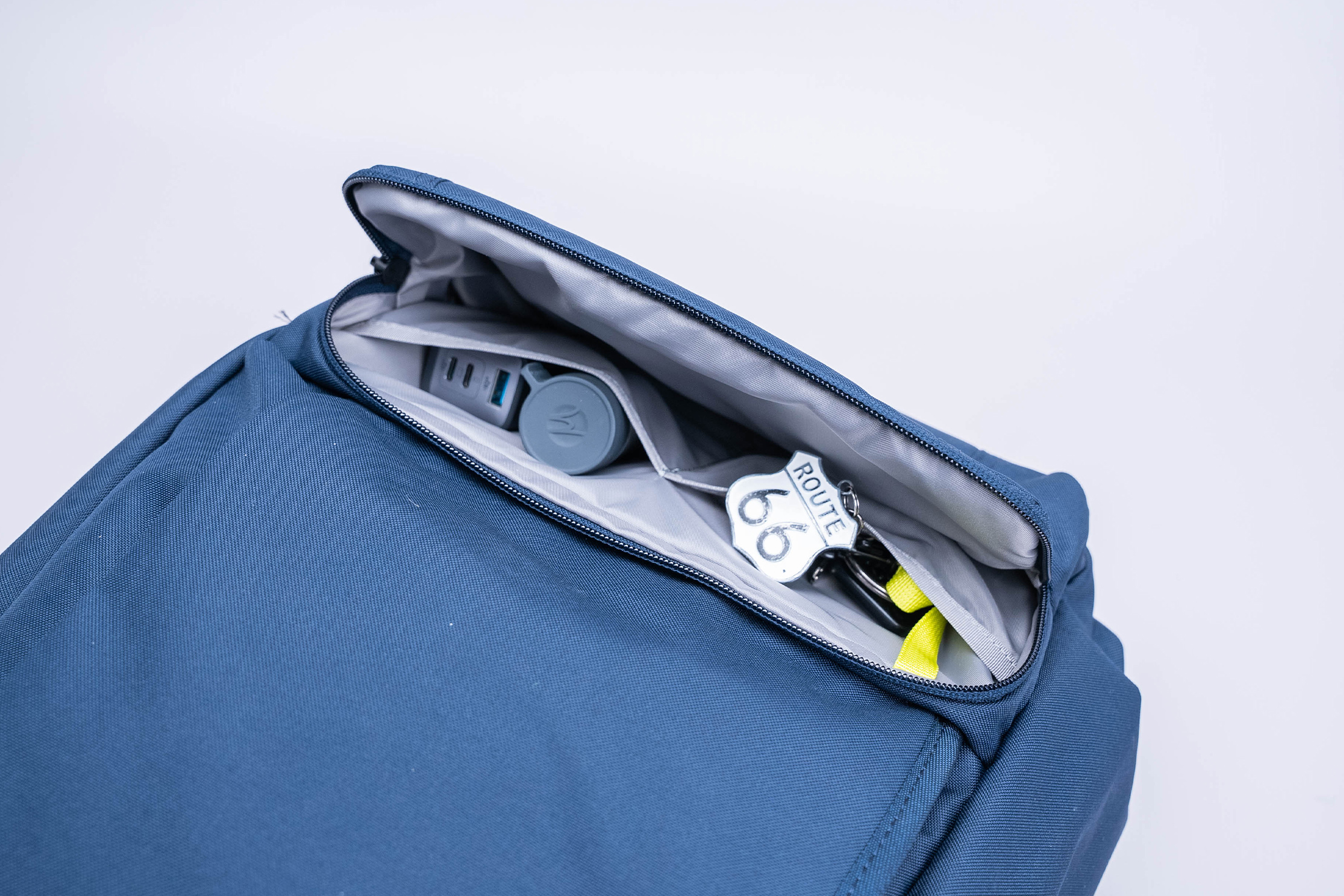 Moving on, there's a rectangular pocket at the bottom of the front panel designed to hold your wall charger and cord. It saves you from digging through the main compartment to find them when you pull out your laptop. Inside are two slip pockets and a bright yellow key leash with a swivel clip at the end. Stashing your cord and mouse in here will make it convenient to work as you wait to board your plane since you can leave everything else packed up while you do, although the zipper can get hung up as it goes around the corners when you try to open and close it one-handed.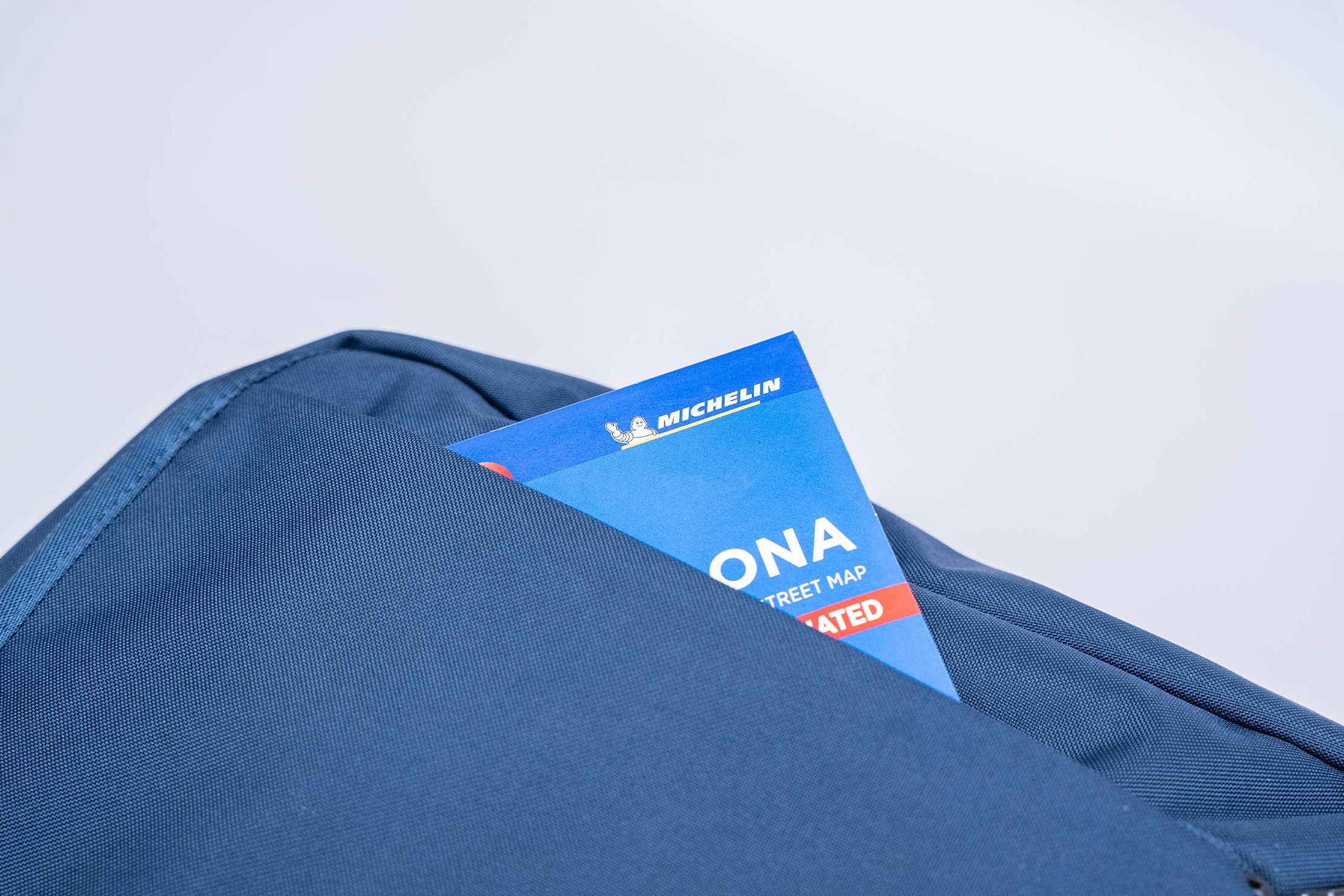 Above that, a vertical zipper on the right side opens a sizable quick-access pocket. Usually, we'd be happy to see this (and don't get us wrong, it's nice), but there are so many other places to store small gear, most with extra organization, that we didn't use it at all. As winter moves to spring and summer moves to fall, it could be a good place to stash a pair of gloves and a hat to have them just in case, or a few snack bars so you don't get hangry throughout the day, but nothing too thick will fit in this pocket.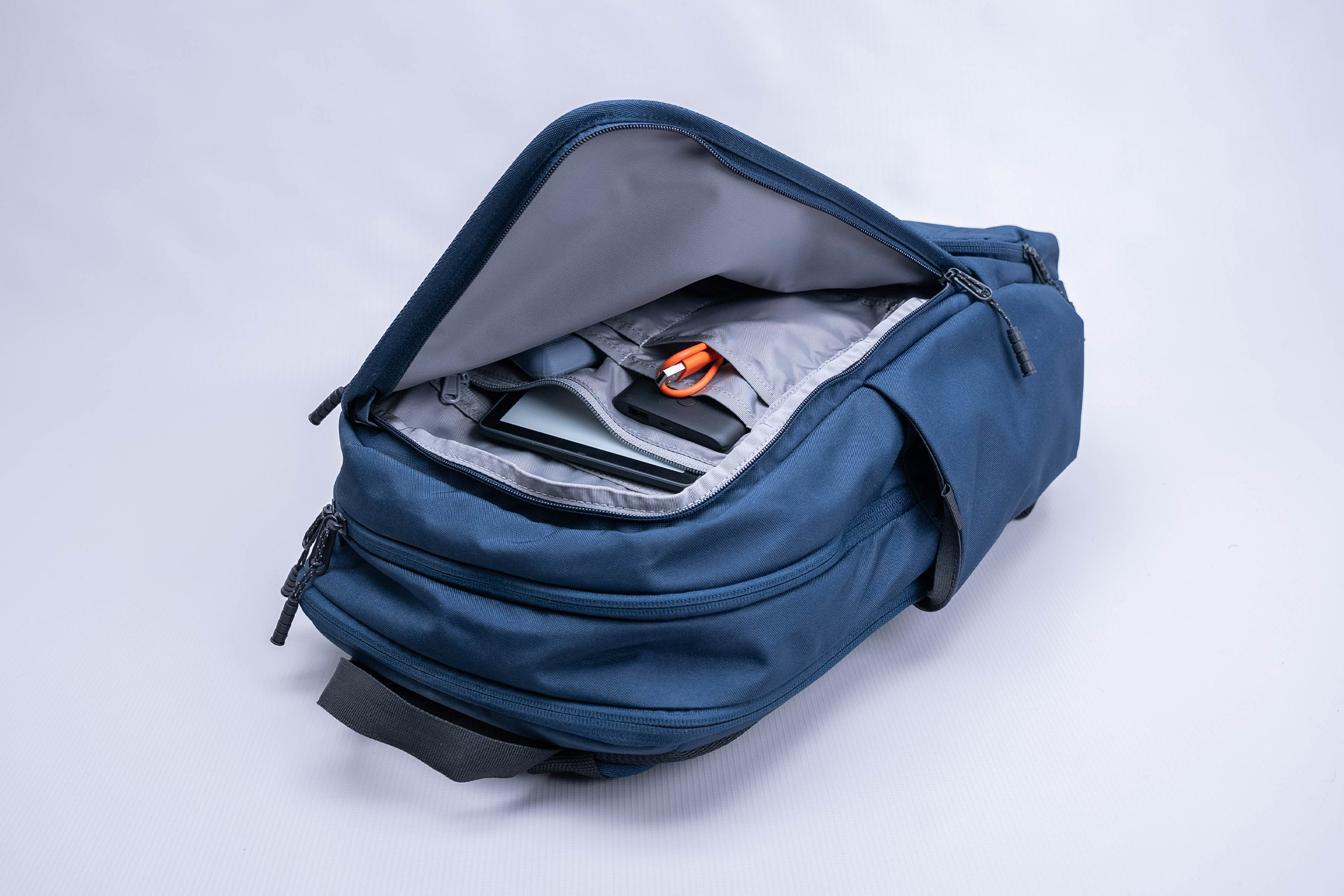 The main reason we don't use that pocket much is that the remainder of the front panel opens with an upside-down L-shaped zipper to reveal a dedicated admin panel. It includes three narrow slip pockets for a mouse, a small phone, and headphones, three pen slots wide enough for a stylus, and a larger zip pocket behind all those where you can toss tiny travel accessories. There's space in front of them, too, where we toss our glasses case and a notebook because they're just easier to access here than in the frontmost pocket. And while the zippers aren't waterproof, this one does slide into a little garage at the top, so you shouldn't get moisture seeping through the end.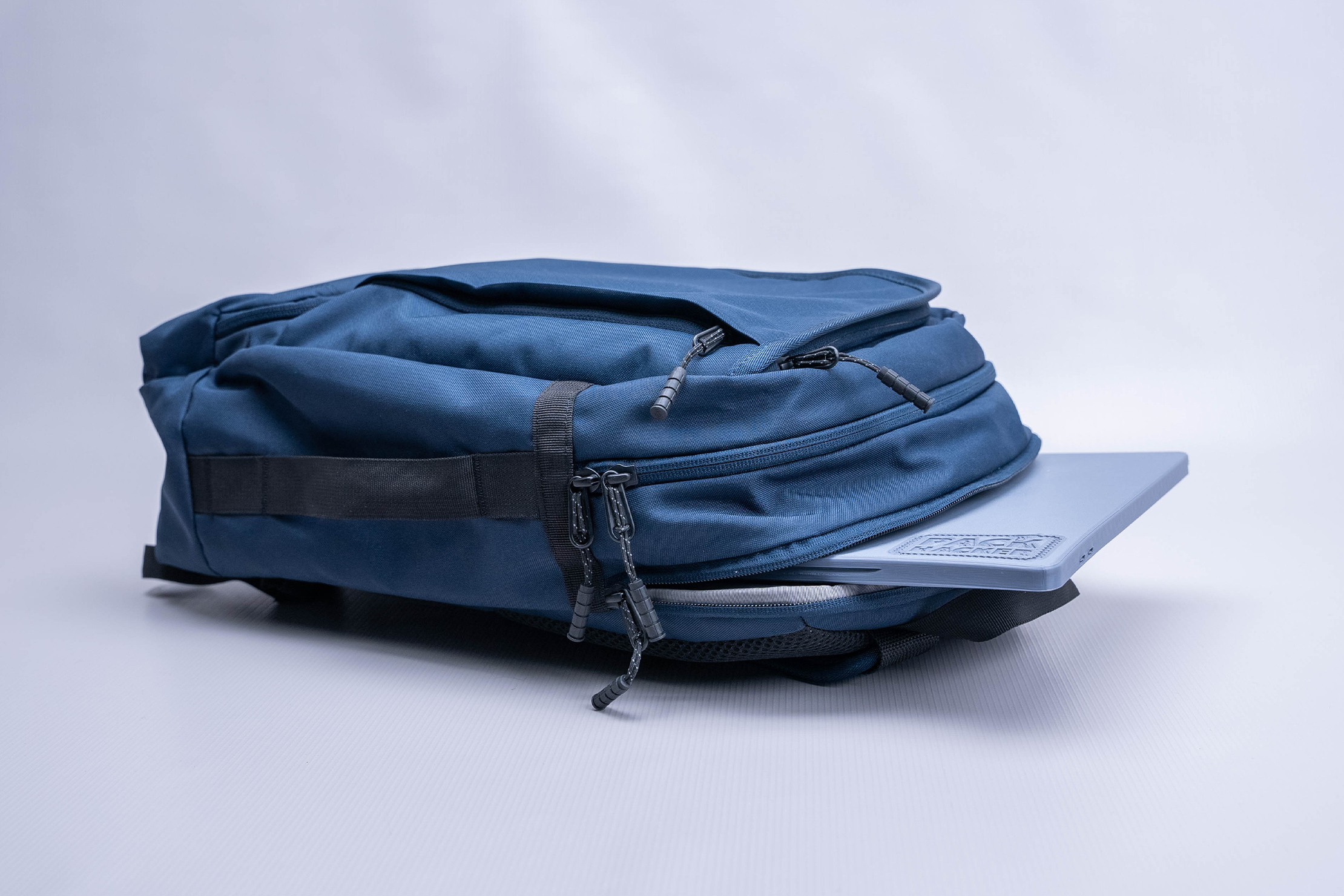 Flip around to the back, and you'll find a large back pocket for up to a 17-inch laptop. It swallows a smaller device, like a 13-inch MacBook Air, but has plenty of padding and a shiny nylon liner to prevent anything from happening to your computer. Both it and the main compartment open in a J-shape, with a dual-sided zipper going down further on the left side (down to the bottle pocket) than on the right, where they meet the side carry handle. How you feel about this is more about your preference than anything else; you can get a pretty good look inside but obviously not see as much as you would with a complete horseshoe opening.
That's less of an issue with the laptop compartment than with the main compartment, which seems like it should have a lot of room but doesn't easily allow you to use all of it. Against the bag's rear side is a large padded sleeve where you can slip an iPad or tablet if you're a two-device user or folders and papers if you're more of an analog person.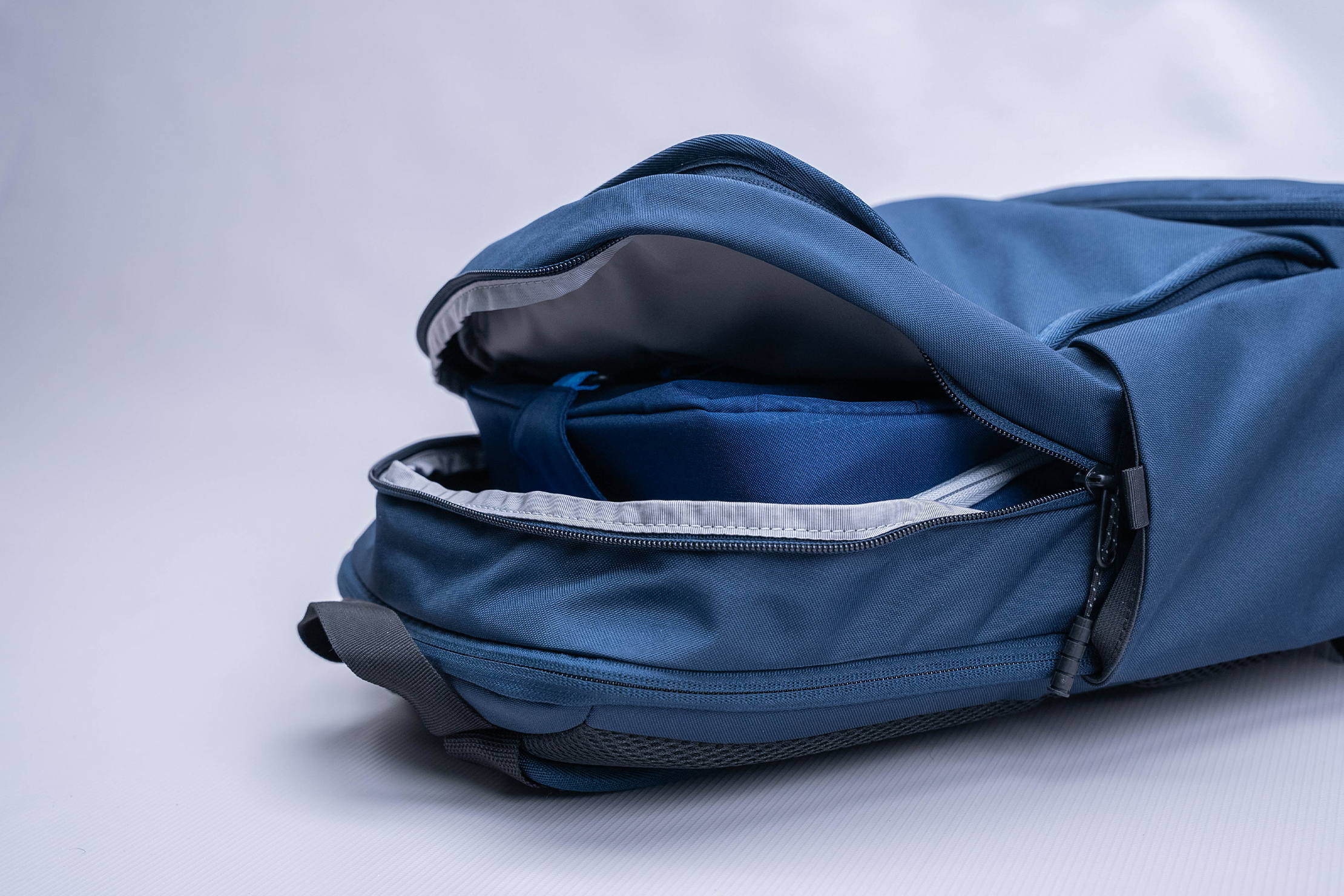 The rest is open space, and while Timbuk2 says you can fit books, lunch, and a travel jacket in here, we have more luck going with two out of three. If you make good use of the admin panel, it juts into the main compartment, as does the bottle pocket, so a lot of usable space gets eaten up fairly quickly. And because of the way the area opens, it's hard to wedge something thicker to the bottom, even though it looks as if it should fit. Your best bet is to lay the pack down on its back and hold the main area open as wide as possible, sliding things in one at a time, but it's still not perfect.
That said, if you're looking for a well-organized everyday carry bag that could still serve you well while traveling, you may like the durable, divided nature of the Timbuk2 Q Laptop Backpack 2.0.
Usage Timeline
Initial Usage
Condition: Excellent
Looking forward to using all the organization
Super thick back panel padding
Unique features include a bottle opener on the shoulder strap
2 Weeks of Use
Condition: Excellent
Hardly ever use the quick-access pocket
Seems like it should carry more than it does
External organization makes it a good personal item bag
Access the Pro Community Discussion
Get your questions about the Timbuk2 Q Laptop Backpack 2.0 answered from our team and the Pro Community right here on the page. Plus, join discussions with other members about gear, guides, and more.
Other Bags & Luggage Reviews