Snow Peak Kanpai Bottle 350ml Review
The Snow Peak Kanpai Bottle is a lightweight way to keep your drink hot or cold for hours, although you have to switch lids to prevent spills when not sipping.
Our Verdict
Unlock the Pro Summary
Save time. Get access to brief summaries of our reviews so you can browse and make decisions more efficiently.
Pros
Smooth sipping experience
No taste transfer between beverages
Extremely lightweight compared to similar bottles
Cons
Must keep track of three different lids
So insulated you can scald yourself
Insulated lid can leak if not installed properly
Recent Pack Hacker Video
Technical Details
Capacity

13.2oz

Weight (oz)

5.7 oz (161.6 g)

without lid; Cooler Lid 3.25 oz (92.1 g); Tumbler Lid 1.38oz (39.3 g)

Dimensions

6.8 in x 3 in (17.3 x 7.6 cm)

Notable Materials

Stainless Steel, Polypropylene, Silicon

Manufacturing Country

Japan

Warranty Information
Full Review
From store aisles to our website, there are nearly as many bottle options as people looking for them. The holy grail of drink containers, of course, is a pleasure to sip from, keeps your beverage the temperature you want it to be, and doesn't leak. It also needs to be easy to hold. The Snow Peak Kanpai Bottle aims to be your go-to beverage container, whether your drink is hot or cold, in a can or the cup.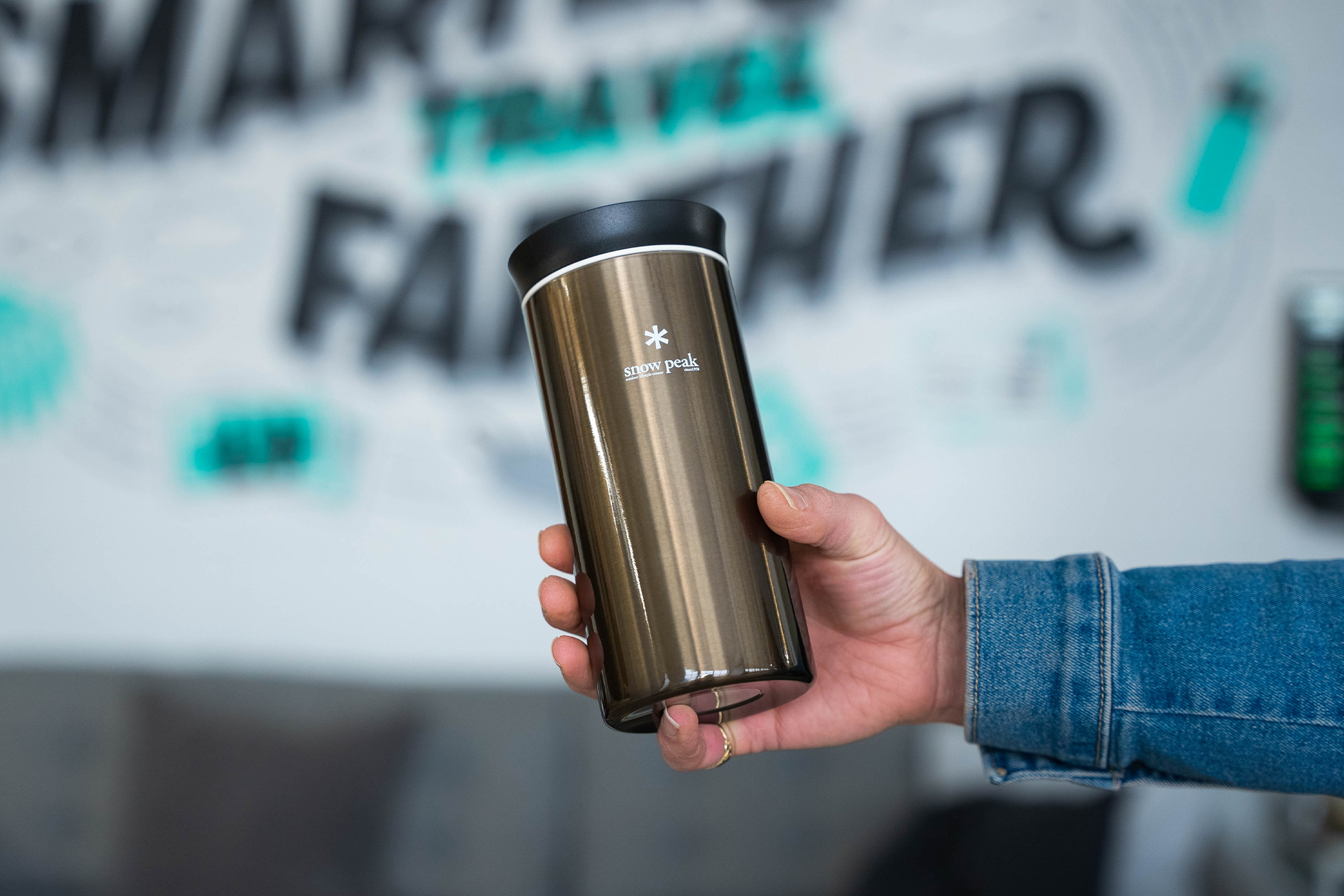 Fun fact: Kanpai means "cheers!" in Japanese. So are we still cheering after spending two weeks drinking from this bottle? Let's find out.
The Rundown
The 350ml Kanpai Bottle is a vacuum-sealed double-walled stainless steel version of Snow Peak's Titanium 350 Kanpai Bottle. The change in materials brings about a price change, with the Kanpai Bottle costing about half as much as the Titanium 350 Kanpai. Even still, it's on the pricier end of bottles and tumblers since you could pick up two or three Hydro Flasks for the same price.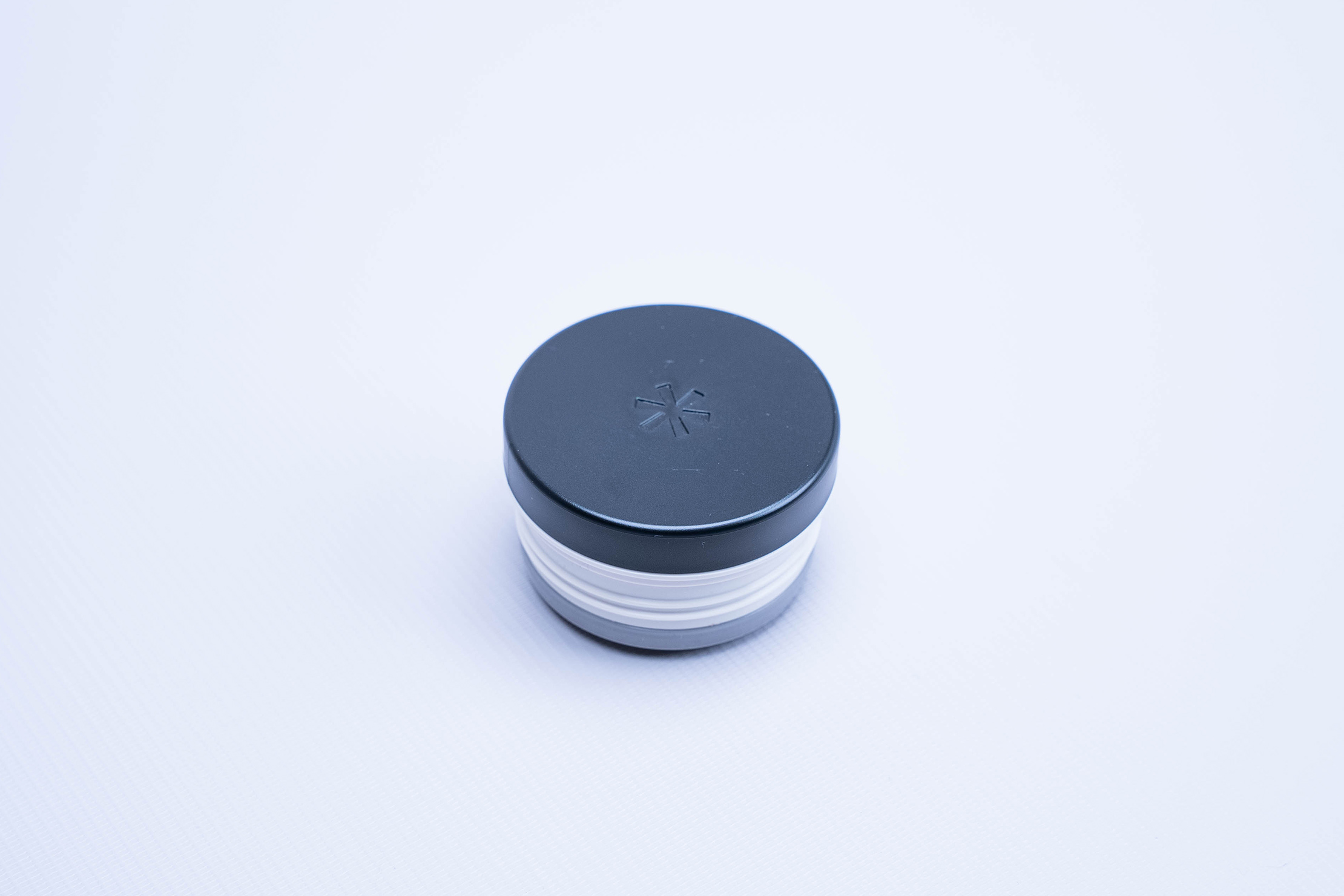 While the Hydro Flask only comes with one lid, the Snowpeak Kanpai Bottle comes with three. The solid black lid (well, solid except for the small snowflake Snow Peak logo embossed in the center) is for keeping your beverage at the correct temperature and preventing leaks while in transport. It's rated to do so for 6 hours. However, you can't drink from it this way without removing the cap entirely, so you only use it when you want to toss your cup in your bag and not sip along the way.
A gray gasket around the bottom of the lid prevents spills and leaks, although we did find coffee dripping once while carrying the bottle at an angle with this cap. It was very little coffee, and probably due to faulty installation of the gasket, as it didn't recur. So consider this a warning to take care when replacing it after washing, and it shouldn't happen to you.

The second cap is also black and includes a white slider that clicks open to allow you to sip. Snow Peak states in its instructions that this cap does not prevent leaks, nor does it keep the beverage at the correct temperature for 6 hours. However, we can attest that boiling water was still near scalding five hours after pouring it into the mug and using this cap (ouch!). So since it maintains the temperature for hours, we prefer to use the sipping cap when we don't have to worry about spills.
This lid is a pleasure to use. It's as if your mouth were searching for a sipping soul mate all its life and finally found it. While that may seem a bit over-the-top, it's the only way to explain the perfect fit and the fact that your beverage is always right there waiting for you, not held up by air pressure and then sloshing forward when it's finally released. While we experience that with many a travel mug, that rarely occurs with the Snow Peak, which is great.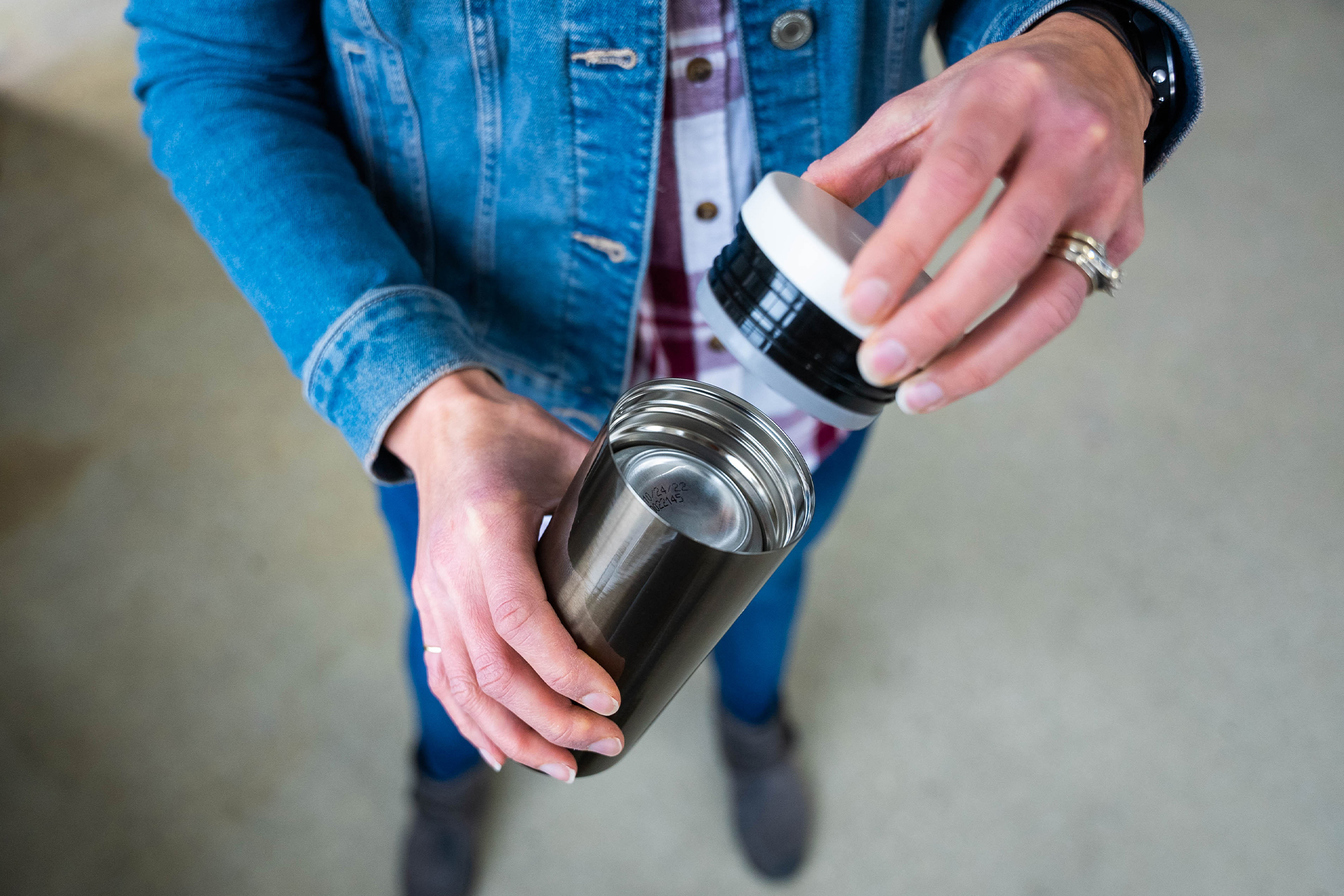 But wait! There's more! A third cap is the light side to the first cap's dark side. You toss the white lid in the freezer to use the Kanpai Bottle as a cooler for a can of your preferred beverage. Snow Peak instructs you to slide the can in upside down carefully so as not to scratch or dent the bottle, then screw the frozen cap on top. It's intended to keep already cold drinks cold, so pull that can out of the fridge for best results. We put it to the test with the help of a heat register (as it is below-freezing weather as of the time of this writing) and are happy to report that the brew stayed frosty after hours in front of furnace heat and was still cold after spending the night at 65-degree room temperature.
While it may take up quite a bit of real estate in your cupboard to have three separate lids for each cup, the choices make it easier to take this bottle on the road. If you check for leaks before leaving, the black cap means you don't have to forgo hydration, or your morning coffee, just because your daypack lacks a bottle pocket. You can toss the bottle inside, carry it under your arm, or otherwise let it slump sideways, and your gear should stay dry.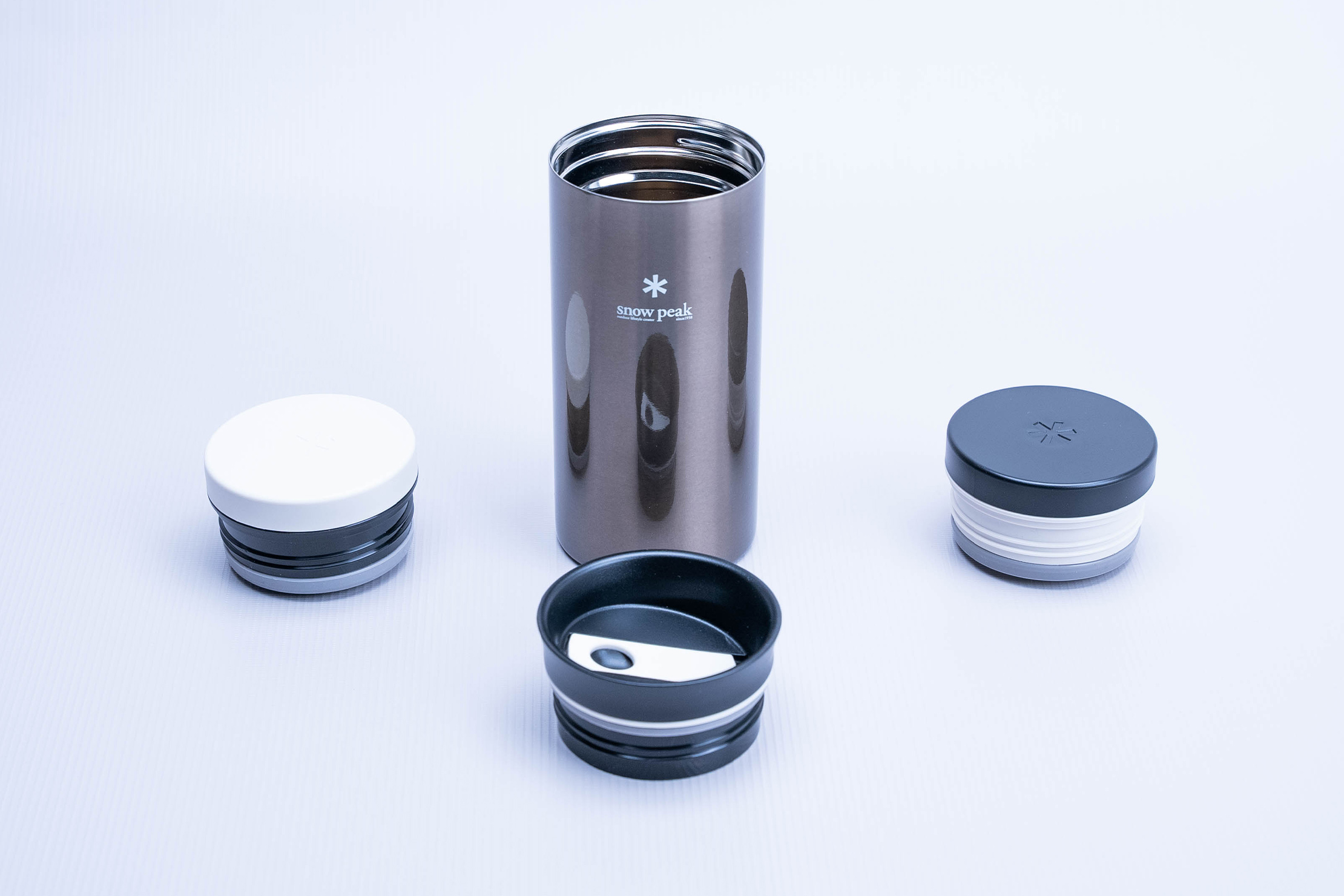 However, there's still the pesky problem of needing to bring along the drinking lid, or having another cup at your destination to drink. As wonderful as the sipping lid feels, the super thin stainless steel edge at the top of the bottle sans lid is not a swell feeling for your mouth, so you'll want to make space for a second lid—and a napkin to wipe the bottom of the thermal lid clean—when traveling with this bottle. Or keep it upright and leave the thermal lid behind.
Packability
The nearly 3-inch diameter of the bottle makes it easy to hold and allows it to fit in most cup holders. However, if yours has a silicone insert, you may have to wiggle the Kanpai a bit each time to release it. Ensure the slide of the sipping lid is closed when you do this, as the sudden release from the holder can cause a spill, and that's not how you want to start your road trip.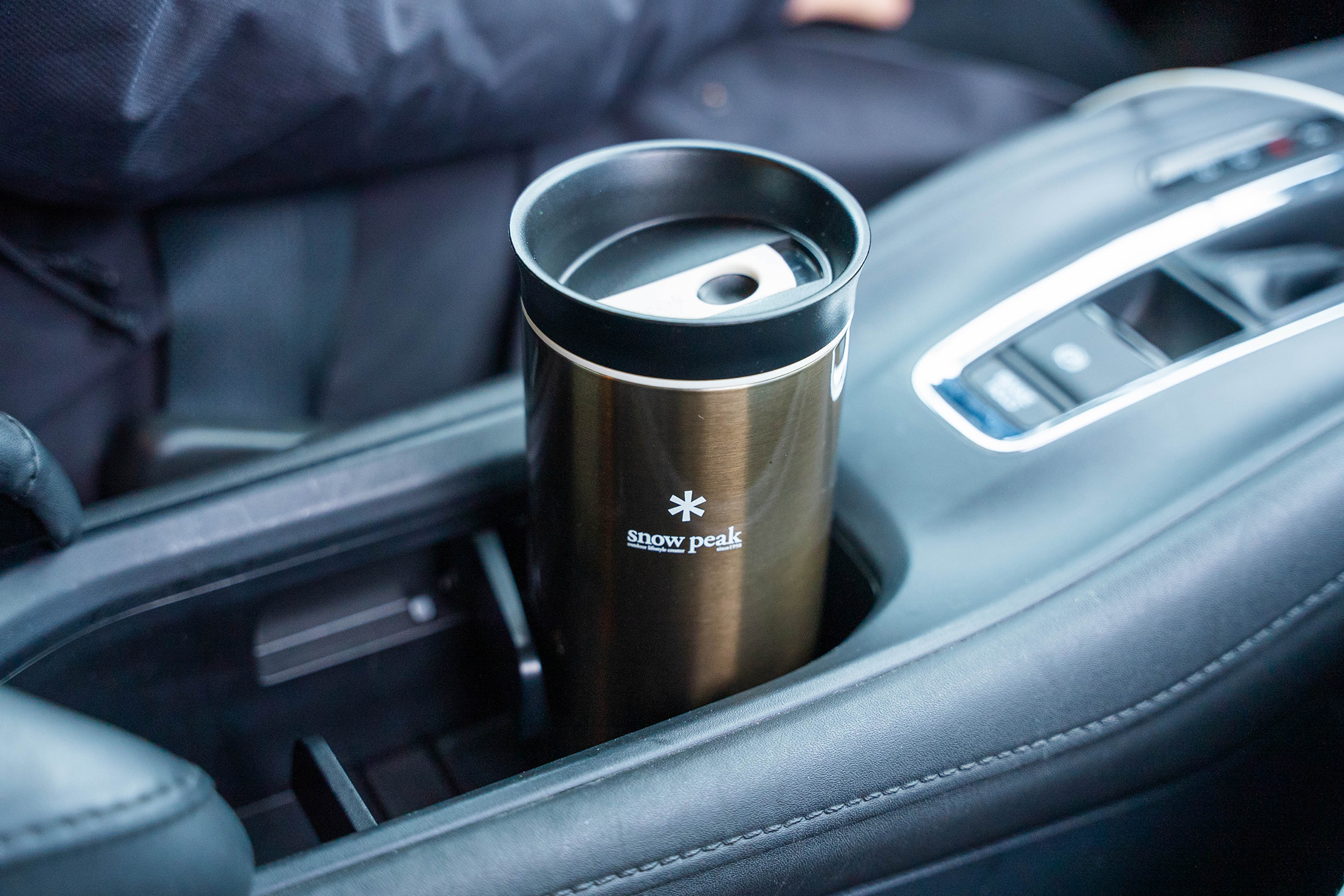 The Snow Peak Kanpai Bottle is exceptionally lightweight, too. While the brand's page lists it as weighing 10 ounces, a quick peak at our scale shows the bottle itself weighing just over 6 ounces. Adding the sipping lid brings it to about 7.5 ounces, and you'll be toting about 9 ounces if you add the thermal lid to your kit, as well. When drinking, however, 7.5 ounces is pretty light, considering the insulating power of this bottle.
FYI, if you're hoping to add all three lids, plus the bottle, to your vacation packing list, you'll add 12 ounces to your travel backpack. And while the bottle itself is about 6 inches tall, stacking the three lids for travel adds another 5-inch tower to find space for.
Quick Comparison
Comparing the Snow Peak Kanpai Bottle to two other insulated bottles, the YETI Rambler 12 oz Bottle with HotShot Cap is much heavier than the Snow Peak at 16 ounces, however, you get all the insulation you need with one cap that will keep your coffee hot all day. The HotShot Cap twists shut to seal, and you untwist it a quarter turn to drink out of any spot on the lid.
We also compare it with the Zojirushi Stainless Mug, which, at about 8.5 ounces, is even lighter than the Snow Peak Kanpai and has a 16-ounce capacity. This bottle has a cap that flips over and locks shut, preventing spills on the move. However, the narrow opening is not as pleasant to drink from, and it's white, so it stains relatively easily when you're using it for your daily coffee.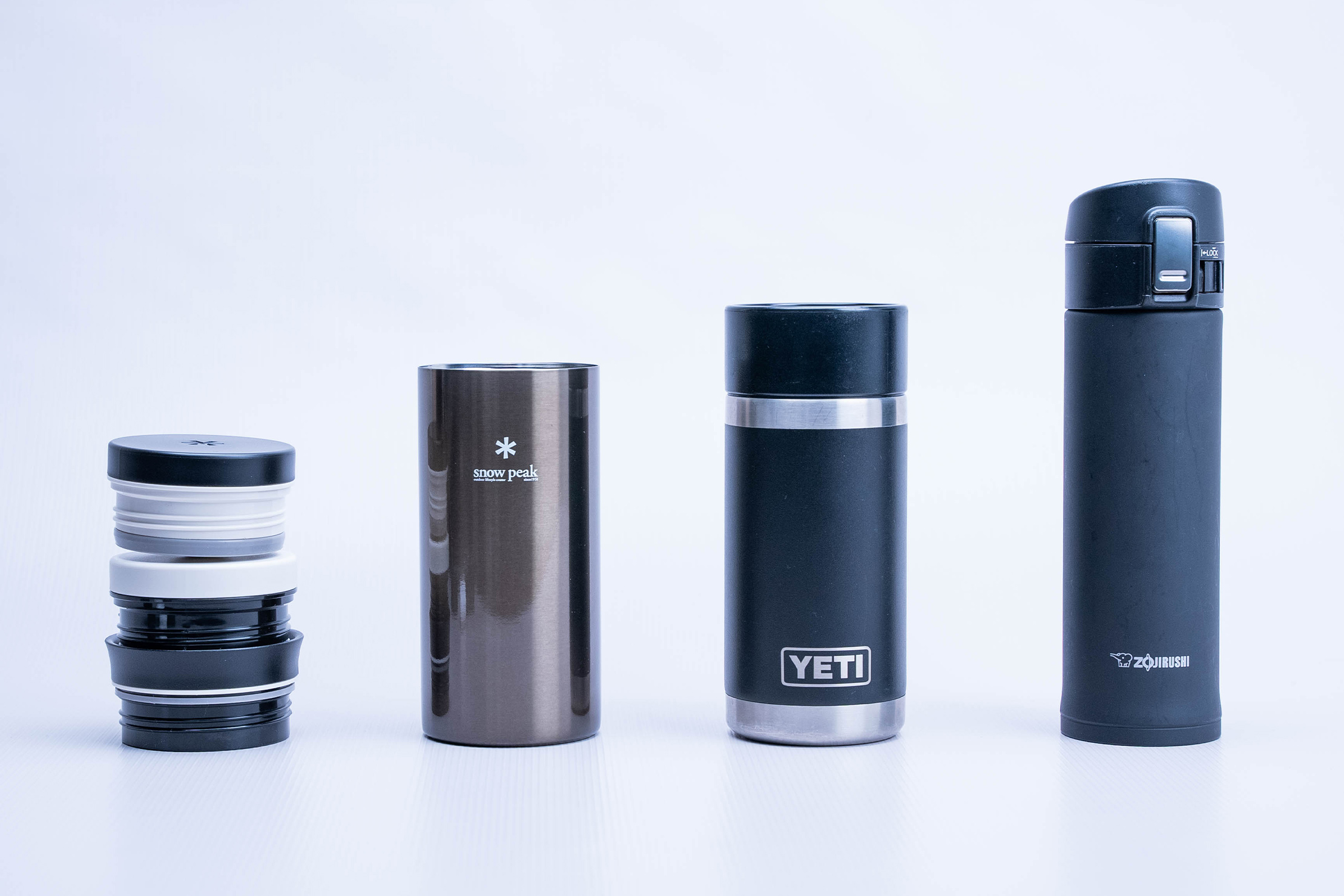 All three of these bottles are stainless steel, yet the YETI and the Zojirushi are about a third of the cost of the Snow Peak Kanpai with similar features. The shiny exterior of the Snow Peak Kanpai Bottle is arguably more aesthetically-pleasing than the other two, which are matte and slightly sportier looking, so if you're looking for a posh design, this bottle may be for you. However, you'll have to balance aesthetics with real-world use and decide whether you want to deal with the multiple-cap situation.
Neither of these bottles doubles as a can cooler like the Snow Peak. However, if you're looking for a camping and tailgating companion, you could pick up a BruMate Hopsulator TRiO 3-in-1 Can Cooler and save that for summer as opting for that and a YETI Rambler is still less than the Snow Peak Kanpai Bottle.
Usage Timeline
Initial Usage
Condition: Excellent
Super sleek dark silver colorway
Interesting lid design
Very lightweight for an insulated bottle
2 Weeks of Use
Condition: Excellent
Can be tricky to thread lids properly on bottle
Cold lid works well as a can cooler
Bottle always the perfect temperature to hold
Access the Pro Community Discussion
Get your questions about the Snow Peak Kanpai Bottle 350ml answered from our team and the Pro Community right here on the page. Plus, join discussions with other members about gear, guides, and more.
Other Miscellaneous Reviews