Zojirushi Stainless Mug (SM-KHE48) Review
The Zojirushi Stainless Mug (16 oz) is light to carry and keeps your drinks cool or hot, though be mindful if pouring to avoid unnecessary splashes.
Our Verdict
Unlock the Pro Summary
Save time. Get access to brief summaries of our reviews so you can browse and make decisions more efficiently.
Pros
Lightweight and slim profile
Lid disassembles for easy cleaning
Keeps drinks hot or cold throughout the day
Cons
Beverages can dribble out, causing some splashes
Not dishwasher safe
White plastic spout can get stained easily
Recent Pack Hacker Video
Technical Details
Capacity

16oz

Weight (oz)

8.5 oz (241 g)

Zojirushi says it's 0.09 lbs (1.44 oz), but we weighed it ourselves.

Dimensions

9.13 in x 2.63 in x 2.88 in (23.2 x 6.7 x 7.3 cm)

Notable Materials

Plastic, Stainless Steel

Manufacturing Country

Thailand

Warranty Information
Full Review
There's nothing quite like a refreshing drink during a long journey. Whether it's up a flight of stairs or a mad dash at the airport terminal, topping up on your fluids is key to happy traveling. There's a ton of choices when it comes to bottles, and insulated ones are among the most versatile options out there.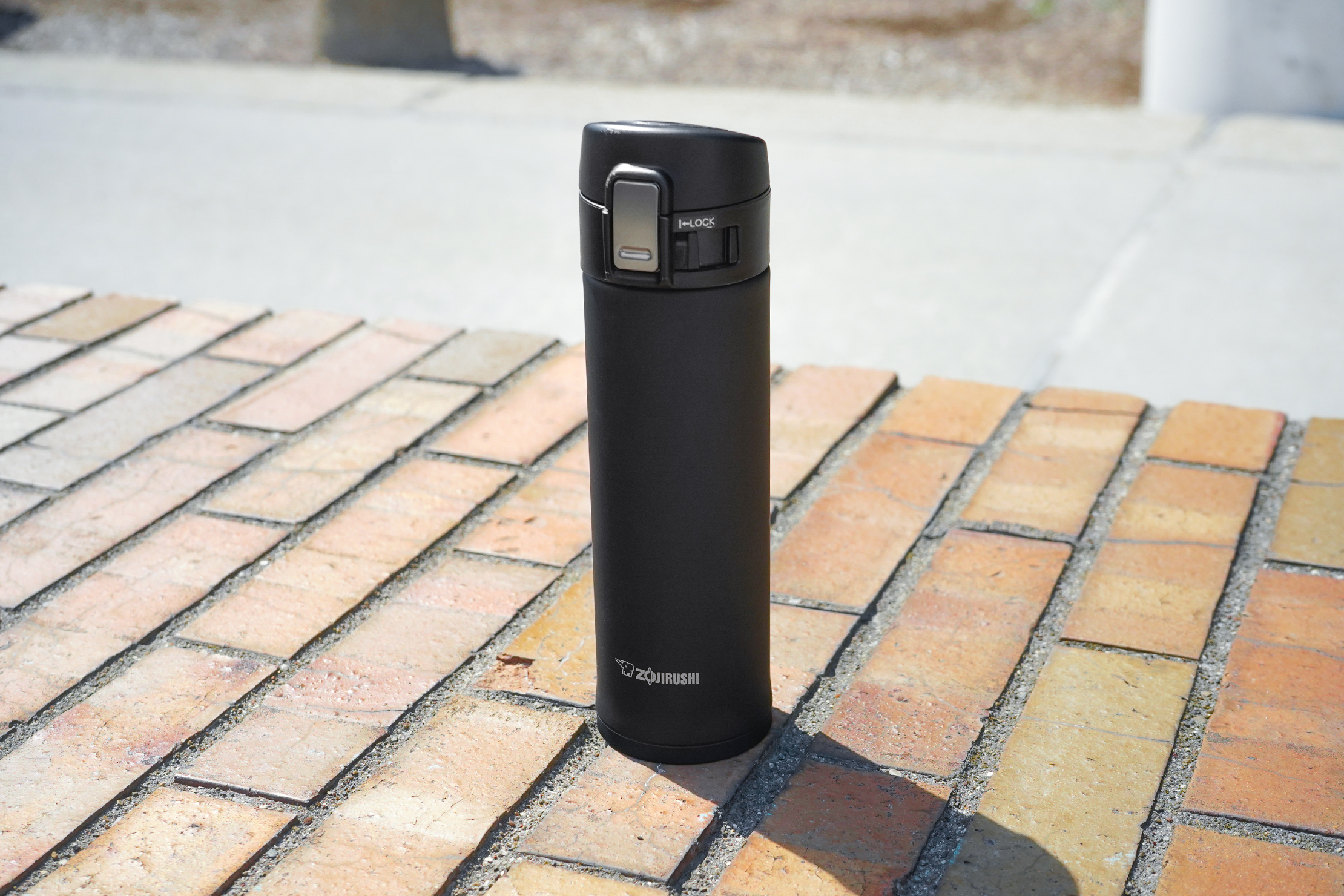 The Stainless Mug is one of the many offerings by Zojirushi—renowned for their high-quality products. They're quite confident in their products, so much so that they even have recipes on their website to complement their lineup. Since we're dealing with an insulated bottle, we've tested it with hot tea and cold water. Not the most complex recipes, but they're more than enough to test whether the Stainless Mug is up to the task or not.
Materials & Aesthetic
Bottles like the Zojirushi Stainless Mug may seem like one of those items where aesthetics are not the priority. But if you think about it, it's actually one of the few items you might be toting around and inadvertently showing off. It hangs around in your backpack's water bottle pocket, you have it on your desk dispensing coffee, and you even take it to lunch where your friends see it. It's an unwritten rule, but it's easy to associate someone with the bottle they often carry; you see someone's bottle and confirm that they're in the vicinity.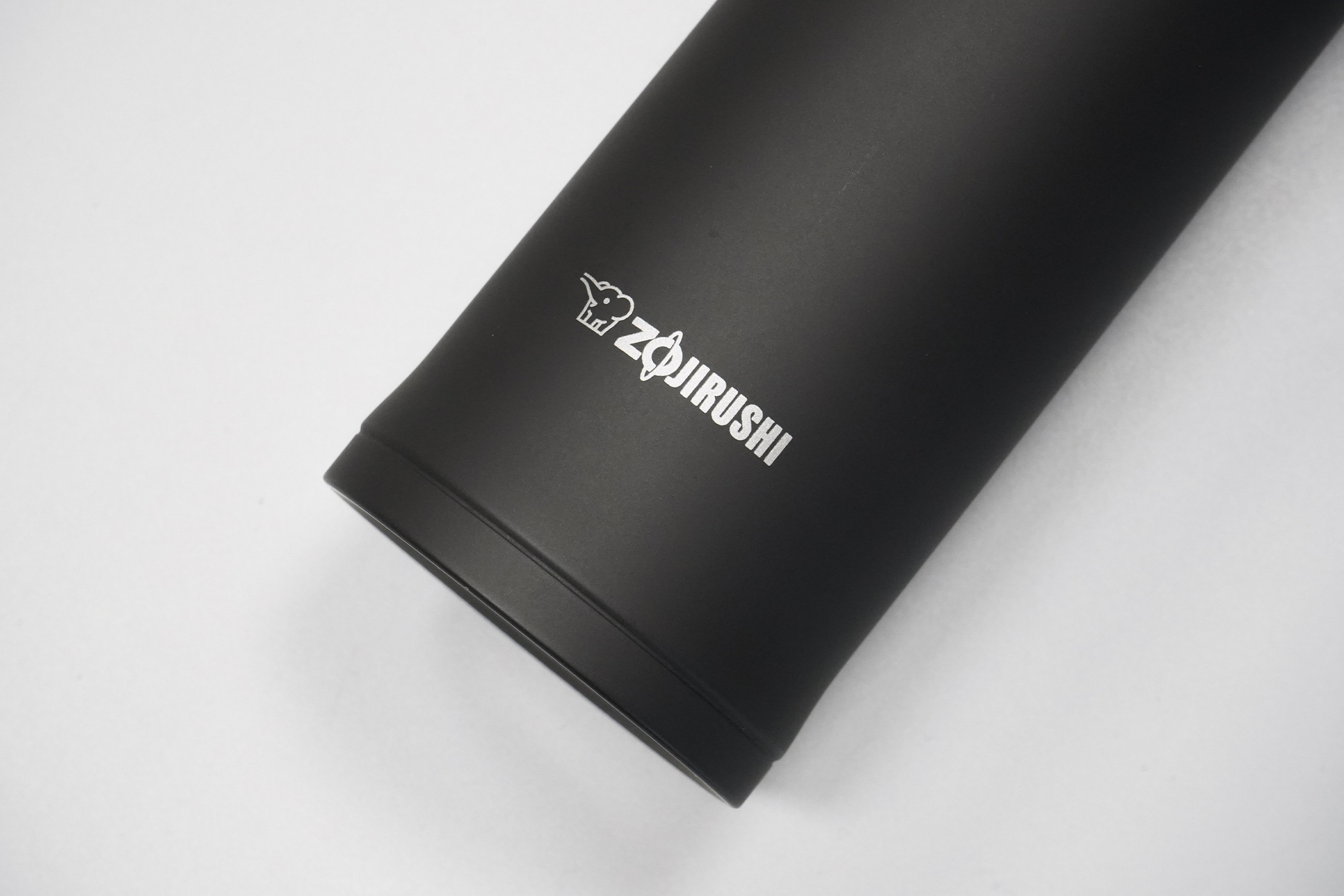 The variant we have here is the Black one with a matte finish, which you'll have no trouble pairing with any bag, but you might have trouble finding in an unlit room. If black's not your thing, you have other great options too, including Smoky Blue, Champagne Gold, Lavender Pink, Deep Cherry, Emerald, and Stainless. That last one has a sort of metallic brushed finish and color paired with a black lid. Everything's tastefully applied, including Zojirushi's elephant logo.
Except for the lid, the entire bottle is made from durable stainless steel. We didn't find any dents or warping during our testing, whether it's from an external force or due to temperature. We've peeked into the bottle as well and confirmed everything is free from visible damage. Zojirushi's reputation for quality precedes them, so we're glad to see how well the Stainless Mug has held up.
However, it's worth noting that although they list this mug as only weighing 0.09 lbs (1.44 oz), we weighed it ourselves and found that it actually comes in at 0.53 lbs (8.5 oz).
Usage
Arguably the most used part of any bottle is the lid, and this is where many travel bottles distinguish themselves apart from aesthetics. Yes, they can all look the same, but the experience definitely varies when you try them out.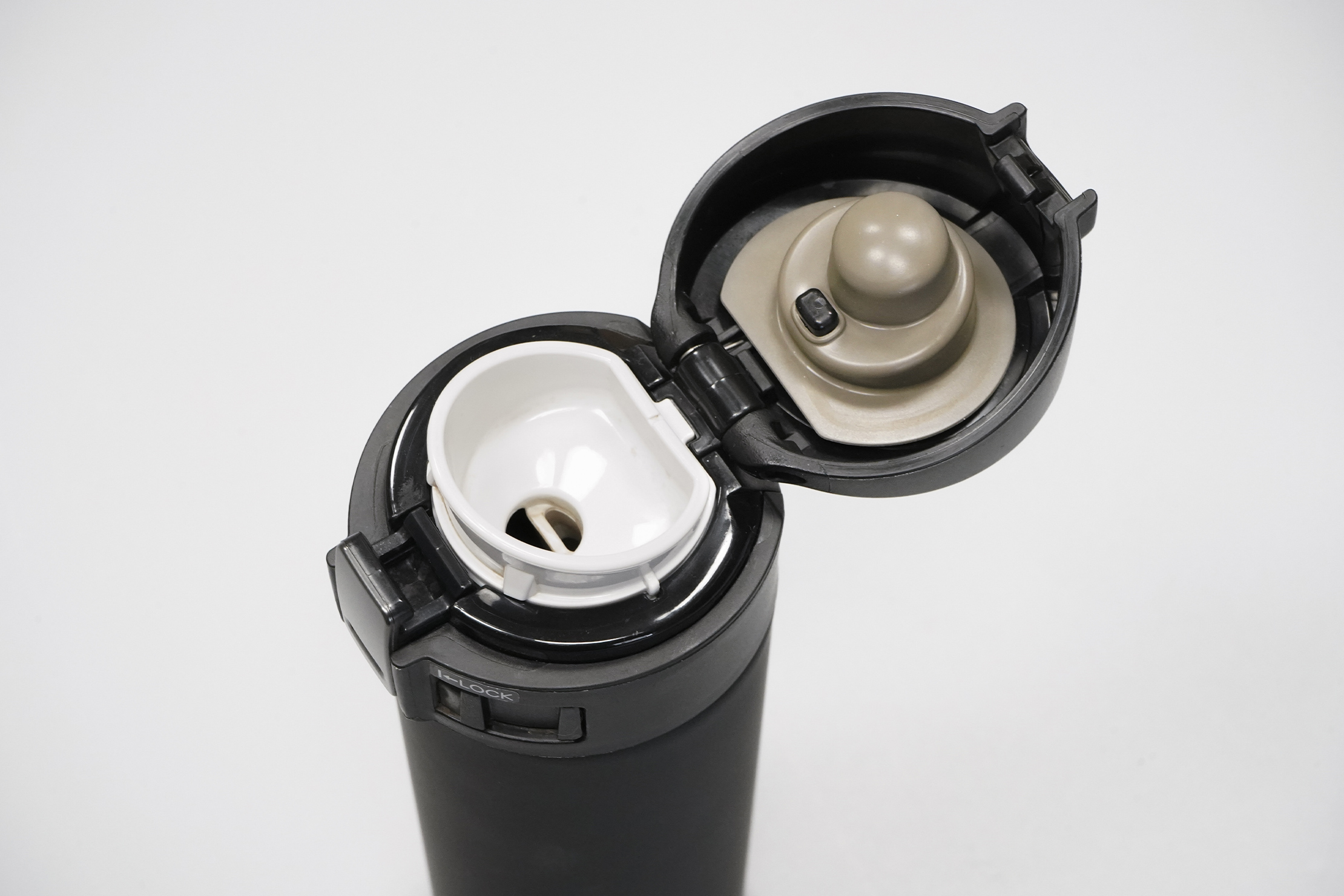 For the Stainless Mug, Zojirushi has employed a fairly conventional locking lid with a rubber gasket/stopper and plastic assembly. From the get-go, we were glad to see that the locking mechanism was easy to use, being able to lock and unlock without any hiccups or getting stuck. One-handed operation of the lock is very much doable, and the quick-release button has good tactility. The upper half of the lid flips up and stops just short of hitting your index finger sitting behind the bottle (we've seen this happen on other bottles, albeit rarely). The flip action is substantial enough that you can catapult scrap paper if you're bored.
Inside the lid is the rubber stopper that acts as a gasket between the white plastic mouth and the lid itself. It seals perfectly, and there's no leakage to speak of whether we were carrying hot tea or cold water.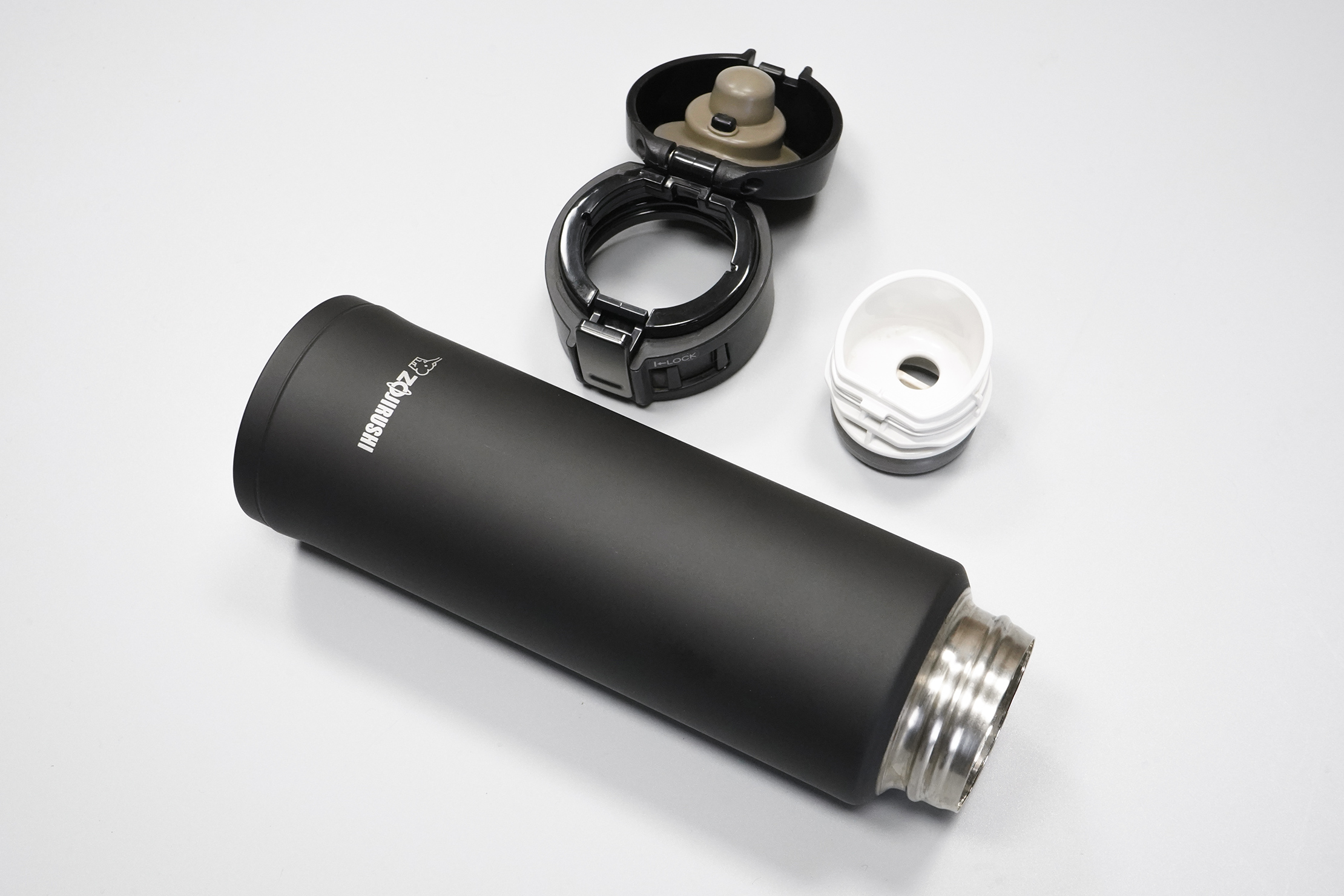 For maintenance, the lid breaks into two parts: the white plastic spout and the exterior lid assembly. This makes it easier to clean, and you can really get your cleaning brush into the small crevasses of the parts. On that note, the white plastic does stain easily over time, especially when you drink a lot of color-y liquids. Manual cleaning is a must since the Stainless Mug is not dishwasher safe. Regular cleaning takes care of stains, and our sample here looks pretty pristine despite our daily tea consumption. As with most bottles, we recommend using a skinny bottle brush for those hard-to-reach places.
One gripe we had with the lid is how constrictive or shaped the opening is. We've nailed it down to those two characteristics, but basically, whenever we pour something out, the liquid dribbles out instead of flowing smoothly. It creates some unnecessary splashes, and it requires careful pouring, especially when you're handling very hot beverages. We're curious to see if the Tea Leaf Filter version handles pouring better since it has a different spout design. The Stainless Mug's spout isn't bad by any means and just requires more careful attention.
Volume-wise you get 16-ounces with this, the SM-KHE48 model. You might find it lacking if you frequently hydrate throughout the day, but for hot beverages, which are generally consumed more slowly, it's enough. There's also a smaller 12-ounce model if you need something more compact that fits in a sling bag.
Your mileage may vary according to how big you make your ice cubes, but the Stainless Mug's opening comes in just under two inches, big enough to make getting ice inside easy. However, you won't have to worry too much about packing it with tons of ice since the Stainless Mug performs admirably when it comes to maintaining your drink's temperature.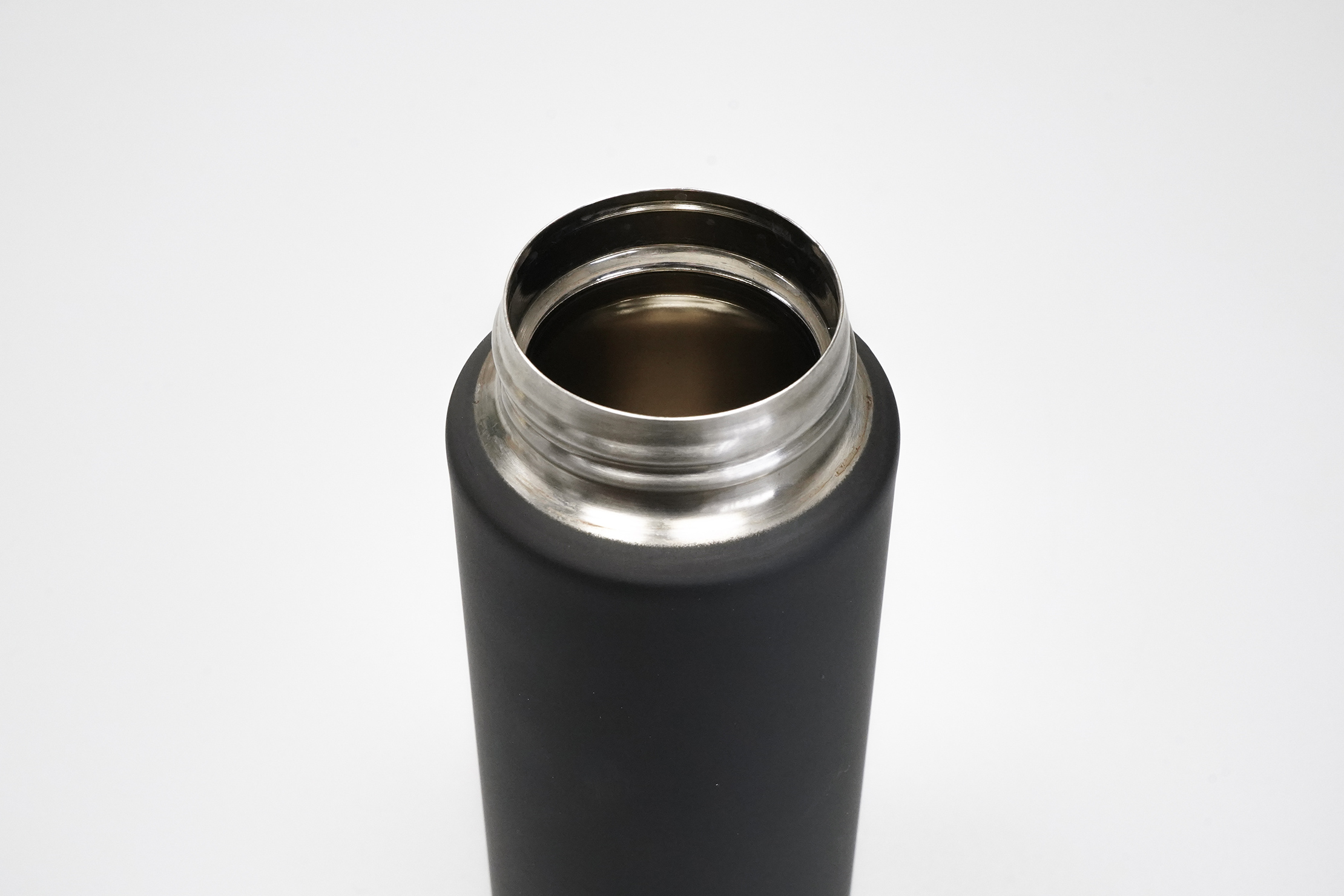 Cold drinks remain cold throughout the day, while hot drinks remain hot. We mostly used the Stainless Mug for our daily dose of tea, and it did not disappoint each time we needed a relaxing drink. Considering that Zojirushi's design comes at a light weight, this is impressive for day-to-day performance.
Wrap Up
Zojirushi's Stainless Mug performed well throughout our daily use, with only a few things to keep in check. Two of these are regarding stains: one is to keep the spout clean to avoid visible stains turning permanent, the other is to be careful with pouring as beverages tend to dribble out of the spout. The last one is to wash it thoroughly by hand, as the Stainless Mug is not dishwasher safe.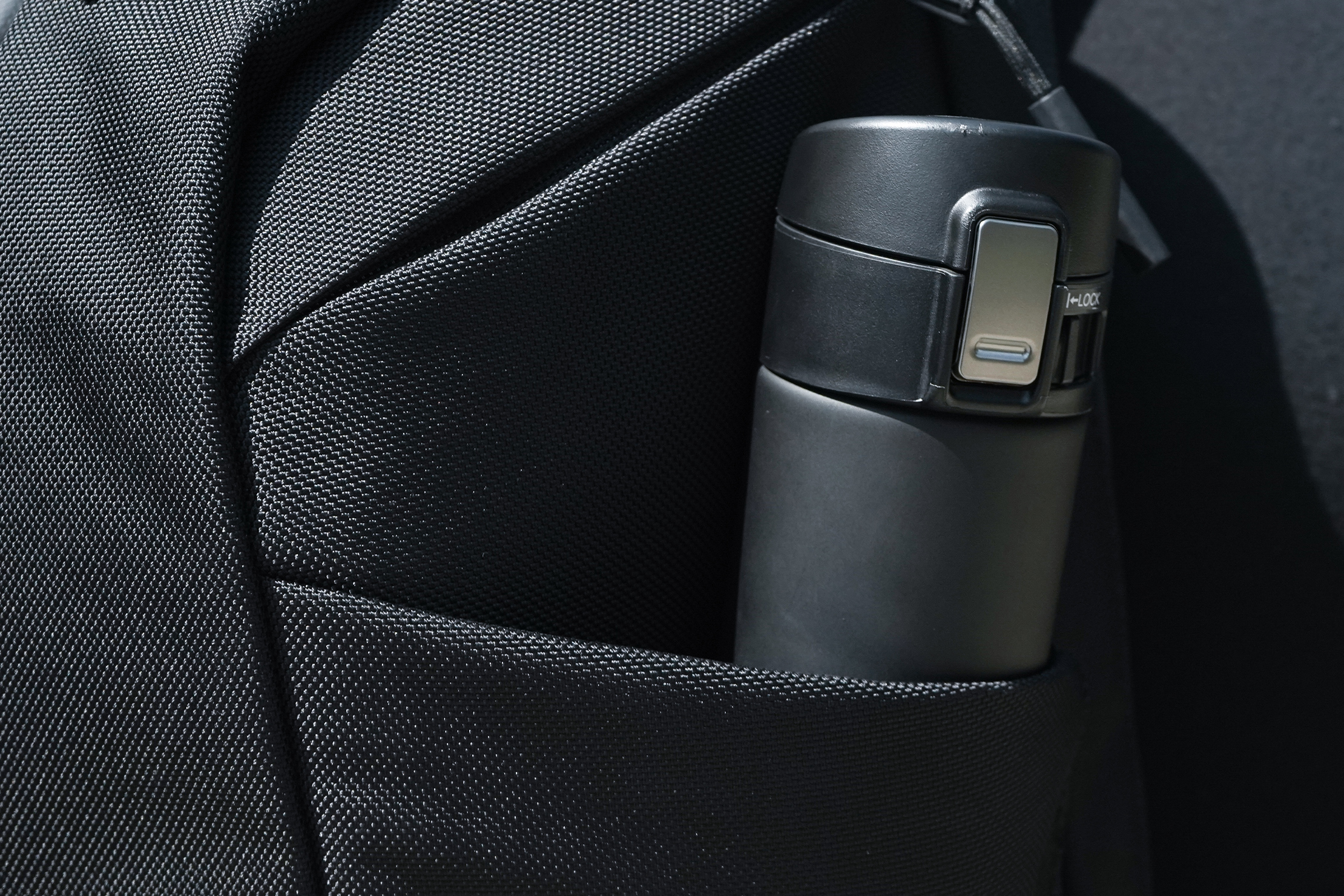 That last one is a very minor nitpick, and you really only need to be wary of the former two, and those can be regarded as good practice for any insulated bottle. All in all, the Zojirushi Stainless Mug gets the job done with minimal fuss.
Usage Timeline
Initial Usage
Condition: Excellent
Lock feels a little stiff out of the box but should break-in
Flip top button has a fair tactility to it
Really solid feel in the hand, including the lid portion
2 Weeks of Use
Condition: Excellent
Very lightweight—about half of the weight of a YETI Rambler 18oz, for example
Digging the stainless steel with matte finish style
Compact—doesn't take up much more space than the liquid inside
Almost keeps beverages too hot!
Removable parts make cleaning easy
When pouring out of spout, things can splash around and get a little dribbly
Access the Pro Community Discussion
Get your questions about the Zojirushi Stainless Mug (SM-KHE48) answered from our team and the Pro Community right here on the page. Plus, join discussions with other members about gear, guides, and more.
Other Miscellaneous Reviews