Rumpl NanoLoft Travel Blanket Review
The Rumpl NanoLoft Travel Blanket is a small, warm, packable blanket convenient for travel, although it's not the easiest to compress.
Our Verdict
Unlock the Pro Summary
Save time. Get access to brief summaries of our reviews so you can browse and make decisions more efficiently.
Pros
Great personal size
Durable & water-resistant with warm insulation
Packable and easy to travel with
Cons
Difficult to compress
Loose threads after only two weeks of testing
Separate case is easy to misplace
Recent Pack Hacker Video
Technical Details
Weight (lb)

.7 lb (0.3 kg)

Denier

30D

Dimensions

38 in x 52 in (96.5 x 132.1 cm)

Notable Materials

Recycled Polyester, Polyester, Unbranded Hardware

Manufacturing Country

China

Warranty Information
Full Review
If you can believe it (and even if you can't), the idea for Rumpl came from the back of an RV. The company's founders found themselves in a tricky (and icy) situation when their van was stranded in cold temperatures, forcing them to bundle up with sleeping bags to stay warm.
They've since reflected on the effectiveness of the kinds of fabrics and materials used for gear, and have been incorporating them into their blankets. This makes them warm enough for colder temperatures and durable enough for rougher terrain.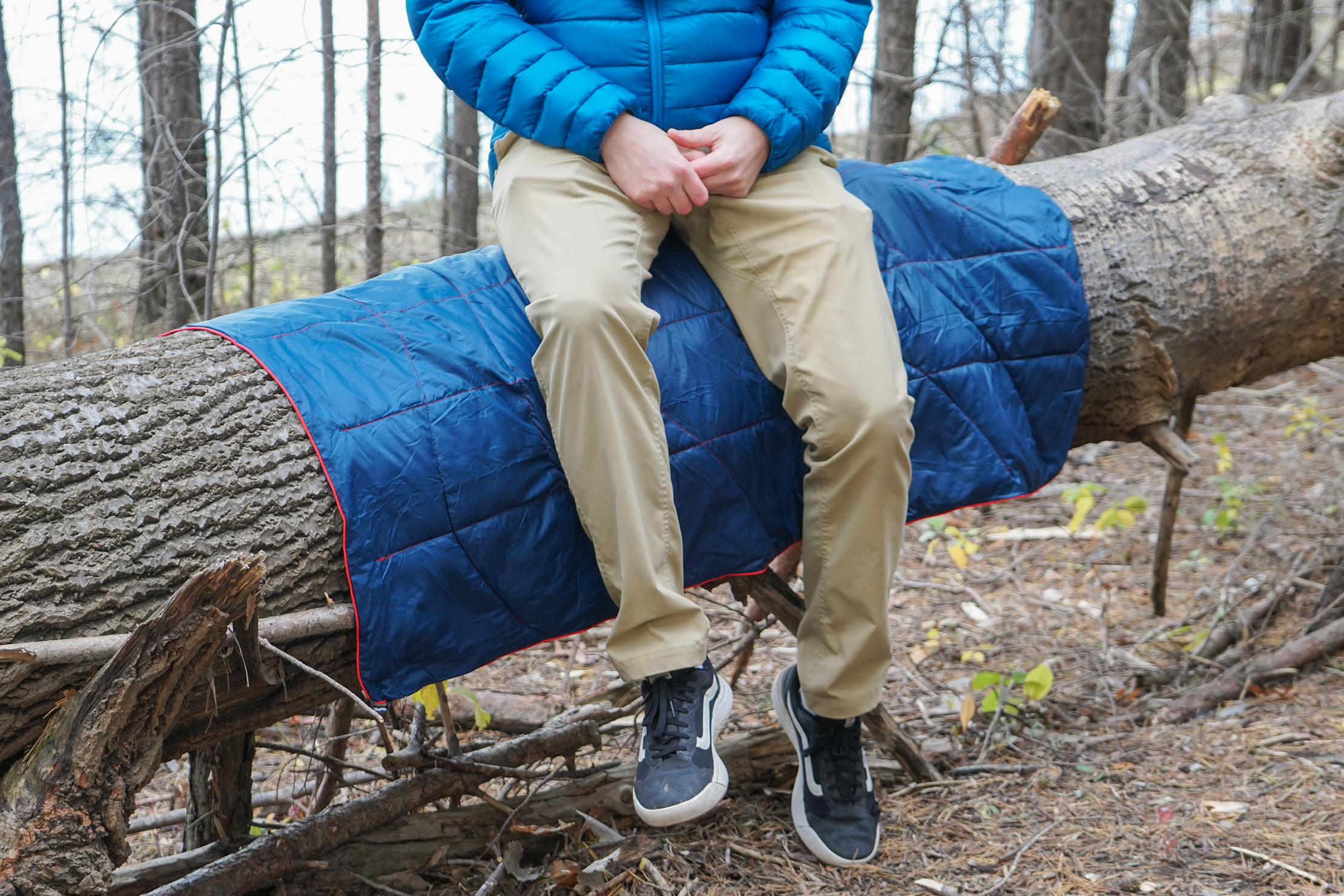 Their NanoLoft Travel Blanket is just one of Rumpl's many innovations. It's lightweight, packable, and a great size for personal, everyday use. You may also be delighted to learn that it's made with recycled materials, so you can add eco-groovy to the list.
After two weeks of testing, we're here to tell you what we think: let's get ready to Rumpl!
Materials & Aesthetic
This blanket has "travel" in the name, so it's right at home in open fields, at campsites, and even at home, wherever that may be. At the time of this review, the NanoLoft Travel Blanket is available in Deepwater (which is navy blue), Pyro Tri-Fade (which is gradient and perhaps the coolest name for a colorway out there), and Black (which is, well, black). We've been testing with the former and are digging its red thread that works as a visually-pleasing accent.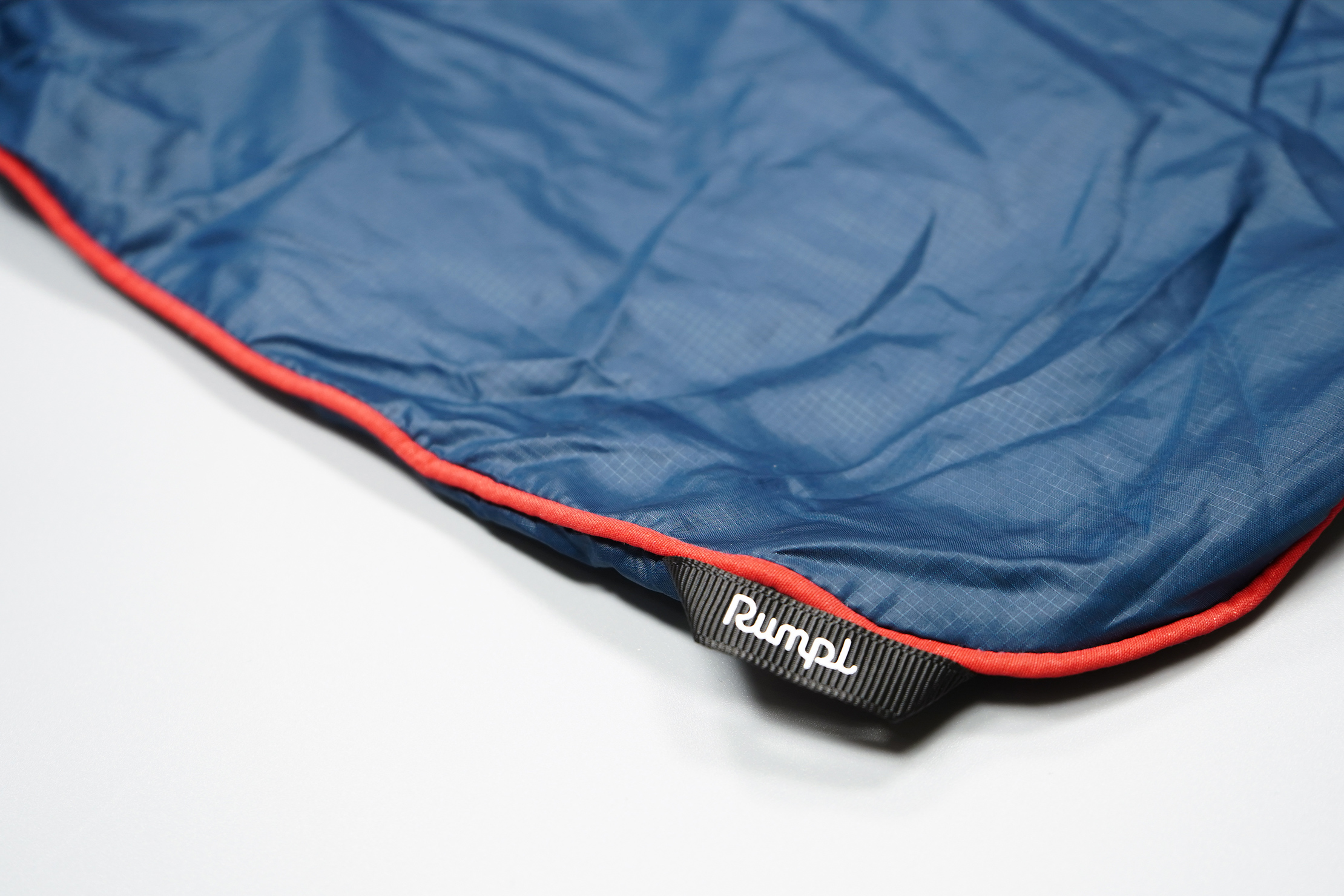 Rumpl's wordmark appears along the bottom of this blanket's carrying case in red letters and appears more subtly in white lettering on a small loop in one of the blanket's corners. Neither of these logos has bothered us any—however, there is a large white tag attached to one side that blanket manufacturers are legally required to include. Once you purchase the blanket, you can cut it off so that it's not a nuisance, but it hasn't been a massive deal for us during testing.
Material is a big deal when it comes to blankets, and this one is made with a recycled 30D ripstop polyester topped off with a DWR coating. Both this fabric and its finish protect it from tears and scratches, as well as any moisture you may encounter. That said, the stitching on this thing is cause for concern, as we've spotted several loose threads after only two weeks of testing.
This blanket also features NanoLoft® technology, which Rumpl states is a Nanometer high-elastic cloth with soft nap, a synthetic down material. We've been wrapping up in this blanket around the fire during testing, and this insulation has been keeping us nice and warm long after the flames go out.
Features & Usage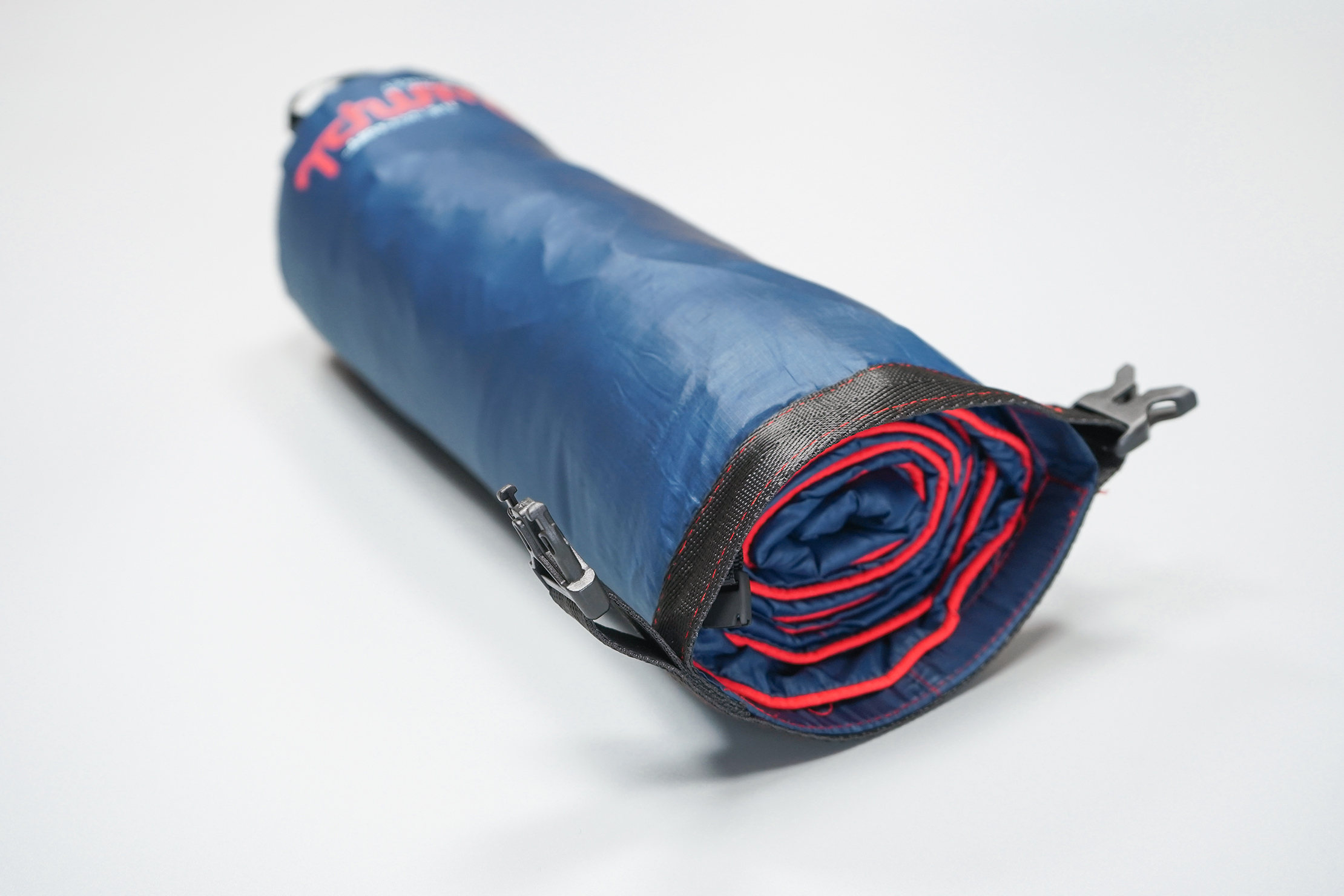 The Rumpl NanoLoft Travel Blanket packs away into a separate, water-resistant case. We would've preferred it compress into itself the way the Matador Pocket Blanket 2.0 does, as it can be a hassle compressing it tight enough to easily get back inside. That, and we've already misplaced the case once or twice.
We will say that the case does allow us to quickly throw this thing in our bags and take it along with us wherever we go. The buckle at the top also acts as a makeshift handle when we're making quick trips with it, as the case's material is a little slippery to hold on to; a convenient functionality if you ask us.
Something we pointed out in our packable jackets guide is that you're going to want to leave compressible gear like this thing uncompressed as much as possible. This way, the fabric and insulation don't get squished, but rather retain their effectiveness over time.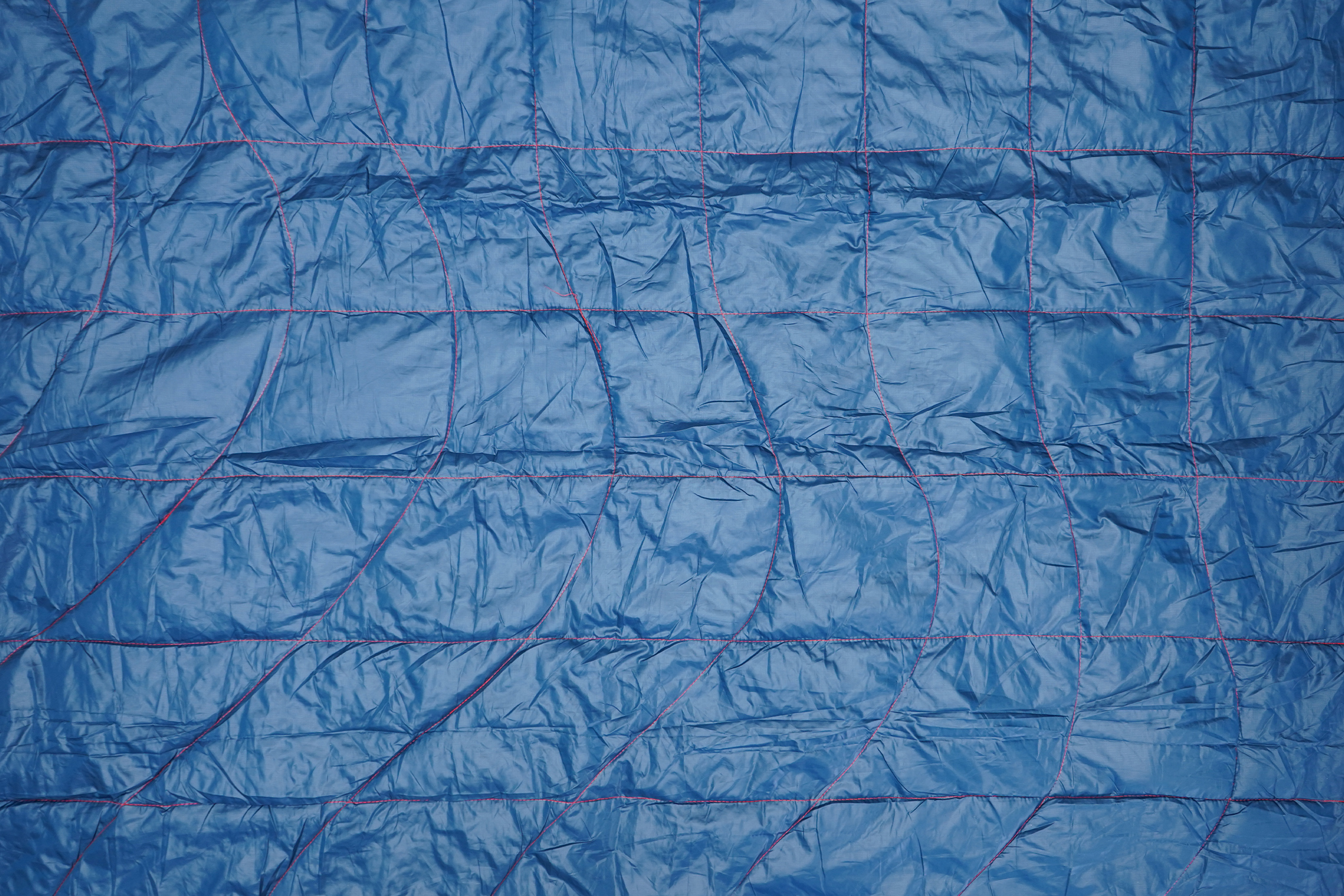 While it takes some maneuvering to pack up, it's relatively easy to take out. This blanket is 38 x 52," which is a great size for one person. If you're looking for something bigger and shareable (and even more vibrant, unique colorways), the Rumpl Original Puffy Recycled Blanket is one to check out. It's also even more padded for extra warmth if you're planning on being out in frigid temperatures (though it packs up to be a bit bigger).
The larger version of this blanket has corded loops in each corner when you can hammer in stakes to keep this thing from flying around when the wind picks up. You don't have that functionality with the travel size, so if you're out on a picnic in the field, it's a good idea to keep your pack on the blanket as well. That way, it's less likely to blow away from a particular brutal breeze.
Perhaps the most crucial feature of this blanket (and any blanket, really) is how easily it transitions into Cape Mode. Thankfully, the NanoLoft Travel Blanket has a feature for just this purpose. You'll find a small buckle in one corner, and on the adjacent, a small loop adorned with the Rumpl logo. You can throw this blanket over your shoulders, feed the buckle through the loop, and clip it into place.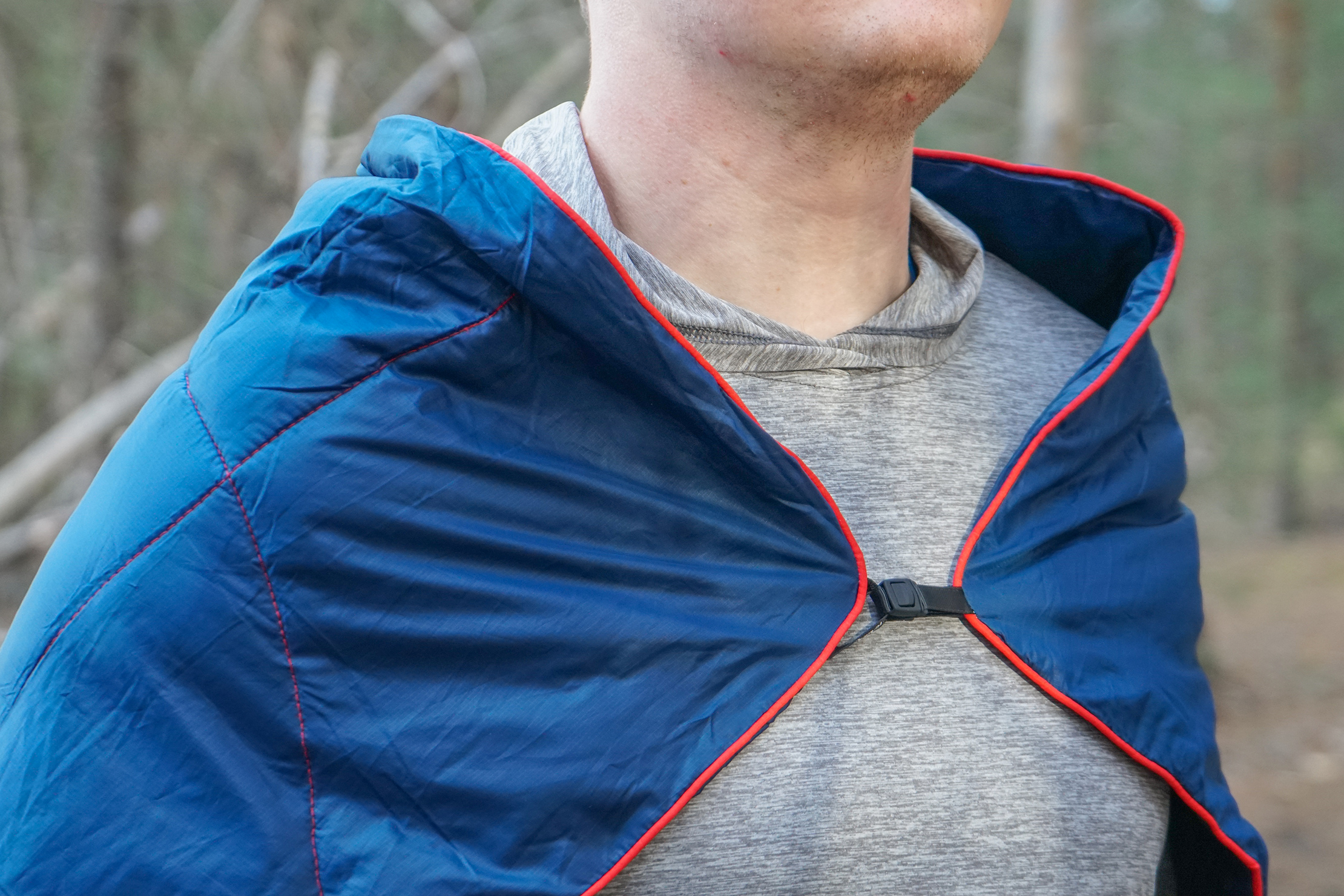 No longer are you some plain, ordinary blanket user. You are now the Blanket Bandit, who—along with your Rumpl companion—stop the evil forces of Cold from spreading through the world. Well, not really—but you are getting a warm, hands-free experience, at least. You can use those free hands to grab a beer, sit back, and relax. Don't worry, if your beer changes temp—they make a blanket for that, too.
You can pick up your own for all your outdoor (and indoor) activities, whether you're planning a picnic, out on a hike, or building a fort in the living room. If not for you, this blanket would also make the perfect gift for your always-road-tripping BFF or even your environmentally-conscious second cousin.
Usage Timeline
Initial Usage
Condition: Excellent
Warm, durable, and water-resistant
Cape Clip allows you to wear your blanket over your shoulders and hands-free
Packs down small, great for keeping in your car or RV
2 Weeks of Use
Condition: Good
We wish this blanket packed into itself like the Matador Pocket Blanket 2.0 does, as we've already misplaced the separate case once or twice
We've been snuggling up with this thing around the fire during testing. Even as the flames dwindle, this blanket still keeps us nice and warm
The stitching is a little shoddy—we've noticed several loose threads after only two weeks of testing
Access the Pro Community Discussion
Get your questions about the Rumpl NanoLoft Travel Blanket answered from our team and the Pro Community right here on the page. Plus, join discussions with other members about gear, guides, and more.
Other Toiletries & Personal Care Reviews