QWSTION Day Tote Review
The QWSTION Day Tote is a two-for-one deal with tote and backpack carry options. That said, the harness system can obstruct quick access to the bag.
Our Verdict
Unlock the Pro Summary
Save time. Get access to brief summaries of our reviews so you can browse and make decisions more efficiently.
Pros
Easily transitions between backpack and tote
Large quick-access zipper on the side makes grabbing gear easy
U-shape lid opening increases main compartment visibility
Cons
Difficult to quickly access main compartment from the top
Shoulder straps lack padding for when bag is heavy
Gear can fall out if straps aren't tight
Recent Pack Hacker Video
Technical Details
Capacity

15l

Weight (lb)

1.77 lb (0.8 kg)

Dimensions

4.7 in x 17.3 in x 15 in (11.9 x 43.9 x 38.1 cm)

Notable Materials

Cotton, Organic Cotton, Nylon, Leather, Polyurethane

Manufacturing Country

China

Laptop Compartment Size

15"

Warranty Information
Full Review
It's a bird! It's a plane! It's a tote and daypack hybrid! The aptly named QWSTION Day Tote has a unique way of blending the two carry styles in a sleek, professional package. We'll get more into how this works down below, but for right now, let's talk a bit more about the company.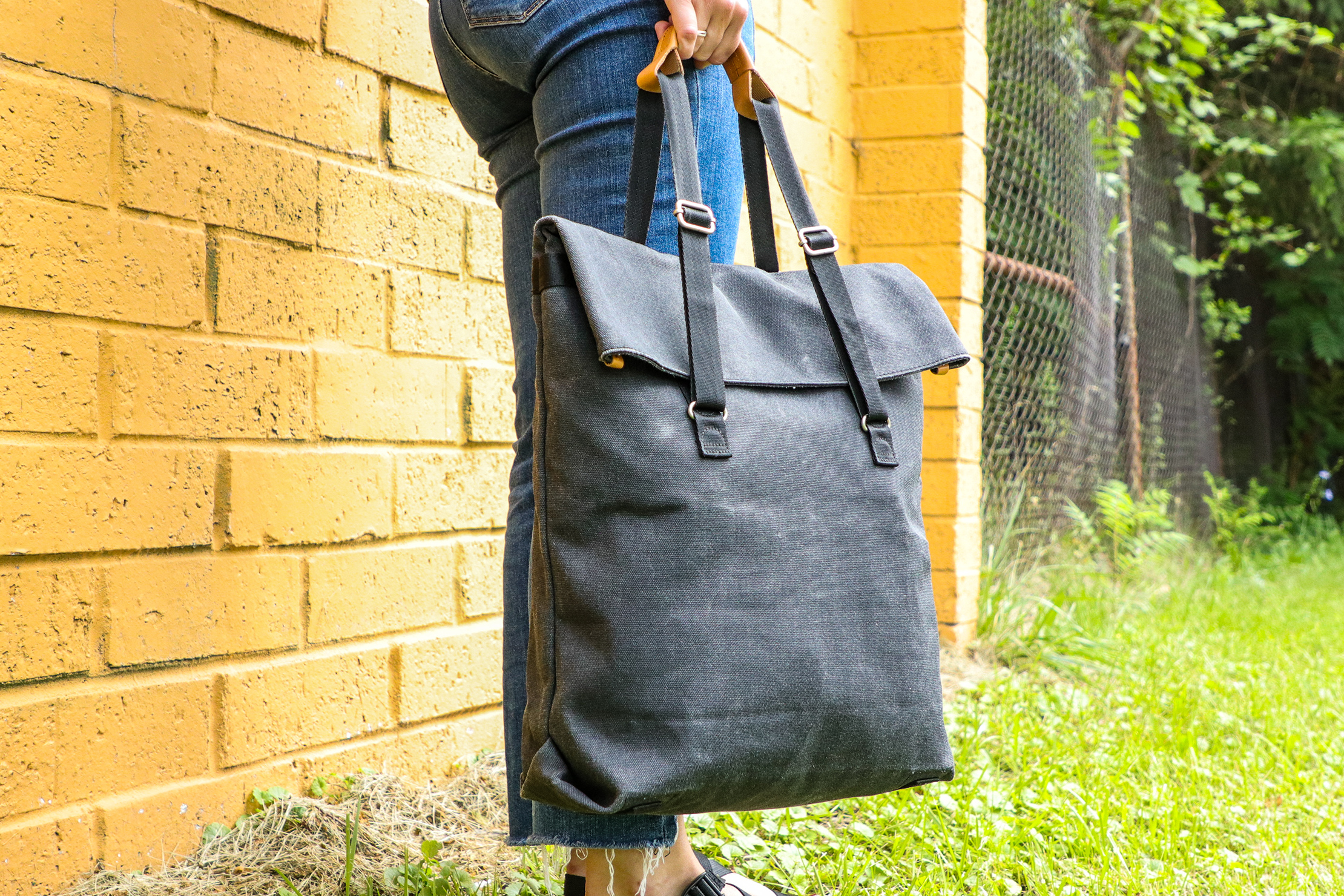 QWSTION was founded in Zurich, Switzerland with the goal of creating a backpack that can go from bike to meeting without batting an eye. In addition to versatility, they prioritize sustainable and ethical production by choosing more earth-friendly materials and working with factories that meet workplace standards required by the EU.
However, as impressive as that all sounds on paper, our own goal is to figure out whether or not the tote can deliver in performance as well as style. Read on to find out.
Materials & Aesthetic
As previously mentioned, this tote gives us professional vibes, but in an "I'm not a regular boss, I'm a cool boss" type of way. The construction is simple, sporting a lid that flips up to give you access to the main compartment and smaller outside pocket. That said, we like how the tote looks (though only 45% of our Instagram followers agree) and received numerous compliments during our testing period. The tote's unique style is hard to ignore either way.
Over the course of this review, we'll talk about how it converts from a tote to a daypack with ease. While this design benefits everyone who uses the Day Tote, QWSTION added this feature with cyclers in mind. Those who prefer to commute by bike know the pain of bulky or too technical bike bags. For example, while we love the Osprey METRON and think it looks pretty dang sleek, there's a definite difference between that style and the style of the Day Tote. Apples and oranges, as they say.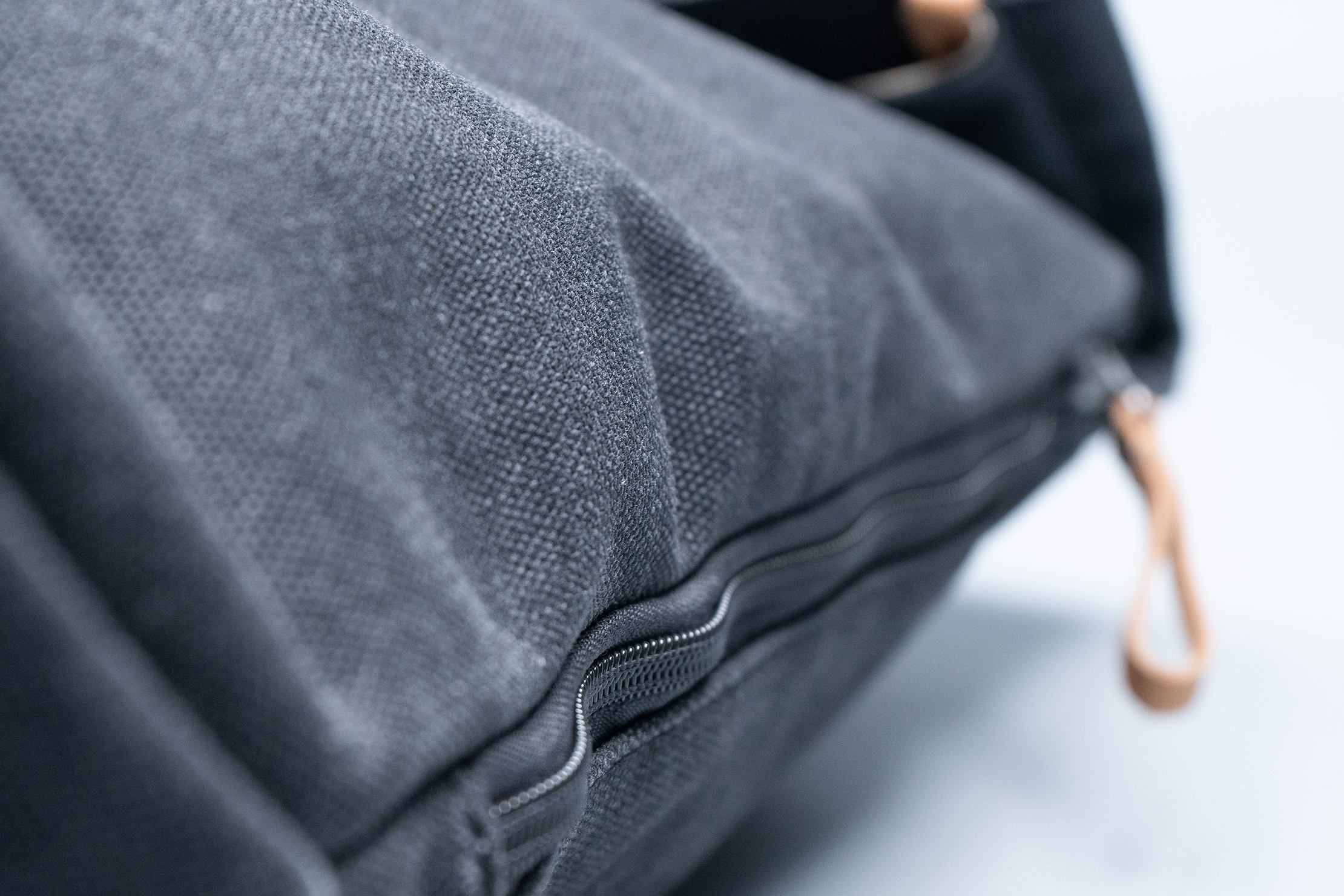 At the time of writing, there are a handful of neutral colors available. Similar to the design of the tote, the colors add their own style and flair—there are even a few with added leather accents if that's your thing. The color we have here is Organic Washed Black, which is more of a dark grey. It reminds us of how black jeans fade over time, slowly adopting a more worn-in look with every wash cycle. It feels similar to canvas: rough to the touch and a little stiff until you get some good mileage under your belt.
There are a few different materials to choose from, some of which correspond with specific colorways. Ours is made with 100% organic cotton and coated with wax, a PU coating, and PFC treatment to add weatherproofing. The other available materials are 100% non-organic cotton as well as a blend of 55% organic cotton and 45% recycled cotton. Basically, these totes are all cotton all the time, but it's up to you to decide which one is a fit for you.
While we can only vouch for the Organic Washed Black since that's the one we tested, QWSTION mentions on their website that they designed their bags to gradually collect blemishes the longer you use them. Similar to how jeans crease over time, this tote does the same. It also picks up dust pretty easily, though we'd argue that it just adds to the worn look.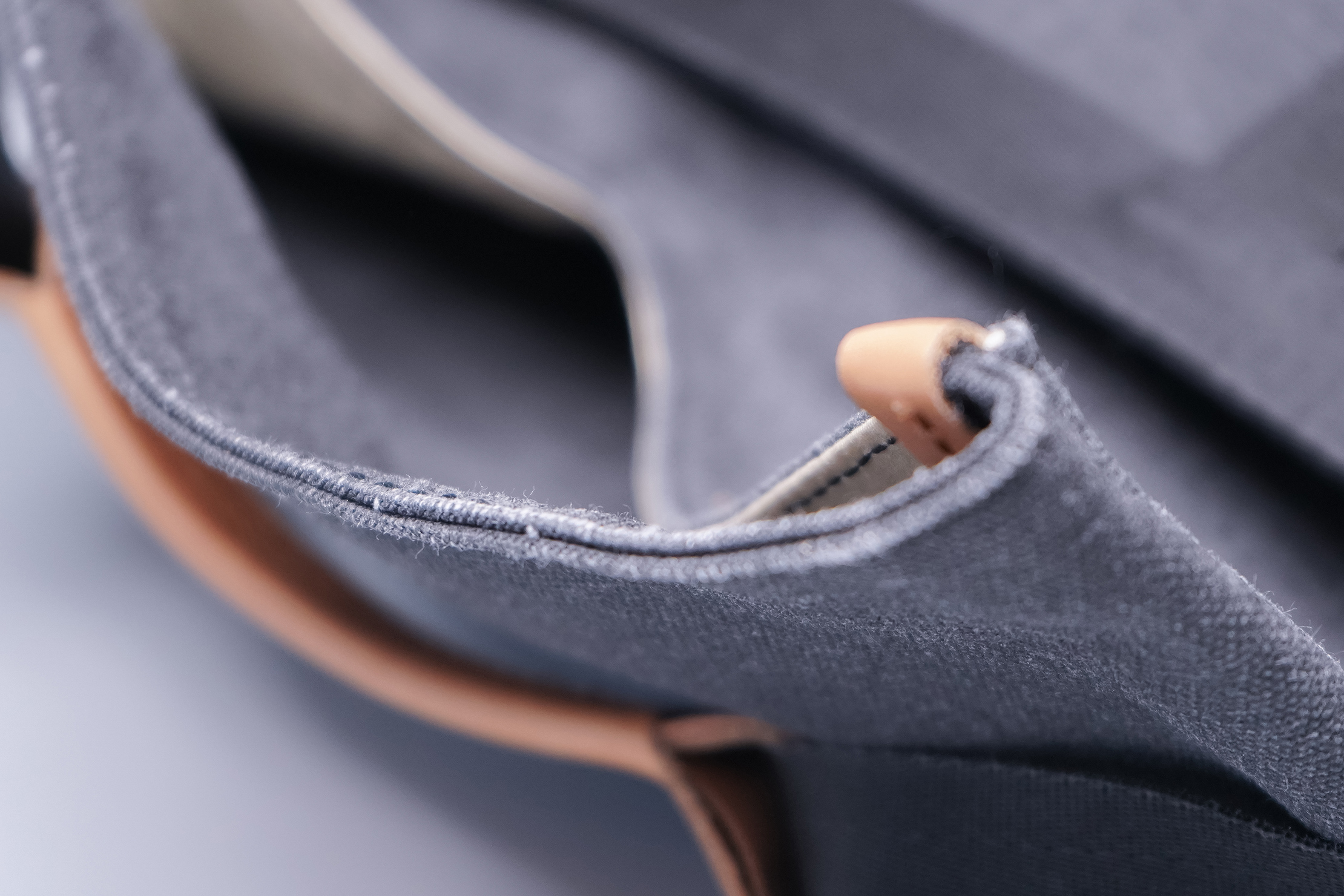 Overall, we don't have any major issues to report. In fact, we purchased this tote from Pack Hacker Pro member Christian, who had already used it for six months before we even got our hands on it. Essentially, it came to us pre-loved. We're big fans of testing gear for as long as possible, and since the Day Tote develops a worn-in look over time, we're happy that we could get a better feel for how it performs after wearing down a bit.
After half a year of use, there's some discoloration on the tote—especially around the edges. In addition, there's some frilling on the strap edges and loosening threads on the inside where the liner meets the shell. There's also a bit of pilling on high-wear areas like the seam of the lid. However, none of these cause any concern for us as they're not very visible unless you're looking for them. Plus, any general wear on this tote settles in nicely and adds to the character.
As for other materials, QWSTION keeps things pretty simple. The inside liner of our tote is also 100% organic cotton with a PFC treatment to keep moisture at bay. We did get caught in a few rainstorms, and while the shell of the tote collected moisture and took a while to dry, nothing got through to the inside. While we don't think we'll be trekking our way through a monsoon any time soon, we feel confident making our way through a few surprise downpours.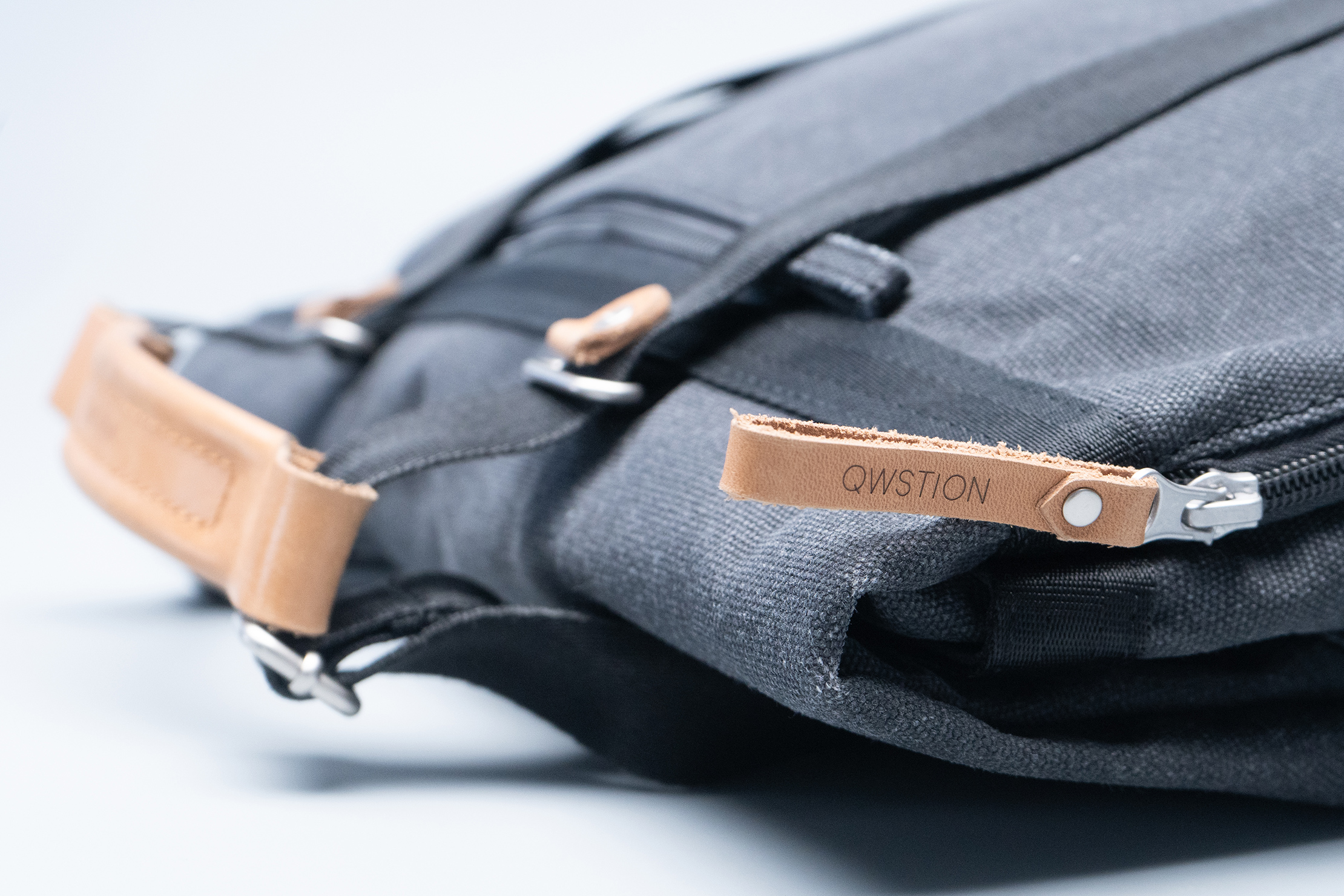 The handle is a vegetable-tanned cowhide, and added leather accents like the zipper pulls and stoppers on the straps are functional and luxurious. Although we found the handle comfortable to carry, we wish there was a bit of padding on there for added support. The edges are rounded for ergonomic purposes, but we'll never say no to the extra cushion. There are only three zippers on the tote, all of which are TH brand and show no significant signs of wear. The rest of the hardware is unbranded, and we also had no issues there.
We'll get into the actual strap system in the next section, but we want to address the material first. Both sets of straps are 100% Nylon, and though they feel sturdy and durable, they leave much to be desired when it comes to comfort. There's no padding, which we can guess is because it would alter the tote's aesthetics. While it wasn't the most comfortable backpack we've ever worn, we were happy to sacrifice a little bit for the style. However, it's something to keep in mind if you're less willing than we are.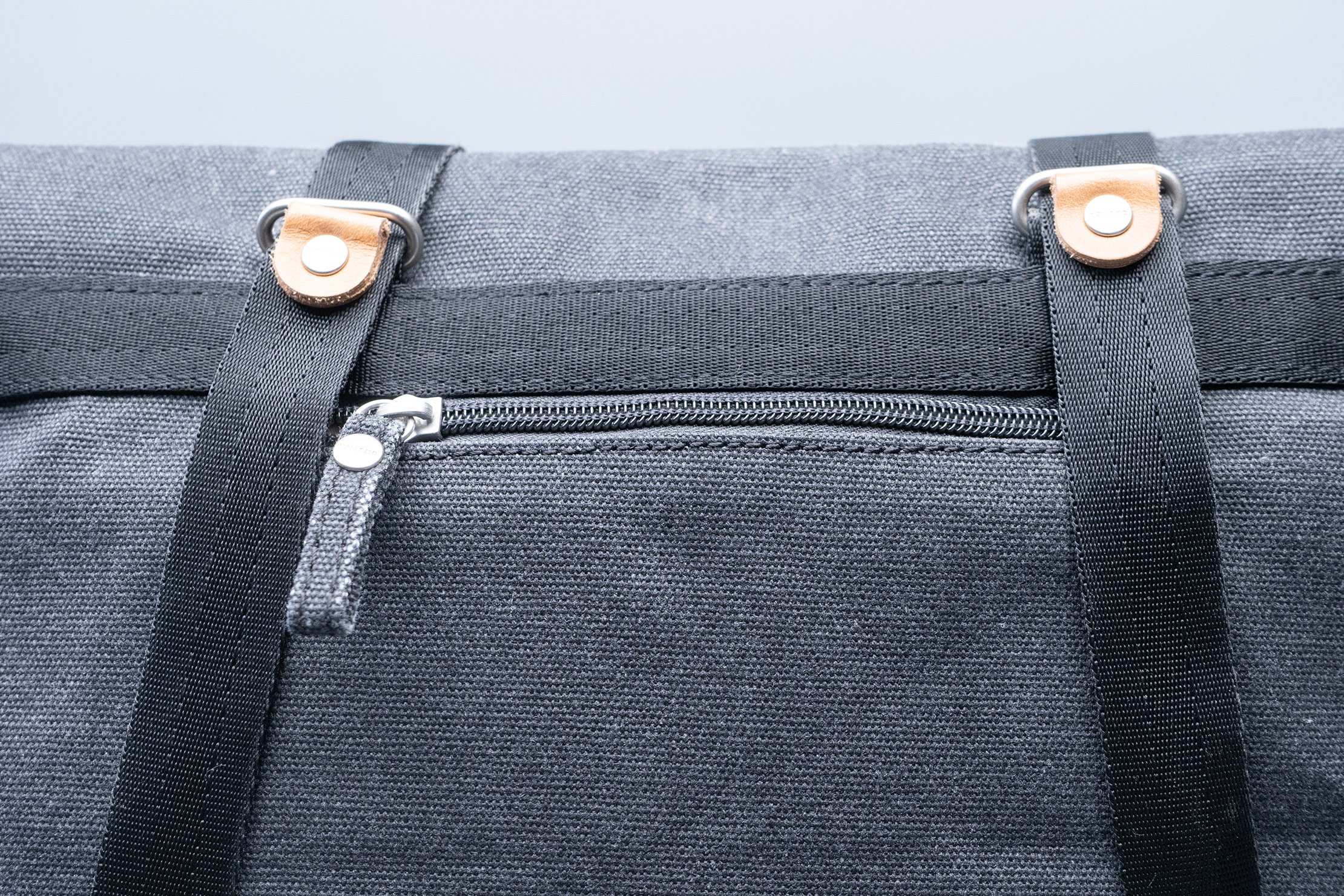 In terms of QWSTION branding, the Day Tote is subtle and straightforward. The carry handle and leather zipper pull on the quick access pocket have a minimalist laser etch of the brand name, and the leather strap keepers have the name engraved on the metal buckles. There's also a strip of leather under the main flap with a QWSTION engravement, which you can use as a makeshift carabiner hook or a securement point for a pair of sunglasses.
Though there's a lot to say about the appearance of this tote, it's time we actually start talking about its function, so let's dive right in.
External Components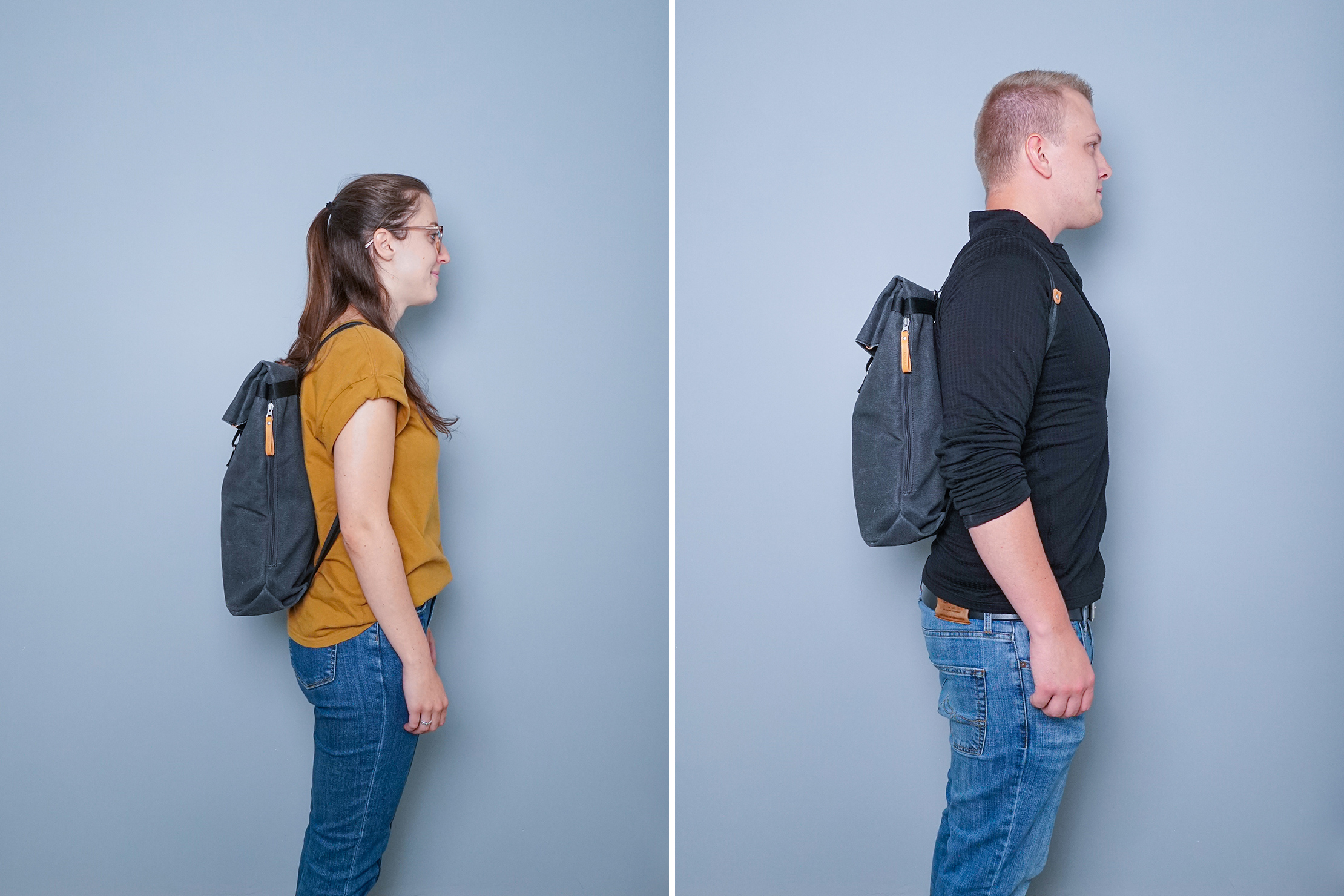 There are only two straps on the tote, and though it looks simple, it takes some getting used to. QWSTION calls this the simple-strap-system®, which allows you to switch from tote to daypack simply by shifting the nylon straps. The straps also hold down the main flap that gives you access to the main compartment. In short, this means that if you want to get inside the tote from the top, you need to move the straps out of the way. How do you do that, you ask? That's why we're here.
Slide the top handle toward the back of the tote, giving yourself as much slack as possible so that you can move the nylon straps to either side of the tote and flip the lid upward. When you're done, close the flap, put the straps back over it, and pull the handle up to remove the slack. We know this is a bit confusing to read rather than see, so check out the GIF below for a quick tutorial.
Though it's pretty straightforward, accessing the tote this way can get a bit clunky. There's a zippered pocket on the side for quick access if you want to circumvent the process entirely (which we'll get into in the next section), but it provides limited access to the tote, especially if your gear is stored on the opposite side.
In spite of this, the switch between backpack and tote is pretty painless. It functions similar to, well, a tote, while the backpack uses that aforementioned simple-strap-system® to give you a secondary carry mode. The way you transfer it to a backpack is similar to how you access the tote, except for this time, you'll move the leather handle forward, leave the straps in place over that front flap, and use the slack at the back of the tote to slip over your shoulders. Again, below is a GIF for your reference.
One thing to note about the Day Tote is that carrying it in backpack mode can get uncomfortable if you've got a lot packed inside the main compartment. We found it to be okay over short trips, and since we used it mainly as a commuter pack, it worked great for short jogs across the parking lot. However, we did take it on an overnight trip or two, and when it was packed to the brim with tech, a change of clothing, toiletries, and a water bottle, the straps started to dig in more than usual. While we're not surprised, it's something to keep in mind if you're looking to wear this as a backpack more than anything. When possible, we stuck to carrying it by the handle.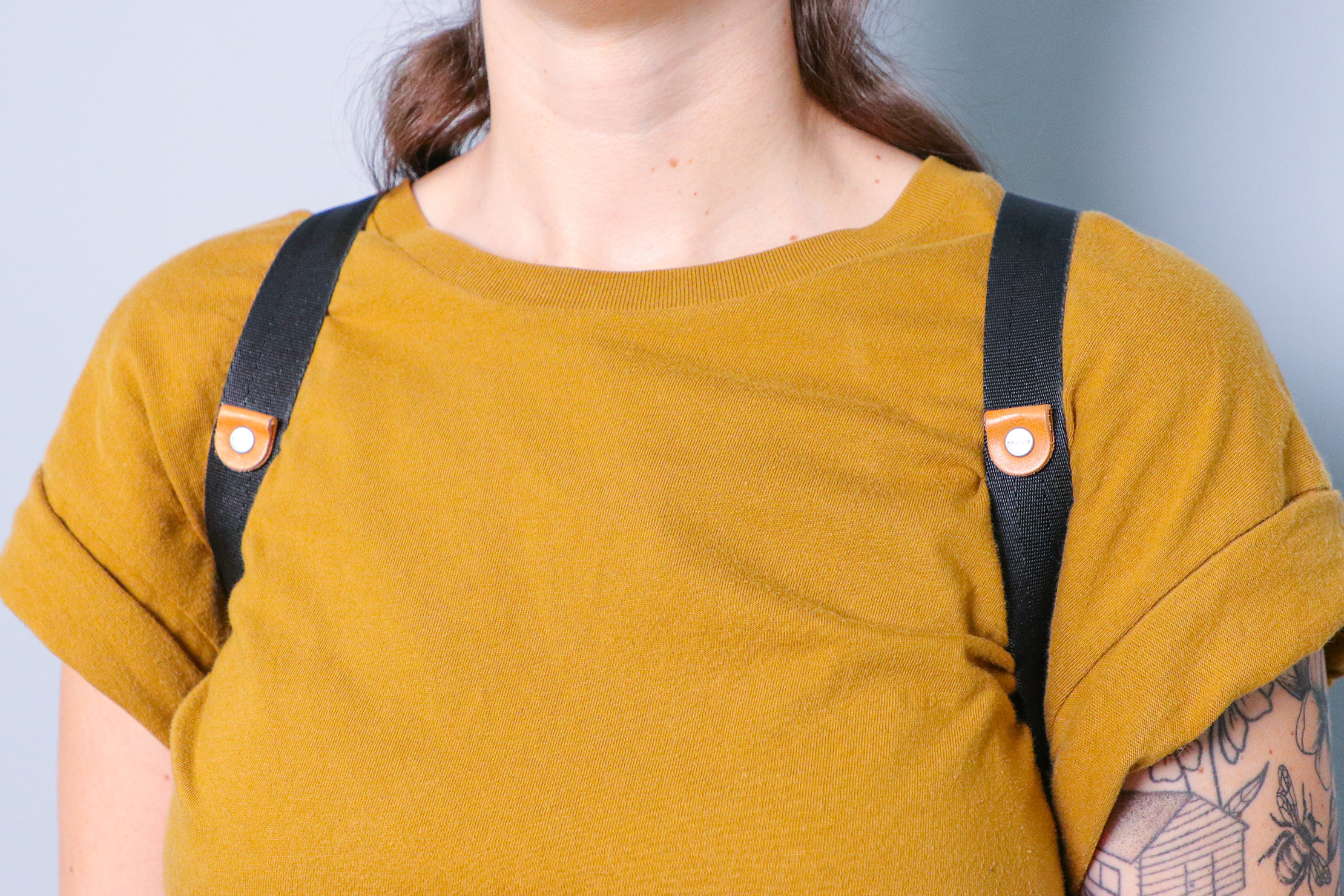 While the Day Tote largely lacks external organization, there's a back pocket designed for a phone or wallet. Whether you're carrying in backpack or tote style, this pocket will rest against your back or side, giving you added security for whatever you put inside. Unfortunately, because the tote has such a low profile and minimal padding, you'll be able to feel whatever is inside.
We found it was best to put our wallet or phone inside the main compartment or front pocket if we were going to be carrying the Day Tote on our back for extended periods, though carrying it as a tote via hand or shoulder didn't cause any noticeable discomfort. As with any other gear, it's up to you to decide what feels most natural.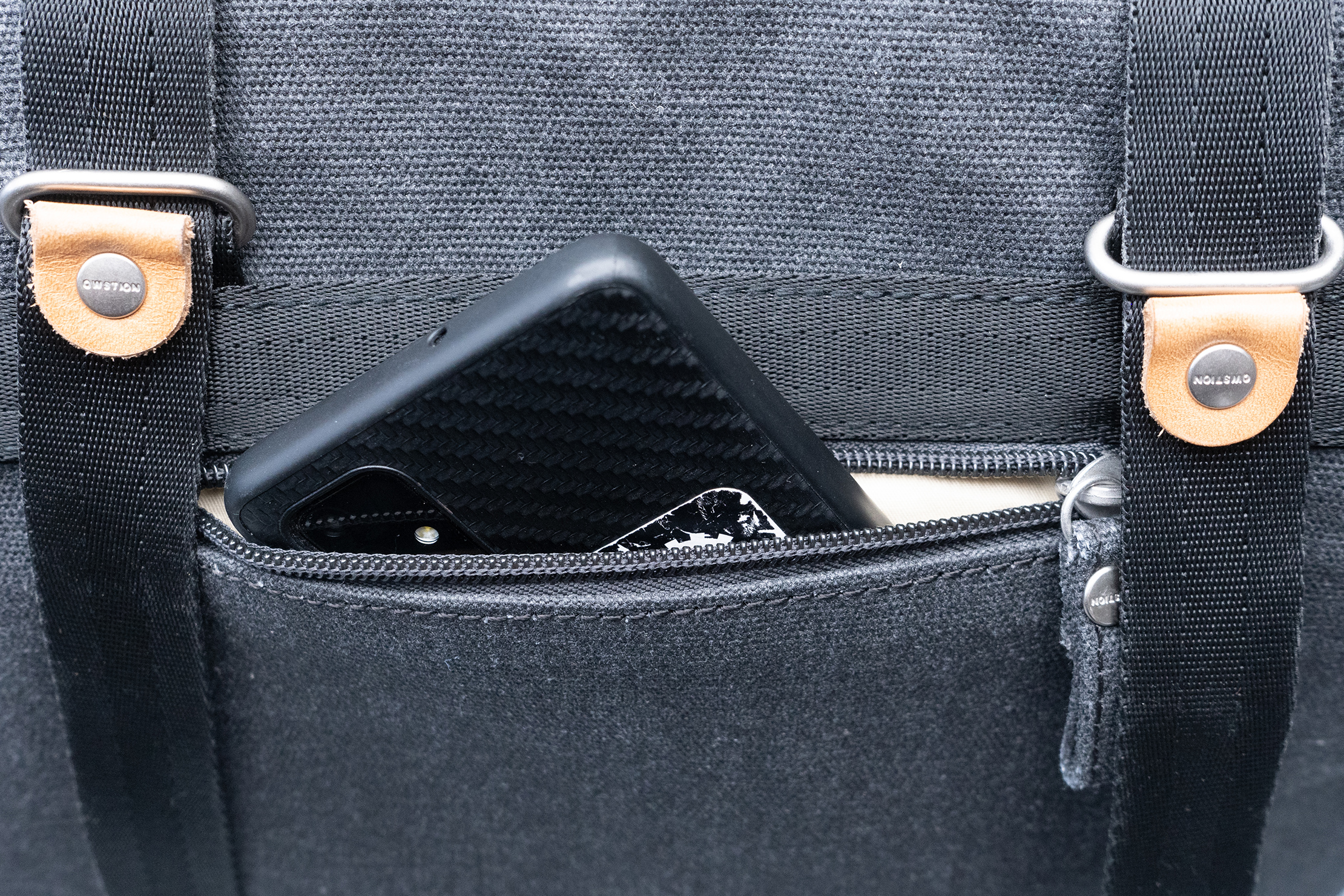 Overall, the outside of this tote keeps things as simple as possible. This sometimes works to its detriment, like in how accessing the main compartment can be tedious. However, it nails the quick shifts between tote and backpack modes, which adds versatility and style. However, one last thing we want to mention is the limitations of the carry handles when you're swapping between modes.
When going into backpack mode, you move the carry handle forward, but it can only go so far as the adjustment hardware allows. When opening the pack, the carry handle can only go so far back as the two leather stoppers on the straps. While we didn't run into too many issues with not having enough space to move in either direction, it's worth noting that you may be limited depending on how tight you keep the straps. We prefer to set it and forget it, leaving the straps at a single adjustment that we know works to avoid any fussing.
Inside The Tote
Now, if you've been paying attention, you may not be surprised to hear that the inside of the tote is just as minimalistic as the outside. It's essentially a 15L bucket, giving you complete freedom to organize as you please. You like packing cubes? So do we, and we found they fit like a glove. Big fan of tech pouches? Wow, us too! In fact, we recommend using one for this tote unless you like fishing around for your gear. Thankfully, the light color liner makes it easier to see what's inside if you're in a pinch and forgot to add extra organization.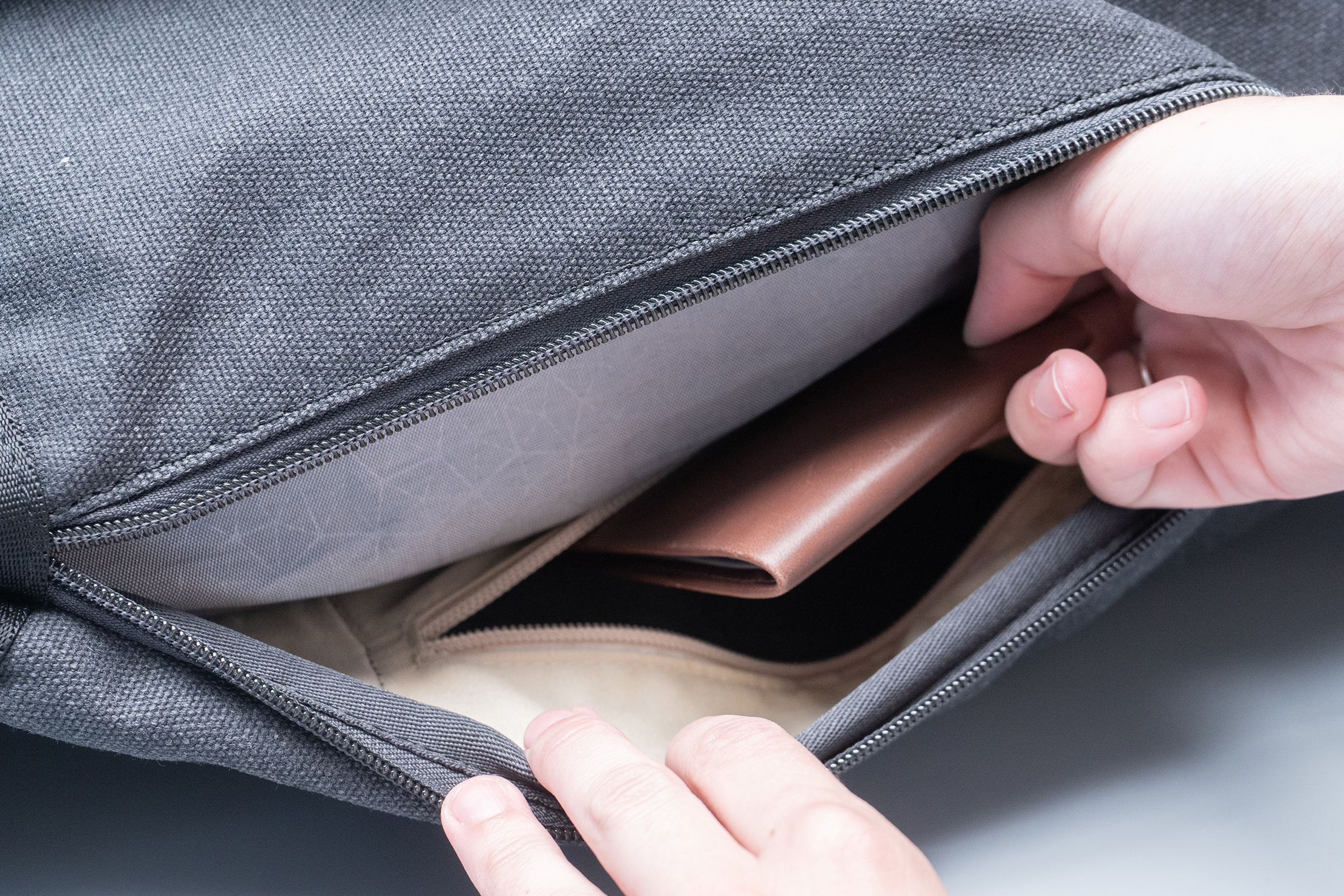 As for smaller EDC gear that doesn't warrant a pouch (like chapstick or hand sanitizer), QWSTION provides an internal zippered pocket to prevent it from getting lost in the rest of the tote. This pocket also lines up with the quick-grab pocket on the side, so you can open both zippers in one fell swoop while you're on the go.
The only other organization is the laptop sleeve, which fits up to a 16" laptop and has a false bottom for protection since the base of the tote lacks structure. It's quilted on the front for extra cushion, and a foam backing supports your tech from behind. Though this padding does add support and can be felt through the back panel of the tote, it's not enough to add any significant comfort.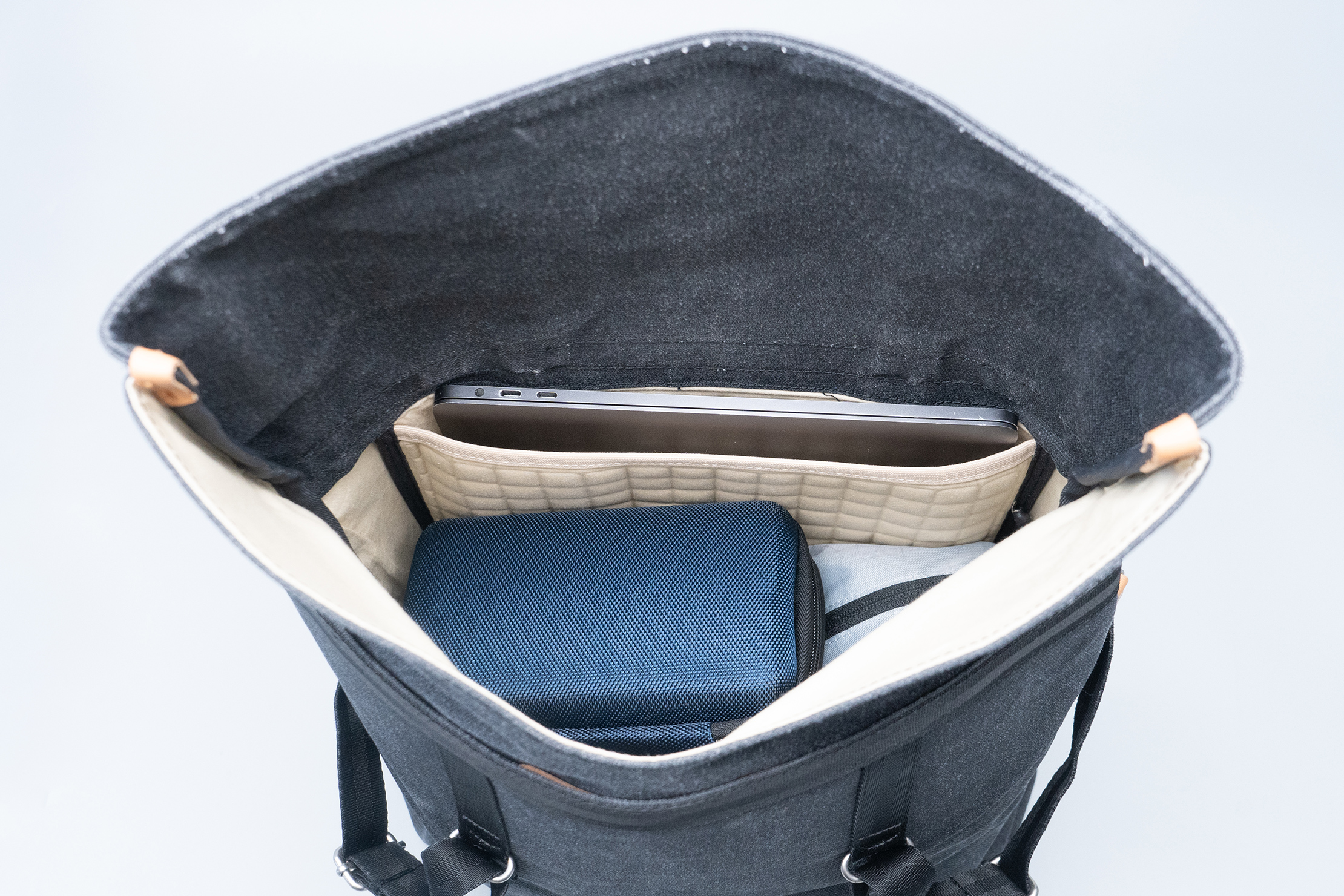 To get inside, move the straps out of the way as instructed in the previous section, lift the flap, and voila! You've got ample space to load this thing however you need. The inside of the flap comes down in a U shape, which makes it easier to see inside the tote at an angle rather than always top-down. We think this is a smart and thoughtful design, and we like that it gives you more visibility than other lid-style backpacks.
However, unlike other daypacks like the Topo Designs Rover Pack Classic or Fjallraven Greenland Top, which have cinch cords to secure gear inside, the Day Tote lacks additional support. This means that if you tip it over on accident, it relies on the straps to keep it closed, and unless they're pulled taut, you run the risk of your belongings falling out. We didn't often run into this problem, but it's worth keeping in mind if you're a bit more vigorous in your usage.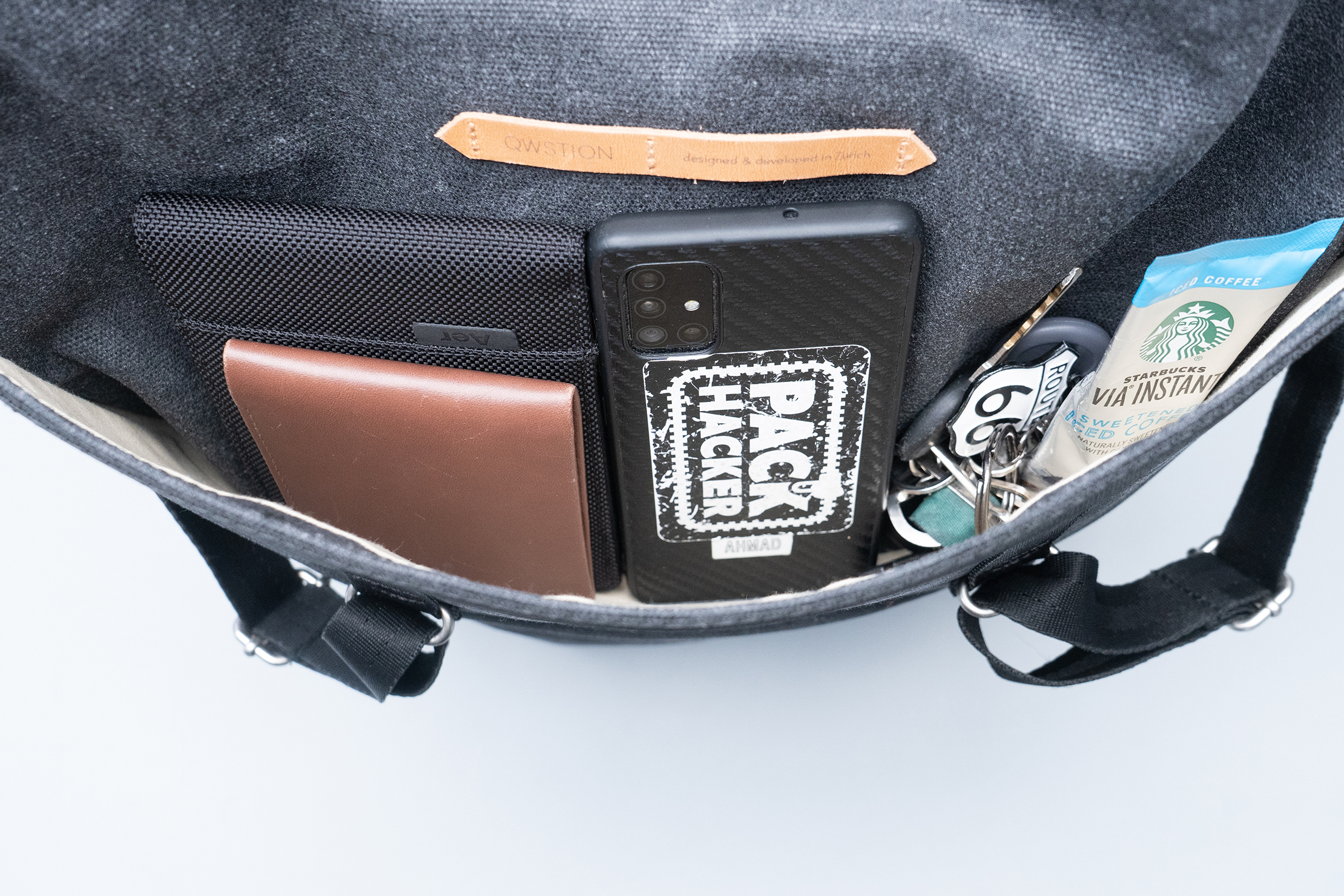 The last pocket we want to talk about is the large open pocket on the front of the tote that's concealed when the flap is down. This spans the entire width of the tote and has the depth of nearly half of the main compartment. While it's just an open tub, it's great for holding items you want quick access to but that are too bulky for the zippered back pocket or too tedious to access from the side access pocket.
We used this primarily for keys and a wallet, though as mentioned above, these items can fall out if the tote isn't secured well though. Twin leather loops act as securement points if necessary, though we didn't run into too many issues and found it secure enough to just toss in our gear. Plus, the front of the pocket has a supportive panel that helps it keep its structure, so our belongings were pretty safe and sound.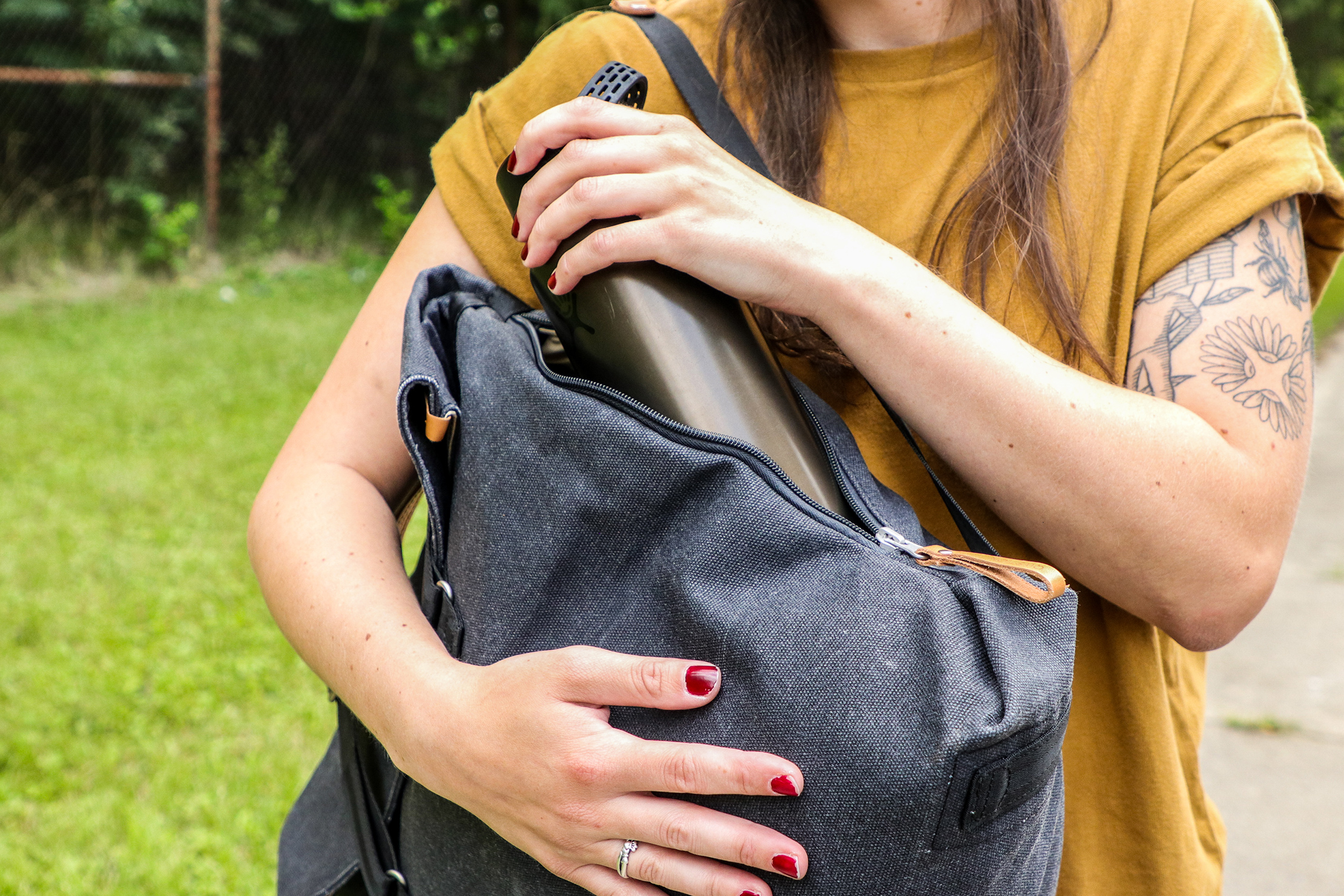 Between the harness system, versatile design, and durable materials, this tote is a unique way to carry our gear from place to place. While it got a bit heavy and wasn't always the most comfortable to carry in backpack mode, we were happy to trade a little extra padding for a sleek, professional look.
Usage Timeline
Initial Usage
Condition: Excellent
The fabric marks up easily and will gain patina over time
Thin shoulder straps dig in a bit when carrying heavy loads
The simple-strap-system is, well, simple and easy to use
6 Months of Use
Condition: Good
We purchased this bag from Christian—a member of Pack Hacker Pro. Here are Christian's thoughts on the pack after 6 months of use:
Overall this bag has been a joy to use. QWSTION is a great brand, and I like its mission and design aesthetic. I used the Day Tote for around six months as an EDC between my home and my office during 2020. It was lightly used, mostly during the summer months, during dry days, and primarily to carry my 16" MacBook Pro. As a tote, I think it is excellent. The leather handle feels premium, and I love the design and materials. As a backpack, it felt a bit lacking. Not in terms of comfort, but going back and forth between tote and backpack mode seemed a bit cumbersome, and I noticed a bit of wear on the straps over time—the materials are very durable. Still, aesthetically the straps acquired slightly frayed edges and a bit of discoloration over time—nothing major, but still worth noting. Ultimately, a backpack made more sense for my own use case, though I think this bag will appeal to many people.
Our Thoughts
Easily collects dirt and dust, but it adds to the worn look of the bag
Organic cotton shell feels like canvas
Switching from tote to backpack is tedious
Shell, liner, stitching, and straps are visibly worn
Decent weatherproofing—stays dry in small amounts of rain but takes a while to dry, as seen below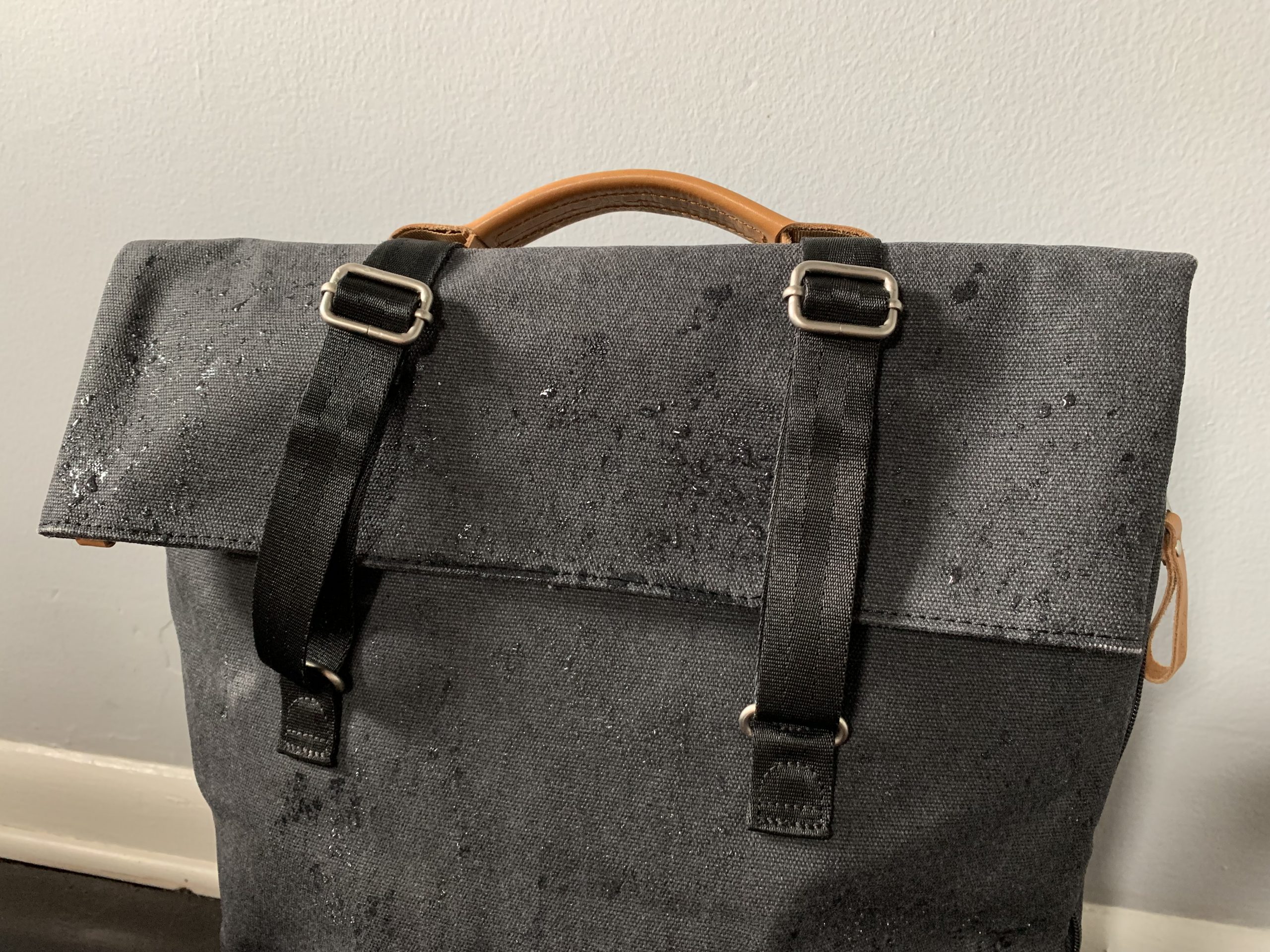 Access the Pro Community Discussion
Get your questions about the QWSTION Day Tote answered from our team and the Pro Community right here on the page. Plus, join discussions with other members about gear, guides, and more.
Other Bags & Luggage Reviews