Pioneer Global Pouch Review
Pioneer's soft-shelled Global Pouch is floppy, but what it lacks in structure it makes up for in organization and packability.
Our Verdict
Unlock the Pro Summary
Save time. Get access to brief summaries of our reviews so you can browse and make decisions more efficiently.
Pros
Soft fabric offers flexibility
Tall profile fits bundled cables easily
Balanced and symmetrical pocket layout
Cons
Structure feels almost too floppy
Black accessories blend in with black interior fabric
Stands up only if packed evenly
Recent Pack Hacker Video
Technical Details
Weight (oz)

4.06 oz (115.1 g)

Dimensions

6.3 in x 8.27 in x 2.76 in (16 x 21 x 7 cm)

Notable Materials

YKK Zippers, 10XD, 3PN, DWR Coating

Manufacturing Country

Vietnam

Warranty Information
Full Review
There are a lot of things to consider when picking a tech pouch. Some factors like aesthetics are easy to spot, but some hide in plain sight. These more subtle features don't really make themselves obvious until you try them out. Case in point, the Global Pouch from Pioneer has two: structure and interior organization.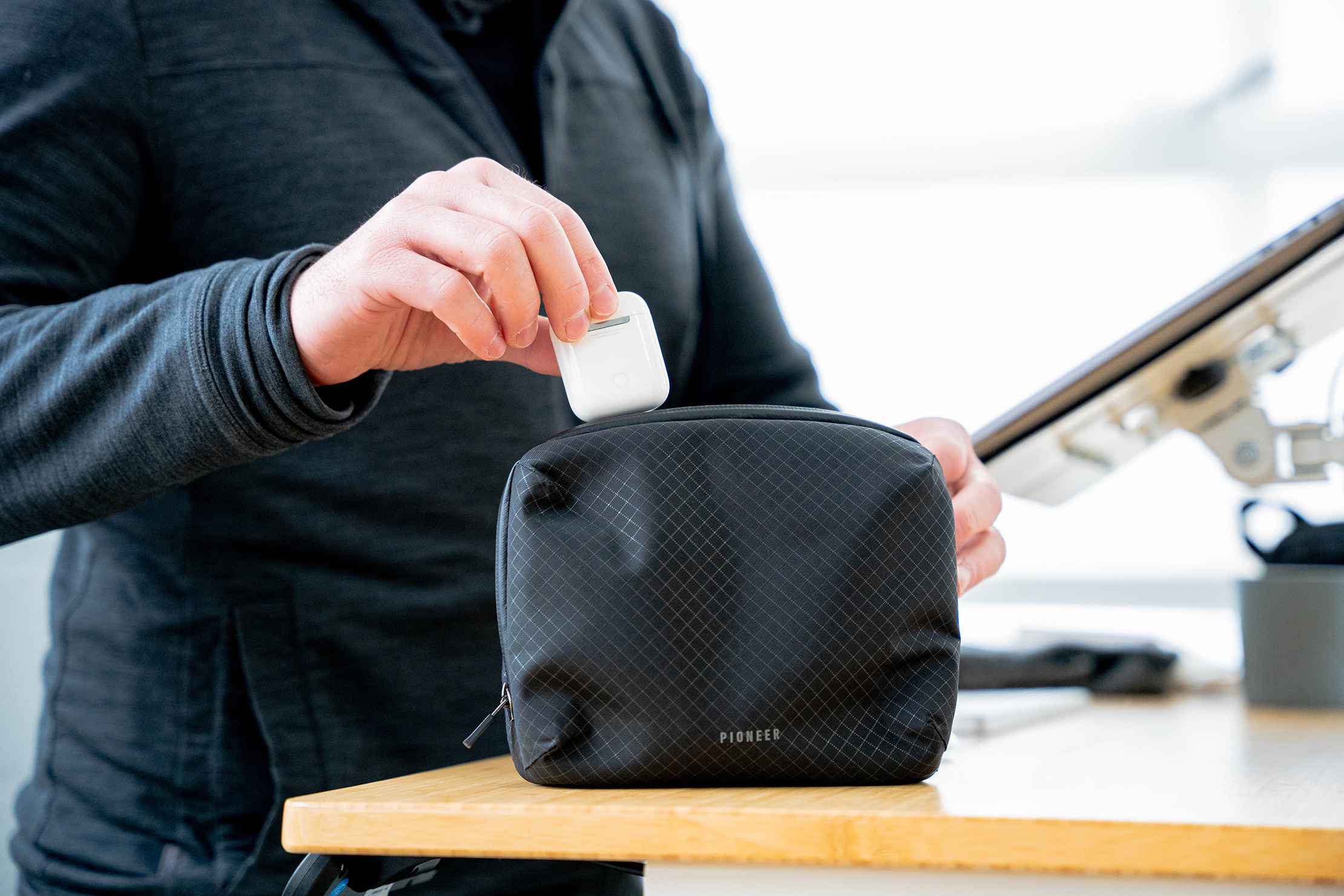 Since Pioneer's wallets feel very structured, we expected the same of the Global Pouch. That's not the case, as the pouch's soft shell proves tricky in some ways and helpful in others. For example, while the soft structure hinders its ability to stand up, it does mean better compressibility. Structure aside, the tall profile and inside layout are more than sufficient for organizing everyday tech accessories like smartphone chargers, adapters, and data cables. There are more factors and characteristics to consider here as well, so let's see what they are.
Materials & Aesthetic
The Global Pouch dons the brand's signature grid-pattern aesthetic. It's mostly plain and simple, leaning more towards elegant rather than extravagant. We've seen this style on a few of their wallets, like the Altitude Billfold and Passport Wallet. The techy grid pattern seems to fit here more since this is designed as a tech pouch. Combined with the stealthy black background, it's just begging to be filled with USB adapters, data cables, chargers, and other gadgets. Of course, that shouldn't stop anyone from using the Global Pouch to carry other things like toiletries.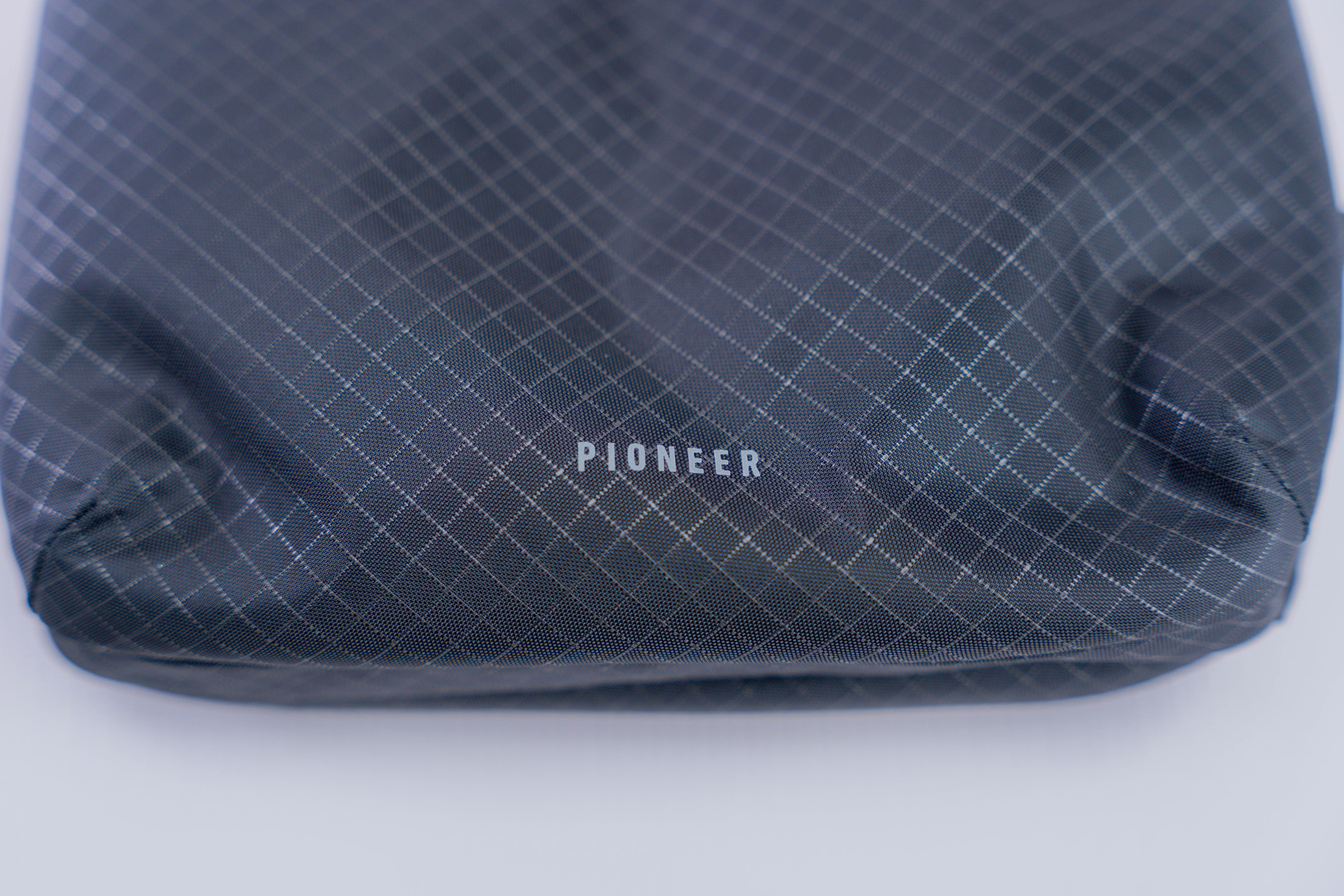 That's right—this pouch can also be used as a Dopp kit, as the fabric is more than up to the task. The main material here is 10XD and, in Pioneer's own words, is "10X stronger than steel." They even threw in a lot of dashes and syllables, calling it "ultra-high-molecular-weight-polyethylene." It's also coated with DWR (durable water repellent), so splashes bead off more easily. They're clearly very confident with the fabric here. While we can't say that it's indeed ten times stronger than steel, it's held up well in day-to-day usage. That's in spite of the rather soft and floppy structure (more on that in the next section).
There's another colorway available at the time of writing. The lighter shade of the Earth is an option if you're not into the all-black aesthetic of the Onyx. However, note that this colorway comes with a different fabric: 3PN, a nylon-based fabric, also with DWR coating. It does come with its practical advantage versus the Onyx, though not in the way you may think, as you'll see once we take a look at the interior.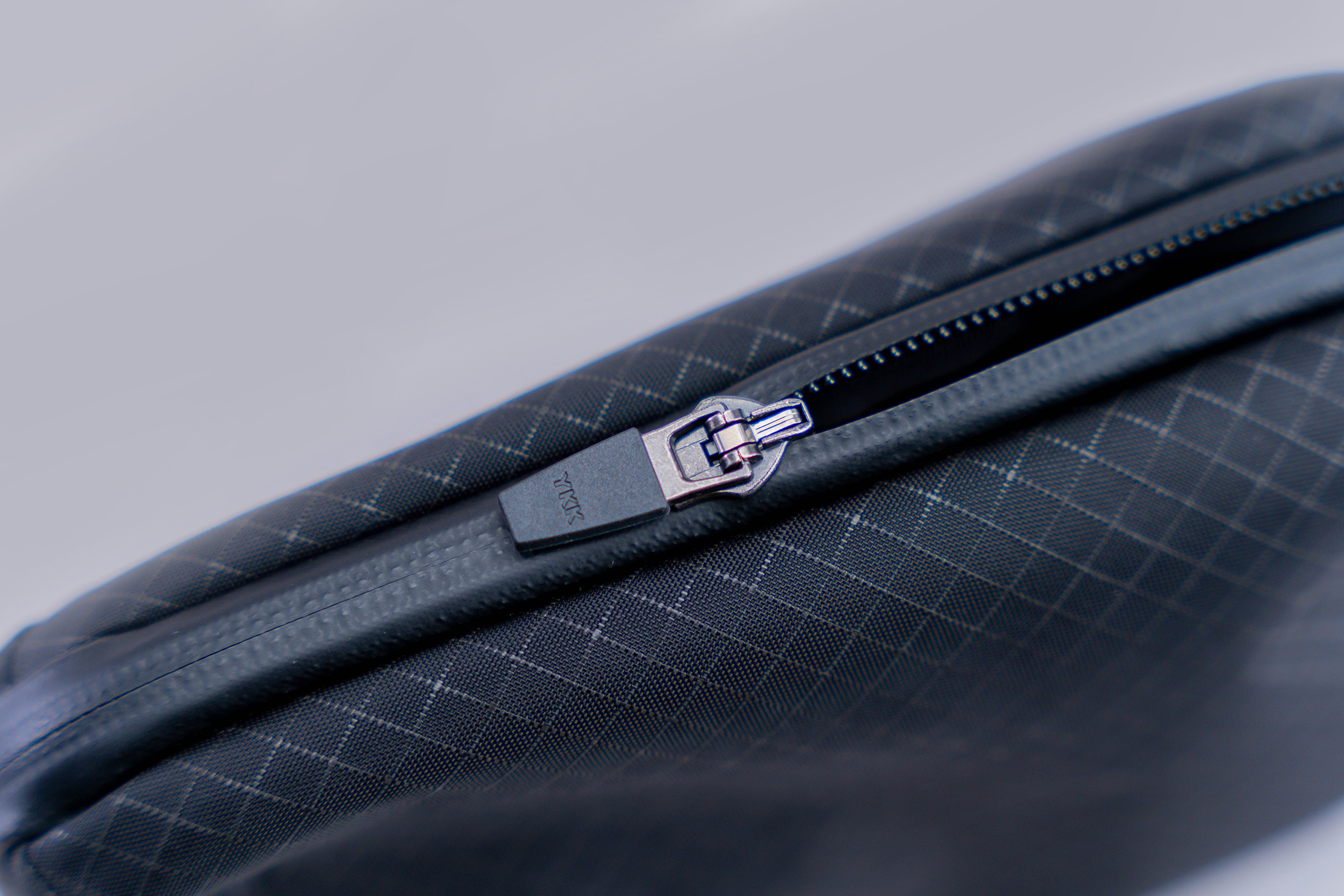 Pioneer doesn't use dual zippers on the Global Pouch's opening, instead opting to use just one. On the plus side, this zipper isn't just some unbranded afterthought. No, this is a YKK AquaGuard self-locking zipper—let's break that down feature by feature. YKK-branded zippers are some of the most well-known and reputable ones out there. AquaGuard means they're designed to be water-repellent. Finally, self-locking means the zipper stays in place when the pull is lying flat—useful if you just want to run a cable through without worrying about the pouch being pried open.
Usage & Features
Inside the Global Pouch is a very straightforward layout of pockets. There are two liner pockets on either side, a middle divider pocket, and open spaces in between. The symmetrical layout is easy to follow, and we'd say there's enough space for a modest digital nomad's suite of accessories.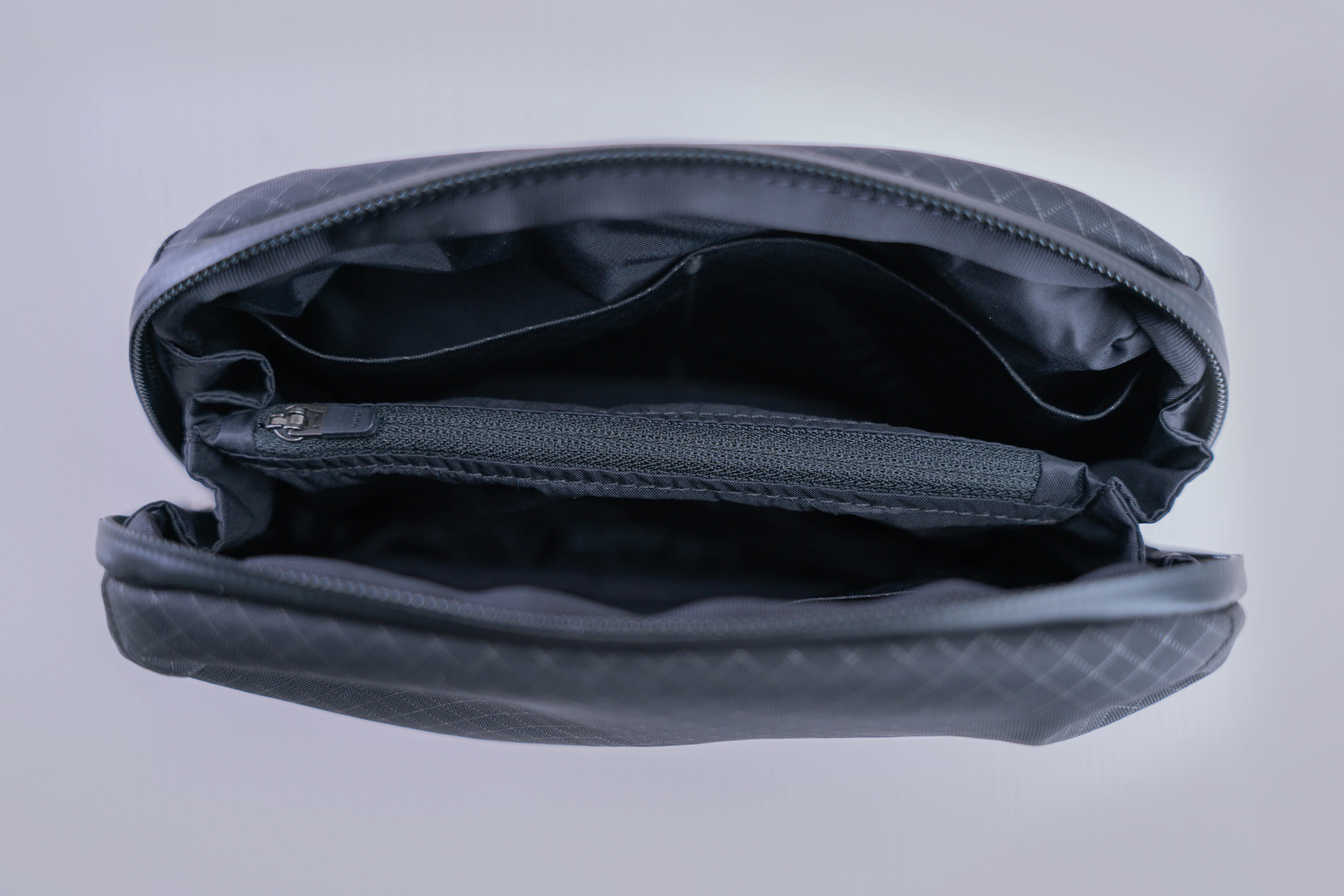 Fairly chunky items like smartphone chargers, travel mice, wall socket adapters, and cables fit well inside the outer liner pockets. We're especially fond of how easily cables go in. Our bundled Lightning cable fits inside the liner pocket without it butting up against the zippered opening. This is important since it prevents damage to the cable, and it means easier zipping and unzipping. We've found that other tech pouches, though wider, lack the same headroom, thus needing some cramming before being able to close.
The liner pockets use the same 10XD main fabric. Since this material isn't stretchy, the pockets lack the grip mesh or elasticated ones have. Fortunately, none of the accessories we put in them gets jostled out of place. Note that the Earth colorway also gets Earth-colored liner pockets, which ups the interior's visibility thanks to the brighter color.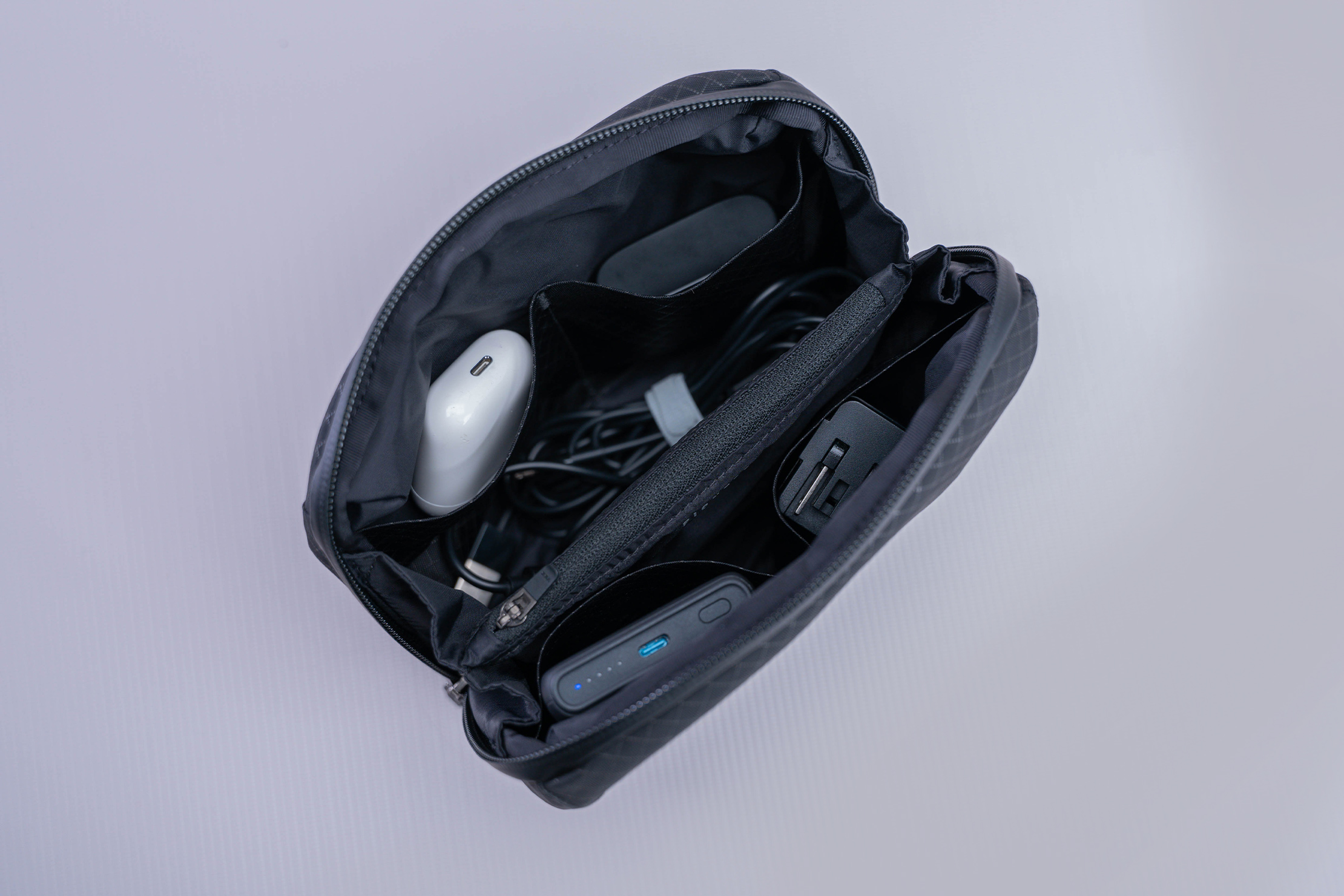 The opening goes quite wide thanks to gussets at the sides. The wideness is almost a necessity since the all-black interior of the Onyx colorway is tricky to navigate. A lot of our tech accessories come in black, so they can easily camouflage themselves against the background of dark fabric. This is especially the case inside the middle divider pocket, where most of our smallest accessories go. Additionally, the pocket's soft fabric means we have to stretch it out in order to really get into the corners.
Bigger items like mid-sized power banks go into the open spaces on either side of the middle divider. For context, the space is wide enough to fit our passport-sized Field Notes Notebook and an Anker PowerCore Magnetic 5K.

The most noticeable difference between the Global Pouch and its closely related wallet siblings is structuredness (or lack thereof). As we mentioned above, the pouch feels very soft and floppy, and this is because there's no padding or any type of insert underneath. In comparison, tech pouches like Aer's Slim Pouch and Bellroy's Tech Kit have a lot more structure, either due to inner materials, stiffer exterior fabric, or both. A soft structure isn't necessarily bad since it also means the pouch is easier to compress, but it is a con in other ways.
For example, the Global Pouch doesn't stand up on its own when it's empty. Furthermore, it needs to be packed evenly in order to do so. This means in scenarios where you're working remotely, taking items out gradually as you work out might lead to the pouch falling over—not good on tables with limited space. That said, it's not a huge deal-breaker if packability is higher than stand up-ability in your priorities list.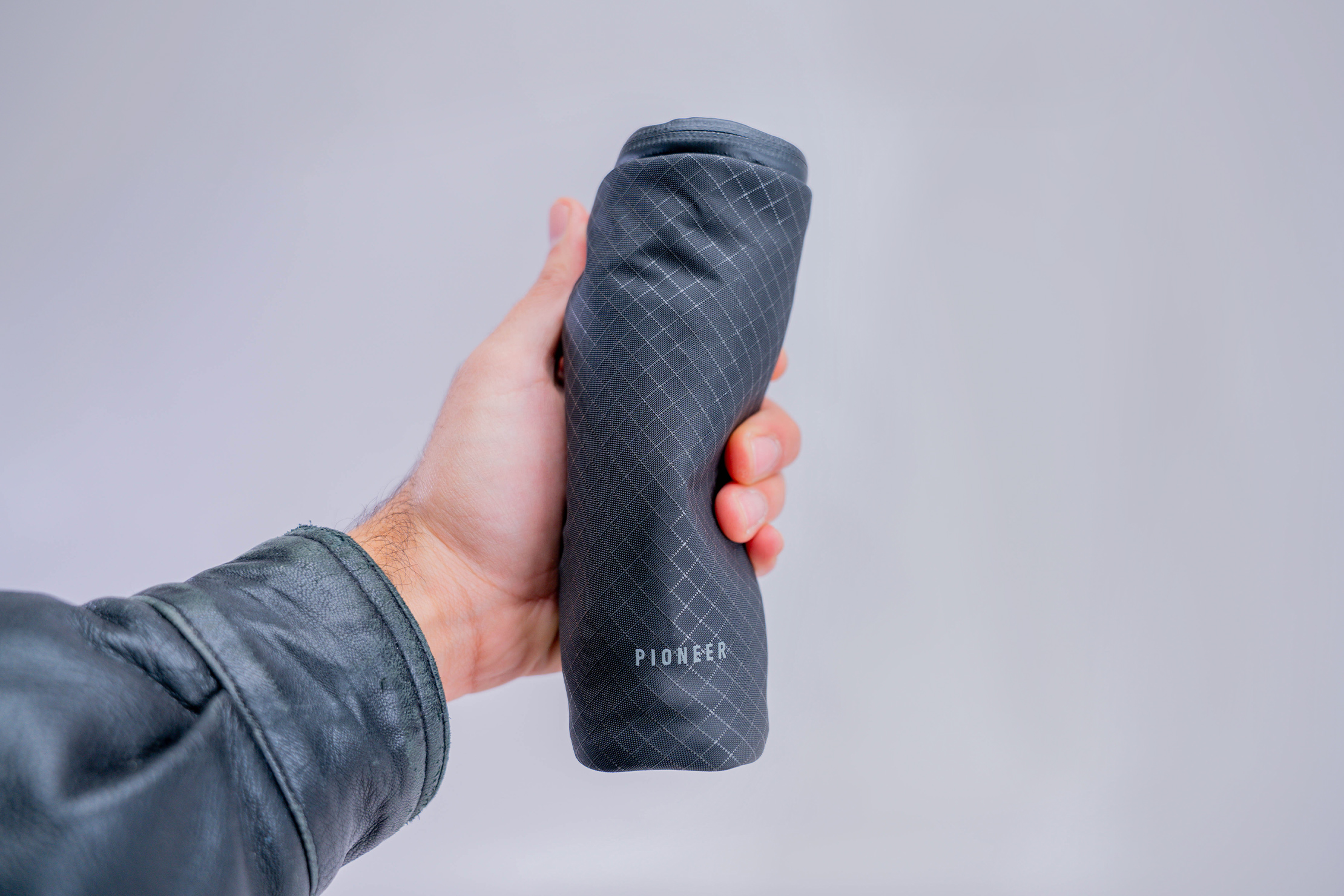 While we're not super sold on the Global Pouch's soft structure, it does have its advantages. If you're looking to squeeze every ounce out of a bag, its compressibility helps save space. The layout of the pockets and space available isn't lacking either, making the Global Pouch a capable tech pouch to take on the go.
Usage Timeline
Initial Usage
Condition: Excellent
Ripstop-like pattern on the fabric is diagonal, which somewhat adds to the style of pouch
Organization is suited for both tech and toiletries
Seems to stand well on its own even when fully opened
2 Weeks of Use
Condition: Excellent
Height of pouch is slightly taller than other tech pouches, which is great for taller tech items and cables
Liner as black, which makes it hard to see smaller tech – especially in the middle zippered pocket
Lockable YKK Aquaguard zipper provides a bit of weather resistance
Tech pouch is a little "floppy" compared to others, which is good or bad depending on your preference
Access the Pro Community Discussion
Get your questions about the Pioneer Global Pouch answered from our team and the Pro Community right here on the page. Plus, join discussions with other members about gear, guides, and more.
Other Organizers & Pouches Reviews