Pioneer Altitude Billfold Wallet Review
While it takes some time to break in, we're digging the Pioneer Altitude Billfold Wallet's versatile cash sleeve and technical material.
Our Verdict
Unlock the Pro Summary
Save time. Get access to brief summaries of our reviews so you can browse and make decisions more efficiently.
Pros
Holds up to 12 cards at a time
Fits most international currency, including taller bills
Robust, durable material with RFID-blocking technology
Cons
Stiff—can take time to break in
No segmentation in the cash sleeve for multiple currencies
No coin pocket (we don't mind but YMMV)
Recent Pack Hacker Video
Technical Details
Weight (lb)

.1 lb (0 kg)

Dimensions

4.01 in x 6.81 in x .157 in (10.2 x 17.3 x 0.4 cm)

Open

Notable Materials

Ripstop Nylon, DWR Coating

Manufacturing Country

Vietnam

Warranty Information
Full Review
The brand Pioneer, founded by Henry Lefens, seeks to apply the same technical materials, design, and durability that characterizes high-performing clothing, bags, and footwear to their wallets—the Altitude Wallet is no exception.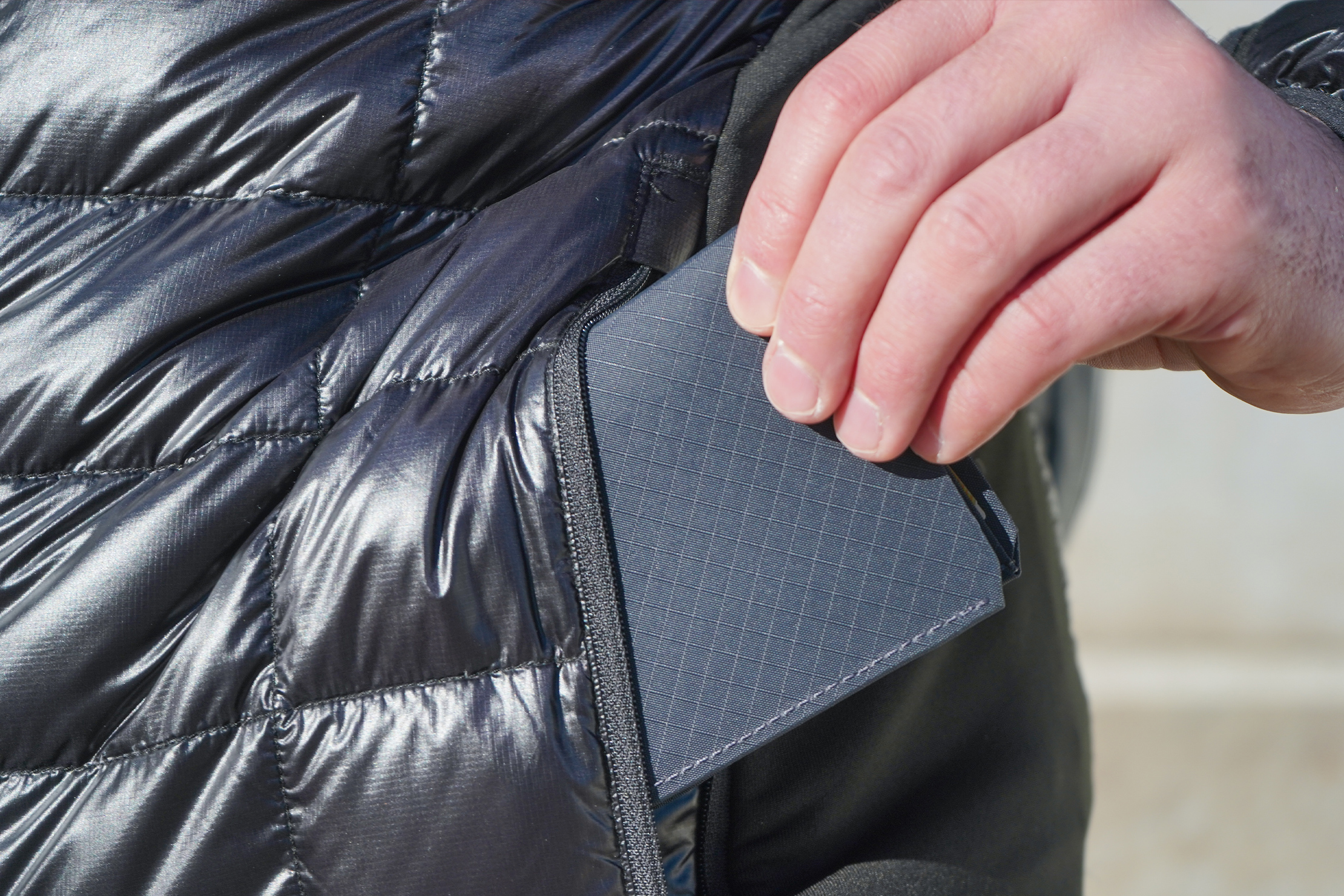 The Altitude Wallet is simplistic in its looks and size but accommodating to different use cases. In addition to cards, it can hold currency of all different sizes. Plus, it offers dependable, durable construction to keep your cards & cash protected on your journeys.
What else do we have to say? Read on to find out.
Materials & Aesthetic
We're digging this wallet's sophisticated look, whether we're just grabbing some stuff on the go or pulling it out in the office. It has a no-nonsense external design that blends in well wherever you take it.
At the time of this review, the Altitude Wallet is available in five different colorways—Slate, Onyx, Evergreen, Earth, and the Navy shade we've been testing. All of these options embody a muted, serious vibe that aligns with the overall minimalist design of this wallet. So, if you're looking for something that stands out, you're not going to get much flare from these colorways.
You won't find any logos on the outside, but rather, you'll spot the Pioneer logo stamped on one flap on the inside of this wallet. Keeping the branding hidden this way makes sure that it doesn't detract from the wallet's subdued aesthetic while still repping that Pioneer pride.
We're fans of the subdued diamond pattern as well. In previous iterations of Pioneer wallets, this was a brighter white color that was a bit much for us.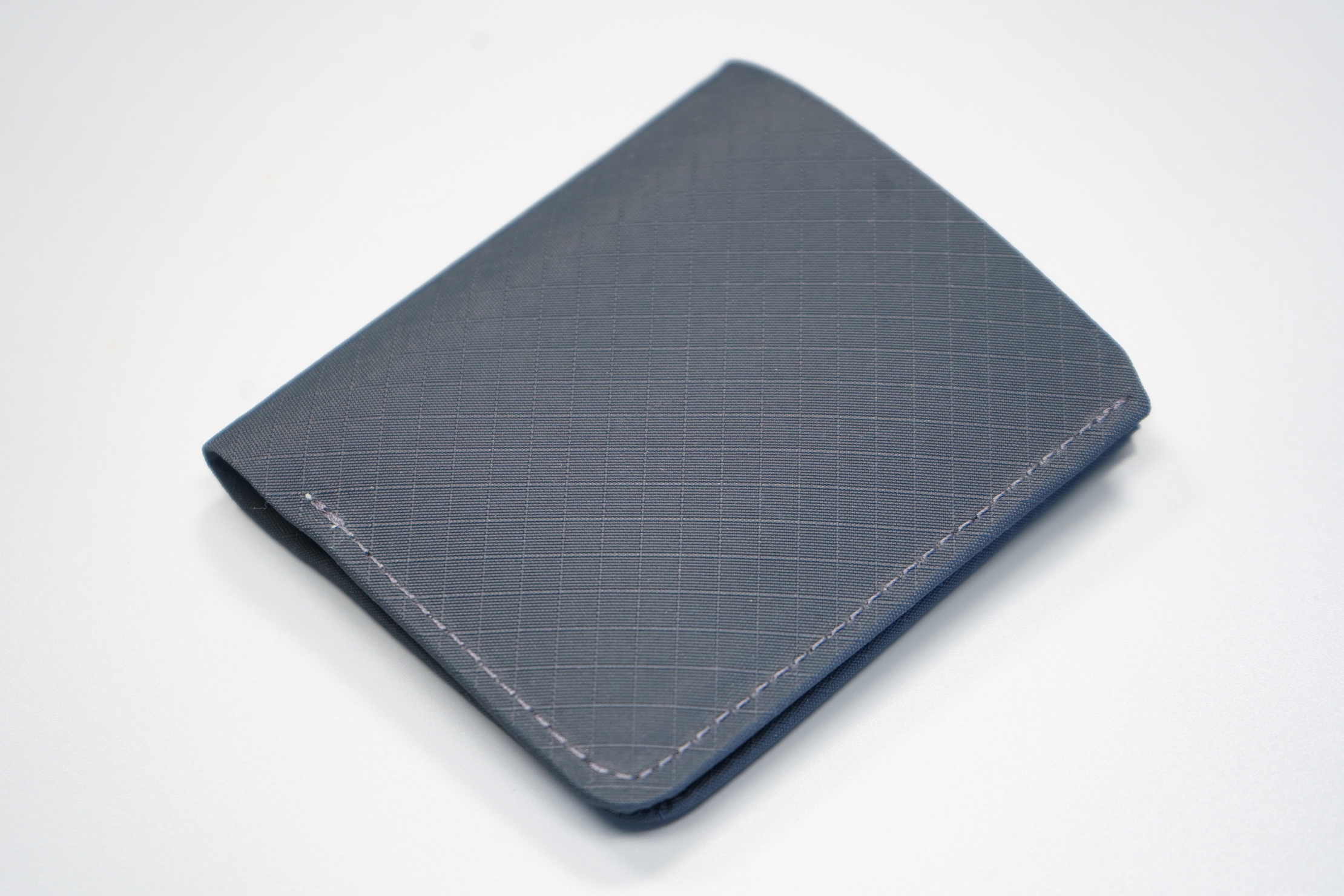 What material do you feel when you've got this thing in your hand? Well, the Navy shade (along with Earth, Slate, and Evergreen) of the Altitude Wallet features a 3PN nylon fabric—AKA, 3-ply nylon that's treated with a DWR finish. Its matte texture is smooth to the touch, even more so than the 10XD fabric we experienced on the Pioneer Flyfold Wallet. This nylon has held up well so far in our two weeks of testing, preventing any scuffs or scrapes, or moisture from making an appearance.
Additionally, the Altitude Wallet is breaking in quicker and easier than the Flyfold. That said, this wallet is still pretty stiff and takes some time to loosen and stretch to a more comfortable user experience. We expect that with a few more weeks of testing, it should stretch a bit more, but not so much that it impairs the wallet's ability to secure our cards and cash.
If yours is looking a little worse for the wear, keep in mind that this material is safe for the washing machine. Pioneer recommends leaving the wallet in the pocket of a pair of pants (after you empty it, of course), then throwing both in the wash on a normal or gentle cycle, avoiding hot water. Then, you can toss it in the dryer on low-to-medium heat or simply let it air dry. Be aware that this may cause the wallet to tighten back up, so it won't feel entirely broken in.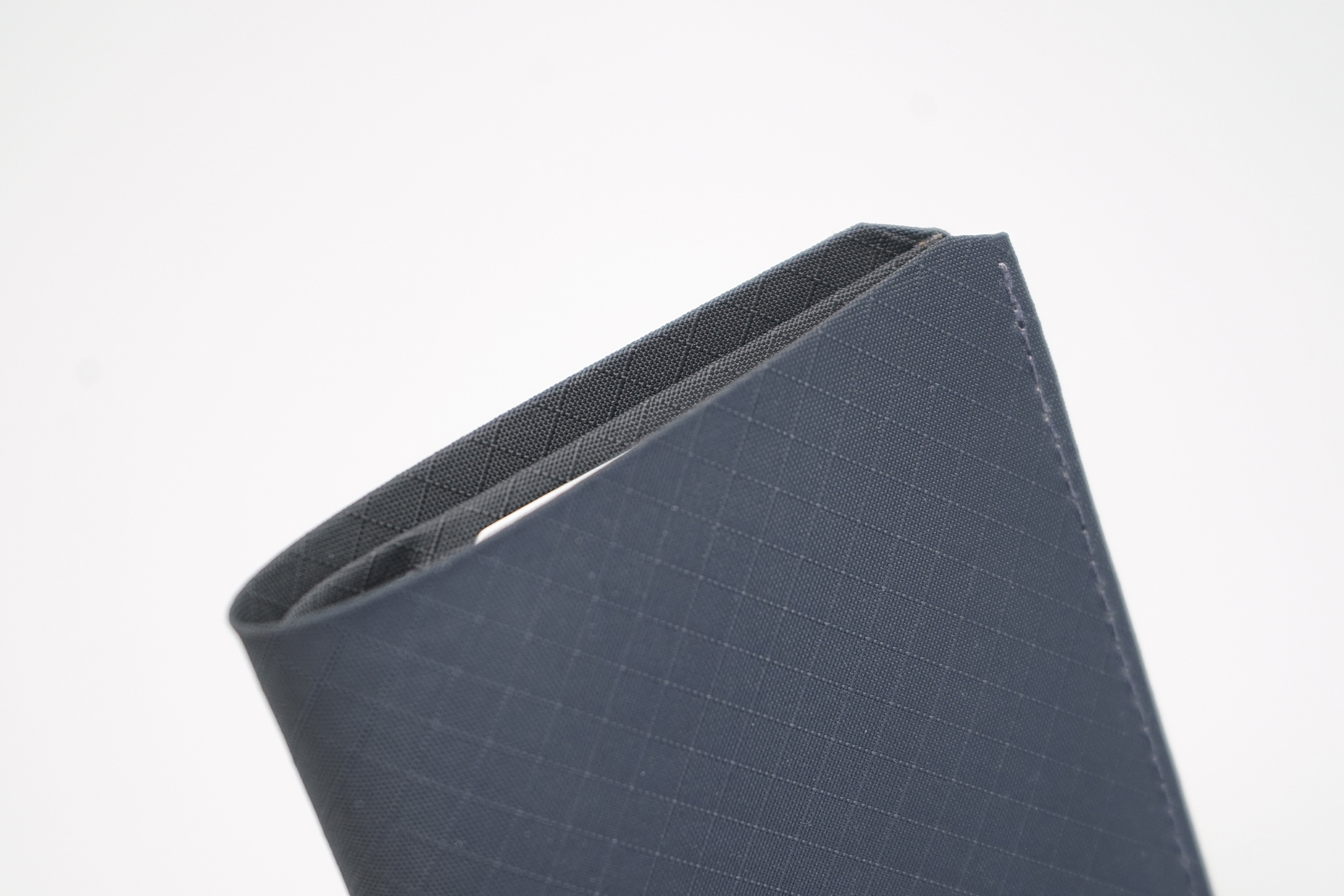 Before we get inside, we want to point out one interesting feature of this wallet, and that's the diagonal cut on the top. This design indicates how you should position the wallet in your bag or pocket so that it's right-side-up and ready to grab when you need it. It's a small detail, but these are the things that we love to see—an innovation that improves usability.
Inside The Wallet
Flipping it open, you'll notice two card pockets on the inside of each flap of this wallet—one horizontal and one vertical. In total, these pockets can hold up to 12 cards, though we've done most of our testing with 6. We're fans of the segmentation that they offer: we can keep our personal cards in one, professional cards in another, and fill out the other two with an ID and other essential cards that we like to have on hand at all times.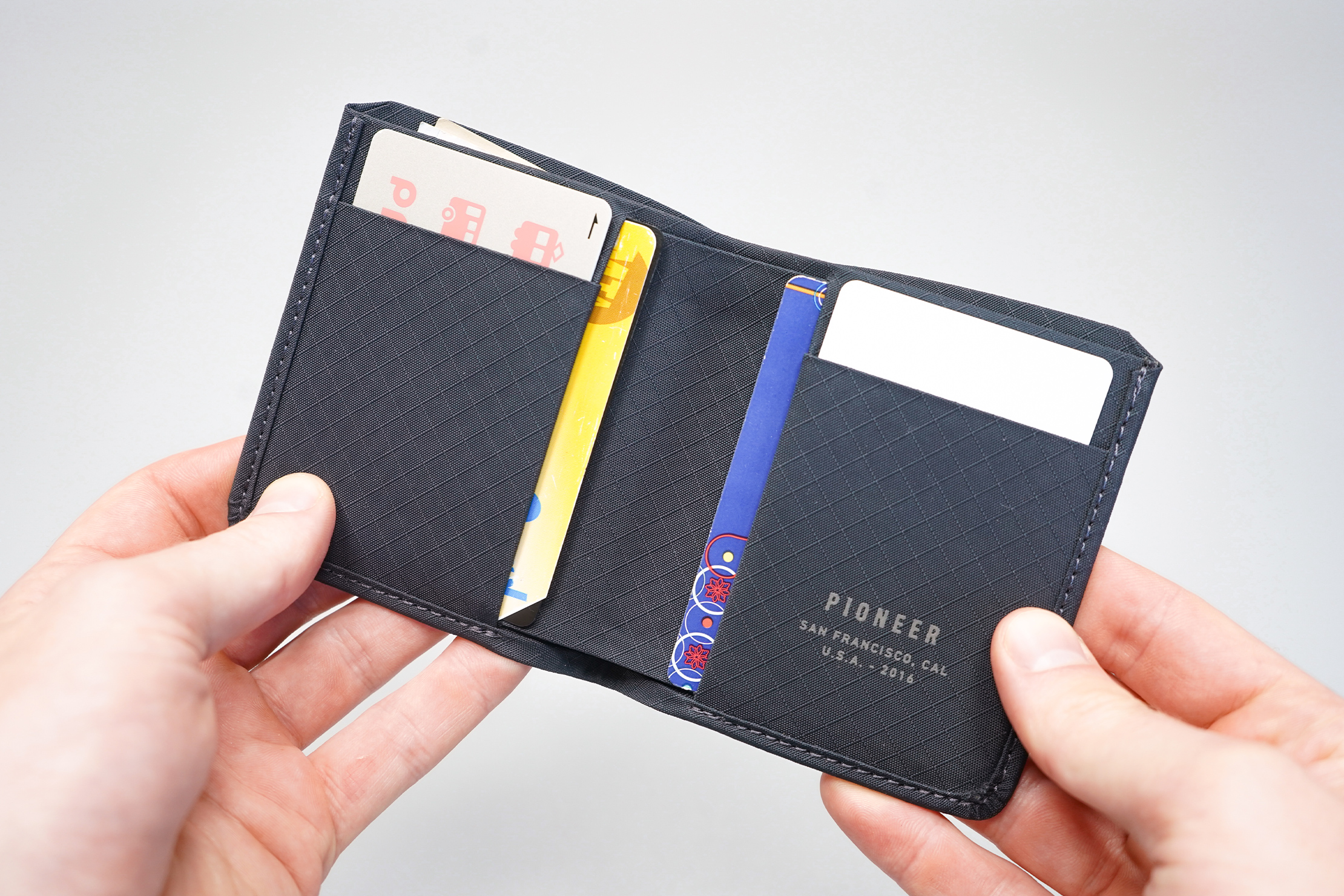 This wallet integrates RFID-blocking technology, which helps protect the information that your cards hold from any cyber scammers out there looking to steal it. This attack may not be prevalent in your day-to-day, but you never know who's around and what their intentions are, so it's some added peace of mind wherever you're going.
The RFID blocking feature cuts the other way, too. If you like using contactless cards to get through the train turnstile or unlock your hotel room, the wallet will block these frequencies.
Like most things in life, your mileage may vary on whether or not RFID blocking capability is vital to you.
What really sets this wallet apart compared to other Pioneer wallets we've tested is the Altitude's full-size cash sleeve that can accommodate various international currency types. We tested not one, not two, but eight different cash types: USD, Japanese Yen, Singapore Dollars, Australian Dollars, Thai Baht, Vietnamese Dong, Euros, and Pound Sterling.
This roomy sleeve makes traveling and exchanging currency a breeze, as you don't have to try cramming specific bills inside or fold them, so they fit—at least not with the bills we tested. There are likely larger notes out there that may not slide in and out as seamlessly, but we still think this wallet's range is pretty impressive.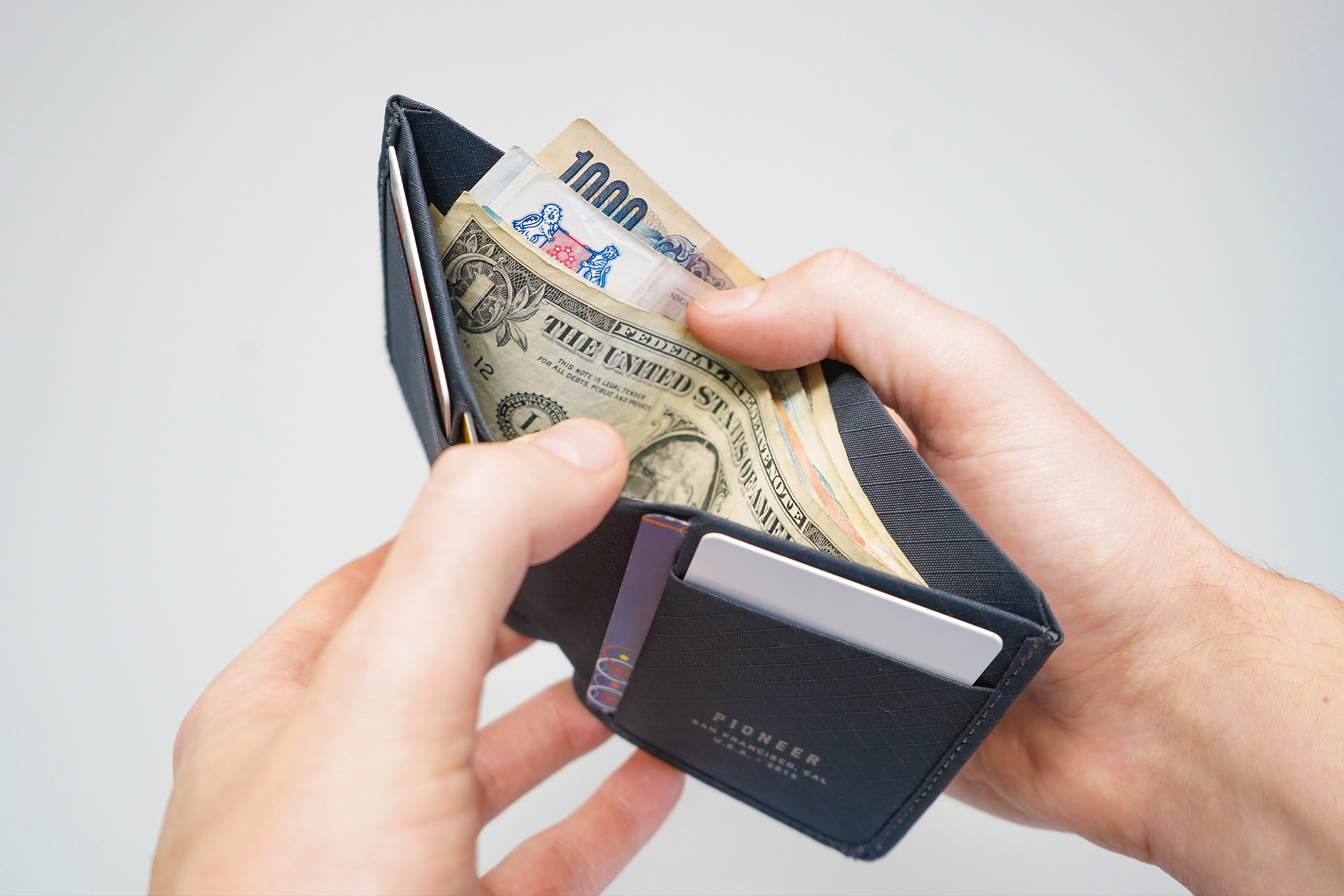 The wallet's overall design feels as though it was inspired by the previous Pioneer Matter Bifold, as the two share a similar setup, though the Matter Bifold lacked a currency sleeve like this one. If we're picky, we would've appreciated having a divider inside this sleeve, like what we saw with the Bellroy Hide & Seek RFID Wallet, for that extra level of compartmentalization for our cash. This is an especially great feature for international travel when hopping from country to country with multiple currencies.
Another thing that's missing from this wallet is a coin pocket, which hasn't been a massive issue for us as we're not usually carrying many on a daily basis. However, you might like to keep a couple of coins on hand, especially if you spend a lot of time in Europe. If so, you can get away with sliding some in the cash sleeve or even try cramming some in the card pockets, but too many will bulk up this wallet—just something to note.
Overall, the Altitude Wallet has proven to be a reliable option for travel and daily carry. We love its minimal yet highly-functional design as well as its technical, durable materials—this wallet is one to check out before your next adventure.
Usage Timeline
Initial Usage
Condition: Excellent
Premium technical materials with reinforced stitching
Holds 4-12 cards and bills
Sweat-proof and machine washable
2 Weeks of Use
Condition: Excellent
Liking the diagonal cuts on the top of the wallet to indicate which side is the top of the wallet
We've found the 3PN material to be softer than the previous 10XD material used in our previous Pioneer Flyfold Wallet Review
Wallet is still a bit stiff, but it should continue to break in
The taller wallet size is excellent for international currency. We tested with USD, Japanese Yen, Singapore Dollars, Australian Dollars, Thai Baht, Vietnamese Dong, Euros, and Pound Sterling
Access the Pro Community Discussion
Get your questions about the Pioneer Altitude Billfold Wallet answered from our team and the Pro Community right here on the page. Plus, join discussions with other members about gear, guides, and more.
Other Organizers & Pouches Reviews