Pacsafe X SLNT Anti-Theft Backpack Review
The Pacsafe X SLNT Anti-Theft Backpack is loaded with security features like a signal-blocking laptop sleeve—we just wish it was integrated more seamlessly.
Our Verdict
Unlock the Pro Summary
Save time. Get access to brief summaries of our reviews so you can browse and make decisions more efficiently.
Pros
Increased strength and security due to stainless steel reinforcement under fabric
Lockable buckle and zippers add layers of security
Signal-blocking laptop sleeve keeps your device secure
Cons
Front pocket gets tight once main compartment is packed out
Bag hangs a bit low even when straps are tightened
Laptop sleeve is hard to access and can pop out of place
Recent Pack Hacker Video
Technical Details
Capacity

18l

Weight (lb)

3.06 lb (1.4 kg)

Dimensions

17.7 in x 13 in x 6.7 in (45 x 33 x 17 cm)

Notable Materials

Recycled Polyester, YKK Zippers

Manufacturing Country

Vietnam

Laptop Compartment Size

16"

Warranty Information
Buying Options

$259.95

$259.95
Full Review
Get up to 15% off Pacsafe • Join Pack Hacker Pro
Pacsafe's bags are some of the most secure out there. You can probably surmise that from their name alone, but you can also check out our many reviews to confirm that. Whether it's the big Venturesafe EXP35 Travel Backpack or the small Stylesafe Anti-Theft Sling Pack, they all have tons of built-in, hide-in-plain-sight security features that we dig.
Pacsafe knows their stuff, and it gets better.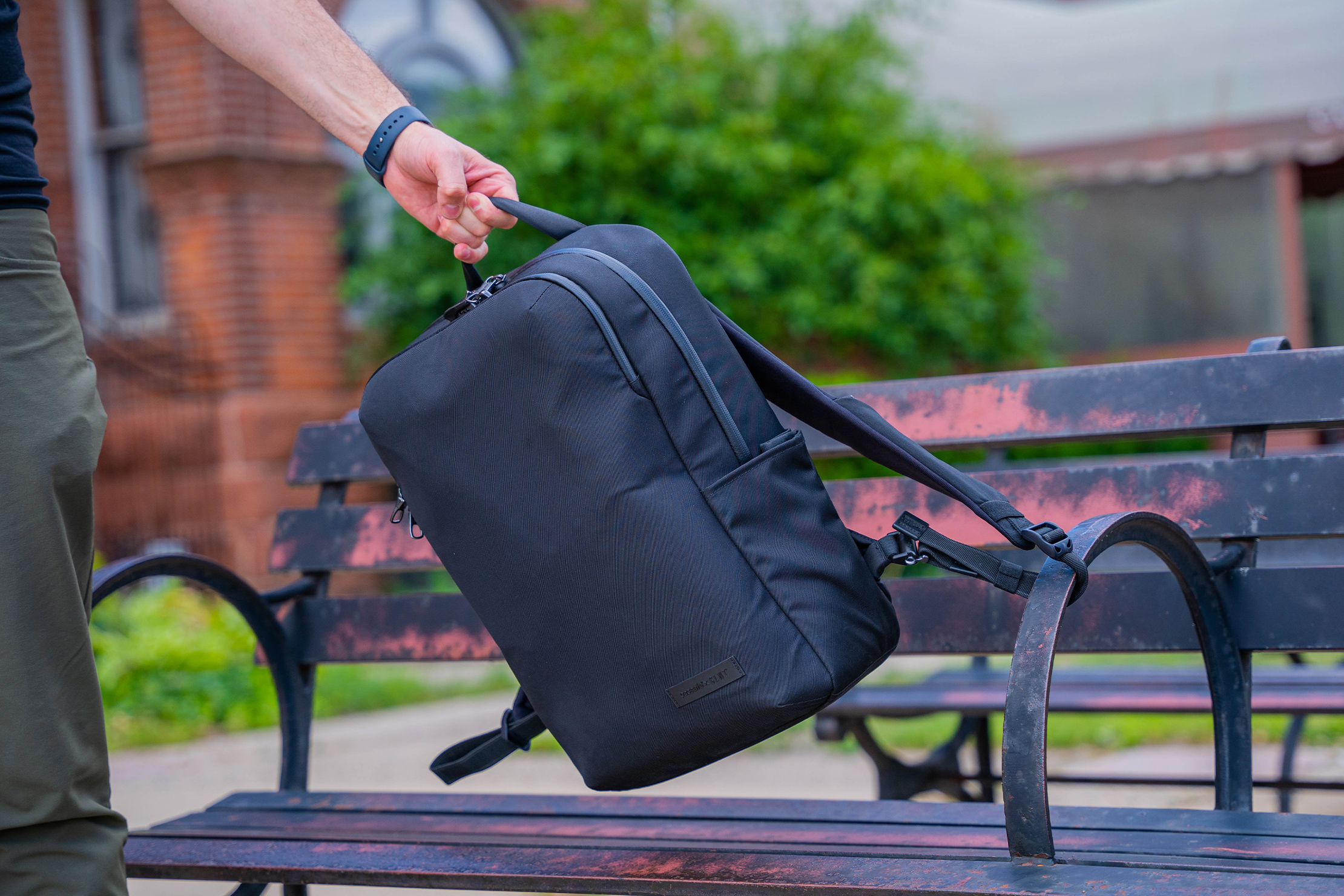 In collaboration with SLNT comes the Anti-Theft Backpack. What SLNT brings to the table is a removable laptop sleeve that blocks all signals like a Faraday cage. However, it's not as well integrated as we were hoping, though the rest of the backpack feels great. You still get the usual Pacsafe features like the Roobar sport lock and PopNLock buckle. And in fairness, the laptop sleeve does its job and makes our device virtually invisible over the network.
The strengths and weaknesses of the Anti-Theft Backpack more or less revolve around the extra features Pacsafe and SLNT provide. On the whole, the basics of the backpack, such as the harness system, organization, and spaciousness, are all solid. So, let's take a closer look at all these aspects, plus the special ones, and see what works and what doesn't.
Materials & Aesthetic
This backpack has a visual design that fits Pacsafe's anti-theft specialty. For one, it's black, so it's not going to draw any unwanted attention. This is one of the many reasons why we like dark colorways so much. Lots of people pick it for one reason or another, making it blend in so well with the crowd. Okay, the shape is a little boxy, and it's kind of a brick when you look at it straight on. That said, we think this stealthy and understated aesthetic is appealing in its own way.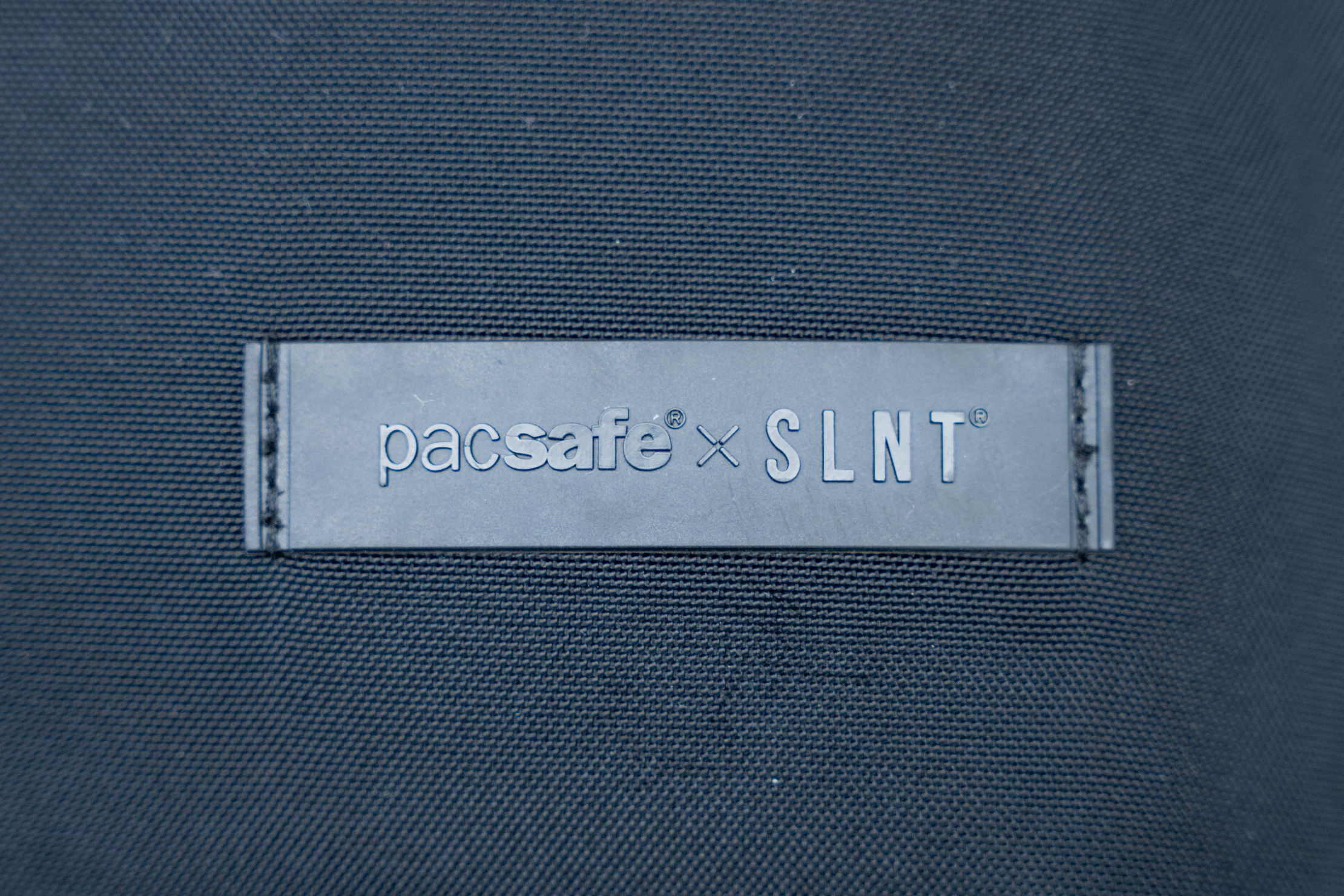 This is usually the part where we'd lay out the different colorway options in case you want something other than black. Unfortunately, the Anti-Theft Backpack only comes in that colorway, at least at the time of writing.
Regardless of its looks, the Anti-Theft Backpack packs serious substance under the hood. The exterior fabric is a 750-denier recycled polyester, while the liner is 150-denier, also made of recycled polyester. Those deniers don't sound much compared to the 1680-denier ballistic nylon and X-Pac fabrics of the world. However, sandwiched between those recycled polyester fabrics is Pacsafe's eXomesh. This is a layer of stainless steel wire which protects against slashes that would otherwise cut through unreinforced fabric.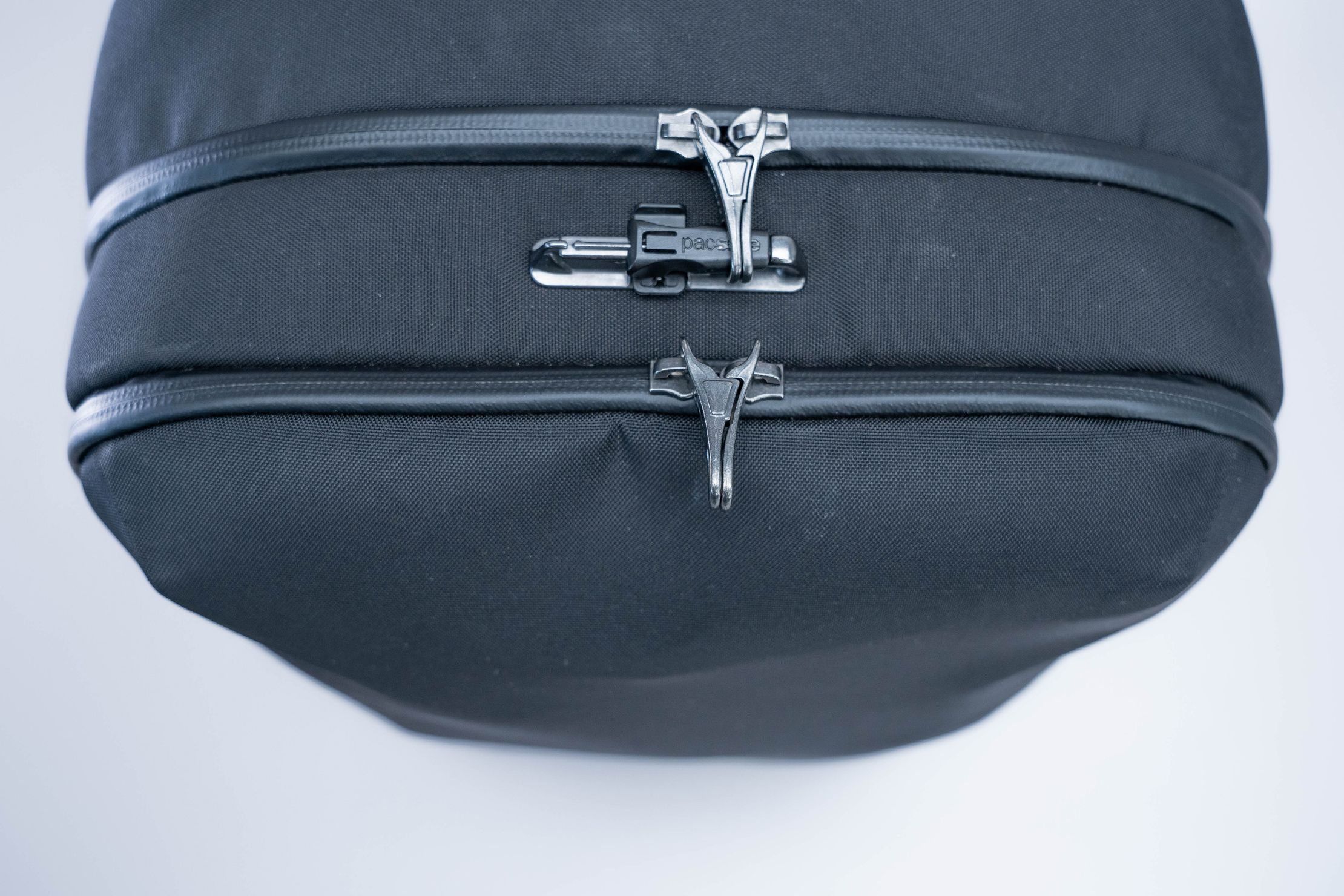 We did mention that the fabrics are recycled, right? Pacsafe claims that each bag is made from 32 recycled bottles. So while the Anti-Theft Backpack is tough on security, it's also no slouch in keeping waste out of the landfill.
Lastly, we have to mention that the zippers are from YKK. Really, in our opinion, there's no other choice for zippers on a security-focused backpack. As you can imagine, zippers are fixtures that a brand like Pacsafe would want to focus their attention on. We've always found YKK zippers to be tough, reliable, and easy to operate on most backpacks we've encountered, and the Anti-Theft Backpack is no exception.
External Components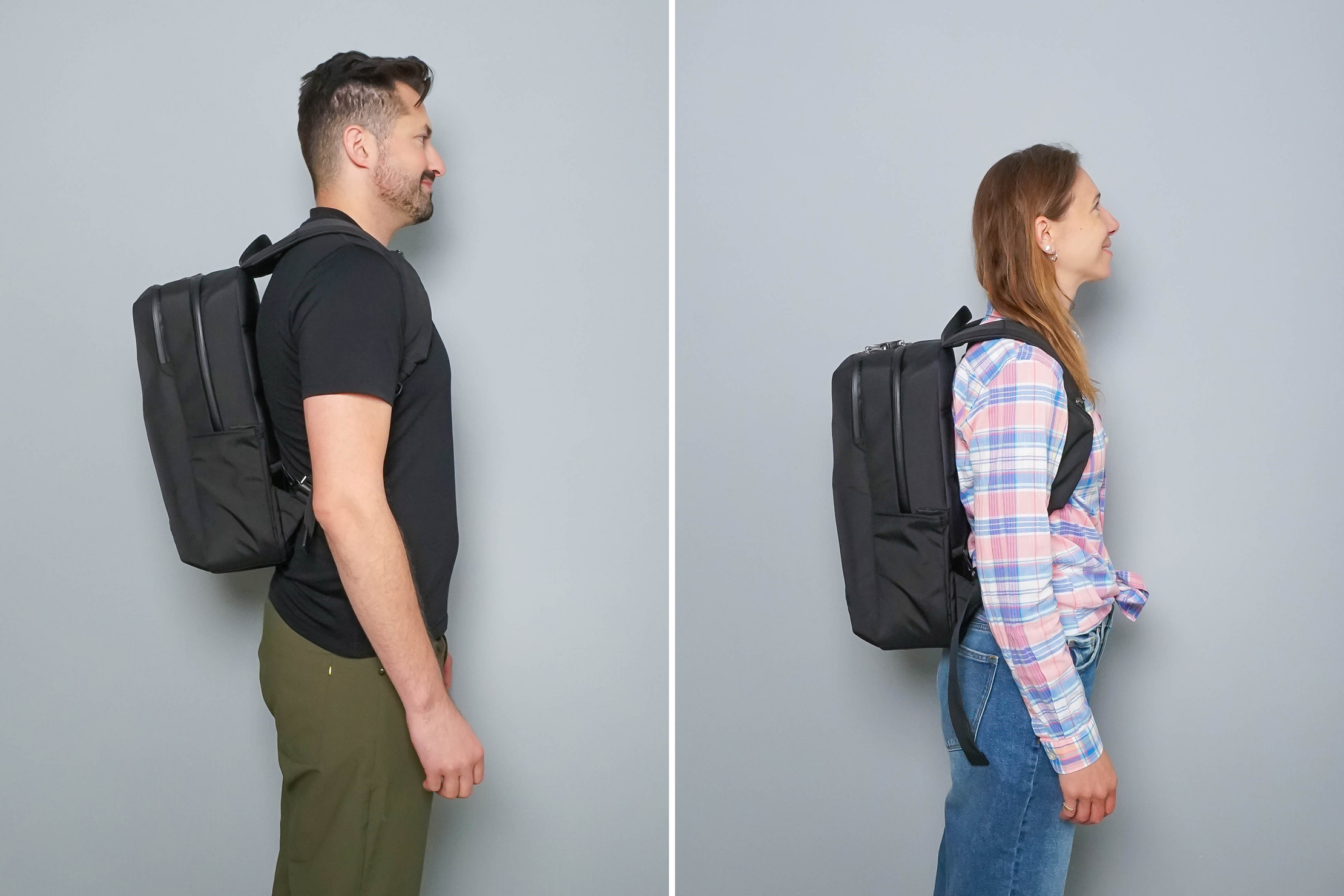 These shoulder straps are thick—really thick by daypack standards. The amount of padding is comparable to what we'd find on much larger travel backpacks. This isn't necessarily a bad thing, since we'd rather have an excess of padding than a lack of it.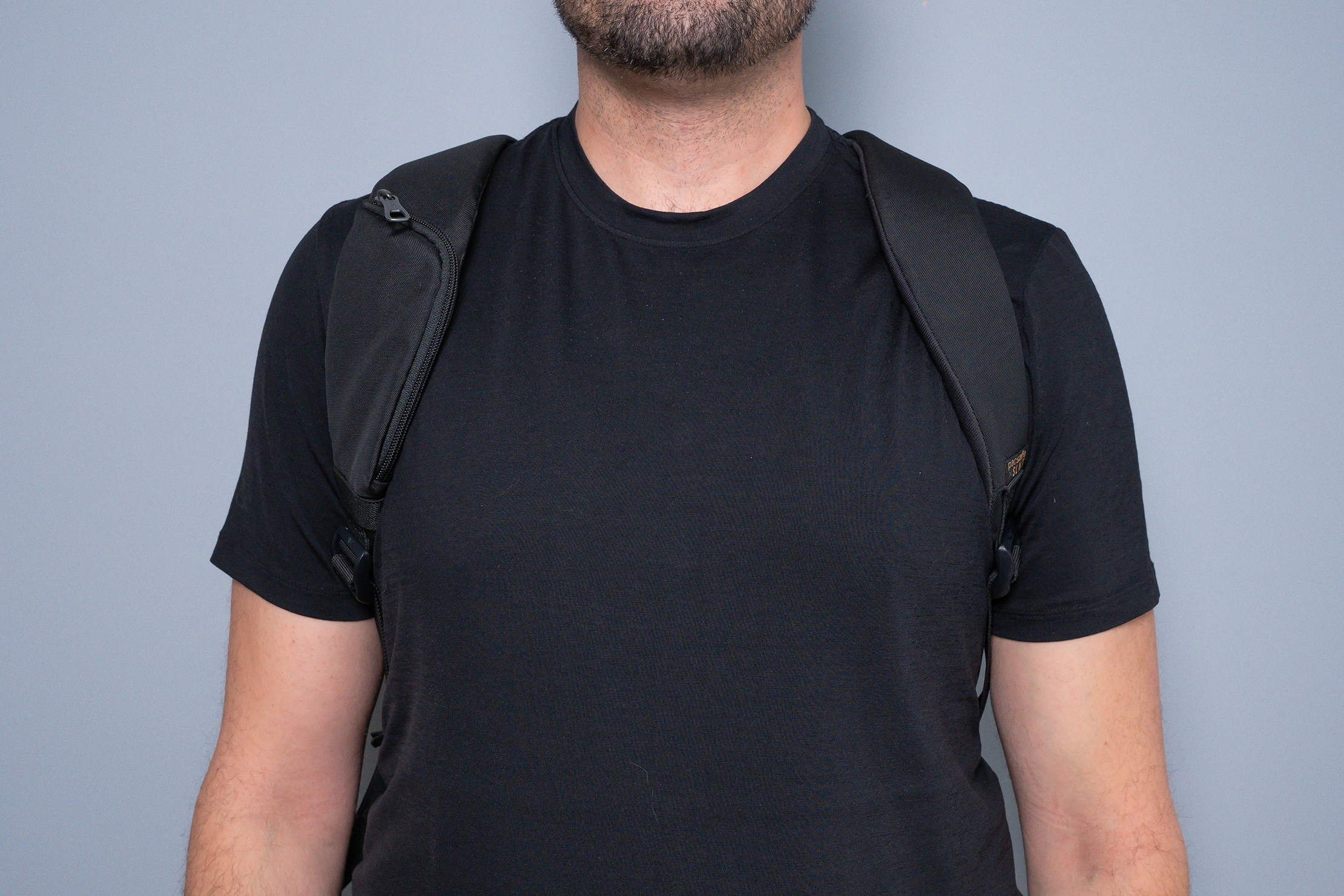 The harness system is quite plain at first glance. Other than the shoulder straps' collared design and zippered pocket, you're not going to find many amenities like a hip belt or a sternum strap. To be fair, we find those unnecessary for an 18-liter backpack like this, and you do get other, subtler goodies.
We're a bit hesitant whenever we try out a backpack with shoulder straps that connect like a collar. They sometimes feel narrow around the neck and can scrape around that area. Fortunately, that's not the case with the Anti-Theft Backpack, and the collar stays out of the way in general.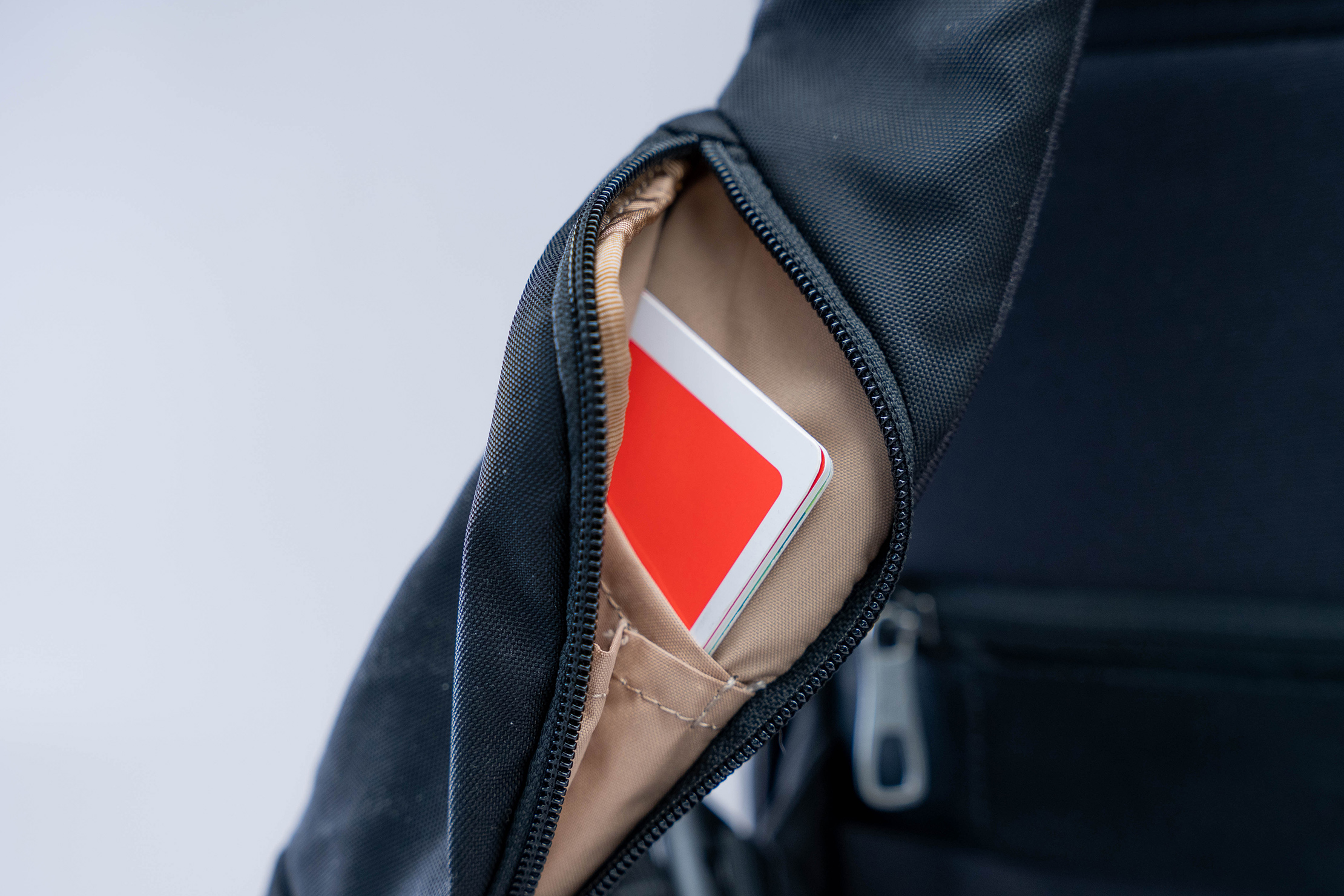 There's also a quick-grab pocket built into the right shoulder strap, and it's not barebones. Pacsafe went the extra length and put a fabric divider inside so your cards and tickets don't have to mingle. Bonus points: the liner's tan-colored, so visibility's not too shabby, either.
The shoulder straps have another trick up their sleeves: eXomesh slashguard. This is basically the same stainless steel wire reinforcement found underneath the main fabric. If you examine the adjustment strap, you'll notice it's thicker than the usual plain nylon straps found on other bags. Oh, more bonus points for the inclusion of elastic strap keepers here that make sure that extra slack doesn't dangle freely.

Lastly, the right shoulder strap can be disconnected at the bottom point via a PopNLock security clip. What's a PopNLock security clip, you might ask? Well, they're Pacsafe's beefed-up clips that have a small knob on the side. Turning and pushing the knob in allows you to slide half of the clip out and use the strap to anchor the bag to something like a lamp post or a stool. Admittedly, the process can be somewhat fussy on the first try, especially for larger hands, but that quickly goes away with practice.
So, how does the bag feel when you're actually wearing it? Truth be told, it feels like it hangs low. Even when we tighten the straps, the pack doesn't seem to rise as much as we expect it to. Now, if this were a huge travel backpack (think capacities north of 30+ liters), a low-hanging fit like this would pose a problem for comfort because of balance. However, since the Anti-Theft Backpack is relatively small at 18 liters, comfort remains just fine, if a tiny bit back-heavy.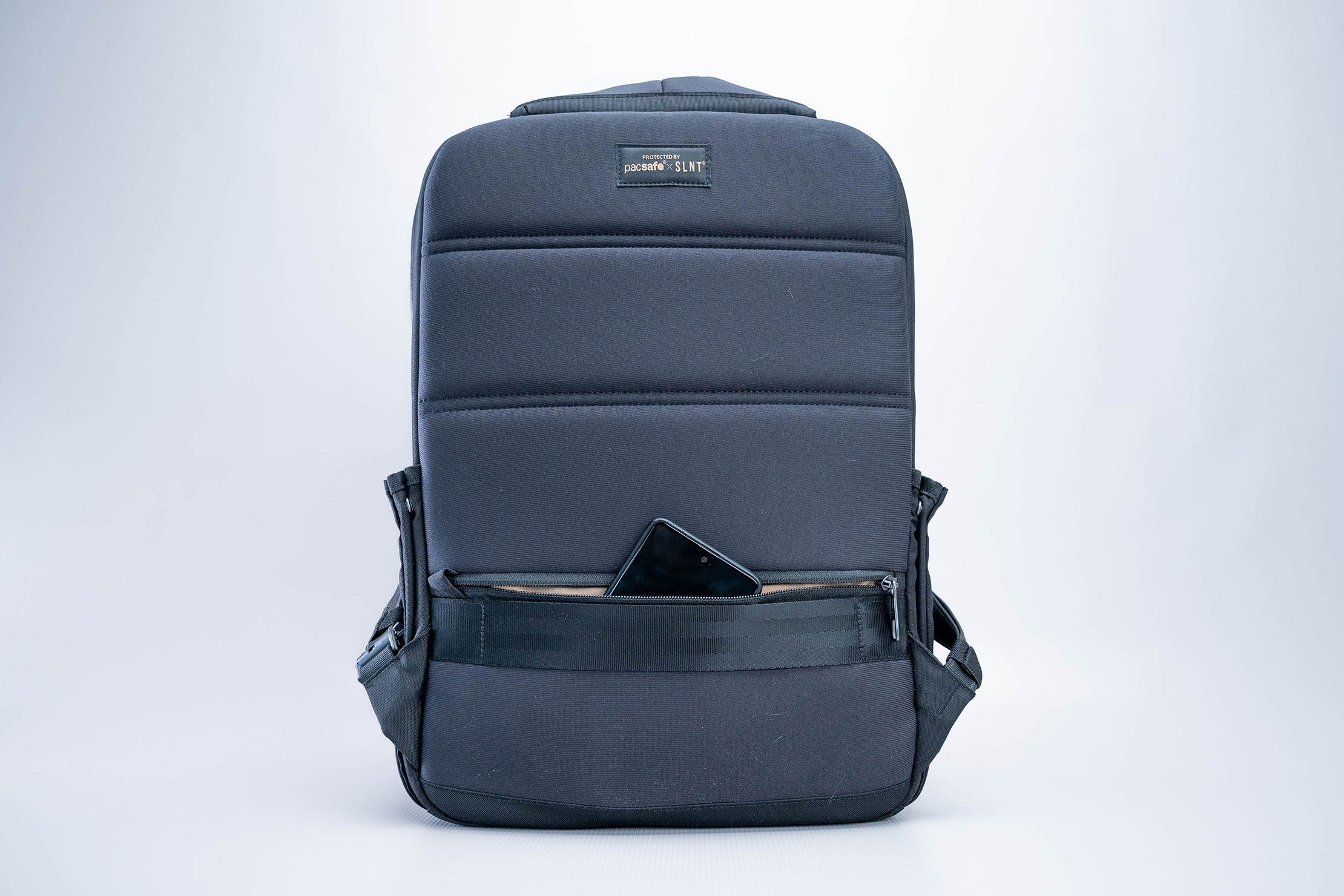 Something worth noting is that the back panel lacks mesh. That means less breathability, and we do get a sweaty back wearing this bag. It's often under fairly hot weather, so we're not going to put all the blame on the Anti-Theft Backpack, though. Your mileage may vary since everyone has different physiology; just keep in mind that if mesh keeps you cool, you're not going to find it on this back panel.
There is a luggage pass-through, albeit a simple strap that runs horizontally. The positioning is relatively low on the back panel. The good news is that, given the Anti-Theft Backpack's size, it doesn't lean forward too badly when sat on a roller.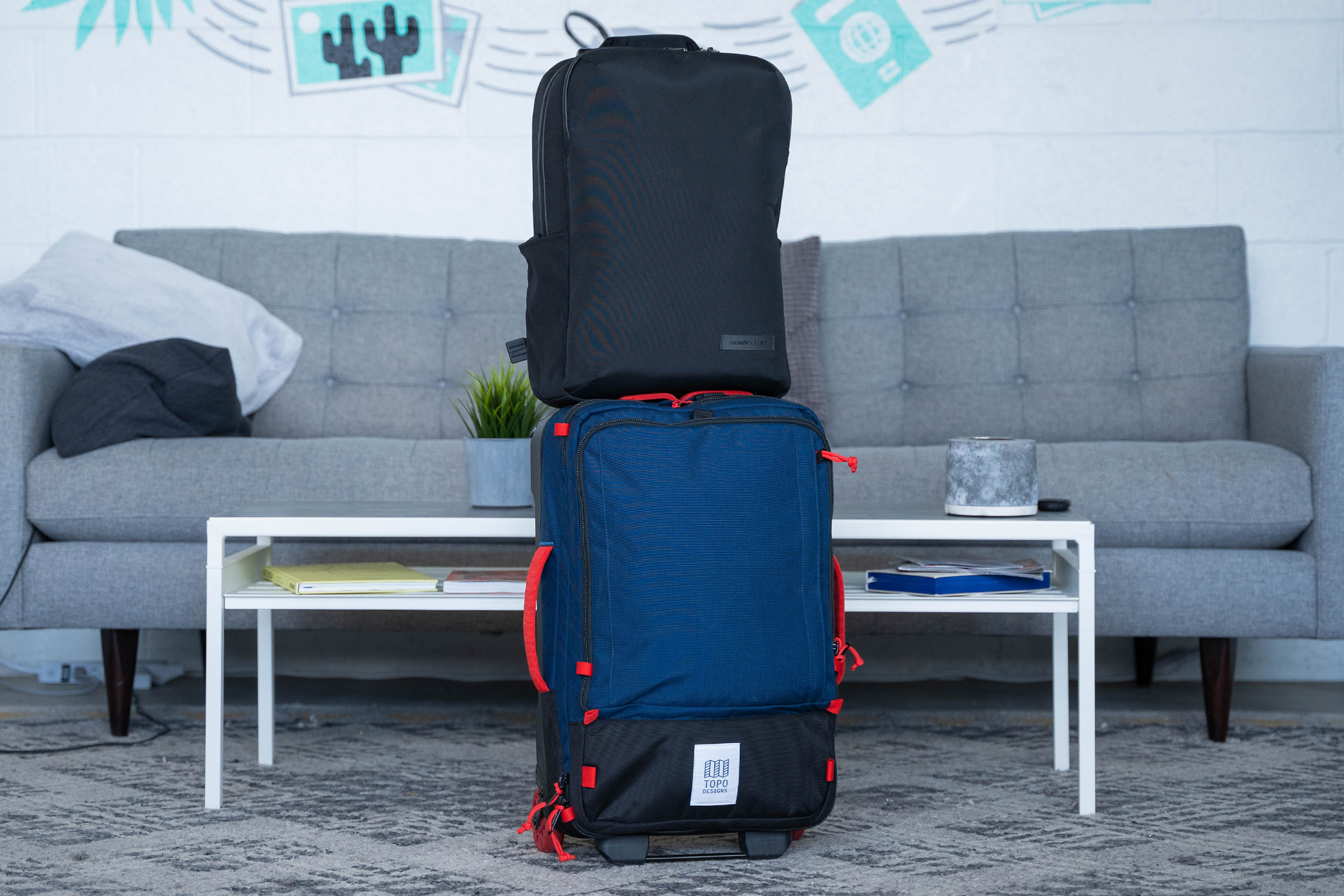 Behind the luggage pass-through is a hidden zippered pocket. Again, it has tan-colored liner inside, which is good for visibility. Space is limited, however, since it's on the back panel. It's mostly geared towards flat items like small travel documents (i.e., a passport, tickets, transit cards, boarding passes, etc.).
On to water bottle pockets: the Anti-Theft Backpack has two of these bad boys. These fold flat and are secured in place by snap fasteners when not in use—great for maintaining the streamlined profile of the bag. Not so great is the pockets' lack of grip.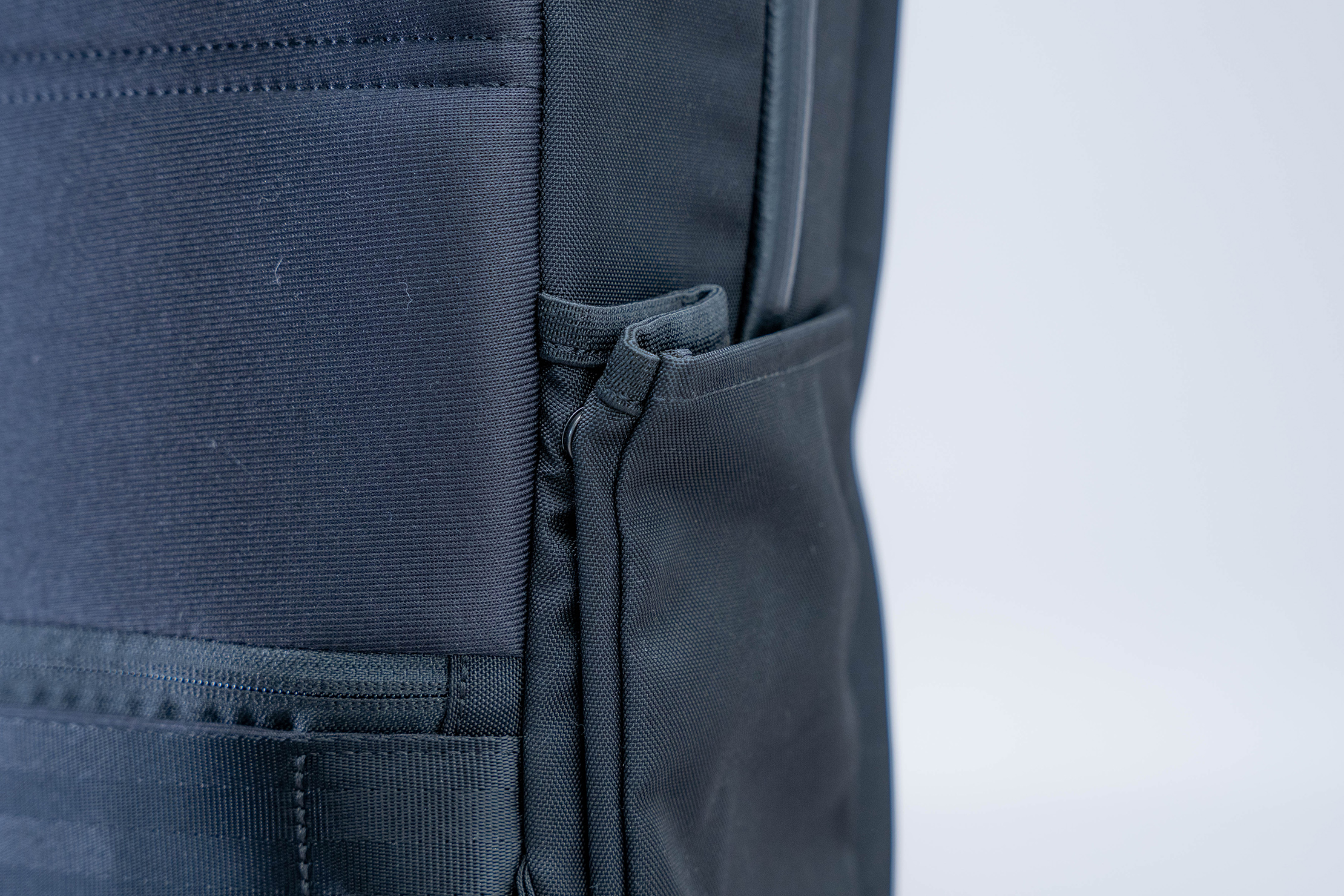 We've tested the water bottle pockets with two kinds of bottles. The first bottle is our 32-ounce Nalgene, and with its wide shape, it has no problem stretching out the fabric and being firmly in place. The same can't be said for our more slender 21-ounce Hydro Flask. Due to its slimmer profile and sleek metal finish, the elastic-less pockets have a hard time gripping the bottle in place.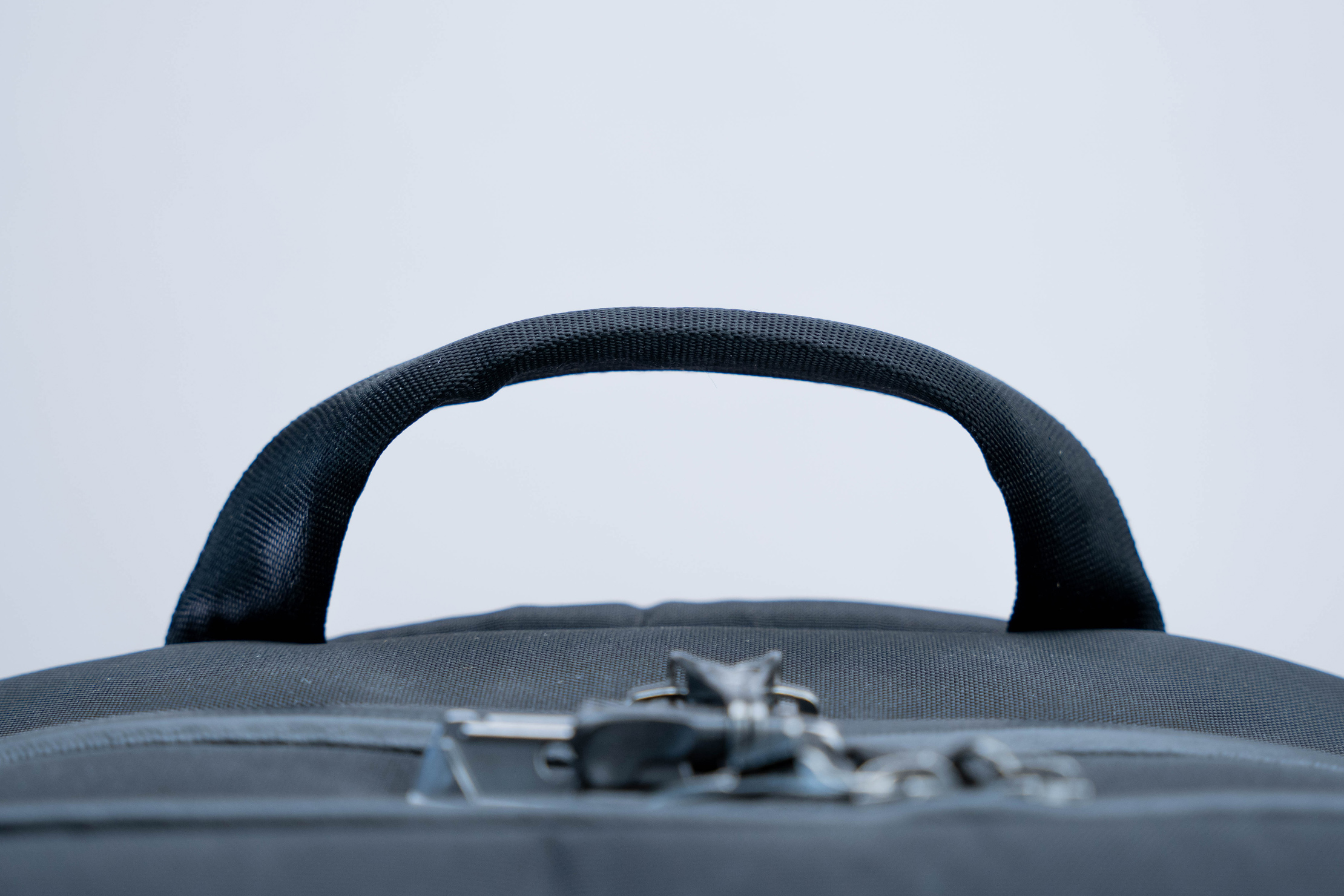 Last but not least of the exterior features is the top handle. Seriously, it's no afterthought. It's made of a seatbelt-like material and has a good amount of thickness for comfort. Coupled with its wide stance, it's a handle we can comfortably use to carry the bag across rooms, but not anything too long-distance.
Inside The Backpack
Okay, we're not entirely done with the exterior features. Before we get into the compartments, we have to talk about one of Pacsafe's main security features on the Anti-Theft Backpack: the Roobar sport locking system.
Both the front and main compartment feature zipper pulls, which can be interlocked. Both sets of zippers then loop into the Roobar sport, where they're locked in place. The Roobar itself works by having a sliding plastic piece that is secured by a tab you can push in or out from the sides.
The key thing to note about both the Roobar sport and the PopNLock mentioned earlier is that both aren't as secure as a combination padlock. With enough fiddling, a stranger may be able to figure out how to disengage the Roobar sport or PopnLock. That said, these built-in security features are still great deterrents and hurdles against would-be thieves.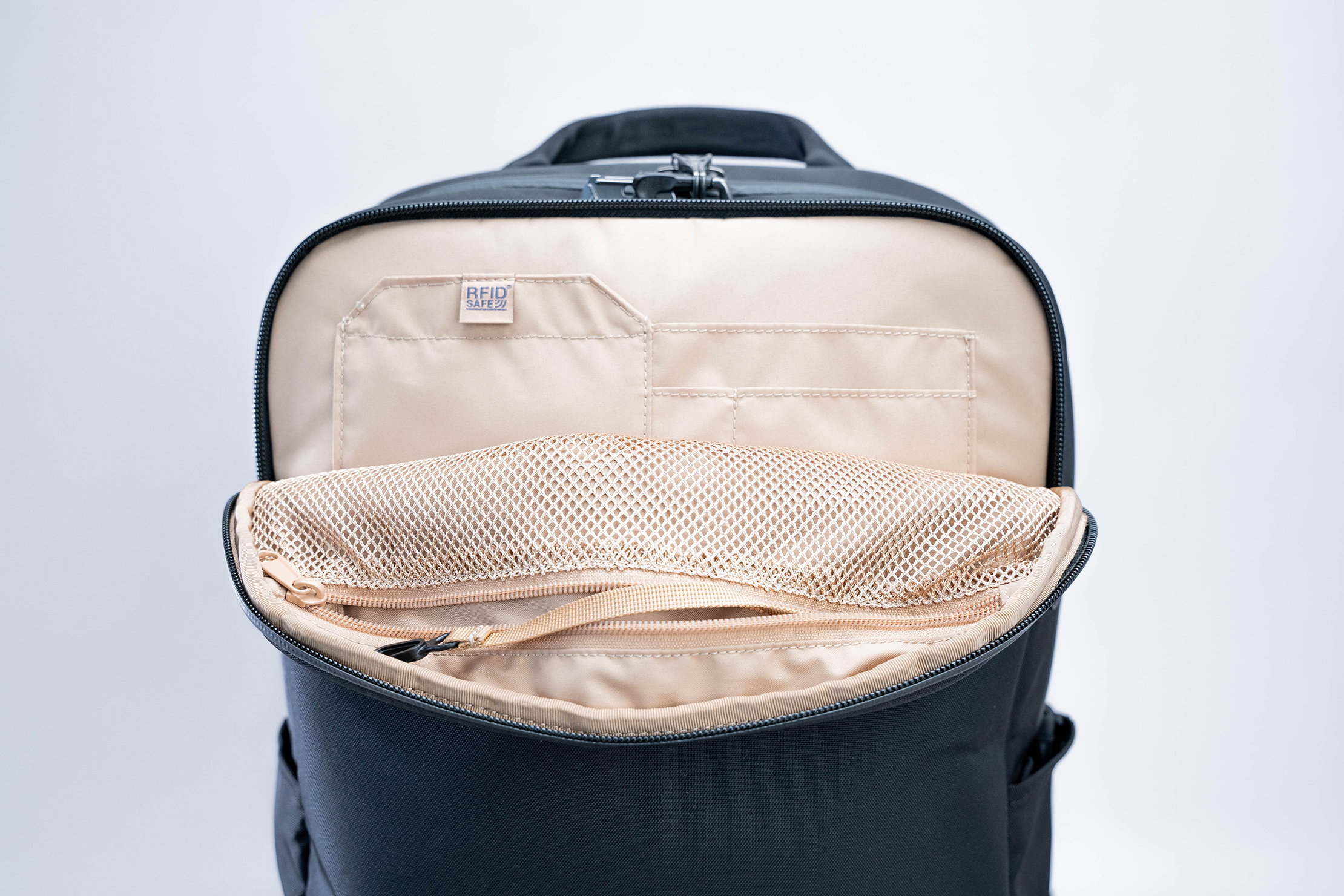 To kick things off, we'll start with the front pocket. It opens up horseshoe-style, which means a part of the interior is below the zippered opening itself. In the Anti-Theft Backpack's case, a large part of the space is located just below where the zipper ends. When the main compartment's fully packed out, that space is a bit hard to reach because of how tight it gets.
Still, there is ample space for a pouch, plus some additional in the pockets above. On the front is a zippered mesh pocket with a built-in key clip, while there are liner pockets on the opposite side. Two of those are passport-sized, with an accompanying pen slot right next to an RFID-safe pocket. RFID-safe pockets are great because they protect credit cards from skimmers, though the fit may be a bit of a squeeze depending on how big your wallet is.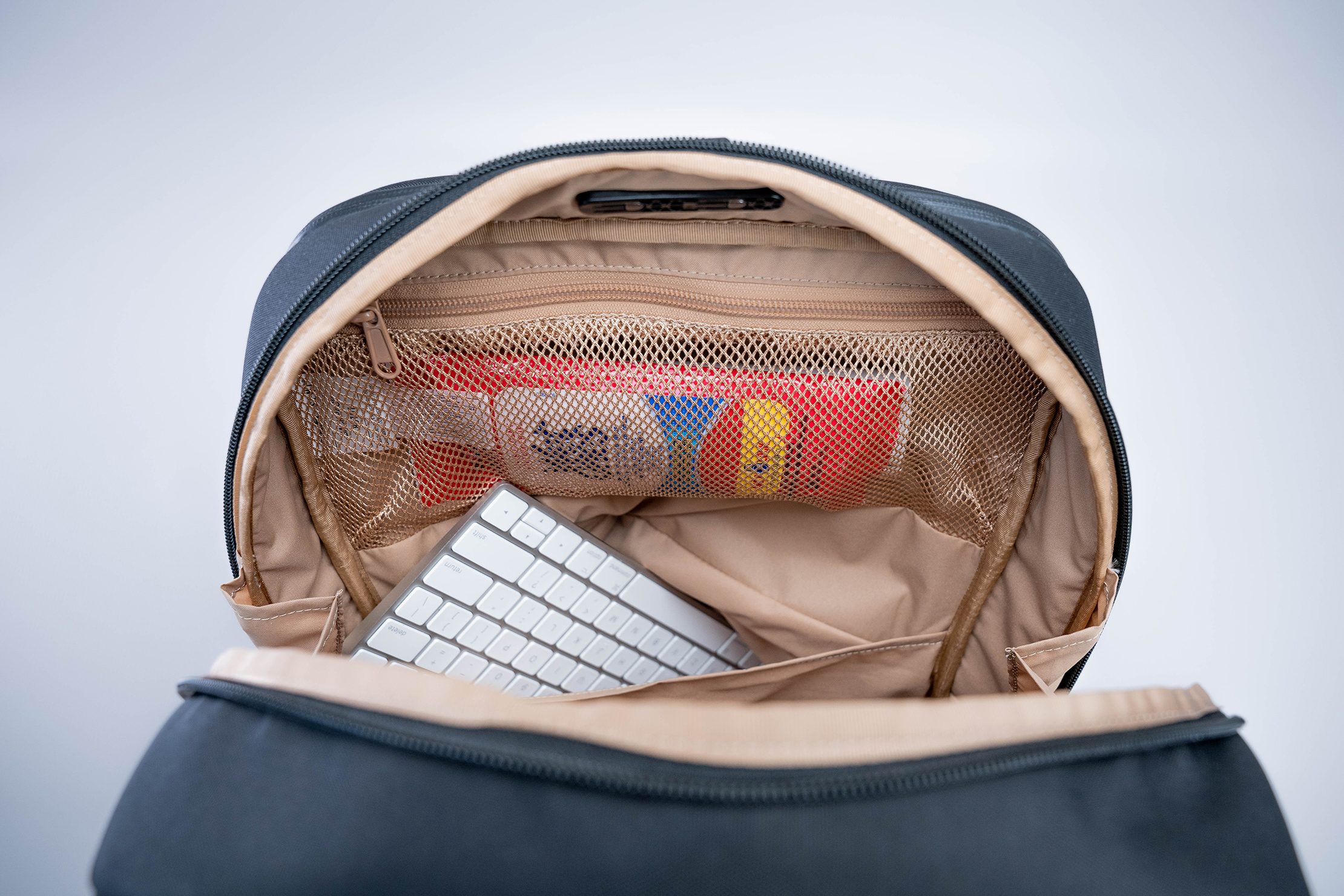 The main compartment also opens up horseshoe-style. This time, fabric gussets on the sides help manage the structure. The space inside is enormous, though nothing too surprising for an 18-liter backpack. It's just enough for a couple of packing cubes of clothes, plus a few pouches. The corners are squared off, so it's just a matter of Tetris-ing gear in to maximize the available space.
As for getting gear organized, there are some built-in pockets towards the front. At the bottom half is a huge dump pocket that's wide enough for Apple Magic Keyboard. Just above is another zippered mesh pocket for other small everyday carry gear.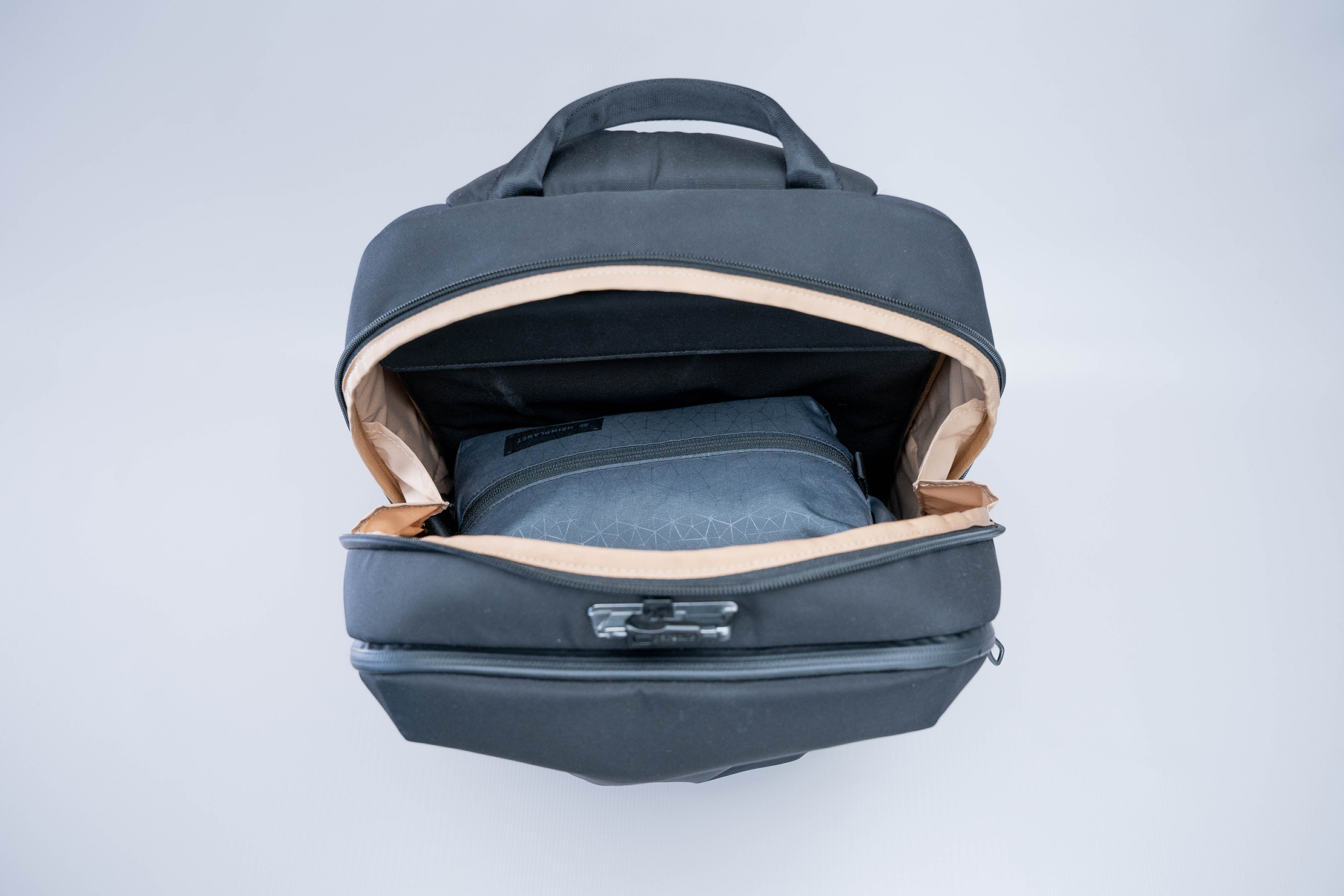 Last but certainly not least is the laptop sleeve with Silent Pocket Faraday signal blocking protection. It's SLNT's part of the Anti-Theft Backpack. First things first, this sleeve is still within the main compartment. That in itself isn't a con. However, this sleeve is very recessed from the main compartment's opening, plus the sleeve itself has a flap that needs to be opened.
When we have the main compartment fully packed with packing cubes and other gear, maneuvering the flap from underneath the corners and pulling our laptop out is quite tricky. It's just large enough for our 16-inch MacBook Pro, so getting it slotted in also takes more effort than we would like.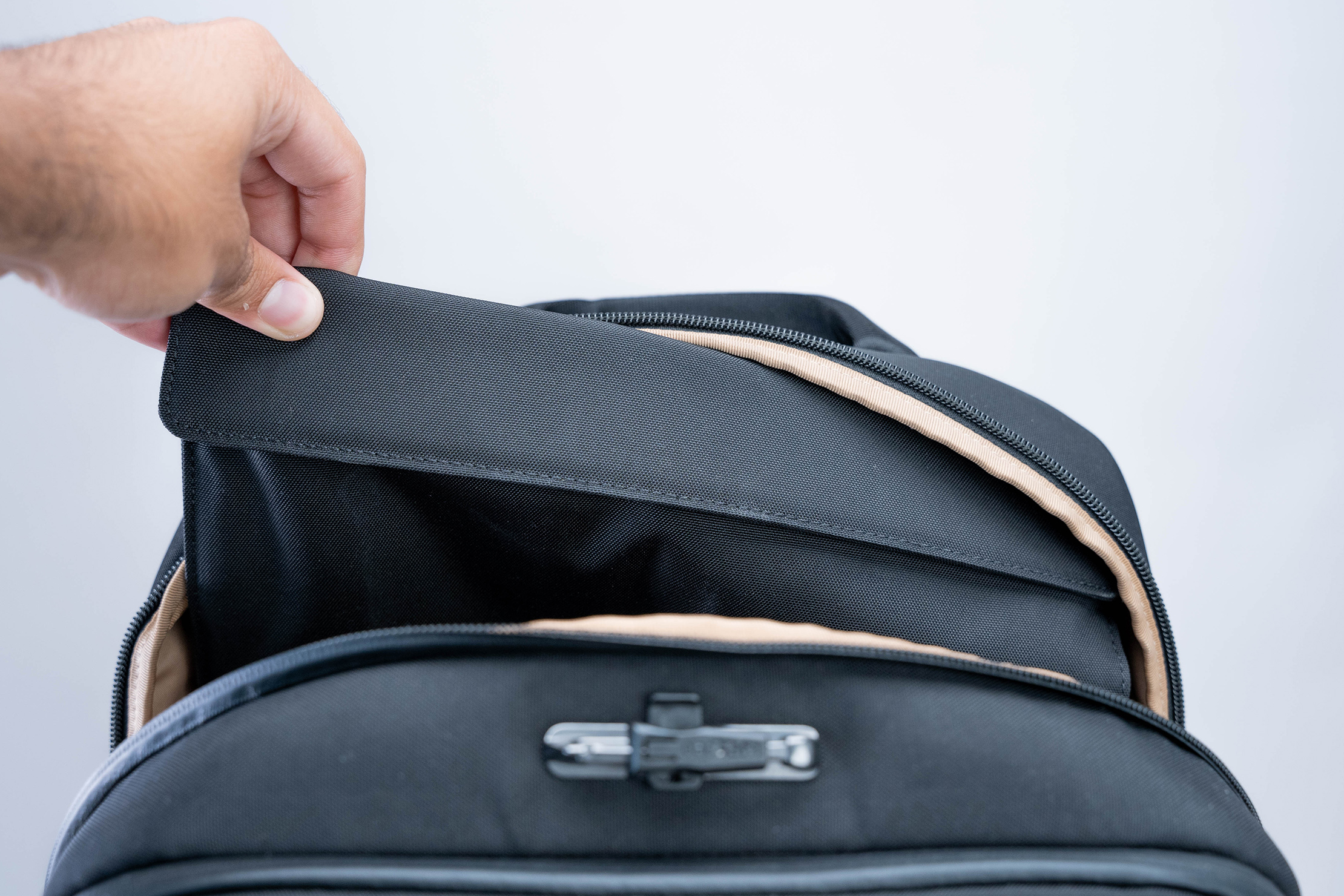 Admittedly, we were expecting a bit more than what's basically an SLNT laptop sleeve inside a Pacsafe backpack. In fact, the sleeve is completely detachable via two Fidlock magnets holding it in place from the back. The integration could've been done a little bit better, with smoother accessibility and better ergonomics.
To its credit, the laptop sleeve does work as a Faraday cage, which isn't surprising since that's SLNT's specialty. For those unaware, Faraday cages block electromagnetic fields by using a mesh of conductive material like copper or aluminum. In other words, a laptop or smartphone inside is protected from signals, whether it's cellular, Wi-Fi, or RFID. With this in mind, you can get a better appreciation of why there's a need for a flap to really seal the sleeve up.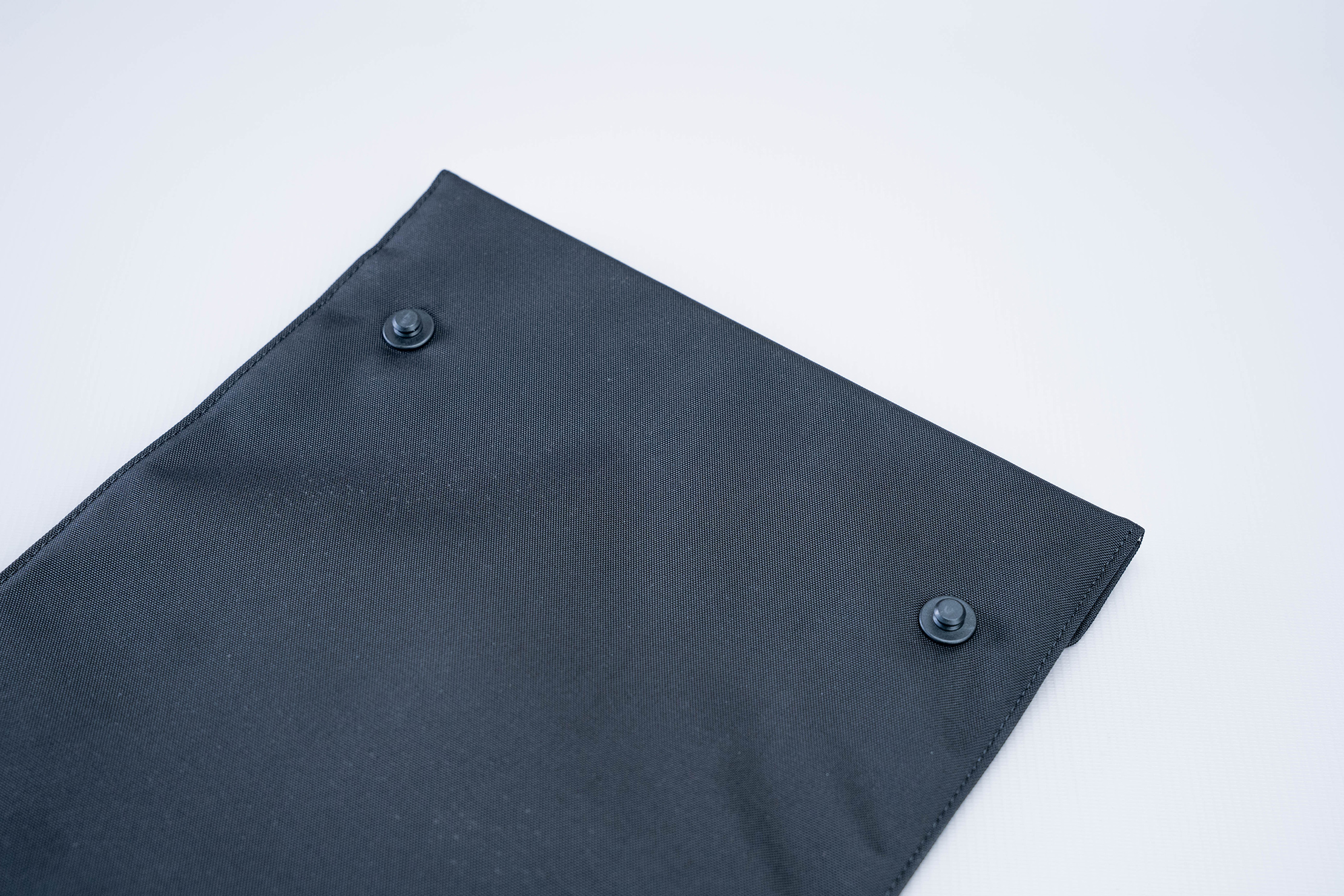 Doing our due diligence, we threw one of our iPhones in there and tried calling it and pinging it through Apple's Find My app. Lo and behold, neither signal got through.
Despite the Anti-Theft Backpack's flaws, we're still all for the idea of these kinds of collaborations. The idea of two security-focused brands coming together and putting their expertise into one product appeals to our inner travelers weary of their valuables. Minor inconveniences aside, the Anti-Theft Backpack's features work, and it's a good upgrade if you're looking for a backpack with beefed-up security measures.
Usage Timeline
Initial Usage
Condition: Excellent
Silent pocket actually blocks the signal—we were unable to connect with a cell phone placed inside the pocket
Bag is boxier than we expected
Nice to see the typical Pacsafe features included
Strap's padding is quite thick and puffy—we'll see what happens after breaking them in
2 Weeks of Use
Condition: Excellent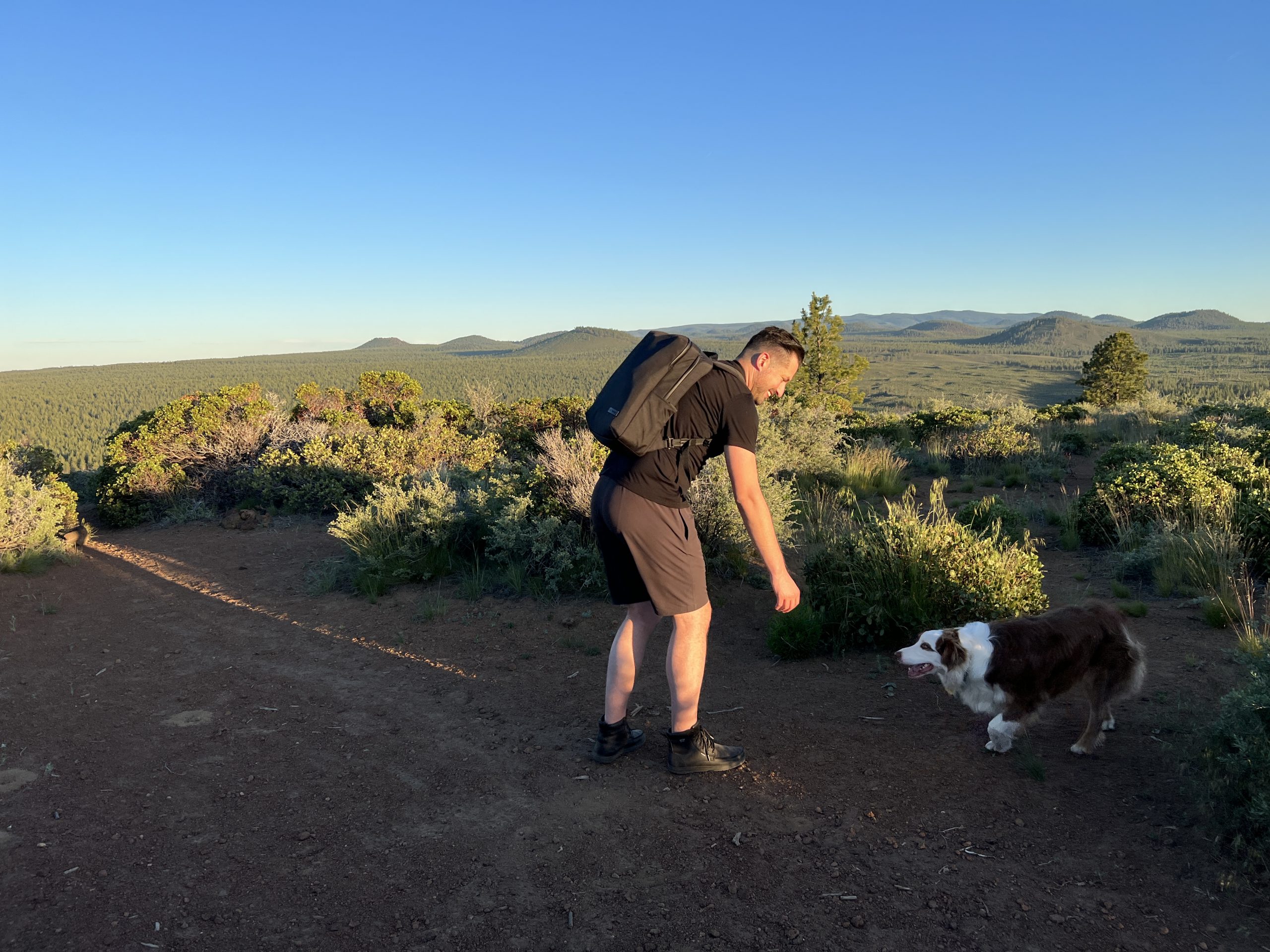 Faraday Cage actually works, but it's not super integrated into the bag—it's a sleeve attached with magnets and kind of tough to get access to since it's mounted on the back
Straps are super padded
The bag is boxy and can sag down lower on the back

Nice internal organization for a weekend trip

Was overall a great companion for a trip from Detroit, MI to Bend, OR.
Access the Pro Community Discussion
Get your questions about the Pacsafe X SLNT Anti-Theft Backpack answered from our team and the Pro Community right here on the page. Plus, join discussions with other members about gear, guides, and more.
Other Bags & Luggage Reviews