Pacsafe Eco 25L Anti-Theft Backpack Review
Most features on the Pacsafe Eco 25L Anti-Theft Backpack are easy-to-use ways to keep your gear safe, though a Dock Lock on the front pocket hinders access.
Our Verdict
Unlock the Pro Summary
Save time. Get access to brief summaries of our reviews so you can browse and make decisions more efficiently.
Pros
Super stretchy bottle pockets accommodate wider containers
Plenty of organizational options
Removable hip belt personalizes harness system fit
Cons
Dock Lock prevents one-handed access to front compartment
Shoulder strap adjustment slips out of place
Suspended pocket blocks laptop sleeve
Recent Pack Hacker Video
Technical Details
Capacity

25l

Weight (lb)

1.87 lb (0.8 kg)

Dimensions

19.7 in x 10.6 in x 7.48 in (50 x 26.9 x 19 cm)

Notable Materials

Recycled Nylon, Recycled Polyester, PFC-free DWR Coating, rPET (recycled polyethylene terephthalate), Woojin Hardware, YKK Zippers

Manufacturing Country

Vietnam

Laptop Compartment Size

16"

Warranty Information
Full Review
Get up to 15% off Pacsafe • Join Pack Hacker Pro
"Protect your valuables. Protect our planet."
Pacsafe spells it out right there in its motto: it's a brand focused on environmental friendliness and security. If you want to see the world in all its wonder before it changes due to human intervention, that's probably something you care about too. However, seeing all the planet has to offer can take you to places off the beaten path where you'll want to take some precautions to avoid losing your luggage.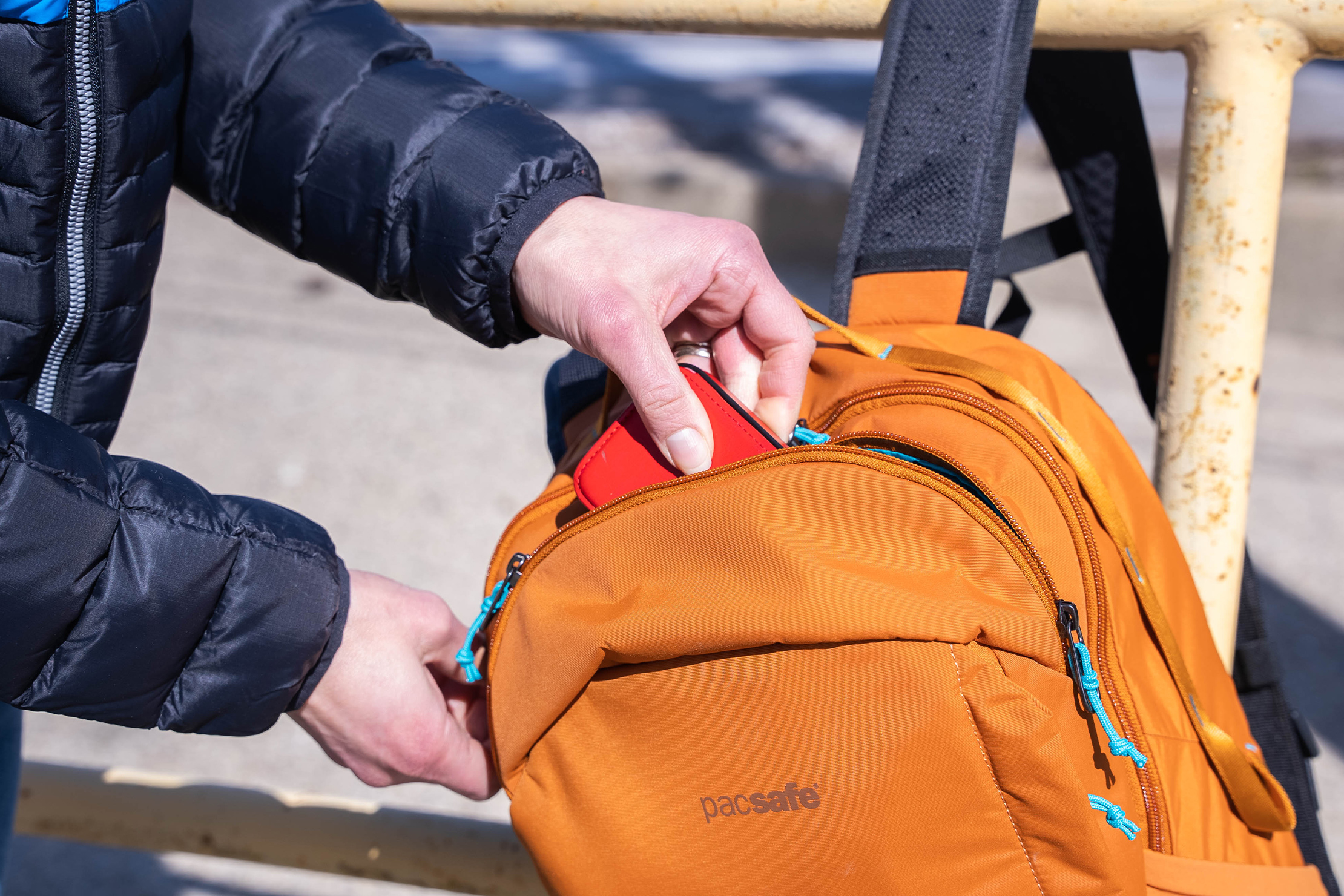 That said, while Pacsafe packs locks and security features into its anti-theft lines, some are more intuitive to use than others, some slow access to your gear no matter what, and others hang out until you actually need them.
So what's happening with the security and sustainability of this bag? Let's check it out.
External Components
According to Pacsafe, the Eco line includes its most sustainable packs to date—at the time of this review, of course. With any luck, they'll continue to improve in the future. You can do it, Pacsafe! For now, though, the Pacsafe Eco 25L Anti-Theft Backpack includes plenty of recycled components to replace virgin materials.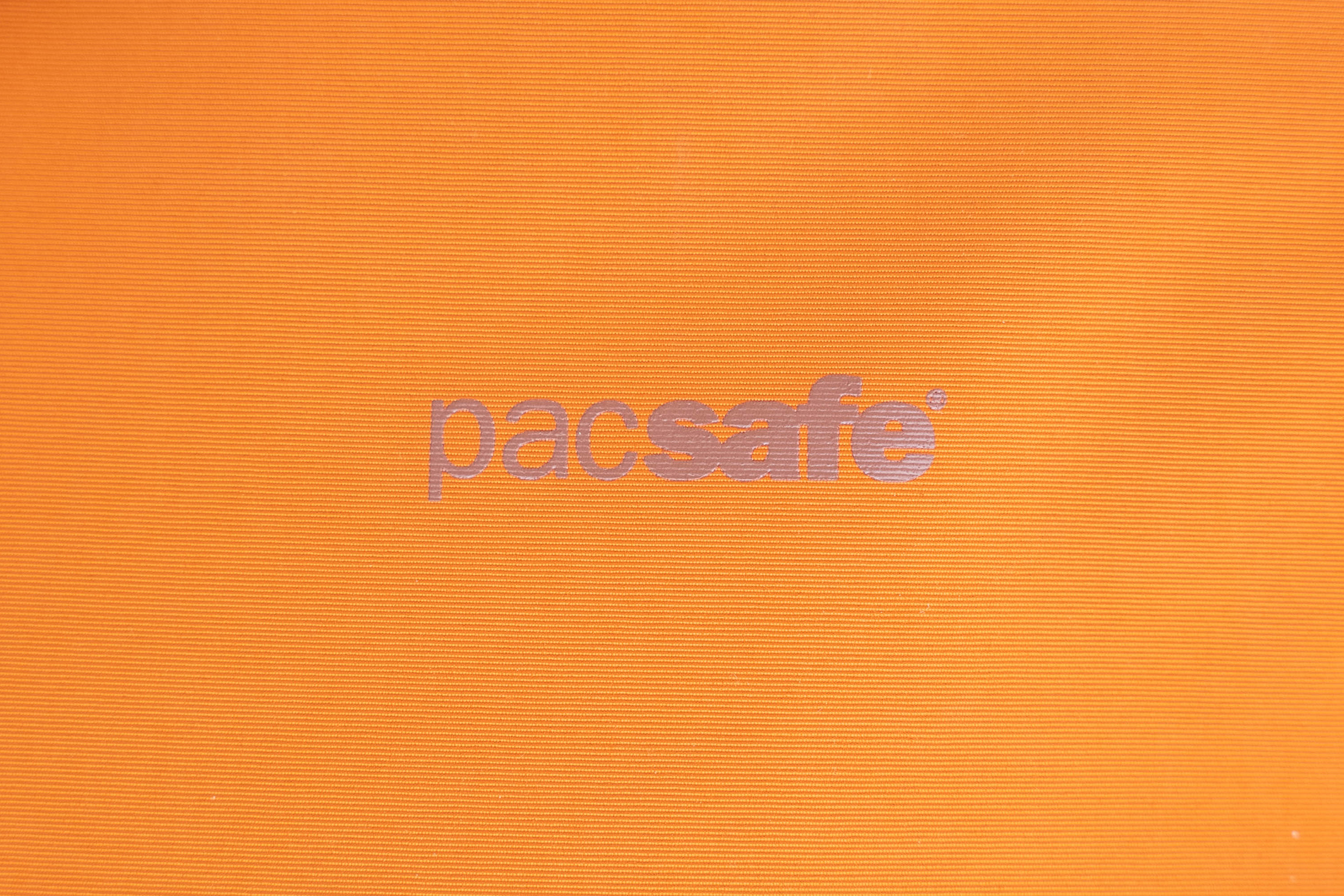 The list includes ECONYL® nylon as the primary material, with ocean plastic nylon mesh, recycled nylon tubular webbing, rPET lining and woven labels, among over a dozen bag components listed helpfully on the recycled paper tags. Pacsafe packs a lot of information onto its tags for this and other bags, so we recommend hanging onto them until you have all the features memorized or bookmarking this review. Either way, you'll want a reference until you get the hang of everything.
The ECONYL® nylon is soft and shiny, so you can easily brush off dirt. It blocks moisture, too, thanks to the PFC-free water repellency. We've got the Canyon colorway, which is a burnt orange with turquoise accents, and you can also get it in Gravity Gray or Black, each with the same aqua accents that work well with each main hue. It's hiding the first security feature on this pack: eXomesh slashguard, cut-resistant panels with a steel mesh inside to provide a durable barrier between your gear and a thief's knife. In case you find yourself in the middle of a ninja movie, you know?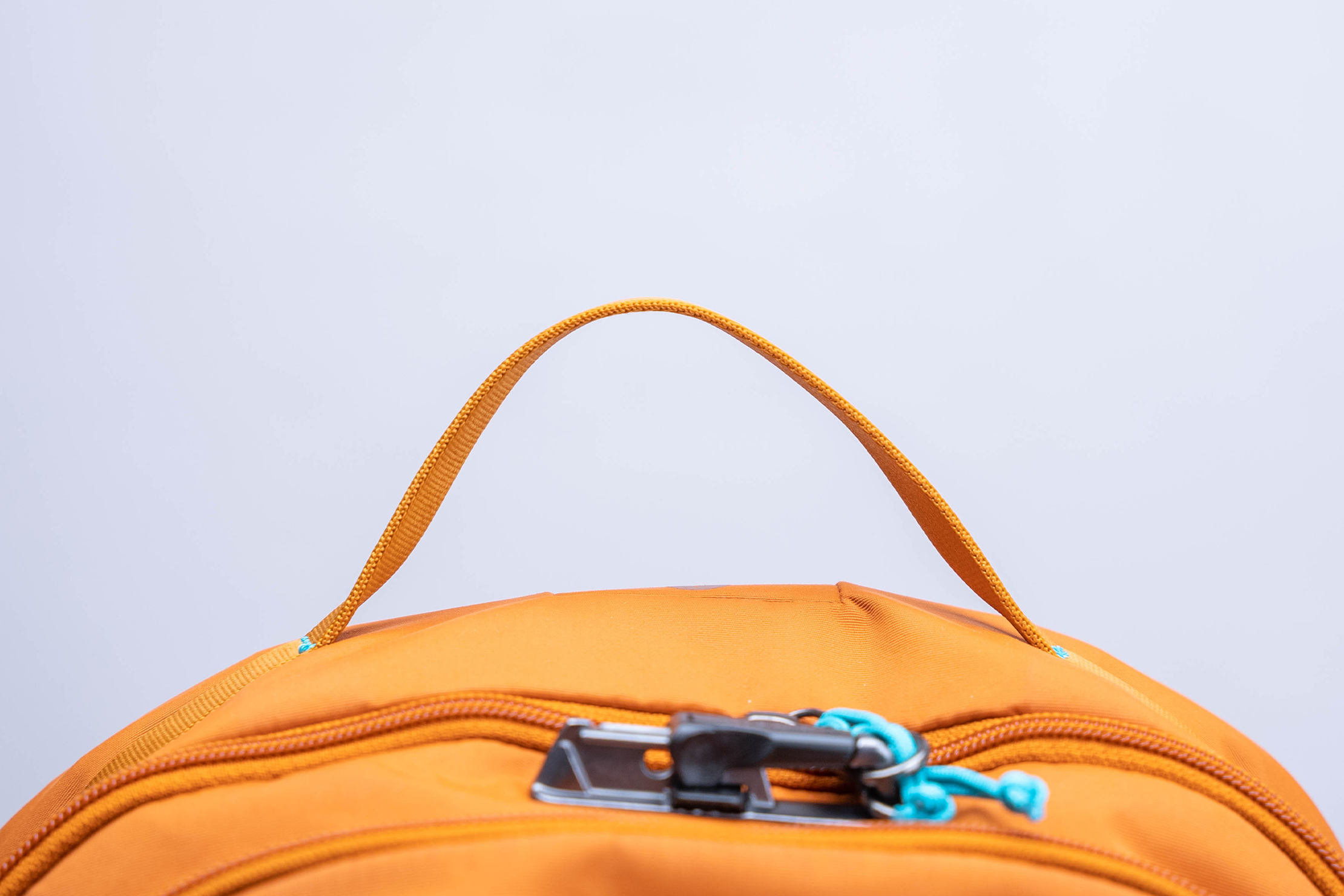 The carry handle is also a satiny rPET webbing. It's thin, yet it gets the job done and is easy to hang on a hook. The same strap parades down the sides of the bag to create a daisy chain of attachment points. Each end in a larger loop near the bottle pockets. We haven't used these much, but it's always nice to have places to clip hand sanitizer, a mini flashlight, or just a fun keychain to personalize the bag. And while there aren't side handles on the bag, the larger loops at the side are easier to grab if needed.
You'll find Pacsafe branding scattered around the bag: printed in reflective gray on the front of the bag and spelled out on all locking features, and in the turtle logo printed on the right bottle pocket and between the shoulder straps on the back panel. The reptile is embossed on the metal zipper pulls, too, though turquoise cords wound through the metal zipper pulls block its adorableness, so you have to go hunting for it.
The exterior zippers are YKK reverse coil fasteners, which work well. There are two KCC zippers for interior pockets, and they also function properly, though they lack pull cords and the turtle.
Other hardware includes Woojin slides and buckles, plus all of the Pacsafe locking mechanisms. We'll discuss those later when we get to what's inside and how you access it.
First, though, let's chat about how you carry it.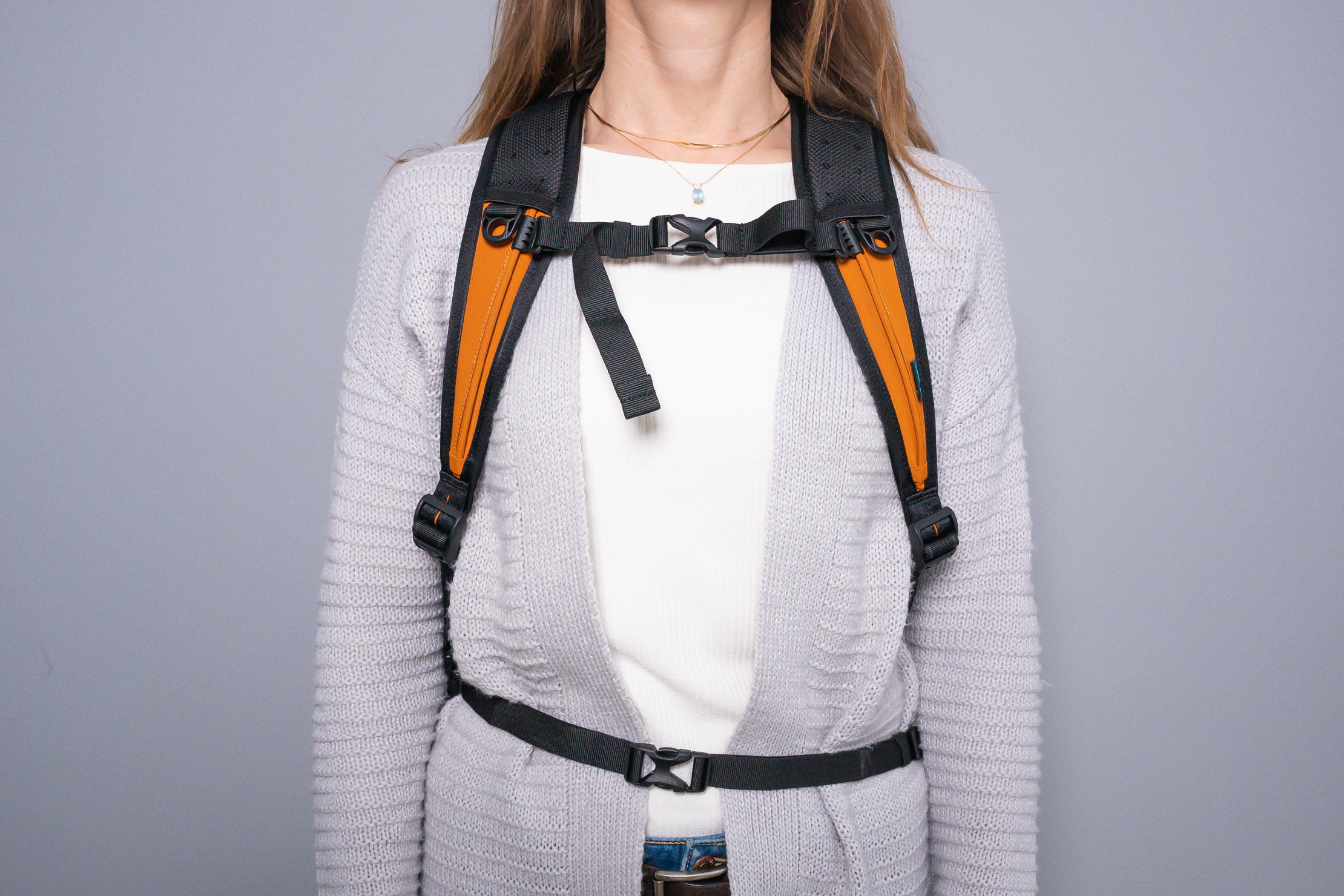 The shoulder straps aren't the most thickly padded we've seen, though it's more the shape of the straps that impacts carry comfort than anything. They are attached relatively close together at the top of the bag and angle inwards, with little to no flexibility to bend around broad shoulders—more about how that feels below. The straps curve in a slightly boomerang shape to angle around your chest, and there is a sternum strap on a sliding rail on the lower half of each strap. The right side of the sternum strap is adjustable and includes an elastic strap keeper, and the left side includes elastic under the strap itself so you can get the most secure fit.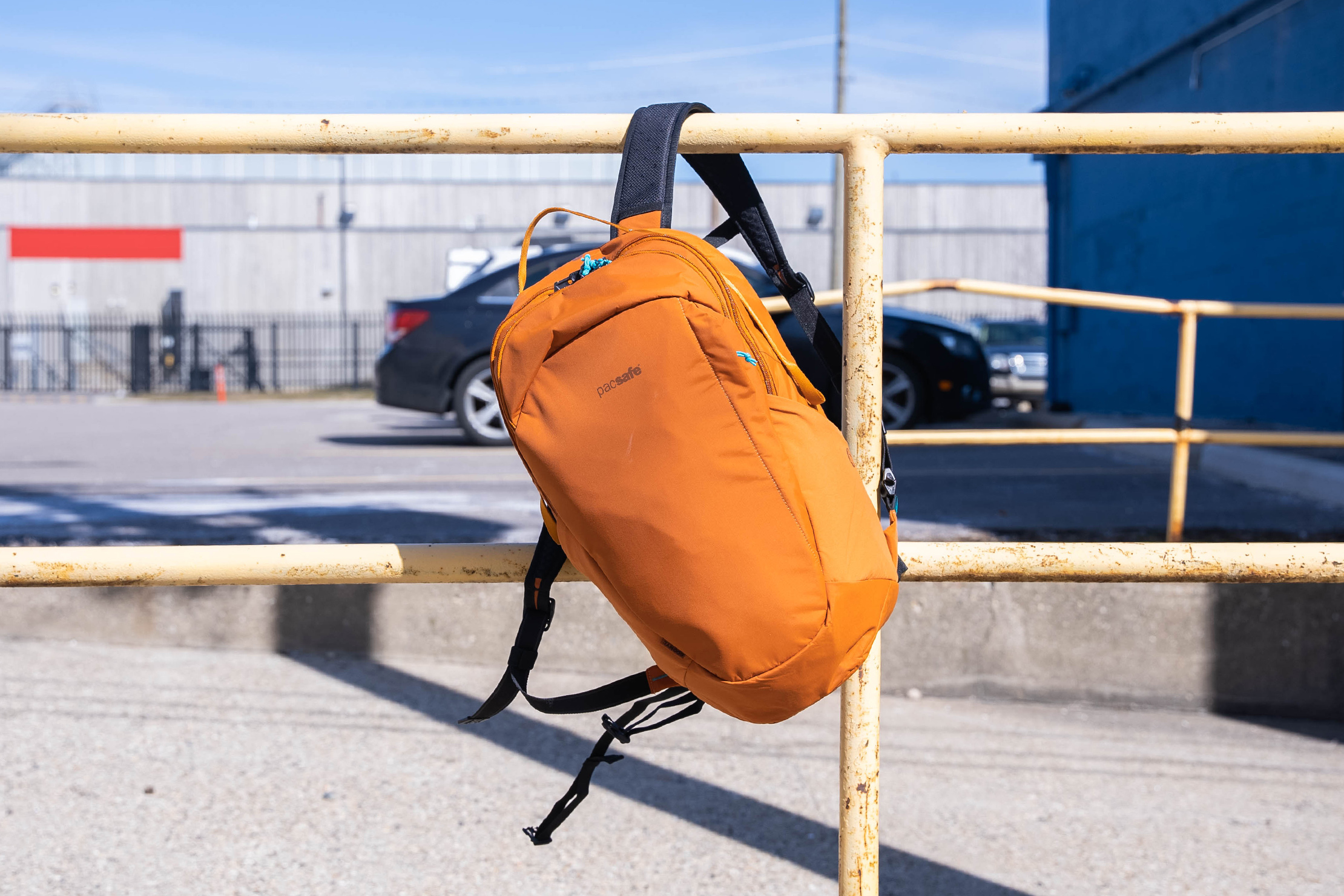 Carrysafe slashguard strap reinforcement with Dyneema prevents someone from cutting them. Why would they be trying? Why, if you locked the bag around a fixed object so you could run to the restroom or take a spin on the dance floor, of course. That's because the right strap ends at a PopNLock security clip, which you can undo to detach the strap from the bottom of the backpack and then re-secure it around a table leg, the back of a chair, or whatever else you can find. This is the first of the puzzle-type locks on this bag, and we've found with other Pacsafe bags that undoing them gets easier with time, so practice before your trip, and you'll be ready to put the Eco 25L Anti-Theft Backpack through its paces.
But wait, there's more! Breathable mesh lines the undersides of the shoulder straps and the back panel; it's also rPET. And the tops of the straps have a few extra features you don't typically see on backpacks: two elastic loops and plastic D-shaped attachment points with a hole in the middle to hold a hydration tube in place. That's right, along with everyday carry gear, you can swap out your laptop for a water bladder and take this backpack on the trail.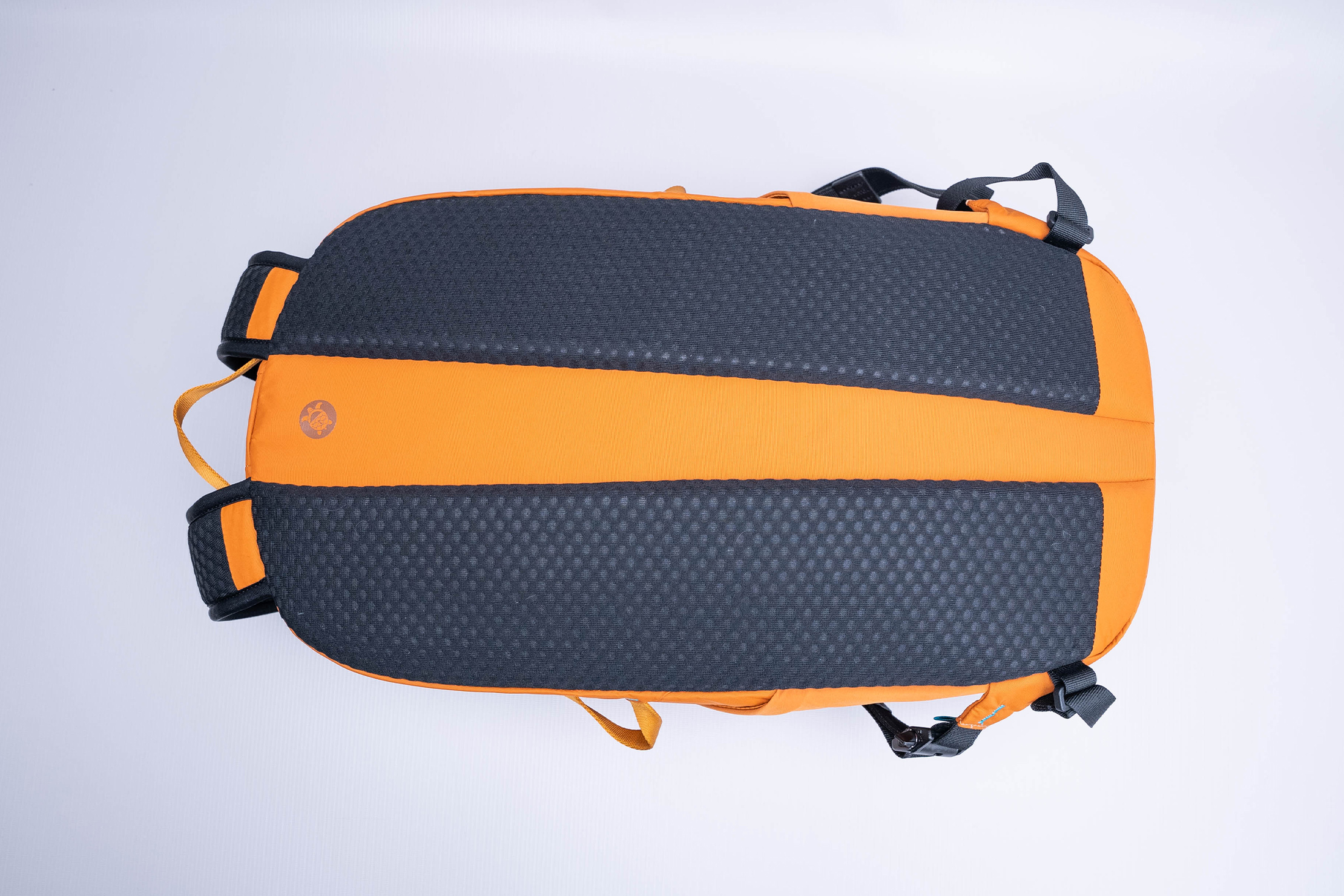 A little water droplet is centered in the top of the back panel, above the air channel where there's no padded mesh and the Pacsafe turtle. It indicates that a hydration tube can slide through there to get inside the bag. We like when packs include this feature if they're suggesting using a water bladder with a pack—it's a much nicer way to get the tube out of the bag than just having the zippers meet on either side of it and creating a gap where moisture, dirt, or anything else could get into the main compartment.
And if you do plan to go for a longer hike, you may want the thin webbing hip belt for more support along the trail. It attaches to two rings at the bottom of the shoulder straps, but if you don't need it, just slip the webbing loop through the rings and pull it off.
Fit Notes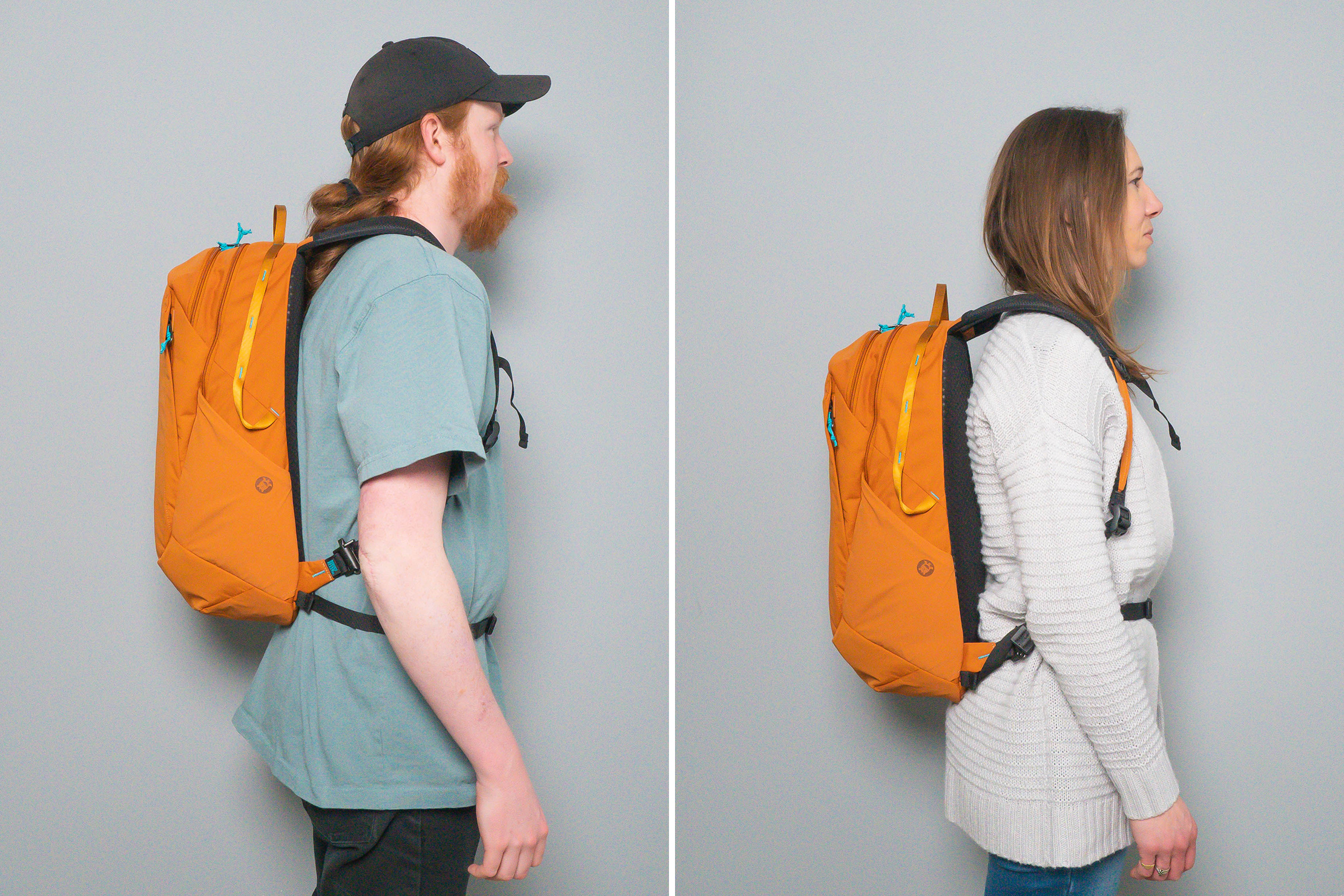 We think the bright Canyon colorway we're testing is bright, fun, and helps this bag stand out. If you prefer to blend in, the Black colorway gives the bag a more understated aesthetic. Gravity Gray walks the line between the two, though it's closer to blending with the crowd than standing at the top of the hill and yelling, "Hey! Look at me!"
No matter the color, this casual bag is meant for informal situations. Take it to the park, to explore a new city, and even through museums and other excursions. It works well for offices where casual Friday spans the whole week, but we recommend leaving it home for swanky dinners and high-stakes business meetings.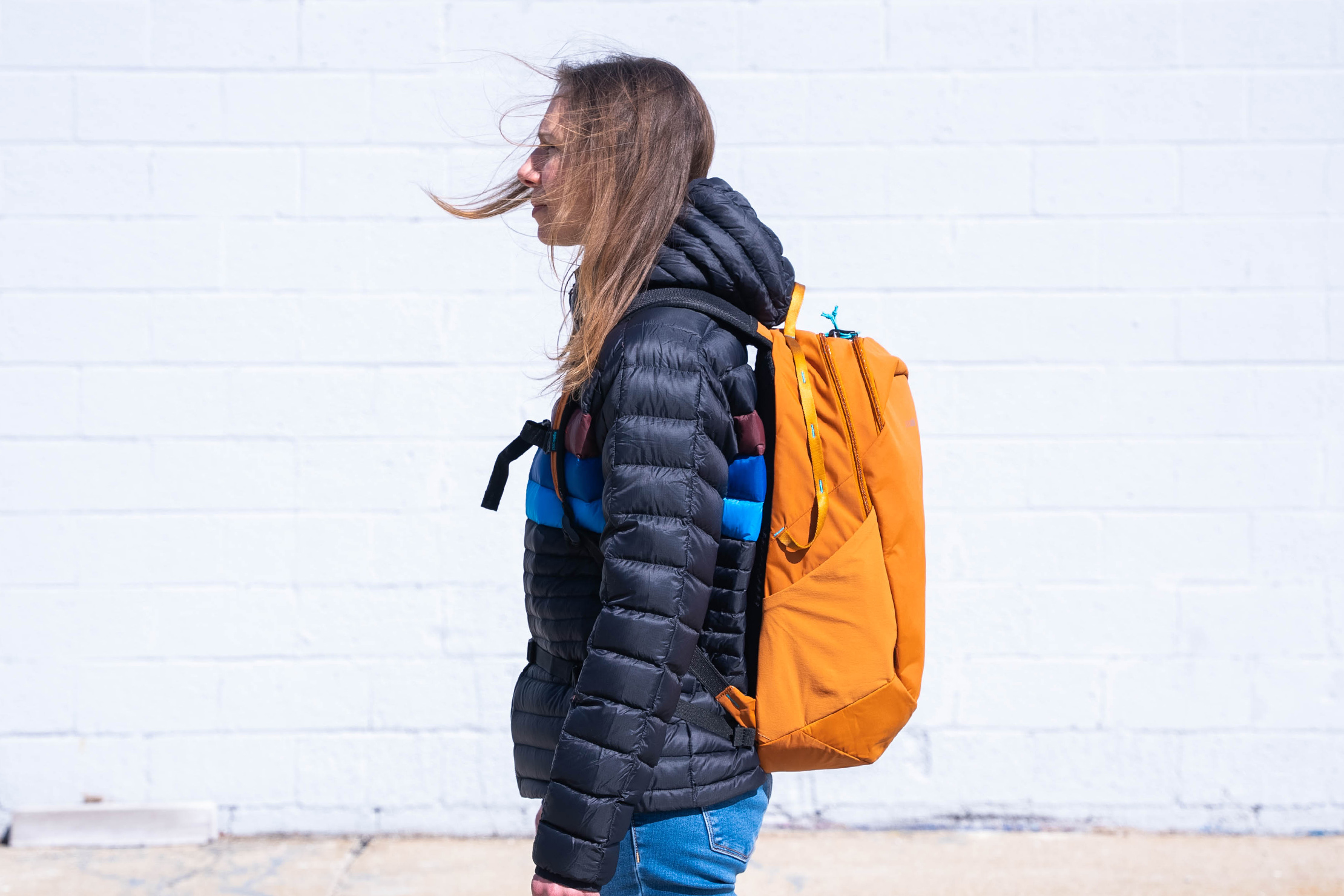 As to comfort, it depends on your body type. This backpack is nearly 20 inches long, and the back panel is pretty stiff, so shorter torsoed users may find it hitting the top of the tailbone. The hip belt can run right along hip bones, which doesn't do a whole lot to take the weight off your shoulders, so our shorter testers were happy to be able to remove it. However, that isn't a problem for all of our taller testers, so this may be one you want to try on before setting out for a long time.
Many testers, however, feel the narrow placement of the shoulder straps pulling at the traps. It's not that big of an issue over shorter periods, but it digs in the longer you use it. The sternum strap doesn't seem to do much, if anything, to alleviate any issues and actually may exacerbate them.
Inside The Pack
On each side of the bag, you'll find two sizeable stretchy pockets topped with elastic for travel water bottles or other slim gear like a tripod or umbrella. They accommodate a wide range of bottle widths, holding a skinny Hydro Flask 21 oz (Standard Mouth) bottle as securely as a Nalgene Wide-Mouth Water Bottle 32 oz, and everything in between. They also lay fairly flat when empty, so the pack keeps its slender silhouette if you don't need them.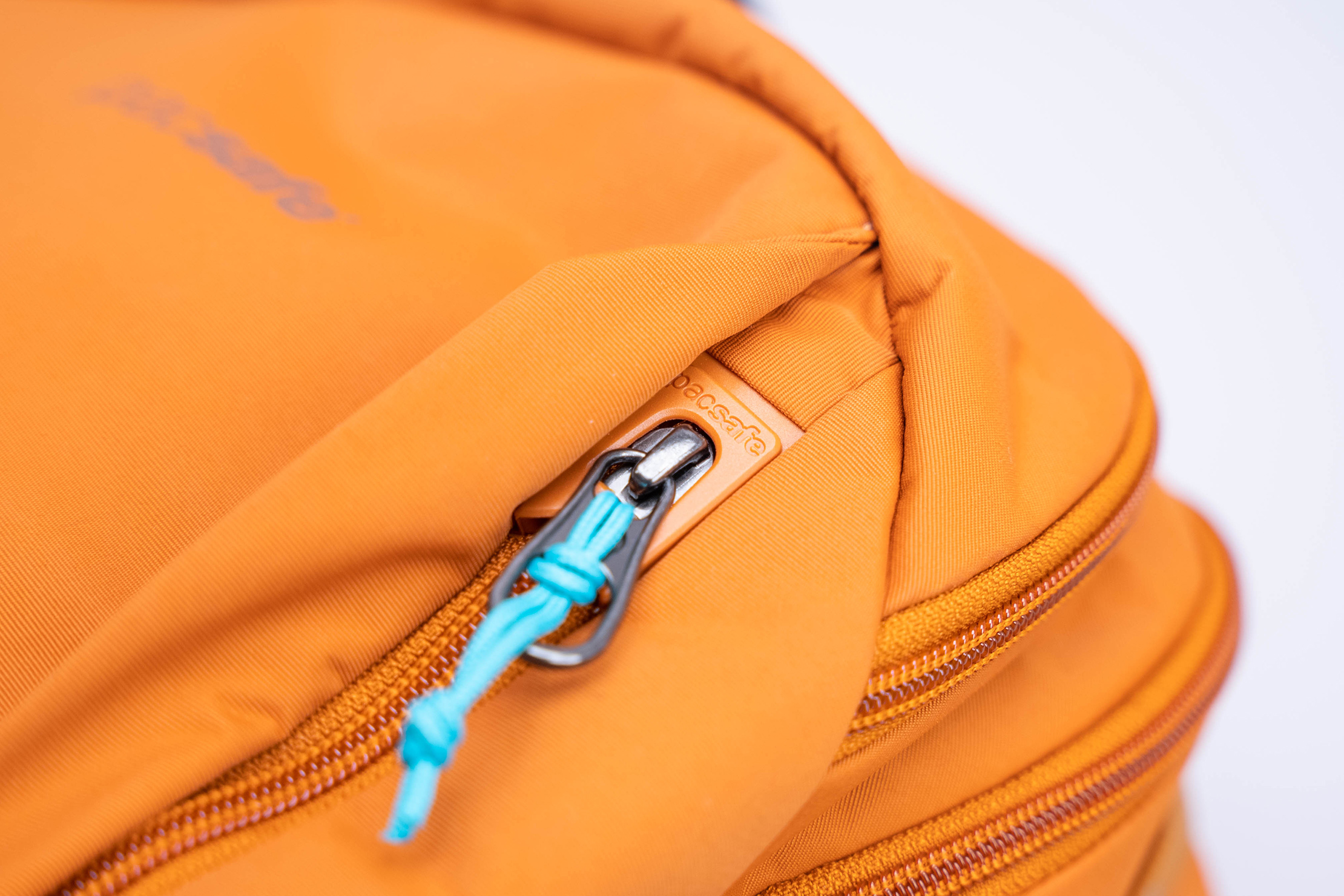 Next up is a front pocket full of open space, which encompasses nearly the entire front of the pack and which … we didn't use much. Its vertical zipper is protected from the elements by a fabric welt—nice—and a Dock Lock—not so nice. Why? Because it takes two hands to open the Dock Lock (one to squeeze it open and one to pull the zipper), and there's no way to leave it unlocked short of leaving the zipper partially open. You can't reach inside one-handed while the backpack is next to you and grab something quickly. Other pockets allow for this, and there is plenty of room for our daily and travel essentials in other areas of the bag that didn't force you to jump through hoops, or Dock Locks as it were, to get at them, so it was just easier to use those areas.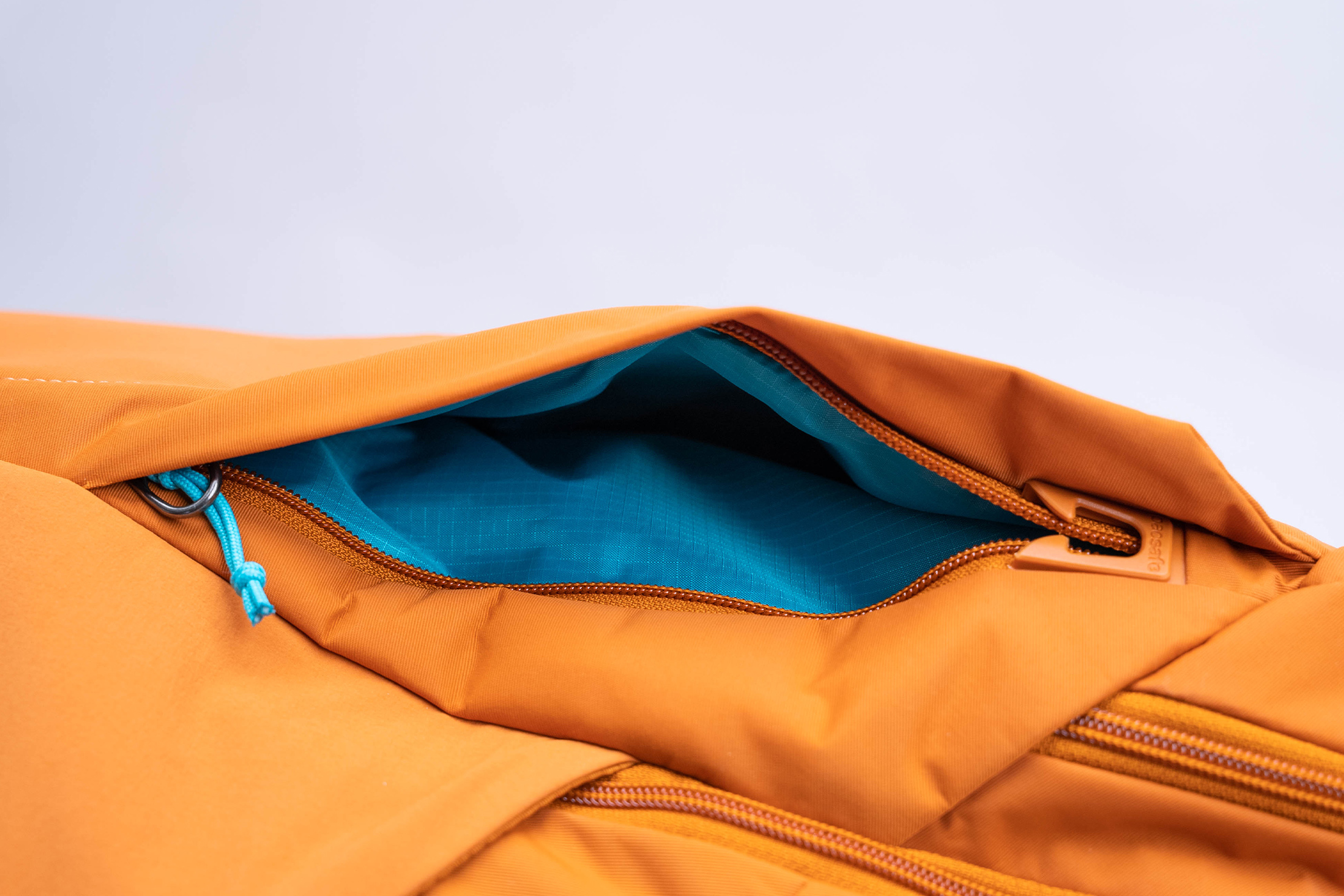 While it's a nice feature in a section of the bag that you may not notice someone trying to enter while it's on your back, we wish the lock was optional instead of mandatory—a minor gripe in an otherwise pretty nice bag.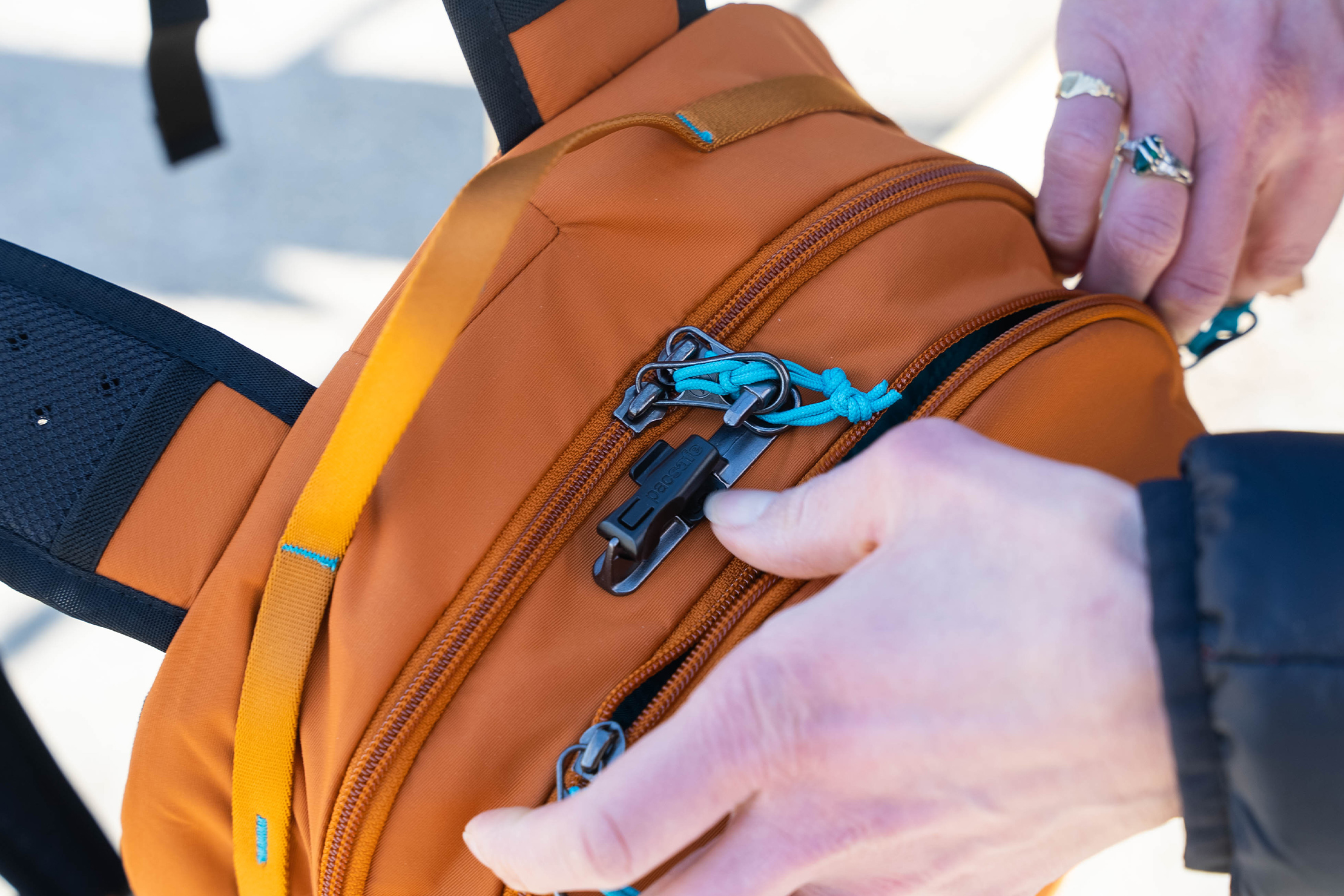 Luckily, another secondary pocket is easy to open on the go and can be locked if needed. Two zippers run parallel to each other in a horseshoe shape atop the bag. In between those two zippers is a Roobar Sport Locking System. You push a tab in the middle toward the back of the bag to unlock it, and then a black plastic bar slides to the left to open the lock.
Once it's open, you can insert all four metal pulls from both zippers (each double-sided) into the lock, slide it back to the right and push the tab toward the front, locking the zippers in place. When you do, you'll spy a small hole immediately to the left of the black bar (we're still looking at the bag from the front here) where you can slide in a padlock for additional security. No one is getting in this bag, baby!
What we like about this system is that, besides being much more secure than the Dock Lock, if you're using the bag in places and situations that don't warrant extra protection, you don't have to use it. It just hangs out in the middle of the two zippers, patiently waiting for you.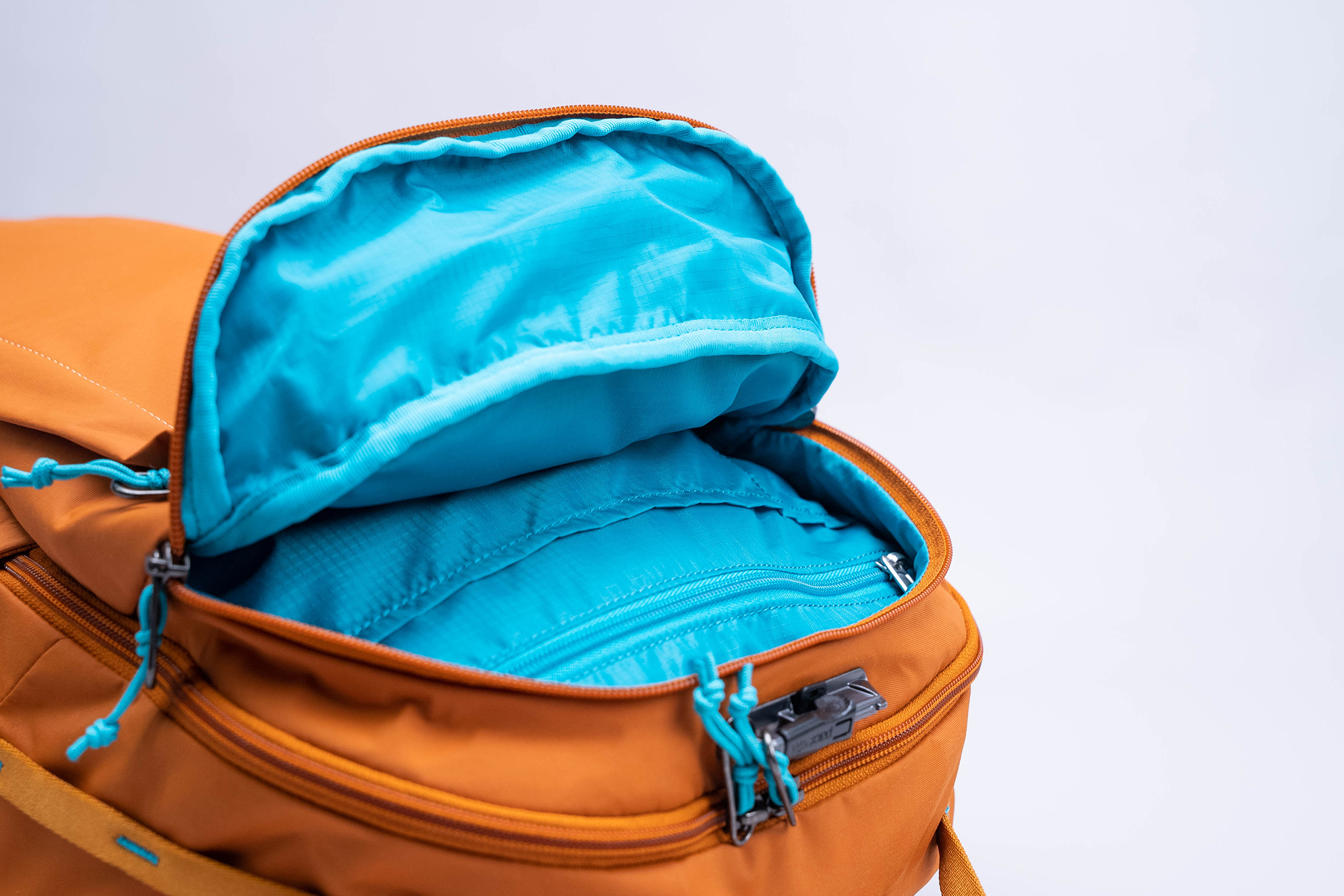 When you unlock it, the front-most zipper opens an admin panel that runs about halfway down the front of the bag. It sports a turquoise rPET ripstop lining, so there's no need to worry about losing pens, dongles, or paper clips in the bright interior. Against the rear of the pocket is a zippered pocket to hold loose articles, including your keys, which can attach to a clip at the end of an 8-inch leash. In front of this pocket are a wide slip pocket where we stash tissues and AirPods to be easy to grab on the go and a pen slot for a writing implement or stylus. There's additional space in this panel for tech pouches or notebooks, and the bulk protrudes away from the bag, so you don't have to worry about blocking the main compartment if you cram a lot of gear in here.
Speaking of which—into the main compartment we go! When you open the dual-sided zipper running from bottle pocket to bottle pocket, you'll see a zipper pocket hanging against the rear of the bag. This roughly 6-by-8-inch pouch attaches at the top so it dangles freely into the bag. There's a Pacsafe patch on it and another label proclaiming that this pocket is RFID safe, so it's a good spot for your travel wallet, passport, and anything else you'd like protected from digital theft.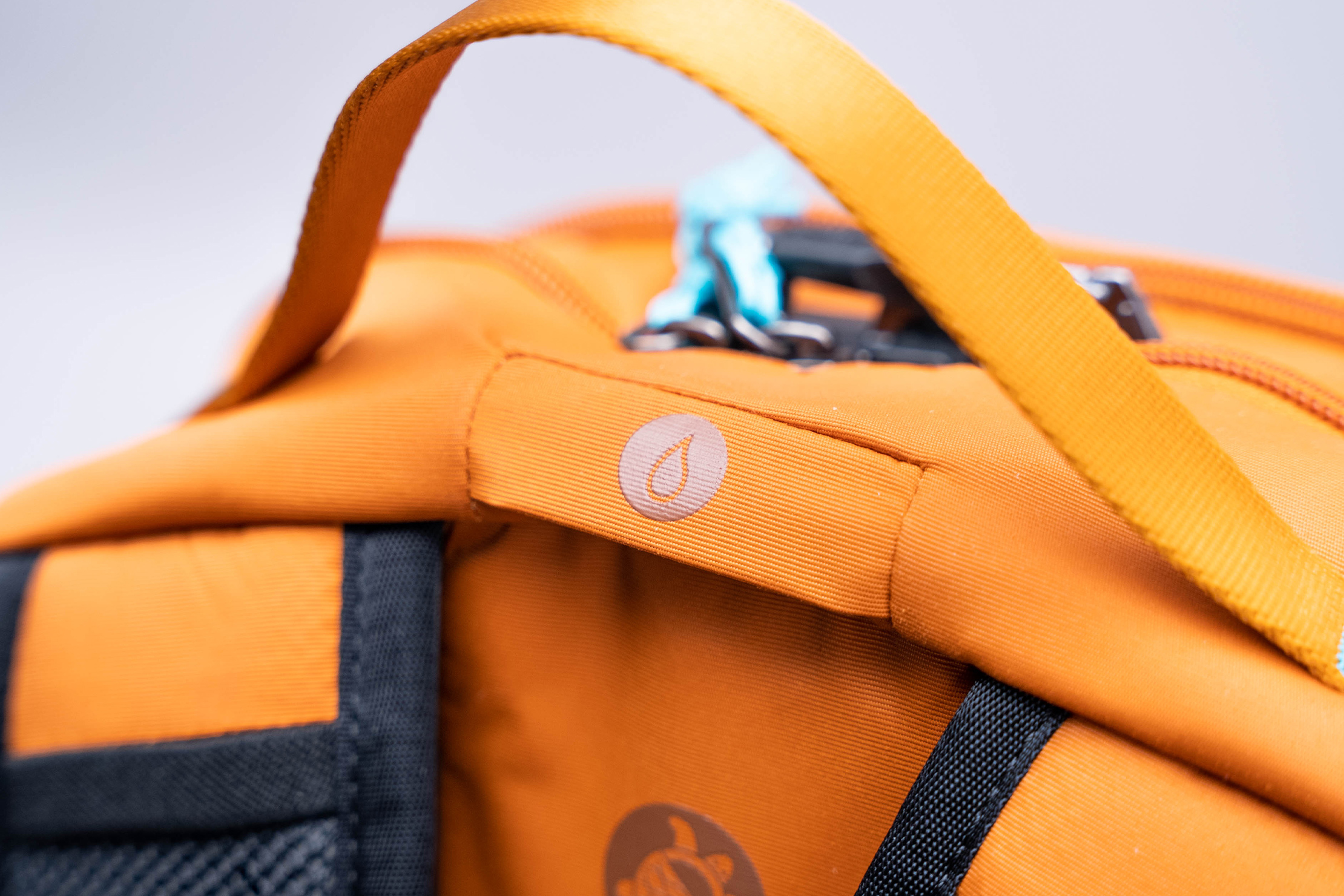 At the top of the pocket is a half-circle cutout, behind which you can spy a loop of hook-and-loop tape. If you lift the pocket, you'll see that you can feed this loop through the top of a hydration pack and then feed the tube up through the round cut and out the top of the bag where that little water droplet logo indicates atop the back panel.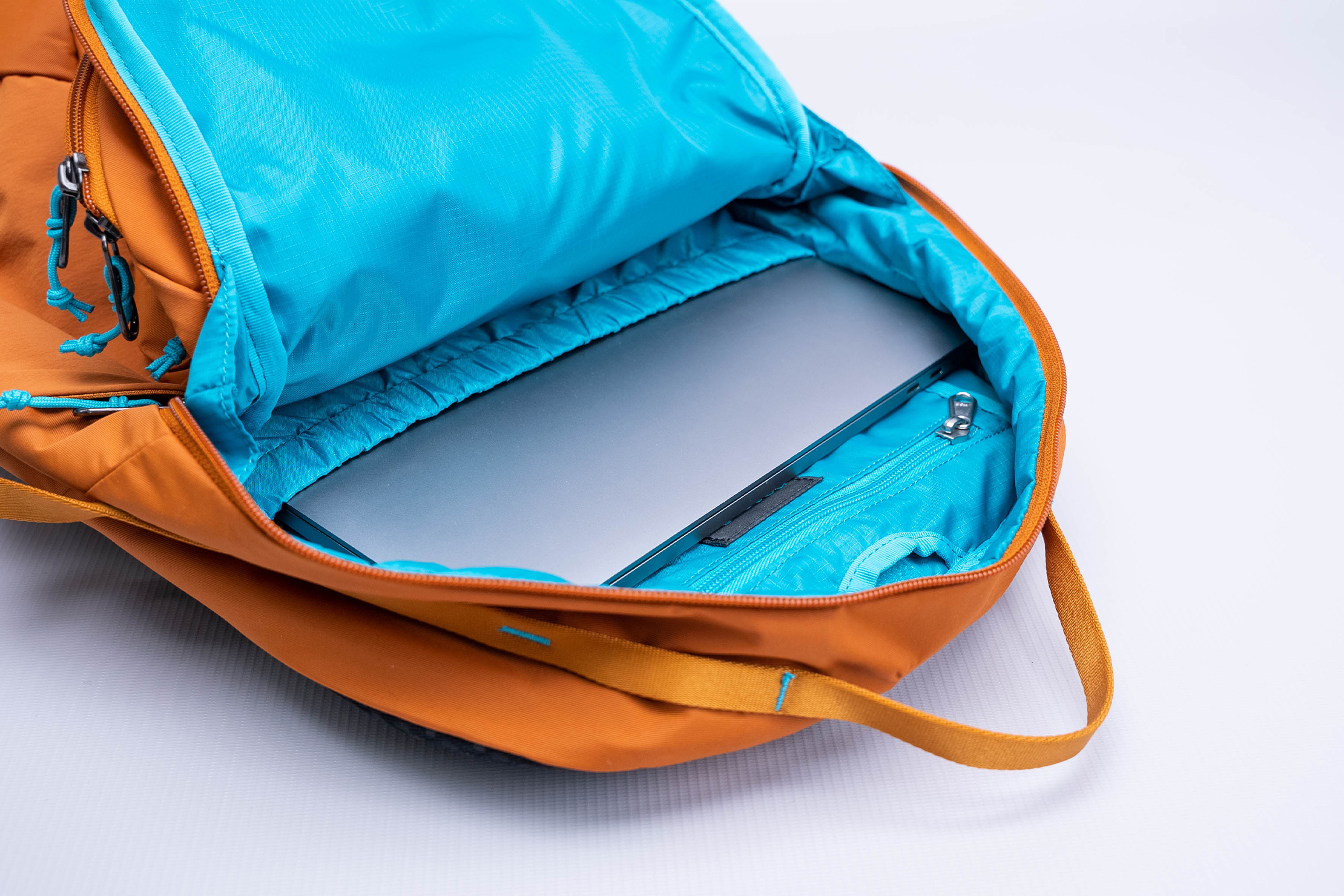 There's a liner pouch below this to hold said bladder in place, or up to a 16-inch laptop. A computer is relatively safe here, as the back panel is padded, protecting it from the rear, and there's a small false bottom that aims to protect it from drops. However, the pouch itself is not padded, so your device isn't protected on all sides if you pack something in the main compartment that could damage it.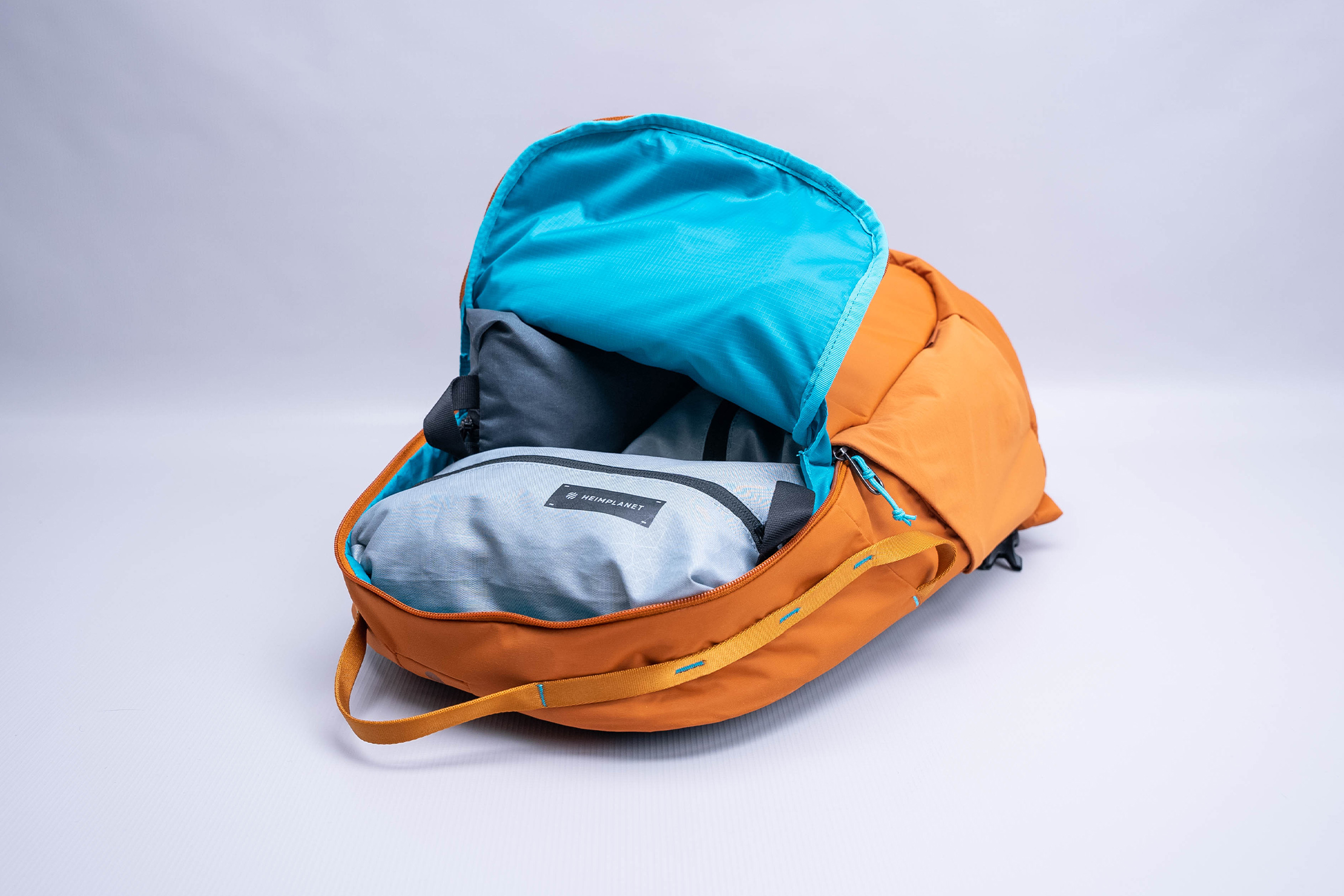 Also, remember the hanging pocket at the top? It flops down on top of your computer and you have to pull it up in order to see the pouch when you want to slide in your computer, which can get a bit annoying every day. However, if you do make use of the sleeve for your device, you then have plenty of room in the main compartment for pouches, packing cubes, books, and more. With 25 liters of space and a little packing acumen, you can certainly fit your gear for a weekend trip or use this as a personal item bag on the plane in conjunction with a larger travel backpack. If you do, we think you'll be happy to use it as a daypack to explore the local scenery or for more active adventures, since these materials will hold up to much of what you or Mother Nature can throw at them.
Usage Timeline
Initial Usage
Condition: Excellent
Love the combination of the Canyon colorway with the teal lining
Includes a pass-through for a hydration pack
Stretchy bottle pocket fabric is super soft
2 Weeks of Use
Condition: Good
Stiff back panel can hit tailbone of shorter users
Organization doesn't get in the way of packing main compartment
Roobar Sport provides extreme security for main compartment and admin panel
Admin panel seam starting to rip

Pacsafe Eco 25L Anti-Theft Backpack | A tiny rip occurred in the admin panel seam as we zipped it up.
Access the Pro Community Discussion
Get your questions about the Pacsafe Eco 25L Anti-Theft Backpack answered from our team and the Pro Community right here on the page. Plus, join discussions with other members about gear, guides, and more.
Other Bags & Luggage Reviews