Osprey Remnants Packable Daypack Review
The Osprey Remnants Packable Daypack has a top pocket that's convenient to reach, though it sags when packed full.
Our Verdict
Unlock the Pro Summary
Save time. Get access to brief summaries of our reviews so you can browse and make decisions more efficiently.
Pros
Relatively structured, yet light and packable
Easy-to-reach top pocket is very roomy
Comfortable to carry when strategically packed
Cons
Compressing the structured fabric takes some effort
Fully packing top pocket causes sagging
Long loose thread in the top pocket
Recent Pack Hacker Video
Technical Details
Capacity

17l

Weight (lb)

0.503 lb (0.2 kg)

Denier

210D

Mini hex diamond ripstop nylon

Dimensions

15.75 in x 10.24 in x 7.48 in (40 x 26 x 19 cm)

Notable Materials

Recycled Nylon, Ripstop Nylon, Woojin Hardware, YKK Zippers, Paracord, Plastic

Manufacturing Country

Vietnam

Warranty Information
Full Review
Packable backpacks are useful to pack for vacations, especially if you plan to visit local tourist spots. Think about it: Your main bag is too big for the comparatively few pieces of gear you carry daily, and a sling may not fit everything. In other words, an in-between bag is handy, hence a packable backpack. In this review, we'll look at one example from Osprey: the Remnants Packable Daypack.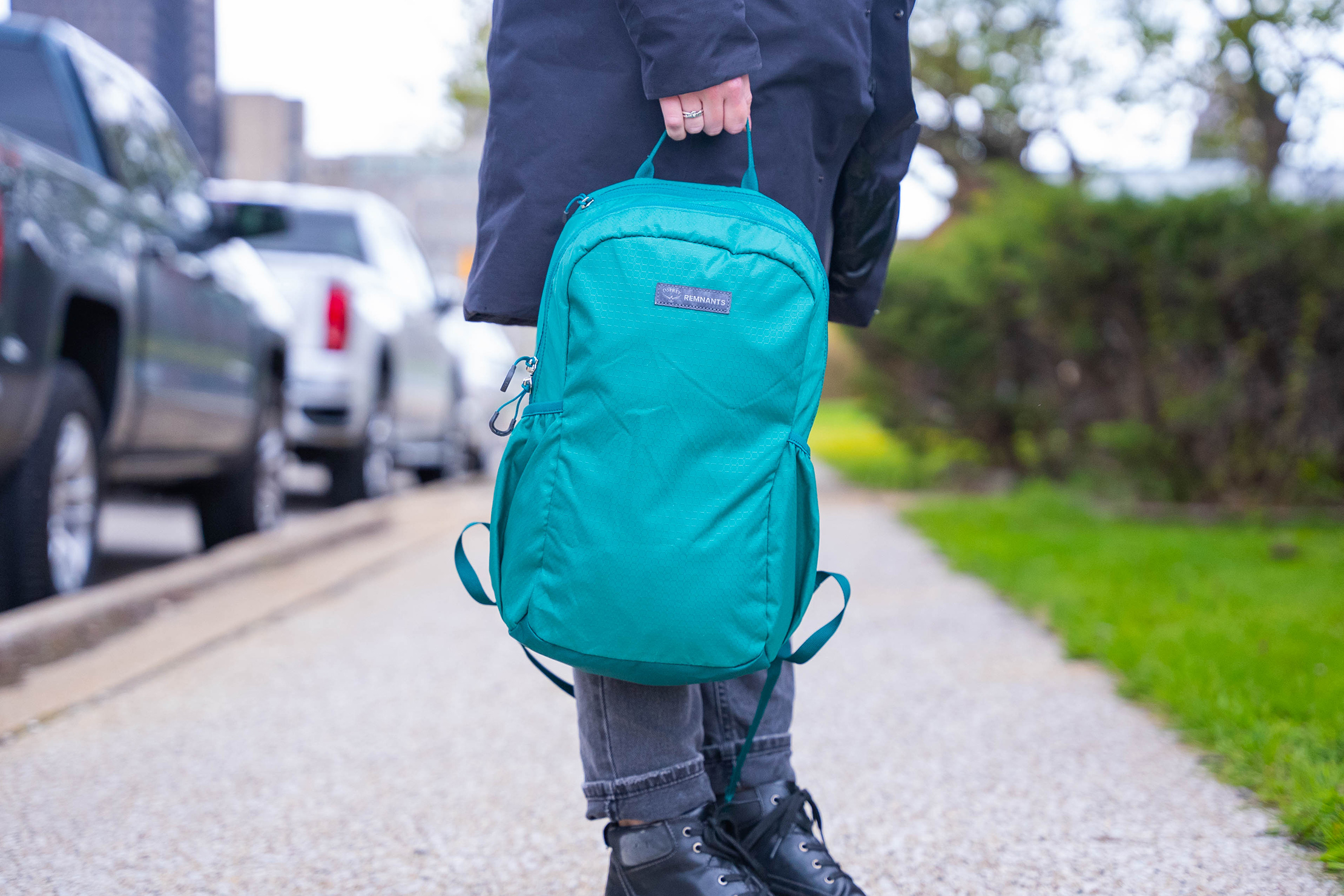 Like many packable backpacks, it sheds many of the extra features you'd expect from full backpacks, like a sternum strap, a rigid back panel, a fleet of built-in pockets, liner fabric, etc. Surprisingly, though, the Remnants Packable Daypack does well to disguise a common trait of packable bags: lack of structure. How? The secret is in the fabric.
External Components
Osprey's gear doesn't usually stir us aesthetically; they're not particularly eye-catching or gaudy. If we want a safe option, Osprey's design is what we're reaching for. As for the Remnants Packable Daypack? It's more or less the same, with some wrinkles in the fabric—a usual trait of packable bags. Otherwise, it's a clean-looking bag with a punchy teal color dubbed "Rainforest Green." We even like how much more minimal the logo is this time. Instead of keeping the big Osprey logo and name separate, they're now together on a patch near the top.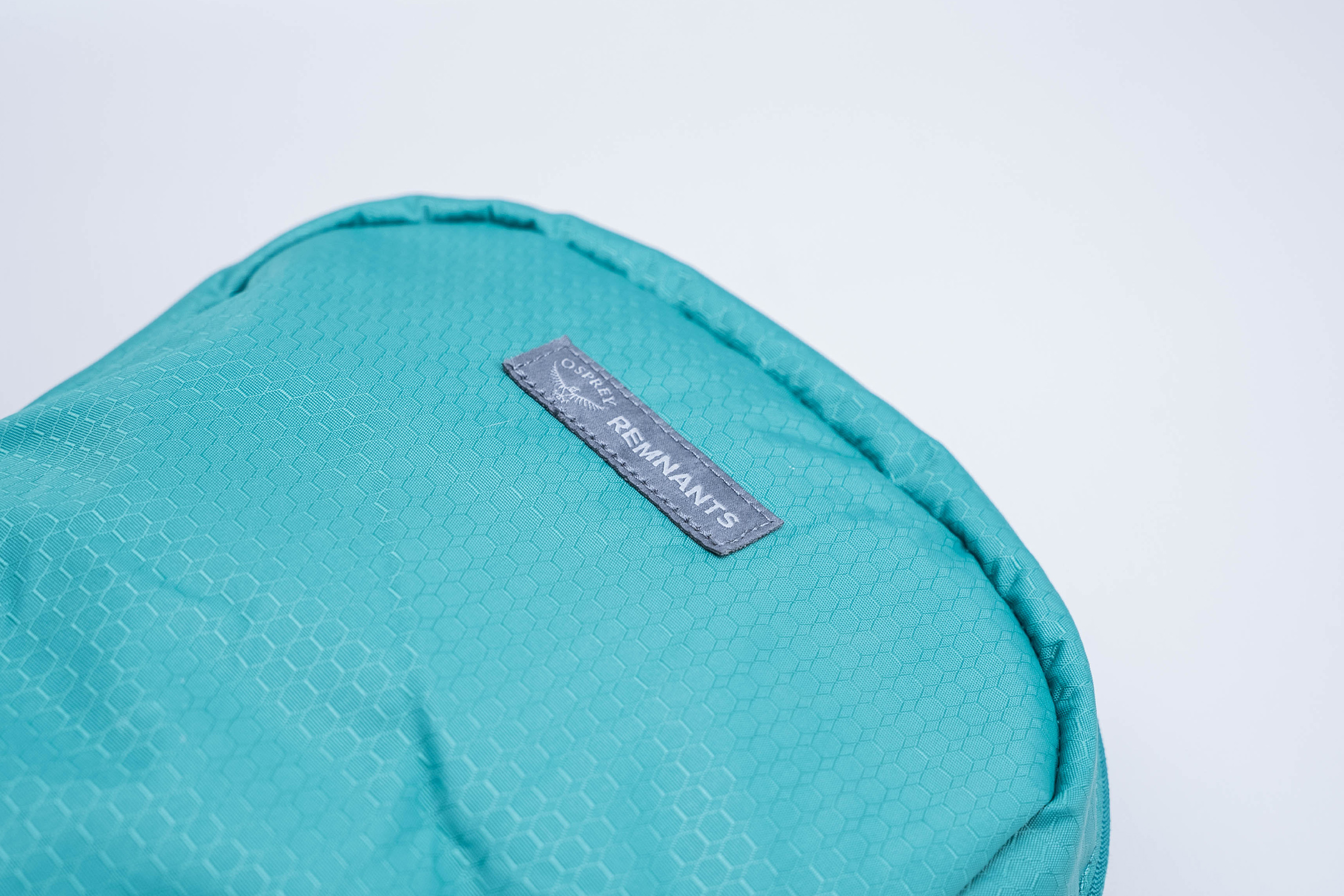 You may be wondering about the "Remnants" part of the name. The 210-denier mini hex diamond ripstop nylon comes from repurposed excess fabric. Make no mistake; this isn't a patchwork of flimsy leftover material. It's reasonably durable and structured but with more of an emphasis on being light since it's ripstop. For those unfamiliar with ripstop, it's a thin, lightweight fabric with a grid pattern that reinforces its structure. Rips and punctures are—in theory—stopped from deteriorating by this grid. The bottom doesn't seem to have that ripstop nylon, though. It feels a bit more reinforced and thick, which makes sense since it's the part that will make contact with the ground.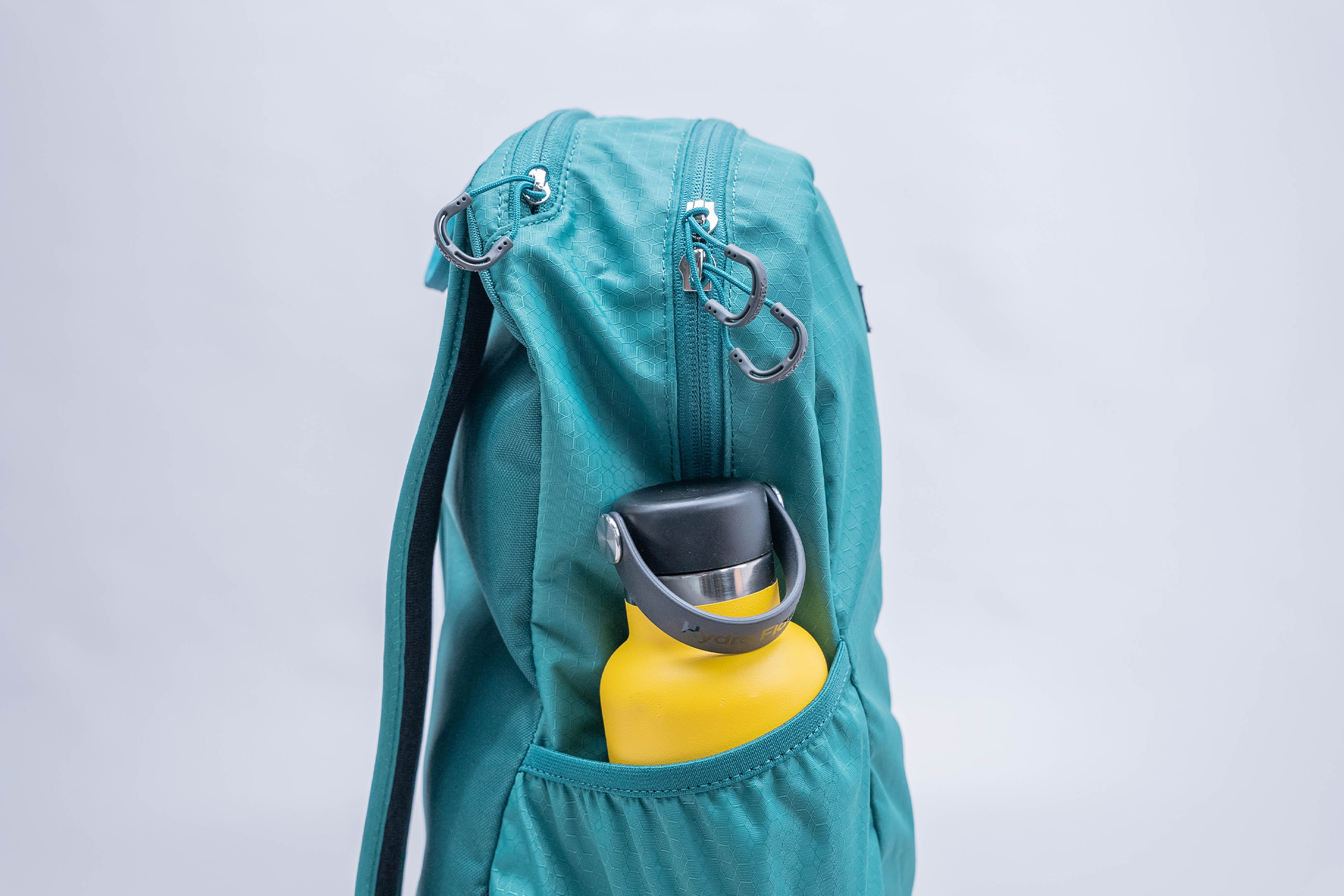 Meanwhile, the zippers are the usual YKK-branded ones Osprey uses for most of their bags. The rubber ring zipper pulls are also familiar, and we like them. They're very easy to pull, and you can even put your finger through them if necessary. They're not the beefiest zippers, and the Remnants' relatively soft structure means zipping is usually a two-handed operation.
Packable backpacks have pros and cons, and an aspect usually downgraded is the harness system. As you'd expect, the Remnants only has a pair of shoulder straps—which is totally fine as long as they're reasonably comfortable. However, they look relatively narrow and thin, even by packable bag standards.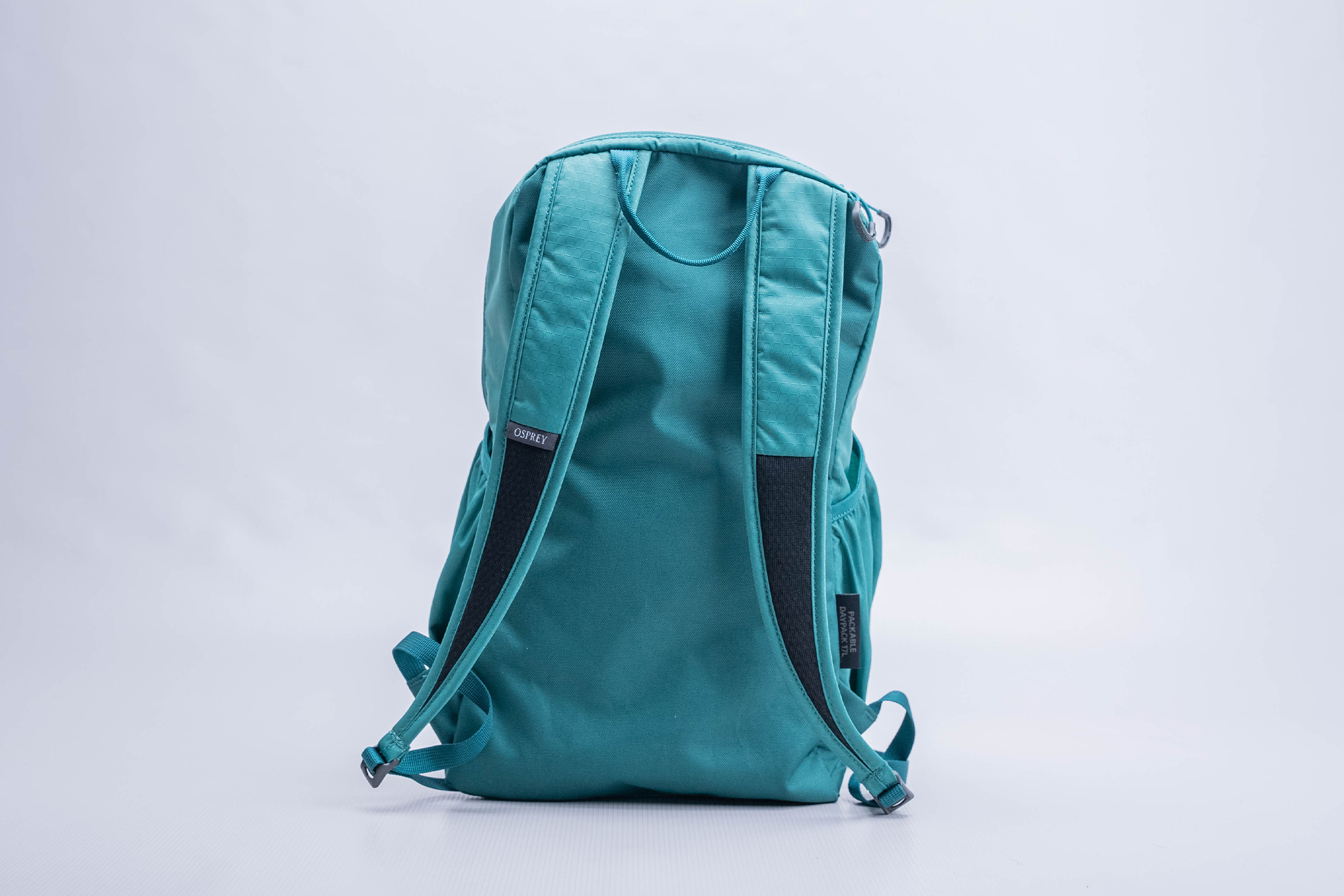 The shoulder straps do have some breathable mesh to allow air to circulate, but no other fancy bells and whistles. In fact, you might notice how small and plain the plastic Woojin adjusters are. Rest assured, they hold the straps' adjustments firmly in place, so their small size is reasonably proportional. Another notable feature that's missing is a foamed back panel. Again, it's another element that's typically sacrificed in packable bag designs—after all, foamy bits are usually hard to compress.
However, the thin handle isn't exclusive to packable bags. We've seen full-sized backpacks have them as thin as this. Fortunately for the Remnants, we only need a handle for a backpack of this size for quick grabs, like moving the bag across the sofa or taking it out of the car. To its credit, this thin handle is wide enough to fit four fingers.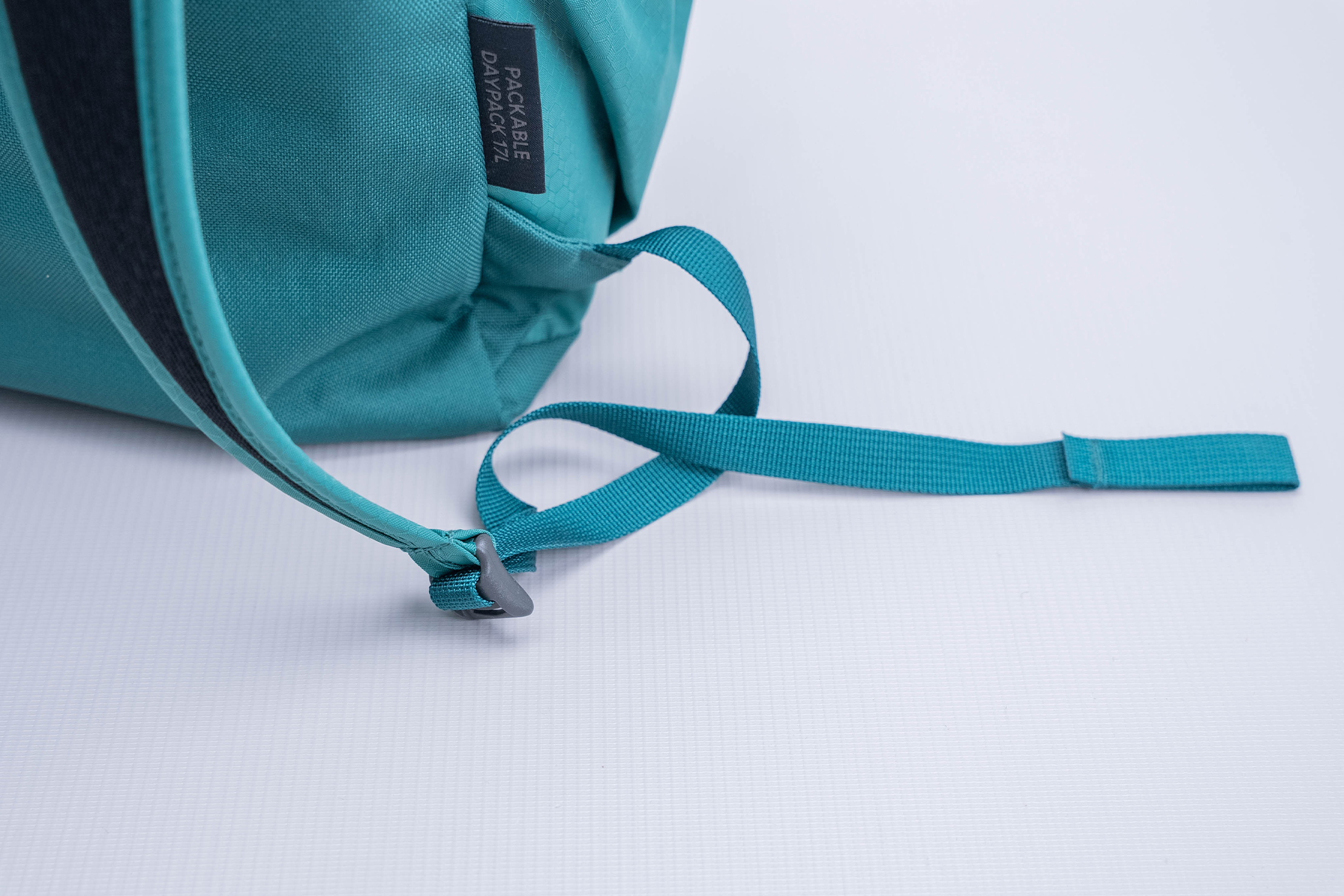 If we have one gripe about the harness system, it's the lack of strap keepers. We like to keep slack from dangling free since they can catch on random furnishings—and that's a great way to rack up expenses if you accidentally knock over a museum piece. Paranoia? Nitpicking? Perhaps, and it's not a deal-breaker not having them on the Remnants; they would just be nice to have.
Fit Notes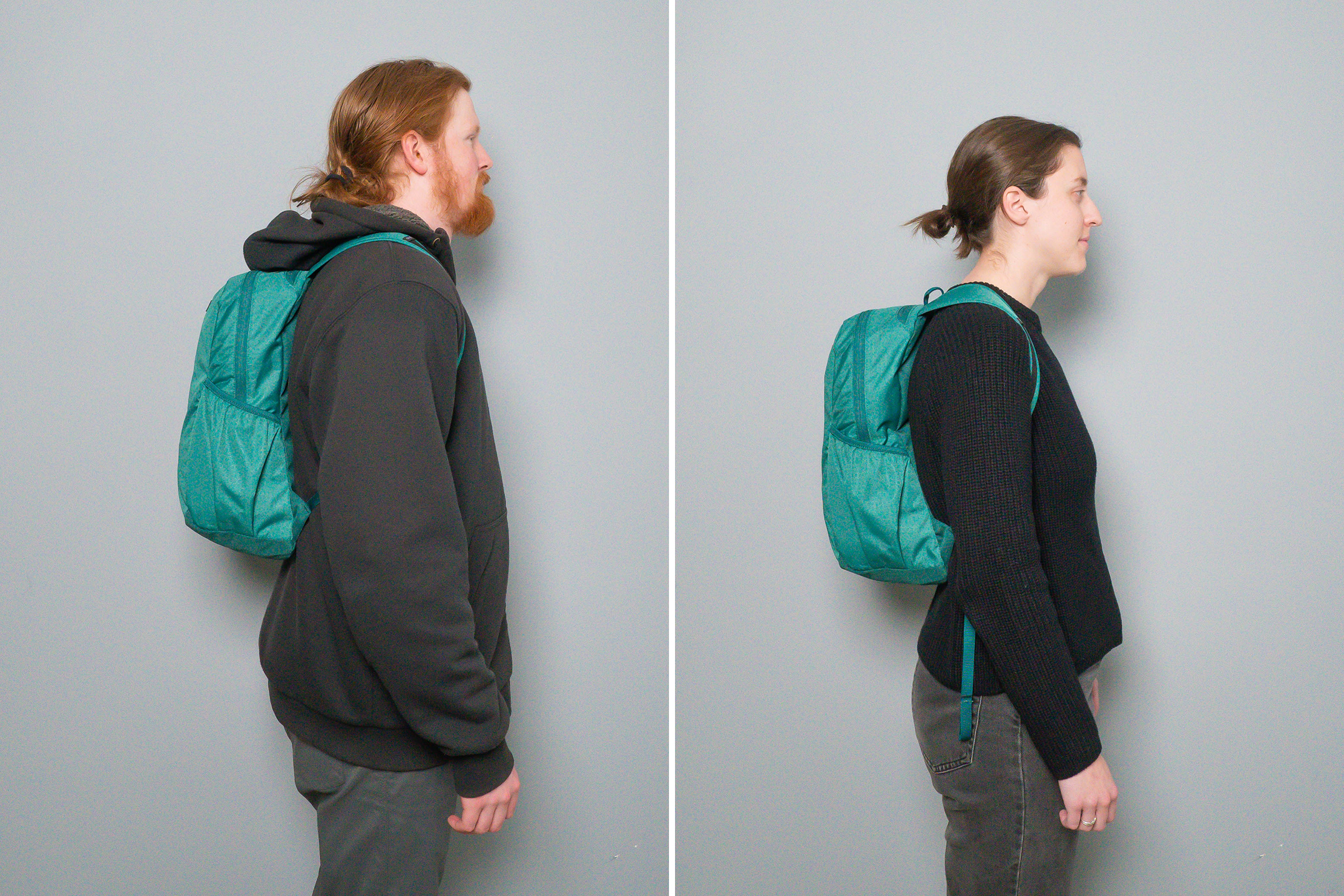 This is the part where we truly confirm whether the harness system is up to the task—or not. The good news is that it is. Osprey was able to balance two things about the shoulder straps. Firstly, they taper down to minimize the bulky feeling. Secondly, they're still wide enough around the top to distribute load effectively. That said, the shoulder straps only tell half the story. Carrying comfort is also good thanks to the Remnants' shape, as its soft structure easily conforms to your back's curvature.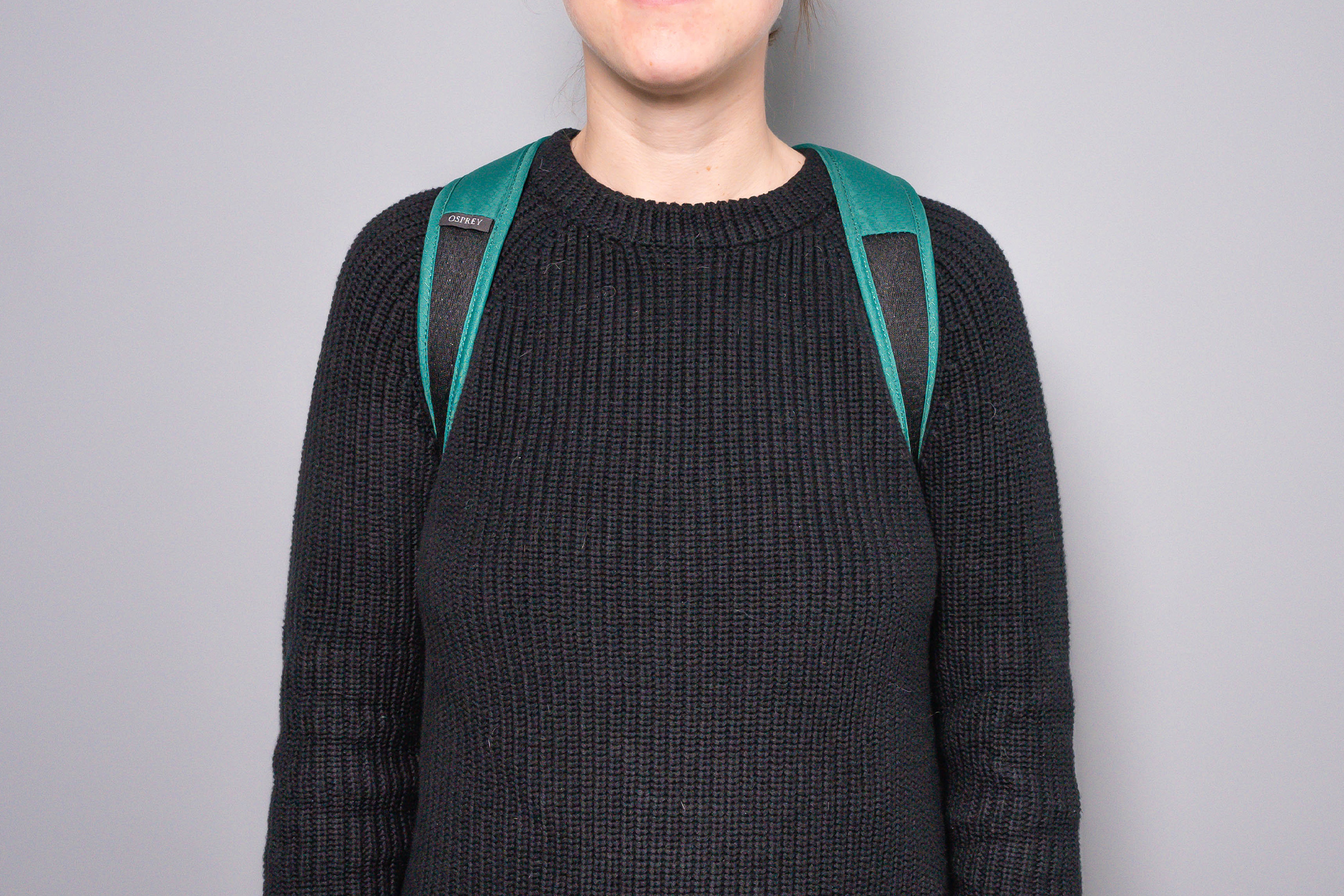 And this is the part where we re-assert packable bags' usual limitations, namely in structure. You'll be able to feel bulky gear through the fabric easily, so you'll need to pack strategically to make sure comfort isn't compromised. More specifically, place flat and rigid items adjacent to the back panel to maintain flatness. There are also limits to how you pack the top pocket, but we'll save the explanation for the next section.
It's also worth noting that the top handle can brush against the back of the neck. It's honestly one of the biggest pet peeves the Pack Hacker crew has, so we look out for it. Fortunately, it doesn't happen too often with the Remnants, though it was noticeable the few times it did.
Inside The Backpack
Sometimes a simple design works the best, as with the Remnants' water bottle pockets. They're made of fabric with elasticated rims to hold travel water bottles in place. There are no fancy buckles, clips, or mesh here, yet it securely holds the 18-ounce Hydro Flask we put inside. Downsides? The pockets overlap with the main compartment's zipper track, so you'll have to avoid putting the dual zippers on the extreme end where you put your bottle.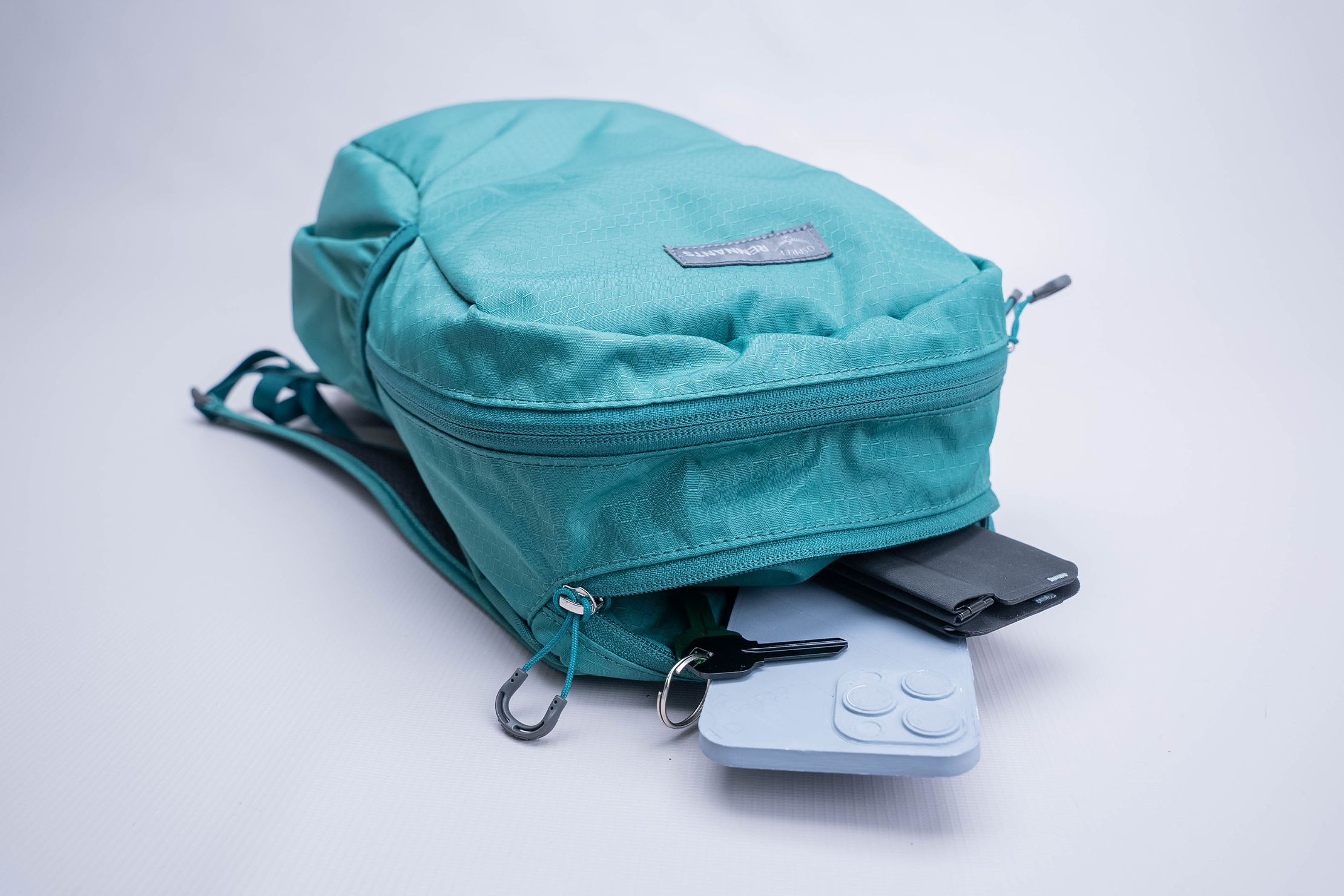 Next up is the Remnants' top pocket. We like using this pocket because it's easy to reach when the bag is on the floor or beside us. However, we don't usually see a secondary pocket in this location on packable backpacks, which may be for a good reason. Since packable bags tend to have soft structures, a fully-loaded pocket at the top can cause noticeable sagging. If you look at other examples like the WaterField Designs Packable Backpack and the Away Packable Backpack, both have front pockets. They still sag, but their secondary pockets are not the main reason.
Inside the top pocket, there's nothing fancy. There's no additional liner, dividers, pockets, or key leash. It's a straight-up dump pocket for everyday carry items like a wallet, a smartphone, and house keys, and it has enough room to hold a bit more than that. This is also where you stuff the rest of the bag when you pack it up, which explains why it's relatively roomy.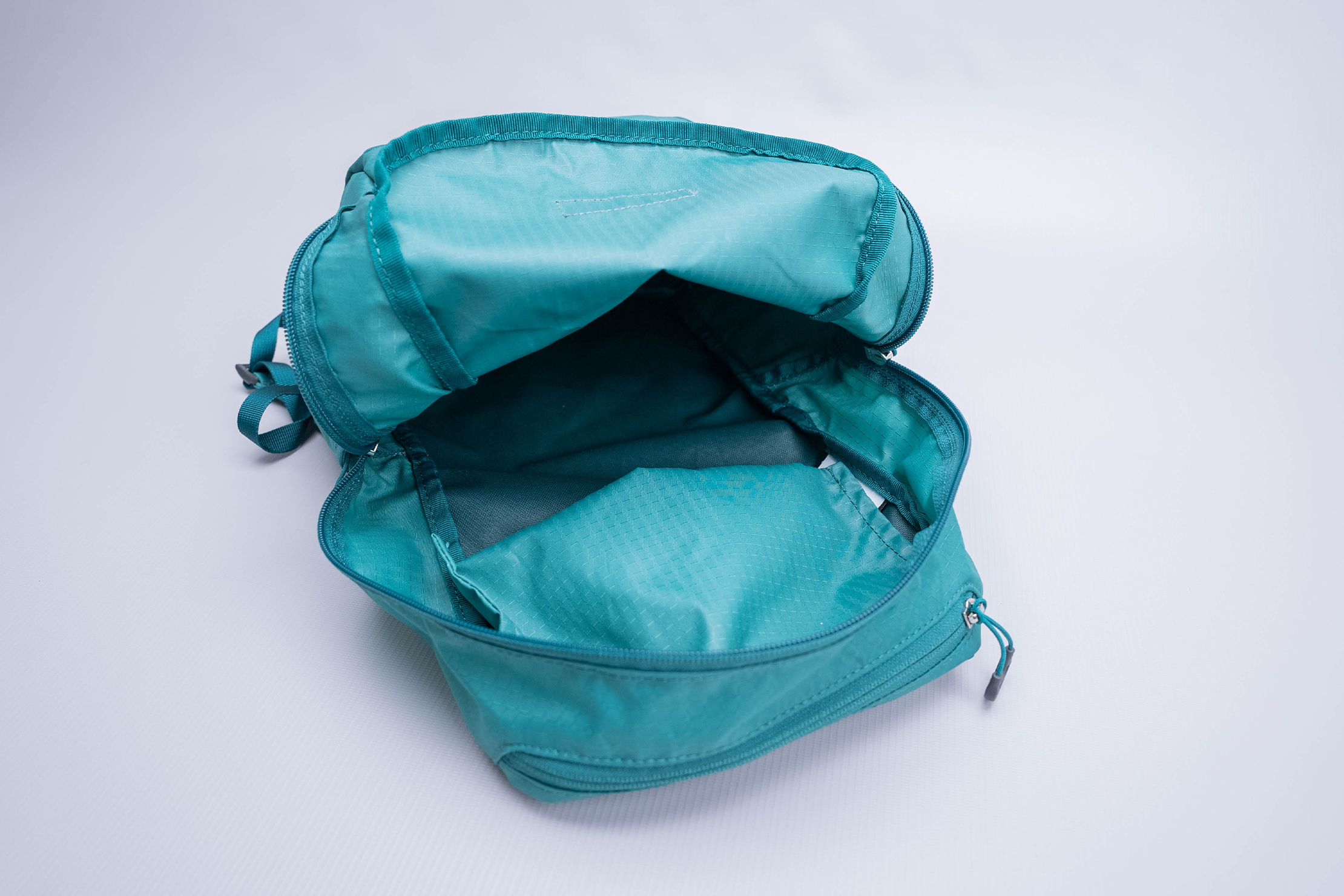 The Remnants' main compartment is roomy, even for a 17-liter daypack—we'll chalk that up to the minimalist interior, which is sparse features-wise, so all of the space is available to use as you see fit. Put in one or two packing cubes alongside your laptop sleeve, and you'll encounter no issues. On the other hand, if you're looking for a backpack with its own main compartment organization, you'll have to look elsewhere.
As mentioned in the previous section, you must pack strategically to preserve the back panel's flatness and comfort. We suggest putting your laptop sleeve at the back, though we'd guess many users already do that regardless of what kind of backpack they have. You will have to use a laptop sleeve because there's nothing built-in. Again, this is not unexpected; packable bag designs usually shed features for the sake of packability.
Pro tip: You can put the top pocket over your laptop sleeve so that it doesn't bulge out of the back panel. This will slow you down when you need to take out your laptop, but it's worth trying if comfort is your priority.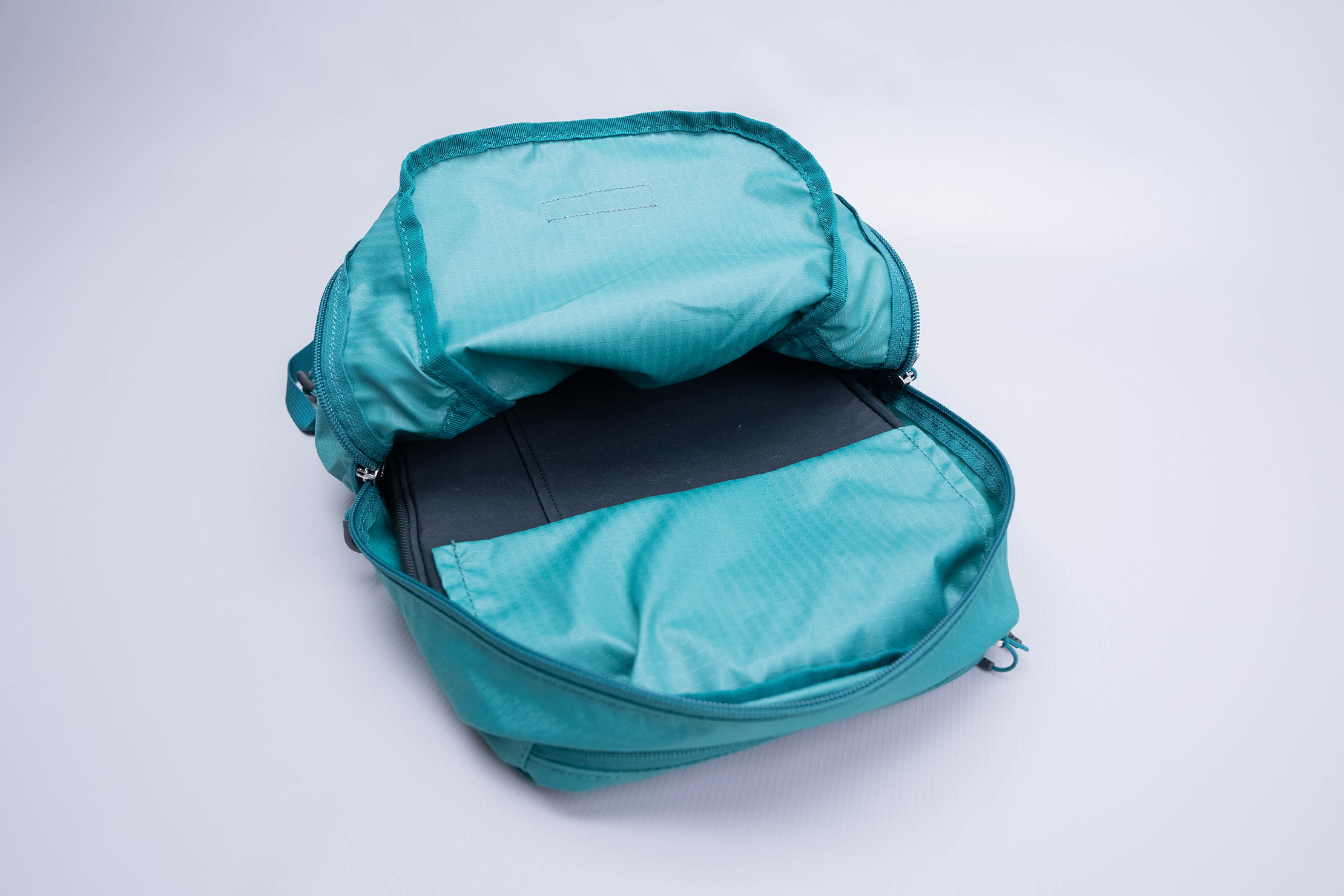 Compressing the Remnants feels rather tricky—or at least trickier than other packable backpacks. Due to the relatively good structure of the bag, it takes a bit more effort to shove all of the components into the top pocket. Once you have everything inside, though, zipping up the resulting pouch is easier because Osprey also uses a ring pull on the reverse side zipper. It's good attention to detail and a good quality-of-life feature. Honestly, if there ever was an appropriate place for these super grippable ring pulls, it's here.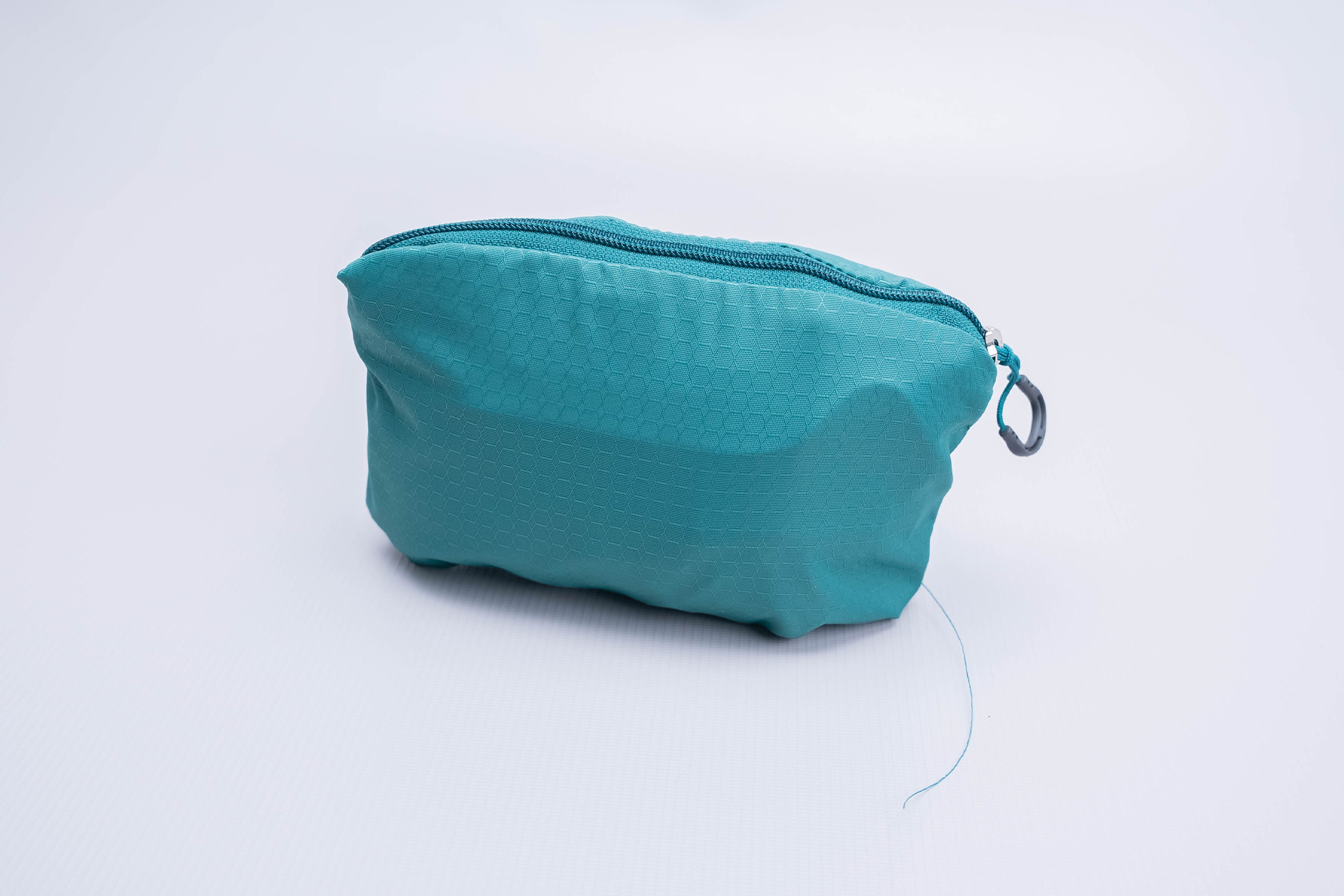 Lastly, we must address the thread-sized elephant in the room: the loose thread you see in the picture. It wasn't the result of wear and tear; the thread has been there since we first got the Remnants. Though this defect doesn't affect day-to-day usability, we worry about the bag's longevity. That said, you can probably snip it off with scissors to prevent the thread from unraveling the rest of the stitching, and it's still not a deal breaker.
Usage Timeline
Initial Usage
Condition: Excellent
Has a low-profile look and feel
Materials are a bit crinkly
Interested to see if we'll miss the presence of a laptop sleeve
2 Weeks of Use
Condition: Excellent
One loose thread inside the quick-grab pocket, though it seems like an extra thread vs. something that will impact the stitching
Can be tough to pack into its pocket
More structure than other packable bags we've tested, though it can still get a bit saggy
Access the Pro Community Discussion
Get your questions about the Osprey Remnants Packable Daypack answered from our team and the Pro Community right here on the page. Plus, join discussions with other members about gear, guides, and more.
Other Bags & Luggage Reviews