Osprey Nova Review
The Osprey Nova's large size and finicky accessibility may dampen performance in daily use, but it's no slouch when it comes to packing extra when you need it.
Our Verdict
Unlock the Pro Summary
Save time. Get access to brief summaries of our reviews so you can browse and make decisions more efficiently.
Pros
Water bottle pockets fit our 40-ounce bottle
Quick-grab pocket doesn't interfere with other compartments
Lots of space and organization even for a weekend trip
Cons
Top compression straps block compartment access
Bottom-heavy when fully packed out
A bit too much capacity for daily use
Recent Pack Hacker Video
Technical Details
Capacity

32l

Weight (lb)

2.27 lb (1 kg)

Denier

630D

Dimensions

18.12 in x 11.82 in x 5 in (46 x 30 x 12.7 cm)

Notable Materials

Nylon Dobby, Packcloth

Manufacturing Country

Vietnam

Laptop Compartment Size

17"

Warranty Information
Full Review
We generally like Osprey's gear because of their comfortable harness systems, balanced organization options, and extra features like the LidLock helmet attachment system. Really, the only recurring villain is their lack of strap keepers. Barring that, the brand's gear holds up really well in most regards.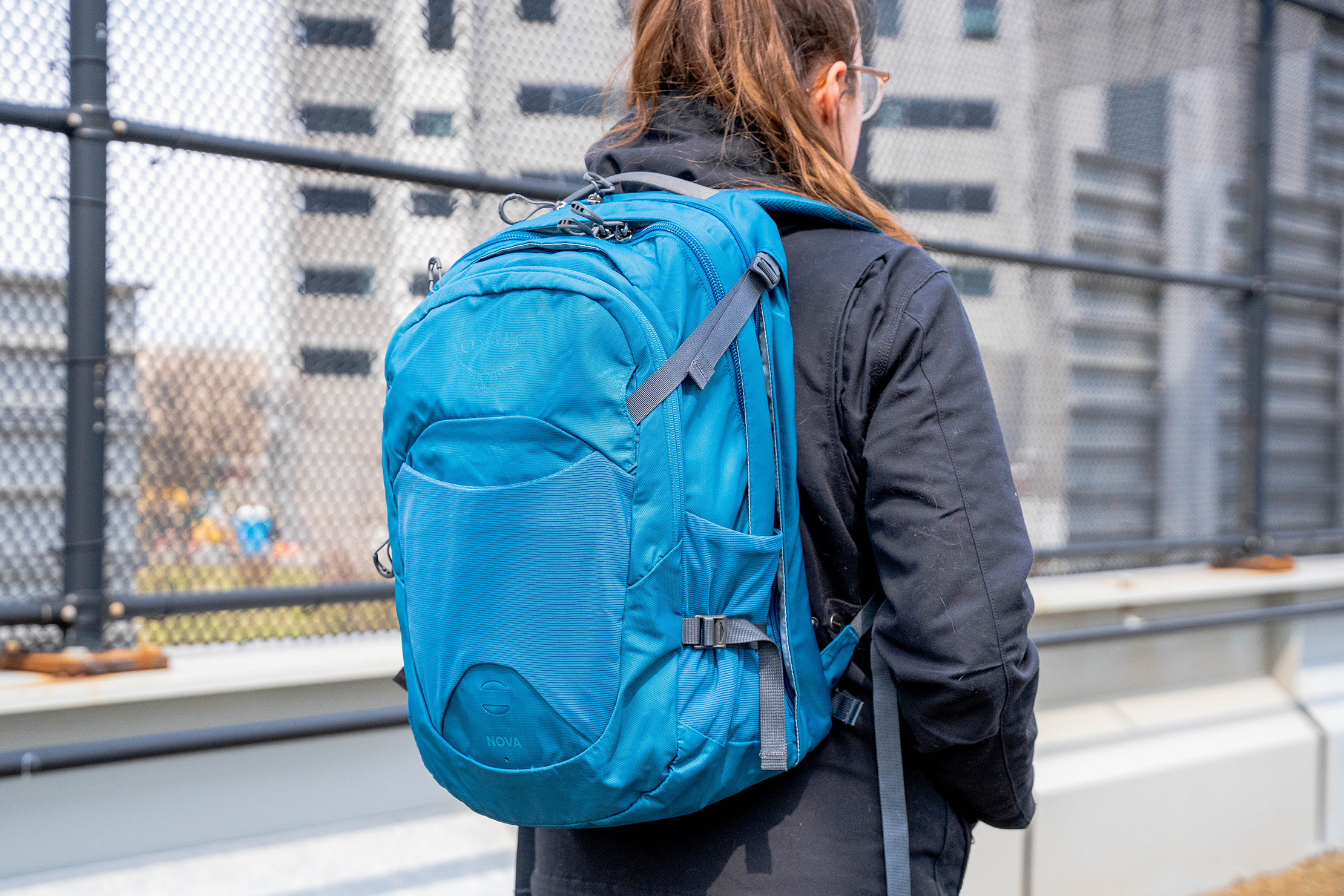 Same deal with the 32-liter Nova, the women's specific version of the 34-liter Nebula. It has three compartments (all with ample space), a capable harness system, and a lack of strap keepers, but it is an otherwise solid daypack for users who need the extra space. Our Pack Hacker Pro member Keri M. says this is her go-to all-around transit backpack, and we can see where she's coming from. As an all-rounder, the Nova definitely has the capacity for both daypack and travel backpack usage, though we found it doesn't particularly excel in either.
Materials & Aesthetic
If there were an award for strongest styling DNA, we'd say Osprey is one of the frontrunners in the competition. Most of their backpacks share a striking resemblance to one another. In fact, the sense of déjà vu when we first got the Nova was strong because it reminded us of the Radial and the METRON. But its closest sibling is technically the Nebula, which is the men's version of the Nova.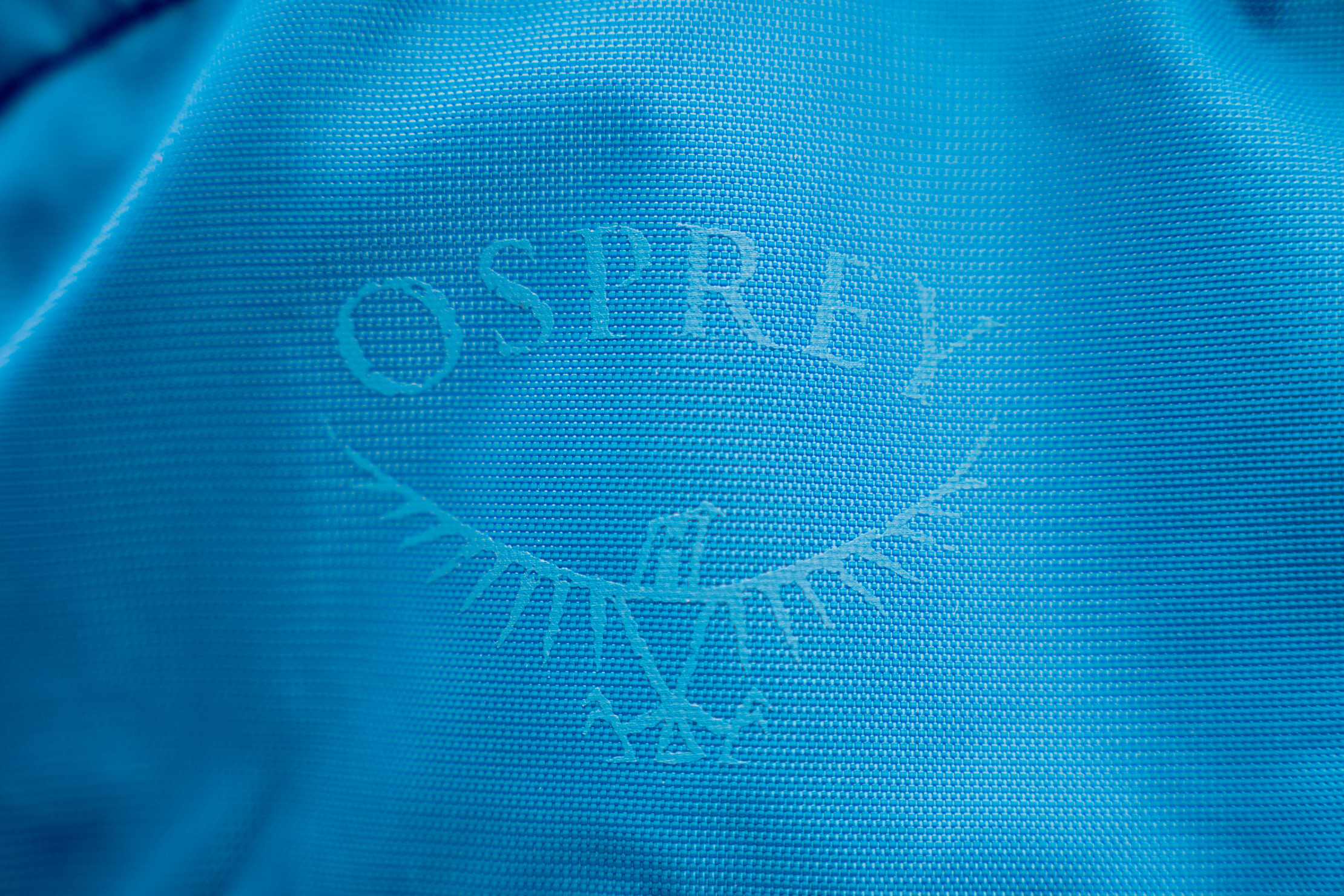 The Nova shares the outdoorsy vibe most of Osprey's bags have. It's not a look everyone will enjoy, especially if you don't like a lot of dangly straps. However, we do appreciate the mix of utilitarian design and urban aesthetics. It's not the cleanest-looking backpack for everyday use, but it's functional nevertheless.
The colorway option we went for is the Ethel Blue version. Yep! Not black this time, though that is an available option at the time of writing. There's also a Juneberry Purple and—arguably the most eye-catching—Rhodonite Pink version to choose from as well. We'd go for either the Ethel Blue or Rhodonite Pink if we're leaning more towards outdoor use so that we're extra visible in the dark. However, for urban use, we think the darker fabrics of the other colorways are the way to go.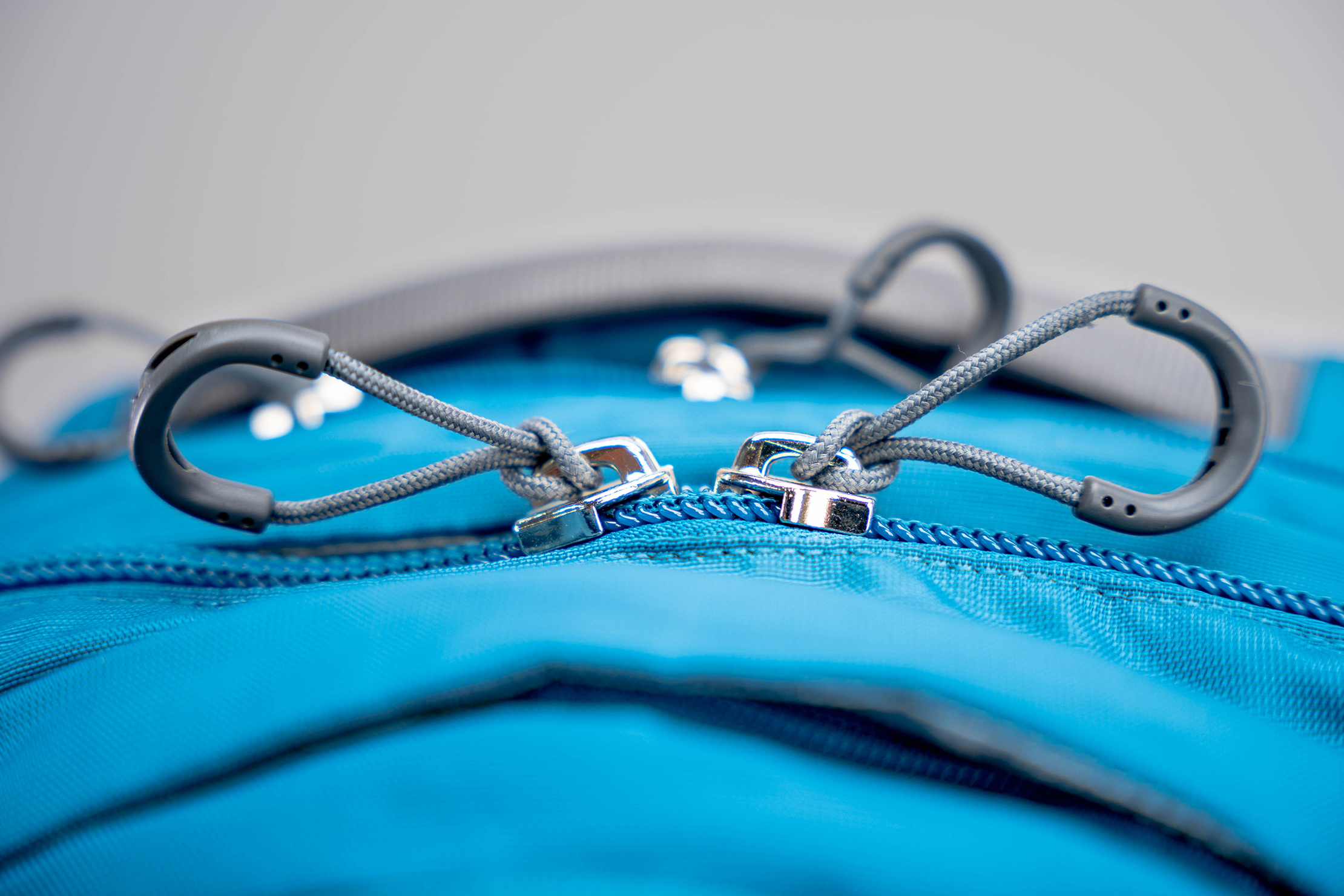 While style may not be the Nova's first priority (and that's not a bad thing), build quality sure is. The main and bottom fabric is a Nylon Dobby blend of 210, 420, and 630 deniers. Meanwhile, the accents are 420-denier Nylon Packcloth. The fabrics feel tough and weather-resistant—good enough for outdoor use and the occasional but unexpected light showers in the city. It's not waterproof, though, so we'd still make a quick dash for the nearest awning.
All of the zippers are YKK-branded with easy-to-grab ring pulls. These are some of the best types of zipper pulls because they're easy to find. We wouldn't normally think about this when it comes to slings or pouches. But we'll take all the convenient features brands can throw at us on larger daypacks such as this one.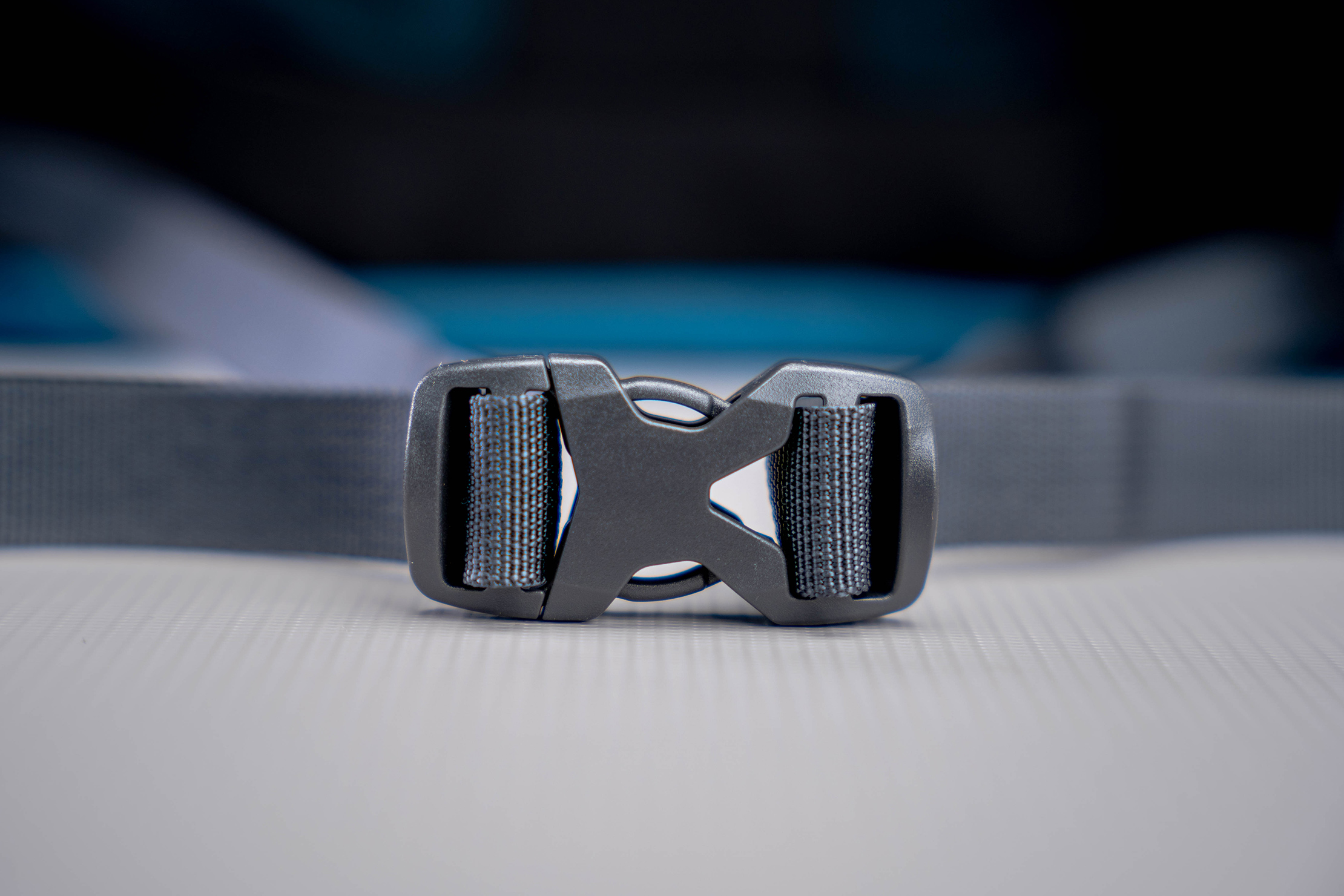 Last but not least is the hardware. It's a mix of Woojin and YKK-branded buckles and adjusters. Needless to say, they're as reliable as they come, and we generally haven't found any issues worth noting. This is a good thing because there are a lot of them on the Nova.
External Components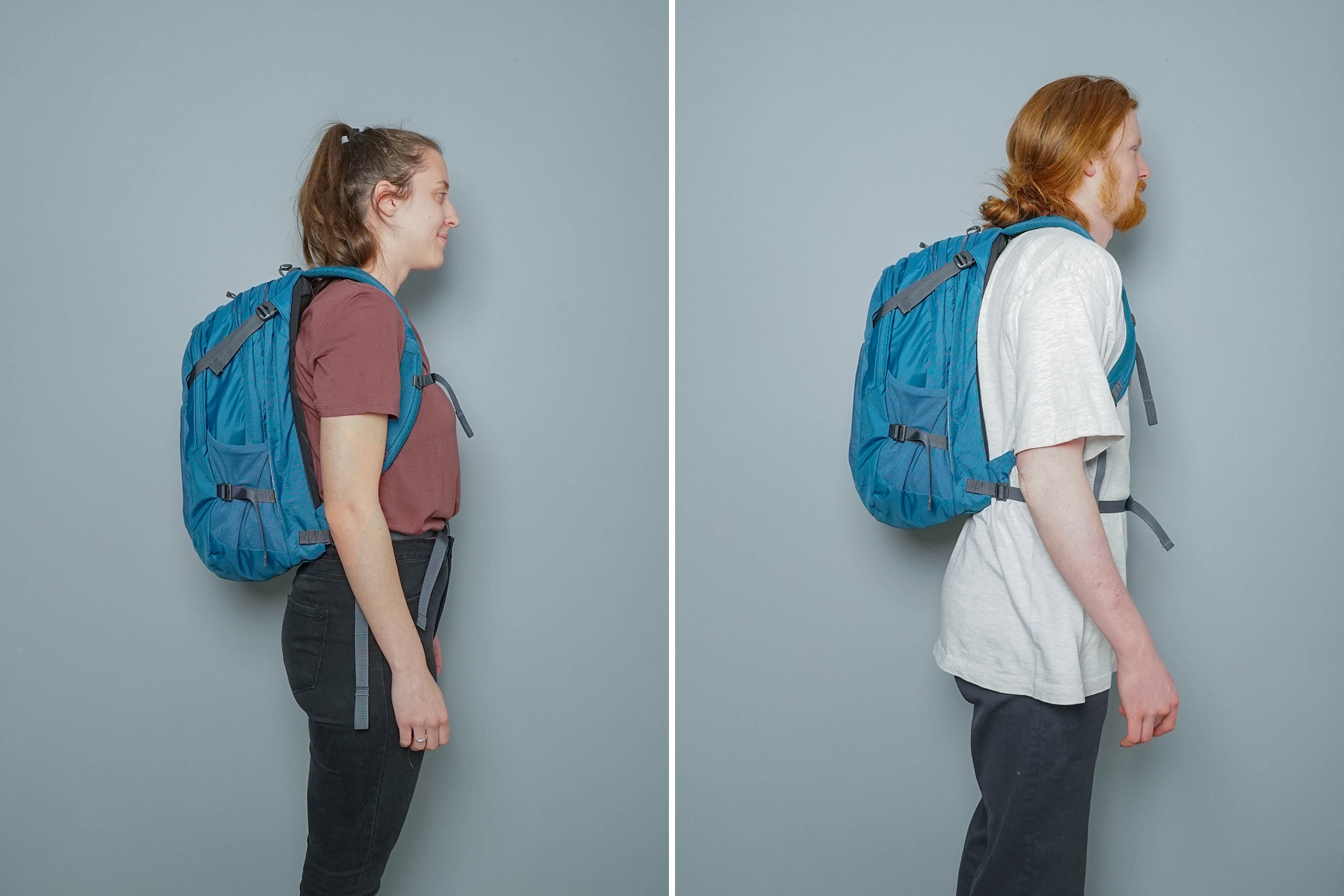 Since the Nova is a backpack designed with day-to-day use in mind, Osprey didn't go overboard with the harness system. On the other hand, it's not underequipped to the point that it relies solely on a pair of shoulder straps. Nonetheless, a good pair of shoulder straps is the bread and butter of any backpack, and suffice to say, the Nova has that covered.
The straps' shape is mostly straight but curves near the bottom to better suit the bag's width at the sides. Padding is relatively thick, covered in breathable mesh, and spills towards the inner edge to minimize stress around the neck. Comfort-wise, these straps deliver enough for daily use where we're not overpacking it to the brim. If we want additional stability, there is an included sternum strap and hip strap.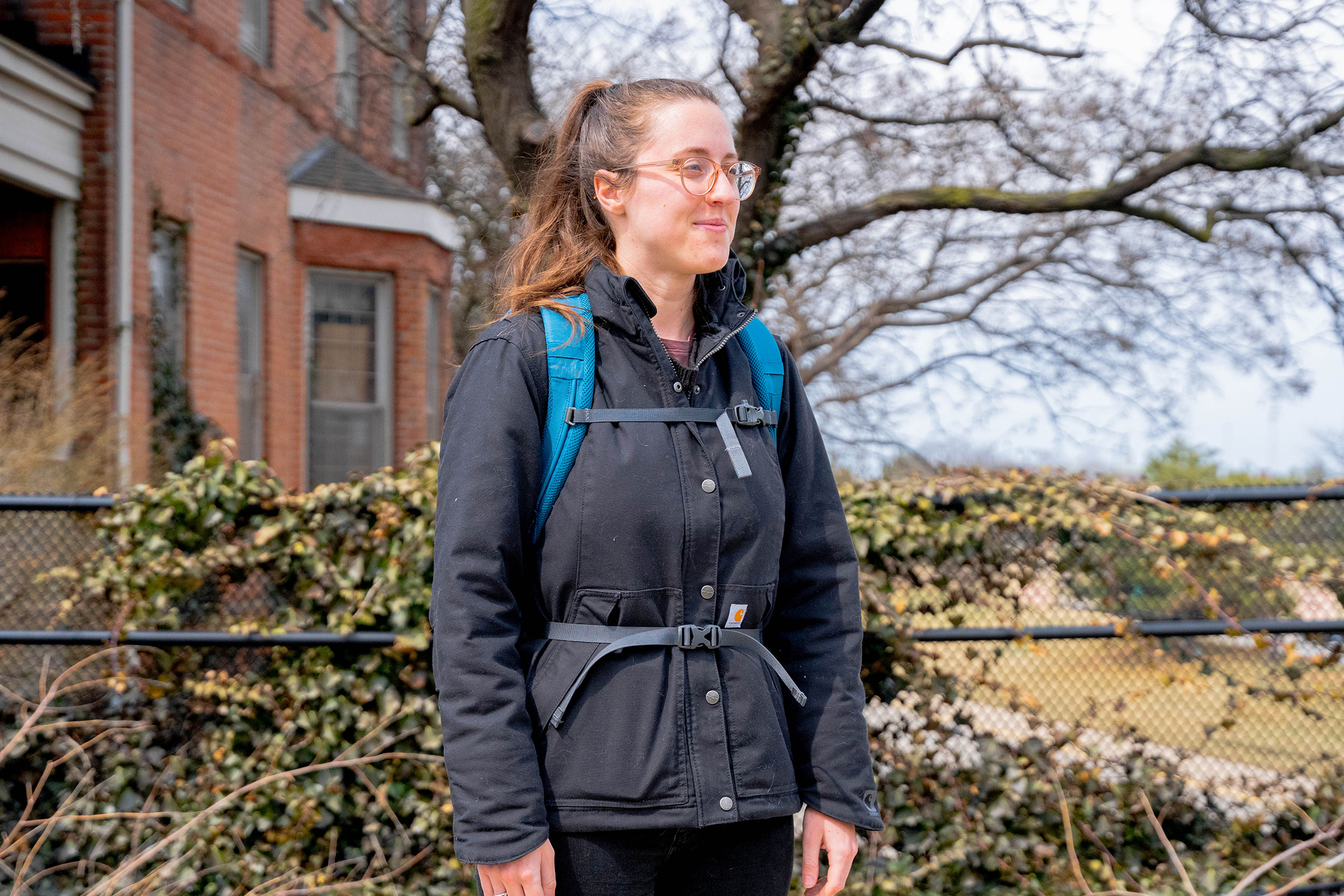 The sternum strap is our favorite kind: mounted on rails where it can slide freely, granting very granular adjustment. There's no fancy magnetic buckle either; just a simple side-release buckle with a built-in whistle as a cherry on top. This last feature may not be necessary in the city, but we're happy to see it included anyway in case we take the Nova for some outdoor adventuring.
The waist strap isn't a necessity in daily use of the Nova. We either left it at home or cinched flush against the back panel most of the time. Remember that while it is technically detachable, you'll have to thread it from the hardware attached to the bag itself. It's definitely less convenient than VELCRO'ed or clip-on waist straps, but it's better than a permanently attached one.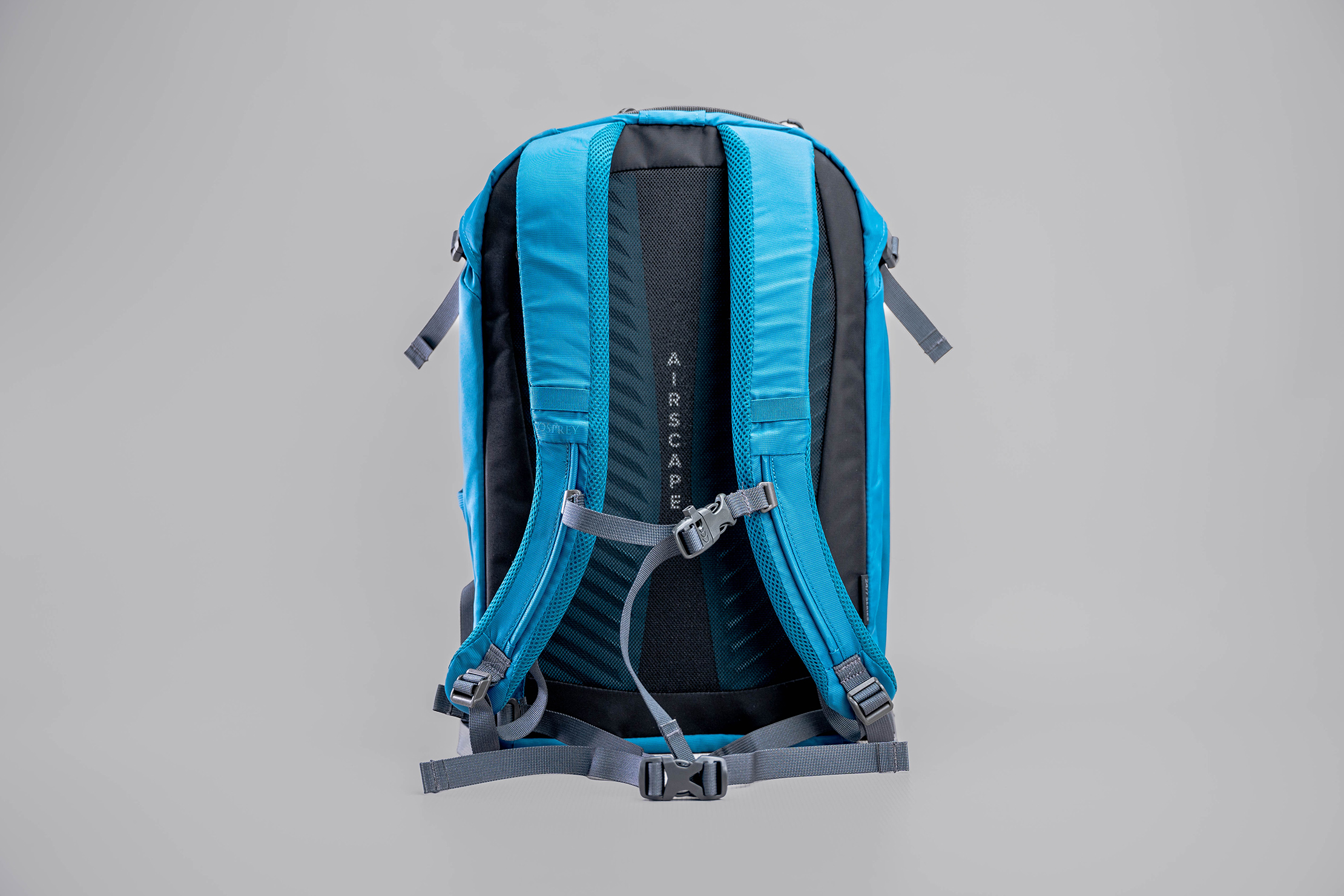 Even though the strap is quite thin, it can take off some of the load from the shoulder straps. However, we find it more useful as a stabilizer strap during rougher activities like biking or the occasional fast walk across the airport terminal.
The Nova's back panel plays as much of a role in comfort as the rest of the harness system. It has what Osprey calls "Airscape." Simply put, the back panel features a lot of design elements to help it vent heat away from the wearer. This includes a layer of translucent mesh and an underlying panel with diagonal ribbing. But does it work? We're inclined to agree since backpacks of this size tend to get stuffy, but the Nova keeps it to a minimum. If nothing else, the ribbed pattern helps the back panel contour more easily.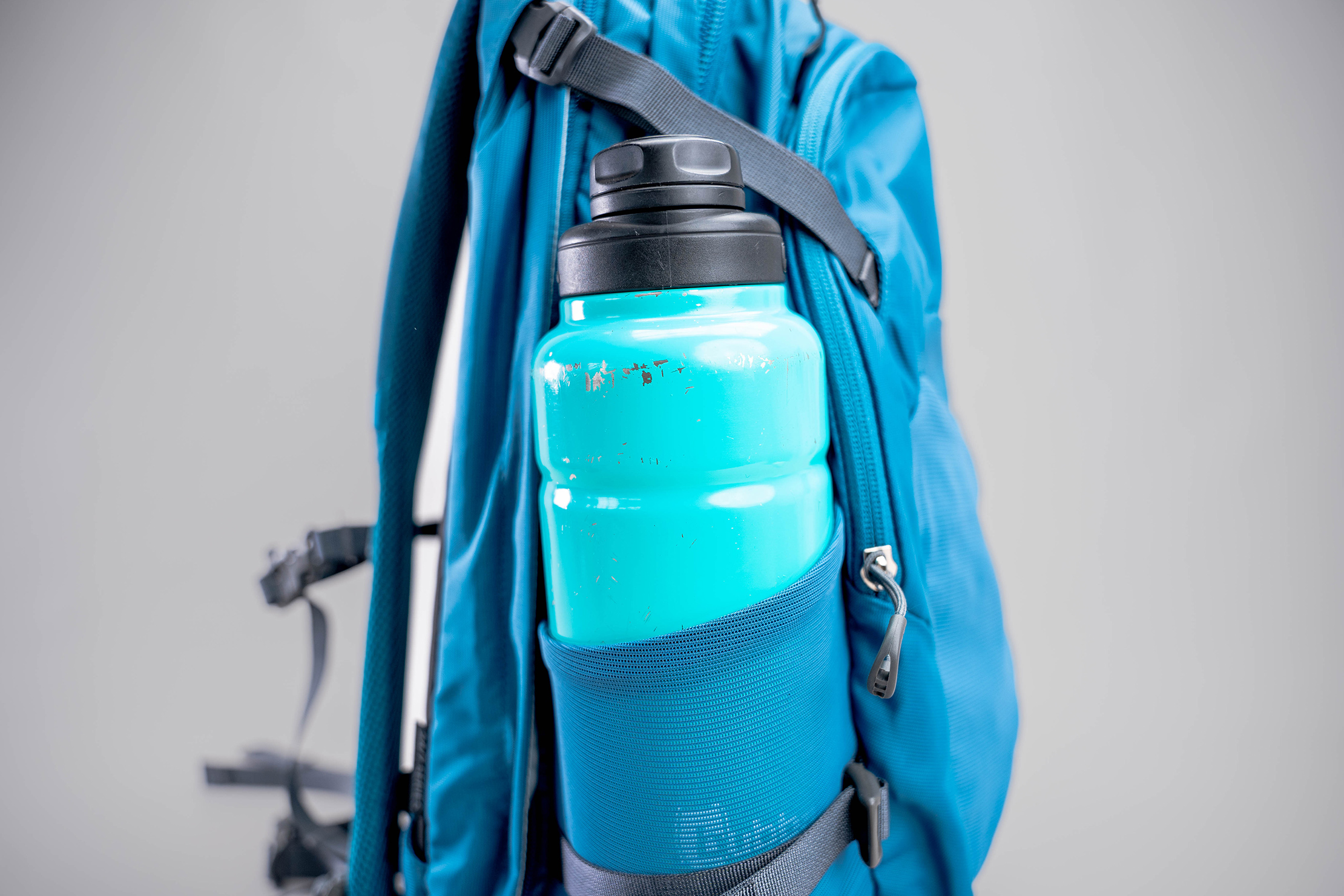 The Nova's water bottle pockets are some of our favorite highlights of the bag. Not only do they fit our regular 18-ounce Hydro Flask, but they're stretchy enough to fit even humongous 40-ounce bottles. It's interesting to note that there's really nothing special about the water bottle pockets' design. They're simply stretchy mesh with extra elastic sewn in at the rim. Overlapping compression straps at the side can provide additional grip if needed.
On that note, the Nova has four compression straps total, two on each side. The bottom ones are permanently attached, and so are the top ones. However, the top compression straps can disengage and be stowed away. This is a crucial feature since the straps kind of get in the way of the compartments' openings.
It's worth noting that none of the straps on the Nova have a strap keeper. We've griped about this on Osprey's other backpacks since we're not fans of straps dangling around. That said, some users don't mind it at all. In the case of the Nova, since the compression straps do serve a purpose, we can forgive the strap-dangly look.
Before we move on to the Nova's many compartments and pockets, there are a few more details to cover. At the front, just above the Nova logo, is a loop carved out of the fabric where you can hang a bike light. Then at the top is a handle for quick grabs.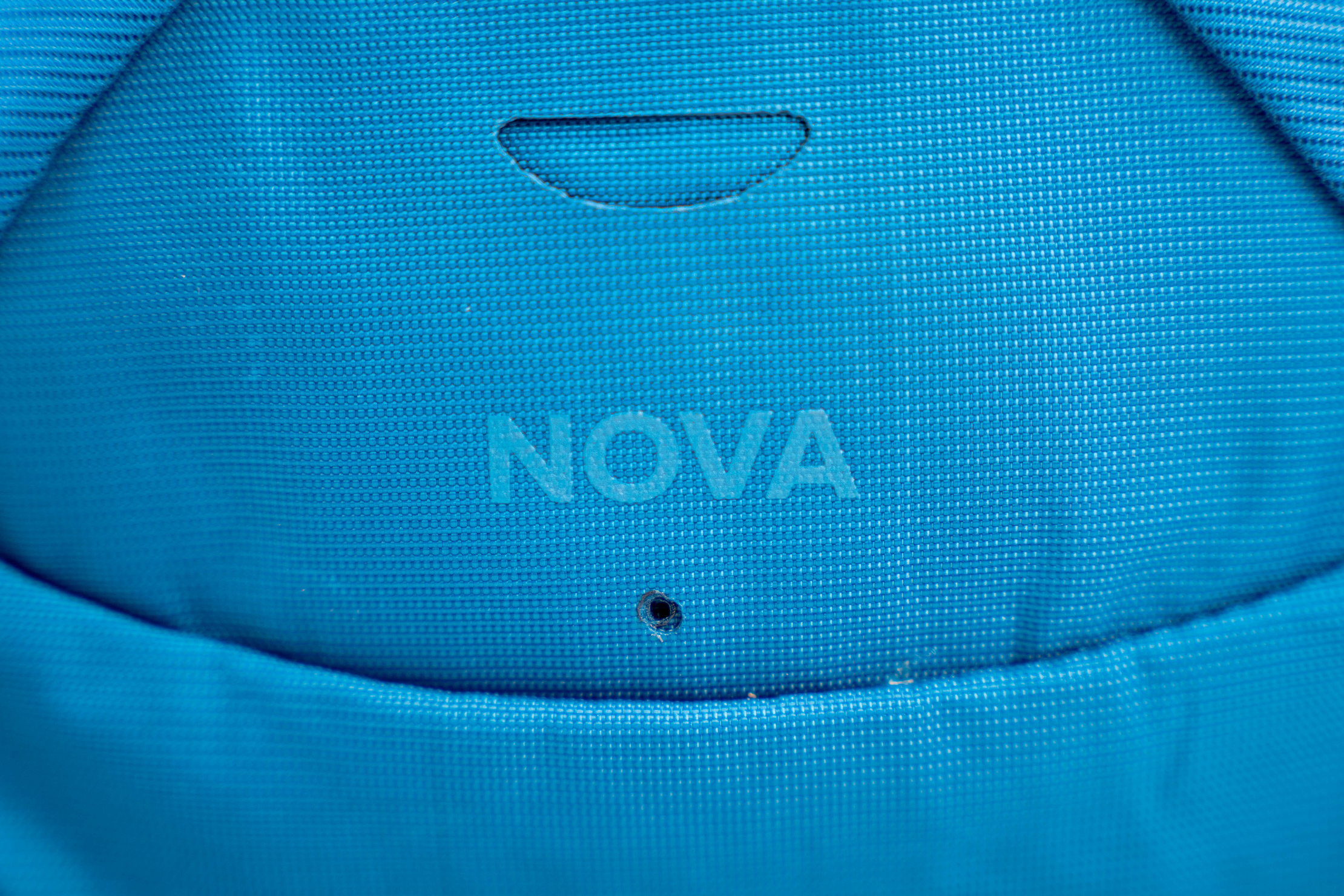 This handle is fortunately located near the backside, so using it to hang the bag onto a hook is relatively easy. As for the handle itself, it's a thick nylon strap with a wide stance that's comfortable to hold, albeit not for a very long time if the bag's heavily loaded.
Inside The Pack
The first pocket we want to talk about on the Nova is its stretchy dump pocket at the front. We like it when daypacks come with pockets like these because they're super convenient for quickly stashing items. Moreover, the stretchy fabric can handle bulky items like jackets and sneakers.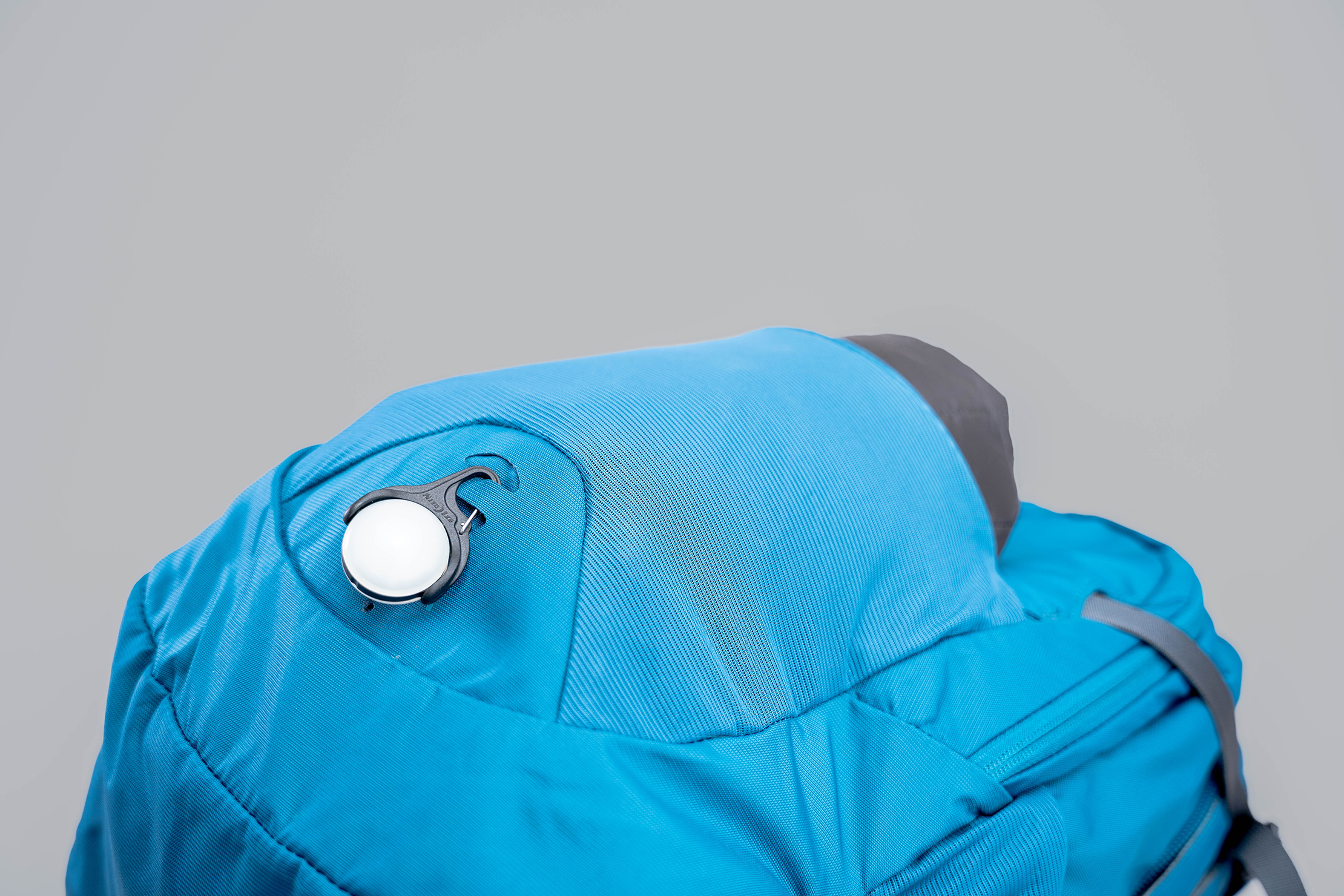 The Nova's is small compared to its larger siblings, but it can still fit a hastily stuffed Patagonia Nano Puff. As a nice little bonus, there's also a small drainage hole at the bottom to keep moisture from pooling up.
Next is the top quick-grab pocket, which sits between the front and main compartments' openings. The inner fabric for this pocket is soft and waffle-textured to prevent easily-scratched items like sunglasses from getting damaged. It's quite spacious inside, but we can't help but feel it could be a bit bigger, given that most of the bag's compartments are bottom-heavy. At the very least, the top pocket doesn't have to fight for space with the other compartments.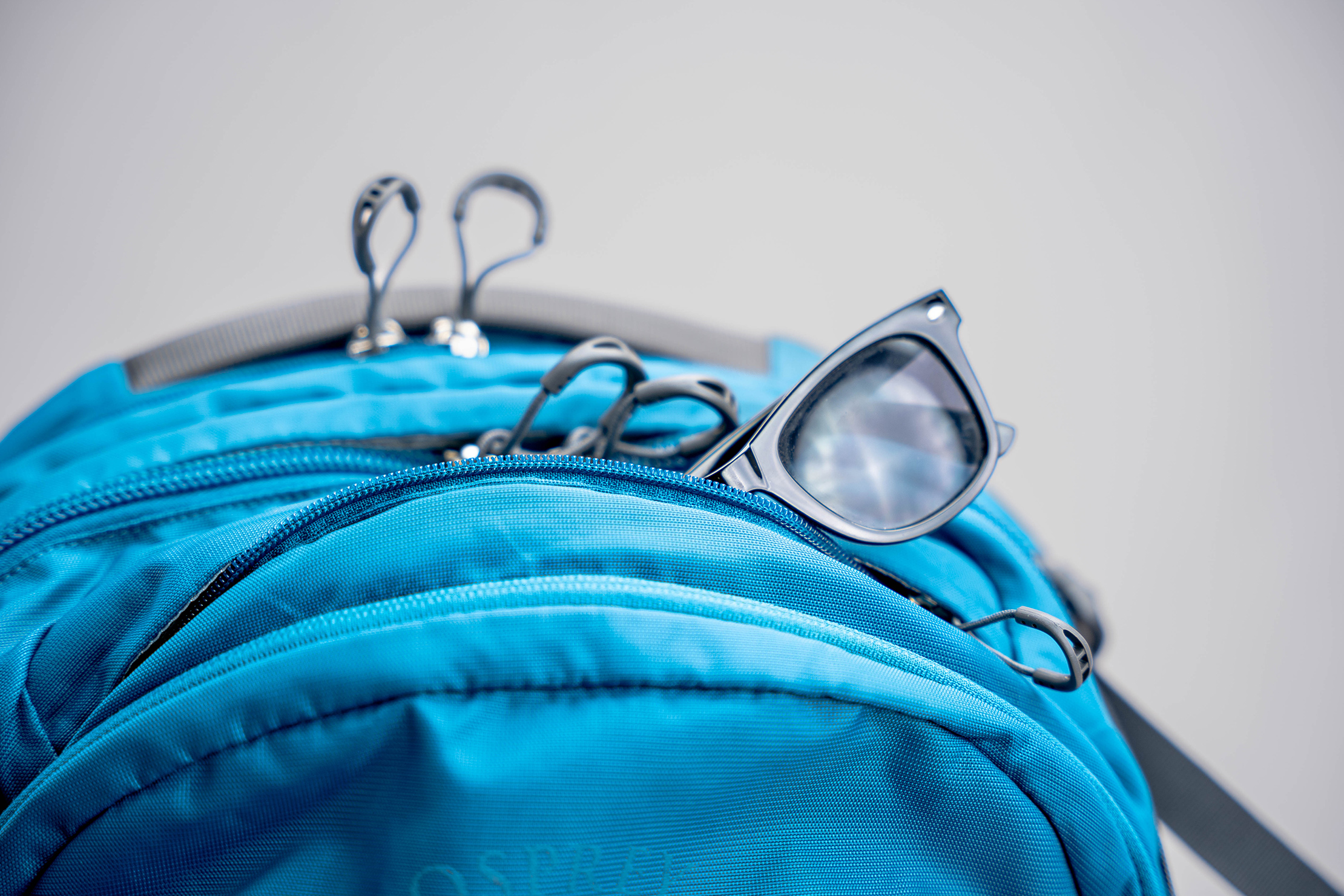 The first of the Nova's major compartments is the front one. This handles most of the bag's organization, namely tech accessories. Inside there are three stretchy mesh pockets, which appear uniform, but the middle one is ever-so-slightly wider than the others. They're wide enough to hold a smartphone or a medium-size power bank. The sturdy mesh holds items in well, but the elastic at the edge doesn't seem to contribute much to this.
Additionally, there are two pen pockets tucked away at the sides, just behind the mesh pockets. There's also a built-in key clip, though the strap is very short, so you'll have to detach your keys whenever you have to unlock something.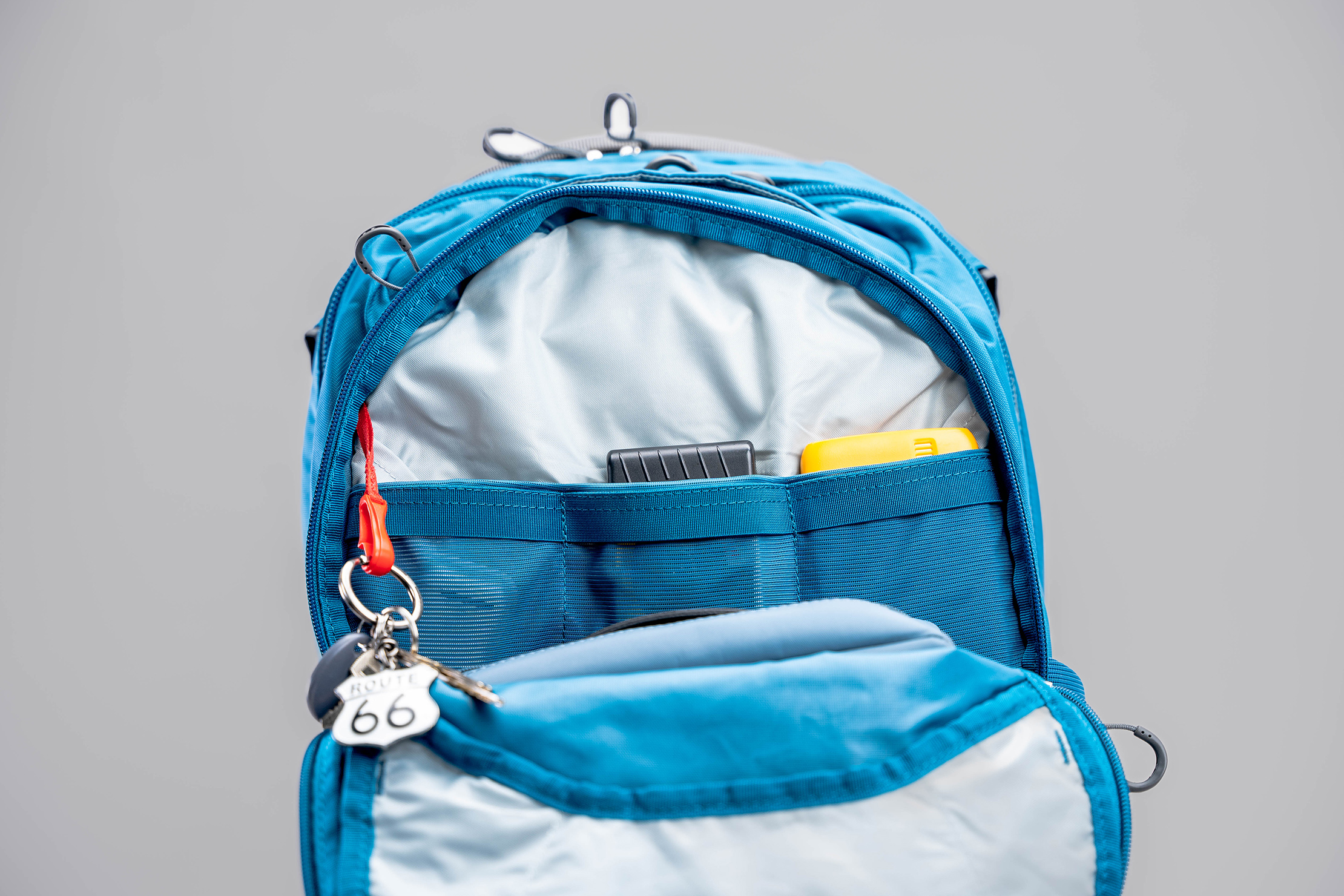 The empty space below the mesh pockets is actually quite sizeable. We're able to fit our Away Small Toiletry Bag. Don't let the name fool you, by the way; it's relatively big at 2.3-liters. Its rectangular shape sits flush at the bottom, so keep that in mind if you want to maximize that space.
The main compartment opens up horseshoe style like the rest of the compartments. Inside is mostly empty space, save for the front-side zippered pocket near the top. This is a good spot for larger tech accessories like a charger or external drives, provided that you keep the zippers near the top for easy access.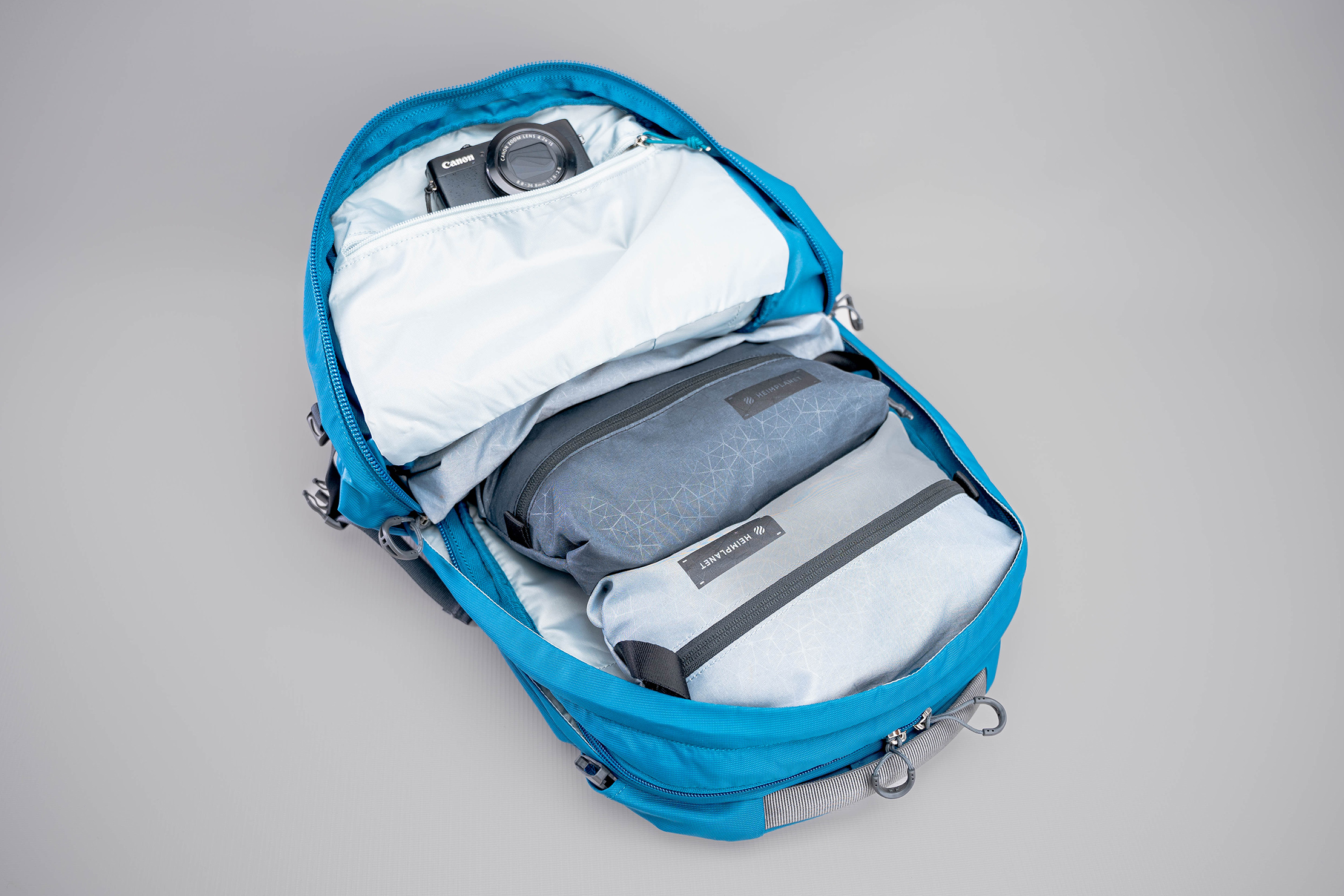 On that note, we have to point out that the top compression straps do interfere with the compartments' openings. It's especially noticeable when we have the bag packed out and need to use the compression straps. While we appreciate that there are quick-release buckles for convenience, having to do and undo them each time is a bit of a hassle.
Like the front compartment, items like clothing tend to rest at the bottom, making the main compartment also bottom-heavy. To keep things organized, we (almost always) recommend using packing cubes and pouches. There's enough room for a weekend's worth of clothes inside (plus some, depending on how you pack). The Nova actually feels a lot more spacious than its 32-liter capacity would suggest.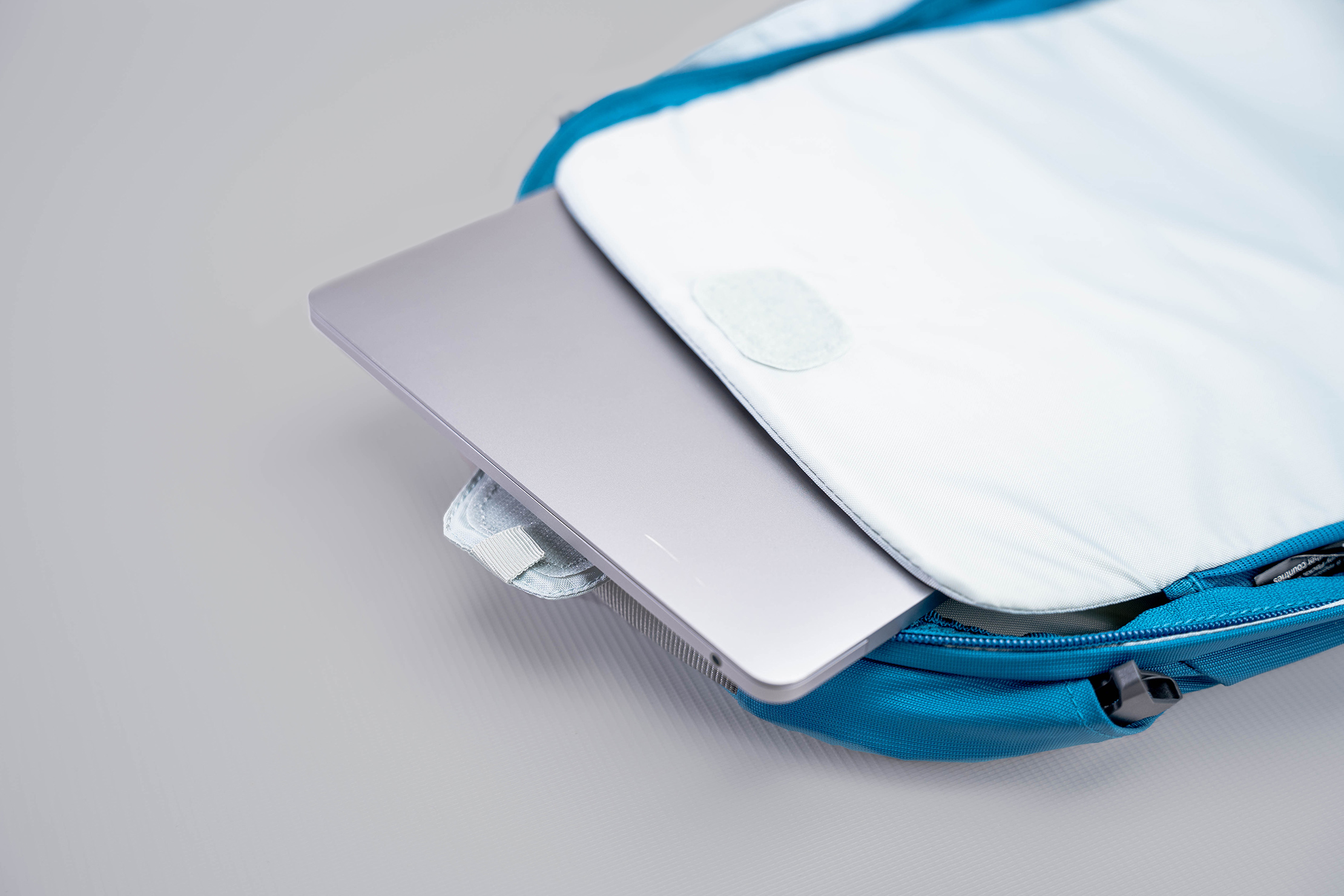 Last but not least is the laptop compartment. The sleeve itself is located on the back panel and is rated to fit up to a 17-inch laptop—more than enough for our humble 13-inch MacBook. It also has a sizable false bottom and a VELCRO tab at the top to secure laptops against impacts. Additionally, there's a dedicated zippered opening for accessing the frame sheet if you want to do some DIY-ing.
On the front side of the laptop compartment is a large zippered mesh pocket. This is where we'd put our tablet if we were carrying one. Otherwise, this is also good for less-frequently accessed tech accessories if you're not traveling with a dedicated tech pouch. The mesh feels soft and padded, so in addition to the laptop sleeve's own padding, there's little risk of things getting crushed together as long as they're not super bulky.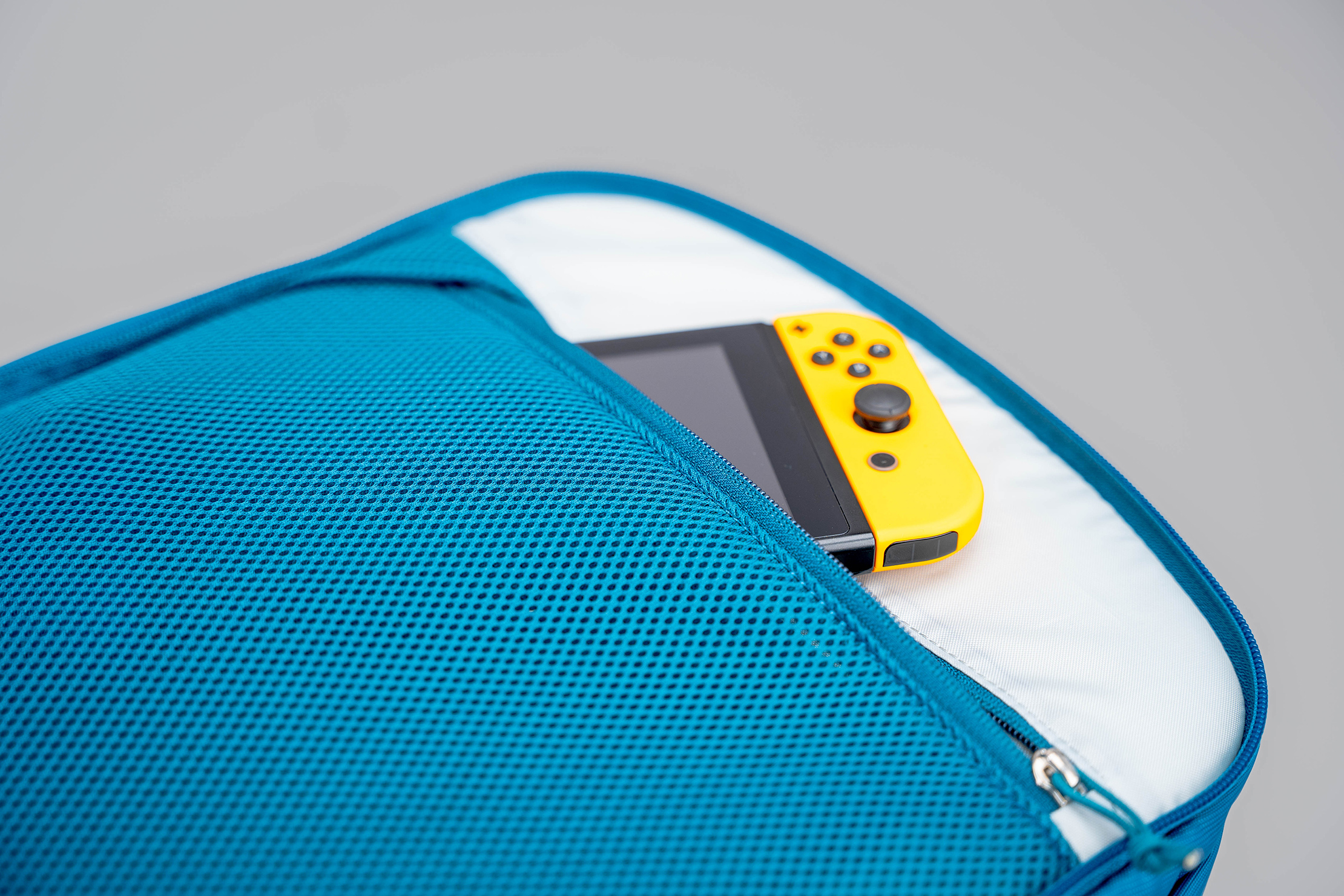 Overall, there are two things about the Nova that we don't like: finicky access and borderline overkill capacity. That last one may be more of a nitpick or a straight-up non-issue if you're looking for extra space. Moreover, the compression straps getting in the way aren't really a total deal-breaker since they have quick-release buckles anyway.
The Nova does have its rough edges, but it comes away clean as a solid everyday backpack with the (literal) capacity for much more.
Usage Timeline
Initial Usage
Condition: Excellent
The compression straps can be stowed away if not needed
Still has that front mesh pocket that we like on Osprey's packs
Also available in a 35-liter men's version
2 Weeks of Use
Condition: Excellent
Can be hard to fully utilize the top space of the bag—it's pretty bottom-heavy when loaded
Compression straps are nice but get in the way of zippers
Plenty of space and organization for small gear
Access the Pro Community Discussion
Get your questions about the Osprey Nova answered from our team and the Pro Community right here on the page. Plus, join discussions with other members about gear, guides, and more.
Other Bags & Luggage Reviews