Osprey Daylite Cinch Review
The Osprey Daylite Cinch is a comfortable backpack to take on the trail, though we can't help but be mindful of the long, snag-prone cinch cord.
Our Verdict
Unlock the Pro Summary
Save time. Get access to brief summaries of our reviews so you can browse and make decisions more efficiently.
Pros
Dedicated sleeve for a hydration bladder
Cinch and loop combo secure and streamlined
Front daisy chain loops handy for attaching various accessories
Cons
Long cinch cord prone to snagging
Shoulder strap's collar can brush against the neck
Front pocket's high opening can be hard to access
Recent Pack Hacker Video
Technical Details
Capacity

15l

Weight (lb)

0.752 lb (0.3 kg)

Denier

150D

Main; 600D Accent & Bottom

Dimensions

16.14 in x 9.45 in x 7.48 in (41 x 24 x 19 cm)

Notable Materials

Recycled Polyester, YKK Zippers, Woojin Hardware, ITW Hardware, DWR Coating

Manufacturing Country

Vietnam

Warranty Information
Full Review
Osprey has a bit of a track record with us, as we've mostly given their backpacks praise for being comfortable to carry. Whether it's the 13-liter Daylite or the 34-liter Tropos, they have a knack for creating bags that don't make us feel like we're trying to haul something big. Yes, they're not a hundred percent perfect, but they're definitely up there when it comes to backpacks that handle rather well.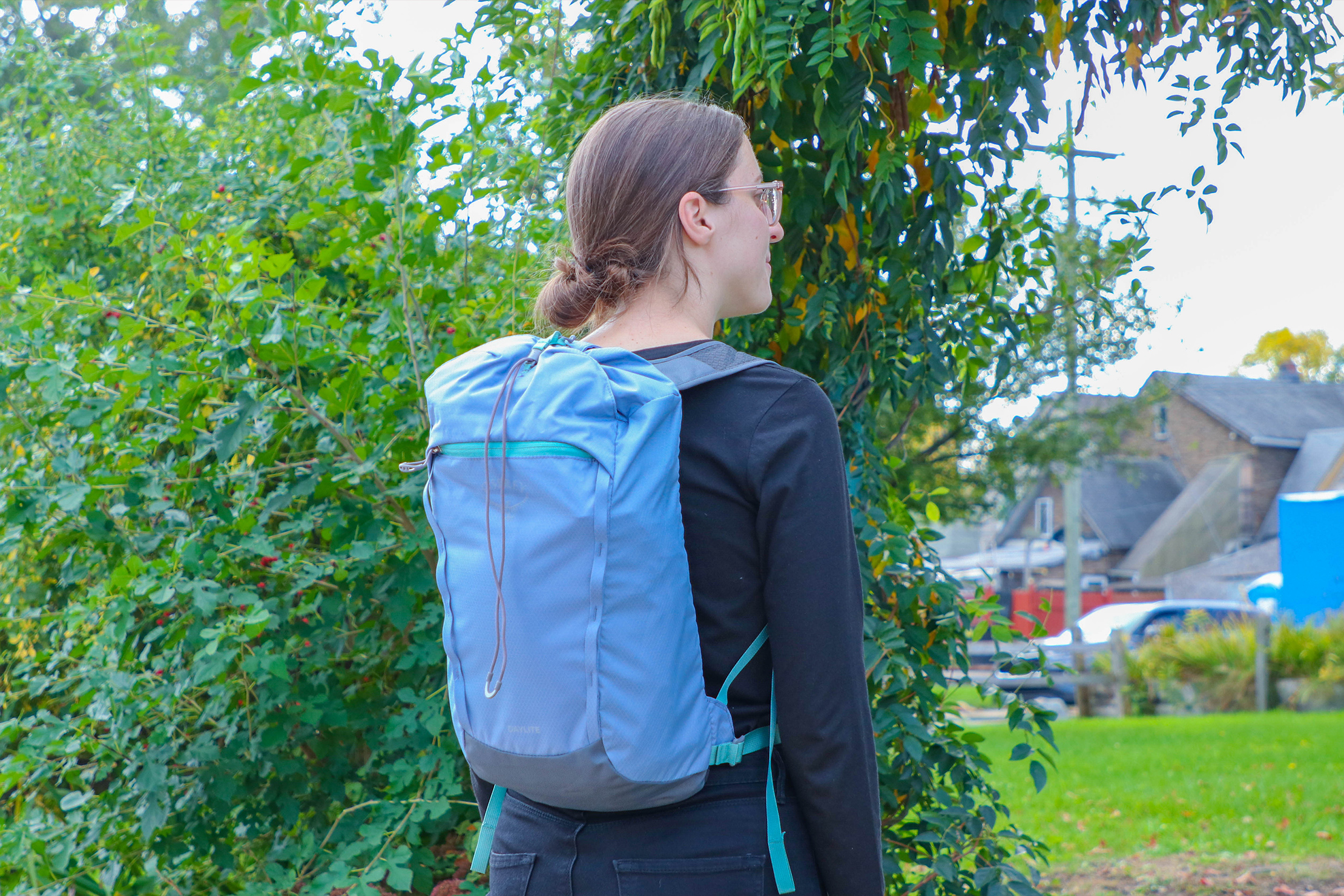 In this review, we're going to be taking a look at the 15-liter Daylite Cinch. It's an outdoorsy backpack with built-in features to accommodate a hydration bladder. On the trail, we found the Daylite to handle as fluently as the brand's other backpacks, which is already a huge check in our books. However, it did take some tweaking to get the carrying comfort just right. Read on to find out more.
Materials & Aesthetic
The Daylite Cinch's tall profile disguises its relatively small capacity rather well. There's nothing inherently wrong with that, as the bag is quite spacious for a 15-liter daypack. As for the shape, Osprey has typically done well with the sleek and aerodynamic design they've used on a lot of their backpacks, including the bike-focused METRON, Tropos, and Radial. The same can be said for the Daylite Cinch, and the achieved aesthetic can be summed up as tall but streamlined.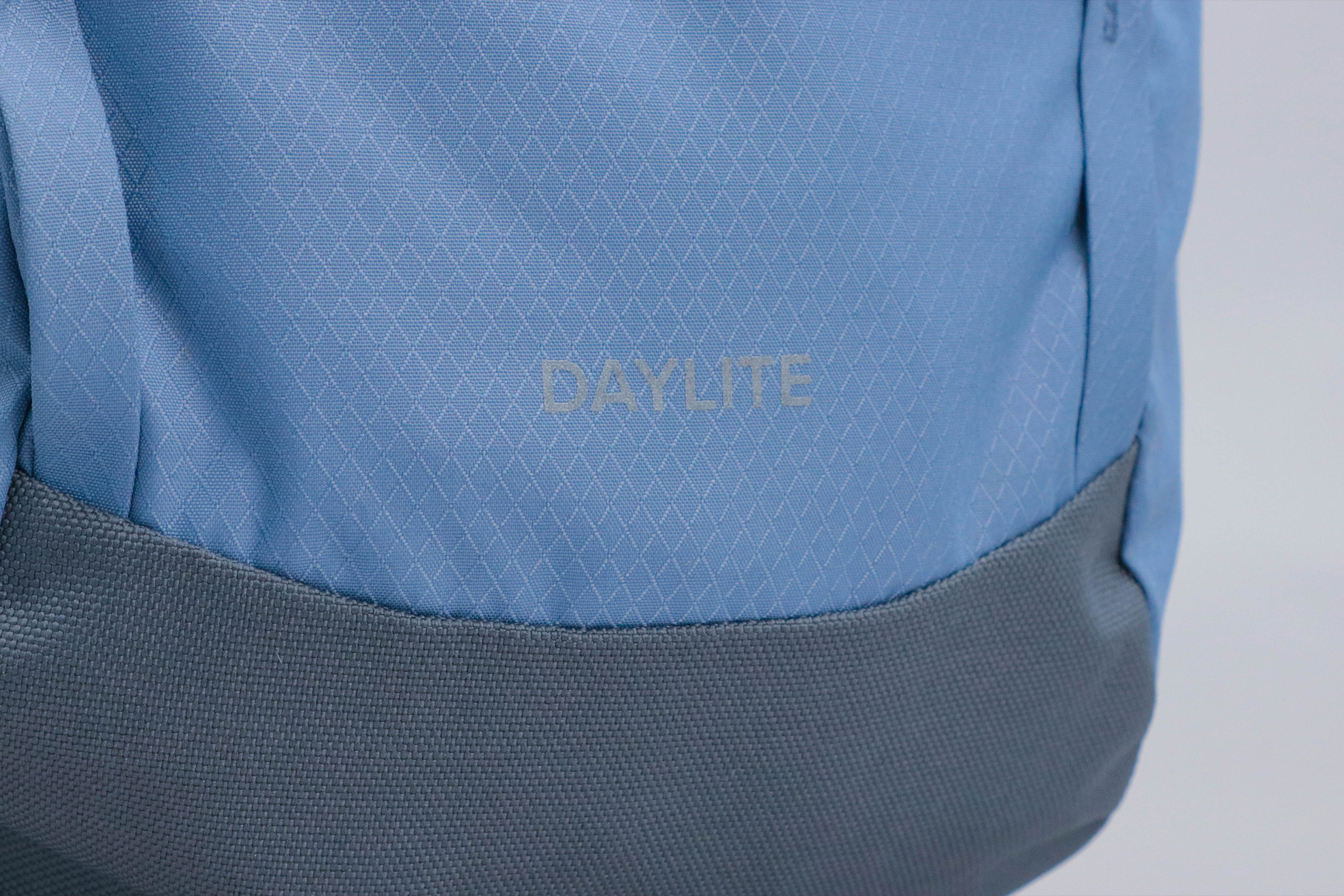 One quirk of the Daylite Cinch we have is that its color is slightly different depending on the lighting condition. Under bright light, the Basalt Eclipse Gray colorway can appear light blue, even lavender-ish. Meanwhile, gloomy weather can really bring out a darker hue of blue. Either way, we dig it because it gives the Daylite Cinch personality that sways with the wind. At the time of writing, other colorways available include the following: Wave Blue, Cosmic Red, Dream Purple, Ash Mamba Black, Tortuga Dustmoss Green, Umber Orange Verdigris Green, and of course, Black.
Like with its other bags, Osprey uses a mix of different deniers for the fabric on the Daylite Cinch. The main body is mostly made up of 150D fabric, while the accent and the base of the bag get heavier 600D fabric, all of which are recycled polyester with PFC-free durable water repellent coating. Polyester is a noticeably softer fabric compared to, say, ballistic nylon. But, since the Daylite Cinch features a cinched opening, the softer fabric is understandably more appropriate.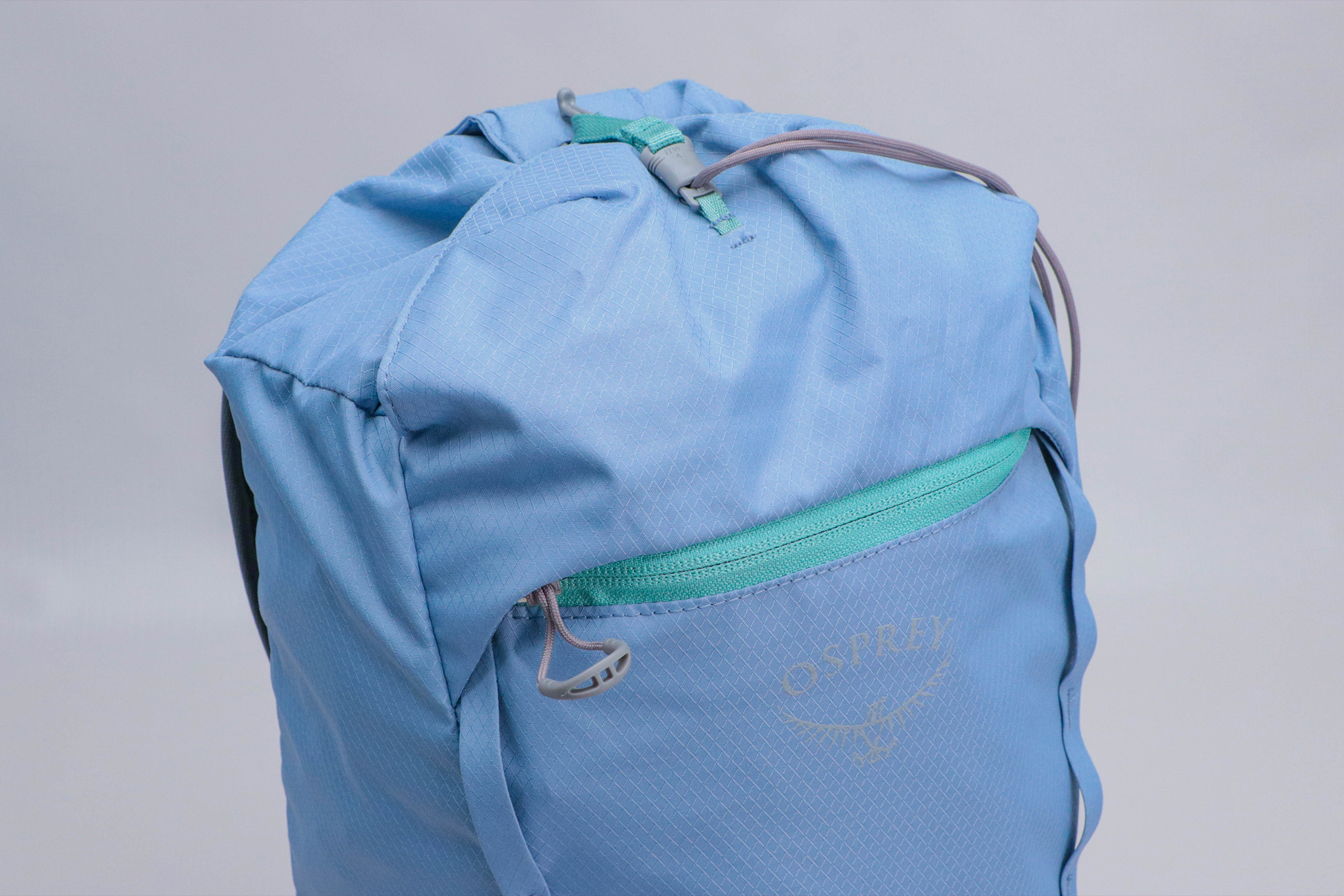 There's exactly one YKK zipper on the Daylite Cinch; it's for the front pocket and comes with an easy-to-grab ring pull. As it's the only zipper on the bag, it's used frequently. The good news is that it performs reliably despite the extra attention, and so too does the hardware. The mix of Woojin and ITW buckles and clips are relatively easy to use and adjust, with the most noteworthy issue being a slightly too tight slider on the sternum strap.
On the whole, the Daylite Cinch is just as well-built as any of the other Osprey bags we've tested. Even though polyester is widely regarded as less resistant to abrasion than nylon, the bag still fares well in outdoor use. Keep in mind that the Daylite Cinch is designed as an outdoor-friendly backpack, so it's encouraging to see design aspects such as the 500D polyester base holding up well.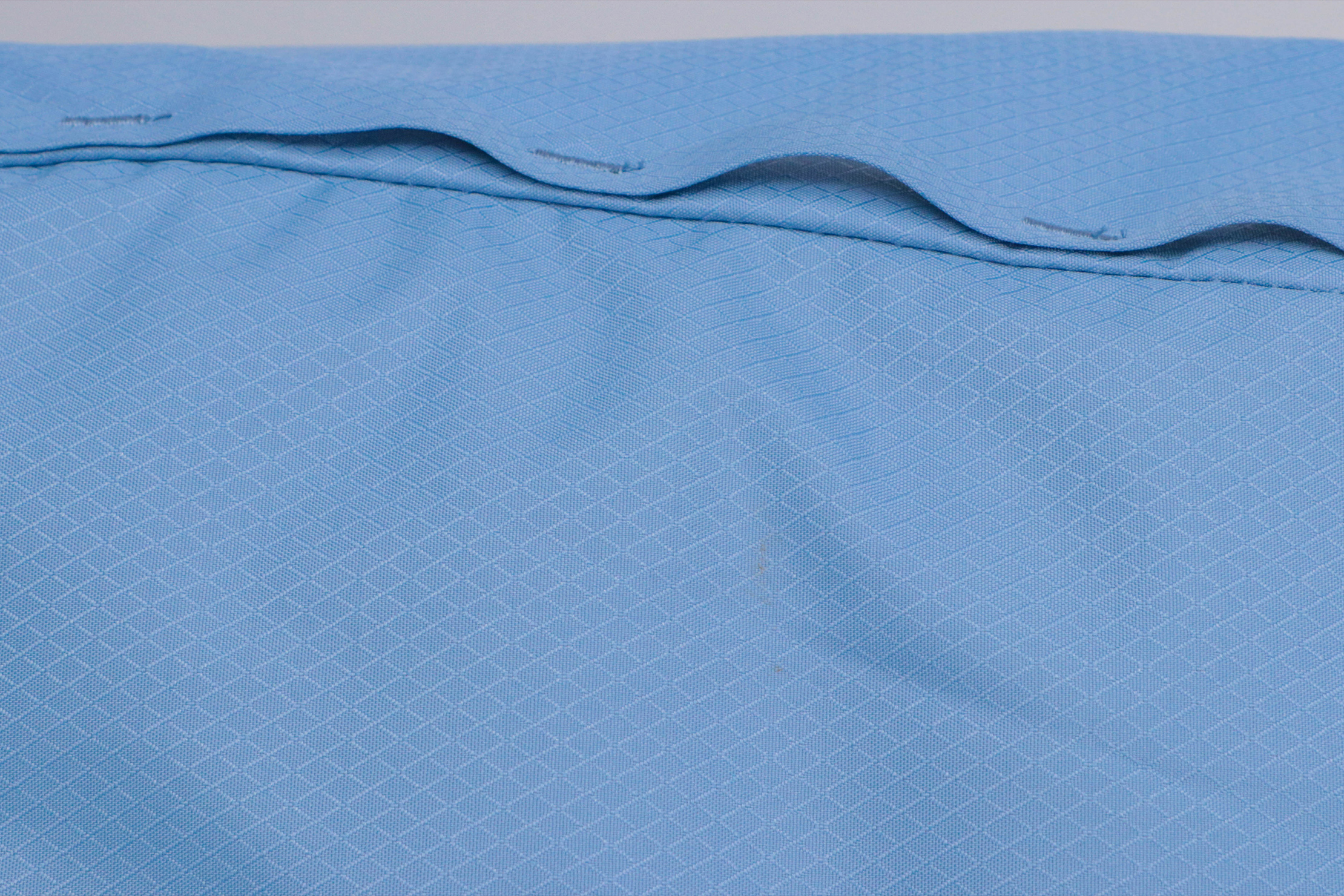 The only real mark against the Daylite Cinch is a mystery stain that we found at the side of the bag. We're not quite sure where it came from. But since most of the other stains we found were wiped off cleanly, we're going to put this down as an exception rather than a rule.
External Components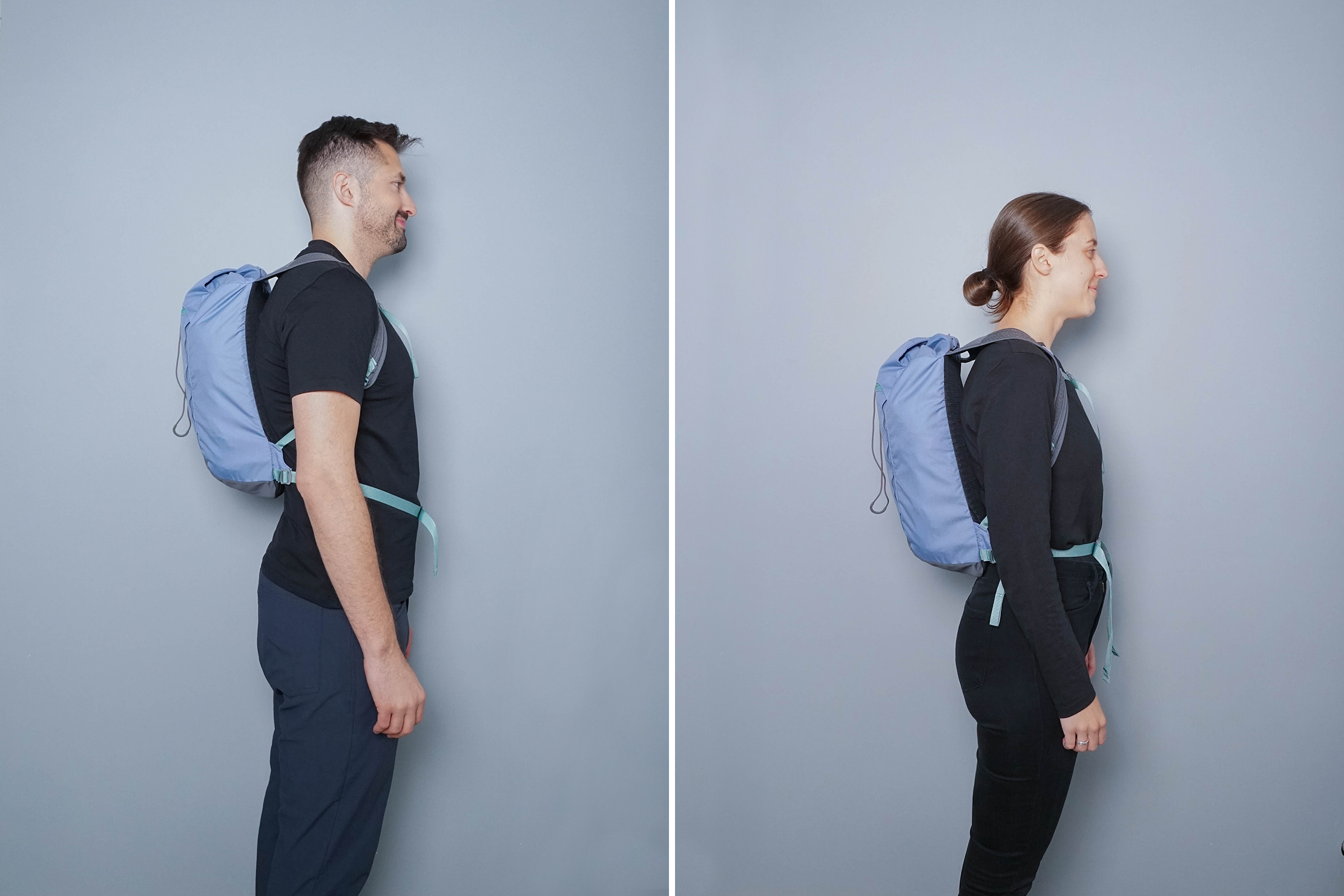 The Daylite Cinch is fairly small, coming in at a lightweight size of 15-liters, but it's perfectly fine for short hikes and treks. As such, Osprey doesn't go completely overboard with the harness system, though they don't leave it as simple as you would find on other typical daypacks. We noted in our review of the smaller 13-liter Daylite that it delivers a surprisingly sophisticated carry for its size. The same holds true for the Daylite Cinch, as the same basic ingredients are found here: a pair of shoulder straps, a sternum strap, a hip belt, and a mesh back panel.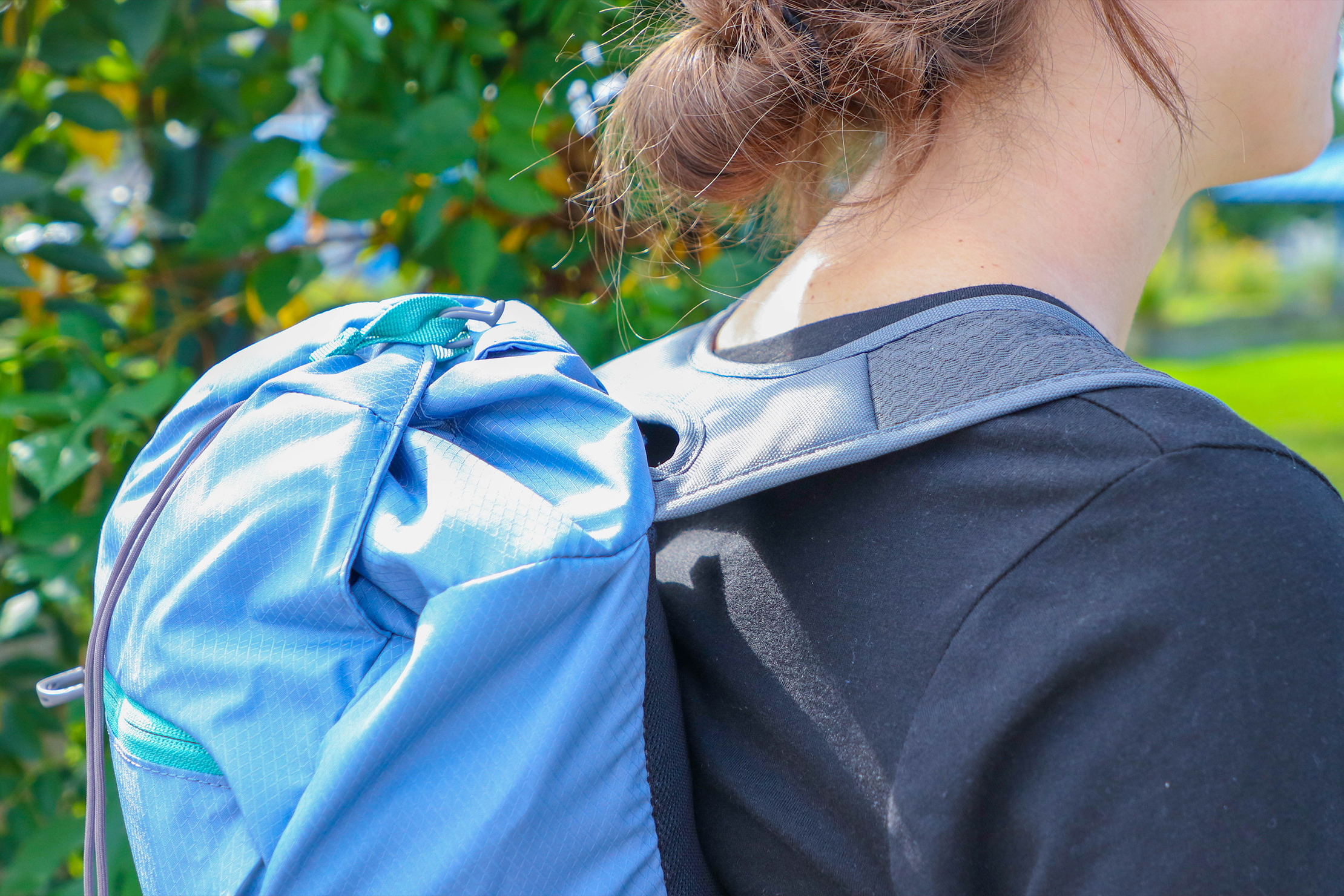 The shoulder straps themselves are quite multi-purpose with their design. The top portion forms a sort of collar arrangement that doubles as both a grab handle and a luggage pass-through. Does it work? Yes, absolutely, and we dig this idea of a well-integrated multi-purpose design that results in something that is equally clean to look at. The only problem is that this collar can brush against your neck if the harness system isn't dialed in just right.
This just requires a bit of tweaking and playing around with the shoulder straps' adjustment to avoid. However, it's one of the first things we noticed with the Daylite Cinch, so we quickly got to tuning the straps just right. There's definitely a sweet spot between having the bag positioned too high and sagging too low. Too high, and the collar brushes against the neck; too low, and the bottom edge digs in. As with most fits, your mileage may vary depending on your build and torso size.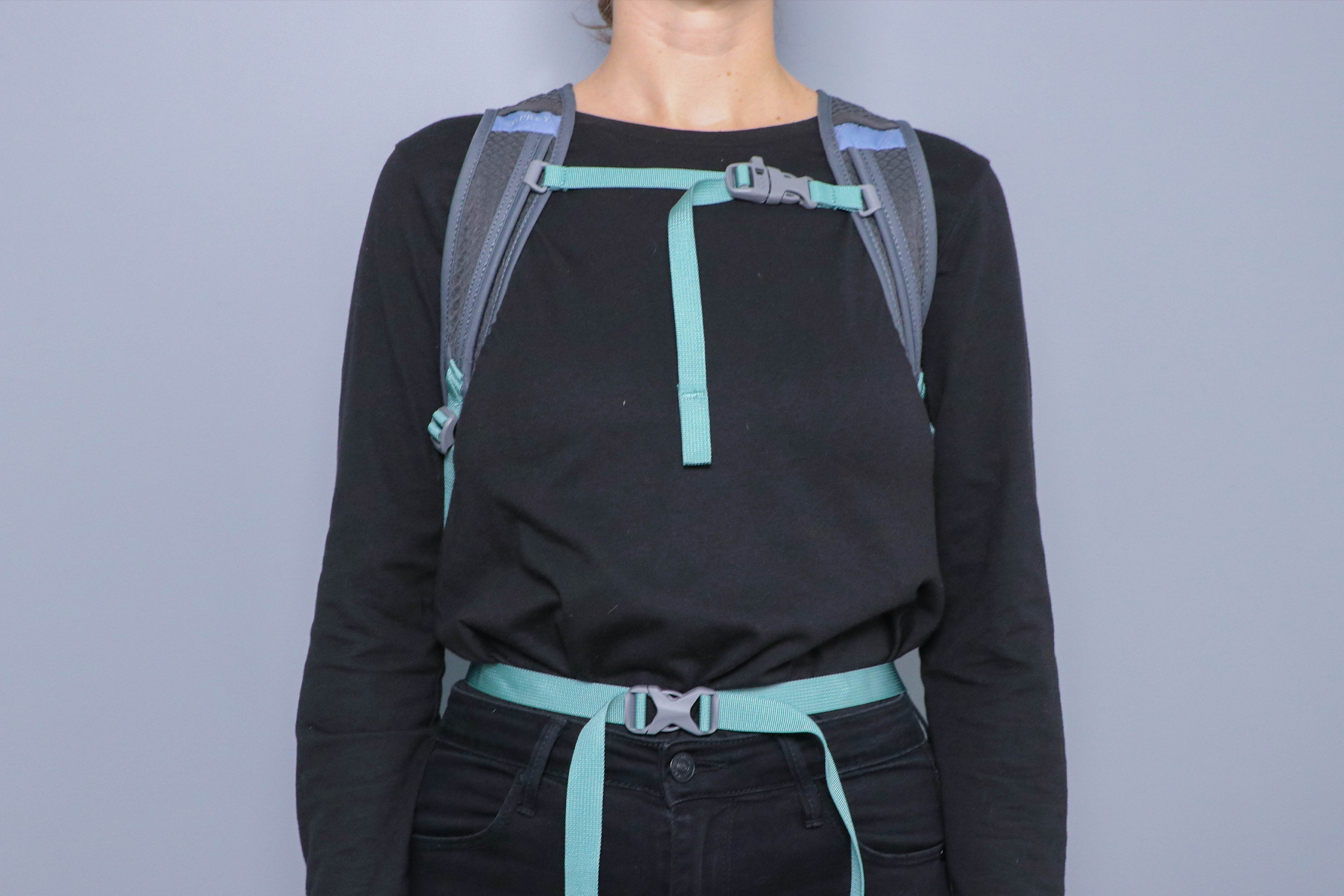 We know that sounds like a lot of work, but it's actually easy to do, and we only had to do it once. After the adjustment, the Daylite Cinch carries more comfortably. The shoulder straps are made with mesh material, and despite being relatively thin, they fit snugly on shoulders—like a comforting hug while we were trekking through the scenic landscape.
The sternum strap is easy to use. It's our favorite kind, too—it slides along a rail for fine adjustments, and the buckle is a simple side-release clip. It even comes with a small built-in whistle that's useful in an emergency. The only slight flaw with the strap is that one side was harder to slide than the other, but it's an otherwise small nitpick in the grand scheme of things.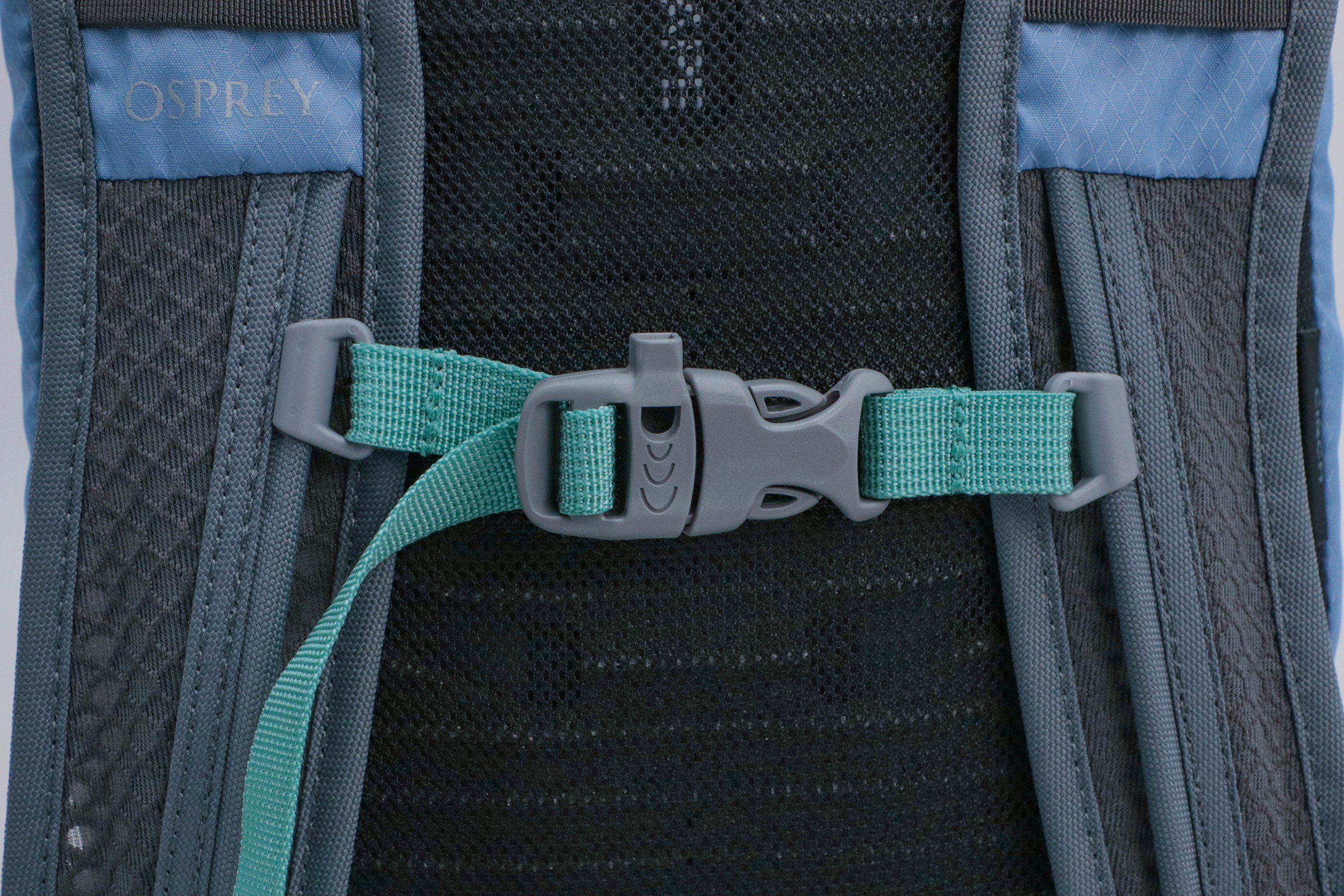 For extra support, there's also a removable hip belt in case you want to turn your hike into a sprint, though we never really feel the need to use it. Since it's removable, we opt to leave it at home most of the time. The nylon strap simply threads through the plastic hardware to remove.
Speaking of the nylon strap, the Daylite Cinch features no strap keepers, so the extra slack of the shoulder strap, sternum strap, and hip belt sort of just hangs around. It's not as big of a deal as on Osprey's more bike-focused offerings, and we generally don't mind this omission with the Daylite Cinch, but that's something you'll have to decide for yourself if you find dangly straps distracting.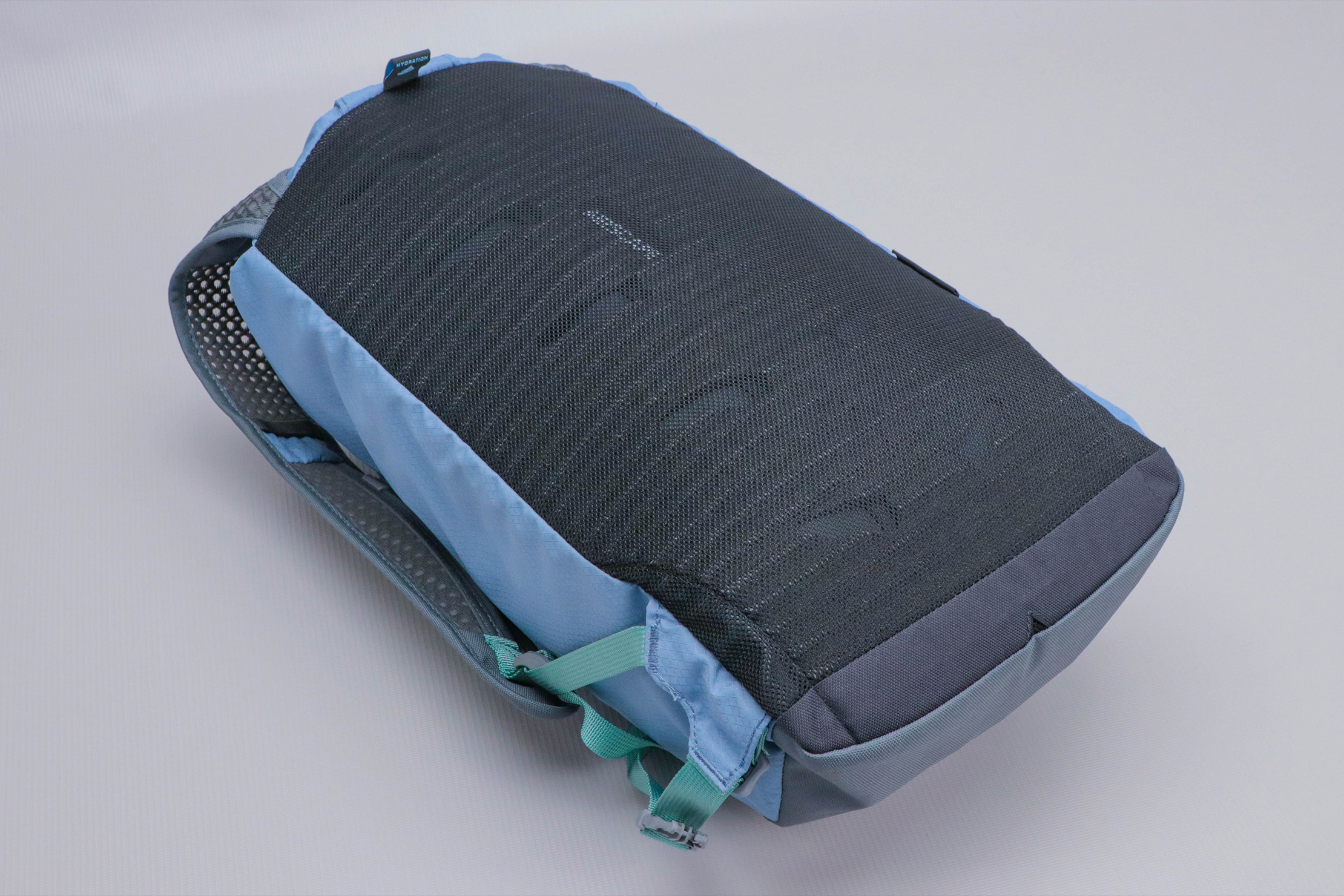 The back panel deserves special mention as well. It features Osprey's AirScape mesh-covered die-cut ridged foam design—that's marketing speak for a very breathable back panel with a rigid panel underneath. We're happy to confirm that it works in practice, and we're particularly fond of the ridged panel because it adds structure to the light 15-liter design. The overall carrying experience feels tightly integrated, especially once the hydration bladder and its hose are set up and routed through.
Before we get into the interior goodies of the Daylite Cinch, you may notice that there's a noticeable lack of water bottle pockets; a feature present in the smaller Daylite. We've already hinted earlier that the bag is designed to integrate with hydration bladders. But what if you wanted to bring a separate water bottle? After all, it's not feasible to drink from a hydration bladder if, say, you're working at your desk.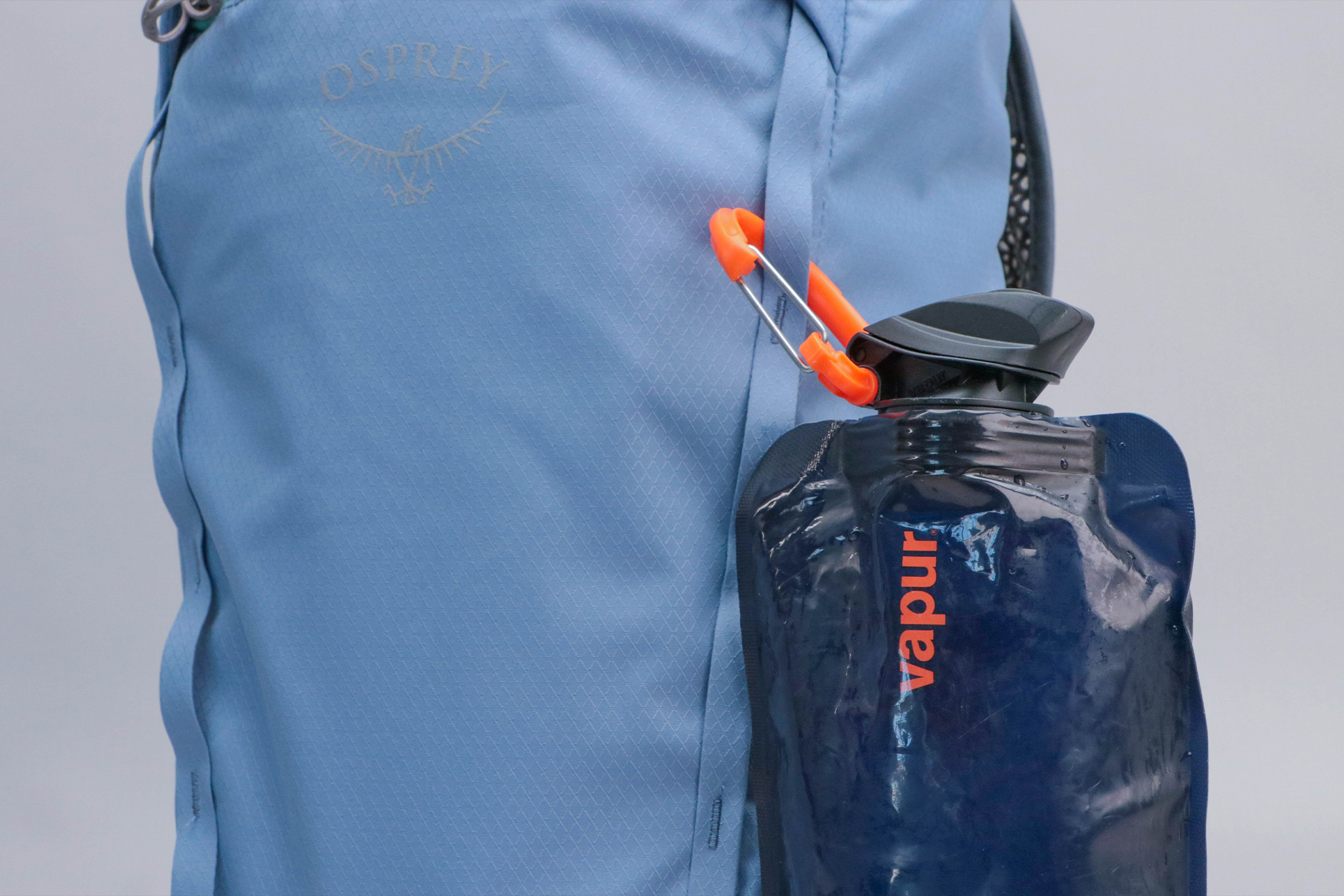 Fortunately, the front of the Daylite Cinch has two sets of daisy-chained loops, with four on each side for a total of eight. These are great for attaching small accessories like keychains, carabiners, and luggage tags. Heavier items like bottles are a bit trickier, but the daisy chains are reinforced with bartack stitching, so it's reasonably strong. However, a bottle will noticeably sway a lot, so our preferred method defaulted back to putting it inside the main compartment.
Inside The Backpack
When we reach our office or house door, we often swing our backpacks around to reach into the front pocket where our keys usually are. Front pockets are always handy quick-grab storage spots, which is why brands often place built-in key clips inside them. It's the same case with Osprey and the Daylite Cinch.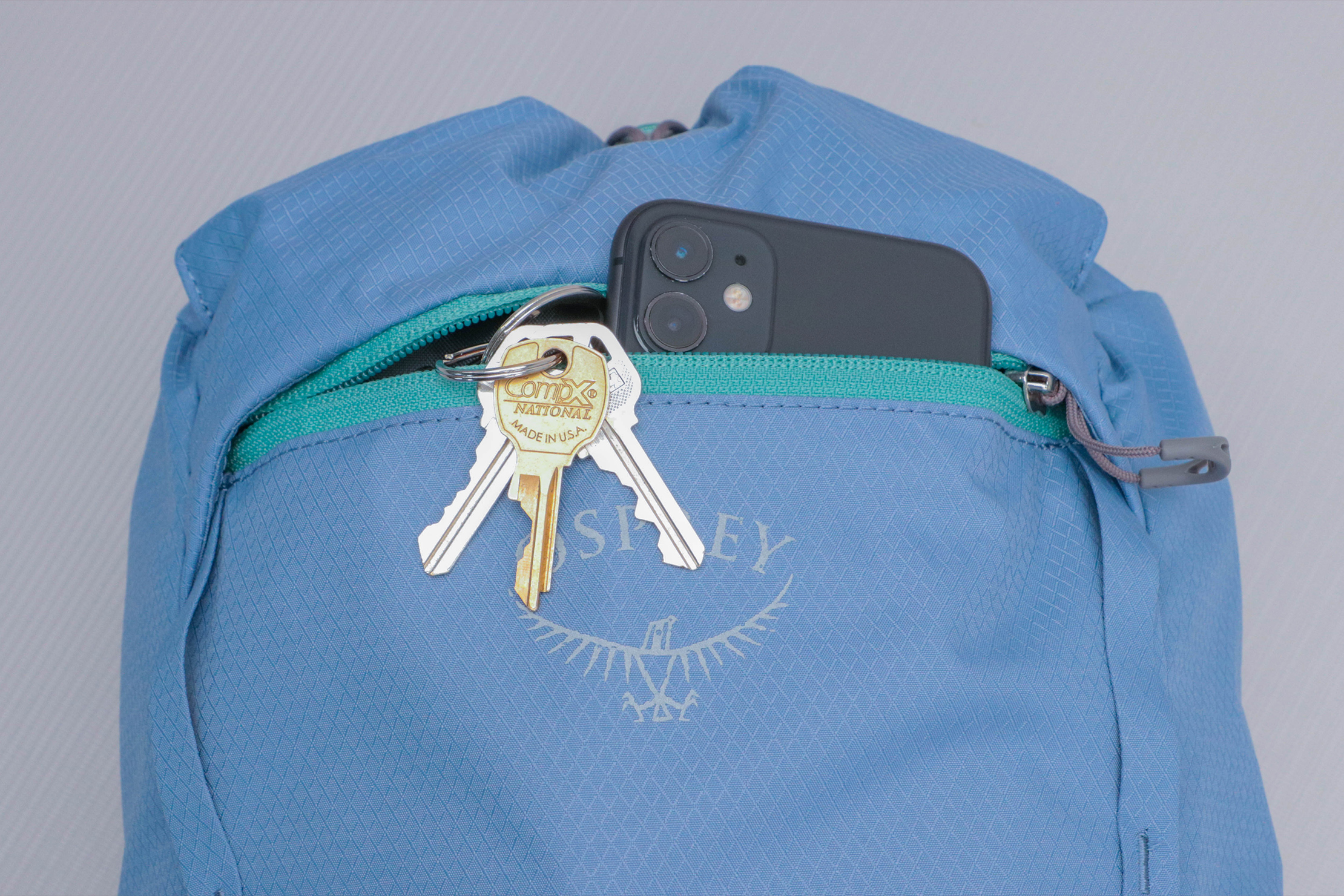 The positioning of the Daylite Cinch's front pocket is relatively high, and we can chalk that up to the bag's tall design. It gives the pocket a ton of space to work with; it's narrow and deep, making the key clip more of a necessity rather than just a nice bonus. Consequently, we do find the high position a bit tricky to access at times because we have to look down at a rather sharp angle. Fortunately, the key clip makes fishing out our keys easier, though we must point out that the plastic clip it uses doesn't feel very robust.
The cinched opening of the main compartment looks like a simplified version of the type we're used to seeing. A lot of cinched backpacks use a combination of a cinched opening and a knapsack-style flap for complete coverage. On the Daylite Cinch, the philosophy is the same, but it's much cleaner.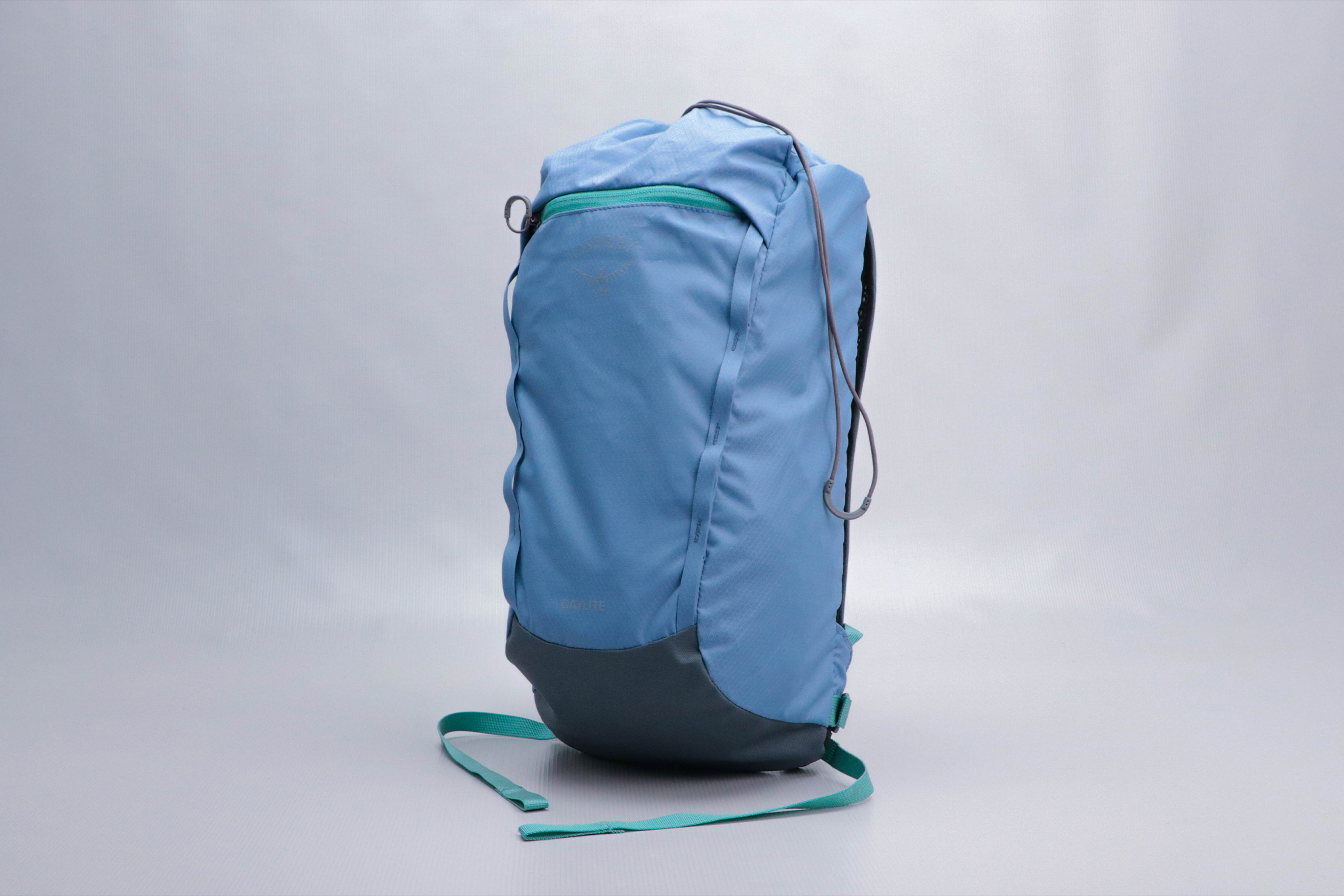 The main opening is still a traditional cinched opening. The twist is that instead of a flap that folds over to the back, the Daylite Cinch has a front fabric shroud that scoops in from the front. The cinch cord threads through this fabric so you can still pull it tight, while the shroud itself has a loop that attaches to a small hook towards the rear of the bag. Again, it sounds complicated, but here's a handy GIF of how it operates.
A small nitpick we have is that the small loop of the shroud can twist in an awkward way that makes it tricky to attach to the hook. It slows down accessibility in a noticeable way, though we did get used to it eventually. Another thing is that the cinch cord is rather long once you have the bag really cinched up. We had one particularly noteworthy incident where the cinch cord managed to snag on a door handle as we were turning away to leave. This could potentially be an issue if, say, you're trekking on a path with a lot of loose branches, twigs, and shrubbery, so it's definitely something to be mindful of.
Inside the main compartment, it's mostly an empty tub of space. That's okay for us since we always have our own set of packing cubes and pouches ready to keep things organized. One could even argue that the lack of partitions really helps maximize the available 15-liter capacity, and we're inclined to agree—we do find it fairly spacious for just 15-liters.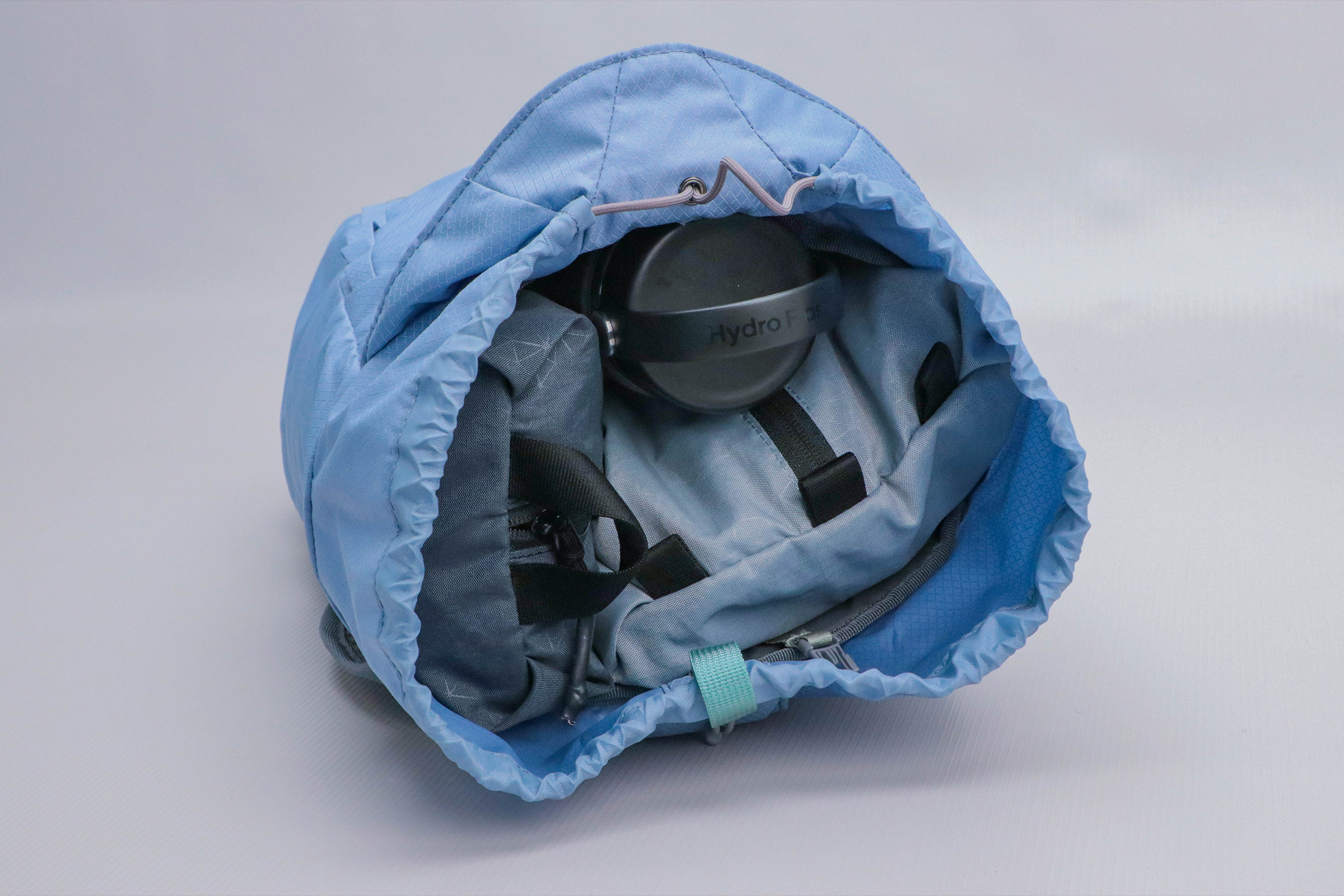 However, some of that space may be forfeited to a water bottle if you're not a fan of hanging bottles externally, as this is the only other option. We went with this method and dedicated a significant amount of space for our 21-ounce Hydro Flask. In short, 15-liters isn't an unlimited amount of space, so planning ahead is the way to go.
The main compartment isn't completely devoid of any organization. Towards the back is the sleeve for the hydration bladder, complete with an attachment point from which you can hang one. But don't think that Osprey left it there and expects you to route the drinking tube through the cinched opening.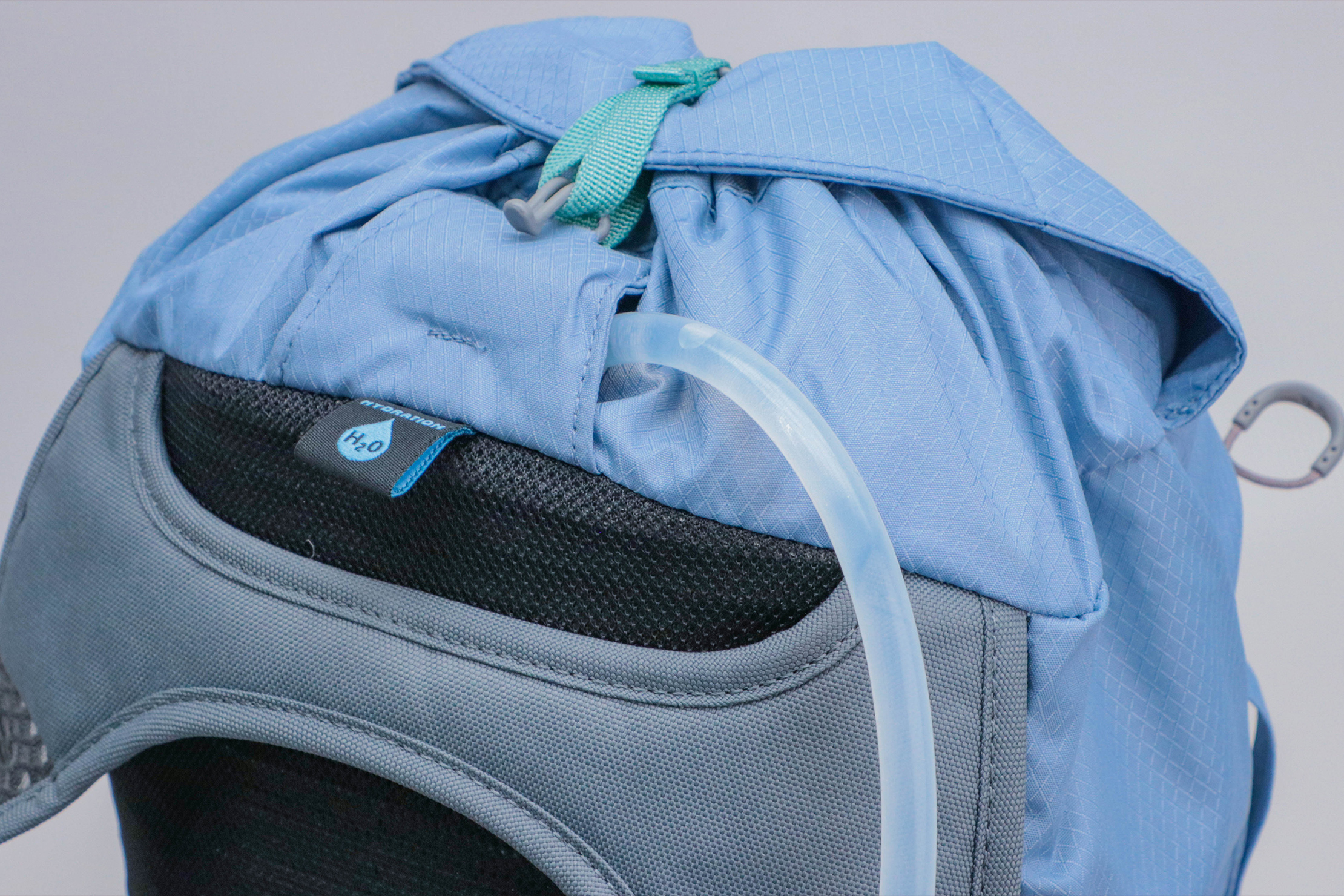 There's a dedicated hole where you can thread the tube through. Furthermore, the shoulder straps of the Daylite Cinch also each have a loop where you can route the tube. Your mileage will ultimately vary depending on the style of the hydration pack you're using. Thankfully, the Daylite Cinch's management of the tube is relatively effective, and we generally don't encounter any problem with it during our treks.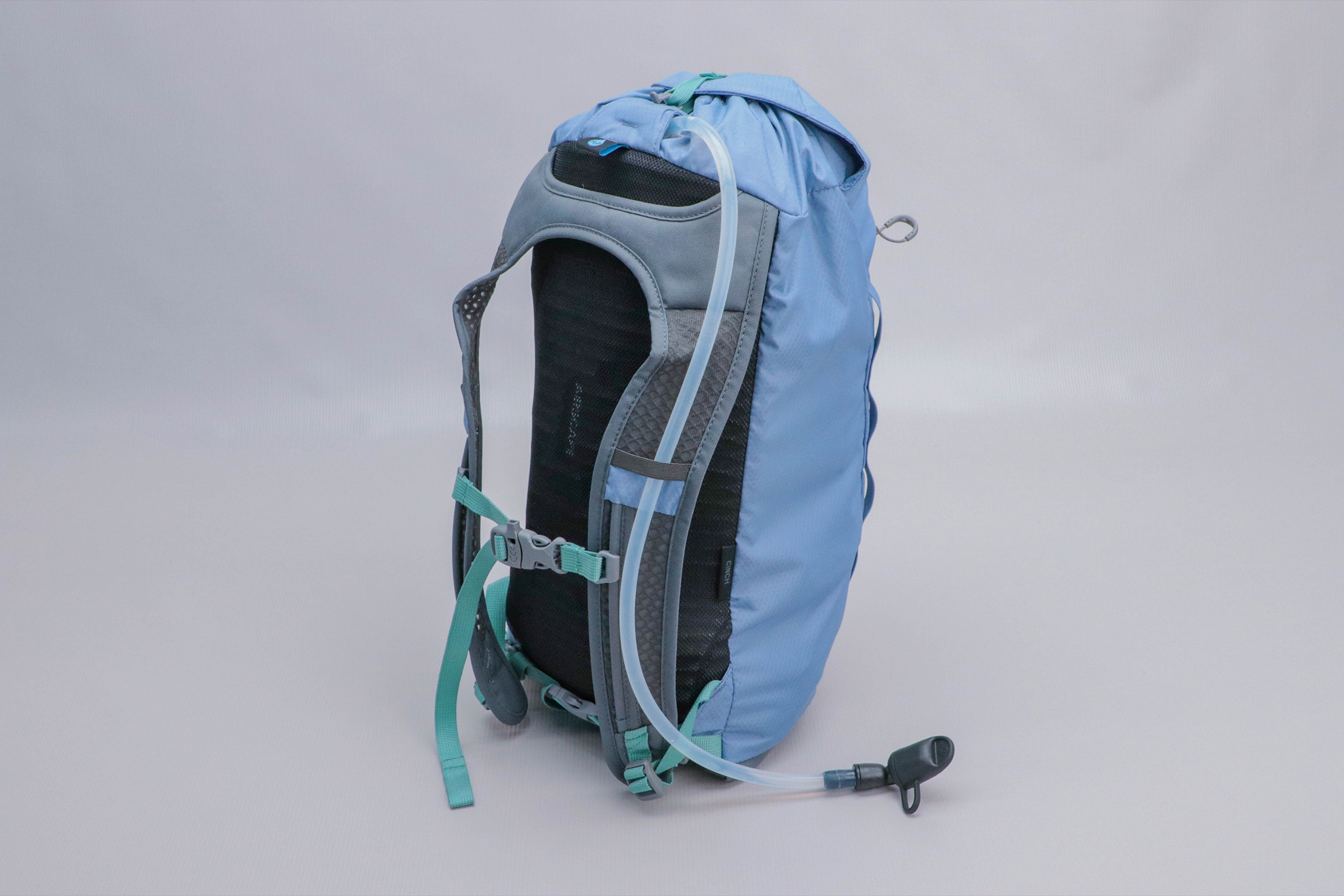 On days that we aren't using the rear sleeve for a hydration bladder, we use it to store our 13-inch MacBook. As small as this laptop is, it only barely manages to fit snugly inside. This means we can't guarantee that all 13-inch laptops will be able to fit, as this is more of a hack on our end. There's also no false bottom, and there's minimal padding courtesy of the back panel. It's far from the ideal laptop sleeve, but then again, it was never intended to be one.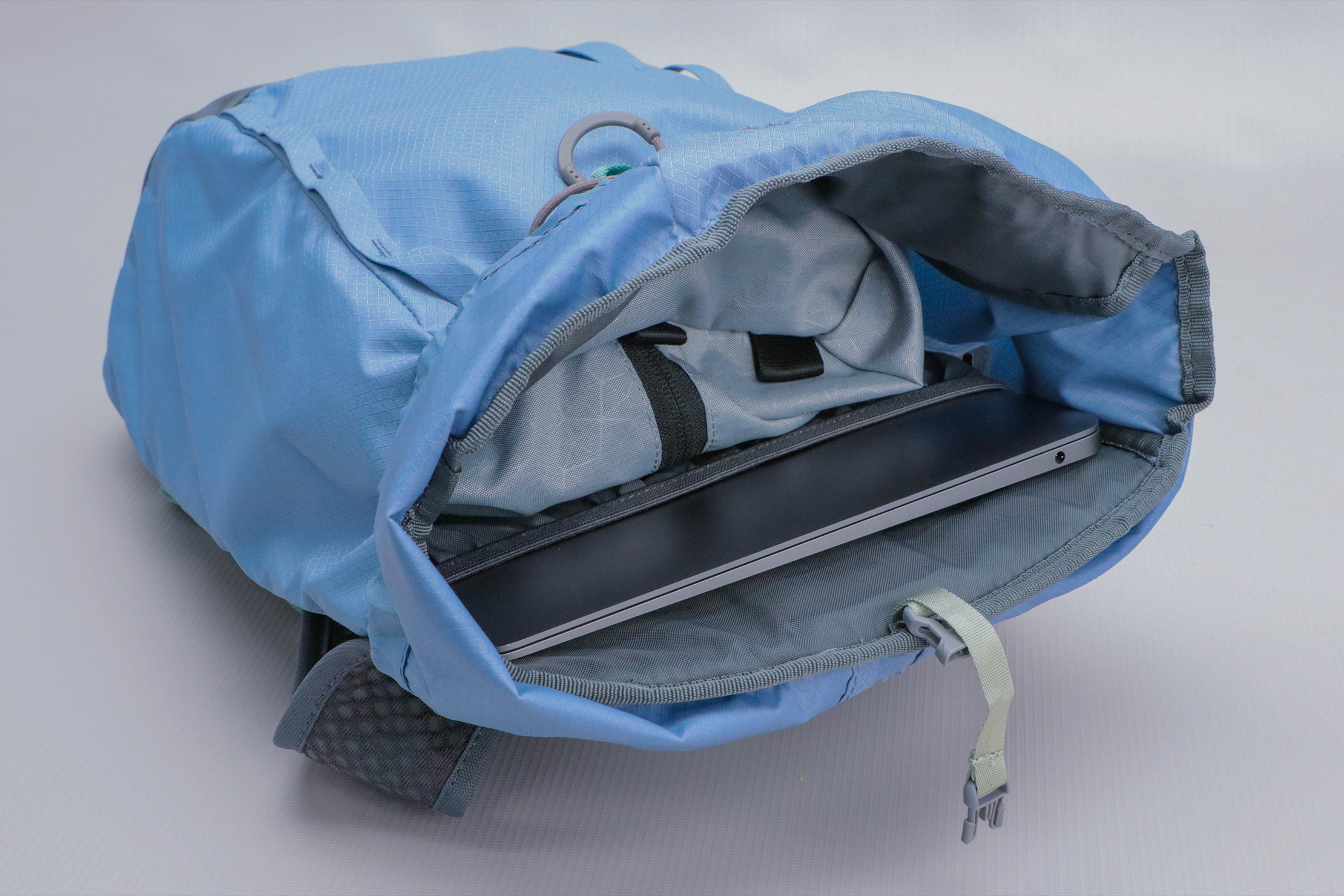 We've generally found Osprey's backpacks to be comfortable to carry, and we're happy to conclude by saying that the Daylite Cinch is no exception. The fit does take some tweaking, but the end result is worth it. Space and organization are a tad basic, but considering the backpack's outdoorsy nature and its emphasis on ease-of-carry, this isn't a big issue. Overall, it's a well-designed backpack for its intended purpose—just keep an eye out for that long cinch cord.
Usage Timeline
Initial Usage
Condition: Excellent
Low-profile design
Has an internal sleeve for a reservoir
Fully-meshed back panel
2 Weeks of Use
Condition: Excellent
Top of harness system needs to sit lower or else it tends to rub into the back of the neck
Cinch opening makes quick access difficult, but front pocket is large enough for a handful of frequently used items like a phone, wallet, and snacks
Hydration bladder pocket also holds a 13″ MacBook, though it lacks protective padding
Incredibly lightweight at less than a pound
Long cinch cord string can get caught on things, though it doesn't happen too often
Access the Pro Community Discussion
Get your questions about the Osprey Daylite Cinch answered from our team and the Pro Community right here on the page. Plus, join discussions with other members about gear, guides, and more.
Other Bags & Luggage Reviews