Osprey Centauri Review
The Osprey Centauri has a tight-fitting, well-balanced carry, though some stiffness in the materials can also make it feel uncomfortable.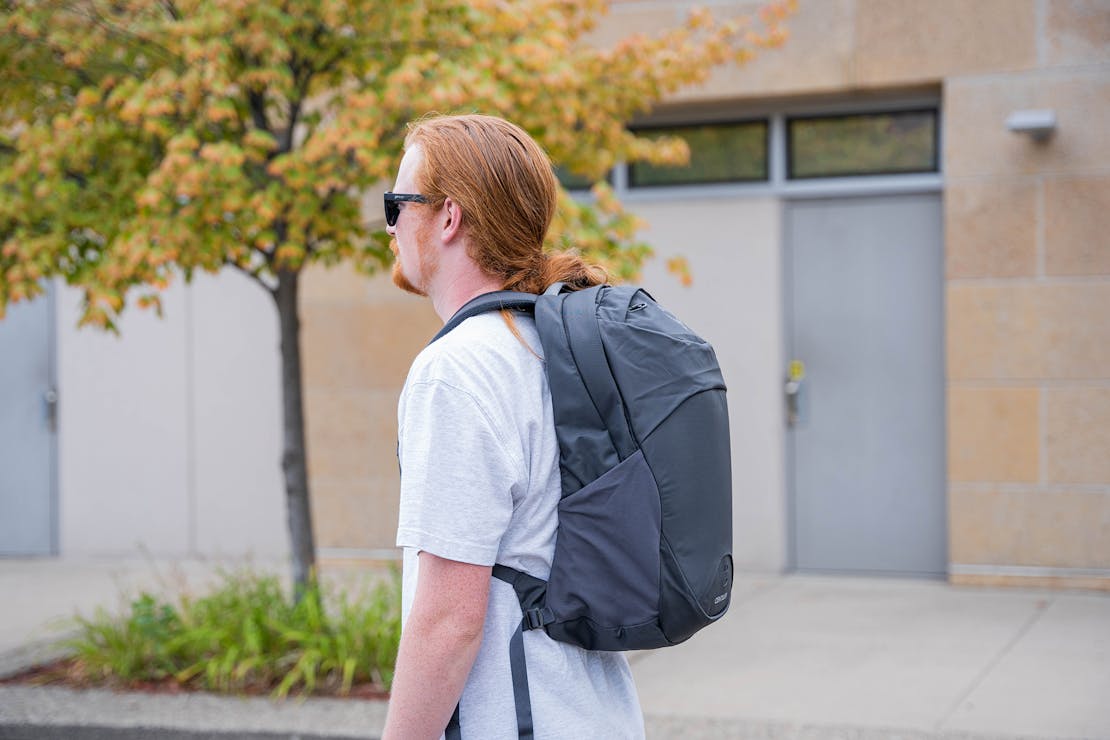 Our Verdict
Unlock the Pro Summary
Save time. Get access to brief summaries of our reviews so you can browse and make decisions more efficiently.
Pros
The carry feels secure and balanced
Able to stand on its own despite relatively tall proportions
Build quality and materials are solid
Cons
Feels somewhat stiff, particularly around the traps
Wish it had more secondary pockets
Plasticky key clip feels out of place
Recent Pack Hacker Video
Technical Details
Capacity

22l

Weight (lb)

1.39 lb (0.6 kg)

Dimensions

18.12 in x 11.82 in x 10.24 in (46 x 30 x 26 cm)

Notable Materials

Nylon Dobby, Packcloth, YKK Zippers, ITW Hardware, Woojin Hardware

Manufacturing Country

Vietnam

Laptop Compartment Size

15"

Warranty Information
Full Review
The Osprey Centauri is designated as a commuter backpack, so we're primarily focused on two of its aspects: the harness system and convenience. For the former, we're looking at comfort (obviously) since it has to be easy on the shoulders for long durations when you're transiting around the city. As for the latter, gear needs to be easily accessible as well as organized, especially what you use during transit, like coins, cards, water bottles, and even a power bank.

The Centauri's harness system accomplishes the first part with a tight-fitting, well-balanced carry. However, the foam's relative stiffness can be perceived as such for those who are more used to softer harness systems. The organization is also fairly minimal since there's only the top pocket, water bottle pocket, and a few pockets in the main compartment. We'd say it's the minimum amount for an everyday backpack, but we wish it had more to really up the convenience.
External Components
On the surface, the Centauri looks and feels like any other Osprey bag. The outer fabric is their usual combination of Nylon Dobby and Nylon Packcloth at 630-denier and 420-denier, respectively. This gives the Centauri that durable yet sleek feel, courtesy also of the black colorway we're sampling. Those aren't super high denier stats compared to something like 1680D CORDURA Ballistic Nylon. However, the Centauri's fabric is already more than tough enough to handle the everyday stresses of an urban commute.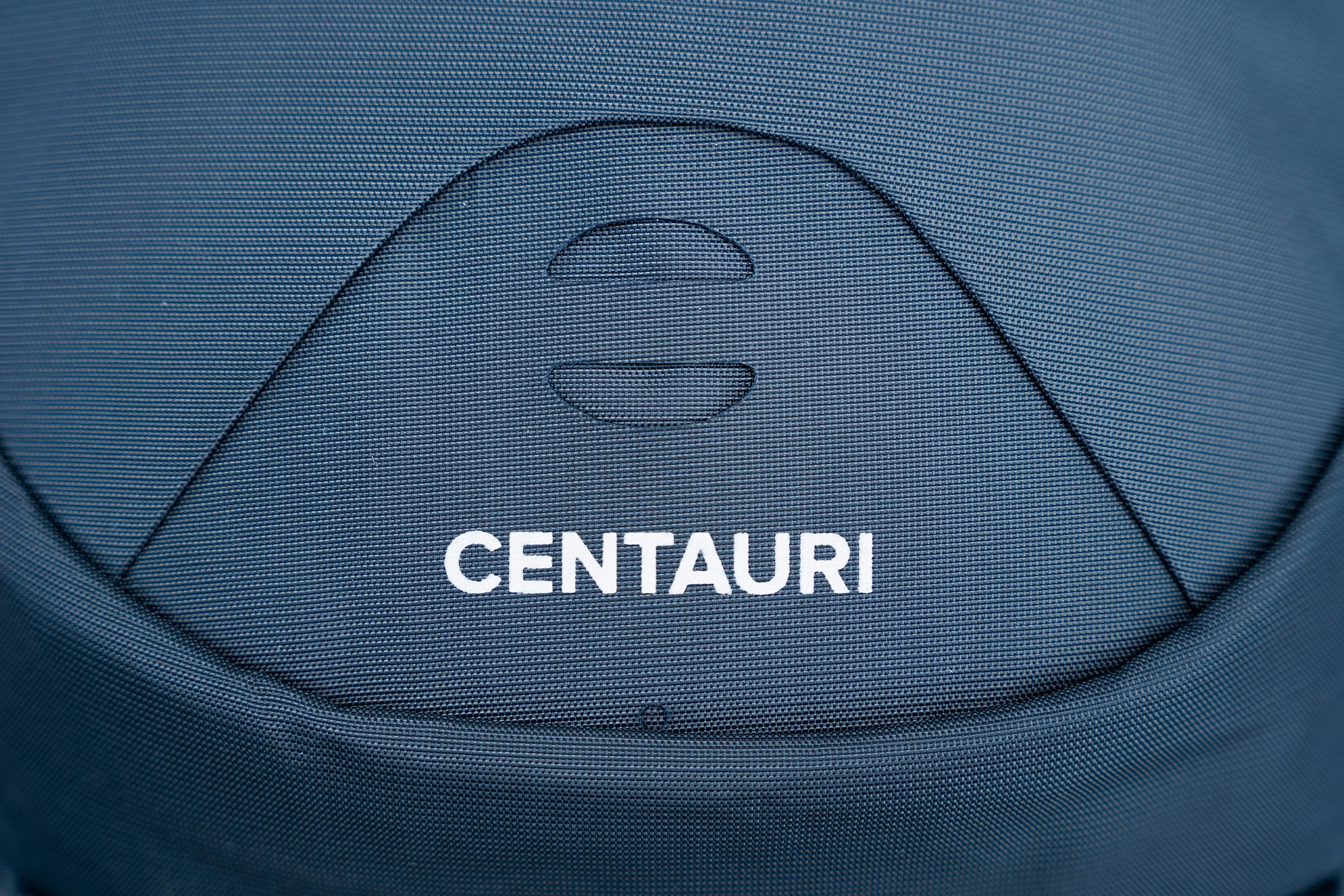 All of that said, the more you look at the Centauri, the more you notice that Osprey held back a bit in terms of exterior features. It doesn't have a ton of extra straps on its sides for compression, no extra mesh pockets at the front, and no LidLock helmet lock as well. That may disappoint some who're looking for the usual Osprey treats, but it does mean fewer distractions and a better focus on the core features of an everyday commute backpack.
Among these core features are the water bottle pockets to the side and the beefy top handle. These are particularly important since long commutes tend to be tiring, and we certainly could use a handy spot for our water bottles and a relatively comfortable handle to hold for lugging the Centauri around.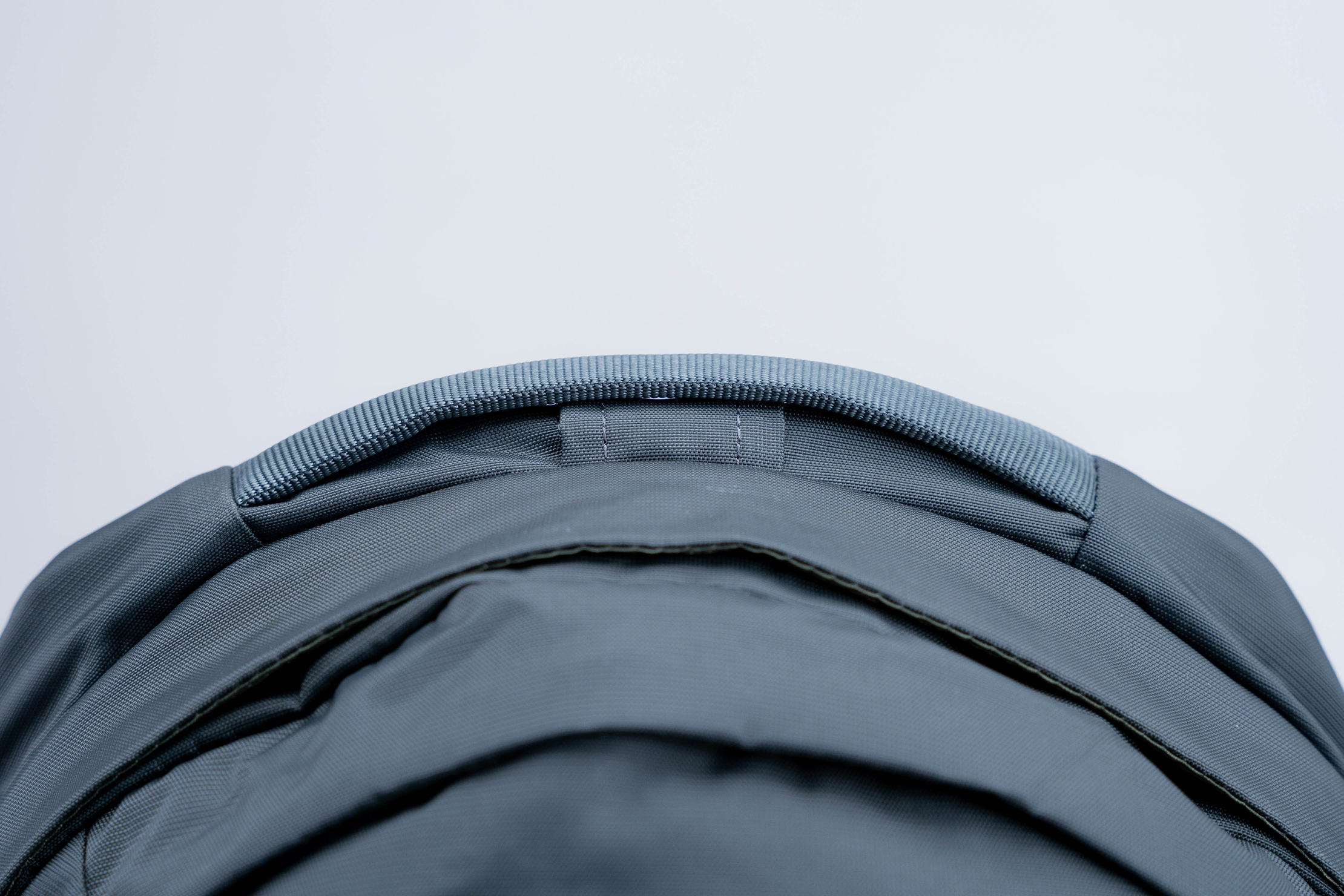 The water bottle pockets don't have any fancy snap fasteners or cinch cords for securing bottles. Instead, it's just good 'ole fashioned elastic that's keeping our 18-ounce Hydro Flask in place. The pockets' depth and the elastic's strength are enough, for the most part, but bottles can still fall out if the bag's tipped over.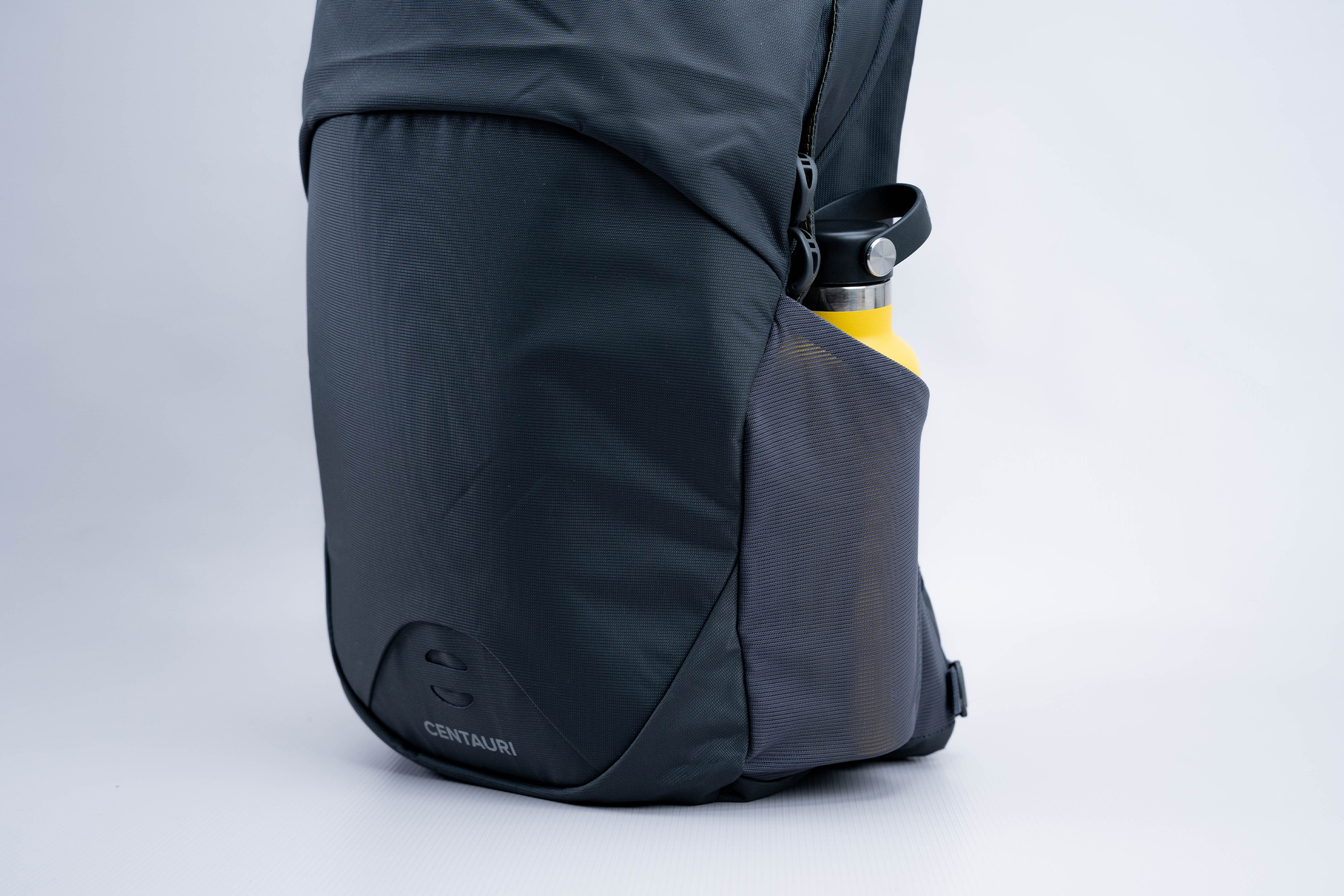 The zipper pulls are the ring type that are easy to pull on with your finger. They may not look as clean as straight pulls, but they more than make up for it in ease of use. In situations where you might have slippery hands, these rings are easy to pull with your fingers. Plus, they're arguably much easier to find in the dark.
Now let's talk about the harness system. If you're feeling a bit deflated that there are not many gadgets to play around with along the exterior, then you'll be delighted to find some here. You get a pair of densely padded shoulder straps, their undersides covered in mesh. Apart from an included sternum strap, Osprey deems it necessary to include a waist strap as well. These two inclusions are, in all honesty, overkill for the Centauri, as we'll explain later in the Fit Notes section.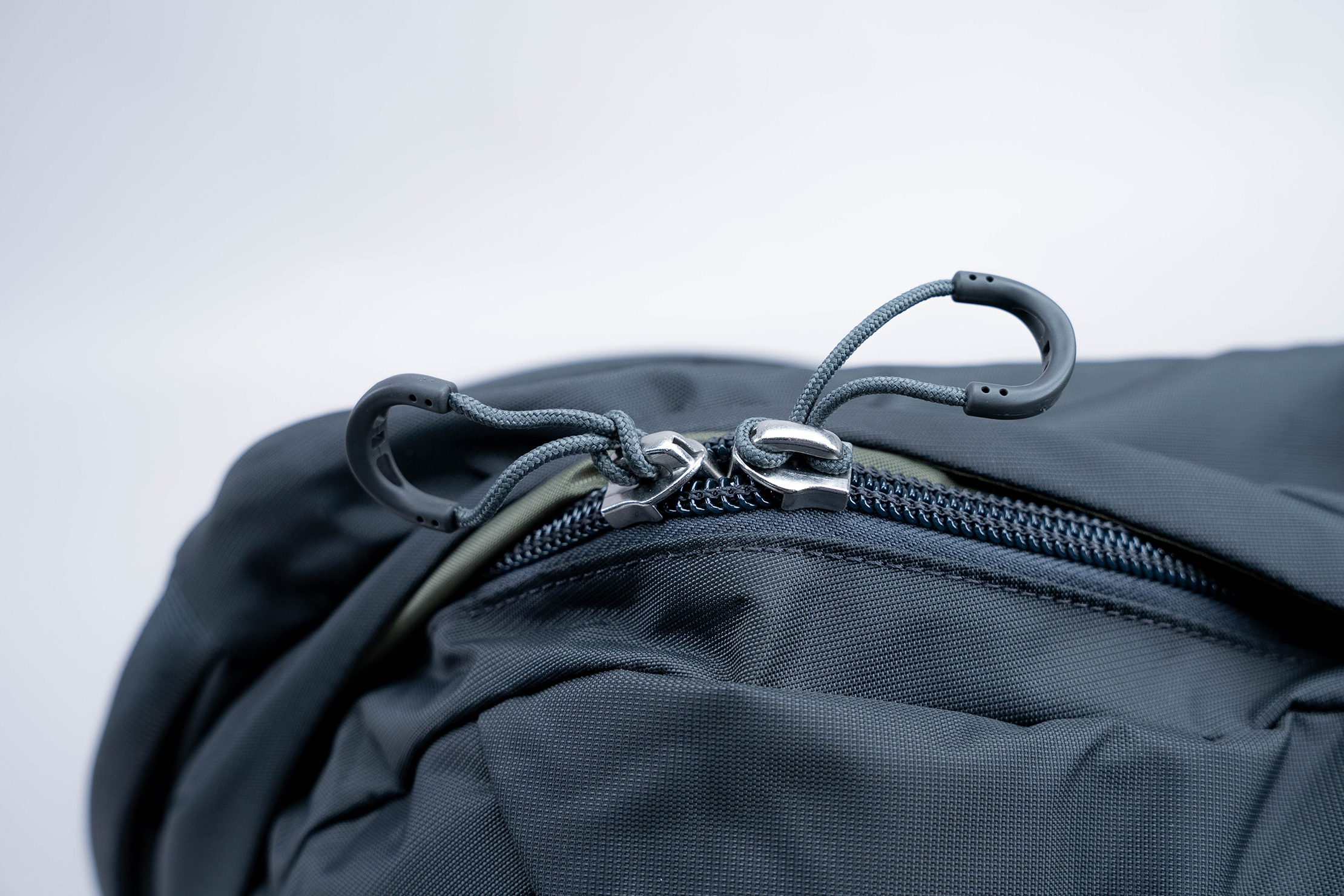 The shoulder straps are well-shaped, curving down and flowing to the back purposefully. You also get an elastic loop on each strap where you can hang an accessory like a carabiner or a luggage tag. Meanwhile, the sternum strap is the sliding kind, which we dig, and includes a nifty little whistle. Unfortunately, there's no strap keeper to keep the extra slack in check. The waist strap also lacks strap keepers, and this omission can make the harness system look somewhat messy.
Fortunately, since the Centauri isn't as laden with extra straps (like compression straps) as its other Osprey siblings, the dangly looks are kept to a minimum. In case you're wondering, the sternum isn't removable. You can technically remove the waist strap by feeding the strap through its adjusters in order to remove it. However, this is too much work to do often, and you'll be better off just buckling the strap and cinching it down flat against the back panel or removing it once and leaving it off for a while.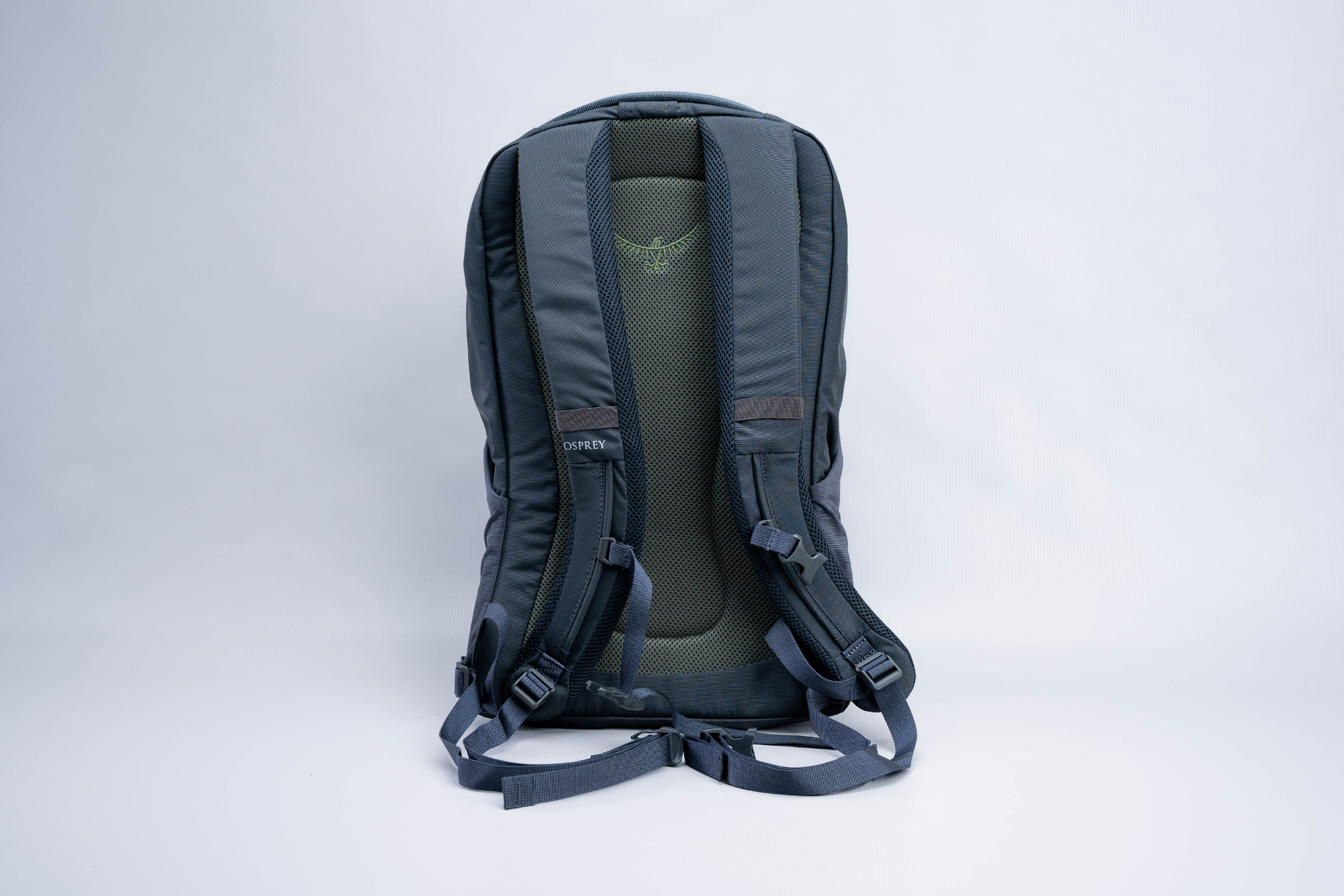 As for the back panel itself, its whole surface is covered in the same foam and mesh as the shoulder straps. There are no major air channels, though breathability doesn't suffer. Keep in mind that regardless of mesh or air channels, a sweaty back is inevitable if you're in a hot enough place. Meanwhile, the frame sheet has a good balance between flexibility and rigidity, allowing it to contour to your back without compromising the Centauri's structure.
Fit Notes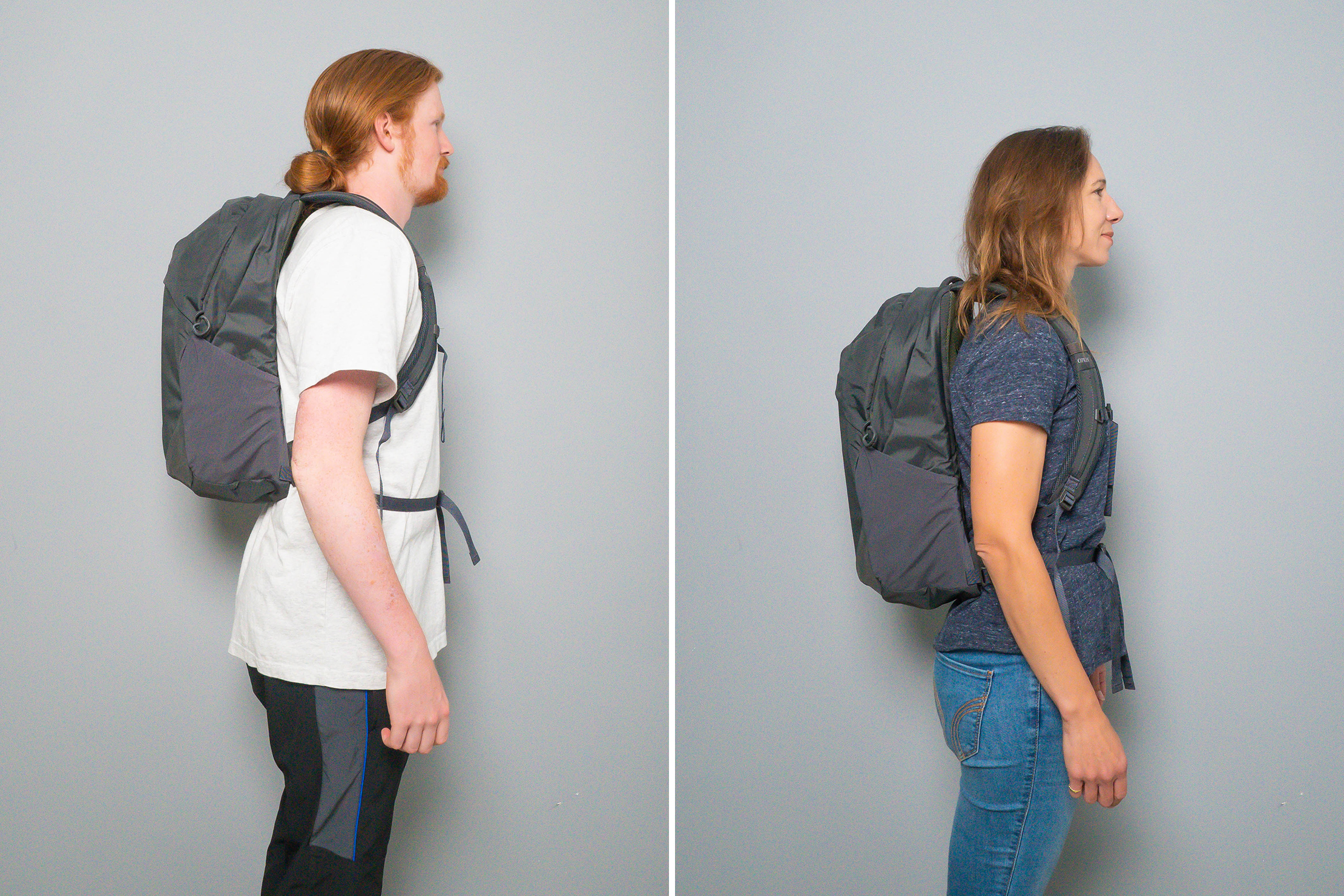 Even though the Centauri comes off minimal with its exterior features, its harness system is quite decked out. The only real missing feature Osprey could throw in here would be a pair of load lifters. However, we think that would feel just as overkill as the sternum strap and waist strap, so we don't miss it here.
The carry is well-balanced, putting most of the load close to your back. There's none of that sagginess you get with loose harness systems. Just a few tugs on the shoulder straps' slack got us an ideal adjustment. The aforementioned curved shape also contributes to the tight and well-integrated feel of the fit. Putting on either the sternum or waist straps net us a smidge of extra tightness, but it's not worth the extra work of having to take them off eventually.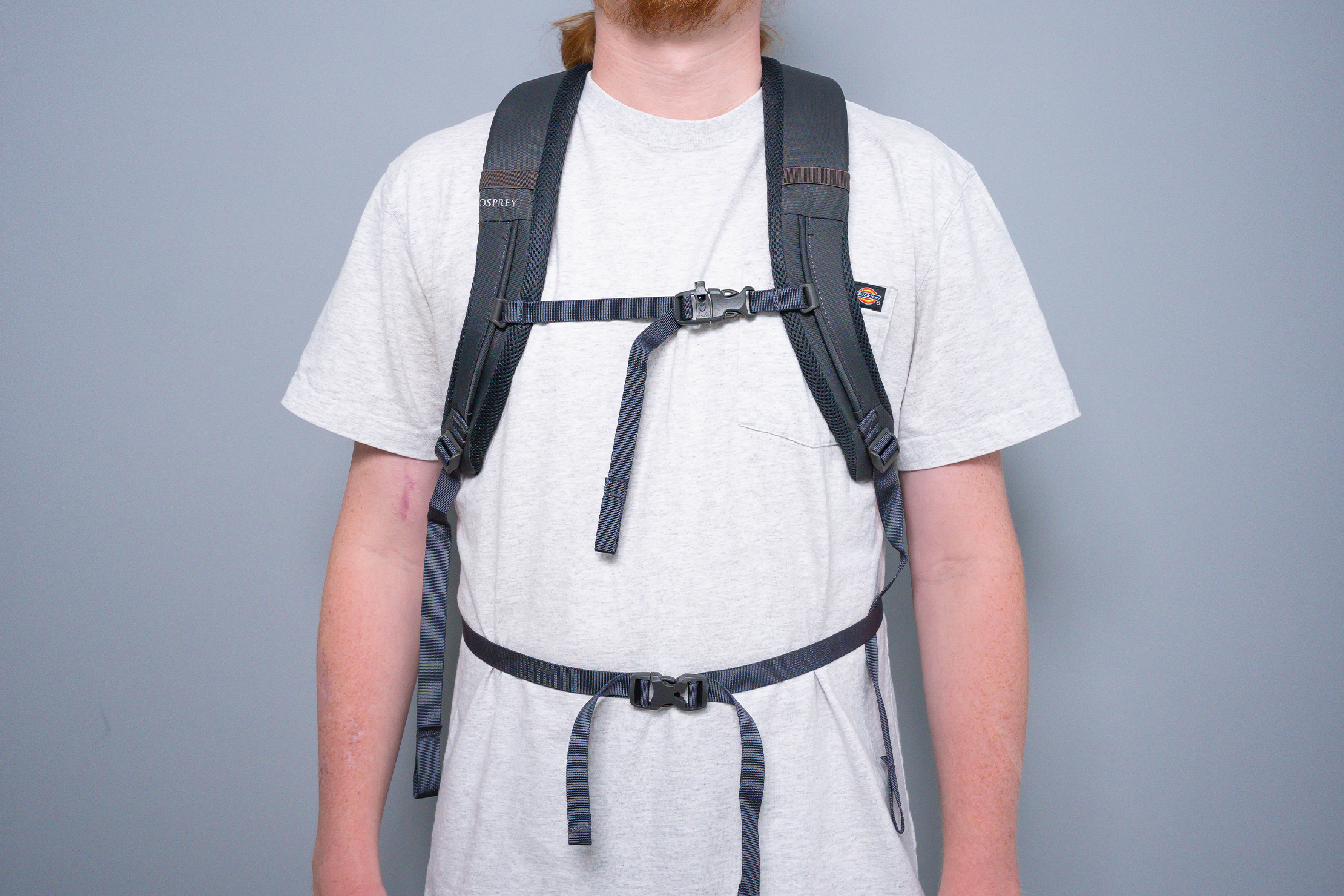 Admittedly, the fit isn't entirely comfortable for every body type. The consensus among the Pack Hacker crew is that a noticeable amount of weight is placed around the traps (that's the trapezius). This can give the Centauri's fit a somewhat stiff feeling, which is compounded by the bag's out-of-the-box condition. Only time will tell if the foam, and the harness system as a whole, will wear in more softly the more we use it.
For context, even with a semi-packed-out load, including two filled water bottles, spare clothes, and merch, the Centauri didn't feel tiresome to carry all day. We do note that because of the mesh's rough texture, it's not a particularly comfortable bag to carry if you're wearing a tank top. Otherwise, we can safely conclude that the Centauri has good balance and tight fit, though it can be perceived as stiff as well.
Inside The Backpack
Before we get started on the Centauri's secondary compartments, we'll preface this by briefly talking about Osprey's other backpacks. Backpacks such as the METRON, Radial, Nova, and even the 10-liter Arcane Small Day, all have more than one secondary pocket. In the case of the latter-most example, it has a small mesh pocket on its left shoulder strap that's convenient for commuting purposes since it can be used to store transit cards or coins separately from other gear. In short, having more than one secondary pocket lets you organize quick-grab items easily.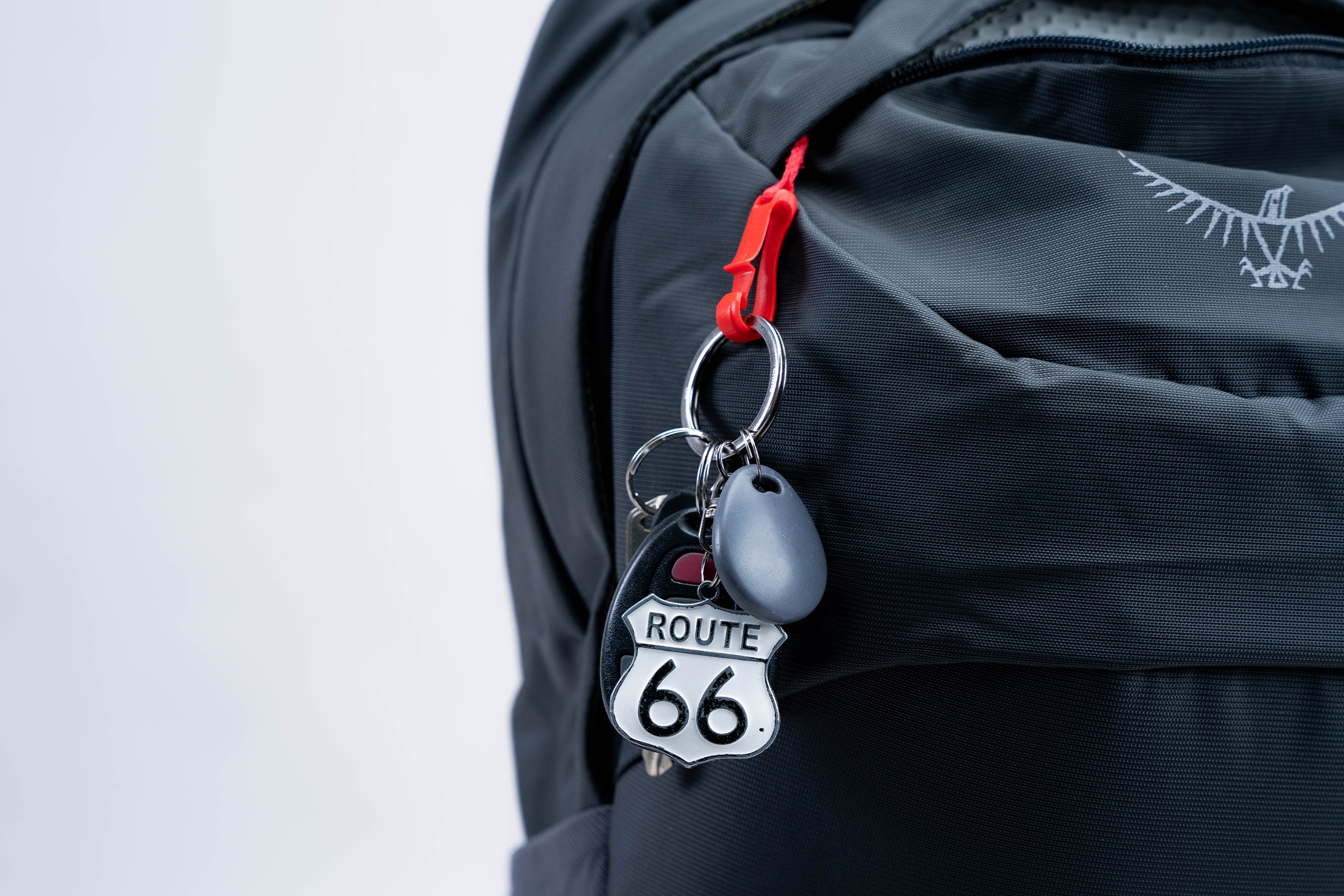 The bad news is that the Centauri only has one secondary pocket; the top pocket. This makes it a sort of catch-all for everything we need quick access to. A power bank, pair of sunglasses, keys, coins, thumb drives, you name it.— it all went in here. Space isn't a problem per se; however, it's not really ideal to mix all that gear in one place, especially when it involves easily scratched items.
But by far, our biggest gripe about the top pocket is the built-in key leash. The clip Osprey uses here is very plasticky and doesn't fit the Centauri's overall excellent build quality and materials. To be fair, it gets the job done holding onto our keys, and it's easy enough to disengage. That said, we wish Osprey could've made it feel more up to par with the rest of the bag.
Moving onto the main compartment, the opening has a fabric welt that runs relatively tightly against the zipper track. On the one hand, this is good since it means better protection against dirt and rain. On the other hand, this makes zipping up the main compartment particularly tricky because the welt catches on the chunky #10 YKK zipper. Over time, we just developed a habit of folding over the welt so it doesn't get in the way, though this does slow down access.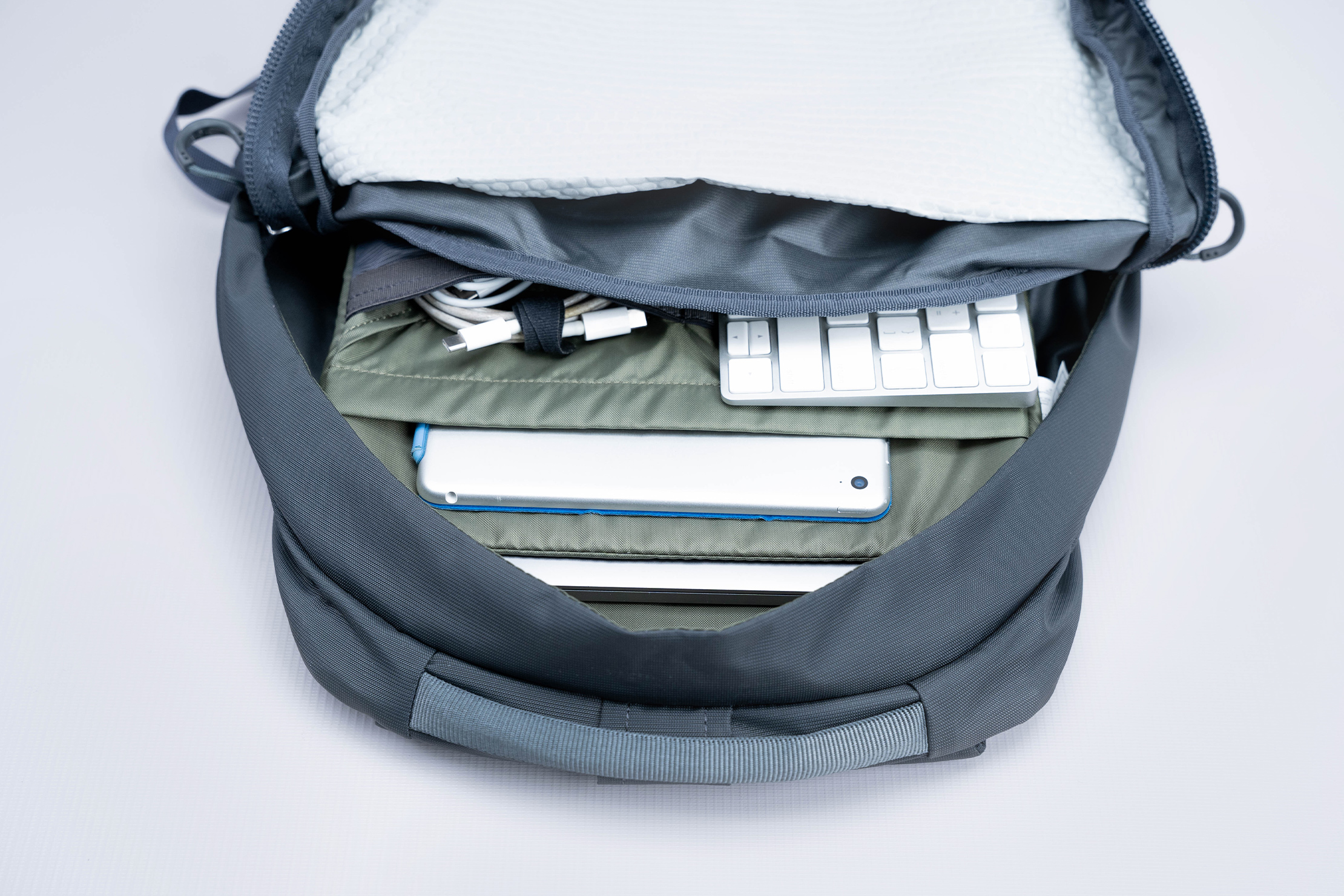 Once you get past the zipper, however, access is mostly unhampered. We notice how Osprey ensures that the top pocket doesn't sway around inside like a loose pouch. Its sides are stitched to the front so that it's fixed while retaining the pocket's independent volume.
The interior is mostly empty space, making it ideal for packing cubes, pouches, and similar organizers, though loose gear will stack just as well. You get two mesh pockets, a tablet pocket, and a laptop sleeve as a means of organizing your gadgets. We were hoping for more, given that there's only the top pocket to work with on the outside. However, this is all you really get with the Centauri, meaning extra pouches are almost a necessity.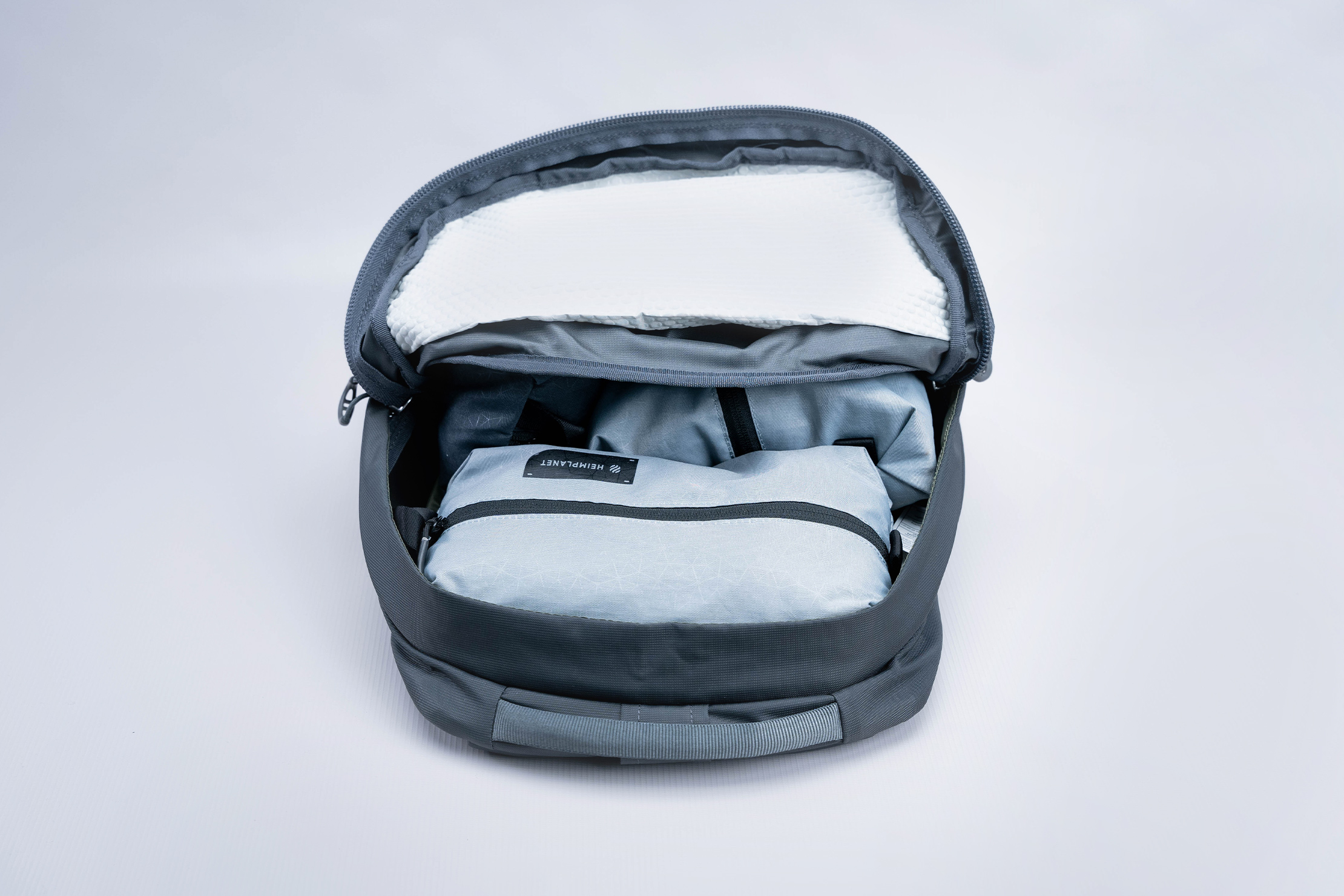 The built-in organization is enough for a travel mouse, keyboard, charger, 16-in laptop, and a cable or two if you're willing to stretch the relatively tight mesh pockets. The official specs say that the laptop sleeve can take a 15-inch laptop, but we've since confirmed that our 16-inch MacBook Pro fits as well. There is a false bottom, meaning that there's an air gap between the bottom of the laptop sleeve and the base of the bag. Coupled with the Centauri's fairly rigid frame sheet, it makes for decent protection versus minor drops.
On that note, despite the Centauri's tall proportions, it can stand on its own. This means you can easily prop it up next to you while you're waiting in a coffee shop or at a bus stop without leaning it against a chair leg. This is a plus for main compartment access as well since you won't have to hold it up with one arm and reach in with the other; you can reach in with both arms this way. That will be necessary sometimes since bulky gear tends to stack on top of each other in the deep space of the main compartment.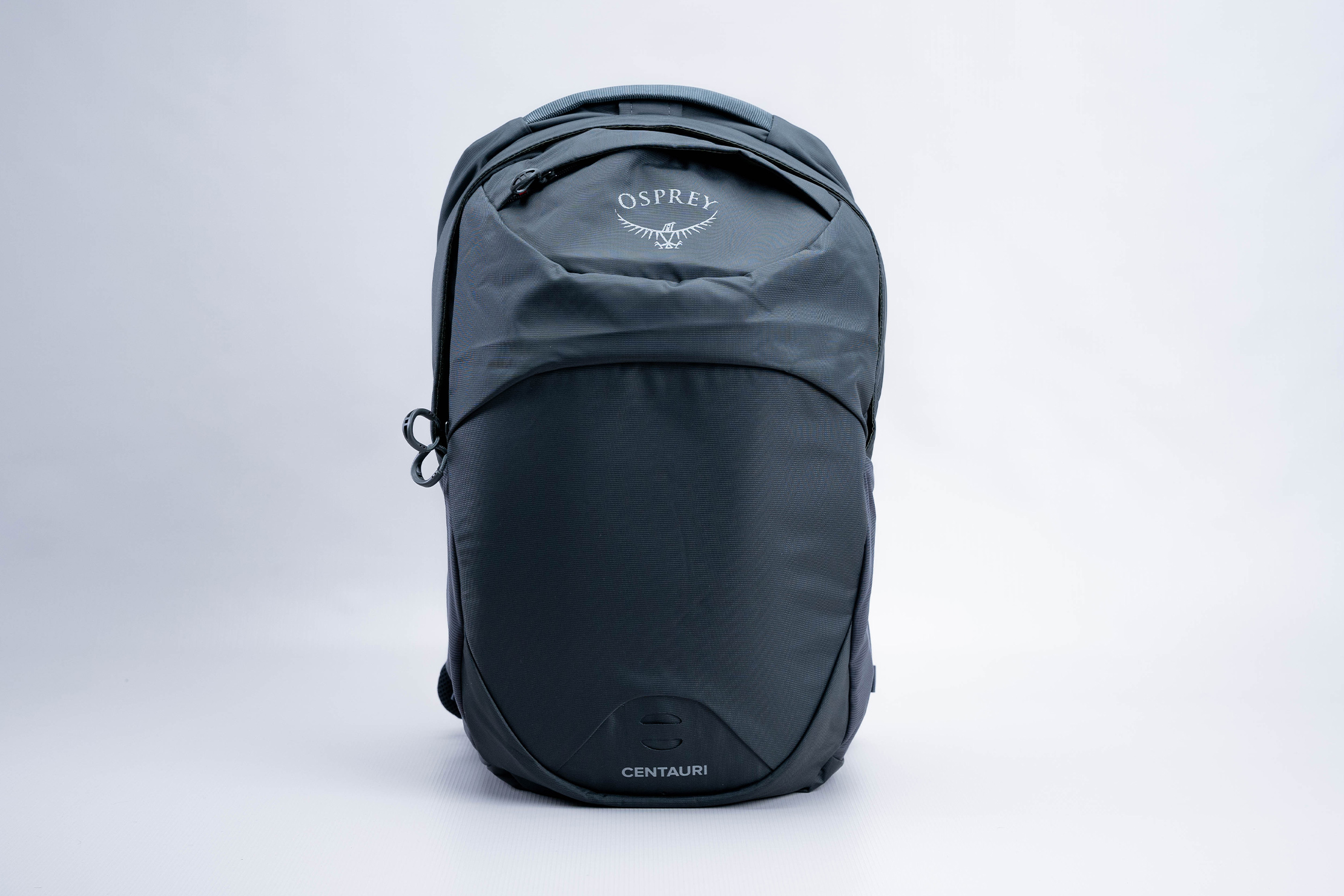 Osprey clearly has the ergonomics of their harness system nailed down, save for the stiffness we felt in certain areas. Some people may like the tight feeling, and others may not, but how well the weight is balanced is evident. However, we really do wish that, since it's marketed as a commuter backpack, it has more in the way of secondary pockets. The Centauri comes off as minimal in that regard, and it'll work for those who are also keeping with the minimalist lifestyle.
Usage Timeline
Initial Usage
Condition: Excellent
The welt along the main compartment's opening seems tight
Surprisingly restrained in terms of number of pockets and straps
Harness feels a bit stiff, but that should wear in over time
2 Weeks of Use
Condition: Excellent
Harness system's stiffness hasn't completely gone away; it makes for a tighter fit, but other users may not find that to their liking
Plasticky key clip stands out as the bag's weakest part
Really wish it had more secondary pockets for quick-grab gear
Access the Pro Community Discussion
Get your questions about the Osprey Centauri answered from our team and the Pro Community right here on the page. Plus, join discussions with other members about gear, guides, and more.
Other Bags & Luggage Reviews