NOMATIC Access Pouch Review
NOMATIC's 0.4-liter Access Pouch is optimized for carrying slim everyday carry gear and easily goes from standalone pouch to sling with its removable strap.
Our Verdict
Unlock the Pro Summary
Save time. Get access to brief summaries of our reviews so you can browse and make decisions more efficiently.
Pros
Slim design is easy to carry
Works both as a pouch and sling
Wide opening courtesy of gussets
Cons
Lacking in horizontal depth
Getting to gear at the bottom is tricky
Thin strap sits close to the neck
Recent Pack Hacker Video
Technical Details
100 %
Carry-on Compliance
Capacity

0.4l

Weight (lb)

0.25 lb (0.1 kg)

Denier

1680D

Dimensions

5 in x 7.25 in x 0.75 in (12.7 x 18.4 x 1.9 cm)

Notable Materials

Ballistic Nylon, Polyester

Manufacturing Country

Vietnam

Warranty Information
Full Review
Get up to 20% off NOMATIC • Join Pack Hacker Pro
Telling the difference between a sling and a pouch can be tricky. The two types converge easily once you realize that taking the strap in or out of the equation gives you either one of them. That's not really a problem, though. If we can have both, why not? We'll choose versatility over semantics any day of the week.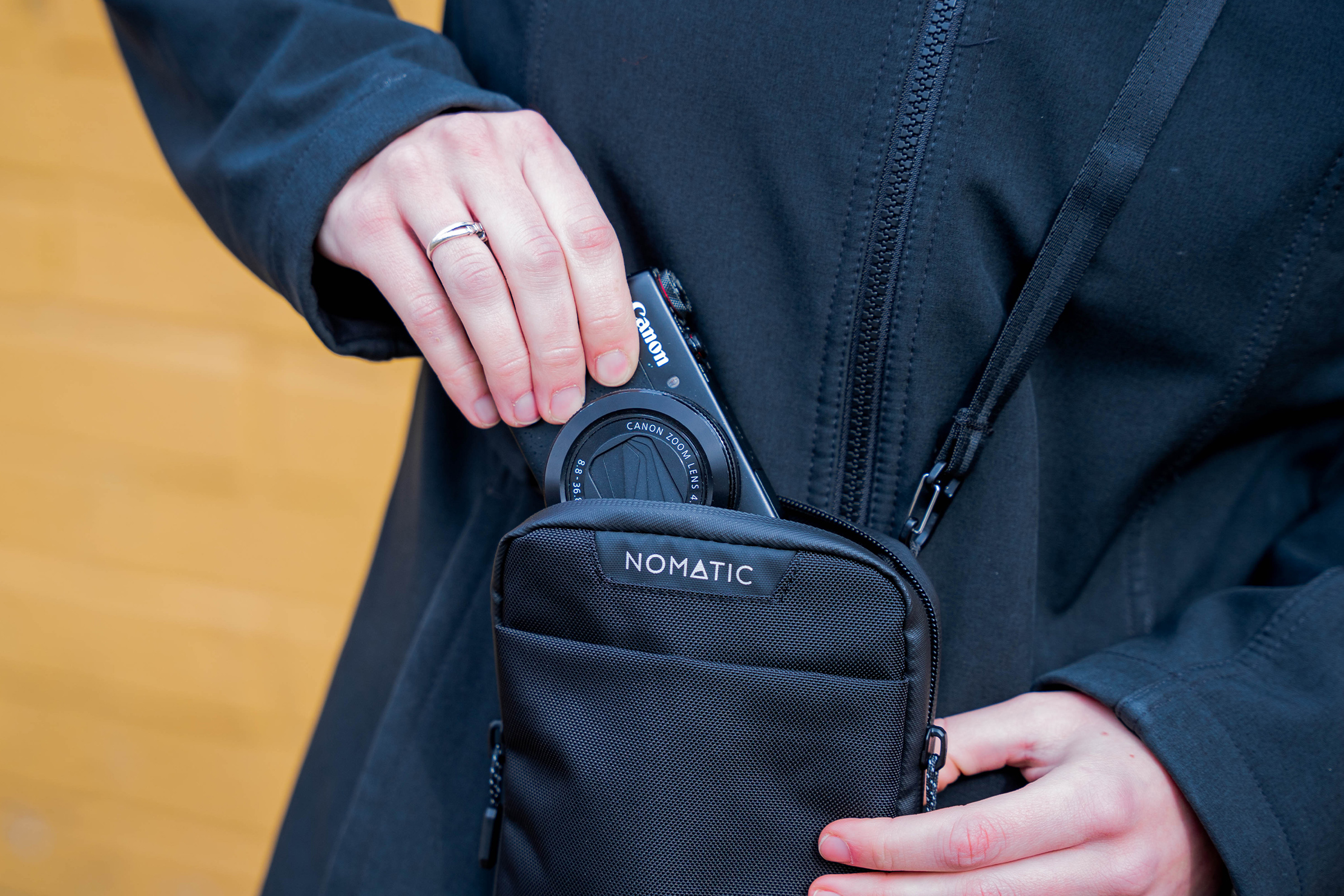 NOMATIC's Access Pouch is one such bag that can do both. However, the slim design limits its carrying capacity. If you've read our review of The North Face Bozer Cross Body, the Access Pouch is even smaller than that (a fifth of the rated capacity, to be exact). So if you're looking for something in a small size range, the Access Pouch may just be right up your alley. But before you make up your mind, let's take a detailed look at what this 0.4-liter pouch/sling has to offer.
Materials & Aesthetic
For a pouch this petite, the folks over at NOMATIC sure didn't hold back on the materials. It's made with 1680-denier ballistic nylon and 420-denier nylon. Those are some pretty heavy hitters, right in the same ballpark as something like Aer's Travel Pack 3. Fabrics like these are quite abrasion-resistant, which makes sense to use on big bags more likely to suffer abuse. We're not saying it's inappropriate to use on a small pouch, just a bit overkill.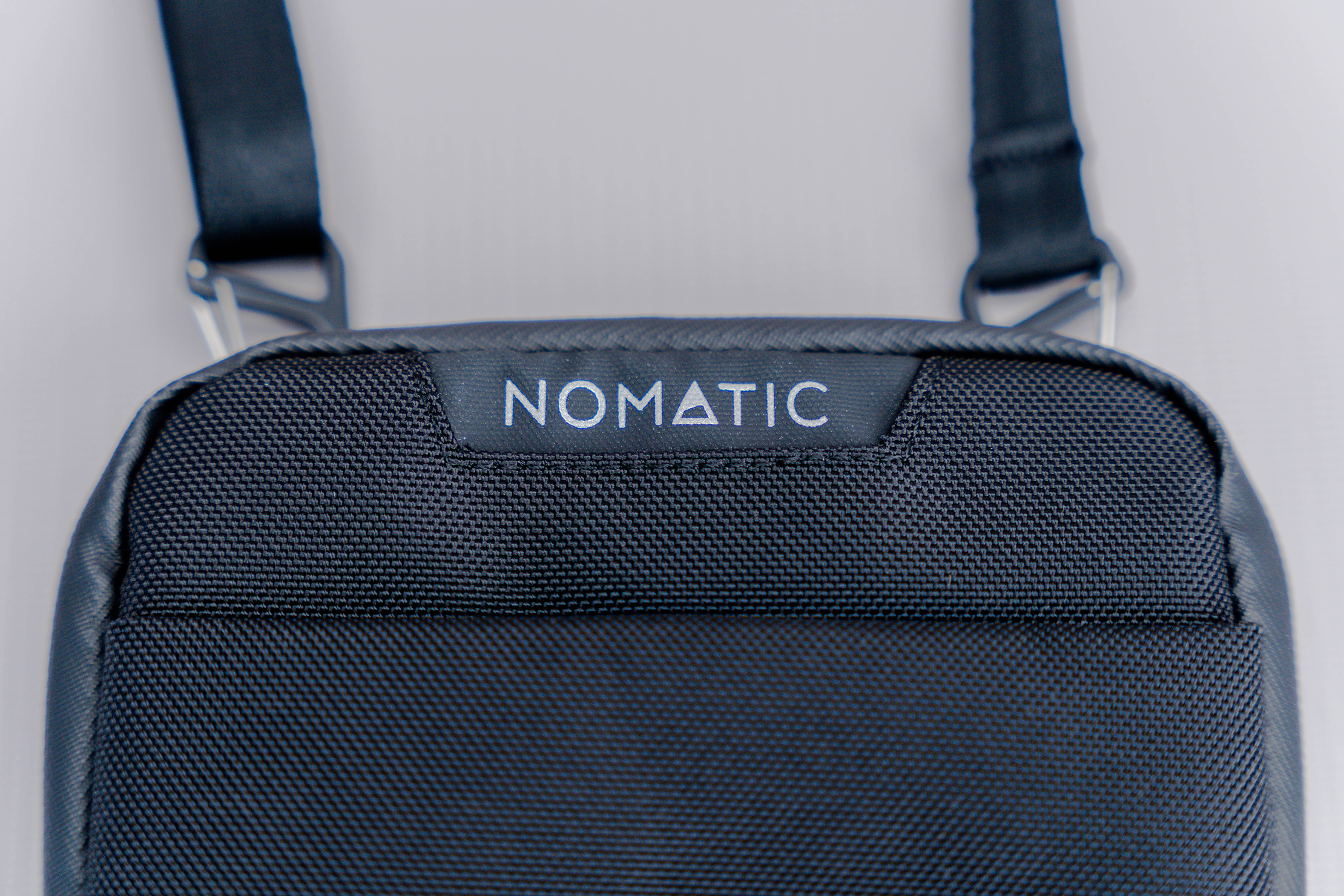 Regardless, the fabrics don't harm the looks. The Access Pouch sticks to NOMATIC's sleek, all-black design language. It's not quite on the same level as the Navigator series, though; those look more futuristic. That said, at the Access Pouch's size, we think this more tame style suits it better.
If we had one specific nitpick, it's the logo at the front. We think it stands out a little too much against the Access Pouch's black fabric and small size. The Navigator Tech Organizer handles this much better with its slightly darker logo, and so does their McKinnon Camera Pack 25L with its all-black logo (though that last one is a collab with Peter McKinnon, so the logo is also a mashup). Still, a nitpick is a nitpick, and it doesn't affect the pouch's functionality.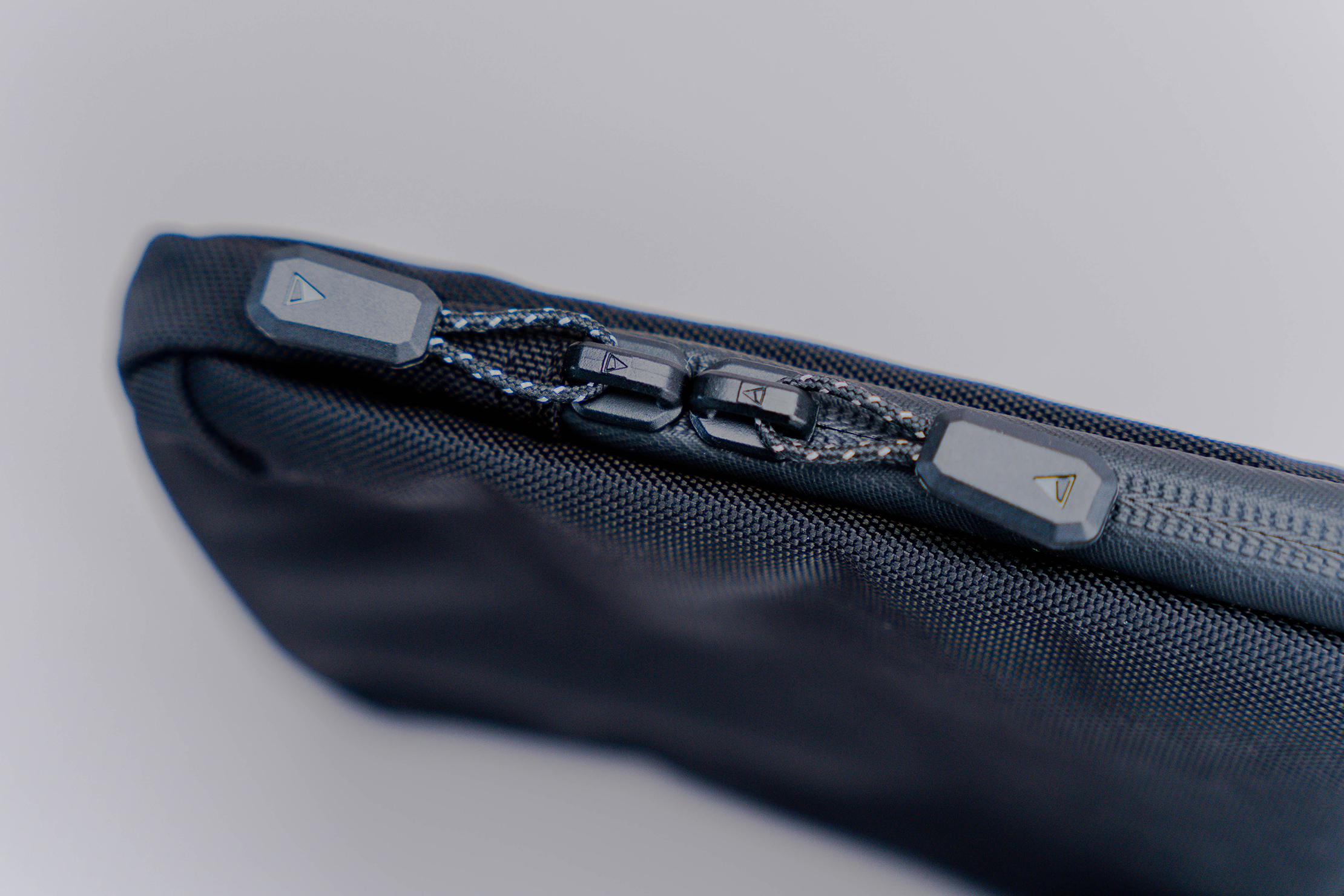 The zippers and hardware are all unbranded. Whenever we're confronted with such, we're usually skeptical about how they'll perform in day-to-day use. Fortunately, the zippers, clips, and adjusters have all performed without issue since day one. They also feel robust, particularly the AquaGuard-like zippered opening of the main compartment. Despite the stiff-looking zipper elements, the zips smoothly go around the corners.
Whereas the outside of the Access Pouch is heavy denier nylon, the inner material is soft 150-denier polyester. It's gray too, so visibility isn't bad; much better than other pouches with all-black interior aesthetics.
Usage & Features
There's nothing much on the outside of the Access Pouch. Save for the pockets, the most noteworthy feature here are the small nylon loops at the back where the included sling strap attaches. It goes without saying, but going from pouch to sling mode really is as easy as attaching that strap.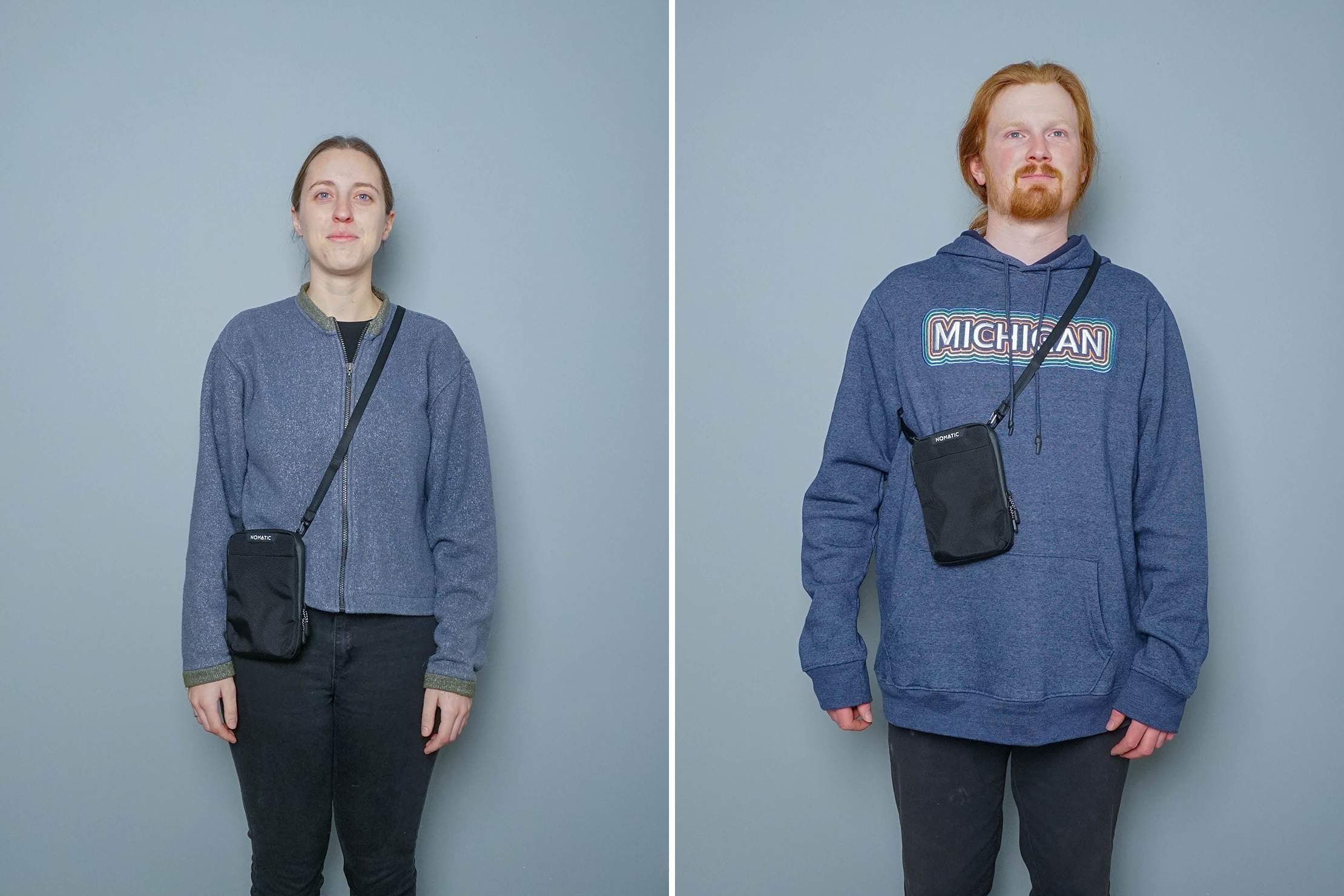 Other than the removable strap, the Access Pouch doesn't have any other means of carrying. You can, of course, clutch it by hand, but we wish there was something more. For example, The North Face Bozer Cross Body has a low-profile top handle in addition to its sling strap. That said, the Access Pouch is small enough that a handle is arguably not necessary. And anyway, we prefer carrying it as a sling most of the time.
The included strap doesn't look like anything special. It's a thin, length-adjustable strap that's proportional to the pouch's size. It's made out of a very slick, seatbelt-like material that's also soft. Each end has a carabiner-style clip that attaches to the aforementioned loops on the back of the Access Pouch. The good thing about these clips is that they're relatively well-built, and the metal gates have held up throughout our testing.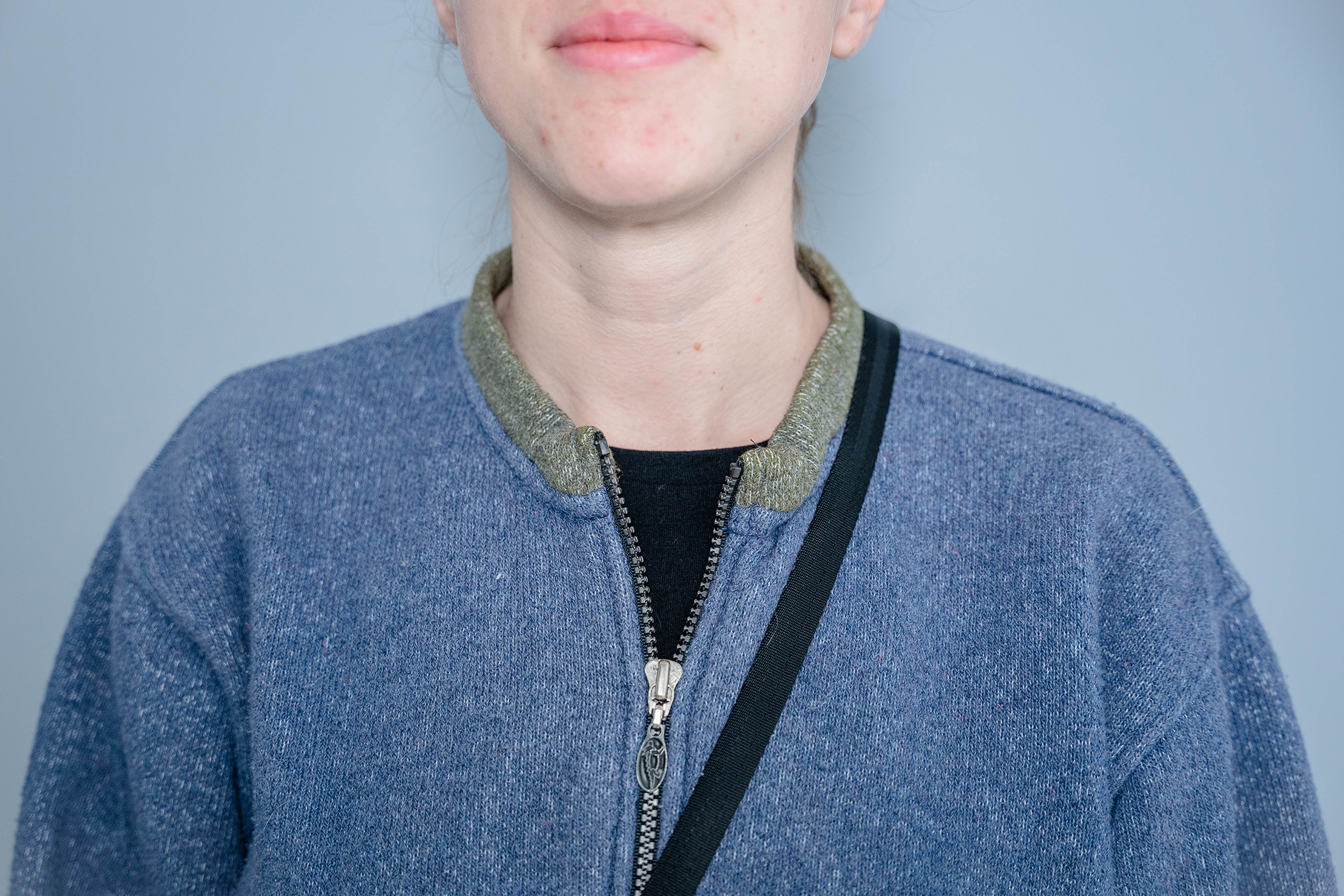 When it comes to carrying comfort, the thin strap does surprisingly well. Conventional wisdom would suggest that a thinner strap concentrates weight over a smaller area, therefore increasing pressure. But because—and again we're coming back to the subject of size here—of the Access Pouch's small capacity, it doesn't really get heavy enough for that to be an issue. However, the strap tends to slide towards the neck, which is the part that bothers us most. Is it a deal-breaker, though? Not really.
The good news is that since the strap is completely removable, you can opt to use your own. The only real limit is whether your strap of choice will thread through the fairly small nylon loops. But, if size permits, you can go crazy and experiment with something as beefy as Tom Bihn's Absolute Shoulder Strap—an absolute unit of a shoulder strap. That said, anything larger than the included strap from NOMATIC is a bit overkill, as the pouch won't get heavy enough to warrant the extra cushion.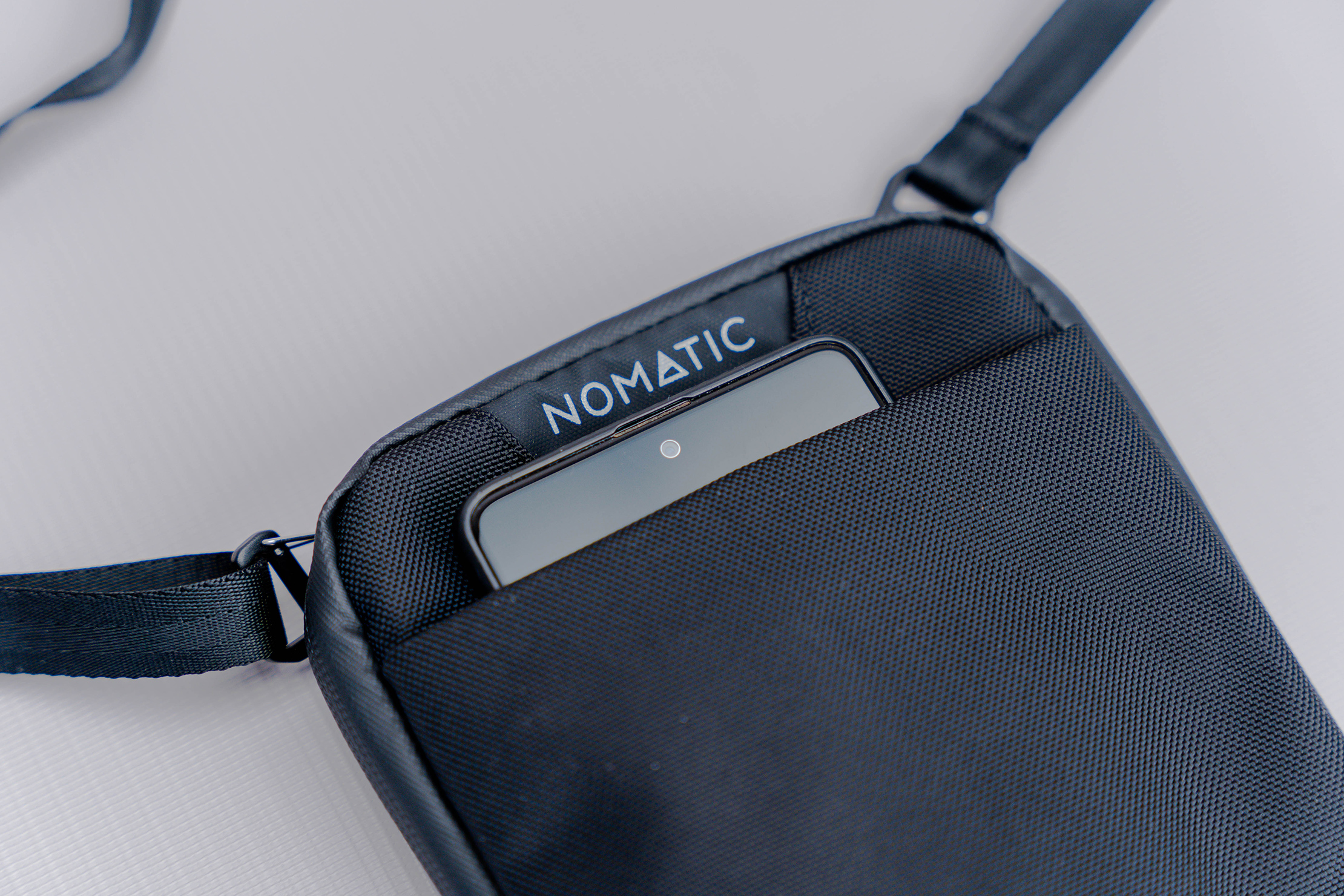 Let's talk about the pockets next. At the front of the Access Pouch is a simple slip pocket, perfect for quickly stashing your phone while you're busy juggling groceries or handling bigger luggage. This pocket handles most of the quick-grab duties of the Access Pouch. Other items we'd want to keep in here include sunglasses, pens, transit cards—basically anything we'd want in a pinch. Keep in mind the pocket isn't sealed, so rainwater can still get inside.
Meanwhile, the RFID-safe pocket around the back, is quite secure. Not only is it safe from card skimmers, its zippered opening is a reverse coil type, meaning it's fairly water-resistant as well. However, it's not too big in terms of space. It's more or less designed as a dedicated pocket for sensitive passport-sized travel documents and cards. In fact, the width of the opening is about the same width as a passport.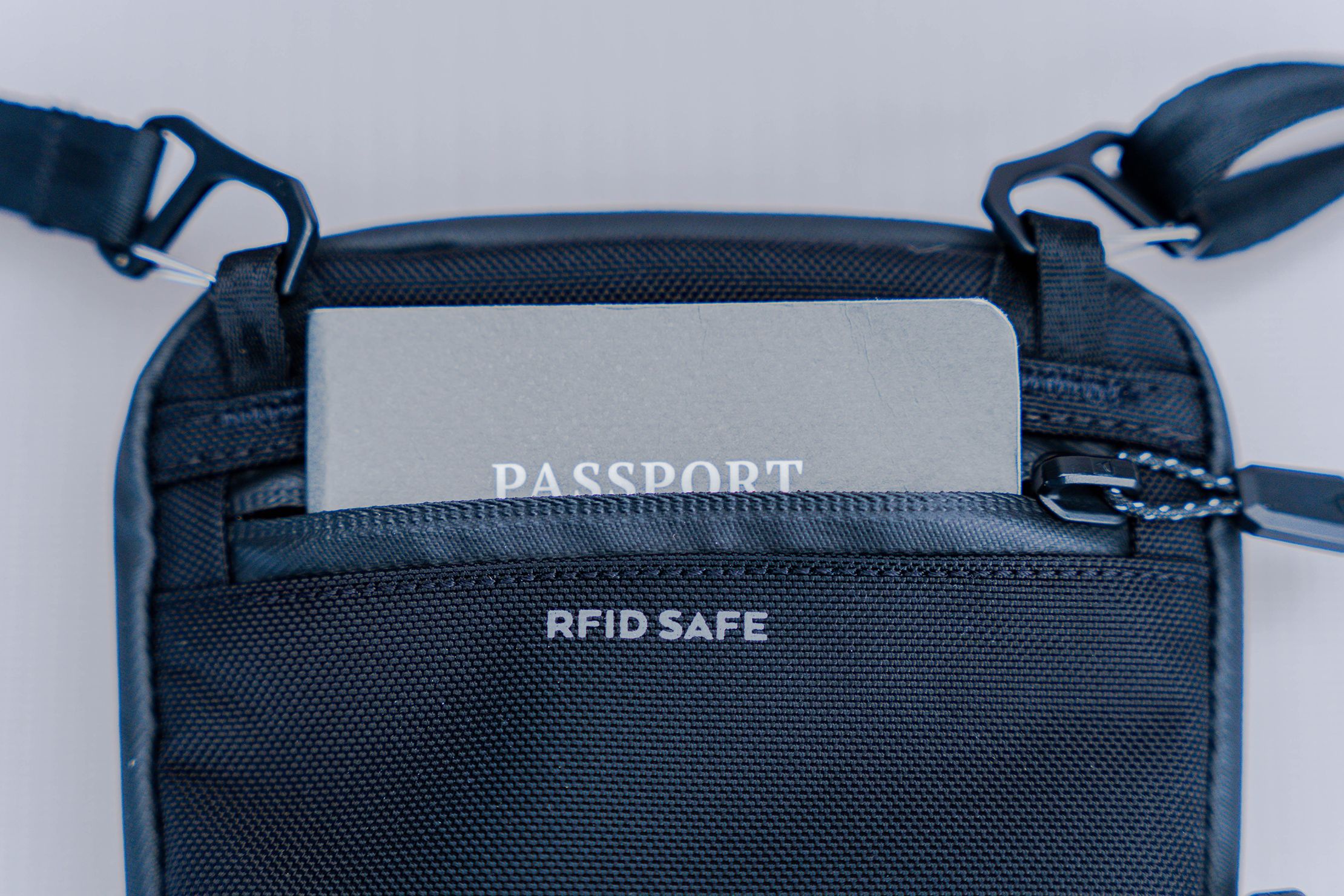 Anything else bulky has a home inside the main compartment. It unzips horseshoe-style, but the zippers start and end further down the Access Pouch than we'd expect. The zippers only stop about an inch from the base; any more, and this would be a clamshell-style opening. Even so, there are wide gussets that stop it from fully unraveling.
Because the zippers are located much further down, we sometimes have trouble reaching for them in sling mode. It's a bit of a quirky issue, but again, it's only a fairly minor one at best.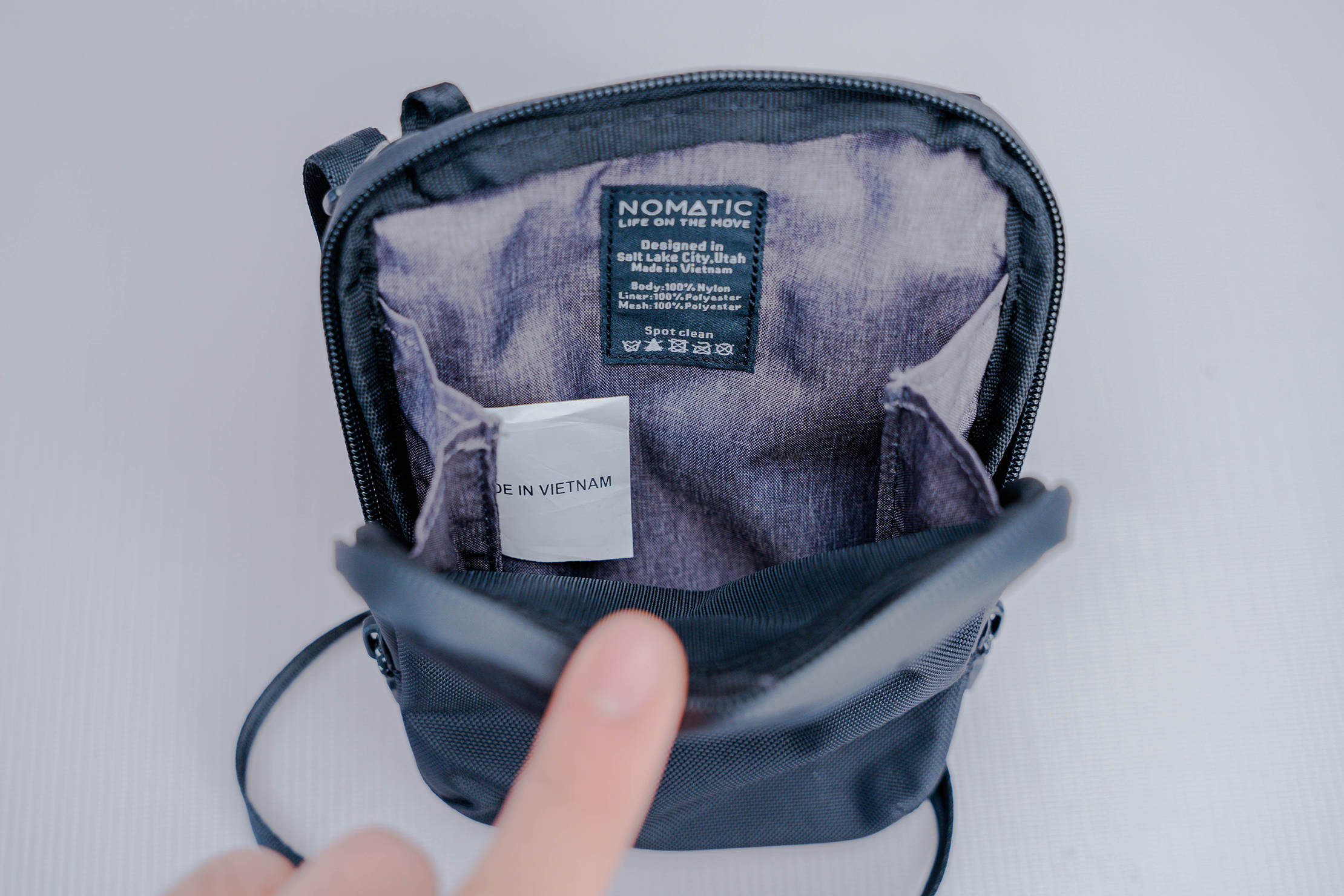 Once you get over the impressively wide opening, it becomes clear that the space inside the main compartment isn't really all that much—again, it's a 0.4-liter pouch. The space is most optimal for items you can stack side by side, like a compact wallet and a smartphone. On the other hand, stacking items on top of each other makes for tricky accessibility. For example, if we have our wallet below our keys, getting to it means taking both items out first. For those wondering, there is, unfortunately, no built-in key clip.
There's also a mesh pocket at the front side of the main compartment. It's a simple drop pocket great for small accessories like USB thumb drives and adaptors—this is where we put our ChapStick alongside a pack of gum. It's fairly deep, going about two-thirds into the depths of the compartment, so you're not strictly limited to very small items.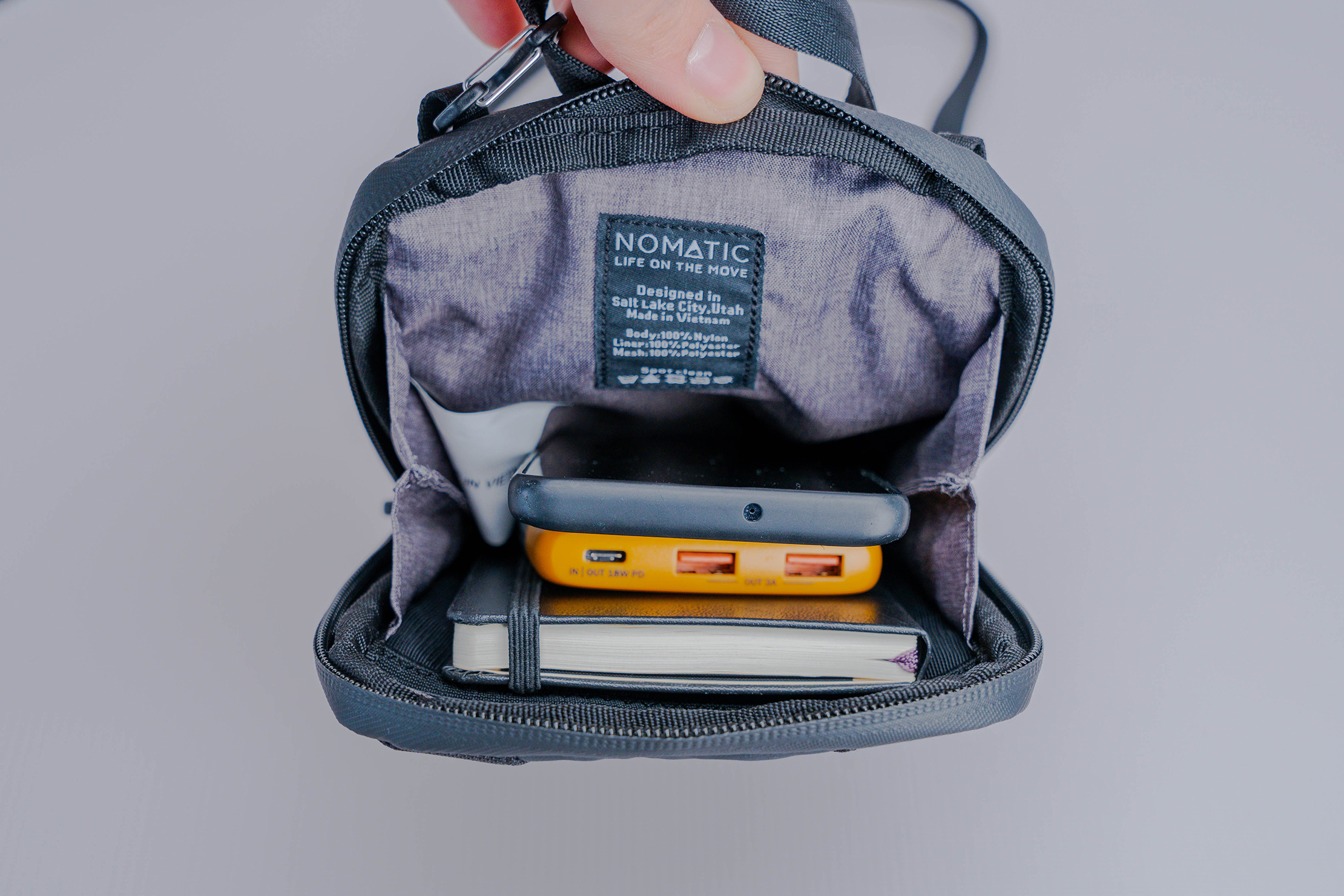 Because of the Access Pouch's slim design, all of the pockets' and compartments' volumes interact with each other. For example, bulk inside the main compartment affects the available space inside the front and RFID-safe pockets.
The Access Pouch's horizontal depth deficiency is something worth considering. It's not the kind of sling-pouch hybrid where you can just throw items in and expect smooth access—even with the wide gusseted opening. Some strategizing is required to make the most out of the features, organization, and slim design. That said, it's a great catch-all if you're an ultra-minimalist who needs a little more storage than a pocket can give.
Usage Timeline
Initial Usage
Condition: Excellent
Can be worn as a sling
RFID-safe pocket fits a passport near-perfectly
Gusseted opening helps accessibility
2 Weeks of Use
Condition: Excellent
Tall, slim shape is great for skinny items, but you need to stack the gear to keep the thin shape, which can make getting to things at the bottom annoying
Thin strap is surprisingly comfortable to wear, though it sits close to the neck
Removable straps if you want to use it as a pouch
Wide opening makes packing and unpacking easy
Access the Pro Community Discussion
Get your questions about the NOMATIC Access Pouch answered from our team and the Pro Community right here on the page. Plus, join discussions with other members about gear, guides, and more.
Other Bags & Luggage Reviews