NOMATIC McKinnon Camera Backpack 25L Review
The NOMATIC Peter McKinnon Camera Backpack 25L can look and feel rigid, but its clever design and organization make it a worthy option for photographers.
Our Verdict
Unlock the Pro Summary
Save time. Get access to brief summaries of our reviews so you can browse and make decisions more efficiently.
Pros
Customizable interior organization
Solid structure and protection for camera gear
Has twin fold-flat water bottle/tripod pockets
Cons
Lacks a smaller external quick-grab pocket
Structure makes it feel a little stiff
Thick shoulder straps can feel warm
Recent Pack Hacker Video
Technical Details
Capacity

25l

Weight (lb)

3.18 lb (1.4 kg)

Dimensions

19 in x 11 in x 8 in (48.3 x 27.9 x 20.3 cm)

Notable Materials

EVA, Zoom Zippers, Tarpaulin

Manufacturing Country

Vietnam

Laptop Compartment Size

16"

Warranty Information
Full Review
Get up to 20% off NOMATIC • Join Pack Hacker Pro
When we first looked at the ginormous NOMATIC Peter McKinnon Camera Pack 35L a while back, most of our impressions were related to its size. So much so that it genuinely took some effort from us to completely fill all the compartments it had dedicated to camera gear. Apart from the space, we liked the bag's overall build, device protection, and organization. But if you're like us, you might have wondered if there was going to be a smaller version.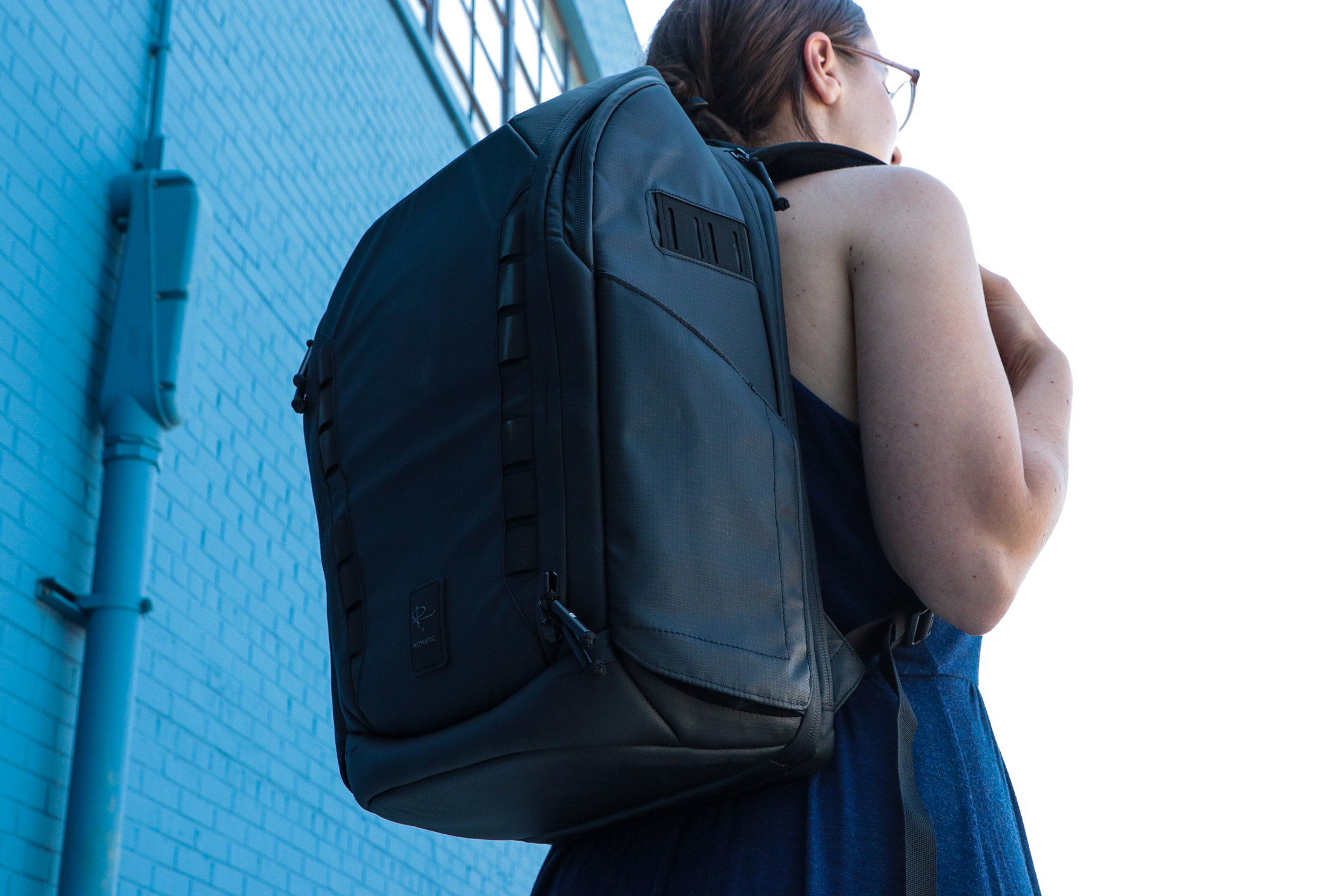 That's where the Peter McKinnon Camera Backpack 25L comes into play. The subtracted 10 liters make it more suitable for everyday use and lighter camera setups. It still packs in a lot of clever customization, most notably a new "Ladder System" plus some nice accessories you might be interested in. How does it all come together? Let's find out.
Materials & Aesthetic
If the Peter McKinnon Camera Backpack 25L looks familiar, then you've probably seen its big brother, the Peter McKinnon Camera Pack 35L. That was an absolute unit of a camera bag, and we still have fond memories of it swallowing our camera gear without breaking a sweat. For the most part, this smaller-but-still-big 25-liter version looks very similar to the 35-liter version, just a bit more shrunken down and more streamlined. The front is now cleaner to look at while retaining the array of mounting loops that flank each side, plus the Peter McKinnon x NOMATIC badge is pretty classy. Our pre-production review sample here has a front quick-grab pocket which, sadly, will not make it into the final product, so yours should look even cleaner than what we have.

Tarpaulin takes center stage once again, and for a good reason: it's very water-resistant. Water beads off effortlessly against this material, and it's backed up by water-resistant ZOOM zippers that glide along well thanks to the smaller size of the bag. The downside of tarpaulin is that it's more easily scratched than, say, nylon, but our sample here hasn't shown any major damage yet, apart from some tiny scratches near the top.
On the back panel is a generous amount of EVA foam—which we'll get more into later—and the panels are shaped sharply but in a good aesthetic way. The overall vibe here is solid and confidence-inspiring, which is what you want in a backpack whose job will be to carry thousands of dollars worth of camera gear.

At the time of writing this review, the Peter McKinnon Camera Backpack 25L is under a Kickstarter program. It is currently limited to just a black colorway with options for bundling with internal accessories such as dividers and open-top camera cubes. The Ladder System does come included with the base option, and we'll be taking a look at that plus some other accessories down in the later sections.
External Components

Camera gear can get heavy relatively quickly, especially if you live and breathe photography and love adding gear to your kit. The good news is that the Peter McKinnon Camera Backpack 25L is more than capable of handling such a load with its robust harness system. Just a look at the braided edges gives you the impression of how beefy these shoulder straps are. The outer portion is layered with the same tarpaulin material as the body, so it's covered against rain too.
Underneath is a mesh material that keeps things cool, but we felt that it's still a bit warm during use. Perhaps that's down to how thick the material is or even the padding itself, and it was far from being unbearably uncomfortable, but it's worth noting that it sometimes lacks airflow. Also attached is a sternum strap that hooks onto one of the four webbings along each shoulder strap for easy adjustment, and it clips together through a typical side release buckle. One worrying thing about the sternum strap is how easily it stretched loose despite our tight adjustment. Hopefully, that's just a pre-production flaw with the hardware.

As we mentioned earlier, the back panel features a good amount of EVA foam padding, but it's shaped with plenty of space dedicated to gaps for air channels. NOMATIC did a pretty good job with this setup, and it felt really comfortable to wear despite the overall structuredness of the backpack. Neatly integrated is a wide luggage pass-through that runs across the body of the bag horizontally. This means that the bag stands upright on your rolling luggage, which could be an issue if you have short handles. We have the dimensions of the bag listed in the spec table above in case you need to break out the tape measure right now.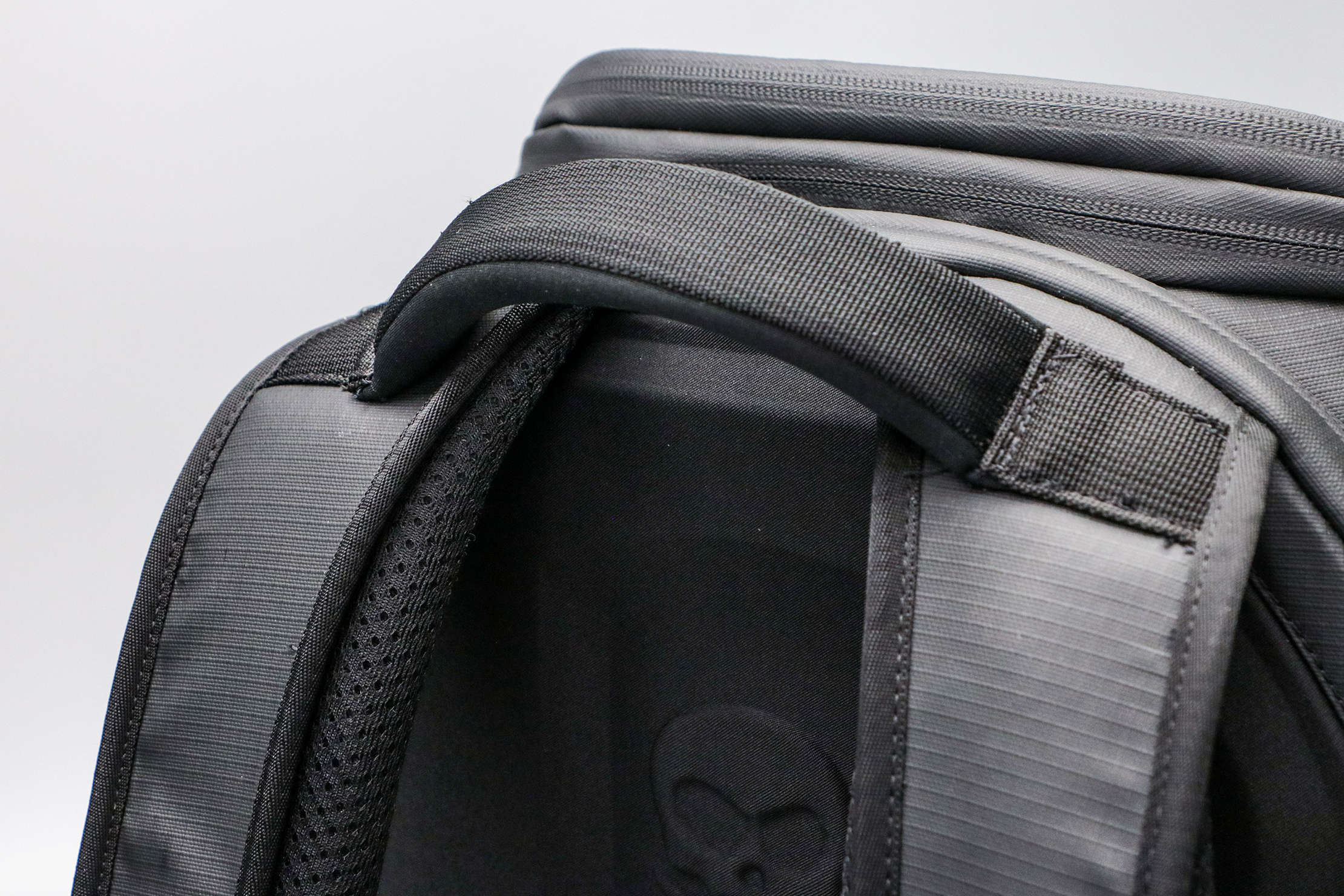 At the top is a handle that's really beefy in its own right. It's not just a simple folded nylon handle that you'd normally find on some other backpacks. This one here is soft and more akin to a tube of padding than a strap.
At the front, there's a total of twelve mounting loops (six on each side) for accessory straps in case you want to mount additional gear externally. You'll have to supply your own accessory straps or purchase them separately. There are two more loops on each side of the body, both located just above the fold-flat water bottle pockets that double as tripod pockets.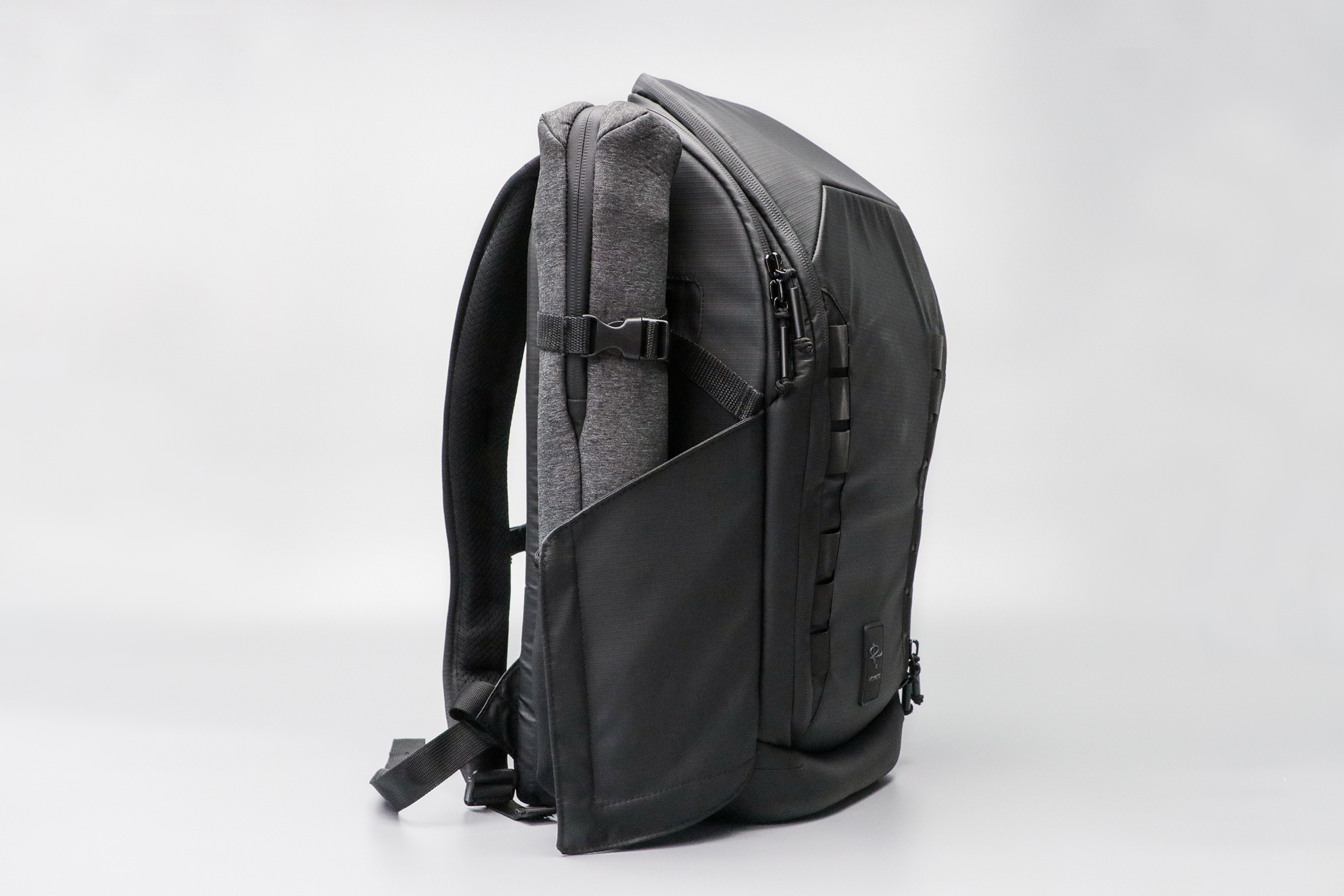 These side pockets are very spacious despite their fold-flat nature. They have a mesh gusset that gives them a fair bit of volume, and neither our 18-oz YETI Rambler nor our compact tripod posed a challenge to them. It's also worth noting that the larger 35-liter version only came with one side pocket, while this has two, albeit smaller, ones.
Inside The Pack
In terms of quick-grab pockets, the Peter McKinnon Camera Backpack 25L leaves much to be desired. Instead, there are upper mesh pockets and an upper zipper compartment accessible via the top opening. It's a bit tricky to explain the compartments of this bag due to its customizable nature, but bear with us because it's a rather clever and interesting feature.
The Peter McKinnon Camera Backpack 25L opens up in two ways: through the top opening or the fully-clamshell opening via the back panel. Inside the main compartment is a "Ladder System," which acts as the bag's interior divider. It's a three-part panel that can segregate the interior into thirds horizontally. It attaches inside the main compartment via snap buttons and a velcro lining.

At its default setup, the Ladder System is configured with the top third being dedicated to a parcel shelf accessible via the bag's top opening, leaving the rest of the compartment free for bigger items accessible through the clamshell. We know that sounds complicated, so we have a few handy pictures for you below.
You can expand the top parcel shelf if you need more space through the top opening by swapping out the large camera cube for a smaller one, or you can remove the Ladder System altogether to hollow out the main compartment completely. Our preferred setup is having the top parcel shelf act as a huge quick-grab compartment. Meanwhile, we have the optional camera cube and dividers taking up the other two-thirds from the clamshell opening. We found this to be ideal for a more photography-focused loadout. NOMATIC also currently offers smaller camera cubes and even dividers-only accessories if you want to leave some space for more clothes or other non-camera gear.

Organization inside varies depending on what accessories you kit out your Camera Bag with. What's standard are the back panel mesh pockets. There are two upper ones and two lower ones, all equal in size, and each level has a unified zipper. This means that each pair of pockets share a zipper for their opening—an interesting, efficient, and pragmatic choice. The pockets themselves have some depth and stretch to them, making them ideal for small items like SD cards, small battery packs, and some cleaning tools.
The accessory we have here is the largest camera cube available for the Peter McKinnon Camera Backpack 25L. It comes with four small dividers and two long dividers, all adjustable to fit your gear's shape. The camera cube itself is an open-top design, so you can't use it as a self-contained bag, though it is removable and can be used as a camera tray around the studio.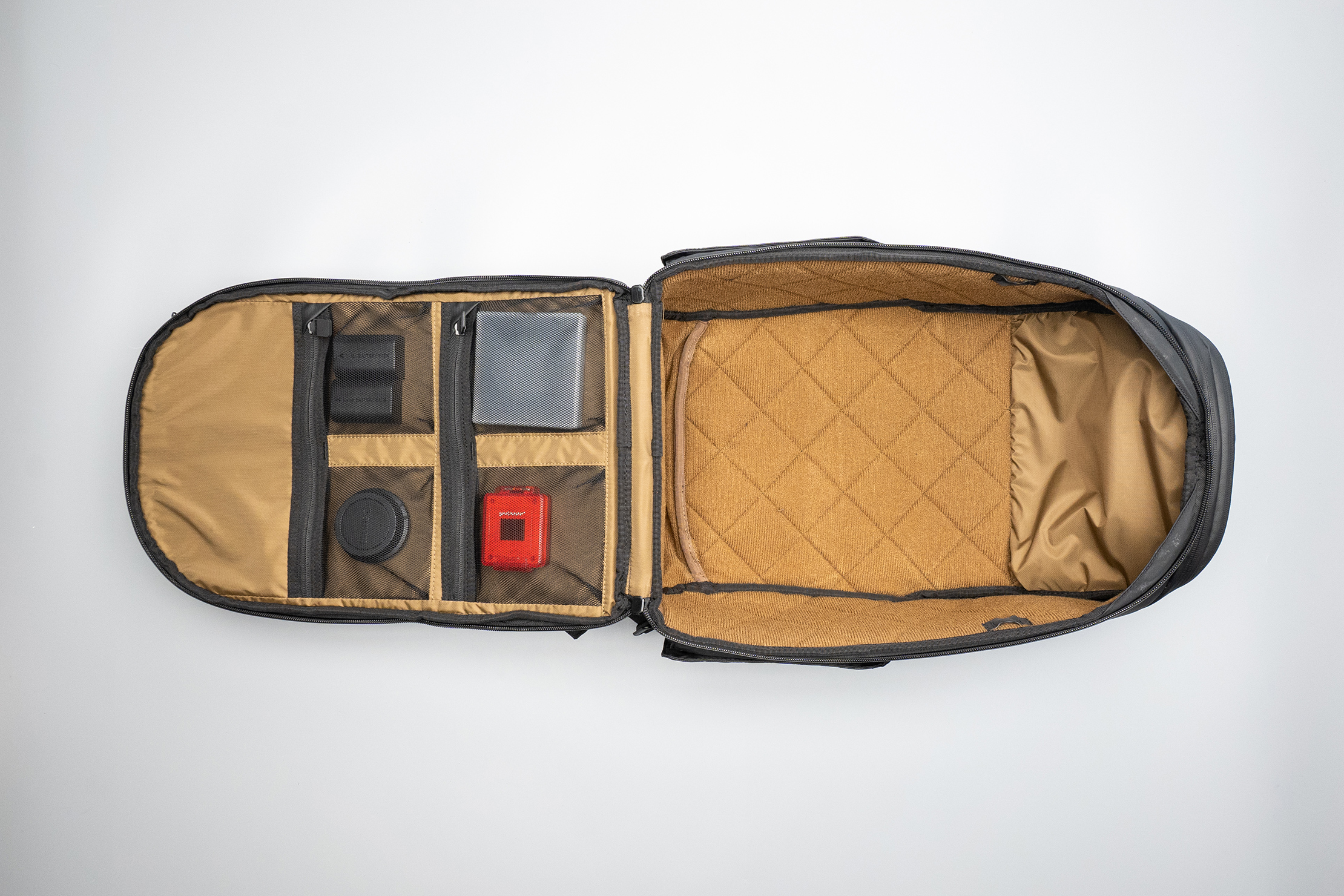 Interior visibility is decent, thanks to the brown interior fabric. We'd much prefer a brighter interior fabric like the one found on the Moment MTW Camera Insert 5L. On the plus side, it's not as dark as the interior of the WANDRD PRVKE Lite either, so fishing out camera lenses, battery packs, and even the slyest of wrist straps won't be a problem, especially with the wide clamshell opening.
Last but not least is the side-opening laptop compartment, which is compatible with even large 16-inch laptops like our MacBook Pro. We did encounter some snagging whenever we took out our MacBook Pro, but nothing too major. What's noteworthy about this laptop compartment is how well-padded it is, and you've probably noticed by now how this is a recurring theme with this backpack.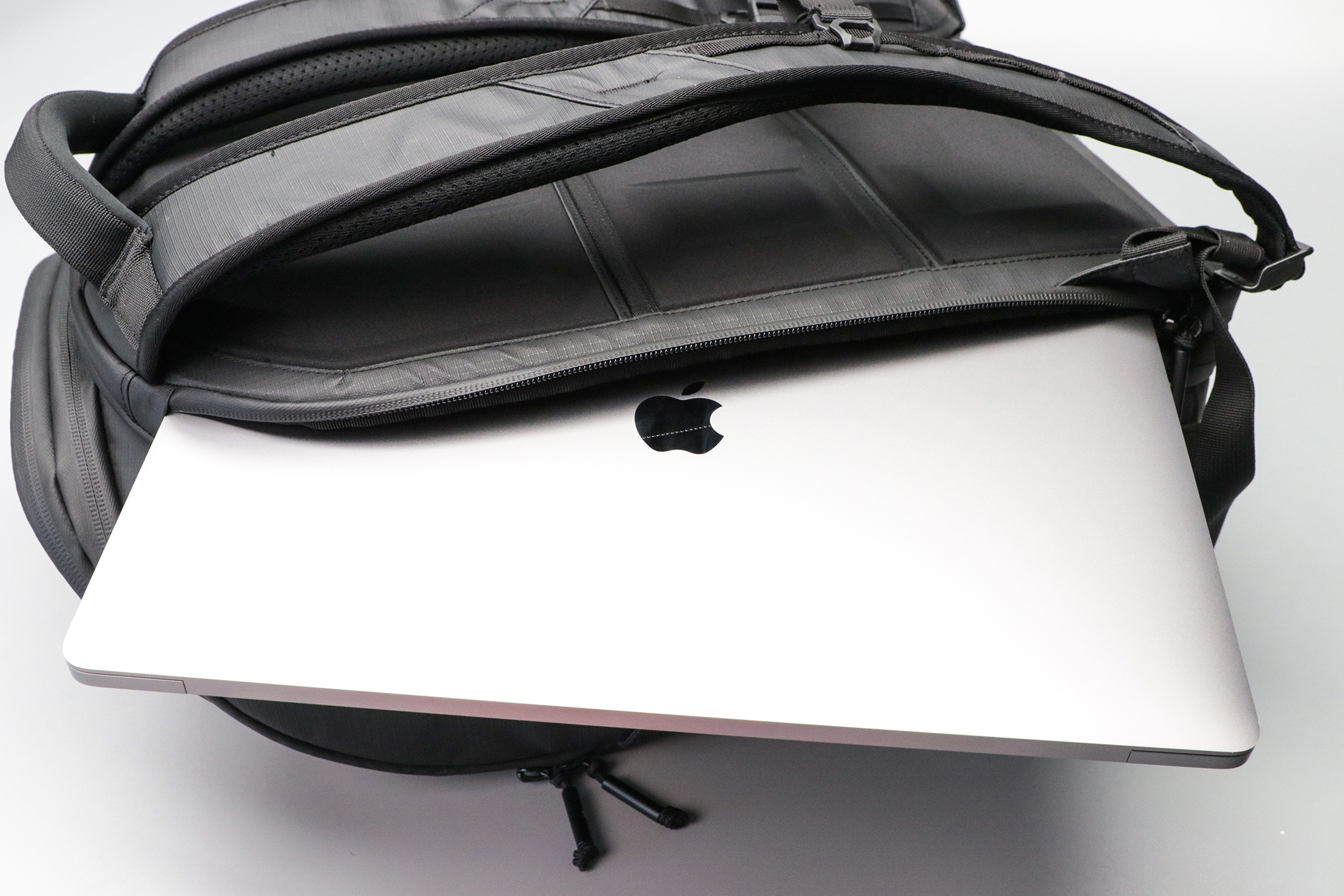 From the side, this laptop compartment looks more like a dedicated laptop sleeve that NOMATIC has bolted onto the back of the bag and then layered with some foam padding for the back panel. Is it overkill? Maybe. Does it work? Absolutely, and we had no problem entrusting it with our laptop because it's well-protected.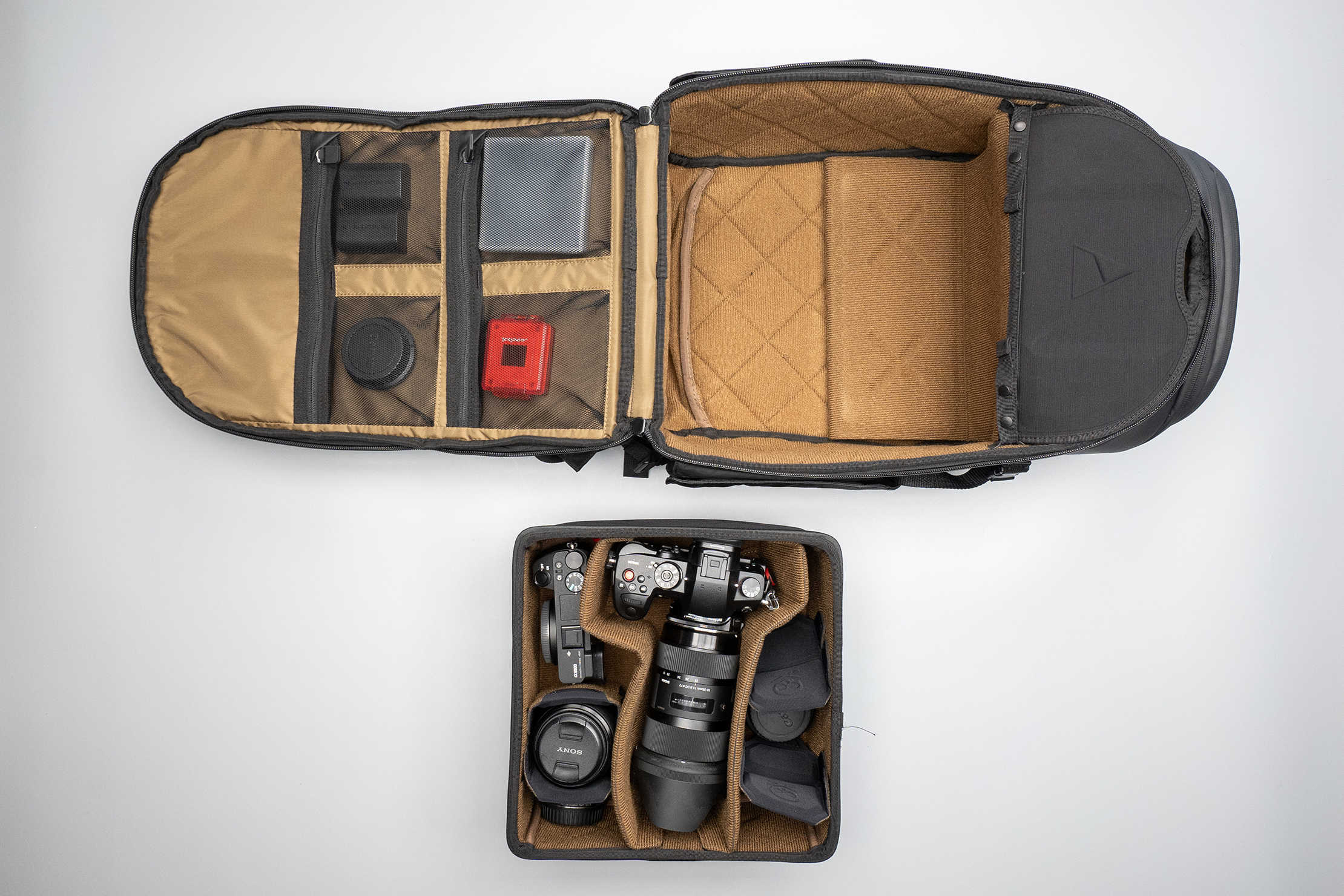 Our time with the Peter McKinnon Camera Backpack 25L was an enjoyable experience. We respected the 35-liter version for its capacity, but it was just a bit too much for our use. This smaller 25-liter version is a much more distilled yet just as capable of a solution for us. The Ladder System is clever, and so are the modular accessory kits you pick from. If you're a photographer looking for a solidly capable and built backpack, this is a strong lead that meets the criteria.
Usage Timeline
Initial Usage
Condition: Excellent
Really well-structured and rigid outer walls
Modular organization inside to cater to your camera gear setup
Can fully open clamshell-style for easy access
2 Weeks of Use
Condition: Excellent
Material received some scuffing and scratching on top
Pre-production sample has loose sternum strap rendering it with little support
Internal camera organizer can be removed and functions as a tray
Pre-production sample didn't come with any additional exterior accessory straps
Magnetic clamps for exterior pockets and upper pocket access were great and easy to use
Access the Pro Community Discussion
Get your questions about the NOMATIC McKinnon Camera Backpack 25L answered from our team and the Pro Community right here on the page. Plus, join discussions with other members about gear, guides, and more.
Other Bags & Luggage Reviews